Everton vs Tottenham Hotspur

126 Comments [Jump to last]
Friday 8 September 2017
Match Preview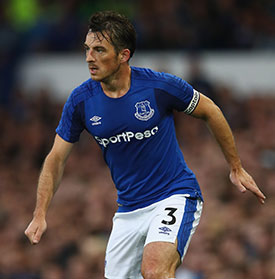 Leighton Baines is set to make his 300th Premier League
appearance
start for Everton
With the transfer window out the way and Ronald Koeman now cognisant of what he has to work with until January at least, Everton's Premier League programme resumes this weekend with the visit to Goodison Park of Tottenham Hotspur.
It's the third match in a stretch of particularly difficult assignments early in the league season that has pit the Blues against top-six opposition in four of their five opening games. Trips to Atalanta and Manchester United follow which would make a home win against one of the contenders for the title a big one in terms of morale.
It promises to be one of Everton's toughest home games of the campaign, however, one that should see Leighton Baines reach 300 Premier League appearances starts for the club. The Blues haven't registered a win over this weekend's opponents home or away for five years and Tottenham under Mauricio Pochettino are notoriously good travellers. Only champions Chelsea lost fewer on the road than last season and not since Nikica Jelavic's dramatic stoppage time winner capped a thrilling late comeback by David Moyes's team in 2012-13 have Spurs lost at Goodison Park.
Among the many dimensions to Saturday's encounter, two stick out like sore thumbs from Everton's perspective and both could affect them in the most important area of the pitch — up front.
The first is the glaring lack of an experienced attacking signing to replace Romelu Lukaku before last week's transfer deadline, a failing that could dog the club until the next window opens in four months' time. It means there will be a heavy reliance on the raw but increasingly influential Dominic Calvert-Lewin and newcomer Sandro Ramirez, a hope that Kevin Mirallas can somehow get his head right to work his way back into the side and to some hitherto elusive consistency, and the need for experience and leadership from Wayne Rooney.
Unfortunately, Rooney could be the second problematic facet to the game in that so much focus will be on his performance given his off-the-field drink-driving transgression and very public marital strife. The veteran has spent muc of his career under media scrutiny so the chances are he will be able to shrug it off and keep his mind on the task at hand but it's an unwanted distraction.
On a more positive note, new signing Nikola Vlasic will be part of the matchday squad for the first time since his arrival from Hajduk Split, most likely taking Mirallas's now customary spot on the bench. The Croatian could, indeed, offer a like-for-like replacement for the erratic Belgian and might be a surprise package this term despite his relatively tender years.
Sandro, meanwhile, is fit and feeling 100% along with Jordan Pickford and Morgan Schneiderlin will return to the side after missing the defeat at Chelsea through suspension. The Frenchman is likely to line up alongside Idrissa Gueye, with Koeman possibly going with a back five again with Mason Holgate in the right wingback role once more.
Tottenham have some injury problems to contend with as Erik Lamela, Georges-Kévin Nkoudou, Danny Rose and Victor Wanyama are all ruled out but Pochettino is blessed with a big enough squad to absorb any of those losses, with perhaps Rose being their biggest loss.
New signing Serge Aurier might not be involved but deadline-day buy Fernando Llorente could play, lining up this time against his old partner in goals at Swansea, Gylfi Sigurdsson, who is set to make his first appearance at Goodison Park as an Everton player.
With the Toffees having home advantage but a forward line struggling to make chances and with just two league goals so far from three games, this one is shaping up to be a tight affair dominated by two strong defences. Everton's was breached twice at Stamford Bridge before the international break but came very close to keeping Manchester City's much-vaunted attack at bay on their patch before that which bodes well when it comes to containing the likes of Harry Kane and Dele Alli.
Evertonian eyes will be on what, if any, tactical or formational adjustments Koeman makes given that he was not able to procure the type of No.9 striker he was after, while Sigurdsson will, perhaps, command even more attention as one of the most important components in the team.
Kick-off: 3pm, Saturday, 9 September, 2017
Referee: Graham Scott
Last Time: Everton 1-1 Tottenham Hotspur
Predicted Line-up: Pickford, Holgate, Keane, Williams, Jagielka, Baines, Schneiderlin, Gueye, Sigurdsson, Rooney, Calvert-Lewin
---
Reader Comments (126)
Note: the following content is not moderated or vetted by the site owners at the time of submission. Comments are the responsibility of the poster. Disclaimer
Chris Burns
1
Posted 08/09/2017 at 06:53:14
Gylfi has to start, doesn't he, Lyndon?
Martin Lucas
2
Posted 08/09/2017 at 06:58:09
Your predicted line up has 12 players; it might give us half a chance if the ref doesn't spot it!
Duncan McDine
3
Posted 08/09/2017 at 07:02:51
Lyndon, I notice you've left Sigurdsson out of the line-up. I assume he'd probably replace Sandro in that list. Apart from that, an excellent preview, mate. Keep up the great work.
Rick Pattinson
4
Posted 08/09/2017 at 07:27:48
Please please just beat them... I detest Spurs.
No Niasse to start??? That's a crime.
Lyndon Lloyd
5
Posted 08/09/2017 at 07:33:14
Losing my mind, clearly. Line-up has been amended, apologies!
Michael Hulse
6
Posted 08/09/2017 at 07:36:58
Spurs attack with their full backs very high. I would love to see a 5-2-3 formation with 2 out and out wingers with pace to counter and exploit the space Spurs will leave in these areas. Where that would leave our ever growing list of number 10 players I do not know. The balance of this squad is very poor.
Will Mabon
7
Posted 08/09/2017 at 07:48:02
One defensive midfielder when playing at home would make a nice change.
Eddie Dunn
8
Posted 08/09/2017 at 07:53:51
I can't see us keeping a clean sheet so goals are a priority for us. Who is going to score them?
I hope we start to see some joined up play from our unbalanced crew. The slow centre backs should have protection from the returning Schneiderlin but the movement of Ali and the invention of Eriksen will give us plenty to think about.
Kane's luck is due to change. point will be a good result.
John G Davies
9
Posted 08/09/2017 at 08:03:06
Tough game this against runners up from last season. Difficult to stop them scoring so hopefully a win but can see a score draw here.
Robert Leigh
10
Posted 08/09/2017 at 08:05:02
Agree with the lineup above as most likely, gives us a couple of options off the bench in Sandro, Mirallas/Vlasic and Lookman.
I thought Besic played quite nicely at Chelsea all things considered, and would love to see him nipping at Dele Alli (Dele a red card waiting to happen for petulance) with the maturity Mo showed at Chelsea given his personal circumstance, but he won't be a starter.
I'd ideally like to see:
Pickford
Holgate - Keane - Jagielka - Baines
Gueye - Schneiderlin - Davies
Sandro - Calvert-Lewin - Sigurdsson
I know that leaves Rooney out; in the past he was left out 'for his own good' by Fergie in difficult circumstances – I think this is the time to see him play and then have him from the bench.
Daniel Lawrence
11
Posted 08/09/2017 at 08:15:36
Robert, I know we could become reliant on him due to no centre forward being signed, but not sure we can expect Sigurdsson to play in two positions. ;)
Mark Wilson
12
Posted 08/09/2017 at 08:33:41
I think your lineup will be as Koeman selects, Lyndon, but for me it's not the way to go. We have to perform more positively against the teams expected to be in the top six above us. We need goals.
If you must play two ultra defensive midfielders in Gueye and Schneiderlin, surely we can give Williams a break? He's had the toughest time of any in the international break. He's even less comfortable with pace coming at him. 4-4-1-1 gives you the chance to slot Sigurdsson in ahead of Baines, and yes I know it's a bit risky but Vlasic ahead of Holgate will give us pace and we desperately need to give their full backs a job to do else they will spend way too much time in our half.
Calvert-Lewin with Rooney only just behind him. That leaves you with Sandro on the bench which is a decent option. It isn't hard to see Coleman arriving back into this setup, is it, and at a stroke you will help avoid the scary sight of a team settling too deep with no real width. I think Sigurdsson can do well in front of Baines.
I'd rather we took the risk and gave Kenny a chance right now. I think he's a better right back than a centre-half on that side. It's not a risk I see Koeman taking but I honestly think it gives us a balance we lack. We have height so two small full backs isn't as much of an issue.
Really looking forward to the game from the best seat in the house!
Ajay Gopal
13
Posted 08/09/2017 at 08:33:49
I don't know why people are so downbeat about not having a target man. Calvert-Lewin has been banging in the goals, Rooney has the guile and experience, Sigurdsson will cause anxiety with his free kicks (Calvert-Lewin and Keane on the end of those), Sandro seems eager to prove himself, ditto Vlasic, Lookman will cause the Spurs defence all kinds of problems. This is the team which I believe can win it for us (4-3-3):
Pickford
Martina Keane Jagielka Baines
Sigurdsson Schneiderlin Gueye
Sandro Rooney Calvert-Lewin
Subs: Stekelenburg, Holgate, Williams (needs rest after 2 games in the international break), Besic, Klaassen, Lookman, Vlasic.
2-1, Rooney and Sandro the scorers
Terence Tyler
14
Posted 08/09/2017 at 08:39:23
For those speculating on the lineup against Spurs, Koeman has already stated in his press conference that Rooney will play.
Derek Knox
15
Posted 08/09/2017 at 08:48:37
This won't be an easy game by any means, it depends how we deal with them., I still can't fathom this playing Schneiderlin and Gueye at home.
The thing we can't do tomorrow, as with any decent team, is give them space. We should have conceded more at Chelsea, but for Pickford's heroics, but then again we gave Chelsea too much space.
COYB
Denis Richardson
17
Posted 08/09/2017 at 09:02:40
It will be interesting to see the starting 11 as well as the formation. Given we have so few wingers in the squad and no real wingbacks, I'm struggling to see where the width will come from (again).
Baines doesn't have the legs to bomb up and down and Holgate simply isn't a wingback. The likes for Gueye, Schneiderlin, Klaassen, Davies, all good midfielders but none of them wide men.
Personally I'd like to see Mirallas start (not sure for whom) just so we have some pace and width up top and give them something to think about.
Really really hope we can somehow get 3 points - not fussed if its 1-0 or 5-4!
Steavey Buckley
18
Posted 08/09/2017 at 09:15:23
Playing 3 centre halves, 2 of them not very good at the back, with Schneiderlin not far away while Holgate is not a natural right back would indicate that Everton will be 'parking the bus' tomorrow.
The whole idea of having so many players in Everton's own half contradicts Koeman's pressing game. For this to happen, there has to be one on one with the opposition higher up the field.
Phil Sammon
19
Posted 08/09/2017 at 09:45:58
As it stands I'm altogether confused with the team and how we go about fielding a balanced starting eleven. The lack of width is a major concern. With virtually nobody able to play wide left, I'd be asking Baines to roll back the years and don't be afraid to throw in a cross or two.
Up top and things get more confusing. With Rooney and Sigurdsson sure to start, it seems one of them will be asked to operate in a role they find uncomfortable. I'm also concerned that Sandro, too, likes to play in the hole rather than on the last man. Add Klaassen and Davies to the mix and Ronald has himself a head-scratcher... all of his own making, mind you.
One of Schneiderlin or Gana will be charged with minding Dele Ali. Schneiderlin seems to be getting a bit of stick lately. I think he's a class act, but much like James McCarthy, he needs to be told to make a forward pass and impose himself on a game. He has speed, technique and a footballing brain... weirdly, he seems to lack the inclination.
At the back, I dearly hope we stick to four defenders. I doubt it'll happen, but Williams should be dropped. I always thought he was a complete arrogant twat that I'd love to see playing for Everton. Now he's here, I wish he wasn't. Maybe we missed his best years. I don't like the guy and he's been our poorest centre-half so far.
Five at the back has been a tried, tested and, largely, failed experiment. Certainly for us, but pretty much throughout footballing history. My only recollection of it being effective was the Italian team with Zambrotta and Panucci as wing backs. Their energy and attacking/defending ability just seemed to hit the right balance. They also had Maldini who slipped seamlessly between centre-back and full-back. We don't... and it doesn't work.
Pickford in goal.
James Lauwervine
20
Posted 08/09/2017 at 10:09:23
Please beat these knobheads, Everton. There's a Spurs fan at work here who loves taking a fiver off me after every frigging game we play. I can't bring myself to end the ongoing bet. I think my team would be:
Pickford
Holgate Keane Jagielka Baines
Gueye Davies
Sandro Rooney Sigurdsson
Calvert-Lewin
Santosh Benjamin
21
Posted 08/09/2017 at 10:14:36
I hate 3 at the back. We haven't made it work and it leaves the side unbalanced. Drop Williams.
Gana and Schneiderlin should start. Siggy, Rooney, Calvert-Lewin and Mirallas or Sandro completing the team.
Vlasic, Lookman, Lennon, Davies on the bench alongside Niasse, our Evertonian with a new lease on life at Goodison. COYB
Steve Ferns
22
Posted 08/09/2017 at 10:22:24
Spurs have issues tomorrow. No Wanyama or Rose. Their new fullback, Serge Auirer, has been flying far and wide playing international football and may be too tired to play. Llorente is out with an arm injury.
Spurs should line up in a 4-2-3-1 formation. We need to counter their threats. They will have Kane up top, Eriksen, Alli and Son in an attacking midfield three. Dier and Dembele will be the midfield two. Their key fullbacks are missing – Walker was sold as everyone knows, and Rose is out long term injured. Trippier and Walker Peters have played right back, whilst Davies has played left back but new signing Serge Aurier might start, but he's just had a couple of long flights after international duty, and he's yet to play for Spurs.
The key battle is in midfield. Dier will break up the play, and Dembele will dictate the tempo. Stop Dembele and Spurs will struggle to get Eriksen and Alli into the game.
I'd try to overwhelm Spurs in midfield. My team would be:
Pickford
Holgate Keane Jagielka Baines
Gueye Schneiderlin
Rooney Klaassen Sigurdsson
Calvert-Lewin
Calvert-Lewin should start for mobility reasons, and keep Sandro on the bench to come on as Calvert-Lewin and the Spurs back line tires.
The next line of players I would play narrow. Let Rooney have a free role to do his thing. Sigurdsson I would instruct to get about Dembele. As I said it is key to stop him playing and Sigurdsson is mobile enough to do this, high up the pitch.
Whilst I listed Klaassen in the middle of those three, I would actually have him slightly withdrawn, trying to link Rooney and Sigurdsson with Schneiderlin and Gueye. He can drop into that two to make it a three, but then get forward as he does. I would try to get him on the ball as much as possible and instruct him to move the ball quickly to Sigurdsson or Rooney. If Klaassen is not 100% fit, then Davies should play. He could play the same role although better defensively and less able offensively.
The game will be won or lost by Schneiderlin and Gueye. Schneiderlin needs to sit in, and play his usual game. He needs to get on the ball quickly from every turnover, then to feed Klaassen quickly. We need to snap those passes into feet.
Gueye needs to dictate the pressing tempo, closing everyone down the way he does, but others need to work with him. Alongside Schneiderlin, Gueye can get forward and get at Dembele and Dier, when the opportunity arises and put them under pressure. I think Dier is not the calmest footballer on the ball and can be easily dispossessed.
In defence, I would play Holgate to take care of Davies or Aurier. He would also need to watch for Son who likes to get wide. I would keep Holgate back a lot more for this game, as Spurs are at their most dangerous when we lose possession and the full-backs are out of position.
Likewise, Baines needs to concentrate on defence also. He should have Trippier's number. If Son starts on the left, Baines shouldn't be bothered too much by Eriksen who plays more centrally, but Son can play either wing. Centrally, I would pick Keane, obviously, and Jagielka for freshness reasons. I have only gone with two as Schneiderlin and Gueye should be taking care of Eriksen and Alli. Keane and Jags will watch Kane and other runners.
If we lost say Klaassen from the side and played Williams as well, then we are over run in midfield and will be inviting pressure onto ourselves from Spurs. We are at home and we need to take the game to them.
We've not beaten Spurs for 5 years. These are not world beaters. If we play our game, if we get hold of the midfield, we can beat these.
COYB!
Mark Frere
23
Posted 08/09/2017 at 10:22:59
Ajay @13, I too think 4-3-3 will be our best formation but that team of yours is a little unbalanced.
Firstly, I think we need our full-backs to provide width; Baines – although not quite as good as in his early days – can provide width on the left. I would really like to see Kenny (it won't happen though) start at right-back because he is by far, superior to Martina and Holgate going forward.
Sigurdsson needs to play further up the pitch as part of a front 3.
Klaassen instead part of the midfield three – he has played a deeper role for Ajax in the past.
Finally, I would like to see Sandro start down the middle of the front three for a few games – he's the most proven goal-scorer we've got and his high energy game is perfect for pressing their defence.
4-3-3:
Pickford
Kenny Keane Jagielka Baines
Klaassen Schneiderlin Gana
Sigurdsson Sandro Rooney
Chris Williams
24
Posted 08/09/2017 at 10:44:46
Don't concede first and please, please, not 3 centre halves.
Carl Taylor
25
Posted 08/09/2017 at 11:08:16
Calvert-Lewin has to start for me – which means he won't! He is the only forward we have that stretches the game for us.
I'd have Rooney and Sigurdsson off him, with Gana, Morgan and Davies in midfield to provide cover and energy.
Back 4 likely to be Holgate, Williams, Keane and Baines. Sandro and Vlasic as impact subs.
Barry Sherlock
26
Posted 08/09/2017 at 11:14:05
I honestly don't see how we can have 3 centre-halves! We only have 3 fit. So that's a massive risk. Put Williams on bench duty versus Spurs:
Pickford
Holgate Keane Jagielka Baines
Gana Schneiderlin
Klaassen Rooney Sigurdsson
Sandro
Could be that Sandro & Rooney swap the forward position. This could be good at confusing the opposition even just for a brief moment.
On the other hand, Koeman may want to play with the additional centre-back. This would free up the full-backs to get further forward? The centre-backs are very useful at set-pieces which we have to understand will be very important at this time to score the goals. Using Gylfi's strengths.
Clive Rogers
27
Posted 08/09/2017 at 11:23:29
I think the three centre-backs experiment is over for home games especially. Williams will be left out for either Sandro or Klaassen. Vlasic may even get a starting place to give us width. Hope so.
Sam Hoare
28
Posted 08/09/2017 at 11:40:54
I'm really not a fan of that 5 at the back lineup. As others have said Holgate is barely a full back let alone a wing back and Baines is not quite fast/energetic enough to play the role at the highest level. Plus our CBs are too slow to be drawn out into the vacant wide areas.
It makes such little sense of the players we have and their attributes!! Unless perhaps you intend to keep Holgate and Baines back and defend the whole match which may be the gameplan.
Spurs are a great team. Everything I'd like us to be. Quick, strong and energetic, solid at the back whilst very dangerous up front. A perfect balance.
If I was picking a combined team, I'm really not sure who of our players would get in. Pickford and Keane perhaps though borderline at best. Gana? Maybe...
I think the obvious plan would be containment and counter but we don't have much pace. Calvert-Lewin will have to have a great game (season!!).
I'd go:
Pickford
Holgate Keane Jagielka Baines
Gueye Schneiderlin
Sigurdsson Rooney Sandro
Calvert-Lewin
Geoff Williams
29
Posted 08/09/2017 at 12:17:06
Ah... I had to wait until Sam (#28) before agreeing on a team selection.
Dan Kemp
30
Posted 08/09/2017 at 12:20:30
Mark my words, the player you need to stop in this Spurs team is Dembele. He sits deeper, so we need Gueye to push up onto him, or one of the attacking midfielders to drop back.
Problem is, we still have Alli, Kane and Ericksen to contend with too!
Justin McCallum
31
Posted 08/09/2017 at 12:52:40
We have plenty of decent midfielders so how about being at bit adventurous at home:
Pickford
Holgate Keane Baines
Davies Gana Schneiderlin Vlasic
Sigurdsson Rooney Sandro
With Calvert-Lewin to come on second half for either Rooney or Sandro and score the winner.

Brian Harrison
32
Posted 08/09/2017 at 13:03:03
A tough game against a team that will come and try and win the game, which should help us. We need to make sure we keep a very close eye on Alli on his clever runs into the box, and Erickson has the ability to find him. For me he and Erickson make Spurs tick, nullify them and we will go a long way to winning the game.
But no use keeping an eye on these two without carrying a threat ourselves, so I hope we are as positive and aggressive as Spurs will be. I also think we need to show more belief when we go forward, so lets hope that Gueye joins in the forward play and looks to make runs into the box.
A win tomorrow and it would be a good return after 4 games, as a loss with Man Utd away up next may well have the opposite effect.
John Wilson
33
Posted 08/09/2017 at 13:30:15
Niasse is a mess of a player and his confidence and the pressures on him to perform – at the seldom opportunity he is given a starter – will likely be incredibly hard for him. It is what it is Niasse did not ask to be here, but he is here. He needs the support of first team players, Koeman, and Goodison's faithful (the fans).
Lyndon didn't even mention Niasse. It is only Niasse who can score goals! Rooney has been quite average – pre-season he was caught offside in one game at least 3 times as I recall; he has missed several chances. He has his private life in a mess which will likely translate to the pitch too!
Niasse can score and assist, he needs to work on the rest of his game clearly. Niasse apparently only had training with the first team yesterday. He has had no time to gel with Everton so it seems likely he won't make an appearance except as sub in the final third if we're having our arses tanned by Spurs.
Andrew Clare
34
Posted 08/09/2017 at 13:43:23
Tottenham are a very good team and we won't see many better this season at Goodison Park.
They play classy football but they do have a dark side – they are very physical and they get away with a lot of nasty tackles.
Nothing but a top performance will be required to get anything from this game.
James Stewart
35
Posted 08/09/2017 at 13:45:57
Pickford
Kenny Keane Jagielka Baines
Gueye Schneiderlin
Sandro Sigurdsson Lookman
Calvert-Lewin
Niasse and Rooney to come off the bench if need be.
John Wilson
36
Posted 08/09/2017 at 13:53:16
Malta (waiters and café owners) made England work really hard before they broke through. If Malta can impede Deli Ali and co surely Everton can stop Deli Ali and co.
Phil Smith
37
Posted 08/09/2017 at 13:54:15
Davies has not been the same player this season and wouldn't even make my bench, I don't think. Hopefully we'll nick it tomorrow. COYB!
Kim Vivian
38
Posted 08/09/2017 at 14:04:27
James (#20). I had one of those as well. Boss actually, but he wound the business up in April. Bastard! Owes me an Ayrton on lost bets. I just hope he thinks of me when we do em tomorrow.
Changing the subject... anyone fancy a laugh, look for the Coutinho vid going around on Facebook. (Technically challenged – I don't know how to post it here so haven't, sorry.)
Kim Vivian
39
Posted 08/09/2017 at 14:59:01
Ha Here it is
Good for a laugh if it works...
https://video.flhr3-1.fna.fbcdn.net/v/t42.1790-2/21399119_1455410117907249_2091352003149037568_n.mp4?efg=eyJ2ZW5jb2RlX3RhZyI6InN2ZV9zZCJ9&oh=220094dc9fade57ad018eebad2603ee5&oe=59B2D1C4
Jamie Evans
40
Posted 08/09/2017 at 15:03:02
Just a quick word for Leighton Baines and his latest milestone (hopefully) tomorrow.
Bravo, Leighton and here's to many more games still to come. An absolute class act on and off the pitch. Hands down the best left-back I've ever seen play for our great club.
Lee Jackson
41
Posted 08/09/2017 at 15:14:40
John (#33) – Rooney has been the only player to score for us in the league in 3 games. Yeah, guess he's been average, he's only won us all our points so far.
James Lauwervine
42
Posted 08/09/2017 at 16:14:16
Kim, there'll be an invoice on the bastard's desk at 8am on Monday if we win. Loved the Coutinho vid. :)

Kevin Tully
43
Posted 08/09/2017 at 16:33:04
Can someone let the Everton midfielders know it's not offside if they step foot in the penalty area?
A battle of midfield stoppers tomorrow, with our lads looking up at a lone striker when they find themselves on the ball. Really looking forward to the game.
We seem to be regressing back into hoof mode lately, don't know what that's all about though? We should have enough midfielders to make some space, the side is packed full of them.
Good stat for you all: We have only lost once at Goodison in 2017. Calling a draw.
David Barks
44
Posted 08/09/2017 at 16:42:11
Defending for 70+ minutes, I cannot wait!! Plucky little Everton.
John Pierce
45
Posted 08/09/2017 at 16:48:38
If he chooses to play Holgate at RB/RWB then it is just more of the same, limiting the opposition rather than a focus on us winning the game.
Even on this thread you can see the suffocating acceptance of his style, talk of stopping Spurs, countering Spurs.
Sure they're good but actually so are we; the manager is playing with the handbrake on.
4-3-3; Pickford, Martina, Jagielka, Keane, Baines, Gana, Schneiderlin, Sigurdsson, Sandro, Calvert-Lewin, Rooney.
That is the most attacking line up with the pieces available. But if it morphs into a 4-5-1 then we are toast.
Play high, stay high, press and use Calvert-Lewin and Sandro as runners. Against Spurs the space is always behind their full backs. That's were the game can be stretched.
2-0 the Blueboys.
Phil Walling
46
Posted 08/09/2017 at 16:57:38
Managed to get 3/1 against Blues early morning and 5/2 against the draw later, so all we want is us not to lose. Have to say many of the suggested line-ups above look a bit 'dog's breakfastish' to me but hey, who knows?
Minik Hansen
47
Posted 08/09/2017 at 16:59:23
Sigurdsson, having scored a brace for Iceland, he will be up for a home game debut. COYB.
Mike Berry
48
Posted 08/09/2017 at 17:19:41
Five at the back has been a mess so far as our players are not suited to it.
As for Spurs, we all know that Alli is the spark that creates chances for Kane and himself; stop him and you have nullified them by at least 50%.
Come on, blue boys!
Mike Oates
49
Posted 08/09/2017 at 17:24:51
I think its a totally imbalanced squad, but that's what we've got so lets move on.
Against Spurs, Koeman will see the requirement that you'll need two strong centre halves – Keane and Jagielka?
To cope with Kane , you'll need full backs who can cope with pacy wingers/wing backs opposing them, Holgate and Baines?
You'll need a deep lying centre midfield to pick up Dele Alli – Schneiderlin.
You'll need midfield battlers to take on Dier and Wanyama – Gueye and Davies.
You'll need creators – Rooney, Klaassen, Sigurdsson; you'll need a centre-forward who can hold up play – Calvert-Lewin.
And you'll need someone to attack the space behind the back line - Sandro.
So a tall order as there are 13 names above including Pickford but here goes – likely Koeman team:
Pickford
Holgate Keane Jagielka Baines
Schneiderlin
Gueye Davies
Sigurdsson
Calvert-Lewin Rooney
So how do we get behind their back 4, as the team above hasn't got anyone attacking the space behind the Spurs defence? Holgate wont do it, Rooney wont do it, Schneiderlin won't cross half-way line and Gueye and Davies will spend a huge amount of time close to our back 4.
So my team would be:
Pickford
Martina Keane Jagielka Baines
Davies Gueye Schneiderlin Vlasic
Sigurdsson Calvert-Lewin
Martina, Davies and Vlasic provide the width with pace and hopefully the guile to get in behind them and the strength still to defend against Spurs' width. Rooney, Klaassen and Sandro the subs.
Lee Jackson
50
Posted 08/09/2017 at 17:37:08
Mike, I've seen this guy Klasic mentioned a few times on this thread...should that be Vlasic? or did Klassen and Vlasic meld into one - clever, quick passer with pace - sounds like just the chap we need!
Paul Birmingham
51
Posted 08/09/2017 at 17:44:17
Sigurdsson will score another cracker, Rooney will also score and Niasse will come off the bench and score...
Wishful thinking, but we need a win, and I'd take 1-0.
Spurs always do us of late, and we are well over due a good performance and result.

Mike Oates
52
Posted 08/09/2017 at 17:52:03
Should have been Vlasic!!! He looks a terrific footballer with pace and strength.

David Barks
53
Posted 08/09/2017 at 18:08:39
Ah so Vlasic is the new savior. Fantastic.
Lee Jackson
54
Posted 08/09/2017 at 18:16:20
I don't think anyone has come even close to saying that - but hey, why let that get in the way of sarcasm/negativity huh?
Jack Convery
55
Posted 08/09/2017 at 18:25:44
My head says Spurs. If they create 3 chances they'll score at least one if not two. If we can create the same number of chances, I reckon we'll get one - maybe.
Free kicks around the edge of the box will give us the best chance of scoring because of Gylfi's ability. A home debut goal is likely I reckon. 2 v 1 Spurs but I do hope I'm wrong as I would love to see us win and win well.
Jay Harris
56
Posted 08/09/2017 at 18:29:49
You never know, David, he might just be what the doctor ordered.
Anyway, I agree with Steve Ferns that we need a strong MF in this one. I also agree with those suggesting we havent got the personnel for a strong back 3 as Jags and Williams are too "row Z" alike.
Pleased to see Pickford is fit as he has made a difference and congrats to Baines for being such a professional over the years.
My team would be:
Pickford
Holgate (Kenny) Keane Jagielka Baines
Schneiderlin Gueye
Davies Rooney Sigurdsson
Calvert-Lewin (Sandro)
Frank Crewe
57
Posted 08/09/2017 at 18:50:52
4-1-4-1 and go for it:
Pickford
Martina Jagielka Keane Baines
Schneiderlin/Gana
Lookman Sigurdsson Rooney Sandro
Calvert-Lewin
One defensive midfielder in the side is enough – otherwise we become too defensive-minded and at home the onus is on us to attack. Of course I doubt Koeman will do anything different than usual... hence:
Pickford
Martina/Holgate Keane Williams Baines
Schneiderlin Gana
Davies Sigurdsson Calvert-Lewin
Rooney
Tony Abrahams
58
Posted 08/09/2017 at 19:03:03
We qualified for the Europa League, and had two very hard matches away from home, sandwiched between these games, and although no-one is 100% fit at the start of the season, after 7 matches then a break, I'm just hoping we can find our second wind tomorrow.
Win this and it's been a really good start but, if we lose, with two more hard away fixtures on the horizon, then the pressure will be on.
Let's just hope Koeman can start to put together a formation that will suit the players... whatever that may be?
Tim Greeley
59
Posted 08/09/2017 at 19:45:14
A hot can of beans to whomsoever is the first to rattle off the flash in the pan that delivered the insane "assist" for Jelavic's winning goal last time we beat Spurs at home way back in '12!!
One of my favorite all-time 'he coulda been somebody/he never became anybody' young stars from the last decade... I'm gonna go Google him now.
As for tomorrow, little hope, but somehow get the draw. Rooney to win back the fans – but not his wife's – heart with a late equalizer.
Darren Hind
60
Posted 08/09/2017 at 20:02:17
Just been skimming through a few Spurs comments. Rooney seems to be the sole topic of conversation.
I'm afraid our boy is in for dogs abuse for the coming weeks/months, let's hope it merely strengthens his resolve.
We need to be brave tomorrow. we cant afford to leave Calvert-Lewin isolated against two very good central defenders. We have to support him and give them other things to worry about.
Kane is an excellent centre forward, but he does not have the pace to run away from defenders, Play a higher line, squeeze him up the pitch rather than play to his strengths like we normally do.
With eight defensive players on the pitch Schneiderlin and Gana have to offer more going forward.
Spurs will be brave and will press; we have to be braver and press higher.

Brian Harrison
61
Posted 08/09/2017 at 20:21:47
Darren,
I think Rooney is far to experienced to let abuse from away fans bother him. I agree with most of what you say about us needing to be braver, I said the same in my post earlier. I do hope that we encourage Gana Gueye to join in the attack when we have the ball. Too often Our main striker has been isolated, we need to get bodies round whoever leads the line tomorrow.
For me the big plus is that Spurs will come and attack and look to win the game, if we can look to get behind their 2 central defenders on the counter as Calvert-Lewin likes to then we may get some joy. But if we let Spurs dominate possession and territory then they will be hard to beat.
Dermot Byrne
62
Posted 08/09/2017 at 20:24:33
Darren – last paragraph, bang on. I genuinely think the manager wants that high pressing too but players get jittery and revert to what they perceive as safety. It rarely is.
Steve Ferns
63
Posted 08/09/2017 at 20:31:22
Rooney is at his best when his back is against the wall. When the crowd is berating him and when he has a point to prove. He's certainly one of those players who plays best when he is angry.
Malcolm Dixon
64
Posted 08/09/2017 at 20:35:27
"Doubtful: Holgate (ankle)" says the Guardian.
Lev Vellene
65
Posted 08/09/2017 at 20:35:35
If Rooney is a true Evertonian, that abuse from the losing side's fans should only spur him on (pun intended...)! :D
Dermot Byrne
66
Posted 08/09/2017 at 20:38:39
Quite excited by tomorrow. A win could change whole mindset of fans and team.
Andy Crooks
67
Posted 08/09/2017 at 20:43:19
We must play without fear. We have good players, we can beat them but we must try to, expect to.
Paul Smith
68
Posted 08/09/2017 at 20:48:38
They're physical & quick, it'll be a good test and a great atmosphere. They usually only play one way – all out blazing for a win (I'm jealous).
The midfield will be key. I'm hoping for a 4-4-2 from Koeman with Rooney behind Calvert-Lewin if isn't working watch for Rooney dropping deeper & Sandro coming on for a defensive midfielder.
I'm working tomorrow so can't watch; going to Old Trafford next week so I will make up for it then.
David Barks
69
Posted 08/09/2017 at 21:49:59
Spurs' manager has already said publicly they are coming to Goodison expecting to get 3 points. Is Koeman coming to Goodison expecting 3 points or hoping to get something from the game, ie not lose?
Raymond Fox
70
Posted 08/09/2017 at 21:54:04
Hard to know how we'll perform tomorrow!
The betting = best price for us is 3/1, its 12/5 the draw and 11/10 Spurs! So they don't seem to have much confidence in us at this stage of the season. Can't say I blame them, we do appear to be on a wing and a prayer up front.
Even so ,I do think 3/1 is on the generous side and is a value bet, even though I don't see us winning. Being a natural pessimist, I think a draw is the best we can expect.
Laurie Hartley
71
Posted 08/09/2017 at 21:56:55
Looking forward to being at Goodison tomorrow for the first time since 2004. I am hoping the Blues can make it a highlight of my visit from the land down under. 4-4-2:
Pickford
Martina, Keane, Jagielka, Baines
Sigurdsson Gueye, Schneiderlin, Klaassen
Sandro, Rooney
Up the Blues!!
Brent Stephens
72
Posted 08/09/2017 at 22:11:14
Enjoy it, Laurie. Where you from in Oz?
Ciarán McGlone
73
Posted 08/09/2017 at 22:14:59
Enjoy Laurie. Hopefully we get some football for a change.
Derek Knox
74
Posted 08/09/2017 at 22:17:20
Slightly off topic here, but watched the Derby v Hull game, and am basically saying that Derby don't play with a target man as such, and they banged in 5 goals .
Admittedly Hull were poor tonight, but the tempo of the game was good, hope we can play well tomorrow, won't be 5 goals, but I'll settle for 3 or 4!
Lee Jackson
75
Posted 08/09/2017 at 22:29:41
For what its worth I'd go 4-2-3-1. Crucially I feel Siggy has to start in the No.10 role - not out wide please Mr K. I'd also have Gueye following Erikkson and just nibbling away and being a general narky bastard (maybe a better role for Davies?).
Pickford
Martina, Keane, Jags, Baines
Schneids, Gueye
Sandro, Siggy, Rooney
DCL
Steve Ferns
76
Posted 08/09/2017 at 22:47:34
I'm telling you the key battle will be our "attacking" midfielders getting at Dembele and stopping him playing. If you stop him you stop the supply to Eriksson, Son, and Alli. For that reason, you need energetic players like Sigurdsson and Klaassen, and if Klaassen is not 100% then play Davies there for his energy and tackling high up the pitch.
Neil Wood
77
Posted 08/09/2017 at 23:15:10
Lee @ 75 . if you want niggly look no further than Besic !
Hoping Sandro starts
Peter Larkin
78
Posted 08/09/2017 at 23:51:20
If anyone on here is expecting this Everton team and this Everton manager to have a proper go at this Spurs team, you may go look for a white jacket in a padded room!
Nailed on to be backs-to-the-wall defending, twatting the ball to whoever the poor sod is up front, rinse and repeat! We play too deep, we are slow on the ball and we have a team of grafters. I expect a draw or a loss really.
What I find truely amazing is every single post on here with the team selection has at least one or more players not playing in their favourite position!!! Facts are this: Sigurdsson is our best Number 10 so he should start there – not fucking outwide! Calvert-Lewin is the best all round striker we have so he starts. Lookman and Vlasic are the only wingers unless we use Lennon so, for me, they start. Schneiderlin and Gueye will start no matter what so no point in debating this as Koeman loves his two sitters!!.
So, for me, the team would be: Pickford, Kenny, Keane, Jagielka, Baines, Schneiderlin, Gueye, Lookman, Vlasic, Sigurdsson, Calvert-Lewin.
Every player in their natural position. Not fucking rocket science. I'm expecting loads of Number 10s shoe-horned in out wide with 5/6 defenders behind that.
Brian Furey
79
Posted 08/09/2017 at 23:53:16
I know it's the norm for us Toffee fans to be pessimistic and look for things to moan about.
Our main gripe at the moment is no real replacement for Lukaku who was our main goal threat last year.
However I think we have a lot of goal scorers around the whole team now with players like Sandro, Rooney, Sigy, Klaassan all well capable of reaching 10 goals each. Then Lookman, Coleman, Bolasie are capable of 5+ and Keane is more than able to get a few.
I think we might surprise some people this year and this new Croat is better than lazy Mirralas
Darryl Ritchie
80
Posted 09/09/2017 at 00:24:44
Lee @ 75, Switch Rooney and DCL, and I think you've got it
Jack Convery
81
Posted 09/09/2017 at 00:43:31
For what its worth:
Pickford
Keane Williams Jags
Martina Baines ( Wing Backs )
Gueye Davies Schneiderlin
Siggurdsson
Rooney
Martina and Baines are the key men - they must push the Spurs full backs back towards their goal. Gueye and Schneiderlin must keep tabs on Deli Ali and wind him up. He will be narked already as he's being investigated by FIFA for his single digit faux par. Williams needs to stop giving stupid fouls away or Erikson / Kane will punish us. My gut reckons we'll get nothing. I just hope its wrong !
Darren Hind
82
Posted 09/09/2017 at 07:54:16
Peter @78
I would not have brought back Rooney or paid 45m for Sigurdsson personally, but to suggest they are no more than grafters ?
At any given moment either one are capable of winning a game. . .Against anyone
I wouldn't normally argue with the other points you raise either, but not a few hours before a game mate.
We have all week to praise/judge/criticise and once five o'clock comes around we can all start again, but while I'm of the firm belief that we have an obligation to criticise and rage against substandard performances, I also think we have an obligation to give our whole heated support in the hours leading up to and during a game. Otherwise what's the point ?
You've been watching the football long enough to know how the occasion and the atmosphere can change a players mind set. The Spurs fans will make incredible noise, Our fans will respond and will make even more.
I wouldn't dream of telling you how to support your club, but hang fire. The old lady will be rocking today. I've seen that do strange things to managers and players.
I wont be burdening the players or the manager with the weight of my money being on them, but that's because I've become a proper Hillman Minx. I still thin 3/1 represents fantastic value for you money.
Darren Hind
83
Posted 09/09/2017 at 07:59:58
Oh and Laurie @71
Welcome home mate. I'll be looking out for your full report

Rob Hooton
84
Posted 09/09/2017 at 08:09:04
We haven't got a striker? Only England's and Man Utds record all time goal scorer who happens to have scored the only goals in the League for us thus far - 2 in 3 games not bad by my reckoning. I'm hoping Wayne gets 20 plus goals this season to stick 2 fingers up at all those who wrote him off.
DCL and Sandro will hopefully add more than our woeful tally last year..
Bit early for this optimism, I'm going back to bed and getting out the other side when I wake up!
Will be watching with some Spuds fans later, please let us get a result as its been too long
John G Davies
85
Posted 09/09/2017 at 08:09:28
Darren 82.
That'll do me.
Great post.

George McKane
86
Posted 09/09/2017 at 08:20:15
Sitting at home - - getting myself in the mood - - reading TW and a bit of Maria Callas (she's an Evertonian) - - floating on Astral Plane 7 and just filling myself with those good old "posso waves".
Laurie Hartley
87
Posted 09/09/2017 at 08:45:24
Brent & Ciaran 72 & 73 - thanks. Melbourne since 1973 until recently - now left the madhouse (but still mad - Peter @ 78) and in Korumburra 1.5 hours away in Gippsland.
Darren 82 & 83 - good post and thanks - I will be taking a notepad and pencil.
George 86 - let your "soul and spirit fly into the mystic" - just saying like.
I am really looking forward to this game.
Up the Blues!!!!
Rob Hooton
88
Posted 09/09/2017 at 09:02:44
Hoping we put on a decent show and we get a win for you Laurie!
I'm always enjoy Darren's posts, often adds balance and realism even if I don't always agree with what is written.
COYB's!
George McKane
89
Posted 09/09/2017 at 09:04:06
Welcome back home Laurie for your nostalgic trip into Blueness.
I am sitting in my writing room at the top of my House overlooking The River gazing towards The City - - preparing for my little trip over The River - - I will be in The Barlow Arms (aka The Dark House) - -realising your family commitments but there if you fancy a beer.
Just like wayback in the days of old
Them magnificently we will flow
Into the Mystic.
Have a Bluetiful Day.
Paul Setter
90
Posted 09/09/2017 at 09:06:56
I hate spurs with a passion nearly as much as the maggots over the road. Look overdue a win against the bottlers
Paul Tran
91
Posted 09/09/2017 at 09:08:08
Lots of justified criticism of Koeman's negativity but it is mirrored by plenty of comments and selections here.
A year ago with an 'unfit' team, we tore into Spurs for an hour, going in front and missing chances to seal the game. Why not do that today? We have fitter players and a stronger team.
I'm looking forward to this one. And if you want to double up your 3/1, Koeman (the horse) is in the 5.30 at Kempton. Unsurprisingly gone up in the weights!
Tony Abrahams
92
Posted 09/09/2017 at 09:23:52
WELCOME HOME LAURIE MATE, I HOPE YOU HAVE A GREAT DAY!
Darren loved your post mate, it would have been the winner on any other day, but we all know Saturday belongs to George, and although his first two posts have been great, I'm standing by, waiting for the encore, because I believe it's going to be a classic!
Dave Abrahams
93
Posted 09/09/2017 at 09:31:45
Paul, thanks for that tip, I'll have a look at that, can't pick my nose at the moment.
Have a great day Laurie.
George, I know you always have a great day win, lose or draw, wouldn't 4-0 today give us all cosmic grooves, I haven't had any of those for ages !!!!!!!
Tony Abrahams
94
Posted 09/09/2017 at 09:33:55
3/1 is a great price Paul, no need to double it up at those odds. Done that last year and Koeman lost, after Lukaku, had scored first against Bournemouth. It was the day I also had a tenner on 5-2, and already playing injury time, the linesman kept his flag down even though the ball had gone for a goalkick, to completely ruin my day!
I didn't even have to go the bookies to know Koeman had lost after that, but I wouldn't mind another goal fest today, because this is a fixture that has threw up a load of great games in the past, but none in recent memory though?
Derek Knox
95
Posted 09/09/2017 at 09:41:05
I see Lawro has Tottenham down for a 2-0 win, that makes me feel a lot better, because he rarely gets his predictions correct.
Heavy rain at moment, but if weather forecasters are more credible than Lawro, it is supposed to brighten this afternoon, so pitch could be fairly moist.
Come on blues, I know you can do this!
John G Davies
96
Posted 09/09/2017 at 09:44:06
Have a great day Laurie.
A tingle down the spine, a tear in the eye as you step back into the shrine.
Brent Stephens
97
Posted 09/09/2017 at 10:01:47
Laurie #87. 1973 was the year I came back from Oz. Had a couple of years in Bendigo, and two years in Mernda, a bit further out of Melbourne than Bundoora. Regular visitor to Wantirna since then, where my brother loved until his death a couple of years ago.
Darren #82 - good thoughts. COYB!
Brent Stephens
98
Posted 09/09/2017 at 10:05:20
Jeez, the rain is hammering down here in Southport. I'll forget using the pedalo down the Mersey to the match today and get the train and soccer bus.
Laurie Hartley
99
Posted 09/09/2017 at 10:14:04
Thanks fellas - nostalgia is creeping in.
Phil Sammon
100
Posted 09/09/2017 at 10:17:15
Brent
Do you ever go to the Melbourne Evertonians meets in the City?
Brent Stephens
101
Posted 09/09/2017 at 10:24:48
Hi Phil. No I haven't been but I was invited, many years ago, to some sort of Merseyside Club (down Dandenong way maybe??). Full of reds.
George McKane
102
Posted 09/09/2017 at 10:29:22
It seems like an eon since my last Saturday morning Grand Tour from The Wilds of Wallasey on The Green Dragon numbered 432 - - Magical Number 9 - - through the Time Tunnel to Road of The Celts - - once Streets of Churches, Chippies and Pubs but now a almost deserted urban mess that still clouds our thoughts and wets our eyes so that we still see it in all its past beauty and glory - - a place of community of communion of people - - Fridays Nights and a walk along Scotty into town in your 'bessies" with the "boys" - - a glass here and there - - once we lived here and forever cling to our memories, our dreams, our visions - - we can never forget our HOME - - it's in our HEART- - just like Everton its planted into our Heart, carved on our memories - - it's our SOUL - - especially days like to day - - I can close my eyes now and there in my mind I see The Golden Vision (in the greyness similar to today - - our dreams like those days and old photos seem to be in Black and White) ) - - small and angelic - - a Vision in some Giotto painting - - pure and light rising above the two worldly creatures - - they - - all hairy and sweaty - - and The Vison clean and pure like spring water come to cleanse and purify us - - his feet not touching the Earth - - from another world - - those open hooded eyes looking towards The Followers in The Blue Cathedral - - I get off The Magic Bus and for a moment I stand on the grass verge and I look around - - I hear the old sounds - - Maggie Brady playing skipping with us - - the rope tied around the lamppost - - Gus with his pram at the top of the Street and his wind up record player and then doing his "ducking and diving " - - sparring with some invisible opponent - - taking on the world - - skipping - - flat cap and string around his waist and Me Mum telling me to go and give him some dinner she'd saved for him - - I can honestly tell you all that when I form my daydreams like this I then open my eyes and find that my throat has tightened and dried and - - honestly - - there are tears welling in my eyes - - how lucky we were - - thank goodness for our Mams - - they made us.
When the vision vanished they heard a choir of birds singing
In the heavenly silence between the trance and the reeds
And they stood upon the lawn and listened to the silence
On my way soon to that Magic Land and my love for these visits to The Dark House never fade nor fail - - this is what the world is made for - - memories - - friends - - and forgiveness - - I say that because as much as we can find one of the actions of one of "ours" strange and annoying - - he is still one of "ours" and once he steps onto "our" Hallowed Ground - - our hearts open again:
And when heart is open
And when heart is open
You will change just like a flower slowly openin'
And when heart is open
You will change just like a flower slowly openin'
When there's no comin'
And there's no goin'
Is this pure Nostalgia - - if it is - - so be it - - but I believe in our World full of envy and greed - - we - - that's me and you - - we need to find something of beauty in this greyness - - I will walk today towards TDH and Goodison and I will lift Natures Grey Skirts and let the Colour into my world - - and the name of the colour is BLUE.
I love Saturday 3.00pm KO's - - and I start my routine early morning – in my r]front room - - reading - - filling my mind and my heart and indeed my soul with the thoughts that I want to have and hold - - always some Poetry - - this morning Stephane Mallarme - - "I have made a long enough descent into the void to speak with certainty. There is nothing but beauty -- and beauty has only one perfect expression, Poetry. All the rest is a lie."
I will arrive via my Green Carriage and Walks along Ancient Haunts to The Place of The Golden Nectar around 11.50 - - every Saturday - - Ahead where home is waiting - -across The River where Angles Play and Visons become Real - - close your eyes in fields of wonder - - I will sit at my designated place and when friends enter through The Door – they will nod and smile and call my name and my heart will fill with wonder and joy and I will know that I am in The World where I want to be - - The World of Comrades - -Sticking Together No Matter what - - There are No coincidences - -I get the Bus 342 - -add them together it's Number 9 - -I used to get The 33 Bus to school - another Magical Number - - as soon as I enter TDH - - Sandra - - a Vison of Beauty - - nods and has my beer on the counter before I reach it - - - - A Pint of "GOLDEN"
"And I will stroll the merry way
And jump the hedges first
And I will drink the clear
Clean water for to quench my thirst
And I shall watch the ferry-boats
And they'll get high
On a bluer ocean
Against tomorrow's sky
And I will never grow so old again
And I will walk and talk
In gardens all wet with rain
Oh sweet thing, sweet thing
My, my, my, my, my sweet thing
And I shall drive my chariot
Down your streets and cry
Hey, it's me, I'm dynamite
And I don't know why'
As the sun comes over (Everton) Valley
As the sun comes over The Valley
As you go stepping out queen
You can promenade
You can promenade
When you step with a little bit of hip action
You go stepping out queen
Just a little bit of hip for the trip
As you go steppin' out queen"
Today in my bag I have my camera for TDH Photos and my good old Harmonica and later at The Park End I will sit with my Daughter, Grandson and Dan (El Magnifico) - - what delights - - "What Larks hey Pip" - - I am a descendant of Ma Joad - - and her words stay in my head forever
"We Are The People"
No matter what happens - - We Are The People - - 3 Games into the New PL and already we have had ups and downs but as Ma Joad said (and she was an Evertonian)" "Just like The River We keep A Coming"
Everybody had a hard year
Everybody had a good time
Everybody had a wet dream
Everybody saw the sunshine
Oh yeah, Oh yeah, Oh yeah
Everybody had a good year
Everybody let their hair down
Everybody pulled their socks up
Everybody put their foot down
Oh yeah, Oh yeah
Have a great day Blues - - we are at home - - we can see our Team Play but most importantly we can see and talk to each other - - remember - - We Are Blues - - God Bless Us All said Tiny Time:
"Enchanted and spellbound, in the silence they lingered
And rowed the boat as the light grew steadily strong
And the birds were silent, as they listened for the heavenly music
And the river played the song"

Cosmic grooves all the way - - - your friend - - George.

Paul Kelly
103
Posted 09/09/2017 at 10:36:44
WoW
Derek Knox
104
Posted 09/09/2017 at 10:45:15
Laurie, @ 99, nostalgia is not what it used to be, everything changes. :-)
Hope you, (well all of us really) have a good day and result, and enjoy the rest of your stay.
G'day mate!
COYB
Peter Mills
106
Posted 09/09/2017 at 10:55:50
Have a great day Laurie. No need to say that to you George!
Jason Ingham
107
Posted 09/09/2017 at 11:19:10
75. Lee Jackson. That's the team I'd go with too. Get the best footballers on the pitch. Our centre backs aren't ball-players so why have 3 of them on? Some pace, ability and goals in the attack.
Simon Bates
108
Posted 09/09/2017 at 11:26:44
George, does Rom now ring Niasse and say,
"Blackbird singin' in the dead of night,
Take those sunken eyes, learn to see,
You have only waited for this moment, to be me?"
Brilliant use of Mike Scott's lyrics; I've had to play the album now.
Colin Malone
109
Posted 09/09/2017 at 11:50:09
If I see Sigurdsson on the left, I'm going home.
Laurie Hartley
110
Posted 09/09/2017 at 12:12:08
Did indeed bring a tear to my eye that George.
My mam came from a tribe closely related to the "we are the people" tribe. She came from the "weearrapeople" of the river Clyde.
Derek 104 - perhaps not :) - please refer to George's masterpiece @ 102.
Leaving shortly.
John Keating
111
Posted 09/09/2017 at 12:27:09
Hate to say it.
If we can play just half as good as "those who should not be mentioned" did against Arsenal then we may have a chance.
We are so pedestrian and negative so far this season it's embarrassing.
Dave Abrahams
112
Posted 09/09/2017 at 13:13:01
Uplifting George as usual, you made me smile with Gus, was it Foran or Foley, what a lovely character he was,I remember when Scottie was separated with little walls in the middle of the road and Gus sitting there with his legs dangling over one side writing a bet ( I think ) with busses, wagons, cars and motor bikes flying past Gus sitting there oblivious to everything except the bet he was writing.
Happy days you recall George, but you were much older then and you've grown younger as the years have rolled by, stay that way George you are a tonic to loads of us on here. Brilliant today.
Eugene McLoughlin
114
Posted 09/09/2017 at 13:34:08
Watching the Shite v City... they are bitching about the red card.. whether deserved or not... If It was Costa there'd be no question of the red... FTRS COYB!!!!
Eugene McLoughlin
115
Posted 09/09/2017 at 13:34:08
Watching the Shite v City... they are bitching about the red card.. whether deserved or not... If It was Costa there'd be no question of the red
Paul Columb
116
Posted 09/09/2017 at 13:52:35
Haven't you heard Eugene?? .they're gonna win the league. Now fall in with the pundits and call it unjust.
Chris Williams
117
Posted 09/09/2017 at 13:52:55
George
Thanks for the inspiring stuff. Can't be there today but will be in my thoughts as well as thoughts of Messrs. Morrison and Lennon, old friends from way back.
Anthony Hawkins
118
Posted 09/09/2017 at 13:52:56
The 'pool Coty game is a terrible match and more about who doesn't lose than who wins.
I'm predicting Sandro to be one of, if not the star performer for Everton this season. Once he's fit and settled he'll be provider and get amongst the goals.

Ian Jones
119
Posted 09/09/2017 at 13:54:11
Hi - downgraded my definitely a red comment, having thought about it
Hi Eugene, watching the game as well. Have sympathies with Mane. He was looking at the ball and had a right to go for it but he would have been aware that the goalie would have been coming and if you put your foot up that high - well, you must know what will happen if you hit the goalie...and so a red is not unexpected, but unfortunate...
10 men or not, this is why I have no worries about Liverpool winning the league...anytime soon. They just don't defend. Long may it continue like that
With a bit of luck, this could be 5-nil
Chris Williams
120
Posted 09/09/2017 at 13:56:33
3 down now. Extremely unjust say BBC. Of course they do.
Colin Metcalfe
121
Posted 09/09/2017 at 13:56:35
No sorry Eugene , they have every right to complain about that red card , anybody who has played the game at a decent level would have gone for that ball including myself !
Dangerous play and a yellow nothing more .
Dermot Byrne
122
Posted 09/09/2017 at 13:58:11
Not watching the game and popped on here ahead of our game. Liverpool mean nothing to me but spotted score. Shrugged shoulders and went
Ha ha ha ha ha ha ha ha ha ha Ha ha ha ha ha ha ha ha ha haHa ha ha ha ha ha ha ha ha ha Ha ha ha ha ha ha ha ha ha ha.
Bloody childish if you ask me!
Paul Columb
123
Posted 09/09/2017 at 14:02:44
No DCL. I feel he deserves a start

Ian Jones
124
Posted 09/09/2017 at 14:05:54
Paul, DCL is being rested for the important games.
:)
Andrew Keatley
125
Posted 09/09/2017 at 14:09:07
Agree Colin (121) - I think it should have only been a yellow for Mane.
As for our team selection today, I am genuinely surprised to see Klaassen and Sandro both in the starting line-up. Here's hoping they offer more today than they have in their other run-outs for us.
Eugene McLoughlin
126
Posted 09/09/2017 at 14:11:12
Missing the point Colin... I was making reference to the hypocrisy of the redshites... I still think it was a red... fuck them!!!
Derek Knox
127
Posted 09/09/2017 at 14:11:29
I sincerely hope nobody on TW is gloating over the score from the Etihad, you do realise, this could really demoralise the RS, destroy their confidence, and generally de-rail their PL ambitions.
Twenty minutes to go, so they could and hopefully should get a few more.
I hate to see grown men cry, but I always make an exception when it involves the RS.
God knows, we have endured it for years from them.
Payback has started, long may it continue!
I am not bitter, usually lager or red wine.
Dermot Byrne
128
Posted 09/09/2017 at 14:12:52
Link
"Everyone else would have got away with it" Any Kopite
Ian Hams
129
Posted 09/09/2017 at 14:32:44
Ha Ha 5-0 and Lawro predicted 1-1.
Football expert, my arse.
Add Your Comments
In order to post a comment, you need to be logged in as a registered user of the site.
Or Sign up as a ToffeeWeb Member — it's free, takes just a few minutes and will allow you to post your comments on articles and Talking Points submissions across the site.