Mirallas issues apology for 'frustrated' reaction

61 Comments [Jump to last]
Tuesday 7 November 2017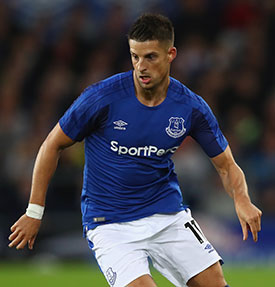 Kevin Mirallas has issued a public apology to Everton and expressed his commitment to the club following reports he was dismissed from training on Saturday.
Both the Belgian and Morgan Schneiderlin were said to have been ordered to leave Finch Farm by David Unsworth after disrupting a training session and were subsequently left out of the squad that faced Watford on Sunday.
Schneiderlin denied being sent away from training in a social media post yesterday and Mirallas has now issued a similar statement on Instagram where he does acknowledge acting out of frustration at not being selected for the first-team squad for a second match running.
"I have to restore the truth after some articles in the media," he said. "I was not excluded [from] the squad due to a lack of commitment during training. [T]his was a manager decision and I was frustrated as I am fully committed [to] Everton since arriving in 2012 and I can't accept our actual ranking (in the Premier League).
"I apologize to the president and owner, my team mates and the manager for not being able to cope at that moment with my frustration."
Like Schneiderlin, Mirallas has struggled for consistency this season and has been overlooked by David Unsworth since being substituted at half-time at Leicester the weekend before last.
---
Reader Comments (61)
Note: the following content is not moderated or vetted by the site owners at the time of submission. Comments are the responsibility of the poster. Disclaimer
Brian Williams
1
Posted 07/11/2017 at 16:08:54
So there WAS something in it then, which may throw Schneiderlin's version into doubt?
Oscar Huglin
2
Posted 07/11/2017 at 16:20:19
What if Schneiderlin was calling Mirallas out for his bad attitude, leading to a spat? All speculation at this point, but would seem to fit the narrative, and each players' statements.
Ajay Gopal
3
Posted 07/11/2017 at 16:37:45
The first step towards redemption is accepting your mistake and apologising for it. Hopefully, Mirallas will get his head down and play for the club that gives him his livelihood and reputation as a footballer. This is a crucial year for him in terms of the World Cup coming up and he needs to show RM that he deserves his place in a Belgian team that is bursting with talent.
Paul Holmes
4
Posted 07/11/2017 at 16:41:30
I posted earlier there is a clique with Schneiderlin, Miralles, Gueye and Niasse. Only those players attended Gueye's birthday bash with their wives (a picture was posted somewhere).
It's no coincidence that apart from Niasse, the other three have been shit this season. Disharmony in the ranks is never a good sign for a football team. Move them all on and get a team that can gel both on the pitch and off.
Steve Ferns
5
Posted 07/11/2017 at 16:44:07
Dunno about that Paul. David Hennen was there too. It's just all the French speakers minus Bolasie. Lookman seems to be close to Gueye as well. If it's a one-off what's the harm in them having a get together for a birthday meal where they could all talk French for once.
Of course if it really is a clique and they separate themselves from the rest of the guys, then that needs to be stamped out.
James Stewart
6
Posted 07/11/2017 at 16:44:52
Mirallas was outstanding in Moyes's last season. His goal solo effort against Spurs will live long in the memory.
Crying shame that this lad will never realise the potential or ability he has. Should have been shown the door last season. Total passenger these days.
Paul Goodchild
7
Posted 07/11/2017 at 16:46:02
None of us can be sure what goes on behind the scenes, but I can understand his frustrations. He played well against Chelsea after not being selected for weeks and then was probably our best outfield player in a poor first half at Leicester. He still got substituted though.
Has pace and a serious goal threat, areas we have been woefully short in this season. He must have been chomping at the bit every week to get selected given the poor form of nearly everybody else, only to be disappointed each time.
Derek Knox
8
Posted 07/11/2017 at 16:51:17
Ajay, tend to agree with the acceptance of a mistake and being able to apologise for it, but in this case I am not sure I believe either his or Schneiderlin's version.
Let's be honest Mirallas has not been anywhere near the player who first came to Everton, for a long time now. This hasn't just happened overnight.
Getting back to the first point, if you believe Kevin's version, he has by implication, put Schneiderlin's integrity in doubt, in the hope of vindicating himself.
Personally, I will reiterate what I said the other day, it wouldn't bother me if neither ever played for us again.
They are supposedly grown men, and not kids, and should know better, especially as senior players, they are not setting any model for the younger players to emulate.
Jim Bailey
11
Posted 07/11/2017 at 16:56:59
Sod off Kev, you're a waste of space and not the type of player that we need. Good riddance in advance
Jason Wilkinson
12
Posted 07/11/2017 at 17:11:28
The one good thing to come from this sorry affair is that we now know some of the employees at EFC do give a fuck.
I don't care who comes in or who leaves the club. If we end up with a committed group that get what it means to wear the shirt.
Us the fans would gladly work for nothing if we thought we could improve our position. No one involved in the playing staff are asked to do that .it's about time they were all reminded of their responsibilities.
Rick Pattinson
13
Posted 07/11/2017 at 17:31:28
Mirallas just needs a bloody big cuddle – he loves cuddles!
Jim Bailey
14
Posted 07/11/2017 at 17:39:27
Rick @ 13, yeah from a starving brown bear.
Minik Hansen
16
Posted 07/11/2017 at 18:07:17
Though his behavior must be questinable, I feel with Mirallas, he should find his consistency by playing consistent, because we need speed! I wish Mirallas to come good and turn it into motivation. Stay sharp Super Kev. COYB.
Nick Lacey
17
Posted 07/11/2017 at 18:08:48
I have always wanted Mirallas to play because he looks like he could score but when he does play he massively lets me down. Gets boring watching him run at defenders, cut inside and shot at the defenders or his it into row Z. Hard to say, but he has been given 5 seasons, 4 managers and they have all given up on him at some point. Definitely his mentality. This it is his time to leave.
Schneiderlin, I don't care about. In my opinion, we have better players in Gueye, Davis and the new kids Beni. Sell him, unfortunately with a lose. I know this is the wrong thread, but we need a striker, what about a cheeky bid for Martial at Man Utd? He is very annoyed at being on the bench, he is young and does look good when he plays. What do others think?
Brent Stephens
18
Posted 07/11/2017 at 18:11:21
Also disappointed with Mirallas. Promises not often met by end product. And always struck me as too ready to make sure his pram had no toys in it.
Clive Mitchell
19
Posted 07/11/2017 at 18:22:52
Everyone's entitled to one mistake. Trouble is Kevin I've lost count of yours. Time to be gone.
Colin Malone
20
Posted 07/11/2017 at 18:30:08
Don't mess with big Joe. Yes I do believe Joe Royle is pulling the strings, with John Ebbrell being the messenger from the stands to the touchline. If that is the case, who needs Big Sam when we have Big Joe?
Nick Lacey
21
Posted 07/11/2017 at 18:36:29
Colin. I hope you're right. I know people will say that Royal hasn't been in management for a long while but he knows about football and I would love him to be in the dug out bestowing his great knowledge and know how on to Unsworth.
Soren Moyer
22
Posted 07/11/2017 at 18:49:30
Paul Holmes #4
I think thats because all four speak French.
Bill Gienapp
23
Posted 07/11/2017 at 19:02:19
It's just one thing after another with Mirallas. He doesn't contribute nearly enough to justify his prima donna behavior.
Paul Welsby
24
Posted 07/11/2017 at 19:07:35
Had enough chances, not a very good player. His attitude is questionable at best...
Get shut, with other deadwood over-the-hill players and move on.
Mark Morrissey
25
Posted 07/11/2017 at 19:08:23
Jim Bailey and his brown bear story, give that man a balloon !! nearly dropped my beer, class ! Yes Ajay I wish he'd get his head down too on a National Express coach, out of England and back to fuck who cares where.
He is a moaning millionaire who is wasting his talent. He'd win a sulking talent competition with the other toss pot Schnedy pants coming a close second. It's no wonder United wanted shot of the knobhead. Sell em both.
They should be made to watch video tapes of themselves sat on the bench giggling like a pair of naughty kids and asked the question "What is so bloody funny about being benched?"
Wasters, the pair of them.
John Pierce
26
Posted 07/11/2017 at 19:11:09
He's on his fourth Everton boss, and this type of incident keeps recurring.
It's you, Kev, not me; time I think we didn't see each other anymore. . It's not working out out, is it?
Bye fella.
Dave Evans
27
Posted 07/11/2017 at 19:19:12
I cannot understand why some supporters think great Everton names of the past or 'true blues' make good coaches and motivators.
For a long time, players don't know what to do in the different parts of the pitch. They don't know what other players are going to do. There appears to be little planning in the various phases of the game and apart from hoofing the ball to Calvert-Lewin or another 'receiver' no coherent system.
If there is a training ground that produces a worse end result than Finch Farm in the premier league I cannot see it. Even the direst of teams like West Brom have a recognisable system. Everton do not and have not for a long time.
Dermot Byrne
28
Posted 07/11/2017 at 19:22:35
The worst thing would be to just wallow in rumour with no fact eh? Thankfully none of us do that ? Fake news, partial news, "they said" etc.
Jack Convery
29
Posted 07/11/2017 at 19:31:37
Diva, who needs to go. thinks he's better than he is. I think he forgets we see him when hes on the pitch – I won't say playing – and I reckon I can count on one hand the No of times he's warranted a score of 10.
Not good enough – give me a Cahill every time over players like Mirallas.
Doug Harris
30
Posted 07/11/2017 at 19:53:47
The lad has been with us now for of number of years and is still blabbing on about where he plays.

Does anyone know? Get rid.
Michael Williams
31
Posted 07/11/2017 at 20:16:57
Miralls has been a problem for years. Was always telling the Belgian media he wanted a bigger club until it turned out no bigger club wanted him. The penalty with Baines. His sulking every time he gets substituted. He hasn't even been a goal threat for years.
Had anyone heard a good thing about him on or off the pitch in the last three years?
Christy Ring
32
Posted 07/11/2017 at 20:52:14
Whichever story you believe, the bottom line is, both players left training, a day before a huge game with Watford. What part of commitment, passion and comradeship does that add up to??
Neil Copeland
33
Posted 07/11/2017 at 20:58:42
Kev is a very talented waste of space, I think most were surprised when he was awarded an extended contract. I don't think I would want in the U23s either due to the potential negative impact he would have.
Good that he had apologised but it feels a bit hollow to me. Too little too late – get shut in January, give Jim away if needs be.
Neil Copeland
34
Posted 07/11/2017 at 21:00:52
Or even give him away!
David Currie
35
Posted 07/11/2017 at 21:07:51
Well said, Mark (#28), they both have shit attitudes and are here for the money, both average foreign players who don't care about our club. No passion to play and show fight to help the team. Get rid.
Jason Pullen
36
Posted 07/11/2017 at 21:28:56
If he's only here for the money why is he upset at not playing? We get annoyed at players who happily sit in the bench. And we get annoyed at guys who are unhappy at not playing. I'd prefer the latter, then it's up to the manager to ensure that unhappiness doesn't affect other players. Or sell them. We could have sold him in the summer but we didn't. Why keep him and never play him? I'd be unhappy too!
Dave Evans
37
Posted 07/11/2017 at 21:34:58
Some of comments are over the top. Mirallas is very popular with fans who attend games. This is because they believe he has the potential to affect games. He has underperformed but he still has a role to play in a squad coached within system.
Justin Doone
38
Posted 07/11/2017 at 22:04:19
Thanks, Kev, apology accepted. Now next time you're lucky enough to be given a chance, take it. Work, work, work.
If we had a few other better forwards, I think he could be a super player... but we don't. There's such a lack of movement in our forward players; he tries too much.
Another who makes bad decisions but if we could get him, Lookman, Calvert-Lewin and Rooney playing as a unit, with pace and movement, a few give-and-goes running forward, then it could be the start of something.
Unfortunately they all tend to stand and wait for the ball rather than drag defenders away... Calvert-Lewin probably being the exception and a little Kane-esque.
Brian Williams
40
Posted 07/11/2017 at 22:25:00
Nobody in that midfield who can tackle Stewart?
Eddie Dunn
41
Posted 07/11/2017 at 22:59:54
The two miscreants would try to put a spin on events as it doesn't look very professional and would put off potential future employers.
Schneiderlin is playing very poorly, making bad choices and a rest would give him chance to sort himself out. As for Kev, he reminds me of Arnautovic, lots of ability but greedy, and rather wasteful. Perhaps Kev should be used at centre forward where he can shoot at will, as on the wing we all know he is going to cut inside and try a shot.
I wonder how many of these incidents simply never reach our ears?
Steve Bingham
42
Posted 07/11/2017 at 23:28:31
He will be off to West Ham in January.
John Raftery
43
Posted 07/11/2017 at 23:29:15
Stewart (39) You are making the same mistake as Koeman and now Unsworth in imagining Rooney and Sigurdsson can play effectively in the same team. Also Gibson and Keane are too slow to play behind anything other than a deep lying defensive midfield. None of the midfield four you have nominated meet that requirement.
Any established centre forward will improve our team. One or both of Benteke and Slimani will do a job for us.
Colin Glassar
44
Posted 07/11/2017 at 23:31:05
Kev reminds me of Faddy, Eddie. Skilful but weak minded.
Declan Martin
45
Posted 07/11/2017 at 00:03:39
Mirallas has worked hard to get into the team, and there is obviously a sense of frustration that his abilities (which are many) and the style in which the team have been playing (mystifying) do not quite gel.
Schneiderlin, on the other hand, came into the team as a big name signing and has been an automatic pick ever since. He was reasonable last season, but has been pretty poor most of this season. He either needs to shape up or ship out.
Nitesh Kanchan
47
Posted 08/11/2017 at 04:42:22
I can't fault Mirallas this season and can understand his frustration. Before there was lack of effort from him, but this season he just didn't get look in just like other wingers from Koeman and then denied him the move to Olympiakos. Even Lookman was linked with Spurs.

Then against Chelsea and Leicester he played well, but Unsy took him off when he was playing well. But the way he reacted was totally wrong. It's a World Cup year, probably his last chance so he wants to play more.

Schneiderlein is an an accident waiting to happen every game, many of his mistakes this season have been as good as own goals. Let's hope he improves or else sell him in January along with Williams and bring a center back and enter forward.

We got enough players in midfield with Beni, Davies, Besic, Mccarthy, Davies, Klassen, Sigurdsson and Rooney.
Dave Bickley
48
Posted 08/11/2017 at 07:29:32
Michael@31.Regarding any good things on or off the pitch to do with Super Kev,I took my eldest daughter to her first match against Leicester in the family enclosure and during pre match warm up I managed to call him over for a photo.He was very happy to oblige and with the half dozen or so others whom followed suit.However on the pitch I always get the feeling he is so wound up and frustrated that a red card is never far away and this is why managers have never really trusted him,shame really because definitely has the ability.As for Schneiderlin this season ,God only knows what his problem is trousering £100k+ a week for what!
Terry Underwood
49
Posted 08/11/2017 at 10:36:34
If he's man enough to apologise, and MEAN IT, then fairy nuff. As a pro, he should be disappointed at not being in the squad, but, toys in pram please Kev
Steve Bird
50
Posted 08/11/2017 at 13:32:32
A point worth remembering, at Leicester the other week, even though he had – wrongly in my opinion – been taken off at half-time, he was the only player who came all the way over to applaud our fans at full-time; the others came two-thirds of the way... then snaked off!!
Stan Schofield
51
Posted 08/11/2017 at 13:44:46
It's amusing how some people just say get rid. Yes, let's just get rid of a ball player, and replace him with a runner. Then when we get the runner, the same people will say, he's shite, all he does is run around like a headless chicken.
Maybe if there's a decent system in place and Mirallas gets more games (more than others who aren't playing as well as him), he won't be frustrated.
Paul Holmes
52
Posted 08/11/2017 at 14:27:40
Break the 'click' up.Keep Mirallas and Niasse,sell Schneiderlin and don't give Gueye a five year new deal,No,No,No,he was a one season wonder like Schneiderlin ,cash in asap before their stock falls even further !.
We have plenty of young kids coming through who are easily as good as these two (or will be).Schneiderlin is one of the top earners at Everton ffs !.
Eddie Dunn
53
Posted 08/11/2017 at 17:35:06
Paul- I know the stats may say Gueye does more tackles than Kante, but his passing is average and he rarely scores. Schneids is completely out of sorts. I would like to see two others at defensive midfield and see what happens. Perhaps Rooney, and Beni.
Or Holgate, he is good on the ball, quick and would also be able to help the defence.
Charles Barrow
54
Posted 08/11/2017 at 17:43:27
Stan @51 I agree! Too many posters here condemn our best players for being lazy or making mistakes. They are no worse than the so called 'grafters'. Amazing to think quite a few wanted Lukaku out, Stones out and Barkley out. Now Mirallas, who isn't in their class but still more skill than most of the rest who are left!
So let's 'get rid' of all our best players. A really good strategy!?
Bobby Mallon
55
Posted 08/11/2017 at 20:02:19
has anyone heard any news of the board meeting today

Dave Evans
56
Posted 08/11/2017 at 20:25:37
Stan @51 and Charles@54 Thanks for restoring sanity.
Will Mabon
57
Posted 08/11/2017 at 20:31:17
Charles, and not forgetting Deulofeu in the same category. I wonder where all that attacking play went?
Oliver Molloy
58
Posted 08/11/2017 at 20:32:09
What's Mirallas skill Charles ?
Michael Farrelly
59
Posted 08/11/2017 at 21:01:27
Prima Donna Kev needs to take a leaf out of Niasse book attitudinal excellence!
Paul Holmes
60
Posted 08/11/2017 at 21:11:09
Holgate !,your havin a larf,he's as bad as schneiderlin and gueye,one season wonders !
Jonjo Kenny will be a great right back,cash in on Holgate as Funes Mori will be back soon (hopefully).
Neil Copeland
61
Posted 08/11/2017 at 21:12:11
I really struggle to see what Mirallas does for us, yes he has talent but he rarely uses it for longer than a few minutes if that in the games that he plays. He is very frustrating to say the least. I appreciate that we seem to be shipping out what are deemed to be skilful players by some but when was the last time Mirallas changed a game for us?
I also take into account that wingers tend to be inconsistent in general, the thing is that Mirallas is either a red card waiting to happen, throws his toys or simply disappears somewhere. I think he has had more than enough time to show his worth.
Jim Hardin
62
Posted 08/11/2017 at 00:10:16
Neil,
Mirallas "does" the following based upon his time here. Kev gives you goals and assists. He gives you width and pace on the left or right. He gives you a player the defense has to account for by keeping their fullback closer to home and by shading a midfielder over to help out. He gives you decent ball skills to attack and get beyond defenders. He gives you decent crosses and no fear at going into the box. He also tracks back to help out on defense more.
If he gets pissed at being subbed and at not playing, then good. I wish we had a few more like that, instead of a few who seem to be either going through the motions, or who run around the pitch demanding the ball instead of displaying discipline and trust in their teammates (initials W.R.)
Michael Williams,
Here is what we haven't heard from him off the field the last three years. No police, or infidelity issues. No embarrassing headlines for the club like being knocked out in a club, driving someone else's car while under the influence, running into a bicyclist while drink driving, and no domestic violence issues. As far as I am aware, he doesn't snub the fans or give them attitude. He takes part in EFC community events. What else do you want?
For those criticizing him for laughing during the game. Watch any set of players who are in the stands or seats not part of the 18 and you will see they all laugh at times. They are human. The subs on the bench do it too. It is an isolated moment or two over 90 plus minutes. Even managers and coaching staff will do it.
Besides, no one knows what they were laughing at do they? It could have been something said to the 4th official, a comment yelled from the stands, a coach, or anything or nothing. Stop assuming the worst just because you want to.

Don Alexander
63
Posted 09/11/2017 at 01:09:49
Mirallas came to us a Belgian first-choice centre'ish forward having had brief success in, erm, Turkey. We've mainly played him on the wing however, through three managers all of whom have seen him train. None of them patently rate him as centre-ish forward.
From what I've seen neither do I.
Terry White
64
Posted 09/11/2017 at 01:21:57
Maybe Greece, Don (#63)? Not that it matters too much.
Graham Hammond
65
Posted 09/11/2017 at 01:28:54
Don, when exactly have you seen Kevin Mirallas play for us as a Centre Forward? I am getting on a bit and my memory isn't what it was but I think KM has been pushed out wide 99% of the time which obviously would limit his goal output. Both Martinez and Koeman thought Niasse was a bag of shite so it shows how much they know, without Oumar this season we would be in a right fine old mess. I am with Jim Hardin on Kevin Mirallas, I think he is a quality player who should have played a lot more minutes than he did under both Martinez and Koeman. Everton as a club have lost out in my opinion.
Neil Copeland
66
Posted 09/11/2017 at 14:35:23
Jim #62, so far this season he has no goals or assists although I accept not a lot of game either. To me he seems to drift his way through games and has done for some time. I much rather have Lookman, Vlasic or Lennon on the wing because they seem to give much more.
I agree that getting pissed off when subbed or not playing isn't a bad thing but throwing your toys out particularly in our current predicament is not acceptable. I fully expect to hear him wanting a move again, I think we can and should expect better.
Yes, there are other players who do not seem to act professionally off the pitch either and that also needs addressing.
Only my opinion though and fully respect yours.
Add Your Comments
In order to post a comment, you need to be logged in as a registered user of the site.
Or Sign up as a ToffeeWeb Member — it's free, takes just a few minutes and will allow you to post your comments on articles and Talking Points submissions across the site.