Allardyce takes first press conference as Everton boss

75 Comments [Jump to last]
Friday 1 December 2017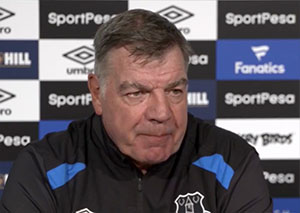 Sam Allardyce says he would like to be more than just a short-term fixer at Everton and expressed his hopes of bringing a "winning brand" of football back to Goodison Park.
The one-time England manager was confirmed as the Toffees' new boss yesterday when he agreed an 18-month contract and he said the draw of such a big club made the offer to come out of retirement impossible to turn down.
"Everton was always going to be a temptation to come back out of retirement and take up the challenge," he said at his first press conference since taking the role. "I'd been offered a number of jobs since retiring from Crystal Palace and, finally, Everton came along and in the end it was done within 48 hours, even with me being in Dubai.
"I'm delighted that I've come back into a club of this size, magnitude and history. The name of the club says it all. I couldn't say no when they came back; I didn't really have a tough decision to make.
"[The club] is in a difficult place at the moment which nobody expected which is probably why they've asked me to take the reins and bring a bit of stability.
"But this I want it to be much more than that, really. I want to see the club grow and live along with the ambitions it's had recently. They finished seventh last season and got into Europe and everybody expected it would be a good season.
"That has happened for whatever reason and it's my job to steer them back in the right direction and then try and get them back in the European places and FA Cup Final.
"The first and foremost thing is to get back to winning ways, bring some stability to the club and get them playing as well as they did the other night consistently."
Allardyce was asked whether he viewed the job as a longer-term project than the 18-month contract he signed suggests and he was pragmatic in his assessment of the current environment for top-flight managers.
"Yeah, because contracts don't really mean anything much these days except that you need to sign a written contract in terms of the negotiations but if you do well, that contract gets extended and if you don't, you get sacked.
"That's what we have to face these days. I think the average life of a Premier League manager is about 14 months or so. So, if you're going forward and the club is going in the right direction and you can deliver the ambition of the football club — and this club has a lot ambition, certainly from the owners down; we all know the fans have ambitions, they always have done…
"So if we get the right recruitment and we can galvanise the players that are already here… and the most important thing we can do here is keep the players fit because nine of them are injured.
"I have to resolve all those problems because even though Europe will finish next week, we're going into 10 games in December because of the Christmas period so getting those players fit will be a crucial part of our success."
The hiring of Allardyce, has dismayed many Everton supporters who see it as a step back from the ambitious targets that Farhad Moshiri and the Board had when they appointed Ronald Koeman and a reflection of the club's desperate plight.
The Dudley-born former England manager was asked if he felt he had to win the fans over at Goodison Park and he said that he would be looking to bring a "winning brand" of football to his new club.
"Everybody has to win the fans over," Allardyce replied. "If you lose, the fans criticise you; if you win, the fans are okay with you. There's nothing I can do about whatever perception the fans have of me. [Those views have been expressed] over many, many years. It's not true, of course — we play the game of football to try and win it.
"With the players we have available, my job is to try to allow the players to play to their strengths and that has always been the case wherever I've been. I've never played the same way at any football club I've managed and I've managed seven in the Premier League now, which is more than anybody else.
"Each club has had a different philosophy on how they should play, a different way that they should play, and all I've tried to do is live up to that philosophy and, luckily, wherever I have been, I've been able to leave the club in a far better position than when I've taken over.
"Who knows how far we can take Everton? Only time will tell."
---
Reader Comments (75)
Note: the following content is not moderated or vetted by the site owners at the time of submission. Comments are the responsibility of the poster. Disclaimer
Rob Young
1
Posted 01/12/2017 at 17:22:27
Like it or not, but Sam gets and respects Everton a lot more then the previous man.

Dermot O'Brien
2
Posted 01/12/2017 at 17:27:11
Alf Tupper, Tough of the Track, is looking well for his age.
Michael Mcloughlin
3
Posted 01/12/2017 at 17:34:31
Impressive performance for me.
Eugene Ruane
4
Posted 01/12/2017 at 17:34:32
As the first question is asked, assembled journos narkily mutter and whisper to each other about Everton suddenly not providing them with snacks.
Sam (wiping flakey-pastry debris from his chin): "Well firstly I'd hope to..."
Jay Harris
5
Posted 01/12/2017 at 17:36:23
Right appointment at the right time.
No more BS – just tough talking and performances.
Ian Riley
6
Posted 01/12/2017 at 17:39:11
Rob (#1) spot on. Sam gives the impression he has made it to a big club and is treating us like one. He will give 100% and turn up to work everyday. Deserves his chance.
Paul Underhill
7
Posted 01/12/2017 at 17:40:11
Much more interesting than old drone Koeman. I think when he hits the ground running we'll leave the last dozen or so games, apart from West Ham, well behind.

I hope he kicks some experienced shite into place or out the club. I don't think he'll get messed around. He'll have been well informed on all things Everton by Reidy.
Derek Knox
8
Posted 01/12/2017 at 17:40:51
Dermot, only cos Ike let him knock off early, so he could get his fish and chips, then run them toffs from the Harriers!
Gawd, you're (we're) going back a bit there, used to love the old Hotspur.
Got a good feeling about the game tomorrow, let's hope the new manager's winning syndrome, holds true to get us up that table.
Watched Huddersfield a couple of times recently on the telly, bit of a Jekyll and Hyde side, let's hope It's Hyde tomorrow, or it'll be Hide for us!
Paul Newton
9
Posted 01/12/2017 at 17:42:36
I didn't want to see him as the new manager, but I have to admit that he spoke more sense in 20 minutes than the last one did in 18 months or so and the one before in just under 2 years.
While not liking certain things about him, he could actually be just what we need – at least for the short term.
David Connor
11
Posted 01/12/2017 at 17:46:23
Like Rob (#1), I was very happy when Koeman came to the club. But you never got the feeling that he was fully committed to the place.
Even in his interviews, he didn't seem arsed until he knew the axe was about to fall on his head, but by then he had totally lost the fans anyway.
At least Sam will give us a lot more respect than Koeman ever did. I am not overjoyed by his appointment but we all need to get behind him, the club and the team. Hopefully onwards and upwards from now on.
You never know – it may turn out to be a great journey. If anyone isn't fully behind the club, please stay away. We've had too much negativity around the club this season. We don't need anymore. COYB
Soren Moyer
12
Posted 01/12/2017 at 17:47:09
Now, there is a bit of warning for Schneiderlin and Co.
Clive Cox
13
Posted 01/12/2017 at 17:52:28
He didn't start every single sentence with "Okay"! So it's a plus from me.
I actually hope he does well with us.
Des Farren
14
Posted 01/12/2017 at 18:11:48
If he lasts the 18 months, I expect us to be standing still or little better. That is his record and the sum total of Everton's ambition.
Little to excite or look forward to, just staying in the division. Big club, my arse.
Stephen Brown
15
Posted 01/12/2017 at 18:14:02
Talked a lot of sense. We are where we are so must now all surely get behind him and the team.
For the first time in ages I'm looking up the table and thinking who we can reel in rather than worrying about Crystal Pakace and Bournemouth et al.
He's sort of developed this firefighting reputation and rightly so but has he ever really been given a chance at a big club?
Not my first choice at all but I'm fully behind him now! And I don't think the press conference has harmed him at all!
Rudi Coote
16
Posted 01/12/2017 at 18:16:25
Wow! The way people have changed their tune now Sam has been officially installed as the new Gaffer. Last week he was "poison" ... now it's ok.
We should all be behind him. He'll improve the way we are playing at the moment. Maybe not sexy football but enough to lift the team and despondency that shrouds our great club.

COYB
Steve Ferns
17
Posted 01/12/2017 at 18:43:53
As a Sam hater, I thought he did very, very well.
You should watch the video. I liked this bit:
Q: "Why was Everton so tempting?"
A: "Because it's Everton. The name of the club says it all"
Then he went on to set the bar high. Europe and a Cup is what he wants.
The only negative was the Ross Barkley stuff. He rubbed his nose a lot, now i'm no body language expert, but isn't that a sign of untruthfulness? Anyway, what he did say was that Everton had tried and failed to get him to sign a new deal. He went on to say that if he wanted the contract he would want, then he needs to be playing well. He kind of left the door open to him, but it didn't leave me full of optimism like Unsworth did.
Anyway, he certainly talked the talk. I can see why he's a good motivator. Lots of positives there. Let's hope he can deliver on what he promises and do our best to forget all the corruption.

https://www.youtube.com/watch?v=FLUcEgclZPE
He's also on the Everton Show now.
David Barks
18
Posted 01/12/2017 at 18:52:07
Funny, everyone was saying how made up they were with Koeman when he was announced. What a breath of fresh air Koeman's words were after all the platitudes from Martinez.
Link
Colin Glassar
19
Posted 01/12/2017 at 18:52:43
Looks like big Dunc has survived the cull – once again. He must be either really good or they're just too scared to sack him.
Steve Ferns
20
Posted 01/12/2017 at 18:56:44
Just checked David. I said nothing. I was still smarting from them appointing Koeman ahead of * ahem * De Boer!
Colin, Allardyce went on about great a club Everton were after Andy Gray, Peter Reid, Paul Bracewell, someone else I forget, and Duncan Ferguson told him. I assume this means he's some kind of mate of his. He also mentioned him being on the staff.
He also talked about Alan Kelly. Alan was brought in temporarily as keeper coach by Unsworth. Allardyce said he would assess him and all the other coaches and that probably some would leave. I doubt he would cull the U23 squad, so who's he talking about? Kelly? Ferguson? Or is he talking the youth setup? Unsworth? Ebbrell? Jeffers? etc?
Derek Knox
21
Posted 01/12/2017 at 18:57:38
Steve, @17, a Sam hater, that's a bit strong, I think he will do well, let's face it under Koeman we were getting worse and worse, with the confidence downwardly spiralling out of control.
He likes Chicken and Mushroom pie too, so watch out next time you're at the Match.
Dermot Byrne
22
Posted 01/12/2017 at 18:58:43
The interesting thing will be to see how we feel at 5:00 pm tomorrow. That's my kind of long term thinking!
David Barks
23
Posted 01/12/2017 at 18:58:57
I particularly like this comment from John Pierce when Koeman was announced.
"John Pierce #54
Stones to City, Hart plus cash in return
Lukaku to United, Rooney plus cash in return
Smart business that Ron!
COYB!"
Steve Ferns
24
Posted 01/12/2017 at 18:58:57
I was trying to qualify my praise, Derek. And yes, hands off my chicken pie.
Andy Crooks
25
Posted 01/12/2017 at 19:03:40
Colin, it is disgraceful that he has. "The legend" is the common denominator in the shite that has afflicted our club. He seems to be Kenwright' s charity case. What the fuck has this man offered as a coach?
Stole a living as a player, stealing a living as a coach.
Gavin Johnson
26
Posted 01/12/2017 at 19:14:03
Allardyce certainly talks a good game. I'm hoping the chance to work with better players and budget will mean he will get the team playing a better brand of football than we've seen under him at Palace and West Ham.
As for Dunc, I have to agree with Andy. He seems to be stealing a living on the back of his legend status. A job in hospitality or Everton in the community would surely be more fitting.
Steve Ferns
27
Posted 01/12/2017 at 19:20:51
Gavin, Everton have been in touch. Apparently, they are willing to let him go, but Dunc needs the wage. They say if you can break the news to him in a face-to-face chat, they will be very grateful. If you fail, then Andy is next up to do it.
John Davies
28
Posted 01/12/2017 at 19:22:06
Des Farren (#14). Stay away then, mate. The club needs to lose all the negatives surrounding it. You and all the whingers included.
David Barks
29
Posted 01/12/2017 at 19:22:37
Why exactly is Duncan a legend? Certainly not for his goal scoring exploits or trophies.
Nigel Munford
30
Posted 01/12/2017 at 19:23:47
Gavin, hospitality, Duncan, really?
Des Farren
31
Posted 01/12/2017 at 19:25:18
David Barks @ 18. Very funny..and it is funny .The quotes that grab me are:
"the days of celebrating survival are over"
"those Euro nights out that end in far away places contesting a final".
And the scorching Martinez received on here... where is he btw? Well he is coaching one of the favourites for the World Cup. Clown!
Simon George
32
Posted 01/12/2017 at 19:32:05
He says:
"I've been able to leave the club in a far better position than when I've taken over"
I think that's debatable.
Bolton: were Premier League; now Championship.
Newcastle: were Premier League, up until Benitez; Championship.
Blackburn: Premier League; now League One.
West Ham: Premier League; now still in Premier League but crap.
Sunderland: Premier League; now League One and crap.
Palace: Premier League; now bottom of Premier League.
It doesn't matter if you like him or not, those are the facts. You could argue they decline when Allardyce leaves or you could argue that his management style in the long run damages the clubs.

John Keating
33
Posted 01/12/2017 at 19:38:53
Simon, there's nothing to argue about – they did decline after he left!
Unbelievable post!
So on your theory, we are in the shit now because Kendall left for Bilbao?
Nigel Munford
34
Posted 01/12/2017 at 19:41:36
Seems the negativity that was present on here earlier in the week is evaporating apart from a hard core of TWers that have a major dislike of Sam.
Steve Ferns
35
Posted 01/12/2017 at 19:49:19
Nothing can be done Nigel. We can't get him removed, he's here for a good while yet. Any protests or demonstrations will be to the detriment of the team. The best thing we can do is get behind the players like we did on Wednesday. Make Goodison a hostile place and hope to win every game. If that results in Allardyce winning us the league, then great. We'll have no choice but to say that he was a great manager once he finally got the right team.
In the press conference, he said all the right things and more. He didn't do any knives to gunfight comments. He didn't try to quell expectations, he actually promised more. He came across better than anyone could hope.
What I and I expect others will now do, is hold him to those standards and promises. If he meets them, then he won't have a problem. If he fails to deliver, then he knows what's coming next.
I also believe, that unless he delivers 7th or finishes the season playing real class football, then we will go back in the summer for Silva, or maybe Fonseca, and pay Allardyce off.
John Davies
36
Posted 01/12/2017 at 19:53:58
Steve Ferns (#35). Nothing to disagree with there mate. I think the vast majority of us will do exactly that. Hope I'm right when I say I've got a sneaky feeling that he might just surprise and delight us all.
Nigel Munford
37
Posted 01/12/2017 at 19:54:33
Steve, like a said, nice to see a lot of the negativity on the wane and a positive vibe on here. He knows he needs the fans on side, so he knows he's got to get results.
Simon George
38
Posted 01/12/2017 at 20:04:23
John @32
To reiterate my post, I stated if you like him or not those are the facts. You can read into it that he's such a good manager they inevitably decline once he's left, or, you could argue that they aren't better once he's left.
He stated the clubs he managed are better off, I'm saying that's debatable, I didn't say I had a theory.
Mike Jones
39
Posted 01/12/2017 at 20:08:49
Good appointment. Simon George (#32) – that's nuts!
Kevin Tully
40
Posted 01/12/2017 at 20:13:15
Andy Crooks # 25, precisely my thoughts. This is his third managerial team now, not a peep out of 'Big Dunc.'
He should have been the one to step into the breach when Koeman went, he was the only one left who had been working with the first team squad. Unsworth hadn't been near the first team, yet he was put in charge, what does that say about Ferguson's coaching ability?
No doubt he'll be around until his sponsor leaves. Another charity case.
Paul A Smith
42
Posted 01/12/2017 at 20:17:42
From what I have read, Duncan Ferguson's training regimes are very good and the forwards really enjoy them. Lukaku spoke highly of him and his record wasn't too bad.
I noticed before the West Ham game he had Rooney amongst the practising strikers and that didn't turn out too bad either. Some fans really need to get out of the hearsay mode and do some fact finding before assuming Ferguson steals a living.
I also think he is a legend in some fans eyes for being part of an FA Cup winning side and being a real force in big games. The games people talk about. He was definitely stupid at times no doubt.
I also think he takes to fans like a gentleman should and is a genuine person in a way most people cry about players not being anymore.
Dick Fearon
43
Posted 01/12/2017 at 20:22:05
S. Brown (#15), He had his chance at the England job and stuffed it up.
Christy Ring
44
Posted 01/12/2017 at 20:25:07
What I like about him: straight to the point and no bullshit. The one negative I got was his answers about Barkley's situation. I don't think he's a fan unfortunately. I hope I'm wrong.
John Keating
45
Posted 01/12/2017 at 20:25:23
Sorry, Simon, it doesn't take a genius to work out what you are implying.
What he said was correct. What happens long after he's gone is not down to him.
Far better to just come out and say you don't want him here rather than make snide comments.
Let's just hear the boos he gets tomorrow from those of the anti brigade who haven't burnt their season tickets.
Dermot Byrne
46
Posted 01/12/2017 at 20:27:07
Views on Sammy Lee? Personally seems to always have great enthusiasm... and bottle to come to us.
Joe Foster
47
Posted 01/12/2017 at 20:27:07
Interesting times ahead me thinks.
Jack Convery
49
Posted 01/12/2017 at 20:57:10
As someone said in work today – he's the type of guy who eats a packet of crisps whilst having a dump.
Tony Hill
50
Posted 01/12/2017 at 21:40:13
Steve Ferns (#17), very well said.
Nigel Munford
51
Posted 01/12/2017 at 21:42:17
I take it you're not a big fan of Sam then, Oliver?
Tony Abrahams
52
Posted 01/12/2017 at 21:49:45
I'm not sure it's because he's not a fan Christy, but most probably thinking that Barkley, hasn't done enough in the game to demand such an outrageous wage?
Ernie Baywood
53
Posted 01/12/2017 at 22:02:04
I don't buy into the importance of him saying "we" or providing platitudes about the club.
Under Martinez people loved his positivity when we were winning, but it grated when we were losing. People thought Koeman's detachment and brutal 'honesty' was just what we needed when we were winning and called it a problem when we were losing. Unsworth's love for the club was rated highly for about a week!
The only thing that matters is the performance of the team.
I didn't want Sam. It says a massive amount about the ambition, capability and knowledge of our ownership.
But if I took one thing from that press conference it's that he's a leader. Everyone gets aligned with him and does their job or they can leave. He wasn't nasty about it, just stated facts.
And right now, this club needs a leader more than anything else. It needs everyone working towards one aim.
Performances will dictate his success. Now he's in the chair, he'll get my support.
Paul A Smith
54
Posted 01/12/2017 at 22:18:54
It might be a small detail but Allardyce reffered to the club as 'us' in his press conference. Koeman was often noticed for speaking about 'us' as Everton, like he wasn't part of our club.
The way the team all celebrated the goals the other night made me think are they feeling a bit more settled now the manager is announced or were they together anyway? Either way the team look like their up for a fight.
It's now a case of getting the most from our quality players. It's up to the new regime to find a winning formula and like Allardyce says a new set up needs everyone to bond and give it a go.
Pete Clarke
55
Posted 01/12/2017 at 22:56:37
As with a lot of trades, there are people who do the basics well but struggle in areas of real complex that demand a certain skill set. he takes clubs as far as he can go and leaves (bungs aside).
He has landed a top job here and he knows it, so hopefully he can steady the ship but I will be happily and greatly surprised if he gets us playing free flowing good tactical football.
One thing is though is that it's actually good to understand what he's actually saying unlike the last couple we have had.

Neil Copeland
56
Posted 02/12/2017 at 00:38:05
I take it from the comments so far that all are going to continue with their support by going to the game. If so, that is great to hear and Everton can only benefit from it. What a difference a little positivity makes eh?
Really looking forward to the game tomorrow and even managed to get a ticket for my daughter. Huddersfield look a half decent side so should be interesting. I hope Sam Allardyce gets a proper Goodison welcome, he deserves to be given every chance to succeed.
Neil Copeland
57
Posted 02/12/2017 at 00:39:41
Sorry, I should have said – those that can actually get to Goodison that is. I hope I have not offended anyone.
Gary Carter
58
Posted 02/12/2017 at 01:28:17
I think this is going to be a good appointment and will surprise a few people, our own fans included. He's a big strong personality which is exactly what we need from players through to the board. I reckon Walsh will be gone by Xmas and we will have done surprising and imaginative signings that will lift everyone involved with the club.
Particular note is that he said he's always managed with what he's had at his disposal, he's got arguably the bet squad he's had at his disposal and with some additions this could be exciting .
Teddy Bertin
59
Posted 02/12/2017 at 01:41:07
Simon, if I'm not mistaken, the very point that you made to undermine Big Sam was made to praise him when he got the England job.
Every club he has managed looks much better than when he took over and when he leaves they go into a sharp decline.
He was fired at Newcastle, West Ham and Blackburn for not playing attractive enough football (yet keeping them all safe and solid) but those teams were all relegated shortly after he left because he was actually making a poor bunch of players look decent.
The only time he's ever had real quality players (although admittedly aging) was at Bolton and they were 5th in the premier league when he left.
I didn't want Big Sam here but I've always rated him as a manager so I'm not going to be a hypocrite and start finding ways to start proving that he's a poor appointment now. We're in the shit due to poor recruitment, poor leadership and lack of squad morale.
Those are things that someone Big Sam will sort straight out.
Will he reopen the School of Science? No.
Will he break us into the top 4? Probably not.
Will he attract the big name players Moshiri wants? Probably not.
Will we get any worse? No.
Will we get relegated? Absolutely not.
Considering where we're at, let's just hope he steadies the ship, gets the squad fit, bonded and focused and then in 18 months we can start talking about aspiration to break into the top 6 again.
Gary Gibson
60
Posted 02/12/2017 at 03:57:45
"Why did I say yes? Well, it's Everton isn't it? I don't think I need to say any more. The name says it all."
Lee Brownlie
61
Posted 02/12/2017 at 04:18:13
Des Farren (#14)
What's the point of being a supporter if you can't even have hopes and dreams as you clearly refuse to?
Miserable fecker!!!
Personally, I'm waiting on hopefully for a boost to my Christmas spirit this year!!
You?.. 'But I've already got a fucking mince pie!' yeah?
Laurie Hartley
62
Posted 02/12/2017 at 04:21:00
Jack Convery (#49) – I can handle people decrying him for his ability or lack thereof, decrying him for his error of judgment while England manager, questioning his integrity, questioning his managerial record, but I reckon the personal insult you have posted is way out of order.
Brian Porter
63
Posted 02/12/2017 at 06:39:25
Lots of negatives on here but I'm thrilled that we actually appear to have a manager who 'gets' Everton. He's already shown more positivity about the club than Clueless Koeman showed in 18 months.
Already he talks of 'us', and 'we' and I loved his response when asked why he took the job. "It's Everton isn't it?" He sees us as a big club, a step up, not a stepping stone.
Give him a chance, let him see what he can do for us. Isn't it good to have a manager who knows who and what we are? At last!
Mark Tanton
64
Posted 02/12/2017 at 07:41:52
These are exciting times than many Evertonians are reckoning. Allardyce will get us organised, give us self-belief, and maybe he'll even do something about our rotten inferiority complex too – I can't see him being worried about a trip to Anfield.
Hugh Jenkins
65
Posted 02/12/2017 at 08:36:06
Gary (60) - The new "Strap Line" - We've had Everton - "The People's Club".
We now have - "Everton - the name says it all!"
Well spotted.

Gio Mero
66
Posted 02/12/2017 at 08:38:42
I too would love him to at least try to get us playing amazing football but let's be honest we are a million miles away from that at the moment. I think the last win got many of us carried away a tad.
This squad is obviously unbalanced and to believe it can win and entertain suggests the idea that Koeman and Unsworth do not understand a thing in football which we all know would be wrong.
Let's just get the points which is a difficult task already for the foreseeable future.
Brian Williams
67
Posted 02/12/2017 at 09:16:36
Dermot (#46).
Views on Sammy Lee? Well I've read and heard that he's a really good coach.
He also went right up in my estimation when he pulled out of a "Liverpool Legends Night" – an "Evening With Sammy Lee" – a ticketed event that was being held in The Shankly hotel in town on the evening before the derby.
Mark Tanton
68
Posted 02/12/2017 at 09:37:26
I think Sammy Lee should be left to get on with the job. People in the game only ever talk of his utter professionalism. That's good enough for me. Like some people have already pointed out, Big Dunc, on the whole, did absolutely fuck all for us, yet he is lionised.
David Ellis
69
Posted 02/12/2017 at 09:55:48
This is the first ever ToffeeWeb thread that has made me feel better about the world after reading it.
Positivity... let's hope it's catching.
I think we'll be fine. We have the off-the-field resources we didn't have before; get a couple back from injury, get a new striker in January and a defender maybe... and the balance will return.
I might even watch a game now – to be honest, I've been avoiding games this season.
Simon George
70
Posted 02/12/2017 at 10:24:26
@ John #45
I'm not implying anything at all. My conern is that while I understand his appointment right now, but my worry is for the long term. Short term wins and long term losses and his history tends to point towards that.
I also completely understand that while he's now been appointed many want complete positivity but life isn't like that. It's not black and white. I'm not against Allardyce nor am I really for him. I'm an Evertonian, I'm assuming you and most on here are too. Our common denominator is we all want the team to do well and improve. We just disagree on how to get there.
I have to reiterate my original post because you seem to be hearing what you want to hear. He said he left a legacy of clubs in more positive health and I said that was debatable. I'm not even saying it was an incorrect statement but I'm saying it was debatable because the facts point towards a history of clubs performing quite poorly now. The seeds you plant now have ramifications in the years to follow.
Kunal Desai
71
Posted 02/12/2017 at 10:52:29
He did mention in his press conference the delay was due to clauses being ratified by the lawyers. Interesting; maybe he will do a decent job and will be dignified leaving in the summer; otherwise he is talking the wrong sort of clauses or we are left with this Santa Clause much longer.
Dermot O'Brien
72
Posted 02/12/2017 at 11:43:17
Bloomin' Ada, Derek. He only knocked off early if he had those pipes welded.
Peter Foy
73
Posted 02/12/2017 at 11:58:44
Can the people commenting om the abilities of Duncan Ferguson and Sammy Lee as coaches please let us all know how in fuck's name you come to your conclusions. Do you actually go to the coaching sessions? Are you at the edge of the training pitch with a pair of binoculars and a notebook?
Of course not. You just make it up as you go along.

Stan Schofield
74
Posted 02/12/2017 at 12:13:45
I wasn't in favour of Sam Allardyce coming here, but he's now our manager, so we should get behind him. If he cocks-up, like Martinez and Koeman did, then we can comment on that and criticise him accordingly. But let's jump that hurdle if and when we get to it.
There's absolutely no point in being miserable about it now, that will achieve nothing. Keep a weather eye out, by all means, so that we don't have falsely raised expectations (which we can easily fall into). We need to be what we want the team to be, positive. Negativity is self-defeating, but identifying a problem if and when it arises, and thinking of a better way forward, is more likely to achieve something.
I thought his press conference was very good. It's only talk, but at least there was nothing to make me feel concerned, and many things to make me feel encouraged. I got my wife, who's a better judge of body language than me, to look at it too, and she thought he came across as a no-nonsense individual who talked clear sense and who doesn't bullshit. Most other times, she thinks managers are full of shit when they open their mouths. So that'll do for me, for the moment.
Brian Williams
75
Posted 02/12/2017 at 12:15:38
Peter Foy (#73).
I certainly don't make it up as I go along. I've read several articles and read several columns written by players & ex-players with regard to their appreciation for Sammy Lee's coaching talents.
Graeme Sharp and Barry Horne also spoke highly of him to me personally.

Sooooooooooooooooo, err, fuck off!
Stan Schofield
76
Posted 02/12/2017 at 12:32:18
Peter@73: I think you'd need more than just binoculars. There used to be a programme on ITV in the 60s, called 'Dangerman' with Patrick McGoohan. He was a spy, and used binoculars that also amplified speech, so that he could both see and hear from long distances. I think you'd need one of them. I've had one on my Christmas list for the past 55 years, and I'm hoping I'll strike lucky this year.
Jerome Shields
77
Posted 02/12/2017 at 13:14:31
I get the impression he understands Everton's tradition and football. As he said, he will aim to enhance the strengths. I think he really wants to manage Everton and see them as a sleeping giant as far as potential goes.
He will stabilise the club. Rooney will play midfield. The backline will become not nonsense and have shape. The wingers and wing backs will be pushed forward. Players with tackling ability and legs will supplement Rooney.
Sigurdsson will be the Number 10 and Niasse will spearhead the attack with runners picking up the loose balls from the midfield and wings and supplement the attack. Klaassen will be tried as a defending midfielder to break up the passing movements of the top five clubs.
Players who have the potential will be tried. If they don't make the grade, they will be replaced and gone.
Peter Foy
79
Posted 02/12/2017 at 14:43:44
Brian, I've got nothing against Sammy Lee or Big Dunc. I actually support this. I can read articles too.
And why should we respect the opinion of ex-players anyway, whether or not you know them 'personally'. Name-dropping bellend.
Add Your Comments
In order to post a comment, you need to be logged in as a registered user of the site.
Or Sign up as a ToffeeWeb Member — it's free, takes just a few minutes and will allow you to post your comments on articles and Talking Points submissions across the site.