Allardyce pleased with first win
Saturday 2 December 2017

18 Comments [Jump to last]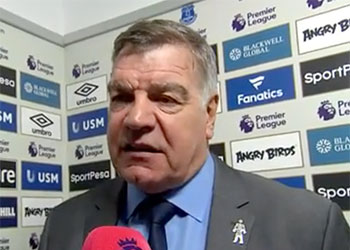 Sam Allardyce said he was pleased to see his new charges record their second home win of the week which relieves the pressure on a squad that looked destined for a relegation fight after last weekend's heavy defeat at Southampton.
The Blues followed up the midweek trouncing of West Ham by beating Huddersfeld Town at Goodison Park thanks to second-half goals by Gylfi Sigurdsson and Dominic Calvert-Lewin.
"After finding it difficult in the first half, the effort to win it was there from the players in the second half," Allardyce said afterwards in his first post-match interview as Everton manager.
"There was probably a bit of fatigue after the same side also playing on Wednesday night but I think once we got the first goal, it settled us down.
"I think defensively [from our perspective] Huddersfield didn't have a chance today and that gave us the platform to go and win this game.
"Then with Dominic on his own up front, I know he got a bit of luck but I was so pleased he scored.
"More importantly, it's our third clean sheet of the season and our second on the trot and it's ironic we've got two wins off it, isn't it?
"Everything was done right today. We could have done with a bit more entertainment, more passing and movement, a bit more give-and-go like we did the other night but, at the end of the day, the 2-0 is more important than that and we can build on that as time goes on.
"I had a bit of work to do tactically at half time to stop Lennon and Sigurdsson running too far back and saying, 'you let those fullbacks run on and we'll take the chance. You sit in those pockets and told everybody that when we've got the ball, we've got Siggy and Aaron free in the wide areas and off we go — we can get up the pitch.
"It worked for the first goal because Siggy was farther up the pitch than he normally would be and it's allowed him to score the first goal for us.
"We really needed it because in the first half we really weren't creating enough going forward. And of course, once we got that goal it made us more comfortable to go and get the second and a really good and valuable three points for these lads."
"Gylfi [Sigurdsson] and Aaron [Lennon] were spending too much time on top of our full backs," he explained. "They were chasing back too often. I wanted them further forward and in little pockets of space, to help us get up the pitch. And that's where our first goal came from."
---
Reader Comments (18)
Note: the following content is not moderated or vetted by the site owners at the time of submission. Comments are the responsibility of the poster. Disclaimer
Peter Anthony
1
Posted 03/12/2017 at 04:00:52
Big Sam has talked nothing but sense since his arrival. Play the present fringe players against the sexy doughnut sellers in the week in advance of successfully storming Mordor please.
Enable a successful raid on Mordor with a winning plan and love will abound! COYB.
David Pearl
2
Posted 03/12/2017 at 04:07:10
Exactly, Peter. Though easier said than done. I'd prefer Sigurdsson in the middle though. Williams playing much better and both full backs improving. We look okay when we attack but sit back scared. Hopefully Rooney can inspire us to a much needed win.
John Ronnie
3
Posted 03/12/2017 at 09:55:06
Apparently Bolasie has been training well and might get a run out in Cyprus this week.
Jamie Evans
4
Posted 03/12/2017 at 11:10:16
Only 7 more wins needed. That along with a couple of draws will see us safe and this 'fire' that most were referring to, well and truly extinguished.
Will that next win be at Anfield though? Unfortunately not. At least the league table looks more respectable this morning.
Altogether now, "We found love in a hopeless place."
Eugene Kearney
5
Posted 03/12/2017 at 13:42:51
We can breathe a sigh of relief now.
A good win and another couple of goals to help confidence and get us up the table. We have to keep chipping at that –9 GD.
Onwards and upwards. COYB.
John Pierce
6
Posted 03/12/2017 at 14:34:35
Asked about players, Allardyce said he knew what positions but not who yet.
This is an area he has to do the convincing in if he is to persuade me he is not here for a re-run of the movies he's made before at Palace, Sunderland etc.
If he hauls in his usual brigade of rescue heroes, then I think we have every right to be irked. He must break with the short-termism his tenures are associated with. These type of signings offer no more than a sticking plaster.
Can he do that? We are not his usual rescue basket case; we are our own special brand of craziness. He should already be looking up not down.
We are desperate for a left back, centre-forward & centre-back in the window. So Everton's aim should not waiver, regardless of manager or position.
Granted the January window is difficult but Everton must get three quality players in.
Soren Moyer
7
Posted 03/12/2017 at 15:16:08
We have the exact amount of goals scored as last season after week 15, with Rom in the side, but have conceded 9 more than last season. It's obvious where our main problem lies.
Denny Kerr
8
Posted 03/12/2017 at 15:22:33
John (#6),
You are exactly right, we must bring in a goal scorer, left-back and a centre-back if we have any chance of improving as a team.
The jury is still out on Allardyce, and should be for quite a while, but I will say, it's a nice change to actually hear the manager explain his tactics and make some sense.
There are some really poor teams in the Premier League this season, and that alone will probably see us safe, but that's surely not what we want to settle for...
Over to the owner and the board to step up. I live in hope.

Don Alexander
9
Posted 03/12/2017 at 15:31:35
Interesting facts, Soren (#8). My take on the defensive woes is that the absence of a fully-fledged centre-forward majorly impacts the defence.
Lukaku wasn't my idea of a grafter but he had an obvious presence, speed and power when he chose to use it, thus keeping our opponents wary of taking too high a defensive line. That's not the case this season, and I mean no criticism by that of any of the tyros we've played up front. It ain't their fault at all.
If and when we sign what Koeman wanted we should see a distinct improvement all over the pitch. If we don't I don't think even Howie Mk 1 could challenge for a European place.
John Pierce
10
Posted 03/12/2017 at 15:36:47
Jack,
If he choses to bring in those you mention then he will deserve all the criticism in the world. He cannot use the window as an excuse not to find the quality we need.
If he is to shake is own self made image then this is a point that cannot be brooked. He must find quality, not journeyman who clutter the squad and suck up wages.

John Keating
11
Posted 03/12/2017 at 15:44:06
Jack, do you think it's as easy as that to get those calibre of players in January?
I can't think of any Club prepared to offload their best strikers, left backs and central defenders mid season.
He might get a few overpriced average players in but I doubt there'll be any top class additions until the end of the season, unfortunately.
Mike Dixon
12
Posted 03/12/2017 at 16:08:50
Surely January will throw up players desparate to go to Moscow but needing game time in order to get the plane. Walsh must highlight these.
John Pierce
13
Posted 03/12/2017 at 16:13:24
Mike, you are spot on. Everton are paying good money for people at the club to scout and secure high calibre signings.
To date that, erm, that ain't going to plan. You rightly point out that the World Cup is an aid to us to find players hungry to get on their national team.

John Pierce
14
Posted 03/12/2017 at 16:47:43
I think the centre-back needs to be quick, not the dominant type but if both then great??? I think that will be tough.
Full back; Betrand, Chilwell or Shaw.
Centre-forward still Giroud – I really can't think of any other – not getting any game time at Arsenal. Last World Cup?
Still a big fan of Vardy. Hard target but deffo worth a look at.

Tony Twist
15
Posted 03/12/2017 at 17:16:47
Needs to be players from abroad that are better value for money. It is going to be a tough ask. Keep quiet Everton until deals are done, being loud and proud about spending money, I think, hurt us when trying to buy in the last transfer window.
Dave Williams
16
Posted 03/12/2017 at 18:06:48
Players from abroad are cheaper but as we have seen with Davy and Sandro they usually find the Premier League and life in a strange country a lot to handle.
Sam will raise his sights because he will have a bigger budget and higher expectations of him.
This guy is a natural leader and will know what he needs to do.
Max Murphy
17
Posted 03/12/2017 at 19:49:23
A stable back four will breed confidence, and the rest of the team will play better. As I've said before, I cannot understand why we didn't go after Harry Maguire when he was at Hull.
Eric Paul
18
Posted 03/12/2017 at 20:36:51
Jack @7
That centre-forward you talk about is Calvert-Lewin – apart from the "hard-case" bit.
Add Your Comments
In order to post a comment, you need to be logged in as a registered user of the site.
Or Sign up as a ToffeeWeb Member — it's free, takes just a few minutes and will allow you to post your comments on articles and Talking Points submissions across the site.