Bolasie plays in U23s defeat at Leicester
Monday 11 December 2017

30 Comments [Jump to last]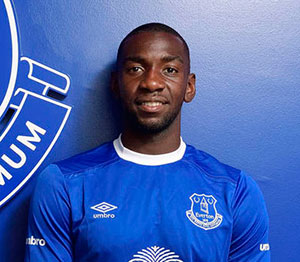 Yannick Bolasie saw his first semi-competitive action since recovering from a serious knee when he came on as a second-half substitute for Everton's Under-23s this evening.
The Congolese winger has been sidelined over a year following two surgeries but is now taking the final steps towards his long-awaited return to the first team.
Bolasie came replaced Dennis Adeniran with an hour gone of the Premier League 2 match against Leicester City but he couldn't prevent David Unsworth's side from going down to a 2-1 defeat at Holmes Park.
Fraser Hornby put Everton ahead but two goals in the last 10 minutes gave the Foxes' second string victory.
"Playing again was overwhelming," Bolasie told evertonfc.com. "When I got on I felt good. I knew about two weeks ago I was going to play in this game so it's good.
"There wasn't any nerves! Now that I've played the 30 minutes there isn't any. Maybe before there was some because it's been a long time. Training is training — it's totally different in the matches when it matters so, yes, I'm happy.
"I want to be with the [first team] boys. Right now the team is doing really well so you're going to have to try to fight your way in but there's no rush for myself. I know what my role is because a year out in football means it will be a month or two before I'm really back at it but the main thing is that I feel okay.
"Just the smell of grass again in the game was great."
Everton U23: Hilton, Garbutt, Foulds, Jones, Feeney, Charsley, Gibson, Henen (76' Evans), Baningime, Hornby (71' Sambou), Adeniran (61' Bolasie).
Subs not Used: Renshaw, Broadhead.
---
Reader Comments (30)
Note: the following content is not moderated or vetted by the site owners at the time of submission. Comments are the responsibility of the poster. Disclaimer
Terry Underwood
1
Posted 11/12/2017 at 15:11:35
Yay Yannick, hope to see this guy back soon
Timothy Sebastian
2
Posted 11/12/2017 at 17:13:30
Anyone saw the game and can comment on whether Yannick played well, and more importantly, does he still have his speed?
Dermot Byrne
3
Posted 11/12/2017 at 17:17:36
I have a feeling this guy may change our season and how we play.
Will make first goal for Sigurdsson at Anfield that is first step to dumping RS out of cup. Then, after 60 mins soaking up pressure, a long throw from goalie will send him galloping into their box where he is scythed down by Coutinho. He gets up uninjured and smiles to Big Sam.
This gets Coutinho a straight red, 15-game ban and Rooney sends whichever of their goalies the wrong way.
Klopp brings off all their team in a last 5 minute gamble and Klaassen scores from our own penalty spot with a cheeky but powerful back heel.
Gary Lineker asks Klopp for his reaction and he says it was never a penalty but he stands by his decision to bring the whole team off as it was to show solidarity with the fans that had by then left the Kop empty.
Always the optimist!
Jon Withey
4
Posted 11/12/2017 at 17:54:37
Guessing he isn't going to be Premier League ready just yet!
Derek Knox
5
Posted 11/12/2017 at 18:44:43
Good that he has had a successful run out, as far as reactions are concerned, but a pity he was on the losing side after having led for most of the game.
Richard Lyons
6
Posted 11/12/2017 at 18:45:26
Wow – brilliant goal by the model No 9!
And welcome back, Yannick!
Mark McParlan
7
Posted 11/12/2017 at 18:47:06
Brilliant news – but whose place does he take in the starting XI?
Jimmy Salt
9
Posted 11/12/2017 at 19:27:51
Mark @7.
All of them, mate.
Phill Thompson
10
Posted 11/12/2017 at 19:30:46
Timothy (#2), not surprisingly he was a bit rusty at times, had some neat touches, a nice cushioned header across the goal but generally just an easing back, nothing spectacular. 30 minutes under his belt, great stuff.
Tony Graham
11
Posted 11/12/2017 at 19:37:43
All pace and little quality...
Jason Broome
13
Posted 11/12/2017 at 19:51:17
Back in time for the second half of the season. I expect him to be fully fit by the end of January. With new players arriving, it could be an interesting run into May.

Tony Everan
14
Posted 11/12/2017 at 20:01:35
Great to see Yannick back. I'm looking forward to see him at 100% in the first team, but don't rush it! He will give us a great impetus to improve in the 2nd half of the season and maybe finish 7th.
Jack Convery
15
Posted 11/12/2017 at 20:05:30
It will be next season before he's anywhere near fully fit for me.
Peter Gorman
16
Posted 11/12/2017 at 21:23:22
Shame about the scoreline but having Bolasie play is fantastic news for him personally and for all of us too.
Michael Lynch
17
Posted 11/12/2017 at 21:39:24
Glad he's back, I love his positivity – I think he'll breathe some life back into the squad. Be interesting to see how much game time he gets over the next couple of months.
Lee Courtliff
19
Posted 11/12/2017 at 23:48:03
He won't be fully fit until August after a complete pre-season but he may be a useful impact sub for us this season.
I wasn't overly impressed with this fella before his injury but I'm glad he's back after what must have been a very difficult time.
Steavey Buckley
20
Posted 12/12/2017 at 00:44:49
I hope Bolasie can return to full match fitness and help pay off the huge investment in him. I do believe buying good players in their late twenties for hefty amounts of money is a lazy way of developing a team.
Man City are buzzing at the moment but they are a team of players mostly not older than 26 when they were bought in the first place. Only Kyle Walker has been bought in his late 20s of late.
Andy McNabb
21
Posted 12/12/2017 at 00:48:02
Dermot Byrne #3, I had that exact same dream!
Don Alexander
22
Posted 12/12/2017 at 02:06:51
Bolasie impressed me only when he played against us. He regularly ripped us a new one but, on reflection, that may have been because we now know we had bog-standard defenders unable to even counter mere vigour, size and speed.
The fact is though that he's far from a notable goal-scorer (1 in 10 is his career average, unless we're the opponents of course), far from a notable "assister" and, unfortunately for us, far less likely after his serious injury to be anyone's idea of a box-to-box dynamo.
Was he Koeman's or Walsh's, or Kenwright's, idea of a good idea?
Answers on a postcard to us supporters though, as ever.
Derek Knox
23
Posted 12/12/2017 at 03:13:22
You have struck a chord there, Don, I like him as a player, but did notice in a few games before injury, there were a few where he had little or no impact at all.
Furthermore, I think he was grossly overpriced at £28M, more like £12-13M would have been about right. Yet another buy attributable to Koeman.
Still hope he can have some impact over the run of games coming up.
Steve Hopkins
24
Posted 12/12/2017 at 07:20:24
Personally I don't think it's always about goals and assists although they do help. Lennon's contribution is a case in point, his re-introduction in the season as a whole and at Anfield on Sunday showed what a hard-working, pacey winger can do to relieve some pressure and prevent being overloaded by both the opposition's winger and fullback. Compare it to the lazy Mirallas or square pegs of Rooney or Calvert-Lewin.
Peter Larkin
25
Posted 12/12/2017 at 08:06:55
The very fact that, when Bolasie is on the field, teams will tend to sit that bit deeper and won't squeeze us as we have seen this season. Having pace gives us options. Would you rather Bolasie running at Lovern or Naisse?
All the haters, give the lad a break. I for one can't wait for his return. Also stats-wise, show me a out-and-out winger who produces every week in the Premier League?
Peter Lee
26
Posted 12/12/2017 at 08:14:25
Glad to see him getting nearer but have to agree about likely impact. Hope that he can be improved by the new coaching set-up.
Palace fans tell me that he was very frustrating for them. Brilliant very occasionally but largely ineffective or disinterested.
Regards coaching set-up, anyone noticed what looked like a dozen staff, not sub's, surrounding Pep at the end of the Manc derby.
Also, anyone not made-up by the activity on our bench during the game in the past few games? Shouts and pointing at players, earache for fourth official. About time.
Jamie Evans
27
Posted 12/12/2017 at 12:27:18
Welcome back, Yannick, best of luck with the rest of your comeback.
Peter @ 26, speaking of our bench, did you see the footage from MotD2 when Rooney scored our penalty? If you did, what did you think of our Captain's reaction? Muted to say the least.
Gerry Ring
28
Posted 12/12/2017 at 13:17:10
What's happening with McCarthy? I would have expected him to be featuring in these games. Worrying!!
Paul Newton
29
Posted 12/12/2017 at 13:23:16
I notice Garbutt was in the team. I was wondering what had happened to him.
Ajay Gopal
30
Posted 12/12/2017 at 13:50:17
Peter (#25),
"Also stats wise, show me a out-and-out winger who produces every week in the Premier League?"
Errr... ummm... a guy who plays in a dirty red uniform and scored last Sunday against us?
Jay Wood
32
Posted 12/12/2017 at 15:21:11
Cracking goal by Hornby, for those who haven't seen it:
Kim Vivian
33
Posted 12/12/2017 at 15:47:55
Nice Jay, thanks. Another one to look forward to.
Found myself watching our ladies after your link. I lost count of the goals but they scored a hat full there in the blizzard. I often wonder why they are referred to as Everton Women/England Women etc these days rather than 'Ladies'. Ladies sounds much better – anyone know why this is?
Mark Palmer
34
Posted 12/12/2017 at 23:42:18
Kim @33, I think it's something to do with the accuracy of gender titles in modern society.
'Ladies' is the female counterpart to the male 'Lords' or sometimes 'Gentlemen'. The Everton men's team isn't referred to as the 'Everton Lords' team or gentlemen's team – seeing as we're not in Edwardian England anymore.
Actually, on this forum, the men's team has been referred to as many things this season.
Add Your Comments
In order to post a comment, you need to be logged in as a registered user of the site.
Or Sign up as a ToffeeWeb Member — it's free, takes just a few minutes and will allow you to post your comments on articles and Talking Points submissions across the site.