Newcastle United vs Everton

118 Comments [Jump to last]
Wednesday 13 December 2017
Match Preview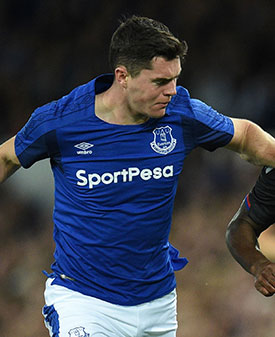 Michael Keane is fit again but has a fight on his hands to reclaim his place in the team
Everton travel to the northeast for the first of four games in the space of 13 days to take on Newcastle United.
Sam Allardyce and his team take their steadily improving confidence from a four-game unbeaten run to St James's Park looking to build on Sunday's draw in the Merseyside derby and earn what would be the Blues' first away win since January.
Having been forced to defend his tactics against Liverpool in Sunday's Merseyside derby which resulted in his side having just 21% of possession, it will interesting to see how Allardyce sets his team up against Newcastle, a team that has lost their last three home games, haven't won any of the last six, and currently sit just two points above the relegation zone.
Certainly, it will call for a more expansive and attacking style of plan than was in evidence at Anfield but whether he opts for the same formation and strike partnership of Dominic Calvert-Lewin and Oumar Niasse remains to be seen. Niasse was withdrawn at half-time in the derby after an anonymous 45 minutes but this is likely to be a very different game.
In terms of his back line, Allardyce, who cancelled the team's Christmas party to keep focus on turning around Everton's poor form this season amid a congested list of fixtures, will again be without Leighton Baines who continues to battle a calf injury and that will see Cuco Martina continue as an emergency left back.
Phil Jagielka is fit again having come on as a late substitute last time out and could replace either Mason Holgate or Ashley Williams but the manager may also feel it would be harsh to drop either of the centre-halves who started the last three League games seeing as it's a partnership that has yielded just one goal in that time.
In midfield, Morgan Schneiderlin made a case for his inclusion with a composed second-half display against Liverpool but while Yannick Bolasie turned out for the Under-23s on Monday evening, James McCarthy was again absent as he struggles to overcome his latest soft-tissue problem.
For Allardyce's former club, defender Jamaal Lascelles is set to return after more than a month out but Paul Dummett remains sidelined with a hamstring injury.
The Magpies are slight favourites with oddsmakers thanks to home advantage but you can always get attractive prices with first scorer and final score combinations.
A win for the Blues would bring them level on points with Watford in ninth place and lift them closer to the top of the pack that has come adrift somewhat from the top seven.
It would also help further the notion in the camp and among supporters that the club is moving in the right direction again and with the right management and recruitment in January, the season could yet be salvaged in terms of a European challenge and a run in the FA Cup.
Kick-off: 7.45pm, Wednesday 13 December, 2017
Referee: Martin Atkinson
Last Time: Newcastle 0 - 1 Everton
Predicted Line-up: Pickford, Kenny, Jagielka, Williams, Martina, Gueye, Schneiderlin, Sigurdsson, Rooney, Lennon, Calvert-Lewin
---
Reader Comments (118)
Note: the following content is not moderated or vetted by the site owners at the time of submission. Comments are the responsibility of the poster. Disclaimer
Will Mabon
1
Posted 13/12/2017 at 06:49:23
This will be interesting. Will it be a more attacking showing, or the subtly different less defensive display. One thing's there for sure now – the expectation that we might come away with something.
Kunal Desai
2
Posted 13/12/2017 at 07:06:45
Lennon and Schneiderlin to come in for Davies and Niasse should be the only changes.
Peter Bourke
3
Posted 13/12/2017 at 07:25:39
I was feeling confident until I saw the name Martin Atkinson.
Peter Lee
4
Posted 13/12/2017 at 07:31:29
He played Davies on Sunday to do a job in 4-1-4-1 which didn't materialise given the team selected against us.
Schneiderlin came in as part of a more orthodox 4-4-2 second-half to replace him. Agree he's likely to stay but for my money Sam needs to wave a magic wand over him if he's to have any part in the team's future.
Newcastle will present different and hopefully fewer problems tonight so as you were in terms of shape would make sense.
Sam does what he says in the interviews. He talked yesterday about early defensive solidity to quiet the crowd, then you have to "get between their lines". Learn lessons from what Leicester did last time out he went on.
Yes, it 's basic stuff but doing the basics and beating the teams you could/should beat, often 1-0, has got Burnley to fourth. Given the season so far is there anyone who (a) wouldn't swap Burnley's position for ours (b) doubts that Sam would have achieved at least as much if he'd have been appointed last May?
Finally any suggestions for a decent boozer with cask beer within walking distance of SJP?
Terry Underwood
5
Posted 13/12/2017 at 07:57:25
Would love to see Lookman get some game time, if not tonight, then soon.
John G Davies
6
Posted 13/12/2017 at 08:02:09
Sam has cancelled the players' Christmas Party.

Peter Hughes
7
Posted 13/12/2017 at 08:08:18
Can't see that endearing him to the players!
Kim Vivian
8
Posted 13/12/2017 at 08:25:23
I'm going 2-1 tonight but have a funny feeling about this game. I think we fans might be getting a little over-confident after the last 3 games and might be brought back down to earth.
Hopefully, though, the team will keep their momentum going and I do hope we see a bit more of Mola tonight. If Schneiderlin doesn't get his finger out we could be seeing his last audition very soon. Worries me whenever he's on the pitch just lately.
Jon Withey
9
Posted 13/12/2017 at 08:41:29
Stick and carrot – he's offering a new year's party!
A tricky one this – I hope we continue with the defensive solidarity – so maybe a 0-1.
Hugh Jenkins
10
Posted 13/12/2017 at 08:44:33
Almost every season in recent times there has been a "surprise package". Recently it was Leicester, this season it is Burnley.
Take Burnley out of the top seven and with a fair following wind and despite our very poor start to the season, the top seven, at the end of the season, will comprise the same teams as last season.
It is becoming apparent that, given the gap between seventh and eighth last season, and the probability that (as long as our improvement continues over the remainder of this season) the top seven will again comprise of the same teams as last season, a "super seven", if you like, now exists in the Premier League.
It also seems likely that, in those circumstances, if we finish seventh, we will once again, in in Europe next year.
The question that then naturally follows is – how do we get from seventh, to fourth and above?
Kim Vivian
11
Posted 13/12/2017 at 08:48:23
My "2-1" at post #8 was to the blues, I should have said!
I can't help feeling that Burnley will bomb after Xmas (although I said precisely that about Leicester in Dec 2015!). They have been grinding out results in a rather Moyes like way but their lack of goals may be their undoing. They have actually scored 4 less than us, the same as West Ham and only 2 more than Palace and West Brom, but a watertight defence (almost on a par with Man City and Man Utd for goals conceded) is keeping them in the race.
They're likely to be back down to 7th after tonight and if we win we will have 9 points to make up. If Sam can keep our defence working and shore it up some in January we are quite capable of clawing those 9 points back. It may be ugly at times but it gets us back on to our launching pad.
John Raftery
12
Posted 13/12/2017 at 08:56:00
Peter (4) Try the Trent House. Good beer, free of lunatics but best not to wear colours. About 8/9 minutes walk from the ground.
James Morgan
13
Posted 13/12/2017 at 09:16:02
John (#6), Peter (#7),
I'm sure they'll get over it driving back home in their Bentleys to their £2m houses with their glamour model wives waiting for them! In fact they could just have their own "house" party in one of the 25 rooms they could use!
I make no apologies for admitting I wanted Sam as soon as Ronald went and have been happy with the results since he came. The guy knows football and how to get the best out of players. I hope we back him in January and see if he can build the best squad he's had since Bolton.
We need to get this poor away record monkey off our back, we should beat these men tonight. COYB!
Derek Cowell
14
Posted 13/12/2017 at 09:17:33
Hugh at 10 IF we manage to get back up to 7th the question is not how we then get to 4th but how we first get to 6th!
Yes, there was a big gap from 7th to 8th but there was also a significant gap between 6th and 7th last season.
The top 6 are miles ahead of us but a lot of people on here don't seem to see it.
Personally, I will aim for 6th at some point in the future and if we manage that and are in the mix points wise with the other 5 then I will get excited. By then of course there will be a 'Top 7' as there is no way one of the current 'Top 6' will just be dropped off completely.
At the moment we just need to get back up to being the best of the rest and unfortunately that is 7th and then we need to be closing the points gap. That position used to be 5th and was usually between us a Spurs in recently passed years but of course now Man City and Chelsea have gone right passed us and Spurs have consolidated while we've gone backwards.
Onward and upwards and try and stay there!
John G Davies
15
Posted 13/12/2017 at 09:42:39
James 13,
Agree. If any of them are upset about the party being cancelled let the manager know. See how they get on. Any player with anything about him would agree with the decision.
Tony Everan
16
Posted 13/12/2017 at 10:03:30
Can't see Sam making this an open game. He will stick to roughly the same team I think. Calvert-Lewin up top; Rooney deep. Exactly the team that Lyndon has offered, but Holgate starts and Jags on the bench.
If it's still a draw with 20 minutes to go, Niasse, Lookman or Vlasic will be deployed – any one of them can have an impact and can manufacture the winner.
Laurie Hartley
17
Posted 13/12/2017 at 10:04:53
I will be surprisd if he splits Holgate and Williams up but apart from that I think Lyndon's line up is how it will pan out.
Gareth Clark
18
Posted 13/12/2017 at 10:06:42
I would stick with our back 4 and 3 in midfield.
I would start the exact same team that started the last game.
Pickford
Kenny Holgate Williams Martina
Davies Idrissa Rooney
Sigurdsson
Calvert-Lewin Niasse
Robles, Jagielka, Keane, Schneiderlin, Lennon, Vlasic, Lookman
Idrissa and Williams are one booking away from a one match ban.
That makes no difference at the moment – if they don't pick one up this game (especially Idrissa), then rest them in the next, so he is available for the Chelsea game.
Next week (suspended or not), bring in Schneiderlin at CDM for Idrissa, and Keane for Williams.
with a team of:
Pickford
Kenny Holgate Keane Martina
Klaassen Schneiderlin Rooney
Sigurdsson
Calvert-Lewin Niasse
Williams, Idrissa & Davies given a break.
Phil Walling
19
Posted 13/12/2017 at 10:07:45
We can only hope that Sunday's success with the hoof-ball strategy doesn't lead to such tactics becoming the norm. If it has, that dubious effect all our fears about Allardyce will be realised.
Having said that I am doubtful if the quality of the squad he has inherited is anything above average and they may well have found 'wellying it' to be the most comfortable tactic in their very limited skillset.
We may well learn what the season has in store for us tonight!
Tony Everan
20
Posted 13/12/2017 at 10:10:27
We need to be fully aware of the threat from Lascelles from corners and free kicks. He must be picked up and marked out of it.
Craig Walker
21
Posted 13/12/2017 at 10:13:56
I admire the optimism but can we hold off talking of "top 4","top 6", or "Europe" at this stage? A month ago, we were all saying that we were the worst team in the Premier League and couldn't see where the points were coming from. Let's just see how we go over the next few games and hope we can get 6 points from the next two games.
Clive Rogers
22
Posted 13/12/2017 at 10:16:17
I can't see that Schneiderlin deserves to come in, but can't think of an alternative.
John Pickles
23
Posted 13/12/2017 at 10:21:59
I guess we are going to be seeing the words 'Allardyce's former club' a lot in match previews.
John Keating
24
Posted 13/12/2017 at 10:23:06
I would not change the team for Schneiderlin and Jags to come in.
This is a game we must target for points, draw or win.
Pickford
Kenny Holgate Williams Martina
Lennon Gueye Davies Sigurdsson
Rooney
Calvert-Lewin
Tony Marsh
25
Posted 13/12/2017 at 10:24:07
Phil Walling @ 19
"All our fears about Allardyce will be realised"??
Who is all and what fears do you refer to? From what I see and hear, most Evertonians are happy with what Allardyce and his team have achieved thus far. There are no fears, mate. Just a few knockers like yourself.
Cast your mind back 3 weeks and tell me you would be happy to be in that situation right now. Like it of not, Sam Allardyce and Sammy Lee have totally transformed this football team. The mindset of the whole squad has completely been shifted in the right direction... in three weeks FFS!!!
Give it a rest, Philip – nobody wants to hear your pathetic whining and this moment in time. We have been playing awful football for decades and we are in transition so don't try to lay the 'bad football' stigma on to Allardyce.
Give the Sams time to evolve and bring some new players in. Moan in 18 months time if we are in the relegation zone – which we won't be.
Allardyce is the best thing to happen to this club since Joe Royle.
Simon Jones
26
Posted 13/12/2017 at 10:27:49
Peter #4
I don't know why I thought you wanted to be walking distance from Sarah Jessica Parker?
Barry Pearce
27
Posted 13/12/2017 at 10:32:55
Lennon has to start imho, he's been nothing but consistent since he's been recalled. I thought he was very unfortunate to be on the bench for the derby. He gels well with young Kenny also.
I would choose Baningime over Schneiderlin, Clive (#22) but that's just my opinion.

Steve Ferns
28
Posted 13/12/2017 at 10:40:59
Agreed Craig. I was called "complacent" for saying that I could not see us in a relegation battle and saying we would win the next two games and be exactly where we are.
Now I expect I will be labelled pessimistic for saying that we cannot expect any higher than 7th, that we won't even get close to 6th, and we need to improve a lot to hunt down Burnley for 7th, unless they blow up big time.
7th to 8th is the target for me. But if you told me that Burnley would be off to a flyer and that all that stood between us and getting 7th again was getting 9 more points that Burnley in half a season, I would have told you we could do that easily, now, I'm not so sure.
The one advantage we have is that we will spend and they will not. Our squad is bigger and our games will soon drop to one a week and so we can rest players and cover injuries. Burnley will be tested.
As for tonight, I would like to see the team that has one the last two league games:
Pickford
Kenny Holgate Williams Martina
Lennon Gueye Rooney Davies Sigurdsson
Calvert-Lewin
Niasse is a bigger danger to tired legs coming off the bench for the last 20-30 minutes. Davies deserves to continue for his performances as a whole this season and not just the last game.
Steve Ferns
29
Posted 13/12/2017 at 10:47:44
As for the Christmas party, are the players really that bothered about it? And I am sure that Allardyce will take us for a midwinter break in the sun, in mid-January. He always goes away to Dubai, but usually to try to get some team spirit going to try to turn form around.
Tony Abrahams
30
Posted 13/12/2017 at 10:51:29
I'd go with your team, Steve, but swap Lookman, for Davies, and bring Sigurdsson inside.
Steve Bingham
31
Posted 13/12/2017 at 10:53:09
Why is Garbutt not considered a better option for Martina?
Tony Everan
32
Posted 13/12/2017 at 10:53:12
They are probably relieved it has been called off! Dubai mid January sounds better to me.
Joseph Terrence
33
Posted 13/12/2017 at 10:55:30
Steve (#31), the club showed an incredible lack of foresight and did not register him with the Premier League, so he is unavailable until January.
John G Davies
34
Posted 13/12/2017 at 11:09:15
I would rest Tom, Steve. The kid looks off the pace in the last few games.

Jay Griffiths
35
Posted 13/12/2017 at 11:16:28
Not the Black Bull Peter. Unfriendly gaff!
George Cumiskey
36
Posted 13/12/2017 at 11:16:51
Picking Schneiderlin and Martina for defensive solidarity! Are some people joking??
Bob Parrington
37
Posted 13/12/2017 at 11:17:48
Tony #30 Agree with you. Davies is looking lost, getting in the way of other of our players coming on to the ball etc etc. He needs a rest .perhaps trying too hard that its removing his natural flair.
Jay Wood
38
Posted 13/12/2017 at 11:22:25
Tom Davies remains a player I have high hopes for.
His debut season last year – at 18! – was sensational.
This year, in a struggling team, while his effort and application has put many a senior player to shame, he hasn't hit the same heights as last season.
Indeed, he is possibly trying too hard. Some bad habits have crept into his game that, for his and the team's long term benefit, he needs help in eradicating.
Namely, flying into tackles uncontrolled which concedes free kicks and earns him a cheap yellow card, and on occasion going to ground a little too easily and again earning a yellow card (and bad reputation) for simulation.
There are still a lot of positives. Even though withdrawn at half-time on Sunday, he was the one player in midfield who backed himself and did try to retain the ball and pass it, rather than immediately lump it away to no one in particular.
He could possibly benefit by being withdrawn from the starting XI for a spell. He'll come good again will Tom. Don't forget – he is still only 19.
Clive Rogers
39
Posted 13/12/2017 at 11:22:53
Barry, 27,
Beni Baningime looked good first two games, but looked overawed in his last game and was taken off. A good prospect but perhaps judged to be not quite ready.
Steve Ferns
40
Posted 13/12/2017 at 11:25:24
I thought Davies was very good in the two wins. Rooney needs legs alongside him. He needs to defensive players. Davies has enough legs he can go box to box. Stick Gueye, Rooney and Sigurdsson together, especially with a lack of tracking back from Lookman on the left, and your asking for trouble.
Lookman, like Niasse, is better coming on later in games against a tiring team where he can run at people. He is still developing, he has a lot to learn. And I think at this stage of his career he is better as a sub.
John G Davies
41
Posted 13/12/2017 at 11:44:09
See your point, Steve. I was thinking more offensively. Lookman high to keep their flying full back in (Yeldin?)
Dennis Stevens
42
Posted 13/12/2017 at 11:46:04
I do recall popping into The Strawberry, right by the ground, for a couple of pints some years ago – also had a pease pudding bap, which was, erm, interesting!
Agreed re the midfield, Steve. It's a shame we haven't got a left sided Lennon, as I then think Rooney, Gueye & Sigurdsson would form an excellent midfield trio.
Matthew Williams
43
Posted 13/12/2017 at 12:00:10
I don't envy our fans up in the frozen Toon tonight, tucked away up in the Gods. They're all owed a decent away showing by the lads. 3 pts is a must in this one.
A great boost at Mordor can be followed up by winning away tonight! Believe, boys... onwards & upwards.
COYB
Raymond Fox
44
Posted 13/12/2017 at 12:03:03
They are desperate for a win so its not going to be a walkover. Their results are largely poor but they did draw with Liverpool.
I wouldn't change our defensive line up, but I'd bring Lennon in and put Niasse on the bench.
As for the result, if I'm honest I don't have a clue! We are a better team I have no doubt, but they have home advantage with 50,000 mad Geordies to get at the ref. Hoping for a win but I think it may be a draw.

Colin Malone
45
Posted 13/12/2017 at 12:07:11
Last three games, Tom Davies has been the square peg in a round hole, playing an unfamiliar advanced role, which is draining his confidence.
So I would go with Vlasic instead of Davies, with Davies coming on for Rooney.
Mark Taylor
46
Posted 13/12/2017 at 12:09:43
Having beaten two very poor teams in West Ham and Huddersfield, last Sunday was a bit of a wake up call – as if we really needed it. While you could argue results are everything, the truth is, we were played off the park and if that game was played again 10 times, it is hard to see us getting a point. We had no plan other than to hoof long balls up front.
Luckily, we now face another poor team in Newcastle so hopefully we won't be battered and outplayed to the same degree. But equally we can't expect to enjoy the same luck.
I know the cupboard is pretty bare at the moment, but Williams and Martina on the left side of our defence is like watching Laurel and Hardy play football. I never thought I'd count the days before Funes Mori gets fit again – and I suspect that is still very many days to go. I would put a new centre-bak and left-bak ahead even of a new centre-forward – we won't get away with many more Calamity Jane performances on the left side of defence.
We still can't see to find a role for our supposed star player. Sigurdsson seems to play mainly on the left, but he defends poorly and lacks pace which is not much use if you punt long balls. It remains a mystery to me why we bought him. All in all, a point would do for me tonight.
I was looking at some of the teams suggested by others. When you factor in form (or lack of it), the seriously ageing legs with some of the team, and the callow youth of others, I'm afraid they do not look like a team destined for the top 7, as some are suggesting. I'd still be happy just to comfortably stay up and maybe put some more effort than normal into the FA Cup – I can't imagine Klopp will make that much of a priority.
John G Davies
47
Posted 13/12/2017 at 12:09:53
A bit of a contradictory post from me, Steve, but you will know what I mean.
Simon Bates
48
Posted 13/12/2017 at 12:15:04
I personally like the idea of calling off the Xmas party, it's actually quite funny.
We're forever being told the modern day football players need things simplifying, like children, well they've been naughty boys and Santa isn't coming, seriously simple.
I want to know, with 4 games in 12 days, when they actually thought, as under performing, overpaid modern day athletes, they had the time to go on a jolly boys knees up to Colwyn Bay with trigger and the boys?
Tonight and the next three are all winnable matches, hard but winnable, then we'd at least be back in the mix.
Tony Abrahams
49
Posted 13/12/2017 at 12:18:26
Agree about Niasse, Steve, but Lookman did okay from the start last week. I actually see your point Steve, but now we have much more discipline in the team. I'd give those three a go in midfield or maybe even leave Rooney On the bench to see how things go?
Derek Knox
50
Posted 13/12/2017 at 12:22:19
Spot on, Raymond, wounded tiger and all that, plus as you rightly mention, a well-supported side at home with very partisan, and often fanatical Geordies shouting us down, and them on.
Still, having said that, they haven't exactly been pulling up trees since they came back into the Premier League either, but caution is the key word.
I know it's a point, but even a draw would reluctantly be acceptable, and would keep the 'unbeaten under Sam' flame flickering. Three points would obviously be the ideal outcome, let's just hope it is achievable.
Frank Bortoli
51
Posted 13/12/2017 at 12:26:52
Why on earth are we playing Martina at left back which is not his natural position and when he is not up to it.
He is a Championship player at best and should only be used as a last resort when our first and second choice players are not available. Why are we not using Garbutt as a replacement for Baines? Surely he has to be a better bet.
Chris Bond
52
Posted 13/12/2017 at 12:30:49
Peter (#4) Trent House would be my choice for its convenience (though not its conveniences).
Otherwise, the Centurion Bar at the station always has a variety (I'm meeting our visitors there) but it will be busy, and the Split Chimp (no, I have no idea why) and The Town Mouse are good bets. These are smaller craft ale places with hand pumps and some food.
The Mouse is on St Mary's Place (by the Civic Centre) and the Chimp is about 100 yards east of the station (turn right as you come out), just follow the line of the railway towards the castle keep. In the Toon, the Lady Greys and the City Tavern are a cut above the other local boozers. Have fun.
Brian Harrison
53
Posted 13/12/2017 at 12:38:41
I like Tom Davies but he is struggling at present; we need to remember how young he is, and still growing but probably needs to be taken out for a game or 2. I expect more of the same against Newcastle keeping it tight at the back and trying to hit them on the break. This style is Allardyce's DNA so I never expect to see him play an expansive attacking game. So I guess we will have to get used to this style, like it or not.
I don't think Sigurdsson looks comfortable playing on the left, he needs to play just behind the frontman. Not convinced that I have seen anything from Schneiderlin that warrants him getting a place in midfield but I suspect Allardyce to swap Davies for him.
Despite their poor run of form Newcastle know they will have to make the most of their home games, so can see them coming out and having a real go from the start. I just hope we defend as well as we did on Sunday and show a bit more creativity going forward and pinch something on the break.
Carl Taylor
54
Posted 13/12/2017 at 12:40:12
Frank @ 51, as has been posted previously, we can't use Garbutt as Koeman didn't register him in the squad at the start of the season... and Connolly is out on loan at Ipswich.
Lenny Kingman
55
Posted 13/12/2017 at 12:42:00
Unlike Allardyce to call off a do of any kind as he is such a party animal himself. Things will go on of course but "off the grid" as they like to say these days.
Rooney is the key to a good show tonight I believe. His magnificent raking pass to Lewin on Sunday was the game saver and his future contributions may surprise those who had shamefully written him off.
John Keating
56
Posted 13/12/2017 at 12:43:14
Frank I don't think Garbutt is registered to play in the first team until January? Another unbelievable management decision.
As regards to league progress, in my opinion, this season should be viewed in the long term and I reckon anything in the top half should be classed as success after the horrendous start we had.
I don't think we should expect Allardyce – or in fact any new manager – to come in and immediately start playing and winning in a fine style.
Confidence needs to grow and a system using our present squad needs to be developed and I doubt this can or will happen in a couple of months.
I would suggest 6 weeks ago very few of us would have expected 7 points from West Ham, Huddersfield and the RS? Certainly not the way we were playing.
3 points tonight would be fantastic, one point very acceptable, another clean sheet brilliant.
Kevin Tully
57
Posted 13/12/2017 at 12:44:24
We simply have to notch up an away win before we can put this terrible run of form behind us. We have Newcastle, West Brom & Bournemouth as away fixtures before the 12 months is up without an away win. Surely we can take 3 points from one of these games?
It's amazing to think Allardyce (who I am supporting with an open mind) will be viewed as some sort of guru in some quarters, for holding Liverpool to a draw and winning a solitary away game, isn't it ridiculous to think how far we have fallen?
They are in freefall, and we should be on the up, with some of the relegation pressures now eased. Three points and an away win would be a perfect start to our hectic Christmas Schedule, especially with a terrible Swansea side up next.
Could our season turn from disastrous to decent within a month? Not really, but we need to put some pride back into wearing the shirt, before we can move forward.
Andy Dempsey
58
Posted 13/12/2017 at 12:45:37
Just to throw some pessimism into the mix, well, actually, I see it as optimism, maybe I'm severely depressed, who knows? Anyway, I won't be watching anymore games until we pay this guy off in the summer his £6m compensation (which is what he came here for!) and we get a real manager in.
It's all about results with this guy, the performance is immaterial.
Surely you should be looking for someone who can eventually achieve both for £6m a year?
This guy will never produce anything entertaining, and he'll never win anything. His CV reads, trophies = zero.
This is what we settle, and in some cases are even happy for now, as Everton manager. What an absolute joke.
Roll on Marco Silva in the summer, which is what will happen. I'm not sure if he's the right guy either, but I don't care, I think we should give him a go. He won't get us relegated or anything, and that seems to be the level of ambition for most fans of this club anyway.
He might just be the new Pochettino.
Pete Clarke
59
Posted 13/12/2017 at 13:11:18
Ray (#44).
Newcastle got a draw against Liverpool but that's easy to do isn't it !! Wonder what Klippety Klopp's excuse was that day?
I personally think Tom Davies will come through all of this a much better player. The most senior players have been struggling too but he has energy and great skill for a young kid and the manager would have told him to stop diving in wildly.

Rob Teo
60
Posted 13/12/2017 at 13:14:46
Andy (#58): I think his lack of trophies shouldn't be held against him. We've had managers who've won trophies (eg, Martinez) but who've proven ultimately to be unsuitable.
And I don't understand wont be watching anymore games until we pay this guy off in the summer'. you're judging Big Sam negatively because "It's all about results for this guy", yet also because he's won zero trophies (which, like it or not, are also ultimately dependent on getting the right results)?
For me, he's gotten off to a good start and has shown he's approaching this job the right way (getting sports psychologists in, speaking to the players to find who wants to stay, postponing the Xmas party to focus on the football schedule, adopting relevant tactics that nullify opposition strengths), which is enough to suggest he deserves our support for now. Let's give him that. He may yet surprise us come the end of the season.
Winston Williamson
61
Posted 13/12/2017 at 13:21:22
Andy (#58)
I understand your angst. However, I view it like this (sort of makes life a tad easier):
Moyes had us driving a 2000 Audi (steady and reliable)
Martinez took over and in his first season he briefly upgraded us to a 2012 Audi TT (faster and sportier); however, towards the end of his first season and into his 2nd and 3rd season, we realised the Audi TT had actually been wielded together with a 1997 mini Aztec (not sure if that's jibberish, but apt for Martinez) and the wheels were falling off!
Koeman came in and had us riding a Ford Fiesta – steady but uninspiring. He made an attempt at upgrading the Ford Fiesta by trying to fit a load of modifications on us, but ended up with five steering wheels and only three wheels and really old brakes.
Allardyce was called in to try to make us steady again...so we're hoping we're back to driving a 1998 Audi, with no trimmings – at least till January, when we hope he can put some new alloys on and maybe a new dazzling horn...
Chin up mate...
I'm hoping we can upgrade over time. Little steps...
Alan J Thompson
62
Posted 13/12/2017 at 13:42:03
What did I miss on Sunday that would get Schneiderlin on the team sheet? Certainly not anything from any previous games.
Roll on January and we can get Dowell back and look at Garbutt and Galloway.
Gareth Clark
63
Posted 13/12/2017 at 13:46:44
If Davies needs a break, you have to replace him with a box-to-box midfielder – I'd give Klaassen a chance.
He puts in so much effort, and I think he will thrive in a midfield three.
Allan Barratt
64
Posted 13/12/2017 at 14:03:58
Is that a joke, Gareth?
David Barks
65
Posted 13/12/2017 at 14:10:49
I agree with Gareth. Klaassen puts in just as much effort as Davies. It's not as if Davies has been dominating the ball and dictating the play. Klaassen was much more the victim of the team as a whole struggling mightily than him struggling individually.
Gary Russell
66
Posted 13/12/2017 at 14:12:31
Amazing how new players get written off after a few appearances. Patience is needed. Klaassen and Sandro have barely had a look in and are still settling in. Schneiderlin is a different story...
Stewart Lowe
67
Posted 13/12/2017 at 14:12:53
I'm not even sure what position Vlasic has built his career on, because I just cant see where he fits into our team. I originally thought he was a pacey winger, but I'm led to believe this isn't the case?
As for the 1st of January, the latest from Giroud is that he made a comment in an interview over the last few days that he chose not to move in the summer because he wanted the right option, and that obviously wasn't us. I don't buy the family is settled in London and didn't want to move, I just think he had second thoughts about moving to Everton, as we know he was actually "in the building" according to Koeman.
However, his circumstances have now changed, as he tells the interviewer that the French National Manager insists that no player will be considered if he isn't playing regularly. Giroud states that this could force him to now move in January; we will have to wait and see if there is a better option this time. I think he was aiming higher than Everton.
Also, Alex Ferguson always rotated 4 strikers, most notably Yorke / Sherringham / Cole / Solskaer, so I laugh when I look at our Niasse and Calvert-Lewin. Wouldn't it be great if we could get two of Aubameyang / Giroud / Dembele, to mix it with Calvert-Lewin and Onyekuru for next season, regularly playing 2 up front. Now that would be a force, and we wouldn't be going to Anfield to park the bus.
Jay Wood
68
Posted 13/12/2017 at 14:19:24
Definitely with Kevin Tully on the need for an away win from our mob.
Battling and plucky draws are not the order of the day in a fixture like this. On current form over the last 6 Premier League games, Newcastle are rock bottom – 1 point from 18 – whilst Everton are 6th – 12 from 18.
Even extending that form to the last 10 Premier League games, Newcastle sit in 19th place with a meagre 6 points from a possible 30, only 1 point ahead of West Brom in bottom place.
Everton sit 11th in this 10 game form table.
Away win, please. Waaayyy overdue.
It's time...
Eddie Dunn
69
Posted 13/12/2017 at 14:24:24
I hope he sticks with Holgate, who has taken his chance well. His extra height gives us a bit more protection as Jagielka ans Williams are too similar in style and are relatively short for their position.
This game will be interesting. We will need to weather the early storm but hopefully we will see some attacking footy and see Lookman or Vlasic at some point.
Andrew Heffernan
70
Posted 13/12/2017 at 14:29:33
I agree re Klaassen, he needs ball time. An away win will push us up the table. Not sure how some think we will be top 4/6, despite our awful start. I always saw six better squads in the league and we have some way to go.
Even Man City went through a number of managers from larger investment to where they are now. People need to be realistic and patient as there is no doubt this season has been a write-off... bar a possible FA Cup.
Raymond Fox
71
Posted 13/12/2017 at 14:38:54
Pete (#590, I agree with you about Davies your comments are spot on.
Andy 58, Allardyce and his crew have hardly had time to get their feet under the table yet. Personally I'm only interested in the results at this time, relegation was becoming a reality before he came, now its not.
My mate Roberto tried to play like Man City without Cities players and that ended in tears. Managers have to get results first and foremost and are limited or not in the style of play by the ability of the players they have available.
I understand your trepidation about Allardyce but I have an idea that you will be won over in time. I think he's a better manager than many give him credit for.

Trevor Peers
72
Posted 13/12/2017 at 14:59:06
Any of the teams from Liecester to the bottom club are capable of beating each other home or away, we don't have the fire power to blow teams away so tonight's match will be a tough struggle.
Anyone expecting a victory just because we haven't won away from home for ages is in for a shock. The only way victory will be achieved with the players we have is by bloody hard work and the odd slice of luck. COYB.
Steve Ferns
73
Posted 13/12/2017 at 14:59:47
I like your analogy Winston, but allow me to change it.
Smith bought a Maserati. But it was very temperamental. Then, Johnson sold the engine and put a 0.5 litre in it, he got from an old lawnmower.
Moyes came in and sold off the Maserati and got us a nice lease on an Audi. But he only had 3rd party fire and theft insurance, so he never drove above the speed limit and always drove it carefully. Because it was a lease car, Kenwright kept upgrading it every few years until he was left with an R8. But still we only had 3rd party fire and theft and so Moyes kept driving like Miss Daisy.
Then we got a flamboyant Spanish driver in and he really showed how fast that Audi R8 could go, setting some new records. Only it started to rain and he spun it a couple of times and on his third lap he crashed and wrote the R8 off.
No matter, uncle Farad said he'd build us the best car ever. So he hired the best Engineer, Steve Walsh, and got some Dutch master in who had an amazing pedigree. This guy got together with Steve Walsh and bought all the bits to make the most expensive car we have ever had, only they forgot to buy an engine. Uncle Bill said no matter, and went and retrieved that old lawnmower engine and said it would do for a couple of laps. Only the Dutchman crashed, saying "Thatsh raishing".
Now, Uncle Farhad has got a new driver in, he's given him a big stack of cash, he's bought us a Ferrari, but on closer examination it looks more like a Toyota MR2 with a bodykit. We've asked for a refund, but the new guy can't find a receipt.
I bet Eugene could come up with much better though.
Mike Dixon
74
Posted 13/12/2017 at 15:00:42
Ray 71. Totally agree with your Allardyce comments. He took Bolton into Europe FFS! He generally succeeds given a poor hand of cards. I'd like to see Pep or Jose get out the Championship without a large chequebook!!
John Keating
75
Posted 13/12/2017 at 15:01:34
Andy (#58),
When you are playing crap, can't score a goal and are shipping them in regularly. When the whole team has zero confidence. When the standard of football is zero and there is absolutely no sign of any improvement, then yes, performances are absolutely immaterial!!
The only thing that is important is results. Results and points earned however we get them.
Tell me would you have been happy for us to have gone out last Sunday, tried – and it would be trying – to play open attacking football and get hammered ?
Andy if you don't want to watch until Allardyce is gone then that is obviously your right. Are you meaning watch as in on the computer, which will be no loss to the Club. Or not watch from the ground, in which case I hope you will have the decency to give your ticket to a youngster who will appreciate it more than you.
Stewart Lowe
76
Posted 13/12/2017 at 15:17:13
Raymond (#71), I totally agree with you there. I feel sorry that Allardyce never got the chance to replicate what he did at Bolton with a bigger club. Newcastle is no club for any manager to make a name for himself or take the club to the next level, as Mike Ashley was never really interested in the football side of things, he just wanted a ship to steer his brand around the world, and what better way than emblazoning his brand all over a team in the best football league on the world.
Mike Ashley thought he could come up with just enough funds each season to bob along nicely without making any great headway, as he never really wanted to be the next Man City or Chelsea. So many Manager's got wrapped up in his promises and and fell by the way side as a result of it, so Allardyce cant be blamed for that.
At Blackburn Rovers, Allardyce was appointed by the Indian poultry farmers Venkey's who actually believed that if the bought a Premier League Football club and spent £30-40m, they would be genuine title contenders, but they never did their homework. Just another example of who should never be allowed to get involved in football, as they got relegated the very next season, Allardyce never stood a chance and it became a poisoned chalice of a role.
Yet again, Allardyce never stood a chance when taking over at West Ham, and again, West Ham are another club that has been badly Chaired for many years. Allardyce took on a very poor and unbalanced team and vowed to play attractive football, but he never really gelled with the board. I think they always blamed Allardyce for the £15m signing of Andy Carroll that became the clubs most expensive ever crock.
Palace and Sunderland only ever really wanted to hire Allardyce to steer them to safety, which he did, before leaving both by mutual consent.
So maybe Sam sees Everton as that swansong on his career, a last final chance, and at the biggest club of his career.
Terry McLavey
77
Posted 13/12/2017 at 15:25:34
Tony Marsh (#25),
Well said! I know it's early days but we haven't lost under Allardyce since he took over, but some people are still not happy with that or ever will be!
I didn't particularly like Allardyce before, but results speak for themselves. He's obviously making changes as things have improved.
You never know – he may become an Everton legend!
Matthew Williams
78
Posted 13/12/2017 at 15:28:51
Only two signings needed in January (you know who folks), bring in Garbutt at left-back and we're good to go till season's end.
This season is far from over; Koeman may have fucked us over but we seem to have people at the club now who will organise us and motivate the players to perform on a consistent basis week-in & week-out.
Michael Burke
79
Posted 13/12/2017 at 15:33:01
Peter (#4), Bacchus just off Grey Street sells nice ales. Nice pub, about 10 min walk to the stadium. I live up here, Newcastle fan friends are not expecting a result against us. Rewind 4 weeks, a very different story for both teams!
Les Martin
80
Posted 13/12/2017 at 16:14:53
I expect a win tonight and a good performance. Sam knows what he is doing and how to exploit any weakness in the opposition.

John Smith
81
Posted 13/12/2017 at 16:30:41
Allardyce will probably go 4-4-1-1.
Winston Williamson
82
Posted 13/12/2017 at 16:31:22
Steve, that was much better! Fantastic!
Think we'll win tonight 2-0. Two second-half goals from Niasse and Lennon.
Brian Furey
83
Posted 13/12/2017 at 16:52:50
I think people forget sometimes how much this team has changed in the last 2 years. Back in November 2015 we had beaten Chelsea 3-1 and were giving Arsenal a tough game at the Emirates. Since then we've had two new managers and just look at the teams back then
Away to Arsenal, 24 October 2015 - Lost 2-1
Howard; Coleman, (89' Kone), Jagielka (52' Funes Mori), Stones, Galloway; Barry [Y:67', YR:90+4'], McCarthy; Lennon (69' Mirallas), Barkley, Deulofeu; Lukaku.
Away to Norwich 12 December 2015 1-1
Howard, Coleman,Stones, Funes Mori, Baines, Barry, Cleverley, Barkley (Gibson 76'), Deulofeu (Mirallas 69'), Kone, Lukaku
Virtually a whole new team and new manager. You can't go through major changes like that without a dip in performance in my eyes.
Yes, we have changed a hell of a lot with a lot more money being spent on new players and unlike many on here I think we have improved all over the pitch.
Definitely a better keeper, Keane will come good and be a future England international along with Stones I'd say. Gana we all know what he can do if nobody else is doing his job for him. Yes Williams doesn't inspire confidence and lacks pace
Coleman and Bolasie will be back soon and Vlasic looks a decent signing as does Siurdsson. Rooney will have good and bad games but his passion will always shine through and show true leadership qualities.
We were always gonna struggle losing such a big strong centre forward like Lukaku who we played everything through. Now we don't have that any more and the team is adapting to each other and a new way to play. we've actually scored a lot more goals that I thought we would and so Sam did the most simple thing and just settle down the defence and make us harder to break down. He's a wise old fox and I know I'm gonna enjoy listening to his interview a lot more than Shoeman.
We might not win tonight but we've already steadied the ship and that 7th place is looking likely again.
I'd settle for that in the league but would love to see Sam go all-out to win at Anfield in the cup. It would so wind Klipty Klopp up as he's already shown he is a bit spooked by the big Sam persona. It could define how Sam changed our season around like Joe Royle did when he won the FA Cup from nowhere with his Dogs of War and Limpar and a big black taxi.
Jon Withey
84
Posted 13/12/2017 at 16:57:49
Sandro should be given a chance.
I'm less charitable about Klaassen and Schneiderlin – I've got a hunch that they have been made to look better than they are when surrounded by better players at previous clubs – they might fit in somewhere but I'm not sure it is here.
Paul Thompson
85
Posted 13/12/2017 at 17:15:37
Andy (#58) – thanks for letting us know that you 'wont be watching anymore games until we pay this guy off in the summer'. That could well restrict your ability to comment on games, or are you going to send the same post in prior to every game to remind the rest of us of your principled stance?
Seriously, the new team has stabilised the ship. Let's at least see the direction the ship is sailing in before dogmatic statements about what Sam can or cannot do.
Jer Kiernan
86
Posted 13/12/2017 at 17:15:39
Tonight is a big game, I believe. I know Sam Allardyce is only after getting the job but Newcastle are on a run of 3 defeats and are pretty much same side that got promoted from the Championship.
We have Rooney and Sigurdsson in our team, ffs – we should be going to attack these and play some football. It will be a good indicator of what we are to witness in the next 18 months. I am am hoping we don't see a game of hoof-ball tonight.
Paul Tran
87
Posted 13/12/2017 at 17:16:19
I was working in Newcastle yesterday. They're very worried about playing us tonight. Hope they're right.
Michael Lynch
88
Posted 13/12/2017 at 17:22:51
Good opportunity to consolidate on the last few games since Big Sam/Little Sam arrived. I'm looking for a 2-0 win for the Blues.
Gerry Quinn
89
Posted 13/12/2017 at 17:42:45
Nobody works when they go to Newcastle, Paul :)
Love the city, love the people – not enamoured by the club though – prefer Sunderland
Jay Harris
90
Posted 13/12/2017 at 17:46:35
I would go with John's team:
Pickford
Kenny Holgate Williams Martina
Lennon Gueye Davies Sigurdsson
Rooney
Calvert-Lewin
We need tom Davies energy and not Schneiderlin's backwards, sideways passing and lack of pace.
Lennon is good attacking and defending.
Maybe bring Niasse on for Rooney second half to get the winner.
Eddie Dunn
91
Posted 13/12/2017 at 17:48:49
Andy (#58).
I am astonished at your post. On the one hand you say with great certainty that we won't win anything under Sam Allardyce, and later mention how you would like Silva and you say but he won't get us relegated!
Watford are dropping like a stone and he couldn't save 'Boro, so by the end of the season he might not get the EFC job as you so confidently predict, and we may well win the FA Cup and, contrary to your opinion, we might play some entertaining football.
Ian Bennett
92
Posted 13/12/2017 at 17:49:27
Same for me, Jay.
Lookman, Vlasic and Niasse from the bench if needed.
Jason Wilkinson
93
Posted 13/12/2017 at 18:08:39
Play Jags in a back 3 to allow full backs to get forward. Rooney and Gana central. Sigurdsson, Lennon and Calvert-Lewin up front.
Lookman, Vlasic and Niasse from the bench.
Mike Price
94
Posted 13/12/2017 at 18:09:29
We've actually been quite lucky this season, something I've never seen before, but it can't go on and this squad is still the worst I've seen in a long time. Expecting the worst tonight whilst hoping for the best but a couple of bad results will have us right up to our necks.
I'm sure the manager realises just how bad we are hence the party cancelling and so on. It won't be easy to bring anything decent in either, we're desperate and everyone knows it so we'll be paying through the nose again.
If only we could get our £100 million back for Sigurdsson, Klaassen and Keane!
Stewart Lowe
95
Posted 13/12/2017 at 18:15:01
Is anyone else feeling that we dodged a bullet by not being allowed to talk to Marco Silva?
For me, he had never done enough to warrant such an interest by us, and far too much like a Roberto Martinez style.
The thing that struck me last night was how they capitulated two fast goals to allow Palace to beat them, in exactly the same way that we did.
Steven Jones
96
Posted 13/12/2017 at 18:17:23
Frank (#51). Garbutt is not eligible
Also said to one of my red mates over a beer Monday night, we had three right backs in our four on Sunday and Martina will not play for Everton again after 31st December. January will see some kind of replacement for Baines, eg, Shaw or other and Baines will be fit and Garbutt then eligible.
Steven Jones
97
Posted 13/12/2017 at 18:22:41
Andy (#58) – You are smoking. I love Sam right now and as someone else said, he's the the best since Joe Royle. think with his other things – he is the best since Howard Kendall.
This is the dawn of a new era and – with Rooney and the talent that we have collated under 23 years – we have an amazing opportunity.
Peter Jansson
98
Posted 13/12/2017 at 18:25:07
I think we should give Allardyce a chance. I was personally very sceptical about him and wanted Unsy.
Now, I hope that big Sam can prove me wrong and that he has great managerial skills. Who knows? Maybe he proves to be a great manager after all.
Steven Jones
99
Posted 13/12/2017 at 18:30:09
With realism, I am expecting a reverse tonight. Too close to the energy we spent emotional etc on Sunday, travelling away. Newcastle have been on a poor run of results and need reversing that.
Then a workman like win against Swansea, then a reverse to Chelsea, a draw away at West Brom and then a win away at Bournemouth
Then blow the opposition away in January. :-0)

Phil Walling
100
Posted 13/12/2017 at 18:36:49
Why don't you go the whole hog, Steven @97 and say Fat Sam is the best since Carey and have done with it ?
No point in not going full measure, is there, or has someone been round with the envelopes?
Lev Vellene
101
Posted 13/12/2017 at 18:38:35
I think Klaassen will come good, in time! I see what he's been doing, trying to make fast passes in midfield, but we've had very bad passers to work with him. So we'll either need to get more attuned players around him, or make him actually slow down and learn to love the ball for those extra few yards!
Andrew Clare
102
Posted 13/12/2017 at 18:40:54
If Allardyce gets us to 7th at the end of the season, no doubt everyone will say what a marvellous job he has done but really all he will have done is consolidated our seemingly perpetual mid table status.
Will we ever get back to challenging on an annual basis for major titles?
I wonder? Is this the reason all of the best players leave us for greener pastures? Rooney to Man Utd and most likely Barkley to Chelsea.
The reason Liverpool were so angry that they didn't beat us is because we are such an awful team. Whatever way you want to look at it we are bloody awful. Much like all of the teams below the top six or seven.
Tonight we are playing another poor team but will we win?
Iain Johnston
103
Posted 13/12/2017 at 18:41:17
Steve 96, Interesting that you mention Shaw... the two which caught my interest as they're not exactly on the fingertips of every laptop tapping journo are Florentin Pogba & Marc Kempf. The French report said Pogba was looking at moving to Villa a few years back?
Tonight I'd like to see the same team as we had against West Ham & Huddersfield. I know Davies is beginning to show signs of fatigue but we don't have another like him and his interplay with Rooney & Gylfi particularly against West Ham was pleasing.
I understand why some see Klaassen in his role but clearly he needs a bit longer to settle. Maybe bring him on to replace Davies after 70 mins or so?
I think we'll get a couple tonight, looking forward to it. COYBs!!
Minik Hansen
104
Posted 13/12/2017 at 18:41:18
Phil (#19),
Agreed, this game will show what the squad is made up of basically. It's stand up or fall down. If we lose this one there's some hope at this point as we've been in a lot worse situation few months ago.
Either this or the next game we can win and feel we're on the right path. If we draw both (the unbeaten run's gonna continue, but) the balance between defending and attacking must be found.
John G Davies
105
Posted 13/12/2017 at 18:41:50
Mezes being abandoned. Half-bottles of Keo left on the tables.
You going out to watch the game, Phil?
Kevin Turner
106
Posted 13/12/2017 at 18:42:38
Steven (#97) says Andy (#58) is smoking. I think it's actually Steven who's been smoking! Okay, Fat Sam has had a good start but control yourself, Steven.
Eddie Dunn
107
Posted 13/12/2017 at 18:44:25
Mike (#94), like a lot of sides, a few good or bad results and you are either up to halfway or right back in the mire. Sam was right to cancel Xmas, we all need to keep on it.
Despite all of the money sloshing about the teams from 7th downwards are much of a muchness.
I think that since 3 points for a win the defending has got worse. The top 6 still dominate leaving a big gap to the rest, meaning the other clubs are ill-equipped to take on the opponents in the Europa League.
The home countries (England aside) have all failed to reach the World Cup, and England will most likely under achieve. The standard of football played amongst the also-rans is distinctly average.
I suppose it will all end in a European Super league, leaving the rest of us to domestic football, but at least it might mean we win something!
Lev Vellene
108
Posted 13/12/2017 at 18:52:51
I was initially not at all happy with the thought of getting the Sam Allardyce I knew about to manage Everton! Call me a fool, but from what I've been reading all around the web, I'm now actually intrigued to see if that big ego of his is in fact capable of doing what he thinks he can do with the proper financial backing!
Having been a fan since the mid-70s, I'm more intrigued than alarmed at this turn! So, I feel safe from relegation, at least...
There is a reason he got an 18-month contract! And that is sound thinking from the EFC side. If he turns things around this season, very good! If he flounders next season, EFC won't have to pay out big money. So I'd say Allardyce is betting his self-belief against the Club's new hesitancy of assuming things must work out right!
Eddie Dunn
109
Posted 13/12/2017 at 18:53:04
I've seen the line-up, and bench and agree with it 100%.
Phil Walling
110
Posted 13/12/2017 at 18:57:34
If we lose tonight, I won't be blaming Sam – just the dross he inherited!
Sam Hoare
111
Posted 13/12/2017 at 18:57:35
Gueye and Schneiderlin starting as DMCs. Sure we've tried this before. Maybe Sam can get them working better but seems foolish to me.
Thomas Surgenor
112
Posted 13/12/2017 at 18:58:39
Would have preferred Rooney in Morgan's place.
Sigurdsson in the middle and Sandro to be given an opportunity out wide.
Lev Vellene
113
Posted 13/12/2017 at 18:59:53
Vlasic, Lookman and Niasse on the Bench. Keane, Jagielka and Davies in addition. Still skeptical (very much so!) about Gueye and Schneiderlin together as DM's! But it looks like a balanced team!
David Nicholls
114
Posted 13/12/2017 at 19:04:23
I wish all these childish bellends would stop referring to our manager as Fat Sam! I don't think he looks in bad shape for a big fella in his 60s.
You can tell he takes much better care of himself since his heart op.
Phil Walling
115
Posted 13/12/2017 at 19:05:51
Looks like the big fella has to learn the lessons which cost Koeman and Unsey the gig. Seven defenders? Well, we are away from home!
Steve Hogan
116
Posted 13/12/2017 at 19:11:07
Eddie Dunne (91)
Don't think Silva ever managed Boro, you getting mixed up with Hull City?
Lev Vellene
117
Posted 13/12/2017 at 19:11:47
Phil, does that mean you see Rooney, Lennon or Sigurdsson as defenders?
If Schneiderlin could somehow get back to what he did last year, spreading passes forwards, instead of belatedly backwards or sideways, that would be a very good setup with our resources!
Lev Vellene
118
Posted 13/12/2017 at 19:17:14
David (#114),
Schoolyard bully tactics! They won't understand grownups see through that...
Add Your Comments
In order to post a comment, you need to be logged in as a registered user of the site.
Or Sign up as a ToffeeWeb Member — it's free, takes just a few minutes and will allow you to post your comments on articles and Talking Points submissions across the site.