Allardyce delighted by second-half turnaround

47 Comments [Jump to last]
Monday 18 December 2017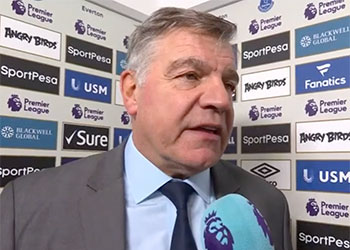 Sam Allardyce was happy to see Everton eventually prevail against struggling Swansea City after seeing his charges concede a soft goal to go 1-0 down in the first half.
The manager joked afterwards that he knew the identity of the player who had lost his man so disappointingly as Leroy Fer put the Welsh club ahead from a corner but he credited the home fans for their patience as the Blues turned the match around in the second half.
Having accepted the gift of a penalty in first-half stoppage time and equalised when Dominic Calvert-Lewin converted the rebound from Wayne Rooney's missed penalty, the Blues went on to win by two clear goals thanks to a stunner from Gylfi Sigurdsson and another penalty which Rooney successfully scored.
"With a pretty mediocre first half performance, I'm absolutely delighted with the turnaround and the lift of performance we gave in the second half because we really did need it." the manager said.
"I was very pleased with the patience from the Everton fans in the first half where they still tried to give encouragement even though we weren't playing as well as we wanted.
"As we progressed in the second half and made a substitution, got Tom [Davies] on to get further forward with Wayne rather than Morgan sitting back that bit and then Gylfi comes out with a wonder goal.
"When you've got players like that they turn the game in your favour and with a better performance in the second half and that wonder goal, I think that finally that knocked Swansea down and we won it comfortably in the end 3-1."
The win was Everton's fourth in five matches in all competitions since Allardyce took the reins from David Unsworth and, combined with the 4-0 win over West Ham on the day his appointment was confirmed, it has helped push the Blues into ninth place in the Premier League, just six points off Tottenham in seventh.
Asked what he has done at Goodison Park to not only stop the rot that had set in and was threatening Everton's top-flight status but to also put the team on this winning streak, Allardyce
"From a tactical point of view, it's simplifying the game and from a management point of view, it's man-managing the players with the rest of the staff.
"I just want everybody to get better — not just the players but every member of staff who works with the first team.
"To turn around so quickly is great credit to everybody, not just me for coming in now but everybody working so hard behind the scenes and to the players for going out on the pitch and turning what looked like quite a desperate situation into quite a comfortable one now.
"Some of us are looking up now and saying how far can we finish up the table rather than looking down and that's very, very pleasing for me because — believe you me — at the last couple of clubs it was a lot tougher to turn around in the early stages than this one has.
"We've got to try and get a result against Chelsea; then we'll really know what we're made of. If, with this confidence, we can go and get a result against Chelsea on Saturday then we really are going on the right track to finish in the top half and as high as possible."
---
Reader Comments (47)
Note: the following content is not moderated or vetted by the site owners at the time of submission. Comments are the responsibility of the poster. Disclaimer
Tony Everan
1
Posted 19/12/2017 at 08:00:04
I like Sam's honest and open approach. It's refreshing, he tells it as it is.
The humorously barbed "I know the identity" comment made me laugh.
It's good that he is saying that he will really know what we are made of after we have played Chelsea.
We will need to be a whole lot better to get something out of that match. A performance like last night's first half will see us punished. Hazard etc will have a field day.
Dave Evans
2
Posted 19/12/2017 at 08:05:44
Sam says 'against Chelsea then we will know what we are made of'
Sam again talks sense.
Good result but plenty of problems left for Sam to solve.
Raymond Fox
3
Posted 19/12/2017 at 08:50:26
Good old Sam. We are now faced with a very difficult run of games and our results could very easily go pear shaped! Just have a look at them.
What we can say is that Sam and co. are a safe pair of hands if the going gets tough, which I think is likely at some stage. We can at least stop worrying about relegation which takes the stress out of the situation.
We still need Moshiri and rest of the owners to put their hands deep into their pockets and come up with the money to buy 2 preferably 3 special players, difficult I know but that's what we need. If we are serious about competing with the best in the League that's got to happen. Do I think it will? It's not likely in my opinion but you never know.
Nitesh Kanchan
4
Posted 19/12/2017 at 09:00:11
Great result again. I couldn't watch the game but looking at the review and ratings in the Echo, Pickford didn't have much to do.
Let's hope for the same against Chelsea. Stop their wingbacks and Hazard and they don't do have much of an attack, others are wasteful. Palace and West Ham kept them quiet, so why can't the mighty blues?
Long may this unbeaten run continue. It's Conte's turn to be Big Sam'd.
John Grace
5
Posted 19/12/2017 at 09:09:04
I really don't think Sam has put a foot wrong since arriving. His blunt summaries are indeed refreshing. We have a very active touchline now with clear instructions rather than folded-arms and fake contemplation.
Mike Kehoe
6
Posted 19/12/2017 at 09:27:37
I initially felt a strong sense of disappointment when the board turned to Allardyce in panic and felt this to be a new depth plumbed by our thrusting and dynamic board. However, I have been nothing but impressed with Sam and the results since his start prompt the question: where would we be if he had been here from the start of the season?
Also anyone who can generate such hate from Liverpool can't be bad; seeing Klopp's post match interview meltdown and watching him prowl the touch line with such an expression of sheer contempt and frustration was a delight to behold.
In retrospect, it seems Sam has played the hand he has been dealt at other clubs with the players available dictating the tactics. He is clearly a pragmatist and the Premier League is littered with the corpses of innovative and experimental managers with their own unique philosophy; we have endured two such phenomena recently. We have very good players here who been inexplicably under-performing and the recent run of games looked like an oasis after the very tough start to the season we had.
I feel we have learned a great deal regarding the players in recent weeks but I think we will see more of what Sam is made of now. There are plenty of big decisions coming up, for example the defence: I'm worried how Hazard and Moratta may fare against last night's line up.
There is also of course the January window and who he can attract. I hope to continue to be impressed by Sam and his regime – even Sammy Lee seems less offensive.
COYB
Derek Knox
7
Posted 19/12/2017 at 09:40:51
Encouraging that he recognised the culprit for their goal, no doubt Ashley would be made aware of that, but in all fairness to the player, he has been playing a lot better since Sam and Co arrived.
More importantly, let's hope too, he noticed the total game change when Schneiderlin went off. The team was more fluid, and at least started attacking, rather than just passing the ball back, sideways and anywhere but forward.
Like the others have said, the acid test will be Saturday, against Chelsea; he will have to get team selection spot on – no passengers. Martina, although improved in a different position, will have to be alert.
I felt that Sandro was not given enough time last night as Sub, to make any impact or build his confidence.
Christmas wish list, Moussa Dembele, Somouaro, Nzonzi and the young lad Konza from Charlton for grooming into the production line.
Offload Schneiderlin, Mirallas and any other ne'er do wells, and deadwood.
Tom Bowers
8
Posted 19/12/2017 at 10:05:05
It just seems that we have to get used to mediocre first half performances and going a goal down from this Everton side no matter who the quality of opposition is.
I lost count of the number of times players just got caught in possession (especially Rooney) or misplaced simple passes. Luckily they have been getting by and getting the points but it is awful to watch.
Most can't wait until January to see what improvements can be made as the product on the pitch is still sub-par. Early on it was clear Martina was out of his depth playing at left back against a quick Narsingh as he was against Salah in the derby match. He is just too slow!
It is crucial that Sam get's them focused for the next 2 games against ''top'' opposition.
Geoff Lambert
9
Posted 19/12/2017 at 10:17:29
Tom! I didn't see much get past Martina last night I think he deserves some credit for doing a good job even if he is being played out of position.
Our shape changed for the better when Davies came on, I like his movement and forward thinking not back and sideways all the time, you have to accept he will lose possession a bit more with that outlook though.
Calvert-Lewin is growing each game never stops running and chasing down defenders needs some more support in Jan to take a bit of pressure off him.
James Marshall
10
Posted 19/12/2017 at 10:37:34
It's amazing really, and did cross my mind at the time, but Sam Allardyce is actually perfect for Evertonians – he doesn't fuck around, he tells it like it is, no bullshit tech-speak or soundbites, he just says what he sees, and says what's going on without any riddles.
I couldn't be happier with him and his team so far, especially given the sorry shite we were served under Bobby & Ron.
I wasn't 100% on Allardyce, but I always found him to be good copy, and pretty funny at other clubs – now he's here, it's all been positive so far. I'm quite excited to see what he can do with some talented players and a bit of money to spend.
This is his last hurrah as a manager, and he's clearly going to go at it both barrels.
Sandra Bowen
11
Posted 19/12/2017 at 10:39:03
I appreciate he's not the best player in the world but I actually think that Martina has played really well in the left-back spot. Yes, he could have been stronger in the tackle against Salah for the goal but that's really only been his one big mistake.
On the whole, he's been in the right position, made vital interceptions through good positional play that go unnoticed and his use of the ball is usually pretty decent. He's also a very willing runner. I like him!! There, I've said it and I'm not ashamed.
Gerry Quinn
14
Posted 19/12/2017 at 12:34:02
Very complimentary article from Salut on big Sam...must admit that I do have a soft spot for Sunderland...
http://salutsunderland.com/2017/12/as-coleman-starts-the-revival-remember-big-sams-brief-but-effective-sunderland-reign/
Raymond Fox
15
Posted 19/12/2017 at 12:35:24
I'll second that, Sandra, he's not a left back which puts him under a disadvantage straight away.
Since Allardyce arrived he's been good to my eyes, he seems to one of many who have benefited from being told in simple English what his task is.
Peter Laing
16
Posted 19/12/2017 at 13:15:10
Early days as it is, Sam seems to be passing his audition to date with flying colours. Substitutions at the right time, persisting with Calvert-Lewin and Kenny who are developing into fine young players with each game; and post match analysis honest and to the point.
There are no doubt still many detractors out there who will never take Sam to heart for their own reasons but I've not felt this positive in a very long time.
Allardyce is showing respect to the Club in every interview and seems to have toned down his own ego to boot. Everton aren't fashionable and neither is Sam, at the moment the fit seems perfect and the whole vibe around the Club seems positive.
Jay Wood
17
Posted 19/12/2017 at 13:15:20
I'll add my voice of support for Martina, a player I have previously defended on here. He was woeful against Liverpool, but otherwise has done more than okay.
He is 25% of a settled back 4 that has seen us return our best run of form, in both results and defensively, not just this season but including the tail end of last season also.
That he is doing so being played out of position at left back is all the more credit to him.
Swansea carried real threat and pace down both flanks last night, but Martina and Kenny repelled most attacks. Indeed, by the game's end one of those flank players – Dyer – was replaced.
As the 2nd half progressed, both our full-backs, having covered their defensive duties, were more often well advanced supporting the attack in and around Swansea's penalty area.
Most of our young left back cover is out on loan and probably we are unable to recall them, so more cover is needed.
Top drawer Martina ain't, but completely forlorn and hapless he ain't also. Better will come in, but overall he's doing just fine.
Winston Williamson
18
Posted 19/12/2017 at 13:52:51
Martina got done for pace a few times by Narsingh in the first half, but settled in and made some good interceptions. To me, he is playing his heart out and is probably at full tilt in an unfamiliar position. However, he does not feel entirely comfortable to me when I compare with Jonjoe Kenny (unfair I know as Martina is out of position).
We need a replacement for Baines – not Martina – someone better than Baines is the only option really.
I'd also love to see what a Mahrez-type player would bring to this team...
John Davies
19
Posted 19/12/2017 at 14:17:36
Dreadful first half performance last night but much better in the second half – particularly after Schneiderlin left the park. I would have liked to see Sandro get more minutes and felt he could have been brought on after we went 3-1 up so he could have got 20 minutes under his belt. But we can't complain too much right now because we are at least picking up points instead of throwing them away like we were a few games back.
Really tough test coming up against Chelsea but we will know more afterwards. I just hope we don't continue with Schneiderlin and Gueye together, it just doesn't work.
I don't think we have too much to lose on Saturday so I hope Big Sam has a go at them and is a little more attacking in his set up.
Good on the youngsters last night, by the way. One in, all in!!! COYB.
Ian Burns
20
Posted 19/12/2017 at 15:56:55
I agree with a lot of what's been said already on this thread, Sam Allardyce certainly deserves a pat on the back for pulling us out of the mire – to date.However, we will suffer bad halves of football if he continues to play Schneiderlin, a player whom I thought would be terrific for us this season.
I also agree with previous comments regards to Martina but I fear he is going to be caught out at the weekend when he comes up against Willian and/or Pedro.
I really want to give a big shout to Kenny and Calvert-Lewin – thrilled at their progress.
Minik Hansen
21
Posted 19/12/2017 at 16:19:13
I like Martina's pace, remember he is usually against pacy players and he has been able to run back, when he has to.
I was glad to see, but was a little disappointed with Lookman, he could've passed it to Sandro at the very end.
I'm just wondering what Vlasic would have done if he had come in instead of Lookman. Credit to Lookman for working hard though.
Jay Harris
22
Posted 19/12/2017 at 16:27:22
The most significant improvement Sam has brought is restricting the opposition chances on goal even accepting our fill-in left-back.
A name I don't see often mentioned is Danny Rose who wants out of Spurs. He would be a significant upgrade on our current crop.
I don't rate Van Aanholt and Luke Shaw has rumoured personal problems of the substance abuse type which may explain why he hasn't made more of his talent.
I also wouldn't mind Nzonzi although I don't see that as a priority.
If we get Tyias Browning back I don't see the need for another centre-back either especially with Funes Mori on the way back to fitness.
Hopefully Kieran Dowell will come back a better and more consistent creative force too.
So that leaves my only other Xmas wish as a goalscoring centre-forward. Giroud, Dzeko or Dembele for me. I don't want Benteke due to his inconsistency and injury problems. We need an upgrade on Lukaku not a down grade.
Players to cash in on:- Schneiderlin, Klaassen, Sandro, Barkley, Stekelenburg, Besic and reluctantly Mirallas.
Oliver Brunel
24
Posted 19/12/2017 at 18:06:00
I think Barkley would work well in this team. We need a ball carrier. Lennon does it but sporadically. Gueye is one-dimensional.
We haven't anyone, except Schneiderlin with a range of passing either. Rooney was abject in this regard yesterday which really worries me. We just don't have a great midfield dynamo.
David Currie
25
Posted 19/12/2017 at 18:17:18
Jay (#23), reluctantly Mirallas? Hope you are joking, he is a complete wanker and should be sold. He can take his mate Schneiderlin with him as well. Greece would be the move as Kevin said earlier that he would love to play there again.
John Boon
26
Posted 19/12/2017 at 19:04:09
It is always surprising how supporters view games so differently. That is why managers need time to make an honest assessment of the players and team that they have inherited. While they have to appear confident when being interviewed before and after a game, they must also be wondering who should play and in what position. Managers know that they need to please the supporters – no easy task.
This is why fans need to be patient and give new managers time. Did Unsworth get sufficient time? Or is Premier League experience or experience in other top European leagues, a basic necessity. I do think that the "Allardyce Effect", is not just good fortune on his part. Dave Unsworth is obviously a fine person, but I don't think he would garner the immediate respect that an experienced manager brings to a club.
While I have to be very hopeful that Allardyce continues to be successful I, like most supporters, need to reserve judgement. At the very least, we should wait until the end of this season before making any decisions on his ability as a manager. Man-management is the most essential asset for any manager. I feel he can do well, in that area.
I now look forward to post-game interviews, having someone who seems to know what they are talking about. Koeman was useless in that area, as are many other coaches. Forget all the other teams Sam has worked for. This is Everton. I think he realizes this fact. We have a history and expectations are far higher. We have been in the shadows far too long.
Jay Harris
27
Posted 19/12/2017 at 19:10:36
David,
I believe rightly or wrongly that Kevin Mirallas at his best is one of the biggest goal threats we have and is just frustrated by a succession of managers not having the opportunity to see him at his best. Just watch Moyes snap him up and make a player out of him again.
Sadly, I think his days at EFC are numbered and he has gone from being a fans favourite to a whipping boy.
David Pearl
28
Posted 19/12/2017 at 19:13:28
I feel sorry for Schneiderlin. Hoped he would be what was expected instead of what I thought. He's maybe had 2 good games with us.
Holgate and Williams have done very well but we have to phase in Keane. I'd say the same for Klaassen. How he and Sandro haven't been played in the Under-23s along with Vlasic is astonishing. Who gave Mirallas another deal?
I'm glad I didn't go last night. The support is the worst in the league. Everyone sits there silent waiting for Messi and Ronaldo to come on. If we are 9th there must be some poor players in other squads.
Points on the board with a good run of easy games. So now let's see if we can develop that with some joined up football.
Steve Ferns
29
Posted 19/12/2017 at 19:25:24
I'd never feel sorry for a player on £100k a week, and married to a stunner like Schneiderlin is!
Joe McMahon
30
Posted 19/12/2017 at 19:31:39
Steve Ferns – exactly, and all that for a part time job too. Pays more than my working tons of hours in the NHS for less than £25k a year.
Steve Ferns
31
Posted 19/12/2017 at 19:38:25
Imagine Joe, you get a new boss, and you don't like him so you just put in a half-arsed effort in the knowledge he'll get sacked and then you can get a new guy in. These footballers need to get into the real world. They don't know they are born.
Which is why I always love to see a player like Aaron Lennon who gives it everything he has, and it clearly means the world to him.
Ian Burns
32
Posted 19/12/2017 at 19:44:44
Steve it's not Schnederlein we feel sorry for but we supporters who have to watch his boring sideways and backwards passing.
You can bet a significant sum he got somebody else to propose for him!
James Flynn
33
Posted 19/12/2017 at 21:48:23
Mirallas at his best was a solid threat. No more than that. His 6th season with the Club, he's scored in all, what, maybe 25-30 goals in the league? It can't be more than that.
Given his athleticism and ball skill, he should have done better than he has. 4 managers in, I'm confident the reason Kevin hasn't done better is Kevin.
Whatever the mental determination is needed to really excel, he doesn't have it. And he's not going to.
He's the exact guy we don't need signing anymore.
Clive Rogers
34
Posted 19/12/2017 at 22:19:36
James, he has scored 23 Premier League goals. It looks like he has played his last game for us.
Steve Ferns
35
Posted 19/12/2017 at 22:31:38
Forget his inconsistencies and worsening attitude, I think Kevin Mirallas is in decline. He's lost more than a yard to me. He used to go wide from time-to-time. Now he only cuts inside. Seems defenders know this and he just cuts inside down blind alleys or gets shutdown. Occasionally, his foot speed is still quick enough for him to dance in and out of challenges, but he's certainly not quick enough to race for the byline any more.
Combine his diminishing powers with his petulance and he's a certainty for the exit for me. I think we did do our best to get rid of him in the summer, but the Greeks wanted him for free, and we wanted cash. Knowing him, he probably wanted a pay-off too.
Minik Hansen
36
Posted 19/12/2017 at 23:31:32
January still away, in these tight fixtures surely Sam will nip off minutes to Mirallas, it'll be interesting to see which effect Sam has on him before anything happens.
George Stuart
37
Posted 19/12/2017 at 23:53:02
Right up front there, Sam praises the supporters. He gets that, at this club, winning over the supporters is vital. Clever.
Still withholding judgement but he is doing okay. It seems to me one philosophy is for him to say "these are good players, just keep it simple and do the simple thing well, and you will get the breaks".
It's working so far. Bring on January. If he make even one cracking signing, he's nearly won me over. Nearly.
Dave Bowen
38
Posted 20/12/2017 at 00:26:15
Re: Our replacement left-back. Ray Wilson he ain't & because he's a right-back by trade, he constantly has to turn back onto his right foot when attacking.
However, Cuco does something that Bainsey doesn't. He stops the crosses coming in. Last night, Narsingh got past him once & wasted it. After that, Cuco either nicked the ball away or blocked the cross.
He deserves his place on merit. Part of a defence that has conceded 2 goals in 5 games.
BTW, I used to love Kevin Mirallas, highly skilful with a bit of snide in him. Now, for whatever reason, I think he'll be gone in January. A real shame.
Derek Thomas
39
Posted 20/12/2017 at 00:35:38
Mirallas hasn't been the same player since Ratboy did him in the derby. I think the deal he got was to bunk up the fee for a move that never came off.
Schneiderlin, Klaassen and up to a point Sandro; those millstones tied round our necks by agent orange, need cutting free asap.
The £120M we got for Stones and Lukaku, effectively bottomlines out at £120M for Rooney & Sigurdsson... Oh how we laughed at Spurs and the Bale money.
If Jagielka, Baines, Williams and Funes Mori also haven't 'left' the Club before Allardyce's 18 months is up... then he'll be not getting his extension if it were up to me.
There's 14 months between now and the end of the January 2019 window. I would like to be able to compare that roster with now and see a reduction in Quantity and an increase in Quality.
Over to you Secret Santa Sam.
Dale Rose
40
Posted 20/12/2017 at 13:02:28
What's everyone having for Christmas dinner this year?. Myself, I am having a very large piece of humble pie.
It isn't pretty but the points are coming in, along with the clean sheets. I didn't want either of the Sams, but cant knock the passion they both have for the club.
The youngsters are doing a hell of a job, Kenny, Holgate and Calvert-Lewin, committed and passionate.
Just loving it.
Amit Vithlani
41
Posted 20/12/2017 at 13:21:16
The rather black and white nature of:
"I was against Big Sam, I eat humble pie."
Versus:
"I knew we were headed for the drop, needed Big Sam, told you so!"
Is amusing and simplistic.
Fuck knows if Unsworth or Marco Silva would have performed any better or worse if given a permanent role.
What we know is that, having harboured top 6 ambitions, our board spectacularly shot itself in the foot with a disastrous succession plan once they rightly fired Koeman.
A stretched-out managerial search and game-to-game brief for Unsworth contributed to dismal performances against Lyon (where he had to save players for the Watford game), Atalanta (ditto for the Southampton game) and then Southampton themselves.
The back-slapping tone of those who wanted Allardyce forgets that this is a badly imbalanced squad that has shown an alarming tendency to suffer a complete collapse in form. Caution is the watch word until we get to January and address some fundamental areas.
As for Allardyce's performance, this season stability is the priority as Moshiri stated when he announced the appointment. The pressure will be on Big Sam to challenge for the top 6 again next season.
Dale Rose
42
Posted 20/12/2017 at 13:33:18
I have to agree with a lot of what you say Amit. However one thing that has come out of all this is the fact that we have the youngsters getting better with every match.
We have to play the way we do at the moment, its very tactical but is getting us to safety, which after that Southampton game, I thought we would never see. Staring into the abyss sprang to mind after that one.
It will be interesting to see what happens next season when I am positive we will be in a challenging position.
Jamie Evans
43
Posted 20/12/2017 at 19:25:21
5 more wins needed and we are safe. Altogether now, 'We found love in a hopeless place'.
Cast your minds back to the Southampton game, did we panic or was OCM a genius appointment?
Ian Jones
44
Posted 20/12/2017 at 19:29:07
Hi Michael Kenrick
You closed a thread. Can we continue the Turnaround conversation here!!!
Merry Christmas to you and the Editorial team. You guys have the patients of saints..
George Cumiskey
45
Posted 20/12/2017 at 19:32:12
If we have a good transfer window in January he should be under pressure to finish in the top six this season, with the salary he's on.
George Cumiskey
46
Posted 20/12/2017 at 19:32:13
If we have a good transfer window in January he should be under pressure to finish in the top six this season, with the salary he's on.
Jamie Evans
47
Posted 20/12/2017 at 19:46:01
I wonder George if Giroud's injury from last night will mean the end of any potential chance of us signing him in January?
From what I've seen of Allardyce's style of play up to now, I think the Frenchman would be perfectly suited.
Tony Abrahams
48
Posted 20/12/2017 at 20:17:21
I think you made a good decision Michael, maybe it's the way forward mate?
Damian Wilde
50
Posted 21/12/2017 at 09:17:02
Could someone please explain to me why Schneiderlin was playing? It clearly didn't work under Koeman, so why play him? We were dreadful! So unbalanced. And why...
Damian Wilde
51
Posted 21/12/2017 at 09:18:05
...does Lookman not get a game?
Overall, much better though #COYB
Add Your Comments
In order to post a comment, you need to be logged in as a registered user of the site.
Or Sign up as a ToffeeWeb Member — it's free, takes just a few minutes and will allow you to post your comments on articles and Talking Points submissions across the site.