Allardyce looking for more from 'surprised' Schneiderlin

30 Comments [Jump to last]
Friday 22 December 2017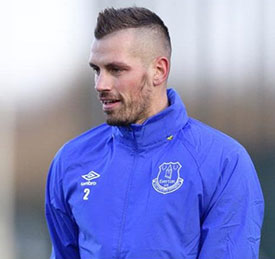 Morgan Schneiderlin has reiterated his commitment to Everton and again indicated his surprise at the negativity that built up around him at the time of his reported ejection from training last month.
Along with Kevin Mirallas, the Frenchman was said to be have either been sent home from Finch Farm for lack of focus or left the Blues' training complex of his own volition after being given an ultimatum regarding their conduct.
While Mirallas has admitted that he acted irresponsibly, Schneiderlin has always denied the reports and urged supporters not to believe everything that they read in the media.
Perhaps because the former Southampton and Manchester United midfielder has been back in the team recently under new Everton manager, Sam Allardyce, the issue was raised again this week and Schneiderlin wasn't changing his stance.
"For myself I was surprised [at the reports] but there will always be some people who are going to believe what they read in the press," he is quoted as saying.
"My only thing is to show them on the pitch that I'm 100 per cent focused. I can assure everyone that I am focused, that I'm just thinking about Everton and to improve the results and myself every day."
"It was the choice of the manager (Unsworth) not to put me in the squad, it was not because I behaved bad or something. It was just a choice for him."
Schneiderlin came on as a second-half substitute against Liverpool almost two weeks ago and was named in the starting XI for the two subsequent matches against Newcastle and Swansea, suggesting that Allardyce was confident he was re-finding his form.
He was substituted in the second half against the Swans on Monday night, however, after which Everton's forward momentum improved, indicating that the new boss still feels Schneiderlin, along with the team as a whole, has some way to go before he rediscovers his confidence and best form.
"I would like to see Morgan hitting the heights of [his time at Southampton] and hitting the heights of last year when he first arrived [at Everton]," Allardyce said.
"That would be the way Morgan would try and get back and get back to his peak performances as quickly as possible.
"If we can help him along the way, we'll obviously do that and our doors are always open to support what he wants to do to get back to that top, top level that he's played at before.
"He isn't quite there yet but he's getting better and better and the quicker he gets back to his old self the better it will be for everybody.
"There's a lot players who have under-performed for one reason or another but if this run hasn't given them the confidence to get back to their best, I don't what more we can do really.
"So hopefully that will come and he'll get selected more and play more and deliver more [of the] performances we know he can.
"Before I came the players were playing it safe because they didn't want to take too many risks and because [of that] we ended up playing negative football, if you like.
"Too many balls went backwards and sideways and then too many mistakes were happening within the team and confidence drained.
"I was disappointed by the first-half performance against Swansea and our negative passing — not just from Morgan but the whole team. We seemed to want to play towards the wrong goal with the amount of balls Jordan Pickford was kicking.
"So, it's positive football, positive passing and Morgan being a key member of that that will get us going forward and in behind defences and hopefully scoring more goals."
---
Reader Comments (30)
Note: the following content is not moderated or vetted by the site owners at the time of submission. Comments are the responsibility of the poster. Disclaimer
James Stewart
1
Posted 22/12/2017 at 18:57:48
Probably my least favourite Everton player. We have had plenty worse than him ability wise, but his attitude and overall nonchalance sums up all that is wrong with the game. This guy spends more time pratting around in dress up on social media than he does worrying about his performance levels. Not the kind of character that will get us anywhere near the top 6.
Jay Harris
2
Posted 22/12/2017 at 18:59:25
Great words from Sam.
Let's see if Morgan and the others respond in what will be a very testing fixture.

Andy Meighan
3
Posted 22/12/2017 at 18:59:53
I'd have more respect for this fella if he came out and apologised for his part in the infantile incident at Finch Farm. As it is, he won't... so sod him. I've never rated him. Anyway, we looked more of a threat when Davies replaced him the other night.
To me, he looks what he is – a snide Too many backwards and sideways passes and not a positive bone in his body. Love us to get shut to be honest but I can't see it.
Neil Cremin
4
Posted 22/12/2017 at 19:00:45
Sam wasn't my choice but I didn't have a preferred option either but you would have to be impressed with the outcome so far. The real test will come over the Christmas and I will be looking at the performance more than the results to judge our progress. It is not that I would be satisfied with a good performance and losing but a few weeks ago we would have been savaged in these fixtures (like v Arsenal).
I am particularly impressed by the backroom team and Sams Analysis. His comments about our tendency to frequently look to pass back to Pickford is something I have noticed since our Europa qualifying games. This habit has two issues:
1. It shows a fear mentality in the players; and
2. It puts a fear mentality in me as I seem to be the only Evertonian who thinks the jury is still out on Pickford. I worry about his kicking ability in these situations often going out over the sideline and also his apparent in ability to hold the Ball and bat any save back into play. Hope I am wrong because we will need a commanding keeper if we are to make any progress.
If we get something from our games against the top six sides we can definitely say that this management team can help realise our dreams and believe they can bring us to the next level. COYB
Mike Gaynes
5
Posted 22/12/2017 at 19:18:58
"I would like to see Morgan hitting the heights of [his time at Southampton] and hitting the heights of last year when he first arrived [at Everton]," Allardyce said.
I hate to say it, but I've almost given up on that happening. Never seen a player fall so far so fast, from top form to deadweight over a summer. I'd give anything to see him light up the side again the way he did last spring.
And Neil (#4), you may not be the only one, but it would be a pretty small gathering at this point. Most of us feel Pickford has been plenty commanding, particularly in light of the chaos at the back earlier this season. Personally, I think he's outstanding and growing in stature every game.
Dermot Byrne
6
Posted 22/12/2017 at 19:32:33
Doesn't that just hit the nail on the head from Sam? Same analysis by many of us on TW for ages but, importantly, he leaves an opportunity for him. I loved his play when he first came. Also true, not just him passing sideways and backwards.
Beginning to love big Sam.
(Yeah, no ambition, best you hope for, blah blah!)
Derek Knox
7
Posted 22/12/2017 at 19:39:21
James and Mike, my sentiments entirely, I have only seen him have one and a half decent games in eighteen months. I do not rate him at all, and would be made up, if he moved on.
The surprising thing for me, is he keeps getting picked, and the last two games, we have improved dramatically after he was subbed.
Les Martin
8
Posted 22/12/2017 at 19:52:37
He has been strolling through and not putting in the shift, but that is going to have to change under Sam. I have no doubt Sam will sort him out or ship him out if he does not shape up.
It's going to be an interesting January.
Mike Gaynes
9
Posted 22/12/2017 at 20:21:09
Derek #7, wow, no idea what you're talking about, mate.
Morgan only joined us 11 months ago, not 18. And for the first four months, he was absolutely outstanding. He was MotM against West Brom, the game he scored in, and also against Leicester, when he had I believe eight tackles and ran the midfield.
From Schneiderlin's debut against Stoke until the end of the season, we were 8-3-1 with him in the lineup... and 0-1-3 when he was out injured.
"One-and-a-half decent games? Really?
Like I said, he has lost his form. But anybody who says he "never had any" is just wrong.
Mike Gaynes
10
Posted 22/12/2017 at 20:23:43
Correction... we were 7-3-2 with him in the lineup. Can't read my own notes sometimes.
John Keating
11
Posted 22/12/2017 at 20:48:16
Well, if that's him 100 per cent focused... I'd hate to see when he's not.
James Flynn
12
Posted 22/12/2017 at 21:20:24
Might've been the kindest "Get your head out your ass or else", I've heard from a manager about one of his players.
Peter Gorman
13
Posted 22/12/2017 at 21:51:34
So are we going to decry this statement from Allardyce now he has singled a player out for criticism?
Ashley Roberts
14
Posted 22/12/2017 at 22:32:30
I just hope he does not start as a defensive duo with Gana tomorrow. I just cannot believe Koeman, Unsworth and Sam are persevering with this pairing. It is painfully obvious it just does not work.
I don't know how many times against Swansea in the first half, he ran forward and as soon as he was confronted by the opposition he checked and passed the ball sideways. The game changed dramatically when he was substituted and we became much more offensive.
I would like to see Tom start in his place tomorrow because it will not be pretty if we start so negatively again.
Neil Cremin
15
Posted 22/12/2017 at 23:15:23
Peter,
Good point and don't know if it is significant because we soon realised when Koeman started well that he eventually lost the dressing room with criticism of players. His ego was bigger than the club.
So far so good with Sam but we do know he has an ego; let's hope he uses it well.
James Flynn
16
Posted 23/12/2017 at 01:11:01
I'd like to see Gylfi paired with Gana.
Clive Mitchell
17
Posted 23/12/2017 at 01:13:53
I've been surprised too, Morgan. Surprised that you keep getting in the team.
Derek Knox
18
Posted 23/12/2017 at 02:02:00
Mike @9, I stand corrected – must be worse than I thought; it seems like 18 months!
I was thinking he joined us in the summer, you are right – it was the January window he came to us.
Have a good Xmas and New Year, Mike, and your family, and all the other guys far and wide.
James Hopper
19
Posted 23/12/2017 at 02:13:30
I was very unhappy with Allardyce's appointment but even I have to admit his knowledge of our squad members and their time at Everton is impressive. He's clearly worked hard to learn as much as he can about Everton and its team.
Phil Sammon
20
Posted 23/12/2017 at 03:47:02
James Hopper (#19),
I completely agree. I was desperately hoping we wouldn't get Allardyce, but now he's here I have to say I'm impressed. He is saying the right things, the results have been very good and I'm hopeful the performances will follow suit.
With regards to Schneiderlin, I'm almost ambivalent towards him. I loved him when he joined, then grew to almost loathe him. Now he's just a name on the team sheet that fills a gap. He has as much of the ball as anybody and does absolutely knack all with it.
Saying that, I don't think Gana offers enough going forward either. He at least has a great attitude though, and defensively he's huge.
As an aside, I know Rooney has done well with his goals etc, but if I were Sam I would ban him from that bloody stupid Hollywood pass. The amount of times he rakes the ball 50 yards to Aaron Lennon's head. Just completely wasteful.
Steve Brown
21
Posted 23/12/2017 at 04:29:41
Both he and Mirallas think they are too good for this team, but they are wrong. Their performances have stunk the place out this season due to their lack of motivation and poor attitude.
If a permanent manager had been in place when they staged their walk out, then they would have been dropped from the squad and transfer-listed. We should get shot of Mirallas in January and Schneiderlin in the summer.
Nicholas Ryan
22
Posted 23/12/2017 at 05:10:57
Seems to me, the Samster is both talking the talk, AND walking the walk!
Stan Schofield
23
Posted 23/12/2017 at 08:59:24
When Schneiderlin joined us, he was very good, put in some great displays. At the moment, he's improving after a long run of poor form, as Allardyce himself said. As such, it would make sense to let that continue, to see how things pan out under Allardyce's more organised and disciplined regime.
Those who would want to get rid of him because he has 'stunk the place out' when the team was not well organised under Koeman, need to think again IMO. There's a good chance he'll recover his original form, and we won't know unless we give it a chance under Allardyce. To get rid before that, would be cutting off our noses to spite our faces because of annoyance with past poor performances. Which would be daft.
James Marshall
24
Posted 23/12/2017 at 09:45:35
I've said it a few times now, and people were initially skeptical but Sam Allardyce is perfect for Evertonians.
He's a straight talker and he says what we see.
Schneiderlin is a good player struggling. It's as simple as that.
Michael Williams
25
Posted 23/12/2017 at 11:23:49
I remember Schneiderlin playing very well last season when he played in place of Gueye for a run of games. Now that they are playing together, it seems Gueye's job is to focus more on being a midfield destroyer while Schneiderlin, still responsible for defense, is the one tasked with linking up the back four and the attack. He needs to improve in that area.
When Rooney dropped back our attacking pace quickened but I'm not sure I want Rooney starting the game back there against the top scoring teams in the league. I am willing to give Schneiderlin more time under a new manager as we have too much invested in him.
Iain Johnston
26
Posted 23/12/2017 at 12:03:08
Maybe it's because both him and Gana aren't used to playing with a defensive partner?
You can't push him further forward it's just not in his psyche. Sideways and backwards, mopping up the loose balls has been his game ever since he was a kid at Strasbourg and at his age he's not going to transform into an older Tom Davies.
Lone defensive duties is what he did at Southampton... Their fans say that his defensive play is what made Wanyama look so good... and Man Utd bought him to replace Carrick which again was a mistake as they have Herrera.
He had a good game in Cyprus because he was on his own in his preferred role. Play him just like Gana with a creative partner and we'd see the best of him.
The problem we have in this day and age is that due to over rotation players are unable to form on field relationships. I'd have the older three Schneiderlin, Rooney & Gylfi train together as a midfield pyramid and the younger Gana, Klaassen & Davies do the same then rotate the trio so they learn each others game.
Increasing the behind closed doors 11 v 11s will help create this and bed in the new signings quicker rather than just throwing them on with 10 mins to go in an ad hoc manner.
John Smith
27
Posted 23/12/2017 at 15:05:21
English isn't his first language, so I don't get caught up in comments made by such players. Sometimes they don't or can't express themselves properly. That said, he's been playing better lately, so maybe we should wait until next summer. I don't think we can offload him this summer, until we get Nzonzi or whoever.
Danny Broderick
28
Posted 24/12/2017 at 06:03:43
I'm not the biggest fan of Gueye and Schneiderlin in the same midfield, but I thought Schneiderlin was much better yesterday. There are games where we will need 2 defensive midfielders, and if he can start passing forward a bit more, he can get back to how he was when he first joined us.
He made some good tackles yesterday and retained possession well by twisting and turning out of trouble on one or two occasions. Much better.
Geoff Williams
29
Posted 24/12/2017 at 18:20:17
Yesterday, he had a very good game, probably his best in an Everton shirt. Having attended the game, I watched the full match again and I was surprised at how effective he was in breaking up the Chelsea attacks.
Bobby Mallon
30
Posted 25/12/2017 at 08:21:46
Andy @3,
He may just be innocent so why would he apologise. He's being picked and Mirallas is not – that tells me everything.
Add Your Comments
In order to post a comment, you need to be logged in as a registered user of the site.
Or Sign up as a ToffeeWeb Member — it's free, takes just a few minutes and will allow you to post your comments on articles and Talking Points submissions across the site.