Baines set for longer layoff
Wednesday 27 December 2017

60 Comments [Jump to last]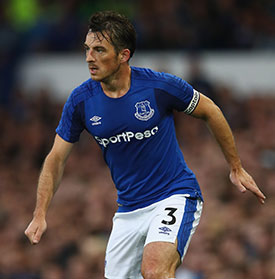 Leighton Baines looks unlikely to return to action any time soon after he suffered a set-back in his recovery from a calf injury.
Sam Allardyce has confirmed that he had hoped the defender would be fit again soon but that he felt a reaction during training this week that will delay his availability to the team.
Baines suffered the injury in mid-November and has missed every game under the new regime which is unbeaten since Allardyce took over from David Unsworth.
"We've had a bit of a set-back with Leighton Baines," Allardyce explained. "He was on the [training] field but has felt his calf again."
While loan striker Henry Onyekuru is facing an least six months out with a serious knee injury – it could be longer if scans reveal a ruptured ACL rather than just a medial ligament tear – Allardyce had better news on James McCarthy and Ross Barkley, however, with both getting closer to completing their own recoveries from soft-tissue injuries.
"James will play an 11-v-11 tomorrow," he said. "Ross Barkley is joining in training too, so hopefully he's not too far. Seamus Coleman is still a way off and he's one we'd like to get back and Funes Mori is looking like March.
"It's tough at the moment but hopefully when they do get fit they'll stay fit and bring a bit more to the attacking side of our play."
---
Reader Comments (60)
Note: the following content is not moderated or vetted by the site owners at the time of submission. Comments are the responsibility of the poster. Disclaimer
David Pearl
1
Posted 27/12/2017 at 15:21:35
Looking at the list of injured players and who we sold.. we didn't replace any of them ffs. Funes Mori, Bolasie, Coleman... oh yeah Martina, Lukaku, Sandro! Sandro must be the worst striker I've ever seen in a blue shirt. He is absolutely shocking. Can't hold up the ball, no strength, he has nothing. He falls over quite well though. What a waste of a sub v Chelsea. I'd like to now see Klaassen given a go before we get shut. One more go and if not sell them both (and sack Walsh please.)
And if we are not going to play Lookman, he won't develop on the bench, then loan him out. Same with Vlasic. Enough is enough, we are safe now, it's time to move from this tactic of giving the ball back to opposition after 5 seconds. Play on the front foot.
Few days before the transfer window opens. Walsh, you waste of space, earn your money!!
Frank Crewe
2
Posted 27/12/2017 at 15:30:54
"Sandro must be the worst striker I've ever seen in a blue shirt."
Don't know about that. I saw Brett Angell in his pomp. I always remember that bellowing voice a few rows behind me in the Upper Bullens bellowing "Get that fucking ham shank off!!!" just after he'd missed yet another sitter.
Stan Schofield
3
Posted 27/12/2017 at 18:06:28
Compared to Bernie Wright, Sandro is like Lionel Messi.
Chris Smallman
4
Posted 27/12/2017 at 18:14:13
Rod Belfitt was rubbish too.
David Morgan
5
Posted 27/12/2017 at 18:14:32
Frank (#2), Sandro hasn't had a chance in a decent 11, any forward players are going to look garbage in this negative tactic or Koeman's previous shambles of a team. Kenny, Williams and Martina just launch it when they get it and Calvert-Lewin chases... what a shit plan this is to watch.
We need to be careful we don't sell or lose all our fast skillful players – we might need them when we actually try to attack. Barkley, Deulofeu, Lookman, Sandro and basically anyone with any imagination is going, gone or going to go.
Go sign the Bristol City left back Bryan to cover Baines. In fact raid the Championship for anyone, because there must be better than Martina, Williams, Schneiderlin, Davies and Kenny down there. (The last 2 can get better but right now they are sub quality.)
Paul Hughes
6
Posted 27/12/2017 at 18:31:16
First off, Sandro needs to get some boots with studs in, so that he can actually stand up. He's like Bambi on ice. Once he does that, we'll see if he can actually play.
And I cannot believe that anyone is having a pop at Kenny. He's been there or thereabouts as MotM every time he's played. He's 20, still learning and part of a defence that has conceded twice in seven games. Get a grip!
Mike Gaynes
7
Posted 27/12/2017 at 18:33:55
David #5, Davies and Kenny are "sub quality"??!!
Kenny in particular has been simply outstanding.
David Morgan
8
Posted 27/12/2017 at 18:39:26
Kenny can't pass, dribble, doesn't have blistering pace and he doesn't offer anything going forward. His tackling is strong and his effort is good; he reminds me of Hibbert, he is a sub at best. The full backs in the Premier League need to attack and join in, Allardyce will agree with you as he is an out-and-out defender and we plan to out-and-out defend. Perhaps he will improve but right now, nerves or ability means he launches it or gives it away every time he gets it.
Barry Williams
9
Posted 27/12/2017 at 18:52:05
David Morgan - #8
It really is a bit harsh on Kenny, who is only 20 by the way. The same with Davies, only 19. In a world were recruitment would have been better and injuries kinder these 2 lads would have had a step-by-step development. Instead they've been thrown in at the deep end and I think done well considering.
I guess you did say they could get better. That's something!
I think Kenny's forward play is a lot better than you have given him credit for. Plus, wait until he is in a decent and consistent team. I remember a young Gary Stevens being second choice behind Brian Burrows I think it was; he was probably older than Kenny then too, it didn't turn out too bad, did it?
Liam Reilly
10
Posted 27/12/2017 at 19:03:44
Shocking comments on Kenny and Sandro.
Full-back is one of the hardest positions on the field and weak players get targeted. I don't see that happening a lot with Kenny.
As for Sandro, I see a lad trying really hard every time he gets on the field and he's either being played out of position or being asked to hold up hoofed-up balls which is clearly not his game.
Nonsense...
Peter Laing
11
Posted 27/12/2017 at 19:08:34
David Morgan – what a head wobble my friend regarding your comments on Jonjoe Kenny – you must be in the majority of one!
Bill Watson
12
Posted 27/12/2017 at 19:47:21
David (#5).
You're way off the mark with Kenny. He's one of the most exciting full-back prospects I've seen since my first match in 1958. He can tackle, has awareness of the space around him, is quick and is one of the best crossers of the ball in the team.

Graham Lloyd
13
Posted 27/12/2017 at 20:21:26
I have to say Sandro hasn't had a chance and it's not his fault... He should give the guy a decent run in the side. Now we have accrued a good amount of points, start playing more offensively with 2 up front.
Sam plays too comfortable and is starting to bore me Bolasie and Calvert-Lewin was great up front but putting Sandro up with Calvert-Lewin and having Bolasie out wide, we would start creating chances.
I don't think 2 defensive midfielders works. Gueye always starts for me with Sigurdsson, Rooney and maybe McCarthy or Vlasic. I hate seeing the defensive diatribe at the moment. I'm sure we have a decent side there.

Mike Gaynes
14
Posted 27/12/2017 at 20:21:32
"...can't pass, dribble, doesn't have blistering pace and he doesn't offer anything going forward."

"... he is an out and out defender..."
If that's what you're seeing, David, you should apply to the NHS for a white cane and a dog.
Kenny is the second-fastest player in the side behind Calvert-Lewin, gets forward just as well as Seamus, and he's an even better passer. MotM against Liverpool and he drew a penalty against Swansea.
You're all by yourself on this one.
David Morgan
15
Posted 27/12/2017 at 20:26:23
What about when he launched it into his own net with the left foot he can't use? He just hoofs it away every time without even looking for a pass. He can defend and will get better, he just can't go forward yet. I am saying he is sub quality and that's my opinion.
To put it into perspective I would say, Cuco Martina is our worst player and is on his weaker side and has made 60 more passes in a game less. He also has 6 fewer tackles than Martina so judge the players equally not because he is young or came through the academy and you are routing for him. He wastes the ball. Seamus for the win!!!
Stan Schofield
16
Posted 27/12/2017 at 20:50:12
David, you should have gone to Specsavers.
Chris Corn
17
Posted 27/12/2017 at 20:59:58
David Morgan. Bollocks. Watch him properly.
To criticise a full-back for being a good defender is a joke and is a reflection of the modern game. He's a better defender than Coleman who, like Baines, lets wide men get loads of crosses in.
For me, he has earned his place and no way should Coleman be shoe-horned back into the team. He is also decent on the ball as well. As for own goals, I think Seamus has scored at least one.
I don't know who you are actually watching.
David Morgan
18
Posted 27/12/2017 at 21:09:17
Thinking about it, that own goal was on his right foot. tut tut tut.
Kim Vivian
19
Posted 27/12/2017 at 21:13:19
Have we got two players called Jonjoe Kenny because the one David M is describing does not sound like the one I have seen playing right back for us. Great promise and a mature attitude for a young guy. He will get – and is already getting – better.
Is there any other Premier League club that is as crocked as us? Barkley, Baines, Coleman, Funes Mori, Rooney, McCarthy, Onyekuru, Gueye Bolasie (not 100%)... plus any others (maybe loaned out) that I can't think of. Onyekuru sounds bad and he hasn't even shown up yet.
We talk about luck but we're getting our fair share of bad rolls I think.
Jay Wood
[BRZ]
20
Posted 27/12/2017 at 21:19:44
David Morgan: 'Young Defender Scores Own Goal – Shock!'
I look forward to your deep analysis and historical research on every defender who has played Premier League football who has also scored own goals. It will be a lengthy and illustrious list.
Jonjoe Kenny is having a hugely impressive season. This interview also reveals he is a hugely impressive, mature, analytical and self-aware young man, with no small measure of determination and self-belief, mixed with humility and gratitude.
He'll do for me.
David Graves
22
Posted 27/12/2017 at 21:28:03
I enjoy ToffeeWeb for the debate and varied opinions. But I tell you what, David M, that is complete nonsense.
Lee Jackson
24
Posted 27/12/2017 at 21:31:03
We should lay off David – football is all about opinions. It's just that his is wrong this time.
Brian Williams
25
Posted 27/12/2017 at 21:34:39
Strictly speaking, Lee, an opinion can't be wrong as the definition of opinion is a "view or judgement formed about something, not necessarily based on fact or knowledge."
Brian Williams
26
Posted 27/12/2017 at 21:35:26
It can, however, be complete and utter shite, lol.
Lee Jackson
27
Posted 27/12/2017 at 21:41:43
I understand that Brian, it was tongue in cheek. But you summarize the same train of thought very well in your follow up post!
Geoff Lambert
28
Posted 27/12/2017 at 22:04:07
RS to pay world record fee for CB... and we are looking at bargain basement strikers.
Get the cheque book out, Moshiri and let's get some quality in.
Charlie Lloyd
29
Posted 27/12/2017 at 22:19:32
David @ 8
Have you ever seen Kenny play for the U23s or England U20s?
He certainly gets forward for them and can deliver a decent cross whether it aerial or on the ground.
He's finding his way in the first team. We've seen some examples of his crossing but not too much. In time as he becomes more accustomed to first team level that will come.
To expect it all straight away is an opinion that seems to be endemic with some supporters at the moment.
Ray Roche
30
Posted 27/12/2017 at 22:45:33
David Morgan (#8),
What a complete and utter load of crap. Thank God you have nothing to do with team selection. I find it difficult to get past the thought that you are a Kopite engaged in "Operation Windup". You certainly know fuck all about football.
Len Hawkins
31
Posted 27/12/2017 at 23:01:00
Ray #30
My thoughts exactly.
Stan Schofield
32
Posted 27/12/2017 at 23:01:03
Geoff @28: Yes, but Liverpool supporters are now worrying that it's the money from Barca for Coutinho being spent already.
Mike Gaynes
34
Posted 28/12/2017 at 00:28:02
James (#33), David isn't a stranger. He's been around for a couple of years. He's just one of those relentlessly negative posters who gets his teeth in something and won't let go, no matter how far off-base he is. I remember him posting a while back that Oviedo was the worst player he'd ever seen in an Everton shirt, or some such crapola.
But you and Brian (#21) have it right, being unanimously howled down by every other poster on the thread doesn't seem to faze him. I had a dog like that once... a cocker spaniel who liked to chew through chair legs even though he lost teeth on every one.

Geoff Lambert
35
Posted 28/12/2017 at 01:57:26
Stan! I hope we have the cash from Lukaku to spend in the January window.
Brian Porter
36
Posted 28/12/2017 at 07:08:02
35 posts so far on an article about Leighton Baines's long term injury and not one poster has so far wished one of our longest serving and most reliable players for years a speedy recovery. So, to redress the balance slightly, I for one wish Leighton a fast and successful recovery. It can't have been much fun for him, having to sit out so many games over the busy festive period.
Whether you think he's lost a little pace or not, I think the majority of fans will agree he is still our best left back and as we have no specialist cover for him at the moment, we should all be hoping he will be back sooner rather than later.
Get well soon, Leighton.
Mark Tanton
37
Posted 28/12/2017 at 07:21:21
Brian he's had Christmas off, it's a rare treat for him. I wish him well too, but sadly and without any disrespect for a superb servant of the club, this an opportunity to move on now.
Baines has done little to justify the regularity with which he has been picked, for some time now. One of Everton's big failings, compared to more successful sides is how we allow some of our brilliant players to stagnate painfully, when they should have been enclosed in tarpaulin and given the vet's bolt long ago.
He has, without doubt been one of our finest signings in the Premier League era (one of a handful of brilliant Moyes's Men, like Cahill and Jagielka), but his limitations are starkly on view.
Peter Warren
38
Posted 28/12/2017 at 08:07:45
David Morgan says Kenny and Davies had potential to get better but currently sub standard. I agree with him although they're fine in our side which is sub standard. Kenny needs to work on his passing, crossing, and dribbling as David points out. I've never seen him use his left foot.
However, his defending has been top class and in a better side his passing would improve as he would have more and simpler options. At present he does just hoof or play back to keeper or defender. No doubt he is a solid defender.
John Keating
39
Posted 28/12/2017 at 08:35:41
Never having played professional football but having watched it for 60 years or so, I would have thought the priority of a defender is to... err, defend?
As we haven't really attacked anyone so far this season, I think we should wait on commenting about Kenny's attacking capabilities.
So far another great young kid giving his absolute best in a team of older incompetents. Kenny, Davies, Calvert-Lewin, Holgate – every one of them deserve praise for their effort and application and without them this season we'd be fighting Swansea for bottom spot.
Eddie Dunn
40
Posted 28/12/2017 at 09:17:54
David Morgan, I can't ignore the opinion regarding Kenny. If you are correct, then why have so many commentators and match summarisers heaped such praise on the youngster?
For the record, he has whipped-in some excellent crosses and with regard to his passing, I have watched him combine neatly with Lennon and others on his forays down the right flank.
On Davies, we are watching work in progress. He is operating in a midfield which has made protecting our defence their priority. At times he has resembled a headless chicken but with experience I am sure he will develop into a good attacking midfielder.
Bill Griffiths
41
Posted 28/12/2017 at 09:34:10
Well said, Brian.
What is the title of the 3rd book in your Mersey Murders series? I really enjoyed the first two.

Mark Murphy
42
Posted 28/12/2017 at 10:02:24
Leighton Baines has been one of the finest players to ever wear the shirt and I wish him well in his recovery. Hopefully he will provide solid back up to the younger left back I really really really hope we bring in in this transfer window.
As for Kenny – I could rewrite the above with Coleman as back up for Jonjoe – he's well on the way to being a good, if not great, right back.
James Flynn
43
Posted 28/12/2017 at 10:14:13
Mike (34) - Thanks. Fair enough. Didn't remember him myself.
I read all the threads. Always something interesting in here. But when I come across a post so relentlessly negative, I always assume the poster knows it's bullshit as he's writing it. Yet, posts it just the same for the "fun" of it; looking for a reaction.
Tony Abrahams
44
Posted 28/12/2017 at 10:42:42
I love Baines, a very good footballer with unbelievable energy, but he's sometimes too nice, to be a really top class "defender".
He hasn't had it easy, having nobody to play with for way too long, especially considering his biggest strength is the give and go, and it's going to be interesting to see how he does under Allardyce?
I was talking to someone who knows a couple of the Everton players and he was saying that his mate (one of the players) couldn't believe the attitude of some of our long-term senior players in the build up to the derby game at Anfield the other week.
He said he expected a lot more from the older heads; they seemed scared, they had too much respect for our horrible neighbours, and I wouldn't mind having a bet that Leighton was in this category, if what I was getting told is actually true.
I watched the game, and I wouldn't have said that about Jonjoe, because he was definitely one of the players, who was prepared to put his body on the line. He got caught out when Salah, missed a sitter from a far post header (he's young, it's the most difficult thing to defend) and when Mane, missed his chance when he should have passed, Kenny, was all over the referee, because he had been fouled in the build-up, which is definitely something that has been lacking for years.
Remember Jagielka, after we lost a semi-final at City, snitching on the ref, the next day? A real winner, would have been sent-off, if what Atkinson said was true, but again that's only my opinion, because I've always liked our captain as well!
John Keating
45
Posted 28/12/2017 at 10:54:16
Now the lay off is longer, even more a priority to get someone in.
Again, we have known about this position needing strengthened for ages so there is no excuse that someone isn't lined up to be here on the opening week of the transfer window.
Personally, I prefer Tierney.
David Morgan
46
Posted 28/12/2017 at 13:04:46
Well, I can see the vast majority believe he is better than a substitute right now. I feel as though he needs to fulfill more of his potential and isn't ready yet, I 100% stand by my claim. Everyone insulted my opinion but not one of you addressed the fact he has made less passes than Martina... who is crap. Next time you see Kenny launch it (a lot), think of me!
I haven't seen him for the youth England teams, so perhaps some of you have seen more of what he can do going forward. I have eyes I can see him tackle, I can see he has good anticipation, I have not seen any pace from him. But I see some of you say he has pace, so I will backtrack on that until I watch again maybe I missed it (not convinced still).
I feel as though he needs to improve his forward play. His crossing is at 29% accuracy; that's okay I guess. I can forgive the headless chicken own goal but lets see some stats or videos to back up how good he is. Calling me insane is all very well but with less tackles and passes than Martina, he looks like a fan favourite (one of our own) getting special treatment. All I am saying is bench him!!! Not sell him or that he is crap. People getting carried away.
Ajay Gopal
47
Posted 28/12/2017 at 14:26:37
Wishing Baines a speedy recovery – but this is surely the time to get a top class replacement who will hopefully be as good as Baines was in his prime. We have at least 4 other players in that position:
Galloway – he is not even in the subs bench in a poor Sunderland side.
Garbutt – I haven't seen reports suggesting he is pulling up trees in the U-23s
Antonee Robinson – plays intermittently in a Bolton side hovering in the lower reaches of the Championship; the Premier League may be too much, too soon.
Callum Connolly – he seems to be the best bet presently, has scored a few goals for Ipswich, but reports suggest he plays more as a winger than left-back.
So that really means a left-back purchase is a priority. Shaw might be available as a cheap option (loan and permanent deal could also be considered), also hearing that Kurzawa (PSG, French National Team) will be sold in January; might be worth making a bid.
Gwilym Jones
48
Posted 28/12/2017 at 15:00:33
What has happened to Shani Tarashaj?
Paul Thompson
49
Posted 28/12/2017 at 15:25:05
A thread about Baines... I know – why not spend 90% discussing Kenny? As Ajay (#47) says, the priority is to fill the Baines gap.
Martina has done better than most thought, but a right-footed left-back is only ever a stand-in. Let's register Garbutt for the Premier League or bring Connolly back, and go out and buy a decent longer-term replacement.
Michael Kenrick
52
Posted 28/12/2017 at 15:40:39
Shani Tarashaj
suffered a meniscus tear and
had knee surgery
back in July, so is on a no doubt long recovery path.
Since he has never played for us at senior level, he doesn't get listed among the perennial injured contingent.
Mike Allison
54
Posted 28/12/2017 at 16:12:52
Left back needs to get sorted in January. There are several options.
Now that we're rich we could just buy one, Luke Shaw perhaps.
We own two on loan in the Championship; Galloway and Robinson. Neither is playing regularly but we've seen Galloway do well before at Premier League level. He at least should be recalled.
Also, Garbutt needs to either be promoted or sold on. He's a top class threat going forward, the question is whether he can be trusted defensively.
Mike Allison
55
Posted 28/12/2017 at 16:15:24
Ajay, I just noticed you mentioned Callum Connolly. I think he's been playing in central midfield actually, but he's certainly getting a lot of game time there.
Jim Hardin
56
Posted 28/12/2017 at 17:57:08
Bad news for Baines. Hope he is back sooner than later. Class act all around on and off the pitch.
Kenney is not a starter on this team with Coleman healthy because he simply is not better, period. He may be in the future but his weaknesses are there for all to see, if they take off the "he is English" blinders. He has skills and lots of potential to improve, which is what one would expect at this age.
I did watch him on the World Cup team and against younger talent, he was very good at attacking and defending. Against older, wiser, faster, stronger players, his weaknesses are evident. He is no Coleman circa 2016, but neither was Coleman at 20.
David stated an opinion and has been called blind and even, a troll or an RS supporter, quite unjustifiably. I suggest instead of name calling, people trying to change David's mind – respond with facts and reason instead of bile to support the argument.
BTW, received an Everton holiday sweater like the one worn by Niasse, and mine didn't have a number on it either! Have been, and am continuing, to make the rounds to parties and events decked out in a true classic! Happy New Years to each of you. Let's get three points on Saturday to end the year and COYB!
Mike Gaynes
57
Posted 28/12/2017 at 20:43:44
Jim #56,
"...but neither was Coleman at 20."
Great point. Kenny is in every way more advanced at 20 than Coleman, who was a defensive disaster back then -- a ballwatcher who was constantly caught out of position. Kenny is positionally excellent and tackles nearly as well as Seamus. Personally, I think he'll make a fine left back (if we don't get one in January) when Coleman comes back.
David #46... "His crossing is at 29% accuracy; that's okay I guess."

29% crossing accuracy is fantastic... makes him one of the most accurate in the Premier League. Better than De Bruyne or Siggy. By contrast, Baines -- once among the best in England -- has a career percentage of 26. Coleman is 22% for his career and was 18% last season. (Martina, by the way, is at a mind-blowing 33% for the season.)
Martina has more tackles, but that's probably because teams lick their chops and run at him constantly. His tackle success rate is 57%. Kenny's is 84%, again among the best in the Premier League. As for Martina making more passes... well, yeah, but a lot of them are six yards backwards. Kenny passes forward, and yes, he likes to go long. He's accurate enough that I think it works for him.
Dave Abrahams
58
Posted 28/12/2017 at 21:06:53
Jim (#56), you mentioned that Kenny's weaknesses are there for all to see then again his weaknesses are evident, but you failed to say what these so obvious weaknesses were... could you enlighten us please?
John Smith
59
Posted 29/12/2017 at 09:06:45
"Sandro must be the worst striker I've ever seen in a blue shirt."
That's funny since we've never seen him played in that position. Only as a winger, lol.
Darren Murphy
60
Posted 29/12/2017 at 20:27:39
Spot on John @59. Some people crack me up mate.
Darren Murphy
61
Posted 29/12/2017 at 20:30:18
Baines is finished anyway, too slow and never comes forward much, when he does he either loses possession or passes backwards. Without his penalties that we don't actually need him for, he'd be lucky to get a bench roll.
Jay Woods
[LAT]
62
Posted 29/12/2017 at 20:56:18
The issue with Kenny is not his defensive ability, which is actually very solid.
Rather, it's his limitations in attack and given that fullbacks are nowadays key attacking players, this is a major reason why we have been struggling offensively – on both wings.
As for Baines, yes, he's definitely over the hill and must be replaced.
David Graves
63
Posted 29/12/2017 at 21:44:16
David, if you say "Bench him", then I would ask who would you replace him with? I can't see a better option than him at the moment.
Kevin Dyer
64
Posted 30/12/2017 at 00:35:27
Disappointing news on Baines. Hardly unexpected though, he's had injuries now pretty regularly for several years – was his first bad one the season Moyes left? No way our brains trust could have foreseen this situation (sarcasm). Allardyce has Martina doing a (unlikely) decent job of covering but what a situation to find ourselves in?
Garbutt probably isn't good enough but should have been registered. Galloway likewise – I live in the northeast and the Sunderland fans I know don't rate him at all – Oviedo is preferred. So this should have been anticipated. He's 32 with a spotty recent injury record. Idiocy.
Eric Myles
65
Posted 30/12/2017 at 01:42:35
Kevin #64, I think Baines first bad injury was the one he had when we signed him.
Roman Sidey
66
Posted 30/12/2017 at 02:20:40
Tony Abrahams, 44, whether the info you're getting is true or not, it's pretty accurate in summing up the situation at Everton for a pretty long time. Too nice. Baines has always suffered from shyness, and, to be brutally honest, that is not a good quality in a professional footballer. I'm not saying I want our fullbacks breaking people's legs and getting sent off every other match, but I can't for the life of me remember seeing Baines put in a tackle that would make players scared to run at him. I'd be happy to be proven wrong though.
For several reasons, Baines is on the way to being remembered at Everton as "a great servant to the club." That's nice, but you see that with a lot of players who stay at a club for the majority of their career without winning anything, i.e. Hibbo. As a defender, I'd rather be remembered as a mean bastard who didn't let anyone get the better of me.
Add Your Comments
In order to post a comment, you need to be logged in as a registered user of the site.
Or Sign up as a ToffeeWeb Member — it's free, takes just a few minutes and will allow you to post your comments on articles and Talking Points submissions across the site.