Liam Walsh joins Bristol City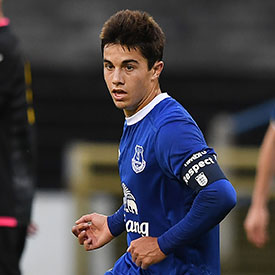 Everton Under-23s midfielder Liam Walsh has signed for Bristol City in a permanent deal, the club have announced.
The 20-year-old came through the Finch Farm Academy and was being groomed to follow in the footsteps in the first team, of the likes of Jonjoe Kenny and Tom Davies with whom he played at U21 and U23 level.
He had a highly successful loan spell with Yeovil Town in 2016 where he earned rave reviews from Glovers fans but his temporary move to Birmingham City this season was ended prematurely following the sacking from that club of Harry Redknapp.
He didn't feature under Redknapp's successor, Steve Cotteril, and returned to Everton having made just three appearances.
---
Reader Comments (42)
Note: the following content is not moderated or vetted by the site owners at the time of submission. Comments are the responsibility of the poster. Disclaimer
Dick Brady
1
Posted 05/01/2018 at 18:02:31
Tragic. One of the most talented youngsters to come through the ranks leaves without so much as a run in the first team. On the same day as Barkley leaving too. Tells us where this club is heading. Big Sam has no interest in youngsters, developing potential or Everton's future.
Joe O'Brien
2
Posted 05/01/2018 at 18:17:17
Sad to see this transfer to be honest. Was hoping for big things from him. Good luck in your future career Liam. I hope we've inserted a clause with us being given 1st option if you ever move on.
I wonder does this mean Joe Bryan moving in the oposite direction. He looks like a decent player.
Liam Reilly
3
Posted 05/01/2018 at 18:18:30
Just posted on the Barkley thread.
This is worse than RB leaving for me as this kid has talent in abundance that we never got to see, cause we always play two defensive midfielders.
He'll probably be back in the Premier League next season, bossing our lot.
Joseph Terrence
4
Posted 05/01/2018 at 18:20:07
I was about to ask if we have inserted a buy back clause, but then I remembered this is the Everton board we're talking about.
Dave Abrahams
5
Posted 05/01/2018 at 18:30:36
Liam (3) just posted an almost identical letter on the Barkley thread, Absolutely gutted, what is going on at our club.
Pat Kelly
6
Posted 05/01/2018 at 18:48:47
Allardyce has stated he wants players in their prime aged 25-30. He's a short term appointment and not interested in developing young talent for someone else. Where is the Director of Football's influence in this ?

David Barks
7
Posted 05/01/2018 at 18:50:53
Pat,
What makes you think Allardyce sold the player?
Ian Burns
8
Posted 05/01/2018 at 18:54:40
How much bad news can I take in one day? RB now Liam without so much as a sniff at the first team. A shambles and we still have the Derby game tonight! Ah well they say these things come in 3's!
What a day, what a club.
Gary Edwards
9
Posted 05/01/2018 at 18:54:52
I struggle to understand why Liam was never given a decent opportunity to prove himself in the first team. Further galls me that an often out-of-sorts Tom Davies is given chance after chance yet it's clear to those of us who've seen them both on the same pitch who is the vastly better player.
Antonee Robinson;s loan extended, Gethin Jones leaving, Barkley too "Big Sam has no interest in youngsters, developing potential or Everton's future." (Dick Brady) I'm afraid Allardyce is only part of the problem. What is the club's long term strategy ? is it the slow dismantling of the club in readiness for the super European leagues (prior to WC2022) which will only accommodate one club from Liverpool ?
Kase Chow
10
Posted 05/01/2018 at 18:55:02
I understood that Liam was a prospect so I'm surprised by this
But to be fair, very few of our youngsters have come back to haunt us so one has to assume that we don't think he's of sufficient quality for our ambitions
Peter Anthony
11
Posted 05/01/2018 at 18:56:24
It's the hope that kills you. After RB left I thought at least we have Liam Walsh coming through...then bosh, another hope trampled...
I hope we progress in the cup...
They say things come in threes so no chance...
Fuck it. Come on Everton, give us some pride back tonight please. Let's stop them creating the longest unbeaten run against us in history.
Wayne Clarke of 2018, come forth tonight.
COYB.
Frank Wade
12
Posted 05/01/2018 at 19:01:34
This is a worse blow than the Barkley move. Bad news comes in threes, more to follow.
Bill Griffiths
13
Posted 05/01/2018 at 19:50:04
Like many others I am not happy as I thought he was a cert to make it if given the chance.
One would have to think that Unsie would have been asked for an opinion as to whether to keep him or sell?
Barry Pearce
14
Posted 05/01/2018 at 21:51:33
Absolutely gutted, but I wish him every success.
Big mistake letting Liam go.
Mike Gaynes
15
Posted 05/01/2018 at 21:53:06
Bill, seems likely he was.
Worth noting that during Rhino's time in charge, while giving chances to several youngsters, he did not elevate Walsh to the first team at any point, not even the bench if I recall.
Will Mabon
16
Posted 05/01/2018 at 22:06:00
- Skilful player? Check.
- Suited to building a team focused on fluid, attacking football? Check.
- Utility type players already available in the squad? Check.
Sell.
Clive Rogers
17
Posted 05/01/2018 at 22:10:54
Mike, 15, he was on loan at Brum when Unsworth was in charge.
Paul Birmingham
18
Posted 05/01/2018 at 22:39:39
Crap for all Evertonians. He's Colin Harvey - as close it could be..Who on this site can say they know his capability?
Geoff Lambert
19
Posted 05/01/2018 at 22:55:37
Get the scout in from Bristol City seems like he can pick a good youngster! Mr Walsh take note!!!
Peter Gorman
20
Posted 05/01/2018 at 23:27:05
Ridiculous - this bloody club.
Steve Ferns
21
Posted 05/01/2018 at 23:33:21
I was dreaming that Walsh would be central to a great side of the future. He had a great range of passing and was a tenacious little tackler too. In the days of well protected footballers, his short stature would not have counted against him. I was hoping he could have been a scouse Xavi.
The fee seems ridiculously low. I only hope we've got him nailed down to return if he plays well and so turn this transfer into an extended loan and pay Bristol to develop him for us.
Mike Gaines, Walsh was ineligible to play for Everton until 1st January. He was effectively registered with Birmingham City until that date even though he was brought back from loan.
Chris Gould
22
Posted 05/01/2018 at 23:58:36
I think we have to assume that Liam asked to leave? He had only just arrived back and the club were obviously trying to get him competitive games to help his development. It would be odd for the club to actively get rid without him getting a chance to prove himself. It was clear that he was highly rated and was regularly the U23's best player.
Maybe he felt he had something to prove after his failed loan spell. It could be that he wanted guaranteed first team football and didn't want to play U23's any more. Bristol City are ambitious and he may have seen it as his quickest route to premier league football. Maybe he believes in his ability and feels this move will lead to bigger moves?

Chris Corn
23
Posted 06/01/2018 at 00:32:21
Well said Chris 22. He was nowhere near the first team so credit to him for looking to make a career for himself at first team level. Not everyone can make it at Everton and he won't be hanging around at 23/24 picking up good money, yet having only made a handful of league appearances like McAleny, when its clear he was never going to make it. If I was a pro, I'd want to make as many first-team appearances as I could.
I've never seen the lad play but I've been told he's good. He may just have to take a step back to take two forwards.
I also have no issue with Allardyce wanting to sign players at the 25-30 age bracket. Despite all the wailing and moaning (of which I can be guilty!) we have good young players in and around the first team. To progress, we need to bring in established players who can make an impact in the short to mid term. The problem is finding those players.
Si Cooper
24
Posted 06/01/2018 at 00:41:14
Need details to know why he has gone – transfer fee, time left on contract, etc. Personally not seen enough of him to have an opinion on his potential.
20 years old seems a bit young to be completely fed up of U23s / loan moves unless you genuinely believe you have been overlooked in favour of lesser players.
Jack Convery
25
Posted 06/01/2018 at 00:44:58
Is this why Royle walked? Is this money being used to get Tosun deal over the line. We the fans demand to know. FFS why do we put up with it?
Gavin Johnson
26
Posted 06/01/2018 at 00:49:11
Curious that Walsh has been sold but we rejected the offer from Barnsley for Joe Williams. I would have thought Walsh would be more highly regarded out of the two players.
Raymond Fox
27
Posted 06/01/2018 at 10:48:01
Don't blame Allardyce – he won't know Liam Walsh to have an opinion on his ability at this early stage, he's playing young players so that argument cant be leveled against him.
Seems to me that Liam must have wanted to leave and thought that playing in a lower league regularly was the best way to go.
Alan J Thompson
28
Posted 06/01/2018 at 11:18:13
What is the point of an Academy? Is the answer that it depends on who the Manager is? Or, if the reputed £7M per year cost can be recouped by selling those who seem most worthwhile?
I don't know if he would have proved worthwhile but, at the moment, those youngsters presently playing in the 1st team seem, at least, to be among the more enterprising until some Manager directs them to change their natural game. Davies's goal against Man City being an example until told to concentrate more on defence.
The Dinosaur argument seems to be growing and those asking why people think the current manager is responsible may only be pointing out the discord in the/our club.
Richard Reeves
29
Posted 06/01/2018 at 13:14:18
We should be keeping hold of these talented, creative players until we bring in a manager who intends to change our style of play into something a lot more intelligent with the emphasis on pass-and-move link-up play and someone who want's to build a young squad, partly the reason why I believed Unsworth was the right man for the job.
Mike Oates
30
Posted 06/01/2018 at 22:29:45
I suspect if you're sent out on loan then the club just aren't sure about you (Ledson, Browning, Galloway, McAleny, Grant, Walsh, Brewster, Dyson, Connolly and Dowell) and plenty of others whose names I cant remember. Jonjoe Kenny was one of those loaned out, to Oxford I think, but he has been fortunate that Coleman got such a long-term injury, Koeman just had to use him and what a success he's turned out to be. Osman clearly made it after his loan period, but 95 - 99% just don't ever make it.
If you are given a chance at 18/19 (Davies, Baningime, Holgate, Calvert-Lewin) then I suspect you've demonstrated that you really do have the potential to play in the Premier League.
If you're not loaned or not given a chance in the Premier League team, you are there just to make the numbers up – Henen, Charsley, Donkor and come 22-23 years old then you will just be allowed to leave, and find your own club.
Tough world, particularly for a Premier League Academy graduate who probably has access to the finest facilities, total care packages and I suspect some decent money, then the world collapses and you find yourself in League One, League Two or Non- League on a totally different scale to say Everton. At least Walsh has been given the chance at a Championship Club, but the majority of the list above will be lucky to stay as full time pros.
I saw Liam Walsh on a number of occasions and thought he has everything you need except 6 inches in height which to many managers would be a No-Go unless you had tremendous pace (which he hasn't) or a skill level akin to Willian, Hazard, and Wilshere, which I'm not sure he has.
Paul Strudwick
31
Posted 07/01/2018 at 16:30:02
I hope so, it was a quality delivery.
Mike Gaynes
32
Posted 07/01/2018 at 17:18:11
Unfortunately, other than the free kick, Dowell is having a stinker. Couple of really poor short passes in the middle of the pitch.
He does look stronger... obviously time in the weight room... no longer the wispy figure we saw at the U20s.
But the impressive young player for Forest is Brereton, not Dowell.
Steve Ferns
33
Posted 07/01/2018 at 18:06:18
Liam Walsh is the same height as N'golo Kanté. Is Kanté's height an issue?
Tony Hill
34
Posted 07/01/2018 at 18:11:57
Steve (#36), he drives me mad. He has masses of talent, his first touch passing, and his passing generally, can be excellent; he glides across the pitch and his shooting and dead ball placement, albeit one-footed, can be superb. He is lovely to watch sometimes.
But, as you say, he does not involve himself enough. I still hope that he can become a serious asset for us, though I am worried about him. It's mental strength again, same as with Rodwell and Barkley.
Steve Ferns
35
Posted 07/01/2018 at 18:14:51
There was no issue over mental strength with Jack Rodwell. It was injuries taking their toll.
After moving to City and getting chewed up and spat out, he lacked the desire to rebuild his career at Sunderland. He's already set for life, and perhaps without that bank balance, he could have re-found the form he had for us before injuries got him.
James Marshall
36
Posted 07/01/2018 at 20:45:24
Jack @ 25
We the fans demand to know? What are you talking about? What on earth do you think gives you/us the right to know the ins & outs of the internal business dealings of a private business like Everton Football Club?
You're just a fan like me, you don't have any such right!
Mike Oates
38
Posted 08/01/2018 at 15:08:30
Dowell is what I would call a luxury player. His touch, control, eye for a pass, eye for a goal is superb – you can't question him in these areas.
His weaknesses I think are: he doesn't control a game, he flits in and out, he went for really long periods yesterday when he hardly got a kick. He isn't and never will be a grafter (that's not saying that's a bad point), but most managers now days in the Premier League want not just quality, but also a huge workrate.
He reminds me of a Duncan McKenzie, rather than a Kevin Sheedy. The former won nothing but pleased the crowd; the latter won everything and also pleased the crowd.
Tom Bowers
39
Posted 08/01/2018 at 15:40:16
I think Dowell is decent but wouldn't improve this Everton squad.
I am not a fan of players who go out on loan for Championship clubs as they generally return much the same as when they left.
Osman and Barkley are two examples of players who never blossomed as expected and were disappointments although given more than a fair share of opportunities.
Dowell offers nothing more than Calvert-Lewin, Vlasic or Lookman.
Even though he wasn't bad against an Gunners' 2nd eleven, it was the other younger guy (Brereton) who looked the prospect.
Pat Waine
40
Posted 09/01/2018 at 12:30:26
Koeman wrecked the club and it will take years to recover. Sam is now constrained by FFP rules and we will not be able to recoup money wasted by Koeman.. So, for Everton fans, it's a case of sit back and wait about 4 years...
Dave Williams
41
Posted 09/01/2018 at 14:47:23
Tom,
Osman was a good player for us. Dowell is a completely different player to those you mention and offers creativity, a good left foot, and goals.
Liam Reilly
42
Posted 09/01/2018 at 21:43:30
Just watched Walsh play 20 minutes for Bristol City against Man City; looked tidy and not out of place.
Good footballing side; have a real chance of going up I reckon.
Peter Gorman
43
Posted 11/01/2018 at 03:16:09
Speaking to the Bristol Post;
"Talking about his playing style, Walsh said: "I like to get on the ball and I am quite loud on the pitch, I like to tell people what to do and where to go.
"I always want to win games, I hate losing."
No wonder the club sold him.
Add Your Comments
In order to post a comment, you need to be logged in as a registered user of the site.
Or Sign up as a ToffeeWeb Member — it's free, takes just a few minutes and will allow you to post your comments on articles and Talking Points submissions across the site.