Mirallas heading back to Olympiakos

158 Comments [Jump to last]
Saturday 6 January 2018
Loan deal confirmed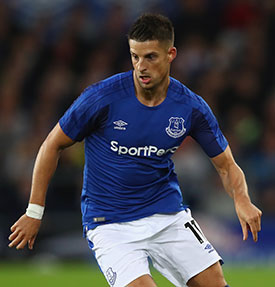 Updated
Everton have agreed to send Kevin Mirallas back to Olympiakos in a loan deal for now.
The forward secured a return to the club from which he joined the Blues that he wanted last summer when the Goodison hierarchy refused to sanction a loan deal.
Now, the Everton have acceded to this request. Initially it was reported as a permanent deal but the Greek club have negotiated a temporary transfer, perhaps with an option to buy the Belgian for around €5m in the summer.
Mirallas looked destined to leave Everton a year ago but eventually signed a new three-year contract at the end of the 2016-17 season, one which would cost the club a further £9m were he to remain on the bench or out of the team until 2020.
He has struggled to rediscover the form that made him such a valuable player in the latter stages of David Moyes's tenure as Toffees boss or at the height of the Roberto Martinez era.
In and out of the side under Ronald Koeman earlier this season, he has been dropped from the squad entirely by Sam Allardyce in recent weeks but will get the chance for first team football back in Greece.
---
Reader Comments (158)
Note: the following content is not moderated or vetted by the site owners at the time of submission. Comments are the responsibility of the poster. Disclaimer
Frank Crewe
1
Posted 06/01/2018 at 20:49:18
Won't be missed.
Ian Bennett
2
Posted 06/01/2018 at 20:49:48
£4m seems cheap, but at least the dead wood is starting to be cleared.
Tony Hill
3
Posted 06/01/2018 at 20:50:31
Good, he had become a waste of time and a poisonous influence.
Brian Ronson
5
Posted 06/01/2018 at 20:52:37
Probably fail the medical because he doesn't have a heart!
Brent Stephens
6
Posted 06/01/2018 at 20:55:07
...or a backbone, Brian.
Kunal Desai
7
Posted 06/01/2018 at 20:56:58
Good riddance. A waster with an attitude problem.
Tim Keyes
8
Posted 06/01/2018 at 20:58:53
Talented but temperamental and only showed up on rare occasions. The only regret is we never (as far as I can remember) deployed him up front and he was a pretty decent finisher and played there for Olympiakos.
Dan Parker
9
Posted 06/01/2018 at 20:59:04
Had a great spell under Moyes but haven't seen that form since. Often a favorite rallying the team as a sub during poor games but also causing problems on and off the pitch (sent off after coming on, penalty taking incident etc).
Did the right thing, signing a contract to get a decent fee. All the best, Kev.
Jay Woods
[LAT]
10
Posted 06/01/2018 at 20:59:05
His love for him is big enough for all one of him.
Brian Williams
11
Posted 06/01/2018 at 21:00:22
So, Barkley gone for £15m, Mirallas for £4m?
Net spend on Tosun of half a million!
Dave Older
12
Posted 06/01/2018 at 21:01:18
Shame it never worked out for him but he only has himself to blame. He thought he was better than he was. A very frustrating player to watch but I wish him well.
Paul Dewhurst
13
Posted 06/01/2018 at 21:04:50
Brian, very negative statement; in truth, we have broken even with the sale of Walsh to Bristol City.
Amit Vithlani
14
Posted 06/01/2018 at 21:05:21
"So, Barkley gone for £15m, Mirallas for £4m? Net spend on Tosun of half a million!"
Yes good point. We should have given away Barkley and Mirallas and spent £50m on Tosun so that we would have a larger net spend.
Mirallas won't be missed and Barkley's contract had 6 months left. All things considered, for once the club's hierarchy is at least demonstrating a semblance of business savvy, having just about cocked up everything else.

Dan Parker
15
Posted 06/01/2018 at 21:06:02
I guess one of the lads that answered Sam's question "Do you want to be here or not?" No...
Joe McCormick
16
Posted 06/01/2018 at 21:06:24
Good decision all round. Waste of talent. Poor attitude.
John Pierce
17
Posted 06/01/2018 at 21:07:09
Mirallas... very much like Everton, flatters to deceive, and then lets you down.
Of his time at Everton, his conduct has been questionable under each manager. In particular the on-field sending offs were brainless trantums.
Scored some boss goals though!
John Ronnie
18
Posted 06/01/2018 at 21:09:50
Terrible attitude, should have gone in the transfer window following the penalty incident against West Brom.
Thinks he better than he is.
John Keating
19
Posted 06/01/2018 at 21:10:43
£4 million sounds nothing these days but I suppose just being here not even getting on the bench he's worth zero.
Then of course there's the £9 million in wages.
No better him away.
Hopefully there's a few more to go as well.
Tony Abrahams
20
Posted 06/01/2018 at 21:14:24
Great ability, so a wasted talent? I saw heart and I saw fight in Everton last night, so hopefully the wind of change, is gradually going to get stronger, something that will only be helped by removing players who think more of themselves than the team.
Rick Pattinson
21
Posted 06/01/2018 at 21:18:57
Ridiculous price, £4million. But I think our love affair with Mirallas ended years ago. A talent with a big ego and an attitude to match.
Shame really he was never consistent. Still another wage we are saving. Do they want Besic thrown in for a tenner??
Brian Ronson
22
Posted 06/01/2018 at 21:19:11
Paul, I would read all the posts... He has been a liability for years.
Leon Osman in a recent interview describes him as "not the bravest". Likely to know more about Kevin than me or you.
Brian Williams
23
Posted 06/01/2018 at 21:19:30
Amit (#14).
I purely was doing the maths, so keep yer condescending sarcasm to yerself if you don't mind.
Mark Riding
24
Posted 06/01/2018 at 21:20:34
Jog on, Kev. You Massive, Massive Fanny.
Brian Williams
25
Posted 06/01/2018 at 21:21:53
Paul (#13).
I was doing the maths. Not meant to be negative at all.
Funny how people can interpret the written word so differently from how it was meant.
Brian Williams
26
Posted 06/01/2018 at 21:26:27
I actually think getting rid of Mirallas and getting money for Barkley and getting a striker in while spending only half a mill is pretty good business.
Damian Wilde
27
Posted 06/01/2018 at 21:26:28
A shame in some sense as he has a lot of talent. A good player, but admittedly often not shown much over past year or two.
Hopefully start to ship out the rest of the crap and start to see more of the likes of Lockman, can't believe he hasn't had more game time. #COYB
Brian Williams
28
Posted 06/01/2018 at 21:27:22
Have you recovered from your ordeal, Damian?
Amit Vithlani
29
Posted 06/01/2018 at 21:29:44
Brian, do you finish all of your mathematical calculations with an exclamation mark? It is by its nature designed to draw attention / portray excitement.
If so, I can only imagine the excitement and hollering when you are balancing your accounts and/or paying your bills.
Oh, I forgot.... !!
Brian Williams
30
Posted 06/01/2018 at 21:31:26
Yes Amit, whatever you say.
You misunderstood what I meant. Why can't you just leave it at that?
Or say "Sorry, I misunderstood what you meant"?
Simon Smith
31
Posted 06/01/2018 at 21:32:07
I'm surprised he didn't go join David Moyes at West Ham.
Gary Willock
32
Posted 06/01/2018 at 21:32:43
Schneiderlin, Williams, Klaassen, Besic and Oumar (sadly) next please.
A top left-back, a big left-footed centre-half, and another big striker in, please.
Colin Glassar
33
Posted 06/01/2018 at 21:32:46
Good riddance. What a wasted talent.
Jamie Evans
35
Posted 06/01/2018 at 21:39:05
Mark 24, you absolute, absolute legend. Can't stop laughing at your post and I couldn't have said it better myself.
As for you not so super Kev, giassou and efharisto for (almost) nothing.
Iakovos Iasonidis
36
Posted 06/01/2018 at 21:40:20
Very cheap sale. He's sure worth more than that. He was never stable but at least he was not afraid to shoot. I won't say good luck to him because he is gone back to the most hated teams (unless you are a fan) in Greece.
John Keating
37
Posted 06/01/2018 at 21:45:49
Do you think he'd take a cheeky offer on his gold Bentley?
Mark Riding
39
Posted 06/01/2018 at 21:50:53
John (#37). He left it with some 'Mind yer car misters' and he's not got the bottle to go and get it back.
Brian Wilkinson
40
Posted 06/01/2018 at 21:51:01
I felt he was never the same player after Suarez nobbled him in the Goodison derby, he was tearing them to shreds before having to go off.
Least he got the shitbag back in the next derby he played in.
Great player on his day but his attitude stank the place out.
Paul Smith
41
Posted 06/01/2018 at 21:53:08
Echo reporting a loan with a permanent deal on offer. :-(
Mark Tanton
42
Posted 06/01/2018 at 21:53:15
Agree fully with that Brian. They couldn't handle him so they sent The Chomp after him.
Damian Wilde
43
Posted 06/01/2018 at 21:53:48
Brian (28). Yeah, won't let those scumbags get to me too much. Just a bit rageful about them in general. Clowns aren't they, eh. #PhoneyFans
Bill Gienapp
44
Posted 06/01/2018 at 21:54:33
His antics and attitude wore thin a long time ago. There was a time when his ability to create goals made him sort of worth the headache, but he never really recovered from the penalty debacle against West Brom.
Roger Sunde
45
Posted 06/01/2018 at 21:56:57
So they gave Mirallas a contract at £75k a week so they could recoup £4 mil.
A bit of shrewd business as usual.
Dave Owens
46
Posted 06/01/2018 at 22:03:53
Never quite made the grade and personally, I don't think he's ever done anything of note since he grabbed the penalty ball from Baines a few seasons back.
Robert Leigh
47
Posted 06/01/2018 at 22:06:42
Brian (#40) and Mark (#42),
Fully agree. He was putting them in their place like no-one has for years. He got chopped down and we had to bring on Magaye Gueye, who played okay on the day but wasn't Mirallas.
Could have been our Cristiano – but became our Bebe.
Just hope Lookman hasn't learnt too much from him; the impact he had last night was mentionable to say the least.
Kevin Tully
48
Posted 06/01/2018 at 22:07:03
Like any organisation, a new owner giving out new, lucrative contracts to people can cause a lot of grief behind the scenes. Agents will be the first to get into players' ears, letting them know what the latest signing is raking in.
After years of general parity under the Kenwright regime, £120k per week contracts have probably caused a lot of what we are witnessing on the pitch – players playing for themselves.
Not saying Mirallas was one of them, but I don't think he would be too happy on the bench earning a lot less than some of his colleagues. We need a clear out, and he is rightly being let go.
Ian Lang
49
Posted 06/01/2018 at 22:09:11
Mirallas has gone on loan until the end of the season with no option to buy. We receive a loan fee of £4 million.
Ian Lang
50
Posted 06/01/2018 at 22:10:49
Would prefer him to have been sold but this gets him off the wage bill and we get a decent loan fee. Hope he pisses off in the summer – absolute waste of space
Darren Murphy
51
Posted 06/01/2018 at 22:13:56
Good riddance to the sulky twat.
Nick Armitage
52
Posted 06/01/2018 at 22:51:14
Should have gone 3 years ago. I can't remember a run of 3 good games in his 5 years here. Shame coz he could have been a very good player for us.
Dave Bowen
53
Posted 06/01/2018 at 22:59:22
I'm probably in the minority here, but I'm sad to see Kev go. On his day, he was the best player on the pitch; sadly that day didn't happen often enough. He was never afraid to put his foot in either.
When the current squad has virtually no strikers, I would have loved to have seen him being played centrally. However, it's World Cup year & he needs to play. Best of luck, Kev.
John Keating
54
Posted 06/01/2018 at 23:04:31
Ian (#49),
Seems a lot that for half a season. Are you sure it's just for a loan?
Rob Halligan
55
Posted 06/01/2018 at 23:08:28
John # 54.The red echo are reporting a loan deal with a view to a permanent move.
http://www.liverpoolecho.co.uk/sport/football/football-news/olympiacos-say-agreed-deal-re-14122439#comments-section
Brian Williams
56
Posted 06/01/2018 at 23:13:41
Be surprised if it's a loan for that kinda money, despite what Sky say.
Also, Allardyce has supposedly said there'll only be sales out and no loans during this window.
£4m for a half season loan.... things are looking up.
Jack Convery
57
Posted 06/01/2018 at 23:17:18
The contract we put him on was in my opinion another Kenwright idea – my Kev, we can't let him go, give him another contract, I love his suits – cool or what – NAH.
No tears shed here.
Keith Harrison
58
Posted 06/01/2018 at 23:20:36
Kevin, 48. Voice of reason again, although I do believe Kev M was always playing for himself when he could be bothered.

He was superb until Suarez and then Flanagan? Nobbled him in the derby we came back from 2 down at home.

To me his only brilliant game since that was the West Ham cup game away we lost on pens. Turned the game single handedly when he came on. As Colin says, what a waste.
Ian Lang
59
Posted 06/01/2018 at 23:22:54
John (#54),
I must be going mental as it stated the below on Sky Sports transfer earlier on loan with a loan fee of £4 million; however, just checked again and the loan fee has been removed from the statement by Sky.
Either way, they will have to pay a loan fee and wages, sure we'll find out tomorrow the specifics of the deal maybe...
22:01
MIRALLAS REJOINS OLYMPIAKOS
Kevin Mirallas has agreed to join Olympiakos on loan till the end of the season.
Everton will receive a loan fee, but the Greek club have no option to buy at the end of the term.
Tom Bowers
60
Posted 06/01/2018 at 23:28:56
Bye Kev. Good luck. Whatever the deal is, he really had lost his form from the early days alongside Rom. and needs a new team.
I guess he wanted away before the season started but it never happened and like Barklay has basically been out of the picture.
Playing a deeper role did not suit his style.
Carl Allan
61
Posted 06/01/2018 at 23:52:18
Was part of the 2014-2016 sulk culture at Everton, see also Stones Lukaku, Deulofeu and latterly Barkley.
Need to see the back of players who are only playing for themselves or their move to more illustrious pastures if we are to ever progress.
I can't currently see any other eager wantaways at the club so let's move onto the shite and the has-beens now.
Shaun McGough
62
Posted 06/01/2018 at 23:55:56
Looks like all of our very heavy deadwood are going to line pockets at expense of club and fans. Liverpool had it once with Macmannaman; we now have it with Ross Barkley and a lot of others as our transfer committee is so poor.
Les Martin
63
Posted 07/01/2018 at 00:09:18
Super Kev is going and good luck to him, I expect a few others too follow.
A £5k bet placed on Theo joining us is interesting too; it's going to be the most interesting January in living memory!!!
Kase Chow
64
Posted 07/01/2018 at 00:27:44
Wasted talent.
Was fantastic early doors and as someone referenced, came on against West Ham in the cup when we were down to 10 men and 1-0 down and scored 1 and made 1 to go 2-1 ahead.
At that point Bobby Martinez should have closed the game off but we went for a 3rd goal and conceded an equaliser instead.
Mirallas was one of my favourite players due to his pace, strength and goal threat but last 2-3 seasons he's wasted his career being shite.
Not sure if he's lost it or just had a crap attitude.
David Israel
65
Posted 07/01/2018 at 00:39:10
Good move. One shouldn't really try to hang on to players whose heart isn't in it anymore. Still, it could all have been so much better. Kevin Mirallas had so much promise...
John Mckay
66
Posted 06/01/2018 at 00:53:49
Shame... I like Mirallas but it was time for him to go. Good luck.
There must have been a reason so many managers didn't pick him.
Eric Myles
67
Posted 07/01/2018 at 00:59:45
I'll always remember Mirallas being one of our better players until he got stamped on by Suarez in a derby game.
He never seemed to get it together again mentally after that.
Good luck to him and I hope he rediscovers his form so we get a decent transfer fee for him.
Eric Myles
68
Posted 07/01/2018 at 01:06:53
John #66, but if he wasn't wanted why guve him a new 3 year contract?
Carl McCarthy
69
Posted 07/01/2018 at 01:11:16
No chance they're paying a €4m loan fee just for 5 months (Jan-May).
Rob Dolby
70
Posted 07/01/2018 at 01:14:38
Weird decision to give him a new contract. He has been going through the motions for 2 years.
I get the feeling that, if there wasn't any money in the game, Kev would be a hairdresser some other kind of show pony.
Anyhow, good luck to him and let's hope we see more of Lookman.
James Byrne
71
Posted 07/01/2018 at 01:16:13
He should have went years ago but it's refreshing that we are now getting rid of the driftwood. Barkley gone, Mirallas next and then maybe Niasse.
Colin Gee
72
Posted 07/01/2018 at 01:29:06
Brian (#40),
I was going to say the same. He twatted Sewer Rat so for me that will do.
Thanks for the memories, Kev.
Adam Gilfillan
73
Posted 07/01/2018 at 03:00:39
Mirallas has always been a complete dickhead, which is why I never took to him. No statement when him and Schneiderlin were accused of being disruptive. (Schneiderlin at least made the effort to show he cared, whether true or not.) I never forgave him for taking that penalty from Baines (I didn't forgive Baines or Jagielka for being fannies and not telling him to fuck off either.)
Always on the lookout for No 1 since he's been here. Can you remember a window when he's not said something derogatory towards the people who pay him, and the fans who adore him, to engineer a move? Flattered to deceive, even since the Moyes days. Never a team player, and to be fair never that good other than the odd occasion he had a standout game.
Thrived off the fact he was Belgian. Luckily for him, the media would make a big song and dance about it when he had a standout game that we as Evertonians should expect as the bare minimum! This is what he's made a career out of at Everton.
I always thought he was better than he was and those Match of the Day knobheads fed his ego to astronomic proportions.
(On a side note, match of the day wise, Gary Lineker disgusts me. Never has a good word to say about Everton, even though he had a record-breaking goal tally that year he played for us. I'm glad we won fuck all when he was running the front line, the bitter bastard.)
I've never understood why other fans liked Mirallas so much (my close family where among them); good riddance for me. He's had an awesome career (cash-wise), taking the piss out of an amateur employer (Everton FC) and he's looking for one more pay day to go back to the inferior league he came from!. T'rar from me, dickhead. Take your gold Bentley inflated ego with you.
Apologies about the rant, but for me, Kevin Mirallas has been the epitomy of everything wrong with our club player-wise for years. He always thought he was better than us. EFC – a stepping-stone for the entire time he was here. Step on this, you twat!
On a positive note, for me, he's the last of the first team players on our books who think they are bigger than Everton FC and who think we as fans should be grateful for their piss-poor performances. Good riddance.
Apologies but he boils my blood – along the with the other knobs from that era: Barkley, Lukaku and Stones, who were allowed to believe they were better than us for financial reasons. We are Everton. Only the Best is Good Enough. Otherwise, what's the bloody point?
David Currie
74
Posted 07/01/2018 at 05:55:57
Adam, great post – I agree about Mirallas who was an average player and not a team player. The Greek league is the right level and he will not be playing 90 minutes every week. Good riddance and so glad he has finally gone.
Mike Gaynes
75
Posted 07/01/2018 at 06:04:24
Adam, think you need to ease up on the coffee a bit. That was a gusher.
Brian Porter
76
Posted 07/01/2018 at 06:10:43
Like others, I have never forgotten or forgiven the West Brom penalty incident; that, in the long run, proved disastrous to our final league position that season. Those extra two points could have got us into a top 4 position at the time unless I am mistaken. Sad to say, he won't be missed, despite the years he's spent with us.
Surprised that a few posters, talking of clearing out the remaining deadwood, are including our Oumar in their lists. It wasn't long ago we were nailing him as our saviour when Koeman was forced to pick him and he came up with the goals we badly needed. He is still our joint second-top scorer this season and can still do a job for us as an impact sub, so I for one wouldn't want to see him go. He always plays with a smile, not a scowl, like Mirallas, and totally loves Everton as far as I can see.
David Ellis
77
Posted 07/01/2018 at 06:11:08
Adam (#74) – yes my thoughts on Mirallas are the same.
Lineker does say nice things about his time at Everton though, but it was only one season in his career.
Alan J Thompson
78
Posted 07/01/2018 at 06:53:20
I may be wrong in my assumption (or observation) but it seems that this and the last manager have let go those players who seemed to do the least when it came to defending and pressing. It also appears that they made up the more skillful players which may of course be because they were/are not defenders.
As I say, there is probably a lot more to it and I look forward to welcoming a lot more ball-players to the club... and maybe some less defensive midfielders.
Michael Stevenson
79
Posted 07/01/2018 at 08:18:08
I went to the Limassol game and this prick made 'wanker' gestures at the Everton fans twice during the match. Travelled all that way to be called a wanker by one of the players we were supporting???
We're not getting a lot of money for him but it's good business to get his toxic influence out of the club and off the payroll. Shame... as he used to be good on his day.
Will Mabon
80
Posted 07/01/2018 at 08:18:44
I don't think you're wrong, Alan. The current and mid-term "Plan" for this club is safety, achieved as economically as possible. No big dreams here, not
on
the pitch at least.
We may indeed get some more ball-playing types but they won't be from the top shelf.
John Ronnie
81
Posted 07/01/2018 at 08:29:56
Adam (#73) – Spot on, mate!
Bryan Houghton
82
Posted 07/01/2018 at 08:53:19
Will, Alan – we can afford a limited footballer that tracks back, works hard, runs himself into the ground, and we know we can afford more mercurial, exciting, creative players, who can't be arsed to work for the team, or put any effort working on the back foot at all. We know this because we have bought a whole squad of them.
Unfortunately, those players that are creative, exciting, skilful and work their wotsits off, are all bought by the stupid rich clubs. We certainly can't afford them.
We are not the only club with this imponderable – our current manager prefers the former type of player. Roberto Martinez preferred the latter type of player; our former manager Ronald Koeman couldn't make his mind up, and bought neither.
Which of course is why we, especially, are focussing so hard on developing players who can do both. We do have a tremendous crop of younger players coming through and they are breaking through. As a club, it should work as a policy – because, even if they aren't world beaters (it will be so hard to keep them if they are), the local (or academy) lads will have our full support for trying, and more forgiving (maybe even on here) whilst they learn, and develop.
Dermot Byrne
83
Posted 07/01/2018 at 08:53:54
I agree with that "plan" Will, as I have said a couple of times. I do think the new ground will happen. Don't tell me Moshiri and project managers don't have increased costs/inflation in plan and projections. Though as someone said, the Brexit impact is harder to assess.
I think bigger expenditure on players and an appropriate manager for those classier players may be linked with the increased revenue the new ground will provide.
As with most, a loss is a crisis for 15 mins and when we win it is a new dawn! But, in the cold light of day, I think we may have 2 or 3 more years of mediocrity.
For me, if part of the plan is linked to the new ground, I can deal with that. If it isn't, it is not on. Guess we each decide whether we believe there is a plan like that. I say believe because, despite what will be admirable attempts to provide evidence, we have no idea really.
David Connor
86
Posted 07/01/2018 at 09:30:13
One almost gone; now for the rest of the wasters.
Ian Hollingworth
87
Posted 07/01/2018 at 09:33:49
Good riddance. Lazy with a bad attitude and, to be honest, not that good anyway. He will not be missed.
Ian Bennett
88
Posted 07/01/2018 at 09:36:11
I can't believe we'd get a £4m loan fee. That's £800k a month. Even if we are covering his £300k a month wages.
I was rather hoping Moyes was going to pay £20m, damn it.
Terry Riley
89
Posted 07/01/2018 at 10:01:59
Shut the door on your way out!
James Marshall
90
Posted 07/01/2018 at 10:25:36
Wasted talent? Him & Barkley are the same – they both have ability, but both have the brains of a rocking horse.
2 short planks springs to mind.
Both leave with mixed feelings, occasionally amazing, often frustrating.
The best players are the consistent ones – neither of these players was ever consistent so for me I won't lose much sleep over either of them.
Tony Everan
91
Posted 07/01/2018 at 10:25:39
He will be happy at Olympiakos, he will be more successful at that level. His talent was muted by the strength of the Premier League and his sulking attitude.
It was only a matter of time before he was ejected. Thanks for one or two good memories and good luck.
The squad is gradually being refreshed; Mirallas and Barkley gone is a good thing for the club. We need another one or two out, and two or three in.
Shane Corcoran
92
Posted 07/01/2018 at 10:37:59
So much for no loans in January. Sky reckon there's no agreement to sell in the summer either.
Jim Bennings
93
Posted 07/01/2018 at 11:03:23
His best years are sadly gone.
Did some really good things for us in the 2012-2015 period but his overall impact has gradually slipped so much that even the fleetingly inconsistent brilliance have gone now.
Scored some lovely goals, the free kick winner at home to Villa in 2014 amongst my favourite at the Gwladys Street but never quite fulfilled the potential of being a double figures player.
Garry Martin
94
Posted 07/01/2018 at 11:04:39
One of many Belgium type players who seem to think they can openly trash the clubs they are contracted to. He always appeared to have a great opinion of himself; however, it must be said that at times he really did show some skill... but very few and far between.
Ricci Green
95
Posted 07/01/2018 at 11:10:06
He had some great games but was treated real badly by successive managers who only wanted yes men.
Tommy Carter
96
Posted 07/01/2018 at 11:14:58
Mirallas was a good player 'on his day' but these days were few and far between, unfortunately. And non-existent throughout the last 2 years.
I remember an early performance of his against Swansea away. We destroyed them and he was fantastic. A scorer of some magnificent goals for us. Spurs away, Stoke at home spring to mind.
Should have been finished with the club as soon as the final whistle blew in that West Brom game at home.
Liam Reilly
97
Posted 07/01/2018 at 11:32:51
I'm clearly in the minority but I think he's a good footballer who always tried to go forwards, something this season has been clearly lacking.
It didn't always work out for him but I think there's a few others I'd have got shot of before him.
Alun Jones
98
Posted 07/01/2018 at 12:07:35
Liam, I agree with you, certainly there are other less needed players due to be offloaded first. I admit Kevin had some issues but he could score goals and was unpredictable – something we don't have too much of these days. I wish him well and a sad week when an Everton team currently low on flair and guile sees two of our more creative players leave.
Neil Cremin
99
Posted 07/01/2018 at 12:19:05
Once again ToffeeWeb posters have outdone themselves with some nasty and negative comments on an Everton player. No wonder we are in the state we are in.
Dan Parker hit the nail on the head when he said that he played well under Moyes. Good managers get the best out of good players. Do not let them get ahead of themselves. Mirallas deteriorated under Martinez and Koeman because neither of them managed the team or players.
Getting rid of players who have yet to be given an opportunity in a settled side more like the one that was playing on Friday is silly. I still believe the Klaassen could be a good player for us, Sandro not so sure. We do however need a creative midfielder of the Rooney type but who has the engine and can execute the pass which is in his brain.
Martina is getting a lot of stick because he is playing out of position. Why not reverse and put him on the right and Kenny on the left?
Neil Cremin
100
Posted 07/01/2018 at 12:23:20
Just saw the comments from Jim, Tommy and Liam. Thankfully a bit of balance restored to the thread. A good player who needs to be managed and not allowed to get ahead of himself.
Even in our darkest days of this season, he was the only player I saw who attempted to carry the game forward to the opposition. Not always successfully but is that him or do the players around him have a responsibility also? I wish him luck.
Michael Lynch
101
Posted 07/01/2018 at 12:33:52
I enjoyed watching him – at his best a very skillful, direct and exciting player.
Jerome Fander
102
Posted 07/01/2018 at 12:42:11
Good luck, Kevin. At one time, you and Rom were terrific, even if it was far too short a run, it was enjoyable. "Made in Belgium" was far too brief but will live long in the memory.
Shane Corcoran
103
Posted 07/01/2018 at 12:45:22
Neil (#99), might it be that Allardyce asked him what he wanted and he said he wanted to go. I think he indicated that in previous windows also, if you believe what you read.
So maybe the criticism is over the top from some but I reckon Kev probably wanted away so away he goes.
Colin Glassar
104
Posted 07/01/2018 at 13:01:58
Why is it so hard for us to get rid of players like him? Remember Andy van der Meyde, Heitinga, Hibbert, Yobo etc? We basically had to wait until their contracts ran out before we could dump them.
Brian Williams
105
Posted 07/01/2018 at 13:26:34
Col. Its because they're not very good mate. Nobody wants em.
Tony Marsh
106
Posted 07/01/2018 at 13:53:53
No way the Greeks will buy Mirallas once they discover how much he has deteriorated since he was last there. I reckon we are stuck with him.
Neil Cremin
107
Posted 07/01/2018 at 14:42:34
Shane, I agree, his time was up but he was a good player, particularly when managed well, but look at what happened when we didn't manage players well.
Barkley had had enough, so too had Lukaku. If I remember correctly, he was considering staying but felt the club didn't show enough ambition and decided to move on.
We had a similar rants on this site about other players, not least James McCarthy, and now, because of his influence on the team in the last few games, he is flavour of the month. Had he not played in the two games and been sold on, we would have had similar reaction.
Mike Dolan
108
Posted 07/01/2018 at 14:45:26
We have improved the team by letting him go. He was pretty useless as a player and a total dickhead as a person. Easily my least favorite Everton player of all time.
A small talent with no bottle but a great ego. I hope we have a clause in there that will never allow him to come back. It's just great to see him go.
Kevin Dyer
109
Posted 07/01/2018 at 14:53:26
More than 5 years at the team and still I don't think we saw the best he had to offer.
By position, a supporting central striker but never considered good enough to be trusted to play there, so he got shunted out left to play cutting in, as an inside forward. A problem though in that he lacked the defensive instincts and application to provide cover to our left back. Overall a downgrade on Pienaar, though quicker and offering more goal threat.
I'd have liked one of our managers to have given him a prolonged run of starts behind the centre-forward, maybe 5 or 6, in order to see if he had it. If not he could've been moved on a lot sooner.
Hot-headed, for sure but always trying to make things happen and desperate to play hence his frustration. Not necessarily a bad thing. Martinez convinced him to re-sign then dropped him. Same story this summer, when considering we were desperate for goals he could've been an asset.
An Everton nearly man, shame it took us 5½ years to reach this conclusion. I think he'll likely do okay for Olympiakos.
Mark Rankin
110
Posted 07/01/2018 at 15:15:45
Even the commenters coming to his defence can only muster he was a 'good player'. Unfortunately, in the top half of the Premier League, that doesn't cut it; nil satis nisi optimum and all that.
In addition, when Niasse leaves, most Evertonians will wish him well as they appreciate that, despite limitations, he gives everything he's got.
Mirallas, on the other hand, can do one.
Sean Patton
111
Posted 07/01/2018 at 15:17:43
Interesting to read the different reactions between Mirallas and Barkley leaving.
Kevin gets the good riddance whereas Ross gets the tearful goodbyes... yet Mirallas scored more goals in fewer matches and didn't shaft the club out of £20M.
Kristian Boyce
112
Posted 07/01/2018 at 15:19:22
Mirallas was always a strange one. There was a lot of hype when he first came in after his previous year in Greece. There were lots of comparisons with Ronaldo due to his quick speed and flashy tricks. Bringing him in was slightly puzzling as he was such an un-Moyes like signing but, true to form, he was stuck out on the right wing like Moyes like to do with all his strikers.
While his style was probably more suited to be a winger, he was too selfish to be one. You could always guarantee once he got the ball on the wing, his head went down and a direct run to the box would happen and, more often than not, a wayward shot would be the end product. I'll imagine he'll be back upfront for the Greeks and be back in the goals too.
Jerome Fander
113
Posted 07/01/2018 at 15:22:26
Interesting to see that he was more creative than Ross, who is very favourable in that Chelsea midfield. It is all about opinions and how they influence us!!
James Flynn
115
Posted 07/01/2018 at 15:53:34
Tommy (96) – Two I most remember.
Roberto's first season, the 3-0 over Arsenal; the Arteta own-goal. Kevin fought the ball away from two Arsenal players in our half, sprinted forward, passed it to Naismith, and broke for goal. Naismith's pass back to him was touched by Mikel just ahead of Kevin's foot. I thought, "Man this guys gonna be great for us."
The other was the following season in the Europa League. Can't remember the opponent. But Gibson must have given him a sign. Mirallas sprinted away from the defender and jumped on one of those laser-beam long passes Gibson had in his locker. Instant control and right-footed over the onrushing keeper. Into the net, cool as you please.
Given his ball skill, foot quickness, and legit sprinter's speed, you'd think he would have made more of it in English footy. Just one of those guys who leaves you scratching you head. "Why isn't he better?"
Good luck to him. But he needed to go.

Philip Bunting
116
Posted 07/01/2018 at 16:06:17
To be fair to Kev... he signed an extension to his contract but also requested to leave in the summer. In doing so, he put the club first and himself second which has worked out for both parties involved.
On the other, there's Barkley looking after numero uno, I hope he gets dog's abuse on his return... selfish git. We should sue him for medical bills if nothing else.
Ray Smith
117
Posted 07/01/2018 at 16:35:42
Mirallas v Barkley
Whatever you think of Mirallas, he cannot be compared against Barkley. Barkley has turned his back on the club. Mirallas signed a new contract, Barkley didn't.
We might not get much for Mirallas when he is eventually sold (if he is sold). But he hasn't left us out of pocket.
Barkley has hidden behind his injury, and ran his contract down, costing us (arguably) £20m out of pocket.
Mirallas is apparently a sulker and bad influence in and around the squad, but did the decent thing by signing a new contract (probably) knowing that his time was coming to an end, and we are probably better off without him in and around the first team squad. I wish Mirallas well, but see no future for him at Everton.
As for Barkley, the grass isn't always greener on the other side of the fence. Poorly advised and, in my opinion, he will regret this move in time to come. I will apologise on TW if I am proved wrong.

Rick Tarleton
118
Posted 07/01/2018 at 16:39:34
For me the infamous penalty incident summed him up. He believed he was a lot better than he actually was. He had some pace and could shoot, but rarely made himself a player for 90 minutes.
He loved to flash and shimmy, but wouldn't make a dummy run or run the channels for the others and the good of the team.
He won't be missed, I'm afraid.
John Mckay
119
Posted 07/01/2018 at 16:49:00
This will end up being a Yobo deal. They loan him and loan him and loan him but pay nothing in fee.
Alex Bonnar
120
Posted 07/01/2018 at 17:08:16
Mirallas's problem has been that, over the last couple of seasons, he has lost a yard of pace and can no longer beat his man. This has frustrated him as well the supporters.
Time for him to move on for his own and the club's benefit I feel.
Keith Monaghan
121
Posted 07/01/2018 at 17:24:03
Sadly, it was inevitable that he'd go given his treatment over the last 2-3 years.
Re the infamous penalty incident vs West Brom – that said more about Baines's weak mental attitude than Mirallas.
Away to Leicester this season, he was the only player he looked like scoring and was hauled off at half-time the visionary Unsworth – presumably his penalty for daring to have 2 shots which just missed the posts!
His attitude hasn't always seemed great – but did Barkley's? Does Schneiderlin? How has Rooney treated the club? How did the grossly over-paid Rooney 's £130k per week go down in our dressing room, after dumping us as an 18-year-old?
By the way, I don't Blame Sam for the state we're in – that lies with the likes of Martinez and our drooling Chairman – the sooner he has nothing to do with our transfer policy and the running of the club the better.
Steve Ferns
122
Posted 07/01/2018 at 17:39:43
I think it's sad to see Mirallas go. He has been here a long time. At times he was brilliant, but mostly he infuriated with his inconsistency. His peak as the last season of Moyes and the first season of Martinez. You cannot dismiss that for a team finishing 6th and 5th, he was one of our very best players.
Last season, from January onwards, our best sustained run of results, we had a front three of Mirallas, Lukaku and Barkley. All of those players are now gone with 6 months of the season ending. We have recouped just over £100m for them. It's sad for me, that the best part of that team was bought so easily and cheaply.
In reality, Mirallas was a declining force. I suspect his perceived bad attitude was down to his frustration with him being unable to do what he used to be able to do. I wrote this about Mirallas at the start of the season:
"Kevin Mirallas has played this position (Left inside forward) for a number of years now. He's good at it because he can do the basics very well, that is come inside and dribble at the defence at speed, create the confusion as listed above, and shoot on his right. He's scored a load of goals. You're waiting for the "but" right? Well here it is, he's too well known, too easily predicted, I mean I fancy my chances in tackling him or forcing him to give the ball up. The takes the ball and runs inside, and he's looking for the shot. Defences just need to ensure the shot is not on. He then either runs into a wall or passes it safely and we lose momentum."
I'd also commented that he looked slower this season and so of the front three to leave, he is the one there is few reservations about. It's still sad to see a player who was here for 5 or 6 seasons leave, especially when despite recent events, he did well and he did entertain. That said, if the rumours are true, then the dressing room will be a happier place without him.
Those wishing to clear out the other "deadwood" then naming players who cost £20m or more, be careful what you wish for. The last thing we need to replace players capable of being at the top level with ex-stoke players. Just because your Porsche is broke doesn't mean you go out and sell it and buy a ford focus because that is more reliable. We've supposedly got a sports psychologist now, so let him work with those "deadwood" and let the coaches work on bringing the best out of them. The last thing I want to see is a firesale of players who were meant to take us to the top 4, and to bring in journeymen who give it their all week-in & week-out, but are ultimately not good enough.
Peter Lee
123
Posted 07/01/2018 at 17:40:12
When I played, players like Mirallas pissed me off. Loads of talent, sometimes with pace, but no discipline or fight for the team. I'd have killed to be as talented.
The puzzle for me is why three managers let him get away with it. I was astonished that he had a lengthy contract renewal, which makes sense to me now in selling him on (hopefully).
Jon Withey
124
Posted 07/01/2018 at 17:40:45
Very good on his day and scored some good-uns for us but never did it consistently. Overall a pretty good signing by Moyes really but he's not going to get any better and we have Lookman, Vlasic and Bolasie who can provide his best bits imho.
Mick Conalty
125
Posted 07/01/2018 at 17:48:26
Mirallas who?? Barkley who?? The pair of them would make a good stand in for the Chuckle Brothers.
To me, to you, to me, to you ooh err! Where"s the ball gone?
Andy Crooks
126
Posted 07/01/2018 at 18:06:14
"Clearing out the deadwood", is an utterly cretinous phrase. Maybe the "deadwood", have contracts. Maybe the "deadwood", actually like playing for Everton. Maybe their family are happy where they live and don' t want to be cleared out.
Maybe other clubs don' t want to sign our "deadwood". You know, what, we are talking about people here.
Steve Ferns
127
Posted 07/01/2018 at 18:11:29
I couldn't believe Tony Hibbert was mentioned as "deadwood" and someone was surprised he wasn't cleared out.
Hibbert was a fantastic servant for Everton. He gave 100% throughout his career. Ultimately it ended due to injury, but at least he made it to a good age.
He was on a decent contract, and saw out the end of that contract. No one in their right mind would have taken Hibbert out of that contract early as injuries had taken their toll. Hibbert wouldn't end it early as it would be his last ever footballer's wage. So, you can't clear him out.
He cost us nothing but wages, and gave us everything he had. I don't begrudge him a penny.
Winston Williamson
128
Posted 07/01/2018 at 18:30:12
I was excited by the signing of Mirallas. At the time, it was reported he chose us over Arsenal for footballing reasons DCL namely more first team football.
He started well, and per the stat above, matched most of our attacking talent for productivity.
However, I always felt he was operating at 75% and only gave glimpses of going over that! Then there were a few incidents which left a bad taste.
As he's moving back abroad and is not a direct competitor, I wish him well and thank him for his contribution.
Michael Penley
129
Posted 07/01/2018 at 18:32:24
Why are people reacting as if this is a permanent move?
Brian Williams
130
Posted 07/01/2018 at 18:32:32
https://en.oxforddictionaries.com/definition/us/deadwood
PG Malcolm
131
Posted 07/01/2018 at 18:53:19
That description fits him perfectly.

Roman Sidey
132
Posted 07/01/2018 at 19:40:20
Like Barkley, it's a disappointing outcome for the club regarding a talented player. The club is better off without him, but it's the club that allowed Mirallas to do whatever everyone seems to think he's guilty of.
He seemed an odd choice for Moyes to sanction the signing of, as he always disliked flair players who were a bit about themselves. Moyes, to his credit though, was pretty good at putting his foot into a player and making them toe the line. Add to that it was Kev's first season in a new league so he was probably very focused on impressing.
Martinez was a soft touch and obviously didn't do anything to quell the ego. And Jags, or whomever had the captain's armband the night against West Brom, should have acted like a captain and not allowed that to happen. That was when it went south for Mirallas, and any club with a hierarchy with any brains would have rectified the situation one way or another.
I wouldn't say I'm sad to see Kev (or Barkley) leave, but I am disappointed it didn't work out for them at Everton.
Tony Dove
133
Posted 07/01/2018 at 20:07:51
Mirallas had his his plus and minus points like most players. What everyone seems to forget though is that his arrival finished Jelavic.
Until Mirallas came, Jelavic was scoring goals for fun. Kevin had been the main man in Greece and when he came to Everton he thought his role was the same. So he went for the balls that had previously been the domain of Jelavic. Neither prospered and Jelavic moved on.
The manager's fault, not the players.
Johnny Rainford
134
Posted 07/01/2018 at 21:03:42
Rick (#118) nails it. That penalty incident revealed him to be someone with an inflated sense of his own importance. Sorry but respect is earned over time. And over said time his attitude, moods and undermining influence all manifested themselves.
So, sorry but no respect... and we are better off without people like this.
John Pierce
135
Posted 07/01/2018 at 21:28:33
Mirallas 151 apps (29G, 20A)
Barkley 150 apps (21G, 18A)
The myth of Ross or the under appreciated Kevin?
Jackie Barry
136
Posted 07/01/2018 at 21:43:16
Neither – they were both not good enough.
John Pierce
137
Posted 07/01/2018 at 22:00:25
Jackie thats bob on sir. Neither were.
Mike Corcoran
138
Posted 07/01/2018 at 22:16:44
Some of the bust-vein, face-spitting rhetoric on here has me wondering for some people's sanity.
He was alright, sometimes.
Dave Pritchard
139
Posted 07/01/2018 at 22:31:46
Mike, unfortunately your description of Mirallas describes so many of our current squad as well as many who have played for us in recent seasons.
Nicholas Ryan
140
Posted 07/01/2018 at 23:01:07
I hear what people say, but my reaction to both departures (Mirallas and Barkley) is one of sadness and regret; over what could have been, and probably should have been, but ultimately, wasn't.
Kevin Dyer
141
Posted 08/01/2018 at 00:41:14
He didn't sign a new deal so that we'd get a fee for him, he likely genuinely believed he'd be a starter. I think iirc he played 35 league games under Koeman last season.
The new season starts and he barely gets a look-in except in Europa League games, hence trying to get a move to Olympiakos before the deadline. I can't say I blame him. Koeman had showed no intent to start him in the Premier League.
I too was puzzled as to why he got hauled off at HT vs Leicester. He'd looked dangerous. I think Unsworth lost confidence in playing with genuine wingers and wanted to congest the midfield. Still a weird decision though.
Timothy Blanshard
142
Posted 08/01/2018 at 02:12:35
The thing that used to annoy me is that every time there was an international break he'd start running his mouth to the press, Atletico want me Arsenal want me, I'm not happy at Everton. Then he'd come back from the break and back-track – at least stand by what you said.
I read what he said when I lived in France and just to make sure I didn't read it wrong I asked my French girlfriend to translate it to English, he did think Atletico were coming in for him but they didn't, so back to Everton – deny it, say it was a misunderstanding.
Si Cooper
143
Posted 08/01/2018 at 02:12:53
Players with genuinely game-changing ability are rare and the consistent ones are out of our reach so we end up with the likes of Kevin Mirallas.
I don't think you can ever have too many players who can create things out of next to nothing, except in the truly practical sense of trying to give everyone sufficient game time, but if they aren't willing to be simply part of a greater whole then they can become more trouble than they are worth.
Right time for him to go but he's not someone you'd sell to your rivals for peanuts so the market for him is unfortunately limited.
Vijay Nair
144
Posted 08/01/2018 at 06:28:55
Considering we bought him for around £6m, £4m for a loan fee seems reasonable business. Add that to whatever we can flog him for when the loan ends...
Robert Leigh
145
Posted 08/01/2018 at 10:52:21
Looking at the welcome he received from their fans at the airport, I wouldn't be coming back any time soon if I was Kev (though of course as he's under contract it isn't all up to him). Like a hero coming back from the war!
Be interesting to hear what position he plays. Always thought he'd make a good striker but seemed his best spell was playing RM/RW ahead of Coleman early in his career with us.
Brian Harrison
146
Posted 08/01/2018 at 11:17:42
Saturday: Sam said he has indicated to the board that he doesn't want anyone to leave on a loan deal.
Sunday: Mirallas goes out on a loan deal? You just wonder who is in charge of our transfer policy.
Derek Knox
147
Posted 08/01/2018 at 12:17:29
Vijay, I understand where you are coming from there, but he was one of the top earners at Everton, so when you weigh up the amount of time he has played, against guaranteed wages, he has done extremely well.
I remember the expectation when he first came to us, going from those YouTube videos, he never quite produced regularly enough for me, and often went missing in games, plus the attitude problems; it was best he moved on.
I would be made up if we could offload Schneiderlin, but can't see anyone coming in for him. Admittedly he has been slightly better in recent games, but way short of what we need.
Craig Walker
148
Posted 08/01/2018 at 12:44:02
I think we should have got shut of Mirallas after the penalty debacle against West Brom. His highlight reel would look good but too often he contributed nothing and his attitude stank the place out. I won't miss him.
Alan Bodell
149
Posted 08/01/2018 at 13:09:20
Adam (#73), you missed the bit where he wrestled the ball away from Baines for the pen against WBA then lashed it against the post... but, apart from that, I got the feel you quite liked him, ha ha.
Jackie Barry
150
Posted 08/01/2018 at 15:55:40
Did anybody see this on twitter? I was kind of shocked
"Two polarising players end with similar PL records for Everton. Perhaps surprising Mirallas involved in 20% more goals. Fewer mins, too:
Mirallas 151 apps (29G, 20A)
Barkley 150 apps (21G, 18A)"
Antony Matthews
151
Posted 08/01/2018 at 18:40:51
Never the same player after Suarez stood on his foot in a derby
David Currie
152
Posted 08/01/2018 at 19:31:29
Tony Marsh is right – the Greeks will not want to buy him when they see him play. He will be subbed off regularly.
Phil Walling
153
Posted 08/01/2018 at 19:34:51
Haven't read all the posts but what genius gave him another lengthy contract when he had already been marginalised by Koeman?
Paul Wyndham
154
Posted 08/01/2018 at 21:10:02
He's been stealing a living from EFC for at least three years. He's part of the problem; never going to be part of the solution. Bye Kev... C U Next Tuesday!
Ian Bennett
155
Posted 08/01/2018 at 21:23:38
BBC saying Niasse, Sandro and Klaasen to be moved on in addition to Mirallas.
I assume Besic and a couple of others could follow.
Colin Glassar
156
Posted 08/01/2018 at 21:32:30
Mirallas was received like some Olympian god on arrival. I hope he stays there.
Lev Vellene
157
Posted 08/01/2018 at 21:43:15
The Greek top league is not the Premier League, and Mirallas will be played as the striker he was before we got him, not as a winger. So he may very well dazzle there!
I wish him luck, as he was an Everton player, and he did some good things for us now and then!
Andy Williams
158
Posted 08/01/2018 at 23:28:26
Jackie (#150),
It has to be remembered though that Mirallas scored most of those in his first 3 years when he was in his mid-twenties, whilst Ross's were from 19 to 22 and the stats include his first couple of years when he played 20-odd games but didn't score (so averaging a goal or an assist about once every 3 games).
Jackie Barry
159
Posted 08/01/2018 at 23:33:43
Agreed, Andy, but still the same amount of games. I guess we will see how Ross does from this point forward.
Graham Hammond
160
Posted 09/01/2018 at 04:21:59
I look forward to the day when we have 11 better players than Kevin Mirallas and Ross Barkley in our starting eleven; it will not be happening anytime soon!
When our front three consisted of Mirallas, Lukaku and Barkley I had no complaints and I am not easily pleased! The players we have that remain are largely shite and we are now a million miles behind the top six in terms of team quality.
I wish Kevin Mirallas well, a quality player with a goal record very few have been able to match at our club in recent years.
Neil Cremin
161
Posted 09/01/2018 at 07:36:44
Well said, Graham. Some posts here are based on facts. Most are based on prejudice. It would be interesting who the naysayers think is good enough to play for EFC.
Vijay Nair
162
Posted 09/01/2018 at 10:37:24
Dale Rose
163
Posted 09/01/2018 at 13:35:14
A great player on his day, the only problem was that you never knew which day. Good luck to him.
Terry Underwood
164
Posted 12/01/2018 at 10:04:12
After his first few games, we thought we had an Everton legend on our hands. Oh, Kev... WTF happened?
Add Your Comments
In order to post a comment, you need to be logged in as a registered user of the site.
Or Sign up as a ToffeeWeb Member — it's free, takes just a few minutes and will allow you to post your comments on articles and Talking Points submissions across the site.