Allardyce: My players gave up

207 Comments [Jump to last]
Saturday 13 January 2018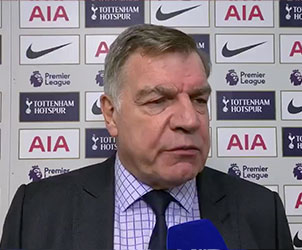 Sam Allardyce admits that he saw for the first time the propensity for the Everton side he inherited to throw in the towel as he watched the Blues crumble to a 4-0 defeat against Tottenham today.
Harry Kane scored twice, albeit from an offside position for one of them, in between goals from Son Heung-min and Christian Eriksen as Spurs romped to victory in the second half, exploiting abysmal defending from Allardyce's men who also failed to register a shot on Hugo Lloris's goal at the other end.
Allardyce, who oversaw four wins out of five to begin his tenure as Everton boss, has now failed to pick up a victory in any competition for six matches now and his team's display plumbed new depths under his tenure at Wembley.
"We were OK first half and looked pretty confident," Allardyce said. "Tottenham didn't have too many chances to score. Then, when the second goal goes in and it's probably offside, that doesn't allow us to throw the towel in for me and not do the right things.
"You've got to make sure you defend even better against [the likes of] Tottenham when they go 2-0 up and not relinquish that defensive responsibility, otherwise you get what what we just got.
"Too many of our players just decided not to defend any more when Tottenham had the ball and when you do that against the quality of these players, they will cut straight through you.
"But for Jordan Pickford they would have had more today so I'm hugely disappointed in the professionalism of my players. I think that's really out of order to relinquish that responsibility just because you go 2-0 down two minutes into the second half.
"It shocked me, to be perfectly honestly with you. I hadn't seen it since I got here. I've seen it now and it's probably what was apparent before I got here. I've got to cut it out, starting tomorrow, really.
"The defending basics have gone out of the window and it is a question about being a bit more boring than we were today.
"I would sooner see us at the back end of Match of the Day than the front end.
"I reverted back to our Liverpool performance, and this was basically the same team that played at Liverpool. If you can play like that at Liverpool and just at the death get beat, surely you can come here to Tottenham and deliver the same performance and maybe get a result.
"Maybe I have a bit of responsibility by playing too much attacking-minded players and not as many defending-minded players.
"I should have got back to being a bit more boring and a bit less adventurous."
---
Reader Comments (207)
Note: the following content is not moderated or vetted by the site owners at the time of submission. Comments are the responsibility of the poster. Disclaimer
Steve Harris
1
Posted 13/01/2018 at 22:28:50
This man is a fucking joke!!! More boring than today? Is that possible!!
2-0 down and brings on Lennon instead of Lookman, who gave us a chance last week. Instead of going 2 up top, he takes the only striker off to bring on another with 3 goals to his name. Then to top it all off, at 3-0 down, he brings on fucking Schneiderlin!!!!!
Just fuck him off now coz he's a fucking joke!
Don Alexander
2
Posted 13/01/2018 at 22:32:12
He's stating it very, very clearly as far as I'm concerned, but I'm bloody sure most of the players and staff at Finch Farm don't give a toss because, after all, he's only here for 18 months max – isn't he, Mr Moshiri?
Most people there know full well this is the best club they'll ever be involved with and it's all downhill from here from their point of view so, just ride it out until he gets the boot will be their take on it – "take" being the operative word.
They could prove me wrong, players and staff all, by sparing us the usual "we know we've let ourselves and the fans down" mantra and instead just work hard to master the really, really hard parts of football for them, like controlling and accurately passing a ball in most of their cases, and definitely becoming visibly fitter.
Of course it would also help if the Fab Three took some sort of action right now to rectify their own incompetence in the summer window – but what do Moshiri, Kenwright or Walsh have by way of reassuring credentials?
Rick Pattinson
3
Posted 13/01/2018 at 22:40:21
He's right... they gave up...t his isn't the manager this is the useless bunch of fuckers we have on the pitch.
Nearly all of this squad need to move on. We literally have a handful of players willing to put in a shift. Not one player in that team makes things happen.
We need a playmaker fast. What he fuck has happened to Sigurdsson... a mere shadow of his former self.
Jim Bennings
5
Posted 13/01/2018 at 22:46:37
I don't seriously see how it's possible to see a more boring Everton team than what we are seeing now.
Dock wages of players and make their pay performance- and results-related!!
Jer Kiernan
6
Posted 13/01/2018 at 22:47:23
"It is a question about being a bit more boring than we were today." Mother of fuck... If he can make this team any more boring than the last 6 games?
Never mind avoiding the drop that would be a Miracle, We are footballing chloroform as it is. This season cannot end quick enough for me but, if we start with the same Manager and Kenwright at the helm next season, we are fucked.
Keith Harrison
7
Posted 13/01/2018 at 22:50:44
Why can everyone else in the country see we desperately need a quality left back to stabilise the defence. But Everton managers can't.
And too many attackers? Yet no shots on target. Again?
Depressing isn't the word.
Seamus McCrudden
8
Posted 13/01/2018 at 22:52:15
You can sack all the managers you want. The players downed tools today. Absolutely gutless from them.
John Daley
9
Posted 13/01/2018 at 22:55:47
"He's right... they gave up... this isn't the manager this is the useless bunch of fuckers we have on the pitch."
Absolutely nothing to do with the manager, then?
He's merely accepting the smallest portion of blame he possibly can while looking to lump the bulk of it on his own players – just like the last fella was prone to do.
If your own manager repeatedly tells the press that, as a squad, you are pish going forward, lack the creativity and level of service to properly trouble the opposition, are not capable of netting more than once a match and, consequently, the best you can hope to do is try and dig in and defend for a clean sheet whilst maybe catching the other lot napping once on the break, then heads are bound to drop during a game when the opposition grab a second.
He's effectively drummed it into his men that they are incapable of digging out a result in such a situation, that a second goal sounds the death knell for their chances of scooping even a point.
It's not like he's leading by example from the sidelines, saying "Chin up, lads, we can claw our way back into this", or making an active attempt at improving their chances of doing so by making lazy, keep it as is, like-for-like substitutions and sticking Schneiderlin on to see the game out.
Steavey Buckley
10
Posted 13/01/2018 at 22:57:51
The team sheet showed no respect to Spurs whatsover. The team was filled with yesterday's men and men who have not arrived so could not defend even if they tried.
Teams like Swansea and West Ham who gave respect to Spurs at Wembley got something out of their encounters. But not Everton. They thought they could boss Spurs about with an expansive attacking side. Yet, all they got was a 4-0 drubbing.
Anthony Jones
11
Posted 13/01/2018 at 22:59:27
Is this a wind-up?
We need to play more defensive?
How many shots on target?
Best defence is offense.
Allardyce's honeymoon is over.
David Connor
12
Posted 13/01/2018 at 23:00:26
What a useless bunch of twats we have at our club. Only 2 players merit not being sold in the summer: Pickford and Rooney – and even he's gone shit of late. Worst squad we've had in over 20 years. And the fuckers are on megabucks.
After the Man Utd game, I said that that's me done till next season. I'm done with watching these tossers. I work hard for my wages. One things for certain – the fuckers pulling our shirt on don't. How many more fans are starting to feel the same way?
Listen up, boys. You can quiet easily get dragged back into the dreaded relegation scrap, you are that bad. Act as if you give a fuck, you bastards.
Colin Glassar
13
Posted 13/01/2018 at 23:07:54
"He went back to being boring". A perfect epitaph for Big Sam's Gravestone.
Sam, I never really liked Ginge, I started to hate Roberto in Act III, I never warmed to Koeman and detested him by the end... but you, Sam, you I can't bear with your negativity and faux Brummie accent.
Just keep us up, Sam lad, and then piss off in the summer, okay?
David Barks
14
Posted 13/01/2018 at 23:12:01
Steavey,
An expansive attacking side? Aha. Hahah. Hahahahhaha. Hahahahahha. McCarthy and Gana in midfield, Gilfy stuck out left instead of in the middle. The increasingly geriatric Rooney watching the traffic race by in the middle. A striker left up top on his own. Martina at left-back... expansive attacking side??? Hahahahahaha
Jerome Shields
15
Posted 13/01/2018 at 23:12:44
He blamed players as I expected. The fact is that Allardyce's defensive system has been found out. With no offensive play, the opposition can get up and support, providing more options. This means that Everton defenders can be turned, bypassed, and caught out of position.
The long ball to the new man was quickly neutralised, meaning that the opposition was more confident there would be no comeback for Everton.
So next game, Allardiyce will pack the defence and forget about forward play. He hasn't a clue how to organise offensive play anyway...
Cenk has the consolation of his wages, but he must be wondering about tactics of the team he has joined. How is he going to get the ball? Where is the supporting play going to come from?
Jagielka at centre-half was run ragged and was no support to the players around him. He has been a problem for this past five years'; he should not be on the pitch. Very poor Management.
Steavey Buckley
16
Posted 13/01/2018 at 23:20:05
Rooney, Bolasie, Tosun and Sigurdsson are attacking players, when the team needed a solid defensive line-up. That was how to approach the Spurs team and hope to get lucky.
Don Alexander
17
Posted 13/01/2018 at 23:33:40
Allardyce has few credentials as an expansive, entertaining manager admittedly but does anyone think multi-millionaire players at Everton or anywhere else give a tinker's cuss for a manager who's a lame duck from the outset, courtesy of a mere 18-month contract?
They don't care. The spineless, self-serving bastards would only give a toss if the manager was there for a minimum three years because three years is a big chunk out of a playing career.
In other words it's manageable to them, until the club appoint a manager they happen to like, and sign better players more in line with their own skewed perception of their own brilliance.

Getting them to graft to personally improve? As if!

The in-built level of incompetence, cynicism and laziness at Finch Farm is awesome through manager after manager after manager, but it's dwarfed by what can be seen in the boardroom, by everyone but a billionaire accountant, that is.
Jer Kiernan
18
Posted 13/01/2018 at 23:35:02
Colin,
i couldn't agree more; I didn't want him and the sooner we get shot of him, the better. My mantra: Get us to 40 points and fuck off!
I can't help but feel the club is being fucked over, left, right and centre by mercenaries, both on and off the field. The few quid we have has attracted the worst types on all fronts.
Les Martin
19
Posted 13/01/2018 at 23:37:27
Boring? How about trying to have a go? And playing with wingers either side as an outlet?
It is obvious that Rooney and Sigurdsson cannot play together, the midfield needs to be cleared out and getting a player with some pace who can win a tackle and make a pass... not too much to ask, is it?
Sean Kelly
20
Posted 13/01/2018 at 23:43:42
Everton is a joke of a club. We accept shit, week-in & week out. Sentimentality, a retirement home for crocks and a kindergarten.
Here's some words we don't associate with Everton anymore: Skillful, focused, passion, brilliance and goals scored.
Joke of a club from top to bottom and everything in between. We get what we deserve.
Andrew Wayne
21
Posted 13/01/2018 at 23:43:53
Will the real Everton team stand up? Absolutely shocking.
I don't recognise this Everton team any more; not since Bobby's second season.
Allardyce is a means to an end, he shouldn't be the manager of a well run, ambitious, competitive Premier League team. He has, probably, avoided relegation this time.
I increasingly feel like someone watching the wife run off with the younger virile neighbour or the junior to the intern you coached.
Where is the fight, the nous, the we are Everton and we are better than you? Tosun must be thinking, "What the fuck have I joined here?"
Shaun McGough
22
Posted 13/01/2018 at 23:51:10
Sam, why don't you, Sammy Lee, Craig Shakespeare and most of all Steve Walsh ALL DO ONE?
Is Moshiri just not a football man or can someone tell him this staff he employs will bust him AND OUR CLUB.
Christine Foster
23
Posted 13/01/2018 at 00:08:58
It's really clear, and it should be to many on here now, that, irrespective of manager, it's the lack of quality players. The lack of players who have the ability (if they ever had) to raise their game and the shocking dereliction of duty of the Director of Football and directors of this club, that allowed a "team" to be broken up, a dreadful manager to alienated a squad, poor players to be bought without a plan, and good players to leave, that has come squarely home to roost.
Defensively we were a joke. Jags is no longer a Premier League centre back, Holgate doesn't cut it, Martina is a joke, Kenny is the best of a bad bunch, playing his heart out without support.
Midfield... Jesus wept... Rooney lasted a half, in the second half he should have been pulled (again) before he was sent off. Sigurdsson non existent Bolasie, did he play? Gana, just awful... Lennon did nothing, Tosun must be wondering what the hell has he done..
Allardyce is right, it was unforgivable as a performance, but it also shows how poor we really are and although we are up the table and Yes improved on the league position, we are still crap, and will be until the bulk of this team is gone.
I don't think this group of players are capable of performing together to a level that will see us improve. There are some unpalatable performances ahead until we have the jigsaw complete and, unless Allardyce can make gold out of crap, it's going to be a long and difficult season.

Bill Gall
24
Posted 13/01/2018 at 00:15:29
The major question that has to be asked is why is, it only the supporters can see what some of the major problems are and have been from the start of the season?
Without taking into account injuries from the start, going back it is 4-6 seasons that we have not had a creative midfielder. I can understand Lukaku was a big loss but quite a number of his goals were provided by other teammates and now we have no one doing it.
I am aware of the fact that the club are not going to announce any of their transfer business, but with all the information from social media we are usually aware of players the club are going after, and up to now there has not been any hint of a left-back that is desperately needed.
We are overloaded with defensive midfielders and have a number of experienced centre-halves and wingers but it seems the only player we are interested in is another winger come center forward.
It is a waste of time criticizing the manager as we new what we were going to get when he was signed, and although there are a number of supporters who agree with what he says,talk is cheep, as the saying goes. (Do not talk the talk if you cant walk the walk.)
We have not won any of the last 6 games, but the most damming point of it all, is the last 4 we have not had a shot on goal, that is what makes us a boring team and how we can get more boring is beyond my imagination.
We appear to have the same problem as our previous manager with players having a lackadaisical attitude, and, as most, if not all, are set up financially for the rest of their lives compared to the average supporter, it will be interesting to see if the manager can change their attitudes. He could start by not playing players out of position, and realizing that some of the older players are past their sell-by date.
Jim Bennings
25
Posted 14/01/2018 at 00:17:50
We are on 27 points, we have won just 7 matches all season, we can't win away from home and have scored a paltry 25 goals and conceded a whopping 38.
I believe at the very best we will scrape (and I really do mean scrape) 4 more wins and 3 draws putting us on 42 points.
Whether or not that will be enough this season to keep us up I really don't know but, if it comes down to goal difference, we won't have a friggin' leg to stand on. I can see us being at least minus 20 this season.
Peter Jansson
26
Posted 13/01/2018 at 00:31:58
I am afraid that there is something fundamentally wrong with Everton.
There is a total lack of central offensive qualities in the team and it seems like no manager we appoint understand that.
I mean what is the problem? How can you not see that Idrissa Gana Gueye, Schneiderlin and McCarthy are not going to bring more or less any offensive qualities to the team?
How can you not see that their offensive inabilities will harm all the offensive players as they would not get any good balls to work with? Leading to long balls from the back. How can you not see that this will not lead us anywhere at all, now or anytime in the future?
This Allardyce strategy is as flawed as Koeman's strategy was.
For fuck's sake this 4-2-3-1 formation DOES NOT WORK!!
1. Sigurdsson should not be played at the left! Put him in the center.
2. Wayne Rooney should be moved down to midfield as he is the only player who can play good offensive passes in Everton today.
3. We have to have two fast and quick with players to create chances in today's modern football. Go to the market and buy one or two good wing players quickly! For example Walcott could be a very good signing.
4. If playing with 2 defensive midfielders we need to have at least 1 who can take the ball forward or pass forward otherwise there will be a big imbalance in the team. This meaning we cannot play a mix of Gueye, Schneiderlin and McCarthy!!! There has to be a midfielder here with offensive qualities. Otherwise the ball will just be moved sideways and backwards or be lost (sounds familiar?).
It worked well for a while under Martinez with Barry because he could make the forward passing. Yes, he was slow but then this formation worked. At that time, we had speed on both flanks with a younger Mirallas, younger Lennon and Deulofeu. Plus a hardcore striker named Lukaku.
Today we have nothing of what we had.
To add, we also had a younger Baines and Barkley. Yes, Barkley had his flaws but he was at least able to take the ball forward.
5. We need to buy new players to get out of this rot in point four. We need central midfielders that have offensive qualities. Yes, we can move Rooney down, but for some reason this seems to not happen. Then we need to buy new players. Maybe Nzonzi would be a good signing? I have not seen him enough to have an opinion.
Or! We could get Klaassen to start 5-8 games to see what happens. He could not make the setup worse than today. I think he can have some class in him. He has not really been given a chance in my opinion and has gotten the blame for bad play when the players around him has been making him look bad.
6. Sort out the left back position ASAP! Is there anyone that does not see that Cuco Martina is not good enough? It is not enough to have only Baines here. We need to add another player to the squad! Quickly!!!
7. Sorry to say but we also need at least one central defender as no-one we have today is playing good consistently. Jagielka & Williams are still the best central duo but they are beyond their peak. I am afraid Michael Keane is not good enough.
Steve Ferns
27
Posted 14/01/2018 at 00:36:23
14th January, we have not registered Garbutt, Allardyce hasn't even had him train with the first team. We have not recalled Galloway, no suggestion that Allardyce has even sent someone to watch him or ask Sunderland about getting him back. And, to cap it all, no suggestion of a left back coming in imminently, and no talk of Baines coming back soon.
Spurs ran riot down our left. Sigurdsson was there to protect Martina, and he did nothing of the sort. We may as well have had the far more attacking Lookman there as at least he would have stopped Spurs running at Martina, as they would have been worried about getting caught on the counter; no such worries with Gylfi, one of the slowest players in the league.
Martina was poor, but again, and we say this every week, he's playing badly out of position and we need a proper left-back.
Had Baines played today it would have been a different game. He either needs to start Schneiderlin, or replace him. McCarthy and Gueye surrendered the midfield. It's all well and good pressing and closing down, but one of them needs to sit in, and that didn't happen.
Bolasie should have gone off at half-time, he was a complete passenger and he was never getting in that game.
Allardyce got it very wrong. Team Selection, shape, lack of protection, the position of Rooney, the substitutions, and so on.
He's lost 4 on the bounce. We are not creating chances, and now we are leaking goals again. We have yet to put in a full 90-minute performance. As soon as the fixtures got tough, we were just as bad as we were under Koeman and Unsworth, only now we are completely toothless as well.
Everyone knows how Spurs play, and he should have selected a team to nullify them and then try to introduce attacking intent late in the game as they tire.
I feel no confidence for the West Brom game, which is now a must win. A win and we can breathe a sigh of relief and re-group. Lose and we're plummeting into the bottom half at the end of next weekend and the relegation trap door comes into focus.
We must win. Allardyce has a week to prepare, having had 8 days for spurs. Koeman and Unsworth could only dream of that, earlier in the season. Time to earn that undeserved salary, making him one of the highest paid managers in world football.
Tommy Coleman
28
Posted 14/01/2018 at 00:38:31
God help us!
He's taking no responsibility for the team's lack of balance, bad substitutions or mind set. I could write an essay on the things he got wrong today.
We should still finish 7th though, the Premier League is that poor. At the end of the season, we'll replace him.
Charlie Lloyd
29
Posted 14/01/2018 at 01:11:59
Steve @ 27
I was looking forward to your post.
Some parts I agree with. Bolasie was woeful today, Sigurdsson offered little protection (not exactly his forte) and we lost the midfield battle.
Some parts I don't. Left-back is an issue but thrusting in Garbutt (have you actually watched him in the U23s?) or Galloway (not even on the bench at bottom club Sunderland where Oviedo is first choice left-back) are not the answer. We need a left-back, simple as! Baines would have made no difference today. Martina, for all his faults was exposed by a player (Sigurdsson) who should be not playing left-midfield. Although to say Gylfi is one of the slowest in the league is unfair.
Today was shite. However, Tottenham are way better than us and that's reality and that's where we are currently.
We fans get passionate. Fair enough. But analyze a game fairly if you believe you have the knowledge without over-reacting.
Jason Lloyd
30
Posted 14/01/2018 at 01:12:29
Some very worrying individual performances today, but what is worse is our collective performance was completely woeful. We stopped working as a unit, a reversion to the Koeman period.
It's one thing to bring in new players with pace and the desire to fight but, if the current squad has 4-5 players in the first team who are so disinterested in playing, we are doomed until Allardyce realises they need to be jettisoned very quickly.
Rob Dolby
31
Posted 14/01/2018 at 01:20:22
Time to drop a few of the Fab 4. Play Lennon to protect and link up with Kenny. No coincidence Kenny's defensive work has doubled since Lennon has been left out of the team.
Bolase is miles off the pace and is a hindrance to the team at the minute. Play either Rooney or Sigurdson not both.
Bad sign that Sam is outting the players so soon. He should take responsibility as they didn't pick themselves.
He has chosen to try and play more expansive football with this squad. The very thing that got Koeman the sack and what ruined Unsworth's job interview.
Get back to sitting deep and frustrating teams. We are back to letting the opposition dominate in every area.
What is the strength of this current squad. Good Keeper, decent youngsters and Rooney who is past his best. Question marks over everyone else.
God knows what the new guy must think. He has swapped Champions League football to chase 60 yard punts upfield.
I am trying to look for positives but not buying a left-back or left mid is deeply frustrating. At the very least we need to register Garbutt or recall Galloway. And I'm struggling to see where Walcott will play if we buy him.
Jason Lloyd
32
Posted 14/01/2018 at 01:26:40
I just don't understand why we don't play 4-4-2 and stick with it like Leicester. Yes, we will get beat for being too expansive against teams with more in midfield but it also means, if Pickford sends a long ball over the top, Calvert-Lewin and Tosun could combine and create a few goals. It's worth trying.
Colin Gee
33
Posted 14/01/2018 at 01:33:27
Yet again we comeback from Wembley with nothing. Is there another club with such a poor record as us there? Without checking up think I have been there about 15 times and seen us win 1 FA Cup and a couple of Charity Shields.
Allardyce appears to have turned into some weird combination of Martinez and Koeman. No defence, no attack and like for like subs. No plan B if Plan A doesn't work then we are fecked. Persisting with a 4-2-3-1 system that hasn't worked for about 4 years now.
The game was crying out for a Lookman or a Vlasic to come on and change things. He takes one right winger off and puts on another right winger, he takes off a centre forward and brings on another centre forward, he takes off a defensive midfielder and brings on another defensive midfielder. Err... hello?
The window has been open for 14 days now and still no left-back even linked with us, never mind signed up, yet we've got about 10 left-backs out on loan and Baines injured. Martina is a shit right-back playing at left back.
Steve Bird
34
Posted 14/01/2018 at 01:40:21
Being more boring!!! Is that actually possible.
This guy is gonna kill us! Nil is his best friend; 5 shots on target in 6 games and he thinks we should be more defensive!!!
Is it just me, let me know if I am wrong here, surely you progress by hurting other teams??
On a completely different tangent, it is clearly apparent immediately that Tosun has what we need.
Roman Sidey
35
Posted 14/01/2018 at 02:06:27
This is just rotten. Fans need to stop debating whether it's the manager's fault or the players's. It's both – and the board's. Not a doubt about that.
I'm not defending Big Sam, as I think him being Everton's manager is embarrassing to the core, but these players have to be more capable than what they're showing. There is no way any of them could have gotten to where they are in their careers by producing what they showed today.
I think all of them have probably had worse individual performances at least once or twice, but for the entire 10 outfielders (apologies to Tosun who shouldn't be judged yet) to all put in a shift that bad on the same day takes some serious rot behind the scenes.
For me, their second goal sums up the club – willing victims of bullying and corrupt calls. Two defenders look to the linesman and raise their hands to appeal for offside and then nothing. Jagielka should have been in the refs face spitting and yelling and making certain that, if that goal stands, then the team is about to get filthy. Every single time Everton are on the receiving end of a bad call that man who is supposed to be a captain looks at the grass like a six-year-old being told he's been a naughty boy. How the club allowed Moyes to name him captain after he'd managed his last game is beyond my mental capabilities.
I know this will sound hyperbolic, but in the 16 years I've followed Everton, that was the worst display of effort I've seen from the team.
Pete Clarke
36
Posted 14/01/2018 at 02:23:08
What he said is what he needs to do. Set them up to be solid in defence and pick up points where possible to keep us up.
Work to your strength Sam and then you can run down to the bank to deposit your cheque and we shall not see you again.
Players have to have faith and belief in the manager and if they are downing tools then that's the worst sign ever as we have nowhere to turn from that point onwards. The most important thing to most of these players is picking up that grossly inflated wage.
Lose next week and we are in big trouble. Again! Would anyone bet against us having a fourth manager this season??

Don Alexander
37
Posted 14/01/2018 at 02:32:46
I'm sorry, but the players have got to look at themselves. When Martinez was with us, I pointed out the plethora of 4- and 5-goal drubbings Wigan had endured with him in charge. It was way worse than any other Premier League team.
Well, guess what, this season we're well on the way, by January for Gawd's sake, to exceeding Wigan's worst ever season for drubbings. Have these Finch Farm bastards no shame?
William Cartwright
38
Posted 14/01/2018 at 02:35:01
Lots of passionate anger out there, including mine on another thread. 11 players make a team: 11 comments:-
Pickford – no issues;
Kenny – still learning, needs a winger in front of him;
Holgate– still learning, needs an experienced partner;
Jagielka – lacks the mental toughness;
Martina – out of position and not up to standard;
McCarthy – one defensive midfielder only required;
Idrissa – read McCarthy;
Rooney – potential as a No 10 but only in the Pirlo style of things, ie, old attacking midfield general but wrong temperament and legs have gone;
Sigurdsson – a real No 10 but played out of position all the time; he must be as pissed off doing it as we are watching it;
Tosun – Looks promising but will need a different structure around him (read 'normal' for 'different');
Bolaisie – disappointing; back too soon?
Have I missed anything? Oh yes, a manager. We need one.
Susong Hermawan
39
Posted 14/01/2018 at 02:37:37
Too attacking? My dear... this clown "Sam" is totally a big joke.
Andrew Presly
40
Posted 14/01/2018 at 03:10:17
As Everton fans we know pain and humiliation. But can it get worse than tonight?
First time in 30 years I didn't mind us losing (apart from the Man City home game a few years back) so we get rid of this nightmare.
Unsworth with season long board backing would've been fine. Mid-table with a good young Evertonian coach at the helm, not the bloated negative corrupt Allardyce.
I'll have to try and let go until a different Everton comes back.
Steve Brown
41
Posted 14/01/2018 at 03:58:12
"I should have got back to being a bit more boring and a bit less adventurous." Zero shots again so not sure what being more boring means in the world of Allardyce. Not going to waste words on him, as he should never have been manager and will be gone at the end of the season.
This squad has some technically capable players, but completely lacks size, pace and athleticism, particularly in midfield. It was like watching the giants play the diddy men yesterday and I don't think Walcott will make any difference to that.
Roman Sidey
42
Posted 14/01/2018 at 04:28:04
You forgot to list 'heart' in the qualities lacking, Steve.
Brian Wilkinson
43
Posted 14/01/2018 at 05:10:54
Too many players just not giving a shite. We saw it with Ronnie, we saw it with Unsworth, now we are seeing it with Sam. Whoever comes in will get the same result after the honeymoon period is over.
Players out of position, no striker, no left-back, Schneiderlin, everything chastised in the past. I'm sorry but I've seen it too many times over the past few seasons – no desire, gutless and tools downed, the players need to have a damn good look at themselves.
Bob Parrington
44
Posted 14/01/2018 at 05:35:17
I've been writing this for years in different guises on these threads.
We need to pick out and ditch the rotten core of the club! If we don't, it is doomed!
Somebody within the club or an independent expert, contracted by the board, must be able to identify this rotten core even if it is the board (board structure) itself!
Ian Hollingworth
45
Posted 14/01/2018 at 06:08:29
We simply do not have the quality. Too much of our play breaks down with a bad pass or poor control.
We are excited by our youngsters and they try hard but they make too many mistakes in a team where we do not get away with the mistakes.
Every manager faces the same issues as they do not know what is the best 11 out of this sorry bunch.
Not addressing the left back position is a crime as poor old Martina is woeful.
Do not expect much to change as this board only wants a new stadium and they are just hoping for survival.
Steavey Buckley
46
Posted 14/01/2018 at 06:18:45
Everton have too many players from 28 years of age onwards, who go training each day then go home. Repeat this until match day get it over and back home. So it has become a job. A well paid job. Until it ends. Until the manager gets sacked if the results are unsatisfactory.
I have often said that the club should stop buying players past 27 years, because it is not possible to build a team spirit that comes from when players have been to a couple of clubs before and left their friends.
The great Everton team of the mid 1960s was based around a core of players in their early 20s such as Alan Ball, Colin Harvey, Howard Kendall, Jimmy Husband, Alan Whittle, Tommy Wright and Joe Royle.
Mike Dolan
47
Posted 14/01/2018 at 06:20:51
Realistically we were never going to get a result today so that doesn't bother me that much but the way we lose disgusts me. There is a core of players on our books that are just not men. They hide from the ball, when they are unfortunate enough to receive the ball they pass it back or sideways they are meek, nervous cowards.
Maybe they were playing games today because that twisted prick Mirallas got himself shipped out. I would bury anyone not giving their all so far down the bench that only a Sunday League team would take them.
The implication of what Allardyce was saying is profoundly disturbing I don't think I have ever heard a greater condemnation of a team by a manager in my life. It is not the manager, or tactics or team selection, or training that is our problem . its the players who who have pinhead sized hearts and its a cancer.
Amit Vithlani
48
Posted 14/01/2018 at 07:15:59
Steve Walsh has to go and the Director of Football role shit canned if we are to rebuild.
Allardyce and Koeman have both outed the players betraying a "them and us" attitude between playing and coaching staff. Walsh's role allows the buck to be passed to him.
Walsh has after all been a key part of the greatest transfer shambles in the history of the club. No one appears to be in control of the transfer strategy, and no one has the ultimate responsibility. A recipe for failure.
Sam has rotated the squad heavily starting with the Chelsea game in part to look at the rest of the squad and it is clearly apparent that so many players bought are absolutely not up to it.
The sooner transfer responsibility reverts back to the manager the sooner players will start playing for him – as it becomes his prerogative to sign, sell and renew contracts.
Multimillionaire mercenaries will only respond to the threat of being pushed off the gravy train that is EFC. A few like Rooney have professional pride to play for but that is a hard thing to do when surrounded by self-serving players who will lie down and give up the moment things get tough.
Once Walsh is gone, I hope we give Sam the boot in the summer as his negative approach is hugely corrosive. We must seek to hire a manager in the summer who will set the team up to win 3 points rather than defending 1.
I have no doubt this will be a struggle but we must try again rather than persist with Sam.
Who knows, the Everton job could become attractive to a decent manager when he knows Walsh is gone and he will have full control over the football side.
Alan J Thompson
49
Posted 14/01/2018 at 07:24:22
It's not the Manager's fault, it's the players fault. How do we know? The Manager told us. So who picks the players who don't try? Any chance the Manager might tell us and who his choice to put it right might be. I know who wasn't mine.
Would Unsworth have been the answer? Not for mine as, at the end, he started making the same mistakes in selection as the manager before him. Where to from here? Back to the Boardroom how did that roundabout music go?
Colin Glassar
50
Posted 14/01/2018 at 08:03:09
Amit, when the majority shareholder publicly admits that he doesn't expect to win these type of games he's giving his manager a free pass.
Kenwright, and now Moshiri, epitomise the lack of ambition and guts at Everton. League safety seems to be their only concern. They are a pair of cowardly tossers imo.
Paul Birmingham
51
Posted 14/01/2018 at 08:34:20
Clearly no pride and this team has no sense of shame. The thimble as it is the last 30 years has always been half full, but this ranks as one if not the most gutless performance in recent times.
The clubs becoming a jumper me and sadly EFC is now the easiest game for the rest of the Premier League.
In my view wrong team, no balance and no fight. The players should be docked their wages this month.
Leicester and West Brom will do us based on this game. Shocking and we played like we did under the Clogg.
Need a shrink, Harley zest specialist to instill some pride and belief in this squad.
EitC get the plaudits, and rightly so, but we are a football club... Not gonna mention the ground as that may still be a heist.
No hope, no promise and going to war this dross is the pits. Back to the old days of staying in the pub till the last minute, as this is mental torture. The playing psyche is shot and we are light years behinds the rest.
Reality check and I feel sorry for the youth of today who have to wonder, when, where and how it will happen. A quarter century soon and no trophy.
A generation will have never seen us win anything..
I try to be positive and optimistic but another scam show and weekend ruined.
Jim Bennings
52
Posted 14/01/2018 at 08:35:29
Sean Kelly (#20),
Spot on!
That's all Everton has become now, a retirement home for the crocked and past it players dishing out contracts as a favour and jobs for the boys (I fully expect another 3 year contract in the offing for Baines!)
And a kindergarten for kids making mistakes that are being exposed more in a struggling team but apparently we must be patient because they are 20 or under .
Yes, we are very much a joke club!.
John Hammond
53
Posted 14/01/2018 at 08:36:32
Never your fault Sam, right? While the players are as much to blame you're the one picking Rooney (common theme here, like the 2 managers before), Sigurdsson on the left, making shocking substitutions... And when the fuck were we adventurous in this game??
Pathetic. I'd rather lose 4-0 having had a go rather than basically setting us up to fail. Rooney should be on bench against the teams above us in the league as he's a passenger in those games.
Oliver Brunel
54
Posted 14/01/2018 at 08:47:54
I appreciate that people on here keep yapping away about a left back. That is obvious but its not the crux of the problems. We need an entire new back four.
Let's be honest, brutally. Finch Farm produces robotic overhyped players who can barely pass the ball accurately over a few metres. Kenny has passion but little else. He reminds me of Hibbert, all energy but completely lacking many aspects of the game. Punting the ball down the side of the pitch is what amateur plodders like myself used to do. Not good enough.
Calvert-Lewin is way out of his depth as was shown by Tosun who has a much more all round game rather than just legging it down the wing trying to catch a ball from Kenny. The midfield lacks any central playmaker – this has been clear since the days of Kendall et al. No, Arteta wasn't the type but was miles better than what we have now. I mean Keane, Scholes, Peter Reid types. So we are easily outmuscled as well – we seem to like a team of flyweights; Lennon, Holgate -too weak at this level. Yes I know Messi, Iniesta but they have other talents don't they.
So the colossal hype of Finch Farm is really Sparrow Farm and badly run by all accounts. I saw the U19s last season and lord are they a bunch of English robots a la Henderson. But these players have downed tools on successive managers and I predicted they would do the same with Allardyce. They are all cruising-there is no punishment for poor performances. The management is too soft.
The 'culture' at Everton has been inculcated by Kenwright and Elstone over the years to feather their own nests. When you are feeding at the trough you need able lieutenants and they have loads of them at Everton. The management of the club, the nepotism, jobs for the boys, corruption in transfers, the amateurishness of the business side of things.
Everton In The Community? They do not even reply to emails. Shocking amateurs. So there are really no positives and how long will it be before Moshiri turns his back on the project or 'you know who' pulls the plug on the funding? I tried to think of some positives but ,as Colin mentioned, when the owners don't expect to win games, what does that tell you...?
Kenny Smith
55
Posted 14/01/2018 at 08:56:47
Rick Pattison @3
"He's right... they gave up... this isn't the manager this is the useless bunch of fuckers we have on the pitch"
They did give up but probably because as a team we've managed on average one shot on target every other game since he came in. So the game was over at 2 nil in the players minds. That's down to him and his disgraceful tactics.
We've got players who can get in behind and cause problems but the reluctance to do it is there for everyone to see. I can see him getting an extension at the end of the season after a glowing recommendation from Walsh.
We need a big name manager to attract proper players not Allardyce.
Henrik Lyngsie
56
Posted 14/01/2018 at 09:01:41
Peter 26 spot on.
We probably have a lot of good players but the mixture is really bad.
A lot of teams play two defensive midfielders with success. But they would have at least one of them being a good passer. Or if they have two like ours they would have two full backs with strong offensive qualities and a good football brain.
We have currently 6 players in our starting line up who can't make a forward pass under light pressure. 4 defenders and two defensive midfielders. No surprise it is difficult to be one of the remaining 4 attacking players.
Like it or not but here is a reason why Stones was an attractive players for the top clubs. Like there was a reason to a player as slow as Barry still is a fantastic player.
We really need to have at least one central defender who can pass the ball and one defensive midfielder who can make a forward pass. We need to have full backs with football brains as Baines.
People are screaming for a left back and a striker. I think our problem is elsewhere.

Gary Willock
57
Posted 14/01/2018 at 09:02:35
No recall for Antonee Robinson or Kieran Dowell, both gifted left footed players (desperately needed to get balance). Davies more out than in. Calvert-Lewin replaced. Vlasic and Lookman getting cameos at most. Benny back to the Under23s. Kenny will be out sooner or later (either when Coleman comes back, or Allardyce gets a 'mature' left back and Martina get moved there.
By the end of the Allardyce rein (which is hopefully only 6 months away) we'll have taken the hope we had for our youth and set it back at least a year.
That's a fecking scandal!
Allardyce appointment can never be as bad as the Dutch fraud, but the collective impact of these shocking management decisions is going to set this project back massively.
If 2022 = Bramley-Moore, I hope the next manager is a top one, and is agreed BEFORE the season ends.
Peter Larkin
58
Posted 14/01/2018 at 09:04:16
Said it in the pre-match build up, we would lose by 3, turned out it should've been 10!!!
The major major problem with this team is the centre midfield. They don't protect the defenders and they don't create or do anything on the ball apart from sideways backwards passing. Watching Dembele for Spurs was a joy, takes the ball under pressure, strong as an ox, never loses it and always looks for the forward pass!!!
While Gana is decent at winning the ball back, he has doesn't track runners or sniff the danger in the box. We need a general in there, someone who we trust on the ball and doesn't hide!!!
As for Big Sam saying "we need to be more boring" that might work at stoke mate but not Everton. Like the posters above stated, get 40 points, fuck Sam off, and start again.
Tony Abrahams
59
Posted 14/01/2018 at 09:05:10
Pick the right team, we probably would have lost, so if you pick the wrong team, then it's going to be nailed on.
Agree with everyone that says Walsh, has to go, because we look like we have got half a team, at the minute, and only the goalkeeper looks good enough out of all our signings since he came to the club?
Tosun looks like he could be a good signing, but he was available in the summer, so I don't reckon he's got much to do with Walsh, especially considering Allardyce recommended him to Palace, and Everton, never signed a centre forward this summer.
Kenny, had his hardest match and found it so much harder against the clever Son, especially without Lennon, getting back to help him, and Cucu, looked more like Coco, so although it's frustrating to hear, and also not the Everton way, I can actually understand what Allardyce meant?
In saying that though, I'm not sure he could have done that much different IMO, played Vlassic, Lookman, or Lennon, out wide, and pushed Sigurdson inside definitely, but that would have meant dropping Rooney, but for all failings now, at least he's one of the few who doesn't throw the towel in.
The players have threw the towel in at Everton for years now though, so it's up to Allardyce to change it, which is the hardest job of all?
Jim Bennings
60
Posted 14/01/2018 at 09:08:32
Oliver
I totally agree with you mate on that.
I've said for ages about the lack of varying product in the Academy but I'm always shot down by those apparently "in the know" about our youngsters.
But I've seen enough of our young lads to know we can't put all our faith in the youth and expect to be any further down the line in 5 years than we are now.
No Calvert-Lewin will not become Harry Kane, Kenny will not become the next Kyle Walker and Davies is not this "energetic build a team around him player" that many will have you believe.
Why do none of the youngsters we produce ever look lightening quick or strong and hard to knock off the ball, or have a particularly intelligent football brain and find a pass?
As you say Oliver, they all appear as Jordan Henderson clone-type players.
We don't produce young players that can run confidently with the ball at their feet , they look scared to take on responsibility, nothing we have produced recently has made me sit up and take real notice that we have the next Rooney or Gerrard or Lampard, just decent "move the ball on to the next man" kids.
Andrew Clare
61
Posted 14/01/2018 at 09:24:18
Oliver Brunel
62
Posted 14/01/2018 at 09:24:19
Jim, I think they are poorly coached. They are told to pass the ball rather than beat players or go 'on a run' as we used to say. I know people will say oh the games moved on, you are old fashioned etc.
Granted but it's a peculiar problem to England. Southgate and this generation of dullards don't encourage individuality, the maverick, the eccentric. It's why we have to buy foreign players.
It's a scandal that a city like Liverpool, footie mad, cant produce a crop of excellent players. Is it something in British culture, the nanny state, health and safety taking the spontaneity and toughness out of the kids?
I wonder how far George Best would have got at Finch Farm? Or Duncan McKenzie, or Rooney – you get my point.
Ian Bennett
63
Posted 14/01/2018 at 09:40:35
A terrible defensive performance. Martina was awful at left back and was clearly targeted throughout the game. Why is Garbutt still not registered or Galloway recalled? It is like playing with 10 men with zip on the left side. I don't even understand playing Bolasie on the right.
Jagielka was badly out of position for at least two, and Kenny has to work harder to stop the cross on his side. Holgate did put in some good recovery tackles, but I think he's struggling too.
Absolute nothing from midfield. Just punt it aimlessly up the pitch, and get set for the next phase of defending seems to be the scale of the ambition. No pace, and absolutely no fight. Moyes got criticised for playing away, but that was pure surrender. Not even a shot on target for the umpteenth game is just embarrassing – again.
Get to 40 points and get planning for next season without Sam, Steve Walsh and a good stack of these players. Next season cannot be the same.
John McGimpsey
64
Posted 14/01/2018 at 09:50:07
No coincidence that the bad run comes from the return of Bolasie. Check stats before he came, while he played till his injury, after the injury and his return. Even a glimmer of hope in the early Big Sam games disappeared when he was appeased and given a shirt.
Or maybe a jinx. Mick Lyons, proper blue, played for years and we were shite. He leaves and bang we win again.
Si Miles
65
Posted 14/01/2018 at 09:54:49
Oliver @54
You are spot on in your assessment of the club, and unfortunately about the players being produced by Finch Farm.
I'm definitely not a fan of our current manager, but no blame can be laid at his feet.
These are a team of professionals who in some cases have the ability but no desire, or way out of their depth youngsters being thrown to the wolves.
Unfortunately we happen to support a club that is only concerned with surviving and clouding the truth with well rehearsed blurb.
Ian Burns
66
Posted 14/01/2018 at 10:09:11
The players gave up because they are playing for a boring out of date manager, employing out of date tactics who works for an out of touch and out of date board overseeing our great club.
It is screaming obvious we need a top left back; a midfielder with guile; a centre back who cares – I could go on and on – oh and a manager who knows what his team is supposed to do when we occasionally get over the half way line.
I can't even watch a game on television these days as I am jealous of their supporters! Crikey – David Moyes has even got West Ham playing!!
Lousy weekend, I am going for a long walk on the beach.
Bobby Thomas
67
Posted 14/01/2018 at 10:12:03
To be fair to Allardyce, I thought he went quite open today for the personnel we have. However, the largely dreadful recruitment of the last 18 months/couple of years was shown for what it was there, and if they shell another £20 odd million and £140k a week to add to that in the shape of 28-/29-year-old Walcott on a long term deal then they are mental.
Sigurdsson is a nice tidy footballer, but he is slow, lacks physically, and is ponderous and the wrong age. Yesterday and at Southampton, just two examples, where he was physically unable to do the role asked of him defensively on the left. Yes, I know, why play him there then? Its the same with Rooney these days, slow and immobile. Its going to be hard work for any striker away from home, as we have no mobility in central attacking areas and there is no one that gets alongside or beyond the striker. There's no running power, mobility, or verve.
Think of players like Lanzini, Mahrez, Willian, Erikson and Son. Mobile players that are flexible, play all across, provide options and zest. We have nothing like this. There is a lack of physicality and athleticism in the side that runs right through the core of it, and down the left hand side.
I thought Bolasie was atrocious and deserved hooking, however he is just coming back from injury that and may have been a bit much from him after Anfield. But being honest, that kind of thing is sometimes what you are going to get from him as he is up and down, flakey and we over paid big time for a show pony in his late 20's who's end product is and always will be questionable. The reason he bought Lennon on, Steve Harris (1), is that we were getting killed down that side and Kenny needed some protection.
The squad is frankly a mess. Do not add Walcott to it. We have enough wide players. Plenty. They are not ideal, but we have plenty. To get something resembling a balanced squad, signing priorities in the summer should be:
1) absolute necessity of a left back;
2) absolute necessity of a quick, strong, aggressive center back that would enable us to play higher up the pitch and squeeze the play, if we wanted;
3) a flexible, ball playing, mobile midfielder or two that can play all across mid, control the tempo and provide options and different ways of playing;
4) a striker with genuine pace and physicality; and
5) maybe a defensive midfielder that can add strength, physicality and mobility to a weak and supine defensive midfield, although McCarthy has provided a bit of snap.
This side is weak, slow, ponderous, and lacks tenacity. It plays and smells like an old side, going nowhere. Despite some of the youth in it.
The board should leave any business for now and wait until the summer, especially when 8th to 12th beckons, and there appears to be a lack of clarity about the managers position, long term.
On the up-side, Tosun looks a player.
John Davies
68
Posted 14/01/2018 at 10:19:50
So now our so called manager says we're going to have to be more boring. Jesus H Christ, what the fuck is he going to serve up next?
The players are a disgrace, of that there is no doubt, but to come out with drivel like that for all Evertonians to hear?
Fuck off Allardyce. Just go.
Jerome Shields
69
Posted 14/01/2018 at 10:23:20
The contrast in Unsworth's concern and urgency and Allardyce's blasé game response shows me what a mistake it was to appoint Allardyce as Manager. His attitude it to give the impression that he knows what's wrong and can sort it out.
Allardyce selected, trained, organised and decided the tactics for this game. The players' individual and team performance was determined by this. They where set up by Allardyce to be totally out-played.
After the last 4 games, he should be in line for the sack. Definitely not worth the money he is getting. Another mistake by the Everton Board.
Andy Williams
70
Posted 14/01/2018 at 10:24:20
I just think that it's written into every Everton manager's contract that they absolutely must, no questions asked, put out a team with at least 2 defensive midfielders, and at least 2players out of position, and never,ever, unless the clock has passed the 75 minutes mark play 2 wingers or 2 strikers.
Steve Brown
71
Posted 14/01/2018 at 10:35:23
Roman 42, good point. Size, pace, athleticism, courage and heart greater than the size of a pea.
Joe Foster
72
Posted 14/01/2018 at 10:35:50
Ultimately we are shit. Shite players, shite managers and shite board. I blame myself for watching this shite.
Garry Martin
73
Posted 14/01/2018 at 10:36:17
It's very clear to me now, I've been trying to understand were we have been going wrong for the last 2 to 3 years, one week it's this the next week it's that etc etc. It really can be stressful being an EFC fan.
My conclusions are very simple really, we have a squad of players who unfortunately are simply not up to the task, they are mostly League One or Championship standard players, which, we paid "big bucks" for.
We will need to try and escape relegation this season & build in the Summer break, that will involve a massive clear out & the introduction of a mixed bag of new buys & our own young talent. The big question for me now is who should be at the helm – that's a massive question... any suggestions?
Brent Stephens
74
Posted 14/01/2018 at 10:41:18
The outfield players in our squad whose consistent level of performance would guarantee them a starting place in the 4 teams above us (Leicester, Burnley, Arsenal, Spurs) are...?
I can't name one, and who they would replace in any of those 4 teams.
Amit Vithlani
75
Posted 14/01/2018 at 10:49:26
Colin @ 50
"Amit, when the majority shareholder publicly admits that he doesn't expect to win these type of games he's giving his manager a free pass."
I am not entirely sure why you have aimed this comment at me, but I will take the opportunity to respond with my take on this whole stinking affair.
1. Moshiri has demonstrated Bill-like hyperbole when he has spoken/and must get a grip of his PR. Add a tragic approach to the football organisation and you have a man who must sort out his act in one crucial aspect of his role.
2. In another crucial aspect, the business and financing side of things, to date nobody can accuse of him of anything except giving the club the best possible financial platform to succeed. It is possible to be good at one thing and terrible at another.
3. Kenwright, Elstone and in particular Walsh are in my mind undeniably the corrossive influence on Moshiri on football matters. It is clear Moshiri and his own team understand business and finance better than any of these characters and as a result we are seeing the two halves perform very differently.
4. I also say this by looking back at Moshiri's statements when he first joined the club. He arrived from Arsenal and openly spoke of challenging the top 4. Two years in Bill's company and top 6 was the ceiling with a gimme attitude to away days at the bigger sides. I don't think it is a coincidence.
5. The stats back up the problem. One win in 44 against the current top 6 is a run that stretches before Moshiri's arrival. No wins at Anfield since 1999 is a run that stretches the entire Bill Kenwright era.
6. Kenwright is a theatre impressario. This is a fact. He has done a good job of giving the impression he knows about top level football but he doesn't. We know he has great influence at the club and indeed spoke to Unsworth regularly.
7. I don't know what the terms of Kenwright's chairmanship are. But the best investment Moshiri could possibly make is to pay him off and get him out of the way, clearing out his cronies. Put in his place a professional board of people with experience in running football clubs and appointing the right managers and behaving in the right way (ie not interfering in a day to day as Kenwright appeared to be doing with Unsworth).

Throw brickbats at Moshiri for sure for his muppet statements, but don't forget that old Bill still lurks like a leech in the background, having overseen two decades of decay.
Steve Harris
78
Posted 14/01/2018 at 11:00:24
It really defies all logic that a left back wasn't lined up and ready to sign on 1 January since it's been fucking obvious for months that Baines is finished and Martina is a shit right back, never mind a left back!
Lookman made all the difference when he came on against the shite which should of merited starting yesterday or at least another chance from the bench, especially at two- or three-nil down, but he'd rather persist with an embarrassingly unfit Bolasie and bring Schneiderlin on to try and keep the score down to four instead of five or six!!!!
How can you get excited to watch a team that never ever looks like scoring? After his cringe worthy comments about having to be more boring in future, despite being totally shot shy again, I'm really looking forward to going to the West Brom game next week!!
Rick Pattinson
79
Posted 14/01/2018 at 11:03:54
Fellaini has now been linked with West ham... I'd suggest battling to get him in. Someone with fight who can break down play and help keep possession. FFS just get him in.
Dale Rose
80
Posted 14/01/2018 at 11:04:02
This was a dire performance. The club needs a major clear out.
On their day, this club could best anyone. There was always a chance of an upset. These days we seem to be fodder for anyone. The frightening thing is that the club's below us are playing attacking football. They might not be winning consistently, but they are going for it.
There is no doubt that this season we are going to be in the fight of our lives to stay up. I can't see us beating any of the teams above us and don't see that we have any games that are anywhere near certain.
We are looking like Villa a couple of seasons ago when they capitulated just after Christmas.
I don't think it's down to the manager, it's just the general team performance that is poor. The team with a few exceptions lack heart and character.
Dogs of War... more like Mutts of Monotony.

Jim Bennings
81
Posted 14/01/2018 at 11:09:51
Allardyce has come out with the news that Klaassen has no future or place in the team at Everton and likely to leave this month, yet he's happy to persist with Schneiderlin and other midfielders that offer little more?
Also rumoured that Moyes wants Tom Davies at West Ham. If I were Davies, I'd consider the move, if you want to progress as a footballer maybe West Ham look like they use the ball more than Everton are going to?
A football appears to be a very alien object that's is barely used at Everton these days.
Paul Wyndham
82
Posted 14/01/2018 at 11:14:14
The lack of guts and commitment from these players just sickens me; no heart, no pride. There are better players in the Championship!
It's going to take years to address this rot,in my opinion we need to get shut of: Robles, Martina, Baines, Jagielka, Williams, Funes Mori, Besic, McCarthy, Schneiderlin, Rooney, Lennon, Klaassen, Bolasie, Niasse, & Gueye.
How are we supposed to retain our Top Flight status while trying to replace that lot of average, below-average and over-the-hill players? It is going to cost a fortune.
I would also like to see the back of Kenwright, Woods, Elstone, Denise Barrett-Baxendale, Dr Keith Harris & Steve Walsh.
Everton FC 2018 – Not Fit for Purpose; a drop to the Championship is inevitable!
Jonny Flynn
83
Posted 14/01/2018 at 11:14:47
When was the last time we beat a top team? Same old story: concede and collapse. As people have said, how can you play with a left-back who, every time he gets the ball, stops, looks back, and plays the ball square or backwards? Christy Brown would be an improvement.
How have we not had a left back lined up for the last few months? It's not rocket science – play players in their best positions. Try Klaassen next week – surely he could play a forward pass or two. If we get any more negative, we will start shooting at our own goal.
Adam Scott
84
Posted 14/01/2018 at 11:18:15
Christine (#23) and Bobby (#66) pretty much sum up my views. What a mess we have become. How we are top half is a sad, sad indictment of the English league as well.
We normally have one or two game(s) a season where we are totally embarrassed. Normally against Liverpool. We are on two hands this season and it is only January.
My view is this:
1) The left back situation is absolutely farcical. Why, by 13 January we have not registered Garbutt is beyond me. Just utter stupidity. Isn't a long term solution, but it is clear as day that Martina has no left foot and can't play the position. It crucifies our attack.
2) Why the board have allowed previous managers to stock substandard defensive midfielders is criminal. McCarthy and Schneiderlin irritate the life out of me. Both look like they don't want to be there. Hang around playing sideways passes generally doing very little whilst the game passes them by. Surely anyone can see that.
3) Allardyce. Clear as day now I think that he has to go with our best wishes in the summer. He has neither the time, nor ability to revolutionise the squad. He will be functional in keeping us up. That is where it ends. I wonder whether it is sensible really to be throwing serious coin at Walcott now.
What I would do I think is the following:
4) Buy a left back now. Not daft money, but someone who at least can balance our team out a bit.
5) Look to sell the following now or in the summer: Schneiderlin, McCarthy, Jagielka, Williams, Lennon, Klaassen, Niasse, Martina
6) Make overtures to Tuchel. A manager who has the strength of personality, age and experience to change the fabric of the football club. We need a Klopp. Someone to instill a way of playing, a culture. Let him and a team identify some midfielders as stated previously who have the skill and footballing ability to play across the middle, in that Lanzini, Lallana, Son mould.
We have to draw a line under Everton post Martinez's first season now.
Jay Griffiths
85
Posted 14/01/2018 at 11:23:51
I watched as hoardes of blues marched out the ground on 59 mins. We, as die-hard masochists, lasted til 65!
I thought Sam made a mistake playing Rooney in such a dynamic game. Bolasie too. He's like a Dr Frankenstein creation. His feet have been sewn on but they're not connected to a processing system.
Tosun was deep ended in my opinion. All said, there's no way we win that game regardless of opinions. They did to us what they did to the shite. Ran over us.
All this, "the game was crying out for a Vlasic or a Lookman" is nonsense. We were second best everywhere. They did us 0-3 at our gaff with consummate ease. What's changed in the personnel since?
We need a proper dead wood clear out. Starting with the backline. I revert back to my lifeboat analogy for Sam. Get us safe then walk the plank.
George McKane
86
Posted 14/01/2018 at 11:46:04
Yet again the past few weeks have been dreadful and fill us Loyal Evertonians full of fear and anxiety. we all have our opinions and indeed that is all these posts are –nothing said on TW will ever make The Owners of Everton nor The Manager nor The Players do or think in any different way. Our Lives as Blues will just drag on.
We need a serious and complete revolution at this Club but sadly I do not see it ever happening. The Club is run as a plaything for one owner and a business model for the other.
I am reading "Faith Of Our Fathers" at the moment: Page 103 – Quote from Joe Royle "Alan was great , lively, noisy; most of the time a bundle of fun, a great guy. A terrible loser, as poor a loser as you will ever see, sometimes on the odd occasion when we lost he would be crying, throwing his boots around the dressing room, an awful loser."
Just cannot see anyone of this type at our Club anymore – not sure if this is an Everton thing or just the way football is nowadays. I keep waiting for "the turning point"– the moment of change,– a player, a goal, a tackle a manager, a signing.
What saddened me yesterday was the seemingly complete lack of passion and feeling for the Club, Result, Fans – or even "self-esteem". I wrote weeks ago and it is a common thread in many posters – we desperately need some major psychological surgery .
For me, I believe that to start again anew, which I believe we need to – you have to first destroy the old model; that takes courage and self belief and confidence, none of which we seemingly have.
Like most on here, I will continue to go the game and watch Everton, but sadly I think we are consistently one of the poorest football playing teams in the League – there is something wrong here and I believe we need a "team" to come in and analyse the situation and make decisive comments that someone at The Club will act upon.
And then I woke up!
Please Everton Be Brave.
Minik Hansen
87
Posted 14/01/2018 at 11:50:18
I wish Sam would've looked much happier, when we thought we scored. Sitting, looking calm and all.
Dave Williams
88
Posted 14/01/2018 at 11:56:18
It really is quite simple – play people in their proper position and only if they are fit enough to play.
Yesterday we had Rooney, Sigurdsson and Martina playing out of position and McCarthy and Bolasie not fit yet. That's half the outfield team against probably the second best team in the division.
As someone else said above – think it was Rob – Kenny was playing well with Lennon in front of him for support. Giving him a nowhere near fit Bolasie instead exposes him dreadfully and Son had a field day wide left for them.
The left side is so poor as to be unbelievable- a reserve right back who can't kick with his left (he tries though) "protected" by a number 10 who isn't naturally left footed. How did we go from Baines & Pienaar to this?
A central midfield of McCarthy who isn't yet fit and the diminutive Gueye versus the huge Dembele and Dier was like putting Amir Khan in against Anthony Joshua. Okay, good little players could skip around them but we don't have any skilful, nippy players in midfield unless that is what Siggy really does if he is played there.
Not all of this is Sams fault of course and I am still waiting to hear on the grapevine somewhere just who was responsible for the shambles of the last transfer window, the overloading of No 10s and the failure to instead get a left back, centre half and centre forward.
This is where the blame lies – the money was there and was spent but why was it all spent on Number 10s? Okay, I know we got Pickford and Keane but someone was responsible for this and if it was just Koeman then tell us. Walsh seems to be doing very little to address the problem areas to me.
I go back to 1963 as a fan and whilst I can certainly recall less talented teams (1971-73 and Kendall Mk 2 and 3) the application, spirit and sheer bloody-minded guts and desire to play for the club is the worst now that I can recall. There is no one on the pitch to rally the team – Rooney just looks pissed off and tries to get sent off – and at least with the likes of Tom and Calvert-Lewin on the pitch we show some desire.
Sam really has to start to earn his money again this week or we could yet slip back into trouble.
I wish I could say what others have and that I don't care any more but it's been in my blood for 55 years now and I do care more than ever.
Oliver Brunel
89
Posted 14/01/2018 at 12:00:52
I agree with Adam (#84). We need to revolutionise the club with an ambitious, tough manager with an eye for a good signing. Our transfer dealings are suspicious to say the least.
We need a new culture, a root and branch clear out from Finch Farm to Kenwright and Elstone and let Moshiri and Co get a proper football culture in. Go and study the Italian academies or the Spanish ones. How do they get young players with confidence and verve?
Stop coaching robots. But in the meantime we need to buy quality. Why do we never spot a Salah or a Coutinho but one dimensional carthorses like Gueye and Sigurdsson?
Walsh has been catastrophic. Anybody on ToffeeWeb could have targetted more useful signings considering the budget he had. Barkley sold for a cut price £15m?! Where's the Mahrez or Vardy?
James Marshall
90
Posted 14/01/2018 at 12:02:44
It may seem defeatest, but you could tell we were going to get thumped yesterday as soon as they scored their first.
When we go a goal down there's zero reaction from our players, and the glaringly obvious threat of Aurier down their right was not addressed from minute 1.
Where we were sat by the corner flag he was in acres of space for the entire first half, and it didn't change in the second either. Martina is shit, powderpuff, useless, and Sigurdsson is a fish out of water on the left having to spend his entire time defending – he tries to do too much and gets dragged inside, which guess what? Is where he should be playing anyway.
Sigurdsson is no more a wide player than Jordan Pickford is a striker, and it's a complete waste of his ability to have him out there. He's industrious and has quality on the ball, but he has to be central where he can be effective.
If you're going to play someone out of position, make it Rooney, because Sigurdsson has the legs on him, and can get around midfield WAY more than Wayne can these days.
You either play Sigurdsson centrally or you don't have him & Rooney in the same team. Simple.
This team lacks pace, plain & simple. Spurs were way quicker, way stronger and more athletic than us and it really showed in every department.
James Marshall
91
Posted 14/01/2018 at 12:05:55
Oh and I've never seen him play live before, but Dembele is a monster – big, strong, quick, turns on a sixpence and looks class in the flesh.
I never realised what a good player he is – or how massive he is. A big strong giant of a midfielder – we could really do with a player like him. The way he compliments Alli, Son & Eriksen gives their midfield the balance we simply do not have.
I like Gueye, and McCarthy, but they were chasing shadows yesterday.
David Pearl
92
Posted 14/01/2018 at 12:11:03
Amit. Isn't it funny that every single person or ex pro that's actually connected to the club has only good things to say about Kenwright but you must know better.
Obvious mistakes are Walsh and the sacking of Martinez to completely change the way we play. If we have the ball the opposition don't. If we changed manager then we should of bought in a similar coach.
How we mis-shaped the squad to include only 2 left footed players (that are both injured). Keane, Klaassen, Sandro, Bolasie, Schneiderlin the list of shite we have paid over the odds for goes on and on.
Andrew Keatley
93
Posted 14/01/2018 at 12:11:41
There are problems on and off the pitch, and it feels like a major clear-out is required.
I cannot claim to know much about the off-pitch goings-on, but on the pitch it looks to me like the players are on damage-limitation duty from start to finish, and it's a disease that is crippling the squad.
The Spurs players believe in one another; they understand one another, make runs for one another, cover for one another, and want to win for one another. We have so little of that that it's almost as if have none whatsoever.
Brian Harrison
94
Posted 14/01/2018 at 12:16:53
For those who suggested that after a few games Allardyce had got us organised were deluding themselves. What he did was make us ultra negative playing 10 men behind the ball and in most of his games we had the luck was with us. Apart from Barry, Lukaku and Barkley this is with a few additions the same team that comfortably finished 7th last year. had no difficulty having shots on goal and usually beating teams below us. When we made the signings in the summer I didn't hear too many voices saying any shouldn't have been bought with the exception of Martina.
We have now become a side that is struggling to muster a shot on target, and while the players must accept responsibility for this its the manager who sets the tone for how the team play. When I look across at the other lot they have had Milner, Caen, Winadljan and Henderson in midfield, hardly exciting players at best. They bought Salah for £10 million less than we paid for Sigurdsson, yet apart from City are probably the best attacking team in the country. When you look at the money that Moshiri has allowed Koeman and now Allardyce to spend I think any criticism of him is very harsh.
No doubt Moshiri looked at how Leicester won the league and thought well if I get the guy who publicly told us that he was the king maker at Leicester. Then if I appoint him I will be getting his gift for spotting talent, who then is part of the team that sold Lukaku without getting a replacement and didn't think a quality left back to challenge Baines wasn't a priority. What you can ask questions of Moshiri was when you sacked Koeman why didn't you have the man you wanted lined up. So you panicked and brought in the man who always keeps teams up. Who is playing the brand of football he has always played.
So Finally Mr Moshiri I hope you sack Allardyce but before you do go and ask Guardiola who he would recommend we sign as the next manager to play in the style that he and Klopp play.

Jim Bennings
95
Posted 14/01/2018 at 12:18:19
The reason we never spot a quality player Oliver is because Steve Walsh is shit, living off a reputation for one good year he had.
He's nothing more than a glorified Phileas Fogg.
Amit Vithlani
96
Posted 14/01/2018 at 12:42:57
David @ 92
"Amit. Isn't it funny that every single person or ex pro that's actually connected to the club has only good things to say about Kenwright but you must know better. "
No I don't know better and neither do you. The ex-pros connected with the club you speak of may have their own nests to feather, and crossing swords with Bill may not be a good idea. Are you certain they all speak from concrete and impartial knowledge?
Meanwhile, what do you see as the root of the problem, David? Do you think Moshiri is to blame for 23 years of no trophies which has inculcated a culture of complacency and lax expectations? Of a poor streak against the RS that stretches back almost two decades? Of repeated capitulations against the top 6 in away games in the last few years?
Moshiri has certainly done some brain dead things and it would be good to pinpoint this.
But the facts speak for themselves. Prior to Moshiri's arrival the business side and finance side of the club was a mess. This has improved as old Bill is not running the tiller. Moshiri has taken full responsibility for the club's finances and we are in a better place for it.
The football side is still a mess; no doubt Farhad is out of his depth. But as long as Kenwright is still involved, the man writing the cheques has no way of correcting the current mess.
I hope the day comes that we do get to see how we would do as a club without Kenwright. I suspect we may surprise a few people, including these ex pros who may be worried that their seat on the gravy train would be lost with old Bill's departure.
David Pearl
97
Posted 14/01/2018 at 12:43:58
Hmm... that's an idea. Why don't we send Walsh around the world. On foot.
Nitesh Kanchan
98
Posted 14/01/2018 at 13:03:18
Allardyce is quite right here saying exactly what went wrong yesterday. I said in my last post a few days back exactly what we needed to get a perfect team combination with youngsters and that lack of combination was quite evident last night. If we are playing two young players in the defence the other two should be the ones in their prime.
Jagielka's prime time is over, we needed someone in their prime who managed their best player i.e. Kane, but he was nowhere to be seen for his two goals and wanted young Holgate to mark their top player. The other defensive player being Martina, who is playing out of his position, so needed protection and certainly not a big primetime player I am talking about. So that is it, no players in their prime at the back what can we expect then? Certainly not a expansive style of football we all desire and want Big Sam to deliver. All four of them need protection at some point and can't do it on their own.
The other area being midfield; now this is where game is controlled,here we need all players in their prime – we got Rooney who is past his prime who will show only glimpses of his prime time form but will fade away game after game, Sigurdsson and Macca are only two if played in their proper position can deliver but we need one more with more pace than the other two who can quickly link up with the forward. Kind of Barkley, Mahrez, Lanzini, Silva, Mata, Ozil type midfielder who can carry the ball forward and make one twos with forward telepathically or hold it and distribute it to the wings after they make the runs. Schneiderlin is awful and Gana,particularly yesterday was the worst player and did absolutely nothing to mark their best CAM Son out of the game or protect the full backs.
Now considering the state of the back line, we need wingers who not only go forward but need to also protect the fullbacks so certainly again we need players in their prime who can do dual jobs and we only got Bolasie who can only go forward and need time now to get going after a big injury and Lennon who can protect Kenny but can't do much going forward. Vlasic and Lookman are young and will make mistakes offensively or defensively, so unless we get those two prime players at the back, we can't have wingers namely Vlasic and Lookman, who play more in the front than at the back.
So that leaves us with a striker who always has to fall back for even touching the ball and take on their entire defence with no service whatsoever as the wingers are isolated and no ball carrying midfielder to link with or to get service. Yesterday there was no protection for the full backs and Spurs exploited wide areas more than centrally and that resulted in capitulation. I don't mind if Moshiri delays the stadium plans but he needs to invest in the team and get it right first with all right players in with the right attributes. That last transfer window was an absolute debacle.
Bobby Thomas
99
Posted 14/01/2018 at 13:09:10
James #91
Every current or recently former Prem player I have heard talk about Dembele absolutely loves him. They all say he is either the best, or one of the best, midfielders in the league and perpetually mention how incredibly strong he is and how it is impossible to knock him off the ball, or get the ball off him in general.
Again, we have nothing like this. Or Wanyama. We lack quality on the ball (all of them), and are undersize (Gana, who's pressing I do like), and weak and immobile (Schneiderlin) in this area. The character and personality of many signings appears to be suspect as well.
Our transfer policy has been a joke for 4 years and we have blown tens and tens of millions of pounds.
John Keating
100
Posted 14/01/2018 at 13:12:19
Christine 23 Spot on. The squad as a whole are just not good enough at this level. It doesn't matter what 11 start and in system they just are not good enough.
Since the last few seasons under Moyes we have not strengthened or bought well at the right times. We are now being found out big time.
Allardyce's only remit this season is to keep us up and if that means shit football so be it. I just hope we can get these arseholes up for the West Brom game.
Mark Fitzgerald
101
Posted 14/01/2018 at 13:22:21
Adam@84 spot on comments.

Paul Birmingham
102
Posted 14/01/2018 at 13:43:49
Jim @81, I agree 100%:, a very truthful assessment. I'm starting to think what happens at Finch Farm each day. I'm starting to think this is the worst season I've known and there's been plenty the last 50 years.
Matthew Williams
103
Posted 14/01/2018 at 13:46:42
E.F.C 2018/2019
Pickford
Patterson (Cardiff),Keane,Mee (Burnley),Tierney (Celtic).
Lookman,Mooy (Huddersfield),Pearson (Preston),Reach (Sheff.Wed).
Son (Spurs),Tosun.
Looks good to me...a fucking TEAM !!!.
Eugene Ruane
104
Posted 14/01/2018 at 13:48:13
I offer no solutions, just observations.
Right now, here's our (ie: Everton Football Club's) choices.
There are, in reality, ONLY two options.
First choice: To continue as we are now.
Which is basically the club (manager, players, chairman/owner etc) really, really REALLY hoping we win games.
This I'll call the wishful-thinking choice.
Wishful thinking because the present team/squad/manager don't have the required touch, or pace, or brains, or physical capability to compete with sides other than the very worst (and no guarantees there either).
I might add that arguing about one player playing rather than another, or substituting this player for that is, imo, being blind to our problems.
So, with this particular choice, with these players, in a season in which we had a big load of luck, we could (possibly, theoretically, technically) get a Europa spot.
In a season when luck (nb: I know it's not luck) is against us, we could be fighting relegation (and lose).
With our current staff, that I believe is the best and worst of what the first choice offers.
(last year we managed our 'best', this year…etc.)
Second choice: Well before stating what I believe that second choice is, you have to decide what would make you a happy Evertonian.
"A Champions League win!"
Well..ok but REALISTICALLY what would make you happy?
"Realistically? To be able to genuinely compete in the league we play in. To be able to go to Spurs and not see odds of 2/7 on them. To get an occasional win against Liverpool. To be fairly confident of winning most home games. To understand we only realistically have a chance of seriously competing for two trophies and so giving those competitions a real go."
Seem fair enough?
Well then the second choice, right now, is spending a fucking incredible amount of money.
"But we've already spent.."
No we haven't.
Because what we lack - pace, touch, brains, physical strength, desire - in today's market, costs a truly fucking ludicrous amount of money.
This next comment is NOT meant as a dig, simply an example of what I mean -
Bolasie cost us £25 and would almost certainly not get near City/Utd/Liverpool/Spurs/Arsenal.
So there it is, a simple choice, two options.
1) Wishful thinking (ie: where we are now)
2) Spend and spend fucking big - top manager, top players, top wages (hate writing 'top' but at least I didn't right 'top top').
My guess is we'll go with (ie: continue with) the first option (the 'realistic' one).
Nigel Munford
105
Posted 14/01/2018 at 13:58:04
The players did it Martinez, the players did it to Koeman and now they are doing it Allardyce, surely three managers can't get it wrong??? The players seem to control things and when things don't go the way they are want they down tools.
John Keating
106
Posted 14/01/2018 at 14:00:55
Eugene i'm afraid I have to agree with you
The sad thing is you may be posting exactly the same thing this time next season
All this shit about subbing him for him and starting him instead of him is just nonsense. We are a shit squad
Brent Stephens
107
Posted 14/01/2018 at 14:09:43
Eugene #104, I think that is a reasonable outline of those two options. My guess is also that we'll continue, at least until the end of this season, with the first choice - continuing with Sam.
Which raises the question about the second choice, spending big - when does that kick in? For, surely at some point, we need to be spending more, and more wisely, than recent signings.
The danger is that under Sam we buy Sam-type players; so I hope we spend little this transfer window, avoid relegation, ditch Sam once safe (which might, therefore, be before season's end), bring in the type of manager we want for the type of play we want, and push the financial boat out big time in summer.
Of course, I recognise the problem of attracting the calibre of player we really want - but that will be a problem whichever way we jump on those two options.
Final thought - does, or should, Moshiri have a panel of the good and the wise advising him on managerial appointments and player transfers? Who would be on that panel (other than TW posters!)?
Soren Moyer
108
Posted 14/01/2018 at 14:13:50
Unless we get rid of BK, this is how its gonna be season in, season out!
James Marshall
109
Posted 14/01/2018 at 14:15:05
We're a team of weaklings - yesterday showed that in spades. We have no strength or toughness, physically or mentally. Our players look like children playing against boys 5 years older than them.
Our midfield really needs beefing up badly, and so does our defence.
Tosun got stuck into them a little bit, and while I don't subscribe to the old English 'up & at em' brand of football, we do lack physicality and the desire to win the ball, let alone win matches.
Someone above alluded to our recruitment, and about having not bought players with the right character and that's absolutely bang-on the money. Our players don't have the balls for the fight, nor do they have the physical strength to match it.
Rooney is a powerful bloke, but he can't catch up with players these days, even though he tries to put his foot in. Who else does it? McCarthy maybe? Gana? He does but he's a tiny little fella and doesn't boss the midfield - where's our enforcer? Where's our Dembele?
I honestly can't pick a midfield player in our squad with the toughness and footballing ability to get a game by the scruff of the neck on any level. This (and zero pace) is a big part of our problem in my view.
Barry Williams
110
Posted 14/01/2018 at 14:24:22
I am glad Allardyce came out and said what a lot of fans have been saying many times this season.
However, tactics aside, one thing that has struck me this season is how nonphysical and slow our team look. The lack of pace has been mentioned, but we don't look a physically strong team. Even the tall players seem overly lean, Schneiderlin, Sigurdsson, Calvert-Lewin and Holgate. They are not a physical presence.Our back line looks quite short in relation to other teams' back lines and strikers, particularity noticeable when it comes to corners. The midfield yesterday had Rooney, Gueye and McCarthy in it, no physically imposing players whatsoever, and that is the engine room. Kenny is short (he has done well) and so is Baines. Now, I am not advocating a team of musclebound 7 foot tall grocks, but we certainly need more physicality in my opinion, especially as we lack pace. This goes back to the age old issue of the imbalance of the squad. We don't have enough physical players, we don't have enough fast players, so team like Spurs just seem to waltz through us!
A real redressing of the squad needed, attitude wise too!
Barry Williams
111
Posted 14/01/2018 at 14:25:18
James Marshall - 109
My word James, we must have been thinking the same thing at the same time! Just beat me to it!
Richard Lyons
112
Posted 14/01/2018 at 14:27:49
Eugene #104... Your answer to the "realistically what would make you happy" question: well, we had precisely that with David Moyes and no money for years. We used to beat Spurs every year, we regularly beat Chelsea and both Manchesters, we even occasionally beat the RS.
Did we realise then how good we had it? No, we didn't. Well I didn't anyway. I used to moan about the boring, turgid, defensive play etc.
Oh God, what I'd give right now for just a small taste of those days again.
Barry Williams
113
Posted 14/01/2018 at 14:28:03
James Marshall - 109
Uncannily similar!
Len Hawkins
114
Posted 14/01/2018 at 14:29:07
It is mind blowing how this bunch of worthless parasites dictate the success or lack of it by deciding THEY don't want to play for firstly Martinez then Koeman now after a bright start they have reverted to type for Allardyce.
I think the club should release a statement that it is unacceptable and ALL contracted monies will be withheld until they show that they are WORTHY OF and WILLING TO play for Everton Football Club.
The TAIL has been wagging the dog for too long and a stand MUST be made for the future of football in this Country. Players in the main, especially English players, are illiterate morons who could not eat and breathe at the same time if not told how by their agents. The lot of them are stealing money and it has to be stopped.
Personally I would play the kids for the rest of the season and if they go down give them the job of bringing the club back up next season. The imposters who are not interested should be left to rot.

Dave Pritchard
115
Posted 14/01/2018 at 14:30:11
It really is shocking how far we have fallen during this season. It hasn't felt as bad as this since the times of Walter Smith and Howard Kendall's last spell in charge. There needs to be a monumental shift to even get things back on an even keel. Changes to the people managing the club, in every sense, not just the team manager, as well as the need to get rid of so many poor, feckless players who don't deserve to wear the blue shirt.
James Marshall
116
Posted 14/01/2018 at 14:31:09
Haha, Barry, yeah we appear to have posted the same thing at the same time!
Public opinion can't be wrong can it!?
David Pearl
117
Posted 14/01/2018 at 14:31:09
Soren, give it a rest hey.
Nitesh, jag is past his best yes. But he is still, when rested, by far the best CB we have at the club. Which goes to show you how poorly we have bought players since Moyes left,
Howard
Coleman Jags Distin Baines
Arteta Fellaini Pienaar
Cahill
Those 9 players would beat any of our current 11.
I see Bollasie is back to the same form he was in prior to his injury.
We are shit and we need to replace the whole back 4, 2 midfielders and 2 more attackers, a new DOF. A new manager and New pie supplier at the match. Oh and a ready poured pints only hatch so it's not a choice between pint or missing 10 minutes of the game.

Barry Williams
118
Posted 14/01/2018 at 14:34:55
James Marshall - 116
Or great minds and all that!
Don Alexander
119
Posted 14/01/2018 at 14:54:06
Regarding the work going on under Unsworth I can't help but recall a quote from a couple of years ago when one of his young defenders (was it Garbutt? I can't remember) was subject of a brief profile on TW on account of having won an award for outstanding football. The lad understandably gushed about how much he was loving it but then went on only to say how pleased he and everyone at FF were that his pass stats had improved so much, and no more. One of us there and then queried whether that should have been such a thrill to one so young, and I thought this a good point. I still do. Our FF staff seem to annihilate anything daring or, God forbid, risky in favour of pre-programmed drills that in themselves are unlikely to ignite the crowd or trouble the opposition come to that. Being a steady-eddie is all well and good but there surely has to be a place for a maverick or two doesn't there?
Sean Patton
120
Posted 14/01/2018 at 15:11:03
Len
If only that were possible, I do think that as well as the players getting in the neck Walsh should be clearing his desk very soon
Sean Kelly
121
Posted 14/01/2018 at 15:14:36
If there are any dreamers still left on here, please answer this question: Is there any of our current squad that would get in to a top four club?
Our current problems have been the result of constant failure by successive board to properly finance our club. Indeed, when we did get a few quid from Mr Moshiri we were like kids in a sweet shop. Buying any old shit.
We are a dinosaur club with dinosaur mentality tinged with a large dose of sentimentality. Sentiment wins you nothing.

Nitesh Kanchan
122
Posted 14/01/2018 at 15:22:01
David , you won't miss anything for 10 minutes ,shot on target are on premium now a days ,1 in every 4 games(360 min), you can take opposite goalkeeper as well with you.
Jackie Barry
123
Posted 14/01/2018 at 15:27:11
Years of papering over the cracks, this is what it gets you. Still can't believe people want Moyes back just because of a few good results, in my opinion you're part of the problem we see at Everton fc today.
Jackie Barry
124
Posted 14/01/2018 at 15:38:07
We beat both Manchester's, Chelsea, and the RS under Moyes regularly? No we bloody well didn't!
Mark Melton
125
Posted 14/01/2018 at 15:38:34
Over the last five games, we have the worst record of any team in the Premier League, so that in itself is a big worry. We are showing relegation form again.
Paul Smith
126
Posted 14/01/2018 at 15:48:24
150 - 1 to go down lump a fiver on. We are shocking again.
Tom Bowers
127
Posted 14/01/2018 at 16:08:04
So Sam thinks Everton may have to be more boring than they have been.
Is that humanly possible ? In my 60 years as a fan I have never seen so many bad performances by an Everton team in one season.
They have been awful to watch in most games and in some games where they got points they were lucky.
The legacy that Koeman left has not been repaired by Sam so far and seems to be getting worse.
I think most of us were going to see what the transfer window brought but apart from Tosun nothing else is happening.
Walcott will not do the job. It's a driving midfielder and 2 more defenders that are needed.
Come on get a move on you d'heads.
Jim Bennings
129
Posted 14/01/2018 at 17:00:28
Sad isn't it Brent?
When the highlights of the footballing weekend is watching other clubs rather than Everton the club we love.
How I long to see entertainment and thrills and spills at Goodison and a burning desire to win no matter who our opponents are!
James Stewart
130
Posted 14/01/2018 at 17:01:48
Allardyce will do exactly what he always does. Achieve around 40 points and that's it. Not the man to achieve anything more, the sooner he is gone the better. We would have been better off with Moyes if we had wanted this style of manager.
Brent Stephens
131
Posted 14/01/2018 at 17:02:34
We'll get all that in the WBA game, Jim! WBA coming with a few points under their belt and some confidence.
Andrew Clare
132
Posted 14/01/2018 at 17:06:15
We could easily go down. Probably the worst team in the division at the moment.
A third rate team, managed by a third rate manager, over seen by a third rate board.
47 years ago one of the biggest clubs in the land, now just bit part players.
We haven't hired a decent manager since Joe Royle left.
No ambition, no idea and going nowhere.
So disheartening to see our once great club like this.

Winston Williamson
133
Posted 14/01/2018 at 17:36:38
Sam Allardyce isn't and never will be suitable to be Everton manager.
A lot of fans and the club panicked, its as simple as that. Otherwise he'd've never been considered for the position.
The wins at the start were based on the team and tactics Unsworth stumbled upon and as soon as Allardyce changed it we've won fuck all. In fact, we've forgotten how to shoot.
What we're seeing here is a complete lack of planning from our part-time board and full-time Destroyer (Director) of Football. Poor planning of transfers and then a poor succession plan when getting rid of Koeman.
Walsh should've been sacked with Koeman, but it was evident Koeman could not get this team to perform and a replacement should've been lined up before he was sacked.
It's actually disgusting..
Oliver Brunel
134
Posted 14/01/2018 at 17:47:55
Everton Musical Fayre 2018:
Heaven knows I'm miserable now – The Smiths
Don't turn the light on, leave me alone – Can
I ain't got no home – Woody Guthrie
20th Century Schizoid Man – King Crimson
In a Rut – The Ruts
The Revolution Will Not Be Televised – Gill Scott Heron
Who knows where the time goes – Fairport Convention.
Jilted John – Jilted John
I just can't be happy today – The Damned
Dust can't kill me – Woody Guthrie
Dust Peneumonic Blues – Woody Guthrie
Any more for any more...?

Brent Stephens
135
Posted 14/01/2018 at 17:51:20
Garbage - Only When it Rains.
Ian Horan
136
Posted 14/01/2018 at 18:02:50
Moshiri's main move is to appoint David Dein, former Arsenal Chairman, as his proper club consultant. Root and branch review of the club. DD and only DD to advise Moshiri on the next manager. Then appoint DD as chairman for 5 years to implement his findings and control the migration into and establish us in Bramley Moore.
Andrew Clare
137
Posted 14/01/2018 at 18:29:57
Been down so long - The Doors
Roman Sidey
139
Posted 14/01/2018 at 19:11:48
Sam's comments about giving up take on new meaning when reading his comments about Klaassen and Sandro. Specifically regarding Sandro he's said that he has had two or three (games???) and he can't give him more than that because results are what he's going for.
Firstly, the results aren't coming so the players you are selecting aren't getting you your desired outcome. Secondly, giving up on players who have played "two or three" matches is perhaps why the player isn't working out.
John Audsley
140
Posted 14/01/2018 at 19:40:39
Alot of these players have given up for Martinez, Koeman and Unsworth so Sam shouldn't be surprised.
No fucking heart in this squad and for God's sake play Sigurdsson in his proper position.
WBA next so time to show some guts and get the points you set of overpaid bastards.
Terry Underwood
141
Posted 14/01/2018 at 19:41:39
At least he didn't describe our effort as "Phenominal"

Brian Hill
142
Posted 14/01/2018 at 19:47:12
Oliver,
"Is This The Life We Really Want?"
Roger Waters
Will Mabon
144
Posted 14/01/2018 at 21:01:59
"
47 years ago one of the biggest clubs in the land, now just bit part players.
"
30 years ago in fact.
Paul Birmingham
145
Posted 14/01/2018 at 21:18:45
Seems that the club is in a different time zone in regards to training, fitness, guts, passion, stamina and will to win.
Another weekend zapped by our dire show, we are in my view in regression and gonna be touch and go for a relegation scrap.
l think we will be struggling for 40 points at this rate and for the life of me I can't see how EFC will appeal to top class players in this transfer window or the next.
Some how soon the whole psyche of this club must change as this 30 year malaise will become 40 years.
Clive Rogers
146
Posted 14/01/2018 at 21:20:06
Ian, #136, Bramley Moore is becoming less likely to happen by the day.
Tony Abrahams
147
Posted 14/01/2018 at 21:25:06
Four managers some of these players have now downed tools on at some stage in the last 20 months, and still the away section is full every game?
They aren't booing you Roscoe, the fans only boo the managers at Everton. These players have no pride, although some of them will come out in the press this week and tell us this performance wasn't acceptable, and they will put it right next week.
How about reimbursing the fans who travelled to Wembley yesterday, out of their own pay packets, Because if they had any pride, that would be the first thing that should come into their heads, surely?
Clive Rogers
148
Posted 14/01/2018 at 21:27:01
Moshiri's big mistake was keeping Kenwright as chairman, the man who has turned the club into a shambles and has surrounded himself with yes-men. There should have been a clean sweep from top to bottom with a suitable new face as chairman.
Dave Ganley
149
Posted 14/01/2018 at 21:50:41
Hire shit managers and this is what you get. Well done Kenwright you are finally driving this club in to the depths of despair.
Andrew Wayne
150
Posted 14/01/2018 at 21:55:12
When I was younger, perhaps early teens, over 40 years ago now, there was a gang of local lads who would corner you somewhere and ask if you were a red or a blue; get it wrong and you would get thumped. No prizes for guessing that blue was wrong. I lost count of the number of times I got thumped. Nothing on earth would persuade me to say I was a red. Well once I did say I was a white - Tranmere, when Sandy Brennan was asking who was just about the hardest kid around. I watched Liverpool play tonight and as much as I hate to say it, they are everything that we are not; expansive, attacking and entertaining good football. For the first time since those times I have just about given up on Everton. I have had two season tickets for a lifetime and I am genuinely considering giving them up. Even my son that I have brought up a blue doesn't want to go. The club has a canker at its heart and the motto is a joke. The first season under Bobby was a revelation. I went to every game thinking we could win, now I go hoping that we keep it respectable. I am sure that we will scrape a few wins and duck relegation but the heart seems to have gone out of the club I love.
Adam Scott
151
Posted 14/01/2018 at 22:02:00
Couldn't agree more Andrew. Very well put
James Marshall
152
Posted 14/01/2018 at 22:11:01
Andrew is right, and you could feel it at the game yesterday - the support was muted throughout. People couldn't even muster up any vocal complaints beyond talking to each other.
Normally Evertonians in my experience will always have something to shout about.
I've never seen it like that and I've been going to Everton games since about 1983.
Nicholas Ryan
153
Posted 14/01/2018 at 22:17:23
How about JAMES - Sit Down: "...If I hadn't seen such riches, I could deal with being poor..." !!
Colin Glassar
154
Posted 14/01/2018 at 22:18:06
Don't give up Andrew. I know it's hard, it's really hard right now and the future, right now, looks very dark. But, like the songs says
🎵Always look on the bright side of life tadoodedotadoo🎵
Things will get better mate. Sooner or later Bill and his cronies will leave. The club will be run by professionals and we'll start buying players with grit and balls.
We've been through this before and we always get through it.
James Marshall
155
Posted 14/01/2018 at 22:19:08
Colin, you're right but I might die soon so they better fucking hurry up!
Mick Conalty
156
Posted 14/01/2018 at 22:24:48
Andrew 150# Why does everything the RS touch turns to gold and everything Everton touch turns to shite.
Ask yourself why has it gone on for so long. It can
only be one thing, they have the Gods on their side,
jammy twats. While we are run by Godless cretins.

Andrew Wayne
157
Posted 14/01/2018 at 22:25:23
Cheers Colin - gave me a laugh!
Stan Schofield
158
Posted 14/01/2018 at 22:32:26
Andrew@150: Why mention Liverpool? If you want examples of how you want us to be, all you need do is cite how we once were. Alternatively, if you're going to choose current sides, you could choose one of the elite sides, i.e. Utd, City or Chelsea, who actually win trophies, rather than sides who compete NEAR the top but are not actually at the top. There's an old saying, you get nowt for coming second.
We know we want to play good, entertaining football, but we also want to win trophies, so surely that's the aim in this so-called 'new era' of ours? Otherwise we're just going through the motions, as we've been doing for a couple of decades, and as Liverpool have been dong for nearly as long as that.
James Marshall
159
Posted 14/01/2018 at 22:37:23
Stan - if you come second you get into the Champions League so that old adage is basically bollocks!
I'd be delighted to come second in the Premier League.
Mick Conalty
160
Posted 14/01/2018 at 22:47:28
Feel sorry for Tony the Blue on tomorrows phone in
on radio Merseyside, having to put up kopite Ben the
red and kopite presenter "salty" Tony deserves a medal putting up with that pair of condescending
RS twats.
Andrew Wayne
161
Posted 14/01/2018 at 22:55:39
Hi Stan 158. Why did I mention Liverpool? It was ap per pro of the point I was hoping to make. You are right tho" that there are many other clubs, including those that we used to look down on that you cite, that I could have mentioned, that would also serve to reinforce the point. We have not been contenders for years but at least previously the maxim applied that "there's going to be a show", alas no more. I have been surrounded by reds all my life; our kid, my brother in law, colleagues, said local "ne'er do wells" I exampled, so that is an influence. Like it or not, the shower across the park are a benchmark that we have failed to match for many a year.
Stan Schofield
162
Posted 14/01/2018 at 23:10:46
Andrew, I understand what you're saying. I'm 63, started supporting the blues when I was 7, lived most of my young life near both grounds, and (like yourself) have been surrounded by reds for ever. But you know what, I think we can focus too much on them, too much on worrying about them. All that matters is what we do.
I remember a particular conversation I had with a red, I think about 2005, not long after they'd last won the European Cup. We were talking about managers, and Moyes had had 'manager of the month once or twice'. I said to the red, I thought Moyes was a good manager, he'd made us solid with very limited money. He said to me, Moyes is shite. I said, how do you make that out, he's done well, manager of the month, etc. He said, he's won nothing, so he's shite.
So I'm turning that round now. Liverpool have won nothing for a long time. I could say they're shite if I was talking to that red. But being more sensible than that, I won't say they're shite, but I will say they're not something to aim for. If I want something to aim for, I'll choose the 69-70 title winning Everton side. That's all I'm saying.
Mick Conalty
163
Posted 14/01/2018 at 23:14:42
Years ago I was at a wedding do, someone passed a comment that Everton were doing well. This was at a time when the RS were winning everything, A kopite at the table instead of being gracious merely said,
"Give Dem Notink" I thought fuck you I"ll give you
Notink either. So no matter what they win they are
still RS.
Stan Schofield
164
Posted 14/01/2018 at 23:25:33
Mick, they're not gracious at all, that's why I learned to ignore them (although it's been a long process!). If they had the gods on their side, they'd be winning stuff, and the gods would never have let Gerrard make that cock-up that stopped them from winning the league in 2013-14. Not only are they not gracious, but they're very frustrated these days.
Something to aim for? No thanks, I'll choose City (or the 69-70 Everton side).
Carl Allan
165
Posted 14/01/2018 at 23:27:50
Stan #162 you say "we spend too much time focusing on them and all that matters is what we do." Sadly we never do anything worth talking about so my focus is clearly on hoping they don't win the Champions league again because I couldn't take all that furore again and make no mistake they are good enough and have incredible believe in their own ability, they also seem to have City's number-who are the bookies favourites for it.
Steve Ferns
166
Posted 14/01/2018 at 23:27:51
Our academy players are winners. They start off in academy football by excelling in junior football, winning game after game. They then excel in academy football and make it past cut after cut after cut. All the Everton youth sides win trophies, more often than not, they are in the top 4 of their respective leagues. Our current golden generation having just won the World Cup and the Premier League in the same season.
Watch the kids that made it into their first team this season, and even Tom Davies who won far more often than not in the first team last season. They don't like losing. They are not used to it, and they don't want to get used to it. But, I suppose, each defeat gets a little bit easier to take a little bit easier to swallow, all this talk of acceptable defeats at Liverpool because we had a bit of a go, etc etc. This warps their winning mentality, and you saw these winners trudging off the pitch against Spurs with a lot less anger than they had when they lost their first game or first couple of games. They become embedded in the culture of the club, know our place, it's ok to lose those games.
I see some people above criticising the academy. They raise a couple of good points, but criticise of Everton's academy in comparison to any other is just wrong. Our academy has produced more England internationals in the Premier League era than any other, by some way too. United and Spurs are close, but then factor in where these internationals come from and you'll see that Everton's net is not cast as far. We are making the very most of what we can get, and 10 years ago that was not much.
Which brings me on to Franny Jeffers, who comes in for criticism above. I think some forget the career of Jeffers. He was an exciting young talent who exploded onto the scene and then his knee exploded. Think back to when he left for arsenal, the general consensus on here was take the money and run, he hadn't recovered well and there was genuine concern that he would ever truly recover. There was criticism of Everton from Rangers and Arsenal over the transfers of Ball and Jeffers which were around the same time. Then the Premier League made some directions preventing players like Jeffers and Ball from having medicals dosed up to their eye balls on pain killers. Rangers took us to court over the Ball transfer, so unhappy where they that we had hidden the true extent of his knee injury. Jeffers was a great young prospect, but he was never the same player after that injury. Injuries killed his career, mainly before it really started. Now some of what people say about his attitude may well be right, but I have never met the man.
So on to the genuine criticisms raised. Firstly, the accusation of clones, yes, this is a well noted and genuine criticism of Everton's and every other academy, including in particular the famed academy of Barcelona. All players are worked on, their flaws assessed and addressed. All players are meant to be rounded, with good technical skills, good passing ability and able to do a bit of everything. They are got hold of a young age and to that extent become as someone else said, robots. The second criticism is that they lack the individual talent. The maverick. The truly skilful winger with a bag of tricks. Again the same can be said of every academy.
Let's look carefully at Barcelona. They produce most type of players, and what they do produce is world class. But look at what they don't produce. Their forward line has been dominated by players that they have bought, tricky wide men from South America like Neymar and street type footballers with a maverick streak like Suarez. Then there is their crown jewel, the perfect symbiosis of academy and street footballer, Lionel Messi. He joined La Masia aged 14, therefore had a couple of years of European Academy training, but had already learnt how to play on the mean streets of Rosario.
But is the academy system not what we want? Don't we want to produce our own defenders and midfielders and then pay big money for exotic wingers?
Then on to Eugene's points. A certain much maligned Spanish manager seduced us all with a promise of Champions League and spelled out the blueprint for getting their. He almost achieved it in his first season, but came up short and then it all went up in smoke.
The blueprint wasn't wrong and Pochettino has done something similar. Martinez also said something else that was very insightful, what a manager needs is time, and being only the 15th ever manger of Everton, time is usually what managers get.
It's obvious to everyone, but Allardyce maybe, that he is going to be gone at the end of the season. What we need is a manager who is young enough to talk about 5 year / 10 year projects, to assemble what good young players we have into a decent side and then look to buy only where we are weak.
I was opposed to Martinez coming in, but something he said really spoke to me. He said that money is only a shortcut. That if you spend the money you are getting someone a bit further down the line. He implied that you can get the same results from working with talented young players and coaching them properly.
Look at Eden Hazard, he is truly a wonderful player. Now can he really do things that Ademola Lookman cannot learn to do? The boy has skilful feet, he has tricks and he appears to be capable of developing a similar game. The biggest difference between the two is that one knows how to do it, can do it and does do it with regularity, whilst the other needs to learn. So should we not be identifying players like Lookman who can become what we need, providing them with the very best coaching we can get, and then giving them the opportunities to learn and develop to become as good as Hazard? It might not have been about Lookman (he wasn't signed yet) but Lukaku made a comment about the Everton players being as good as the Chelsea players. I believe he meant that they have players who can do what Chelsea players can do, they do it in training, but they do not do it in matches.
We need a manager, a young manager, with balls, with vision, and with a plan, who is ready to work with the best our academy has to offer, and then makes just a few signings to supplement what we are missing. Then we as fans need to get behind the that vision and support it.
As to who that man is, well I still hold out hope that it is Marco Silva. Watford have had a down turn in form, and have criticism coming their way. This is what I wanted to happen. How can Silva take the criticism and the downturn and how will he respond, how can he turn it around? This is where he shows whether he does have what it takes to handle a big club, or if like Martinez, once it goes wrong, he goes wrong with it and cannot recover.
There is quite a few players at Everton, all under the age of 23 who can be part of a glorious new era:
Jordan Pickford (okay he might be 24), Jonjo Kenny, Callum Connolly, Mason Holgate, Morgan Feeney, Beni Baningime, Tom Davies, Nicola Vlasic, Ademola Lookman, Kieran Dowell, Anthony Gordon, and Dominic Calvert-Lewin.
Add to this Michael Keane, James McCarthy, Idrissa Gueye, Gylfi Sigurdsson, and Cenk Tosun as players who can stick around for at least another three seasons, and Rooney who has a lot of experience to offer them for at least the rest of this season, not to mention goals.
Not all of the young players will be of sufficient quality. We do not know the limits of their potential, not all will steer clear of bad injury, and not all will be mentally strong enough for the top. That's where the likes of Gordon's generation can manoeuvre to overtake them. It's about giving them maximum game time. 20 year olds are too old to be sat on the bench. They need to be playing. Most of the top players were top players by the age of 23. I don't subscribe to this 26 is their peak school of thought, that was from another era. Hazard is 27 now, he hasn't got any better than he was after a season at Chelsea. He reached his peak by 24.
Look at the "best player in the league", Mo Salah. He was struggling at Chelsea at the age of 22, because he did not get regular football. He went to Roma and exploded and he went to the dark side and got even better.
Our generation now needs games. Jonjo Kenny is 21 soon. He's had ups and downs, he didn't cover himself in glory yesterday, but he has gotten better and better as he has a had a chance to play games. The biggest part of his game in the u23s was his ability to overlap and get crosses in. He has not shown that side of his game at all yet, just glimpses here and there. But no one can say he isn't getting better, and won't keep getting better. In fact go back a week or so and most were saying how will Coleman get back in?
Ademola Lookman is 20 now. He is no further on than he was a year ago, his career is stalling for me, and that boils down to not getting enough games. There's talk above about players learning from players, I don't think that's true, not unless Lookman is playing week in, week out. Sure, I'm not advocating he starts every game, every week. But he needs to be coming off the bench at the very least.
The most important thing right now is West Brom. We have to win it. Win and the pressure turns down a couple of notches and we can breathe. Lose and it's up to boiling point and we are certain to drop into the bottom half and that 7 point gap on 18th will close. If we win, then I think we should be trying to get this u23 generation into the team, as many of them as possible, and building the team around the best of them. That is how we can reach the Champions League. Investing in youth, either financially, or with time and coaching. The talent is there. We just need a brave young manager, and talented and bold coaching.
Mick Conalty
167
Posted 14/01/2018 at 23:41:10
Stan 164# Not as frustrated as we are Stan, but tnks
for your words I"ll try and keep the faith.
Stan Schofield
168
Posted 14/01/2018 at 23:43:33
Carl@165: I disagree with you mate, we DO do things that are worth talking about. Steve Ferns@168 makes valid points about bringing on the younger players, which is surely our future. Alladyce is here for 18 months. Then we need a yonger manager with ability and vision, to make us progress using the young talent we have.
Phil Parker
169
Posted 14/01/2018 at 23:47:29
Since Howard Kendall was allowed to leave his 1987 League Champions to join a mid table Spanish club, and sleep on a camper bed at Atletico Bilbao, we have finished 4th twice in 31 years.
We were finished as a major force from that day. The man who let that happen now has a stand named after him. You couldn't make it up.
Steve Ferns
170
Posted 14/01/2018 at 23:47:36
Stan, the only way Allardyce is here is if we get a major upturn in both results and performance. I would bet good money that Allardyce is paid off come the end of May and Moshiri has his arm around the next big thing.
Steve Ferns
171
Posted 14/01/2018 at 23:53:52
Phil, correct me if I'm wrong, I was extremely young at the time, but didn't the glory of the 80s mask the troubles off the pitch? We lost money as all clubs were doing. After Heysel we lost the team. The club invested heavily, £900,000 for defender (Dave Watson) was a record. £2.2m for Cottee was another record.
Meanwhile, Sir John Moores, the driving force of Everton, was unable to talk by 1987, and his health had deteriorated rapidly during those glory seasons and the club was left to drift behind the scenes as a result. Also, the Littlewoods family empire was controlled by his nephew David Moores, who diverted the family money into the RS rather than ourselves.
Behind the scenes we were in bad shape in the 90s, the 00s and now, but it all started back in the 80s with the demise of Sir John.
Mick Conalty
172
Posted 14/01/2018 at 00:02:58
Phil (#169),
Is that the same guy who, with Gordon Lee, said Ian Rush would never make it as a footballer?
Phil Parker
173
Posted 15/01/2018 at 00:51:17
We were loaded at the end of 1987, and were a club to sign for if you wanted to win medals.
Started sliding in 87-88, finished 4th, and then Colin spent all the cash at the end of that season to try and get us back to the top. British record fee for Tony Cottee amongst others, none of them as good as the players they were replacing.
And that was that really. Within a few years I was watching Brett Angell and Stuart Barlow up front, and we have struggled ever since. Mark, Gordon Lee looked at Ian Rush but decided to buy Sharpie.
Phillip Warrington
174
Posted 15/01/2018 at 01:42:01
We will have a great stadium at a huge debt, team playing the worst football in the Championship. The thing I don't get is all the players bought in where playing decent football for their teams, they come to Everton and it has become a complete nightmare.
Maybe somebody has put a voodoo spell on Everton FC? Christ, this squad of players should not be playing so badly and lacking so much spirit... or is it Moshiri?
Peter Barry
175
Posted 15/01/2018 at 02:11:29
We have to face the reality that, with this bunch of players, this management, and these types of performances, Everton are no longer fit to be a Premier League side and are just a Championship side in waiting.
Pete Clarke
176
Posted 15/01/2018 at 05:52:48
We need a miracle to get us back at the top. Something like what Alex Ferguson came in and did at Man Utd and allow them to ride the rough moments through.
I remember Moyes having a go at Alex Ferguson on the touchline at Goodison and thought he was growing into a true leader but his "knives to a gunfight" statements killed all that off.
Martinez seemed to say all of the right things and let the players express themselves freely early on but that proved a false dawn too.
I personally like what Eddie Howe has done at Bournemouth with a team of Championship players at best. Same goes with Marco Silva and his team.
Should we take a chance on a young manager for the long term or keep throwing money away at mercenary managers like Koeman and Allardyce??
Colin Glassar
177
Posted 15/01/2018 at 07:36:42
Half way through the transfer window and still no new left back in sight. It's not even mentioned any more. We are linked to numerous wingers eg Walcott, Gaitan, Turan etc.. but our most glaring weakness is at LB and not a sodding peep about us looking to fill that void.
A MF enforcer like Nzonzi would be nice as well as our MF dwarves bounced off the likes of Wanyama and Dembele.
Chad Schofield
178
Posted 15/01/2018 at 08:22:12
I'm actually terrified by Sam's comments.
I wrote on another thread that when I heard them I agreed with almost everything he said, before remembering he's the manager and so should have seen us play like this because in the analysis room that he talks about, there's a whole raft of VT showing this all season!
He's making exactly the same moves as Koeman and expecting different results. At Spurs away... seriously, has he had a stroke?!!!
He's now saying that because of this performance away to one of the most free-flowing teams in the league, we have to sacrifice attacking players and be more defensive... at home to West Brom. Is he fucking mental?
I was anti-Alladyce, but we'll I saw that dithering and hoping things would properly click for Unsworth while he wasn't fully backed was going to be a tough ask. Of course Sam had a run of easier games and (praise be) got us a few clean sheets, and couldn't help but take credit for the West Ham result in his "since I arrived" interview. And yet look at the results, look at the opposition. Huddersfield are imploding like so many 'good start EPL newbies, Appolon we're out and SA wasn't there unless his odour of clean sheet can carry across Europe not just from the stands, we were lucky Liverpool didn't get an absolute hatful, we beat Newcastle and Swansea. Scraping a draws against Chelsea and the mighty West Brom we've lost. That's Sam's 10 games if you discount West Ham and Appolon Limassol - which he liked to allude was his doing but clearly weren't.
They lucky tag pinned to minor successes Unsworth achieved was harsh.
Three clean sheets against inferior opposition does not a turnaround make, or something like that. Those on team Alladyce shouted it's a results business... well, parrot media sound bites and you're only as good as your last three results - we've lost our last four.
It wasn't just the loss on Saturday but the way we set up, the way we have up and after they scored the complete lack of hope. Sam did nothing except change like for like and complain we lack pace.
It now looks like we're going to try and scrape another draw against West Brom... I wouldn't put it past them to win. The nightmare season continues... and we made a big fat mistake with Sam.
Alexander Murphy
179
Posted 15/01/2018 at 08:44:08
BFS wasn't my choice, still isn't.
As with anyone appointed as Everton manager, I'll give him sufficient time to judge him fairly.
What I don't have any time for is his capacity to appear in the press spouting utter shite. I want him to shut up and realise that he alienates fans with this crap.
Nothing, and I mean the square root of minus fuckall has improved since his arrival.
When we are playing shite, I do not want to see our manager on the box, hear him on the radio at the drop of a hat.
John Charles
180
Posted 15/01/2018 at 08:49:46
I got back from Mordor and Wembley and recently Bournemouth disappointed that our free flowing attacking verve had not seen the results we wanted. 1 shot on target, what we need to do I thought was be more defensive and boring. Seriously looking forward to Saturday when we try to match West Brom for dourness. I for one think we can do it.
Paul McCoy
181
Posted 15/01/2018 at 08:59:25
I haven't watched a single game whilst Fat Sam has been in charge. Doesn't sound like I'm missing much.
Derek Thomas
183
Posted 15/01/2018 at 10:20:19
Dave Connor @ 12; How many more fans.? Me for one.
I stopped staying up late and started watching in the morning, then I started FFW it. Then I stopped watching after the 2nd goal...bit like the team...
Soon I may not bother, cause why bother? I'll just check the results like I did in the days of teletext/before I signed on to sky...I managed then and dare say I'll manage now.
Getting so I CBA'd...like the Club, monkey see, monkey do.
Christine Foster; Well said - LMF, from top to bottom.
Matthew Williams
184
Posted 15/01/2018 at 13:58:03
The best games we've played this season were away in Cyprus in the Europa League and at home verses West Ham in the Premier League.
So who were the men in charge on those two occasions?
Maybe the answer to our on-field problems are right there!
As for the Boardroom, maybe the majority of the Shareholders need to have a say... sell your shares to Moshiri or find someone else to back to take our club forward.
Even the latest Paddy Power adverts are taking the piss out of us!!!
John Davies
185
Posted 15/01/2018 at 15:06:23
Alex Murphy #179, you nailed it mate. Spot on. Allardyce needs to shut the fuck up, start getting some improvement and get some results, or fuck off.
He says he may have played too many attacking players on Saturday! Seriously? Can anyone let me know who they were because unless BFS is seeing something no-one else did, we didn't get a single shot on their goal in the entire match.
So now we'll be more defensive at home to WBA says Sam. All we fans just can't wait. What an idiot. What an embarrassment.
James O'Connell
186
Posted 15/01/2018 at 16:00:05
Emphasis on the home team to attack. Can't wait for WBA game our flat back 10 will terrify them.
Nitesh Kanchan
187
Posted 15/01/2018 at 16:06:31
I will give benefit of doubt here to Big Sam,if a hammering like that makes him understand the problems then well and good.He got us into the top 10 before January transfer window began, with draws against Liverpool and Chelsea which was unlikely with this squad so that was great from him.But like I said before, now is the time to judge him as transfer window has began,I said prior to Spurs game that in the last 16 games it has to be 35 points of possible 48,anything less and he should be out.That should be criteria for anyone to qualify as our manager.If the squad is not right,get it right in the transfer window he has got.I don't mind if he plays dour football or attacking,if he can't get the points he should be out.Managers are judged by results and targets.Once that equation becomes mathematically impossible to achieve we should start looking for replacements ,wasting no further time.
Nitesh Kanchan
188
Posted 15/01/2018 at 16:06:32
I will give benefit of doubt here to Big Sam,if a hammering like that makes him understand the problems then well and good.He got us into the top 10 before January transfer window began, with draws against Liverpool and Chelsea which was unlikely with this squad so that was great from him.But like I said before, now is the time to judge him as transfer window has began,I said prior to Spurs game that in the last 16 games it has to be 35 points of possible 48,anything less and he should be out.That should be criteria for anyone to qualify as our manager.If the squad is not right,get it right in the transfer window he has got.I don't mind if he plays dour football or attacking,if he can't get the points he should be out.Managers are judged by results and targets.Once that equation becomes mathematically impossible to achieve we should start looking for replacements ,wasting no further time.
John Keating
189
Posted 15/01/2018 at 16:17:35
Nitesh all well and good saying a minimum 35 points out of 48 we will be lucky to average one a game
This squad on the whole is substandard individually and collectively
Where are we going to get all these players in the next 2 weeks to get us all these points?
Allardyce has already said we have to sell to buy
If you think the rest of the season is going to be an improvement on it so far, well i'm sorry my friend I think you will be disappointed
Allardyces only job is to work with what he was left with, kids and out of date internationals and somehow try and keep us up
Next season is another matter
Paul Kossoff
190
Posted 15/01/2018 at 16:37:33
Dust pneumonia blues, mungo Jerry, down the dust pipe, status quo.
Comfortably numb, pink Floyd. DOA by Foo Fighters. Everybody's got something to hide except me and my monkey, Beatles. Bitch, gimme shelter, I cant get no satisfaction, rolling stones, but not happy!😥
Raymond Fox
191
Posted 15/01/2018 at 16:39:40
I see there's still some wanting to blame our lack of sucess on the manager.
What Sam said was exactly right they did throw in the towel when we went two down, plenty of them have history of the same don't they?
Can we have some perpective about playing Spurs at Wembly too, they were 1/4 to win and we were 14/1 for gods sake, thats a neutral assessment of our chances.
Our players are moderate at best, most of them have seen off two full time managers and Unsworth, if you cant see that by now I would suggest you visit an optician soon.
Brent Stephens
192
Posted 15/01/2018 at 16:40:37
And that classic, Paul - Shaddap You Face, Joe Dolce.
Don't lash out on panic signings at the moment. Get to safety, ditch Sam. Appoint well ASAP. Buy well in summer.
Derek Williams
193
Posted 15/01/2018 at 16:48:10
Steve Ferns 166, excellent stuff, you've given me hope where all seemed lost!
But I suspect that where we are, Sam or Mosh or Bill or whoever is pulling the strings isn't going to risk playing the kids. Which is ironic as NOT playing them in favour of playing the older brigade is precisely what has us steaming full ahead for the iceberg
I've loved this club for more than 55 years but I can't ever remember it being this s**t in all honesty. Not even under Walter and I never thought I'd see worse than that
Paul Kossoff
194
Posted 15/01/2018 at 16:51:08
Brent, I hated that song, I think it kept the classic Vienna, ultravox, off number one, what a swizz!!!😥
Agree, get safe, get rid of F S, (still can't believe he's our manager.)
Complete clear out from top to bottom, especially Kenwright, and recruit with some thought.
Kevin Prytherch
195
Posted 15/01/2018 at 16:54:01
Steve 166
Exactly what I've been saying on another thread.
Imagine how much prouder we'd all be if in 2/3 years time we have a starting line up consisting of Pickford, Connelly, Keane, Holgate, Kenny, Lookman, Davies, Dowell, Baningime, Vlasic, DCL.
It might be a pipe dream but I'd rather play them all this season and give ourselves the bast chance of developing these youngsters.
James Hughes
196
Posted 15/01/2018 at 16:55:57
Brent, we have to get one manager signing right, the next one is crucial. We best all start praying.
I am trying to put it all into some sort of perspective at present. What seems a few seasons ago I would avoid TW after a defeat
Robin Cannon
197
Posted 15/01/2018 at 17:35:02
@James (196) - Do we have any confidence in us getting a manager signing right, though?
Allardyce was a panic hire. I don't really believe that Rhino would have done noticeable worse than Allardyce has so far. Every hire we make is unimaginative and "to be expected". And there seems to be a total lack of long term strategy behind our hires. Or really any top level vision of what we're trying to achieve.
Our next hire will, no doubt, once again be "whatever the papers say". No imagination, "no risk" (even though that's a risk itself), no ambition.
Christy Ring
198
Posted 15/01/2018 at 17:44:45
Against Spurs we created very few chances, as in most of our games lately. We have Gueye and Mccarthy, two defensive midfielders together, Bolasie on the right, not fully fit, and Sigurdsson on the left, who is not a winger, ahead of Martina, who is definitely not a left back. We are completely imbalanced, especially with Barkley gone, and Klaassen not up to speed.
We have to play Siggy in the middle, instead of Rooney, a new left back is a must, and Lookman, Davies and Vlasic should be in the squad.
Ray Said
199
Posted 15/01/2018 at 17:44:56
Steve (166) a very interesting post.
I would add my observation that, in my opinion, we have lost our sense of identity and although, the song says 'if you know your history', and the board say they do but they don't really know so we end up searching for a 'winning formula' and doing what is expedient.
My experience, training and study of management tells me that the history feeds the sense of identity and the sense of identity allows you to recruit, sign, develop and train players who fit that identity.
This is what Barcelona, Madrid etc do based on their sense of identity and what Simeone and his board have now created at A. Madrid.
These clubs stick to their sense of self and make it work but they do not-at any cost-abandon their sense of what the club is or who they are.
My sense of what an Everton player is or should is based on the history that I experienced and the players I saw.
i saw defenders that could run, tackle, head and pass-Labone, Watson, Ratcliffe, Mountfield- and those type of players, who had all mastered the basics but some better than others, are what I expect to see us recruit, train or sign. I dont expect to see a defender that cant stay on his feet, cant turn or head or hold off an attacker being recruited or developed.
I saw midfielders that could run all day, pass well, tackle and harry and score a goal -the Trinity, Dobson, Reid, Bracewell, Steven. Players like that cost may millions but those rounded abilities should be the template for what we recruit and how we develop the youth. Instead we recruit a player that can harry and tackle but cant pass or a player that can pass but cant run or a player that can bomb forward but cant shoot or pass.
My sense of history and identity leads me to think that that MY Everton selection-youth through to first team -is matched against a simple checklist and play with a balance between defence and attack- five defensive minded players and five attack minded. Players are marked against the list exampled below and unless ticking those boxes then they dont match up to the clubs identity;
Midfielders;
1. can he make make a simple 15 yard pass 8 out of 10 times
2. can he get up and down the pitch at a good pace all game
3. can he tackle or harry his opposition all game
4. can he control the ball
5. can he head and shoot
I think a lot of the current midfielders would fail to meet all five parts of the test to an acceptable degree.
I think there are systemic problems that can only be addressed by Moshiri appointing a manager or Chief Exec with the ability to read, hear, see and finally 'feel' what the club is about and then set out a vision to recreate the sense of identity. Someone like David Dein as Chief Exec sounds about right to me.
Matthew Williams
200
Posted 15/01/2018 at 18:01:37
Do our scouts ever watch Championship games ?.
Some decent players there,better than what we have now,in fact it's the only footy I've really enjoyed this season !.
Btw...that Bolger lad for Fleetwood is fucking quality too,I reckon he will play for some team in the Prem. soon enough.
John Daley
201
Posted 15/01/2018 at 18:47:03
"
I see there's still some wanting to blame our lack of sucess on the manager."
Nobody is putting the blame for Everton's current sorry state exclusively at Sam Allardyce's door. If anybody is criticising him for a "lack of success", as you suggest, then it is obviously confined to the teams lack of success in matches since he took charge. What exactly is the problem with that?
Fact of the matter is, Everton have failed to have a shot on target in three of their last five league games. Before Allardyce was made boss, they had failed to have shots on target in three of the last 222 league games.
Is it just coincidence then, that even token attacking intent has evaporated almost entirely since a guy who focuses foremost on trying to thwart the opposition turned up at Finch Farm?
Allardyce may not be the blundering bellend who set the beartrap that initially hobbled us, but his fingerprints are all over the fucking bone saw that has cut us off at the knees, and it's his voice currently telling us the best course of action is to sit back and concentrate solely on not bleeding out.
People were quick enough to praise him for shoring up a previously porous defence, after doing no more than parking his arse in a seat to watch the West Ham game, yet now the teams current faltering form (in front of both goals) is fuck all to do with him?
He holds the Premier League record for the most defeats by 4 or more goals. I wonder whether the other 18 smashings his side's suffered in the past were similarly products of 'some other tit' leaving behind a sorry pile of pish and poor old Sam suffering an undeserved stain on his record as a result?
We all know we had been woeful for most of the season pre-Sam and only a blinkered fool would fail to acknowledge that it is going to take time to get fully to grips with things and implement positive, lasting change.
However, coming off the back of a run of five coma-inducing performances that have yielded only two points and had people contemplating pouring turps on the tip of their cock for a slight tingle of excitement, it's complete arse talk from Allardyce to try and claim our fleeting upturn in form has been torn asunder by him taking an overly adventurous approach.
Still, his promise to 'bring back the boredom' at least guarantees the club can't be done for false advertising now that season ticket flogging time is here again.
Jay Harris
202
Posted 15/01/2018 at 18:59:21
Steve
much of what you say makes sense but I do disagree about putting all the young players in at once.
It is a massive leap from U23 to the Prem and it is too much to expect a whole generation of youth players to all make the grade in the Prem.
I would advocate a more gradual progression with no more than 2 or 3 youth players getting limited time against weaker opposition and gradually building that up.
I agree with you about Lookman and see the West Brom fixture as an ideal opportunity to blood him further.
Lev Vellene
203
Posted 15/01/2018 at 19:02:10
3 managers, our players spread their legs to the opposition with every opponent at times?
Get rid of the old dross, play the hungry ones and make us a Team! We won't get relegated that way, I'd think! There'd be pride, not wages on the line!
Paul Kossoff
204
Posted 15/01/2018 at 19:02:46
John 201, failed to have shots on target in three of the last 222 league games? We aren't that bad surely?😣😥😮
Steve Ferns
205
Posted 15/01/2018 at 19:13:07
Jay we don't have to play them all at once. For example, Lookman needs to actually be getting on the pitch. Davies has had a little rest throw him back in and see if he's benefitted. Baningime needs to be back on the bench and to come on for Davies if he's not having a good game. Garbutt at 24 is not quite a kid but he should start the West Brom game, and either we recall Galloway or we sign a left back before the end of the window. If we cannot get one for a good price, then let's get Galloway in. The criticism of him was defensively, and perhaps Allardyce and his team can develop him there.
They need games, sitting on the bench and not playing is not helping. Watching someone else in there position is not helping them either. Signing a journeyman like Nzonzi to pay instead of Davies and Baningime is a complete waste.
Paul Doyle
206
Posted 15/01/2018 at 20:32:31
John (#201).
Which brand of turps do you suggest? I am thinking of mixing mine with with caustic soda for the West Brom game.

Dave Williams
207
Posted 15/01/2018 at 21:26:21
Just read that Liam Walsh was the best player on the pitch in his full debut for Bristol City and the fans love him.
Would someone please explain why no-one gave him a sniff at our pathetic first team?
Steve Ferns
208
Posted 16/01/2018 at 00:03:17
Dave, I think we are all wondering that.
Jay Harris
209
Posted 16/01/2018 at 02:56:02
Steve,
I watched most of the U23 games and most of the West Brom games where Galloway's game looked to have fallen apart.
His concentration and awareness was non league standard. I know he showed reasonably well in the games he played in the first team but his defending was obviously suspect in a few of those games where he had to use his athleticism to recover situations where the winger had already left him for dead.
Garbutt I did have more hope for but similarly he hasnt covered himself in glory at his loan clubs.
I still maintain that although we all love the kids to get a chance very few consistently make it at the top and its a chasm from the U23s to the Prem.
Even Rashford who looked like one of the most promising youth players around is now struggling to get a game at Utd.
I do believe however our current problems lie at the opposite end of the spectrum with 36 and 34 year old CBs and a 33 year old LB together with a 42 year old (in body terms) Rooney.
I think Allardyce is correct in looking for 25 to 28 year old experienced pros that have matured, bulked up and can handle the prem.
Although we look a shambles I don't think it will take much to fix.
Get a decent (Danny Rose standard not VAn AanholT standard) of LB get Seamus back to 100%, Play Holgate and Williams until Keane regains his confidence, Play Sigurdson where is is most effective and play Gueye and Davies or Scneiderlin if either of them ever recovers the form they have shown in the past.If not get an Nzonzi, Dembele type who can get up and down the pitch and lastly get Walcott, Tosun and Bolasie/ Valsic or Lennon as a front 3 with strict instructions to pressure the opposition and keep their full backs pinned back rather than the other way around.
Simple game isn't it. LOL
Ernie Baywood
210
Posted 16/01/2018 at 03:21:33
It can be as difficult as you make it. We're making it incredibly difficult for ourselves.
The left back situation is the same as the striker situation in the summer.
Literally sign anyone! Then try to bring someone better in.
We just can't carry on without a left back. The fact we've already played a couple of games without one since this transfer window opened constitutes appalling mismanagement.
Even by our standards these are new lows.
Amit Vithlani
211
Posted 16/01/2018 at 04:45:40
Half way through the fucking month and no fucking left back.
This is absolutely outrageous that Walsh is allowed to get away with this.
Regardless of what the coach thinks Walsh should have either Luke Garbutt registered or sign up an LB.
The pursuit of Walcott has echoes of Sigurdsson and if Walsh thinks we are stupid to be blinded by this he is a moron.
A DoF is there to build the squad regardless of who the coach is. If Walsh is not doing that, he should be fucked off pronto.
More imbecile behaviour from Moshiri, Kenwright and our incompetent DoF.
Martina looks a dead cert against WBA meaning Sigurdsson having to adopt defensive duties leaving us to rely on Rooney's ageing legs for creativity in midfield.
All this with another no 10 sitting in the reserves not likely to get a game soon.
A scandalous waste and mismanagement of a squad.
Steve Ferns
212
Posted 16/01/2018 at 10:12:02
Jay, I am not saying Galloway or Garbutt are the solution. I don't know how either of them would stack up in the Premier League right now. What I am saying is that Martina is not good enough at left back, and we should have rectified that immediately by registering Garbutt on New Year's Day, and given him a game or two. We should also have made a purchase of a new left back as quickly as possible.
By all accounts we are set to spend just short of £50m in this window. We do not need Walcott, we do need a left back. £20m would be better diverted there. Walcott will improve the squad, but he is not essential. A left back is. It was even necessary when Baines was fit, as everyone could see that he was struggling. He has looked a player in decline for at least three seasons now, perhaps since Martinez' first season. Yet Koeman sanctioned the sale of Oveido, and never brought anyone else in.
I just cannot understand why Koeman and now Allardyce think not signing a left back is ok, and then refuse to even register a backup. I mean, what happens if Martina is injured?
Jay Harris
213
Posted 16/01/2018 at 15:15:23
Totally agree Steve but you would have to assume, and thats a big assumption with Everton, that theyre on the case and a new LB will arrive imminently.
I was just making the point that we cant expect Galloway or Garbutt to be a big improvement on Martina who IMO has taken a lot of the blame for selection problems (I.e. playing a number 10 in front of him as a left winger) and exposing him to a left sided position when he hasnt even got a left foot.
Barry Jones
214
Posted 16/01/2018 at 23:00:09
Guys, are we in touch with reality? In the EPL, there are three clubs who are miles better (and more aggressive) than the rest; Man City, Liverpool and Spurs. Against these teams, any club in the league, including Everton, has to play way more defensively or you will get cut to shreds. Quite simple.
We have to play more adventurously against the middle and lower teams though to bag the points.
Add Your Comments
In order to post a comment, you need to be logged in as a registered user of the site.
Or Sign up as a ToffeeWeb Member — it's free, takes just a few minutes and will allow you to post your comments on articles and Talking Points submissions across the site.