Moyes: Consistency will be key
05/10/2012

Comments
(24)
jump to end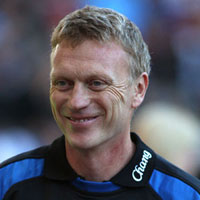 David Moyes feels that his current squad is the best he has had since the 2004-05 team that earned Champions League qualification via a fourth-place finish and is challenging his players to match that side's consistency.
Just as they did seven years ago when they earned a crack at Champions League qualification by elbowing neighbours Liverpool out of the top four, Everton are turning heads with an impressive start to the new season.
They sit in second place in the Premier League thanks to a new-found dynamism and verve going forward that has them top of the attacking statistics tables, and the manager is now challenging his players to keep their form up well into the campaign.
Speaking on comparisons with the team made up of the likes of Lee Carsley, Duncan Ferguson and a younger Tim Cahill, Moyes said: "I think there is a difference in the quality but we had really good players then, good senior players, and if you said the quality is better now I'm sure they would rebut that.
"The challenge I am setting to the boys now is can you be as consistent as the team from 2004-05? That is part of the battle.
"You can win with flair but we won a lot of games 1-0 that year. We were consistent, hard to beat. There are different ways of skinning a cat.
"We are in good form just now but how long can we keep it going? It is a test of the players to keep reaching those standards."
Already forced to adapt without the injured Darron Gibson for a month, though, Moyes is still uncomfortable with the depth of his squad and fears that could yet derail the Blues' Champions League ambitions:
"The balance of the team is good but the squad could still be a bit light. That, in the end, could catch me out.
"We are still short of central-midfield players and if you're talking about a squad to compete at the top end of the Premier League, I'm worried we are not going to have that level."
Everton are again being linked with a move for Belgian defensive midfielder, Vadis Odjidja-Ofoe when the transfer window opens in January which, if true, would help bolster the manager's squad selection options.
It would also add more quality to a team that is finally allowing him to play the kind of football he says he was raised on.
"Folk think I'm defensive," he says, "but I was brought up on the best attacking team ever in terms of style and what was demanded, Glasgow Celtic. I have also played under coaches who showed me another style.
I want my team in the opponents' half having shots. I've only been brought up that way and no other way. But you can only win games with the tools you have available and if you don't have them you need to find other ways of winning. Otherwise I wouldn't still be in the job.
"I didn't have the tools to win that way five or six years ago. What I have had is time to get to the point where I am now being asked about being entertaining."
Quotes or other material sourced from The Guardian
Reader Comments
Note: the following content is not moderated or vetted by the site owners at the time of submission. Comments are the responsibility of the poster. Disclaimer
Brendan McLaughlin
221
Posted 06/10/2012 at 00:45:32
Is this not what Roobie C said on another thread?
Paul Ferry
231
Posted 06/10/2012 at 02:21:29
"Folk think I'm defensive," he says, "but I was brought up on the best attacking team ever in terms of style and what was demanded, Glasgow Celtic. I have also played under coaches who showed me another style.
"I want my team in the opponents' half having shots. I've only been brought up that way and no other way.
Okay - delightful, deadly, direct, defensive-not-minded, destructive, dreamy, delectable, delicious, dangerous, droll, dynamic, dazzling, deadly-modish, deadly-stylish, decisive, defo-bubbly, defo-upbeat, dignified, decent, drenched-in-sun, dashing, desirable (dare I say), determined, Daracott – no way, Duncan McKenzie – all the way, dashing, debonair, defo-chic, dapper, dead nice — MOYSEY
Pete Barry mate, walking the road to Damascus.
I'm all Ds, dizzy
Deity dedicate deserving, defence-fuck-that-build-from-the-front, Davey. Deify DM
As Eugene Ruane once said, in an aside admittedly, watch The Arrows get better with each new single, don't judge them on 'Babe I want you not yesterday but today', As usual, as night follows day, ER was spot on.
Marcus Choo
288
Posted 06/10/2012 at 09:56:33
It seems that some of Moyes' quotes could be direct responses to some of us on TW. Defensive-minded? He's saying he's not.
There's a similar report on http://www.liverpoolecho.co.uk/everton-fc/everton-fc-news/2012/10/06/100252-31977444/? which quotes Moyes as saying "I have always had the philosophy that winning is everything". Seems like another direct rebuttal against the accusations that he's a coward setting his team out "not to lose".
The final stick that we've been beating him with regarding the amount of time he's had at the club without winning anything - he seems to counter with the excuse of not having enough "tools" (i read money). There it is boys, straight from the horse's mouth so to speak.
I suppose if anything, he's at least in a way responded to some our exasperations in this article. Some of us may take what he says with a pinch of salt, but I think if some of us are more than willing to beat Moyes on the head with his "knife to a gunfight" or "relegation escape is priority" quotes, perhaps we (I'm including myself) should be more patient his approach to managing Everton.
Mike Allison
306
Posted 06/10/2012 at 11:16:59
"David Moyes feels that his current squad is the best he has had since the 2004/05 team that earned Champions League qualification"
This current team is much, much better than that team. Unfortunately so are about four or five other teams in the division.
Paul, did national poetry day get to you a bit the other day maybe? Some of those Ds required a massive crowbar, sorry, Dcrowbar.
Marcus, I love the idea of Moyes reading Toffeeweb and taking on board what we're saying. In fact, I like to think of him in his office going "that Mike Allison, he really knows what he's on about, I better give him a job". Unfortunately, I doubt it, and I kind of hope he doesn't feel he has the time to do that either. Actually, maybe that could be my job for him...
Sam Hoare
312
Posted 06/10/2012 at 11:38:58
Wonder if Peter Barry would ever admit that maybe, just maybe Moyes was playing his best team available whilst hoping to get a chance to add more balanced attacking players to achieve what we have now, which is an attacking team that also looks relatively solid when it has to.
Paul David
315
Posted 06/10/2012 at 12:16:12
He hasn't had the right tools to play football? He has been in the job for over 10 years, if he didnt have the right players then its cos he didnt buy the right players, he is the only one who can take responsibility for that.
I'm made up with the football we're playing this season but why is he trying to kid us this is how he has always wanted to play? If that the case why has he on a number of times sent teams out with no forwards,6 defenders and 5 players out of position.
Brendan McLaughlin
317
Posted 06/10/2012 at 12:31:19
So true Paul #315
I mean Moyes transfer kitty has been limitless. When I think of the millions he spashed out on Beckford, Velios, Saha & still he couldn't get a 20 goal a season striker.
Paul David
318
Posted 06/10/2012 at 12:37:27
Brendan
So teams can only play football with a 20 goal striker? He might of not had a lot of money to spend but most clubs don't and upto this year we were playing the worst football in the league for a very long time.
Brendan McLaughlin
320
Posted 06/10/2012 at 12:45:14
Paul #318
Recently up until this year Moyes had no money to spend. He got some back in January & brought Pienaar, Jelavic & Gibson in and we're now playing the best football in the league for a very long time. People can waffle all they like about our turnaround in form but I've no doubt it's cos Moyes bought & bought well.
Paul David
323
Posted 06/10/2012 at 12:54:49
I'm not going to disagree with that but Moyes has changed his ways, a couple of years a go I have no doubt he wouldn't have sold Rodwell out of stubborness even though it means he can go out and buy players in position we need, the same way if he had his way he wouldn't have sold Lescott, how can he think Lescott was worth more to the club than £24m (granted I don't think he used that money too wisely).
Even when he didnt buy a player for a couple of years we still had some good players like Arteta and Pienaar while still playing piss poor football.
Marcus Choo
352
Posted 06/10/2012 at 16:08:34
Oops! Didn't really mean to say that David Moyes reads TW... well who knows. Just found it interesting that quite a few of his quotes could be interpreted to be direct responses to many of our moanings.
Now, what would I pay to see DM get into some of our TW discussions :)
Brendan McLaughlin
367
Posted 06/10/2012 at 18:14:28
Marcus #352
Apparently Moyes posts under another name...Martin Mason
Dennis Stevens
382
Posted 06/10/2012 at 19:42:15
Brendan, that'd be a cruel comment even if you were Moyes' fiercest critic!
Dennis Stevens
384
Posted 06/10/2012 at 19:50:34
I'm not sure if Moyes is spot on re the consistency of the 2004-05 squad – we gained more than 25% more points in the first half of the season than we did in the second half.
Brendan McLaughlin
386
Posted 06/10/2012 at 20:08:19
Err Denis #384
04/05 good first half of a season, shite second ...consistent?
Dennis Stevens
390
Posted 06/10/2012 at 20:29:05
Er Brenda 386 - Exactly!
Phil Roberts
391
Posted 06/10/2012 at 20:26:52
Methinks Brendan #317 was either being a little sarcastic or stupid. You choose
Saha - free
Beckford - free
Vellios - £250k
It was the fact that he had no money to spend and I think some of you fell into his trap.
Brendan, a man after my own heart, light blue touch paper, stand back and start smirking
Brendan McLaughlin
395
Posted 06/10/2012 at 20:34:08
Denis #390
I'm only Brenda at the weekends & in the privacy of my own home...you a spying neighbour?
Dennis Stevens
396
Posted 06/10/2012 at 20:41:46
You'd best hope Martin doesn't ask for pictorial proof, Brenda!
Brendan McLaughlin
399
Posted 06/10/2012 at 20:51:18
Dennis#396
Actually I do have a website brenda @ wwww....
FFS... Michael K's gonna ban me again.
Eugene Ruane
620
Posted 08/10/2012 at 09:08:21
I don't really read football magazines these days, mainly due to the fact that they're all shite; however, there is one that I have enjoyed over the last year or so. It's called 'Back Pass' and basically looks back to the 60s, 70s and 80s. It's not genius or anything, but if you're my age (53) it's an enjoyable read.

Anyway, I was flicking through a recent issue (the one with David Webb on the cover) and there was an article in there about some lower league yard-dog who had been booked 23 times in his career and was forever getting the elbow from clubs, getting bladdered and chinning people (there were a lot of these fellers knocking about back then).

I can't remember his name (and I left the mag on a flybe flight coming back from Dublin yesterday) but he was it seems at Cambridge (I think) when Moyes was there. When asked about Moyes he says something along the lines of "He was alright, I didn't really mix with him though – he was 'part of the God squad there'.

Now in the past I have referred to Moyes as a Presbyterian, but I have only ever meant this 'philosophically' (ie: cautious, not given to shows of excess etc). Anyone know if there something more than this? I know on the US golf circuit there are a whole bunch of God botherers and reading this made me wonder if a) there's a PL version or b) even better/worse, an Everton version?

Let's face it it, Moyes did everything he could to facilitate the return of Steven 'God is great' Pienaar. Plus if you if you remove the letters J-A-I-E-L-K-A from the name Jagielka and replace them with the letters O-D-R-U-L-E-S-!, you get 'God rules!"... kind of.
Edmund Caso
624
Posted 08/10/2012 at 10:00:37
I know pre-renaissance Moyes teams attracted criticism but I don't think Moyes should call them "Tools".
Defensive, lacking pace, limited -– surely that's enough.
Michael Kenrick
653
Posted 08/10/2012 at 13:59:45
That's funny, Eugene, I could have sworn you had picked up on his religiosity in giving him the amusingly fitting 'Presbyterian' label. I thought the topic of his belief in superstition had come up a few years ago and was common knowledge but he has kept it pretty quiet to be fair.
I didn't follow the Ryder Cup too closely but it would hilarious if the US team had been relying on divine intervention to see them through at the end, only to be caught by those heathen Europeans! The devil works in mysterious ways!
The number of guys in the Premier League (mostly imports) genuflecting as they come on the pitch or supplicating to the heavens when they score seems to have increased many-fold. Perhaps the turnaround this season is divinely inspired – big daddy in the sky had a word on the way down Tottenham Court Road...
Eugene Ruane
751
Posted 09/10/2012 at 08:51:28
Michael, just once (ONCE!) after a sporting event (preferably boxing) I would love to see a/the loser respond..
Boxer: "What went wrong? Well....nothing 'went wrong'. I was fit, I was ready, had the right game plan, training couldn't have gone better but...well, it's obvious. It was (points upwards) him. Truth is tonight he fucked me up good and proper"
Interviewer: "So...would you say this has shaken your faith in God?"
Boxer: "SHAKEN MY FAI.....listen, I'm going to take few weeks off, spend some time with my family and then I'll be back in training and when I return, I'll have a fucking big pentangle on the front my shorts and a goat's head on my robe. I'm with Satan now. Yeah ok he might be a bit of a shit-house but at least you know where you are with him"
Add Your Comments
In order to post a comment, you need to be logged in as a registered user of the site.
Or Sign up as a ToffeeWeb Member — it's free, takes just a few minutes and will allow you to post your comments on articles and Talking Points submissions across the site.