Neville glad to get through January
05/02/2013

Comments
(79)
jump to end
Gruelling holiday fixture list sapped intensity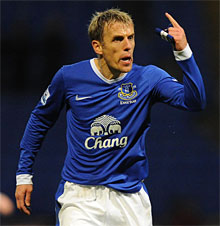 Phil Neville explains how the gruelling Christmas & New Year fixture list has sapped the intensity of Everton's play, and led to some below-par performances, with the team contesting 10 League and Cup fixtures in 43 days — while using the fewest number of players in the Premier League this season.
"Against Swansea and Southampton recently, we probably dipped below our previous standards and didn't play with the same intensity or the same speed in our play, and maybe that's because we were coming out of the Christmas period. We had West Ham, Wigan, Chelsea and then Newcastle. Put Cheltenham in that and you have five games in a short period of time and the same players played in every game.
"I think if you look at the rest of the Premier League and the other teams who played that number of games, their players probably only played in three of them. We had eight or nine players who played in all five so it's natural that there was going to be a little bit of a dip.
"But I think there have been points dropped by everybody and tired and jaded performances from every team. It's something that we probably expected and it's one where we had to look at January and say we just had to get through this month.
"It happens every season where you come out of the Christmas period and you're almost fighting for your lives then for the whole of January to regain your freshness.
"Once you get into February and the weather changes a little and the pitches get a bit better then I think you'll see most teams kick on again."
After Saturday's draw with Aston Villa he said: "We've lost three games this season and we're into February now. I think that's got to be put into perspective. I'm glad we're through that busy period, but it's been busy for other clubs too."
© Liverpool Echo
Article reproduced here in its original form or abridged for brevity.
Reader Comments
Note: the following content is not moderated or vetted by the site owners at the time of submission. Comments are the responsibility of the poster. Disclaimer
Eddie McBride
057
Posted 05/02/2013 at 17:22:27
If it's all getting too much for him, I would not complain if he retired.
Mark Tanton
058
Posted 05/02/2013 at 17:27:37
Lost three, but drawn how many? Is it 12 or 13? That is far too many.
Al Reddish
059
Posted 05/02/2013 at 17:32:16
If only we had strenghened when we had the chance.
Kevin Hudson
061
Posted 05/02/2013 at 17:36:51
Big improvements have been made: On Feb 2nd, 2012, we were tenth with 29 points.
Brian Hill
062
Posted 05/02/2013 at 17:41:38
Michael Kenrick, didn't somebody call you on publishing some similar cliche-ridden drivel a few weeks ago? I think Phil Neville has benefited Everton overall, though agreeing that he should not be a first choice player now.
However, his public statements are excruciatingly banal and trivial and not worth a thread or Toffeeweb story.
Patrick Murphy
065
Posted 05/02/2013 at 18:07:55
Following our 25th PL fixture of last season - Chelsea at home 11 Feb 2012 - we had 33 points and still lay in 10th place, which I think is a more realistic comparison to make. So for all our great season it's been and an improvement on the last one, we only have what amounts to 3 more wins than we had at this stage last season.
Andy Crooks
066
Posted 05/02/2013 at 18:24:22
Getting through January is what most of us do. I would hate to think, though, that Everton's finances have anything in common with my own.
Paul Ferry
072
Posted 05/02/2013 at 18:39:55
Wheeling out the skipper publicly to blandly and blindly spout 'true blue' loyalist drivel is driving me nuts and this one is the icing on the cake.
This is unmitigated bollocks: 'I think if you look at the rest of the Premier League and the other teams who played that number of games, their players probably only played in three'. I invite you, go through the late December/January line-ups for say Manure, Citeh, Arse, Chelski, Spuds, Shite, Norwich, Stoke, and so on and so on, and find out if Skip Pip is right or wrong.
He is wrong. Another lame and limp attempt from on high to put our latest struggles in a better light. Better still, this one is rooted in a fundamental untruth.
And, really, 'most teams' 'kick on' in February when the weather and pitches are better. Put your skipper on the stage Mr Moyes, he's fucking hilarious, can't stop sides splitting here. Let's add cold weather and a poor pitch to the reasons for any disappointing performances/results that we have had. Did you look down at the pitch on Saturday skip or were you too busy looking from side to side and six foot in front of you? I'll wager that 'most teams' do not 'kick on' from February on. I have a hunch that our February might be a difficult month. I fear that Skip might have to pop up again a month from now with fresh bollocks to spout because we did not 'kick on' as much as he thought we would.
I hope I am proved wrong about that, I really do. But don' invent bollocks and depend on bollocks Neville when you next get pushed into the limelight by whoever pushes you into the limelight.
Trevor Lynes
081
Posted 05/02/2013 at 19:30:33
The most telling item mentioned is the fact that we have played less players so far than any other Premier League team. That is a very important fact!! It highlights the sparcity of our bench.
Now our bench is further depleted by the loaning OUT of Barkley and Gueye who both figured on the bench when fit.
Total boardroom 'criminal' ineptitude!!!!!!
Paul Ferry
085
Posted 05/02/2013 at 19:35:06
Kevin (061) you do love banging stats about don't you to show for the most part how well we are in fact doing when others around you are screaming blue murder about this draw and that performance?
Well, your year-by-year comparison is somewhat flawed as it depends on all things being equal. We in fact, according to no other man than the gaffer, have a better team this season, perhaps the best he has ever had under his wing. That might have some impact on your observation.
But, for the minute, let's go with your flow, your year-by-year flow. So, we have 1 games left, 2 are against promoted teams. Let's use your measurements and criterion to see what we might expect for the rest of the season to come. Eleven games can be compared to results last season in like manner to the way you like to compar eoverall results/performances. That would mean that we have to look forward to this: 2 wins, 3 draws, 6 losses, 12 goals scored, 18 goals conceded, 9 points from 12 games.
You use these literal comparisons for your own ends Mr Hudson. What do you think of this one?
Christopher Kelly
088
Posted 05/02/2013 at 19:51:12
How this man can not be honest with himself or the board makes me shudder to think what it will be like when Moyes finally walks and he starts coaching.
Can he be honest and say that he sucks, is part of the problem, and that criminally no reinforcements have come in to help!! A little bit of honesty from this rank and file soldier would be nice. He's still the captain right??
Mike Gaynes
090
Posted 05/02/2013 at 19:48:29
Sorry, Trevor, but I couldn't care less that Barkley and Gueye have been loaned. Neither has shown the ability to be a consistent contributor... and I doubt Gueye ever will. (And I think loaning Barkley will accelerate his development.)
What makes me scratch my head is that we have two far more competent midfield reserves, Oviedo and Hitzelsperger, who have seen little playing time even with Gibson out and players like Pienaar, Neville and Osman clearly tired and losing effectiveness. Even Baines followed up his midweek brilliance with a stinker on the weekend, and exhaustion has to be one reason.
I'm a big Moyes fan, but I can't figure what he's been thinking by leaving Oviedo and Hitz on the bench.
Mike Gaynes
093
Posted 05/02/2013 at 20:23:18
Neville doesn't suck, Christopher. He's actually playing very well defensively, which is his primary responsibility.
His passing sucks, but he hasn't even been the worst passer in the side. Pienaar has that distinction all to himself.
Paul David
099
Posted 05/02/2013 at 20:43:09
More shite from Neville, when will it end? A couple of years a go, after a good run in a short time, I'm sure Neville came out and said it was a good thing cos players would rather play than train.
Dominic Bobadilla
100
Posted 05/02/2013 at 21:09:03
I was never a big fan of Neville. But honestly: when some clown from the Echo calls you up and puts some silly questions to you, there are only two options: (i) hang up on him or (ii) give him the useless tidbits he is looking for.
Rob Smith
102
Posted 05/02/2013 at 21:13:22
Mike (#093), correct. Neville is useless in midfield but good in defence at right back and if fit would have been there against Villa. How many absolute sitters have Osman and Pienaar missed? 5 of our twelve draws could and should have been lay down wins, 10 more points.
Fer would have been replacing Osman in the run on side I would have hoped.
Makes us easier to defend against, close down Felli and Jelli and our goals dry up, except for Bainsey's set shots. Pienaar 4 goals Osman 3 Naismith 3 Mirallas 1 Gibson 0 Neville 0. Not a big return from Midfield. Luckily Anichebe has chipped in with 5 and counting, this is one of our better recent seasons as far as goals for is concerned and we are on par with the other top sides as far as goals against go.
Where Man Utd can concede as many as we do they always manage to pull a winner out of the bag, we tend to draw where a win is there to take.
Kevin Hudson
103
Posted 05/02/2013 at 21:13:11
Paul 'Anger Management,' Ferry...
Your prediction, whist based on an unlikely & exact repetition of last season's head-to-heads, is also one seemingly born out of abject pessimism; A Stygian gloom definitely not shared by myself.
How impetuous of me to highlight our team's improved form!
Jimmy Sørheim
108
Posted 05/02/2013 at 21:41:16
Phil criticising Moyes for not using his whole squad, because it clearly has cost us points – like I said it would.
Barkley should have been re-called once the Fer deal went south.
Jelavic could have been rested for more games if Moyes had played Vellios.
While Fellaini was suspended, Barkley should have been his direct replacement.
Heitinga should not have been allowed back until he showed good form for the reserves, and Duffy should have been preferred to Heitinga.
Neville has a fair and valid point to David Moyes: start using your WHOLE squad because if you don't then the team will suffer!!!
Kevin Hudson
111
Posted 05/02/2013 at 22:11:26
Reading through some of these comments, it occurs to me, that if Neville unilaterally decided to cease giving interviews, he would still cop serious flak.
He would be branded 'disgraceful,' 'arrogant,' jumped-up,' etc..
Instead, Along with Moyes, the answers he gives are frequently scorned, maliciously-skewed, over-analysed & coupled with quite bitter critique. There are those who even fret over Moyes's apparent 'body-language,' and give it the whole warped, OCD scrutiny...
As with 99% of interviews of this type, it is simply generic filler.
Tom Bowers
122
Posted 05/02/2013 at 23:10:38
Neville has been a great servant to Manure and Everton but was never an oustanding player just a steady utility player and it's time Moyes realised that he should no longer be a starter.
Maybe the ''gruelling'' fixture list is more of a worry to him because of his age and the fact he cannot sustain 90 minutes anymore against younger players.
Many other clubs have gone through the same period with many games. It's all part of the Prem setup so excuses like that are not acceptable. Yes Everton have a smaller squad but errors on defence such as Heitinga has made are down to mediocrity. After all, Heitinga hasn't been playing much like the other defensive players so he couldn't have been mentally and physically ''spent''.
Denis Richardson
125
Posted 05/02/2013 at 23:21:40
Last time I looked Everton were not the only club that play over the Xmas period and have games in Jan as well.
So either all teams perform at a lower level (hence no excuse for some of our recent results) or other teams don't suffer from having so many games (so what are we doing wrong?).
Neville really should just keep it shut.
Dave White
127
Posted 05/02/2013 at 23:24:27
As much as I would prefer a starting 11 without Phil Neville in it I think there's some unnecessarily harsh comments on this thread. Since he arrived at the club he's embraced it and acted as a true blue.
He doesn't bitch or whine and is a natural leader. He's obviously aware of his limitations and if and when dropped he will get his head down and do his best from the bench or whichever role for which he is required. You won't see him sulk or whine like some, I consider Neville to be an old fashioned professional and the game would be a better one if there were more with his enthusiam and attitude.
Paul Ferry
129
Posted 06/02/2013 at 00:22:12
Oh dear, Kevin, you can be a fool, can't you? Let me explain it to you carefully and slowly so that you can no longer be in any doubt. And, a little advice, next time before you post in response to something, read it all, read it perhaps one more time, pay very close attention to meaning.
'My prediction'. Are you that challenged? 'My prediction' is last season's results and it is not 'my prediction'. Pay attention: I wrote "Let's use your measurements and criterion to see what we might expect for the rest of the season to come." By this, I meant let's have the sort of literal comparison that YOU indulged in.
You compared last season to this by literally transplanting performances and results. Read carefully: I said this is not credible. But, I said, read this, let's do a Hudson and apply the same sort of method to the games yet to come that you applied to the game that have passed.
Can you understand that.
"Prediction', you really are a little foolish at times aren't you Kevin. 'Prediction'! Ha!
The moral of the tale Mr. Hudson, don't indulge in stupid facile comparisons if you are not prepared to have it thrown back at you. Oh, and the learn the difference between 'prediction' and using the Hudson style of lifting something from somewhere without qualification to make literal comparisons with, in this case, the record of Everton FC in Feb 2012 and 2013.
It's not rocket science, trust me. Dear me, 'prediction'.
Paul Ferry
131
Posted 06/02/2013 at 00:43:34
Dave (#127) — do you have hard and fast evidence that Skip Pip is 'obviously aware of his limitations' that you can share with us?
Si Cooper
137
Posted 06/02/2013 at 01:58:37
Andy (#066) - do you think Jenny's present soaked up the money set aside for a cheap player and a couple of loan deals?
Peter Barry
143
Posted 06/02/2013 at 03:43:50
An interesting extract from today's Daily Mail regarding the Deadline Day transfer of Stones:
"In the meantime, I was on the phone trying to keep up to date and assist with the London office and their final flurry, although this wasn't helped by the lack of mobile phone reception at Finch Farm!"
Might explain a lot about Everton's inefficiency at finalising transfers.
Thomas Williams
144
Posted 06/02/2013 at 03:46:53
I cannot believe some of the drivel that oozes out of some of our fans mouths, the above article in my mind was an accurate description of the last 6 weeks, of which we largely came through unscathed.
Could we have more points? Possibly; we could also have had less as well, we haven't got a squad to negate lots of games in a short period of time and as Neville said it is natural to have a dip in form.
What should happen then is the fans get behind them and support them — not spout drivel and moan at every decision or scapegoat — be it Pip, Osman, Vic or the latest one, JH... some even moan at Pienaar and Fellaini!!
Some people have very short memories in my book and have a vastly negative mindset regardless of the facts. Pip is a case in point: we have more shots, possession and score more goals and concede less when he is in the team, but that will not satisfy the naysayers, will it?
The same happened at Bolton when our fans decided to boo the manager over Heitinga's substitution of Jelavic; turned out he was right and they were wrong! Same applied on Saturday, Mirallas is NOT fit so playing him for 60 mins is fine by me, regardless of the status of the game. He went off at 1 - 3; it ended up 3 - 3, so Moyes was right again, Yes? Sadly for the negative mindsets no he wasn't.
What we have achieved this season is to turn the defeats (10 at this stage last season) into draws; the next stage is to turn the draws into wins, and that will require more investment. Turn your ire off the players and the manager and direct it at the real culprits: Kenwright and his cohorts.
Finally, fellow blues, cheer up, for fuck's sake, we are doing well and have played really well; we are above Liverpool and Arsenal, still in FA Cup, still have Fellaini and Baines, have 13 more points than last season, on the threshold of a possible CL place, so do us all a favour and leave your negativity until the end of the season will you.
Paul Ferry
146
Posted 06/02/2013 at 03:53:36
A new name, Thomas Williams, to add to the unthinking bland and blind and lame loyalist at all costs minority.
Welcome Thomas.
Robin Cannon
147
Posted 06/02/2013 at 03:53:48
@Dominic (100) - Absolutely right. I imagine it's the same for every other club captain around, as well, to give some kind of blandly positive response to the local rag every week or so.
Kevin Hudson
152
Posted 06/02/2013 at 07:15:58
Paul,
I simply pointed out that we're in a stronger position than this time last year.
We have scored more goals, won more games & subsequently have more points points on the board.
..Ergo, we are enjoying a better season.
Why would this bother you..?
Dave White
159
Posted 06/02/2013 at 08:25:33
Paul, Thomas is entitled to his opinion, some might even view him as an Everton 'supporter,' a stance which seems to attract howling derision on this site at times.
At least he has added something to thread rather just a bland, blind and lame ridiculing of an opinion.
As for 'hard and fast evidence' I'm not sure what you're expecting me produce? A signed affidavit perhaps? I would suggest it is evident by the style of football he plays: simple pass and move, works hard off the ball and using the the fact that he is the most experienced and decorated player on the side as captain.
I would reiterate that, in my opinion, a full strength side would not include Neville in the starting 11 but it is difficult to argue that he has not been a successful signing and added to the team since he arrived. As Thomas says, the statistics support this.
Just as long as he NEVER EVER tries to dive to win a free kick again!
Mark Murphy
163
Posted 06/02/2013 at 09:15:21
Leaving aside the "how good/bad is Phil Neville" debate I don't understand why anyone would think we have not improved year on year?
As a long standing and very blue tinged Evertonian I am also a realist and we do not have the squad size, the quality of players nor the money to improve significantly either of those, to be champions nor, in my opinion, a top four side.
5th or 6th best is what we are and where we are and, whilst I'm not the biggest Moyes fan tactics and approach to big games wise, I don't think we would be anywhere near that without him.

Philip Quilliam
164
Posted 06/02/2013 at 09:33:50
Mark #163. Spot on.

Joe Bibb
165
Posted 06/02/2013 at 09:43:33
The players are tired they have to work hard etc etc. If this is so, why then do they want a transfer when they are not in the team?

Andrew Ellams
168
Posted 06/02/2013 at 10:16:46
I think the problem with this season is that we dreamed early on and if 4th place doesn't happen then the reality would be harsh.
If we had consistently plodded along all season and then finished in 5th or 6th there would have been a lot less complaining.
But, on the other hand this really could be the season for somebody different to crack the top 4 and we are best placed at the moment
Eugene Ruane
169
Posted 06/02/2013 at 09:52:32
Mark (163) - I have no doubt you THINK you're 'a realist', but I very much doubt it.
Think about it - you KNOW the people who run our club are hopeless bullshitters who invest nothing, but you continue to support the club.
Surely, if this were any other business, providing similar levels of performance or 'satisfaction', if you were realistic, you would have thrown your hand in.
Being realistic, you would have told yourself that the service provider is corrupt and useless and can never provide you with satisfaction you desire and consequently, you'd throw your hand in.
But you don't.
Instead (again, like the rest of us) you live your life in a permanent state of wishful thinking.
"If we buy him and sell him and they drop points to them and we can get a win against the other shower, we could..."
There are four year olds who are more realistic than Evertonians.
nb: I also believe those who describe themselves as 'positive' or 'glass half full' cry themselves to sleep every night).
Harold Matthews
172
Posted 06/02/2013 at 09:55:06
On the number of players used etc.....Paul Merson, a big fan of the way we play, reckons the lack of clinical finishing will cost us dearly on the run-in. Our inability to put teams away results in far too many players having to stay on the pitch for 93 minutes. Eventually limbs begin to ache and it becomes quite a struggle. Not so much for teams with strength in depth, but beyond the first eleven Everton are quite lightweight.
I guess he's got a point. We are very lightweight. Some, through injury or suspension, have had the odd break, but for the likes of Jags, Distin, Baines, Osman and Pienaar it has been go, go, go all the way.

.
Philip Quilliam
173
Posted 06/02/2013 at 11:12:03
Eugene #169. "If we buy him and sell him and they drop points to them and we can get a win against the other shower, we could..." This could have been lifted from a Man City disgruntled fan forum. Everything about Everton seems to upset you quite a lot. I know that's none of my business but I do wonder how you derive any pleasure from your support.
Mark Stone
175
Posted 06/02/2013 at 11:37:03
Peter #143 who is that quote attributed to?
James Morgan
177
Posted 06/02/2013 at 10:49:59
This guy should've retired 18 months ago. I cringe when I see him in midfield, and only want to see him at right back in the absence of Hibbert and Coleman.
The fact that we've used the fewest squad players says it all, and not to get two or three in during January was criminal. A freshen up would've done us the world of good.
Martin Mason
178
Posted 06/02/2013 at 11:18:07
Eugene,
If Mark isn't a realist and you are then how do you "realistically" see us making the next improvement step given that it will need a substantial investment in new playes.
A miracle? The Good Fairy? A Blue Billionaire?
Doesn't sound reality based to me.
Robert Workman
186
Posted 06/02/2013 at 12:27:15
I used to watch a lot of matches at Goodison in the 60s, when I lived on Merseyside. We would turn up for each match knowing what the team would be - the same 11 as last week, unless we had suffered any injuries. Everton did not have a squad, they had 11 first team players. The other players played in the Reserves (who also played each week in the Central League). There were also Everton 'A', 'B' and 'C' teams. Occasionally a player would be promoted from the Reserves or a new player might be signed. There were, of course, no subtitutes.
Everton played 42 league matches per season, plus FA Cup matches. Dont think that the Mickey Mouse League Cup was around then. There was also the European Cup and Inter Cities Fairs Cup.
My point is that all first team players would be expected to play up to 50 matches per season.
What is so different about the modern game? Why do players need to be rested? Why cannot they be fresh after the Christmas/January matches. It was always a busy period.
If Phil Neville's comments are to be taken seriously then a mid-winter break should be considered, like in many parts of Europe.
Thomas Lennon
193
Posted 06/02/2013 at 13:05:43
I have thought the same myself Robert. All I come up with is games are probably faster though less physical, possibly more technical but played on better pitches. Players are fitter.
Perhaps expectations are far higher and there is a difference between those who can make use of a bigger squad and those who can't when it comes to performance? In the 70s & 80s and before no-one had a big squad so all were in the same boat. Relative to each other teams where not too different – all where knackered at the same time after Xmas. Nowadays teams with big squads are far fresher after Xmas and tend to win more against those with smaller squads? Consequently the smaller squads (i.e. Everton) complain about tiredness.
Dominic Bobadilla
194
Posted 06/02/2013 at 12:48:28
Robert Workman: Football evolves in tune with the rest of the society. A XXI-century footballer has to exert himself in ways that XX-century footballer did not have to. Look at some of the matches from the 70s: half the team trudging around the midfield-circle waiting for the ball the come their way.
Today the stakes are also much higher in terms of the money involved. With the rationalisation of the economy, an attendant rationalisation of the game of football has come about. Also have a look at how the formations have evolved. They started off with 2-3-5, whereas nowadays 4-5-1 is in vogue, soon to be superseded by 7-3-0.
I envisage a future where football goes the the same way American wrestling. Instead of footballers you will have actors and instead of genuine football fans you will have a lynch mob for crowd, ejaculating finely choregraphed cheers and jeers. Boards of bankers and politicians shall determine who the victors and the vanquished are to be. And woe betide those who dare to oppose their executive orders: their boot will be on your neck.
Sky has turned football into a circus, from the way they present the teams to how they show the replays. Developments far worse await us.
Eugene Ruane
204
Posted 06/02/2013 at 14:11:39
In post 169, I wrote in response to Mark Murphy...
"Instead (again, like the rest of us) you live your life in a permanent state of wishful thinking".
Martin Mason (178) you respond - "If Mark isn't a realist and you are then how do you "realistically" see us making the next improvement step given that it will need a substantial investment in new players".
Eh?
What do you mean - 'and you are'?
Martin if you read WHAT I WROTE rather than some post that exists only inside that empty Quality Street tin head, you would have immediately picked up on the line - 'Like the rest of us".
See it now?
Or more importantly, do you understand it in the context?
ie: That I (ME!) ALSO live in a none realistic world as regards Everton - that we ALL do.
So your - "If Mark isn't a realist and you are" is total bollocks isn't it and (now) proven so.
(why do so many who want to be a smart-arse only get the arse bit right?).
Which brings me to Phil Quill (173). who states..
"Eugene #169. "If we buy him and sell him and they drop points to them and we can get a win against the other shower, we could..." This could have been lifted from a Man City disgruntled fan forum.
Er..yes, well I don't know much about Man City fan forums so I'll take your word.
The POINT was, I used it simply to illustrate how Everton supporters (nb Martin: MYSELF INCLUDED!) look unrealistically at our team and that by virtue of our support, none of us can be realists (Jesus, it wasn't complicated)
Phillip you add...
"Everything about Everton seems to upset you quite a lot. I know that's none of my business but I do wonder how you derive any pleasure from your support"
Well you're right, it IS none of your business, however not to be impolite, I will reveal that one way I derive pleasure from my support.
To engage in a TW thread with Everton supporters who can follow a very simple point (rather than say with those looking settle some old score).
Looks like I'm fucking goosed today doesn't it.

Philip Quilliam
208
Posted 06/02/2013 at 14:31:51
Eugene. Why are you always so cross? Why are your points presented in such a confrontational and aggressive style? If you are so concise with your wording why is it that so many people misunderstand you? If you presented your case in clear terms then no one would annoy you further by adding to this confusion.
I realise that these exchanges must test your patience as you dispense your pearls to such an inferior and uncomprehending congregation but bear with us – we will try to understand.
How about this for a start at understanding? I gather that you are disatisfied with the Everton board in general and Bill Kenwright in particular and you would prefer that the whole lot of them left and went somewhere else. Let's not walk befrore we can run – is this a foundation I can build on or is even this small step a complete misunderstanding of your position?
Kev Johnson
210
Posted 06/02/2013 at 15:02:30
What is this, National Gang Up On Eugene Week?
Personally, I find Eugene's posts intelligent and amusing. So there.
Simon Lloyd
212
Posted 06/02/2013 at 14:45:53
Paul #131, If Captain Pip isn't aware of his limitations then he ought to be. At a BBC interview he had with Mark Chapman last year he described how, when he was with Manchester United, Alex Ferguson told him that he was the worst right back ever to have played for United. He then went on to say that recently David Moyes described him as the worst midfielder ever to have played for Everton! The comments from both Managers coming at half time in games when he was having a howler.
Mind you, both Managers continued to pick him in the team so maybe he thought they were having him on.
Barry Rathbone
214
Posted 06/02/2013 at 15:10:58
Phillip 208, Eugene isn't misunderstood..... at least by those who read what he writes and not what they LIKE to think he writes.
As for aggressive I say he takes no shit - fair enough in my book.
Philip Quilliam
222
Posted 06/02/2013 at 16:31:10
To paraphrase the Animals "Eugene's just a soul whose intentions are good... Oh Lord, please don't let him be misunderstood."
Dean Adams
223
Posted 06/02/2013 at 16:16:46
Same old people giving the same old shit Barry.
Mr Perfect thinks he is so much better than the rest of us. News flash, he also makes mistakes and has his own views, which are shared by some and opposed by others.
Some people always berate and try to belittle fellow blues on this site. Personally I do not see the value in his attitude, but do find the occasional wry smile in his views. Why he has to try to fall out with others is probably for the psychologists to analyse.
As for Pip, he has been a topic of debate, but the facts are quite clear, he is not a great player but strangely he does add to our team.
John Audsley
225
Posted 06/02/2013 at 16:36:27
Anyone who ever reads Eugene's posts has to understand that he is a very sarcastic fucker. He has said that many times and I for one wish I had his smarts and wit. This site need people like him and Paul Ferry as much as it needs Mason and the Doddmiester (who may have hung himself in the Freshy as he seems to have disappeared of late) and he only takes people to task if they have either written utter shite or totally misunderstood his viewpoint.
He doesn't really need me to back him so I'll fuck off.........
Philip Quilliam
228
Posted 06/02/2013 at 17:01:31
Seems like a good idea. I think I will fuck off too.
Eugene Ruane
241
Posted 06/02/2013 at 17:48:24
Jesus!
Ok before this gets....odd(er).
Did anyone actually read my first post on this? (169).
It really was VERY gentle stuff, nobody got slagged and I included myself in the only thing that could be construed as criticism.
To repeat - "Instead (again, like the rest of us) you live your life in a permanent state of wishful thinking".
Did I then react harshly (or too harshly) to people who's comments showed they had OBVIOUSLY not read (properly) my opinions?
In my view, did I fuck, but you're more than welcome to disagree.
By the way Dean you say..
"Mr Perfect thinks he is so much better than the rest of us"
Nonsense - the word 'us' suggests I think I'm better than everyone on TW.
The reality is I'm actually quite humble and the only person I think I'm better than is you.
Er.....COYB!
Peter Warren
242
Posted 06/02/2013 at 18:16:09
Kev 210 - no it's NATIONAL Gang Up on Eugene Week!
Paul Ferry
244
Posted 06/02/2013 at 18:13:41
Can I please endorse Kev Johnson's opinions (210). I always enjoy Eugene's posts which I don't find at all hard to follow and enjoy the style with its few drops of imagination and intellect, not always evident elsewhere on here. I also like Eugene's posts coz we were both at Highbury in 84 and Rotterdam in 85 and I get his cultural references that might sometimes seem obscure to the 'younger crop'.
The 'Why are you always so cross?' is a classic line meant to bring someone with a little passion down a peg or two. I get it all the time from Kev Hudson and the gang and it always amuses me. Apparently I now need 'anger management' classes. Some others might need sharp interventionist Clinical Psychology to stop them always thinking in one dimension when other things point elsewhere.
Can I suggest that we might have an ongoing thread where we all report what we are currently reading and what we value most in the world of books as this would put us on a level playing field and we can see where all of us are coming from. Perhaps we could call it Toffeeshelf?
Paul Ferry
245
Posted 06/02/2013 at 18:28:04
Can I also add that if I had a daughter, which I don't, I would be very happy for her to marry Eugene even though he is married and is three decades older.
Sam Hoare
247
Posted 06/02/2013 at 18:26:19
Ah, classic TW stuff. Who are the realists? The optimists or the pessimists? By definition, probably neither of them. But I know who I hope is right.
Si Cooper
248
Posted 06/02/2013 at 18:23:12
"Eugene. Why are you always so cross?" - it seemed like (understandable) exasperation to me. I think that will be an emotion familiar to many TWebbers for a variety of reasons.
Simon Lloyd and Dean Adams - that sums up our erstwhile captain pretty well. Effective and uncomplicated at his best; shocking at his worst. Question for the rest of this season - is he in an inevitable and irreversible decline or can he still produce the 'goods' when called upon?
Dean Adams
254
Posted 06/02/2013 at 18:42:52
Eugene - very presumptuous of you to take credit for Mr Perfect. Where does it say that it is you? Your arrogance goes marching on, jack boot style just no finesse or class. Very elevated self opinion you have there. Some would even say bordering on hypocritical, you know not actually reading what is written, but putting your own spin on things, again!!
Kev Johnson
255
Posted 06/02/2013 at 18:47:02
Peter @ 242 Let he who has not resorted to CAPITALS throw the first stone...
Go forth Eugene, and sin no more.
Blessed are those on TW who hunger and thirst for a trophy – any trophy, FFS – for they shall be satisfied. Blessed are The Toffees, for they shall ride in an open top bus at the end of the season, brandishing the FA Cup, having already qualified for the Champions League.
Sorry, I don't know what came over me. It was like I had a vision...
Ian Allaker
256
Posted 06/02/2013 at 18:48:58
Robert Workman, we may have played with less players back in the day, but so did everyone else, so everyone else was fucked as well.
Now we are still playing using very few players but all the other teams are using more and so are fresher and have more options from the bench that can change games.

Eugene Ruane
257
Posted 06/02/2013 at 18:58:35
Dean (254) - if you had said 'the long-necked spotty animal', a Giraffe reading this thread would naturally assume you were talking about him.
If you said 'the large grey animal with the trunk', an elephant could be forgiven for thinking you were talking about him.
You said Mr Perfect so what was I supposed to think?
Probably best in future just to name the person you're talking about - you can see the confusion you cause by not doing so.
Dean Adams
260
Posted 06/02/2013 at 19:30:12
Eugene - I must make a mental note to always clarify things for the lower than average intelligence that some people display when reading my posts!! Confusing you seems to be rather easy today. Have you been on the wine again? Or are you just amusing yourself with this latest attempt at wit?
Andy Crooks
263
Posted 06/02/2013 at 19:47:08
A very entertaining thread. I bet you'll be a bit more careful who you cross swords with from now on, Eugene.
Joe Clitherow
264
Posted 06/02/2013 at 19:38:08
FFS it was just a throwaway tat interview that 100% of football clubs provide to local news outlets.
What do you expect from that? Effing Frost/Nixon? It shouldn't be censored like some football Pravda (Brian Hill) nor should it be taken as some club conspiracy to try and blind us with mind control (ever seen some of those Apollo moon hoax believer posts???).
Then see how the thread developed – pure gold entertainment with the usual factions and slanging matches!!
I'd suggest you either do as I did and read the first two lines and yawn, or read it all and then consign it to the bin, not turn into a TW 'Angry of Mayfair'.
Jeez, some of you guys are hard work!
Tom Bowers
268
Posted 06/02/2013 at 20:07:51
It's sad that many fans are getting at each others throats on this topic. The bottom line is Neville is the captain and therefore Moyes thinks he's great even though most of us agree he is past his best no matter what position he plays.
Another sad thing is that Moyes has no faith in any other player on the books to take his place much like his blind faith in Osman. This is what is keeping Everton as just another top four wannabes.
We were encouraged by a few good early season results until we lost Gibson and Mirallas and it's been a struggle since. Luckily other teams results have kept us in with a shout and things may improve but with the poor form of Jela and the defensive chinks I doubt if we can nail down fourth.
Dave White
269
Posted 06/02/2013 at 20:22:12
Gents WE MUST STOP FIGHTING AMONGST OURSELVES!
Jelly stops scoring and we all turn into animals! You hear me talking Croatia boy? You SEE what you've done to us?!!
No worries, I bet you Moyes's Salary Tony Hibbert will power in a howitzer from 30 yards in his comeback against Utd!
Dean Adams
271
Posted 06/02/2013 at 20:31:20
Dave - knowing Hibbo's record, it will be for united!!
Si Cooper
274
Posted 06/02/2013 at 20:54:30
Kev (#255) - could that be termed the Mersey Beat-itudes?
......I'll just get my cassock.
Simon Lloyd
347
Posted 07/02/2013 at 12:14:48
As the New Testament has crept into this thread (and as I am trying to avoid actually doing what I should be doing) can I put forward some suggestions for a Christian Everton 11:
Derek Temple
Jimmy Gabriel
Dixie Dean
Walter Abbott
Apostolos Velios
Lucas Neill
Harry Makepeace
struggling now...
The Moyesiah...
I think Si Cooper took my cassock
Kev Johnson
351
Posted 07/02/2013 at 12:21:21
Brett Angel, Nun Valente, Tony Habit, Jack Godwell, James Beattietude, Tommy Tabernacle...
Colin Glassar
356
Posted 07/02/2013 at 12:55:39
Please retire Neville. You are embarrassing yourself.
Kevin Hudson
371
Posted 07/02/2013 at 14:41:35
Paul Ferry, (244)
As ever, an unimpeachable, cogent & rational response, that again makes total sense.
(To anyone with double-digit I.Q still grappling with the concept of opposable thumbs).
Please don't take a bow for being a passionate Evertonian as it isn't unique to you.
Also, to accuse me of 'one-dimensionalism,' when I've yet to read ANY post from you that doesn't either berate Everton Football Club, it's manager, captain, or supporters....is about as glaringly-redundant as it gets.
If you wish to read this ardent Moyes supporter giving an alternate take on our manager, then please look up the 'Moyes The Constantly Curious,' thread, in which I list about a dozen complaints about the manager that I have.
(Nb: Just to demonstrate that I'm not as one-dimensional as you wrongfully-assert).
Back to you: Did I mention we're the 5th best team in England...?!!
...according to you "other things point elsewhere..."
(Nb: Facts versus Paul Ferry's hypothesised, alternative, doomsday scenarios).
An adult regressing to adolescence; No kidding - my 8 month-old son appears to have a sturdier grasp on reality.
Chin-up.
David Price
383
Posted 07/02/2013 at 15:39:41
Thomas Williams, sane and accurate comments, first timer then according to Ferry, wow, are we all listed in the Citizen Smith book of up against the wall if we dare be optimistic about this season?
Opinions, despite how fancy the language, are just opinions, don't let it stop you expressing yours.
Paul David
400
Posted 07/02/2013 at 17:09:04
I heard on the radio this morning that Moyes is looking to give him a new contract.
Paul Ferry
418
Posted 07/02/2013 at 18:49:14
Nothing to add Hudson except the usual you talk bollocks all the time. Quite the contrary sir, I praise club/players/gaffer all the time when it is due; my last before this one was in praise of Jelly (I can almost tap this in my sleep now: 'get your facts right Hudson before you post and think before you post'). Go through my posts - you will learn from me - and one of my mantras is praise when praise is due.
You, however, have not earned my praise, if that is what you mean by fans. If not, shut the fuck up, and don't conflate clashing swords with you and your ilk with bashing fans, the vast majority of whom do not trot out your one-dimensional delusional trash.
And, secondly, Neville wants to stick around a little longer. Oh my. I feel like that little Fella in Dickens, Tiny Tim is it, God help us all and God bless us all. Hey Hudson is it okay to be negative? Fact: Neville is my least favourite starter, sideways bleeding crab. Cannot bear watching him in midfield and my big fear Saturday is that he will be there next to Gibbo. That header last week that started an attack for the other side: funny in retrospect as no goal was scored but jawdroppingly horrfying at the time.
If Neville had the decency and dignity that Moyes has in buckets then he would hang his boots up.
Cue Hudson and the like diving on here to say what a great skip he is: he claps, he shouts, is great at running up to refs, he does boss interviews. We always do better with him than without him, blah, blah, blah. Oooo you are so negative Ferry; so, so, well, beastly.
Andy Walker
439
Posted 07/02/2013 at 20:19:02
There is indeed somone dishing out one dimensional trash on this thread. Problem is the individual is so wrapped up in their own self importance and blinkered reality they cant see the obvious.
Quite entertaining though.
Kevin Hudson
446
Posted 07/02/2013 at 21:04:26
Charming response, Paul; Stay happy.......
Add Your Comments
In order to post a comment, you need to be logged in as a registered user of the site.
Or Sign up as a ToffeeWeb Member — it's free, takes just a few minutes and will allow you to post your comments on articles and Talking Points submissions across the site.