Gibson to play on despite thigh problem
by

Comments
(26)
jump to end
| 01/03/2013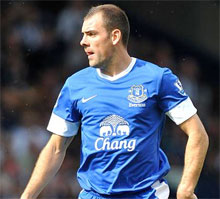 David Moyes has confirmed suggestions that surfaced last week that Darron Gibson is being asked to play on through injury to support Everton's parallel quest for FA Cup glory and a place in Europe.
Though the Irishman has played regularly since returning from a second spell on the sidelines with a thigh tendon problem at the end of January, he has not recovered fully and will likely need surgery to remove a bone spur.
Short of options in midfield, his manager is trying to stave off the need for the operation until the summer, even if that means he isn't able to perform in top gear.
"I think we are in control of Gibson but there is a danger," Moyes says. "We thought he might have needed an operation earlier in the year but the medical staff have managed it well.
"We think we can get away with it just now, but he is going to need (the operation) sometime. I think he can offer more but maybe it is just the injury holding him back a bit."
Typical of Moyes's no-nonsense attitude, he has no qualms asking the former Manchester United midfielder to power through the pain barrier for the benefit of the team.
"We are not going to let him roll over so we can tickle his belly," the Scot continues. "He is going to have to get up and get on with it and he has done that to be fair to him. The injury has tempered him from shooting and taking corners."
"That is a big part of his game and at times I have considered not using him but he has done OK. He can get better and I keep trying to prod at him mentally to get a bit more devilment in him in the things that he does. But I can't prod at him too much while he is carrying this injury."
Gibson is expected to be in the starting line-up at Reading this afternoon where Everton go in search of their first win in four Premier League games.
Leighton Baines is another player who has been playing despite a niggly ankle compaint but one player who could miss out against the Royals is Tim Howard. The American suffered a back injury against Oldham on Tuesday and hobbled through the closing stages of the cup replay after a series of aerial collisions with opposition players.
Tony Hibbert, meanwhile, is not expected to play again until the very end of the season, if he returns at all before the summer, as he recovers from thigh surgery. And Victor Anichebe is on the mend from a groin strain suffered at Boundary Park two weeks ago but he is highly doubtful for this weekend's game.
"That is how it is when you come here," Moyes comments on his walking wounded. "We haven't got a big squad and you have to be able to do a couple of jobs.
"In a way, it breeds a spirit among the players. I don't let them roll about on the treatment table too long. They are out and about but sometimes it can catch you out."
Reader Comments
Note: the following content is not moderated or vetted by the site owners at the time of submission. Comments are the responsibility of the poster. Disclaimer
Phil Sammon
733
Posted 01/03/2013 at 23:45:37
And knowing that...he still failed to find an additional CM since the Ofoe deal fell through 6 months ago.
Oh but wait, there's Junior, Barkley and Lundstrum all excelling at CM in the U21's and respective international levels. Maybe they'll see first team action by the end of the decade.
James Flynn
746
Posted 02/03/2013 at 02:31:36
Our ownership in microcosm. Make do, make do, make do.
Be someone else to make do next season, since Moyes has had enough of it. Just please God, not fucking Martinez.
Peter Thistle
749
Posted 02/03/2013 at 03:34:45
Maybe play someone else in his position Moyes you tit. It's not like Gibson is setting the world alight at the mo. Even if we lose a few games i'd still prefer to see Barkley given a go. Tired of the refusal to give youth a chance.
Patrick Murphy
765
Posted 02/03/2013 at 08:00:46
It's one thing to keep the playing people in the team when they are out of form, it's quite another to knowingly play them when they are carrying injuries. What if Gibson, Baines et al suffer serious long-term problems and become unavailable for longer periods. This is crisis management and will only end in tears, a younger player given a start every now and again may have alleviated the need to push injured players to the extreme limit. Just at the period of the season when you want your players to be as fit as possible Evertonians and the rest of football are being told that we are possibly at our weakest and most vulnerable.
No wonder Evertonians are pessimistic, just when we think a trophy may be on the horizon, we are given information which looks like the season will end in a whimper rather than a bang.
Andy Mack
768
Posted 02/03/2013 at 08:28:54
That explains why he wasn't taking any shots last week. Surely midfield is one of the few areas we are able to cope with injured players, why bother bringing young Ross back, or signing Hitz, and while I'm at it, why didn't we let Stones continue until the end of the season at Barnsley. Howard injured, thats a bit of a shocker...
Sam Hoare
773
Posted 02/03/2013 at 08:45:51
Moyes goes on about having a small squad but he really does not utilize it even so. Surely the likes of Oviedo and hitz must be capable of making more starts and of not then why are they here? Also he does have a fair few promising youngsters that he chooses not to use. Perhaps if one or two of them were given a chance alongside the usual first team it might become apparent that he has more options than he believes.
Anthony Flack
776
Posted 02/03/2013 at 09:05:42
Daft desperate dopey dick head. If I was Barkley I would look elsewhere. The boss says you're not playing but the player in your place can not shoot or cross and we know he can't tackle....
Even if I thought like Moyes I would keep it to myself. Not exactly motivation for others. ...
Phil Sammon
777
Posted 02/03/2013 at 09:18:52
Andy
Yes! He has turned down chances to shoot recently which is very unlike him. Good point.
An yes! Why didn't Stones stay at Barnsley where he was playing first team football at a good level?
Anything Everton related is always such a farce.
Gavin Ramejkis
780
Posted 02/03/2013 at 09:19:07
With the club finding some spurious roles such as that lad that gets to watch highlights of the match and comment you'd think they'd get Moyes a Sports Psychologist for himself. The guy has a massive aversion to risk, not sure what is at the heart of it but it hangs onto him like a ball and chain. He needs to know that he does need to take risks and go for it with some of the youth players, not an en masse high risk deal of playing half a dozen of them at once but shown how to calculate the risk of continuing to play an off form or injured player versus playing a youth replacement. Yes it might not go well, but it equally might work out and the longer he leaves players without experience they need to increase the chances of it being the latter the more likely it will not work out.
It seems to seep from him into the players too and we go from lovely joined up stuff to doubt and not risking moves which could get us something, watch the rat and see how many times he goes for it, not always working out but more often than not the risks he takes chasing a potential goal scoring opportunity have put him into double figures for the season. The longer you perform a trait the harder it is to break it.
Liam Reilly
783
Posted 02/03/2013 at 09:22:54
Incredible statement, surely a fully fit Oveido or Barclay is better than 50% of Gibson
Paul Andrews
785
Posted 02/03/2013 at 09:34:23
Perfect scenario to give Barkley some playing time. Moyes is reported in this mornings press to have refused Championship clubs requests to take Ross on loan, logic tells you that must mean he is planning to use him.
David`s logic ?... Ross will play IF our central midfield choice collapses with the operation requiring injury... IF the 37-year-old full back we play in midfield is not available (the one that cant run or pass a ball 10 yards).. IF Hitzlsperger is not available... and IF we have not got a forward or left full back we can play in midfield is not available.
Ged Simpson
789
Posted 02/03/2013 at 10:08:47
Barkley has suffered a groin injury recently.
Nick Entwistle
790
Posted 02/03/2013 at 10:11:22
So much for Neville being first on the team sheet. The moment Gibson can play Neville is dropped. And who would people prefer?
We're still better with him in the team despite the injury and I'm sure there are many more in the league being asked to play on through things like this. Its not unheard of.
Does anyone know though how long an operation would keep him out for? That must be bye bye to Hitzlesperger, if there was any doubt on that before.
Barkley wouldn't play the Gibson role and is silly to suggest.
Phil Sammon
792
Posted 02/03/2013 at 10:17:06
Who suggested that, Nick? If Barkley were to come in Fellaini would drop deep.
John Crook
793
Posted 02/03/2013 at 10:12:39
Seems strange playing a player who you know cant run the risk of shooting and causing further injury. This is a club who said they couldnt sign leroy fer becasuse of the risk of injury happening again but who has played every match this year in the Dutch league. As much as I like Gibson its been obvious he has been off the boil last month or so. I say play Fellani back there. Let Osman play just off Jelavic. Leon will get important goals!
Nick Entwistle
796
Posted 02/03/2013 at 10:22:33
True Phil, that's where he'd play. Osman in the middle.
Ray Morgan
799
Posted 02/03/2013 at 10:33:43
I don't see the point of Everton's youth policy, we never ever play them, just send them on loan with a view to sell them!!
Paul O'Hanlon
807
Posted 02/03/2013 at 11:16:27
Mucha in goal? Just when you thought our defending couldn't get any worse...
Si Cooper
030
Posted 03/03/2013 at 01:12:11
"We are not going to let him roll over so we can tickle his belly."
Surely expecting a player to play with what must be great discomfort (if he cannot even attempt to blast the ball) is more than one step away from pampering?
Do the Moyes family have pets, and should the RSPCA be notified? :)
Patrick Murphy
034
Posted 03/03/2013 at 01:26:42
SI, I think they have an aging bulldog named pip, but he may be sent to the vet in the near future. There's also a bit of gossip regarding a slow moving Hibbo roaming around their back garden.
Ben Molloy
348
Posted 04/03/2013 at 09:45:10
Isn't Fellaini supposed to play centre mid?
Mike Gaynes
409
Posted 04/03/2013 at 14:32:17
Phil Sammon, just curious... how do you know Barkley, Junior and Lundstrom have been "excelling"? Have you seen them play? Me neither. We have no way of knowing if they're up to scratch, let alone if they're better than who we have at the moment. If they were, I think they'd be playing. Moyes ain't stupid.
Sam Hoare, I too have wondered for some time why Hitz and Oviedo weren't playing more, especially with the Gibbo injury and Pienaar's poor play in recent months. But Gibbo has been very good since he came back, especially ballwinning and distribution, and his cross to Mirallas for that goal was elegant. And Pienaar suddenly played an absolute blinder... best goal he has ever scored for Everton... so Moyes has been right about them too.
Kieran Fitzgerald
455
Posted 04/03/2013 at 18:30:11
It's a difficult one. Gibson is a player we need fully fit and playing thirty or forty games a season. If we were ten points better off, you could take a chance on Gibson having the operation now so he would be fit for pre-season in July. We could just close up shop between now and May and hope to nick enough points to finish in the European spots.
If we were ten points worse off, you could just write off the season to some extent and get the operation done now. Start afresh in pre-season.
Right now our season is on a knife edge as to whether or not it will be deemed a success. Moyes must feel he will get enough out of Gibson between now and the end of the season to chance playing him.
I personally am not a fan of playing players when they are injured. This idea of giving them painkilling injections and then wheeling them onto the pitch just doesn't make sense to me, especially with certain players like Gibson, who constantly seem to carry niggles.
Harold Matthews
500
Posted 04/03/2013 at 21:40:41
This Gibson business is a tricky one. His ability to read the game and pick the right pass is exceptional but team-mates, notably Osman, are forced to do a double shift in order to cover for him.
Ian Bennett
503
Posted 04/03/2013 at 21:57:19
If he's injured, why did he play the 90 on Saturday? Odd.
Thomas Windsor
616
Posted 05/03/2013 at 13:00:11
You cannot play football at any level if you are carrying an injury, you will just make it worse.
Moyes, you boring clown, put some youth into the team — we are playing Wigan at home, not Real Madrid!!
Wigan might not even put a full team out as Premier League survival is their target.
Add Your Comments
In order to post a comment, you need to be logged in as a registered user of the site.
Or Sign up as a ToffeeWeb Member — it's free, takes just a few minutes and will allow you to post your comments on articles and Talking Points submissions across the site.
© ToffeeWeb