Mirallas out for last three matches
Everton confirm Belgian star's groin injury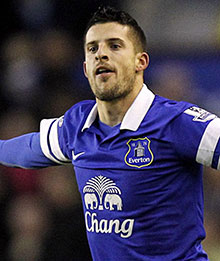 Updated

Kevin Mirallas will miss Everton's last three games of the season with a "small tear" to his groin, Everton have now confirmed.

The 26 year-old appeared to be in some discomfort as he made his way around the pitch at the final whistle of Sunday's win over Manchester United after being replaced in injury time by Aiden McGeady and initial reports from Belgium that his League season is over have now been confirmed.

Mirallas is expected to be out for a month but should make the World Cup Finals in Brazil.

The loss of the forward will be keenly felt by the Blues — Mirallas has scored nine times this season, including important strikes in the recent home wins over Arsenal and United, and has been a vital part of Roberto Martinez's side in many of the big games this season.

"Kevin being out for the rest of the season is a real disappointment because he was in a phenomenal moment of form," the Spaniard said today.

"Kevin is a quick healer. The most important aspect now is that we get him fully fit and ready to participate in the World Cup."

Mirallas, who spent a frustrating portion of his first season in the Premier League out with a recurring hamstring complaint but has been relatively injury-free this term, sent a message to supporters on Twitter via his international teammate, Romelu Lukaku, saying:

"Thank you for your support! I'm very sad because i can't help my teammates for the last 3 games. I hope the team will qualify for the champions league (sic) and I will have some treatment so i'm ready for the [World Cup]."

Everton are also waiting on Sylvain Distin's injury to settle down before being able to full diagnose the extent of the tweak to his hamstring. The Frenchman was withdrawn at half-time on Sunday after feeling a twinge in the muscle and Martinez revealed today that the results of those tests won't be known for another 48 hours or so.

Distin is almost certainly ruled out of the trip to Southampton but the manager insists that Phil Jagielka won't be rushed back to fill the void. The captain has been involved in first-team training and Martinez has targeted the Manchester City game at the start of next month for his return. That would mean Antolin Alcaraz partnering John Stones against Southampton on Saturday as he did in the second half against United at the weekend.
Reader Comments
Note: the following content is not moderated or vetted by the site owners at the time of submission. Comments are the responsibility of the poster. Disclaimer
Jimmy Sørheim
294
Posted 22/04/2014 at 04:47:31
This is a huge blow. It will affect things surely.
Mike Gaynes
299
Posted 22/04/2014 at 05:00:49
Bummer after his best game of the season.
Anto Byrne
300
Posted 22/04/2014 at 05:10:40
Big game player, now time for Geri to stand up and tear up the defences in the last 3 games.
I would love to see him blow Man City apart.
25th Anniversary of Hillsboro and the title going to the penalty kings.
OFM out the door at Man Utd
You couldn't write this stuff.
Peter Z Jones
302
Posted 22/04/2014 at 05:25:00
Attention: McGeady and Deulofeu. Time to go to work!
Harold Matthews
306
Posted 22/04/2014 at 05:53:14
Yes. A mighty blow indeed. Our most clinical finisher and did a fair share of defensive stuff against United. Delboy doesn't know the meaning of tracking back and inhibits the runs of Coleman. Can't see us starting with McGeady or Osman but I guess it all depends on the tactics. Someone will have to keep Luke Shaw busy.
Will the legs of Alcaraz stand up to two games in a row? Luckily he only had 45 minutes so maybe he'll be OK.
Sam Hoare
308
Posted 22/04/2014 at 07:04:07
Shame if true as he looked unstoppable at times vs Utd. Still Deulofeu is a more than handy replacement.
Ryan Rosenberg
311
Posted 22/04/2014 at 07:19:26
Huge blow. Last thing we need at the moment.
By the way, has anyone heard ANYTHING about Traore? I haven't heard any mention of him for nearly two months. Shouldn't he be returning around now?
James Martin
324
Posted 22/04/2014 at 08:18:35
How come we keep rotating players yet they all keep getting minor injuries but Liverpool have played near enough the same 11 most games and don't have hardly any. I wont even start on our propensity for cruciate injuries.
Colin Glassar
343
Posted 22/04/2014 at 09:00:15
That's the last thing we needed. Oh well, we need del boy and Mcgeady to step up now.
What's the news about Distin?
Tony Abrahams
367
Posted 22/04/2014 at 09:26:19
Said on a thread last week that he flatters to deceive for me and although I still stand by this, I do think his performances against both Arsenal and United have been very good.

He looks to have more desire in the bigger games so maybe he feeds off the crowd and if this is true then it's bad news for The Blues.
Patrick Murphy
384
Posted 22/04/2014 at 09:57:12
We could really have done with him at least for the Saints game. But we will have to endure the situation that is what happens at this stage of the season - it also doesn't sound good for Distin either. The lads who come in to the team will have to pull out really good performances to try and achieve maximum points.
Jim Bennings
410
Posted 22/04/2014 at 10:46:59
We have no luck with injuries do we?
A major loss if true and the same goes for Distin.
Was a bit concerned with McGeady an Delboy against Palace to be honest, they looked lightweight and never got us going attack wise, let's hope they can both start showing their class from now until the end of season.
Jim Bennings
422
Posted 22/04/2014 at 11:06:49
Completely forgotten all about Traore.
So much for him being fit by now, we haven't even had an update on him have we?
Old news but I have no idea whatsoever why he is still with us.
Tony Draper
436
Posted 22/04/2014 at 11:48:59
Really disappointed for Kev if this is true
His finish for our second was superb and did full credit to the brilliant build up play
Traore, Kone now possibly Kev ?
Then add Geri & Lukaku's injuries
Well I suppose all squads have injuries
For me, regards Kone & Traore.....we should move on close season
Carl Peters
449
Posted 22/04/2014 at 12:29:11
I'm fairly sure Martinez said, it was a touch of cramp on sunday so maybe wait until the OS tell us otherwise.
Pat Waine
452
Posted 22/04/2014 at 13:07:11
What's the story with Traore?
Nick Entwistle
477
Posted 22/04/2014 at 13:48:00
He signs a new contract and gets slagged off, then gets injured and is praised by all! Top player and never understood the occasional complaints. Bargain buy.
Jordan Beagle
533
Posted 22/04/2014 at 16:18:07
What is the status of Steven Pienaar?
Maybe it is time to resurrect the feared left side attack.
Nigel Gregson
544
Posted 22/04/2014 at 16:42:48
One of the core things that Bobbie's improved is squad depth. I have full confidence that Gerri / Aiden will take care of the job in Kevin's absence. We only have 3 (massive) games left.
Look at our injuries :
1. Jags
2. Pienaar
3. Oviedo
4. Gibson
5. Kone
5. Mirallas
7. Traore
8. Distin
That's at least seven first teamers (Traore maybe a squad player), last season would have meant - forget about winning anything - hope for a draw. Now, I still feel that we can do the business. We have enough firepower.

Brian Furey
560
Posted 22/04/2014 at 17:16:15
Kev has had a reasonably good season and probably like most of the players enjoys playing under Bobby.
He gets a lot more goals than say Pienaar but you still think he should get more. I think in the last 5 games or so he's more of a team player and often finds the right pass instead of going for glory himself always. He even seems to work back and tackle much better now which I can never see Delly doing. Sorry lads I just think the young lad has a LOT to learn yet.
What's the story with Traore's wage the last few months? Have we being paying that for him to score a flukey back heel flick?

I must go and watch the grim reaper video as I haven't seen it yet.
Minik Hansen
566
Posted 22/04/2014 at 17:20:12
Big blow. Atleast we will get to see more of McGeady (and Deulofeu), who have looked promising at times. And when is Pienaar back? Jordan, you're right about resurrecting the left side! COYB.
Denis Richardson
585
Posted 22/04/2014 at 18:33:24
Bullaks - this is shite news......hopefully with Southamtons season being over that will help us a bit. Hopefully the other AMs can see us through and get us the 3 points.
Jack Cross
594
Posted 22/04/2014 at 18:38:30
Mageady can cover Maralas no problem. Got the pace and ability. Southamton are no mugs, seen them play some great football and win and get beat. But will be an hard proposition at home. But 4th place should be a big incensive to beat them, no matter how slender of a win.
Looks like Distan will also be on the sidelines. But if Caraz slots in like at Man U well he'll do ok for me.
Phil Sammon
600
Posted 22/04/2014 at 18:49:01
It's a real blow to lose Mirallas but as has been said it provides oppotunities for McGeady and Deulofeu. It may also mean we see a reprise of Lukaku out wide and Naismith through the middle.
Mirallas is a bit greedy at times but I'm afraid most flair players are. What has impressed me most about him is his determination. Aside from maybe McCarthy and the full backs I reckon he puts more running in that the rest of his team mates.
As Nigel (544) says, this time last year an injury list like this would mean a crisis. Although I'm disappointed with this news...if anything it just excites me at how Martinez will adapt the team to cope. It might be the perfect opportunity to get George Green on the bench.
Jack Cross
604
Posted 22/04/2014 at 19:01:38
Don't know if anyone is aware but Bains as been nursing a Fractured toe since the Sunderland game. It doesn't seem to have held him back though.
David Price
606
Posted 22/04/2014 at 18:55:25
Dont think Bobby will worry about Shaw more on exploiting the space behind him. Lukaku wide McCarthy moves across when defending, Seamus overlaps then Shaw will have his work cut out. Naismith more central like Sunday with Ross/Ossie left of centre.
Jack Cross
610
Posted 22/04/2014 at 19:06:40
David Price. You read the game very. Know your stuff.
John Paul McGurk
617
Posted 22/04/2014 at 19:17:54
Time for Gerry boy to step up.
Jack Cross
623
Posted 22/04/2014 at 19:32:06
Very well, I meant David.
James Stewart
626
Posted 22/04/2014 at 19:40:26
Time for Gerard to show his worth. I don't think there is much difference between him and Mirallas so its not like we don't have a like for like replacement
Linda Morrison
628
Posted 22/04/2014 at 19:47:17
Jack I don't know many players who could cope with a fractured toe are you sure you are right? If so where does this leave England?
Jack Cross
635
Posted 22/04/2014 at 19:54:49
Linda, I know what you're saying but take it from me, it's true Linda.
Martin Handley
650
Posted 22/04/2014 at 20:44:10
OK so it's bad news for Kevin but as per other posters on here we still have Gerry D and Aiden Mac plus Stevie P in another week, so I think we're covered OK. Also there's a chance Gibbo could be ready for City so it's not all bad news boys and girls.
Ben Patchesa
655
Posted 22/04/2014 at 21:08:25
First time in 20 years reading ToffeeWeb (when's the official anniversary by the way?) that I've been given a CBeebies flashback.
"What's the story with Traore?"
Wouldn't you like to know?
Lloyd Brodrick
666
Posted 22/04/2014 at 21:33:55
Disappointing as Mirallas has improved his overall play and given us a treat with some of his passing recently. Hope hes ok for Brazil. It's great to think that not too long ago this would have been devastating but we now have a bench of quality to draw on. Whilst not really like for like Deulofeu can cover albeit he's more pradictable as Kevin can be quite manic. McGeady however less predictable and more passing ability. Either way if they can take a look at themselves and provide some cover then we will be fine.
Tom Bowers
668
Posted 22/04/2014 at 21:45:55
Bad news indeed but for once the Blues have some depth which may see them through the last 3 games with good results. I don't think any true fan really expected what they have achieved so far under RM in his first season.
When you consider the good start to the season was hampered somewhat by the injuries to Kone, Alcaraz, Gibson, Oviedo and then Delboy they recovered their form pretty well and the disappointments can be counted on one hand. The games that may have cost them dearly are Palace twice, Sunderland at home and it goes without saying the two derby games one of which was in the bag until the last gasp.
All in all a really satisfying season with the high hopes of an even better one for 2014/15.
John Raftery
671
Posted 22/04/2014 at 21:42:43
Phil 600 From what I have seen of George Green at under 21 level on Everton TV he is not yet ready for the first team. He needs to go out on loan before he could be considered.
Steavey Buckley
713
Posted 22/04/2014 at 23:32:33
What is disappointing this season, no young talent in the wings to fill Mirallas's football boots or any other first team player. With quite a few young players in the academy reaching 19 or 20 years of age would have been the right time of year to show they have really developed since being with Everton as kids.
Colin Glassar
718
Posted 22/04/2014 at 23:43:32
I agree with Lloyd, Del and Mcgeady are sufficient cover for Kev and if they fail we've always got Ossie to blame.
Andrew Hawes
756
Posted 23/04/2014 at 01:39:56
Football really is a lot to do with luck. How many injuries have we had this season that's left us without vital players at vital times?? Liverpool must have fielded pretty much the same team all season!!
Nevertheless we have players that can now come in and really make a name for themselves!!

Mirallas is gifted but also extremely greedy which sometimes goes against Martinez philosophy of practically walking the ball into the net.
In my view I am more concerned about distin,a complete rock this season.

Win these 3 games and were in the champions league that's my view, as I have always thought Newcastle with their French contingent are getting a draw at least with Arsenal because they want to play there way into a London club.
Bob Parrington
810
Posted 23/04/2014 at 09:36:39
Sounds like Belgian bullshit to me. They just want to preserve him for the world cup?????
Ray Williams
854
Posted 23/04/2014 at 11:48:13
Big loss, but getting him on a new contract is most important. I fancy Belgium to have a good run (man for man they're better than England) and Kevin should be well rested. Need him on a contract to thwart interest I reckon.
Del Boy and Aiden can easily slot in, I actually reckon Aiden has shown a fair bit of good in his appearances but I'd start Del boy just because he'll be keen to prove something to Barce, even though I think he'll come back to us next season.
Chris Morris
886
Posted 23/04/2014 at 13:28:21
Hope the new slimline McGeady gets his chance and takes it. Del Boy seems hell bent on slowing the game down when he gets it but that will stop in time I'm sure (unfortunately we may not see it if we can't get him back on loan).
I was dubious about the McGeady signing but against Palace he looked a bit sharper and a lot fitter
Chris Morris
887
Posted 23/04/2014 at 13:31:55
Where's Pienaar?
He seems to have fallen off the face of the Earth. Any updates?
Tom Bowers
891
Posted 23/04/2014 at 13:37:55
Players with speed are expected to be greedy in certain one-on-one situations but sometimes a good defender will read the direction well. However, I would rather have the likes of Delboy and Mirallas in my side rather than the alternative as a speedy player will always put a defence on the back foot.
Delboy and McGeady will fill in capably although neither has the scoring potential of Mirallas. Even with the injuries Everton have had to endure, the squad is much stronger in depth than it ever was under previous managers over the last 20 years.
Everton still have a great chance of 4th now that Chelski will rest players against the RS as when City come to town the race will be over.
Steavey Buckley
902
Posted 23/04/2014 at 14:34:33
Pienaar, according to Roberto on the Everton website, has stepped up his training along with Jags, but both won't be rushed back. Yet, with 3 games just to play, Pienaar and Jags will have to be rushed back with so much at stake. And that may have to include Gibson, who is back in full training with the first team.
Paul Niklas
988
Posted 23/04/2014 at 19:22:25
I am not a fan of Mirallas, he is too inconsistent for me. He also has an arrogant streak that based on his performances this season has no reason to show itself.
I see it as no loss at all and we will be fine without him.
Lyndon Lloyd
994
Posted 23/04/2014 at 19:25:40
Yes, Paul, but that arrogant streak is probably what lies behind that wonderful free kick against Norwich and that excellent goal against United on Sunday, to name just two examples.
He has weighed in with some crucial goals and assists this season (e.g. Fulham, away; Swansea home) and Martinez has been using him very effectively in recent weeks. In that sense, he has been getting better, particularly in the big games.
It's conceivable he would have been rested at Southampton but will be a big miss against City, in my opinion. He's a match-winner on his day.
Nick Entwistle
997
Posted 23/04/2014 at 19:30:48
Yup, I forget who said it, someone in the media, but they said something about English players having an issue with arrogance on the pitch, scared of becoming more than they are.
The last player with that was Fernandez. Del looks like he may have a bit of it, once he figures out what a final ball is.
I think there was a level of arrogance in Englsih players a few years back but it more came through their celebrity, and played out not on the pitch but in clubs. When they lost their European team mates for international matches, they all went into hiding.
Paul Niklas
012
Posted 23/04/2014 at 20:36:53
Interesting viewpoint on a player who apart from the odd bit of magic has been anonymous in the majority of games this season, to the point that Martinez has effectively dropped him on more than a few occasions.
He loses the ball more than he retains it, his work rate is appalling and his attitude is that of a superstar.
It amazes me how players can get the support from fans they do not deserve, I cringe every time the fans chant his song, they did the same for Jelavic who had a good start but was woeful for the second season, all these unwarranted love ins and Osman for example does not get a look in, I would have him on my team sheet everytime against Mirralles and I also believe Mcgeady will in the future keep him out the team.
Darryl Ritchie
051
Posted 23/04/2014 at 22:17:08
When in the mood, Kevin can be the best player on the pitch. Other times, he's incredibly selfish, or just plain invisible. It must be frustrating for RM to figure out which Mirallas is going to show up on match day.
Still, our injury list is getting pretty long. We have cover but we're getting seriously thin, especially at the back.
Colin Glassar
151
Posted 24/04/2014 at 10:03:04
With both Kev and Distin out for the rest of the season it's disappointing but not the end of the world. Mcgeady and Del, plus Alcaraz, are more than capable deputies who can cover for the last three games.
James Marshall
202
Posted 24/04/2014 at 14:03:46
Arrogance? Of course you have to have arrogance to the the best at any given sport, or in fact, in anything you do. Arrogance is a required trait of anyone who wants to be better than their opponent. Why does anyone have a problem with arrogance? Even our manager has talked about having arrogance when talking about the players and moreover, the club. That includes us.
Bask in the arrogance of being a top club, don't be afraid of it or apologetic about it.
Paul Niklas
206
Posted 24/04/2014 at 14:27:29
Arrogance is a very fine line, you have to have earned the projection of arrogance and Miralllas has not, Victor Anichebe had the same attitude and look what he achieved.
Ronaldo is arrogant and he can be, Messi has that in him also, Kevin Mirallas needs to be humble and achieve.
I would cite Naismith, took a lot of grief from Everton fans but has contributed more than Mirallas this season and not a hint of it.
Keith Simmonds
240
Posted 24/04/2014 at 16:22:08
So we go with McGeady, Naismith and Lukaku as the front three.
Something that Sturridge lacked before this season was an unselfishness or the ability to know when a run is going nowhere. I think Mirallas, Barkley and Lukaku need to learn this too. Far too greedy.
Add Your Comments
In order to post a comment, you need to be logged in as a registered user of the site.
Or Sign up as a ToffeeWeb Member — it's free, takes just a few minutes and will allow you to post your comments on articles and Talking Points submissions across the site.
© ToffeeWeb