Clement wants Sigurdsson situation resolved this week

48 Comments [Jump to last]
Wednesday 2 August 2017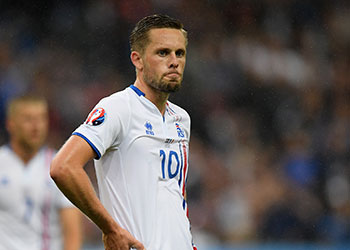 Gylfi Sigurdsson's future could be resolved by the weekend if the Swansea City manager gets his wish of a decision either way in the next few days.
Paul Clement was quoted last weekend as saying that closure of the Icelandic international's weeks-long transfer saga was "imminent" but, as yet, there has been no deal with Everton over a proposed transfer to Goodison Park.
Nor has there been any indication that Sigurdsson will commit himself to Swansea, the club he joined from Tottenham Hotspur three years ago. He was back in training today for an open training session at the Liberty Stadium.
The Toffees have been linked with the 28-year-old for the past year and have stepped up their interest in him this summer, with successive bids of around £30m and £40m reported to have been lodged and knocked back.
Swansea appear to be digging their heels in over a £50m fee for their star player, a price they may yet achieve, particularly in the absence of Sigurdsson submitting a transfer request or otherwise agitating for a move.
"I hope it's it done [either way] today!" Clement told BBC Sport today after confirming that the midfielder won't feature in the Welsh club's friendly against Sampdoria on Saturday because of the ongoing uncertainty over his future.
"I believe that talks are going on and hopefully we'll get a decision in the next couple of days.
"I think it will be best for all parties involved [if that is the case]."
In the wake of reports suggesting that U23s defender Callum Connolly could be offered to Swansea as a make-weight for Sigurdsson, Clement was asked if a player-plus-cash deal was a possibility.
"Assuming it's the right player coming back our way, someone we want, someone we've got belief in, someone who fills a need... those kinds of deals are always a potential," he replied.
---
Reader Comments (48)
Note: the following content is not moderated or vetted by the site owners at the time of submission. Comments are the responsibility of the poster. Disclaimer
Jon Withey
1
Posted 02/08/2017 at 16:32:15
Let's wait to see if we win the next game!
Jay Harris
2
Posted 02/08/2017 at 16:35:00
Let's get this over the line and concentrate on a top quality goalscorer next.
Nitesh Kanchan
3
Posted 02/08/2017 at 16:40:27
So this is basically done as he is sitting out another game for them.

But Neymar moving to PSG for £198 million is absurd. Barkley should not be sold for less than £30 million.

Dermot Byrne
4
Posted 02/08/2017 at 16:53:58
Nitesh: I get the feeling that, in my lifetime, the bubble of European soccer will burst big time.
Bill Watson
5
Posted 02/08/2017 at 16:55:56
I'm losing the will to live over this one!
Colin Grierson
6
Posted 02/08/2017 at 17:01:04
We should not be offering Connolly as part of the deal. £50m is more than enough! I hope we protect our youth.
Steven Higgott
7
Posted 02/08/2017 at 17:03:54
This is dragging on, surely two football clubs can get together, see what Swansea wants, tell them what we are prepared to pay; if they say that's not good enough, then move on.
A striker and a centre-half is what we need and some pace in the attacking third. Stop wasting time, Everton – get it done or bale out.
Kim Vivian
8
Posted 02/08/2017 at 17:06:36
Yes Dermot, and agreed Nitesh re Neymar.
To put it into perspective, it is less than 10 years since Mansour bought Man City for £210m.
That's 1 Neymar plus an Oumar Niasse, please guv'nor...and keep the change.
Mind boggling.
And (sorry Michael) - off topic here - but anyone want a ticket for the Upper Bullens on Sunday?
Hasan Noor
9
Posted 02/08/2017 at 17:07:20
PSG will need to offload players to make the books balance. We should see if we can get any of their players... even though it is a long shot!
Denis Richardson
10
Posted 02/08/2017 at 17:33:06
Isn't Angel di Maria going the other way for £45m? So the net fee is 'only' about £150m...
Peter Laing
11
Posted 02/08/2017 at 17:35:54
In typical Everton fashion, this potential transfer has just run and run. In terms of urgency the irony is that, although Sigurdsson is needed, there are more glaringly obvious deficiencies in the team that need addressing. We definitely need a prolific goal scorer to replace Lukaku and I remain unconvinced by Ashley Williams.
We are nowhere near yet capable of challenging the top four and 6th, 7th or 8th looks like a more realistic target once again.
Brent Stephens
13
Posted 02/08/2017 at 17:46:55
"In typical Everton fashion this potential transfer has just run and run".
Just like the Sandro signing. Just like the Klaassen signing. Just like the Rooney signing. Just like...
Typical Everton.
Tony Abrahams
14
Posted 02/08/2017 at 17:48:38
I would sooner Williams went back to Swansea as part of this deal, Peter, but can't blame Everton for this though.
It's a bit like when we sold Lescott and everyone knew that Man City were paying too much for him, and everyone also knew that it was the only way they were going to get him.
I think that, once a player wants to leave, then it's not worth keeping him; but it's only natural to try and drag it out to get the best deal. Maybe Swansea now realise that the best deal has already been offered... and now it's time to play ball?
James Hughes
15
Posted 02/08/2017 at 17:48:44
Kim, as you say, the money in football is of the scale now. I will disagree with Dermot as I can't the market collapsing any time soon.
The premier league is still missing out on serious money with the archaic regulation over Saturday 3:00 pm kick-off's being televised. This regulation is so out of date and step with the current game I am amazed it is still enforced.
Despite multiple streaming sites being available each match-day, where we can watch for free, albeit worrying about trojans/malware etc. The Premier League does not work with this system it chooses to ban or block access. Even though on some match-days there can be as few as 4 scheduled 3:00 pm games.
There was a post on here recently about Netflix or Amazon taking over the broadcast rights (I apologise to the poster for forgetting who you are). You would be able to buy on a game by game basis.
I would be more than happy to subscribe to that. My club gets revenue and I get a good stream that is safe and secure.
Can't see it happening any time soon though, so match day viewing will be dodgy streaming and watching the live forum celebrating a goal you get a minute later on your stream.
Anyway, as always, onwards and upwards COYB

John Wilson
16
Posted 02/08/2017 at 17:49:53
Did anyone see Liverpool's game with Bayern in the Audi Cup last night? I watched the first half and judging by their performance they made Bayern look like an amateur side. When Liverpool lost the ball they simply pressed and got the ball back.
If this is Liverpool pre-season and our poor game against Ruzomberok is anything to go by, how can Koeman be 'satisfied' with our performance? If we lose on Thursday, I believe our Euro's will be over before they even begin.

Liam Reilly
17
Posted 02/08/2017 at 17:59:04
John, the RS routed Barça last preseason and it mattered not.
Going out tomorrow though against Ruzomberok and I'm taking a few days off. Doesn't bear thinking about.
Re Sigurdsson; if he does come, he's going to be way off the pace to start the season.
Stan Schofield
18
Posted 02/08/2017 at 18:06:59
John@16: Bayern were under-strength, and I don't think you can read too much into pre-season games. This time last year Liverpool beat Barca 4-0 pre-season.
I agree with you about Koeman'sresponse to the Ruzomberok game. It wasn't a friendly, it was a proper competition, yet it seemed almost like we were playing in a friendly.
Tony Abrahams
19
Posted 02/08/2017 at 18:15:21
Not if we lose 2-1 John. Everyone can see that Klopp gets his team's really fit and it's a great tool to have if you are fitter than your opponent, especially when everyone knows their own job.
For this reason alone, I expect our own transformation to take a lot longer because, by the end of this window, I expect us to have a completely different team to the one that finished the last campaign.
If we are not prepared to be a bit patient, then going out tomorrow would be an absolute disaster because this squad needs as many games as possible if it's ever going to gel.
Dave Speed
20
Posted 02/08/2017 at 18:22:51
Just remember that we are going through a major overhaul whereas most others are fine tuning. Also, even though we were expected to walk all over Ruzomberok by the football world, I think that most of us at EFC weren't surprised.
Having said that, they are a month ahead of us fitness-wise, and we are a week closer tomorrow. Finally, they will be under more pressure to come out and play, rather than sitting back and breaking out. It will all come together.
Mark Morrissey
21
Posted 02/08/2017 at 18:30:57
I'd agree with what Peter is saying @ 11. This is more typical of how we have operated in the past. It's as though we have suddenly got stage fright over transfer dealings.
We have spent nothing so far. Lukakus sale has taken care of all the recent signings and it's a real shame that we don't seem to be able to open the company wallet. I suspect that Koeman will be getting as frustrated as us.
It also doesn't bode well for the striker we are all hoping for. I sense that we might be about to miss out on this one. It just doesn't seem to sit right with me and I suspect Everton might baulk at the inflated price.
John Mckay
22
Posted 02/08/2017 at 18:37:24
I'd imagine this deal was already wrapped up when they allowed Dowell to join Forest for the season? Just like the Lukaku deal was wrapped up long before it was official.
Sure, the selling clubs ask for this so they can get players in without getting raped themselves.
Gordon Crawford
23
Posted 02/08/2017 at 18:39:50
I hope this gets sorted, as it's very distracting.
Also, the dark side have an abundance of pace; we don't... so this needs to be addressed.
Neil Thomas
24
Posted 02/08/2017 at 18:43:41
Angel Di Maria – now there's an option for a Number 10 instead of Sigurdsson if Swansea are going to fart about.
Dave Speed
25
Posted 02/08/2017 at 18:49:42
I think we should sign Reid and Gray. I don't know why but it feels like these two could turn the team around.
Ian Jones
26
Posted 02/08/2017 at 18:52:13
Dave
Yes, agreed... I am with you on that. :)
Dermot Byrne
27
Posted 02/08/2017 at 18:56:02
James (15): actually what I see is Euro, Chinese and Asian (maybe US) super leagues who play within their leagues and then move to a super World Club Championship.
Now sure, that lot will have insane money and few clubs will ever leave these leagues. The rest (and sadly unless we develop fast in next 10 years, us) will just be training/feeder clubs to these super clubs.
I would think two kinds of fan will emerge. TV fans and those rich enough in the next generation to watch a super club.
The rest of us, if we actually like to watch football rather than glamour, will turn up and watch the feeder clubs.
So maybe not a bubble bursting but, reflecting world economics, ie, the money being in even less hands.
Arild Andersen
28
Posted 02/08/2017 at 18:58:32
For Connolly, I hope they make a Geri-style buy-back clause. I like the look of him.
And about Koemans comments: it's true that our team did not impress in the Ruzomberok match, but still: they won and kept a clean sheet. Look at the other matches, very few was won with more than one goal. Teams are cautious in the first leg.
Freiburg, who was 7th in Bundesliga last season and theoretically similar to our level also managed a scrappy 1-0 vs Domzale from Slovenia. AC Milan won 1-0 in Romania. PSV Eindhoven LOST at home to a Croatian team.
Marseille won by two goals, but conceded two at home. So I'd say 1-0 was job okay done, two would have been good. But now Ruzomberok will have to attack and the match will open up.
Bill Gienapp
29
Posted 02/08/2017 at 19:14:56
This deal really needs to get done, because there have been so many Sigurdsson threads over the last month, there's literally nothing more to say on the matter. The topic's been exhausted.
The transfer window's reached a critical juncture. The business we've done so far has been tremendous, but the squad, as currently constituted, isn't poised to do much more than replicate a 7th place finish.
It's the next few moves (Sigurdsson, an established striker, another defender, ideally a winger with pace like Gray) that will determine if we can genuinely challenge for top six.
Chris Williams
30
Posted 02/08/2017 at 19:23:19
Koeman said in his press conference in Slovakia that He was hopeful this deal would now get done.
Pickford to start and Rooney also, having recovered from a minor groin strain.
David Currie
31
Posted 02/08/2017 at 19:35:17
Tony (#14), good call on Williams going as part-exchange for Sigurdsson, instead of one of our good young ones.
Stan Schofield
32
Posted 02/08/2017 at 19:39:13
Bill@29: Just a comment regarding finishing 7th. Does that assume the 'top-6' will be as last season? The season before, it was a different top-6, and Chelsea finished mid-table. Southampton and Leicester were top-6 The point I'm making is, surely we cannot possibly say where we're likely to finish?
This time last year, a lot of posts on TW were dreading the season, thinking we'd finish mid-table or lower.
Trevor Peers
33
Posted 02/08/2017 at 19:51:22
This saga needs sorting out and quickly. Koeman has spent so much time and money on this, that Sigurdsson has to hit the ground running, there will be pressure.
Barkley is now apparently wanted by Chelsea according to the rags, no doubt to boost their English contingent. It would be intriguing to see how Conti handles him, if it's true.
Nitesh Kanchan
34
Posted 02/08/2017 at 20:17:46
Mahrez is available. Someone wake up Moshiri and Koeman from the Sigurdsson dream.
Being an Atletico and Everton supporter, I am loving the way we are shutting the RS up.
Bill Gienapp
35
Posted 02/08/2017 at 20:22:46
Stan (#32) - evaluating the landscape of last season, it felt as if there was a bit of a market correction that firmly re-established Chelsea, Man City, Man Utd, Arsenal, Spurs and the RS as the top six clubs, with us somewhat marooned in 7th and then a sizable gap with the rest of the league.
Of course, anything can happen, but personally, I don't see the pecking order changing much, particularly in terms of the clubs below us. West Ham fans are talking a lot of trash about their transfer window, but IMO 7th is our absolute floor. So it's really a question of whether we can overtake the established top six. But we'll see!
Alex Rowe
36
Posted 02/08/2017 at 22:46:26
@ James (#15),
I am really surprised to hear back in the UK you are still not able to watch any Premier League game of your choosing live every week through a TV subscription such as Sky.
I have lived in Australia for 13 years and for quite a few years now I have been able to watch every game live through Foxtel (equivalent to Sky) and more recently Optus (a telco). I am happy to pay for these premium services to get good quality coverage.
Tom Bowers
37
Posted 02/08/2017 at 22:57:02
Alex, yes here in Canada I can get to watch almost every game as it happens as well as the other big European leagues. Why are people restricted to just Sky etc?
Do they not have the IPTV set top boxes that does the streaming for little more than a dollar a day? I have had mine for some years now and dropped the big cable companies completely. My biggest problem is the channel hopping because I am spoiled for choice.
Alex Rowe
38
Posted 02/08/2017 at 23:37:50
Tom,
I suspect it is a restrictive broadcasting rights issue still in the UK rather than a technology issue.
Ben Dyke
39
Posted 02/08/2017 at 23:44:29
Matches are limited on TV in the UK because it affects attendances. You can't go to the game if you live abroad hence less restrictions on matches shown.
Michael Williams
40
Posted 03/08/2017 at 01:02:15
Apologies if this has been posted previously. Column in The Guardian about why Everton should think twice about signing Sigurdsson:
https://www.theguardian.com/football/who-scored-blog/2017/jul/26/gylfi-sigurdsson-everton-swansea-transfer-window
Says – that of Sigurdsson's 13 assists, only 5 came from open play and eight were from set-pieces and Everton lacks a target man to take advantage of that skill set. Sigurdsson made 25 key passes in open play, Gueye and Barry each made the same while Barkley made 56.
The column makes a great argument for going after Chievo's Birsa or Montpelier's Boudabez because they are younger, cheaper, and more productive. Basically there are better players available for less money.
Not saying I agree with all this but very thought-provoking.
Dave Speed
41
Posted 03/08/2017 at 05:24:31
Ben D #39 - there is one exception on banning watching matches live on TV if you live abroad. For the reason you state (i.e. affecting attendances for a certain team), the same restrictions apply in Oslo.
Chris Williams
42
Posted 03/08/2017 at 13:32:15
I see the wonderful Phil Thompson has recommended that Spurs should pull out of their alleged pursuit of Barkley and instead sign Sigurdsson.
What a guy!
Trevor Peers
43
Posted 03/08/2017 at 14:33:25
Spurs will see us off with a late bid... sound familiar?
Sam Hoare
44
Posted 03/08/2017 at 15:22:21
I wish this far too long-running saga was over a player who I thought would dramatically improve us – or at least a player who was not hideously over-priced.
I'm sure he will do okay if he comes but will okay be enough for that price tag?
I also wonder who will get to take free-kicks as Rooney will fancy himself I imagine as a prominent set-piece taker
John Wilson
45
Posted 03/08/2017 at 15:30:25
It was Spurs that let Sigurdsson go in the first place.

Gordon Scott
47
Posted 03/08/2017 at 15:42:28
John (#45). I am sure it is Man Utd that let Pogba go in the first place, or us that let Rooney go... Not sure what your point is?
Alan J Thompson
48
Posted 03/08/2017 at 16:57:39
Get Honest Ron over to Swansea ASAP and tell this bloke,"Sign or else!". Oh no, that didn't work last either.
Jamie Evans
49
Posted 05/08/2017 at 08:45:10
Sounds like such an extortionate price but, looking at the current market rates I'm not sure it is. If he signs, at least he'll be able to take our corners, instead of our strikers having to.
Bobby Mallon
50
Posted 05/08/2017 at 11:26:41
Just sign the fucker... sick of this now; will he won't he – we need a striker, a top bloody striker, not another midfielder, for god's sake.
Add Your Comments
In order to post a comment, you need to be logged in as a registered user of the site.
Or Sign up as a ToffeeWeb Member — it's free, takes just a few minutes and will allow you to post your comments on articles and Talking Points submissions across the site.