Spaniards give Blues a stern test after Sandro strike

220 Comments [Jump to last]
Sunday 6 August 2017
Everton 2 - 2 Sevilla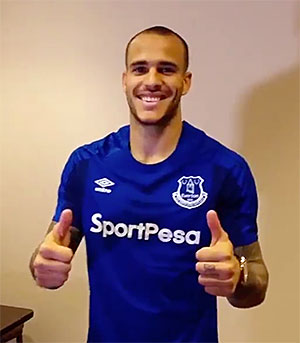 Excellent predatory goal inside 30 seconds from the young striker
Everton take on Sevilla in the last pre-season friendly at Goodison Park.
Dominic Calvert-Lewin returns to Everton's starting line-up for today's friendly clash with Sevilla following his match-winning impact from the bench against Ruzomberok.
There are just two changes to the side that lined-up in Thursday's Europa League victory in Slovakia — with Mason Holgate selected at right-back.
Idrissa Gana Gueye and Ashley Williams are the men to drop out, with Tom Davies — who starred at wing-back during the week — restored to his more familiar midfield role for the Spaniards' visit to Goodison Park.
Jordan Pickford retains his place in the Blues' goal and will play behind a back four consisting of Holgate, captain Phil Jagielka, Michael Keane and Leighton Baines.
Davies is partnered by Morgan Schneiderlin in midfield. Manager Ronald Koeman looks poised to deploy Calvert-Lewin and Wayne Rooney on the flanks — with Davy Klaassen assuming his customary role in behind the team's lone striker, on this occasion, Sandro Ramirez, seeking to continue his impressive scoring record against the Andalusians.
From the kick-off, route one from Jordan Pickford picked out Calvert-Lewin who played in Sandro, brilliantly around the keeper and slotting home inside 30 seconds!
Sandro won a corner, which he took poorly and Sevilla continued to dominate possession since the early goal. A clumsy trip by Klaassen saw tempers rise and two players saw yellow early on, with Pickford sharp to punch, catch and parry as the pressure built on the Blues.
Davies got free and looked as if he was clipped for a certain penalty but he threw his arms up as he crashed to the ground and was shockingly booked for diving!
Another slick move saw Sevilla finally get past Pickford but Baines was there to clear off the line. Ben Yedder then got past the Everton backline and looked certain to equalize but Pickford was out superbly to block the shot away.
It was scrappy stop-start stuff at times. Some better interplay got the ball to Klaassen in space but with perhaps too many options in front of him, he played the ball straight to a defender. Another better move but this time it was Rooney who overhit his pass.
Ronald Koeman rang the changes at half-time. Sevilla proceeded to run rings around the replacement Blues, giving them a stern defensive test. And the resistance in the end was futile as Ever Banega slotted one wide of Pickford to level the score.
Referee Mike Jones, who was having a much harder game than he must have expected, then gave Sevilla a penalty for a foul on Nolito that looked to be outside the box but Benega sent Pickford the wrong way from the spot.
Everton were a lot brighter after three more changes, with Kenny, Besic and Lookman coming on. Lookman's energy led to a penalty for Mirallas that he took himself and forced rather fortunately through the keeper's body.
Lookman produced a superb attempt out of nothing that forced a fine save from Soria, Williams almost scoring with a header from the ensuing corner. It ended 2-2 which was a good result considering how much Sevilla had dominated the play.
Everton: Pickford, Holgate (72' Kenny) , Jagielka (46' Williams), Keane (72' Besic [Y:74']), Baines (46' Martina), Schneiderlin (46' Barry), Davies, Klaassen [Y:13'] (46' Gueye), Sandro (72' Lookman), Rooney (46' Mirallas), Calvert-Lewin.
Subs: Stekelenburg, Robles.
Sevilla: Soria, Mercado, Pareja, Lenglet, Escudero, Pizarro, NZonzi, Banega, Montoya, Correa [Y:13'], Ben Yedder.
Subs: Rico, Corchia, Kjaer, (46' Krohn-Dehli) Navas, Ganso, (46' Muriel) (46' Nolito (66' )) Lasso, Churripi, Fernandez, Pozo, Matos.
---
Reader Comments (220)
Note: the following content is not moderated or vetted by the site owners at the time of submission. Comments are the responsibility of the poster. Disclaimer
Keith Conchie
1
Posted 06/08/2017 at 13:06:53
Everton posted on Twitter that it's being shown live on Facebook which I don't have. Should be on Everton tv...
Frank Wade
2
Posted 06/08/2017 at 14:22:43
I don't think you have to be on facebook to watch. Not sure if it's just commentary but this link looks promising
Link
Dermot Byrne
3
Posted 06/08/2017 at 14:26:59
Yeah looks like we can watch it through Facebook. Wonder if we will have a Live Forum ?
Christy Ring
4
Posted 06/08/2017 at 14:38:11
I can't believe McCarthy is not even on the bench, unless he's injured again?
Bobby Mallon
5
Posted 06/08/2017 at 14:45:24
McCarthy being sold...
Henry Lloyd
6
Posted 06/08/2017 at 14:45:58
You can watch the game on firstrowsports.com or Vipbox both have a great stream with no buffering and stop start. I live in Indonesia and use these 2 sites all the time.
Brian Garside
7
Posted 06/08/2017 at 14:58:07
I still believe that Kenny is the best alternative to Coleman. Thankfully Jags plays instead of Williams. How anyone can think that Williams is the better layer is beyond me. I would like to see a two striker formation.
cricfree.sc also have a link.
Ciarán McGlone
8
Posted 06/08/2017 at 14:59:43
Why are they wearing polo tops!
Looks like Calvert Lewin on the wing again!
Chris Williams
9
Posted 06/08/2017 at 15:12:54
Dixie era shirt, part of the 125 anniversary of Goodison.
Or a marketing opportunity depending on your disposition
Ciarán McGlone
10
Posted 06/08/2017 at 15:18:01
Calvert Lewin up top.. far better from Koeman in terms of selection.
Josh Barber
11
Posted 06/08/2017 at 15:22:07
The shirt looks a lot better than our real kit this year... this is a hard-fought, chippy friendly so far which is just what Everton needed I think.
Ary Lima de Moraes
12
Posted 06/08/2017 at 15:25:59
Doesnt look like a friendly for sure, Sevilla players too violent, their player should've been sent off if it wasnt a friendly for sure
Michael Kenrick
13
Posted 06/08/2017 at 15:40:59
KITANO becomes NOAKIT
Mohamad Haryan
14
Posted 06/08/2017 at 15:58:54
Every season bad passing especially in the final third. Compare that to Sevilla's passing and movement. Slow buildup with no pace. Why do our defenders wait until they are pressured before making a desperate pass forward.. which end up as a hoofball. Seriously Koeman do something about that. I will give Koeman at least 10 PL games with his very own team he assembled to judge him for his defensive minded team. COYB
Shaun Wilson
15
Posted 06/08/2017 at 16:03:24
It's on ESPN Deportes, in Spanish, for anyone in the US.
Dave Abrahams
16
Posted 06/08/2017 at 16:07:23
Kenny on the bench. Koeman has named 10 substitutes so it was hard to leave him out with Martina also on the bench; looks ominous for Jonjoe. I hope they pick a good team for him to go on loan to. Paul Cook, manager at Wigan, would be my choice. A Scouser who knows the game, that's if they can't get him a Premier League club.
Bobby Mallon
17
Posted 06/08/2017 at 16:53:23
I enjoyed that game once the young lads came on. Pace all over. Mo Besic should be a centre half next to Keane – top player.
Matthew Williams
18
Posted 06/08/2017 at 16:54:13
Watched the second half live on YouTube. Very poor showing. We got real lucky with a poor penalty; serious work in progress.
Lookman, Davies & Kenny have to start games.
Loved the retro 1920s shirt... better than the new home one imho.
Chris Williams
19
Posted 06/08/2017 at 16:55:52
Dave , Kenny came on and did well, as did Martina who also did well at left back.
George Cumiskey
20
Posted 06/08/2017 at 16:56:05
Played off the park again I'm afraid, but I suppose ToffeeWebbers will come on and try to put a positive spin on it.
Lookman and Kenny should be starting next week, otherwise I think we will be in for a very hard season.
Nitesh Kanchan
22
Posted 06/08/2017 at 16:59:47
Koeman is to blame for this. His team was awful at the end of the season where every tom,dick and harry beat us and that thing is continuing into this season. If he knew about problems in the team why he didn't correct it in the transfer window.
Though I will give the benefit of doubt to him being a preseason game. That first five games will totally say it all if he is good enough for this job or not. Maybe I am overreacting here, but I only know Koeman from Valencia having watched their games – not from the Saints.

Andrew Presly
23
Posted 06/08/2017 at 17:00:56
The first twenty minutes after the break were embarrassing but glad to see pride restored after that even if a draw flatters us.
Sevilla are light years ahead technically and tactically, we hopefully learnt a lot today.
Kenny has to be starting games, how can Koeman not see this?!
Striker and Sigurdsson asap please or it might be a frustrating campaign.
Gareth Hughes
24
Posted 06/08/2017 at 17:02:50
We can't let Lookman leave on loan, as per the rumours today,
Tony Twist
25
Posted 06/08/2017 at 17:03:00
What on earth does Koeman do on the training pitch? Not a lot by the looks of things. A very poor show after a goal very early on which should have taken the pressure off them to go out there and play. The work going on behind the scenes on the training pitch, the preparation for each match, is severely lacking. I think the team is going backwards unless we are lucky enough to get a centre forward that pulls defences apart, holds the ball up and then plays in his team mates and scores lots of goals. We have been sleeping with the transfer market for weeks looking at Sigurdsson as the solution, he is not a centre forward. We desperately need a centre forward before the start of the season or it will be the same old, same old after the first game of the season discussing where it all went wrong. Wake up Everton and get your finger out!
John G Davies
26
Posted 06/08/2017 at 17:05:23
Lovely finish from Andy Johnson today.
Stephen McNally
27
Posted 06/08/2017 at 17:08:43
A very good team Savilla who had Everton chasing shadows for most of the game. As for the team selection for the Stoke City game, I'd like to see a number of young players used more, because we have looked laboured during preseason. Kenny, Lookman Davies etc need to be on the team sheet to inject some pace into the team. Oh, btw, a new decent striker is s must.
Steve Brown
28
Posted 06/08/2017 at 17:09:30
George #20, agree completely. Once we injected pace in the team with Lookman and Mirallas, we put them under real pressure.
Mason Holgate has never looked comfortable at right back. To be honest, we looked far more balanced with Kenny and Martina as full back. Also, Schneiderlin looks off form in the pre-season. Lots for Koeman to think about but Lookman must play down the right.
Steven Higgott
29
Posted 06/08/2017 at 17:12:27
Out-run, out-thought, through out the game. I know Seville are a great side but the different's in class was all to see but all because we were static for most of the match until Lookman came on and gave us some energy.
Sandro looked a bit lost. Rooney was poor I couldn't pick anyone out who I thought had a good game. Apart from the Lookman and Besic cameos.
We so need a striker, someone who has energy in midfield a centre half Williams has lost it. Jonjoe Kenny has to be given a chance as Holgate is not a left back. This post sounds negative but this squad maybe able to get something against Stoke but as for the next 4 games, I think we will be getting nil points.
Let's hope we do some good business in the next few weeks cos we do need it. Well played, Lookman and Besic, for at least trying.
Josh Barber
30
Posted 06/08/2017 at 17:12:32
Sevilla were clearly the better team but it was a competition except for the 20 minutes after halftime. If you take away their bogus outside the box penalty and give the one for Davies, Everton would have won. Not that we deserved it.
Anyway, I respect Koeman but I have no idea why he wouldn't start Lookman or bring him on every single game. It can only be because he wants to play his new players. Everton finally showed some heart at the end of the game, but it's clear to see that Sevilla were superior in technical ability and crisp passing to one another.
Overall, I think this was a good wake up call for the team, and it should prepare our players well going into the season. They should recognize what type of play is needed to beat quality teams like this one.
Sam Hoare
31
Posted 06/08/2017 at 17:15:27
A fairly mediocre pre-season. Especially compared to most of our rivals. See the dark side beat Juve 2-0 today. None of it matters really except the vaguest of benchmarks as to what to expect.
For my money we look unbalanced. I don't think we have bought that intelligently this Summer after the excellent Pickford and Keane. Rooney and Klaassen look like similar players and i'm not sure either of them has the pace or incision needed for the Premier League. Sandro I think will do okay but my worry is that we kick off in a week and still don't have a proper striker. Or pacy winger (bar the inconsistent Mirallas and inexperienced Lookman).
Our attacking options are so limited compared to the top 6. It looks we might be a team to keep it tight and try and pinch one but if so then I fear we are lacking solid options at full back and I've no idea why Kenny was not given more time in pre-season.
All in all its very hard for me to feel like anything other than 7th-10th awaits us and some ill-fated cup runs.
There are some good players in there and I have hopes that Klaassen and Sandro have a lot more to come but the balance just isn't right. And the time is nigh.
Paul Tran
32
Posted 06/08/2017 at 17:15:32
Martina and Kenny full backs. Calvert-Lewin & Sandro up front, until we buy a solid, experienced, goalscoring focal point. Play Lookman, let him run amok and get the others to cover him and we might just ask some questions of defences.
The good news is that that Sevilla team is better than most teams we'll face this season.
The bad news is that I can see Koeman starting with the same lumpen set-up against Stoke. And it'll be good enough to beat Stoke. And it'll encourage him!
Tom Bowers
33
Posted 06/08/2017 at 17:16:19
Was never going to be easy against a Sevilla side who are a top Spanish outfit and have been for a few years. Everton still with problems and Koeman yet to give an indication as to what his best starting eleven is or even his offensive system. I suspect that what we have seen so far is all we can expect unless more pace can be injected.
I had said last season that more emphasis on the youngsters should be shown but he has drifted away from that scenario. Lookman seems to be overlooked somewhat and Dowell sent on loan is beyond me. Only Davies has been given real opportunity.

George Cumiskey
34
Posted 06/08/2017 at 17:19:04
I would also play Besic at centre-half at least he can bring the ball out of defence and make a pass, which Williams and Jagielka can not do. But there is no way Koeman would be so brave, he's too safety-first at all costs.
Josh Barber
35
Posted 06/08/2017 at 17:20:21
I like Besic but he nearly got red-carded in a friendly lol. There's no way he could play 90 minutes at centre-half.
Jay Wood
36
Posted 06/08/2017 at 17:24:35
For most of the game, we were given a lesson in football. Certainly, on passing, movement and ball retention. However, in the last 10-15 minutes, we finally threatened their goal and, bizarrely, almost won it.
Pickford looks very good. And was it his voice I heard constantly screaming, organizing his defence and telling them what to do?
Keane looks the business. The other starting defenders looked flat and one paced to me.
Tom Davies coughed up a lot of cheap possession, but at least he brings energy to the team and does try to move the ball on quickly.
Schneiderlin to me continues to slow the tempo of the team. He seldom delivers a crisp pass and a player has to wait for the ball to arrive, or correct their position to meet the ball, or turn back to gather it in.
Klaassen and Sandro – in spite of the latter's excellent goal – still getting to grips to playing in this team.
Calvert-Lewin again played well. Lookman in his brief appearance highlighted what the starting XI seriously lacks – pace, guile and a bit of the unexpected. Kenny also looked good. Besic has his good moments, but overall he continues to look like an accident waiting to happen.
And finally, I thought the much maligned Cuco Martina was excellent when he came on. Defended well and took up good positions further forward, playing clean crisp passing with a good interplay with his team mates.
Derek Knox
37
Posted 06/08/2017 at 17:24:38
Didn't see the game, in any way shape or form, but think from reading most comments on here, that obviously, we are not the finished article, but these are a top side, so the result is not that bad.
I just hope the deficiencies we have, are noted and will be acted upon – sooner rather than later.
Charlie Lloyd
38
Posted 06/08/2017 at 17:24:46
Well at least Pickford got plenty of chances for match sharpness.
It could've been a spanking.
The more impressive players were the younger lads the experienced pros were quite poor.
One week to go... Koeman has a busy week ahead.
George Cumiskey
39
Posted 06/08/2017 at 17:25:40
Josh@ 30 Weren't the two games in the Europa League a wake up call?
Michael Lynch
40
Posted 06/08/2017 at 17:29:12
No Lukaku, Barkley, Coleman or Bolasie, and it shows in the lack of variety and depth in the squad. Pickford and Keane look like superb signings, Rooney is still a very classy player, but Klaassen looks a dud so far (early days I know). I like Sandro, but I'm not sure we're going to be able to play to his strengths without some pace and incisive passing from midfield – bring on Sigurdsson...
Bit worried for those first five games of the Premier League, I must admit
John Keating
41
Posted 06/08/2017 at 17:30:51
As mentioned on the Live Forum, the best part of this pre-season was today's kit.
Andrew Clare
42
Posted 06/08/2017 at 17:36:48
I fear for us if Jagielka and Williams play in any games this season. Koeman must play the younger players as they have the pace and the unpredictability that the older players lack.
I can't believe we are leaving it so late to secure a top class striker. The Sigurdsson thing is a total drag – he won't even be fit until October at this rate.
Ajay Gopal
43
Posted 06/08/2017 at 17:41:27
Based on the pre-season and Europa League games so far, for next week's season opener, I would go with:
Pickford
Martina, Keane, Jagielka, Baines
Gueye, Barry
Davies Rooney Lookman
Calvert-Lewin
Subs: Stek, Holgate, Kenny, Schneiderlin, Klaassen, Mirallas, Sandro
Schneiderlin needs to earn his place from Barry, similarly Klaassen from Davies/Lookman/Rooney.
Ever Banega looks such an accomplished midfield player. I wonder why Koeman is so obsessed with Premier League players that he is unwilling to look at players from foreign leagues? There are plenty of gems to be found there.
Lots of rumours regarding Everton players flying around: Barry to be sold to WBA; Vermaelen coming in from Barcelona; Lookman to be loaned to Derby; Wellbeck to be bought from Arsenal etc, etc
An interesting next couple of weeks.
Andrew McLean
44
Posted 06/08/2017 at 17:41:40
"Klaassen looks a dud (early days I know)" – Lol.
James Stewart
45
Posted 06/08/2017 at 17:42:32
A game of two sides. Our first awful. No pace and completely outplayed. Pickford and Keane the only ones to come out of it with any credit. Our midfield of £50m plus made to look very silly by the £7.5m new Sevilla signing Banega.
Once Lookman, Kenny and Co came on, the mighty Sevilla looked very average and almost like the side beaten 2-0 by Southampton only a few days ago.
If only koeman had been braver with his selection, I have a feeling that won't be the last time I will say that.
Lookman and Kenny to start vs Stoke.
Gordon Crawford
46
Posted 06/08/2017 at 17:42:41
Pace and speed of thought are two of the most important qualities you need to be successful. Sadly apart from Lookman, we don't have any real pace. And Rooney and Barry seem to be the only ones with that speed of thought, but their legs are failing them. Seville had both in abundance today.
Jon Withey
47
Posted 06/08/2017 at 17:43:24
I'd have a Besic at centre-half in an emergency otherwise he's a midfielder surely – and quite a good one at times.
Not sure if our improvement later on was to do with them taking off their best players – but Martina looked okay and Lookman changes our games.
Don't like giving young players a hard time but Holgate looks a bit iffy at times.
Klaassen looks a few yards short of the sharpness we need – perhaps that's why we need Sigurdsson !.
Personally think Rooney is class and could be our new Barry in terms of savvy on the pitch.
Not sure Calvert-Lewin is ready for first choice.
Gavin Johnson
48
Posted 06/08/2017 at 17:44:08
I still have the same opinion. Where's the pace coming from?? Especially if Sigurdsson and a slow target man are the remaining incoming attacking players coming in.

Dave Abrahams
49
Posted 06/08/2017 at 17:44:48
I didn't go so can't comment but they have looked very rusty in the two games I have seen them, not fussy on these preseason friendly games and Kenny on the bench was the final reason I needed not to go.
Thanks Chris (#19) – glad Jonjoe came on and had a good spell, also that Martina looked good at left back, we are going to need plenty of bodies this season.
We don't look ready with the season seven days away, it's back to let's wait, hope and pray that things turn out >okay, but really we should be better prepared than we look.
Colin Glassar
50
Posted 06/08/2017 at 17:47:16
Until the last 20 mins we seem to be getting worse with every game. Besic, Lookman, Kenny and Martina improved us 100%.
Klaassen and Schneiderlin shouldn't start the next game until they can start passing to their own team mates. Shocking both of them. Barry is still better as a midfield general.
Paul Kossoff
51
Posted 06/08/2017 at 17:52:12
Please God we get a striker in because, if we have to rely on Calvert-Lewin for goals, we are well and truly up the creek without a paddle!
Someone said he's like a young Graham Sharp – in what way? His age? He wears a blue shirt? And Sandro (a goal scorer) taking the corners, really!
Geoff Williams
52
Posted 06/08/2017 at 17:56:59
As the days go by Barkley and McCarthy look world beaters compared to the current crop of midfield players. Is Klaassen any better than Cleverley? What does Schneiderlin actually do as his influence on a game is minimal and he lacks the energy of Gueye.
Tom Davies is all huff and puff but no end product at the moment. There is no threat up front either. Lookman has to play as does Kenny. I'm not very optimistic of even 7th place based on the performances I've witnessed so far.
Dave Williams
53
Posted 06/08/2017 at 17:58:18
Watched it on Facebook – excellent stuff! Goalie looks the best since Neville Southall and Keane also looking very good. Coco played really well at left-back to show last weeks knee-jerk critics what can happen once a player beds in a bit.
I think Davy will be fine and Sandro will be a threat – Rooney is class but needs the right team around him. Kenny and Lookman are ready and add energy to an otherwise pedestrian team. Morgan slows the game down too much – he always checks back to find some space but that allows the opposition to get into position. He and Gana cannot play in the same team.
Besic interests me – stupid yellow card but otherwise played well – could he be calmed down to become a ball playing centre-back?
It's still early days and seeing RS get good results is not nice but I doubt they would be beating those teams in a serious match. I think Ron has bought well so far but the defence still needs sorting at right-back (Jonjoe please) and centre-back, midfield is unbalanced with too many similar players in the centre and he has to get some width (Lookman).
It makes you realise what a huge rebuilding job he has if we are to trouble the top 6. Oh, and finally offer Seville whatever they want for Banega. I know he has only just rejoined them from Inter but he is class and way better than Sigurdsson.
Paul A Smith
54
Posted 06/08/2017 at 17:58:26
That was a tough game for us and maybe a blessing in disguise. The amount of chasing we done should build fitness for the players who are behind a bit.
The worrying thing again for me is strategy/style. I have no idea what kind of team we are. Before we get the old 'its only pre-season shout' I had these same feelings under Martinez.
How are we going to bring Klaassen into the game. I hope now everyone can see how tough it has been for Barkley after watching the last 3 games totally by-pass Klaassen. It can't be the fault of every Number 10 we have surely?
If my judgement is right its the horrible lack of pace in wide areas and the static role of Schneiderlin combined with a lack of midfield skill that's killing our possession play.
Well done to Sandro for a lovely run and finish and Tom Davies again displaying a determined performance. While I am talking Davies, is he not proving he is as reliable as anybody we have in midfield? If so, why can't he form a midfield partnership with Gueye? The energy of those 2 would be a nightmare. Managers baffle me. Hes bought Schneiderlin fair enough but to build the team around him will get us nowhere.
I hate to refer to that lot across the park but they are different and let their pace and energy do the damage. We take ours away. Again I just call it as I see it and I have no big evidence to suggest we are changing for the better performance.
Simon Bates
55
Posted 06/08/2017 at 17:59:52
Just 1 point. I think it was Holgate who controlled it and passed to Rooney who fed Daives to release Sandro? Lovely move anyway.
I'm actually quite happy(-ish) with that match today, as make no mistake Sevilla are a top, top quality side with class all over the pitch and considering they appear to know their best 11, as opposed to us changing 5 players at half time, we showed good determination and character to regroup and get a draw, as we were starting to look overrun.
So what did we learn?
Gana needs to start, Jags to partner Keane and Kenny at right-back is our best option, Klaassen will need time, Pickford, Sandro and Rooney wont, Lookman is going nowhere unless Koeman needs brain surgery and we still need a striker and left back.
All-in-all, I'm not so nervous, as Sevilla weren't playing no friendly; we won't, meet opposition of this quality outside the top 7 in England and the latter stages of Europa League. By which time we should Know our best 11, and we have a quality squad of players to choose from at last.
Christy Ring
56
Posted 06/08/2017 at 17:59:59
No pace, no shape, we badly need a striker before we play Stoke. I'd play Lookman on the left, we need width. Davies has to play, and it's going to take Klaassen time to adapt, has a nice touch, but doesn't get involved enough. Barry hasn't the pace anymore for Premier League football.
Ron Marr
57
Posted 06/08/2017 at 18:01:23
Martina was easily beaten for the first goal. Not the starting left-back on a team with Champions League aspirations. Agree with others ,the pre-season schedule was too weak until today and the team doesn't look ready for the season.
Plus the failure to replace Rom is mind-blowing. Koeman is either a genius or an idiot, we'll soon find out.
Paul A Smith
58
Posted 06/08/2017 at 18:02:58
And we are about to spend 2/3s of the Lukaku money on Sigurdsson. Are we heading forward or looking for trouble? And another lack of pace.
Jay Harris
59
Posted 06/08/2017 at 18:07:22
I think we are still only part way towards the rebuilding but share the concerns about pace and width. We looked a different proposition when Mirallas and Lookman came on and opened up some space with their running. Why we don't go for Mahrez instead of Sigurdsson I don't know.
Jonjoe did enough to suggest he should be the one deputising for Seamus although Martina didn't do too bad today.
Keane and Pickford good signings. The jury is still out on the others.
Bobby Mallon
60
Posted 06/08/2017 at 18:08:27
Dave (#53 spot on. We just played a top top side who would make anyone chase shadows and still drew. I'm with you Besic and Keane in my opinion would make a great pairing at centre-back. We definitely need Lookman Davies and Kenny in the side.
Dave Williams
61
Posted 06/08/2017 at 18:08:50
ps. By "excellent stuff" I meant showing it on Facebook not the performance.
Paul Kossof- I watched Graeme Sharp as a raw 21-year-old struggling to survive First Division football. He lacked everything needed of a centre-forward but there was something about him which gave hope. Gray got a hold of him and he became one of the best centre-forwards I have seen in over 50 years.
I see similar in Calvert-Lewin. He was struggling today but so would anyone with no service. Just give the lad a chance rather than destroying him before he has had time to fully develop. I respect your opinion but he needs confidence building not destroying.
Charles Brewer
62
Posted 06/08/2017 at 18:10:39
An interesting afternoon. We seem to have very little up front until Lookman came on, and it's impossible to see why Kenny isn't one of the first names on the list.
Delighted to see Martina turn from one of the worst displays I've ever seen in a blue shirt (apart from a certain centre-forward in a semi-final) to an excellent display today. I'm always happy to be wrong in this way.
There seems to be a real problem with some of the tactics. Sevilla always seems to have easy and productive options when passing, while "the Everton Way" appears to be to stand still waiting for the ball and then to have to fight desperately to keep it when it is passed.

Bobby Thomas
63
Posted 06/08/2017 at 18:12:03
Koeman & Walsh have known for months Lukaku was on his way. Koeman has been banging on about more productivity and has signed virtually no one to make us stronger up top or wide.
We need 2 strikers, a wide player & an attacking mid that can play all across. And that's to bring the squad up to a normal level in terms of numbers.
Pull your finger out & sign some fucking players.

Colin Glassar
64
Posted 06/08/2017 at 18:15:33
Rooney struggled as he's trying to do too much. He's all over the place and is running himself into the ground trying to fill in gaps left by others.
Calvert-Lewin will be fine once the players around him start to put in a shift and give him some decent service. Pickford, as some have already mentioned, will be our best goalie since Big Nev.
Charles Barrow
65
Posted 06/08/2017 at 18:16:29
We need a £50M striker, not another midfielder. Play Kenny, buy a solid centre back to partner Keane and a striker (oh, and play Barkley as he's still contracted to us!!).
Richard Reeves
66
Posted 06/08/2017 at 18:18:44
Martina looked better on the left which should be seen as good news because Kenny is far better on the right. It makes no difference if anyone claim's Kenny isn't ready, he clearly is. Hopefully Koeman see's that.
And hopefully he forgets about signing another defender/utility man because strangely enough Besic looks like he can do a job at centre back, he's got that leader's mentality and although not the tallest he is strong and aggressive. It would leave more money for what is more important, a No 9 and No 10.
It has also been said recently that Dowell isn't strong enough for our first team but from what I saw today it is movement and technical ability that we lacked for at least the first 70 minutes. Also... Lookman does look like he is going to be a handful for other teams this season.
Jamie Evans
67
Posted 06/08/2017 at 18:19:24
Are we unbeaten throughout our pre-season?
Charlie Lloyd
68
Posted 06/08/2017 at 18:21:31
Paul @ 51
If it's not the previous rant saying Niasse eclipses Sandro in terms of being a top player it's now Calvert-Lewin's turn.
Today he lacked service and was okay. Nothing special but gave it a good go. He can finish as proved last Thursday but he's a player who needs time and knows he needs to improve. There is potential there though.
He does have a slight touch of the Sharp on dare I say it again Harry Kane about him. And both them players needed several seasons to develop into the top players they became.
I do agree on one point. We shouldn't rely too much on him scoring a bagful and so a new striker has to be a priority.
If your prepared to slate Calvert-Lewin, you must have some choice words reserved for experienced pros like Rooney, Klaassen and Schneiderlin who were all very average at best today.
David Barks
69
Posted 06/08/2017 at 18:25:59
Our passing is slow and methodical. There is no movement, no attempt to get wide and spread the defense out. Everything goes through a cramped midfield and slowly on top of that.
When we attempt to pass it forward it is often far too long a distance, allowing the defense plenty of time to adjust and react before the ball arrives to the recipient. And the recipient is often isolated if the ball does get to him because everybody is packed together in the center of the midfield. It's like watching a Championship club when in attack.
Brent Stephens
70
Posted 06/08/2017 at 18:31:05
Glass half full guy me, so I have to say I loved Sevilla's skill and confidence on the ball. Right through the team.
I'll say this much for Everton today...
Clive Lewis
71
Posted 06/08/2017 at 18:37:02
The team is imbalanced; Koeman needs some scales. Need a striker to replace Romelu.
Confused why you would think of selling McCarthy and keeping Besic; whom will replace him when he gets injured.? Does not look like an improvement yet, although keeper is better.
Rooney effect has taken shape.m oaning at the team, demoralising them all with his successes. Has this happened yet? Give it time...
Clive Lewis
72
Posted 06/08/2017 at 18:43:50
David yes I agree, also what happened to the width .it was chronic.
We looked like Southampton, no disrespect, talking about Southampton under Koeman.
Panic early buyee is available on a free transfer.
Tony Abrahams
73
Posted 06/08/2017 at 18:50:13
Agree that Tom Davies was all huff and puff today, but only after he made the second best pass of the day in the first minute!
Thought Rooney did some good things today Colin, and he can still play, especially when he keeps it simple, which is what the best player on the pitch, Benga, did all day. His chip into the box, with the outside of his right boot just before half time, was the best pass of the day and only when he went off, did Everton begin to get a foot-hold in this game?
Onto next week, and I see a team with stronger foundations, but a team lacking a bit of flair and purpose, something to build on but still lacking. I wonder if we will get those three players the manager wants, because we desperately need a bit more...
Will Mabon
74
Posted 06/08/2017 at 18:51:16
The tide is turning. The club shop just sold a Martina shirt. Mighty.
Tony Twist
75
Posted 06/08/2017 at 18:53:57
I have to be honest, for the first time since his arrival, my patience is being tested by Koeman. I am for the first time thankful that it is only a three-year project!
People are saying that Sevilla are a strong side, Southampton didn't seem to have too much of a problem against them. I have watched a fair bit of pre-season football and a lot of teams have been playing quality opposition and playing really strongly, we are embarrassingly bad.
I hope familar league opposition brings an upturn in form and wins.
Dermot Byrne
76
Posted 06/08/2017 at 18:55:09
Ironic that we thought we had too many midfielders, yet that so-called engine room has no fuel.
We can only hope today shows a clear need for a decent winger and striker.
Rick Pattinson
77
Posted 06/08/2017 at 18:55:19
First off, Sevilla aren't mugs... some great players.
Now about us – The Goods: Pickford, Besic, Davies (great engine), Lookman.
The Bads: umm pretty much everyone else... especially Klaassen... utter crap.
The Ugly: Rooney.
Stephen Davies
78
Posted 06/08/2017 at 18:55:21
Watched the match. We started so well, one thing we do not have compared to other teams is height. (It stood out a mile today and could be our downfall) and speed... sorry, the two things we do not have are height and speed, apart from Sandro, who was not afraid to go and defend before going back up the field.
Does anybody know the heights of the two teams today?
Gordon Crawford
79
Posted 06/08/2017 at 18:56:05
Pickford was very good, but lets give him a season or two before saying he is the best since Southall. In my eyes he has a long way to go to be as good as Martyn.
We need pace asap; is Danny Welbeck the answer? I'm not so sure. We also missed the boat with Benega.
Colin Glassar
80
Posted 06/08/2017 at 18:56:27
I think we will be fine come the start of the season, Tony. Kenny, Lookman and Gana need to be involved as they provide us with width and energy. Something Klaassen and Schneiderlin don't, yet.
Karl Jones
81
Posted 06/08/2017 at 19:03:38
Really good work out for us today. Just what was needed. Pickford and Keane look superb. Rooney is starting to look good as his fitness improves. Lookman and Mirallas should help with finding gaps going forward, I thought they did really well when they came on and stretched Sevilla.
Really looking forward to Goodison next week.
Jack Convery
83
Posted 06/08/2017 at 19:05:28
Come on, Ron – make the pieces fit; you bought the jigsaw.
Paul Jamieson
85
Posted 06/08/2017 at 19:07:26
First time poster, lads. I have been reading this avidly every day for years though.
Just a thought on the Southampton result – what team did Sevilla throw out against them? It can't have been this one, as it was played only yesterday at 3pm.
24 hours later, they rock up at Goodison and play like world beaters. Be interesting to find out, eh...
Brian Hennessy
86
Posted 06/08/2017 at 19:10:29
Besic at centre-back would ensure one thing – we would give away about a dozen penalties a year and he would probably be sent off have a dozen times. I have seen nothing from him to suggest he could be a Premier League quality centre half.
If the plan is to finish this transfer window stronger than we finished the season, Koeman better have 3 quality players coming in. At the moment we are a long way off replacing Lukaku's goals.
I am really worried about Klaassen, he looks to be really lacking in pace and if Barkley had given the ball away as much as he has done in the last 3 games, he would be slaughtered.
On the positive side, Keane looks excellent and Pickford very solid. Apart from that, nothing to get excited about with a week to go to a new season.
Sam Hoare
87
Posted 06/08/2017 at 19:15:47
Banega has been class for years and was bought for a pittance compared to the likes of Schneiderlin and Klaassen who I feel are Koeman's players and likely to start every game despite being poor in preseason. Hopefully there's much better to come from both of them but, given how much more our team costs and is paid than Sevilla, you'd think we'd have a bit more of the ball at home!
Dave Abrahams
88
Posted 06/08/2017 at 19:17:29
According to Koeman, McCarthy and Gueye were kept back today, McCarthy is still having problems with his knee and they didn't want to take any risks with him, Gueye had a slight knock.
Clive Rogers
89
Posted 06/08/2017 at 19:21:45
What has happened to Schneiderlin? He has gone so sluggish. Marriage not agreeing with him?
Ciarán McGlone
90
Posted 06/08/2017 at 19:21:47
I'm struggling to figure out our best XI. Our midfielders are all bang average footballers... And the one we're going to end up spending £50mill on isn't much better.
Defence, midfield and our forward lines all have big issues. Throw Koeman's managerial issues into the mix and this could be a repeat of last season. Grim football, bewildering management and a top half finish.
Tom Bowers
91
Posted 06/08/2017 at 19:24:57
Your right, Brian, Besic would be a big liability in the back four. I would like to see the lad progress after being held back by injuries but he takes no prisoners.
Koeman has now stated the Gylfi deal is almost done and not before time I say.
Sandro took his goal well and hopefully the first of many but that extra support in the scoring department is a must.
Matthew Clarke
92
Posted 06/08/2017 at 19:25:25
Clive @ 89, have you seen the new Mrs Schneiderlin, I think that's where the stamina is going!
Charles Brewer
93
Posted 06/08/2017 at 19:30:53
Looking back from a couple of hours later, this afternoon's match was very interesting. Being charitable, I think Koeman was probably trying out a series of player combinations against what promised to be a testing opponent. And, objectively, the result of a pre-season "friendly" is utterly unimportant.
The Klaassen / Rooney combination is of uncertain quality, and there did not seem to be any penetrative urgency. Sandro looks like one of those players who appears to do little that's effective for much of the game but pops up to score at some point.
Tom Davies probably needs to be a bit less rushed, he's clearly got the footballing brain which Barkley hasn't, but a little more maturity might greatly reduce the number of cheap turnovers.
Keane and Pickford both look like outstanding purchases, and I'm with those who already regard Pickford as our best since Southall. He commands the back of the defence, his positioning is superb, his instinctive ability to block, punch and clear the ball are of the highest quality.
Martina is an interesting one. He was the worst player on the pitch during the first Europa League match, stopping any forward movement on numerous occasions. Today, however, he was up with the best. Maybe he's been introduced to the other players and has some idea of what may be wanted.
Mirallas I have always had a soft spot for. When he gets the ball, there is always a chance something exciting will happen, and that is one of the reasons I watch football. He has stinkers, he loses the ball too often, he makes bad choices – but he also sometimes electrifies a match.
Lookman and Kenny are another pair who have the wonderful stupidity and confidence of youth and I would be very disappointed not to see them starting regularly.
Williams I like as a character, and he can also do some good stuff, but I think he needs to be matched with someone who is a better all-round footballer.
No-one else (Gana, Schneiderlin) really did anything worthy of note.
I'm afraid probably are not going to shake the Premier League elite, and I don't think we'll be up with the other interlopers, Spurs, this year, but I could still see up pipping Man Utd to the 6th spot.
Barry Williams
94
Posted 06/08/2017 at 19:38:23
Unbeaten in pre-season and two competitive games, 6 new players to bed in, plus Besic, who was injured all last season, that makes 7, 8 if you include Kenny as not a first team regular. Klaassen has never played in England and neither has Sandro, but reading a lot of the comments this shouldn't be taken into account as we are just crap!
Anyways, I thought Rooney looked better today against decent opposition, Sandro's goal was good, Martina looked decent at left back and Lookman looks the real deal. Holgate looked like a right-back today instead of a centre-back playing right-back. Schneiderlin, Gueye and Lookman have had a full pre-season with us now, so that should help bring things along.
Were we great? No! Were we crap? no! Unbeaten, players bedding in with the added bonus of a possible 3 more signings. Cheer up folks!

Chris Dwyer
95
Posted 06/08/2017 at 19:38:56
There were some positives today, Pickford looks excellent, Keane so far so good.
Few negatives, why do we insist on playing strikers on the wing? First half both Rooney and Sandro were both a fullback on a number of occasions.
Davies for me today was a headless chicken. I like him, but he really didn't display much quality today.
Calvert-Lewin is only going to be good playing off someone else, he can't hold the ball up and is not strong enough to cause defenders too many troubles.
Holgate at right back does not look comfortable, it was only 15-20 mins but it looked a lot more balanced with Jonjoe Kenny there.
We need pace against Stoke next week: Mirallas and Lookman both have to play.
Michael Kenrick
96
Posted 06/08/2017 at 19:58:48
Chris (#95) – very bold to speak the unspeakable about Tom Davies. I like the lad for heart and spirit... but my god, the quality is poor to plain dreadful at times.
Len Hawkins
97
Posted 06/08/2017 at 20:22:04
Just been checking, no flights from Liverpool to Zurich on a Sunday so Monday morning there is a flight from Manchester to Zurich.
There are two places near Zurich, Dignitas and an outfit called Exit where you can end your despair.
Exit is the cheapest option about £2k plus short notice flight is £570 and no more worrying whether the squad is good enough or who will be manager when the first snowflake drops on Christmas Morning. Good Luck.
Andy Williams
98
Posted 06/08/2017 at 20:27:20
Pickford – quality, some excellent work, very promising.
Keane – looks class, solid today.
Gana – much more effective and energetic than Morgan (still on holiday) at the moment.
Besic – moves it forward so effectively but my heart would constantly be in my mouth if he was CB. I would like to see him alongside Gana.
Holgate – out of position.
Martina – very pleasantly surprised; nice touch and moved it forward well.
Klaassen – not up to speed yet.
Rooney – some nice touches but needs movement and pace around him.
Sandro – quality touch, works hard. I would have liked to have seen him play alongside Lookman.
Davies – shown he has to start.
Kenny – lively and sharp
Calvert-Lewin – better as impact sub; not strong enough yet but more promising than last season.
Lookman – terrifying. Needs to start.
Lower Bullens – not a patch on Upper; reminded of why we need new stadium.

David Fanning
99
Posted 06/08/2017 at 20:29:19
I did not see the game, but glad to read some positive opinions about Besic. I felt that he was well short of being the finished article when he was injured, so it's great that he's back on track. If Koeman can knock off the rough edges, I think he has the potential to be a great defensive midfielder, or even centre-back.
Joe Edwards
100
Posted 06/08/2017 at 20:37:03
Todays game was another chance for Koeman to look at what his starting 11 will be next week, on todays evidence he may as well draw the names out of a hat.
Schneiderlin looks completely off the pace and sits so deep he may as well be a centrback however I thought Besic looked comfortable in that position when he came on which was encouraging.

Pickford pulled off a couple of superb saves but has an alarming tendancy to roll the ball to team mates who have their back to and are being closed down by the opposition.

Rooney for me I am sorry to say is passed it, no other comment needed.

Sandro can be a nuisance to defenders if played correctly but Koemans obsession with Calvert-Lewin for me is baffling, he has got promise but is no where near the quality we need or expect ,apart from the lay off for Sandro's goal in the opening minute, he did nothing of note for the rest of the game.

The biggest doubt I have though is Klaassen, I have seen nothing in any of the pre-season games he has been involved in to suggest he is going to improve us; in fact, I am worried that Schneiderlin sitting so deep is due to Klaassen's inability to either drive play ahead of him or provide any effective protection when the opposition attack. Klaassen being subbed coincided with Schneiderlin's first foray into the opposition's box.

Lookman and Kenny gave balance and pace to the side and I would hope Koeman gives them both a role in the Stoke game. I want to know where the high tempo attacking football the ginger Dutch twat promised is coming from because, from what I have witnessed so far, we are even more pedestrian than we were under Martinez.

Koeman's obsession with Sigurdsson is alarming when our priorities lie elsewhere. If we don't get a decent striker, it's going to be a 1-0 season for us and a struggle for a top 10 finish.
David Barks
101
Posted 06/08/2017 at 20:42:29
Chris and Michael,
I have the exact same sentiment regarding Davies. People seem to go crazy over his constant running, but it's often met with poor quality and he draws himself out of position. Instead of reading the game and trying to be proactive, so much of his game is reacting without using his head. He chases and chases and then is out of position to either get into attack or support on defense.
He needs to learn that you don't need to run and chase every single pass, that doing so is actually working to the opposition's advantage. The entire reason they do that passing is to draw the defense out of position. He really needs to learn to read the angles and when to sit. Not to mention his passing, but that seems to be a fault of the entire damn team.
Clive Rogers
102
Posted 06/08/2017 at 20:55:39
Mathew (#92), we should all chip in for a Monday to Friday chastity belt then!!
Tony Abrahams
103
Posted 06/08/2017 at 21:01:13
Good points, David, I think it's going to be a lot harder for Davies for a bit now, simply because people expect a lot more from him now.
I also thought he was very poor with the ball today once he'd made the first goal with a wonderfully weighted through ball but the fact that he never goes hiding is something I really like about this kid.
He played further forward, and sometimes he breaks that quick, he ends up the furthest player forward, and I'm sure he will have learnt an awful lot today after playing against a player with the quality of Benega.
Only Rooney, really displayed much intelligence with the football today, until Lookman and Besic came on, and Pickford of course, who's pass to Holgate started the move for our first goal!
Jeff Armstrong
104
Posted 06/08/2017 at 21:04:08
Davies, Gana, Schneiderlin, Barry, Besic, McCarthy, they all play the same basic holding game, and all of them lack the killer quality pass or shot. Hopefully Sigurdsson and even Barkley alongside him can change that.
We need to start learning to play with only one holding player sometimes, especially against the likes of Stoke, WBA, Bournemouth and the like at home, but Koeman just sticks to the same boring blueprint – no matter who or where we play.

Tony Abrahams
105
Posted 06/08/2017 at 21:05:48
Do they fly yer body home Len, or is it just a quick cremation?
Ray Robinson
106
Posted 06/08/2017 at 21:08:28
Just a few random thoughts in response to some interesting observations in the thread. Only my opinion of course:
* Besic is never a centre-half. Not tall enough, too reckless. Reminds me of the old argument that Hibbert would have made a good centre back. I just don't see it!
* Jagielka has to start with Keane against Stoke. Still a far better defender than Williams.
* Surely Lookman is worth a start? Where else is the pace?
* Gana and Schneiderlin are both very good players but should they both start together?
* Davies is a favourite of mine but, as others point out, needs to sometimes harness his exuberance by being slightly more clever.
* Sandro will desperately need support up front. Where is this striker coming from, Ronald?
* Rooney – to be used sparingly unless he somehow finds a higher gear.
* Klaassen is undoubtedly a clever player but I fear that he may well become a target for the boo boys. Reason? Tries to move the ball on quickly which, if it works, is great but when it doesn't, concedes possession. Reminds me of Naismith in more ways than one! Not helped by having little pace.
* Keane – a genuine star in the making
* Pickford – looks a great keeper. Always thought that he lacks height. Maybe just an unnecessary concern on my part?
* Finally, having got rid of Lukaku and Valencia (who I quite liked), is it worth – no, don't snigger! – giving Niasse another chance? I still maintain he's a terrible footballer but he does have pace. Okay, maybe not?! Just highlights how desperate we are in need of some presence up front. I hope Walsh has a hidden gem in mind.
I think we've assembled a reasonable basis for a team but it's badly imbalanced and missing vital pace and components at the moment. Strange that, despite us all thinking that the early signings would provide us with a kick start, we still seem unprepared and imbalanced.

Paul O'Neill
107
Posted 06/08/2017 at 21:09:02
Blimey, you lot are little rays of sunshine aren't you? A 2-2 draw against a top side, two competitive games played already this season, won them both, and correct me if I'm wrong but have Everton actually lost any friendlies this pre-season?
£90 million spent on a load of new players so of course they haven't gelled yet. It'll be fine! Famous last words I know...
Barry Williams
108
Posted 06/08/2017 at 21:13:27
Paul O'Neill (#107),
My sentiments exactly Paul (see my post 94), I am not sure what people are expecting.
Dave Abrahams
109
Posted 06/08/2017 at 21:13:47
Tony (#105), if you're planning what I think you're planning, I hope you tell me before you book the bleedin' plane tickets, I will be changing my will tomorrow, you can have all the debts instead of a three-way split.
Tony Abrahams
110
Posted 06/08/2017 at 21:21:20
Good point regarding Klaassen, Ray. I think he's a more intelligent footballer than Naismith, but playing everything off early can sometimes be as bad as doing too much.
Still early days, but the further up the pitch we go, the more we seem to stagnate. I'd hate to be a midfield player playing in a team that doesn't offer much width. More questions than answers but I suppose it's all about time?
Tony Abrahams
111
Posted 06/08/2017 at 21:24:00
Don't worry about the debts, Dave, I was thinking of opening a clinic on Goodison Road!
Mike Allen
112
Posted 06/08/2017 at 21:28:09
A stern test? More like a football lesson by players just doing the basics better and quicker than us.
Josh Barber
113
Posted 06/08/2017 at 21:32:44
Overall problem is no-one moves when someone is on the ball. So they have no options and invite pressure on themselves. I still think Klaassen has the perfect mindset that we missed from last year which is playing that dangerous pass as soon as the ball comes to his feet. Trouble is right now he and Morgan are playing it right to the opposition.
I choose to believe the kinks will work themselves out in the next few weeks. I don't know why others are expecting us to get top 4 this year, but there's no way we come out with more than 8 points from the first 5 fixtures anyway so might as well let everyone develop chemistry together and push on after that.
Andy Riley
114
Posted 06/08/2017 at 21:51:39
Reading some of these posts, all I can say is thank goodness that ToffeeWeb wasn't around when the likes of Colin Harvey, Howard Kendall, Joe Royle, Kevin Sheedy, Graeme Sharp, Neville Southall and Kevin Ratcliffe made their first few appearances for us.
Some signed, some coming up through the youth system, but all now essentially legends who may have flattered to deceive in their first few games!
Christine Foster
115
Posted 06/08/2017 at 22:00:30
In the main, a much better showing than our Europa League games, faster tempo and a little more positiveness. Rooney worked hard back to front in the first half, Mirallas and Lookman looked dangerous, Williams struggled a bit I think, Pickford was okay. I'm not sure on his shot stopping qualities yet.
Sevilla were a good side, a notch above us today at times but a good workout. It will be interesting who gets the nod for the first game next weekend.
Mike Gaynes
116
Posted 06/08/2017 at 22:01:28
Martina had a very good game passing the ball and supporting the attack, but his defending was poor... Correa ate him alive twice off the dribble, the second time setting up Banega's goal. No, he is not Baines's replacement, nor should he be ahead of Kenny at RB IMO.
Still think what I always have... that Besic is not good enough for this club.
And yes, yes, yes, Lookman needs to either start or at least be subbed in by the 60th minute in every game. He is electrifying, and he's the only such player we have at the moment.
Peter Laing
117
Posted 06/08/2017 at 22:14:22
Second the comment about Ever Banega – we missed out there on a seriously good player.
Jay Harris
118
Posted 06/08/2017 at 22:20:19
To sum up my feelings about what pre-season showed.
We have a top 4 defence, a mid table midfield and a bottom half attack.
We desperately need a proven goalscorer and someone who can run at defences like Mahrez.
As Ronnie says we have only spent a net of £7m so get down the back of that sofa, Bill, and let's see the Moshiri money spent on some top 4 quality.
Eddie Dunn
119
Posted 06/08/2017 at 22:22:55
It is hard to judge the side on a friendly and with so many subs being used. I was impressed by Keane and Pickford. Some of the others did okay but need longer to get to gel together.
As for Besic, the kid is , as usual over keen to impress and despite being good on the ball, he is not a centre half, and will get sent off regularly/give away crazy free kicks and pens if he gets more games at the back.
Schneiderlin was awful, and Gana was much better than him when he came on. Lookman is a shoo-in.
Sam Hoare
120
Posted 06/08/2017 at 22:34:52
From the players we have I'd be keen to see this XI face Stoke:
Pickford
Kenny Keane Jagielka Baines
Gana Klaassen
Sandro Rooney Lookman
Calvert-Lewin
We obviously need a better central striker than Calvert-Lewin and Davies would push hard for inclusion over Klaassen but the Dutchman will surely get better with more time in the team (either that or Koeman/Walsh have dropped a £23m clanger).
Doesn't really matter as no chance of Koeman playing that team. Kenny won't be starting for one and he obviously can't drop Schneiderlin who he requested from Man Utd.

Trevor Peers
121
Posted 06/08/2017 at 22:50:17
Why did Koeman sign Klaassen if he wanted Sigurdsson?
He's made a fatal error of judgement, the £23 million could of gone towards a striker, or pacey winger.
No wonder poor old Blue Bill is confused, oh dear.
Derek Knox
122
Posted 06/08/2017 at 23:22:56
I'd go along with that team Sam @ 120, if you would like Koeman's number? Erm, sorry mislaid it, but he wouldn't listen anyway!
It does piss you off at times, when it is blatantly obvious to us, then again, what do we know, when the team selection is so unbalanced.
I am forever optimistic; let's face it, we have to be as Evertonians – he may just surprise us.
Having said that, assuming we get Sigurdsson, he hasn't played for weeks now, and any other additions will take time to acclimatise and gel with the rest of the players.
Mike Gaynes
123
Posted 06/08/2017 at 23:33:47
Trevor (#121), bosh.
Klaassen's signing in no way prevents other signings. And for what strikers or wingers do you think "the £23 million could of gone" for and who would already be in our lineup if Klaassen hadn't been signed? Grosicki? Giroud? Vieira? Dzeko?
Who of those has shown interest but were kept out by the Klaassen buy?
Silliness.
John Smith
124
Posted 06/08/2017 at 23:37:27
Agree with Mike.
James Doran
125
Posted 06/08/2017 at 00:03:35
Mike @ 123,
About the £5 bet we had re whether or not Besic would once again pull on the Royal Blue Jersey... ;-)
Trevor Peers
126
Posted 06/08/2017 at 00:19:25
Mike@123;
Not silly IMO, buying two players to do the same job is a serious mistake, when we're crying out for width and pace. I'm disappointed; Koeman bought Mane and Tadic when he was at Southampton, why hasn't he gone a similar way for the blues ?
He's made the same mistake having two defensive midfielders in Gana and Schneiderlin, it's all so unbalanced, totally guaranteed not to bring us the goals we need or the entertainment we deserve. It's all getting a bit late to put right, and the buck stops with Koeman.
Dermot O'Brien
127
Posted 07/08/2017 at 00:28:30
Didn't see the game, but every time I read comments about anything on here I feel like this lad: https://youtu.be/lmTahAali90
I don't know what to believe anymore. I'm going to law school!

Barry Williams
128
Posted 07/08/2017 at 00:46:42
If this is what things are like pre-season, unbeaten in friendlies and 2 competitive games with loads of players making debuts/getting used to each other or in the case of 2 of them playing in England for the first time, what will the comments be like when we actually get beat!?
Get a grip folks! Did you expect Real Madrideasque play this soon?
Massive turnover of points last season, Koeman stamping his character on it this season, folks this ain't a fifa video game. How many of you have actually been involved with professional sportsmen on any level? Be honest now! How many of you have actually competed with professionals to have such a authoritative view on things?
Bill Watson
129
Posted 07/08/2017 at 00:49:26
Pickford looks like he's going to be a class 'keeper. Lighting reflexes, bosses the area and good with his feet.
Keane also appears to be an excellent signing.
In 20 mins, Kenny added pace and balance to the right hand side and, together with Lookman, must be in the frame v Stoke.
John Pierce
131
Posted 07/08/2017 at 01:12:55
It's clear to me Klaassen will work out, it really is a matter of time before the passes between him and Rooney work. He plays the ball quickly, directly and often with one touch.
Can only echo the lack of centre forward which would negate the clamour to play a bunch of cheetahs which has become almost cult-like on these pages.
It's clear Koeman wants the possession we've seen in pre-season but with a centre forward who can anchor the play high up the pitch. No need for pace there, when there is no space to exploit.
Although the change in midfield was the right one, Tom Davies still needs to focus his role, often he's like a hose without an owner, all over the place.
I can't emphasise without those components how impotent we are, add to that very unadventurous manager, it's a tough tough watch.
Would I have Koeman as my manager? No... Defensive coach? Hell Yes. Some weird Twitterati chat about Bergkamp coming on board to coach?
James Watts
132
Posted 07/08/2017 at 01:32:06
Mike (#116),
"Martina had a very good game passing the ball and supporting the attack, but his defending was poor... Correa ate him alive twice off the dribble, the second time setting up Banega's goal. No, he is not Baines's replacement, nor should he be ahead of Kenny at RB IMO."
All I'll say is...;)
James Watts
133
Posted 07/08/2017 at 01:40:49
Sevilla, great side and hats off to them. They played us off the park for 2/3 of the game. Looking at the positives:
- We stuck in there and defended really well, especially in the first half. Pickford & Keane look fantastic and have done in each game they've played.
- We have a bench that can affect games. Lookman & Kenny especially making a difference and offered us something different.
- Sandro can finish, and I'd expect 10-15 league goals from him this season.
- 3 to 4 players to come in should give us some more balance and options (if one is truly a winger that is).
Overall I'm reasonably happy because it's still early doors. If we're still playing like this in January I'd be concerned though.
Ohhhhhhhhhhhh for a player like Banega in our side!!
David Israel
134
Posted 07/08/2017 at 01:58:19
I just cannot believe we are seriousy considering loaning out Lookman, the new Jimmy Husband or whatever. He made quite a bit of difference today.
I also liked Besic, but I feel he looks much better and has a lot more composure in midfield, where he would probably have established himself long ago, had it not been for that ugly injury.
Kenny looks the part, too, and should have a good claim for the right-back spot until Seamus returns.
Someone said, somewhere above, that Pickford looks our best keeper since Southall. I wouldn't go that far, but since Martyn would be a good appraisal, I think.
Finally, a centre-forward is obviously a must, and I think we have got distracted because of the never-ending Sigurdsson story.
Derek Thomas
135
Posted 07/08/2017 at 02:01:02
John Pierce @131;
Trouble is this is English Football, not the US version were you can swop the teams over when you lose the ball.
Koeman, like Moyes, does at the moment, seem to be Defence First and attack as an after thought and thus KITAP1 becomes(?) hou het strak en stelen één...HHSES1.
Also like the two previous Incumbents, seems to have no Idea, (as yet, which is maybe not surprising as he hasn't finished spunking all of our dosh on it) what his best / most effective 11 is.
I fear we're still searching for the 'Goldilocks Option' – Not too much of the Dutch Moyes, not too much of Martinez.
There's not a bottomless pit here, Ron... you'd better get it more right than wrong.
How did Banega slip through Walsh's trawl net of value for money options?
Maybe if you're not asking the right questions / setting the right criteria of the trawl net / oracle, you won't get the right answers, will you?
Surely there must be a better penalty taker than Mirallas.
We looked better for Lookman & Kenny... * sends Koeman a Specsavers link.

Anthony Dwyer
136
Posted 07/08/2017 at 02:51:25
i can't help but feel Kenny and Lookman have to start in the current scheme of things.
Kenny is our strongest right back and Lookman is our best bet for something different in the attacking third.
Mirallas has had a million chances, Lennon isn't ever available, Calvert-Lewin is a natural striker, Rooney isn't special anymore and Barkley isn't fit, meaning until we sign better, or someone changes drastically, then Lookman is our best bet.
I would also consider Mo Besic in a 3 at the back as he offers aggression, pace and genuine ball playing ability, things that Williams and Jags don't have in there makeup.
Anthony Dwyer
137
Posted 07/08/2017 at 02:53:38
Last but not least, Ever Banega showed us exactly what we lack in our team; we missed a trick there, methinks.
Peter Gorman
138
Posted 07/08/2017 at 06:39:24
"How many of you have actually been involved with professional sportsmen on any level? Be honest now! How many of you have actually competed with professionals to have such a authoritative view on things?"
Not me Barry and I've never been involved in politics which is why I never vote. I've never been involved in the film industry so I never walk out of the cinema no matter how much I'm not enjoying the film.
Jay Woods
139
Posted 07/08/2017 at 06:52:35
I'm not a motor mechanic so I would never know if my car has broken down. I'm not a paediatrician so I wouldn't know if my child was ill. I'm not a meteorologist, so I wouldn't know if the weather was bad. – From the book, "Logic" by Barry Williams.
Mike Kennedy
140
Posted 07/08/2017 at 06:54:21
No Sky broadband in London yesterday so I missed the game. But I have seen us play 3 times already and, from the majority of the comments, it doesn't sound to dissimilar to the other games.
However, Sevilla are playing in Champions League and beat Arsenal last weekend. Although they did lose to Soton yesterday with the same group of players but bossed the game. I am surprised they travelled that far 24 hours later and bossed us around. But Koeman did tinker as is to be expected and if he is happy I am hoping because he now knows his starting 11 and formation.
I, like many, was expecting wonderful things from all the new signings and probably expected too much at this stage. We will miss Lukaku!
I would like Giroud. Arsenal fans rate him and that is a good sign.
Sigurdsson is £50m to Swansea because he will keep them in the Premier League. I'm not sure he is worth that much otherwise.
Let's hope we get something from the Stoke game because the next 4 are seriously difficult given they will be preceded by Europa League games.
Paul Ward
141
Posted 07/08/2017 at 06:55:55
The score gives no indication of how outclassed and outplayed we were. Many posters on TW see the imbalance, the lack of strategy and the mitigation of it only being a pre-season friendly. The posters that did not see this poor effort might be very alarmed when they do see it.
My own opinion is, Pickford, Keane and to a lesser degree Sandro were the only starters to come out of it with any credit. It was the last 3 subs coming on after 76 minutes that changed the one-sided game.
Klaassen, Davies and Rooney came in for some (justified) harsh criticism but I think Schneiderlin is one of our biggest problems. Because of his Southampton reputation and his managers approval, Morgan is the first name on the team sheet. That makes it hard for other midfielders to fit in.
Gueye was superb, now many people say there is no place for both players in the team. Klaassen needs time to prove himself but Morgan has shown a casual,blase and inconsistent approach to his game since he arrived.
Tony Abrahams
142
Posted 07/08/2017 at 06:58:03
If we are playing 3 at the back, then it's either got to be Besic or Holgate for me aswell Anthony. Totally disagree that he would give away loads of penalties and get sent off a few ti mes playing as a defender, because it's a totally different position, when the game is getting played in-front of you, especially when you've got pace, which is something that Besic, has loads of.
I like Jagielka more than Williams but both of them are useless at bringing the ball forward, whereas Besic can come out with the ball and start play off, draw a man then play it forward, which would also be a great help for our midfielders who constantly have to keep coming deep to receive the ball at the minute?
Tony Abrahams
143
Posted 07/08/2017 at 07:19:16
Jay Harris, good assessment of defence, midfield, and our forward positions, but I can't help but feel that football should start from the back sometimes.
I've raved about Benega but I'm not sure how effective he would be playing in-front of our back four, were he would have to keep going too deep to receive the ball.
When Besic came on, he brought the ball out a few times. It opens the game up for the players in front of him, and suddenly everyone has a little bit more time on the ball.
I've played midfield and it's a position in which you have to run and tackle, amongst other things, but playing at the back with the game being played in front of you is always a lot easier if you have got pace and that is something that Besic has got loads of?
It's time for Koeman, to use his loaf and get a bit braver because, if he plays the players who should be playing, then I think he will get a bit longer off the crowd, and a much better style of play might also begin to take shape?
Mark Tanton
144
Posted 07/08/2017 at 07:25:17
Where has the optimism of early summer gone? We're going in to the new season in better shape than we have for many years. Who remembers the Moyes days when, stony-faced and greying, the boss would scowl at questions about lack of signings and we'd get off to a limp start. Defeats at home to QPR, Arsenal, away to Blackburn – this season will hopefully be different, because we are surely in better shape.
Pickford, Keane, Sandro, Klaassen and Rooney are all massive improvements. Yes, Lukaku has gone, and he is hard to replace, but I think we will get used to life without him.
And let's not forget we've had some good competitive tests this pre-season and we're unbeaten, starting to gel, getting fitter and looking reasonably solid.
Bring on Stoke. Bring on the season.
Derek Knox
145
Posted 07/08/2017 at 07:29:41
Having just watched the extended highlights via the OS, it didn't look too bad, but having said that, they were only highlights, and probably edited, with us in a favourable light.
What I did notice, like many have commented on, is that the positive attacking moves, of which there were not enough, were mostly initiated by the 'young guns'. I will be absolutely livid, if we send anymore of them out to gain game time and experience.
Lookman, Davies, Kenny and latterly Dowell are ready now, imo; you need to have that mix of experience, and youth, if we are to move forward.
The other positives, as has already been mentioned by other posters, are Pickford and Keane, both looking not only an improvement but, barring injury and suspension, look to have cemented themselves, in their positions.
The big kick-off, is so frighteningly close, and apart from the Sigurdsson Saga, any additions are late in coming, and assuming we do get some more in, will they be match fit?
We have one he'll of a run of matches, let's hope we can cope.
Paul A Smith
146
Posted 07/08/2017 at 07:49:34
Can't people just say what they see, Barry? I go the game to see Everton win, be as good as we can be and see where we can improve. In friendlies I don't expect a miracle performance but at least some signs of how we are going to hit teams. Them signs have been as bad as the start and finish of last season.
It's so patronising knowing a man has come on a website full of fans comments, to ask if they are or have been sportsmen. Absolute ridiculous in fact. Why bother if you feel thats the case?
Same to those calling that boring get out shout 'sure Koeman and Walsh know more than us'. Going on ToffeeTV etc to make a comment like that seems insane to me?
Again, why bother looking on fan sites if you don't at least take in the opinion or you feel the messiahs know better.
These are the men who put 2 minds together and brought Stekelenburg and Williams to the club. Then decide to spend over half the Lukaku deal on Sigurdsson. Pure genius.
Barry Williams
147
Posted 07/08/2017 at 07:51:51
Jay Woods - 139
Thanks Jay, you put a smile on my face early Monday morning!
The logic isn't really the same as you wouldn't speak in absolute stonewall certainty about your car, medical matters or the weather in the same way that people seem to when it comes to football and sports matters. You may know you car is broken down, but you wouldn't know how to fix it, you'd leave that to a mechanic right! So, that would be logical, right Jay? Unless you are an ace mechanic, I know not!
Peter Gorman - 138
As above, Peter!
What my point is people seem to be rather over critical about things so far and we haven't lost a game. I am not saying we shouldn't comment or have an opinion, but many on here seem to have an agenda and fit any negativity around their agenda; I guess the same can be said for those being overly positive.
There is nothing wrong with offering solutions, but the tone of many seems to be that they know more than our management team. If you listen to Koeman's utterances, he seems to know what is lacking!
Just as a side note, for quite a few years when I lived in Japan I boxed, kick-boxed and refereed professional fighters, so I got a bit of an insight into professional sports, and yes, sometimes things don't always gel or are as aesthetically pleasing as there is always the human element involved.
If people were asked whether they'd be happy with an unbeaten preseason, plus unbeaten in two competitive matches a month ago, we would have all taken it!
John G Davies
148
Posted 07/08/2017 at 07:57:28
Paul A Smith
Surely using that logic you would have to "see" Sigurdsson before condemning the deal?
Barry Williams
149
Posted 07/08/2017 at 08:05:50
Paul A Smith – #146
They bought Williams and Sketlenburg to the club, plus some others too and we improved!
''Can't people just say what they see, Barry?''
Yes, and we can agree or disagree with them as you have with me.
Have a good day folks. We all just want the team to do well, I think we can agree on that?
David Barks
150
Posted 07/08/2017 at 08:09:08
Glad to see Koeman himself dispelling with this notion that Everton have invested heavily in the team. He made the point that me and others have tried to make, that we've only spent the Lukaku money. He also came at it this week and admitted the performance in the Europa League was not good enough.
So I'm wondering, given his comments about needing at minimum three more players and going public with the fact we've only reinvested the Lukaku money, is Koeman getting frustrated with the Board and trying to apply pressure? He's clearly seeing that we are short. He said we need at least two more in attack and one at the back. So it's not just us "negative" types as we're branded when pointing out the obvious. It's the manager too.
So far this Summer we've done the same as always. Sold a star and used that money, not actually invested anything into the playing squad. I'm getting the feeling that Koeman is getting anxious and that Lukaku's words at the end of last season, that he knew of players we could have signed but didn't and that the club didn't show the ambition he wanted, starting to ring true.
The performance in the Europa League was awful. Our performance against Sevilla was poor, especially the first half. We were like a Championship club in the first half, when it was starting 11 against starting 1. I'm just happy that Koeman has come out and said we are still short in attack by at least two players. Now what is the Board going to do about it?
Keith Conchie
151
Posted 07/08/2017 at 08:37:55
To start off, it's a pre-season friendly so we shouldn't expect too much or read into it too much. However, their penalty shouldn't have been, cos the foul was outside the box. Davies should have had a penalty too. They had more possession which is to be expected, Spanish teams are very good at holding on to the ball.
Positives were: we played with more intensity (still not enough but more than previous games).
Keane looked solid in defence.
Sandro can hold the ball and scored an excellent goal, but needs more support.
Jagielka played well, as did Besic when he came on.
Calvert-Lewin works hard and could be a key player coming off the bench.
Lookman should be played more, as he added pace when he came on.
Davies was impressive in his preferred position.
Gueye was miles better than Schneiderlin, who hasn't had a great pre-season. And we should be playing with one defensive midfielder.
Pickford is a quality keeper and could do nothing about the 2 goals.
Kenny should be starting as right-back
Negatives for me were:
Williams was poor when he came on (again); we need a better defender signed. Or play Holgate there.
Rooney was too slow, and didn't link up well with Klaassen (who looks to be improving each game).
Mirallas offers a bit of pace but that's about it.
Barry is finished, never really rated him anyway. Too slow, and doesn't push us on like Gueye.
We need a top striker to play with Sandro. A left-back to cover or maybe start over Baines.
Undefeated in pre-season is still good though.
Paul A Smith
152
Posted 07/08/2017 at 08:39:48
Definitely, Barry and it was about the nature of your theory mate. If I don't enjoy my tea, nobody asks me was I a chef.
John I am not condemning the Sigurdsson deal I just don't think its genius and to the other comments saying he has signed good players too, I can't believe so many people miss the point.
It was about not giving a patronising comment on a fan page.
Will Mabon
153
Posted 07/08/2017 at 08:53:15
"
Glad to see Koeman himself dispelling with this notion that Everton have invested heavily in the team.
"
I posted on another thread that Koeman should now get his time, as this is now "his" team. There have already been wholesale changes, all his the with exception of Lukaku leaving. He's had access to funds that half of the managers in this league would kill for.
Maybe he made that statement to correct the questioner, for the sake of accuracy. If he made it to lever even more funds, it might be time he employed a little subtlety. Otherwise, he'll look like he can't improve anything without buying a whole team.
Everton have invested heavily in Koeman, too.
Colin Malone
154
Posted 07/08/2017 at 09:18:45
Klaassen stunk the place out. where does this lad play? He was like a little boy lost.
Route One football to Calvert-Lewin stinks. We need more than water carriers in midfield... we need class – which is clearly not there.
Sam Hoare
155
Posted 07/08/2017 at 09:25:26
How about we buy Correa from Sevilla?!
Young and rapid. He beat full backs on either side with ease, worked hard and got the assist for their first and could have had another one or two.
That's what we need. Someone who can beat their man and find end product. Or play Lookman.
John Keating
156
Posted 07/08/2017 at 09:34:54
A few posters have mentioned over the last few games that we shouldn't read too much into our performances as it's preseason and it's all about getting fitness levels up and players getting used to each other.
Well that may well be the case but watching the Charity Shield we are miles behind Arsenal and Chelsea so somethings not quite right!
Barry Williams
157
Posted 07/08/2017 at 09:37:44
Paul A Smith – (#152)
I am happy to be criticized, I don't pretend to have the answers, we all have different perspectives on things!
Steve Ferns
158
Posted 07/08/2017 at 09:43:32
Banega is a player well known to Everton. We applied for a work permit for him, it was rejected, and then we appealed it and Moyes himself went to the appeal to say what an important player he would be and it was accepted. It's never come out why we applied for a work permit for a player when we hadn't agreed a fee with the club or terms with the player, but for us to go to all that trouble, a deal must have been close.
Ever has had a chequered career. It has been very stop start. Two or three years ago he was on the scrap heap and headed back to South America on loan. Then he joined Seville after finding some form. The fee was either free or peanuts. He produced his best and then got a move to Inter which didn't work out and now he's back at Seville. When he first moved to Seville he was again linked heavily to us, but it never came off. Obviously Martinez was in charge this time.
http://news.bbc.co.uk/sport1/hi/football/teams/e/everton/8209088.stm
Banega is an infuriating player. Maybe he was up for this game because he was playing a team who he was close to joining twice. When he's on it, he's a joy to watch, but too often he goes missing and when he's bad, he's really bad. I would also expect him to get kicked out of games or just simply bullied. That said, he's a lovely player to watch and for free we should have done more to get him.
His off-the-field antics are interesting to say the least. This is the guy who left his Ferrari filling up at a Petrol Station, the handbrake was off and it rolled over his foot putting him out for a lengthy spell. He also had another incident where his Ferrari caught fire and burnt itself out. I think this was the period that led him to go home to Argentina.
An excellent player on his day, but the guy I always wanted ahead of Banega was Joao Moutinho.
Steve Hogan
159
Posted 07/08/2017 at 10:03:54
Steve (#158),
Perhaps someone could have put him in touch with Darren Gibson, prior to considering a move to Everton, he could have given him sound advice about filling up your sports car in petrol stations. I'll get my coat.
Keith Conchie
160
Posted 07/08/2017 at 10:59:28
Just on a different subject, with the first Premier League game only days away. What's your starting 11?
Here's mine 4-3-3
Pickford
Kenny Keane Holgate Baines
Davies Gana Klaassen
Lookman Sandro Calvert-Lewin
That's from the squad we have now.
With wishful thinking:-
Van Dijk could replace Holgate.
World class striker could replace Calvert-Lewin.
Losing interest in Sigurdsson now, do we really need him? Who would be start ahead of? Any thoughts
Peter Gorman
161
Posted 07/08/2017 at 12:15:46
Barry Williams – just an early morning tweak of your nose for what seemed like a silly comment.
It is fair to say, there are not many people on TW who have won 78 caps for the Netherlands. It is probably also fair to say there are not too many earning 6 million quid a season either.
I admire your optimism but there is nothing wrong with people pointing out the shortcomings of the team ahead of a pretty crucial season. We may be on the outside looking in but we are also the customers (if you will) to Ronald's 'project' and nobody wants to be sold a shiny bollock with malfunctioning parts.
Laurie Hartley
162
Posted 07/08/2017 at 12:46:30
I have only seen the highlights of the last two games but, based on that, If Moshiri gave me one chance of becoming manager of Everton on condition that we won against Stoke, this would be my starting eleven:
Pickford
Kenny, Keane, Williams, Baines
Gana, Besic, Klaassen
Lookman, Sandro, Mirallas
According to my calculations that would mean leaving out – Schneiderlin, Rooney, Davies, Martina, Calvert-Lewin, Holgate, Jagielka, Barry, Lennon, McCarthy, Barkley, Stekelenburg, Robles, (and Barkley for obvious reasons).
My reason for including Besic? Not only can he tackle as well as control and pass a football, he also has a mad glint in his eye – and I have always thought you need one of them in your team.
On the transfer front I do think Giroud would be a terrific acquisition but only if we get Sigurdsson. They would replace Mirallas and Klaassen in the starting eleven with Lookman going to the left and Sandro on the right.
Footnote – if he loans Lookman out he needs his head testing. That kid was is a yard ahead of everyone on the pitch when he came on. What a footballer.
Paul A Smith
163
Posted 07/08/2017 at 13:13:27
Laurie, I like that team for Stoke. I would include Barkley if fit but that team has energy and as pacey as we can be.
I don't have a particular hate for Schneiderlin but he's not going to improve as a player and no way should we build a team around any one player. They should be earning a place in the team.
Derek Knox
164
Posted 07/08/2017 at 13:37:08
Laurie, an adventurous team selection, and I tend to agree with most of it, but I think Rooney in place of Mirallas, my reason is that the side you picked has no leaders from the front, and there is a lack of experience.
I like Mirallas, but think recently, he does not justify a starting slot, besides, the boss wouldn't leave Rooney on the bench.
I totally agree, with a lot, who have said there is no room for Schneiderlin and Gana in the same team at home, and besides again, although a class act, Schneiderlin hasn't justified inclusion from what I've seen pre-season or competitive games to date, he is too slow, or slows play down.
Only my opinion, but who am I, like most on here, we see things, that the manager does/doesn't, we have no influence, only support, but that can become strained at times.
James Watts
165
Posted 07/08/2017 at 13:49:44
Paul (#163). "I would include Barkley if fit " You'd have more chance winning the lottery mate :P
Chris Williams
166
Posted 07/08/2017 at 13:58:51
On a slightly different topic, I see today is the tenth Anniversary of Leighton Baines signing for Everton. He has now just overtaken Tommy Wright as the full back with the most appearances for us, although Tommy's career was cut short by injury.
Probably the best left back I've seen here since Ray Wilson, on balance,with a great left foot. His partnership with Pienaar was a thing of beauty.
He still has much to offer.
Keith Conchie
167
Posted 07/08/2017 at 13:59:53
There's no way William's should be starting IMO. He's been well off the pace and unimpressive in pre season. Same as Schniederlin, hence why I would leave both out of my starting 11.
Besic would be good, but he's a defensive midfielder same as Gana and we should be only playing 1 at home really, so that we can play another attacking midfield player such as Davies.
But we're all entitled to have our opinion on the starting 11, and it's nice to have so many options to choose from (in midfield).
Colin Glassar
168
Posted 07/08/2017 at 14:44:33
Great post Chris. I've seen some other great left backs in my time e.g. Pejic, Bailey etc but Leighton is right up there with the best.
Jay Harris
169
Posted 07/08/2017 at 14:50:15
Based on preseason form and my bias here is the team I would like to start against Stoke:
Pickford
Kenny Keane Williams Baines
Gana
Davies Rooney
Sandro Calvert-Lewin (or new no 9) Mirallas or Lookman
Tom Bowers
170
Posted 07/08/2017 at 14:56:29
Colin, Yep Everton have had some good left backs but Ramon Wilson was the best defender of all.
Daniel A Johnson
171
Posted 07/08/2017 at 15:06:02
When's Riquelme signing?
Sigurdsson is a class act but were seriously bloated with midfielders now and yet the striker situation is getting laughable.
Koeman and Walsh have had 18 months to identify a striker .yet the wait goes on.
To leave such a crucial purchase to the last minute is simply criminal in my view.

John Keating
172
Posted 07/08/2017 at 15:09:59
Ray Wilson was in a different class to Baines
Colin Glassar
173
Posted 07/08/2017 at 15:10:03
Wilson was great Tom, and a World Cup winner. I'd forgotten about him. Probably the greatest of them all.
Dan Davies
174
Posted 07/08/2017 at 15:10:46
Schneiderlin is struggling and off the pace. I wonder why?
Chris Williams
175
Posted 07/08/2017 at 15:16:41
I've often thought, probably wrongly, that left back is possibly one of those positions where we have not been blessed with so many really good players down the years.
Colin, obviously the ones you mentioned plus Hinchcliffe and Van den Hauwe were fine players for us, but going way back we had Meagan, Tommy Jones, Thomson, Sandy Brown and an out of position Newton, McLaughlin who were okay at best. We often seemed to ask players to fill in there.
Leighton though is definitely number one in his own era, and that's pretty good.
Mike Gaynes
176
Posted 07/08/2017 at 15:22:50
James #132...

"All I'll say is ,,,, ;)"
Sorry, no idea what that means. Once more with clarity?
Mike Gaynes
177
Posted 07/08/2017 at 15:35:17
Daniel (#171)...
Koeman and Walsh HAVE identified their targets. Three weeks is not exactly leaving "such a crucial purchase to the last minute"... and it's not like they're off playing golf somewhere. They've targeted players whose clubs don't want to sell (Giroud, Dzeko), and I'm quite certain there are offers and negotiations going on behind the scenes.
When you're going for top strikers, it takes time, doesn't it? The Lukaku adventure took months, and he openly wanted to go.
Mike Gaynes
178
Posted 07/08/2017 at 15:39:13
Laurie (#162), what in the world did you see in the highlights that gave you the idea that Besic should be anywhere within mailing distance of the first 11?
Paul Tran
179
Posted 07/08/2017 at 15:55:41
Besic is one of those players that look busy while clattering into people.
I've got no problem with 'tackling machines' as long as they can tackle legally. I tend to prefer quality players to cult heroes.
He ain't good enough for a start. Squad player at best.
John Charles
180
Posted 07/08/2017 at 17:10:24
But Mike, we have all known, as you say, for months that Lukaku was going. Therefore surely we have had months to source a replacement, yet the season starts in 5 days and we haven't.
Brent Stephens
181
Posted 07/08/2017 at 17:31:22
Disappointed with Besic (and I know he's had some injuries). Saw him in his first game, pre-season at friendly at Trannie –- stood out a mile, and I thought he'll be great for us.
Sadly, every game with him now makes me cringe in fear of a slip up.
Andy Meighan
182
Posted 07/08/2017 at 17:31:58
Mark my words... Come Christmas, the majority of our fans will be calling for Koeman's head.
The lack of pace and inventiveness in that squad is terrifying. There's not one player who can drop his shoulder, skip past a player, and curl or bang one in the top corner. In other words, not one player who can get you off your seat.
He's filling the side with industrious hard-working midfielders... Sigurdsson is another one. £50 mil for a player who is a set-piece merchant but lacks serious pace is folly in my view.
I hope to God we don't sign Giroud as has been mooted because, if people on here thought Lukaku was lazy, wait until they get a load of him! Hopefully he'll want to stay in The Smoke.
I'm worried for us because we look disjointed, unbalanced, and don't look like we've got a lot of goals in us... As if the start we've got isn't bad enough!
Mike Gaynes
183
Posted 07/08/2017 at 17:35:04
John, we got "a replacement"... we got two in Sandro and Rooney. Getting THE replacement for a 24-goal scorer was never going to be quick. Look how long it took to close the Rooney deal even when all parties were eager to get it done.
And remember, it was not certain until five weeks ago that Rom was leaving. You can't just call Dzeko on June 1 and say "Hey, Edin, want to come play for us if Rom leaves?"
I'm quite sure we have "sourced" several elite strikers, but bringing in the class of player we are looking for takes time. Got to convince the selling club AND the player.
Paul A Smith
184
Posted 07/08/2017 at 17:46:11
Mike, maybe Laurie seen the last 20 where after getting booked Besic played quite well. Just like Lookman as you mentioned earlier. At least he plays with a bit of purpose and looks to be in the oppositions faces.
Besic doesn't look great I admit but who does look great around him? I see his flaws but, having watched Schneiderlin and 7-stone Gana together often enough I am not afraid to see their flaws either.
We seem to be building a team around Schneiderlin who has been okay and seems to be a crowd favourite for his tackles but he isn't great either. He's anonymous away from home.
James Hughes
185
Posted 07/08/2017 at 17:54:37
Mike, wasn't Rom saying for many weeks his future had been decided? Hardly declared 1st June.
After the farcical claim from his agent that a new contract would be signed and it was 99.99% done. Wasn't Rom stating everywhere and anywhere that his future was decided, publicly distancing himself from that statement?
Eddie Dunn
186
Posted 07/08/2017 at 17:58:21
Dan (#174), Schneiderlin had a ropey end to last season, picking up niggling injuries and missed a few important games. Perhaps he is lacking match fitness, after so little action, or managing an ongoing problem.
The balance of the midfield is wrong and Koeman is looking to get the blend right. It is the one area of the pitch where he actually has some choices, with a plethora of options.

Dan Davies
187
Posted 07/08/2017 at 18:19:25
Ed (#86), possibly mate. I've been watching the Schneiderlin and Gana partnership closely, hoping for signs that their going to 'click ' but I must admit to being slightly disappointed so far.
Numerous TW posters have said that their either too similar to each other or they just don't mix well together on the pitch. I'm starting to sway in that direction myself, unless they just simply need more time of course.
At this point in time, Gana, for me is the form player. Maybe then we should look to use just one defensive midfielder and a change in formation?
Jay Harris
188
Posted 07/08/2017 at 18:22:34
Col and Chris don't forget Paul Power who came in and did a great job for us but I agree on balance Leighton probably just edges Ray Wilson as our best ever LB.
James Stewart
189
Posted 07/08/2017 at 18:24:59
Schneiderlin has been a massive letdown for me. All I've seen from him is that he isn't as good as Barry at pinging the passes around and he isn't as mobile or distruptive as Gana with his defensive side. I hope he comes good but for a player of his pedigree I expected a lot more than I've seen so far.
Colin Glassar
190
Posted 07/08/2017 at 18:28:43
Don't forget Psycho Pat, Jay.
John Pierce
191
Posted 07/08/2017 at 18:31:56
Despite Schniederlin's sloth-like lethagy at the moment I cannot understand why you'd play Gana as the one defensive midfielder in front of Morgan.
Gana roams, is a firefighter, a runner essentially. He aint the disciplined anchor that the role requires.
Schniederlin has a better passing range, holds his position and rarely loses possession. He gets in even time over Gana.
Gana gives the appearance of the better influence in the games because of Schniederlin' s discipline. He is allow to piss about the place knowing whats behind him. Add to Gana's lack of output it makes him a less injury prone McCarthy.
Get a proper midfielder in there
Will Mabon
192
Posted 07/08/2017 at 18:35:03
James Watts, post 165:
I think Paul probably understands Barkley is going, whereas you love it.
Mike Gaynes
193
Posted 07/08/2017 at 18:42:41
James (#189), couldn't disagree more. Schneiderlin was an instant injection of quality into the side, and our slump last season coincided with his absence, which I do not consider a coincidence. (Of course, he was single then, and you know what marriage does to a guy.) But seriously, he is class and will show it again. The question isn't his quality, but whether he's a good blend with Gana, and that is yet to be determined.
Paul A (#184)... if 20 minutes of decent play against a sub-par and tiring opponent is enough to convince you and Laurie that Besic -- a midfielder who contributes absolute zero in attack -- deserves a start in our league opener instead of Schneiderlin, Rooney, Davies, Barry or McCarthay... all I can do is ask what planet you're orbiting, because it certainly isn't this one.
Dan Davies
194
Posted 07/08/2017 at 19:33:29
John @ 191, I know what your saying but at this point in time is Scheiderlin doing enough to start the game?
Who is this proper midfielder you mention?
Jay Harris
195
Posted 07/08/2017 at 19:39:34
Thought he already got a mention, Col, but you have to give him kudos for the birds he pulled too – and I don't mean Duncan's.
Paul A Smith
196
Posted 07/08/2017 at 19:58:52
Right then Mike so what has Schneiderlin done or Gana in even longer time on the pitch that guarantees them a start for you? In fact what have they ever added to attack in their whole careers?
Nobody suggested Besic was for attack anyway.
John Pierce
197
Posted 07/08/2017 at 20:13:27
Dan,
Schneiderlin is the better option, far less variation in performance even when not at it. He starts Saturday.
I'd say we don't have the proper midfielder to go along side him. The nearest we have is Davies. The lad does a bit of everything. Absolutely adds to us going forward, but like Ghana has a tendency to roam, often drifting out of games.
Actually a little cross thread pollination, Davies should believe in his ability and not get pushed into playing anywhere. It damages not helps a players development.
Take Rooney, so open to helping the team, compromising his game by playing out of position. His career was still like Ronaldo's, littered with trophies, but he's knackered, Ronaldo ultimately selfish, is not and thriving.
Dave Williams
198
Posted 07/08/2017 at 20:34:43
Baines better than Ray Wilson?? Did you ever see Wilson play at his peak??
Baines was very good but Wilson was the best left-back in world football for a few years bar none. Pienaar made Baines the player he was and he hasn't been the same since Pienaar declined.
Ken Wood
199
Posted 07/08/2017 at 20:38:59
For what it's worth my team would be 4-1-4-1 with 2 wide players joining up with the central striker:
Pickford,
Kenny, Jagielka, Keane, Baines, Gana doing the dirty work as needed behind a central 2 of Davies (legs) & Rooney (vision etc) with Lookman & Mirallas on the flanks supporting Sandro up top.
Fairly positive I think with plenty of options from the bench of needed.
John Keating
200
Posted 07/08/2017 at 20:45:47
Jay (#188) I appreciate everyone has an opinion but to say that Baines edges Wilson as the best left back is in my opinion unbelievable!
Defensively Wilson was excellent his positioning and tackling were brilliant. Very rarely did Wilson tackle and not come away with the ball. He had a knack of sliding his leading leg in front of the ball, the attacker would go over and Wilson was up and away.
As for Wilson's attacking and crossing brilliant!
Jay maybe the years have softened your memories of Wilson but he was truly the best left back Everton and England have had in living memory
Dan Davies
201
Posted 07/08/2017 at 20:50:39
I wouldn't argue against Davies, John. Just maybe a little variation or experimenting with something other than Morgan and Gana every game might spring a surprise.
Just on current form Gana, IMO, deserves to be playing if one were to be rested. If we could get a proper midfielder in though John, who would you suggest?
Vince Furnier
202
Posted 07/08/2017 at 20:52:30
What bothers me is Southampton beat Seville 2-0 this evening.
Mike Gaynes
203
Posted 07/08/2017 at 20:53:37
Paul A...
A midfielder who cannot contribute anything in attack had better be absolutely spectacular in other areas. Besic has zero goals, zero assists for us. (In fact he has exactly one goal in his entire senior career.) So what is he good at? Tackling. That's it.
And Gana is better at it. Way better. In fact he was the #1 ballwinner in the Premier League last season and #2 across all the top European leagues.
As for Schneiderlin, he has consistently scored a goal every ten games or so throughout his Premier League career and often triggers attacks with his passes from deep.
But if you think Besic is better, rock on, son. You're pretty much alone on that island.
Adam Scott
204
Posted 07/08/2017 at 21:02:54
Ken (199) Rooney is not a midfielder. Never has been, never will be. Let's be frank, he has offered nothing in pre season. Why does he even start?
I am not a fan of having him back. If he isn't up front though, playing off another striker, it is pointless trying to show horn him into the team.
Kim Vivian
205
Posted 07/08/2017 at 21:39:24
Mike Gaynes (#various). Your Besic bashing is beginning to annoy me.
I was at the game yesterday and Mo Besic looked ok for the short time he was on. Besides the tackle that got him booked, I don't recall him doing anything much wrong. I do like Mo (particularly his attitude) so am a little biased but you clearly see a different version.
He has had very few games for us and I don't know when you have seen him but watch this vid of one match from early last year (another of the few games I have managed to get along to, actually) and get back to me.
https://www.youtube.com/watch?v=8NRNYSyYvVg
Paul A Smith
206
Posted 07/08/2017 at 22:24:45
Mike, you keep suggesting things that haven't been said.
Nobody is saying Besic is better than anyone but he is different to both of them and done no worse in pre-season unless you want to count his yellow cards which don't bother me if he doesn't get another in the same game.
You talk about Lookman in the thread who has played about the same minutes as Besic and again is different.
I like seeing that in players, I'd also like to see more of him but couldn't somebody give all the same reasons you give for Schneiderlin to say, Mirallas for starting him rather than Lookman?
Laurie Hartley
207
Posted 07/08/2017 at 22:51:36
Mike Gaynes - various posts above. The delay in answering your questions is due to the fact that it was night time on the rather large island (Oz) I am hurtling round the sun on (is it a planet?) at 67,000 mph.
What I saw in the highlights before Besic came on was a lack of agression in midfield. Besic always brings this quality with him. In addition, and as I posted above, he is a skillfull footballer. Kim Vivian's you tube link at post 206 will give you an insight as to what I am on about.
As far as the rest of the midfield is concerned, apart from Gana who is a cracking player, they couldn't lace Gareth Barry's boots as far as football nous and attitude go. Pity time is catching up with him.
John Pierce
208
Posted 07/08/2017 at 22:55:22
Dan,
The demand for a proper midfielder is high and they are rare, rarer still to convince them to come Everton.
I think that the suggestions I have are a stretch but might be worth a go.
Modric, 31, still absolutely a belter of a player. Lots of transfer stuff at Real yet to happen, he might be left hanging.
Fabregas, in and out last year, over his peak but is excellent from deep. Again could be left behind in Conte's craziness.
I stress very unlikely but that the type of all round player we need.
Stephen Davies
209
Posted 07/08/2017 at 23:06:10
John 208.
Absolutely. We've been crying out for something similar for years
James Watts
210
Posted 07/08/2017 at 23:17:14
Mike (#176). It means, I told you so!
James Watts
211
Posted 07/08/2017 at 23:25:45
Will (#192),
I love that Barkley is going
? Rubbish.
I would have liked him to stay. But I can also see he can offer us something however he flatters to deceive on too many occasions so if he goes I'm not bothered.
Some people can't understand he wants to leave. I can and is no longer in my thoughts as an Everton player. Doesn't make me love that he's leaving. Just means I'm ambivalent to it.
Terry White
212
Posted 07/08/2017 at 23:28:24
Belatedly coming to the discussion. Anybody who saw Ray Wilson playing for us knows that he was the best left back in the world at both club and international level.
Baines has been a good club player but any direct comparison between him and Wilson that suggests that Baines is better is, quite frankly, severely deluded.
Tony Hill
213
Posted 07/08/2017 at 23:34:13
I hope against hope that we are going to be surprised by Ronald and his men when the season gets going, and by dear old Bill (or whoever it is) working on our transfers before the window closes.
As things stand, we have certainly made some good buys, but we are playing football as tedious and disjointed as any I can remember, we have failed to replace our main source of goals and, most disastrously of all, we have acquired in Rooney a dead weight.
Always darkest before the dawn.
Dan Davies
214
Posted 07/08/2017 at 23:39:48
John, I would add Mata to those pair. By the way wasn't asking to criticize.
Alan McGuffog
215
Posted 07/08/2017 at 23:40:03
Ramon Wilson.
My personal favourite blue of all time. What a footballer ! Possible rival for best left back in the world, at the time, was Djalmar Santos of Brazil. Who knows.
Ray has now retired and is not in the best of health but I have such great memories.
Tony Hill
216
Posted 07/08/2017 at 23:42:20
Alan, he was one of the best positional readers of the game I have seen.
Peter Gorman
217
Posted 07/08/2017 at 23:45:11
Ah Besic. I remember someone claiming he'd never had a good game for us so thanks for the link, Kim.
However, Mike hardly stands corrected. I've got a massive soft spot for Mo because he always brings fire to a team of drips but all he amounts to is potential. Even in that vid, his best game, 90% of his contribution going forward doesn't quite come off. I'm a believer that over time he could have really developed into a decent player but injuries never gave him a chance.
I suppose the question is, do we need to develop Besic's nascent talents for ball-winning when we already have the absolute prince of ball-winning in Gana? Gana also offers about as much going forward but is probably more aware of his own limitations and keeps it simple.
Besic is a great lad, love his attitude but in this age of many midfielders he is way down the pecking order I'm afraid.
Kim Vivian
218
Posted 08/08/2017 at 08:21:21
Peter - I think Besic could be developed into a decent right side defender if not to be used in midfield. He has been used in that role I think by either Bosnia or his last club (I forget their name). I agree with you to some extent but guess we will never know for sure about how his potential may play out, but my main point to Mike was to give it a rest as he seems to have seen very little of Mo.
I'm afraid I haven't seen the maestro that Schneiderlin is supposed to be and understand now why he was shelved at Man Utd. I didn't notice any howlers but he didn't really do anything much out of the ordinary on Sunday with, I fairness, Seville and Banega bossing the midfield for most of the game but perhaps his strength is a sort of quiet efficiency about the way he goes about his job.
I thought the Sevilla left back seemed pretty useful (Clement Lenglet -). Never heard of him but only 22 and set to break into the French senior squad before long I'd wager. (Already has played for France at U16, U17, U18, U19 U20 and U21.
Will Mabon
219
Posted 08/08/2017 at 09:40:31
James, post 211:
Don't take it personally now...
James Watts
220
Posted 08/08/2017 at 09:53:28
hHhaha! You know what, Will (#219), as soon as I posted I put my head in hands and thought, "Doh! I've let Will back in there!"
Laurie Hartley
221
Posted 08/08/2017 at 11:47:12
Peter (#217),
From what I have seen of him Besic is more than a ball winner – he is good in that department but he also has terrific close control, spatial awareness, and looks for a forward pass.
I like particularly the part of your post where you said – I've got a massive soft spot for Mo because he always brings fire to a team of drips drips.
I have a feeling we will see quite a bit of Besic this year – I think Koeman likes him.
Dan Davies
222
Posted 08/08/2017 at 14:11:12
Just have to hope that Scheiderlin plays his way into some form. Other than that it would be interesting to see a fully fit Besic alongside Gana, if he could keep a cool head! (Sorry Mr. Gaynes!)
Tony Kost
223
Posted 08/08/2017 at 22:10:13
Laurie Hartley (#221) – I have a soft spot for Besic – I hope he gets back to the form he once had – he'd give some of the established midfielders a big surprise.
He wears his heart (of stone) on his sleeve and likes to "mix it", á la Reidy.
Good luck to him!
Martin Anderson
224
Posted 09/08/2017 at 15:59:11
The Sevilla game was very illuminating – they played the pressing game we were supposed to be playing.
We had some quite good individual performances, but as with most on this thread – I don't think many were overly enthusiastic, there didn't seem to be much team cohesion yet.
Clearly however Pickford and Keane are top quality; other standout players: Baines, Davies, Rooney, Lookman & Sandro, but they are the only players I would say are sure of their places.
Adding to that I guess Schneiderlin over Gana for more creativity; Kenny should definitely get his chance – he can cross a ball (not Holgate, future centre-back); then Williams & Calvert-Lewin, but not at all happy with these last two I'm afraid. Calvert-Lewin looks like he could be one for the future though.
I think this midfield will create chances - but need a top class experienced striker to hold up play, distribute and score! (Bony, anyone?)
Add Your Comments
In order to post a comment, you need to be logged in as a registered user of the site.
Or Sign up as a ToffeeWeb Member — it's free, takes just a few minutes and will allow you to post your comments on articles and Talking Points submissions across the site.