Everton reveal 2017-18 third kit

64 Comments [Jump to last]
Friday 11 August 2017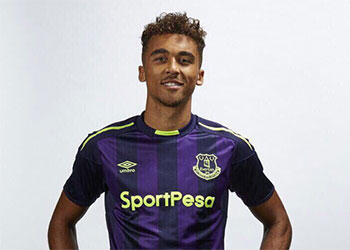 The club have unveiled the new third kit in a series of tweets by players today.
Squad members like Morgan Schneiderlin, Mason Holgate, Jonjoe Kenny and Dominic Calvert-Lewin all shared images of the strip on the social media platform.
The second change kit features dark navy and purple stripes, navy shorts and socks with the logos and trim in luminous yellow.
---
Reader Comments (64)
Note: the following content is not moderated or vetted by the site owners at the time of submission. Comments are the responsibility of the poster. Disclaimer
Will Mabon
1
Posted 11/08/2017 at 16:33:29
Crystal Palace B team.
Martin Nicholls
2
Posted 11/08/2017 at 16:38:13
Good shirt – better than current home and away shirts.
Shaun Wilson
3
Posted 11/08/2017 at 16:55:44
Lol Will. Bolasie will be confused as fuck! I like it though, nice change, definitely better than that blue and yellow nightmare from a few seasons past
Mike Berry
4
Posted 11/08/2017 at 17:02:59
A lot better than the first kit and the 2nd is a wishy-washy mess.
I really like this shirt – ooks smart and modern.

Ben Collins
5
Posted 11/08/2017 at 17:25:02
That is truly horrible, absolutely woeful effort.
Brian Cleveland
6
Posted 11/08/2017 at 17:35:28
If I buy anything this year, it will be commemorative shirt they wore against Sevilla, now that was nice... all the real kits for this year are absolute garbage. Not classy at all. The look like cheap knock offs to me.
Bill Griffiths
7
Posted 11/08/2017 at 17:49:07
Think this is the best of the 3 shirts but I will be getting the commemorative shirt when available.
James Barkley
8
Posted 11/08/2017 at 18:05:54
Absolutely abysmal. Do we even have purple as part of our heritage? I just hope it isn't used that much this season.
Home: Royal Blue (as in, real royal blue) shirt, white shorts, white or royal blue socks.
Away: Amber shirt with royal blue collar trim, royal blue shorts, amber socks with royal blue trim.
Third: No need for a third with an amber away kit.
Sorted!
Mark Wynne
9
Posted 11/08/2017 at 18:15:32
At least it's not as bad as Derby County's Thunderbirds strip, though I'm not a fan of the fluorescent colours that seem to be a feature of modern change strips.
Karl Masters
10
Posted 11/08/2017 at 18:19:13
This is better than the Home and Away kits.
I see we came 20th and 19th respectively with those in an article about 2017/18 kits.
Home shirt looks like a training shirt and, although white socks are thankfully present, this is the worst home kit for some time, probably only the monstrosity of 2000-2002 by Puma is worse.
Away kit is just crap, grey never works as a football kit colour. It might be the latest look in Kitchen unit doors and aluminium windows, but as a clothing item definitely not.
This is much better.
I used to quite like Umbro, but now I'm not sure. We've tried most kit manufacturers now and none has done a great job.
Like many others, the very simple commemorative kit appealed to me. Maybe I'm just getting old? Hahaha!
Mike Gaynes
11
Posted 11/08/2017 at 18:24:22
I'm diggin' the purple!
Dan Davies
12
Posted 11/08/2017 at 18:44:26
Yep, I'll be having me one of these. Best of the kits. I like the simplicity of the commemorative kit too.
Under Armour make decent kits; I wonder if they would be better than Umbro?
Minik Hansen
13
Posted 11/08/2017 at 19:04:00
Wow, wow, wow. Finally something really worth buying without a slight doubt. Every man his own taste, I love it.
Michael Burke
14
Posted 11/08/2017 at 19:04:52
We've had some shockers over the years, this isn't too bad. Be even better without the fluorescent tubing and badge. What colour would show up well there though?
Not a patch on my favourite though. Salmon pink and navy NEC!
Geoff Lambert
15
Posted 11/08/2017 at 19:50:03
Best of the bunch by far.
Jay Woods
16
Posted 11/08/2017 at 20:28:44
I hate white socks on our home kit – sorry to go against the grain.
As for this, yet another festering pile of steaming offal from the world's most pathetic kit designer.
Could we not just go back to the Alan Ball era style of minimalist, clean and simple design? That kit we wore against Sevilla looked more like what we should be wearing. Nicer badge too than what we normally use.
Will Mabon
17
Posted 11/08/2017 at 20:37:16
Purely as a football shirt, it's okay, what can be seen of it. I quite like some striped kits.
However, for Everton – James Barkley @ 8 says it all.
Surely enough designs and variation can be conceived to keep fleecing the kids for kits each year, whilst sticking within our core heritage.
Nigel Munford
18
Posted 11/08/2017 at 20:50:15
I quite like the one from 1884/1886
Will Jones
19
Posted 11/08/2017 at 21:09:53
This is a really good design. The idea of a 3rd kit is to be different to the others, and this does, and still looks pretty trendy. I would be happy to buy one.
Jeff Armstrong
20
Posted 11/08/2017 at 21:18:57
"Dress the same as a 7-year-old... in purple" wow!!
Kristian Boyce
21
Posted 11/08/2017 at 21:28:37
I was under the impression we were meant to be Umbro's flagship club, and that they used us to announce they were back in the kit making business. Hopefully someone at the club is looking closely at the contract as the 3 kits they've put out this year are of poor design and look pretty cheap.
Most of the papers and websites have our home and away listed as some of the worst shirts for this season. I'm no Gok Wan, but I would have thought that a club which is trying to make a statement and create an image of one of the big boys, these kits don't help one bit!
Mike Green
22
Posted 11/08/2017 at 21:47:14
Great kit.
Craig Walker
23
Posted 11/08/2017 at 21:47:35
Purple Wayne. Purple Wayne
Laura Round
24
Posted 11/08/2017 at 21:51:28
I love it... my 9-year-old hates it. Pre-ordered.
Mike Allison
25
Posted 11/08/2017 at 22:23:28
Are you lot mental? This is easily the worst kit Everton have ever had. It looks like a Newcastle United away kit and has no relevance to the club whatsoever. I hope we never, ever wear it.
Ben Collins
26
Posted 11/08/2017 at 22:29:44
Mike I am with you. Not sure if my phone is playing up and I am seeing something different to everyone else. Hideous colours, stripes and fluorescent bits. Is like a 5 year old been let loose with Microsoft paint.
Chris Leyland
27
Posted 11/08/2017 at 22:32:08
Mike, "the worst kit we've ever had" seriously? I'm going 2009/10 away

Christy Ring
28
Posted 11/08/2017 at 22:36:11
Is Stevie Wonder designing our jerseys.
Laura Round
29
Posted 11/08/2017 at 22:38:07
Nice and dark so I can spill my pie on it and not give a fuck. I can't wait for it to come.. might even wear it when it's not match day, which I never do.
Colin Gee
30
Posted 11/08/2017 at 22:42:14
Worst away kit? We've had a lot worse! It's no where near as bad as that white one that looked like you'd been run over by a tractor that we had in the mid 1990s.
Ben Collins
31
Posted 11/08/2017 at 22:52:35
It's got a fluorescent clergy collar for the love of god!
James Stewart
32
Posted 11/08/2017 at 22:54:07
Worst. Kit. Ever.
Denis Richardson
33
Posted 11/08/2017 at 23:03:16
Awful – bring back the black kit from a few years ago.
Ray Roche
34
Posted 11/08/2017 at 23:21:50
James (#8) nails it. No argument.
I don't know which gobshite "designs" the kits these days but he should be taken out and shot. (Is that a bit harsh ?)
Mike Keating
35
Posted 12/08/2017 at 01:27:51
Who gives a shit? The mugs will pay up and the rest of us will save the money for the trip to the State de Lyon in May.
Being an Evertonian does not require buying into this merchandising horseshit year after year.
Dan Davies
36
Posted 12/08/2017 at 02:17:07
Wtf is post 23 about?
Eric Myles
37
Posted 12/08/2017 at 03:00:58
It's a song by Prince, Dan.
James Barkley
38
Posted 12/08/2017 at 03:44:26
Ray Roche (#34),
I don't think that's such a harsh statement to make, given our new keeper's strip is pink. All pink. Nothing but the pink...shit, hand me a Mauser!
Seriously, why can't we have a decent keeper's kit these days? Nobody really seems to discuss the utter crapness of them nowadays, either. It's like we've accepted the fact that our last line of defence looks like an utter wally.
I didn't like them at the time, but I long for the Puma era now. The light blue and black one Paul Gerrard had in the early 2000s was different class by today's standards:
Andy Kay
39
Posted 12/08/2017 at 05:23:25
Agree with James Barkley (#8). Away strips should only be used when we clash with the opposition. (I still can't get my head around the green kit at Southampton 2 years ago and the dark one last year away at Boro? Why?)
It can't be that hard to see who we play in the league and choose a 2nd shirt that won't clash. Three kits a year (I bet the grey one wont get worn) is just ripping off the fans again.
Andy Kay
40
Posted 12/08/2017 at 05:33:15
And if we really want to break the glass ceiling with our marketing, it's time to look at how many Champions league big boys still wear a Nike or Adidas kit . it makes a huge difference with a world brand. Even the likes of Juventus, Man Utd Chelsea etc have switched recently, they still use Nike or Adidas. Spurs have just gone to Nike now too.
We'll always be "little Everton" with our diamonds down the sleeves going all Retro while we are still with Umbro. Time to wake up!
Laura Round
41
Posted 12/08/2017 at 06:05:45
Mugs mike? Bit harsh thanks very much. Some of us can afford both...
Colin Glassar
42
Posted 12/08/2017 at 08:24:34
Bring back the green one!
Lee Courtliff
43
Posted 12/08/2017 at 09:18:40
My favourite is the 1989-90 home shirt... it still holds up today.
The current kits are all shite.
Mike Kennedy
44
Posted 12/08/2017 at 09:19:36
Terrible! Whoever designed these shirts this season need to take the Ishihara Test and go back to their day jobs.
The best kit was the one we played in against Sevilla.
Mike Kennedy
45
Posted 12/08/2017 at 09:26:59
And sorry, am I being naive but aren't away kits only used for a clash of colours? That is the away team have to change to avoid confusion.
So what is the point of having an away kit that is predominantly blue? OK, bluish..
Ron Sear
46
Posted 12/08/2017 at 09:27:47
I wonder who decided to include the colour of the Liverpool rubbish bins?

Richard Reeves
47
Posted 12/08/2017 at 10:16:00
A bad kit with more radioactive yellow, that was the brief.
I'd like to see what Addidas or Nike would design for us. Chelsea's home kit looks good being plain and simple.

Mike Keating
48
Posted 12/08/2017 at 10:40:07
Sorry Laura – it could mean 'a stupid or gullible person' or derive from the verb meaning 'to rob someone in public'.
Your choice but I seem to remember the FA getting the clubs to agree that the annual relaunch of the team shirt should stop – we now get three!
Which one will you be wearing to the final in May?
Eddie Dunn
49
Posted 12/08/2017 at 10:46:17
I wear replica shirts to play 5-a-side in. I wouldn't wear one to the match, the fabric is not very pleasant against the skin and makes me itch.
Instead I suggest that you all just wear some blue in your attire and cease having these ill-informed opinions upon the wank that is sports shirt design. ;)
Laura Round
50
Posted 12/08/2017 at 10:49:33
The purple bin top Mike.. it's my favourite of the three. I like to have one to get in the spirit. It's not a dress code so I'd don't see the harm in 2/3 kits. Live and let live.
Barry McNally
51
Posted 12/08/2017 at 10:55:55
I make it 48 jerseys in the last 16 seasons, that's taking the mickey.
Mark Morrissey
52
Posted 12/08/2017 at 11:12:36
It would be fine if our name was the Purple Helmets or Barker & Dobson Blackcurrant & Licorice FC but we are Everton FC.
The kit sales are a joke along with the design teams.
Mike Keating @ 35, give the man a balloon, he's spot on, it's all horseshit!!
Darren Murphy
54
Posted 12/08/2017 at 11:20:29
It's better than the other two kits imo, I'll buy this one for the daughter though. Could be worse, that salmon pink one or the bright pink one we had.
Gordon Crawford
55
Posted 12/08/2017 at 11:21:04
The purple priests are coming to get ya!!!
The stripes are okay, but the colour is all wrong. Anniversary kit for me, the rest are rubbish.
Paul Birmingham
56
Posted 12/08/2017 at 11:29:04
I'd go for the retro style type every year, keep it clean and simple, reflective of EFC, and if so go back to the early years when we went in stripes, for any 3rd kits. Go back to the 1969-1970 away kit, it may even bring us some luck.
This one is better than most of the VPP designs we've had from Umbro the last few tears, but they aren't vfm.
The materials used by Adidas, Puma and to a degree Nike are superior, but each to their own and live and let live.
If kids play in these games in any level, they fall apart. Even the girls in the club shop, agree.
Laura Round
57
Posted 12/08/2017 at 11:37:31
Mike and Mark if you don't buy them why do you care so much?
Mike Keating
58
Posted 12/08/2017 at 12:52:04
Laura, when our own Club's merchandising department are screwing the fans (remember Freddie Shepherd being forced to resign at Newcastle over the same issue?) it is important to say so whether you buy the stuff or not.
Mark, I claim my balloon; it has to be blue with no stripes.

James Barkley
59
Posted 12/08/2017 at 15:47:58
I agree with Andy Kay – I do like some of Umbro's offerings but lately they're too busy making us look a bit strange. Colours are extremely important in football, I don't care what anyone says.
And three kits a season should be a case for Watchdog. Maybe what with us having a bit of buncy we won't be so keen to rip off our fans anymore? Doubt it.
I too think it's high time we gave Adidas a shot. The three stripes are iconic and an Adidas shirt would be the first one I'd buy since the Moyes-era Puma. Nike was a complete flop IMO. Totally cheap looking tat, they were.
COYB!
Laura Round
60
Posted 12/08/2017 at 21:59:31
No-one's forced to buy them and actually I'd rather have a pick of three. I really don't see the big deal.
Mark Morrissey
61
Posted 13/08/2017 at 13:35:46
Essentially Laura what would like to see is a kit that says this is Everton FC. This kit says Perth Glory, Fiorentina? It has nothing to do with our history, heritage.
I'd be very happy for the club to churn out the old kits on a regular basis. That would engender fans to look to the past, hope for the future and there is nothing wrong with being nostalgic.
Laura, if I gave you a project to design the next Everton shirt you would do better than this design and it wouldn't be purple, home or away. However you are right it's no big deal but Mike gets his XL Royal Blue balloon with Dixie's face on it and it will play Johnny Todd when the air comes out of it.

Lukas Polster
62
Posted 13/08/2017 at 20:46:23
The debate should really be, why 3 kits a year? Total rip-off but people buy into it anyway...
David Ellis
63
Posted 14/08/2017 at 11:50:38
Lukas – I think you have answered your own question – it helps sales. That is the point.
In fact the third kit is usually the most wearable in an every day context – it's not really designed to be played in, its designed to be sold. My son likes it so Santa will be popping down the chimney with one of these purple thingies
James Marshall
64
Posted 14/08/2017 at 12:37:05
Person A likes shirt.
Person B doesn't like shirt.
Person A buys shirt.
Person B doesn't buy shirt.
Person C (me) hasn't bought a shirt for 20 years.
Move along, nothing to see here.
Dermot Byrne
65
Posted 14/08/2017 at 12:49:47
Just perfectly put James M (#64).
But I think it may exclude the legions of TW fashionistas.
Speaking for myself (and I never buy a shirt), I think the colour and design would never offset the tum of a 56-year-old. I suspect I am not alone on this site!
As for me deciding the fashion sense of any youngster. Ha, that would be funny and so so so wrong.
Add Your Comments
In order to post a comment, you need to be logged in as a registered user of the site.
Or Sign up as a ToffeeWeb Member — it's free, takes just a few minutes and will allow you to post your comments on articles and Talking Points submissions across the site.