Barkley stuns Chelsea with late u-turn

332 Comments [Jump to last]
Thursday 31 August 2017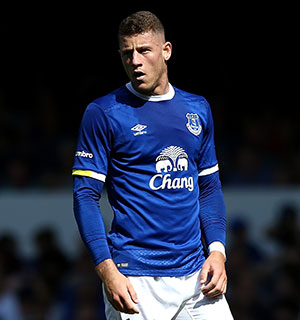 Ross Barkley has turned down a move to Chelsea after a £35m fee had been agreed with Everton and his medical was already underway.
Sky Sports reported that the 23-year-old was set to complete a deadline-beating £30m move to Stamford Bridge but changed his mind before the deal could be completed.
Though there are conflicting accounts of whether the player actually started his medical, the general story was corroborated by the Blues' major shareholder, Farhad Moshiri, who told Sky that Barkley wanted to reconsider his position in January, by which time he should have recovered from a hamstring injury.
Barkley later confirmed via Twitter:
"Contrary to a number of reports in the press, I did not undertake a medical with any club at any point.
"I simply decided that due to my injury, it would be best to make a decision on my future and assess all my options in January when fully fit."
---
Reader Comments (332)
Note: the following content is not moderated or vetted by the site owners at the time of submission. Comments are the responsibility of the poster. Disclaimer
Andrew James
1
Posted 31/08/2017 at 22:30:49
For starters I thought we were selling for more than £30 million especially given Oxlade Chamberlain went for more and is a lesser player.
So what does this mean? Has he been told, due to the injury, to wait until January and go cheaper? Does he want another club?
Or, one hopes, the idiot has seen sense?
Brent Stephens
2
Posted 31/08/2017 at 22:33:54
Maybe the "idiot" has just taken Koeman for a ride?
Gordon White
3
Posted 31/08/2017 at 22:36:52
Yawn
Any news on a striker?
Don Alexander
4
Posted 31/08/2017 at 22:38:01
Fuck me Brent, he's taken Koeman for a ride?!!! What about the club he allegedly loves and their fans?
Colin Metcalfe
5
Posted 31/08/2017 at 22:40:35
Well something doesn't add up , he can't pass a medical as he has a grade 3 hamstring tear which I had last year and put me out for 5 months even a professional young player will need 2/3 months !
Also according to reports he turned them down as the two clubs had agreed on 30M but why ? This was his opportunity for a new challenge something he had reportedly quoted , so maybe just maybe he has had a last minute change of heart? Let's hope so I really rate Ross and can only benefit the blues if he stays .
Ary Lima de Moraes
7
Posted 31/08/2017 at 22:41:24
Joke. If this is true, we should demote him to the U23 and let him rot there for a year.
David Graves
8
Posted 31/08/2017 at 22:43:10
Sorry Colin but I have the feeling that it is more about the massive signing on fee he will trouser next year when he runs his contract down and signs for Spurs.

Phil Sammon
9
Posted 31/08/2017 at 22:43:35
Hope he stays. Play him up front.
Matthew Quinn
10
Posted 31/08/2017 at 22:45:44
So he's either changed his mind, seen sense and gonna stay... Or he's so bitter with us that he's just cost us £30 mil out of spite!
I hope it's the former and not the latter but I would have thought a Chelsea move would have been what he was always wanting??? Confused.com...
Steve Ferns
11
Posted 31/08/2017 at 22:46:42
I am very happy he's staying as I said on the thread. He's still our best player for me. If Koeman is really a top manager than he should be able to unlock that talent. It's obvious telling the media he's shit doesn't work, and that he needs to show him some love. I am glad there's still a prospect of seeing Rooney and Barkley playing together for us.
Karl Masters
12
Posted 31/08/2017 at 22:47:06
He wants to reconsider his position in January according to Moshiri.
Just means we will get a smaller fee, he will get a bigger signing on fee and Levy will have done a 'Pienaar' on us. And put one over on Chelsea which he will love.
I'd love to think Ross wants to play for Everton, but I can't see it.
Anton Walsh
13
Posted 31/08/2017 at 22:49:05
Realy hoped we'd got shut. Looks like all the money's his come next July. BTW don't blame him.
Chris Gould
14
Posted 31/08/2017 at 22:49:19
The arsehole has just cost us £35 million. Moshiri sounded pissed off about it but said 'that's football'.
He's looking to go to Spurs in January for pittance.
Mosh and Koeman will be fuming at Ross and understandably so.
It may have been the case that any potential striker coming in this evening was dependent on the £35 million. Who knows?
Phil Smith
15
Posted 31/08/2017 at 22:50:53
Very odd... I wonder what is going on in his head:
£££££££££££££££££££££££££££££££££££££££?
Stephen Brown
16
Posted 31/08/2017 at 22:51:55
Sign a new 2 year contract!!! With 40m release fee!! That's fair!!!
Steve Ferns
17
Posted 31/08/2017 at 22:52:09
There was no striker sat in finch farm waiting to sign Chris. Just look at how everyone knew about Llorente's deal being done. It would have got out. We'd have lost Barkley and got no one else in.
Don Alexander
18
Posted 31/08/2017 at 22:53:21
If it's true that Barkley stalled because he expects a massive signing on fee from Levy in January then his head is well and truly up his arse. Levy? Need a spanner to get even a three-penny bit out of that bugger's hand.
Tony Abrahams
20
Posted 31/08/2017 at 22:58:07
It's obvious telling the media he his shit doesn't work Steve? Come on mate, surely it's up to the player, to unlock the talent, once he reaches a certain age?
Maybe Ross, doesn't like Koeman, but he's probably the only manager who has helped/bullied a bit of consistency out of Barkley, since he started playing with the big boys? (Which is why I said it's up to the player)
It's still all conjecture, maybe it was this? Or maybe it was that? Either way he's still an Everton player, and he's going to fill a load more threads on ToffeeWeb, that's for sure!
Steve Ferns
21
Posted 31/08/2017 at 22:58:52
Why would he throw away a world cup for a few extra quid? The guy is a millionaire. If it was only about cash, he'd have got us to give him a bumper contract, or moved to somewhere like China.
Ross wants to play, and he wants to play for England. So, whatever changed his mind, I very much doubt it was purely finances. I was hoping it was footballing reasons from us, but Moshiri's comments show that not to be true.
Matthew Quinn
22
Posted 31/08/2017 at 22:59:24
I dunno... to change your mind midway through medical – his heart might have had second thoughts about leaving his allegedly beloved club.
I understand the big hand-out from Spurs next year but surely he's not Machiavellian enough to orchestrate this merely to cost us millions. It must have been embarrassing for him to just leave midway through the medical. Maybe I'm being optimistic, for once.
Neil Holmes
23
Posted 31/08/2017 at 22:59:45
He has obviously not thought this one through .as Moshiri stated he told both clubs he wanted to re-think his position in january when he can go for a lesser fee or sign a pre contract and go for free next summer. If Everton have any sense they should of told him if he does'nt go now we will not let him leave in January and he can train with the U18s until next summer. He won't not play a competitve game meaning he will miss any chance of going to the world cup.
Also he is forgetting that he still has to live in the city with a lot of unhappy blues until he leaves.
Robert Hacket
24
Posted 31/08/2017 at 23:01:22
I still think we'll end up with Diego Costa by this time tomorrow...
Steve Ferns
25
Posted 31/08/2017 at 23:02:54
There's a lot of Evertonians who are very happy he is staying Neil. If he gets back on the pitch quickly and scores or puts in a great performance and signs a new deal, all will be forgiven. Lot's of us blame Koeman for this mess anyway.
Colin Malone
26
Posted 31/08/2017 at 23:03:41
Made up. I'm looking forward to see Ross and Wayne play together.
I read today, Kenwright stepped in... was I seeing things?
Hugh Jenkins
27
Posted 31/08/2017 at 23:03:44
I think, in his heart of hearts, he doesn't want to go.
I won't be surprised if, in January, if not before, he decides to stay and signed the new contract (if it is still on offer).
Terry Bolger
28
Posted 31/08/2017 at 23:06:19
Ross will make a huge amount next year when he leaves for nothing...
Koeman is a clown; sooner he goes, the better – and our super scout too.
Brent Stephens
29
Posted 31/08/2017 at 23:06:57
Moshiri "technically he will be with us". Is that saying "but no way he gets a game - except for the U16s - girls".
Frank Fearns
30
Posted 31/08/2017 at 23:07:52
Ross (a blue) – if he stays – will outlive Koeman. He has tons of talent; support him and get the best out of him. He has a difficult relationship with Koeman but sort it out get him in the team – up front if need be.
He is skilful, two good feet, and can score goals – he'll be a legend. Come on, Ross, and COYB.
I might be deluded but I believe he's too good a real blue to let go.
Mark Riding
31
Posted 31/08/2017 at 23:08:03
You have cost us signing a striker Ross, you utter blert. Well done lad.
Brent Stephens
32
Posted 31/08/2017 at 23:09:11
Mark, how has Ross cost us signing a striker?
Chris Gould
33
Posted 31/08/2017 at 23:09:47
Barkley won't play for us again. I hope we refuse to sell him to Spurs and sit him in the U23's for the full season. I don't care how immature that sounds. Levy is a total arsehole and undoubtedly has made Ross promises about buying him in Jan.
Boyhood blue?! He doesn't give a shit about the club.
Mosh saying, 'technically he will be with us'.
In other words, 'he's fucked me over and won't play for us again.'
Colin Glassar
34
Posted 31/08/2017 at 23:10:02
Well played Ross lad, you beauuuuuty.😀
Raymond Fox
35
Posted 31/08/2017 at 23:11:42
My take on it is he doesn't want to leave Everton.
If anyone wants to fuck off its Koeman.
Oh and take Moshiri with him, I said from the start he wouldn't be bankrolling the club without the other owners putting in an equal amount of money as him.
He's here to make money not to give it away.
James Stewart
36
Posted 31/08/2017 at 23:16:51
@25 Agreed.
I hope Barkley gets fit, forces his way back in and all us blues all get behind him, hopefully a new contract will follow. People questioning his motives are bang out of order for me. He is a boyhood blue under a regime that have tried to push him out. Moshiri made a fool of himself on live tv, I liked it better when he said nothing. Koeman has also singled him out at every opportunity. Barkley has been courageous to stand up for himself and say no. Chelsea and Spurs wanted to buy him don't forget, I didn't see them beating down the door for Klaassen or Rooney. Prove people wrong Ross lad, get fit and play your heart out.
John Daley
37
Posted 31/08/2017 at 23:17:25
Merson, confused as fuck:

"Maybe he got nervous about living in London? Well you can't live in Liverpool all your life."
Chris Gould
38
Posted 31/08/2017 at 23:17:34
Brent, potentially any signing of a striker today may have been dependent on Ross being sold for £35 million.
Obviously that's purely conjecture but very plausible.
Andrew Wayne
39
Posted 31/08/2017 at 23:18:06
Ross has just done Moshiri and Koeman up like a kipper. He is out for more than a couple of months so a January move doesn't lose him any playing time, not that he is getting picked anyway. Off to Spurs in January with a healthy signing on fee. I can't see Everton making him stay after Jan and refusing to accept even a cut-price offer from Levy as opposed to zero in the summer. Besides which they're not going to want him hanging about like Banquo's ghost longer than necessary.

Phillip Warrington
40
Posted 31/08/2017 at 23:19:27
Unless he signs a new deal before transfer window, he has just shafted the club out of any fee, as he will walk for free. He should be banished to the Under-23 squad where they should make him a bench player. The club has trained him and supported him – it was his turn to repay he favor and it looks like he has shitted all over the club.
Steve Ferns
41
Posted 31/08/2017 at 23:19:36
Raymond, all owners are here to make money! He has no prior ties to Liverpool or to the club. He's not here to white wash Russian blood money, or to use a football club to buy half of Manchester.
He aims to keep us competitive in the European places and to move us into the new stadium then sell us for a profit.
Anto Byrne
42
Posted 31/08/2017 at 23:20:55
Be like a new signing if he starts a new contract.
Joe Clitherow
43
Posted 31/08/2017 at 23:21:33
Astonished that some people think this is a good outcome and are pleased and praising Barkley. He can't play until November, he will never play for Everton again and he has cost us millions while lining his pockets with a Spurs move in January.
But keep on painting Koeman as the bad guy if that suits your agenda.
Trevor Peers
44
Posted 31/08/2017 at 23:22:11
Ross must have serious issues, anyone who thinks he will make it at the top level now, is kidding themselves, after this strange refusal to join Chelsea.
When the pressure comes on Barkley just crumbles, that is not the hallmark of a good player, never mind a great one, it's the mark of a coward.
Brent Stephens
45
Posted 31/08/2017 at 23:22:42
Chris, dependent at this late hour? And who were we buying from Chelsea? I assume Ross being part of the process under that scenario would only be to grease the wheels for somebody to come to us from Chelsea. I can't believe it would be to be able to afford to buy somebody form a club other than Chelsea.
Mark Riding
46
Posted 31/08/2017 at 23:24:42
Brent, we had agreed a £35m deal. That would deffo have gone on a striker. Now, the utter snake Barkley, will pick up another 9 months wages from Everton, a club he wants to leave ( or why be having medical ). And he's injured !.
Eddie Dunn
47
Posted 31/08/2017 at 23:25:53
Barkley has been tapped-up by that Sheister Levy- romantics above- don't kid yourselves that Ross coudn't tear himself away from his beloved Blues, the fucker and his agent are going to sit it out till january. He can take his time to heal his hammy and pick up a nice big signing on fee.
Like others, I would give him Niasse's locker and leave him in the cold till his contract runs out.
Jer Kiernan
48
Posted 31/08/2017 at 23:26:28
If this lad does anything other than sign for Everton, I will be disgusted with the way he has treated both the club and fans. If he has had a genuine change of heart, he should return to Goodison and sign this week
Christ, you would swear these guys haven't enough going for them, earning more in a week than the average Doctor or Nurse will earn in a lifetime of night shifts.
Sign up or fuck off.
James Stewart
49
Posted 31/08/2017 at 23:26:46
A 'coward' for wanting to stay at your boyhood club, behave.
Josh Barber
50
Posted 31/08/2017 at 23:29:23
This sounds exactly like he has been advised to drop from the deal and sign a cheaper one in January where he might get paid more. If so, it's classless and could really hurt Everton.
Mark Riding
51
Posted 31/08/2017 at 23:30:06
James ? Your boyhood club, who offered you a massive deal ? Which you jibbed off, had a medical with Chelsea ? Behave..
Mike Owen
52
Posted 31/08/2017 at 23:30:12
I don't see how Ross turning down a move on transfer deadline night stops us signing a player. Especially if the manager has chosen to be in the Algarve.
I think everyone be better focusing on how we are going to get through 25, or 27, games between now and the New Year when, I believe, the next transfer window opens. That is roughly a game every four days, for four months. We could be seeing Robles or Steklenberg playing up front yet.
Don Alexander
53
Posted 31/08/2017 at 23:30:30
I'm amazed at the number of fans who still side with Barkley. If he came round and fucked their missus I'd expect them to accept it.
Brent Stephens
54
Posted 31/08/2017 at 23:30:48
Mark, do you really believe that we had a striker lined up, we'd agreed a fee and the T&Cs, the player was willing to come to us, and we were in the process of medical etc? Cos at the lateness of the time that Ross changed his mind, surely all of that would have been well advanced? Unless we were going to start discussions with another club and player once the Ross deal had gone though - all starting at one hour before deadline?
Jim Knightley
55
Posted 31/08/2017 at 23:31:57
Why is Barkley being celebrated ffs? Seriously?! He wants to go - he just didnt want to go to Chelsea. I wouldnt be surprised if he wants to go in the Summer, when he can pick up a massive signing on bonus.
He has refused to sign a contract with us.
Mark Riding
56
Posted 31/08/2017 at 23:32:05
Brent. £35m gets stuff done quickly.
Steve Ferns
57
Posted 31/08/2017 at 23:32:44
So we had a £35m + striker sat in finch farm in quiet, that no one knows about, not sky, not BBC, not the press, no one at all. And Ross has scuppered it, and the player slips quietly out the back door without kicking off.
Very believiebale.
Ross has said nothing and allowed himself to be made into the bad guy by the club. Meantime the manager slags him off in public. Let's see where Ross is at come January and what he says about things.
Trevor Peers
58
Posted 31/08/2017 at 23:32:49
James there's no evidence of him loving his boyhood club at all, only signs of self obsessed greed, he'll be lucky to get another game.
Chris Gould
59
Posted 31/08/2017 at 23:33:00
Brent, you could be right. Certainly we would have had a better chance of signing Batshuayi if Chelsea had signed Llorente. Spurs have doubly screwed us over today!
What will now happen to Costa?
Don Alexander
60
Posted 31/08/2017 at 23:35:22
The "Ox" has allegedly taken a drop in wages to play for a club where he hopes to shine enough to put himself right in the frame for England and, doubtless, a way better contract a.s.a.p.
If true, that's what I call a man, not a wimp.
Clive Mitchell
61
Posted 31/08/2017 at 23:35:58
Trevor, 44 - this 'strange refusal to join Chelsea' was shared by Lukaku and Oxlade-Chamberlain, so it's not that strange. For me not wanting to join the vilest club in the League is a sign of Ross's good sense. Koeman, and Moshiri who employed Koeman, haven't got a shred of a case for being fed up.
Brent Stephens
62
Posted 31/08/2017 at 23:36:09
Anyway, Chris, I'm pissed off that we got nobody to replace Lukaku's goals. I see Cheltenham made some good signings. And Burton Albion. And Crawley Town.
Mark Riding
63
Posted 31/08/2017 at 23:36:34
Steve #57.. Are you Ross's dad ?
John Daley
64
Posted 31/08/2017 at 23:37:23
Chris,
It would be more plausible if the club hadn't proudly announced a 'partnership'/£60m credit facility with a Chinese bank not so far back or if Moshiri's bezzie mouthpiece hadn't been banging on about the behemoth amounts the club were planning to splash out this summer, irrespective of player sales.
Brian Mahoney
65
Posted 31/08/2017 at 23:38:20
I'd rather trust Cersie Lannister than Barkley.
Tony J Williams
66
Posted 31/08/2017 at 23:39:07
Unless he signs a new contract, I cannot see him ever playing for us again.
Can't understand all the well wishers, he has just buttfucked Everton FC royally.
Chris Gould
67
Posted 31/08/2017 at 23:43:14
It's all Giroud's wife's fault, Brent, allegedly.
I really think the club felt that was a done deal until late into the window, and then we were left scrambling around cluelessly.
Raymond Fox
68
Posted 31/08/2017 at 23:43:37
Steve 41 exactly, but many were seeing him as some sort of father Christmas who was going splash loads of his cash to put us on par with the best.
On the playing field are we now stronger than last season, very debatable and a no from me.
As I expected not a lot has changed.
Dennis Stevens
69
Posted 31/08/2017 at 23:44:29
Perhaps it was just the wrong shade of blue for Ross.
If he's been tapped up by Levy he may find that promise a tad fragile if doesn't suit Levy to fulfill his side of the deal next year. Or maybe things just didn't feel right to him at Chelsea. None of us know.
However, his responsibility is only to himself - all he owes Everton is whatever's specified in his contract & no more.
Gavin Johnson
70
Posted 31/08/2017 at 23:44:35
Maybe Barkley called it off because he wants to stay?! I doubt it though. Much more likely that he's jibbed us even more and wants to go to the club who tapped him up for peanuts in Jan.
If this was a foreign player on our books he'd be getting dogs abuse but people still want to see the best in Ross. He's a numbskull!
Mark Riding
71
Posted 31/08/2017 at 23:46:05
Gavin, I'm happy to give him stick mate.
Peter Murray
72
Posted 31/08/2017 at 23:46:28
He does not want to leave. He probably never did want to leave. He is a local lad, come through the ranks and, because of this, has taken more than his fair share of big hits from supporters. A bit like Colin Harvey in the holy trinity.
When things went wrong, he took the stick, mainly because he was local and Ball and Kendall were expensive imports. Ross, like Colin, has kept his counsel.He has been professional.
More importantly, how we missed him against Chelsea. Where was the inventiveness, the surging runs pulling two to three players out of position? We seem now just to have a blanket midfield of similar scampering, one-paced players.
This is not the time for vindictiveness and freezing him out. Ross's contract negotiations are not with the manager who should be big enough to realise this. Ronald Koeman's judgments should be purely football based. It would also help if he did not go public so often on private conversations he has had with Ross. It's called trust.

Paul Birmingham
73
Posted 31/08/2017 at 23:47:12
What was the point, and who's pulling the strings? This one stinks. The usual vppp and another lame limp over the line and no proven striker.
Another season of anguish and despair bar a miracle and I can't see us doing better than 7th or 6th.
The mentality at the club must change but perhaps another false dawn.
The ground move in my view will be interesting. perhaps
Paul Hughes
74
Posted 31/08/2017 at 23:51:15
Steve (21). Barkley - England place? Don't make me laugh. I've got more chance of being selected than him.
Kieran Kinsella
75
Posted 31/08/2017 at 23:53:31
Money is the game changer. Few years ago a Rodwell or Lescott would be off to a "big" club in a flash. But now you can earn a kings ransom at any number of clubs so players can be choosy again. I think Arsenal would be ideal for Ross. He's inconsistent, moody, injury prone, can't tackle.
Tony Abrahams
76
Posted 31/08/2017 at 23:53:37
Ross has been made to be the bad guy by the club, because actions speak,a lot louder than words Steve?
He has refused to,sign a new contract, goes to,the champions for a medical, then decides he doesn't want to play for a team who challenge for every major honour?
What kind of a fresh challenge is he really waiting for I wonder?
Matt Muzi
77
Posted 31/08/2017 at 23:54:22
This has stunned me. But this is what I hope happens. Barkley is sent to train with the u18's, we tell Spurs to do one in January & let Barkley go at the end of the season no world cup & a year with no premier competative football. Lets be honest who really thinks Barkley will play regularly & progress at Spurs? The one thing that cheers me up is Dowell will be back next season & getting shut of Barkley gives him more opportunities!
Paul Thompson
78
Posted 31/08/2017 at 23:54:48
We don't know Barkley's motives for turning down the deal (though I can't think of one that odes us any good), but we do now know that he didn't have/start a medical.
John Daley
79
Posted 31/08/2017 at 23:55:34
Trevor @44,
I don't know if refusing to be pressured into a move you might not want and being prepared to return to a workplace where you're probably going to be welcomed back as warmly as a great big wart on the gonads by your boss, can really be called 'cowardice'.
Not like Barkley has taken the 'easy' option here.
Paul Kelly
80
Posted 31/08/2017 at 23:56:16
Kind of what Tony said, nail, hammer, head.
James Stewart
82
Posted 31/08/2017 at 23:58:03
@51 Context. Koeman and Moshiri have had to be careful with what they say about Ross because he is a local lad and despite what this website might have you believe, a lot of blues love him.
Was he really offered a massive deal? Is it just coincidence he decides to stay and no striker arrives? I really did think things were different until today but I am really not so sure about Moshiri after tonight. We have spent not much more than came in and have a majorly lopsided squad. Ross has been made to feel unwanted by the current regime and I think if the club gave the slightest sincere sign that he is wanted, he would sign in a heartbeat.
Trevor Peers
83
Posted 31/08/2017 at 00:00:37
Little wonder Koeman wanted to be rid of him, now we can clearly see just how difficult Ross is to deal with as player and a person.
Koeman has his faults, but he has dealt with Barkley in exactly the right way, taking no shit from him whatsoever, for that we should all be extremely grateful.
Mike Berry
84
Posted 31/08/2017 at 00:05:39
The lads an absolute arsehole, he would not sign what was a lucrative contract put forward by Everton, would not sign for Chelsea at the last minute, messing everyone about.
We now have a player that will be out for a few months with an injury, who still fancies a move in Jan, with only 6 months left on his contract, whose value will drop for us with regards to his fee, and we are still paying his wages until he decides he wants to go ! ! think about that.
Yet some posters want to tuck him into bed tonight, you must be as barmy as him !
James Stewart
85
Posted 01/09/2017 at 00:07:47
A stupid offensive picture that insults thousands of fellow blues Mark, nice one.
John Raftery
86
Posted 31/08/2017 at 00:09:18
There has always been a question mark about Ross's decision making on the pitch. Now that can also be applied to his decision making off the pitch. As Moshiri has indicated this evening, the number 10 role is now well staffed with Rooney, Sigurdssson and Klaassen all vying for the starting eleven. It is hard to see how Ross would be selected ahead of those three even if he rebuilds his relationship with Koeman and he gets himself fit this side of Christmas. Like Saido Berahino he risks losing a year of his career with no guarantee he will recover form at a new club.
This could also backfire on Ross financially. After his snub tonight it seems highly unlikely Chelsea would come back for him which would leave Spurs as the only suitor among the top clubs. We all know Levy will drive down his wages to the lowest possible level. Ross could be reduced to touting himself around the mid-table clubs in an effort to prompt a bidding war. After tonight clubs may be wary about paying over the odds to a young man who appears unable to make the right decision on or off the pitch.
Steve Ferns
87
Posted 01/09/2017 at 00:09:26
How does everyone seem to know what is in the contract? How do you know what footballing matters were offered or requested. It's all guess work. Is it not possible that Ross is upset with Koeman for footballing reasons? Could it not be he's tired of being played in a variety of positions, and not where he wants to play, that he's tired of the way the team is playing, or even that he was told he would be sitting on then bench even if he signed this new deal?
Everton gave a lot of mixed stories about the contract. It was offered to him late, and it spent very little time on the table. There is a lot that Everton are not saying here. Everything seems to be geared into making Ross into the bad guy. I am not believing everything the club is saying. You can believe what you want, but there's very little facts to go on here. Everything discussed here is conjecture.
Mark Riding
88
Posted 01/09/2017 at 00:12:32
No probs James.. " we've got a diamond called Ross Barkley.. "
Brian Cleveland
89
Posted 01/09/2017 at 00:15:25
He's a simple lad, could it be no more than all the pressure to look elsewhere has taken it's toll and he finally got cold feet, and doesn't really know what HE wants as opposed to what all those shoving him around and playing mind games with him want. Isn't he a bit of a mum's boy and perhaps realises he'll miss home and needs to think it over a bit more.
Actually going to somewhere new and having his medical has brought it home and made him reconsider... it's actually brave to change his mind at that point instead of going with the flow.
Brent Stephens
90
Posted 01/09/2017 at 00:17:40
Brian #89 as plausible a scenario as any other.
Paul Kelly
91
Posted 01/09/2017 at 00:18:39
James @ 85, not this one, thought it was rather humorous to be honest.
Tony Abrahams
92
Posted 01/09/2017 at 00:20:00
There is a lot that Everton are not saying here! Fuckin hell Steve, what do you want them to say?
Sign or be sold Ross? Well I'm saying nothing, but I'm not signing nothing either!
Okay, you want a fresh challenge? Well,if I'm not signing a new contract, isn't that obvious?
What kind of challenge are you after Ross, because the Champions of England, have just bid £30 Million for you kid?
I'm not sure yet, but I might be able to tell yer a little bit more after Christmas!
Drew O'Neall
93
Posted 01/09/2017 at 00:21:49
I wonder if the Barkley to Chelsea deal was the 'top of the chain' for our striker incoming..
He presumably wants the move to Tottenham and has been convinced he should pass up the chance to play his way in to England contention - which he would have the best chance of doing at Everton of the options he has by the way.
Steve Ferns
94
Posted 01/09/2017 at 00:30:53
Everton said it was a lucrative contract. No numbers where given. That Ross wants a "new challenge" only comes from the mouth of Koeman.
Everything is conjecture. You don't have the facts and you are jumping to conclusions. No one has the full story here. You believe what you want, but I'm not at all happy with the way Everton have dealt with Barkley and I blame Koeman for him leaving.
Mark Riding
95
Posted 01/09/2017 at 00:38:17
https://mobile.twitter.com/UpperGwladysBlu/status/903375377082576899/video
Trevor Peers
96
Posted 01/09/2017 at 00:38:48
Give it a rest Steve, he's just turned down the champions lucrative offer as well as ours, how much evidence do you need ? For gods sake.
Your blaming everyone else for this guys shortcomings, time to get a grip on reality ?
John Daley
97
Posted 01/09/2017 at 00:39:02
'Sources close to Barkley' now saying he didn't have a medical at all and Moshiri was talking shite.
Mark Riding
98
Posted 01/09/2017 at 00:39:38
Steve #94. Copy the above and listen to moshiri telling it like it is.
Minik Hansen
99
Posted 01/09/2017 at 00:41:13
Omg, just came home to this. What a surprise in a good way.
Mark Riding
100
Posted 01/09/2017 at 00:42:00
So Ross, the champions of England, and seeds for the champions league group stages have agreed to sign you.. You've agreed terms.. And the medical is going great... The utter state of you.
Don Alexander
101
Posted 01/09/2017 at 00:42:43
Well if "sources close" are indeed correct it'll be no trouble at all for a millionaire player to instruct lawyers to sue his employer for defamation proceedings.
Err, no.
Didn't think so.
Steve Ferns
102
Posted 01/09/2017 at 00:44:14
There's conflicting reports on all sides. You shouldn't believe everything said by the club.
How much evidence do I need Trevor? Just a shred of it, because I've not seen anything other than Koeman constantly bad mouthing Ross and singling him out in a way he's never done with any other player at Everton.
Craig Harrison
103
Posted 01/09/2017 at 00:51:59
Is there a possibility that the medical examination was going to look at something that Ross was not comfortable with
Don Alexander
104
Posted 01/09/2017 at 00:53:55
Steve Ferns, Barkley is a millionaire, with a millionaire agent. Lawyers are expensive to the likes of me and, presumably, you, but to millionaires they're about as expensive as milkmen.
Therefore if the club are denigrating him in any way at all he has recourse to law in a blink.
Just saying.
John Daley
105
Posted 01/09/2017 at 00:57:58
How does someone saying you underwent a medical, when you didn't, add up to "defamation" then, Don?
The 'he had a medical and everything' part of Moshiri's statement hardly constitutes an imputation against the character of the individual.
Steve Ferns
106
Posted 01/09/2017 at 00:59:38
You're wrong Don. Why would Ross want to get embroiled with a messy lawsuit to correct a "lie" that is a matter of interpretation. What would he have to gain? British laws on this subject aren't like you see on TV and if he came to see me, I'd tell him not to waste his cash.
Mark Riding
107
Posted 01/09/2017 at 01:04:52
Steve, Ross was sparked right out in a nightclub, in full view of CCTV, and he didn't bring a charge ? Nothing to see here though.. He deffo isn't doing stuff he shouldn't be doing.
Darren Hind
108
Posted 01/09/2017 at 01:08:43
"If your feeling blue, I'll sing a song for you"
"Ross Barkley's a toffee through and through"
all together now
"We still got a diamond called Ross Barkley . . . .

Benny Snow
109
Posted 01/09/2017 at 01:12:19
The Chelsea medical must have included a brain scan... What the hell is wrong with this kid?? Obviously it's all about the money and not the challenge he craves. Thanks for costing us £30mil, Ross, you twat.
Steve Ferns
110
Posted 01/09/2017 at 01:13:30
Mark, lad from Liverpool refuses to make a complaint after being chinned in a club? It's hardly unusual.
As for him being there in the first place, it was out of order. I said so at the time. Of course it's his own free time, but a world class player like cristiano Ronaldo would have been in bed at that time. And Ross should be aspiring to those standards. No doubt about it.
James Lee
111
Posted 01/09/2017 at 01:13:33
Great! Now we can play a formation of 3-7-0.
No striker. 3 defenders. And all midfielders including Barkley in a game. Exciting times...
Benny Snow
112
Posted 01/09/2017 at 01:31:01
I'd say he did a u-turn to spite Koeman and Moshiri as they turned down that Spurs offer.
Tony Mace
113
Posted 01/09/2017 at 01:35:03
Brent #2
You got it spot on
But not only shitting on Koeman he shits on everything Everton - from top to bottom
Agents get a bad name but nobody seems to be advising this kid. Maybe he thinks he's too good to need advice.
Koeman aside, if he had any respect for Everton he had 2 options
1. Sign a new contract at Everton
2. Sign a contract somewhere else prior to expiry of the transfer window and in doing so going with somewhat of a fond farewell and adding funds to our coffers.
He chose not to do either
In my mind he has elevated himself to the same level as McMahon
In simple terms - a swear word
Fin
Tony Twist
114
Posted 01/09/2017 at 01:39:05
He wants to go to Spurs, end of, he is out of here.
Anto Byrne
115
Posted 01/09/2017 at 01:44:06
He gets paid to swan around until January, getting my £50k a week. Gets treatment all the while he is no longer an Everton player.
Drive into work in my Blue Ferrari or maybe the Bentley. I get a nice fee from Spurs, maybe £500k to sign on and then get a nice £180k a week. Spurs get to pay maybe £10M, if that, saving them £25M. Barkley warms the bench for 18 months and pleads to come home. Spurs sell us the player for £25M.
It's not about football; it's about the money while us mug punters get screwed at shite facilities, paying £50 for an obstructed view on a plank of a seat, £50 to park my car and £5 for a beer or two. Then we are herded like sheep by the police and a police dog bites my thigh while the copper wants to arrest me.
Tony Mace
116
Posted 01/09/2017 at 01:45:28
Craig #103
The examination approached the part of the anatomy between the ears
That's when everything went wrong
Dennis Ng
117
Posted 01/09/2017 at 01:47:49
"Sign or Rot"
Will Mabon
118
Posted 01/09/2017 at 01:53:14
One's thing's for sure - that's the last time you'll see Mr. Take-no-shit making proclamations on who's leaving and when. I bet his first drive in the morning goes straight into the rough.
Mark Riding: Did Barkley steal your girlfriend, or laugh at your willy?
Tony Mace
119
Posted 01/09/2017 at 02:01:26
Tony #66
Again spot on
At least Coutinho wants to follow his dreams
C**t Barkeley has no redeeming features. Like Moyes if you decide to shit on us you reap what you sow.
Si Cooper
120
Posted 01/09/2017 at 02:02:46
Can't blame anyone for wanting the right move for themselves, but hopefully he will do the decent thing and sign a contract extension so that the club get full value for him.
If that happens and he knuckles down and produces his best for us, for however long he remains, then surely we can all put this disappointing event behind us.
Mike Green
121
Posted 01/09/2017 at 02:28:33
Barkley's career is starting to look like a game of snakes and ladders. What a mess. I wouldn't trust his agent to clean my motor. I am totally ambivalent to where he ends up now, I never saw what the fuss was about in the first place and today has confirmed to me he hasn't got it. If I was a prospective buyer I wouldn't touch him with a barge-pole after today.
Mike Green
122
Posted 01/09/2017 at 02:30:30
Si - he won't do that, it will make it more difficult for him to leave and he'll get a worse deal if he does. He's going through the out door.
Roman Sidey
123
Posted 01/09/2017 at 02:33:21
If it isn't down to the sign on fee he's eyeing either in January or June, it could have something to do with him sitting in London and watching players like Hazard, Fabregas, Willian, Pedro, Kante, and even Moses walking in and Ross thinking, in a World Cup year, "I've a better chance being selected for England playing for Everton's u/23s."
Jay Harris
124
Posted 01/09/2017 at 03:24:47
He conducts his transfer like he plays football.
Cant make his mind up so dithers.
On the other hand I can see Levy's greedy hands all over this telling his agent he will get a nice signing on fee in January when Spurs offer 2/3 of FA.
Paul Ward
125
Posted 01/09/2017 at 03:47:52
Our diamond called Ross, is a bigger coward off the field as he is on it. The mummy's boy without a brain has allowed his agent to dictate his future.
He has proved he has no love for this club, but when given the chance to leave the city he shits himself.
As usual on TW when anyone criticises the golden child, Koeman and now Mosheri get the blame. So all you devotees get used to it Ross maybe finished at this club.
I hope his stay at the club is as Mat Muzi @77 suggests.
Ernie Baywood
126
Posted 01/09/2017 at 04:04:58
All the people saying he doesn't have a brain...
Tell me what makes more sense from the player's perspective...
Sign up with someone now, at the last minute with limited options and you won't play for them until January due to injury.
Or see what other options present in January when you're fit and ready to go and able to command a greater signing on fee due to a reduced transfer value.
Without bringing my blue specs into it, I'd wait. It's not like he's risking not having a job to go to next July. He'll go somewhere and his earning potential is increasing with every month that he approaches the end of his current contract.
Should he do the right thing by Everton? Well we don't really know how Everton has treated him as he won't say anything. He might be perfectly entitled to want to stick one up Mosh, BK and Ron.
James Watts
127
Posted 01/09/2017 at 04:44:51
I agree with you Ernie. For me it proves he is simply doing what's right for him. He's just another modern day footballer whos looking after number 1. Which he's entitled to do.
Why he didn't come to that conclusion before personal terms etc is a bit strange however.
Also the differences in the release from Mosh v Barkley camp pretty much nails on he won't play for us again in my view.
William Cartwright
128
Posted 01/09/2017 at 05:10:45
Brian @ 89; Seems the only scenario that ticks all the logical "What on earth is going on boxes" for me.
Ross may be in need of some form of counselling. The Club and supporters were rightfully fully supportive of Lennon. Mental illness is not a clear-cut scenario. Ross' situation, whatever its source is stressing everyone. Perhaps he just feels completely overwhelmed by all that's going on and his way of dealing with it has been withdrawal, and all this being carried out in the public eye? Add to that the apalling abuse from the Sun and what do you get?
Behind the scenes, plots and scenarios, I would like to think he will get straightened out and will go on to recover himself and his position within the Club he loves. . . . . . . .
Alternatively, he may be a conniving little shit! For now we simply don't know, and being judgmental won't help. Patience may be rewarded.

Chris James
129
Posted 01/09/2017 at 05:28:55
Altogether now... "We've got a demon called Ross Barkley..."
Darren Hind
130
Posted 01/09/2017 at 05:48:21
"No top five team would want him" - Unless you include the champions and the runners up.
"Only one winner in this argument" - Yep we know who that is
"if he doesn't sign he goes" - Aha
"Not an Evertonian" - but still here
"Koeman showing who's boss" - Embarrassingly true
"He's got to get out of the city" - Really ?
"He'll end up at Newcastle" - No he wont
"He's thick" - yeah but he's clearly a bit sharper than Koeman.
I said weeks ago that my hope is that Barks stays, Koeman eventual gets the sack and Barks signs again - Phase 1 complete.
Lets add a new verse to the Barkley song just for the manager and those who claim he is not the full shilling.
"So if you're feeling sick, outwitted by someone thick"
"Ross Barkleys still here coz he's a blue"
Darren Hind
131
Posted 01/09/2017 at 05:59:07
Just as I posted I heard his name on Sky Sports 402.
They'e showing a compilation of great goals. It wasn't his screamer against City at Home. it wasn't the brilliant goal away to City. nor the one where he does the unthinkable and entertains the faithful by celebrating before he scores.
It was the one where he beats about 5 men at St James Park before slotting home . .Genius
Will Mabon
132
Posted 01/09/2017 at 06:12:19
This couldn't have been better scripted as a football soap opera.
Hapless but harmless, sometimes wayward hero. Boyhood club. Villainous, tyrannical foreign protagonist. Endless guessing at possible behind-the-scenes machinations. A bar fight. Onlookers divided, some almost melting down in emotional outbursts at unproven assumptions... culminating in a completely unforeseen drama at the eleventh hour.
All the elements are there, barring a bit of illicit screwing.
Life, art, bread, circuses. It couldn't be... could it?
John G Davies
133
Posted 01/09/2017 at 06:13:15
You've give Lennon and McCartney a run for their money there.
Rick Tarleton
134
Posted 01/09/2017 at 06:14:43
This deal, for whatever reason was called off at ten o'clock. That left an hour, so how were we supposed to sign a striker presuming we actually had one ready and get all the paperwork registered in time? For God's sake, Barkley has been treated abysmally by Koeman and the club. If Koeman had wanted a striker so much why did he spend the summer buying three number tens?
He needed to identify one and bid for him a lot earlier than the very last day.
James Watts
135
Posted 01/09/2017 at 06:16:50
Darren. There has been some silly posts about the lad and associated bile associated with it. Which I don't agree with.
I don't buy he's still here because he's a blue though. He would sign that contract if such was the case, despite his relationship with the manager. He's still here as Spurs didn't bid is a more likely scenario.
I personally think he's playing the "look after number 1 card" bloody well. Of course, he's entitled to do just that and don't blame him one bit. Its what numerous players have done before and will no doubt do in the future.
Its the boards own fault.
I've actually lost a lot of faith in Mosh over this and the debacle of yesterday. Releasing a statement saying what he said about Barkley (which now seems like bull) then stating we have a strong squad and he's happy with it. Not what Mr Koeman was saying a few days ago. And not what most fans can see either.
Ian Jones
136
Posted 01/09/2017 at 06:19:37
Darren. David Barks stays. You were right all along. :)
And yes that goal versus Newcastle. Genius although some would say it was only against Newcastle not any of the Top 6
:)
Charles Barrow
137
Posted 01/09/2017 at 06:40:53
Too many people are keen to put the boot in on Ross. Sure it's a real mess but we don't know what has been happening behind the scenes. We don't know why Ross turned down Chelsea. Maybe because he wants to stay at Everton, maybe because he wants to go to spurs in January. What I do know is that koeman and moshiri clearly, by their statements, are not very positive about him. Moshiri is clearly backing koeman and wants him gone. Didn't like his interview and facts disputed by Ross. And another thing. I thought in moshiris brave new world we didn't always need to sell to buy. So why the 'he's cost us a centre forward?'
Rick Tarleton
138
Posted 01/09/2017 at 07:05:33
I've no doubt Barkley's an awkward sod to manage, he seems to need the constant arm round the shoulder and doesn't respond positively to being bollocked. Koeman doesn't seem to like him. But he's a talent, Chelsea were willing to pay £35 million for a player in the last year of his contract. Think about it.
He's not to blame for our lack of a striker and the fact that we've spent the best part of a £100 million for three players to play in the same place.
When in 2014, in that disastrous tournament in Brazil, Barkley was played, he was the best player we had. I believe he's as good as we have produced at Goodison since Harvey and Royle fifty years ago and if he'd been sympathetically managed could have been the fulcrum of the team.
Now he's going to wait till January and sign a pre contract to go to a club for free and negotiate a higher wage deal. We've lost a very good player and one who could have been a great player for us.
Steve Brown
139
Posted 01/09/2017 at 07:06:08
He wants to sign for Spurs, so Levy has told his agent to get him to pull out of thr medical. They then hope to get him for £10-15m in the January break when he will be fit after his hamstring. Everton apparently refused to negotiate with Spurs yesterday so this is the result. This has cost us £35m, so I have zero sympathy for him.
Trevor Peers
140
Posted 01/09/2017 at 07:12:30
Barkley will always be remembered as the clown who robbed us of £35million henceforth. Maybe we could have spent that on a new striker, maybe not, but that's how he'll go down in history.
He will never get the chance to achieve anything at Everton now that's for sure.
Mark Tanton
141
Posted 01/09/2017 at 07:26:42
There is no doubt who Moshiri is backing here is there? He's supporting his manager and Ross can go and fuck himself. He's finished at Everton and he's sent a message to the footballing world that he is more trouble than he's worth.
Denver Daniels
142
Posted 01/09/2017 at 07:32:52
He'll sit on his arse till the January window, collecting his full pay, then probably pull the same stunt and sign a pre-contract and leave for free next June. Not sure that with a World Cup next year that's such a good idea but maybe he figures that ships sailed so he might as well make hay while the sun shines. Unfortunately that's the way of the world these days. I don't envy him having to come back here, that's for sure.
Charles Barrow
143
Posted 01/09/2017 at 08:01:30
Steve brown - how do you know? This is the problem, it's all conjecture. Yes, koeman wants him gone and yes moshiri is backing his manager. That's all we know.
Malcolm Dixon
144
Posted 01/09/2017 at 08:22:28
Guardian: Barkley "who is in rehabilitation from a torn hamstring, had been hoping to speak with Tottenham Hotspur, only for Everton to refuse to enter into negotiations with Spurs on deadline day. That left Barkley feeling he was being pressured into a move to Antonio Conte's side, and prompted him to pull the plug at the last minute."
Kenny Smith
145
Posted 01/09/2017 at 08:24:32
Barkley's either passed the medical or was half way through. I think Merson could be right. It's probably dawned on him that he's going 200 miles from home just to sit on someone else's bench.
I don't dislike the lad but he's mid-table at best. His England career, if he ever had one, is in tatters and he's got no one to blame other than himself. Wasted talent.
Billy Kenny, anyone?
Jim Hourigan
146
Posted 01/09/2017 at 08:25:08
This is the lad who, according to jags, had to be consoled at half time against Man U that the boos were directed at the team not him - deluded, self centred and not very bright !! The lad lives in a bubble of ego driven, hyper inflated self congratuling nonsense. He thinks he is better than he is, thinks he is bigger than the club and as with many footballers is fed that line by his agent and other cronies around him. I have no problem with him looking after number 1, it's a relatively short career, but for people to see Machiavellian plots here beggars belief. He's a greedy young man who is being poorly advised in football terms but well advised financially. We the fans don't figure in any of his thinking.
Paul Tran
147
Posted 01/09/2017 at 08:31:04
Darren#131, you're right, that goal at Newcastle was a touch of genius.
I'm still torn as to whether last nights shenanigans was Barkley just not being able to leave Everton when push came to shove, or whether he was showing the dithering, poor decision-making he often shows on the pitch.
One thing I am sure about, if he was trying to 'shaft' Everton, he wouldn't have gone down there, negotiated a deal and done half a medical before changing his mind.
Damian Wilde
148
Posted 01/09/2017 at 08:31:46
Let's be honest, when he played he was indecisive and gave the ball away a lot showing little intelligence. You want to finish 7th-8th - Barkley's your man. Want to progress - need better. He just hasn't got it. If he was Russian and not scouse, you'd all be saying he was crap.
And after this, he's finished here, not welcome. Can't see him playing again, but if he does, he'll be rightly booed. Has cost the club millions. Prick.
Stan Schofield
149
Posted 01/09/2017 at 08:35:57
There's a lot of daft posts on here, of the 'Barkley is a gobshite' variety. Just a thought: before committing to such daft conclusions, it's always worth making sure you have the facts right.
Colin Glassar
150
Posted 01/09/2017 at 08:38:11
The sell-to-buy policy is alive and kicking.
Sell Stones, buy a few average players in a panic (we've learnt our lesson and this won't happen again).
Sell Lukaku (our most effective striker in decades) and replace him with whom? We used his money to good effect but he wasn't replaced.
Try and sell Ross and? Was he to be replaced? What were they going to do with the money? To a lesser degree the same goes for Niasse, Moshiri was eyeing up £40m plus and he was going to do what exactly? Did he have a pkayer waiting in a London, Paris, Madrid or Milan hotel waiting to sign a contract?
The Moshiri-BK partnership is just more of the same old bullshit we've had for years. Ineptitude, laziness and lies. And, what's happened to the stadium? Not a peep from our saviour or was the Ross money destined towards that?
Paul Smith
151
Posted 01/09/2017 at 08:42:22
Well said Col. I'm feeding into the negativity this morning even harvesting it you could say - fucked off.
Tony Abrahams
152
Posted 01/09/2017 at 08:54:20
Malcolm, if that's true it explains everything. Barkley, had been told by his agent and Spurs, to wait until deadline day, and they would try and get him on the cheap.
Along come Chelsea, prepared to pay a lot more money for the kid, who has probably been in shock because this wasn't part of the plan. Talks to Chelsea, because he's now in a bit of limbo, then his agent must have been sent a message off someone from Spurs, saying they still want him?
Listening to Wenger, he says players are going to start negotiating their own transfer fees, aswell as contracts, sometime soon in the very near future? They nearly hold all the aces now, so if this happens, then football as a real team sport is finished. Auto's 115, last paragraph sums it up best!
Alan McGuffog
153
Posted 01/09/2017 at 08:54:48
Colin .we are assembling a squad that will grace Gillmoss. You watch.
Eddie Dunn
154
Posted 01/09/2017 at 08:56:40
I have previously been willing to give Ross the benefit of the doubt, thinking that there has simply been a breakdown in his relationship with Koeman.
Koeman wisely decided to take a mini break in Portugal during this shopping frenzy.
Presumably targets were agreed and a plan in place.
I suspect that people changed their minds about joining us, possibly due to other players not moving, freeing up funds for a domino effect on transfers.
Perhaps if Ross had signed for Chelsea, Costa may have come to us on loan or, if Chelsea had landed Lorente, then Batshui may have come our way.
The one clear thing is that Ross turned down a move to the Champions, a team in the CL and with every chance of success this season.
Very strange that he changed his mind.
Surely he wouldn't have been scared by a change of scenery.
Kids all over the country go off to Uni at a younger age, without the pampering of a top footballer.
If he was really thinking of staying and fighting for his place, then he would have done exactly what he has done.
Moshiri told the media that it was duting the medical, but we now know that this was untrue.
Perhaps Barkley merely did the decent thing and discussed the offer with his advisors/family.
Considering all of the known facts it is hard not to think that Spurs( or some other club) have assured him that they will have him in january when he is fit.
Ralph Basnett
155
Posted 01/09/2017 at 09:02:34
Seems mquite straightforward to me - Only Chelsea bid, Everton accept, he goes for medical hoping Spuds come in with counter offer, he is in London already taken medical, runs over to WHL jobs a gooudin.
Only problem was no Spuds counter offer, he looks a c**t and we are mugged off for our fee and will have to go to tribunal if he moves before he is 24!!!
When is the spoilt bastards birthday anyway!!!
Matt Muzi
156
Posted 01/09/2017 at 09:04:50
Don't know how credible it is but there is an article on Spurs fans website that states Barkley was called last night & given assurances Spurs want him Everton weren't willing to deal with them & to hang fire.
Maybe a load of speculation, but it isn't impractical & could possibly explain what happened
Rick Tarleton
157
Posted 01/09/2017 at 09:06:10
Colin (150) you're absolutely right about the way we conduct our transfer policy. However, the unknown issue all the time is how the players feel, what pressure they can bring on the club to sell them. Also if they want a move for whatever reason and they do not get one, how will they react/
Will Sanchez be Arsenal's best player this season ? Coutinho may not be quite the player he was across the park.
I just feel that some of the posts on here suggesting that it was Barkley's duty to leave, so in the half hour of the transfer deadline that was left, we could have bought a top striker (who?) and that would have been it.
If Koeman and Walsh and the Board had a coherent transfer policy would they have bought Klaassen, Sigurdsson and Rooney, for more or less the same position at a combined cost of way over £75 million. Keane and Pickford look excellent buys, Vlaso and Sandro could be good prospects, but three number tens?
Carl Taylor
158
Posted 01/09/2017 at 09:07:45
All these references to known facts and the Guardian said this. The only from the horses mouth of anyone involved in this utter nonsense came from Moshiri. So the only known side of this story is what Moshiri said on SSN last night, everything else is speculation.
Barkley, like most professional footballers, is looking after No.1 and does not give 2 shits about anyone or anything else. He is no more 'one of us' than Nick Barmby or Abel Xavier!
James Watts
159
Posted 01/09/2017 at 09:10:25
I've just for the first time heard that Moshiri call to Sky and his BFF. Errrm, are we all sure it was him actually calling? Sounds like a complete fuck tard if it is!
Tony Abrahams
160
Posted 01/09/2017 at 09:11:23
Darren, you like a lot of people make this sound like it's something very personal between Koeman, and Everton?
You might be right, and if you think Barkley, has outwitted the manager, then what about the club that have nurtured him since he was a child?
Footballers are human, and human's are a very selfish breed., so he's done nothing wrong by looking after himself first, but this dignified silence is extremely laughable for a scouser who is as long in the tooth as you though mate.
The bigger picture is so much more important, and whilst everyone argues about the pro's and cons of Barkley, something is clearly not right behind the scenes, if Everton could not, or maybe even would not, sign another striker, that they so desperately needed.
Steve Ferns
161
Posted 01/09/2017 at 09:12:22
No doubt that Spurs were in the shadows here Ralph. And Barkley's camp was quick to point out that he never actually had a medical, but they have not been quick to say that he wants to stay. It's all aimed towards a move to spurs or so it seems.
If you want to talk about who has cost us £35m, then it is Levy. Barkley appears to have been tapped up by Spurs, they have turned his head and they stopped the Chelsea transfer. Why is no one talking about reporting Spurs for illegal approaches?
Levy is an absolute gobshite, and we should refuse to ever do business with Spurs again. If they think they can get Barkley for £10-£20m in January, why not tell them we will never sell him to them.
Meantime, I will cling, naively, to the dream that Barkley works his way back into the first team, playing with Rooney, and signs a new contract and stays.
Paul Tran
162
Posted 01/09/2017 at 09:13:27
I'm still trying to work out why anyone would spurn the champions, managed by a proven winner as player and manager and prefer a club that doesn't win trophies and has a reputation for relatively low pay?
Mark Tanton
163
Posted 01/09/2017 at 09:16:56
What is the Spurs attraction? Who knows. Barkley will never shake this off though - does he lack ambition? Is he afraid of the challenge? Spurs won't pay him what we were offering him, of what Chelsea would have paid him.
The Guardian says we refused to enter into negotiations with Levy yesterday. Who can blame the club, the last thing you want on transfer deadline day is hours of dicking about and playing silly beggars with a man renowned for taking immense pride in being difficult.
Colin Glassar
164
Posted 01/09/2017 at 09:18:42
Stan, Ross is being used as an excuse by the club to distract from the fact that several weeks ago we sold our best striker in decades and he wasn't replaced!!!
Call Ross all you like but the tossers who run our club should be prosecuted for gross negligence. As per usual they take transfers to the wire, where they generally fail, don't have a Plan B when Plan A fails (as it usually does), can't get rid of players who are failing or beyond useless e.g. VDM, Niasse to name two.
The manager begged, pleaded and grovelled for three (03) players 1) A left sided centre back, 2) A winger (mission accomplished- hallelujah!) and 3) A forward to at least try and get half the goals Lukaku would score. Well he got a 19 year old Croatian who might come good but the failure to even partially replace Lukaku might well come back and bite us.
So, fellow Evertonians, don't blame Ross or Niasse for their failure to be sold )to finance some imaginary saviour) blame the incompetent fools who continue to run the club. They are the only ones to blame.
One final question to Moshiri; What happened to the sky millions (£150m?) as our net spend was very low after the Lukaku money. So, where's the money Mosh? I won't even mention the stadium.
Steve Ferns
165
Posted 01/09/2017 at 09:19:00
Tony, there was no number 9 coming in. Everton are very lucky that today we are talking about Barkley. Had the Barkley deal gone through, then we would have been talking about pocketing the £35m and no striker coming in.
I can fully understand that we wanted Giroud and tried so hard to get him. I can understand that we persuaded Arsenal to sell, got the player to agree in principle and then for him or his wife to ultimately change their mind and decline the transfer. But all of this happened 3 weeks ago. I cannot believe that in the three weeks we could not have identified someone who could do a job, even as back-up to Calvert-Lewin, or to be a plan b off the bench if things aren't working out.
The fact that Koeman went to Portugal for deadline day, and spent it on the golf course tells you everything. He knew Vlasic was sorted. He believed we would just be selling Ross and Niasse, and so there was no need for him to be here.
This is what we should be furious about, not that Barkley said no to joining Chelsea at the last minute.
Steve Ferns
166
Posted 01/09/2017 at 09:19:57
Thinking the same, clearly Colin!
Steve Ferns
167
Posted 01/09/2017 at 09:25:00
Paul Tran, he clearly doesn't want to go to Tottenham for the money. I am pretty sure that the wages at Chelsea would be a lot better.
So why Spurs? maybe he thinks Pochettino is a manager who will believe in him, who will put an arm round him and catapult him to fulfil his potential. Maybe he believes that Spurs have a good core of young players, mostly English, and he wants to be part of that?
I would certainly prefer Spurs to Chelsea, but I would never want to be paid in Russian blood money. I doubt that Ross even knows where or how Roman made his money, or that he is using Chelsea to Launder that money.
Nicholas Ryan
168
Posted 01/09/2017 at 09:27:48
I have been trying to work this one out, and there is only one story which seems to hold water. That is:
The player wanted to go to Spurs. They encouraged that thought, without doing anything concrete.
Chelsea stepped in, with an offer EFC could not refuse, i.e. £30m plus add-ons.
He goes down to London, a bit dazed. During the medical, Spurs e-mail an offer of £20m plus add-ons to EFC and copy his agent in. Agent tells player. EFC refuse Spurs offer, on the entirely reasonable ground, that someone else has offered a lot more.
Spurs say [to agent] they will offer the same £20m in January, and point out that he's injured till then anyway. Player pulls out.
So, he hasn't had a sudden attack of loyalty. He's going to Spurs for £20m in January, and once again, Mr. Levy gets what he wants.
Niall McIlhone
169
Posted 01/09/2017 at 09:37:46
I'm sure the true picture will emerge in the coming weeks, so I'm not going to dwell on the shenanigans around Barkley in particular, but, more generally, my concern is this issue of Mr Moshiri and his link with journo Jim White, who declares on radio that he has the inside track on all that goes on at the club: Yesterday, around 11.00am, he broadcast on Talk Shite that EFC would be making a major declaration between 8.00pm and 9.00pm that would be very exciting for the fans. Was this the abortive Barkley transfer ? Or was there an incoming payer who got cold feet ? Or was it just all bullshit? I guess we will never know, unless White himself tells us, preferably in broadcast ?
I'd much prefer it if Mr Moshiri would cool down on this tactic of using White as the preferred outlet for club gossip as, IMO , it is tacky , and unbecoming of an aspirational club such as ours.

Mike Green
170
Posted 01/09/2017 at 09:37:57
Now the dust has settled a little...
Malcolm #144 - very plausible and though it sounds foolish if the club had refused to talk to Spurs it may be because Levy was talking £15m knowing Ross has his heart set on going there and the club have decided they will either wait for a better offer or he may as well go for free in a year. If that is what happens they can now always point the finger at Ross for costing us £35m.
Brian #89 - I agree also with your point about bravery.
At the end of the day Ross is a human being who doesn't appear to be happy and is trying to find a solution to that, which isn't always easy. It's all well and good agreeing things in principle and on paper but if he didn't feel it was right last night when sat in the bowels of Stamford Bridge (or wherever) so he pressed 'eject' then I won't criticise him, he will most likely have done the right thing for himself in the long run.
Ten years ago I was looking for a change of job and nothing that was put in front of me was in the slightest bit appealing. I waited and bided my time and after about a year the job I was waiting for, which I knew was there somewhere, came out of the blue. I went for it 100% and fortunately got it. Some of my mates thought I was crackers when I made the move and ten years on I am still with the firm and the decision is one of the best I ever made. I think Ross is in a similar position. Let him get on with his life and we can concentrate on ours.
Steve Ferns
171
Posted 01/09/2017 at 09:40:06
Naill the major announcement was Vlasic.
Peter Morris
172
Posted 01/09/2017 at 09:41:30
This has turned out to be a very sad state of affairs hasn't it?
Clearly, Ross Barkley and Ronald Koeman are not a marriage made in heaven.
Barkley, who has played all of his short career from pure intuition and instinct, being told in gushing terms how wonderful he is, unfortunately lacks the wit to be able to interpret his current coach's instructions into actions on the pitch. He is able to exhilarate and exasperate in the same moment.
Koeman, who appears to have little time for that sort of performance, is still a thoughtful and urbane, well travelled man. Almost the complete opposite to Barkley, who gets a nose bleed when he ventures out of Wavertree. I think Koeman has really struggled to understand what makes Barkley tick. Indeed, it looks to me that he feels he shouldn't have to-he just expects his players to do the jobs he asks them to do.
Since the contract stand off developed, the club have now invested tens of millions in fees and salaries in players who can fill the spot in the team that Barkley should have made his own, and having staked his reputation on these incomings, I fear there is no going back for Barkley, even if he wanted there to be.
I strongly believe his agent is now driving the agenda, which is motivated largely by £ signs, and to give Everton a bit of payback for the last 6 months to boot. Given a free hand in 2018, the fee that Everton FC 'lost out on' yesterday will find itself into the agent's pocket, into Barkley's pocket, in the form of an enormous signing on fee and salary, and into the pocket of the signing club though a much lower fee. £35m, largely gone up in smoke. What will Spurs end up paying in January? £20m? Barkley's agent will have the preparation work done and dusted well in advance of January, if he hasn't already 'done the deal',whilst our club is still paying his client. What a distasteful mess!
Everton are left with the galling prospect of having to fund Barkley's injury rehabilitation, and his salary, whilst he in turn makes no further contribution to the club. If that were me, I think I'd feel pretty shitty about doing that to an employer who has looked after me and my family since childhood I must say, no matter how much I couldn't get on with their current manager.
I feel for Ross Barkley still in some ways. He is clearly a died in the wool blue, and only really ever wanted to play for Everton, but these things often don't play out the way everyone hopes. I think he runs the real risk of being eaten alive if he moves to 'that' London. He is not blessed with the wit and intellect to be able to run his own life successfully it appears, and his viper of an agent won't be thinking too much about that just now will he?
Let's just remind ourselves at this time, however, about the sense of betrayal many of us, including me, felt about our recently returned prodigal back in 2004, versus how we feel now about the same guy. We have short memories, and we all move on, but I can't help but feel that the loss of Ross Barkley to a club with the history and values of Everton FC is such a total tragedy, and a great loss of such a prodigious talent.
Brian Williams
173
Posted 01/09/2017 at 09:42:51
Lots of "I reckon" and "he obviously" and "it's the clubs fault" and "he's a blert" etc etc etc.
Bottom line is nobody knows exactly what happened and why it happened and we may never know.
I'm going to just wait and see rather than call the club, call Barkley, and call other Blues.
It's a strange one for sure and one which, much to Sky's relief, saved the deadline day fiasco from being a total non event as transfer after transfer failed to materialize.
Colin Glassar
174
Posted 01/09/2017 at 09:49:26
Niall #169, that post should be copied and framed. What the hell was Moshiri thinking? The first time (we love Macca, he is one of our own) could be put down to naïveté but twice? And with his PR guru next to him?
The whole Moshiri - White relationship is very suspicious. Owners usually leak news to trusted journos off the record but this guy goes on the most watched sports show in the land to explain another transfer fuck up live!!
I've not only lost any respect I had for him but also trust. In my opinion he's just a richer version of King Billy.
Carl Taylor
175
Posted 01/09/2017 at 09:51:01
Those stating the Barkley debacle is a distraction from the failure to deliver what Koeman wanted may be right. Koeman has also stated European Football is very important to the club. This may be his biggest mistake as he wasn't clear enough in his message. He should have said European Football that continues into 2018 is very important, as the lack of goals within the team now means the Europa League group looks very difficult to get out of and you can kiss goodbye to Wembley in the League Cup.
I really like DCL but you can't put the pressure of leading the line on his shoulders when we are playing 3 games per week. As others has said, gross negligence.
John G Davies
176
Posted 01/09/2017 at 09:52:08
Tony, he's outwitted the manager and thereby outwitted the club out of £35 million.
The worse part for me is some Blues, in their desperation to be right, are celebrating the situation.
Niall McIlhone
177
Posted 01/09/2017 at 10:01:32
Thanks Steve (171) but the Vlasic deal was pretty much done and publicized already so , yes, all hype it seems? I just want our club to do their business clinically , and stealthily,we showed signs of a change of culture with the signings of Lookman, Pickford, Keane , Klaasen and Rooney, but the protracted Siggy saga, and the ultimately flat soufflé of deadline day(both inward and outward moves) make me a little concerned be are back on the old procrastination approach to signings and sales.
If it transpires that Ross is going to Spurs in January, then these business behind the sale needs to be sorted out quietly in the coming months, including a replacement of high quality.
Dave Williams
178
Posted 01/09/2017 at 10:02:01
Stop paying fir his medical treatment,make him train on his own til his contract expires. Spurs then get a player who hasn't played for 12 months competitively and who wants £100k plus per week- they might all think again at that point.
We pass up a fee of maybe £10m in January but Levy needs reining in with these tactics and Barkley needs teaching nit to shaft the club who supported his development through a triple leg break and kept faith in him.
What a dirty business this is!!
Brian Harrison
179
Posted 01/09/2017 at 10:05:01
Yes really disappointing that we never got in the striker we wanted I did hear yesterday that Giroud would have come but his partner persuaded him not too. I guess understandably she wanted to stay in London. But we should have at least have a back up plan, but it wasnt to be so till Jan we will have to go with what we have got.
Apart from not getting a striker most other targets were got, and although we are all upset we didnt get the striker can you imagine how the Chelsea and Arsenal fans are feeling this morning.
I cant quite believe what is happening to Chelsea, Konte sends Costa a text binning him thinking he was getting Lukaku but he prefers Man Utd. Then they agree a fee for the OX but he signs for Liverpool, then they agree a fee with Swansea for Llorente and he goes to Spurs. Then yesterday they agree a fee and personal terms with Barkley who goes to Cobham only to change his mind. Lets not forget these are the reigning champions bizarre.
So compared to Chelsea and Arsenal we havent done too bad, I posted yesterday morning that even if Chelsea reached an agreement with Everton over Barkley that Levy would persuade him to sit tight and sign for them in Jan, which is what will happen. Levy is a smart operator why sign a player and pay his wages for a couple of months before he can play for you.
John Keating
180
Posted 01/09/2017 at 10:07:30
Something is far wrong here.
If as some reports say that he wanted Champions League football, regrettably Chelsea is a better option for him. Long term possibly better than Spurs.
If as some reports say it was money, regrettably Chelsea is a better option. Certainly better than Spurs.
If it's to get back in the England squad then probably playing regularly with Everton, putting the effort in and performances would encourage Southgate more than playing intermittently with both Chelsea and Spurs as I just can't see him being first choice in either side at present.
Pottchetino and Contes' managerial styles may suit Barkley but we have had contrasting styles with both Martinez and Koeman and neither appear to unlock the untapped talent Barkley is reputed to have.
I really am confused with all this stuff. Very few transfers happen last minute these agents are all talking to each other and Clubs for weeks and months prior to transfers.
No doubt one day all will be revealed but right now nothing makes sense to me.

James Ebden
181
Posted 01/09/2017 at 10:15:11
All those saying they are delighted he is staying are deluded!!
He hasn't said " I've changed my mind, I'm coming back up north, get the contract out, i'll sign up"
He's said "i'll recover until January, leave for nothing and get myself a fat signing bonus. screw the club and fans, I don't give a shit about them"
Yet some are saying they are happy. unbelievable.
He makes terrible decisions on the pitch and is lazy in defense. He gets called out and told to pull his socks up and he throws his toys.
The defense, GK and midfield are stronger this year than last, and we have more depth. The lack of a striker is frustrating, but in reality last year we had Lukaku and no other option if he was injured. Now we have Rooney, Sandro and DCL.
Transfers are done. Time to get behind the team and move on.
Mike Green
182
Posted 01/09/2017 at 10:18:58
John #180 - maybe he sees his best chance of getting back in the England set up as setting the world alight with Messrs Kane and Alli on the club scene. A holy trinity so to speak.
Niall McIlhone
183
Posted 01/09/2017 at 10:20:52
Colin(169) they are debating Barkley now on TS, why do I listen to this shite? Ah well, hopefully, we will get some news from Mr Mosh on the new stadium soon?As much as I'd like us to be burgeoning forward on the playing side, I think this season will be pretty much a work in progress scenario, but the Barkley thing will no doubt be a subject for running commentary. I'd also like us to be more dignified in the way we are dealing with Super Kev , and particularly Oumar Niasse , their exit also needs to be handled tactfully.
Paul Tran
184
Posted 01/09/2017 at 10:23:42
Steve #167. Really good points there. I certainly wouldn't work for a Russian owner.
Phillip Warrington
185
Posted 01/09/2017 at 10:26:51
What's wrong with people? How can anybody support Barkley? He has just made Everton not a club that the big clubs will want to deal with and has shafted this club big time.
He should be banished; yes, pay his wages and make sure he stays at the club until the last 59 seconds of his contract and make sure he never wears the Everton blue again; they should make a special yellow shirt for him.
I am so goddamn pissed – he made all this crap about wanting more money, more chances of playing Champions League. He was given it but he decided he would shaft the club instead. How can anybody support this arsehole?
Danny Broderick
186
Posted 01/09/2017 at 10:31:07
Is it stretching it a bit, bearing in mind he will be injured until November, to assume that Spurs told him to sit tight until January and he would get a bigger signing on fee and a bigger salary? All he has to do in November and December is concentrate on getting fit...
Just an assumption on my part. It seems very strange that Ross pulled out of this at the 11th hour when everything was in place. Something seems to have gone on...
Colin Malone
187
Posted 01/09/2017 at 10:39:21
Give the lad a break. Leave the politics and the monetary sums to the club. Quotes like, "he cost us buying a defender"? Unbelievable.
I don't agree that Ross is way back in the pecking order for the number 10 position. Sigurdsson with Barkley and Rooney, in front of one holding midfielder, love it. COYBB
Martin Mason
188
Posted 01/09/2017 at 10:42:29
This was the explanation given by Matt Law in the Telegraph.
"Everton had refused to deal with Tottenham on the final day of the transfer window. But Barkley was uncomfortable with having his future dictated by the Toffees and informed Chelsea that he wants to wait until January to make a decision on his next move.
Chelsea will try for Barkley again in the New Year and it remains to be seen whether or not Everton will change their stance and listen to a bid from Tottenham in the next transfer window."
To me this looks like again a case of the club bullying Ross into an outcome and him correctly not being happy about it.
Brian Williams
189
Posted 01/09/2017 at 10:45:45
I haven't seen the suggestion on here (haven't read all posts though) that it may have been Chelsea themselves that have asked Ross to hold off until January. They tell him they'll buy him for less then and, as he won't be playing it makes no difference to him, he'll be weighed in with a big/bigger signing on fee.
That was just suggested on Sky by a couple of former players.
Chris Williams
190
Posted 01/09/2017 at 10:46:29
Martin, do we know how much Spurs wanted to pay?
I've read £20m, but that is not necessarily reliable, but sounds plausible as a Levy approach.
Jamie Morgan
191
Posted 01/09/2017 at 10:52:13
Everton need to grow some balls here. Player power has gone mad. In the last year of the contract means Barkley holds all the cards.
So put it simply... here's a 2 yr contract with a £25m release clause. Sign it by October or spend the whole year (World Cup year) training alone. Give Niasse his fucking locker! :)
See how much anyone wants you when you haven't even trained competitively for a year! Go fuck your self!

Paul Doyle
192
Posted 01/09/2017 at 10:53:47
Very suspicious of last night's chit chat on sky between Jim the Jock and his best buddy "Mr Moshiri".
The more I watched and listened , the more I am convinced it was Kenwright talking with his hand over the phone putting on his best Herr flick impersonation , the picture above jovial Jim , of a grinning "Mr Farhad " could easily be billy liar again with plenty of Botox, filler and greasepaint on. Begs the question: Does he really exist?
Don't miss tonight's conference call with Jim the Jock featuring Moshiri singing "We haff a diamond call Voss Barky."
Lennart Hylën
193
Posted 01/09/2017 at 10:54:07
Let him play for the U-23s until his contract expires. Greedy son of a bitch.
Matt Traynor
194
Posted 01/09/2017 at 10:54:42
To correct a recurring error from posters about Barkley not being able to pass a medical. A medical during a transfer is not a fitness test. It's to look for underlying issues that may crop up. An injured player will just undertake slightly less rigorous tests in certain areas. Think back to social media posts of players giving the thumbs up connected to heart monitors etc.
Dean Johnson
195
Posted 01/09/2017 at 10:56:39
Lots of interesting takes on the situation, fair points raised by many. My take is thus:
Ross stripped down at the medical and someone laughed at the size of his cock.
or
He doesn't want to be too far away from his mummy and got scared of big ol London.
Seriously though, there will be many claims and counter-claims in the next few weeks and I don't think any of us has a clue. Therefore I choose to believe one of the above statements.
One thing is for sure: If my boss treated me like Barkley has been treated then I would find a way to leave on my terms, not theirs.
James Macdonald
196
Posted 01/09/2017 at 11:02:18
While Ross is an Evertonian, it is totally unreasonable to expect him to put the club's best interests over his career. Clearly he would earn far more at Chelsea (or indeed if he signed a contract extension with us) so I think it grossly unfair to describe him as greedy - a facile stereotype of footballers in this day and age. I suspect he has his heart set on Spurs as Potchettino has genuine belief in him whereas perhaps he believed at Chelsea he would merely warm the bench. Where I think he may have got it wrong is in putting so much faith in Spurs as if they believed in him as much as perhaps he thinks they do then they would have matched the Chelsea offer last night. I do not buy that the club would not negotiate with Spurs- they certainly would if the price is right.
Brian Harrison
197
Posted 01/09/2017 at 11:05:12
Now the deal has fallen through, then the last thing any manager wants is a disgruntled player around the squad. So Koeman needs to tell Barkley you can do your rehab and fitness training in the afternoon, so he is not there when the players are training. I am sure Koeman has no intention of ever using Barkley in the squad, and I wouldnt select him for the under 23 group either.
Paul Tran
198
Posted 01/09/2017 at 11:10:42
Martin, I wouldn't bank on anything Matt Law of the Telegraph says. A Chelsea-centred journo mocked on Twitter for his dreadful record.
Ross will do what he thinks is best for Ross. We must move on and do what's best for us.
Ernie Baywood
199
Posted 01/09/2017 at 11:19:49
Exactly James #196 - Completely agree up to the bit where you offer your own guess about what's happening, which you, me and everyone else are entitled to speculate about (as long as we don't pretend it's factual).
I thought a year or two ago that he should have left for his own good. He's been played out of position, bulked up to fuck and criticised by his own supporters and, in the last year, his manager. Whatever guidance and development the club has given him hasn't brought the best out of his undoubted talent.
Before people have a crack, yes of course he's responsible for his own development too. Well here he is, making decisions about how to get the best out of his career.
Right or wrong, there'll be something to judge. And I can't wait to hear the truth about what really went on between him and the club. .
James Stewart
200
Posted 01/09/2017 at 11:35:33
@165 you are quite right there perfectly sums up the situation.
Ian Pilkington
201
Posted 01/09/2017 at 11:35:43
Martin @ 188, Matt Law repeatedly insisted in the Telegraph that Stones and Lukaku would be joining Chelsea. He is totally unreliable and would be more usefully employed at the Sun or the Mirror.
Martin Mason
202
Posted 01/09/2017 at 11:45:46
Neither Chelsea nor Spurs have made any criticism of Ross or the club so I assume that what happened yesterday was all done reasonably. I believe that Ross knows exactly where he's going and when and that he is in some control of his own destiny as he must be.
Alan Bodell
203
Posted 01/09/2017 at 12:11:34
Only loser here is the club that reared and nurtured him for years, he's injured until around Xmas so won't get games until then anyway then when fit he won't be a first team player with the players they got already so he's 'waits til the next window' when his value has plummeted ensuring he gets a large slice more than he would've yesterday and we get his extended middle finger.
That's nice of ya mate, it's purely a financial thing to an already wealthy young man, greedy bastard has shit in his mess kit for me.
Colin Glassar
204
Posted 01/09/2017 at 12:15:21
James Ebden 181, do you have all this on tape or where you there (in his head maybe)? As far as I know, Ross hasn't said diddly squat.
Ross isn't the first player to turn down Chelsea this summer. Maybe players have heard things from their Chelsea mates, who knows? But putting words, or thoughts, into his mouth is just ridiculous.
It sounds like the lad had his heart set on moving to Spurs and has decided to wait until January. Yes, we will lose money but it's his life, career, decision etc... and no one can force him into a move he doesn't want.
James Ebden
205
Posted 01/09/2017 at 12:25:18
Colin, his actions speak volumes.
I hope he rots wherever he goes. Over-rated in the extreme.
Colin Glassar
206
Posted 01/09/2017 at 12:28:03
Fair do's James. We all have our own opinions.
Denis Richardson
207
Posted 01/09/2017 at 12:29:19
People glad that Barlkeys still with us need to wake up and smell the coffee. The only reason he 'changed' his mind is to get a massive signing on fee, either in Jan or next summer.
He's injured till xmas so from the buying clubs perspective, why pay 30m odd now when he won't be fully fit till Jan. By which point he'll be in the last 6 months of his contract and we can sign him for about 5m! (Whilst Barkley gets a massive chunk of the fee saved.)
TBH it makes sense from the players perspective when you look at it that way. He can't play for 3 months anyway.
Could have been tapped up by Spurs or could also be Chelsea telling him to delay to Jan. After examining him at the medical they would have confirmed he can't play till Dec, so why pay 30m now when they can re bid 5-10m in Jan?
Brian Wilkinson
208
Posted 01/09/2017 at 12:36:44
I do not think it was a case of forcing a guy into a move, Chelsea offered £30 Million plus add ons, Spurs offered much lower, you cannot blame Everton for saying unless you up your bid, the bid you submitted is not acceptable and so we have no reason to allow Ross to speak to you.
From what is doing the rounds is Spurs contacted Ross or his agent and informed them they want him and will sign the player in January and that is when Ross decided against signing for Chelsea, in doing so, Everton are the losers, not only in a much less fee, but also paying his wages until January as well.
Some say he stands a better chance with Spurs in January with the World Cup coming up, well personally and it is my only view is we write off the shitty transfer fee we will get, keep hold of the player until his contract runs out in the Summer ensuring he trains on his own, is omitted from the first team and u23 squad, if you can do it to Niasse Ron, put your foot down and do it on Everton's terms until that contract ends.
He might get his dream move, but he will not get his World Cup wish, well and truly shafted Everton and its supporters.
Nitesh Kanchan
209
Posted 01/09/2017 at 12:38:00
I agree with Denis here. There is no way he turns up at Chelsea medical and changes his mind after agreeing personal terms, as being said by Moshiri. It is Chelsea who made the decision here. Unless Barkley signs a new contract, this is what seems to have happened.
James Ebden
210
Posted 01/09/2017 at 12:39:35
Totally agree Brian. Apart from the bit about him playing for England. He is no where near good enough, even if he is playing regular football.
Dan Nulty
211
Posted 01/09/2017 at 12:46:03
This goes passed money now. Keep him until his contract runs out and don't play him
Martin Mason
212
Posted 01/09/2017 at 12:48:12
What has Ross done against the law and what has he done to shaft the club or is fans? He has the absolute right to do exactly what he is doing now. Football used to be the sporting equivalent of the slave trade. It isn't now.
Chris Williams
213
Posted 01/09/2017 at 12:52:43
Barkley and his advisers did the best for themselves and their client.Nothing wrong in that, it would be wrong if they didn't .
What sticks in the craw is Levy playing us like a trout on a hook. However some would say it's being smart, and we put ourselves in a position of weakness in the first place.
He'll be off to Spurs and so be it. Let's see how that works out.
Barry Sherlock
214
Posted 01/09/2017 at 12:55:33
Of course Ross should look after himself.
But, at the same time, consider this;
If Ross DOES end up at Chelsea in January, the amount paid to EFC is far less: say £12m? Then to me that is unforgiveable. Last night's decision would have been 100% about £££ for Ross / his agent.
He will have effectively done EFC out of £20 odd million. That is no good for us. We shouldn't be ok with that.
If he ends up at Spurs, that's different. Fair play to him. That is what he wanted, obviously.
If he ends up signing a new contract with US, again, fair play to him. That is what the change of heart would have been about.
Time will tell. But, a warning to Ross, Evertonian's will NEVER forget or forgive that sort of thing.
Leaving for a big fee is one thing, leaving for next to nothing is something totally different!
Raymond Fox
215
Posted 01/09/2017 at 12:59:54
For me it all goes back to how much he was offered in the new contract. I don't know, none of us knows how much he was offered, but I suspect it was a good bit less than he was expecting because Koeman wanted him to be sold.
The bottom line in my opinion, is Ross wants to play for Everton and no one else and thought that the club would change their minds and offer him more money.
They have not and he's stuck in no mans land.
I'd prefer for Koeman to go instead given the choice, because he's making a right pigs ear of managing us, any player with any flair he wants gone.
I'll wager our goals for, will be well down on the previous 5 seasons, I hope I'm wrong but its looking very likely to happen!
Tony J Williams
216
Posted 01/09/2017 at 13:38:17
Calmed down now and thought about it logically.
Apparently there was no medical but Mosh suggests personal terms were agreed, why?
If he didn't want to consider going to Chelsea, why agree terms? why let it get that far?
I appreciate that he didn't want to be forced into moving, but why let it get to the stage of a medical anyway?
Also – "I believe he's as good as we have produced at Goodison since Harvey and Royle fifty years ago and if he'd been sympathetically managed could have been the fulcrum of the team."
I couldn't facepalm myself hard enough .Fucking "sympathetically managed"? are you fucking kidding me? He's a professional footballer, get on and do your fucking job lad!!
James Marshall
218
Posted 01/09/2017 at 13:43:47
I never wanted him to leave, I want him to succeed at Everton as everyone else does deep-down. Aside from that, I can't help but wonder if there's something going on with Ross on a personal level that we don't really know enough about to pass judgement.
It seems to me that all is not well with Mr Barkley, and while I don't have anything solid to back this up, it's pretty obvious he's not happy, not fit, not enjoying life at Everton/in Liverpool and for whatever reason/reasons things are simply not going well for the kid.
We'll probably never know the truth, nor will do we have any right to know the ins & outs of another human beings personal life. I still think he'll leave in January when he's fit, but would love to be proved wrong.
John G Davies
219
Posted 01/09/2017 at 13:48:18
Rick 218,
They are somebody else's fault.
Don't you dare steal Koemans thunder.
Simon Hermansen
220
Posted 01/09/2017 at 14:00:23
Can't prove it but I'm pretty sure he's made some sort of 'agreement' with Spurs to join them (but asked him to hang on til the last day of the window as Levy always does) but, cos of the injury, they've had another word with him to stay put and they'll be back in January window. In the meantime we get a lot less for him in January and Spurs save a wedge. I believe it's called tapping up?
Kieran Kinsella
221
Posted 01/09/2017 at 14:02:34
It's been suggested that Barkley is no fan of Koemans tough approach. Conte isn't exactly Mr lovey dovey himself. Could be the case Barkley didn't fancy being a back up for Willian with another hard nosed boss. Regardless, both parties agreed to a five year deal. We can't slam Lukaku for wanting to rip up his contract and slam Barkley for not seeing out his. From Spurs perspective, why the hell would they pay 35 million for a guy who's injured until January when they can sign him in January for much less? There are no villains or conspiracies here. Just parties making rational business decisions.
Mike Gwyer
222
Posted 01/09/2017 at 14:03:52
Martin Mason #188.
Bottom line, who give a fuck what Matt Law thinks about Everton, the man is a Chelsea fanatic who works for Telegraph.
Also, why are you stating that "Everton are bullying Ross into a transfer"? I mean the boy was going to go for a bigger salary, a good signing on fee and probably a fuckoff fee from Everton as well. Where is the "bullying"? Ross didn't want all the probable glory of going to Chelsea as it's a known by almost everyone that he's waiting for Levy to give him the nod.
Everton are a business, we have assets which Ross is a one of, so if another business wants that asset they will have to pay for it. That's how it worked for Lukaku going to United and Siggy coming to us from Swansea. I think its quite sad that you think Everton should allow Barkley, who is obviously working in tandem with Levy, to dictate when and what price this transfer happens.
For me this whole Barkley saga totally fucking stinks and now we have sit back and watch as Levy will come in and legally strip this great club of one their own. Bullying you say? Well, enjoy watching it.
Jay Harris
223
Posted 01/09/2017 at 14:37:54
All this talk about how Barkley has been badly treated is hogwash.
The lad hasnt got anything between his ears and is apparently a real "mummy's" boy.
Those praising his sublime skills and the fact he is one of us need to remember the last decent game he had and he has had plenty of opportunity to play well.
For the amount of money these guys are paid and looked after we might expect a degree of cooperation and appreciation.
There he is picking up his 75 grand a week while having the finest medical treatment contributing nothing but a depreciating value and people still have sympathy for him.
The people that deserve sympathy are scattered all over hostels in Texas desperately trying to find out if their family or pets are ok.
Ian Burns
224
Posted 01/09/2017 at 14:46:44
This Ross Barkley debacle got me thinking.
..
Not so long ago, I had an exchange of communication with Patrick Collins, the now retired sports writer for one of the Sunday papers. The subject was ownership of a football club and the reason for the exchange was the then owner of Hull City FC who wanted to change the name to Hull Tigers.
My argument was the club belonged to the fans and the owners were privileged custodians. If the fans didn't want a name change then the owner should accept the voice of the majority.
Patrick Collins's point of view was, as the owner, he had every right to change the name. He had put so much money into the club he had bought the right to do so.
Obviously Patrick Collins had a reasonable argument but my case for the fans brings me to the point of this piece.
Who does the club really belong to? Does our beloved Everton Football Club belong to Moshiri; Kenwright et al or are they only temporary custodians looking after the club on behalf of the fans? The fans are the club and owners are in a very privileged position to represent EFC for example and make the best fist of making it a success - on behalf of the fans. If the supporters don't turn up, the club fails to exist.
So given my side of the argument is accepted, how much information should a club provide to its fans in this time of social media information is key.
I think people on both sides of the argument would accept certain things need to be kept in-house but reading the recent thread with regards to Ross Barkley's about turn on signing for Chelsea surely the club should be making a truthful statement about this remarkable turn of events. Without such a statement the resultant thread caused a tirade of abusive comments about the player (not everybody of course) without even knowing the real truth because the club saw fit to say nothing official (at least at the point I am writing this short article).
In my opinion, the owners are custodians on behalf of the fans and accurate information at the appropriate time is all the fans require of them (apart from spending zillions on players, of course).
We as fans therefore have a right to information. The club belongs to them and they have a right to know in such cases as the Ross Barkley debacle what is the true state of affairs. Whilst they are at it, can they also explain on the manager's behalf why he sought to purchase so many midfield players? He will be forced to put square pegs into round holes just to get them all a game.
For the record, I wish the club would come out and tell us Ross Barkley couldn't leave the club and has decided to sign a new contract.
Micheal Lynch
225
Posted 01/09/2017 at 14:54:15
Can all the people slagging Barkley on here put themselves in his shoes. His manager has been on his case publicly for the last year telling everyone he should improve or go. Similar performances from Williams, Jags to name but a few go unmentioned.
The crowd has been constantly on his back. Every misplaced pass greeted with derision again while others doing similar get little attention. Not once has he opened his mouth during this saga. Not once has he slagged of the club.
Take Rom and Ron. Can people remember Koeman's comments about Lukaku not fulfiling his potential if he stayed at Everton? Cheers Ron.
Barkley is dead right if he holds out for more money. Why should he give a fuck about the club he loves when both manager and fans have nothing positive to say. Comments on here about him been a "mummy's boy" and nothing between his years. I don't blame him one bit for leaving. No 23-year-old, despite what they earn, should be subjected to that abuse. Funny how Niasse and Mirallas seem to be in similar boat.
No wonder Rooney was drinking last night watching our beloved owner make a fool of himself on TV. Wake up, Evertonians, the real clowns are at the top. As for Koeman, hope you enjoyed the golf.
Martin Mason
226
Posted 01/09/2017 at 14:55:16
Nobody knows what happened yesterday, nobody knows what could happen in January or later in the season as his contract winds down and as more clubs may join the bidding.. The fact is though that he can't be forced to join anybody and if he wants to let his contract run down then that is his business. It's a situation where I believe Everton need to use better man management and Ross needs to show a bit more flexibility. My bet is that there was a major breakdown between Koeman and Ross and Ross is exacting his revenge in the toughest way possible. He is absolutely in the right contractually. Deals between Ross and Levy are figments of the imagination, if what I believe happened yesterday is correct, Ross wouldn't be rushed into signing for Chelsea when he wanted choice. If it's true that Everton refused to deal with Spurs then for me he was correct.
My deepest hope is that they all grow up and start dealing with each other like adults and that the end result is that Ross stays and blossoms under the new set up.
Liam Reilly
227
Posted 01/09/2017 at 15:07:22
So it's all that dastardly Barkley's fault that the contract of one of the clubs most salable assets was allowed to run into its final year.
The hard-line approach should've happened last summer with contract negotiations which would have ensured the club were never in this situation .

Martin Mason
228
Posted 01/09/2017 at 15:08:34
Ian@225, the clubs are Companies, the shareholders are the owners and fans are customers. Of course there is an emotional attachment between Company and customer rarely seen in any other similar relationship but the ownership issue is easy. When clubs were clubs and the supporters were members the situation was different.
Steve Ferns
229
Posted 01/09/2017 at 15:08:35
No one knows what was in Ross' contract. There are no facts about it. There is no confirmation of when it was offered, when it was rejected and when it was taken off the table.
Usually there will be some form of confidentiality clause to stop details being divulged, that parties would either have entered into when starting negotiations or may be covered in his previous contract.
The details of the contract are key. Ross might have been offered a relatively low wage with significant bonus'. I believe he is on £60k a week right now, so perhaps the new contract was for £50k a week, and then a bonus of £60k each game he starts. Everton can report that as a lucrative deal. Ross could get assurances off Koeman that he will be starting games, but then Koeman says actually Ross, you'll be mainly a sub. Suddenly the lucrative contract is no pay rise at all. There is lots of hidden payments in contracts these days, for example image rights, media commitments, club commitments, as well as all the usual payments for goals, appearances (including as sub), wins, draws, etc.
Koeman may have told Everton he does not like Barkley, he does not want Barkley and that they have to sell him. Everton could have said that he is too much of a fan favourite and the only way to sell him is to offer him a contract that he will reject. Then they can get fans to agree to his leaving, or he leaves without the club having to answer serious questions.
Of course, all of this is supposition and conjecture, but so is all of the above. None of us know what Barkley was offered, what the terms were and what assurances he got. The contract may have been designed to be rejected and so to force Barkley out. None of us know the full story.
The facts are simply, he turned down a contract after criticism from Koeman and being dropped from the side twice, and that Koeman has said that he wants to leave for a "new challenege". And now, it is known that he has turned down a move to Chelsea, where it is reasonable to assume he would have got a substantial payrise and they have even said he would have been more or less guaranteed games.
Brian Williams
230
Posted 01/09/2017 at 15:11:09
My deepest hope is that they all grow up and start dealing with each other like adults and that the end result is that Ross stays and blossoms under the new set up.
Good luck with that one, Martin.
Christine Foster
231
Posted 01/09/2017 at 15:17:00
Ian Burns, so much has been written and assumed in all of this that truth is that neither the club or the player have said a word about what the situation is. The ONLY thing we know is what Koeman has said, his version of events and not even that, just his version that Barkley wants a fresh challenge. There has been no confirmation of set deadlines by the club, no explanation of what if any disagreement regarding his contract and in true Everton tradition, I am sure Ross has been warned that he should not discuss any details of discussions of a commercial nature as it will be in breach of his employment contract.
With respect to the alleged contract wage of 100k a week, I bet you even if that was true, which again there has been no confirmation or explanation of, that ANY weekly value would be dependent on appearances, win bonus, goals scored, place in the league etc etc.. so on a good day he might get 80% of that on a normal wage, much less. (Its called Performance Bonus) which is fair enough.
Perhaps the deal wasn't as lucrative as others, who knows, but that is the point, we don't know, the club has a duty of care to the player and the player a duty of responsibility to the club.
Look at it this way, Koeman in publicly ultimatums has backed Barkley into a corner on purpose. In doing so he has damaged the players reputation and the clubs expected value on transfer. He has done the same with Niasse and with Mirallas. (almost slandered him and his reputation by smearing his name with a bad attitude) If he kept his mouth shut I believe Barkley would be still playing for the club, Niasse sold for a reasonable value and Mirallas either still playing or moved on at a higher value. No one wants to by a player whose manager has sledged by stating his bad attitude do they?
You may disagree with some of the above but his comments have damaged the value of players and their sale-ability. Not only that but wiped millions of their transfer.
Its incompetent commercial and man management and the club should have interceded to ensure their assets are not damaged.
Barkley has done nothing wrong other than look after Ross Barkley. Koeman has done nothing right other than attempt to enhance his ego. The club? Someone should tell Koeman to shut up and not deal with commercially sensitive discussions that could affect the clubs assets. As it is we now have three players still on our books for the foreseeable future, , Barkley, Mirallas and Niasse all unhappy with the way they have been treated and commercially because of our managers utterances, their value in the transfer market has been diminished. Management at the club nothing changes.
Brian Williams
232
Posted 01/09/2017 at 15:39:57
If, like some appear to think, Ross has changed his mind and doesn't want to leave Everton then we only have to wait until he signs a new contract and then we'll all know for sure, won't we?
Brian Williams
233
Posted 01/09/2017 at 15:43:45
Michael#225.
Nobody could blame Rooney for drinking last night. Driving after it though?
Can't stand ANYONE who does that, fucking stupid and selfish!!
Jackie Barry
234
Posted 01/09/2017 at 16:18:33
Loves Everton though right?
Jackie Barry
235
Posted 01/09/2017 at 16:25:54
Nice argument Ian on who owns a club, problem being is that fans will turn up, will watch on the tv and they will do it all over the world. You can make the same argument about pretty much any business, Apple for instance, if people stopped buying their iPhones etc, they would cease to exist. Power to the people I say but people power ain't what it used to be unfortunately, and for Everton that is more than evident, considering what has been allowed to happen at the club over the years.
Darren Hind
236
Posted 01/09/2017 at 16:49:34
"He's outwitted the manager and therefore outwitted the club out of £35 million."
I don't think there is any "desperation to be right" if you were right you were right, no need for desperation.
Those who shouted down observations that Koeman had painted himself into a corner, are embarrassed. It must be difficult to nail your colours to a take-no-shit mast only to see it crumble under the weight of its own shit.
The suggestion that Barkley has cost this club £35m is an incredibly stupid one. He cost them nothing and in case it has escaped notice he is still here. We may not have the dosh, but we still have a player who in today's market is worth much more.
We simply need a manager who can convince the player that he has plans to move this club forward, one who can persuade him that we will match any other clubs ambitions and that he will figure very much in his plans to ensure that ambition comes to fruition. Pay him what he was being offered elsewhere and he will stay.
Unfortunately, we have a dreary dour miserable manager whose teams mirror his personality. One who is getting used to his better players deserting him. From the outset, he played this particular hand with his cards facing the wrong way. The stupidity of telling the world that the players must go simply invited low balls such as the one Chelsea tried.
Those who nailed their colours to Koeman's mast will either need to get used to being wrong or they will be forced to smell the coffee. The guy is simply out of his depth. His buffoonery laid bare.
Their claims that Barkley will be vilified simply demonstrate how little they know about this club. Ross is loved by many and the old lady will shake to the tune of "We've got a diamond" the minute our boys scores another worldy. The bitter and the vindictive will be left to Nash their teeth in private.
Barkley isn't the first scouser to lead Chelsea up the garden path and pull out at the eleventh hour, The last guy received far worse abuse, even death threats... now they call him legend.
Here's one Evertonian who is delighted that we have not seen the back of Barkley in a blue shirt. While he is still here, there is still hope that the clown who created this mess will be replaced by somebody who can sell our boys a dream they can all buy into. That, as far as I'm concerned, calls for celebration.
Koeman Out!

Dermot Byrne
237
Posted 01/09/2017 at 16:56:13
Jackie 235 : argued the same recently. Hate to say but fans are there for atmosphere and to consume TV etc. Other than that PL clubs are play things for the rich
Jonathan Miller
238
Posted 01/09/2017 at 17:16:30
Ross can't go anywhere near the first team on a match day unless he signs a new contract. The stick he will receive would disrupt the whole team.
No doubt he is short between the ears, badly advised and wanted a move to Spurs, but as of this morning an injured Ross Barkley is going nowhere, injured and can't step out his own house without a body guard.
So badly advised he has actually managed to piss everyone off except maybe Levy and its actually hard to feel sorry for him...

Bill Griffiths
239
Posted 01/09/2017 at 17:22:28
Darren, can't believe I am agreeing with one of your posts. Well said.
Martin Mason
240
Posted 01/09/2017 at 17:34:54
Me too except for the Koeman out comment. Eventually that is a possibility but not as a knee jerk now.
Brian Williams
241
Posted 01/09/2017 at 17:50:00
Darren (#236).
When you say you're delighted not to have seen the last of Ross in a blue shirt, do you mean as in playing for the first team?
Tony Hill
242
Posted 01/09/2017 at 18:06:47
I share the same view about Barkley as Darren Hind. I know a proper Evertonian when I see one and Ross has it running right through him.
I have rarely felt as low as a supporter as I do today. I see a poor manager who has never truly absorbed the club's ethos and I am afraid I also see a controlling structure at the club which looks confused and incoherent – exemplified by Farhad Moshiri's latest strange appearance for Sky.
I pray that my gloom is misplaced.
Stan Schofield
243
Posted 01/09/2017 at 18:15:58
Jonathan@238: At least Levy and me.
Jim Wilson
244
Posted 01/09/2017 at 18:57:00
Well said Darren. Koeman is another Everton managerial nightmare. Instead of embracing the challenge of making Barkley a top player, he has done nothing but criticize and undermine his confidence.
And Koeman's one and only tactic so far is – Difficult game, play an extra central defender.
Incompetent, thick and pig-headed. Get rid!
Tony Abrahams
245
Posted 01/09/2017 at 19:09:56
I don't think Barkley, has lead Chelsea, down the garden path, especially if it's true that Everton, wouldn't speak to Spurs, and therefore were effectively blocking the players path to join them.
Agree with most of what Christine said, because the minute Koeman, said Barkley, will either sign or be sold, has obviously cost Everton, millions of pounds?
But why wouldn't Everton, deal with Spurs, who had all summer to come and try to sign Barkley? Probably because they knew what Tottenham's ploy was, and also probably knew that Barkley, had been told to just sit and wait, especially since he his injured anyway.
Chelsea, came with a bigger bid, and its threw the plan right out of the window, and probably left Ross, thinking that Spurs didn't want him that much after all this time?
Maybe it would have been different if he was fit, but he must have looked at Oxlaide the day before who said he would just play out the remainder of his contract, unless Liverpool, wanted to sign him, which they promptly did?
Was Chamberlin, a little fucker, for being honest, and eventually making Arsenal, loads of money, and Barkley the dignified one for saying nothing?
It obviously depends on which way people want to judge things, but either way it doesn't look like Moshiri, wanted to give Koeman, anymore money to spend and considering we would have broke even, if Barkley and Niasse had left, then maybe he hasn't been that impressed with the manager signing three number ten's?
Ed Fitzgerald
246
Posted 01/09/2017 at 19:26:29
Another victory for Koeman's interpersonal skills. I suppose when you consistently slag off one of your few truly talented players and keep giving issuing pointless ultimatums its eventually going to bite you on the arse.
Whatever is his detractors might say the fact that both Spurs and Chelsea want to take Barkley gives you an indication he is highly rated. I would love him to stay, Barkley I mean. I would love to be wrong about Koeman but I would be amazed if he is in charge at the start of next season.
Brian Harrison
248
Posted 01/09/2017 at 19:42:58
Darren
Whether Koeman is or isn't a good manager, time will tell, but, when a player is coming to his final year and refuses to sign a new contract, what are the club supposed to do. To be honest I think your agenda is clear anytime you can put the boot into Koeman you do.
I actually don't see this wonderful player that you think Barkley is and neither does the present England manager or his two predecessors. Now you will probably say you don't rate them or their opinions, but why would they leave out such a talented player.
I have no idea why he didn't sign for Chelsea but Everton agreed the fee and he and his agent agreed personal terms before travelling down to Chelsea. But maybe he is indecisive off the pitch as he is on it.
Finally, to put this into perspective, when I heard Catterick was selling Bobby Collins to Leeds and Alan Ball to Arsenal they were a great loss to our club. Selling Ross isn't in the same stratosphere as losing Collins and Ball who were great players.
Josh Barber
249
Posted 01/09/2017 at 19:45:20
If it was all about Barkley looking out for #1, why the hell did he travel to Chelsea for a medical and bail at the last possible moment of the transfer window? You think that is only looking out for yourself? No...it's trying to sabotage the club's chances of getting a replacement.
Even if he had refused all offers/contracts from day 1 he would still be getting paid by Everton so outcome would be the same from his POV.
Martin Mason
250
Posted 01/09/2017 at 19:53:03
Brian, both Collins and Bally were at or past their best when they left. Ross hasn't had the chance to reach his best. He still has the potential to become a great player as shown by the clubs who finished 1st and 2nd year wanting to see if they could be the ones to unlock it. It could still be us.
Andy Crooks
251
Posted 01/09/2017 at 19:56:21
Darren, Koeman out is not going to happen soon. However, I am not so entrenched in my views that I cannot consider you make some good points.
I thought that Christmas would be the time to reflect. The Chelsea game, which for me was a turning point (fear, defeatism, negativity), suggests to me that by the end of October we will know. I just want a sign that things are getting better.
Colin Glassar
252
Posted 01/09/2017 at 19:59:57
Bally past his best, Martin? He was brilliant for Arsenal.
Raymond Fox
253
Posted 01/09/2017 at 20:04:04
If Roberto did indeed lose the dressing room, how long before Koeman does!
Not long I would say, there's probably rumblings going on already. I'm all for a boss being a boss, but calling players out in public does no one any good.
As far as Ross not signing his new contract is concerned, what if its a crap contract is he still expected to sign it regardless?
Josh Barber
254
Posted 01/09/2017 at 20:36:16
They didn't offer him a crap contract. Stop making up fairy tales.
John G Davies
255
Posted 01/09/2017 at 20:45:11
Darren 236,
You said it as well?
Still a stupid statement.
Brian Williams
256
Posted 01/09/2017 at 20:51:16
Talking of crap. Anyone watching the Dulux giving up it's moisture that is England?
Martin Mason
257
Posted 01/09/2017 at 20:57:17
Darren
Please remember that your comments on Barkley are dictated by your hatred for Koeman
Brian Williams
258
Posted 01/09/2017 at 20:57:34
*Thinks*
They must be, and have nodded off!
Will Mabon
259
Posted 01/09/2017 at 20:58:10
"
They didn't offer him a crap contract. Stop making up fairy tales.
"
Would you post your copy of the contract offer please, Josh, so that we can decide using the same information you have?
John G Davies
260
Posted 01/09/2017 at 20:59:21
Lighten up. It could be worse.
Think back to the days we had Carlo Gnash in goal.
Will Mabon
261
Posted 01/09/2017 at 20:59:59
"
Talking of crap. Anyone watching the Dulux giving up it's moisture that is England?
"
Brian - no way. Isn't that sad? At one time, you couldn't have dragged me away from it.
Brian Williams
262
Posted 01/09/2017 at 21:01:34
Carlo Gash maybe!
James Stewart
263
Posted 01/09/2017 at 21:03:18
No Brian but I did see the u21's. Kenny, Lookman and DCL were excellent. Lookman was a constant menace playing down the right wing with Kenny.
These lads need more chances for us, I'm sick of seeing the likes of Lennon and Mirallas wasting everyone's time. They should have been cut loose.
Brian Williams
264
Posted 01/09/2017 at 21:04:26
Yeh Will it IS sad. I'm the same but there's nowt on TV, but it IS total and absolute dross!
Brian Williams
265
Posted 01/09/2017 at 21:05:25
I saw that DCL had scored the first, good lad.
Anthony Hughes
266
Posted 01/09/2017 at 21:08:13
Struggling to sit through it Brian. Turgid shite. Two defensive midfielders against a bunch of nobodies..
James Stewart
267
Posted 01/09/2017 at 21:09:25
It was a good finish set up by Lookman.
Brian Williams
268
Posted 01/09/2017 at 21:09:49
Now where have I seen that before??? ;-)
James Stewart
269
Posted 01/09/2017 at 21:15:13
https://www.dailymotion.com/video/x5z2vle DCL goal for anyone that wants to see it
Will Mabon
270
Posted 01/09/2017 at 21:21:55
Thanks James. That I did watch. Could do with a bit of that for the Blues.
Dermot Byrne
271
Posted 01/09/2017 at 21:26:30
Me too...all good practice
James Stewart
272
Posted 01/09/2017 at 21:28:10
No probs Will. Definitely, reminded me of a Lukaku type finish.
Jay Woods
273
Posted 01/09/2017 at 21:32:39
I have long considered Barkley to be as thick as two planks, largely going by general impressions of his on-field decision-making and lack of growth as a player, but also from his capers at nightclubs and now the Chelsea medical U-turn.
That said, Koeman should never have humiliated him publicly the way he did over his form.
Tony Hill
274
Posted 01/09/2017 at 21:34:06
DCL reminds me of Lineker (though he has Sharpy's aerial reach) in the way he's developing himself by force of will and intelligence despite a lack of natural touch and talent on the ground. Nice if he has a fraction of the finishing ability in due course.
Lookman will be a major asset. I'd be looking to make a number 10 of him.
Thanks for the link.
Jackie Barry
275
Posted 01/09/2017 at 21:53:50
Lookman and DCL can form one hell of a partnership if given the chance.
James Stewart
276
Posted 01/09/2017 at 21:54:08
I agree Tony, Lookman looks best as a support striker or no.10 where he can cause the most damage.
Derek Thomas
277
Posted 01/09/2017 at 22:01:47
Martin Mason; That 'Past it' player was footballer of the years 3 years after he left us.
Stephen Brown
278
Posted 01/09/2017 at 22:10:57
Transfer deadline day, Drink driving, Barkley, Niasse, Moshiri, Kenwright, net spend, lack of pace, no stadium news, Jim white interviews!!
Never thought I'd ever do this but I'm having a few days off ToffeeWeb, twitter, googling Everton!!
Beat Spurs next week please!! Cheer us all up
Dave Abrahams
279
Posted 01/09/2017 at 22:49:28
Martin Mason (#250),
It's not often you are right but I'm sorry you are wrong again. Alan Ball still had years left in him when he was sold to Arsenal, he won a World Cup medal when he was 21. I am one of many still waiting for Ross to realise his potential, he's 24 next month.
Harry Catterick thought Bobby Collins had seen his best days, was getting a great deal off Leeds, turned out he (Catterick) was wrong.
Ball and Collins were ultra professional footballers with outstanding football skills, leaders who made other players play, could tackle and fight, both hated to lose, would give their all for 90 minutes. Do these two players in any shape or form remind you of Ross Barkley?
I still don't know if Koeman can make Everton become a very good team, and I don't know if Ross is ever going to realise his potential. I've been waiting nearly six years now, but I would be very surprised if he did. I don't know anything about the ins and outs of this transfer but I do not think Ross is the little boy lost that some fans are making him out to be.
We might learn more about Ross in the future, time will tell.
Christy Ring
280
Posted 01/09/2017 at 23:11:29
Dave (#279), I have to say, regarding Ball and Collins, you know the Toffees, and I know you remember Tommy Ring.
Andrew James
281
Posted 02/09/2017 at 00:33:05
Dave Abrahams
I was born during the Latchford era so I never saw Alan Ball but my impression of him RIP is that he was a narky little fighter with drive and skill.
Barkley has drive and skill and you might say is more mercurial than Ball but he doesn't have that will to win or the fight.
The only players since the 80s who I've seen who could be compared for such attributes are Rooney first time round and Cahill.
Oh to have those three up front now!
Darren Hind
282
Posted 02/09/2017 at 03:51:38
Brian Harrison @248,
I thought I was always clear about this. My "agenda" isn't hidden or disguised. I want Koeman gone.
I think you have made up an argument you think you have the answer to rather than one I put forward. Barkley is no Alan Ball, I never said he was. I said the other night that he would not get into any of our title winning teams.
The guy is inconsistent, often poor, but he is one of the few players to wear a blue shirt over the past decade who is capable of getting you out of your seat.
These are dark times for old school like me. Lovers of the beautiful game. Yeah, I like to win, of course I do, but if you cant challenge for honours, winning ceases to be the be all and end all. even less so when there is no real danger of being relegated.
We're the Limbo club, have been for some time. I can accept that. Through no fault of anybody currently employed by the club, we missed the starting gun when sky altered footballs greatest race and we don't have the necessary financial backing to make up the lost ground.
What I cannot accept is the way we play. There is no reason/excuse I can give any credence to. Its completely and utterly unfor-fuckin-giveable. A disgrace to the legacy left by people like Ball, Kendall and Harvey, Collins, Catterick, Young, Vernon, Sheedy...
NSNO is a noble motto, but not one we can afford to adhere to these days.
"The peoples club" was fun for a few days when it was annoying the fuck out of Kopites, but it wasn't long before the joke was on us.
Everton FC is more than a football club. Its an institution. One of the oldest and (for me at least) definitely the finest in the world. We've played more top flight football than all of them. NOBODY compares. We were kings! That statement may have been mocked on here by those who do not understand, but as the saying goes... They don't matter.
My heart used to burst when people referred to us as the School of Science. For anybody not old enough for that to register, we were football's Sultans of Swing. We didn't always win honours, but nobody strutted their stuff like we did.
What the fuck happened to that philosophy? Why do we have so many people accepting, embracing and excusing zombie football if the best we can hope for is a 7/8th placed finish?
Ross Barkley is more than an inconsistent modern day player. He may not be top notch, but represents our links to our SoS past. Yes he has flaws in his game, but give me a player with imagination trying to create, over one of Koeman's wannabe destroyers all day long.
The self-proclaimed "positives" on here need to have a word with themselves. This game is meant to be enjoyed. There is a beauty and a joy to it.
When Ross Barkley left half the Newcastle team sitting on their arses, he was creating a memory. A memory that will live a sight longer than a thousand tackles from Morgan Schneiderlin or Idrissa Gueye. Longer than a million hoofs from Jagielka or Williams.
If you don't have a place in your heart for Ross Barkley, You may as well start collecting stamps or trainspotting. This footy lark clearly isn't for you
Steve Brown
283
Posted 02/09/2017 at 05:40:37
I don't have a place in my heart for Ross Barkley. We should be as objective about assessing his attitude and ability as he has been in deciding his interests lie elsewhere. And see the plain truth in his calculation that the smaller the fee Everton get for him, the more money he and his agent will get when a move finally happens.
Seeing Barkley mentioned in the same sentence as Bobby Collins and Alan Ball, never mind compared to them, almost made me spill my tea! It is truly modern game, when achieved nothing footballers like Ross are talked about in the same breath as great players like Bobby and Bally. Barkley did cost us –35 million because that is the offer that has on the table, subject to medical, from Chelsea. I am convinced he has been told by Spurs to sit tight until January, but either way the decision not to join the champions speaks volumes about how he sees himself (and we should see him) as a player.
Barkley knows that he does not have the ability to break into the Chelsea team and that he might play more for Spurs. Now we are stuck paying for his recuperation and feeding his greedy self-interest until January or even July. I can just about stomach that until he gets mentioned alongside a Goodison great like Alan Ball.
And Darren Hind, I read your posts as they offer a different perspective and this site is all about stimulating debates about the thing we all love – Everton FC. But you are becoming the pub bore of ToffeeWeb who gets nasty after three pints – show more respect to fellow blues who don't agree with you or change your local.
Ian Hollingworth
284
Posted 02/09/2017 at 06:56:01
It's funny how we seem to turn players who have left or about to leave in Barkleys case into much better players than they actually were.
Unfortunately Ross rarely turned in the performances we hoped for. Let's face it we wanted our own home grown superstar who would be instrumental in winning us games.
It seems his legacy will be posts on here of how great we perceived him to be.
That said I am with Darren regarding performances and I just want to see them at least try to be offensive.
Sadly Ross is not the answer.
Ajay Gopal
285
Posted 02/09/2017 at 07:08:21
Christine (#231) – you exactly put into words what I have been meaning to post for the last week!
Koeman has damaged Everton financially – in these days of crazy transfer prices, assuming that he wanted to get rid (and the club supported him) of Niasse, Barkley and Mirallas, the least he could have done was not to slate them. That in itself is a sackable offence.
Hopefully, he can motivate the rest of the group and get them to play out of their skins and help him save his skin. We were the 4th highest spenders in the league. With Arsenal in turmoil, and Chelsea also wobbling (not on the field so far though), the least Moshiri should expect from Koeman is a 6th place finish and a decent Cup run in at least one of FA Cup, Premier League or Europa League (semi-final at least). Anything less and it would be best to part ways next May.
Martinez was sacked for finishing 11th and reaching the semi-finals of both the FA and League Cups (losing both to the eventual winners).
Ian Hollingworth
286
Posted 02/09/2017 at 07:12:36
When claiming Barkley's ability based on the teams who are after him, we should remember how many players are bought by these clubs but hardly play or make little impact etc. The list is quite big and includes our very own Jack Rodwell.

John Codling
287
Posted 02/09/2017 at 07:47:10
How the years dull the brain, to even mention Barkley in the same breath as Ball & Collins beggars belief. 24 years of age and we are still using the word 'potential' do me a fucking favor: caught in possession, no awareness, no pace.
It's like the arguments about who is the best player Messi or Pele, all of the Messi advocates never saw the Black Diamond play, and fail to realize that Peli played on what can only be described as a farmers field compared to the snooker table surfaces of today.
I forgot Pele was also getting the fucking shit kicked out of him at the same time. Look at Messi sideways and it's a foul. Forget Ball & Collins – what about Tony Kay, Jimmy Gabrial, Johnny Morrisey, Roy Vernon, the list goes on of players who actually realized their potential.
Ross is still getting away with mediocrity under the guise of 'potential'.
Chris Leyland
288
Posted 02/09/2017 at 08:10:57
Darren, you mention that Barkley's goal against Newcastle will live a sight longer than one of Jagielka's hoofs.
I tell you what: Jagielka's last-minute 'hoof' at Anfield a few years ago will live a hell of a lot longer in my memory and gave me more joy than anything that Barkley has ever or will now ever do for Everton.
Darren Hind
289
Posted 02/09/2017 at 08:12:31
Steve Brown,
By persisting with the ridiculous strawman argument, You expose the feebleness of your argument.
The only people who are comparing Barkley to all time greats are you and Brian Harrison... wonder why that is?
You have no clue what went on at Chelsea and you are making wild assumptions about what you want to believe happened at Spurs.
You may want to read your post again. You then go on to claim Barkley doesn't believe he is good enough... even though the club was prepared to pay a fortune for him.
Your conclusions are not even based on things that have happened. They are simply wild unsubstantiated allegation. That isn't expressing an alternative view. It's nonsense which makes no sense at all... which makes you boring before you've even had a bevy.
Simple tip for You and anyone else who cant stand Barkley being mentioned in the same breath as Ball.. . Stop doing it!
Trevor Peers
290
Posted 02/09/2017 at 08:27:13
Barkley, now seemingly frozen out at Everton, could decide to join the RS when his contract runs out. One of the reasons Oxlade-Chamberlain joined them is because he likes Klopp's warm man-management style.
It's now a possibility and I don't think Barkley would think twice if he was approached by the dark side next summer.
Andy Meighan
291
Posted 02/09/2017 at 08:31:23
Darren, You'd never bore me in the pub; I agree with every word you say. The man is stifling the life out of me.
Talking to fans of other clubs on holiday a few weeks back and I'd say nearly all of them thought we'd made good signings this window. Might turn out to be true...
The reality is Koeman is tactically brain dead. "Square pegs, round holes" I think the phrase is – witness his suicidal team selection on April 1st this year. Disgraceful. He's failed to address issues even the simplest of fans can see. I won't go into it but you know where I'm coming from.
No, sorry – call Darren all you want but the truth is he's 100% right .
Robert Workman
292
Posted 02/09/2017 at 08:34:20
I have read many of these posts and do not understand this link between Barkley and Spurs. As far as I know only Chelsea, not Spurs, made an offer for the player. It was agreed between both clubs, only for Barkley to change his mind – which assumes that he was seriously considering a move to Chelsea.
So where do these assumptions about Barkley moving to Spurs in January or next summer come from? Is it known that the reason Barkley changed his mind was because Spurs contacted him. If they did so, why didn't Spurs make a formal offer? They could have lost him. I have read many times that Barkley was "tapped up" by Spurs – the club that made no offer. If so, why did he even start the process with Chelsea?
Having written all this down, I feel even more confused!
Paul Tran
293
Posted 02/09/2017 at 08:56:23
Devaluing players? That's the funniest one I've heard in ages.
How about you record his next press conference? Play the recording backwards and let me know what evil message comes out.
Dave Abrahams
294
Posted 02/09/2017 at 09:19:27
I agree about the very good goals Barkley has scored. I got off my seat and roared my appreciation, he can make you do that.
I have also got off my seat when he lost the ball after three or four turns backwards and sideways, getting nowhere, then running after the opponent who took the ball off him for 3 or 4 yards, then giving up; he does the latter a lot more than the former and he sickens me with that attitude.
Like Darren, I love beautiful football and Ross can play it now and again. If I was a scout for a top club, I would give Ross the thumbs down to any club I was representing.
Chris Gould
295
Posted 02/09/2017 at 09:22:39
Darren (#282),
As is often the case with your posts, you made me pause for thought. I understand your desire for entertaining football and your belief that, with little chance of making top 4 or getting relegated, why not play expansive, exciting football?
You know the reason, Darren. It's a results business first and foremost, and Koeman will set us up to win at home and be hard to beat away. If this team get their shit together and we stumble upon a formation and lineup that gels, then you may get your entertainment. But, while waiting for that to happen, you'll have to settle for solidity at the back and confused/lacklustre forward play.
I still have faith that we will find the right blend before too long.
Ian Bennett
296
Posted 02/09/2017 at 09:33:31
It's all guesses until someone spills. But he:-
A) could stay and sign a new deal. Judging by Moshiri's tone on Sky Sports News, this is not happening.
B) He's agreed a deal with Chelsea, and this is an elaborate way to land a discount or larger signing-on fee whilst injured. Seems unlikely, Chelsea are struggling to get deals over the line, so deliberate sabotage seems unlikely.
C) The lad doesn't know what he wants and needs thinking time. Seems unlikely, he's had plenty of time to think over his future. Footballers think of nothing else.
D) The deal was never quite at that stage. Again unlikely Everton would do this, unlikely but not impossible.
E) He's going to wait till the end of his deal and look at best offers on the table. A mega club might surprise and take him for nothing, and then pump him on. I think this is what is happening. He doesn't need to do anything yet.
F) He's going to Spurs. A deal behind the scenes has been cooked. Seems plausible. Plenty of noise that he's going to Spurs to join his England chums, and is a ready-made replacement or partner for Alli. Levy loves screwing clubs over, and a discount could solve the wage issue with a decent signing-on fee.
So time will tell. All a bit of a mess with holes in the team, and three unwanted players in Mirallas, Niasse and Barkley falling in worth when the cash is needed elsewhere – £50m.
Paul Tran
298
Posted 02/09/2017 at 09:40:53
Trevor, is that the same Klopp who sent a player home from a pre-season tour because of his attitude, the one who regularly publically questioned Sturridge's fitness/attitude?
The difference Is, I'd suggest Klopp was right on both fronts. But no-one has a pop at nice Jurgen, do they?
My hunch Is that Klopp is much better at communicating his tactics and plans than Koeman will ever be. I've also been told that he's one absolute tough bugger who will not tolerate any crap from anyone.
Players and managers have always clicked/clashed. The true professionals rise above it or move on. Selectively quoting players doesn't cut any ice with me.
Don Alexander
299
Posted 02/09/2017 at 09:54:22
Darren "The Optimist" Hind (#282) would accept defeats providing we play sublime football in the process. Hmmm.
I wonder what Catterick and Kendall would have said about that, never mind Bally or Reid?
Trevor Peers
300
Posted 02/09/2017 at 10:24:21
Paul, my point was Barkley is such a loose cannon he could end up at the RS if they want him.
All top managers are utterly ruthless – something Ross has to learn... I bet Pochettino is no push-over either.
Jim Wilson
301
Posted 02/09/2017 at 10:43:05
I totally agree with you, Trevor. I can see Barkley going to Liverpool and haunting us for years, it has 'nap' written all over it. You can see Koeman jumping at the idea.
Get Ross signed up, Moshiri, and then bring in a manager who has the right ethos for Everton.
Geoff Evans
302
Posted 02/09/2017 at 10:48:16
Still on the payroll then, biggest disappointment of transfer window for me.
Martin Mason
303
Posted 02/09/2017 at 11:02:34
Dave @279,
I saw nearly every game that Ball played for Everton and for me he reached his peak in the 1970 title-winning season. His form dipped badly, as Everton's did, from the start of the following season to when he left.
He never reproduced his best Everton form for Arsenal. He was once an absolute genius and later became just a hard-working midfielder.
I stand by my comment.
Ian Jones
304
Posted 02/09/2017 at 11:17:06
I am not sure if Ross would be frozen out. In the interview when Ronald Koeman was asked by a reporter if Ross would be sold, our manager also indicated that if Ross was still at the club Everton would be respectful. I am sure that will be the case...
Ian Jones
305
Posted 02/09/2017 at 11:27:31
Further to my post above, the respectful comment was used in the following way
"He has one more year on his contract and we work with respectful people. And after his surgery, if he is back for training, he will be part of the first-team sessions."
May have interpreted it incorrectly at the time wonder if he feels Ross is being respectful..
Raymond Fox
306
Posted 02/09/2017 at 11:42:21
Steve 283, rather a lot of large assumptions there...
Truth is. none of us know what Ross wants.
My guess is his first choice is to play for Everton but under a different manager – not going to happen in next 3 months.
Failing that, a better contract offer under Koeman in January.
Third choice: a forced move to another top club.

Paul Tran
307
Posted 02/09/2017 at 11:47:47
I can't see him going there, Trevor. You've got to be one very thick-skinned man to do that and I don't think he's that man.
Trevor Peers
308
Posted 02/09/2017 at 11:59:36
My missus agrees with you, Paul, haha, but I worry about Barkley's frame of mind and, after the events of this week, anything is possible.
Tony Abrahams
309
Posted 02/09/2017 at 12:08:10
Darren @282, when you wrote about your Everton, I was ready to award it post of the year. I agreed with every single sentiment, especially the bit about how football should be played.
Sultans of Swing – brilliant... but when you get Harry as your owner then no wonder the cracks set in!
Back to Barkley: no, better still, fuck Barkley. Let the kid get fit, and then we will see what's going to happen!
Jim Knightley
310
Posted 02/09/2017 at 12:25:38
Re. Darren's comment on our style. I think the issue with Koeman's inherently defensive style, much like Mourinho's, is that it is tedious in big games and tedious when we are not in full flow. In the second half of the season we did play some nice football – I'm hoping that the acquisition of some talented ball players will help in that respect. The game against Man City was a good example from last season.
In Koeman, we didn't bring in a manager to play nice football. I think we brought him in because the Martinez reign was so unsuccessful. We were dour under Moyes but we didn't under-achieve. If anything, in view of the years before and money spent, we over-achieved. After his first year, Martinez under-achieved for two with bottom half finishes. I think in Koeman we knew we were getting a manager who would stabilise us and get European football. I'm hopeful he will get us a cup too.
But I understand the style issue. I would have loved Eddie Howe. I understand that it wasn't perhaps the best time to appoint him, but he has shown an incredible tactical versatility. His side play with attacking positivity and are great to watch.
If Koeman did leave at some point then the would be the replacement I'd want. As I've said before, I think we have a bright future and it will be built upon the youth acquisitions made in the last two years and beyond. Big talents have come in and no-one has been impressive in those acquisitions in the league since Walsh came in. A young attacking manager would be in line with that versatility.
But I would cut Koeman some slack too. It is too early to judge him this season and he did get us Goodison back last season and European football. He deserves time and a little patience to bed in a lot of players. He proved tactically versatile with the Saints, and was the first manager to switch between wing backs and full backs so fluidly. I think he is a progressive manager, in some respects at least, and hopefully we can see that over the course of this season.
Tony Abrahams
311
Posted 02/09/2017 at 12:38:41
Some good points Jim, it is now time for Koeman, to show us what he plans to do with his squad.
Maybe the club, haven't got as much money, as we were lead to believe? Or maybe the owner has sat back and thought about letting Kioeman, show him what he plans to do with the players, he's now got?
Kunal Desai
312
Posted 02/09/2017 at 12:42:48
This has actually come back to bite Koeman on his ass. He slated him publicly about his performance last season and also made public he either signs a contract or the club sell him. Why? Why not keep all of this in house, at the very least tell the public we will sit down end of the season and see what happens.
I don't believe he had any intention of signing for Chelsea, he's taken it as far as he could with this potential deal and turned around at the last minute and thought "Naa fuck it, I will hang around the club for another few months and screw the club out of receiving a big fee."
Then in January, Everton get very little and Barkley gets an increased salary due to the reduction in fee. I would bet on it that Daniel Levy has had some input in this whole episode, quietly rubbing his hands knowing he'll get a player for next to nothing.
Colin Glassar
313
Posted 02/09/2017 at 12:52:06
Absolutley Kunai, no one to blame here but the club for its tardiness and ineptitude. The same goes for Niasse and the way he's been handled.
Paul Tran
314
Posted 02/09/2017 at 12:57:00
Trevor # 308, good to know that, as in our house, it's your wife that has the brains!
Jim #310, completely agree with that post. Within Moshiri's TV rant I picked up a message to Koeman, 'We've got you several players, get them together and do your job.'
Quite right too!
Ernie Baywood
315
Posted 02/09/2017 at 13:16:20
Well he's finally spoken. The thing about someone who doesn't speak much is that you're inclined to listen when he eventually does talk (or tweet).
Tony Hill
316
Posted 02/09/2017 at 13:22:54
The simple point remains that we have no effective attack. That is astonishing and we will pay an obvious price. Whether the buck stops with our money man (who speaks on Sky in footballing terms) or with Koeman & Walsh, or any combination, there is no way around the sad fact.
Tom Bowers
317
Posted 02/09/2017 at 13:25:41
Who knows what Moyes may have achieved if he had Moshiri to lay down the cash? Cynics will say, okay, he had it at Man Utd and failed but just sometimes it's a case of being in the right place at the right time.
Many impatient fans are now lambasting Koeman after one full season and 3 games which is totally unfair. Let's at least get to Christmas and see what's transpired.
Barkley's situation is galling and the lad himself may be the problem not Koeman or the club. If he has a problem with Koeman then what's to say he wouldn't have a problem with Conte or Pocchetino?
He has not stepped up when needed and has become a very inconsistent sort even playing as an offensive player. With him having a serious injury at present it's hard to see what the future holds for him but it doesn't appear to be at Goodison. He has a lot of talent and I am sure he will hit the highlight reels more than once but I cannot see him being anything better than he has been so far.
Mike Gwyer
318
Posted 02/09/2017 at 14:22:01
You feel a sense of pride when a fellow blue wants a return to what Everton used to serve up to the Goodison faithful and I'm sure Darren has seen many Everton games that the likes of Chelsea and Man City are now paying 100s of millions to emulate.
I can assure Darren that every Blue wants to watch Everton take the piss out of teams at Goodison, literally have teams begging for the final whistle. Well, that's not happening any time soon.
It's now obvious to all concerned; whether they pull on the blue jersey, sit in the stands at Goodison or swill whiskey in our board room. Big changes are coming. Will Koeman walk? Fuck knows... but he's a stubborn twat so that's possible. Barkley is definitely gone under the present management so it's either roll on January when he can just fuck off or the board replace Koeman. We can argue our arses off about Koeman and Barkley till the moon turns blue, but right now, this great club has 4 months to play before January and unbelievably we have NO striker. That's right; no Number 9.
We have Spurs and United coming up and cup games in between. For me it's almost a certainty that Calvert-Lewin plays up top against Spurs so my heart goes out to the kid, he will have 38,000 fans cheering him at Goodison and hundreds of thousands tuning in from all around the globe. No pressure there then.
Barkley, I couldn't give a fuck about anymore. For me Koeman is probably wondering what the shit has happened as his position at Everton seems to be going rapidly pear-shaped and I feel losses against Spurs and Man Utd will see him walk. That should resolve a shed load of arguments on TW.
William Cartwright
319
Posted 02/09/2017 at 14:31:52
ToffeeWebbers should not underestimate the influence their views have on the psyche of the Club management. They are not and never would be dismissive of the fans' views. They may not like many of them, and at times they may dance around the issues and make politically correct responses instead of opening up all the facts, and that's called business.
However, the collective concerns regarding Koeman's lack of playing style, and his frustration at not 'getting everything he wanted for Christmas', will all be noted on the performance balance sheet.
I expect to see a stronger approach to performances once we are through the nightmare start. Qualifying for the Europa League group stages was crucial. It has been achieved. A point, nearly three at City was creditable. Chelsea was embarrassing, Shit happens. 3 - 4 points in the Spuds and Manure games would be very positive and we can build on that.
Comparing the perceived lack of ambition to the 60s, 70s and 80s is nuts. The game and the terms of reference surrounding Division 1 in those days have been totally eclipsed by the 'new money' and the Bosman heritage in the Premier league. As Darren said, we missed the premier league bus when it set off and have been playing catch up ever since. Man City's investment, and the time it has taken, all without the need for a new stadium has been far away and above what we can manage. Moshiri is I understand a self-made businessman not a Sheikhdom. Champions League footy in the 3 -4 years still looks possible, if not probable, and that is a massive surge forward in our expectations.
What is disappointing, and I hope it is a short-term thing, is the lack of nous being shown by our manager, from time to time, both on the field and off. I simply cannot get my head around some of his team selections or substitutions, and his public statements surrounding the Mirallas, and Barkley situations, especially from a club notoriously private in their dealings. He is behaving frankly like a real dumb ass from a business perspective. This together with a continuation of the negative footy may be his undoing.
I still think we need to be patient as we have made more strides than we would have done without Moshiri. Clearing the debt, bringing the new stadium into the spotlight, back into Europe, replacing and improving almost all the first team squad, having the best approach to developing youth in the Premier League are all positives.
Strange that Koeman's public pressure to bring in Schneiderlin prompted action from the board, but that his comments about the need for a striker and left sided defender did not produce the goods. Possibly just a proverbial cock-up behind the scenes, but let's wait and see what unfolds between now and Christmas.
Dave Abrahams
320
Posted 02/09/2017 at 14:34:40
Martin (#303), fair enough, you think Alan Ball was never the same player after he left Everton; opinions are what makes the world go round.
Consider this though: Ball was the first player to play 100 games for four top class clubs, including playing nearly 200 games for both Arsenal and Southampton after he left Everton, played for England for five years after he left Everton. At Arsenal he suffered a broken leg and another injury which left him sidelined for many months.
We will just have to stick to our own opinions Martin.
Jay Harris
321
Posted 02/09/2017 at 14:50:04
Where is all this talk of Koeman walking coming from?
To put it in perspective, in the space of 7 days we've played the Champions, Champions elect (according to many) and a Europa cup tie all away from home with creditable results (even at Chelsea where we were spanked 5-0 last season despite the mighty Lukaku and Barkley playing).
It doesn't take much to see the team is much more organized now and yes its not pretty and some of the selections are questionable but form follows function and the 80s side were not pretty to watch early days.
We need to be patient and give the man a chance to do it his way.

John Pierce
323
Posted 02/09/2017 at 15:10:50
In a funny way part of me is amused that Koeman hasn't got what he wanted.
Following his ultimatum, Ross is still here to provide copy for journalists, an absolute fail for the manager's style in my view.
He hasn't got the players he wanted. Boo hoo.
Whilst he might, but his supporters certainly will, use this as a reason for the club's stalled project I see it as a likely further insight to his inept tactical judgement.
Namely with several attacking pieces in his squad, can he 'mastermind' a style to complement that?
Sure we have no proven centre forward but surely he has enough attacking players in the squad to mitigate that? He is after all a world class coach, a tactical genius etc. These are paraphrased views expressed on these pages.
I would suggest that Sigurdsson may end up playing centre-forward, along side or alternately with Calvert-Lewin as the load tells on the youngster?
But would you give the fella money in January for a centre forward? No point if we are mid-table. Time has all but ran out for Koeman unless he changes a habit of a life time.
And for those espousing his defensive nature and comparing him to a Conte or a Mourinho. He is neither nor has players good enough to play that way.
James Hughes
324
Posted 02/09/2017 at 15:12:40
Hate to bring this up but by all accounts we only had one bid of £35m for Ross and that on the TDD. If he was that good we would have had clubs forming a line, that clearly didn't happen.
Don't get me wrong I hope he stays but he now needs to be the player he has always promised to be. In a football world where clubs are regularly paying £10m for a teenager, to get ONE bid for Ross with 150 games experience speaks volumes.
He has talent but no application or vision and is very rarely a game changer. That said, again I hope he stays.
He has turned down a new contract with us worth (allegedly) over £100,000 per week. I can't see him going to Spurs if Broadway Danny Rose's comments have any fact in them.
Very odd situation all round and no-one on here knows the real reasons behind this situation.
Martin Mason
325
Posted 02/09/2017 at 15:51:12
Dave @320. What I said was that, for me, he lost his real magic in the season after the 1970 Championship win – not when he joined Arsenal.
I think Everton doing badly in that season was due to loss of Ball's amazing form and teams like Arsenal going to 4-4-2 to put an extra man in midfield to counter players like Ball. I saw Bally play at all of his clubs, the best young player I ever saw and at Everton the most talented midfielder at the time in the world. His all-action long and short passing game was superb, and how about the value of over 15 goals a season?
I was sick when we sold him but I think at the time it was not bad business. When I saw him play for Arsenal, he wasn't a bad player but never the magician that he was at his best at Everton in the late 60s.
My Uncle was a Chief Superintendent in Liverpool at the time and there were rumours of lifestyle choices that may have affected his form and caused Everton to do the unthinkable. Catterick thought the world of him too.
Sorry Dave, I have no divine right to be correct but just something that I wouldn't get into an argument about. I'm sure that others have yet more differing opinions.
Michael Kenrick
326
Posted 02/09/2017 at 16:09:50
Jay (#321), that was in no way even remotely a
creditable result
at Chelsea.
It was a total abrogation off what we as fans of a great club should stand for. It was a despicable performance by all and a totally unacceptable result because there was at no point any attempt to play football.
Stop coming up with these shite excuses and instead hold this manager to a far higher standard that is befitting of this club and its history.
On topic, it would be great if there could be some rapprochement with Barkley but I fear the die seems firmly cast, which I think is a terrible shame for us.
Dave Williams
327
Posted 02/09/2017 at 16:28:15
Barkley is not fit to clean Bally's boots – such a huge gulf between them.
Ball was one of the best midfielders in the world between 1968-70 but was never the same after the Mexico World Cup. He reinvented himself from being an all-action player to probably the best one-touch player I have seen but his influence on a game reduced as he could no longer dictate a game as he used to.
Back to the present and Ron now has to show that he is a good manager. He has accumulated an unbalanced squad and, for whatever reason, has neglected to replace our top striker. To be honest, there were none out there I would have flung much money at anyway so let's see what he can do. He has spent a fortune regardless of how it found its way into our coffers and he now has to deliver or be seen to be incapable of doing so.
We need a winning team playing entertaining football – not too much to expect given his gross spend?
Martin Mason
328
Posted 02/09/2017 at 17:30:05
Dave@327
Yes, forgot about the 1970 WC. It was at that time his form seemed to go. What a player until then, possibly the most underrated ever but not by us who had the pleasure to see him at his best.
John G Davies
329
Posted 02/09/2017 at 17:35:09
Laughable to even mention Alan Ball and Ross in the same sentence
Unless it concluded with "one of them an all time great. A man of the match performance in a World Cup final at the age of 21.The other a nearly player (to date).
Martin Mason
330
Posted 02/09/2017 at 18:18:42
John, nobody would mention them in the same breath as equals. Ball was the complete player, Ross could be at some time but not yet.
Unlike Ross, Bally was the complete player when he was 18. My eyes go damp thinking back and looking at our current crop of superstars.
Tony Hill
331
Posted 02/09/2017 at 18:24:33
Yes the 1970 World cup took an edge away from Ball, as it did others. Unquestionably the best first time passer I have seen at our club (among many other attributes) and the very heart of the finest Everton side I have seen.
Ron Marr
332
Posted 02/09/2017 at 18:24:48
Alan Ball was the best player to ever kick a football - viewed thru my blue tinted glasses
Paul Tran
333
Posted 02/09/2017 at 18:43:49
Imagine, with the fitness levels in those days, how much a World Cup in Mexico would have taken out of an industrious player like Bally?
We were in Mexico City 20 years ago, it was so polluted I had to stop every so often to catch my breath - and that was just walking!
Stan Schofield
334
Posted 02/09/2017 at 21:32:17
I remember the Echo commenting about Ball after Mexico, wondering why his form had dipped, wondering whether his 'midfield dynamo' constant running would have knackered him in the heat and altitude of Mexico. Maybe these days it would be different, with all the sports science and awareness of the need to acclimatise to altitude and heat.
We got his 5 finest years, whilst paying £110,000 to Blackpool and receiving from £220,000 from Arsenal. But we should never have let him go. Even when he was not at his best, he was formidable, and the Ball, Harvey and Kendall trio was stopped prematurely.
The best season was 68-69. Every time my dad and me got home from the match, my mum would ask how we did, and my dad always seemed to say we were great. Every time.
But, I believe Everton handled Ball quite badly in 1971, as they had handled Alex Young quite badly prior to that. Forget about comparing Barkley with Ball. But be reminded that Everton is Everton Football Club Company Ltd, and Ross Barkley is a professional footballer first and an Evertonian second.
Dave Williams
335
Posted 03/09/2017 at 11:32:57
Stan, agreed the best season for pure football from the team and Bally in particular was 68-69. Alan was untouchable.
I was at school and my uncle had season tickets in the row behind where John Moores sat and I saw every home game for a few years. What I recall above anything else was the feeling going to the match that, regardless of who we were playing, provided Alan was in the team we had a very good chance of winning because he was so consistently brilliant and would drag the rest of the team along with him. It's what made his poor form after the World Cup so noticeable because he rarely if ever had a bad game before then.
There were, as we all know, rumours of financial problems (he makes no secret of that in his book) but he denied that this was the reason for his move. Most likely Catt saw the chance to double his money on a player who was in decline and he didn't see the potential in Bally reinventing himself with one-touch.
I had the absolute honour of meeting him not long before his tragic death and had half an hour with him just chatting about his time at Everton. His love for the club and the fans was very evident and he said how much he relished playing against the hard men at the time and the big clubs.
Very sadly missed and there is not a player around to hold a candle to him.
Martin Mason
336
Posted 08/09/2017 at 19:17:03
Correct, Dave, and Everton's form followed Bally's down. I hate the midfield dynamo tag. Ball was a superb footballer even compared to George Best. We were so lucky to see the 5 years that he had with us. We have no players now who would be fit to clean those white boots.
Tony Abrahams
337
Posted 08/09/2017 at 19:22:34
Never saw Ball, Martin, but surely Wayne Rooney has got to be one of the finest English players of all time?
John G Davies
338
Posted 08/09/2017 at 19:24:44
He is Tony.
But not as good as Bally.
Who's the Greatest of them all???
Add Your Comments
In order to post a comment, you need to be logged in as a registered user of the site.
Or Sign up as a ToffeeWeb Member — it's free, takes just a few minutes and will allow you to post your comments on articles and Talking Points submissions across the site.