Koeman gets infamous vote of confidence

568 Comments [Jump to last]
Monday 2 October 2017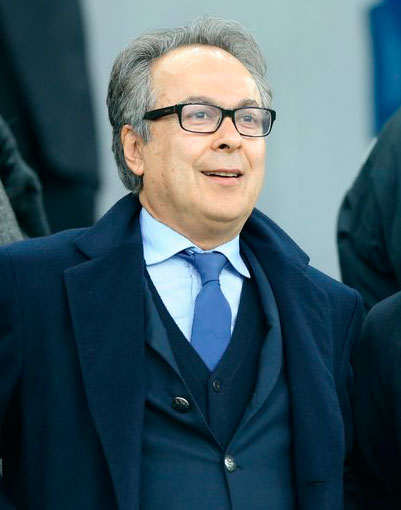 Farhad Moshiri appears to have again used Jim White as the conduit for a message to supporters where he gave his backing for Ronald Koeman
Everton's major shareholder, Farhad Moshiri, has apparently given his backing to Ronald Koeman as the manager struggles to turn around the team's poor start to the season.
The Blues were beaten 1-0 by Burnley at Goodison Park yesterday and were booed from the field by some of the home fans for the second time in three days following the 2-2 draw with Apollon Limassol in the Europa League.
Just two Premier League wins have left Everton in 16th place in the Premier League and increased the pressure on the manager following a significant outlay on players over the summer.
Sky Sports and talkSPORT presenter Jim White, who claims to have a close relationship with Moshiri and regularly passes on updates from the billionaire investor, has tweeted a quote purported to be from Moshiri.
In the message, Moshiri says that the Burnley match was the only match so far where a defeat was unexpected, arguing that Everton have faced four of the title contenders and are tired from having to play Europa League qualifying games.
Moshiri's statement, shared via the iOS notes app, said:
"We're in a bad moment. But we have played the 4 title contenders 3 away.

Today was the only unexpected loss. The 4 Pre qualifying UEFA games and 2 group games on Thursdays haven't helped. There is mental and physical fatigue and 7 injuries.

These are early days and Koeman has my total support. We have great fans and they deserve better. We know the honest and objective expectations of our supporters and will not let them down.
---
Reader Comments (568)
Note: the following content is not moderated or vetted by the site owners at the time of submission. Comments are the responsibility of the poster. Disclaimer
Phil Davies
1
Posted 02/10/2017 at 00:21:19
Just read this and felt if Koeman goes Walsh goes with him, then managed to read the article on Sky Sports News from Moshiri backing Koeman... gonna' be a long season.
Eugene Kearney
2
Posted 02/10/2017 at 06:34:11
So it's not all doom and gloom, then
Jay Woods
3
Posted 02/10/2017 at 06:48:44
Moshiri has proven himself an utter idiot almost every time he makes a public comment about the club.
Liam Reilly
4
Posted 02/10/2017 at 06:55:33
It's lie watching the end of Martinez's reign all over again, with the players completely bereft of confidence.
The defense is shocking, basic errors repeated game after game and Williams must be removed for his own good.
The midfielders are afraid of the ball and barring Niasse and Calvert-Lewin, no forward player wants he ball.
Hard to see how Koeman can fix that.
Will Mabon
5
Posted 02/10/2017 at 07:14:08
"
Hard to see how Koeman can fix that.
"
Maybe try the exact opposite of whatever he's done so far?
Winston Williamson
6
Posted 02/10/2017 at 07:28:23
This makes it all feel better now...we can look forward to the next game, because our fantastic board are full of confidence...
Maybe we can hold a little confidence party and celebrate.
Duncan McDine
7
Posted 02/10/2017 at 07:30:25
Liam, thats exactly right... we look like a team of losers. I was actually shocked at the lack of hostility towards Koeman from the stands yesterday. A few boos at the end didn't get across just how shite it was.
Jay is also spot on - I'll be at work today (knackered from the long drive home) cringing at what Talkshite has to say about Moshiri. We seem to have lost a lot of spirit in the team and in the stands since he turned up.
Paul Setter
8
Posted 02/10/2017 at 07:45:10
Moshiri is a fraud like the incompetent man who picks our team.
New stadium? My backside... The whole Everton FC is a laughing stock from top to the bottom.
Pat Waine
9
Posted 02/10/2017 at 07:46:33
Koeman never gave the impression that he was happy as an Everton manager always talking of Everton as something in the third person. It was never 'us', it was 'Everton' – something out there removed from him.
The 3-year contract tells a tale also. I think he should be told now to move on.
Kunal Desai
10
Posted 02/10/2017 at 07:54:03
At least its safe now to say we've had one clown running this club for 20 odd years and now we have another who has joined him.
People who have no ambition or vision of this club and are happy so long as we maintain Premier League status.
Ciarán McGlone
11
Posted 02/10/2017 at 07:56:36
The word "my" in that quote is interesting.
Will Mabon
12
Posted 02/10/2017 at 08:01:07
Winston, I've grown to hate the horribly overused C word in recent times, can't go an hour or two without hearing or reading it somewhere. Won't be attending your party!
Will Mabon
13
Posted 02/10/2017 at 08:02:15
Ciaran, yes, maybe so.
Mark Boulle
14
Posted 02/10/2017 at 08:05:33
I firmly believe we would impressive significantly with Davies in the team ahead of Sidewayserlin. One simple switch of personnel and you immediately have more forwards momentum.
I was delighted when we signed Morgan but it now looks like an expensive mistake. He certainly can't defend (sold himself horribly yesterday) and he doesn't appear to have a creative bone in his body going forwards.
Maybe not the solution to everything but I'm sure it would help.
Winston Williamson
15
Posted 02/10/2017 at 08:05:59
No Will, I'm giving it a swerve myself... there's a freshly painted wall here that I'd prefer to watch dry.
Paul Smith
16
Posted 02/10/2017 at 08:06:45
Cue the long derided Kenwright to come riding in last knockings & ditch the Dutchman, before him & Moshiri can consign us to the Championship. Couldn't happen could it?
Worrying times.
Mark Boulle
17
Posted 02/10/2017 at 08:06:49
I firmly believe we would impressive significantly with Davies in the team ahead of Sidewayserlin. One simple switch of personnel and you immediately have more forwards momentum.
I was delighted when we signed Morgan but it now looks like an expensive mistake. He certainly can't defend (sold himself horribly yesterday) and he doesn't appear to have a creative bone in his body going forwards.
Maybe not the solution to everything but I'm sure it would help.
Ed Curry
18
Posted 02/10/2017 at 08:09:32
As big Bag said: "When did we start playing walking football?"
We have been served rubbish and it's time to hide with our feet.
Paul A Smith
19
Posted 02/10/2017 at 08:28:35
While grown men were giving their energy to Kenwright rumours and hearsay ,the team around us has been stripped to a lower standard.
Harry Redknapp was keeping Spurs above the relegation zone. Since the Kenwright campaign started, Spurs have left us for dead while the richer version of Kenwright came into the club to the tune of some gut-wrenching cringey comments from new believers.
The team and the atmosphere keep falling below standard and the new man thinks a Jim White chat will lift spirits. Hype and rumour has divided the fanbase for a while now and it'whole, reading from the same page.
Ambition from fans is important and while getting caught up in rumours and trendy statements the club has fooled you into thinking Man Utd sell us class players and take lazy players from us.
We deserve a big slap.
Steve Bingham
20
Posted 02/10/2017 at 08:31:13
The question is who would you all want as his replacement? Which manager would come in and make us world beaters ?
Paul Tran
21
Posted 02/10/2017 at 08:39:29
Amateurish. I don't want a half-cocked quote through a media intermediary. Leadership is sitting in front of a camera, telling the world that the manager needs to do better and the reasons for keeping him, or the reasons why we're sacking him.
I won't be satisfied with anything else.
Leadership, Farhad. Now.
James Morgan
22
Posted 02/10/2017 at 08:41:23
Steve, no one could make this squad world beaters but I reckon Ancelotti would have a damn good go! It might be a bit overambitous on our part but we should at least put the feelers out there. He is a proven, world class, winning manager.
As for Ronald Haven't-got-a-clue-man (yes, I stole that one), he is the bookies favourite to go now. Fingers crossed
Tony Marsh
23
Posted 02/10/2017 at 08:43:00
Moshiri is nothing more than a Kenwright stooge brought in to appease the restless natives. Guess what – we all fell for it. Well just for a little while. I believe we don't have the money to pay Koeman off so we are stuck with him.
Moshiri is a worse buffoon than Silly Billy. Those of you out there who still trust these Muppets to deliver on Bramley-Moore will be in for more heartaches.
I don't listen to anyone connected to the club any more. They are all full of shit. How any so-called business man could suffer Koeman any longer than this is proof on negligence.
I hate to say or think this but it is time for Big Sam. That's how bad this situation is.
John G Davies
24
Posted 02/10/2017 at 08:44:03
Can we pack this Ancelloti speculation in please.
It's not going to happen.

Matt Muzi
25
Posted 02/10/2017 at 09:01:02
I think if there isn't a marked improvement in the Brighton & Lyon games, he'll be on thin ice, but I don't think he'll get the boot for a while. The main factor why he'll stay put is I don't think the club have a replacement in mind. Ancelloti, I can't see it.
Steve Griffin
26
Posted 02/10/2017 at 09:06:32
Why not give Unsy a go?
Ian Ravello
27
Posted 02/10/2017 at 09:07:15
Steve, surely Unsworth could do a better job & at least he'd be giving Lookman and Kenny a look in, and install some pride and spirit into our performances. Another gripe, why is Pennington on loan at Leeds & not Williams?!
Geoff Williams
28
Posted 02/10/2017 at 09:10:05
Recruitment has been poor in 2017. I don't know who is responsible for signing Schneiderlin, Klaassen and Sandro but their judgement is suspect. If you add Williams, who is by far the worst defender in the league, then surely someone should pay with their job. The more I see of Pickford and Keane the less convinced I am that they are not top notch players. Pickford struggles with high balls into the penalty area and his distribution has deteriorated each successive match. Keane had a torrid time against Vaughan and he didn't cope particular well with Woods yesterday.
Players who have been slated on TW over the past 2 years Stones, McCarthy, Barry, Barkley and Lukaku are head and shoulders better than anything Everton have at the moment.
Stan Schofield
29
Posted 02/10/2017 at 09:19:13
Paul@18: Spot on. Everton needs to grow up. More action needed, less talking shite.
Stephen Davies
30
Posted 02/10/2017 at 09:21:59
Here's a little known fact...Ancelloti has a picture of Dixie Dean on his wall...
That's true. btw.
James Stewart
31
Posted 02/10/2017 at 09:24:51
Lost what little respect I had for Moshiri. Him and his little ventriloquist, Jim 'the prat' White are pathetic. Total frauds. The whole club is a disgrace with no self-respect.
James Morgan
32
Posted 02/10/2017 at 09:27:25
Ancelotti might be a long shot but we should at least sound him out. The worst it'll do is put a rocket up Koeman's arse!
Despite his inexperience at Premier League level Unsworth would be a good shout. He gets his young lads playing aggressive football with pace but also has that winning mentality. Yes, it would be a gamble but he has the club at heart unlike Ronald.
Kevin Molloy
33
Posted 02/10/2017 at 09:32:15
My round trip to Goodison is over 500 miles the least I expect is to be entertained with the hope of a win. The football is poor the tactics are poor the manager is poor. We have quality players with little or no confidence but the chairman is confident so happy days. Ffs!
Steve Croston
34
Posted 02/10/2017 at 09:34:38
It's as plain as the nose on his face, everyone can see what is going to happen with Koeman, yet I have a feeling that he will be here for another 3-4 games at least.
I thought that great leadership/ownership of a business/football club was about foresight and making accurate predictions with regards to short, medium and long term plans?
If Moshiri or Kenwright have an ounce of sense they will cut their losses and dump the Dutch fraud straight away. If either of them understand football and have watched the last 6 months of football (including the tail end of last season), they will see they've invested in a complete dud.
It is all just so incredibly frustrating and also a complete waste of time to wait for the miracle turnaround in fortunes we desperately want... it's just never going to happen. Please, please, please just sack him now.
Ray Roche
35
Posted 02/10/2017 at 09:36:28
The bloke who invented corrective text died last week . . .
. . . his funfair is next monkey.
Dave Bowen
36
Posted 02/10/2017 at 09:46:36
Whilst I have a certain sympathy with RK, having 3 long-term injuries in Seamus, Bolasie & Funes Mori & McCarthy seemingly never available, only 2 of those are guaranteed starters. Williams & Schneiderlin were quality signings last season, but both have dropped way beyond last season's level of performance. Pickford & Keane are good signings but both way overpriced.
What I really don't understand is why when he knew he was signing Rooney, sign both Siggy & Klaassen? Both way overpriced again & both play in the same position. Sandro is a squad player & at £5 mil, a gamble worth taking. I don't understand why Lukaku wasn't replaced & there is no competition for Bainsey. I also don't understand RK's alienation of players, which seems a common theme throughout his managerial career.
Yesterday was the last straw for me. With the international break now here, it seems an ideal time to replace him. We are never gonna beat Lyon anyway & I have my doubts about a result against Brighton. I'd love to see Ancelotti in, but I have more chance of a threesome with Cameron Diaz & Charlize Theron than that ever happening. Sam Allardyce or the return of OFM is far more likely.
Ciaran O'Brien
37
Posted 02/10/2017 at 10:02:23
I don't know why people think that someone like Ancelotti wouldn't come here. We've been a top 7 premier league club for the last 10 years on average. We're not some club like Bournemouth, Wigan etc. We have a big history which I know means jack shit these days but he knows who we are. He got the sack at Chelsea on the tunnel at Goodison.
We need to get this small club mentality out of our heads or we might aswell give up.
Newcastle got Benitez, a guy who won the Champions League and FA Cup with the SHITE, he won the UEFA Cup with both Valencia and Chelsea, won La Liga with Valencia and managed Real Madrid and Inter. The SHITE got Klopp, City got Mancini when they only started to qualify for Europe.
If Koeman goes, we should give the job to Unsworth and see how he gets on, he'll play the young players and bleeds blue. If not him we should go all out for Ancelotti or someone of that quality, Enrique, Tuchel, Bielsa etc.
Even Allardyce or Dyche would be good.
Carl Taylor
38
Posted 02/10/2017 at 10:02:24
I'm beginning to spot a trend. The Koeman supporters are now asking who can we get who can make the team better? So, not Koeman is the answer, but rather the question as to who would be the answer. Well in my mind, anyone who has a plan, an ability to make the best of what he has in front of him and someone who knows how to man manage. I can think of quite a few candidates who offer all those qualities that Koeman does not possess, e.g. (for the dreamers) Ancelloti, Tuchel, Enrique. (For the pragmatists) Allardyce, Dyche, Benitez. (For the Blue tinted glass wearers) Unsworth, with Arteta and Cahill. (For the truly demented) Moyes, with Stubbs and Joey Barton!!
Over to Jim White er, sorry, our major shareholder to make his choice FFS, no more time with something clearly failing!!
Colin Glassar
39
Posted 02/10/2017 at 10:04:55
Chris Sutton writes a great piece in the Mail today. Koeman has had plenty of time to settle down, this is HIS team, he's had money to spend etc..and yet he's fuckrd it up big time.
Sack him now and let's regroup for our winter offensive.
Colin Glassar
40
Posted 02/10/2017 at 10:10:27
I'll put myself in a "slightly demented" group, Carl. Unsy, Stubbsy and one Joseph Barton. Loads of passion and fun if we had those three in charge.
Carl Taylor
41
Posted 02/10/2017 at 10:20:27
Colin, I like your slightly demented suggestion. The only downside would be the crowd watching the dugout, more than the pitch. On the plus side, imagine the new betting markets it would open for SportsPesa;
1st Coach to be sent off.
Time of 1st rebuke of the coaching staff by the referee.
Time of 1st punch thrown by EFC coaching staff towards opposition coaching staff.
Length of 1st touchline ban for Joey Barton.
The sponsor would love it! (As long as Joey opens his account under a better pseudonym this time!)
Kevin Turner
42
Posted 02/10/2017 at 10:23:32
Pickford – must be wondering what he's let himself in for.
Martina – who he? Hurry up Seamus.
Baines – sorry Leighton, game over.
Williams – Swansea legend, says it all.
Keane – see Pickford.
Schneiderlin – dross.
Sigurdsson – see Keane.
Gueye – wasn't he good last year? What happened?
Vlasic – good effort, keep it up.
Calvert-Lewin – Energy but still not the finished article.
Niasse – lots of energy, not the player Koeman told us about.
John G Davies
43
Posted 02/10/2017 at 10:25:07
I would take Joey Barton all day if he was three or four years younger
Paul Welsby
44
Posted 02/10/2017 at 10:30:05
Well, boys and girls, sorry to be the bearer of bad news, but are owner you know the one with over a billion quid, savvy business man and all that shite has been having his love in with Jim White.
Well only Everton football club could get a new owner who happens to be a billionaire but be as inept as billy bullshitter.
I have only ever posted on this site twice but have always read other posts for a number of years. Some I have had laughed out loud at some make me cringe but everyone is entitled to there say.
I have to say I am genuinely worried that are great club is going to new lows that we may never recover from. We are a team in a relegation dog fight this early in the season with no quality striker an ageing terrible defence. A midfield with no idea what there meant to be doing. Also IMO the worse manager in are history an I am 45 years young so have seen my share of shit managers.
Now just to top all of that a billionaire owner who gives this fraudster and blag artist his total support an probably more dollars to waste on shit past-it slow footballers in January. Only at Everton Football Club.
Colin Glassar
45
Posted 02/10/2017 at 10:37:53
It's about time some real Evertonians took charge of the club and not some outsiders. Those three are blue-blooded blues who'd bring back some pride and passion.
Oh, and make Rooney captain. Bainsey and Jags are nice lads and therein lies the problem.
Phil Sammon
46
Posted 02/10/2017 at 10:41:02
Joey barton is an absolute scumbag of a man, a bang average footballer and about as intelligent as a plant pot. Why anyone would ever want that piece of work at Goodison Park is beyond me.
John G Davies
47
Posted 02/10/2017 at 10:44:31
Have you read his book Phil?
Mike Green
48
Posted 02/10/2017 at 10:54:21
Ray Roche #34 :D
Phil Sammon
49
Posted 02/10/2017 at 10:55:33
Absolutely not, John.
John G Davies
50
Posted 02/10/2017 at 11:13:59
Worth a read Phil.
He's worked hard to turn his life around.
He fully accepts the mistakes he made at the same time.
Most importantly he's an out and out winner . hates defeat.
Something we haven't got.
Laurie Hartley
51
Posted 02/10/2017 at 11:19:03
I am not surprised we lost to Burnley but I am surprised and disappointed by Moshiri's latest comment.
A pregnant silence would have been more appropriate.
Ancellotti is the man we need. He knows the Premier League, and would get these players playing to a system that suited them.
Dan Kemp
52
Posted 02/10/2017 at 11:23:15
What I find interesting is that Koeman has actually responded to many of the faults that fans have pointed out.
"DCL needs to play up front in his proper position" - done.
"Klaassen and Sandro should be dropped" done.
"We should give Niasse a chance" - he did.
"Stop playing with three no.10s" - against Burnley he changed the formation and dropped Rooney and Klaassen.
"We need width" - he brought Vlasic into the side.
"Holgate should be given a chance in his natural position" - he played centre-back for two games.
"Kenny needs to be given a try" - done.
"Gueye and Schneiderlin can't play together" - against Burnley he took Schneiderlin off and put Rooney on in his place to mix it up.
So I have some sympathy for Koeman. He's tried everything but nothing seems to work. He's clearly lost the players, and can't find a system that works. Our most coherent performance in ages was against an admittedly very weak Sunderland side. Perhaps that's the one he should have stuck with.

Paul A Smith
53
Posted 02/10/2017 at 11:23:19
Listening to Jim White talking about Daniel Sturridge needing to be dictched by Liverpool but thinks Koeman needs time.
This is another example of where we are in football.
Liverpool are not losing, not failing to score but the concern for Liverpools lack of Striker is way beyond the lack of concern for Evertons lack of forwards, goals and points.
Do other people see this?
How can he get away with that with professional people sat next to him?
I feel its because them lot are far more important to the general public and little plucky Everton should keep practising.
This is our place in football.
Even worse than Jim White patronising us with this selective mindset is Evertonians agreeing with him when he couldn't give a monkeys about you or the club.
Andrew Clare
54
Posted 02/10/2017 at 11:27:59
I have the same feeling about Koeman as I did about Lukaku - they haven't got a blind bit of interest in Everton football club.
Phil Sammon
55
Posted 02/10/2017 at 11:31:53
John
How is Barton a 'winner'? He got a few promotions to his name and that's about it.
Koeman is a winner, a genuine winner and look what he's doing.
Give me Unsworth til the end of the season. No pressure on him, just get the lads playing for the shirt. Maybe he can motivate them without battering them or stubbing cigars out in their faces.
Andrew Clare
56
Posted 02/10/2017 at 11:33:28
Paul,
All of the pundits are like Jim White. Any club that hasn't got a cat in hell's chance of winning the league just don't count and we have been one of them for nigh on thirty years.
We are a very badly run mediocre club with zero ambition in the eyes of everyone apart from ourselves.
Steve Bingham
57
Posted 02/10/2017 at 11:35:10
Ian I am not sure about Unsworth because he is as yet unproven BUT I do totally agree with your point about the younger lads being given a proper chance. I also have a real problem with R.K and this insistence he seems to have with never starting a true wide man. James I would love Ancellotti but really doubt he would come to us but yes possibly we should at least ask a few questions.
Brent Stephens
58
Posted 02/10/2017 at 11:38:58
Dan #50 fair comment on the players that Koeman has tried being consistent with many calls for the same on here. What doesn't change, though, are the way he uses the players - the lack of width (eg Martina constantly exposed) and lack of pace on the wings. I think this is more of a tactical issue than an issue with players available / selected.
Jer Mahr
59
Posted 02/10/2017 at 11:41:17
If this is true that is one amazing leap of faith on the part of Mr Moshiri, because I don't think I have ever seen the Blues looking like rock solid relegation candidates as they are now. Its a toxic combination of bad results and very poor performances which gives me the jitters.
Teams down the bottom with us (apart from Palace) look way better than us in every respect and with no prospect of an improvement that I can see in my wildest dreams. Another month of bad results and we will be in very serious trouble and will be needing a miracle.
One thing that always puzzles me is that the fans see things so much clearer and much earlier and whilst loyalty is to be genuinely admired surely the Club and Koeman and his team must be asking themselves questions about whether it would be in the best interests of the club for various parties to stand down with honour. This is a train wreck the like of which I have rarely seen and surely they must know that.
The players are not blameless in this mess either but sadly in football players don't have to justify performances good or bad. There has to be some major change (a real shake down) and very soon or we will be deserved relegation candidates (Burnley and Bournemouth looked better teams than us so who else are we better than at the moment?)
If the Club and management don't start waking up to that reality it could be the worst season ever. We all know what it is like to be on the threshold of oblivion [remember the Wimbledon match at two nil down!] and I would never want to compare the current club management to King Canute but how close to drowning do we have to get before someone does something about it?
The Moyes era had one particularly bad start but we only dragged ourselves out of that slump with a lot of huffing and puffing and even in that slump you have to say there was more of a team ethic and method than what is before us now.
I don't know what the exact solution should be but it sure as heck is not to do what King Canute did and let the tide come in!
Colin Glassar
60
Posted 02/10/2017 at 11:44:34
My Joey, Unsy, Stubbsy management dream team was a bit tongue-in-cheek but thinking about it now it couldn't be any worse than we've got now.
Moshiri is BK's ventriloquist dummy. I think we've been had folks.
Ray Smith
61
Posted 02/10/2017 at 11:46:01
What really gets my goat is that Jim (look at me, I know everyone) White was told by Moshiri that Koeman's job was safe when Moshiri phoned him last night.
Well thanks Mr Moshiri for letting us know first!!! We are only the supporters after all.
Martin Mason
62
Posted 02/10/2017 at 11:50:18
Brent@56
The lack of width means both full backs are exposed badly and it's even making Baines look bad. Whatever tactical failings Moyes had he attacked and defended with a full back covered by a wide midfielder on each flank.
John G Davies
63
Posted 02/10/2017 at 11:51:53
A winning mentality Phil.
There is a difference.
Show me a good loser, I'll show you a loser.
He has worked hard to educate himself, deserves a second chance imo.
Rudi Coote
64
Posted 02/10/2017 at 12:01:46
I'm losing my confidence in Moshiri.
Liam Reilly
65
Posted 02/10/2017 at 12:02:38
"Moshiri Quote:
"We are in a bad moment, but we have played the four title contenders – three of them away. Burnley was the only unexpected loss.
"The four pre-qualifying UEFA [Europa League] and two group games on Thursday's haven't helped. There is mental and physical fatigue and seven injuries.
"These are early days and Koeman has my total support. We have great fans and they deserve better. We know the expectations by our honest and objective fans and we will not let them down."
So he's going to get time, but there's some tough games coming up.
Time to get behind the team.

John Daley
66
Posted 02/10/2017 at 12:05:14
Hates to lose Joey Barton. Hence why his targets tended to be kids and piss cans, I presume?
Why people continue to put an odious serial fuck up's name forward for employment with Everton, other than him supporting the club and once reading 'Kaizen For Kids', is beyond me.
"Deserves a second chance"?
Have you not been keeping score John, or does "his book" really put that much of a positive spin on his career?
Phil Sammon
67
Posted 02/10/2017 at 12:05:25
John
He's had more second chances than I've had hot dinners. Anyway, agree to disagree I guess.
Colin Glassar
68
Posted 02/10/2017 at 12:09:59
Sounds like we're stuck with Koeman until at least the Brighton game then.
Dermot Byrne
69
Posted 02/10/2017 at 12:12:07
Joey bloody Barton. Seen it all now. The guy is a hobby prat only skilled at self promotion. Get a bloody grip !
Dermot Byrne
70
Posted 02/10/2017 at 12:12:08
Joey bloody Barton. Seen it all now. The guy is a hobby prat only skilled at self promotion. Get a bloody grip !
Ray Jacques
71
Posted 02/10/2017 at 12:13:50
Out of 12 competitive games this season, can anyone remember even one half when we looked like a decent team?
Answers on the back of a postage stamp please.
I believe it's time for the board to call Koemann in and part company as I cannot see any positives . Cannot even say we have been unlucky with ref decisions or not taken our chances (because we don't create any).
If he goes then god forbid Moyes comes back. I have a recurring nightmare of BK wheeling him out at a press conference one dark,wet Monday night.

James Stewart
72
Posted 02/10/2017 at 12:14:25
Just read the bile in full from Moshiri. "Only unexpected loss"
I'm utterly speechless. The fact that those words are coming from the guy at the very top of our great club, disgusting. Moshiri has bought hook line and sinker into the small club mentality.
Ken Williams
73
Posted 02/10/2017 at 12:15:11
What Koeman is still here, a club with any ambition would have binned this fraud weeks ago. He's already said he will see his contract out, well that gives him plenty of time to see us relegated.
Brent Stephens
74
Posted 02/10/2017 at 12:17:20
Martin #60 "The lack of width means both full backs are exposed badly and it's even making Baines look bad."
Yes, agree. And what's worse, re Baines, is that Martina is willing and able to push up the pitch, every opportunity, and can get a decent cross in most times. With a narrow midfield, Baines has acres of space in front of him but will not advance into that space to make himself available for a pass upfield; when in possession, will not seek to advance with the ball (in the last few minutes yesterday he at last tried it; but normally turning back towards our CBs); and is now poor at crossing.
I've always been a fan of Baines, still like him as a person. And feel sad about his decline.
Paul Tran
75
Posted 02/10/2017 at 12:17:30
Barton's book is an absolute belter (pun not intended!).
The fact that he did nothing but play well and be liked by the fans and players at Burnley may say plenty for Dyche's man-management. Potential double-act?
Lawrence Green
76
Posted 02/10/2017 at 12:19:34
Courtesy of the Liverpool Echo the vote of confidence reads as follow.
Farhad Moshiri: "We are in a bad moment. But we have played the 4 title contenders 3 away.
Today was the only unexpected loss. The 4 Pre qualifying UEFA games and 2 group games on Thursdays Haven't helped. There is mental and physical fatigue and 7 injuries.
These are early days and Koeman has my total support. We have great fans and they deserve better. We know the honest and objective expectations of our supporters and we will not let them down."
OK Mr Moshiri, the Burnley loss may have been unexpected to you and the board of directors but to many supporters it was all too predictable. It is not the results in isolation that are of concern to the fans but the performances we have witnessed from the team for much of your managers reign.
If Mr Moshiri and the board are prepared to accept that some games are unwinnable and therefore can be ignored in the results balance sheet then what chance do we as fans have of seeing the Everton team punching above its weight or even performing to a level that this current group of players should be able to achieve?
Such a Laissez Faire attitude is alarming coming from a person who many of us believed would lead us towards glory in the coming months and years. Leadership in the boardroom hasn't changed from what we've become used to in the last couple of decades has it?
Make do and mend, hope that everything turns out fine and lurch from one game to the next without really questioning why things aren't improving and not accepting that things have actually declined for the last five years both in terms of results on the pitch and unacceptable levels of performance, has led to a growing inertia among a large section of the supporters and has lowered any expectation that Everton FC are in with a chance of becoming a challenger to those other top clubs in the division.
It's Moshiri's right to support his manager and most times we would support him too, however, to ignore the bigger picture and not to realise that the fans aren't fools and do actually watch the game is a dangerous road to follow.
Henry Lloyd
77
Posted 02/10/2017 at 12:22:09
If the Major Shareholder has given this Dutch Muppet a Vote of Confidence, then we are fucked! We will be facing a Relegation Battle and everyone will come to Goodison knowing that we are a Joke.
And quite honestly, we are a fucking joke and the Red Shite across the road are not much better! How fucking sad it is that the only thing that has kept me going this season is watching them fuck everything up as well?
John G Davies
78
Posted 02/10/2017 at 12:30:35
A great read Paul.
Made a lot of mistakes as a young man, took the time to re educate himself.

Dermot Byrne
79
Posted 02/10/2017 at 12:33:53
Andrew Clare 52. Your point about no interest in the club is a fair one. You can arrive with no previous connection and it can develop. No sign with Koeman. Having said that, unless you were proud of charitable work, other clubs can seem much more exciting now.
As for Moshiri if he also loses interest we will have no money, no new ground and probably be in the Championship. Nobody else would touch us with a barge pole.
Flip side is he is changing the future with new iconic ground (and don't start another 100 posts on this happening or not just to have a shout) and commercial nouse and this Koeman farce will end in time...just not as soon as we want when we are fuming.
Haven't welcomed an international break as much before. Brighton game is a 48 pointer!
Michael Lynch
80
Posted 02/10/2017 at 12:37:09
I'm still shaking my head at that Moshiri quote. The only unexpected loss? He expected to lose at home to Spurs? Expected to lose at Chelsea and Man Utd? Expected to lose at Atalanta? Fucking hell, never mind Koeman resigning, Moshiri should fuck off too.
Frank Bortoli
81
Posted 02/10/2017 at 12:39:29
I think we should give Koeman the benefit of the doubt and give him another three games and then sack him if there is no marked improvement. He seems to have lost the plot and is clueless now and does not know how to turn things around.
We have been saddled with some very expensive signings who don't seem to have a position to play in and this money should have been spent on a striker.
By all means we should sound out Ancellotti as a matter of course, he might find the potential challenge interesting, but we should not be too optimistic.
I would favour giving Unsworth a chance on a temporary basis and see what he can do.

Dermot Byrne
82
Posted 02/10/2017 at 12:43:29
Watch it...Joey would have a second mortgage on the new stadium before the grass grew. Young man's antics? Like the betting last year?
Violent con artist, shit background or not, IMHO.
John Daley
83
Posted 02/10/2017 at 12:44:41
I suppose you can get away with saying it's still "early days", if you take this season in isolation. However, we're fast approaching the half way mark of what we were told was a three year 'project' and there is still no sign of even the seed of a tangible plan, while the standard of football plateaued somewhere around pterodactyl shite last season, despite 'productive, pressing' stuff being promised.
Got to love the way Moshiri claims the fans are deserving of much better, yet can't even be bothered coming up with a more fitting means of communicating with them than getting Jim White on the fucking blower (probably while sat on the edge of his bed in his grots).
Good times.

Paul A Smith
84
Posted 02/10/2017 at 12:46:42
Andrew 54 if that was 100% true they wouldn't talk about Liverpool mate.
I understand from a business point of view they need them kopite callers from Neptune to London but to actually sit with ex proffessionals and get away with it is scandalous.
Its detrimental to the National side too.
My gripe is how much it is accepted and how nobody seems to think this affects grass roots football and the nation as a whole.
I can't accept just making up the numbers.
Sam Hoare
85
Posted 02/10/2017 at 12:53:47
"The only unexpected loss"
Truly that says it all.
Nothing has changed. How very disappointing. To think back to the beginning of the Summer when we had bought Keane and Pickford. I let my expectations soar. What a fool.
John G Davies
86
Posted 02/10/2017 at 12:57:28
He's had a bet Dermot. Account in his own name. How many players you reckon have a bet with accounts in family or friends name?
Read the book if you get a chance.
He's taking his badges. I think he will make a good coach.
Anthony Hawkins
87
Posted 02/10/2017 at 12:59:37
The 'mental and physical fatigue' comment stands out for me. We've only just started the season - how can they be mentally fatigued?
I partially get the 'only unexpected loss' theory but it's more about HOW we lost than that we lost. The team should be giving a positive account of themselves regardless of the opposition. If they'd done that Games would have been tighter and the 3 or 4 goals shipped in a game would have less - or not at all. The team would have had a good few shots on the oppositions goal and made more a match of it.
Instead we have players who look bereft of confidence, looking like a team who had never played together and a complete uncertainty of where our next win is going to come from.
Tony Hill
88
Posted 02/10/2017 at 13:25:34
Anthony (#85), I agree about the fatigue comment and I find it very telling. It is patent rubbish, of the type he spouted about McCarthy/Sissoko. Either he is clueless about football or he thinks we are or he doesn't give a shit and will say the first thing that comes into his head. Or some combination.
None of that suggests that we have a funder who is in authoritative charge.
Daniel A Johnson
89
Posted 02/10/2017 at 13:29:55
Moshiri is still an enigma to me. Never heard him interviewed on the TV, I've never heard him speak.
He has an unofficial mouth piece in Jim White who, to be honest, the way he peddles Moshiri's comments out to the media makes the club look so unprofessional.
I don't know why... I just get a bad vibe.
James Carlisle
90
Posted 02/10/2017 at 13:33:00
The end of the transfer window debacle, the dreadful start to the season and now this cringey statement of confidence by a bullshitting owner in a manager who hasn't a scooby doo and has completely lost the dressing room with no way back is all just so completely Everton it's painful. No wonder we're always so negative, there is genuinely never much to be positive about. Even all the positivity in June was effectively dashed by August.
Ray Smith
91
Posted 02/10/2017 at 13:36:41
I've got my ticket for the Brighton game and wonder what is going to be served up.
At the start of the season I saw it as a pretty good chance to take the points. Now I think we will struggle to take a point.
Going to be one hell of a weekend on the south coast!
Son in law and one grandson Brighton season ticket holders. Will probably be gloating.
I can dream that we take the points, but taking nothing for granted with the current setup.
Peter Larkin
92
Posted 02/10/2017 at 13:45:09
When our leader " Moshiri" states that we didnt expect to beat the big boys we may aswell pack up and go home. To come out and say that in public is a fucking disgrace. Is it any wonder we bottle the big games? Is it any wonder why we havnt won fuck all on 20 plus years, when our leaders have zero ambition.
At times I have to seriously question my support for this club. Why the fuck should I buy sky sports, why should I book flights tickets hotels, why should I buy the shirts socks and every other fucking thing going, for what? For our owner to say, we don't EXPECT to beat these teams? Try telling that to fucking liecester and burnley ffs.
This place is run by clowns, coached by clowns, and us fans are the biggest clowns for putting up with it for 20 fucking years. This club aint getting another fucking penny off me until they show me the commitment I show them!!!
Paul Tran
93
Posted 02/10/2017 at 13:46:58
John #84, completely agree. I'd ignore his time at Rangers, they're more of a basket case than we are. I've been told at least three players called him a Fabian Bastard to his face. I'd take him, especially if we take on Dyche.
Dennis Stevens
94
Posted 02/10/2017 at 13:48:26
Well, if he wasn't sure already, Koeman knows he's on borrowed time now. We've got a month & seven matches to the next break. Every one of those matches could easily be his last. Will Koeman make it as far as that break on the 5th November? If he does, will he be here when we resume on the 18th November? Interesting times
James Stewart
95
Posted 02/10/2017 at 13:50:01
Completely agree Peter. In a very similar mood.
Ray Smith
97
Posted 02/10/2017 at 13:54:33
When City were getting their act together they were ruthless with their managers.
What did Mark Hughes do wrong, followed by Mancini and Pellegrini, they were shown the door for a lot less than Koeman has produced.
I really hope RK can turn it around, otherwise we are in for a relegation battle, even after 7 games.
Paul Tran
98
Posted 02/10/2017 at 13:56:46
Peter, I suspect this was a poor attempt at saving face and justification. I would have preferred him to tell us what Koeman was doing so well to deserve keeping his job, and what he/we should expect in return from now on
Looking at today's statement and those of the last two August transfer windows, I see a man who when he loses, shoots from the hip incoherently instead of thinking about what needs saying and putting out a considered statement giving some meat behind his decisions.
This is making us look very poor. For me, in the long term, this is worse than what the current manager is doing.
Colin Glassar
99
Posted 02/10/2017 at 14:00:50
Disgusting statement of (lack of) intent by our majority shareholder. If he doesn't think that we can compete with the big boys then he should sell up and go back to sit next to his boss, Usmanov, at the Emirates.
Victor Jones
100
Posted 02/10/2017 at 14:03:16
Hands up who wants Koeman to be given more time. No need to start counting that vote. We all know the answer.
Koeman out Rhino assisted by Royle in. Could they be any worse? Could anybody be any worse?
Robin Cannon
101
Posted 02/10/2017 at 14:04:11
Head in the sand bullshit from Moshiri. It's not losing, it's the manner of losing; with no apparent plan at all, no understanding of a preferred team, no spirit.
Koeman should have no support. Certainly not "total support".
Anthony Hawkins
102
Posted 02/10/2017 at 14:19:22
Morishi is showing inexperience in these matters. I don't take what he says as either truth or expect him to hold to what he's said.
The results and team approach speak volumes for what Koeman is doing and it's not suddenly going to click doing what he's doing. The players might click but it won't be in the current formation.
When the chips are down and what you're doing isn't working, you have to try something else. I'm not seeing any evidence of that happening.

Andrew Clare
103
Posted 02/10/2017 at 14:23:35
Paul #82,
Ok maybe Liverpool aren't in contention for the title but they are way way closer than we have ever been for a long long time. Plus we all know that they are the media's darlings.
Getting back to Moshiri's statement, I find it very disappointing. He should have said. 'We have very high standards and expectations at this great club, the manager is aware of this and his requirement to meet these expectations '.
Not the drivel passed on to a bloody Sky reporter.
John G Davies
104
Posted 02/10/2017 at 14:25:10
John Daley 64.
Have you read his book?
Ian Burns
105
Posted 02/10/2017 at 14:26:17
I was dejected after the Burnley game - I watched Dyke out tactic RK and put out a better team (as in the word "team") than RK could muster and I had an extra gin last night. Now today I read this utter garbage from Moshiri's mouthpiece and I am no longer dejected. I am utterly gobsmacked; furious; and yes - beyond dejected.
How can Moshiri not see what thousands upon thousands of supporters and pundits such as Chris Sutton can see? Why is he so frightened to speak for himself and not use that pathetic mouthpiece he uses? What on earth have we got running this damned club? Just give Unsy the job - if nothing else we will get passion and that is at least the first step in recovery.
Tony Marsh
106
Posted 02/10/2017 at 14:41:27
Like I have said in the past, Moshiri is Kenwright's new mouthpiece but never mind Ronald Koeman for a moment. Mr Moshiri, where are the bulldozers and cement mixers at the dock site? Where are the cranes and the groundworkers preparing Bramley-Moore for when the plans and stadium designs come through?
The more I hear from this guy Moshiri, the more I dislike and distrust him. I mean, who is he and what has he done? Bought shares in the club cheap and bought an office block on the Pier Head!!! Big deal.
Moshiri is a complete and utter bullshitter who hasn't a clue about football. I can smell Bill Kenwright all over this press release. Another joker added to the pack I guess.
Keith Conchie
107
Posted 02/10/2017 at 14:42:39
Koeman now favourite to be next manager to leave at 1/3. He's gone ahead of Bilic . Would anyone give Eddie Howe a shot or is that a bad call
Geoff Williams
108
Posted 02/10/2017 at 14:43:53
Recruitment has been poor in 2017. I don't know who is responsible for signing Schneiderlin, Klaassen and Sandro but their judgement is suspect. If you add Williams, who is by far the worst defender in the league, then surely someone should pay with their job. The more I see of Pickford and Keane the less convinced I am that they are not top notch players. Pickford struggles with high balls into the penalty area and his distribution has deteriorated each successive match. Keane had a torrid time against Vaughan and he didn't cope particular well with Woods yesterday.
Players who have been slated on TW over the past 2 years Stones, McCarthy, Barry, Barkley and Lukaku are head and shoulders better than anything Everton have at the moment.
Soren Moyer
109
Posted 02/10/2017 at 14:45:41
That Tuchel dude is class. Get him before someone else snap him up. Koeman OUT!
Eddie Dunn
110
Posted 02/10/2017 at 14:47:01
Dan Kemp (#50), good points. Koeman has tried different personnel but he has failed to get them to gel as a team or create the sort of tempo needed.
Once Martinez had gone, we were told by Ronald that our players were unfit. It was the excuse at the start of last season. However, this term Williams waddled in to preseason looking like Balloo Bear and Rooney, despite looking leaner, plays as if he has had a a skinfull the night before.
Schneiderlin has been flat since his injury problems of last season. Does anyone recall how he was "injured" every time we played a top 6 team? He doesn't look fit to me, and Baines has struggled with his dodgy ankle for years.
McCarthy has been plagued by mystery hamstring problems and then we have Lennon, who's mental health issues had meant he has also missed training and has had so little football that when called on, he is clearly blunt.
We have a new keeper and it always takes a while for a defence to settle down.
We are all aware of the rigors of the Premier League, and Klaassen and Sandro will take time to get used to it, but the added strain of the Europa games has only added to the fitness problems.
Questions have to be asked of the preparations and fitness levels of our team. Despite our obvious lack of width and players out of position, there seems a lack of pace right through the side. We are simply not fit enough- no-one seems to mention it. A slower back four would be hard to find.
Schneiderlin, Rooney and Sigurdsson could be playing Walking football. Perhaps training has got too easy or too dull.
Colin Glassar
111
Posted 02/10/2017 at 14:47:21
Who's really in charge? I am starting to believe there may be a power struggle underway at Goodison. Let me explain.
After years of searching, high and low, 24/7, for an investor, Chairman Bill Kenwright finally found his sugar daddy who not only made him an even richer man but also wiped clean his debt-ridden legacy.
So far, so good... but when Moshiri decides to sack Roberto "What a manager" Martinez and bring in his own men, Ronald Koeman (along with Steve Walsh), Bill starts to feel uneasy with all these drastic in-Evertonian actions.
Following the Moshiri call to Jim White regarding the McCarthy/Sissoko fiasco last summer, my first thought was this has all the hallmarks of a Kenwright-inspired move and it made his pal, Farhad, sound like an idiot.
Moshiri is a neophyte in football terms, despite having had shares in Arsenal before investing in Everton, whereas Bill is an old fox who seems to have manoeuvred himself into a position where he keeps calling the shots without having to risk any money.
Is Bill in charge of transfer dealings? And, if so, is he sabotaging the new regime on purpose? He sold Lukaku for what is now looking like peanuts. After the Giroud deal fell through, no other striker was found. He authorised the signings of three or four No 10s. No cover was found for funes Mori and Baines, we overslept on Sigurdsson, he's admitted to walking away from a transfer because he got bored etc...
I might sound paranoid but I believe Chairman Bill is desperate to recover his toy and, if he cannot force out Moshiri, at least make him understand that he's still in charge of the club.
Oliver Molloy
112
Posted 02/10/2017 at 14:54:54
John G Davies,
Ancelloti isn't going to happen - how would you know ?
Joey Barton ? , get a grip man.
Ian Hollingworth
113
Posted 02/10/2017 at 14:56:38
So there we have it: Mr Moshiri lays out his ambitions for Little old Everton. It's okay to lose as we were expecting to lose those matches. Fan-bloody-tastic; thanks – now we know our place.
22 years, Mr Moshiri. We wanted you to bring a winning mentality to the whole club.
Daniel Lawrence
114
Posted 02/10/2017 at 15:00:37
"What a manager", "What a chairman", "What an owner..."
Colin Glassar
115
Posted 02/10/2017 at 15:04:04
"What a fuck up"
John G Davies
116
Posted 02/10/2017 at 15:09:07
AC Milan
Real Madrid
Chelsea
Bayern Munich
Everton.
Haha. Not a Jack Palance
Derek Thomas
117
Posted 02/10/2017 at 15:13:10
Interesting theory Colin but Moshiri can trump any card Bill plays by snapping up another 0.15% of the shares for a couple of 100 grand. 70 shares out of the 35,000 out there should get him over the line.
But there does seem to be something not right from the top down.
Brian Cleveland
118
Posted 02/10/2017 at 15:16:53
Even if Koeman becomes Goneman, I'm not sure I would choose Unsworth as a successor, but not because I don't think he could do the job (which of course we don't know), but because he's doing such a sterling job with the U23s. I would be loathe to lose what he is doing there and players that are now knocking on the door of the first team (and occasionally seeing it opened), as well as quite a few who are out on loan for the experience and will hopefully come back better for it.
Do we want to create turmoil in both the first team and the U23s at the same time by effectively replacing both managers?
Soren Moyer
119
Posted 02/10/2017 at 15:20:46
As if we deserved the wins against Stoke and Bournemouth! Do they even watch the games, I wonder???
Pete Clarke
120
Posted 02/10/2017 at 15:21:21
Good post back there about clowns. Maybe the team should come out for the next game all dressed as clowns just to complete the circus. You know, red noses (sorry, blue) and all that.
Then we should offer the managers job to Jim White so we can find out what our new leader has to say on a daily basis.
I can just see us playing in a massive Marquee down the docks. They'll save a few bob on foundations and we can all have a proper laugh instead of this despair.
John Roberts
121
Posted 02/10/2017 at 15:23:42
Very true Soren , for once I agree we have actually more points than we deserve! it could look a lot more depressing!
Paul A Smith
122
Posted 02/10/2017 at 15:25:04
Andrew 102 I agree mate and I knew it from the start of Moshiri's tenure. He sold Stones and bought virtually nothing.
That was his statement of intent. Koeman was on holiday.
Fans were loving it, scoffing at others who could smell the shit through a brick wall.
Thats the type of club we buy season tickets for. The Jim White thing alone is pathetic enough.
Imagine Abramovich or the Sheik talking to their fans through the cringe of Jim White.
Sur Jo
123
Posted 02/10/2017 at 15:28:20
As per press reports, the manager has spent almost £210m in his less than two-years tenure. Enough said. He must go!
Mike Green
124
Posted 02/10/2017 at 15:28:54
John #116 - you forgot PSG nestled in there.
Oliver Molloy
125
Posted 02/10/2017 at 15:29:26
Oh right , well you would know.
Paul A Smith
126
Posted 02/10/2017 at 15:29:37
Colin 110. Great to see yet another Evertonian talk through this torrid spell in rumour and water cooler talk. This is one of the reasons our fans can't see a player anymore.
Off pitch rumours are the new obsession and we lead the way. Anichebes's red boots ay lads.
David Barks
127
Posted 02/10/2017 at 15:37:09
Well at least we can now do away with the notion that Moshiri has ushered in a new dawn. He said it himself, he expects to lose against the "title contenders". So that's that then. Just stay in the premier league so he can collect his millions of TV revenue and watch the value of the club rise by default due to the value of the league.
He's not here to win a damn thing, just increase his bank account. I'm sure he's still furious about the failed Barkley and Niasse sails which foiled his plans to have a negative net spend. He was so close to making another profit this Summer. And I suppose we can say good bye to even thinking about winning another derby. They are title contenders after all.
So now I do want Koeman to stay. No point replacing him knowing the owners don't have any ambition. I'm just going to simply stop watching. I'll follow via these pages for now. It's taken me many decades to arrive at this point and it really does infuriate me. But there just isn't any point right now. It's an awful product being served up.
Kim Vivian
128
Posted 02/10/2017 at 15:39:45
Hearing/reading that statement will effectively take anyone off the fence if they were undecided.
Some (a few) will be saying "phew, thank fuck for that". Others (most) will just be saying "... Fuck!".
I was on the fence and hearing that last night knocked me straight into the latter camp.
I would genuinely love to be proved wrong. I'll be the first to swallow my slice of pie but Phil#1 - yes indeed... Long.
Long and tortuous .
Jim Potter
130
Posted 02/10/2017 at 15:45:53
If I have no confidence in what is currently occuring then I am mystified why Moshiri does.
More money than sense or more bullshit than cents?
Pete Clarke
132
Posted 02/10/2017 at 15:53:34
One good thing that could come from the ridiculous uttering from Moshiri is that the pressure is really on now because exactly how many unexpected results can we possibly have??
Waiting for that Oxford moment from now on.
John G Davies
133
Posted 02/10/2017 at 15:59:20
Mike 124,
I did mate.
Evertonians " Let's go for Ancelloti"
When Ancelloti signs for his latest top club.
"Fuckin shit our club, no ambition"
Your needlessly tormenting yourselves chaps.
Stan Schofield
134
Posted 02/10/2017 at 15:59:44
That guy Ryasanzsev, the one who looks like Iylla Kuryakin, said it was far more than just a 'project'.
Now, it just looks a load of bullshit.
Since Liverpool are mentioned in some posts here, I recall the days when Merseyside was the centre of gravity of football, when John Moores financed Everton and Tom Williams financed Liverpool to the heights achieved in the 60s.
Now, Manchester is the centre of gravity of football. Unless some really big cheeses step in with loads of cash (because at the end of the day, it's mainly money that drives it), with more actions than words, the bullshit is likely to continue.
Brian Hennessy
135
Posted 02/10/2017 at 16:02:09
I think Koeman has brought us closer to winning a trophy than at at any time I can remember in the last decade Unfortunately I think it could be the Championship trophy in the 2018/2019 season after Unsworth takes over when this Dutch clown takes us down
Robert Leigh
136
Posted 02/10/2017 at 16:07:06
Go and get Marco Silva from Watford - he's made two teams much better in on 10 months of Premier League football.
Mike Allen
137
Posted 02/10/2017 at 16:07:44
It's not about getting beat, it's the manner of the defeats and while we did manage to win a few last season most of it was still of a poor standard. Very, very rare have we put in a full 90min plus shift if any of the games over the past couple of seasons.

Us older Blues can remember that a win was not enough we had to win in style or come away from a defeat knowing that we gave our best on the day, where are at now? Expect to get beat before we kick a ball and get euphoric when beat Bournemouth at home and that is acceptable? Fuck me!
William Cartwright
138
Posted 02/10/2017 at 16:11:51
I love a good conspiracy theory as much as anyone and Colin's version of possible events ticks several boxes for me. There is a lot strange behavior going on, sometimes what is not said is as interesting as the formal statements. . . . . .
If true, it does seem that a split in the support for RK would explain a few of the mixed messages and emerging conflicting interests . . .
However Colin, what is the explanation for RK's current mismanaging the selection process game after game? I can understand when he joined his aggressive new broom sweeps clean approach, however crass, but it really was so negative to Niasse that you suspect there was something amiss there. And why is he refusing the play Lookman; his 'future of the Club' for example, unless he really is shit in training (which I doubt)?
Is RK seriously trying to highlight the lack of a replacement for Rom, and did BK feel that Wayne was the answer?
Does RK have a mystifying logic to assault the given norms of football playing structure and will we suddenly see a new novel approach take the premier league by storm. (I doubt that too).
Let's see if Moshiri's dreaded 'vote of confidence' (which may be even worse if he is being sincere!), or if we will make the change as soon as practical to do so. It will be fascinating to see the story unfold, if it ever does, with Moshiri using RK as his agent provocateur to bring Bill K to his knees or any other uncomfortable position.
If there really is a power struggle similar to or as suggested, it really is the worst of BK's behaviour of recent years. unless he is so shocked by what RK is doing to his beloved Club that he is trying to get him out by fair means or foul?
Then again - RK could be just a total dickhead and Moshiri just carrying out the SOP in dealing with the situation.
I think the closing paragraph sums it up for mr.
David Barks
139
Posted 02/10/2017 at 16:12:32
Stan,
Great point about Manchester. I'm so sick of hearing how Everton can't compete with the bright lights of London. Last time I checked Manchester isn't London. It's just another excuse put out there to accept our shite existence.
John Daley
140
Posted 02/10/2017 at 16:16:09
"
Have you read his [Barton's] book?"
In one sitting, John. It's impact was such that I actually considered adapting Joey's journey for the screen, but dropped the idea rather quickly on the basis that going from 'gobshite', to 'introspective gobshite', to 'introspective gobshite for hire on the radio', hardly qualifies as an investible redemptive arc.
Of course I have not read his book.
I have seen the CCTV footage of him repeatedly smacking some kid about the face on Church Street, but somehow managed to steer clear of his self-indulgent musings about what made him do it. I'm not interested in Barton as a person, pundit, cod philosopher, player, or any of the clubs he turned out for, just as I have no interest in the fact he was/is an Everton fan, so why would I?
Callum McNab
141
Posted 02/10/2017 at 16:17:06
Fully expect Billy Boy to come out with the " what a manager" statement next. Deary me, if this is the expectation of our board we are in big trouble.
Trevor Peers
142
Posted 02/10/2017 at 16:18:38
The dreaded vote usually comes immediately before the inevitable sacking, only a run of wins can save Koeman.
The way Ron has the team playing, without any real tactical plan and goals as rare as rocking horse shit, he'll be lucky to last another four games, none of which I expect us to win.
Let's hope he's gone, long before the derby game, otherwise a battering by the RS will be a certainty.
If Unsworth was in charge by then we might show some fight and passion.
Lawrence Green
143
Posted 02/10/2017 at 16:20:06
Actions are being taken by the club to address our current plight, as Everton have recruited Pavel Kucherov a person who has links to Arsenal I haven't a clue who he is but he is another Russian connection for EFC but not the one that many of us would want to see move from Arsenal to Everton.
John Daley
144
Posted 02/10/2017 at 16:20:54
"Joey Barton would be a boss coach" is somehow a better shout than "out of work Carlo might not sniff at Koeman's massive fucking salary"?
Eddie Dunn
145
Posted 02/10/2017 at 16:21:57
Colin & William, on conspiracy theories, could it be that Koeman has been put under pressure to play Rooney(Kenwright's choice) at ten, rather than Siggurdson (Koeman's choice). I wonder if there are clauses in contracts damnding positions or regular appearances? It could help to explain the strange selections that have been made.
Mark Morrissey
146
Posted 02/10/2017 at 16:24:53
Moshiri using Jim White @ Sky Sports and telling him to tell Evertonians to expect something "big" at Everton when we failed to land Sissoko last year was very worrying. Lots of Evertonians didn't see the concern and questioned the authenticity of the dialogue passing it off as something or nothing.
Let's be clear, Moshiri bent over backwards to get Koeman and he's got his man. He believes in Koeman just in the same way that it is just and right to go after Sissoko.
The pair of them deserve each other. They wanted Sissoko, they wanted Lamine Kone, they signed 3 number 10's who aren't all that. They are both comfortable to allow Ross to walk away. They undersold Lukaku and they let Deulofeu go for a song.
Don't expect Koeman to be sacked any time soon. They are both buffoons who wouldn't know how to set a team up between them in a month of Sundays.
We felt we were on the brink of something big. We are not. That's the reality. It's same old, same old Everton. No conversation with the fans just Moshiris guff to Sky Sports Jim White.
I've never been more concerned for our club and that's saying something
Gerard McKean
147
Posted 02/10/2017 at 16:29:46
Colin #43 and #109, you make some very pertinent points.
While I disagree with your choice of personnel I do agree wholeheartedly with your sentiment that "it is about time some real Evertonians took charge of the club and not some outsiders."
This is the fundamental and underlying reason why we underachieve; the people in charge do not share the passion for Everton FC that we have and their agenda is all about themselves. As you say in #109, Kenwright has been further enriched personally and is still calling the shots while the two board members next in line don't really understand football. And of those two, one has the temerity to pretend to have been a lifelong Evertonian when the truth is actually very different.
The problem for me is that too many Evertonians just do not want to hear the home truths and prefer to limit their criticisms to players and managers when the glaring problem lies in the culture of complacency at the top levels. As many TW contributors have noted, Moshiri's comment about the only unexpected defeat reveals anything but a NSNO attitude. Nothing will change if we cannot get rid of the fraudsters masquerading as Evertonians and bring in some competent and passionate proper Blues to run the club.

Paul Tran
148
Posted 02/10/2017 at 16:36:24
Something about Eddie Howe doesn't sit right with me. Conveniently forgotten that Bournemouth are bankrolled by a Russian, pays over the odds for players, has a habit of playing half decent football and losing. Bit like Martinez without the early promise. Of course, he's a Blue isn't he? So on that basis, lets sign him up?
Tony Abrahams
149
Posted 02/10/2017 at 16:44:19
Stan@134, there is more than one very good point, in what you say. We are still cautious over the ground, until as you say, we see more action.
I don't like to see anyone lose their job, but I think the fans have now got to turn on Moshiri's words, for the good of the club?
I have loads of reasons for wanting Koeman gone, and I saw a few more yesterday. I watched Burnley, the other week, and thought that number 5 of theirs, is better than the centre back they sold us, and he also did well yesterday. (How much did he cost I wonder?)
To be fair to Michael Keane, he didn't look 100% fit, but I do think there number five, moves quicker across the ground than Keane does. But, and its a very fucking big but, Burnley were organised, whereas Everton were all over the place.
I don't think I've ever seen a team defend as deep as Everton, when Burnley's keeper was kicking it out of his hands, and the fact that Koeman, was a top class centre half/sweeper, makes this another fucking unacceptable.
Paul Tran
150
Posted 02/10/2017 at 16:45:09
Gerard, we've had a 'proper Blue' in charge for too long. Nobody runs a football club with the intention of messing it up. I'd be happy with someone with some business/football acumen who knows what they're doing and has a sound recruitment policy. When we're successful, I suspect most of us won't give a flying Donald about who the chairman/owner used to support.
Tony Abrahams
151
Posted 02/10/2017 at 16:49:51
Stan that should have said I am still cautious over the ground mate.
Shane Corcoran
152
Posted 02/10/2017 at 16:53:20
For the first time ever, is it possible that all the ToffeeWeb family are actually looking forward to the international break.
Just think, if Ireland lose to Wales next Monday, O'Neill might become available.
John G Davies
153
Posted 02/10/2017 at 16:55:46
Because it would allow you to form an educated opinion John?
You could, on the other hand(if one gets tired) sit in your bedroom pontificating about troglodytes, cave dwellers, game of thrones etc and all manner of wonderful creation you produce on a regular basis.
Tom Bowers
154
Posted 02/10/2017 at 16:56:43
Word of warning to Koeman. It's amazing how many managers have been fired shortly after being given ''the vote of confidence'' by the chairman.
It's not at all comforting to have Moshiri feel good about Koeman at this time and we will see what the situation is at the end of the month.
Everton played for 15 minutes yesterday and then went out like a damp squib. Something is definitely rotten in Denmark.
John Pierce
155
Posted 02/10/2017 at 17:00:27
Bookies favourite for the sack, these moneygrabbing shites are rarely wrong such is their analysis and the contacts they have.
As for the subject of our lad Farhad, just a fella who pushes money around and such little media awareness that is smacks of amateur hour at the local boozer.
It just made me cringe, White spunking at the mouth with the words of Evertons top brass in his pocket, waiting for the imminent disaster knowing he has the inside line.
When did the club last issue any official communication worth anything to anybody?
My eye has for the last couple of weeks turned very much to the club. In reality my ire had melted into apathy towards Koeman and venting gave me no relief.
That says it all.
James Power
156
Posted 02/10/2017 at 17:05:02
This feels like the end. It just does. We have seen this before, Walker, Smith, Martinez...it's bubbling and there is no 'off' switch. I didn't expect to get beaten by Atalanta so badly, didn't expect the awful performance at Chelsea. Didn't expect the terrible capitulation at Man U, didn't expect Appollon embarrassment and didn't expect Burnley humping. I actually did expect it but didn't want it!
Paul Tran
157
Posted 02/10/2017 at 17:07:44
Tony #145, it makes it extra clear that Koeman isn't making himself understood. I've seen plenty of talented people become dreadful managers. Maybe he's just one of them. When talented staff are confused and don't know what to do, I'd bet their manager isn't getting through to them.
John Pierce
158
Posted 02/10/2017 at 17:09:28
I will say one last thing about Koeman, I had hoped him being Dutch, and wedded to his words that he would walk before the belated axe falls.
Each passing week his comments give me tiny pieces of hope that its close to the surface. Each defeat lessens his CV, and Ron is a pragmatic fella.
Actually him resigning just makes Farhad look even more stupid. Sure he saves some money, but been beaten to the punch by Ronald would smack of thinking about dumping your bird only to be dumped by her first.
You know its not working but you are too much of a shithouse to deal with it.
Mick Conalty
159
Posted 02/10/2017 at 17:11:00
I am going to enjoy my Sat. Night this week and
there is nothing Keoman can do about it.
Fuck off Keoman and the board so I can enjoy
a few more.

John G Davies
160
Posted 02/10/2017 at 17:14:32
Walker Smith.
Now that's what you call superstar.
Robin Cannon
161
Posted 02/10/2017 at 17:14:48
@John G (116)
"AC Milan
Real Madrid
Chelsea
Bayern Munich
Everton.
Haha. Not a Jack Palance"
But is your argument to be realistic, or is your argument that we shouldn't try?
I don't think he'd come. But it's the lack of ambition in the club that means we'll never find out because they'll never ask.
Ray Smith
162
Posted 02/10/2017 at 17:18:38
Why does Moshiri feed Jim White information which is of little value in respect of promoting Everton in a positive light.
When did Roman Abramovic last have a conversation with Jim White. I have never heard him refer to Roman as "my good friend", like he does to everybody else he passes in the street.
He is so up himself he can't see what an egotistical fool he is. I don't listen to talk sport between 10am and 1pm anymore.
John G Davies
163
Posted 02/10/2017 at 17:23:15
Robin,
Have a look at my post 133
Peter Barry
164
Posted 02/10/2017 at 17:26:08
Just confirmation that our owners do indeed know sweet FA bout football.
Stan Schofield
165
Posted 02/10/2017 at 17:34:20
These days it's clear to me that Everton is all talk and no action. Just a constant stream of bullshit, whether it's inane and unprofessional utterings from the manager, petty excuses from players saying they'll try better next time, or the owners spewing classic management bullshit to keep the punters happy. It just seems a bag of embarrassing shite.
It's a far cry from the days of Ball, Labone, Kendall, Reid, et al. It's not Everton as I came to know it. I'm glad I didn't waste my money on a season ticket.
John Daley
166
Posted 02/10/2017 at 17:36:14
John @153,
It's impossible to form 'an educated opinion' about somebody whose many misdemeanours, vicious assaults and vengeance fuelled arse flashings have persistently been played out in the public arena, without first perusing their autobiography?
Fuck. So many readily written off, now ripe for reappraisal. Where to start?:
Iain Johnston
167
Posted 02/10/2017 at 17:42:00
We just need a manager who knows what the fuck he's doing, whether on the training pitch or during the game. Not one of these gobshites with a philosophy or who buys into pretty tippy-tappy passing possession bullshit or plays this modern friggin' 4-2-3-1, glorified 4-5-1 defensive bollocks or false No 9s, No 10s, or even goalie in and out.
Pleaase, someone, anyone get shut of this waste of space mercenary of a manager, Moyes & Martinez love child.
And breathe in... and out.
Ralph Basnett
168
Posted 02/10/2017 at 17:43:45
To be honest I could not be bothered reading all articles, everything Everton is slowly but surely grinding me down!!!!!
However, having got the owners vote of confidence, I am sure it has already been said, we will give him full support, except money and keep him - we are Everton after all.
Paul A Smith
169
Posted 02/10/2017 at 17:47:27
David Barks I was made up with the post you wrote until saying Koeman should stay.
No offence mate I think we need a real coach that shows a system can be successful if we buy quality.
I can't see a great deal of real coaching in us?
You have definately opened your eyes to the big picture though.
David Barks
170
Posted 02/10/2017 at 18:05:26
Paul,
Please don't take my post as an endorsement of Koeman. I just don't want to give the ownership another two years of excuses that the new manager needs time, and he needs 2-3 windows to build HIS squad. That's all.
John G Davies
171
Posted 02/10/2017 at 18:10:50
Is that a selfie?
Michael Williams
172
Posted 02/10/2017 at 18:11:37
Please, please, please stop with the Ancelotti talk.
Short CV: 3 CL titles, numerous league titles, cups, shields and manager of the years.
Milan
Real Madrid
Chelsea
PSG
Real Madrid
Bayern Munich
Ancellotti manages the biggest teams. He is not taking on a project team in trouble with a 7th place league finish being the best showing in years and hasn't been in the CL in a long time.
Michael Williams
173
Posted 02/10/2017 at 18:16:44
I just saw John 116 - kudos to him.
As for Robin at 161 and everyone else re: Ancelotti. FFS, let's pretend the club has already "sounded out" Ancelotti and he said "I love your club but no thank you."
No can we move on from Ancelotti.
Eddie Dunn
174
Posted 02/10/2017 at 18:16:46
Just seen a piece on BBC online that Gracenote sports predictors have us down still to finish seventh, but with a reduced amount of points(51) as opposed to the 57 predicted preseason. Are they mad or am I?
Terence Tyler
175
Posted 02/10/2017 at 18:27:40
Meanwhile, Arsenal's Russian scout, Pavel Kucherov, has joined us. No doubt it will fuel more Usmanov speculation...
Mike Berry
176
Posted 02/10/2017 at 18:36:44
The 1994 and 1998 teams had more organisation. I very much fear the relegation word.
Jobe Nineteen
177
Posted 02/10/2017 at 18:38:15
I have no idea what Moshiri is trying to develop this commumication line with White for? What I do however know why we are in the position we are in at the moment. Koeman had far too much to say regarding transfers and stifled Walsh's ability to deliver a balanced team, that coupled with a board with no ambition and even less business acumen is why we are in shit street.

Koeman didn't sell Lukaku the board did, but Koeman did buy total dross in Klassen, Martina and Rooney.

Our club is in a very bad place, probably as bad as when we had Walter Smith at the helm, Mr Moshiri, and you sending Jim White screenshot messages saying it's not unexpected and success is around the corner is making YOU and EFC look like a bunch of total and utter twats.
John G Davies
178
Posted 02/10/2017 at 18:42:46
John Daley,
Would you condemn anyone who makes mistakes before the age of 30 as irredeemable?
Tony Abrahams
179
Posted 02/10/2017 at 18:43:46
Shane, I would suggest that Sean Dyche, could possibly be a much younger version of Martin O'Neill?
Paul T, to be fair we did hold the line at the edge of our box when defending a free kick near the end of yesterday's game!
I sat next to a Gillingham fan, who had been to Blackburn, on the Saturday, and stayed up here because he wanted to come to Goodison, before it closes. He suggested that because Koeman, was such a great player, maybe he expected his players to be as clever as he was out on the pitch, and possibly couldn't explain himself properly? He said he'd seen it loads of time with great players, not being great managers?
I thought he had a point, but when a team has no-one on the left, like Everton, did yesterday, alls the manager had to do, is call a player over and tell him to stand out wide by Me? Come on, Siggy, I only paid £45 Million just stay here, and play out of position for me!
Dave Lynch
180
Posted 02/10/2017 at 18:47:16
IMO he has until the first derby to save his arse.
Take a beating off that shower and there is no way back.
I don't usually use analogies but...
Imagine replacing Rutger Hauer in the final scene of Blade Runner with Ronnie. Rain dripping on him whilst he laments on his past glories.

David Hughes
181
Posted 02/10/2017 at 18:53:08
Same old, same old! This club is finished this season. Sick of football and Everton. It will never happen at this club. Laughing stock.

Sorry, put up with it for 40 years
Eddie Dunn
182
Posted 02/10/2017 at 18:53:27
Dave- are you suggesting that Ronnie is a Replicant?

Will Mabon
183
Posted 02/10/2017 at 18:59:33
John G - have you been left stuck with a box of those books?
Paul Birmingham
184
Posted 02/10/2017 at 19:08:53
The Brighton match, will be interesting.
What team will start, injuries aside, I havnt got a clue.
The slippery slope beckons, again, but the club must face reality and show some steel and belief and unite for once.
John G Davies
185
Posted 02/10/2017 at 19:14:10
I have Will.
Would you like one?
Retail at £7.99
Just a tenner to you.
Kim Vivian
186
Posted 02/10/2017 at 19:15:12
Any chance this statement is some sort of smoke screen? We do not know how verbatim the quote is and it may just be something to stall for time for a couple of days.
As someone posted earlier today it is interesting that he (allegedly) says "I" rather than 'we' or 'the board'.
With the shareholding structured as it is I am unsure precisely who would make any decision to fire. In regular business I think I am right in saying, any shareholder or group of shareholders of a Ltd company with at least 25% have the power of veto over the 75% individual or group. So in order to have unchallenged control you need 75.1%.
Therefore I assume it has to be a board decision as a result of some kind of crisis meeting. Moshiri clearly holds much sway in the hierarchy now and Koeman is as we know 'his man' but how any decision to fire or otherwise gets made in our case has to be open to some speculation.
The problem is our more indigenous 'board' members do not appear to have the necessary assassin's instinct, and giving him more time may just be the route of least resistance. However there may be more going on than we know and this statement, as I say, may just be a smoke screen.
Mike Berry
187
Posted 02/10/2017 at 19:16:01
Trouble is most of Evertons transfers are looking a disaster because we have bought duplicates and nowhere where you can play them all, so do you bench £100m and stick to a system with width and pace, which knocks out most of our signings!
A right mess !

Dermot Byrne
188
Posted 02/10/2017 at 19:18:25
John G: careful. There are a great many famous ones even the most liberal may find it tricky. I see your point though and will be pleased if he has had his road to Damascus.
Dave Lynch
189
Posted 02/10/2017 at 19:21:44
If he would only replicate what a decent football manager does Eddie.
Oliver Brunel
190
Posted 02/10/2017 at 19:22:23
We are the new Newcastle (minus the fat tellytubby fans, brain dead shaven heads and fried mars bars and foggy tyne) …. Crap signings, shocking management, hangers on in abundance on and off the pitch and we are now communicating with the fans through TalkMoron radio station.
A football club which patronises its fans whilst asset stripping the club for the benefit of a few individuals. Who will be the first to run on the pitch a la Nyarko and ask for Williams shirt? Only a matter of time imo.
Jim Bailey
191
Posted 02/10/2017 at 19:29:39
Oliver @190
Brilliant.
Jamie Evans
192
Posted 02/10/2017 at 19:29:49
Joey Barton. Big Sam. Marco Silva. Got to lurve ToffeeWeb. 👏👏👏
James Hughes
193
Posted 02/10/2017 at 19:32:55
What is this bollocks with Barton and our club mentioned in the same sentence. He has nothing to offer and is a liability on and off the pitch.
Same man how showed his arse to our home crowd.
some of you need to fucking Behave, Joey Barton should not even be allowed to enter GP.
Keith Gleave
194
Posted 02/10/2017 at 19:42:27
Well I hope that the usual vote of support from the chairman means Koeman will be sacked within the week. However, I won't hold my breath.
Dennis Heaton
195
Posted 02/10/2017 at 19:49:32
Maybe our Farhad wants to keep the manager? Also, no news on the new ground.
If we are going to be finishing near the bottom of the league at the end of the season, having not spent much of his own money, how much are the rest of the shares worth? Probably a lot less than when he first bought his shares... so a quick purchase of the rest of the shares at a great discount.
Just a thought .
Oliver Molloy
196
Posted 02/10/2017 at 19:50:28
Oliver,
and don't forget the angry birds !
Mike Hughes
197
Posted 02/10/2017 at 19:53:41
If Joey Barton is the answer, we're asking the wrong question.
Regarding any potential tipping point on RK's tenure, we are currently averaging a point per game which is borderline relegation form over a season. If that does not markedly improve by the end of November then I think the 'eject' button will have to be pressed.
And that is massively compromising on most Evertonian expectations this season.
The bland and unimaginative BBC (4 hours ago) have a prediction that we'll finish 7th on 51 points. (They have the usual suspects at the top and bottom).
How many actually think we will finish 7th?
And is that good enough after the expenditure - not just on players but also manager and DoF?
(Not to mention the actual dross being served-up regardless of the results.)
Joe McMahon
198
Posted 02/10/2017 at 19:55:58
The Peoples Club, what exactly does that absurd crass statement actually mean? School of Science, another one that needs to be dropped.
I just can't see any light in the tunnel, Kenwright don't sack managers, Moshiri comes out with verbal diarrhoea. And no this isn't going to be Kendall 35 years ago (footballs a bit different now), more like Kendall MK III 1997.
Colin Glassar
199
Posted 02/10/2017 at 20:03:07
After reading, and re-reading Moshiri's statement I am becoming more and more convinced that Kenwright's done him in and thrown his body into the Irish Sea a la Dexter or like in the godfather "he swims with the fishes".
I believe kenwright, through his theatre contacts, has found a perfect body-double to replace Farhad and is using him for his own dastardly ends. This is even worse than The Invasion of the Bodysnatchers!!
David Johnson
200
Posted 02/10/2017 at 20:16:28
I hope Koeman stays. He clearly hands over a wish list and then the board get em in. He is clearly not responsible for our disastrous summer.
Soren Moyer
201
Posted 02/10/2017 at 20:28:22
Robert Leigh #136, I rate him highly too. If only we had an ambitious board!
Robin Cannon
202
Posted 02/10/2017 at 20:34:51
Michael (173) - I'd be fine if that were the case, and we actually had sounded him out.
I think we could put together at least an imaginative offer. He apparently wants a job in England. He's likely to pursue 3-5 years more in club management before going back to Italy (and presumably at some point coaching the national team).
While not likely, I don't think it's inconceivable to pitch the idea of laying the foundations for a team and organization to move into the elite, coinciding with a new stadium, etc. It's kind of what he did with PSG, to be honest.
Again...I don't think it's likely. But more damning is that I don't see any sign that our ownership would even think to try it.
Raymond Fox
203
Posted 02/10/2017 at 20:39:08
We are now further away from any success than ever. Why, because better quality players that we need now cost twice as much than they did last season.
Our esteemed owners have actually spent little (net spend) if you take into account the money they have received off selling players. Can you see Moshiri and Co paying the now inflated prices, no neither can I.
Koeman has made a pigs ear of managing the club this season especially, and needs to be sacked. I'm not disputing that, but one or two things don't hang right.
If its all Koeman's fault how did he manage to finish 6th and 7th at Southampton for two successive seasons after being forced to sell some of his best players.
The bottom line, which is the common factor covering the last 20+yrs is that our players with the occasional exception are not top 6 class players. If we have one he's off the next season to Man Utd et al.
Frankly we are a lost cause, pissing against the wind each season and there must be a better way to waste our time.
Oliver Brunel
204
Posted 02/10/2017 at 21:00:08
Raymond (203) spot on. The most damning evidence for the way we are managed is how quick the 'Kenny and Woody' show were to cash Lukaku in early doors summer and then waltz off on their yachts etc….
Colin Glassar
205
Posted 02/10/2017 at 21:01:39
We should try and get Amanda Staveley to buy us. She's better looking than Moshiri and probably knows more about football than he does.
Paul Kossoff
206
Posted 02/10/2017 at 21:01:54
So the board and management are expecting us to be beaten by the top six home and away? That's 36 points! And mediocre teams in the Europa. Thanks Moshiri, what a brilliant way to instill confidence in your club, and we all thought that you must be brilliant to be a billionaire! Koeman Wizard Walsh, Kenwright and you can sod off please!
Derek Knox
208
Posted 02/10/2017 at 21:36:34
Obviously the photograph of Moshiri, at the head of this thread, was not taken on Sunday. If it was, it could explain why he is reluctant to give the Dutchman the Clog.
Normally, when a manager, gets a public backing by the Board, it is generally the beginning of the end, unfortunately as we are not scheduled to play for nearly two weeks, this could be a stay of execution.
I do hope they, the Board that is, are making contingency plans, during the break.
Phil Walling
209
Posted 02/10/2017 at 21:48:53
Home from Cyprus for the winter months to find my team/club is fucked. Well, I knew it already but it didn't seem so real from so far away.
Moshiri is a pretender, Koeman his stooge and possibly without knowing it they both dance to Uncle Billy's tune. He and Elstone still call the shots and handle the transfer business whilst Director of Football, Walsh, continues to pick names out of his hat in the hope of finding another Vardy.
The entire club is a shoddy mess being used to enrich all those lucky enough to have a seat in the boardroom. I don't think changing the manager will make the slightest difference – Everton is run to rape the fans and finish 7th though even that might be a big ask this season. But then, nobody can guarantee such success every year, can they?
Ian Bennett
210
Posted 02/10/2017 at 21:54:56
Brighton or bust for Big Ron.
Ash Moore
211
Posted 02/10/2017 at 22:18:02
Some interesting points. I am suspicious of Moshiri too, but unlike Tony Marsh, I'm more suspicious of his naivety. Someone compared Mosh to Randy Lerner. Not bad shout that.
I'm getting the feeling Mosh is a whale in a sea full of sharks. To be fair Tony, what type of fucken idiot would sign or commit to anything involving a stadium right now? Championship clubs don't need new stadiums. I'd be more worried about his business acumen if he WAS shoveling more money into the club.
What happens next will be interesting. Moshiri arrived too late and really serves no purpose at all other than to muddy the waters around the clubs ownership structure. Will he throw more cash down the sinkhole? Or will he pull up the drawbridge instead? You don't stay mega rich long spending £60 million on Sigurdsson and redundancy packages for Dutch halfwits do you?
If you were Moshiri how would you feel about parting with another £10 million? Oh, plus what you'll need to pay the next fellow?

Neil Copeland
212
Posted 02/10/2017 at 22:20:50
It is hardly surprising that the team performs the way it does if the threads on here are typical of the fan base at the moment.
I am a season ticket holder and will be for many years – why? Because I love EFC, always have done and always will and will support them through whatever shot storm prevails. We the fans are EFC because, without us, there is no EFC. The team needs us more than ever now to help try and pull through this mess that we find ourselves in.
I do not condone Koeman's or Moshiri's ridiculous comments but I do support the team and to me that is what matters. I think Moshiri will be with us for some time and although I don't think Koeman will.
I feel we need to get on with it and do what we do best by standing together and giving the team as much confidence as possible If we don't then we really are in deep shit.
Mark Hughes
213
Posted 02/10/2017 at 22:33:29
Rome wasn't built in a day - IMO Wayne Rooney was the unsettling factor and we'd be much higher without him. He's got a shadow like Stevie G had at Liverpool and makes formation of a true team difficult.
Mark McDonald
214
Posted 02/10/2017 at 22:39:19
IF Koeman is to leave ( resign or be sacked) I would opt for Unsworth to be seriously considered in a partnership with Ferguson - two true Blue Boys with Joe Royle watching over them.
The transition to appointment these two would be seamless given all of Koeman's backroom staff, I suspect, shall move on as well. This can happen from one week to another without all the media writing rubbish stories about our new appointment.
Pep at Barcelona and Zidane at Real both came from managing their "B - teams". They had little experience before being handed the top job. I admire coaches like Bielsa and Tuchel but they would just be another gamble given they have never coached in the Premiership. That is not to say they would not be successful. You just have to look at Silva ( Hull/Watford) who had no Premiership experience but has quickly made the transition easy and is now looked upon as "one to watch".

History and facts are on our side by appointing an Unsworth/Ferguson partnership and I said this when Martinez was sacked before we appointed Koeman THAT In modern times the only time we have had success and the greatest success in the history of the club is with former players in charge
- Catterick, Kendall ( 81-87), Royle.
Even Colin Harvey, although never winning anything and inheriting Kendall's side, finished 4th, 8th, and 6th in the First Division and made the Cup Final in 89.
John Pierce
215
Posted 02/10/2017 at 22:55:15
The question of Ancelotti.
Those reeling off the cream of the crop he's managed, yeah thats fair. Also there aint many of Europe's great clubs a left to manage and with a vacancy.
Rumoured to be happy to manage in England again, tell me which behemoth of English football is ripe for his services right now?
I'd argue none of them are, so look around Europe and guess what there aint those type of jobs open. So actually an approach wouldn't be as zany as some might have you believe.
But then with the board showing a weak appetite for bloodshed, that is more likely we miss out on a decent appointment as they get hoovered up by clubs with bigger bollocks than ourselves. In turn making Koeman look the prize hound in a village fete, a big thing in a small world.
Best keep him hey?
Carl Allan
216
Posted 02/10/2017 at 23:06:17
I don't want Ancelotti if Koeman does go. He's just another Bigtime Charlie who will look at Everton as a final big payday who are below him so won't have any affinity with the club or fans.
Personally I would go for Eddie Howe or Marco Silva, two young and up-and-coming managers still with everything to prove and with the added bonus of some Premier League experience under their belts.
Iain Johnston
217
Posted 02/10/2017 at 23:21:38
Let's all forget Ancelotti. He has publically said today that he'll not take another job for at least 10 months.
There are two who I'd consider, Laurent Blanc & Luis Enrique.
Dan Davies
218
Posted 02/10/2017 at 23:22:58
As if it wasn't bad enough, perusing through TW springs up Pat Butcher/Eddie Large, oh well if you didn't laugh you'd cry...
Thank fuck for humour! Special mention to John G, you have to admit John D the 'selfie' post was funny though.
C'mon Koeman sort it out!
Sean Kelly
219
Posted 02/10/2017 at 23:29:21
Looking at the happy head on Moshiri in the picture, he obviously wasn't watching Everton.
Clive Lewis
221
Posted 02/10/2017 at 23:41:03
If Moshiri doesn't fire Koeman, it's financial and I don't believe that he is listening to the fans. 75% want him gone for the simple reason, it's a terminal decline; you cannot fix problems as deep-seated as they are.
Koeman has a 75% history of ruining teams. Why would Everton be any different?
Eddie Dunn
222
Posted 02/10/2017 at 23:41:23
I wonder if Tim Cahill knows anything about coaching?
Jason Wilkinson
224
Posted 03/10/2017 at 00:44:22
There are some fantastic managers to be had without jobs at this moment. The problem is two fold. 1, we have a manager and 2, our directors like the one we have.
I hate this attitude of sack, replace, get the next guy in the door. We have 31 league matches to play. We are still in the Europa competition, still in the league cup and unless I've turned into a bear and hibernated still in the f.a cup!!!
I hope we can improve the confidence levels, start to play some football and maybe get the centre forward and left sided defender Mr. Koeman alluded to in the next window.
If not I fear a double act of Mourinho and Guardiola couldn't do any better. Yes the football is dire and yes the team looks unbalanced but sacking the coach won't make the players any better.
If by the time we play Arsenal and nothing has improved then I would like to think the business men who run our club are demanding answers from the coach and players. We need to instill confidence in the team by supporting them not the shitty atmosphere we have had the last two games.
Ask not what Everton can do for you but what can you do for Everton.
Tony Stanley
225
Posted 03/10/2017 at 01:07:37
I really cannot believe this is Everton FC.
Brian Wilkinson
226
Posted 03/10/2017 at 01:14:34
Said it last year and more so n the last few weeks, the last two managers know sod all about what Everton means, call me mad but I think we need to bring an Evertonian in, before anyone says Kendall Mark 2 and three did not do well, I give you Kendall Mark 1 and Royle, the last two managers to bring Everton Silverwere.
We have already seen the contenders, when Unsworth and Royle took over the last game of the season of Bobbys reign, resulting in a 3 nil win, with a mixture of youth and experience and a balanced team.
Royle still has it and will bring a lot to the Unsworth management, give them both a run and if successful keep them on.
We have no fight in this current team, Unsworth and Royle will steady the ship.
On a final note, with those two in charge, you could see Barkley have a change of heart.
Colin Glassar
227
Posted 03/10/2017 at 01:17:09
The next Everton manager should take a lie detector test.
Robin Cannon
228
Posted 03/10/2017 at 03:49:53
Carl (216) - "I don't want Ancelotti if Koeman does go. He's just another Bigtime Charlie who will look at Everton as a final big payday who are below him so won't have any affinity with the club or fans."
I never really get that answer.
I get the idea that Ancelotti wouldn't come to us.
But you'd prefer Eddie Howe or Marco Silva versus a manager who's won the title in four different countries with four different clubs and the Champions' League three times? I suppose his only real Premier League experience is winning the double and setting the league record for most goals scored (at 103)...
PSG hadn't won the league in France for 18 years before he came. They credit him still for turning around a big, but hugely underachieving club. For instilling professionalism, an absolute desire for excellence, and basically demanding "nil satis nisi optimum".
He's not a "big time Charlie", he's just big time.
Once again. I don't think he'd come. But the sad thing is we'll never be in a position to know, because we won't try.
Peter Gorman
229
Posted 03/10/2017 at 06:19:48
John G - I'll take one of those Barton books if they're going. I should have time to read it after I finish the Idi Amin and Željko Ražnatović biographies. Don't judge 'em until you've read what has been ghost-written about them, that's my motto.
Andy Crooks
230
Posted 03/10/2017 at 06:38:14
Something is not right. Well, loads is not right on the pitch but, apart from that, I have an uneasy feeling. Gary Johnston has the same feeling. Tony Marsh has it in spades.
Mr Moshiri invested in our club and I doubt he ever set foot in the Boys' Pen. He did it, I assume, to make money. Right now his investment seems worth shit all. So, why is he not doing what any major investor would do, and sack the coach and try again? Is he really a patient, decent man who made his decision and will stand by it?
What is his agenda? What is with the toe-curling connection with Jim White?In my view, something stinks. Something is wrong. Evertonians are entitled, at the very least, to be able to have a degree if trust in the custodians of our club. I have none. Koeman is a hired hand who will sooner or later be gone.
Behind the scenes there are the stayers, the profit seekers, those self-serving leeches who see Premier League survival as enough. If the admirable David Unsworth became coach, these are the Evertonians, he will answer to.
Something is wrong.
Phil Sammon
231
Posted 03/10/2017 at 07:10:20
Well it's pleasing to know Barton has fully mended his ways. Without reading his book and knowing the context it's hard to condemn a guy for stubbing a cigar in someone's face.
I'm eager to form an opinion of Koeman. Hopefully he releases his book soon so I can validly pass judgement on his character.
Halfway through Harold Shipman's book at the moment, he seems like a nice well educated bloke so far.
Ralph Basnett
232
Posted 03/10/2017 at 07:42:18
WTF Jason (224),
I turn up for the team every week and pay for the pleasure, the players or manager do not turn up week in week out and yet get paid a kings ransom for it!!!!
It has been said many times but if this team including management where bricklayers, postmen or any other jobs they would be gone by now, why should this shower be any different?
Ray Jacques
233
Posted 03/10/2017 at 07:51:34
I actually believe Koeman thinks he has made a mistake and doesn't want to be here. This has translated to the players and now its also with the fans.
Body language of the manager and the players says it all. Manager stands for 90 minutes with hands in pockets, players constantly come to a stop, throw hands in the air and turn backwards.
The whole feeling is one of, Who cares?
Not many of the senior players are out in the press supporting the manager, the silence is deafening.
Ian Burns
234
Posted 03/10/2017 at 08:40:02
I have read through every post on this thread and two things stand out for me.
First is that I have never seen on TW so many in tune with Koeman sacked or leaving of his own accord.
Obviously as always there are some excellent posts (and a good percentage of intelligent posts dare I say, Barton comments aside!) but Mark McDonald (at #214) makes an excellent argument for Unsworth (my personal choice just ahead of Dyke) for when the anticipated date dawns on Koeman's departure.
Rob Young
235
Posted 03/10/2017 at 08:46:45
Tell Ancelotti to give us a call in 8 months.
We give it to Rhino and tell him that, bar any disasters, he has the rest of the season to prove himself.

If we all order a new kit with "Unsworth 6" on the back will that help?

Brian Porter
236
Posted 03/10/2017 at 08:51:42
GROUNDHOG DAY FOR KOEMAN
For a great insight into Koeman's managerial record, correspondent Tom Seymour om HITC has released a blistering expose of Koeman's managerial record. Apart from pointing out that Koeman's only actual silverware came from his time in the Dutch league, he reveals how Koeman has resigned or been sacked from the majority of his management positions.
Seymour also leans strongly on a theme I've mentioned previously, Koeman's time at Valencia. The following is an extract from the full article :
"It is a run of form that is seeing questions being raised about whether Koeman is the right man to be in charge at Goodison Park and a look back at the Dutchman's record in the dugout suggests those concerned are right to be.
Things did start well in the 54-year-old's managerial career with a decent sixth place finish in the Eredivisie in 2000/01 with Vitesse Arnhem followed up by two titles in four years at Ajax - although even that ended disappointingly as he resigned from the position while eight points behind leaders PSV Eindhoven.
A third place finish in the Primeira Liga and quarter-final exit from the Taca de Portugal with Benfica followed, with Koeman again leaving his position earlier than expected. He did then win the Dutch league with PSV but in 2007/08 was sacked by Valencia having guided a team containing Juan Mata, David Silva and David Villa to the verge of relegation."
When read as a whole this article does make me wonder what the hell Moshir was on when handed Koeman the job on the ridiculously inflated salary of £6m a year. His complete record stinks of perennial failure and the inability to see things through. Whenever the going has got tough, Koeman has got going... Straight for the exit door. For God's sake, Moshiri, get real and get rid of this hopeless sham of a manager who really does seem to be conning his way into good jobs based more on his reputation as a player than as a manager. Seymour even reveals that Frank De Boer actually had a far better record of success than Koeman had in Holland. Enough said?
Ray Robinson
237
Posted 03/10/2017 at 09:18:28
First let me nail my colours to the mast and state that, after previously been willing to give Koeman time, I think it's now time for him to go.However, do I think Unsworth should take over? Mmm, not so sure.
Firstly, despite his seemingly being an excellent man-manager, the step up from U23 level to first team might be a bridge too far for someone so relatively inexperienced.
Secondly, and this is some of us perhaps need to get our own mind in order – for years we have collectively wished for a more ruthless manager to sweep away the deadwood, for someone to be detached and unsentimental, to see the bigger picture and to take the hard decisions to move forward. Well, we got that with Koeman.
Why then are we suddenly seemingly in favour of going back in-house for a successor? Mightn't Unsie be a little bit too close to home to make the big decisions? Too attached to the club?
This is not an argument for Koeman to remain in place. More a case of do we re-resort to an in-house solution to solve the problem? Might we not be better just trying for another external candidate - hopefully better than the current one?
Just a thought.
Paul Smith
238
Posted 03/10/2017 at 09:29:58
Ian (234) whose Dyke ? Not another Dutchman I hope.
Len Hawkins
239
Posted 03/10/2017 at 09:30:08
Ian (#234), I don't want a Dyke anywhere near this club, scary looking and the lumps under their shirt and tie give them away.
Peter Barry
240
Posted 03/10/2017 at 09:34:36
Koeman has quite clearly lost the 'dressing room' and now it appears he has lost the supporters too, at least the pragmatic ones who don't operate solely on emotion, so he has to go.
Ian Burns
242
Posted 03/10/2017 at 10:03:12
Paul - 238 - Len - 239 - haha - very good. I was thinking more of the Sean variety who came here on Sunday and showed us what a team looked like. I shall now spell it correctly - Dyche.
Hugh Jenkins
243
Posted 03/10/2017 at 10:11:34
Ray (237).
Why would Unsey's connection with the club stop him from making the "hard decisions"?
This is an assumption, on your part, without any evidence to support it.
He has proven he is a good "man manager" by taking our U23s to the PL2 title.
Considering that many other PL Academies were considered "better" than ours for many years, it seems he has done a remarkable job with limited resources.
So he has, presumably proven, he can make a "silk purse out of a sow's ear".
Until given a chance, we won't know whether he can "make the step up" from U23's to the PL, or not.
But he did in the last game of the last season that RM was in charge.
OK - we all appreciate that Norwich City were already relegated.
But I still think that Unsworth and his cohorts (including Royle and Ferguson) should be given a chance.
At least then, you can guarantee the team will understand about "passion".
Ray Robinson
244
Posted 03/10/2017 at 10:26:07
Hugh, I have deliberately peppered my post with "mights" and question marks because I do not know the answers to the points you raise. I make no assumptions. Unsworth might indeed be a hard-nosed bastard for all I know under the surface.
I'm simply trying to raise the issue that many on here have had in the past with the club being too inward and backward-looking, sentimental and lacking in ruthlessness – eg, as embodied by our "Boys Pen" chairman. Maybe I'm not making the point well enough.
James Marshall
245
Posted 03/10/2017 at 10:30:30
Talk about naive from Moshiri - I'm sure this must have been mentioned in the thread, but to go out in public and say we expected to lose games is tantamount to treason. Who the hell advises Moshiri?
This plus the bullshit of going on Sky Sports on deadline day and he really isn't doing himself any favours.
Staggering comments.
Mike Allen
246
Posted 03/10/2017 at 10:33:39
We've had a go at the in-vogue continental style management we need to get back to what we hope will be long-term. We can't keep jumping on the European manager merry-go-round, chopping and changing every two or three years. Let's get back to the People's Club. Let's go with Unsworth – promote from within. We don't need to look anywhere else.
Yes, it's taking a chance but isn't that true with any of the names being banded about? He knows the structure of the club and knows the players. We keep saying give them a chance.
If Koeman does go and we go continental, we will be spending shed loads of money for Z-List players again in January – on what is an overloaded squad already.
James Marshall
247
Posted 03/10/2017 at 10:36:35
Also, on the notion of Unsworth taking over. I understand the clamour for him, given his club ties, and success with the B team, but one thing that concerns me that doesn't appear to have been mentioned at all is his ability to attract players.
We're Everton, a mid-table side for the last 30 years, which means that in the eyes of the rest of the world we're only a few steps away from being Aston Villa, or Nottm Forest. Of course us Evertonians feel differently about our status and standing in the game, but to the professional footballers of today that have never seen us win anything, or even come close to a high league finish, we're an also-ran.
With that in mind, it's becoming increasingly important to have a big-name-manager, which like it or not, Koeman is. He was a big-name-player and has a certain draw for players. Unsworth doesn't have that draw, at all.
How many times do you hear players in interviews say that the reason they joined the club was because of the manager? Is Unsworth really going to make it easier for us to sign top players? I don't think so.
Jason Bowen
248
Posted 03/10/2017 at 10:36:48
I'm having my doubts about this Moshiri; how amateurish is making official club statements through Jim fucking White? Kenwright but with a better credit rating!
Ray Robinson
250
Posted 03/10/2017 at 11:10:40
James #247, totally agree. Omitted this point from my post because it'll be countered by the argument that players will go where the money is.
Tony Everan
251
Posted 03/10/2017 at 11:22:05
I think we are in the deepest of shit at the moment. We have to adopt a siege mentality.
The club is eating itself with irate + furious supporters turning on the manager, and by extension the owner.
Players out of form, 20, 30, 40 million pound signings not performing and/or not good enough to be picked.
Criminal Imbalance in recruitment , a total glut of midfielders and no striker , no defensive reinforcement.
The whole recruitment set up is a stinking mess.
How do we make it better and steady the ship? Do we moan and groan until the ship sinks?
Will a new manager do any better with this unbalanced squad ? It is far from being a sure thing...
I'll have a stab; play a team that will battle like hell from start to finish:
Pickford
Kenny Keane Holgate Baines
Gana Schneiderlin
Davies Sigurdsson Vlasic
Rooney
Martina is no defender, Williams looks shot, problem is the defence there is so young, I just feel it needs some protection. I will probably get hung from a lamp post to say play both Gana and Schneiderlin! Rooney is 31 or 32 slowing, but he is a record scorer. At this moment, under this pressure, I feel that if we do score he will be our best bet (for an hour). Calvert-Lewin is to young to be burdened with such responsibility, it may derail his development.
Klaassen and Sandro are not ready at all for the premier league, Calvert-Lewin, Lookman, Mirallas and Niasse to be used as subs.
Dave O'Connell
252
Posted 03/10/2017 at 11:27:14
This is worse than Martinez's final moments. At least he gave us hope with some of the football played in his first season. Koeman's dour boring tactics and even admitting he gets his tactics wrong... please please get rid now before he takes us down.
Laurie Hartley
253
Posted 03/10/2017 at 11:46:46
"We are in a bad moment". Must be the longest moment in the history of the universe because it started with 5 games left to go last season. If we were any good we would have made the top 6 last season instead of finishing 10 points adrift of it.
Mr Moshiri - to quote a line from Braxton in the movie "The Accountant" (Irony?) – "This is a big moment for you. Make a good decision."
As I have posted before, 49.9% of a Premier League club is worth a lot more than 49.9% of a Championship club. What would the difference be – £50 or £60 million? Maybe more - It's a bundle anyway. That is why he should go "all in" and get Ancellotti.
For all my fellow ToffeeWebbers who scoff at the thought that he might join us, I would say "money talks". If I was Moshiri I would pay the current managers contract out and offer Ancellotti the same package but with a few incentives thrown in:
The Lukaku money to spend in January.
Avoid relegation - 25% bonus - £1.5m
Qualify for Europa League - 25% bonus - £1.5m
Qualify for Champions League - 50% bonus £3m
To my fellow ToffeeWebbers who think I am deluded I say - I was jolted by Darren Hind's home truth posted the other day.
For those of us who remember, We were Kings once". That is what we should be aspiring too. Bollocks to this misery.
If Ancellotti doesn't wan't to come get someone in who has been there and done that. Poach a big hitter.
Benitez? Why not I sort of like the idea of him rolling the dark side. In fact the more I think of it the more I like it. If he did that all would be forgiven by this little blue duck.
I bet you this is what Moshiri does in his other businesses if they are faltering and I also bet you Amit could do the numbers on this very quickly and present a compelling case for all of the above.
It might be happening already for all we know. If it isn't all I can say is Moshiri has nerves of steel because I don't believe he is stupid. Stupid people don't become billionaires and have mates like Usmanov.
Have a go Moshiri.
Paul Kelly
254
Posted 03/10/2017 at 11:54:10
James @ 247;
About Unsworth attracting top players, admittedly it's been said by many a player that it was because of the manager that they've come to the club, but in the grand scheme of things I'm not that interested in what pulling power a manager has at this stage in the season (though I reckon wages and other factors would come into this also, not just a reputation of a former outstanding ex-pro, but I'll come back to that later), what my concern is and not just to you and the question is:
Do you think Unsworth or a lesser profile manager could do a job between now and January 1st?
As of right now, we can't sign anyone (than those without a club? I think) so we can only work with what we got and I think that Unsworth would and can do a better job than what Koeman is doing now.
I don't think Koeman would attract a better calibre of player at 15th-20th (on current form) in the table than what somebody else could (ie, Unsworth) if we were higher in the table just because of their reputation.
January transfer window is a million miles away from my radar right now and who we could sign because we have to work with what players we have to address the current situation and if we continue down this rudderless path (?), after taking everything into account we'll be in knee deep in the proverbial with no way of getting out.
And too the post, (can't remember which thread) about people falling asleep during the match, my old man (may of) won the comp at around the 43 min mark v Bournemouth, I kid you not.
Ray Robinson
255
Posted 03/10/2017 at 12:07:00
Paul (#254),
I don't think Koeman would attract a better calibre of player at 15th-20th (on current form) in the table than what somebody else could (ie, Unsworth) if we were higher in the table just because of their reputation.
Agreed, but who might we attract if that somebody else were Ancelotti instead of Unsworth? Okay, we might not be capable of getting Ancelotti but you get my drift?

Brian Harrison
256
Posted 03/10/2017 at 12:12:32
Laurie
I love your optimism especially at such a depressing time for all us Blues. I don't think Ancelotti would touch Everton with a bargepole, the guy has managed the very best, why would he put his reputation at risk coming to Everton. Plus I don't think Everton have ever appointed a manager who has won anything at the very top level, like Ancelotti has. So it would be remarkable to think we could persuade one of the best managers to come here.
I see you would quite like Benitez, no doubt he has ability but his comments some years back when he said Everton were only a small club surely put paid to him coming to Everton.
I started watching the Blues when Ian Buchan was the manager and right up to the present day, and in all that time we have only had 3 managers that have won a trophy. I think that puts everything into perspective when mentioning our glorious past. Yes there were some brilliant Everton teams and players but they were only very short lived.
I hate to mention this but again to put things into perspective our neighbours have won the European Cup / Champions League more times than we qualified for the competition.
So our history as far as I remember shows that we struggle when appointing managers, who can win things. Maybe its coincidence but the 3 managers in my lifetime who have won trophies were all ex-Everton players Catterick, Kendall and Joe Royle. So maybe there is a case for appointing Unsworth although the other 3 had experience of managing before they came were Unsy has only managed the Under-23s. And the step up from that level to the Premier League is massive.
George Cumiskey
257
Posted 03/10/2017 at 12:12:32
I'm not saying give the job permanently to Unsworth straight away, give him till they can get a so called bigger name in. Just give him a chance to steady the ship and get us out of this mess.
By the way, our big name manager didn't exactly entice the cream of the crop, did he?
Andy Meighan
258
Posted 03/10/2017 at 12:12:38
Ray (#35), Cracker that. If you've got any more, keep 'em coming. Gotta laugh, otherwise... ah well, you know the rest.
John G Davies
259
Posted 03/10/2017 at 12:12:51
Peter Gorman, Phil Sammon.
Wait until you read the sequel from Joey.
Three mass murderers and how they influenced my conduct.
Should be a best seller
Paul Kelly
260
Posted 03/10/2017 at 12:22:13
Ray, let's reach for the stars, I'm all for it, I really am, and yes, to answer your question, Ancelotti would have more pulling power than Unsworth. But in response to James, I answered a different question.
I'm in total agreement with you about all things Ancelotti but the real concern is right now, I just can't see us moving forward, though weirdly we couldn't get any worse. Unsy to me would be a more attractive proposition than continuing with the present incumbent, but not as enticing as the Italian one.
I reckon they'd both do a better job, plus Unsy walked back across a double-laned intersection when I shouted him last week, dodged traffic and crossed the road back to us just to have a pic with my little angel (unfortunately daddies hand wasn't so steady so I'll have to stalk the fucker at the next home match for a retake). So he gets my vote, hope you understand.
Andy Meighan
261
Posted 03/10/2017 at 12:27:03
The thing that worries me is, if we are to keep him, does that mean we are going to give him more money in the next window?? Fucking Hellllll!!!!
Dave Pritchard
262
Posted 03/10/2017 at 12:39:36
To enter the Joey Barton book debate. I have read it and found it to be a fascinating read. He does try to offer reasons for his misdemeanours and I did feel that at times he was making excuses.
He certainly does not support racism and has much praise for Anthony Walker's mum. I did have a more sympathetic view of him by the end. He certainly shouldn't be bracketed with Idi Amin etc which is frankly a ridiculous thing to do.
Putting my tin hat on now.
Fran Mitchell
263
Posted 03/10/2017 at 12:41:46
Carl Allen: Eddie Howe or Marco Silva above Ancelotti? If anything sums up small time thinking and lack of ambition, that would be it.
Question: If Klopp, Mourinho, Wenger, Conte, Guardiola, or Pochettino were to change clubs/lose their jobs, who would their current employers go for? Ancelotti would likely head the list of candidates.
Would any of them want Howe or Silva? Very unlikely (maybe Spurs and Silva, at a stretch).
Neither will be a world class manager, so the fact they are young is besides the point.
Ancelotti would be a statement of intent, he could well attract real quality players, he is a proven world class manager, he would be a fucking dream and unfortunately he is we stand little real chances of him coming, because we are a small club, who hasn't won anything for Donkeys, who sells our best players every other season and who on the continent and beyond are little known.
Ancelotti joining Everton would be akin to Conte or Mourinho joining Athleic Bilbão or Bologna.
But we should certainly try. Why the heck not. We should also go for Tuchel, he'd be perfect for our young players and would give us a system. He'd only stay a couple of seasons, but he would improve us.
If someone of real prove. quality isn't available, Silva is a good shout, but only recently joined Watford so can't see him leaving.
Maybe there is someone of quality on the continent who we don't know about, but can't expect our owners to find them. So, I'd take Unsworth til the end of the season. At least the youth would get a chance, and the job he has done with the U23s gives reason for hope.

John G Davies
264
Posted 03/10/2017 at 12:44:47
The "hang them and flog them" brigade will be up in arms, Dave.
Martin Nicholls
265
Posted 03/10/2017 at 13:07:15
George (#257) – was just about to post the gist of your last sentence! To paraphrase you "which of Koeman's signings could Rhino not have attracted to our Club"?
In my view, the answer is "none". I'm in the Ancellotti camp but, failing that, would have no problem with giving the job to Rhino on a trial basis.
James Marshall
266
Posted 03/10/2017 at 13:12:16
Paul @254
I don't think the answer is to change managers often - bringing in Unsworth now until January, then another manager? How does that serve us/the players in terms of continuity?
I'm always wary of making sweeping changes to personnel, whether that be coaching or playing staff, and it's been borne out time & again at clubs. We're suffering from it right now having too many new players at once in my view – of course the team has been hampered by injuries as well, which has to be taken into consideration.
I don't think Koeman would be in this predicament if we had Coleman and Bolasie fit because the team would have more pace/width/balance.
I agree with you that reputation alone won't attract players, and that given our league standing we're not an attractive proposition either. I was talking more longer term in regard to pulling power, which is as you say, a case of a good team, good league position, and a manager of note. Unsworth? Well, I have nothing against the man, I'm just not sure he's the long term solution – and I don't really like short term solutions either so
James Marshall
267
Posted 03/10/2017 at 13:13:43
George@257
Schneiderlin, Sandro, Klaassen, and Rooney all stated that Koeman played a big part in them coming to Everton – now whether you or I view any of them as big time players is up for debate, but they did all say it
David Barks
268
Posted 03/10/2017 at 13:23:25
James,
And players signing at every other club say the exact same thing.
David McMullen
269
Posted 03/10/2017 at 13:30:48
I an see the funny side (vote of confidence) but can't see him being sacked just yet. I totally wanted Koeman sacked after the Burnley game.
From my point of view, hoping for a change in fortune and we get a good run of wins but don't for the life of me feel it's going to happen. It's like someone trying to kickstart a motorbike or turning the key in a car ignition – it's just not happening.
The players themselves are a mishmash of new players, experience players, young players, unfit / no pre-season players and almost all have zero confidence at least in what ever they're meant to do.
I joked at work to a red colleague that I watched The Championship on Saturday night and these teams play far better than anything we see from Everton – they have a go they're direct (not in the Wimbledon style) we're just a team of Chuckle brothers, from me to you to me. As bad as the end of Martinez's reign.
For me, Koeman has gone in his own mind and it was always a stepping stone but he's just not that bothered about it now.
Ray Robinson
270
Posted 03/10/2017 at 13:33:10
Assuming Koeman goes (a big if), the choice of next manager will be equally as big a risk as appointing Koeman was.
Managers operate in echelons. Guardiola, Mourinho, Conte, Ancelotti etc operate at the highest level and undoubted great coaches as they are, achieve success, with a "buy and churn" process. Operators like Pulis and arguably Allardyce etc are proven firefighters who will stave off relegation but achieve little else. Not for us.
Others serve their apprenticeships at lesser teams (Pochettino, Koeman at Southampton, Martinez etc) and try to step up with varying degrees of success. It is this category that we are assigned to at the moment. Of the managers that were being touted by Evertonians for the Everton post at the time of Koeman's appointment were de Boer (failed), Eddie Howe (doing reasonable job?), Bilic (struggling).
Now people are talking about Silva (Watford – still oversaw Hull's relegation last year despite massive improvement and Dyche (doing brilliant job at Burnley with little resources but based on solid defence and little else – would he be able to inspire the attacking football that we crave?).
It would be a massive risk whoever we appointed. So in that sense, Unsworth wouldn't be a bad shout - at least in the interim. Longer term though I'm doubtful for the reasons mentioned in my and other's previous posts.
Moshiri has stated many times that he wanted a big name manager to rival the guys at the other Northwest teams and that is undoubtedly why he favoured Koeman. It's like in marketing and advertising when you've got a little known quality product which needs to break into the big time. What do you do to raise the profile? You hire a celebrity to endorse the product.
We Evertonians have to be careful. In hard times it's easy to fall back on our fellow true Blues (Royle, Ferguson, Unsworth) and push their cases forward to instill some passion into the club but I suspect the days have long since gone when the motivation alone these guys can provide can compete with the financial pulling power of the bigger clubs. I'm guessing that Moshiri and co will be viewing the next appointment along different (commercially- influenced) lines than we supporters do.
Before anyone jumps on me for praising the Board, I'm just pointing out the different criteria that they may have for the next appointment. I'm not sure that going in-house is an option they will consider.
Michael Lynch
271
Posted 03/10/2017 at 13:45:48
If Koeman really was the reason Sigurdsson, Rooney and Klaassen signed for us this summer, then that's as good a reason as any to get rid of him.
Mark Melton
272
Posted 03/10/2017 at 13:55:24
If you know your history, you will know we have won all our trophies when an ex Everton player was manager. Bilic assisted by Rhino?
Brian Hennessy
273
Posted 03/10/2017 at 14:00:43
I think our only hope of a quick solution is if Koeman decides to go himself. Moshiri seems stupid enough to think our poor results are just down to playing the top teams. I have been unlucky enough to have watched almost every minute of us this season including pre season warm-up matches and we have been utterly shocking.
I may be wrong but I have a gut feeling Koeman may well walk before he is sacked (with a pay off of course).
Paul Holmes
274
Posted 03/10/2017 at 14:10:49
Posters on here can argue all they want about who should be in the team, team formation etc.. etc.., but the reality is that we have not got many quality players! Name one player of Everton who could get into any of the top six teams,just one (maybe Coleman), the other player would have been Lukaku.
That is the problem: sack Koeman, but the new manager has only the same squad of players to work with, who unfortunately are average. We have done what Spurs did when they sold Bale and bought rubbish.
The only saving grace for the club, and it may take a couple of years is that we have a lot of good young players in the academy but they need time. Walsh seems to be good at buying young players with potential for Unsworth's U23 side, but first team recruitment is a disaster and that's were Koeman has to shoulder most of the blame.
Soren Moyer
275
Posted 02/10/2017 at 14:16:30
Surely, If Moshiri is a smart businessman, he should see there is a huge difference in prize money between finishing 17th, which is very much likely, and 7th, which is not achievable with this clown again.
Joe Bibb
276
Posted 03/10/2017 at 14:35:22
Joey Barton at Everton with us sponsored by a betting company it's odds on we would win something.
Jay Harris
277
Posted 03/10/2017 at 14:41:16
I just wonder what was said to Barkley to change his mind about going to Chelsea. Could there have been a phone call from teary Bill asking him to wait and see what develops?
Why was a top class goalscorer not brought in? Bill was overseeing transfers not Walsh so he could have and should have ensured we got someone. Walsh has been very silent and Bill typically has gone to ground as we are not doing well.
To me it seems there is disharmony at the core of the club which is manifesting itself on the pitch. Keane and Pickford are shadows of the players that came here. Ashley Williams is top drawer for Wales. The whole team is not showing togetherness at all. I just hope Moshiri has got the balls to ask what the hell is going on and get it sorted out...
Personally I think Koeman is getting undermined. To get Southampton to consecutive 7th and 6th places after losing so many top players is a remarkable achievement so you don't suddenly become a bad manager.
To complain about Barkley's and Niasse's treatment is being hypocritical. We all thought Niasse was a donkey and Koeman was just being bluntly honest with him. With Barkley, we have gone on for years about his potential but his best performances were when Koeman got on his case.
John Daley
278
Posted 03/10/2017 at 14:55:19
"
John Daley,

Would you condemn anyone who makes mistakes before the age of 30 as irredeemable?"
Hmmmm, good question.
No.
Meanwhile, over on thedevilseyes.com:

John G Davies:
"Do you believe every ten year old boy who dresses in a clown suit and gets into a spot of bother on Halloween night deserves to spend the remainder of his natural locked up in Smith's Grove, Dr Loomis?"
John Daley
279
Posted 03/10/2017 at 14:56:26
"There must be a better way to waste our time."
Joey Barton's book comes highly recommended.
John Daley
280
Posted 03/10/2017 at 14:59:57
As others have asked – has Ronald's 'reputation' really attracted anyone who would previously have been out of our reach?
Klaassen from Ajax is probably the only one where the Koeman factor swung a deal that may formerly have faltered firmly in the club's favour. Players from Aston Villa, Crystal Palace, Swansea, Sunderland, Burnley, Southampton, Malaga, plus two who Man Utd were only too happy to ship out? We've been shopping in that exact same aisle for what seems like ages, only now we're paying well over the odds for our shit, being told it's a 'new and improved recipe' and believing it's bound to taste noticeably better as a result.
Reputations fluctuate, along with the form and finishing position of a club. If Everton continue to resemble a ragamuffin's arse and finish the season nearer the relegation spots than the top six, are potential summer signings really going to be blinded to how bad we've been because they heard Koeman had a belting free-kick on him about 25 years ago? The most recent addendum to his reputation would be that of a struggling manager presiding over a shambolic mess despite spunking millions on it.
Koeman's ability at successfully retaining, assimilating and inspiring players should be of far more pressing concern than any 'come hither' pheromones he might be capable of giving out.
Besides, aren't we supposed to be blessed with a Director of Football who was sold to us as the Daniel Plainview of player procurement, relentlessly discovering unmined talent and hoovering it up with his massive 'super scout' straw? So far, his expensive milkshake tastes mainly of pish.
James Marshall
281
Posted 03/10/2017 at 15:01:26
Well it seems that opinion is entirely wrong, based on everyone else on here and not for the first time!
Unsworth it is then.
John G Davies
282
Posted 03/10/2017 at 15:14:34
John (#278),
Firstly, I haven't got a fuckin clue who Dr Loomis is, I will ask my grandkids. They will be around your age.
Don't be trying to kid us that you're not a member of the "hang email and flog em" brigade. Reminiscent of the high court judge who sits in moral judgement whilst wearing a pair of fishnet stockings under his robe, with a torture device firmly attached to his bollocks.
All Rise!
Iain Johnston
283
Posted 03/10/2017 at 15:15:41
Too many players to integrate is just another excuse by the club.
Last season we saw Stekelenburg, Williams, Bolasie, Gueye & Valencia all start the season and Calvert-Lewin make his debut before Christmas.
This season is comparable to last, we still only see 4 of the new players regularly start... Pickford (Stekelenburg), Keane (Williams), Bolasie (Rooney), Gueye, (Sigurdsson). We also have a higher quality midfield option in Davies to Cleverley.
For subs you can read Sandro for Valencia. The integration is no different, the problem we have is that Koeman has now disregarded width leaving it languishing on the bench and loaned out an arguably Premier League experienced left sided defender in Galloway who would have been an ideal replacement for Funes Mori giving us balance at the back.
How many other squads in this league have one left footed player?
It's Koeman's off field decisions together with his match day team and formations which are the issue.
For those who think Koeman played a 4-4-2 on Sunday, think again. Niasse & Calvert-Lewin were alternated on the left side. Even when a goal down, Koeman still kept the 4-2-3-1.
The rot had set in at Southampton as early as our 3-0 win. Southampton had no width and a packed narrow midfield. It's what he knows and what he does... This is the guy who decided that Hernandez, who's now at Leeds ,was better choice than the high flying Joaquin and also ostracised both Angulo & Albelda.
Sound familiar?
James Marshall
285
Posted 03/10/2017 at 15:23:21
There are so many theories on here, that nobody can be entirely right, or entirely wrong... therefore, it has to be an amalgamation of everything mentioned.
Basically, Everton is a fucking mess, and no one thing you care to mention is going to fix it – including sacking Koeman.
John Daley
286
Posted 03/10/2017 at 15:34:41
John @282,
Well, either that or I simply refuse to believe every ex-pro who at one point supported the club, fired 20 floppy punches into the face of a drunk in the street, stubbed a lit tab out on a lids...err...lid, twatted a 15-year-old, tried to glass Richard Dunne with a pint pot, laid into a teammate while he lay on the ground and now proffers a bit of Nietzsche as proof of 'a new me', should be considered a prospective Everton coach.
The fact you found his book so revelatory doesn't make him Dale fucking Carnegie.
Terry Underwood
287
Posted 03/10/2017 at 16:01:48
Yes, the manager is responsible for team selection and tactics, but the execution is all down to the players. The senior players need to step up and make everyone, themselves included, take responsibility for their performances.
Football is an easy game if the basics are done properly, passing, tackling and positioning. Do the bread and butter well and the chokky cake will follow.
John G Davies
288
Posted 03/10/2017 at 16:03:35
I rest my case, m'lud.
Peter Gorman
289
Posted 03/10/2017 at 16:07:37
John Daley, sure those things you list look bad but surely Barton can turn it around, he just needs more time.
Simon Dalzell
290
Posted 03/10/2017 at 16:18:08
Ray (#35), Brillopad! Made me chucklefish.
Dave Wilson
291
Posted 03/10/2017 at 16:26:13
John (#228),
I thought you were joking to begin with. I make this Joey's 11th Damascus moment.
Looking at John Daley's evidence I don't think a Jury would bother retiring for this one.
Everyone deserves a shot at redemption, but I don't think a plum job with one of the country's biggest clubs is the place to start.
Look at the list, John. let him repair some of the damage he has done before you so richly reward him.
John Daley
292
Posted 03/10/2017 at 16:40:41
"I rest my case m'lud."
Sure, you do:
John G Davies
293
Posted 03/10/2017 at 16:47:19
John, 292.
Clever stuff that
You teenagers eh.
Dave, read the book to see how it all developed.
You could go with the flow alternatively.
Mark Morrissey
294
Posted 03/10/2017 at 16:49:24
Terry @ 287. Here's a question for you. Give me an honest answer.
If you were part of the Everton set up and your mates included Geri Deulofeu, Ross Barkely, Aaron Lennon etc and it was essentially being made clear to all those around you that Koeman had plans to fuck Geri off and not to play Ross or Aaron, instead insisting on packing a midfield with negative players, just exactly how would you feel?
Would it inspire you to go out week after week or would you think, this blokes a prick!! What would your gut instinct tell you to do? I'll be honest and say that I'd be with them, I'd down tools for the bell end until such time as he had gone. What would you do, Terry?
John Daley
295
Posted 03/10/2017 at 16:58:40
"Dave, read the book to see how it all developed"
Your summary of said book:
'The tale of a serial winner who should be given a second chance.'
Probably wiser you reread it, or at least check it's Barton's name on the fucking cover.
John G Davies
296
Posted 03/10/2017 at 17:00:08
"Fuck me, it's like the scene in the Godfather when Dennis Hopper said to Don Corleone."
Psst. John, JOHN. Dennis Hopper wasn't in the Godfather.
Err, (Google, Google, Google)
True Romance, I meant True Romance.
Go Ed, you know you want to.

Amit Vithlani
297
Posted 03/10/2017 at 17:03:22
Was it Serial winner or Cereal winner? Perhaps Barton may have been very good at winning the spot-the-ball competitions?
Brent Stephens
299
Posted 03/10/2017 at 17:20:06
Mark " I'll be honest and say that I'd be with them, I'd down tools for the bell end until such time as he had gone".
Mark, I think any Everton player downed tools like that and I'd probably want them out of the door whoever they are; however big they (think they) are. And I guess that would be the view of many a blue. The problem with downing tools is that it then leaves open to debate how good the manager is, so he gets off the hook. As an season ticket holder I want every ounce of effort on the pitch.
But I feel your pain, Mark. Shit this is hard. It's a terrible time, mate.
Andy Walker
300
Posted 03/10/2017 at 17:20:42
Moshiri out! Coming here to invest his money when he could have just stayed invested in Arsenal and made a very nice return with no hassle. Total toss, sir.
We need a true blue chippie owner from Kirkdale to sell his business and buy Moshiri out. Bring back Royle, Harvey and Reid. Cancel the new stadium as well, we need the mid 80s.
Brent Stephens
301
Posted 03/10/2017 at 17:26:04
Just looked at the TW poll on this and a quarter don't want Koeman sacked. I'm surprised at that as the vast majority of posters want out. There's clearly a significant silent minority.
Paul A Smith
302
Posted 03/10/2017 at 17:41:40
Lawrence (#143) – good spot, mate. I hadn't seen this story anywhere else.
Yet another scout joins. I can't wait to get some of the quality Russians Arsenal have been chasing.
John G Davies
303
Posted 03/10/2017 at 17:47:35
Overall I think it will be more than 25% Brent.
You've fucked up sharing that info though mate. I am going to steal a march on you. I'm applying to the council for a stall on Goodison Road for the next home game.
Only two lines: Grass skirts and Kites.
Brent Stephens
304
Posted 03/10/2017 at 18:15:36
John, I do think sometimes that TW might not be representative of all those attending the game.
I remember the feeling on TW when it was mooted that we should get Rooney back – a lot in favour, significant numbers against. And yet when Rooney appeared at Goodison Park in that testimonial, the reception he got was almost to a man rapturous. I'd be interested to see if the TW poll is reflected at Goodison Park generally.
Will you take second-hand stuff? Mine rubs on my crotch.
John G Davies
305
Posted 03/10/2017 at 18:27:42
You're meant to fly it, Brent.
Brent Stephens
306
Posted 03/10/2017 at 18:41:30
Haha.
Mike Green
307
Posted 03/10/2017 at 19:23:31
John #303 - haha :D
Amit Vithlani
308
Posted 03/10/2017 at 21:00:17
Brent. Grass skirts are hugely popular amongst crickets. Just have your ear plugs to hand when they start to shrill.
Ash Moore
309
Posted 03/10/2017 at 21:16:45
You can't really say anything too critical about Mr Hitler if you haven't read his book. And if you have read his book, you'd know that it actually explains who is to blame for things and why. Although he left out the bit about what to do about it.
Andy Crooks
310
Posted 03/10/2017 at 21:19:43
Joey Barton? Good God almighty, does anyone, fucking anyone want this sad specimen to ever be associated with our club?
Some time ago, I wrote a piece on this site defending Barton and arguing that people deserve a second chance. The comments made me change my view. In my view, Barton is a low life, self-serving rat who has written a self-serving rat book.
If he should ever come to our club in any form, I would be ashamed.
Ash Moore
311
Posted 03/10/2017 at 21:33:16
Isn't this a thread about Koeman?
If it isn't, I'd just like to add that England are well fucked in the Ashes without Stokes. They should bend the rules just for him, you know – enable him to go. It wasn't all that long ago punishment for criminals was going to Australia, now we live in a world where punishment for criminals is they're not allowed to!
Besides he hasn't been found guilty. (Yet). The Aussies inflicted Warne on us, they have it coming.
Ash Moore
312
Posted 03/10/2017 at 21:35:53
Andy Crooks (#310)
"If he should ever come to our club in any form I would be ashamed."
What about ghostly form?"
Mark Morrissey
313
Posted 03/10/2017 at 21:36:51
Anyone who has voted "No" to the question "should we relieve Koeman of his job?" can you give me one valid reason why you would want Everton to keep him.
Just one, I'm intrigued. You clearly must think he's a very good manager, that's obviously a given. Tell me why, one good reason will do...
Neil Copeland
315
Posted 03/10/2017 at 21:44:06
Jay (#277), good post – there certainly seems to be something in the background that is having a big impact upon the players and perhaps Koeman's performance. Being undermined would certainly go some way to explaining the issues at the moment.
If this is the case then changing the manager may not resolve anything and may actually make matters worse dependant upon how the players react.

Andy Crooks
316
Posted 03/10/2017 at 21:44:38
Ash, ghostly form would be fine and I reckon would land us some good sponsorship. I liked your post, by the way. "Capacity", perhaps?

Gavin McGarvey
318
Posted 03/10/2017 at 22:00:45
Mark, the main reason for not getting rid of Koeman is that he is not the main problem with the team at the minute. Our main problem is that we haven't replaced Lukaku.
You can get in ten different managers before January, but without a new striker we'll struggle to win too many games. Also, while this may be Koeman's fault, knowing Everton as we all do, there may be more to it.
Jeff Armstrong
319
Posted 03/10/2017 at 22:04:31
In other news The Guardian is reporting Kroenke has offered to buy out Usmanov at Arsenal for £28,000 a share, could it really happen...
Usmanov sells his shares for £525 million and gets us for a snip of that, sacks the imposter and employs a proper manager, at least then we might stay up this year!
Brent Stephens
320
Posted 03/10/2017 at 22:09:50
Amit, crickets - are they the ones that rub their legs together to make that shrill sound? I've tried it and it doesn't work. Or is that cicadas? One rubs legs, the other wings?
Clive Lewis
321
Posted 03/10/2017 at 22:28:41
Sack Ken
Soren Moyer
322
Posted 03/10/2017 at 22:32:01
Quote from The Sun:
"Although Moshiri has appealed for calm after fans demanded Koeman is sacked, Everton are already considering likely replacements."
I know. I know. It's The Sun... lol.
Anthony Jones
323
Posted 03/10/2017 at 22:36:39
Moshiri should and will wait until the New Year. Koeman won't be sacked: He'll be made a very rich man if he is paid off.
If we are still utter shite in January, then Unsworth will get the reigns until next season.
Thus spake Zarathustra.
Soren Moyer
324
Posted 03/10/2017 at 22:43:48
Just sack him!
Colin Metcalfe
325
Posted 03/10/2017 at 22:47:39
I apologize if this has already been posted but interesting times at Arsenal where Stan Kroenke has offered to buy Usmanov 30% stake for a reportedly £28,000 a share.
It is only guess work what exactly is going with Moshiri and his plans for the club; however, if Usmanov does dump his Arsenal shares then things could get pretty interesting.
Kevin Tully
326
Posted 03/10/2017 at 22:52:50
Can see the rumours about Koeman resigning to have a ring of truth about them. He knows he can walk now citing a lack of a striker as the root of all his problems, and save some face.
I personally think his position is untenable. Past the point of no return I'm afraid. I think his relationship with the players is broken.
Brent Stephens
327
Posted 03/10/2017 at 22:56:35
Soren, why on earth quote from The Sun, if you then go on to say, "I know, I know, it's The Sun, LOL."
What on earth does that achieve?
Pete Clarke
328
Posted 03/10/2017 at 23:04:15
A new high profile manager comes in and signs Stekelenburg and Martina, neither can get in their respective former teams and we're supposed to have hopes of top 4
He then start ostracising Barkley and Deulofeu who while not brilliant can both be game changes. He sanctions the move for Rooney when he was finished s few years ago and then breaks the record for a player in Sigurdsson who needs to play where Rooney plays.
His football tactics have been woeful in almost every game and I still seethe at how we rolled over to a 10 man Man City. A real weak mentality in that game.
I can't see it changing and can't see many reasons to hold on to him.
Colin Glassar
329
Posted 03/10/2017 at 23:11:17
Maybe Koeman knows he's doomed as he can feel the icy winds blowing in from the Russian steppes?
Don Alexander
331
Posted 03/10/2017 at 23:34:35
To me, the notion that Koeman might even consider resigning is bizarre. His contract is just over a third through; at £6mill per annum. Like everyone, he knows the shyster before him trousered an eight-figure pay-off courtesy of our luvvie shyster chairman so why the hell would he walk away, his reputation damaged and admittedly damaged by virtue of a resignation?
The only person who'll be out of pocket will be Moshiri, and the club and us fans of course, to the cost of being once again unable to afford other millionaire self-serving players who may, but only if they feel like it mind, deign to make a modicum of effort to do even the basic things required of a good amateur player.
Tony Twist
332
Posted 03/10/2017 at 23:51:30
Rumours about Walter Mazzarri being the next boss! Dear lord, we are doomed! Who in their right mind would seek him out! He has achieved less than Koeman!
Soren Moyer
333
Posted 03/10/2017 at 23:56:04
Brent Stephens, calm down, just saying the rumors are gathering pace.
Derek Knox
334
Posted 04/10/2017 at 04:03:02
Colin @329, at least it would be a Steppe in the right direction!
Peter Anthony
335
Posted 04/10/2017 at 05:38:22
Mark (#313). I am totally unconvinced by Koeman. However, 3 reasons not to sack him:
1) It is too early in the season, too knee jerk, giving us too much reputational damage. We would become a reputed 'Hire and Fire' Club.
2) Fergie at Man Utd. He made things worse before they got better. Not firing him worked out well for them.
3) Footy is a funny old game. The apparent shit may turn to gold. Leicester won the Premier League so anything is possible.
James Power
336
Posted 04/10/2017 at 06:25:10
Fourth reason not to sack: when he says "But okay" (Batokay) and takes a deep breath it looks like he is in control, makes you think "yeah, he's a guy that knows stuff about things".
Amit Vithlani
337
Posted 04/10/2017 at 07:11:43
Brent - I am not an expert when it comes to differentiating between grass dwellers, although I do know that the shrill voices that project themselves on certain posts here on TW remind me of said creatures. Especially those calling on the calmer and wisened posters to wear grass skirts!
Kunal Desai
338
Posted 04/10/2017 at 07:14:01
Dead man walking. I feel he will be gone by the end of the month. With the atrocious away record hard to see us getting more than a point against Brightin and Leicester. Can't see us getting much from Arsenal and Lyon at home ans Chelsea away. Think Koeman is a goner.
Nitesh Kanchan
339
Posted 04/10/2017 at 07:48:23
Brighton should be his last if poor results continue. Our away form was always poor even last season. If be doesn't start with Niasse, Davies, Calvert-Lewin and Kenny, that should be the end of him with us.
Ian Burns
340
Posted 04/10/2017 at 08:52:41
Just a footnote to all of the above. I see Kroenke -– the major shareholder at Arsenal has offered £525M to buy out Usmanov.
James Ebden
341
Posted 04/10/2017 at 09:21:30
Yes, saw that story this morning Ian.
Things could get interesting .
Amit Vithlani
342
Posted 04/10/2017 at 09:22:05
Kunal at 338 - agree Koeman is likely to be gone if results pan out the way you suggest, although I had to re read the last line of your post to make sure you were not implying Big Ron had Arsenal affiliations ("Koeman is a goner").
With Moshiri and Usmanov's links to Arsenal, it could have spouted a whole new conspiracy theory on Moshiri's patience with our Tactical Maestro.
Kim Vivian
343
Posted 04/10/2017 at 09:24:33
That's the way I see it, Kunal. I've been saying that. Figured two points or less, and bad in Europe during October would signal the end. Th e other nightmare scenario I had was Crystal Palace. Needs no explaining, and Koeman to go by am 20th November.
Cheeky ps - Trying to get tickets for Brighton (or Arsenal) if anyone can't make it.... txt 07703124136, thanks!
Ray Smith
344
Posted 04/10/2017 at 09:36:24
Gavin 318
I agree with you.
But a new manager would still have the same problem. No 15-20 goal a season striker.
Not sure what Lookman has done wrong not to at least get off the bench.
We have a lot of possibles, but no definite in the current squad. We could gamble on one, but he would need a run of games to get up to speed, by then we could see ourselves in a relegation battle. Having said that we already are!
I think we are stuck with Koeman unless Usmanov comes in, then things will change. Won't they?
Gerry Killen
345
Posted 04/10/2017 at 10:05:29
Well said, Peter (#335), football is always evolving and I think most of us have been used to two wingers and a big centre-forward, so when a Manager tries something different and it doesn't work out immediately, we tend to get twitchy.
Just suppose Barkley had been sold along with a few others, we would have had the cash to buy a top striker before the window closed. Now it's taking a while to bed in new players. We have some really promising lads coming through, so things will get better soon.
Steve Ferns
346
Posted 04/10/2017 at 10:11:04
Any new manager would tell Everton that the team is unbalanced and fundamentally flawed. That is, as we all know, we lack a striker and we lack pace and width. A striker will cost in excess of £50m and a pair of wingers at least £20m each. We are easily looking at an outlay far in excess of £90m and add an extra £10m to pay off Koeman from his contract and that's £100m gone.
So, no, cannot see the board sacking the clown. We're stuck with him until well past Christmas, unless he fails to take us up the table at all, then maybe they might act.
Laurie Hartley
347
Posted 04/10/2017 at 10:17:23
Brian Harrison (#256) – thanks for your point of view on Ancelloti. I am an optimist and perhaps a romantic (some might give me a different label) but:-
There are, I would suggest, a number of reasons why Ancelotti might be tempted to take the Managers job at Goodison:
1. Money – as I suggested in my original post – maybe I should have upped his basic.
2. Everton is a genuine project – a rebuilding proposition – not, in the short term, as high pressure as the jobs he has had previously.
3. If he managed, with the backing of Moshiri, to get Everton back to the top that would that would be a crowning achievement to his career.
4. The challenge – not the "looking for a new challenge" type challenge, but a genuine challenge. This might appeal to him.
5. Moshiri and his contacts.
6. The club and its traditions – he will know our history – being an Italian that will appeal to him.
7. Last but not least – Evertonians like Italians:)
As far as Benitez's comments are concerned about us being a small club. I was suitably outraged at the time, however, I am older and wiser now so I have learnt to accept the truth when I hear it regardless of who the messenger is. I am no longer living in the past even though I treasure the memories. I am looking to the future.
You are correct of course about the successes of the dark side - see last paragraph and below.
The reason they flourished from the 60s onwards is because they had a great manager* who built the foundation for Paisley and the managers that followed him over the ensuing 50 years. The last great manager they had was Benitez.
I like Unsworth but I wouldn't hand him this poison chalice – too much to ask of him. No, the situation requires a manager that will command the players' immediate respect, for what he has won as a player and coach, his tactical know how, and his man-management skills. Whoever it is, he can make Unsworth his apprentice.
Eddie Dunn
348
Posted 04/10/2017 at 10:29:23
I read on BBC that The Sun newscomic has reported that the senior players at EFC have noticed that Koeman has distanced himself from the players and they think that the inevitable sack is looming.
BBC also suggest that we and West Ham are interested in Walcott in January. Add to this the Kronke attempt to by out Usmanov, and it suggests interesting times ahead.
Getting back to reality, I fear that sacking Koeman will merely deflect the responsibility from the club for the abject failure to get more dosh for Lukaku (who will get 30 goals this year) and to bring in a replacement.
As one of the earlier posters said – a new manager will still have to find goals from somewhere. Players that cost a fortune or earn a fortune will still have to sit on the bench as the new boss tries to keep some of them happy.
I presume that the powers within the club are wondering who to line up for the job, but they really can't afford to get in another guy as inadequate as Koeman.
I still think that the players have to shoulder much of the blame. It was the same with Martinez. The quality of player let Martinez down, as his system might have worked if he was at Man City (Stones is now looking class).
Koeman has lost his prize striker and important right back and good left winger. I would imagine that he would have liked them replacing. Our board deemed that we would simply wait for the injured to heal and save millions. Then they fucked-up the Giroud deal/or whoever else!
So in conclusion, Koeman has made plenty of blunders with his tactics, formations and man-management, but things might have been a lot better had the board/Walsh provided good players.
A new man might get them more motivated but it will be the same squad for some time yet.
Brian Harrison
349
Posted 04/10/2017 at 10:53:48
Laurie
I hope I didn't give you the wrong impression, I would love Ancelotti to come to us, but being an old cynic I just don't see it happening. I think we will have to disagree over the merits of hiring Benitez.
Were we go from here I really don't know, but things have to change quickly otherwise relegation could become an issue. Many say we need a manager the players will respect, well to be fair when we signed Koeman I am sure many including me thought we had got a manager the players could respect.
As we had just had 2 seasons of a manager praising players and performances that were awful, so I hoped a straight talking Dutchman might be the answer.
I don't think Koeman believes he will see out his contract, he doesn't cut a happy figure on the touchline but with the results and performances maybe that's understandable. But I couldn't imagine there would be many laughs on the training ground under Koeman. And as we know a happy team is usually a successful one.
I don't want him to praise performances that don't warrant praise but at least show you care.
Phil Walling
350
Posted 04/10/2017 at 11:15:22
Natural that the situation the club finds itself in should be blamed on 'the manager for the time being' but the real disappointment for me is the naivety (not nativity!) and stupidity of the 'almost majority' shareholder.
What a flop Moshiri has been. Choosing to keep Boys Pen Billy at the helm and involved with transfers was his first error and it's been all downhill from there.
I guess we should have seen it coming, though. This is Everton and nothing ever ever changes. Seventh will always be heaven – if we are lucky!

Steve Hogan
351
Posted 04/10/2017 at 11:18:58
Eddie Dunn (348),
Towards the end of your response/comments you say the board 'fucked-up the Giroud' deal, exactly how?
If a player decides he doesn't want to leave a club, how have they fucked it up?
They've certainly made plenty of mistakes over the last 20 years, but you have no evidence they messed up on this occasion.
Those gobshites across the park, certainly screwed up the VVD deal by making an illegal approach for the player without the consent of his club. Now that's really screwing up.
Laurie Hartley
352
Posted 04/10/2017 at 11:30:03
Brian (#349) – I'll agree to disagree (Good idea, that – we might start a new trend on ToffeeWeb).
Phil (#350) – It must be dire if you have lowered your sights – it will be okay.
I don't know what has come over me tonight... I'm feeling sort of – optimistic?
George Cumiskey
353
Posted 04/10/2017 at 11:35:40
So Eddie, you believe that the board and Walsh chose the players to buy and just foisted them on Koeman. That he had no say in who we bought?
And in my opinion we dodged a bullet by not signing Giroud, because he's one of the slowest strikers in the Premier League. A good target man maybe but what is abundantly clear is we need more pace up front.
Brent Stephens
354
Posted 04/10/2017 at 11:58:06
Amit (#337) "wisened posters".
Amit, if that refers to me, I think you've misspelt it! I'm more wizened than wisened!
Stewart Lowe
355
Posted 04/10/2017 at 12:53:13
How many times in history have you seen a manager come back from something like this? Alex Ferguson... Yes, but that was a different era.
Once the media and fans have jumped on the bandwagon it's a very rare thing to turn things round. Add this to Koeman not wanting to manage us beyond 2019, and that we as fans never took to him any way, why prolong the inevitable??
This international break should be used to source the next manager and not just to give Koeman more time to come to what we all know will be the same conclusion. We have got some exceptional players now at Everton thanks to Steve Walsh I am sure. Let's get a proven winner in there rather than another potential.
We don't have the finances to change manager each year and give them each £150m, so it has to be right. Do the right thing now Everton and not in a month or two when we are in the same boat.
Every extra game a new manager will have to develop this squad is crucial. If we don't get European football next season, the fans can get used to attracting players like Cuco Martina and not Giroud. Everton has to act right now as we know things won't change. He has had 4 friendlies, 6 Europa League games and 7 Premier League games. Is that not enough to instil even the basics???
I never rated Koeman in the first place as I felt his name preceded his ability.
Ray Roche
356
Posted 04/10/2017 at 12:55:11
Eddie (#348),
"I fear that sacking Koeman will merely deflect the responsibility from the club for the abject failure to get more dosh for Lukaku."
Eddie, it's worth remembering that half the posters on here were talking about "snatching Man Utd's hand off" if they offered £50m for Lukaku, who, remember, couldn't trap a bag of cement, his first touch was a tackle, scuffed all his shots that resulted in goals, was "one lazy fucker", couldn't hold the ball up, and would be driven to whatever destination he chose provided Everton shoved the "idle twat" out of the door.
So, many of ToffeeWebbers think EFC did a fantastic job getting £75m-£90m for him. I assume you're addressing the TWers who thought he was undersold?
Dale Rose
357
Posted 04/10/2017 at 13:11:30
This is all very grim. The worse part is that it need not be so. We are in a position whereby we are down several players: Barkley, Coleman and Bolasie. We are missing Funes at the back. We have lost a good midfielder in Barry. Lukaku was always going to go. This was a given, he never had any allegiance to us anyway.
There is no cohesion in the team, they just don't look good. . We are paying a lot of money to people to manage the club, they aren't doing this. The issue is that, win or lose, sink or swim, their contracts and pay off's will leave them sitting pretty for the rest of their lives, so no pressure. This is the way of the modern game. If Koeman was to leave the club with no pay off and no benefits then we would see a different team. He would have to make it work.
So, what do we do? Top managers and top players don't want to come here. The answer is quite simple. We put Unsworth in charge, start integrating the youngsters into the first team. Concentrate on bringing the youngsters on in the Under-23 setup, and leave the others to pay over inflated fee's for a bunch of has been's. The fans will accept a top seven finish for a team that is work in progress where they see some hope in the future.
The School of Science is rapidly becoming Frankenstein's monster.
Seamus McCrudden
358
Posted 04/10/2017 at 13:28:37
We are now worse than a year ago. No pace, no movement, no width, no leadership, no tactics, no guts. I honestly think we are in deep shit.
Anthony Hawkins
359
Posted 04/10/2017 at 14:22:55
The one comfort I take is how Spurs turned their fortunes around. When they sold Bale, they bought numerous players and suffered as a result. Roll on a few seasons and look where they are now.
It's not much of a condolence but hopefully the team can turn it around before imploding.
James Marshall
360
Posted 04/10/2017 at 14:44:34
If Usmanov does join us, you can forget stuffy old Everton – I actually think a lot of Evertonians will have their noses put out of joint if it happens.
Usmanov is likely to pump money in once he get's involved, given that he's sat on the sideline for so long at Arsenal – a new stadium, masses of money (double that of Abramovich) and surely huge investment in the playing staff.
Imagine how many Number 10s we could buy!
Ray Robinson
361
Posted 04/10/2017 at 14:47:12
Dale (#357), while I agree that blooding the youngsters might be a good alternative, a team with too many of them wouldn't finish seventh, would it?
Besides, the team this season has frequently had Calvert-Lewin, Holgate, Davies and occasionally Kenny in it and, with one exception, the youngsters have hardly set the world alight. How many would you blood at once and still hope to finish in the top half?

Lawrence Green
362
Posted 04/10/2017 at 15:24:26
Has Kronke bid for Usmanov's shares? Only the Guardian are running a story about it and they aren't claiming any exclusivity for it. The murmurs started life on an Arsenal fan blog and so far the mainstream media are only writing 'it is reported' or 'it is believed' that Kroenke has bid x amount for Usmanov's shares.
Surely the BBC business pages or the Financial Times would be hot on the trail of the story if it had any basis in reality?
Even if the story proves true and Usmanov relinquishes his shareholding in Arsenal, it doesn't mean he will automatically buy any part of Everton FC. I would be very happy if he did but, at the moment, we have our own issues to address and I do hope that those in power at the club realise this and take appropriate action rather than dreaming of a richer sugar-daddy being involved at Goodison.

James Marshall
363
Posted 04/10/2017 at 15:32:36
Lawrence, I've read it on loads of different sites.
Lawrence Green
364
Posted 04/10/2017 at 15:36:51
So have I, James, but none of the ones I have seen are more than a regurgitation of the Guardian article, which doesn't have a lot of sources save the Arsenal supporters group who have a vested interest in flagging up any proposed buy-out.
I'm not saying there's no truth in the bid whatsoever; rather, I'd have expected more detail by those business and financial sources I mentioned.
Dale Rose
365
Posted 04/10/2017 at 15:42:34
It's a bit "how long is a piece of string", Ray (#361). I think with good substitutions, and not overdoing it, it presents an alternative.
There is some good experience in the team, and the youngsters would benefit from it. A good grounding in this league will only increase confidence for the future. Its all about being match fit and match confident and playing as a team.
Dave Richman
366
Posted 04/10/2017 at 15:44:45
Anthony @ 359: Correct, but they fired the guy who bought all those players before Christmas of the following season, and brought in the man who has turned them around.
Omens, perhaps?
James Marshall
367
Posted 04/10/2017 at 15:46:15
Lawrence, yeah you might be right but I'm happy to hang my hat on it and hope it's all true!
Lev Vellene
368
Posted 04/10/2017 at 15:46:32
Ray (#361),
The way it's looking now, we're not going to get seventh, probably not even a top half finish. The only way we could end up not calling that a catastrophe would be if we ended up using the remainder of this season to give the young and hungry a good run in the first team without being relegated. Well, if that would have led to us finishing top-6, or even top 4 the following season, then hindsight would call it brave and visionary!
But football today is a business, so that will never happen. Every placing on the final table is worth more money than the next lower placing, after all. So we'll probably be boring and frustrating the rest of the season, with any little improvement seen by the Board as proof that their little Ronald is finally coming to grips with the situation...
Steve Ferns
369
Posted 04/10/2017 at 15:47:38
Ray, fair point.
If I was appointed then I would play the following side:
Pickford
Kenny Keane Holgate Baines
Davies Schneiderlin
Lennon Sigurdsson Lookman
Calvert-Lewin
Key thing for me is getting pace into the side. I think in my side everyone is either over 28 or under 23!
Kenny is as good as Martina and should play until Coleman is fit. Holgate is so much faster than Williams and this alone will make the side more attacking. The defence can go up a few notches. Holgate can learn to work with Baines and so cover behind him and allow Leighton to get forward more, without worry.
I know many on here don't want to see Schneiderlin in the side, but he is the only player capable of spraying 40-yard passes. It's a disgrace that no one else can, or that we let Barry leave. We have to work with what we have and that means Schneiderlin has to play. In addition, if a move breaks down, Schneiderlin is the one to fill in for Baines or to drop into Holgate's position as he covers Baines. He needs to be much faster in the transition, though, and be getting forward more. He also needs to move his default position 10 yards further forward.
Davies for Gueye for me. Schneiderlin and Davies worked very well together last February and I feel that they are the best combination in the engine room. I know people see it as two defensive midfielders, but it is really just two central midfielders and they need to push further forward. Whilst Schneiderlin's job is to get the ball and bring it out of defence (quickly), and to pass it to the wings and the channels, Davies's job is to press high and chase and harry. Davies should be playing further forward and only sitting on those rare occasions that Morgan goes forwards. This is the natural position of Davies, and where he played in his youth career.
The attacking trio now has pace and width. Two wingers to get wide, to offer Schneiderlin options and to stretch the opposition. Lennon offers experience, energy and consistency, whereas Lookman is all raw talent. But how will he develop without first team games? Vlasic is also an option here, and heaven forbid, let's get Mirallas back into contention. Sigurdsson is the record signing and works better without the other No 10s, Rooney and Klaassen would sub in of course.
I think Calvert-Lewin works best a lone striker. He offers a lot with his youthful exuberance, high work rate, awesome energy levels, and never lets defenders have time on the ball. Niasse offers an alternative late in games. Rooney and Sandro are other options.
My key signing would be Barkley, I would make him an offer he cannot refuse!
Mike Gwyer
370
Posted 04/10/2017 at 15:51:34
James Marshal (#360).
How do you go from Usmanov selling his Arsenal shares to Usmanov then taking over Everton and for some unknown reason buying us a new stadium and top quality players???
I doubt the guy knows or even gives a fuck where Everton is on any given map of the world; so helping out his good mate Moshiri is probably way down his list of "spunking money against the wall" projects.
Steve Ferns
371
Posted 04/10/2017 at 15:57:32
Mike Gwyer, I think a businessman such as Usmanov will know where his company has spent £70m on sponsoring a training ground that now bears his initials.
Everyone believes that deal to be fishy. There is clearly something going on with Usmanov and Everton. Either he is manoeuvring to take over Arsenal by making it look like he will jump to us if they don't let him on the board, or he is fed up of being on the outside at Arsenal and wants to have his own football club, and as he is getting older, Everton will have to do.
Moshiri is a curious man. His backstory is interlinked with Usmanov and he seems to be a mere puppet for him. I, like many here, am waiting to see how this all plays out.
Steavey Buckley
372
Posted 04/10/2017 at 16:08:03
If Usmanov does join us, does that mean Koeman will waste another £200 million, and still end up 3rd from bottom?
Oh for the days when Moyes would have to look under the sofa to find some money to buy someone, and how Evertonians wished for a billionaire owner. Yet, now they have one, and Everton are far worse than under penniless Moyes.
James Marshall
373
Posted 04/10/2017 at 16:11:16
Mike - given that Usmanov and Moshiri joint own USM Holdings, and have been business partners for years, it's reasonable to assume he knows a fait bit about Everton!
He's been a silent shareholder at Arsenal for a long time, and by all accounts over the years, wants to be in control of a football club - put 2+2 together and you get Everton
Let a brother dream will you!
Paul Smith
374
Posted 04/10/2017 at 16:22:09
Sorry to piss on your chips, guys, but Usmanov just reiterated his love for Arsenal and commitment to staying the course. Irrespective of Stan the Man.
Steve Ferns
375
Posted 04/10/2017 at 16:25:07
I agree Steavey. People used to say about how Moyes wouldn't have spent the money wisely. He identified players such as Ever Banega, Joao Moutinho and loads of others. We used to be interested in rising stars long before the other big boys would notice them and come and get them. I think if Moyes had had the money then we would have had a decent side.
I know people will point to the flops, like Biffa Beattie, but his transfer record was very good.
Fellaini was our record signing under Moyes. Unlike our current record signing, he was our best player, and we sold him for a profit.
Yakubu, was not a success, but that was mainly down to injury, although there was also a question over his real age and that perhaps he was a few years older than we thought and so we splashed a lot of money on a fading player anyway. Despite this, he still scored at a very good rate and when he played he did well.
Johnson was so-so. He did well at times, but appeared to be left behind as the team improved. Can't recall making a profit on him, but we didn't lose much on him. he was not a signing we would have made had we had proper money, he was an example of settling for what you can get for short term gain.
Bilyaletdinov – absolute flop. He got this one wrong big time. But then again he was a Russian international. Probably just goes down to not doing the homework properly to see he would not fit in, and was painfully too slow.
Van der Meyde – absolute flop. I would say though, that this was the kind of signing that we had to make back them. We were buying damaged goods at a knock down price. This means there is a risk that it won't come off. We took a gamble and lost. But it was still a gamble we had to take and in the circumstances at the time, I think we were right to take the gamble. I'd put Pienaar in this bracket as a risky transfer, but one that did come off.
All-in-all, I think when Moyes spent money he largely got it right. But undoubtedly his best work was with Cahill, Coleman, Arteta, Baines, Jagielka, Pienaar, Lescott, Yobo, and so on.

Steve Ferns
376
Posted 04/10/2017 at 16:27:01
James, Moshiri only owns 10% of USM. So not quite joint in terms of 50-50.
Steve Ferns
377
Posted 04/10/2017 at 16:30:01
Paul Smith, if you read the fine print, Usmanov says he won't sell his shares to Kronke, but doesn't rule out selling them to others. So not quite dead in the water. James can still dream.
Steavey Buckley
378
Posted 04/10/2017 at 16:40:10
Steve, Everton are now in a real mess spending buckets of cash on players who were comfortable somewhere else. Now they are out of their comfort zone look bad to mediocre. And no matter what players Evertonians pick for their favourite team there are no differences in performances. Much worse, Koeman does not know what to do next with the players he bought. That's why he is looking for the next transfer window to bale him out of this mess he will not acknowledge. I personally believe another manager could not do much good with Koeman's mess.
Ray Robinson
379
Posted 04/10/2017 at 16:43:01
This thread seems to have developed a split personality but moving back to the subject of blooding youth, the first player I'd restore to the side when fit, would be the "youngster" Jagielka. Still the best defender in my opinion and someone who could bring the best out in Keane and Holgate.
Dermot Byrne
380
Posted 04/10/2017 at 16:54:44
In the absence of anything interesting, can I recommend this brill prog
Joe McMahon
381
Posted 04/10/2017 at 17:03:11
I assume the picture of Moshiri wasn't taken this season. It certainly wasn't taken while watching Sigurdsson, Klassen or even Rooney gasping for breath after 55 minutes.
James Marshall
382
Posted 04/10/2017 at 17:10:27
Joint/co – whatever term you choose – they still both own part of the company, and have been business pals for a long time.
I won't let you bring me down! I may be pissin' in the wind, but being an Evertonian is hard enough as it is without being told all my dreams are pish!
Eddie Dunn
383
Posted 04/10/2017 at 17:16:28
Steve Hogan (#351). I obviously have no evidence that the club "fucked-up" the Giroud deal, as I have no inside knowledge of the machinations of the club but the fact is that he didn't sign, and neither did an alternative, so in my opinion, the board, Walsh or Koeman fucked-up!
George Cumiskey (#353). I didn't say that the board/Walsh foisted players on Koeman – I don't know why you suggested that!
On Giroud, you think we dodged a bullet as he is slow and we need pace. I think he would have done a good job, in my opinion he looks as fast as Kane (who isn't the quickest) but he does win headers, can hold the ball up and he has good feet . Even if he isn't very quick, a good target man enables the midfield to catch up, and obviously gives the team an outlet when under pressure.
Anyway, even when we had Lukaku many on here were calling for another striker to take some of the burden off him, so once Valencia and Kone went we really should have expected two new front men.
Eddie Dunn
384
Posted 04/10/2017 at 17:23:01
Ray Roche (#356). I wasn't one of the posters criticising Lukaku's workrate, but many of us who at first thought we had a good price for the lad, now wonder if we could have got more, in the light of the Neymar transfer and the supposed offer for Coutinho, plus today's red tops were suggesting a massive offer is in the pipeline for Kane.
When we spend £47 million on Sigurdsson it puts the Lukaku deal into perspective. Hindsight is a wonderful thing.
Incidentally, I was delighted to get the sum for Lukaku as it was clear he no longer wanted to play for us. Nobody wants an unhappy player moping around.
Chris Stone
385
Posted 04/10/2017 at 17:33:37
Some great posts on here. Would like to add the following if I may...
Dave Wilson – much as I'd like to state also that we are one of the biggest clubs in the country, unfortunately there's almost half a Premier League that are bigger than us. I agree totally with the supporters saying about small club mentality from the hierarchy (classic being the 'unexpected loss' quote from Moshiri) and we do need to shake this off top to bottom to become winners again.
Those of you (in the minority) defending Koeman – while I'm interested in theories of power struggles in the boardroom, etc (and there may be some truth there, who knows) you cannot get away from the fact that he had a whole summer plus a lot of money to have a balanced, competitive team/squad.
Where were the defensive reinforcements? One left back is all we've got ffs!! Where was the pacey winger or two? Where's the quality striking addition? Okay, one could argue we do have some pacey wide players that simply aren't playing (Mirallas, Lennon, Lookman, & Bolasie) and Yannick is obviously yet to return from injury.
But my point is that it was up to Koeman to address any problem positions or lack of options and he failed to do this. Anyone that says it isn't his fault and that Walsh or Kenwright failed him, I'm not having it.
Surely he would've walked if he had been undermined so badly in terms of transfers. By not doing so he must have been content with his purchases. How we let him end up with so many central attacking midfielders is a mystery and a travesty that so much money and time (in the case of Sigurdsson!) got wasted.
I am, however, bemused at how poor some of our players look, Williams for example. I saw a warrior playing centre back for Wales in the Euros, he looked immense! Arsenal fans slag off Ramsey a fair bit but he impressed me a lot in that tournament too.
So, as a question, what is the best thing we can do to put more pressure on Koeman & The Board in order for him to leave his position? Look how long Newcastle stuck with McClaren that season and by the time Benitez came in it was too late as they were too far adrift. Valencia is happening again for Koeman, EFC have to act decisively...
Tom Bowers
386
Posted 04/10/2017 at 17:38:21
Sorry but Mirallas has become a back number. He has some pace but cannot beat an opponent. Was decent as a partner to Rom. in his first season but playing deeper is not his game, similar to Lennon.
James Marshall
387
Posted 04/10/2017 at 17:39:41
There's a crisis of confidence running through our entire team – perhaps save for Pickford. That's not something a manager alone can fix. It's down to the players to play themselves back into form, and confidence.
Ask anyone in the game/any sport and they'll all agree with that sentence – though I'm now braced for all the experts to say otherwise.
Chris Stone
388
Posted 04/10/2017 at 17:46:04
Mirallas is inconsistent but can be dangerous. Right now we have next to no potency. If they ain't suited to being deeper in the 4-5-1/4-2-3-1 type then change it, go 4-3-3 with them higher up. Maybe Rooney plays as sole striker, maybe he doesn't. Drop him if he doesn't fit the system. We need width and pace, do whatever it takes to get that.
The players confidence will have taken a beating, no doubt. So let's get someone in to motivate them, give them clear instructions, man-manage them effectively, put round pegs in round holes and start getting our bloody pride back a bit! The ship is taking in water and the board are sat there pondering the cost of plugging the holes...
Will Mabon
389
Posted 04/10/2017 at 17:59:44
James, there may indeed be a crisis of confidence - or a feeling of confusion. That cannot be used as a blanket excuse to blame the players. Too many of them are Koeman signings.
His team
, the new way.
New players at a new club, with a new manager, a "New challenge". Where's the motivation? Most of the new players turn suddenly lethargic and uncommitted? Not performing as they did at their previous clubs, due to individual lack of effort, or simultaneous lack of form? Unlikely.
Yes, the players are the ones that have to execute things on the pitch in the final reckoning. In an atmosphere of negativity, tactical confusion, strange team set-ups, under a seemingly dour manager that is now apparently feeling the pressure.
Though I personally think some of these signings are less than they were hyped, I'd cut them a little slack.
Ray Roche
390
Posted 04/10/2017 at 18:21:47
Eddie Dunn (#384),
I agree with you, I thought that the figure of £90m (including the add-ons) was respectable for a player wanted out, but that was at the beginning of the window; who knew things would take off as they did?
It just shows how divided opinion was on here when you think that some would have accepted £50m for him, What would they (Man Utd) sell him for now?
John G Davies
391
Posted 04/10/2017 at 18:23:43
Hes lost throughout dressing room. Annoying.
The players don't want to play for him. Shit bags. Play for the fans, play for the shirt. And play for your professional pride.
Mark Morrissey
392
Posted 04/10/2017 at 18:35:01
I saw an interview earlier today on Sky Sports News with Farhad Moshiri's mouthpiece, Jim White. He was interviewing Tony Bellew about his re-match with the Haye and as if right on cue he said "Do you think Evertonians should get behind Ronald Koeman, what do you reckon, Tony?"
This was followed with a load of guff about the new players needing time to "gel"...heard that word come out of someone else's gob recently. He went on to say that he wished we had 11 Wayne Rooneys...
An interesting notion that. A minibus to bring them all to the ground. The interview could not have been better orchestrated unless Moshiri had done it himself. Gonna be a long winter, chaps.

Will Mabon
393
Posted 04/10/2017 at 18:35:30
John, I can't argue with the sentiment about the players - but they may be in a real dilemma. If the situation is that they really have had a parting of agreement with Koeman, they probably won't want to encourage his continuing.
I'm not saying it's right but it may be the way it is. However, perhaps they are trying to play but Koeman's instruction is causing otherwise?
John G Davies
394
Posted 04/10/2017 at 18:49:07
It's a bit of both Will.
No bottle.
No confidence.
No pattern of play

Lev Vellene
395
Posted 04/10/2017 at 19:03:29
Damned if I can remember which of the two last games it was, but Schneiderlin was dire (as usual) during the first half. Then it looked like he had received instructions to finally play the way he used to do when we started to enjoy his forward, and long, passes.
So I keep asking myself, is he just too good at following orders from the manager? Could releasing him from some overly defensive game plan finally let us have all those good forward passes the team needs?
Phil Walling
396
Posted 04/10/2017 at 19:27:39
Nothing wrong that two or three wins won't put right. Then Koeman will be a hero again. The same kept happening to Martinez, I seem to recall and he lasted three years.
Eddie Dunn
397
Posted 04/10/2017 at 19:33:27
Mark (#392), Bellew was really diplomatic when interviewed about Moyes and Martinez. He is a celebrity, gets to sit with the nobs, and it would be rather awkward for him to slag off the manager, or any players, or members of the board if he was going to see them over a bit of grub next home game.
I wonder what Tony says to his mates though?
Martin Mason
398
Posted 04/10/2017 at 19:36:49
Is it possible that Morgan looks so bad because he isn't really a defensive midfielder and we look so bad because we genuinely need two and with him we don't have that?
His covering looks dodgy and how he let Kendrick stroll past him before scoring looked anything like what a DM should be doing.
Mark Morrissey
399
Posted 04/10/2017 at 19:38:35
I totally agree with you Eddie, it was just interesting to hear the words "players gelling" as though Tony and Jim White had been chatting off screen beforehand about Moshiri's slant on it all.
Lev Vellene
400
Posted 04/10/2017 at 19:40:40
Mark (#392),
yes, if nothing happens now, that might well become our 'long spring of discontent'!
I just don't get it! Koeman wanted a bigger squad, so that he could rotate players due to the increased number of games we'd have this season. And then he tries to shoe-horn in the players who ought to be rotated, while leaving out the players who could improve on the last performance if they got enough games... Lennon, Lookman, even the erratic Mirallas!
As of now, any opposing manager knows that Koeman will start the game without anyone to worry about out wide, so they can tailor their team towards that...
Colin Glassar
401
Posted 04/10/2017 at 19:53:15
My last remaining hope is that Moshiri's boss comes on board and sorts out this mess.
John G Davies
402
Posted 04/10/2017 at 20:02:36
No chance it could be Tony's honest opinion?
Genuine lad.
Not a phony bone in his body.
Kunal Desai
403
Posted 04/10/2017 at 20:04:40
Phil – where exactly are these two or three wins coming from? We haven't won away from home since January. That is simply horrific. Arsenal have picked up and will beat us.
Phil Walling
404
Posted 04/10/2017 at 20:08:13
There's no crisis if Mr 49.9% genuinely believes Burnley was the only game he expected us to win!
Just as Uncle Bill kept his faith in Roberto, Moshiri will do the same with Koeman. It's a question of pride and not admitting he was wrong. He'd get precious little thanks from his partner Usminov if 'the rebirth of Everton project' was shown to be an abject failure from Day 1, now would he?
So stop counting the days until we wave Ronnie goodbye and dig in for a long winter. After all, we may all have got it wrong and our team just may be in the hands of a managerial maestro. Moshiri believes so, anyway!
Lev Vellene
405
Posted 04/10/2017 at 20:09:22
Well, we are 'only' 5 points down from those same encounters last season! But with the plodding, fearful and headless-chicken approach we've had so far this season, I really fear for our 5-6 upcoming games!
Kunal Desai
406
Posted 04/10/2017 at 20:11:53
The crowd haven't turned 'as yet' and the banners aren't up 'as yet'. I suspect they will be up much quicker this time around. Once the two happen, there is no turning back for any manager, just as Martinez found out.
Mike Hughes
407
Posted 04/10/2017 at 20:13:19
Just watched Channel 4 News.
At the end of Teresa May's speech, did my eyes deceive me or did the banner behind her read, "Building a country that works or Everton"?
(Apparently some letters fell of the original slogan)
Even the Tories are taking the piss out of us now!!!

Peter Anthony
408
Posted 04/10/2017 at 20:15:23
Not defending Koeman as to me his 'project' looks like a train wreck so far, but to pick up on who else other than Fergie has turned things around: Howard Kendall Mk1 certainly did and even Dour David Moyes went from 4th from bottom to 4th from top.
Tony Marsh
409
Posted 04/10/2017 at 20:30:55
Peter @ 408
I think you will find Moyes did 4th from top to 4th from bottom mate. The year we fluked 4th place we fell apart the following season. Once Moyes brought in Per Krøldrup, Phil Neville, Simon Davies, & James Beattie. It was 2004 and we were doomed once Davey got his stamp on the side. I don't understand why some think Moyes was ever any good. He was a loser like Koeman is.
You can not compare what Ferguson did 25 years ago at Man Utd with the football of today. Football today well Its a completely different animal. Also Man Utd were the biggest club in the world; they still are.
Everton are nothing more than a mid table unprofessional, unambiguous joke of a club. Hard to say but true. Comparisons with Man Utd are silly at best mate.
Steavey Buckley
410
Posted 04/10/2017 at 20:42:54
Lee, one very important omission from last season, Lukaku. In a really good passing team, Lukaku would be scoring more goals than he is with Man Utd.
Koeman made the biggest mistake in his career by letting him go. He had 2 more years on his contract with Everton.
Peter Anthony
411
Posted 04/10/2017 at 20:52:39
NSNO Tony. I want Everton to be the best again. Better than Man Utd and everyone else. Form is temporary, class is permanent. Their top scorer is an Evertonian, as is ours.
Moshiri or perhaps Usmanov need to get us the modern day William Ralph Dean, unless Rhino can unearth a real diamond striker. Perhaps even Calvert-Lewin can develop as Harry Kane did? We need more than just a striker though sadly I fear.
Anyway, I am clearly a dreamer and will probably die unfulfilled in respect of my Evertonian dreams at this rate.
Jim Bailey
412
Posted 04/10/2017 at 20:58:26
Lots of posters calling for the youngsters to be given a chance. Would that be the same youngsters who are champing at the bit to prove how committed they are to the club, the same youngsters who would bust a gut for the cause?
How would they fit in with the supposedly experienced, done it all seen it all before prima donnas we seem to have in the first team at the moment? They wouldn't because Koeman would extinguish any trace of ambition, any time a youngster had the nerve to try something that isn't printed in triplicate in Koeman's pre match nonsense, he would be benched, or worse.
I honestly wouldn't subject these kids to Koeman's tutelage, they are for the most part very good players. Let them be educated and used wisely by a manager who knows how to manage, which is not "my way or the highway" which seems to be Koeman's mantra.
All things considered re Koeman, tactics, formation, comments made and a stubbornness that beggars belief, I say Koeman out now.
Steve Ferns
413
Posted 04/10/2017 at 21:00:08
Peter, I see four ways we can be the best:
1. We spend a load of money – i.e. Man City.
2. We get lucky, with a few good signings and some good management – i.e. Leicester.
3. We invest heavily in youth, coach the players we have properly and work on making them better, fostering team spirit and slowly clawing our way to the top - i.e. Spurs, but they also paid top dollar for the best young kids.
4. We build short term to achieve small goals, reset and put in new goals, and step by step work our way up the table, ie, aim for 6th, then consolidate, then aim for 4th, consolidate, then push for the title. This is more the old fashioned way and there's no recent examples of this as most run out of money and fail to make the next step up, such as Moyes's Everton or O'Neil's Villa.
Personally, I would like to see option 3 and slowly develop the best young talent we can find. I liked the approach we've taken with young kids, but I am frustrated that Koeman appears to shut the door on most of them. It's similar to what Moyes did, otherwise we could have had Dier or Mustafi at centre back for us now.
Darren Hind
414
Posted 04/10/2017 at 21:04:27
And yet Marshy @409
We were seconds away from beating the fuckers at Old Trafford last season (a few short months ago).
Lawrence Green
415
Posted 04/10/2017 at 21:06:38
When Lukaku was sold to Man Utd I was astounded given his 'love' for all things Chelsea, is it possible that the deal to sell Rom to Man Utd had been verbally agreed as early as January 2017? the same time that Schneiderlin arrived at Goodison?
Everton's relationship with Manchester United is a curious one and one that has never sat very comfortably with me. Not many of the players that have arrived from Old Trafford to ply their trade at Goodison have been out and out successes and the financial rewards we receive from those deals for players going the other way tend to favour the Manchester club, as was the case with Rooney and now it would seem with Lukaku.
Blaming the current form on a missing player is an easy way out for the manager, we could have purchased a pair of very good strikers only to see them injured and unavailable for a long period of the season, what does the manager do in that situation?
He adjusts his formations and tactics to suit what players he does have available and makes the best of it. He also motivates the squad and doesn't allow them to feel as if they are playing with one hand tied behind their backs. Unfortunately it looks as if Ronald has failed to do either of those things and he too looks as if he is sulking at the lack of investment in a key area of the team.
Everton FC has been down this road so many times in the last couple of decades, refusing to purchase Dion Dublin in Howard Kendall's time, relying on Marcus Bent in 2004 and hoping the likes of Saha or Fellaini could lead the line when out of options.
Sometimes the lack of money available has been a factor sometimes it has been for other reasons but for some reason Everton FC seems to enjoy being hamstrung by one issue or another, which means it will never really compete and it matters not how much money is available in the war-chest.

Darren Hind
416
Posted 04/10/2017 at 21:10:48
We were also a decent strike from sending the Mancs packing at Wembley in the semi-final in 2016.
Fine margins, lad. A decent manager or chairman could / would change everything . You are not wrong though. Winners understand the difference.
Tony Marsh
417
Posted 04/10/2017 at 21:21:03
Laurence Green, well said, mate. I also have this nagging feeling that the relationship we have with Manchester Utd is very strange. I even said as much this afternoon to a pal of mine.
Last season when Chelsea started sniffing around Lukaku Moshiri said it would take £100 million to buy Lukaku. This pre season once Man Utd made known their interest and stepped in on the Friday Lukaku was gone by the Monday for £25 million less than the quoted figure – no fight, no fuss, no haggling – just let go for half his worth. This was during the period of the start of the massively inflated prices???
WTF is going on here? It stinks and all the moaning about us not bringing in a striker in the summer is pathetic .We let the best striker in the Premier League go for peanuts when in effect we needed to buy another striker partner with Lukaku.
I give up, mate. Moshiri is a bigger bellend than Kenwright if you ask me.
Peter Gorman
418
Posted 04/10/2017 at 21:31:57
"Peter @ 408 – I think you will find Moyes did 4th from top to 4th from bottom mate."
Tony, what do you mean by that? Are you speaking figuratively because that is simply untrue. 17th to 4th to 11th is the correct sequence and ever afterwards anywhere between 5th and 8th. A far cry from the bottom, no matter how stale it might have become.
Steve Ferns
419
Posted 04/10/2017 at 21:42:48
Morgan Schneiderlin is the topic I always find myself discussing the most. For good reason. I think most agree that he is in probably the single most important position in the side.
What you need to do is to forget preconceived ideas of a defensive midfielder. The Lee Carsley role, the anchor man or the water carrier has long gone. The water carrier type player is actually playing further up the pitch these days, and is a position fulfilled by Gueye or Davies. I prefer Davies as he has more about him when he wins possession.
Schneiderlin does anchor the midfield, as he is the key fixed position in the side. but he is only half of the defensive shield. you will note that only he drops back to take the ball off the defence. If the defence has won the ball, then the theory is to get the ball to Schneiderlin and then he is to ping it to the wings, to the channels, or if he can find a good forward pass, to the forward. He is the only one who can play this position as, other than Rooney, he is the only one capable of hitting a 40+ yard pass with any degree of accuracy. Note I said capable, this was on purpose as his accuracy has not been great recently.
Not only does he get the ball off the defenders and take it forwards, but he also receives the ball off the midfield and drops back and then tries to hit a quarterback style pass.
So that's the theory. but what is going wrong?
First off: Ashley Williams. Ashley Williams is so slow that he is refusing to push past the edge of the box for fear of the ball over the top. If you dropped Williams in a relegation threatened side, or in the Wales side, and they played backs to the wall and defended the 18 yard box, then you would see a brilliant heroic display. He is still capable of that. But that is not Everton. We are expected to dominate possession, and we still have done in most games. So if we have the ball, our defence needs to push up the pitch to condense the play. Williams is refusing to do this. So it means the game is more stretched that it should be. The effect is that there is a bigger gap from attack to defence when we have the ball. Schneiderlin suffers because when the attack breaks down the opposition can get right at our defence. He is like the kid with his finger in the damn as we don't have enough players back. When Gueye and Schneiderlin are back, they are doing their defensive jobs well and the stats back this up, both are in the top 10 for defensive play this season (which I am sure will surprise you as much as me). When we do win the ball, and this is the key point, the defence is on the edge of the box, the midfield three is on top of Schneiderlin and the attack is heavily marked. What Morgan would like to do is to turn, drop, and hit a long pass to the flanks. He has little time to do this, as he has no room, Williams is squeezing him, and so he has to play an easy ball and recycle possession.
Second - there is no one to pass to. Schneiderlin receives the ball. Usually off Gueye. So watch him, because he will play against Brighton, and watch him carefully, he will get the ball and around him will be Gueye, Keane, Williams and Baines. Gueye just passed it him, he can't pass it back as Gueye will have nowhere to go and likely a man on him. Keane and Williams is a negative pass and the one who will ultimately choose. Baines is sitting deep, there is usually a winger near him, and Baines is not going to hit the afterburners and race up the pitch so he is not a pass. The next players are more likely to be subject to change, so lets call them by position. Left winger, this is not a winger but someone stood, and watch his feet, he is stood back to the touchline and usually heavily marked and stood still, ie Sigurdsson lately. He is also not stood close to the touchline and so is squeezing the play narrower. His feet are poorly positioned and he cannot or will not suddenly turn and run wide to the touchline. The right winger is usually also heavily marked, tends to be someone smaller and so cannot win the ball in the air. The central figure has tended to be Rooney and he is dropping to a position where he's almost on top of Morgan but again is coming with an army of markers. The striker themselves have either been Calvert-Lewin, who is marked by a load again, or Rooney and Sandro. If Rooney and Sandro, neither line up in the forward position, each pull wide to touchline or race back into midfield meaning Schneiderlin can't even loft a hopeful ball forward like he can if Calvert-Lewin is playing. In the last game Calvert-Lewin was pulling off to our right, in the channel and he was clearly told to do this, and we were clearly told to kick it to him there was the defenders and the keeper were also doing this. So in essence, our narrowness is making it difficult to find a person to pass to.
Thirdly, the transition. This is the absolute most important thing in football right now. Everyone is on about it. Mourinho is the master. Mourinho is so bothered about transitions he coaches his teams to be defensively minded in attack (we know because you can watch him coaching Real Madrid on this on YouTube). He wants an attacking team to keep enough shape that if the move breaks down the team can win the ball back immediately. If you have a counter attacking side like Liverpool or Atletico Madrid, then you will see they are all about transitions themselves. They are coached to win the ball and immediately attack. They are great at attacking transitions. Mourinho is smarter though, he figured out that these sides are actually weakest just as they win the ball, that they are vulnerable in the transition. If you keep your shape when you lose the ball, then can win it straight back, then you will find that a team like Atletico or Liverpool will have burst forward en masse and will actually be out of position. This also happened to us under Martinez when our gung-ho tactics saw us get caught on the break a few times from players being to eager to get forwards.
Big digression, so back on track, Schneiderlin and Everton. What we do wrong, and we can all see it is we are slow. We win the ball and we pass it so slowly it trickles and takes forever to reach a team mate. We need to snap the passes. These are pros. Hit it hard into their feet, they can and will control it. They can use the speed of the ball to take a touch that sets them immediately forwards. Instead they get the ball and have to go backwards because defenders are on them. This either happens to Morgan, or he is the next person passed to. we are just so slow it is unreal. What the hell is Koeman coaching on transitions? Why can't he speed us up like last season? Davies and Schneiderlin combined well, and they combined quickly. If the defence can snap the ball into Morgan's feet quickly then you see the best of him, the pitch is open and he can pick out a man.
Fourthly, confidence. The guy looks a beaten man. they all do. They can hear the crowd. Then can hear the groans. They know we are not happy. They will fear the groans. They will take the easy option. Better a small groan for going back than a big groan for giving it away.
What is the solution?
1. Drop Williams. Last season we had Funes there. He has legs and so we played a higher line. We cannot play Funes Mori at the moment, so we play Holgate. I'd rather risk an inexperienced defender with pace and play a higher line than play as deep as we have been.
2. Play wingers, stretch the play wide. make more space in the middle. Get wingers on the touchline to receive the ball to chest or to feet and move the ball about.
3. I already gave the solution here, hit faster, harder passes. Snap them into feet. sideways and backwards is fine early in a transition if the ball is moving and moving quickly and you are manoeuvring it around the opposition. Moving it back from the opposition and letting them reset their defence is the problem.
4. Win games and play better. Give the crowd something to use to get behind you.
But don't get me wrong, Morgan Schneiderlin is not playing well. We just need to consider exactly why that is and what we can do about it.
Bobby Thomas
420
Posted 04/10/2017 at 21:51:29
Steve #419
"What the hell is Koeman coaching on transitions? Why can't he speed us up like last season?"
I didn't get any further than this. Its perfectly simple. You need an outlet. You need runners. There isn't one, and there aren't any.

Tony Marsh
421
Posted 04/10/2017 at 21:52:29
Peter @418
What I mean is David Moyes took us to 4th place with a team that were nearly all Walter Smith's players. We got lucky and just about hung on to 4th when we hardly won a game after the Xmas.
After Moyes brought in his own players, we bombed out of the Champions League qualifiers against Villarreal. That season was horrific. Not long after we escaped being relegated and stayed up with the lowest points total ever in the Premier League. Lowest goals total in our history.
What I was saying is we went backwards a lot under Moyes.
Mike Doyle
422
Posted 04/10/2017 at 21:53:35
Steve #419. V interesting points. I'll be watching Morgan with interest next game.
Steve Ferns
423
Posted 04/10/2017 at 22:04:38
Tony, the year we finished 4th the team had Martyn, Wright, Yobo, Cahill, Kilbane, Bent, and Arteta. That's a lot of Moyes players and not nearly all Smith.
Dunno how you can say we went backwards under Moyes. He punted us forwards and we slipped back a few times from where he took us, but the position graph shows us going up and up, and all with spending comparatively less money than Smith.
I didn't know anyone had anything good to say about Smith's time at Everton. Talk about dour scots.
Peter Gorman
424
Posted 04/10/2017 at 22:06:14
Tony, sorry. Backwards from what? From Walter Smith??
I also think you are being a bit hard and fast with the truth there with the 'nearly all Walter Smith players'. Might be true in terms of numbers (not convinced it is, pretty marginal) but since the team included Tim Cahill, Joey Yobo, Nigel Martyn and even a few great months of Mikel Arteta, it is hardly true in spirit.
You could even throw in Osman and Marcus Bent as playing large parts in that 'lucky' league finish, both Moyes players.
Peter Gorman
425
Posted 04/10/2017 at 22:08:52
Beat me to it Steve. That season was could not have happened without Cahill, Yobo, Bent and Martyn. The core 'Smith' players would have been Stubbs, Weir and Carsley (plus Gravesen before he was lost for Arteta).
You're not remembering things too accurately, Tony.
Brent Stephens
426
Posted 04/10/2017 at 22:10:54
Steve, liked that piece. One thing. "Williams is squeezing him [Morgan]". Didn't get that – if Williams is so deep.
Peter Gorman
427
Posted 04/10/2017 at 22:11:49
Sorry, can't edit comment for some reason.
"After Moyes brought in his own players we bombed out of the Champions League qualifiers against Villarreal. That season was horrific. Not long after we escaped being relegated and stayed up with the lowest pts total ever in the Premier League. Lowest goals total in our history."
Again. That was the season BEFORE we finished 4th. You are confused.
Lev Vellene
428
Posted 04/10/2017 at 22:16:58
I can't help but feel that our players are actually playing to Koeman's specifications! Which makes his 'good substitutions' seem so very odd!
Did we try to surprise anyone this season? Be original? Or did we just do the same old stuff, hoping they'd forget?
Steve Ferns
429
Posted 04/10/2017 at 22:18:09
dup
Brent Stephens
430
Posted 04/10/2017 at 22:24:00
Cheers, Steve. I see. Great piece by the way.
Steve Ferns
431
Posted 04/10/2017 at 22:32:55
Thanks Brent.
Andy Crooks
432
Posted 04/10/2017 at 22:41:44
Laurence and Tony, I agree. There is something odd about our relationship with Manchester United. Since the days of Walter, we appear in awe of them.
Frankly, we can aspire to nothing, not a fucking thing, while we sell our best players to Manchester United and provide a pension to their rejects.
The custodians of the club, not the fans, have a second-rate mentality. They will accept staying on the Premier League gravy train, that will do. That is what they expected from Moyes, Martinez and now Koeman.
We have an embarrassing attitude of inferiority. I use "we" I mean those who run our club. No imagination, no aspiration, no pride, no ambition, just gratitude that they can go to Old Trafford and share a bottle of wine with the custodians of a big club. Make themselves some money and continue as self-serving, greedy people who treat us all with contempt.
Bobby Thomas
433
Posted 04/10/2017 at 22:44:21
Tony
I think you've got your seasons mixed up there. The worst of everything season (points etc) was Moyes second. He did 4th in his third season.
In his fourth season, the last of the yo yo seasons, we went out in the Champions League qualifiers and bombed out of the Europa badly. The league form was awful and we were at the bottom early on in the season. We recovered to finish 11th.
The difference between then & now is that I always knew we'd be ok. I knew we would recover in that fourth season. I'd seen enough from Moyes in his first season to know he deserved a third, despite how poor the second was. And I'd seen enough from Moyes in his third season to know he would put it right when his fourth started extremely poorly. Because, overall, we were improving and the squad was improving.
As it stands I'm unsure if we are going to be ok. Koeman hasn't really made much of an impact. The squad is an absolute mess. We have big, big problems front and back and they aren't going away until January, at the least. Our signing record of late is becoming absolutely atrocious. Three quarters of our frequently first choice back 4 isn't good enough. Lots of the options higher up the pitch are young players, or are unfamiliar with the division, or both. Koeman doesn't know his best side and players that at least knew the drill have been alienated or bombed out. Mixed into this we have the Europa. We really don't need this as the rotation just exacerbates the flux in selection. There's also much less time to work on the training ground ands get the players bedded into his way of playing. Its showing.
All in all, a perfect storm is developing. We are in deep shit.
The summer recruitment at Everton needs to be subject of an internal review to find out exactly what the fuck happened and who was precisely responsible for leaving ourselves light up front, at centre back, at left back and wide. The result is one of the most lopsided, one paced squads I've ever seen a top flight side have.
This goes a lot deeper than not getting a striker (we needed 2 anyway). This is fundamental mismanagement on the recruitment side.
Kim Vivian
434
Posted 04/10/2017 at 22:45:29
Steve @419, if Koeman or any of his mates read TWeb, I hope they read that! A good synopsis.
Do you have badges, by the way? If not, I'm surprised.
Eddie Dunn
435
Posted 04/10/2017 at 23:02:14
Steve Ferns,
I really enjoyed that piece too! Very interesting to hear about Mourinho.
I watched Man City do that very thing at Chelsea, losing the ball on the attack but having the right shape to still win it back again. It was stunning play against a top side (as we know to our cost).
One minor gripe with your analysis of our play is that you mention the right winger being short and therefore unlikely to win anything in the air, but if Martina or Holgate is playing there, and not Kenny, then we can win it!
I agree on Williams at Everton, but remember a few years ago (when Williams was a little quicker or lighter!), he played in a Swansea side under Rogers which played out from the back with aplomb.
He is a tremendous backs-to-the-wall defender, just like Jags, and I have seen him save our bacon many times this season. Many people seem to overlook the times he has thrown his body on the line to save certain goals.
He is costing us in poor distribution and being too heavy and slow. He has been allowed to coast it and perhaps the coaches should look at his weight.
I have said before that a lack of investment in cover for Coleman and Baines is costing us on the park. Pace down the flanks can turn teams inside out, but we are so predictable with such a narrow shape.
Oh for a young Pienaar!
Clive Mitchell
436
Posted 04/10/2017 at 23:59:56
Tony (#409) – the evidence proves your comments about Moyes wrong. He was here for a decade and averaged 7th in the league. In the ten years before he came, we averaged 14th. That's one hell of a record.
Paul Birmingham
439
Posted 05/10/2017 at 00:25:50
Sadly time honoured as over most of the last 30 years, apart from 1995, there's no real hope.
I mean this based on rational, facts and the rest of what facts, people want to assess, as Everton fans. In a nutshell, it's very little, in terms of kudos, proven panache and improvement on the park.
For the time being EFC is going nowhere fast, and not even a chance of a good place soon in the Premier League.
This website proves with out doubt and unequivocally, that Evertonians, know football, and in fairness, derived from our best teams but also the better teams, on many big games, we fail and still the club laments.
It's feels to me EFC is missing a major plan, with integrity, and ownership.
Sick to the bear ends of embarrassing Derbies and the rest.
Burnley easily turned us over as expected. To me, it seems there is no solid bond from Finch Farm to the Board this season; and worse beckons: shit scared players faces coming out the tunnel, as home players, doesn't lie.
All views are welcome. Hope eternal in life and EFC!

John Daley
440
Posted 05/10/2017 at 00:49:54
Steve @419,
Whilst your post certainly provides a very fine, well thought out, synopsis of what Schneiderlin should be bringing to the party, it doesn't alter the fact he's too often turned up looking completely disorientated and clutching a half drunken bottle of Blue Nun.
How do you explain away his looking as lethargic as Leatherface's Grandpa, losing players from corner kicks, sloppily giving the ball away with under hit passes (he's one of the worst culprits for playing the sort of slow trickler that would look right at home on a heavily creased subbuteo pitch), going to ground unnecessarily, being unable to prevent anyone with pace bursting past him before trying to retrieve the ball by belatedly stretching/sliding in their slipstream or, bizarrely, trotting up to and right past an opposition player in posession on the edge of the box who is readying himself to shoot?
Temporary loss of form? He's been consistently poor both with and without the ball. His performances against Atalanta and Spurs, in particular, were abysmal. His performance against Spurs last season was equally as atrocious.
Your fourth point, regarding an erosion of confidence, probably rings truest to me.
It doesn't seem to me that Schneiderlin is being neutered by systematic shortcomings (or simply having to suffer Ashley Williams on the same pitch), but rather his own lack of nerve. As soon as Everton come under the cosh his much vaunted 'composure' starts to creak more viciously than Pinocchio's keks when the Blue Fairy promised to introduce him to the vast pleasures of human flesh.
If his role is, indeed, so key to setting the tempo for the entire team, then he really needs to start imposing himself on games, rather than settling for strolling about doing the simple things at a snail's pace.
While we've been crying out for inspiration and leadership, Schneiderlin has looked increasingly inhibited and lost.
Matthew Svatos
441
Posted 05/10/2017 at 02:53:41
The reason I'm very much on the "Koeman get the hell out of my club" bandwagon is the lack of respect he's showing the players. Giving lazy, error-prone players chance after chance is getting sickening.
If you want things to change, play the players that give their all on the pitch. A starting lineup of Pickford, Baines, Keane, Holgate, Kenny, Vlasic, Gueye, Davies, Lookman, Sandro and Calvert-Lewin may not scare managers on paper, but all of them put a shift in every time they are on the field.
That's how you change your luck, through effort and hardwork.
John Pierce
442
Posted 05/10/2017 at 05:16:19
Steve,
Always enjoy your tactical rundowns, objective and reasoned. The players have largely escaped criticism from me as my ire has been reserved for a manager I was at best lukewarm towards on appointment.
There are some, perhaps rightly asking why the players don't get a bollocking from me. Well it's simple, too many of them have been awful. Thats not a coincidence. The systemic issues have completely dismantled the collective's confidence.
At that more granular level the team's lack of passing, and ball retention kills us. The team has very few good passers, a point you eluded to in your breakdown of Schneiderlin. I'd argue only the Frenchman, Rooney and Baines have a decent range. Tellingly all three are always far to deep to make significant contributions.
Koeman favours a possession based approach and the lack of passers is amongst many things what has exposed us. Moreover our collective ability to hold the ball gives us little respite and stops us building up pressure.
I'd simply say all that shitty tippy tappy passing gives players who aren't that artful too much time to think. A more direct, energy driven approach would leave players acting on instinct, and relying on their physical attributes.
I'd argue that would enable the team a greater chance to harness some form. The approach if somewhat basic, simplifies the players' job and that is the first step on a long road back.
Obviously Koeman must pick a more direct formation and not over complicate things which has been my observation to date.
I won't hold my breath and yes all but a handful of players have been dismal, that lies at the door of the Dutchman.
John G Davies
443
Posted 05/10/2017 at 07:02:22
Steve 419,
Enjoyed reading that mate. 👍
Good post.

Ralph Basnett
444
Posted 05/10/2017 at 07:26:30
All said and done has the international break come at a worst time for us?
Normally an international break for a struggling team means a chance to train together try new things and hopefully shake off the poor form in order to start getting the results you want.
This time will it work against us in the fact that the board will think we have possibly forgotten what Ronald is doing to our team in order to give him more time?
Colin Glassar
445
Posted 05/10/2017 at 07:58:29
I see Ronald is in Barcelona on yet another holiday. Hopefully Barca will offer him some sort of employment as it's obvious he can't stand being on Merseyside.
It must be hard for a failing manager to spend a few days at home trying to sort out the mess he's got us into.
Will Mabon
446
Posted 05/10/2017 at 08:31:25
Colin, I don't know whether you or others heard the feature on Eddie Howe on TalkShi... er, Sport, the other night.
Not to suggest him as our manager, but what a committed, hard working man. They spent a whole day or more with him behind the scenes, with wide access to his activities. Getting in at 7am is a "Late start" for him. 12 hour days, routine.
Hearing his thoughts on players, managing them, looking after them, their development and so on... well I've never been behind the scenes at Finch Farm and there is more than one way to skin a cat. However, the guy sounded like a different species to Koeman.
Eddie Dunn
447
Posted 05/10/2017 at 08:38:15
On the subject of short shitty tippy-tappy passing. Man City put plenty of short passes in but the difference is they aren't standing still. Short passes are great if everyone is hitting them when they are on the move.
On the subject of Schneiderlin it would be interesting just what orders Koeman gives him.
I wonder if the players are all too aware that no matter how hard they try, they know that as a whole they simply cannot compete with the top six. They watch Man City and Chelsea on telly, they know that none of them would get in either side and they expect to lose.
It isn't the end of the world, as even the owner didn't expect them to win those games.

The club just posted an evening with jags and Baines, and invited season ticket holders of the last ten years to attend.
I like both players, and admire their loyalty. However I found it sort of sad that neither of them had won anything. We ,as a club are happy to celebrate ten years of modest achievement. The pair talked of the semi penalty shoot out over Man Utd, and the order of pens .
It is a shame they didn't talk of how we were destroyed in the final.
I wonder if other mid-table clubs get a couple of stalwarts in to mull over the odd goal ?
I know these two have always given 100%, and I'm not having a go at them personally, but it is indicative of how the club think they can get away with it.

Moshiri on the radio telling us we didn't expect to beat Utd, Spurs, Chelsea or City.
Moshiri and Kenwright should explain what happened to the striker that we didn't sign.
Have the club post "An evening with Bill & Farhad".

Will Mabon
448
Posted 05/10/2017 at 08:41:32
"
Have the club post "An evening with Bill & Farhad".
"
They wouldn't dare - and they wouldn't want to. An evening with proxy Jim Whyte perhaps.
George Cumiskey
450
Posted 05/10/2017 at 10:38:07
Ralph@444 Can't you ask your brother Mike to take over, he can't possibly do a worse job can he ? .
Oh sorry mate I thought your name was Bassett, read it wrong.
Charles Barrow
451
Posted 05/10/2017 at 12:13:47
Pretty clear he doesn't like Liverpool and doesn't like his job. Many rumours circulating that he has fallen out with too many players and he's hanging on for his compo! Explains why he seemingly doesn't seem too bothered when we lose.
Tony Marsh
452
Posted 05/10/2017 at 12:20:58
Charles don't forget mate Big Ron has the Barcelona job waiting for him when he is paid off from EvertonFC !!! Ha ha that has to be the funniest football rumour ever to circulate Koeman to Barca. Go now Koeman it's embarrassing watching you squirm and talk nonsense after every game.
Koeman is as bad as one of those dodgy football agents taking money under false pretences. I have serious concerns about the Klassen to Everton deal we got stitched up on. Was RK doing an old pals act favour to his mates at Ajax? Wouldn't surprise me. Been known before.
Paul Tran
453
Posted 05/10/2017 at 12:39:58
Steve #419. That's the post I've been thinking about writing for couple of weeks. You did it, and wrote it far better than I could. Spot on.
Michael/Lyndon, how about a regular column for Steve's interesting tactical insights?
Oliver Brunel
454
Posted 05/10/2017 at 12:40:58
Tony (452) I agree completely. I would have thought that the International break would be a chance to regroup, try out some new formations, GET the team FIT rather than swanning around in Catalonia. Perhaps he's joined the Catalan revolution. One thing that strikes me about the 'doesn't like Liverpool' rumour is that its pretty unusual..ive met a few people who don't like Liverpool and what you find is that they aren't the communicative people types- they 'like' London cos they went on the wheel, visited Tower Bridge . Koeman isn't a people person, he's not the sort of bloke I would fancy having a pint with he's dour and arrogant above his station. I quite like Howe and Unsworth as the next Everton Manager/Trainer.
Kim Vivian
455
Posted 05/10/2017 at 12:58:54
I don't know if this was written in to his original contract or if it was a retrospective negotiated arrangement, but I believe Brendan Rodgers had an arrangement with Liverpool whereby they relieved him of his duties but agreed to pay his salary until such time as he contracted another job.
This seems pretty astute to me because presumably the sacked manager will be keen to get himself re-employed asap rather than stagnate on the sidelines albeit on full pay for a couple of years, so it potentially gives the firing club an opportunity to get rid, but at a lesser cost.
If this was a viable and negotiable route for us it would give us the chance to replace RK assuming the potential cost of sacking him is a major stumbling block, although I am somewhat doubtful about that tbh given what we have been chucking money at.
Ray Smith
456
Posted 05/10/2017 at 13:03:33
Not doubting the info that RK is in Spain, however, other than stating the obvious, why isn't he at Finch Farm where he should be, trying to sort the mess out we currently find ourselves in.
When did an international break constitute time off for managers!
Unlike relatively recent times, how many of the first team squad are away on international duty.
I don't count McCarthy in that question. We can try different formations with Williams away with Wales.
What an ideal opportunity to get the squad working together in order to put a team out that know what they are supposed to be doing.
Instead, if RK is in Spain, what (apart from the obvious) is he doing there.
Perhaps we should ask Jim White, to ask his 'good friend' Moshiri for an update.
You couldn't make this up!
Tony Abrahams
457
Posted 05/10/2017 at 13:17:50
Colin@445, he would have been the perfect manager for Barca, last Sunday mate!
James Marshall
458
Posted 05/10/2017 at 14:01:06
Steve@419 good post, and highlights our problems nicely.
It's not just Williams at the back, it's all of them - everyone passes the ball too slowly, so our transition is non existent.
Shneiderlin is NOT the problem, the defence and the lack of width, as you rightly point out IS the problem. People need to get off Shneiderlin's back, as he's massively hamstrung by the way we're setup and playing.
Eddie Dunn
459
Posted 05/10/2017 at 15:02:11
Good point James- it is plain to see that Williams is carrying too much timber, and is also right footed . We need a guy who is left footed (or two footed)and can play centre half and left back. Vermulen would have been a good signing had he been released.
Baines is also struggling and we have a new keeper. Not easy for the defenders, but they are struggling.
Phil Walling
460
Posted 05/10/2017 at 15:13:30
Fot all the canvassing by ToffeeWebbers, both Howe and Unsey are unlikely to ever assume the helm at Everton. By the time the inevitable axe falls on Koeman, Bournemouth will have been relegated and our veteran defender will be managing at Prenton Park !
It's not that I wouldn't like to see an immediate change, it's just not going to happen. Seven points from seven games does not a crisis make. not at Goodison it doesn't. Both Moyes and Martinez got into similar difficulties and survived and Koeman will be granted plenty of time to turn things round.
OK, it's Moshiri who gets to call the shots these days but I do not see him as a guy likely to listen to the mob. .My bet is that as long as we don't spend weeks on end in the bottom three, the Dutchman will get the rest of this season. At least. So the bookies favourites will have to look elsewhere if they want a change of employment.
Tom Bowers
461
Posted 05/10/2017 at 15:17:30
I agree with some that the defence as a whole as been sloppy not just Williams.
They are not playing as a tightly knit unit and other teams not just the big teams are exploiting the holes.
The goals by Bournemouth and Burnley cruelly exposed that fact. Williams was partially to blame for the Burnley goal, failing to move out with the others to catch the crosser offside. He is however only an average stopper who isn't going to improve at his age. Keane needs a solid partner and it isn't Holgate nor the aging Jags.
Going to be very interesting come January to see what happens if things don't improve significantly.
Brent Stephens
462
Posted 05/10/2017 at 15:22:50
A couple of times Sunday I noticed Martina having words with Keane. I think Martina is exposed at RB with our lack of width. But I also think Martina is having to sometimes keep an eye on the man I believe Keane should be picking up; as Keane is drawn more central with an eye on Williams, even though Williams is covering his man. Is that Keane having no confidence in Williams?? (I wonder why).

Tony Hill
463
Posted 05/10/2017 at 16:03:12
Bobby Thomas (#433), very true and very worrying. I was concerned in Martinez's second season but the threat this time is greater and more stark.
Dave Wilson
464
Posted 05/10/2017 at 16:40:15
Sorry Steve @419
I cant agree with any of your assessment. You are over complicating a very simple issue. I wont disagree with you regarding Williams. He is a big problem, but you are over sympathetic to Schneiderlin's situation. He is in woeful form.
His uncertainty when he receives the ball, the needless spinning around looking for a sideways or backward pass.
As others have pointed out he is the architect of many of his own problems. The culprit rather than the victim.
He is not the quarterback you portray him to be. He simply doesn't have the passing range, nor does he have the vision to see there are options. This season, the guy has been a red card waiting to happen. He is a decent defensive midfielder on his day, but he is most definitely not top draw. Jose dropped him like a hot potato. There is a reason for that.
I think you have got this totally wrong, its not just about tactics, its about individual ability and Scheids is certainly no Pirlo.
I would drop him in a heartbeat. He isn't switched on enough to play so deep and he doesn't have the ability to play a quarterback role. He could quite easily stride on 3-4 yards and change his entire situation. He doesn't.
I'd give the job to Rooney
Jay Harris
465
Posted 05/10/2017 at 16:42:45
Kim
What youre talking about is commonly known as "Gardening leave" and it continues the person's contract paying him in the normal way until the end of his contract or them finding another job which would then limit compensation.
I don't know how his contract was drawn up but to my mind all of these managers (Martinez etc.) could be given a series of warning for performance and ultimately the sack.
I think its ridiculous that someone can make a horlicks of a job and walk away with millions.
Ross Edwards
466
Posted 05/10/2017 at 16:50:00
Apparently Jupp Heynckes is considering going back to Bayern again when it seemed likely last week that Tuchel was going there. Now there's a possibility he's still available, if/when it's confirmed I'd be straight on the phone to him asap to get him in before Brighton.
I just can't see Koeman turning this around and with Lyon twice, Arsenal and Chelsea coming up soon we could be looking at the season being over by early November if a change isn't made.
John G Davies
467
Posted 05/10/2017 at 17:02:52
Paul Tran 453,
Great idea, an assessment of each game from Steve would be an interesting read.
Steve, can you post a link to the YouTube video you mentioned re Mourinho please.
Mark Morrissey
468
Posted 05/10/2017 at 17:13:52
Is he not sacked yet ? get on with it zzzzzzzzzzzzzzzzzzzzzzzzzzz
Jay Harris
469
Posted 05/10/2017 at 17:14:23
Brent
I think its Keane being unsure of himself.
He should have been picking up the Burnley scorer but stoofd off him in no mans land while Schneiderlin on seeing the danger ran from 15 yards away and as we know now made a hash of his tackle.
Keane has been in poor form the last few games and it is not Williams fault.
Brent Stephens
470
Posted 05/10/2017 at 17:24:54
Jay, just as plausible, mate.
Ray Smith
471
Posted 05/10/2017 at 17:38:04
So why is RK in Spain and not at Finch Farm?
Kim Vivian
472
Posted 05/10/2017 at 17:41:05
Yes Jay, thanks. I thought with 'gardening leave' you generally expected the person back at some time which would not, I trust, be the case here.
If RK was to go gardening he's certainly getting practice digging himself holes.
Brian Wilkinson
474
Posted 05/10/2017 at 17:58:46
sadly times have changed, long gone our glory Days, I feel sorry for the younger generation who have had to put up with Everton for so many years with utter shite, more than anything I would love Everton to lift a trophy for those.
We the older generation have at least those memories of some great Everton teams and watching from the terraces.
Player power now, years ago Ronnie would be in a taxi or at least in John Moores office getting a rollicking.
John G Davies
475
Posted 05/10/2017 at 18:01:27
Coz it's sunny in Spain and fuckin freezing here.
Dermot Byrne
476
Posted 05/10/2017 at 18:07:11
Quick Question...anyone said anything new today? Just to save time.
Jay Harris
477
Posted 05/10/2017 at 18:27:32
LOL, Kim.
Eddie Dunn
478
Posted 05/10/2017 at 18:28:44
I imagine Koeman is in Barcelona to meet friends during this time of great drama. He is probably asking if we can have Del back on loan in January.
Brent Stephens
479
Posted 05/10/2017 at 18:33:48
Dermot, I don't think any of us have said anything new for weeks. But I keep looking.
Ray Smith
480
Posted 05/10/2017 at 18:34:56
John 475
Very good, but methinks there's more to it than meets the eye.
Perhaps he looking for a striker that Walsh and his team failed to find after 2 weeks in Italy.
We have become a joke!
John G Davies
481
Posted 05/10/2017 at 18:38:41
If he is Ray, he will be looking in the 2nd division.
A week off for the top leagues around Europe.
Ray Smith
482
Posted 05/10/2017 at 19:06:17
John I like your style.
However, he should be at Finch Farm, unless he has already given up.
I hope his contract doesn't include the Martinez clause. If not when will we learn!
I still think he will be with us until the end of the season regardless. Then he can leave us in the lurch.
Prove me wrong, and I will be the first to apologise.
Brian Hennessy
483
Posted 05/10/2017 at 19:06:45
One piece of good news today for Everton fans is that Martin O'Neill has agreed a new deal with Ireland meaning he won't be in the hunt to take over if we do the right thing and sack Koeman.
Bad news for us Irish toffee's though, another few years of watching football that makes the Jack Charlton years look like "total football"
Ray Smith
484
Posted 05/10/2017 at 19:15:09
RK in Spain to persuade Vermaelen to join us ?
Wouldn't be the end of the world. He would certainly bring some stability to a leaky defence.
If so, I might forgive him some of my sceptical comments. However, time will tell.
Iain Johnston
485
Posted 05/10/2017 at 19:29:04
Ray I wouldn't be surprised. Koeman managed him as a youth at Ajax and Vermaelen has been publicly supporting him today. He's also left footed.
Paul Kossoff
486
Posted 05/10/2017 at 19:29:24
Pity R K wasn't in Portugal on transfer d day, he may have persuaded a striker to join, then as we would be scoring more goals we wouldn't be leaking them at the other end, false economy dosn't work!
John G Davies
487
Posted 05/10/2017 at 19:39:05
Injury prone over last couple of seasons Ray.
I would take a chance though.
Good defender when fit.
Ray Smith
488
Posted 05/10/2017 at 19:42:15
Ian 485, Paul 486,
Totally agree with both of you.
So where does Steve Walsh fit in.
Perhaps (only perhaps) RK has taken matters into his own hands.
Never sure how RK views Walsh?
If it's how I think it is, I may be eating humble pie. However, I'm big enough and ugly enough to admit I was wrong.

Dave Abrahams
489
Posted 05/10/2017 at 19:56:00
Dermot (476) try Ray (484), Ray is Vermaelen a free agent ?
Ray Smith
490
Posted 05/10/2017 at 20:09:46
Dave 489
My understanding was that we went for a loan deal during the window and they wouldn't entertain us.
Now with our current situation perhaps we should have paid up . However, hindsight is a wonderful thing.
Ray Smith
491
Posted 05/10/2017 at 20:09:46
Dave 489
My understanding was that we went for a loan deal during the window and they wouldn't entertain us.
Now with our current situation perhaps we should have paid up . However, hindsight is a wonderful thing.
Ray Smith
492
Posted 05/10/2017 at 20:14:00
Dave 489
To answer your question re free agent.
I'm not sure.
However, in our current predicament well worth a punt if we can get him.
Colin Glassar
493
Posted 05/10/2017 at 20:20:23
If Ronald is in Spain where is Walsh? In Italy on another magical mystery tour?
Oliver Brunel
494
Posted 05/10/2017 at 20:31:08
Pay Koeman off and get Howe and Unsworth in.
Kim Vivian
495
Posted 05/10/2017 at 20:33:58
If this is England it makes you feel a bit better about Everton.
Colin Glassar
496
Posted 05/10/2017 at 20:37:11
I watched about 10 mins of the England game Kim and then switched over to the Scotland game. England are even duller to watch than Everton right now.
Oliver Brunel
497
Posted 05/10/2017 at 20:42:51
And Bielsa employed as a consultant to give coaching sessions to Howe and Unsworth...
Kim Vivian
498
Posted 05/10/2017 at 20:43:39
That game any good, Colin? I might join you but I don't get hd on Sky (they won't sell it to BT).
Or I might go to the pub.
Tony Everan
499
Posted 05/10/2017 at 20:45:02
Steve 419
A welcome and interesting analysis.
Couldn't agree more on the Williams issue. I would like to see Holgate get a run of games with Keane , Sneiderlin In front if the for protection . It is a partnership with a future. Williams' slowness is a problem .
Up front we are too static , time and again against Burnley there was no one making runs or trying to get behind the defence. Here I think we are missing Barkley. Someone who is always thinking about going past a player causing a second player to leave his position and challenge. Barkley creates spaces with his creativity.The only player who has come close is Tom. Who surely must start games from now on.
Also up front we lack the fear factor that makes opposition defences jittery and increases mistakes. Most defenders in the Premier league must hate playing against Lukaku . Stronger than the defender and direct , with decent aerial ability too.
The best teams will,have the pace (say rashford) and the Lukaku attributes as above. It is the biggest reason why Man Utd are flying this season, and look like scoring 2 , 3 or more in every game.
Our recruitment team and manager should take note.
Matt Nash
500
Posted 05/10/2017 at 20:48:57
We can bring in whoever we wish, but the facts are that we don't play with enough width to A: provide an outlet for our midfielders or defenders, B: provide cover for our fullbacks, C: allow our fullbacks and wide men to attack/defend as a unit and get balls in the box from out wide or D: stretch and push the opposition back (feed Giroud etc)
Get the players in their correct position so they can play as a team and not a group of individuals trying to find a man in space (not all camped in the middle) and then we can worry about players passing/defending and other abilities. We can come up with as much modern football bullshit terms as we wish (pressing game, transition period etc) get the ball in the oppositions box as quick as possible and defend as unit.
Although the Burnley game was an improvement we've not started with two out and out wide men all season, and on the whole we've been shite in every game bar none!!!!!!!!!!!!
Colin Glassar
501
Posted 05/10/2017 at 20:55:42
Don't bother Kim, it's like a league one game. Scotland can't even break down a 10 men Slovakian team.
Steve Ferns
502
Posted 05/10/2017 at 20:57:29
Dave 464:
I do not disagree that Schneiderlin is badly out of form, I merely highlighted why we are not helping him at present and contributing to it.
I also explained about what you call the the needless spinning around and the sideways or backwards passes. He is often receiving the ball with his back to goal and a man in close proximity. If not back to goal then there is still at least man in close proximity blocking an immediate forward pass. Because he is out of form and out of confidence he will take an extra touch, similar to an out of form striker taking an extra touch instead of hitting it first time. The spinning around though is as I said originally, we are lacking the options to pass to for the reasons I gave. Last season he was receiving the ball higher up the pitch, only 5 or 10 yards further forward, but this was enough to give him the security to drop back and then turn to find the pass. Of course, he is no Pirlo, he is not even a Carrick. Those two don't drop back and look for the pass, they already have the pass in their heads before the ball is controlled. Unfortunately, Schneiderlin needs to control it first, find some space and then get his head up and hit the long pass.
As for his range of passing, of course it's not close to Pirlo or indeed Carrick. But it is far superior to any of the rest of our squad, Rooney included. As for coming forwards, we saw in the last three games that if teams do let him turn and control the ball he will take a few steps forward.
The key is to stop Williams pulling the whole team so deep and so making it so he cannot drop into his little defensive pocket to turn and find the pass, when receiving back to goal, and that he doesn't have anyone hugging the touchlines to stretch the opposition out and give him people to aim for.
I can't be bothered watch England or Scotland tonight, so I just watched the 20 minute highlights of Bournemouth (because we played 442ish against Burnley and Schneiderlin wasn't playing the usual role in that game) and I saw plenty of examples I wanted to show you. However, despite downloading Movavi, I can't figure out how to make a YouTube video and draw the lines and circles on it, plus I don't really have the time.
I suggest you take a good look at this game and really look at Schneiderlin. However, you don't get quite the view I get in the Park End to see just how narrow we are, just how crowded it is ahead of him, and how there's so few options for him, that he often has little choice but to pass backwards.
Please though, don't say I am overly sympathetic to him, I said twice in my original post on this matter and now twice again in this one, that he is out of form and he is playing badly.
John G Davies - it appears the Mourinho video along with a load of others, including some great Biesla Bilbao videos have all been deleted.
Thanks to all of you for the kind words.

Kim Vivian
503
Posted 05/10/2017 at 21:08:34
Looks like the pub, then. But I can't be arsed. Think I'll watch the Russia thing instead. That was good last week. Have a break from sleep inducing football.
Did you know, for example, that the Taiga forest in Russia is bigger than the entire Amazon forest? Trouble is the fkn Russian gangster businesses are destroying it at some alarming rate.
Steve Ferns
505
Posted 05/10/2017 at 21:14:58
Kim. If you're bored. Check out how a real coach drills his team so that when they're out on the pitch it all happens "instinctively". There'll be a few more links to more bielsa gold from that one too.
Ralph Basnett
506
Posted 05/10/2017 at 21:16:31
George (450), arr Mike is not impressed with you comparing him to this bafoon.
He said words to the affect that at least he new his limitations and that he never chose the job, the job chose him!!!
But would come out of retirement to help out if needed.
Colin Glassar
507
Posted 05/10/2017 at 21:27:33
Kim, I watched that Russian thing last week. It was really good and just reinforced my dislike of Putin and his cronies.
Kim Vivian
508
Posted 05/10/2017 at 21:31:54
Thanks Steve. Looks interesting on a quick skip through. Will watch later.
Finally some entertainment at Wembley. Pitch invader.
Drew O'Neall
509
Posted 05/10/2017 at 21:48:21
Steve - good points.
I said a similar thing on the 'Koeman cites Fear as Everton's biggest Enemy' thread..
Schneiderlin lacks confidence because, if your defence is slow and deep (Ashley Williams et al) there is a bigger space to be played around (left for dead) as a midfielder when the pass goes wrong, especially in a two with three slower, easily marked players (Rooney, Sigurdsson.. insert your own 'number 10') moving away from him as pass options.
Schneiderlin is bound to be hesitant in possession, hesitant and exhausted from constantly turning and running towards his own goal.
I agree we need pacey options to stretch the play and the fact the width is expected to come from Baines demonstrates how badly misjudged Koeman's squad assembly has been.
An innovative solution to the defence line problem could be for Gueye to drop in between and spread the centre halves as they approach the half way line and to act like a highline sweeper. His pace in the DL would give Williams et al the confidence to push all the way up. This would take some coaching because Gueye's natural instinct is to go to ball in the breakdown.
I think then we would need Davies (is there anyone better in transition?) or Rooney to play alongside Schneiderlin or it would be too empty in midfield BUT it would allow you to get the width from up front negating he need for our slow fullbacks to get forward.
In this system I would play all three fast, mobile front players.. DCL in the middle of Sandro/Lookman/Mirallas.
The ball would travel long distances and it would be exciting. Certainly not bulletproof or even top 4 challenging but not pedestrian, predictable and the worst combination of slow and deep and bunched up like we are now. The Squad still needs major surgery including new centre halves and full backs.
To recap, the team which could carry out the above plan would look like this:
Pickford
Holgate Jags Williams Baines
Gueye
Davies/Rooney Schneiderlin
Lookman Calvert-Lewin Sandro
Steve Ferns
510
Posted 05/10/2017 at 22:00:13
Whilst looking for the video for John G, on Mourinho talking about transitions, I found this interesting article on Man Utd and the transition from Moyes to Van Gaal to Mourinho. It explains about a three man midfield going into a two man midfield.
Have a read of it and then come back to this. I would say that our two man midfield is slightly flipped. The playmaker is Schneiderlin and the defensive midfielder is Gueye. Gueye is actually ahead of Schneiderlin as he is the one to go and press, whilst Schneiderlin sits or anchors. He will press the ball, of course, and then Gueye will sit, but it is more often than not Gueye who will be going forwards to close people down and so he is slightly ahead of Morgan. Similarly we are playing a number 10, a left sided inside forward, but no real right winger. in other words, three number 10s.
When I think back to last season, I think of a midfield we were all proud of and that was a three man midfield. The setup for me was this:
Keeper
Defence
Gueye Davies Schneiderlin
Barkley Lukaku Mirallas
There was a clear three man midfield. We had Gueye and Davies who pressed hard and won the ball, Schneiderlin sat more, pressed less, and passed more. Ahead, Koeman did chop and change, but there was a sweet spot tactically whereby Barkley was wide right and Mirallas on the left, in the channel, and Lukaku through the middle.
Barkley was able to come in off the wing and link up play. He could also go wide, like when he put in that great cross to Lukaku.
The key point though was the midfield three was quicker, they won the ball and moved it quickly. Gueye has to get rid of the hot potato as his passing is poor. Davies is of the ability that he can make things happen himself.
Koeman has dumped Davies to enable him to crowbar a number 10 into the side and so stopped us from playing like we did. He's also looking for a place to play Rooney and Sigurdsson together and so we have sacrificed the width. Neither of them are fast and so we have lost pace. The thee man midfield didn't have a number 10, that was Barkley who was shunted onto the right, out of the way, where he couldn't cause damage defensively. However, maybe Koeman foresaw how Barkley could play the position, because Barkley really did make it work. As I have said before, on other posts, he is the only one who can play wide right, but still have the ability to jink inside and smash a shot at goal with his left, therefore, making himself very dangerous to opposition fullbacks. Also, being wide, the opposition find it difficult to double up on him, and so he finds more space to do his thing.
Barkley is gone, but I would like to see Koeman play without a number 10. Go back to the three man midfield, play Lookman on one wing, and then Sigurdsson on the other, as this would provide some balance. One can go outside, the other can come inside and link up play. We would need the mobility of Calvert-Lewin up top, and sadly there would be no room for Rooney, Klaassen or Sandro.
Darren Hind
512
Posted 06/10/2017 at 04:58:29
Steve
Schneiderlin or "slidingin" as saints fans dubbed him, has never been known for his passing ability, its one of his shortcomings, I think he creates his own tight spaces with poor touch or unintelligent movement. He is often caught ball watching. I think most professional players would pass the ball well if all the stars were aligned the way you want them to be for him.
Its true he does often come back and receive the ball with his back to goal. but he does'nt possess the necessary awareness or skill to to do it. he doesn't position his body well enough and often receives the ball square on, forcing him to retreat. often straight into his own defenders.
Schneiderlin does not perform the role you say he does, He is often (too often) looking to do the same job as Gana and as a result we are easily exposed down either side of them.
Pirlo spent an entire career taking he ball from his own keeper or defenders, its wrong to say he never did this, but not only did he have the awareness to know what is behind him, he saw the "pictures" before hand, he knew what he was going to do WHEN he controlled the ball or moved it into the space he needed, Schneiderlin only thinks about what he is going to do IF he can do both of these things.
I wouldn't personally play Rooney in the position, but I do understand the case for it. He is a natural footballer who does think about what he will do before the ball even reaches him and does position his body in order to create space with his first touch.
To be a "quarterback" or indeed a Pirlo/Carrick, you need composure, you need the awareness of what's around you. You need to see to be able to see the "pictures" and you need to be supremely confident in your ability. I think Schneiderlin fall short all fronts.
He's a slightly above average defensive midfield player who I suspect wouldn't recognise your job description.
I like your tactical analysis, but disagree with you on this one. The player you describe would be perfect for Everton at this moment in time . . . . but you are not describing Schneiderlin
Steve Ferns
513
Posted 06/10/2017 at 08:00:45
Darren. I don't have him down for the quarterback role as a few of you call it. However, of all the Everton midfielders, he is the only one who can hit a pass over 40 yards. He is frequently the one who hits it to the flanks. That's what he did well last season.
But you cannot keep comparing him to pirlo as they are totally different players. The fact is Schneiderlin has the best passing ability of all of our midfielders and is the only one who can hit passes over 40 yards.
Steve Ferns
514
Posted 06/10/2017 at 08:52:46
Schneiderlin
Best video I can find for schniederlin. It is from happier times last season. He is clearly not playing a pirlo role but note he is hitting long passes. There is no one else who can do this in the current squad. But Barry was better is three years ago and should still be here to put some pressure on him.
Trevor Peers
515
Posted 06/10/2017 at 09:00:30
Schniederlin is realistically good enough to play for the blues. Pirlo/Carrick wouldn't dream of playing for Everton in thier prime.
Where Koeman has failed miserably is trying to link him up with Gueye in midfield, and his obstinate refusal to admit he got it wrong.
Stan Schofield
516
Posted 06/10/2017 at 09:27:34
I agree with Steve Ferns. Schneiderlin is not the problem. The problem is how the team is set up by Koeman. The set up and tactics would make it hard for any player.
Dave Wilson
517
Posted 06/10/2017 at 09:34:26
HI Steve
As others have already said. your tactical analysis is a refreshing change to the raw emotion with which we discuss games. but you need to understand, tactical analysis like everything else, is in the eye of the beholder.
You cant offer The reason or The solution, you can only offer your reason or your solution.
As I said in my first post, I think you are definitely overcomplicating this issue. Its not reasonable to talk about what all the other players are not doing , in order to justify the poor performances of one.
It was you yourself who introduced the term "quarterback" to the debate, but to me the analogy can only ever be made when you are talking about exceptional talent, I guess that's why Pirlo was introduced to the debate.
I too sit in Park End and although I see the same narrow set up as you, to be honest I see the overwhelming majority of Schneid's long passes either intercepted or badly weighted. I don't see too many of them reach their intended target. He lacks composure and often dives in when standing big is called for.
You have a good eye for tactics, but I suspect we are talking about one of your favorite players here. in my opinion, You are overestimating his importance and his ability.
I'd love to see Rooney tried there

Kim Vivian
518
Posted 06/10/2017 at 10:05:44
Just been watching a replay of that u21 world cup final. Seeing C-Lewin, Dowell, Lookman and Kenny all celebrating together at the end brings a lump to your throat under the shadow of our current league chaos.
Real passion, and Everton camaraderie. And smiling also! - Forgotten how it looked.
Phil Walling
519
Posted 06/10/2017 at 11:36:34
So well over 500 posts mostly in criticism of Koeman. I seem to remember an anti-Moyes post by Tony Marsh once provoked over twice that number whilst the powers that be took a lot of no notice. The Scot survived until he got a better deal at United two or three years later !
Makes us feel better though, getting it off our chests, doesn't it ?
Lawrence Green
520
Posted 06/10/2017 at 11:50:19
Phil #519
It wouldn't matter if there were 50k different posters stating their dissatisfaction with the manager, team or club, as long as Goodison is very nearly full for the majority of fixtures that would be seen by the hierarchy as a vote of confidence in all things Everton.
If the club did concern themselves with the mood of the fans they would do well to take some notice of this site and similar ones to realise that a fair proportion of their customers aren't at all happy with what they have been sold.
Amit Vithlani
521
Posted 06/10/2017 at 12:21:53
Schneids is abit of a mystery to me. He appears to have average abilities in key areas - average at tackles and interceptions, average at distribution, not known for defending set pieces, not a threat in the opposition box.
He played very well last season. The formation suited him and he probably had a lot to prove.
However, he has nothing outstanding about him unlike our current and previous defensive midfielders. Gueye is limited in passing range and creativity, but we know he excels in closing down and interceptions. Fellaini was a beast aerially in both boxes and did a great job defensively in his last season.
Carsley had excellent anticipation whilst Barry's distribution was supreme. Now he could hit a long pass.
McCarthy was much like Gueye in his first season but fallen away, and I no longer see what Besic brings.
I have no clue what Schneids brings and added to his poor form he simply should not start any further games. If we had a clear plan, we would use Gueye for the defensive side of the game, bring Davies in to bring forward movement, and leave the long passes to a Sigurdsson or Rooney as Darren Hind suggested.
Change the formation and personnel to give the players responsibilities which match their abilities.
This is my two pence take on this very interesting tactical debate.
And I wager there is probably more sense being talked by a number of posters here than in Koeman's office in Finch Farm.
George Cumiskey
522
Posted 06/10/2017 at 12:29:22
Amit exactly, giving players responsibilities that match their abilities, only seems common sense when you think about it.
And there lies the problem.
Tony Hill
524
Posted 06/10/2017 at 12:50:49
The club will do well to consider what will happen if the football remains as dire as it has been this season so far. Even assuming (as I do not) that we are safe from relegation, the full houses will not be there next time round.
The idea that fans will be taken in once more by bullshit about the stadium and/or stellar signings is, I think, mistaken. I regard myself and other match-going friends as reasonable barometers, and I can say now that barring the removal of Koeman/a miraculous turnaround, the general mood is strongly against renewing season tickets in 2018. The Goodison experience has become, more often than not, excruciating.
I know that this is the sort of thing supporters always say, and that we have very loyal fans indeed, but I perceive that there is a fundamental impatience with the club and its lack of proper structure and delivery. The more so because the Moshiri arrival promised something very different and the ongoing collapse of that expectation will be one collapse too many for the likes of me.
The television money will no doubt still pour in for a while but I am not convinced that the spectators will be dutifully available. The Kenwright Way won't do any more, because it is taking us over a cliff.
John G Davies
525
Posted 06/10/2017 at 12:55:44
"The club will do well to consider what will happen if the football remains as dire as it has been this season so far. Even assuming (as I do not) that we are safe from relegation, the full houses will not be there next time round."
I have to disagree Tony.
Everyone I know will renew.
Me included.
Tony Hill
526
Posted 06/10/2017 at 13:14:26
Well, we'll see John.
Steve Ferns
527
Posted 06/10/2017 at 13:36:35
Dave 517,
I hear what you are saying, but I stand by my assertion that the manager is setting this team up totally wrong. He is bought players to supposedly play one way, but is playing another. He had a formation that worked last season and then he changed it in pre-season and has not reverted back to it. Instead he is trying every other formation he can find to try to get something to accommodate Sigurdsson and Rooney.
I agree with your assessment of Schneiderlin's passing this season, and that is why I say he is not playing play. The majority of the complaints about him are for sideways and backwards passes. I highlighted why he is having to do this, because of how the manager is setting up the side. Of course, a confident on-form Schneiderlin (like at the end of last season) might try to take the ball forwards first time, but he is not confident and he is not on-form.
The other key point, I was trying to make, is that no matter how badly he plays, he is undroppable because there is no one else who can perform his role. Now you others say play Rooney. Rooney cannot play there. Ok, he has dropped back there and has hit a few glorious passes. But that does not mean he can play there for 90 minutes, week in, week out.
Why? He lacks discipline. He's never had it. He will not stay in his supposed position, but that is also one of his main strength, he hunts space, finds it and uses it against the opposition. However, if he is playing Schneiderlin's position, then he is one of the few players in the side who must stay in position and can rarely stray from it.
Second, he cannot tackle. some say Schneiderlin is a red card waiting to happen, imagine Wayne trying to tackle for 90 minutes, he'd do well to stay on the pitch for a whole game.
Interceptions are also a big part of Schneiderlin's game, and he reads it well. Gueye intercepts by reading the game and also by having pace. Schneiderlin lacks the same pace but still gets a lot of interceptions by being able to position himself well.
Long passing. Rooney can hit a good long pass no doubt about it. But he has also been inconsistent when trying to hit balls from deep. Same as Schneiderlin of course. And even if his accuracy was spot on, it doesn't change the fact that we have no width, and have a load of people central, in a congested area, and heavily marked. So if Rooney was Pirlo, what could he do?
Height - Rooney is only 5'9" he loses about 4 or 5 inches in height to Morgan. Of course, Idrissa Gueye is only small, but we need height in midfield to head it away, and that's something Schneiderlin brings.
in addition to those points, what about Rooney himself? The guy has been a goal scorer for his whole career, will he really want to become a defender? I think not. I just cannot see him being an anchor to the midfield, I think he is incapable of resisting the urge to gallop forwards.
I'll say again though, we need to play Tom Davies alongside Schneiderlin. He has the energy and passing ability to lift the tempo. He is a better foil for Schneiderlin as he can bypass Schneiderlin altogether and launch an attack himself, or he can move to become an option for the return pass if nothing else is on, whilst Gueye simply stands there.
Until we find a player like Busquets who can do everything (tackle, press, pass, dribble) then you need to play two players in this position. The duties between them are divided and one anchors and the other presses forwards. The issue for me is that they are far too deep and that is to cover deficiencies at the back brought on by playing Williams. Get Schneiderlin further up the pitch, get more width and more pace in the team and things will improve dramatically. Koeman will know this but I do not understand why he fails to address it. It is different from expecting Martinez to come out and start playing like Wimbledon, he is a purest and his teams will always pass, but what is Koeman's sudden aversion to pace and width, we had it last season and he had it at Southampton.
Steve Ferns
528
Posted 06/10/2017 at 13:38:05
Me too John, I've spent most games in the People's Club this season and I've already got myself down for a ticket in my own name last season, so the blues will certainly be getting more money off me, regardless of the drivel on the pitch.
Tony Hill
529
Posted 06/10/2017 at 13:42:58
If only I felt that we were supporting Everton rather than a badly run corporate entity whose main employees happen to wear blue shirts. Badly run for the fans that is. The Directors, players and coaches tend to do rather better.
John G Davies
530
Posted 06/10/2017 at 13:44:13
Not forgetting the waiting list for season tickets Tony.
8,000 I believe.
Tony Hill
531
Posted 06/10/2017 at 13:51:57
John, I fully respect those who want to support regardless. I used to be like that and still am to a large extent. But increasingly I feel that I am going out of mere habit; that I am watching a ghostly parody of the club and team I love, and giving my money to people who care not a jot and for whom I have no respect.
John G Davies
532
Posted 06/10/2017 at 14:17:51
I know that feeling well Tony.
I have the same feelings about one particular person.
Mr Everton.
He has ripped the bollocks off this club over the years.
And will be rewarded with £50 million plus when he sells all of his shares.
Phil Walling
533
Posted 06/10/2017 at 15:04:36
I have to say I am always highly amused by so-called tactical experts who know precisely how the team should be set out and how and why particular players are not performing.
During the present crisis, Steve Ferns has emerged as ToffeeWeb's 'go to' guy in this respect and manages to dissect the weaknesses of manager and players in a manner of which Glen Hoddle would be proud.
Why, oh why, do clubs expend six million a year for coaches when all the answers are available on TW - free of charge ? Of course, for all the Martinez-like verbiage, the evidence that Everton are currently crap is there before our eyes and as to why is equally obvious.
Koeman out !
John G Davies
534
Posted 06/10/2017 at 15:22:38
"the evidence that Everton are currently crap is there before our eyes and as to why is equally obvious"
Go ahead Phil. Give us your tactical rum down why we are crap.
John G Davies
535
Posted 06/10/2017 at 15:22:38
"the evidence that Everton are currently crap is there before our eyes and as to why is equally obvious"
Go ahead Phil. Give us your tactical rum down why we are crap.
Steve Ferns
536
Posted 06/10/2017 at 15:27:50
I wouldn't profess to be an expert Phil. It takes more than watching everton, a few European games per week, and reading a few books on tactics to be an expert. Also, if Everton had allowed me to choose the last manager I would have either gone for De Boer, who as we all know has been sacked twice since, or Marcelo Bielsa who currently has Lille in the relegation zone in Ligue 1, hasn't won since the opening day, and barely scored a goal since.
The question is, which of the real experts will select the next Everton manager and will they actually go for someone who fits the criteria.
Darren Hind
537
Posted 06/10/2017 at 15:37:14
Phil
I don't agree with Steve. I believe the basic premise of his Schneiderlin argument is, if everyone else does the their job Schneiderlin will shine . . I think he takes the long rout to arrive at, what for me is a simplistic conclusion, The same argument could be made about virtually every decent player in the league.
But nowhere does he put himself up there as an expert. He simply puts together what many see as an interesting take on our problems. some agree, some don't.
Tactical analysis will bore some people and others find it fascinating. I'm made up he has stepped forward with these in depth views.
Its makes a refreshing change. I look at the current threads about the manager and unless something else changes during the break, I get the distinct impression that just about every thing that can be said, has been said.
Right now, I'm feeling all Koeman'd out and I don't think I'm alone. it doesn't matter if I or anybody else agrees with Steve he is offering another topic of conversation


Daniel A Johnson
538
Posted 06/10/2017 at 15:50:42
Mourihno is no Mug and he didn't want Rooney or Schneiderlin anywhere near that Man Utd first team. The fact we welcomed both players with open arms speaks volumes about our club.
Brent Stephens
539
Posted 06/10/2017 at 15:57:39
Steve #636 "if Everton had allowed me to choose the last manager I would have either gone for De Boer, who as we all know has been sacked twice since, or Marcelo Bielsa who currently has Lille in the relegation zone in Ligue 1".
Steve, you're sacked!
Brent Stephens
540
Posted 06/10/2017 at 16:00:45
Phil #533 oh come on, Phil. Steve has volunteered his take on tactics (don't we all?) but in an in-depth way and not, I feel, an arrogant way. It opened my eyes to a few things - if that's all it's done, it was worthwhile. When do you go back to Cyprus?!
John G Davies
541
Posted 06/10/2017 at 16:16:21
When they decide to take the barricades down.
Grant Rorrison
542
Posted 06/10/2017 at 16:25:04
Should have just kept Martinez. Much better than the current shit being served up.
Steve Ferns
543
Posted 06/10/2017 at 16:38:01
Darren, I wouldn't go as far as to say that Morgan Schneiderlin would shine. I am saying that his game is being hindered by Ashley Williams and the current tactics, and more so than the rest of the team. I would stop short of saying it's all Koeman's fault, as there's no excuse for the poor passing, timing of tackles and so on, but Koeman is certainly not helping him.
Also, Morgan is far from my favourite player, he'd be one of the first 5 i'd replace if I could have some "fantasy transfers", to make us into Premier League Champions.
Phil Walling
544
Posted 06/10/2017 at 16:45:46
Sorry, Steve, I have my misery moments and shouldn't have picked you out for today's target. I am ,of course aware that some of our number like all that guff about tactics - and good luck to them - you just go into far too much speculation for me.
Where I'm totally with you is on the selection of the next -and any manager. It's clear Moshiri and his mates didn't do too much probing into the Dutch clown's managerial record and as I've said previously there's no guarantee that the next bugger will be any improvement.
As Randy Lerner said on selling Villa for a knockdown price 'However much money you throw at it you are only ever one manager away from disaster !'Are we there with this one ?
James Marshall
545
Posted 06/10/2017 at 17:40:22
Maybe the problem isn't the managers .maybe it's the club.
Just a thought.
Tony Everan
546
Posted 06/10/2017 at 17:54:32
The ability to motivate is more important than tactics.
A Manager who can energise players , give them belief and mental resilience is a better manager than a tactical genius.
At the top of the game you need a healthy quota of both , managers like Alex Ferguson , Mourinho, Clough had both qualities in abundance.
Martin Nicholls
547
Posted 06/10/2017 at 18:35:40
Just been looking at odds on next managerial departure and despite Moshiri's utterances to Jim White, couldn't help noticing that of all the major bookies, it is Skybet who are offering the shortest odds (1/3) onKoeman being next out. Inside information or am I just being over-optimistic?
Terence Tyler
548
Posted 06/10/2017 at 20:57:34
Martin I got 28/1 at half time of the Atalanta game.
Tony Hill
549
Posted 06/10/2017 at 22:47:17
James (#545), there is a great deal in that. We need a manager so strong that he will rewrite us despite, or in disregard of, those who appoint him, like the great managers have done.
I think Koeman, Martinez and others have been average to poor but the fault is in the sentimental, idle, virtual vision of Everton that has been presented (more or less) over the last 17 years or so. There is a good case that Kenwright saved us from immediate meltdown in the aftermath of the Johnson disaster but his reign overall has smothered us and installed a virus. Most of that may well have been unintentional, it may even on occasion have been well-intentioned, but it has been poisonous nonetheless because it has locked us into a story of ourselves that is second-hand and disabling as to present ambitions and planning. It looks like a story which Moshiri is happy to repeat. For these purposes, I wish charitably to set aside the simple idea that we are run by profiteering shysters.
I'd like us to find our Mr Shankly-Ferguson very soon.
Phil Bellis
550
Posted 06/10/2017 at 23:52:18
Listen to Peter Reid on the Red Echo poddything...

Neil Copeland
551
Posted 06/10/2017 at 00:06:43
Tony #531, I hear you but I will be renewing and will do so until I simply can't get to the game anymore. Most if not all who sit close to me at the game will also renew.
EFC has a habit of breaking your heart and frustrating the hell out of you by the way it is run but it is EFC that I love and not the various idiots in charge.
Brian Porter
552
Posted 07/10/2017 at 06:36:40
Groundhog day for Koeman?
I have been a fierce critic of Koeman and have long advocated his dismissal. Over the last couple of days I have been looking at his managerial career in more detail and even I have been surprised to see that he has either been sacked or has resigned from almost every managerial role he has been appointed to.
After leading Ajax to two Dutch league titles, a bad start to the next season led him to resign following a UEFA cup defeat to Auxerre in 2005.
HeCwas then appointed to manage Benfica. He finished 3rd in the league and resigned to take up an offer to manage PSV. He won the Eredivisie with a final day win against Vitesse Arnhem and promptly resigned to become manager of Valence.
He was sacked after taking them from a title challenging position to nearly being relegated, having upset and ostracised a number of players who collectively criticised his tactics and man-management abilities.
He was appointed manager of AZ All martial and after losing 7 of his first 16 games AZ announced he was relieved of his duties.
Next came Feyenoord in 2011 on a one year contract. In 2012 he was given a contract extension but in 2014 he announced that he was leaving to 'pursue other ambitions.'
Next came Southampton where after promising the fans he would be seeing out his contract with the club, he promptly resigned to take up Farhad Moshiri's £6m a year offer to manage Everton.
My point? Simply that Koeman, in my opinion, appears to be nothing more than a managerial mercenary with the inability to see out a contract or attempt to build a dynasty or even a period of longevity and stability at a club.
How the above record makes him a 'top manager' is beyond me. Whatever Moshiri did in terms of checking out the CV of his first choice, I don't think he was as diligent as one might have expected from a man with his business acumen. Perhaps his lack of actual hands-on football club management experience led him to make such a poor selection.
He was sold a pup, and unless or until he realises it, and takes action to rectify an appalling error in judgement, Everton FC will sadly go on paying the price.
For crying out loud, can't he see what the rest of us can see? Perhaps it might help if he turned up to actually watch every game and witnessed first hand the results of his managerial faux-pas.
Ron Marr
553
Posted 07/10/2017 at 07:26:42
Not an impressive managerial resume. I've wondered who if anyone was advising Moshiri on football matters.
John G Davies
554
Posted 07/10/2017 at 07:42:18
Phil 550,
Just listened to it now. Tears twice, once about the Stoke game when Howard opened the dressing room windows( I was told he didn't give a pre match team talk that day. Opened the windows to hear the Blues and asked the team "Are you going to let them down today"
And when he spoke about the fans v Bayern.
"The fans were unbelievable, it wasn't like you were running, it was like you were floating on air."
Stupid owl twat, I'm getting tearful again writing this.
Mike Connolly
555
Posted 07/10/2017 at 08:12:46
Whatever Moshiri did in terms of checking out the CV of his first choice, I don't think he was as diligent as one might have expected from a man with his business acumen.
Perhaps this is why Arsenal did not give him a say when he was there.
John Daley
556
Posted 07/10/2017 at 09:16:50
"...he has either been sacked or has resigned from almost every managerial role he has been appointed to"
True, but the same could be said of almost every single manager operating today. Length of time in charge may vary, but the vast majority invariably leave a club only if pushed, the pressure gets turned up to a level much too teste melting to endure, or they are offered a more tasty job. Nothing unusual about that.
It seems obvious that Koeman was appointed on the strength of his 'name' and the preceding two seasons spent at Southampton. His more recent record will have been foremost in the thoughts of the decision makers, with any disappointments in the distant past merely perused, rather than sifted through with a fine tooth comb. Sepia toned images of a slightly less fat arsed, flaxen haired Ron, holding trophy after trophy aloft as a player, will probably have helped stifle any alarm bells that sounded any way.
Colin Glassar
557
Posted 07/10/2017 at 09:20:59
Is he still our manager? Everyday I wake up in hope
Martin Nicholls
558
Posted 07/10/2017 at 09:40:19
John#556 - you're absolutely right about most managers either being sacked or resigning. The former results in the individual being compensated (e.g. Martinez) whilst the latter normally results in compensation to the individual's former club (e.g. Wigan in the case of Martinez coming to us, Southampton in the case of Koeman). The exception that proves the rule is the manager who runs down his contract in the knowledge that he is lined up for a more lucrative post thus denying his club any compensation (e.g. Moyes). The common theme so far as each example is concerned is that each cost EFC a fortune as no doubt will the departure and replacement of Koeman
Brian Harrison
559
Posted 07/10/2017 at 11:00:48
Just to change the subject does anybody else think that since it was announced that Birmingham and not Liverpool would be the preferred choice for the Commonwealth Games, we have heard nothing about the new stadium. Didnt our Mayor Joe Anderson tell us 9 months ago that we would be in our new stadium by 2019, well that seems almost impossible now. I have seen no tweets from the architect either, who has teased us with little snippets of what he is trying to produce.
Could it be that most of the money was to be generated by the Council. We know Moshiri has purchased the land, but that can at a future date we sold for much profit to property companies.
I hope this is not another Kings Dock fiasco.
James Marshall
560
Posted 07/10/2017 at 11:17:10
Who knows the answer to any of these questions?
Why are we here?
Is life worth living?
What's the point of it all?
Will Ronald Koeman play with any width?
Will we get a new stadium?
Nothing really matters.
David Johnson
561
Posted 07/10/2017 at 15:30:53
Is there no end to Kenwright's shenanigans Brian.
Joe O'Brien
562
Posted 07/10/2017 at 15:45:35
I'm trying not to think about it Brian... I still think it'll get built on the docks... but I think we'd have to see some movement ie plans of the stadium or a announcement with definite dates before the end of the year... otherwise I'd be getting worried.
I also think Usmanov will ultimately sell his shares with arsenal and join his buddy Moshiri at Everton... maybe that might be the delay.
Usmanov's stance has seemed to changed. A few months ago he wasn't selling up for no reason, his statement during the week indicated that he would be willing to sell.
Or maybe it's just wishful thinking on my part.
Lawrence Green
563
Posted 07/10/2017 at 16:01:48
I don't believe there anything to worry about with regards to the new stadium, at least for now anyway. It may have been rushed if it had to be opened for the failed Commonwealth Games bid, but surely this time Everton FC will achieve the move in the coming couple of years?
Below is a link to the latest news on the devlopments relating to Bramley Moore Dock from the Business News of Insider Media.
The Architecht has a blog but that hasn't been updated since September 11th
Dan Meis said in the blog "It has already been a long journey with some twists and turns. These are extremely complex projects with a plethora of complicated stakeholders, so while I know that fans are extremely eager to see renderings, we are being careful to ensure that what we show, is what we will deliver."
Lawrence Green
564
Posted 07/10/2017 at 16:06:06
Jay Wood
565
Posted 07/10/2017 at 20:09:35
Having been on my extended jollies, I've barely visited TW in recent weeks. And when I have, it was like Groundhog Day. Not surprising really given the run we are on. So it was refreshing to come across Steve Ferns post at 419 which broke the monotony and gave me a good read and something different to mull over.
Not that I can agree with much of your analysis Steve, but your post was thought-provoking.
I agree with you the 'preconceived ideas of a defensive midfielder' often portrayed on here in a negative light doesn't truly reflect what a player occupying Schneiderlin's position truly 'is about'.
Schneiderlin unquestionably anchors our midfield, but I feel you inflate his skills and the contribution he has made to the team since he joined us. I also question your claim that "he is the only one who can play this position" and that "he is the only one capable of hitting a 40+ yard pass with any degree of accuracy" by "hitting quarterback style passes".
You state this (IMO) false premise, acknowledge that he isn't displaying those abilities you attribute to him, then curiously attribute blame elsewhere, particularly at the feet of one player, Ashley Williams.
Now Ashley Williams in recent games has been guilty of some torrid errors. But whilst agreeing he is not blessed with great pace and tends to sit too deep, whilst he is a whipping boy for some on here, he was not as bad as some made out last season and has not been by default our worst defender in every game this season.
Indeed, the one live game I have seen this season against Sunderland (who admittedly sat back and played deep themselves) Williams consistently advanced forward with the ball and was extremely effective working well with Holgate in the left back position. Michael Keane, by contrast, was kept busy and bothered by James Vaughan all night. In that game, Williams hit possibly the best pass on the night to pick out a rampaging Kenny with a perfect 40 yard crossfield pass. A donkey on the ball he ain't.
If, as you claim, Williams is "refusing to [move forward and squeeze the space for the opposition]", then why haven't either his teams mates on the pitch, or more appropriately, the manager told him to advance this defensive line on penalty of being dropped if he failed to do so?
Let me be clear. I also believe Everton's 'default defensive line' as a unit is too deep. It is not helping the team when, as you say, we get the ball the opposition can immediately pressurize us in our own half. I just don't share your conclusion that this is solely down to Williams as the main reason Schneiderlin isn't shining as you claim.
Only for one half of one game this season (before he was subbed out at half time to avoid the risk of picking up a 2nd yellow card) – the 2-0 EL win over Hajduk Split – has Schneiderlin shown the skills you attribute to him. His performance in those 45 minutes was as good as any individual performance we have seen from any Everton player this season. And many an observer on here commented on this at the time: why hasn't he shown us this before? Because even the Schneiderlin video highlights you shared with us from last season there is a distinct absence of such a range of passing from the lad.
I can agree with you that when he does receive the ball there are very few options available to him. But that is the case for EVERY player at the moment and has nothing to do with your original premise (re: Williams) and more to do with the formation and the selection of the manager.
I also agree that 'transition' is a key factor in football right now. I honestly believed from Koeman's statements last season (and this) about playing a pressing game and adding productivity to the team that this was the key factor in our summer recruitment. How quickly a team can transition from defence and attack and how well they can stifle the opposition's own transition determines how successful you will be in modern day football, I believe.
And you are again spot on when you say Everton's transition play is painfully slow! The extra half second or two that a under hit pass takes to reach its intended target (assuming the ball isn't hit BEHIND the player, or the player has to stand still and await the ball to arrive rather than be on the move into the space where it was hit) is enough for the opposition to regroup and stifle further development when we are in possession.
I commented about the one live game I've seen that the only player on the park who regularly snapped in crisp passing was Jonjoe Kenny and I bemoaned the fact that more of our players didn't do likewise. Like you, I have to ask "What the hell is Koeman coaching on transitions? Why can't he speed us up like last season?" Because we definitely displayed that ability at times last season.
However, I have to say one of the very worst culprits of the trickling under hit "it's behind you" pass is the man you go to great lengths to extol: Morgan Schneiderlin. He also effectively usurped the position that Gueye occupied before his arrival. Schneiderlin has been directly responsible for goals conceded in this role by either going to ground too early in a missed tackle, or simply allowing his man to run past him to score or assist in a goal. Gueye played that protective defensive role so much better than Schneiderlin, but is now being asked to play a more advanced role. Neither of these switches is benefiting the team, IMO.
So in conclusion I have to say Steve you seem to have started from (as I still believe) a false premise and gone to great lengths to justify it.
Maybe the better player to drop to get the best of what you consider "the single most important position in the side" is not Ashley Williams, but … Morgan Schneiderlin!
Like you, I would welcome more width and pace in the side and to speed up the passing.
But for me, Morgan Schneiderlin, the position he occupies and how he plays it is part of our current problem. The manager needs to recognize this and discover a formation and select the best personnel to play it to get us back to winning ways.
Andy Crooks
566
Posted 07/10/2017 at 23:18:07
A lot of good points, Jay. Williams is the new whipping boy, no doubt. It seems to me that if we defend deep and hit on the break, Williams will be fine. However, to do this Mirallas must play. He must play. Lookman should get a chance but the shitness of our coach rules that out.
Darren Hind
567
Posted 08/10/2017 at 04:47:40
That's the problem Andy.
Sometimes we end up strung out like a washing line rather than moving as a cohesive unit.
You are right though: Williams is taking a lot of flack for a habit that had already started to develop before he got here. It's a confidence thing. Jags and Baines take a second longer to get into their stride these days. They too are reluctant to push up.
I really hate to say this but Keane, despite being an excellent prospect, has concerned me when he has been exposed to raw pace too... I agree with Steve, that Williams should be the first to be dropped, but our entire defensive unit could do with a overhauling.
Jagielka and Baines still have a bit to offer, but they should only be back up these days, in no way should they be forming a defensive unit with Martina and Williams. Dropping Williams may improve the situation, but it wont cure it.
I'm worried. We have to have the slowest team in the league. We don't have an answer to pace at one end and we don't have enough to threaten at the other. In a league which traded skill for high octane action years ago, its a recipe for disaster. We simply have to inject some pace and energy into this team.
Colin Glassar
568
Posted 08/10/2017 at 08:01:45
Rumours are that Ronnie has three games left to save his Everton "career". I wonder if The Lone Ranger and Tonto have a replacement in mind or will they just wing it and hope for the best? Expect the worst, expect the worst.
Brian Porter
569
Posted 08/10/2017 at 08:55:58
John. #556. True, but even with the modern merry-go-round of the world of football management, most of them tend to last more than one season. Koeman's case, a lot of his previous appointments didn't even last that long. On two occasions he was fired without completing a full season.
Not the best track record in my opinion.
Dave Abrahams
570
Posted 08/10/2017 at 09:14:51
Andy (566) I always pay attention to your posts because even from across the Irish Sea your passion flows out ( not trying flattery here I'm being genuine) but have another look at your line ' Mirallis must play' : Andy he has had chance after chance, can score great goals, with ten matches in between, he flatters to deceive, he can not bring consistency to his game, if he could he would have been long gone from Everton for a huge fee.
Sorry Andy but that's the way I and a lot of Bluenoses see Mirallis.
Phil Walling
571
Posted 08/10/2017 at 09:40:11
The question is are the players crap or is it all down to the manager's apparent lack of nous on team selection and tactics.
Would a new coach be able to make something of this apparent rabble or are they individually and collectively a crock ?
If the latter who is to blame for signing so many flops for ridiculous money ?
Oliver Brunel
572
Posted 08/10/2017 at 09:52:27
Brian(552) what is disturbing is the same clowns will be choosing the next manager. Elstone, Kenwright and Woods and Moshiri. The truth is they shouldn't be choosing the manager as they don't have a clue but their egos are so big they would never admit it. You would need a triumvirate of an experienced manager consultant (Ancelotti), ex Everton legend i.e Royle, and a consortium of fan representatives who know their stuff. This way the obvious crap gets removed early doors i.e Moyes, ONeill (the types Kenwright loves) and the real options are quickly on the table : Bielsa, Howe (with Unsy) , Emre, Tuchel, Simeone. The next appointment MUST be correct. We cannot let these fools choose the next manager. As I have always said -Evertons main problem is the unambitious culture of Kenwright and now Moshiri and co- happy to just take the TV money, build a stadium and sell it on.
Phil Walling
573
Posted 08/10/2017 at 10:07:23
Oliver, to me Howe smacks of all the reasons Kenwright went for Martinez. He talks a brilliant game, is a proper charmer and has spent his whole career at the arse end of the pyramid. Given the opportunity to manage a bigger club (Burnley!) he ran home to Mummy after a few weeks.
This job and these players urgently need an experienced man who can grab them and club by the balls and 'hit the ground running.'Trouble is, I think that under Moshiri we are on 'a Villa slope' to nowhere !
Andrew Clare
574
Posted 08/10/2017 at 10:18:42
I get the impression that Moshiri hasn't got a clue -just like Kenwright and Enstone.
Koeman will persevere with his tactics until the players get it right regardless of criticism and results.
All this adds up to a disaster in the making.
Since John Moores we haven't had any sort of leadership maybe with the exception of Philip Carter.
In a nutshell we are a rudderless ship.
Tony Abrahams
575
Posted 08/10/2017 at 10:31:07
Phil, you are the man when it's time to talk about impending danger, but how do you see it yourself mate, Do you think,it's down to the players or the manager?
I know you will say both Phil, it's just your Evertonian nature, but I reckon loads of people could pick a very competitive team from Everton's current squad?
James Marshall
576
Posted 08/10/2017 at 10:33:21
It's simple - when things turn to shit, a manager has to be given some time to turn it around. It's only right & proper that Koeman is afforded that opportunity, and calling for his head now is out of the question - especially when you look at the economics of it all.
From reading the rags online today, he's being told he has till the end of October, which seems fair enough to me.
It's way too early in the season for us to be talking of a relegation battle, and the gaps between top & bottom in the league are still small as a result o not having playing many games.
We've also played a lot of the best teams already, as we all know, so that has to be taken into consideration - I'm not trying to tell people what to think here, I'm just putting forward a slightly tempered view, which the club will also be doing.
If by the end of October we're still in a mess, then that would seem a more sensible time to make a change. We play Brighton, Arsenal & Leicester in the league, and Lyon & Chelsea in the cups in October - that's 5 games to turn things round which seems sensible to me.
One league win can put us into the top 10, so it's fine margins at the moment. Yes we all want to be winning, yes a lot of us dislike Koeman for a myriad of reasons, but he simply is not going to be sacked yet so people should really try to accept that.
For now.
Tony Abrahams
577
Posted 08/10/2017 at 10:35:56
Darren, I honestly thought that the player Burnley bought to replace Keane, looked a much better player at Goodison last week. Not surprising really though because one has gone into a settled back four were everyone knows their job, whilst the other has been brought into a system that sometimes looks like its every man for himself?
Oliver Brunel
578
Posted 08/10/2017 at 11:03:41
My predictions for the games to end of October . Call me negative but I can't see any wins here…I hope I'm wrong…I don't believe Koeman has until end of October(more likely to end of year) . I think the next game (Brighton) will tell us all we need to know….I foresee no improvement. It makes no sense to say 'Oh Kendall/Fergienose turned it around' - you can only judge a manager on the results up to now and besides Man City A we haven't had a good game. I was at Ruzemberok away and we were lucky to win that game; out fought by their defenders and midfield, I sensed then we were in the shit:
Brighton Draw
Lyon Lose
Arsenal Lose
Chelsea Lose
Leicester Lose/Draw
Tony Marsh
579
Posted 08/10/2017 at 11:09:11
James@576
When a manager has reached his sell by date at a club no amount of time can help him turn things around.Koeman has burned his bridges with the players and that is disaster for a coach.
The terrible run of form goes right back to last season mate. We won two games away last season plus only two of the last 12 games all in.Knocked out of both cups at home.One defeat to the mighty Norwich City.
It's simply not good enough. Koeman should of dug his heels in over Lukaku.Gave the board an ultimatum. As soon as Koeman allowed Lukaku to stroll off to Man Utd our season was over.Lukaku was all we had he was the glue holding it all together.
WTF was Koeman thinking letting Lukaku leave and then not having a replacement lined up.The signing of Klassen is another nail in Ron's coffin.Simply not good enough for any League in England. Also trying to sign an old guy Arsenal reject Giroud.? I mean come on its all bollocks.
Koeman has had enough time and money to at least show us something.Its time for Ron to be gone.He is a fraud and a dinosaur. What is the point in destroying moral even further.? Times up and good riddance.
Laurie Hartley
580
Posted 08/10/2017 at 11:48:18
I hope you don't mind me saying this Phil but when I read the first line of your post # 544 it occurred to me that you are just as despondent and worried about the current situation as most of the rest of us. You just have a different way of expressing it.
The thing is when I look back at your posts over the years you usually haven't been far off the mark.
So in answer to your question as to whether a new manager can do something with this "apparent rabble", I believe the answer is yes, provided as you suggested, that that manager is an experienced man with the personality and track record to get the players playing.
I don't think there is a real dud among them, I just think they have lost confidence in the manager.
I would lay odds that the first thing Ancelloti, Tuchel or Bielsa if appointed, would do would be to appoint Rooney as captain and drop him back deeper into midfield. He has the best football brain in the whole squad and I believe he would thrive in that position.
Men follow men who they either believe in and or respect. Provide these men with leadership on and off the pitch and a system to play to and they will perform.
James # 576 - As far as the economics are concerned, last season the difference in premier league payments between 7th and 17th was £25m. A manager can make that much of a difference.
There is also the "unthinkable" scenario of dropping into the championship. That would be £100m plus hit per season out of the premiership.
Moshiri despite his "tweet" is not going to let that happen. If he thinks it is threatened he will pay out the contract and pay someone to sort the players out.
Phil Walling
581
Posted 08/10/2017 at 11:58:54
Post 580. Thanks, Laurie, I think you've read it right. We speak as one.
Ian Pilkington
582
Posted 08/10/2017 at 13:17:41
If Koeman is allowed to stay on until the end of October, by then we will be in an even lower PL position, effectively eliminated from the Europa and out of the League Cup. After the consistently dire performances this season (including Manchester City when we handed over the initiative to a team with 10 men) he doesn't deserve to remain in charge for another minute
He has to take full responsibility for the Lukaku fiasco, the signing of three expensive and (so far) woefully inadequate no 10's, a mediocre RB when we needed a LB, and lastly the alienation of Barkley.
However, as much I admire David Unsworth and his achievements with the U23's, Moshiri must go for a top level manager and the opportunity to appoint Ancelotti should not be missed.
Tony Everan
583
Posted 08/10/2017 at 13:21:52
Next Sunday , we beat Brighton narrowly
Next Thursday we beat Lyon narrowly
A week on Sunday we have a bit of confidence about us , we beat Arsenal and score 3.
Realistically, I'm just hoping that the international break has helped us. The management team have decided on a system , players to execute and deploy it do or die.
Andy Meighan
585
Posted 08/10/2017 at 16:20:09
Be great, Tony, but wishful thinking, I reckon.
James Marshall
586
Posted 09/10/2017 at 09:25:19
Tony@579
I was alluding to the clubs thinking, and to say that Koeman should have dug his heels in over Lukaku is likely missing the reality of the situation. Koeman is just the manager, and I doubt he had final say on Lukaku leaving.
Football has changed and the hierarchy is totally different now. The situation that used to exist surrounding players coming & going being down to the manager in his sheepskin coat are long distant memories. If you think that Koeman holds the cards when it comes to ins & outs, with respect you're sorely mistaken. Of course he has a say in it, but when you're talking of something like £90m do you honestly think that the club leave that down to one man, Ronald Koeman to decide? That's fantasy land.
The complexity and astronomical cost of player deals these days mean that there's a structure in place that far outweighs the ability of a manager to make those decisions, and those deals.
To blame Koeman for Lukaku leaving just doesn't make any sense.
Tony Everan
587
Posted 09/10/2017 at 10:01:11
I agree with that , but Koeman could have dug his heels in on demanding a proven and adequate replacement.
It was incredibly naive to allow this to happen whatever the politics involved.
I think we are still seeing the fallout over this cataclysmic failing.
Privately, Koeman is a fumin'.
The board and recruitment team accept some culpability, Koeman won't be sacked .
For the good of the club he has to get over it and fight with what he has got. If he is not willing to put in 100% then he should do the honourable thing and walk.
Andy Crooks
588
Posted 09/10/2017 at 10:32:06
Dave # 570. I don't particularly ad mire Mirallas but he offer paces and width which we are devoid of. His selection would at least be an acknowledgement of this.
Colin Glassar
589
Posted 09/10/2017 at 21:54:00
I think Gordon Strachan just might have given Ronald a Get Out of Jail card – Blame it all on genetics!!!!!!
Add Your Comments
In order to post a comment, you need to be logged in as a registered user of the site.
Or Sign up as a ToffeeWeb Member — it's free, takes just a few minutes and will allow you to post your comments on articles and Talking Points submissions across the site.