Steve Walsh sees big England future for young duo

82 Comments [Jump to last]
Thursday 5 October 2017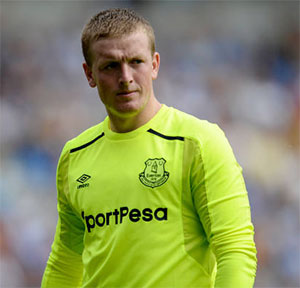 Steve Walsh says that new Everton signings Michael Keane and Jordan Pickford have what it takes to form the bedrock of the national side in years to come.
The Blues' director of football is thought to have been the driving force behind bringing the pair to Goodison Park, from Burnley and Sunderland respectively, for what could eventually be a combined fee of £60m.
Both players are automatic starters for Ronald Koeman's side at the moment and Walsh sees them only getting better with experience.
"Pickford will be the number one goalkeeper in England," Walsh said in an interview with club sponsor, Sure. "I think he'll play for England and be at Everton for a long time and be a bedrock on which to build the team.
"Michael Keane is young, he's got all the attributes to be a future leader, maybe captain of England."
"You need somebody who is good in the air, who is competent and who can be strong. Upper body strength is a key role to be able to block shots, and want to defend.
"You get modern day defenders who are quite happy to play out from the back but when it comes to the hard core of the job, they are maybe not up to it.
"You're looking at strength and passion to put your body on the line when you need to. If you can play out from the back as well that's obviously a key role. Michael Keane fills both respects.
"He is able to defend but he's also able to play the ball and breaks the line regularly with his passes into midfield."
Both players were named among the substitutes for England's World Cup qualifier against Slovenia this evening but only Keane saw action when he replaced Raheem Sterling with five minutes left in the 1-0 victory.
The result confirmed England's qualification for next year's World Cup Finals in Russia which could provide both Toffees players with the opportunity of representing their country on football's biggest stage.
---
Reader Comments (82)
Note: the following content is not moderated or vetted by the site owners at the time of submission. Comments are the responsibility of the poster. Disclaimer
Gary Edwards
1
Posted 06/10/2017 at 06:06:29
Mr. Walsh seems to be a purveyor of the obvious. Him and his staff need to check their job descriptions, review their KPI'S and pull a few rabbits out of the hat.
I truly wish that those employees who are responsible for what happens on the pitch would focus on winning games and playing good footie rather than making obvious, gobshite statements to the press.
Steven Astley
2
Posted 06/10/2017 at 06:24:11
Just wondering, but why do you never see Walsh at games? Surely he has time every now and then to watch his own team play?
Brian Murray
3
Posted 06/10/2017 at 06:52:34
Like many he's in comfort zone ambling through enjoying his obsene pay cheque. Welcome to Everton. He thought Leicester was happy with mediocrity – he must be over the moon with the owner's comments.


Ditto Ron and teary eyes. Joke of a club have been giving me nothing but grief in my 55 years. Brief period permitting in 1970 and before we got banned.
John Smith
4
Posted 06/10/2017 at 06:55:39
If Walsh WAS at the games, people would complain and say, "shouldn't he be elsewhere busily finding us gems?" Damned if he does, Damned if .
And I'm yet to be convinced by either of these players. Pickford's reaction time is brilliant. He's great at getting down low fast, but he is short by goal keeping standards. Opposition players have figured out that they just need to aim high and he'll get beat.
Keane isn't quick like Stones, his decision making is pretty conservative and slow and so is his movement. He was brought in because he was supposedly great at taking on an attacker one on one, but I've seen him being beaten often now. He was also touted as a great aerial defender. He was good when first came, now he seems not so good at that. That said I think he is in our top 3 defenders, along with Jags and Holgate. I'd also like to see Pennington get a run.
Charlie Lloyd
5
Posted 06/10/2017 at 07:07:21
Steven @ 2
I expect the answer to that is he is watching other players of teams.
To be fair that's probably right. He recruits but has nothing to do with match day tactics or how the players perform.
The recruitment to the first team has hardly been the work of a genius. The signings were either established in the premiership or well known. Several have been recruited to the U23s only time will tell if they become successful. But, I feel, Walsh should out there trying to unearth some gems.
Colin Glassar
6
Posted 06/10/2017 at 08:16:44
I agree Walsh, these two players have a great future at Goodison ahead of them. I don't know if I can say the same about you though.
Alan J Thompson
8
Posted 06/10/2017 at 10:40:20
Perhaps he's saying that these are the only two first team players who's signing he has had anything to do with.
Does he watch his own team play? I could be wrong but didn't he take Koeman to Prenton Park for his (Koeman's) first look at the U-23s? It also reminds me of Howard Kendall saying how he envied Bob Paisley, as all Paisley had to do was put on a cloth cap and and stand in the Ground and nobody ever recognized him.
Oh, and who was it, on ToffeeWeb, some time ago, who said he was in a queue to get tickets, for an away game(?), when he realized the bloke in front of him was Steve Walsh.
Dave Williams
9
Posted 06/10/2017 at 11:29:34
I've seen him at many home games- he can't be criticised for a lack of interest!
I think he has helped bring in some good young players- I doubt that Koeman was responsible for the youngsters we have bought.
The problem isn't the quality of player we have- it's the way they are being handled and the positions they are being played in.
David Hallwood
10
Posted 06/10/2017 at 12:09:24
Slightly off piste. Did anyone see the England game last night? Disjointed, shapeless hardly a shot in target, playing with 2 holders in midfield and they added nothing to the game and kept getting done down the middle.
Recognise this?
Tom Bowers
11
Posted 06/10/2017 at 12:35:27
Yep, England are as poor as they have ever been. No chance at the World cup and only an easy division enabled them to qualify.
Kane is the only striker worth his mustard. Sterling is a waste of space and Rashford hasn't stepped up to international level yet. Alli is okay and may form a good partnership with Kane but who else can score goals regular. Vardy and Sturridge are not good options these days.
Henderson and Dier can pass the ball well in their own half but the likes of Linguard, Oxlade and Livermore are just not good enough at international level.
Southgate is really out of his depth.
Sam Hoare
12
Posted 06/10/2017 at 13:14:45
I'm not convinced yet by Pickford or Keane, both part of a defense that has shipped goals with alarming regularity. Pickford has had some decent games but is still too short for my liking and Keane has shown some truly concerning positioning at times that have directly contributed to opposition goals.
They are both young and playing in a new team low on confidence, quality and leadership at the moment but I see their status as future International regulars as far from certain currently.
Allan Board
13
Posted 06/10/2017 at 13:20:41
Seems to me the owners know its going wrong-so queue the pacifists! Even Vermaelen has been dragged on board-and he doesn't play for us!
Who can Bill sweeten next to continue the smokescreen? Perhaps Big Sam to tell us all not to worry as he's got loads of teams out of worse trouble!
Yet more complete bullshit from Bill and Mosh – more like Bill & Ben!
And yes, England are as shit as they look – hope Kane never gets injured!
Paul Holmes
14
Posted 06/10/2017 at 13:54:46
In my opinion, we have wasted the money on what I have seen so far on Keane and Pickford. Could you honestly say Keane is any better than Funes Mori? Could you honestly say Pickford is way better than Robles and Stekelenburg? £50/60 million wasted on players who are no better than what we have already.
Pickford is too small, stays on his line for crosses – wait until Andy Carroll plays against us! The only defence for Keane is that it is hard to name a couple of centre backs who are any good that we could have signed. Funes Mori when fit will walk back into Everton's team; wether that is progress for our team is debatable.
Steve Walsh is doing a good job for the U23s and the academy, but for the first team, I don't know... but I am pretty sure he did not buy Klassen for £25 million!
Peter Roberts
16
Posted 06/10/2017 at 17:57:12
Lean I think would be better with jagielka alongside him rather than Williams - at least Jagielka is more organised and can lead a line better than Williams who is more of a stopper.
Pickford is an upgrade on Howard or Robles but isn't helped by the sieve that's in front of him.
Mike Allen
18
Posted 06/10/2017 at 20:01:49
Surely at least the goalkeeping position is up for grabs. Hart is not the best of a bad bunch the standard of goalkeeping is at its lowest point for me.

Watching England is akin to watching Everton – same meaningless lazy passes backwards & sideways... free kicks that can be put into the opponents box are continually taken quickly without any kind of thought... several back/sideways passes later, back to the keeper who launches it or he puts under pressure. I just don't got this passing game in our own half – just looks like a training exercise.
Tony Abrahams
19
Posted 07/10/2017 at 08:36:52
Maybe England can take Steve Walsh, and Holland can take Koeman?
It's easy to praise when you're winning, and it's even easier to criticise when you're not, but I'm really not sure about this director of football route, ever being a real success in football?
If the manager doesn't pick the players, then surely it should be his assistant? Imagine them sitting in the dug-out, when a player they never signed is doing shite?
Trevor Peers
20
Posted 07/10/2017 at 08:56:33
No mention of the catastrophic mistake of signing three No 10s then, Steve?
He's got some front, praising himself for his involvement in signing two youngsters with potential, while the transfer window as a whole was a disaster and could see us involved in a relegation scrap.
Colin Glassar
21
Posted 07/10/2017 at 09:27:34
And Lookman? Consigned to the rubbish heap of Everton football already? What is going on with this kid? Spurs want him, Nigeria wants him, the English FA love him but he can't get even a cameo performance for us? Fucking criminal imo.
Robert Leigh
22
Posted 07/10/2017 at 09:52:48
I agree Colin - the fact Lookman isn't getting a look-in is ridiculous, when Bolasie is back he won't even make the bench at this rate!
He should be playing on the left, cutting in to shoot a couple of times a game, and laying on crosses for DCL.
We have an exciting bunch of youngsters which I'm sure we'd all like to see drag us out of this negative slump.
Eric Paul
23
Posted 07/10/2017 at 13:59:27
Sam@ 12
Pickford is the same height as
"Big Nev" 1,85m
Liam Reilly
24
Posted 07/10/2017 at 18:44:55
"the English FA love him Lookman)"
Dunno about that; he only got 7 mins for the 21's against Scotland and Tom Davies didn't even get off the bench.
John G Davies
25
Posted 07/10/2017 at 18:53:00
Liam,
That doesn't fit in with the criteria used to beat the manager up.
I reckon Ademola should be used as a sub.
The suggestion appears to be he is on a par with the likes of Sterling,Rashford etc.
He's not.
The old saying, the more games you miss the better a player you become, springs to mind

Colin Glassar
26
Posted 07/10/2017 at 18:54:21
They're desperate for him to choose England over Nigeria, Liam. I hope he doesn't become a Nigerian spud.
Ray Smith
27
Posted 07/10/2017 at 21:38:47
John 25
Re Lookman, what do you base your opinion on comparing him to Rashford and Sterling, when the lad hasn't even been given a chance to show his talent.
John G Davies
28
Posted 07/10/2017 at 22:33:51
Precisely Ray.
Dermot O'Brien
29
Posted 08/10/2017 at 00:41:24
The real headline is: "Steve Walsh hopes for big England future for young duo after spunking £60m on potential duds."
Steve Ferns
30
Posted 08/10/2017 at 00:51:40
@Eric #23 - maybe so, but "Tiny" Tim Cahill was the same height as "Big" Dixie Dean. 6'1" isn't that big for a keeper anymore, time marches on and things change.
Gary Gibson
31
Posted 08/10/2017 at 03:19:53
Mr Walsh worked wonders at Leicester City. Indeed, his mercurial approach to transfers was perhaps the most crucial factor in the Foxes' meteoric ascension from Championship also-rans to Premier League champions.
Give him time and he will come good.
Colin Glassar
32
Posted 08/10/2017 at 06:46:38
Now arsenal are sniffing around Ademola. It seems a lot of managers want this kid except Mr Klogman.
John G Davies
33
Posted 08/10/2017 at 07:48:20
What gossip column was that in Colin?
Colin Glassar
34
Posted 08/10/2017 at 07:54:45
Daily Mirror, John. Being picked up now by several news outlets. Same as 'Koeman out by end of Oct.' rumours
Will Mabon
35
Posted 08/10/2017 at 08:01:20
Also in Sun, can be seen via Gossip on BBC Football website.
Whatever the truth, it says enough about the mess we've been turned into, that these rumours are appearing.
John G Davies
36
Posted 08/10/2017 at 08:12:14
In same GOSSIP column.
AC Milan in for Aguero.
Shows the mess City are in.
Will Mabon
37
Posted 08/10/2017 at 08:27:45
Not really the same situation, John. Ademola is on his way up, his big chance at a big club, has been here less than a year, and Koeman isn't using him - yet two other higher Prem. clubs apparently interested. Heard this story before where Koeman's involved. Seems he might be pissing off the players as much as the fans.
And yes, I know it's gossip, hence I also included the word "rumours".
I guess you don't think we're in a mess then.
John G Davies
38
Posted 08/10/2017 at 08:38:26
It is exactly the same situation Will.
Both are made up stories to fill space in a gossip column.
Kim Vivian
39
Posted 08/10/2017 at 08:58:22
I don't think we need to worry about Lookman going anywhere.
He's got (I think) a pretty long contract so unless we actually do not want to keep him, or the likes of Arsenal/Spurs come in with a genuinely ridiculous offer (unlikely to happen) he's going nowhere. Koeman and/or maybe Unsworth need to keep him on side - or probably in the case of RK get him back on side because if hearsay has any truth he has already pissed him off royally.
As far as the end of October for RK rumours go it looks like the Sun/Mirror pundits or whoever they work for have been reading T/web as that is what we have been saying for some time now.
Mola may be able to look forward to working with Unsy on the first team. That should encourage him.
Dave Abrahams
40
Posted 08/10/2017 at 09:01:08
Koeman should be using Lookman, even if it is just off the bench from the last thirty minutes.
Of course Lookman will be attracting the attention of the bigger clubs, especially the London clubs, they knew of his massive potential but stalled while we nipped in and got him. He will continue to be in the eye of many clubs some of them much bigger than Arsenal and Spurs.
If Koeman wants to save his job he should be using players with pace and skill like Lookman to provide the width we have all been crying out for, I said last week Koeman doesn't look like he is all that bothered whether stays or goes, a lot of us are, we want him gone because he is not earning the huge wages he is on.
Darren Hind
41
Posted 08/10/2017 at 09:19:17
We are struggling. The vultures will circle.
Levy will start the ball rolling with a ridiculously low bid for Barkley. Lets hope we have a new manager by then and Barkley has a complete change of heart and signs on the dotted
Tony Abrahams
42
Posted 08/10/2017 at 09:59:36
It's always been Levy's intention Darren, and it nearly back-fired on him when Chelsea, surprised everyone, especially Ross Barkley, and his advisors with their late bid.
People laughed at Darren, when he said Unsworth, but if the clubs long-term plan, is to bring the kids through, then he's got to be the obvious choice?
Long term plans, are so hard to achieve in football though, because sometimes a week can be forever, and players only really love you when they are playing.
Robert Leigh
43
Posted 08/10/2017 at 09:59:45
Darren - hope our shared view on Barkley is right.
IF Koeman gets the elbow, I hope Barkley gets fit and signs a new deal. Can't believe the stick he got in the past considering the dross Klassen/Sigurdsson/Rooney have served up recently.
Tony Abrahams
44
Posted 08/10/2017 at 10:09:37
Robert, sometimes a player becomes so much more important when he's not playing, and I think that's now the case with Ross.
He looks like he would fit into this present mess, because he can beat a man, and drive forward, but it wouldn't last imo, because even the best players in the world would struggle playing for Koeman, right now.
That's why I agree with Dave, and anyone else who feels that Ronald, doesn't really want to be here right now. The lack of width is killing us both offensively and defensively, and even people, who have never really played the game can see this, never mind a man who has been in football for most of his fucking life?
Mike Allen
45
Posted 08/10/2017 at 10:10:23
Looking at him the last time he had a run out we have lost Lookman already. The lad won't stay if he gets the chance to move on.

I think we may lose a few more who may think they have made an error of judgement. Some/most will not be a great loss anyway.
Kim Vivian
46
Posted 08/10/2017 at 10:21:32
Surely Ross's forced absence from the team must have emphasised to RK how much of an asset he is on the field. It's probably too late, however. I think he sees greener grass in London. Would be surprising to see Ross in our shirt again.
Trevor Peers
47
Posted 08/10/2017 at 10:23:17
Given that Koeman's days are numbered and Unsworth will be put in charge temporarily, no doubt to see if he can get the wins we need. I wonder what team he might go for, or is that thinking to far into the future ?
John G Davies
48
Posted 08/10/2017 at 10:29:09
As mentioned above the longer a player doesn't get in the pitch the better he becomes.
Lookman has got a chance to develop into a good player, he is not our saviour though.

Ian Hollingworth
49
Posted 08/10/2017 at 10:49:29
It is quite amusing how players who don't play suddenly become the answer to all our problems.
Barkley has never really reached the levels we all hoped he would.
Lookman I fully agree should be given more of a chance and it is quite worrying why he appears to have suddenly been sidelined by Koeman.
Koeman is part of the problem but the bigger problem is the lack of ambition behind the scenes.
Without that we will just continue to bumble along regardless of who is the manager.
Kim Vivian
50
Posted 08/10/2017 at 11:03:33
Ian - Barkley made not have reached the peak we all aspired him to but compared to the alternatives on show right now he looks more than competent. I didn't see Siggy, Schneid or Rooney look any better than Ross last year (Klaasen I never watched before he joined us) . But Christ, - Sigg'n in for £45m, Barkley potentially out for £30m(or less)?
That's insane.
Ray Smith
51
Posted 08/10/2017 at 11:38:48
John 28
I take you point.
Could a Lookman Giroud swap be on the cards.
If Koeman is still with us in January? what chance has Lookman got, especially when Bolasie is back.
I despair for the lad.
As for Walsh, I think he believes his own hype at his marvellous signings, and his success at Leicester. They may be for the future, but it's the here and now that's worrying.
Martin Nicholls
52
Posted 08/10/2017 at 12:01:38
Ray - not even sure that Walsh can claim credit for buying for the future! Recent article in the red Echo suggested that it is the Academy Director Joel Waldron who does that - he is quoted as saying "the Board gives me a budget..."
Oliver Brunel
53
Posted 08/10/2017 at 12:28:51
I hope we don't go anywhere near Giroud.I don't rate him , he's static and slow, another player to clutter up the no 10 zone…I really rated Lacazette we should have been in for him. It will be almost impossible to get a quality striker in in January. We no doubt will end up with Carroll, Crouch type player so we can hang around mid table and the hierarchy will be happy.
Ray Smith
54
Posted 08/10/2017 at 12:49:31
Martin 52
Good point.
Which makes me wonder even more, what does Walsh actually do.
He spent a couple of weeks in Italy during the window, what did that produce?
Tony Abrahams
55
Posted 08/10/2017 at 13:02:53
Martin@52, I'm sure Joel Waldron, would have been talking about the budget for the running of the accademy?
I heard that the year Tranmere fell out the league, their budget for the whole club that year was £900,000. I reckon Everton's budget for their accademy would be at least 5 times that figure.
Surely the next step in English football, is for the bigger clubs to take one of these smaller clubs under there umbrella, and help them out financially, in return for good young players, or somewhere for their young pro's to play competitive football, to help bring them along?
So much money is being wasted at the top of the game, simply because clubs, have got money to waste, whilst the bottom two leagues struggle like fuck to keep going.
Is it any wonder that there is such little honesty or loyalty, left in the game of professional football?
Martin Nicholls
56
Posted 08/10/2017 at 14:02:12
Tony#55 - I may be reading too much into this but his quote is "Our board give me a budget to recruit players with the potential to play in the first team". The operative word seemed to be "me" but who knows? Maybe he's talking of a level below the likes of Onyekuru (still not here I know), Bowler, (Lewis) Gibson etc. Incidentally Joel Waldron's title is Academy Manager rather than Academy Director as I said earlier.
John G Davies
57
Posted 08/10/2017 at 14:20:47
I would swerve any player who didn't have pace in the January window.
First criteria when scouting a player. Simple question, does have pace?
No?
No thanks.
Rooney will pick out the runs of pacy players, as will Siggurdson. Even Schneiderlin.
New signings with pace will improve the team no end. Along with the return of Coleman and Bolasie.
Dave Abrahams
58
Posted 08/10/2017 at 14:39:32
Martin (56), I don't know but would guess that. Joel Waldron would be responsible for bringing in very young schoolboy signings and nurturing them through the years until they play for the U18's and David Unsworth takes over their future.
John G, yes Lookman is not our saviour but is capable of changing a game and producing a win out of a draw or defeat the way Niasse did the other week, in fact if he starts a game as a winger he will at the very least have us playing with width and give the opposition something to think about instead of just mopping up every attack we produce without breaking sweat, he could also use Vlasic and Lennon this way and if we are really desperate ( which we could be very soon) put Martina on in that position from the subs bench, anyone but Mirallis. !!!
Nicholas Ryan
59
Posted 08/10/2017 at 15:17:36
Everyone seems to agree, that we lack pace. Lookman and Lennon are two of the quickest players I've seen for years; so why are they, apparently, nowhere near getting a game?!
John G Davies
60
Posted 08/10/2017 at 15:21:06
He should be used as a sub Dave.
I think he has got a chance of being a good player.
Wrong atmosphere at the moment at Goodison.
Crowd are all over any mistakes, a player like Lookman will always make mistakes due to the way his type plays.
It can either make or break them.
Tony Marsh
61
Posted 08/10/2017 at 15:24:57
Nicholas @59
Lennon is useless and is yet to have a decent game for us. If it was pace alone that did the trick Delafoue would still be here. Lennon was finished when Spurs lumbered us with him. Not good enough for Spurs then not good enough for us I would hope. As for Lookman he has fallen out big time with Koeman but didn't pull up any trees when he did get a chance early in the season.
Barking up the wrong tree with those two players mate. If we are to be where the dopey new owner promised us then we need proven quality not has been and may be good players.
Dave Abrahams
62
Posted 08/10/2017 at 15:33:44
Tony (61) Lookman hasn't played one second in the league this season.
Darren Hind
63
Posted 08/10/2017 at 15:41:50
Dave A
Couldn't agree more
Earlier this year Koeman was telling us Lookman was "the future of the club"
Telling a kid that, then freezing him out will damage his confidence far more than any crowd could.
There is a growing trend of people blaming the crowd for Koemans shortcomings, but it isn't he crowd who have repeatedly overlooked this kid when others have been stinking the place out.
I have heard nothing but support for this kid. The crowd are desperate for him to find his form and start flying past defenders like we know he can.
Lets hope they can cope with the excitement if it happens. Thrills and spills have been a little thin on the ground lately
John G Davies
64
Posted 08/10/2017 at 16:15:15
"Lookman is the future of the club"
When did he say that?
Tony Marsh
65
Posted 08/10/2017 at 16:18:36
Dave 61 Lookman started in the Europa and got dragged off he was awfull. Don't know what happened but been left out since?
Andy Crooks
66
Posted 08/10/2017 at 16:19:30
Everton and England need Ross Barkley. Koeman goes, Barkley stays Everton and England find the spark. It can happen.Ross Barkley is a class player,better than what we signed, much better.
Ray Roche
67
Posted 08/10/2017 at 16:20:33
Darren#63
I don't know how much of the Under 20 W.C. you managed to see but Lookman was excellent. I mentioned on here a while back that he has the vision to slot into the middle and would do a better job than some of the players who have played there this season.Mind you, so could we.
Lookman has tremendous ability and should be given more opportunities to shine. He had a poor game against Split and has been overlooked since. Shame on Koeman for that.
Dave Abrahams
68
Posted 08/10/2017 at 16:37:54
Tony (65) true, Lookman had a terrible game versus Split away, had a good first half against them at Goodison, when he was used as a winger in what was the best forty five minutes we have played this season, he also came on against a very poor Sunderland team and nearly scored with his first shot.
He's played four times for the first eleven this season Tony, none of them in the league, so it is patently obvious Koeman doesn't trust him in important games.
By the way on another Everton web there is a rumour Sammy Lee is about to be appointed coach with Duncan Ferguson going back to the U23's, could be a massive wind up, could be a big help to Everton if it is true.
John G Davies
69
Posted 08/10/2017 at 16:44:01
Good coach and a good lad Sammy.
John G Davies
70
Posted 08/10/2017 at 16:49:45
Just found the quote now.
https://www.google.co.uk/amp/www.squawka.com/news/ademola-lookman-is-the-future-of-everton-ronald-koeman/908682%3Famp-on#ampshare=http://www.squawka.com/news/ademola-lookman-is-the-future-of-everton-ronald-koeman/908682
Note. "but fans will have to be patient"
Darren Hind
71
Posted 08/10/2017 at 18:06:45
LOL – but "the fans have to be patient"
So its the fans fault again???
The manager has frozen him out but its the fans who have to be patient? You couldn't make it up!!!

Colin Glassar
72
Posted 08/10/2017 at 18:07:58
Dave, it might help some of our local lads to have someone they can understand as big Dunc and Koeman are hardly fluent with the lingo thingy.
Paul Tran
74
Posted 08/10/2017 at 18:28:49
Andy #66, England and Everton need a Ross Barkley at the top of his game, consistently. The word is consistently.
People keep talking about Mirallas, Deufelou and Lennon who are/were nowhere near good enough. I'd keep Barkley, but I wouldn't build a team around him.
There's plenty in the players we bought. They need to be set up properly and let off the leash
Paul Tran
75
Posted 08/10/2017 at 18:48:30
John G, thats interesting about Sammy Lee. A couple of Soton fans I know told me he was instrumental in what they did under Koeman and he wanted Lee to come here with him.. Their track record is pretty good, both told me Beattie was an overrated Billy Big Time and that Koeman was definitely coming here early doors.
Dave Abrahams
79
Posted 08/10/2017 at 19:13:15
Colin (72),It might help all the players in the squad to listen to some one who knows what he is talking about.
Dave Abrahams
81
Posted 08/10/2017 at 19:22:56
Paul (75), the story at the time Koeman came to Everton was that Koeman wanted to bring Sammy with him but Kenwright blocked that move because Everton would have had to pay compensation for Lee and he thought Everton fans would have railed about that, strange that as Billy Boy has done plenty of things we were not happy about but it didn't deter him from doing them.
I hope this rumour is true as I think Sammy has proved he is a very good coach, and it has echo's of Colin Harvey being appointed by Kendall which helped Everton and Howard to move forward in a very big way.
John G Davies
83
Posted 08/10/2017 at 19:33:23
Paul 75,
Sammy would be a good fit for us.
I hope it's true.
Tony Abrahams
85
Posted 08/10/2017 at 19:38:28
I hope there is truth to this rumour Dave? Sammy Lee, is a proper football person, knows the game inside out, and would be an absolutely terrific appointment if this is true?
Maybe Duncan, is going to pair-up with Unsworth, to see how they go for the future? Although I'd prefer to see Stubbs, with Unsworth in the future, if we are to go down that road?
Dave Abrahams
86
Posted 08/10/2017 at 19:47:30
Tony (85), I'm glad you liked Sammy, I've got a photo somewhere in the house of you receiving a medal off Sammy at a football tournament, you were about ten or eleven, the kipper on you, you would have thought you were getting the medal off a fuckin' serial killer.
Didn't like him then did you mate: but you are correct he is a proper football man Sammy from 'the Bully'
Phil Walling
91
Posted 08/10/2017 at 20:13:39
Perhaps we'll get lucky and Little Sam will bring Big Sam with him ?
Dermot Byrne
95
Posted 08/10/2017 at 20:28:48
Ha John G.
Oh Darren my opinion on what Steve Walsh said. Yeah, probably right in relation to a mediocre England team. Pickford staying at Everton? Nobody knows.
I could turn it into an opinion on Koeman but I have absolutely nothing NEW to add to that debate. Absolutely bloody nothing. Know the feeling?
John G Davies
102
Posted 09/10/2017 at 07:26:43
Dave,
A few Blues I know who lived in and around the Bully won't have a word said against Sammy.
Martin Nicholls
103
Posted 09/10/2017 at 09:07:29
Big "no" to Sammy Lee if only because it means we're stuck with Koeman.
Dermot Byrne
104
Posted 09/10/2017 at 12:44:35
Sometimes it is the sweat of Sam I like

Martin Mason
105
Posted 12/10/2017 at 19:47:20
The longer a player doesn't get on the pitch the better he becomes?
How about this: the longer a player doesn't get on the pitch, the more unfair the criticism of him becomes?
Add Your Comments
In order to post a comment, you need to be logged in as a registered user of the site.
Or Sign up as a ToffeeWeb Member — it's free, takes just a few minutes and will allow you to post your comments on articles and Talking Points submissions across the site.