Peter Reid: Everton need a 'depth of desire'

101 Comments [Jump to last]
Wednesday 11 October 2017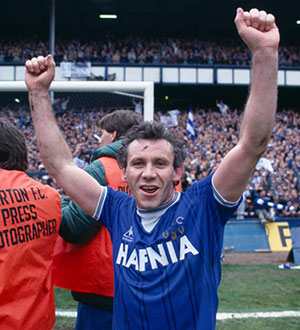 Goodison legend Peter Reid has thrown a gauntlet down to Everton's current players by suggesting they lack the stomach for the fight that's ahead of them following their poor start to the season.
The former Toffees midfielder, who won two league titles, the FA Cup and European Cup Winners' Cup in his time with the club, was interviewed in the press as part of his promotional tour for his autobiography, "Cheer Up Peter Reid".
His career may have taken him to the likes of QPR, Manchester City and Southampton as a player and City, Sunderland, Leeds and Coventry as a manager but Reid remains a Blue at heart and he says Everton are in danger of getting sucked into a dogfight they might not be equipped to win.
"This Everton team is in a scrap," he said. "The team I was in could scrap. I am not sure this team can. Has this team got the character? Has this team got enough to scrap? Forget about all the nice stuff at the moment, it is a scrap.
"There is a lack of confidence and it is showing on the park because if we are not careful we are in a dogfight and I am not sure, looking at them at the moment, that they are ready for that.
"Everyone knew Lukaku was going," Reid explained, echoing the frustrations felt by other Evertonians at the mixed transfer window that failed to bring in an adequate replacement for the Belgian. "So, go and get one. And when the owner comes out and says lower expectations? No, you are wrong mate. As an Everton fan, expectations are higher than that, so I disagree.
"I think it was a mistake not getting a striker. They are the most difficult to get, but you know you need one so you have to [pool] all your resources into getting one. I know it is hard but when you are Everton, go and get one.
"Without being too critical of Mr Koeman," he continues in reference to the team's struggles for consistency and fluency, "if I am buying a player for £45m, I want to play him in his position.
"But he has brought in a few players who play in the same position so it was always going to be a problem."
Asked how he would address the Blues' woes, Reid is typically frank.
"I would ask them to roll their sleeves up. You get back to basics. You have to say: 'Lads, we have to make it hard for them when they have the ball.' I'd love to be part of that.
"I am not saying I want to be the next Everton manager but this is what the club needs — it needs a depth of desire."
---
Reader Comments (101)
Note: the following content is not moderated or vetted by the site owners at the time of submission. Comments are the responsibility of the poster. Disclaimer
Phillip Warrington
1
Posted 11/10/2017 at 06:14:24
Koeman has turned what could have been the best season for Everton for years into an utter nightmare. You watch them play and you watch Koeman on the sidelines and its like neither of them want to be there and neither of them show passion or commitment.
They are a disgrace to all who have warn the once proud shirt of Everton. It has never been so disheartening watching Everton in the 40 years I have supported them.
Dave O'Connell
2
Posted 11/10/2017 at 06:32:11
That's the attitude we need; pity we haven't any one like him.
Kim Vivian
3
Posted 11/10/2017 at 07:08:33
With a questionable record, I'm not saying Reid would make a good manager, but it would be great to have him involved at some level on the bench. Could he work as assistant to Rhino maybe?
As he says – get that passion back, especially on the touchline, before Ronald Koeman stifles it in everyone.
Will Mabon
4
Posted 11/10/2017 at 07:13:30
You're right about the missed opportunity, Phillip – but it's not quite been all Koeman's doing. I believe Moshiri basically bit off a chunk that was too big for Koeman to chew, and too big for the budget he was ever planning to spend.
Liam Reilly
5
Posted 11/10/2017 at 08:19:01
"And too big for the budget he was ever planning to spend".
I assume that's aimed at Moshiri, which I don't understand. There was money on offer for Giroud and serious money offered for Costa but neither saw Everton as a good prospect.
Agreed that there was no Plan B or C but Moshiri doesn't sit on the board, so how is he responsible?
I suspect (like any reputable business) there's been a lot of talk behind closed doors on the failings over the summer and it's clear that Koeman is not being held entirely responsible, hence he's been given time to address it.
Reid's right though; the team need to show some fight.
Ian Burns
6
Posted 11/10/2017 at 08:44:12
Peter Reid is right, of course, on every count. However, as much as I agree that it is the responsibility of the players to show some mettle and fight on the field, they need direction within an understandable system before they even go onto the pitch.
Do they get that from Ronald Koeman? No, they don't – and that is where the crux of our problems lies.
Will Mabon
7
Posted 11/10/2017 at 08:47:45
"
I assume that's aimed at Moshiri, which I don't understand. There was money on offer for Giroud and serious money offered for Costa but neither saw Everton as a good prospect.
"
...and the plan was for Barkley to be gone, which would equal a net spend of about zero. There has essentially been very little serious money invested over and above that received from player sales.
Do you think Moshiri doesn't speak with the board, or have any influence? There are theoretical business rules and structures, then there is the reality of the power of a major shareholder.
Tony Marsh
8
Posted 11/10/2017 at 08:48:49
Moshiri should sack Koeman now if purely on business principles. The fact Koeman has squandered the money he was given is an immediate sacking offence. Would Moshiri allow any of his other interests to be run in such an amateurish way? I don't think so.
Try building a house with too many bricklayers and no carpenters. This is what Koeman has done and it's beyond idiotic. Ried is right – the players are lacking fight and spirit and this is solely down to the manager. Koeman's moronic tactics and selections are draining everyone.
If We lose on Saturday, which I think is nailed-on, that must be it for Koeman. It's not looking good when you consider how long ago it was when we last won a game in the Premier League...
Len Hawkins
9
Posted 11/10/2017 at 08:57:44
Why should the players fight? Do they get paid more if they fight? No.
Perhaps it is time for Football to give the players a culture shock and make them earn their money and go back to results based bonuses instead of getting £millions whether they play or not.
For £100k a week I'd put on a tracksuit, do a few minces up and down the touchline like a pissed up Nureyev, and then sit on the bench laughing and joking whilst the paying customers are being served up with shite.
Dave Abrahams
10
Posted 11/10/2017 at 09:11:52
I loved Peter Reid as a player so have no qualms or quarrels with his views – he is just saying what hundreds of us fans have been saying for weeks but advertising his book at the same time.
None of us need educating in what is wrong with the club,lack of pace, lack of width, lack of a decent formation and lack of leaders on and off the field especially in the boardroom. The more people who say it the less anything seems to be getting done.
The shape and formation of the team on Sunday versus Brighton will tell what way this crisis is being addressed.
Derek Knox
11
Posted 11/10/2017 at 09:14:54
Sorry for taking a reverse mercenary view, but how can players have any passion for a Club they never supported before turning professional, and they know in most cases, they earn more in a week, whether they play or not, than most people earn in two, three, four, or even five years? It is immoral in many ways, but that is the way football is decadently going.
I have supported Everton for over fifty years, and have noticed that as players' salaries has increased, the commitment has decreased, now I don't think that is just coincidence.
We have had some poor managers over the years, but I can never remember feeling this low. While I appreciate there has been yet another International break, I am not even excited about the next match.
For that to happen, something is drastically wrong. I take on board what Peter Reid says, but it doesn't make me feel any better.
Phil Walling
12
Posted 11/10/2017 at 09:18:26
For all my alleged negativity, I never hope that Everton will lose just to put another nail in the manager's coffin. And not many games go by without my sticking a tenner or so on a positive result for our team.
More in hope than anticipation, I reckon we shall get a win this weekend and almost certainly follow it with a Europa League victory. Time for the worm to turn, methinks.
Steve Bird
13
Posted 11/10/2017 at 09:32:14
At the risk of being shouted down – and I'm very aware of the managers massive tactical shortcomings! – If we agree with Reidy's astute comments about passion and desire, shouldn't the book stop with the players?
Managers can fire teams up but once you cross the line isn't it down to your own professionalism and desire?
On another thread I've labelled senior players cowards for their no risk attitude with the ball. This creates tension in the crowd that gets to the younger players and new signings.
Everything is interlinked to attitude and desire, it may be over obvious but, instead of the manager being the full focus of dissatisfaction, things need to change with those wearing the blue shirts.
Gordon Roberts
14
Posted 11/10/2017 at 10:04:52
Peter Reid has articulated most of Everton's current problems within that article/interview. The Board had agreed, by all accounts, to sell Lukaku but were unable to attract a suitable replacement. Thanks for posting, Lyndon.
Phil (Kelsall) Roberts
15
Posted 11/10/2017 at 10:39:00
We have now gone 11 games without a win away from home. Palace 1-0 was the last one, 21st January. 5 draws and 6 defeats. Last 19 games away from home – 13 points, scored 16 conceded 33.
Not looking good for this weekend.
In the last 35 years we have only had 3 worse runs of not winning away from home, the last ending when Moyes took over. Now that was grit and determination. Peter Reid, the man who stuffed a sponge down his sock to stem the blood in a European Semi Final. Something about success being 10% inspiration and 90% perspiration – we just seem to lack the 90%.
Anyway, that's me Christmas present sorted.
Tony Everan
16
Posted 11/10/2017 at 11:03:17
Peter is 100% on the money. It's what we've all been saying for weeks, if not months if referring to a replacement for Lukaku.
Nearly all blues were saying in the summer the priority had to be a striker to replace ''as close as possible'' Lukaku. It was utter madness to fail in that respect . What did the board and manager expect?
Depth of desire is needed now more than ever, until the recruitment fiasco of the summer is rectified. Peter's right –scrapping and fighting for every blade of grass, every loose ball and get in the face of every opponent.
It's time to show resilience and steel. If the opportunity to kill the opponent off comes, cut his throat with glee.

George Cumiskey
17
Posted 11/10/2017 at 11:59:46
Ian Burns @6,
Exactly what I've been posting for ages, the players have no confidence and are scared before they get on the pitch. It's the positions and system they are asked to play before they cross the white line that scares them.
They are physically or mentally unable to adapt to Koeman's methods. But you still have people coming on toffee web to blame the crowd for being too negative and claiming it's drifting down to the players.
Paul Kelly
18
Posted 11/10/2017 at 12:07:13
Phil (Kelsall) Roberts, now I'm not one for superstition, but my last away game was at Palace; my next one is Brighton. Both my kids only games they've been too, we won also, they're coming too.
So that settles it – we'll get beat 4-1 then. Koeman sacked Monday.
Liam Reilly
19
Posted 11/10/2017 at 12:21:39
"...and the plan was for Barkley to be gone, which would equal a net spend of about zero".
I don't buy that. Barkley could've (and can still) stayed at any time. His head has been turned and he wants to play for Tottenham.
I'm not saying that the Lukaku cash wasn't included in the budget – of course it was – but having a net spend of zero isn't disastrous if the £100 million (Lukaku + the fringe player losses) is spent to reshape the side correctly.
Fact is the money was spent poorly on the same type of player and Koeman is still here. That says to me that the fault is not entirely with him.
And as regards Moshiri talking to the board; one would like to think he agreed on the strategy, but that lays with the board to execute it, not the primary shareholder. They failed miserably.
Matt Butlin
20
Posted 11/10/2017 at 12:26:31
Peter Reid is right. My son's U12 team played a cup game at the weekend and took on a team 3 divisions above them. The manager gee'd them up and the boys responded. If our first team could replicate the attitude of a bunch of 11-year-olds, I think they'd turn this around.
Gerard McKean
21
Posted 11/10/2017 at 12:37:11
Well said, Peter Reid!
A few weeks ago, I attended a 30th anniversary celebration of the last time we were Champions. What struck me in listening to the contributions of the players was the difference between those who are engaged by the club as lounge hosts and such like who were very politically correct and those who told it as they saw it.
Prominent in the latter group were Peter Reid, of course, Kevin Ratcliffe and Neville Southall and these three in particular spoke with sense and passion. I know some Evertonians dislike Ratcliffe for being too critical but I think as our most successful Captain he has actually earned the right to be critical; he is a winner and does not want to settle for anything less.
I keep on saying this; the problems at the club stem from a culture of complacency. There are people earning a lot of money out of Everton who basically have no interest in demanding nothing but the best – staying near the top of the middle of the Premier League will do them just fine.
Clubs like Ajax, Bayern, Barcelona have a policy of continuity that sees former players taking charge of the direction and maintaining the standards of the club. Is it not time to bring in the likes of the three mentioned above plus the likes of Derek Mountfield and Leon Osman to run the club and get rid of some very lazy and devious impostors?
Terry Underwood
22
Posted 11/10/2017 at 12:50:47
Totally hit the nail on the head. The current team have no balls, no guts and no heart. If I was out on the piss with them and we got in a ruck, I would reckon they would all scarper.
Only exception being Tom Davies – at least he looks like he would be a scrapper, we need scrappers now and he has a bit of devil in him.
Dave Abrahams
23
Posted 11/10/2017 at 13:10:20
Gerard (#21), those who are employed by the club use tact and never criticise the players, manager or anyone on the board. In private, with each other, they tell it like it is.
I was in The Post Office, a pub in town, talking with Sharpe and Snodin along with Pat van den Hauwe. The first two were just giving the party line, which I wouldn't have. It never got nasty but I lost interest in them and had a good chat to Pat, mostly about characters we both knew in town.
I had to tell Sharpie and Snods that, considering the three of them played in the same team, Pat looked 10 years younger than them. Shut them up for a bit.
Ian Hollingworth
24
Posted 11/10/2017 at 13:13:49
Spot on, Peter Reid.
I know those of us who witnessed those glorious years are biased but what would we give to have a few of those characters in the team now?
Today's lot are overpaid pampered losers and cannot hold a candle to Reidy and Co.
John G Davies
25
Posted 11/10/2017 at 13:19:11
One of my favourite players, Sharpie. Never fails to disappoint me when he gives the spin out.
Dave O'Connell
26
Posted 11/10/2017 at 13:30:43
If only we had a few characters like Peter Reid, we'd be in a better position. Too much money; not enough desire – too right!
David McMullen
27
Posted 11/10/2017 at 14:14:24
I really hope we knuckle down and pick up form. We need to save our season.
I think there are a number of issues at the club; I don't want to question every single thing but all is not right'; you have to think – just like Reidy says – it's from the top. Moshiri ill-advised perhaps.
The players themselves need to man up and the manager needs to pick a team, formation and tactics and stick with it
Stan Schofield
28
Posted 11/10/2017 at 14:52:40
Reid is clearly right, but when asked how he would address the woes, he could have added that the manager needs to put players in their proper positions and set the tactics right.
That appears to be the core of the problem, so he could have focused on that. Once that's sorted, the players rolling their sleeves up is far more effective.
Paul Holmes
29
Posted 11/10/2017 at 14:57:14
I have listened to the top American coaches in Football, Basketball, Baseball etc.. and they all say one thing: Sport is 80% psychology and 20% skill.
Peter Reid is right: if you don't believe me, go look at Wimbledon crazy gang, Vinnie Jones etc...
The Everton squad is 'soft' and, until that changes, we are in a relegation fight this season.
Peter Cummings
30
Posted 11/10/2017 at 15:05:18
Peter Reid said it all.
'The School Of Science' that was once Everton Football Club, has been turned into a sick joke and is now becoming a laughing stock as we now stumble from game to game without little hope of producing anything worthwhile in the way of a successful result.
As I now personally enter my 80th year, 75 of which I have lived breathed and supported my beloved Blues, even today, three thousand plus miles from Goodison, like many, if not most, of the present day loyal Blue fans must wonder if the halcyon days of cups,titles,class and respect will ever again restore the hallmark of our now tarnished motto: Nil Satis Nisi Optimum.
Jay Harris
31
Posted 11/10/2017 at 15:28:31
Even in his 90s, Sir John Moore would never have put up with the shite Kenwright has presided over. He has manipulated the club and the fans to satisfy his ego of being Chairman of Everton FC.
It has been a constant smoke and mirrors operation. I feel really sorry for Moshiri. He was sold the dream and is now living the nightmare.
The model of Director of Football and Manager rarely works well but put Bill in the equation and it's a recipe for disaster.
Until we get a chairman with ambition and determination – which is what I thought Moshiri was – we will be stuck in this Kenwright timewarp of mediocrity.
Steve Hogan
32
Posted 11/10/2017 at 16:13:01
(21) Gerard, 'Leon Osman to run the club' I'll get my coat.
David McMullen
33
Posted 11/10/2017 at 16:37:22
Just had a look at a clip of Peter Reid from the 80s on another Everton fan site and it would be a shock to the system to see any of our players play with such passion and determination as him.
Our football now is too slow. More energy in a ping pong game. They need ECT to stimulate them in to action; clearly they are not getting it from their coaches.
Lev Vellene
34
Posted 11/10/2017 at 17:19:33
As a manager, Reid might have tried this or that, failed or succeeded.
But when it comes to commenting on anything dealing with the Evertonian spirit, I can't find anyone else still breathing I'd find more purely truthful!
And it so much looks like our current players have forgotten that we don't EVER give up! If lambs to the slaughter, we try to bite that axe! And the other 10 head-butt the kidneys!
Mark Morrissey
35
Posted 11/10/2017 at 17:34:26
Peter, a true blue. Next time Peter can you just say "And this comes from the manager down but our current one is a melt and so it's no wonder we're playing like a Conference side who are bereft of ideas and scared to step onto the park. Please just sack him."
Oliver Brunel
36
Posted 11/10/2017 at 17:44:44
Contracts at the club (for players, management, IT staff, Ticketing etc etc, basically everything because its a mess) need to be based on basic salaries plus performance-based bonuses.
In a manager's contract, the minimum demand is Champions League, yes Champions League. Now we chose a manager with no proven track record (no, he wasn't 'successful' at Southampton). And now Moshiri is dumbing down expectations.
If we lose to Brighton, I'm gonna... well... you know… that's it for me. I have other hobbies… erm, well... I walk the dog... erm… I watch Rugby...
Okay, so I might hang around for the next game but after Lyon the curtain will fall on my disastrous affair with this club…
Okay, so I might watch the Arsenal game….but that's it Moshiri…
Okay, if we get a great striker maybe just maybe…..
Reid and Unsworth? Howe and Unsworth? Me and Steve Ferns? Glassar with a ton load of cash and a spending spree?
Con Skelly
37
Posted 11/10/2017 at 17:53:29
If he does want to be the Everton Manager, he is going the right way about it. I would go as far as to say that, given our current predicament, we could do a lot worse than a scary bastard like Reidy coming in and reminding everyone, including the Chairman, who we are.
On a footballing side he recognises what to me has been a glaring problem since deadline day in that we bought four number tens. If you play Rooney in the hole you've wasted £75M on three players you don't need, and to be honest, if we take Rooney's wage to productivity-ratio: value into consideration we are haemorrhaging money. What an unbelievable waste of resources. It smacks of an experienced con artist recklessly spending money he has bullied out of a first time owner.
This team does indeed need to get back to basics. We need to accept that Klaassen, Rooney and Sandro do not get into this side. They do not offer anything out-wide and we already have a Number 10 and it is Sigurdsson who cost £45M and must be given time to justify his price-tag. Incidentally, Tom Davies's best position is probably, you've guest it, Number 10 as is Ross Barkley's.
We need to build a team. Coleman and Bolasie will with a bit of luck be massive for us when they come back and I think it is imperative we do all we can to convince Ross to stay. Sacking the well-travelled Dutchman is a good start:
Pickford, Coleman, Keane, New centre-back, Baines, Schneiderlin, Davis, Sigurdsson, Bolasie, Barkley, New Striker.
Calvert-Lewin is nowhere near ready to carry the striking burden of a team with Premier League ambitions, never mind Europe! That is the team we should be aiming to have by the new year.
In the meantime, due to the farce that was the transfer window and the aforementioned players still out for another 10 weeks I only see it continuing the way it is. First step. Peter Reid!!!

Will Mabon
38
Posted 11/10/2017 at 18:01:57
"
His head has been turned and he wants to play for Tottenham.
"
You could either believe that, or you could believe that he wants away from Koeman's management and the pitiful direction of the team. All down to personal choice based on what's been said and seen. I take the latter view.
There is more than one thing at play here, I believe. Koeman and whoever else is responsible for transfers have brought in too many of the wrong players. Koeman is also a dour, pig-headed manager that can't inspire players but can upset them.
Nothing "Wrong" with a net spend if that's part of the business plan, and the plan for the club. A net spend, however, will not project and establish a team into the top four with the league as it is now. So far, no TV money has been spent on the team, nor any of a reputed £100m budget, nor any other extra money from whatever source.
If it turns out that anyone has not carried out Moshiri's "Strategy", then maybe we'll see corrective action.
Martin Nicholls
39
Posted 11/10/2017 at 18:22:35
Good to see Koeman linked to Holland job. Be ironic if instead of us sacking him and paying him compo, the Dutch were to poach him and compensate us!
Oliver Brunel
40
Posted 11/10/2017 at 18:25:54
Glorious, Martin. And then we use the compo to get Emre in…...
John G Davies
41
Posted 11/10/2017 at 18:33:38
Oliver.
More chance of you and Steve getting the job than Emre.
Martin Nicholls
42
Posted 11/10/2017 at 18:40:35
I would love Emery Oliver but unfortunately I think John's right!
Mark Morrissey
43
Posted 11/10/2017 at 18:52:38
If the Dutch national side want him, I'll take him there myself on my barge and give him a mogger the rest of the way... and I'll do it in clogs!
That's not racist, it's just slightly amusing... I said 'slightly.'
Barry Thompson
44
Posted 11/10/2017 at 18:56:01
Give Holland a BOGOF deal. 2 Koeman's for the price of one, but don't let on that they are both shit.
Oliver Brunel
45
Posted 11/10/2017 at 19:04:15
'Koeman & De Boer' The Dream Ticket. The Belgians took Tin Tin Martinez from us so the Dutch might take this pair of clogs...
Colin Glassar
46
Posted 11/10/2017 at 19:07:54
The club is soft from top to bottom. We've been a rudderless ship for decades now and I really don't see any real signs of change.
Today's modern footballers are a bunch of selfie-mad, social media obsessed softies. They wouldn't know balls, or leadership, if it hit them in the face. I love the game but hate (most of) the players.
I wish we had real men like Reid, Lockhead, Jack Charlton, Norman Hunter etc playing the game again and not overpaid ponces like Pogba.
Oliver Brunel
47
Posted 11/10/2017 at 19:15:58
I have always been for foreign managers. But now I'm not sure. I really feel we need to play some keen youngsters (more scouse the merrier) and an Everton man in as manager.
I like Bielsa but if he has no English, as I've heard, then it would be problematic.
Jeff Spiers
48
Posted 11/10/2017 at 19:17:06
Len Hawkins. You are right. Money is everything to this lot, unfortunately playing for and managing EFC means a lot less.
Tony Abrahams
49
Posted 11/10/2017 at 19:23:40
Jay @31, unfortunately for us blues, that first paragraph is the absolute fact of the matter.
Oliver Brunel
50
Posted 11/10/2017 at 19:26:49
BTW what does Duncan Ferguson do at the club? He hasn't inspired any passionate performances and there's no strikers to train...
Jack Convery
51
Posted 11/10/2017 at 19:27:38
I love Reidy – he was all EFC despite once being a Red. However he's selling a book hence his pronouncement about the state of the blues – he never to my knowledge said anything like this about Martinez's team.
He's right, of course, we do lack fight but we are a divided club as I've written before. Kenwright's mob versus the rest. I feel sorry for the new guys who have walked into this mess.
Sigurdsson must be thinking f n hell, I thought Swansea were in a mess til I came here. Until Kenwright goes there will be no peace at Everton FC and as a consequence the team / fans will suffer.
Not buying a Centre Forward was in my opinion a dereliction of duty by Walsh and the board. I reckon Koeman knew it was coming and pissed off to play golf, so he had a good alibi. Walsh and Kenwright are responsible – no-one else. Koeman looks like an artist who's been asked to paint St Peters but hasn't been supplied with a brush. Plenty of great paint though.
Eric Paul
52
Posted 11/10/2017 at 19:49:26
Oliver @36
It's not that easy it's a lifetime addiction that you can't escape, it's with you 24/7 and that's the way I like it. Koeman's just passing through... like the rest of them.
Roger Helm
53
Posted 11/10/2017 at 20:20:43
Reid was a warrior of a type you don't see these days, mainly because they would get a red card every other time they played.
Ask Bryan Marwood of Sheffield Wednesday, who suffered fearsome retribution at the hands or rather the lower limbs of Reidy after he crocked Adrian Heath. Available on YouTube. Those were the days!
Andy Crooks
54
Posted 11/10/2017 at 20:45:28
Phil (#12), a cracking post.
I will have the maximum bet I can afford on us to beat Brighton. I think it is money for old rope. We have better players, fate suggests it. I rarely back us; never back against us, but, by fuck, I took a loss last week. I want it back.
Christy Ring
55
Posted 11/10/2017 at 20:48:14
Jack @51
Koeman was as much at fault as Walsh and Kewright. Sigurdsson was his No 1 choice and Klaassen.
Reid might be selling his book, which I'm looking forward to reading, but he's 100% correct, a striker to replace Lukaku, should have been his top priority – not £45m on a No 10.
What would we give for two wide players like Sheedy and Steven!
Bobby Mallon
56
Posted 11/10/2017 at 21:11:29
Here's a thought. Now that Holland have not made the World Cup, could it be in Everton's and the Dutch national side's interests to let Koeman leave us without the sack and not paying him a load of dosh, paving the way for Unsworth to move on up?
Minik Hansen
57
Posted 11/10/2017 at 21:42:19
Worst moment? No. I've seen worse during Moyes's and Martinez's time, impatience got short memory. I believe more in this team than the recent pre-Lukaku squad. COYB!!! Roll up your sleeves!!!!
David Johnson
58
Posted 11/10/2017 at 22:44:25
When Moshiri came in, like most blues, I was chuffed but alarm bells went off as soon as I heard that Billy Liar was staying in place.
I decided to give Moshiri until the end of this window to show his metal. It is all bollocks and Moshiri is the new Philip Green. Kenwright has presided over transfer fiasco after transfer fiasco – nothing has changed.
Koeman has been fed a load of bollocks like the rest of us. Kenwright out. Everton fans are a load of wankers for putting up with it the kopiites would have run him out of town years ago. We were fucking massive when I was a kid; now we're fuck-all – run by a Tranmere-level chairman.
Ian Jones
59
Posted 11/10/2017 at 22:53:27
Thanks, David. I am an Everton fan but not the type you describe.
Colin Glassar
60
Posted 11/10/2017 at 22:55:02
I completely agree, David. Until I see the back of Billy Bollocks, I won't believe in any "project" that comes out of Everton. "Pure bullshit" is our new motto.
Harvey Miller
62
Posted 11/10/2017 at 22:58:06
They blew it by choosing too few targets and haggling with them too long. The only right way is put a really good offer and if it does not happen , back off and go to the next target. It could be that Koeman did not have enough to say about the targets.
Every reasonable man and his even more cultured dog knew that Monsieur Giroud would only come to Everton if we would offer a fee so vast that they could not refuse. After that they would have forced him to leave for us. But when you haggle you get beaten.
I can't believe that now there's talk about Bas Dost, he was the best option we had in the window. Now it's a different story, Sporting will never release him in January except for some really silly money (£60-70m.)
Hell, half of us ( me included) knew that he was an option and I think £40m would have been enough considering they got him for £12m. Clearly at the time he was not suited to our collection of small, slow, I-only-play #10 kind of players.
I think somebody in our board (Bill?) still thought he still is a world class striker. Well, a big mistake. Even if he was, we still would have needed the target man.
David Johnson
63
Posted 11/10/2017 at 23:02:09
Sandro and Rooney as replacements for Lukaku is pure Kenwright. Up there with the rest of his claptrap. A fuckin cheapskate who should have no place in Premier League football.
Eddie Dunn
64
Posted 11/10/2017 at 23:13:43
Will Mabon, you wondered where the money goes, lots of it goes on wages, particularly on the manager and certain players.
Incidentally, has anyone got a clue what wages Sigurdsson or Rooney are on?
David Johnson
65
Posted 11/10/2017 at 23:20:44
Have you factored in the new TV deal, Eddie, and the fact that they thought they'd offloaded Barkley and Niasse. Sandro for £5M and Rooney on a free says it all. Maybe the Mancs will give us Lukaku back when they've finished with him and maybe some of us will be grateful.
Neil Copeland
66
Posted 11/10/2017 at 23:49:52
I think for Ronald to survive he has to adopt a nothing-to-lose approach for the next 4 games (assuming he lasts that long). I would like to see him pick the following team and barring injuries or suspensions stick to it to give some chance of gellingZ:
Pickford
Kenny, Keane, Jagielka, Baines
Gueye, Davies
Sigurdsson
Lookman, Calvert-Lewin, Vlasic
Subs to include; Rooney, Sandro, Niasse, Mirallas, Schneiderlin
IMO this team would beat Brighton and Leicester and at least run Arsenal and Lyon close. Unfortunately, I don't think he will... so expect to see a back 3 against Brighton again which I think will see us lose. However, if that results in a change, then so be it.
William Cartwright
67
Posted 12/10/2017 at 03:25:14
I am a semi-retired architect so I sense the visual aspects of life interest me more than most.
Seeing Ronald in a recent Echo picture, standing alongside his big shiny Mercedes, adjusting his tie, wearing a grey suit and greenish beige matching set of belt and velcro-patch strap (casual?) shoes just about sums it up for me. If he can't see what is in the mirror in front of him in a morning, what the fuck can he see wrong on a green pitch at 3:00 pm?
Bring back Bobby Brown shoes, I say... !!!
Andy Meighan
68
Posted 12/10/2017 at 05:17:32
I can't believe no-one has cottoned on to the fact that we're struggling. Genetics.
Will Mabon
69
Posted 12/10/2017 at 06:13:56
William, I don't have the world's best colour vision, but is there such a colour as greenish beige?
Will Mabon
70
Posted 12/10/2017 at 06:20:28
Eddie, wages and other costs are present anyway, even though the wage bill has risen lately. There has effectively been little to no extra money spent on transfers.
Rooney I think is on £140k per week, and Sigurdsson on £120k.
Phil (Kelsall) Roberts
71
Posted 12/10/2017 at 11:09:37
I love the comment above that Sandro at £5m says it all.
The guy had a £5m release clause having scored a shed full of goals in La Liga for Malaga.
So he is no good because he only cost £5m as opposed to he was good because he scored 14 goals in 30 games last season.
Pity we have such a lousy right back. You know the one recovering from a double break in his leg. Must be lousy because he only cost £60k.
Facts adjusted to meet agenda.
Tony Everan
72
Posted 12/10/2017 at 12:00:37
Sandro will develop into a smart player, probably when he is about 25 and playing for Villarreal.
John G Davies
73
Posted 12/10/2017 at 12:16:44
That's another one fucked. And all on the evidence of less than half-a-dozen games.
Tom Bowers
74
Posted 12/10/2017 at 13:35:19
Peter Reid was the epitome of everything most of this team is lacking at present, the desire to give it everything and show some heart, but I suspect the team is playing under a cloud that Koeman has created. It's hard to see when this will end.
Even Rooney, who we know has some fire in his belly has been strangely subdued. I would have expected things to be different given that they have Big Dunc. backing up Koeman.
If the malaise continues at Brighton then I see the changes being made. Koeman isn't worried as he will get a good pay-off if he is relieved of his job – as most managers with big contracts do when they fail early.
Rick Tarleton
75
Posted 12/10/2017 at 14:04:51
Given the right encouragement, Tom Davies could become a modern Peter Reid. However, given the present manager and tactics, he'll need to move club to do so. Just as Barkley will do, because of Koeman's inability to handle local talent.
Gerard McKean
76
Posted 12/10/2017 at 14:58:26
Rick (#75): agreed.
Dave (#23): agreed, I'd rather listen to Neville Southall, Kevin Ratcliffe, Peter Reid and Pat van den Hauwe all day. Unfortunately honesty is not valued in the corridors of power at Goodison, which is why some former players toe the party line when they see Derek Mountfield becoming "uninvited" when he risks telling home truths.
Steve (#32): I take it you don't rate Leon Osman then? Let me give you my reasons why I think he would be a good choice to serve the club in some form of administrative role;
He is articulate. He has opinions that he is prepared to discuss and defend. He is intelligent.
He is resilient; it took him a very long time to make it at Everton but he went out on loan spells and never gave up the desire and hope to play for his own club.
He knows how much Everton means to its supporters and understands how to respect their loyalty. As Chief Steward at Everton, I witnessed several occasions when the player the lounge guests had voted as Man of the Match simply (in some cases) could not be bothered to visit the lounges post-match to say a few words of thanks and sign lots of autographs. The go-to man was always Osman who was always ready to go along in the other guy's place, apologise that the official Man of the Match had had to go urgently, and then give people freely of his time.
So yes, I could see Leon Osman developing into just the kind of person who could be involved in running the club. He has the character.
Geoff Evans
77
Posted 12/10/2017 at 17:05:14
There's no guts or passion in the club, a bunch of mercenaries from the manager down. Going through the motions and counting their money. Gutless shite!
Jamie Evans
78
Posted 12/10/2017 at 17:53:31
My priority during the last transfer window personally was a new keeper.
Ian Hollingworth
79
Posted 12/10/2017 at 19:56:44
So many posters spot on that – until we rid ourselves of Boys Pen Billy – then nothing will really change.
Moshiri was brought in for his business acumen and contacts but I would guess that he is advised on all things football by the greatest ever Evertonian The same man who as Chairman has presided over a pretty miserable time for our great club and has masterminded its demise. Well done, Bill.
Laurie Hartley
80
Posted 13/10/2017 at 09:08:45
Gerard (#76) – top post and finished with a comment that caught my immediate attention :
"He has the character"
That is exactly what we need heaps of.
Laurie Hartley
81
Posted 13/10/2017 at 09:52:59
Speaking of character and depth of desire, here is a quote from Tim Cahill after his latest escapades for Australia:

"I knew I was going to score," Cahill said of the winner. "You've got to write your own script. I said to Tommy Rogic if you don't take your moment then I'm going to take it.
"For me, I'm just glad the boss gave me the opportunity and believed in me to leave me out there [for the whole match]. It's a responsibility when I play. This is my passion. I will run to the end for this manager and these players."
Vintage Cahill.
Tim Cahill's two goals against Syria
Tru Blue in many ways our Tim.
Laurie Hartley
82
Posted 13/10/2017 at 10:25:54
I think I have found our target man and new number 9 for January: Omar Al-Soma – 6'-3" and a bit; 14st 6lbs. He is the guy who scored Syria's goal (above) as well as hitting the post from a set-piece near the end.
Al-Soma plays his club football in Saudi Arabia and has began the season in his usual blistering form with a goal-to-game ratio. In total, he's scored 111 goals in 109 games for Al Ahli, earning the nickname "Colonel" to most and "The Arabian Zlatan" to his biggest admirers for his flamboyant style of play.

He is deadly from set pieces, strong in the air, quick with with his feet, clinical in front of goal and lethal at striking from distance making him one of the most complete centre-forwards in the Middle East.
Here he is in action: Link
Gis a job, Steve.
John Pierce
83
Posted 13/10/2017 at 15:20:53
A fella who won everything with Everton can say what he wants when he wants. He has the medals to back it up.
Couldn't care less if it was complete gibberish, or in this case if he's advertising his book, he gave me times I can only dream about now.
But to his point, are Everton too nice? To be fair Koeman has said that since he started. But Koeman means aggression in pressing and intent, not Reidy's version of it. The pressing vanished after game 2,18 months ago.
The team as is oft repeated, is a reflection of the manager's image. And Everton are that, but I must state Koeman the manager, not the player.
Passive, mechanical and expressionless. Perhaps if that desire was to come from the man himself rather than just expecting it from the players we might be in a different situation?
As such the team that everyone 'thinks' is not playing for the manager are actually, in fact, his mirror image.
Kevin Tully
84
Posted 13/10/2017 at 15:27:03
I've just watched the pre-Brighton presser. Koeman looks shaken to me. The air of arrogance (or confidence, if you want) and the little smirks have definitely vanished.
Looks like a man resigned to his fate. He knows he's lost the players, you can see it in his wallet.
Tony Marsh
85
Posted 13/10/2017 at 15:54:05
John @ 83,
You are right, mate, a team does or should reflect on its manager. That is why under Moyes we were a dull, boring, negative, cowardly football team. Like Moyes, the team then had no killer instinct or desire to take on the so-called bigger sides. We were trapped in our managers persona.
Fast-forward to present day – we are going through a similar story to the Moyes era with Koeman. Ronald has all the worst traits of Deadly Davey but with Dutch arrogance rather than Scottish Grimness.
Like the Moyes era became to much to bare for fans , Ronald Koeman is treading the same path. Once far enough down that path, there is no turning back. Koeman is already finished at Everton – it's just the fact that the bosses here don't see it...
Let's see how Moshiri and Bungalow Bill feel once we lose at Brighton then Lyon on Thursday. Surely then the axe will fall??
Dave Abrahams
86
Posted 13/10/2017 at 16:03:32
Kevin (#84), I really don't think he has got much longer. He was described as 'unapproachable' by one of the current players to my grandson only yesterday.
John G Davies
87
Posted 13/10/2017 at 16:55:00
Tony (#85),
The way we are playing, we should get Katie Price as manager. She did a good job in the charity game. And if we are looking at the team reflecting the manager....
Phil Walling
88
Posted 13/10/2017 at 16:58:40
Ian Hollingworth @ 79,
I think, in all truth, that Kenwright played little part in the appointments of either Koeman or Walsh. Didn't he say at the time that he needed some convincing of the structure Moshiri wanted to establish 'but had come to accept it as the way forward?'
I'm sure that, like so many on here, he would be much more comfortable with the likes of Unsey, Fergie or Joe Royle in charge and would walk all the way to Scotland to get Moyes back at the helm!
Tony Everan
89
Posted 13/10/2017 at 17:10:31
The next three matches in 8 days are massive for Koeman. He has to prove he can set up a balanced side, even if it means leaving his own signings out. Most of al,l he has to instil the fighting passion that Peter talks about.
With an organised team and that passion we should be beating Brighton. Make no mistake Brighton will be up for the fight and are confident at home. Koeman has to get the lads fired up and 100% ready.
If we get to the home game a week on Sunday in the same turgid malaise as before the break, the atmosphere will be toxic. Sanchez will probably have a field day against Williams and Giroud will rub salt into Koeman's wounds. It could be the point of no return.
I may be starting to sound insane, but I am still willing him to turn it around and get stuck in to the job.
Ronald should realise he's got one of the very best jobs in football. He should embrace it with his heart and soul before it is too late. If he stays passionless and passive, the opportunity will pass him by. Glorious days in his future will evaporate.
Kevin Tully
90
Posted 13/10/2017 at 17:28:43
Dave (#86) – I don't think the current crop have taken to him, and the new players have come in and sensed something isn't right. I don't think they've found a club with a great team spirit, and it shows.
Either that, or Lukaku had carried this side much more than we ever thought.
Whatever the cause, we have to change the current approach, because this isn't going to all of a sudden click into place. Poor defence, muddled midfield and no striker isn't going to get us out of this shitstorm.
Raymond Fox
91
Posted 13/10/2017 at 19:59:33
Koeman is paid £120,000 per week – barmy or what! I'm struggling to think of anything he has/is doing well, the players seem devoid of confidence and method in their play. If they showed some enthusiasm and fight it would help.
As it is, where we go from here is any ones guess, cant say I'm hopeful.
While I'm talking about wages, players these days are also paid scandalously high amounts for the shite most of them produce.
Kim Vivian
92
Posted 13/10/2017 at 20:01:14
Dave, sorry mate – been away (watching Facebook!). No – I don't think so. But we are winning 2-0. Playing a good game. Organised. Goals from Sambou (tap-in after a save from their goalkeeper) and a 30-yard free kick from Garbutt (very Bainesy-like!).
I'll try to keep you updated.
Kim Vivian
93
Posted 13/10/2017 at 20:19:03
3-0. Henen
We are making Man City look pretty pedestrian. The respective difference between these and each team's first squad is quite contrasting. The Man City teams seem a galaxy apart whereas our U23s look like they could give the first squad a game.
James McPherson
95
Posted 13/10/2017 at 20:36:10
Terrific performance!
George Cumiskey
96
Posted 13/10/2017 at 21:20:44
Just bumped into Mike Bassett in Farm Foods. He said he's willing to come out of retirement to get the Blues out of this mess!
Tony Everan
97
Posted 13/10/2017 at 21:28:26
Koeman shops in Iceland.
Brian Porter
98
Posted 14/10/2017 at 07:15:00
I'm afraid I've reached a point where I think that we can sit here till the moon turns blue, extrapolating on the team we would like to see starting games, or talking about passion and motivation, but unless the manager feels the passion and motivation, we are truly wasting our time and effort.
Koeman shows no sign of passion for Everton and likewise seems to have little in the way of personal motivation, his job safe no matter what, in his mind, and therefore he will continue to pick 'his' team and have them play his way until the relegation issue becomes a reality.
With a passionless manager at the helm, how can we expect the players to go out there and play with passion? Every time I see a Koeman team start a game now, I see a set of individuals who appear to lack motivation, confidence and yes, that word, passion.
Koeman's brand of man-management stinks, hence the Barkley fiasco and the long protracted humiliation of Oumar Niasse. He is mechanical and methodical and devoid of the spark that a man with a true winning personality is able to communicate, and pass on to those who work under his management. His managerial style is outdated and outmoded and he lacks the ability to make the changes we need to turn our season round.
I know I'm harping on about it, but this has been symptomatic of nearly all Koeman's previous managerial appointments. Some say that the past doesn't matter, but I strongly believe it does. It matters in so much as Koeman appears to have learned nothing from the jobs where he was sacked or, as they politely put it, relieved of his role,) Valence, Benfica, AZ Alkmar etc). If he had learned from those sackings then it wouldn't matter as he could truthfully say he'd learned from the errors he made in his early career.
Instead, he is doing the self-same things in terms of his relationships with the players, playing style and refusal to make changes when his tactics clearly aren't working. That, to me, simply betrays his innate arrogance and failure to accept that he may not always be right.
We can do nothing to change his mind on team affairs and the only way Moshiri, Kenwright et al will catch on is if attendances fall away, as poor results continue.
The fact that Sky have failed to take up their option to screen the Brighton game tomorrow, instead deciding to show a bloody Championship game instead, shows how unattractive we are in terms of a TV Viewing Audience and will have a negative financial impact on our revenue. Perhaps a few more financial hits like this will make them see just how far down Koeman is dragging us.
Something needs to happen soon. Koeman has to go. We are doomed if he stays.
John G Davies
99
Posted 14/10/2017 at 07:24:46
Brian,
Do you reckon the lad at the top of the column might have ever thought to himself.

"This manager shows no passion. I don't like this manager, so I am not trying today"
Brian Murray
100
Posted 14/10/2017 at 07:39:03
Tony Everan (#89). Like many on here, I don't believe Koeman has it in him to be a winner at Everton. I wanted that ginger loser gone a long time ago; same with Bobby Brown Shoes. Unfortunately, we have to get beat and beat again, I hope, so Rhino can take his bow.
Whether that works, we have to find out now – not when Chelsea have dumped us out the League Cup and we've suffered another derby humiliation against them World beaters, albeit twice a season. Please please, Moshiri, listen and man-up and think of my kids... lol!
Darren Hind
101
Posted 14/10/2017 at 08:21:14
Is right, Brian.
By repeatedly dropping Davies, repeatedly ignoring Kenny, using tactics which confine Baines to barracks and ostracising Barkley, this man has chosen to go with the expensive foreign flops he has signed. If he doesn't care enough, why should they?
Win or lose, it's pay-day for all of them.

Dave Abrahams
102
Posted 14/10/2017 at 09:05:15
Kim (#92), I know it was last night but thanks for trying and for the update, you did your best.
Alasdair Mackay
103
Posted 17/10/2017 at 13:07:17
Koeman's rhetoric of "We didn't replace Lukaku" might have a route of truth, but It's yet another excuse.
We have England's all-time record goalscorer and a young lad who just scored the winner in a U20 World Cup Final. Plus a truck-load of goalscoring midfielders.
He just lines up excuses and fires them out. The whole of last season, he told us we weren't good enough, that Barkely wasn't good enough, that we should be delighted with 7th place.
Well, Ronald, Martinez got us 5th place in his first season, a deep run in Europe the second season, and the FA Cup Semi-final in his last. And he was, by no-means, a genius.
Stop making excuses and go, Ronald. Those of us that love the club want progress.
Add Your Comments
In order to post a comment, you need to be logged in as a registered user of the site.
Or Sign up as a ToffeeWeb Member — it's free, takes just a few minutes and will allow you to post your comments on articles and Talking Points submissions across the site.