Yannick Bolasie set to restart training
Sunday 12 November 2017

57 Comments [Jump to last]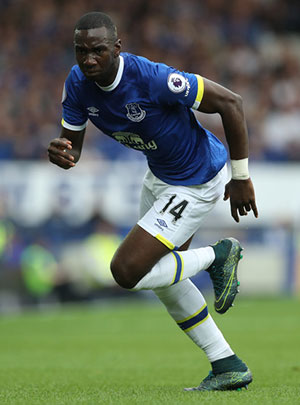 Everton are set to be boosted by the long-awaited return of Yannick Bolasie to training with the first team at Finch Farm.
The Congolese winger has been sidelined for almost a year after rupturing his cruciate knee ligament, an injury that required successive surgeries to repair the damage.
Bolasie, who posted images of him resuming light training at Finch Farm a few weeks ago, is now set to rejoin his team-mates in the first team tomorrow but he still does not have a set date for when he can return to competitive action.
"I haven't set a date yet for that return. I can't really say right now," Bolasie told Sky Sports News.
"I'm back in on Monday at Everton. I'm probably going to be integrated with the team then, but comeback I don't know.
"I want to make sure I'm feeling good. It's not just my name on my shirt on the pitch; I want to make sure it's me."
Bolasie was signed for £28m from Crystal Palace last year but made just 15 appearances before he was struck down the injury.
---
Reader Comments (57)
Note: the following content is not moderated or vetted by the site owners at the time of submission. Comments are the responsibility of the poster. Disclaimer
Roger Helm
1
Posted 12/11/2017 at 16:40:43
Great news – we need his pace and power. Just hope he has not lost too much to his injury. The sooner we get our injured first-teamers back the better.
Mike Berry
2
Posted 12/11/2017 at 16:42:28
Great news for him and us. Any news about Coleman?
Tony Hill
3
Posted 12/11/2017 at 16:44:04
Very good news. I don't think we'll see him in any sort of serious action for a few months but he might be able to contribute at a significant time of the season. Easy does it.
Ajay Gopal
4
Posted 12/11/2017 at 16:52:32
I hope he is fully recovered – fingers crossed. These injuries have a nasty habit of kicking back just when you think everything is fine. Funes Mori was getting ready to train in pre-season when he had a setback to his knee. Good luck to Yannick.
Tony Marsh
5
Posted 12/11/2017 at 16:55:41
Never really thought about it before but we have half a decent side out injured: Coleman, Bolasie, McCarthy; Funes Mori, Barkley... plus a few decent lads out on loan or ineligible. Need them all back – especially McDowell. Pennington can stay at Leeds Utd if they want him: he's not progressing at all.
Mike Gaynes
6
Posted 12/11/2017 at 16:57:11
Welcome back, mate! We're all looking forward to seeing you rampaging up the wing again in the New Year.
Andy Crooks
7
Posted 12/11/2017 at 17:08:26
Tony, what news of Pennington at Leeds? If you have been following his progress could you give us an update on how he has played, what the Leeds fans think of him etc?
Mike Gaynes
8
Posted 12/11/2017 at 17:19:36
Tony, if you truly "never really thought about it before", you're probably the only one here!
Regarding Pennington, he was out for two months with an ankle injury and has reported struggled a bit since his return. I haven't seen him but the press gave him high marks for his performance against Bristol two weeks ago. http://www.hitc.com/en-gb/2017/10/23/leeds-defender-matthew-pennington-came-of-age-against-bristol-ci/
And multiple press outlets have reported we cannot bring back Dowell this season, that his loan deal commits him to Forest through May.
Andrew McLean
9
Posted 12/11/2017 at 18:04:08
A friend of mine saw him in the streets of Ikenham the other week, high fiving a lot of kids, smiling and in high spirits walking with his leg still bandaged. Looking forward to his return.
Brent Stephens
10
Posted 12/11/2017 at 18:10:07
Yes, clearly Dowell on a season-long loan - I'd love to see him back sooner, though. He looks lazy at times in U23s but just his style I think.
Mike Hughes
11
Posted 12/11/2017 at 18:39:06
Glad he is on the way back.
But who will he cross the ball to in the box?

Christy Ring
12
Posted 12/11/2017 at 18:58:09
Hope he has no setbacks, will be a huge addition, and hopefully McCarthy, Barkley and Coleman not far away either. All 4 would make a huge a difference to the first 11.
Denis Richardson
13
Posted 12/11/2017 at 19:00:24
Good news on the face of it but realistically neither Bolasie nor Coleman were going to be kicking a ball in anger before 2018.
Fingers crossed both players make a 100% recovery but we've got a load of games before they'll be in any match day squad.
Shame as the dead rubber Europa League games would have been a good chance for a run out without going at 100%.
Bill Gienapp
14
Posted 12/11/2017 at 19:04:23
I'm glad he's dispensed with that early talk of trying to "beat the timetable." Appreciate the positive attitude, but no sense trying to rush back onto the pitch and risking re-injury. Just focus on getting 100% fit.
Minik Hansen
15
Posted 12/11/2017 at 19:17:03
Thank God we can wait a bit more while we're having a little revival here. Koeman would've probably been desperate to bring any of them back, but a new spirit makes it easier to ease it in. We need to see more of Vlasic and Mirallas on the flanks before Bolasie coming back. Interesting times of what's gonna happen manager-wise.
Colin Malone
16
Posted 12/11/2017 at 19:24:54
Nikola Vlasic or Bolasie? Vlasic any day. What has Vlasic done wrong? He doesn't like sleep-overs.
Jason Wilkinson
17
Posted 12/11/2017 at 19:33:25
I don't recall Yannick playing centre forward for us or being that prolific in front of goal. He has pace and can cross a ball. Who is going to be there to nod them in?
It is a positive having the injured lads back but we still need to address the elephant in the room of no centre-forward.
Brian Williams
18
Posted 12/11/2017 at 19:41:58
I think, given the chance and the right support, Calvert-Lewin will do okay for us. Obviously he's not the answer yet but, given the right service, he'll score some for us.
Minik Hansen
19
Posted 12/11/2017 at 19:50:13
Jason (#17), I think Bolasie will adapt just fine to the current team up front. With elevated motivation in him in mind and that it seems he can get along with pretty much anyone, he will have a good time attacking opposition with help around him.
Sam Hoare
20
Posted 12/11/2017 at 20:05:17
Because I'm bored, I have done our injured / on-loan XI:
Robles (let's pretend he's injured!)
Coleman, Pennington, Funes Mori, Browning, Galloway
McCarthy, Barkley
Dowell
Bolasie, Onyekuru
Subs: Walsh, Robinson, Grant, Martina, Williams, Connolly
Given the amount of defenders, I opted for 5 at the back with Seamus and Galloway as wing backs. Unconventional forwards but I'd back them to cause a nuisance and get a few goals. Any glaring omissions?
Sam Hoare
21
Posted 12/11/2017 at 20:06:22
Pretty decent team, I meant to add!
Tony Cheek
22
Posted 12/11/2017 at 20:52:22
Reminds me of the old joke of the man who broke his fingers and asked the doctor if he will be able to play the piano when they mend. The doctor says "of course you will"... to which the patient replies "strange, I couldn't play it before".
Bolasie: " Doc, will I be able to cross a ball properly when I recover"?............
Paul Kossoff
23
Posted 12/11/2017 at 20:56:15
Tony 5, true, take four or five players from any side, even a top six and you would see the difference. Excuse the saying, but with the injuries we have we were hamstrung from the start!
Brent Stephens
24
Posted 12/11/2017 at 21:03:30
Tony Cheek, very good!
Tony Marsh
25
Posted 12/11/2017 at 21:17:41
Andy @ 7,
My brother-in-law is a Leeds supporter, he goes the games. He says Pennington is struggling there. Had a terrible game against Sheffield Utd which Utd won. Leeds fans not fussed on him. I watched the Sheffield Utd game; Pennington was as all over the place.
Eric Paul
26
Posted 12/11/2017 at 21:44:06
As I recall it Bolasie wasn't a crowd favourite before his injury but now he is a returning saviour, how does that work.i wasn't a big fan but I wish him all the best and hope he hits the hallowed turf running
Kim Vivian
27
Posted 12/11/2017 at 21:49:00
Eric - 26. I'm with you there. Was thinking the same. Likewise wishing him well although not expecting miracles on the pitch.
Mark Riding
28
Posted 12/11/2017 at 22:11:00
Eric #26. He was playing crap. Yet another player who has become far more important to the team in certain fans minds whilst he's been injured. Besic, Funes Mori etc..
Tom Bowers
29
Posted 12/11/2017 at 22:15:43
The way I see it is Bolasie is a top player and did well alongside Rom. Everton have offence problems and I am sure when back to match fitness he will be a positive influence in that department.
Sometimes players are never the same after long layoffs but if this guy becomes available again along with Seamus, Funes Mori and Macca then Everton will be all the better for it come the new year all being well.
Funes Mori has had his critics but I don't think Jags. or Williams are as commanding aerially as Funes Mori and are not what I want to see next season.
In fact I would want to see another class attacker added in January as well as another commanding centre back.
Mick Hanlon
31
Posted 12/11/2017 at 22:29:32
Have it from a youth player at Everton that Dowell is the most skilful player at the club but mentally is not the most focused. Contrast that to Davies who he says is rock solid mentally and will be a success.
Hopefully the Championship and Forest can bring the focus.
Chris Bentham
33
Posted 12/11/2017 at 23:07:52
Could our team in 2 years be:
Pickford
Kenny Keane Pennington Robinson
Beningime Davies
Dowell Walsh Lookman
Calvert-Lewin
We've got a great opportunity to blood these guys. Keep ya money –we'll grow our own.

Paul Holmes
34
Posted 12/11/2017 at 23:32:29
With the World Cup next year, they all want to be back sooner rather than later!
Mike Gaynes
35
Posted 12/11/2017 at 23:53:26
Nah, he wasn't "playing crap"... nor is he a "top player"... but he'll bring pace back into a side that desperately needs it.
Don Alexander
36
Posted 13/11/2017 at 01:32:10
Paul @ #34 says, "With the world cup next year they all want to be back sooner rather than later!"
Hmmm?
Bolasie might, repeat might, well do so but others in the squad, "seniors" all, make me wonder if that's the truth or whether they're all just happy to be delivering the bare minimum.
And, as far as Bolasie's concerned, has he got any further interest in the club now that his bestest immobile mate has buggered off to a way better pay-check from a team for whom, right now, he's hit a barren spell whilst blaming his team-mates for their shortcomings for the reason for that?
Hmmm? Again.
Nitesh Kanchan
37
Posted 13/11/2017 at 05:13:42
#Chris, add Onyekuru and Vlasic to that list and Niasse as the manager.
Bill Gienapp
38
Posted 13/11/2017 at 05:18:18
I don't think anyone's claiming Bolasie's world class... just that he happens to supply exactly the sort of skill set this squad could desperately use right now - pace, power, width, etc...
Also, for those claiming he was "crap" last season, he can certainly be inconsistent, but he was offering a heck of a lot more than Deulofeu or Mirallas or any of these guys who have basically been deified for falling out of favor with Koeman.
David Ellis
39
Posted 13/11/2017 at 06:19:09
If he's back to full health he is certainly the answer to one of our forward positions and better than our other options on the flanks. So he could make a vital difference over the second half of the season.
Matthew Workman
40
Posted 13/11/2017 at 08:11:18
A number of comments state who is going to get on the end of Bolasie's crosses? Well, last time I looked, we had 3 strikers in our squad, two of which Niasse & Calvert-Lewin are more than comfortable heading a ball. Sandro is yet to prove himself in that department.
I think the point people are missing is that Yannick offers us intricacy, pace, skill and the ability to go past a man. If he occupies one wing and we have Vlasic who can do the same on the other wing, then we will be giving defenders a lot to think about which naturally creates space in the centre of the park where our strikers & (supposed) goal scoring midfielders such as Rooney, Sigurdsson, Klaassen & Barkley can exploit to there benefit.
For me, gun to my head and all players fully fit would line up:
Pickford
Coleman, Keane, Funes Mori, Baines;
Gana;
Bolasie, Barkley, Lookman/Vlasic;
Niasse, Calvert-Lewin
I reckon that team would be challenging the top 8 easily and possibly the top 6. Switch out 2 strikers away from home and drop Morgan next to Gana and leave Oumar up top.
James Morgan
41
Posted 13/11/2017 at 09:17:10
Players are always better when they're out injured, but I do hope to see Bolasie back soon, his pace and ability to get up the pitch is badly needed.
John McGimpsey
42
Posted 13/11/2017 at 09:26:07
Maybe when he is back he can run down the wing instead of putting a foot on the ball and cutting inside...
Stats before he came, When he played and after injury would suggest we spunked £28 mill.
Steven Jones
43
Posted 13/11/2017 at 09:35:26
Issue with long term injured is that a secondary injury often follows like a hammy or groin as they are not fully fit and need 6 months before they get 360 fit - even when he is back playing.
We should not hold breath etc.
Eoin Whyte
44
Posted 13/11/2017 at 11:30:02
We could really do with Bolaise right now and I'm sure he's dying to get back playing! But hopefully all parties take their time with his rehabilitation. Terrible injury and the long term fitness of the player is more important than participation in what has turned out to be a dead season.
Robert Leigh
45
Posted 13/11/2017 at 11:47:02
Nice team, Chris (#33),
Though I'd swap Holgate in for Pennington, and Barkley in for Walsh...
Peter Gorman
46
Posted 13/11/2017 at 12:03:08
We need someone like Bolasie now, probably why Lookman is finally getting game time.
I really hope he retains his pace. That was a horrendous injury and Bolasie has been positive throughout the rehab process so I look forward to seeing him back.
Andy Crooks
47
Posted 13/11/2017 at 14:39:06
Thanks, Tony (#25). It's disappointing indeed. I think his confidence was shattered by his brief stint in the first team. He certainly lacked composure, but I hope that would come.
Tony Graham
48
Posted 13/11/2017 at 15:09:41
I don't think he'll make a great difference either way...
Don't kid yourselves... this season is going to be a struggle. We really are poor... will two or three signings in January be enough?
On the manager front, it's a poisoned chalice, so it's going to be David Unsworth then.
Get ready for the ride, it starts on Saturday with another loss at Palace.
Steve Ferns
49
Posted 13/11/2017 at 15:22:00
Don't be so pessimistic, Tony. We have only lost one player from last season's team. We can still put out last season's team, play the way we did, and without Lukaku we should still be the 7th or 8th best side in the country. To climb to 7th is not infeasible, particularly if we secure a top striker in January.
We just need to get players back from injury, like Coleman, Bolasie, Barkley, and Funes Mori, and then things will look very different. All these players are aged between 24 and 29, ie, in their peak years. How many in the side at the moment are in that age range? We're missing peak-age players and getting these guys back to their best will make a monumental difference.
Keep the faith, mate. For all you know, the Palace game could be win number 2 in the revival, and whilst Watford was about re-finding our ability to fight, maybe Palace will actually be a winning performance. For me, they're the worst team in the league and we should be able to show our class.
Of course, defeat and a poor performance and you can start with the doom and gloom. I can't see how we can lose myself. I think the tide has turned and the belief will be back and we will show this by steamrollering Palace and kicking on from there.
Nitesh Kanchan
50
Posted 13/11/2017 at 18:07:22
Steve, Crystal Palace is not the worst team right now. They are doing well actually. They defeated Chelsea and drew against West Ham at home after being 2-0 down and deserved a point at Spurs and Newcastle. Currently, the worst teams are West Brom and West Ham.
A point wouldn't be bad at all but a win would be great. It will be close game, 1-2 for me, COYB.
Ian Riley
51
Posted 13/11/2017 at 18:23:09
Welcome back!
Any news on the vacancy of manager? Who is sailing the ship? How long does it take to advertise, interview and appoint?
First thing to do when you have appointed a manager. Start looking for the next one. Success or failure managers move on.
Let's wait and see what happens but please get on with it.
Peter Fearon
52
Posted 13/11/2017 at 21:11:51
We do need pace power and guile. Whether we need Yannick Bolasie's pace, power and guile is another matter. He wasn't very effective prior to his injury when he had an accomplished striker to cross to. Frankly, I am much more interested in Ross Barkley's return than Bolasie's.
Paul Birmingham
53
Posted 13/11/2017 at 21:24:36
Hopefully all the long term injured players are back ASAP and fully fit and along with new players I hope all get a chance to play for the club on merit. Some players though as noted don't deserve to be here and should be shipped out but whom would take them remains to be seen.
Let's see who becomes the new manager, and his take will be on the squad.
Lee Brownlie
54
Posted 14/11/2017 at 04:30:57
Good thing is, when he comes back, is fully available 9and obviously that shouldn't be rushed despite our dodgy season) is he'll already know what's hoped of him, and he'll hopefully already be thinking just how he's going to have an effect on our play, meaning he should be well fired up to roar back, when ready,hopefully even better than before.
When first here, he showed the potential of what he can do, this time around both we, and he, will be hoping for so much more! Too much expectation, returning from such a big injury? Possibly, but I think this is a big, strong gifted athlete and footballer and, once100% physically right and sent out chomping at the bit to do his stuff, he will rise to just such a challenge!! Here's hoping on hope, anyway!! COYTs!!!
Justin Doone
55
Posted 14/11/2017 at 09:47:52
Great news. Back match fit in January and Seamus hopefully before March.
Hopefully will come back the same player and add much needed pace and width to the team.
He will help but isn't the answer. He's all about pace if that's gone then he's useless.
Being honest about him he doesn't have a football brain, is inconsistent and plays for himself, not the team.
He's more frustrating to watch than Lukaku and Delefou combined but when it clicks great to watch.
He brings something different to the team and that's what we sometimes need when chasing games.
Martin Nicholls
56
Posted 14/11/2017 at 14:14:12
Now being reported on OS that he's NOT yet ready to work with the first team squad!
Tony Lew
57
Posted 15/11/2017 at 14:09:57
Just when I thought this season couldn't get any worse.
Alasdair Mackay
58
Posted 15/11/2017 at 14:15:19
His injury last season was badly timed. He was just starting to settle into the team and club and put in some good performances.
Be good to have him back.
Tom Bowers
59
Posted 15/11/2017 at 15:03:05
Would have been nice to have had some players back for the Derby match next month especially Seamus.

Add Your Comments
In order to post a comment, you need to be logged in as a registered user of the site.
Or Sign up as a ToffeeWeb Member — it's free, takes just a few minutes and will allow you to post your comments on articles and Talking Points submissions across the site.