Watford not interested in approaches for Silva

319 Comments [Jump to last]
Tuesday 14 November 2017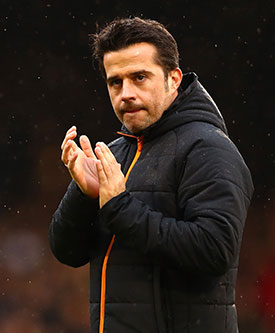 Watford have reportedly rejected an approach today from Everton for their manager, Marco Silva.
There has been plenty of noise around Silva being a good fit for the Blues as a permanent replacement for Ronald Koeman and after newspaper reports claimed yesterday that the Hornets have told them that they would not sanction any talks between the two parties, a spokesman has confirmed the "hands off" warning.
"We will not countenance an approach for our manager, either from Everton or indeed any other club, be it in the Premier League or abroad," the representative told Sky Sports on behalf of Watford.
Silva only joined Watford this year having been approached by the Hertfordshire club based on his close brush with success at keeping Hull City in the Premier League last season.
That hasn't prevented media talk linking the Portuguese with the Goodison post but there are conflicting reports over whether he would be interested in the role. The Times say Silva has informed the Blues that he is not interested in leaving Watford but The Independent's report suggests the opposite if a compensation package could be agreed.
There is no release clause in the 40-year-old's contract which would put the onus on Everton to come up with a big enough offer to persuade Watford to let him go.
As a result of the Hornets' stance, Sky Sports are reporting that the Blues have dropped their interest in Silva and have also seen the chances of Sam Allardyce taking charge until the end of the season recede.
They suggest that Allardyce is not sufficiently interested in a short-term role and that it would take a longer-term option to tempt out of retirement.
---
Reader Comments (319)
Note: the following content is not moderated or vetted by the site owners at the time of submission. Comments are the responsibility of the poster. Disclaimer
Oliver Brunel
1
Posted 13/11/2017 at 19:14:54
Yeah Bill nice one... sure. Thanks for another leak to Fleet St.
So we throw enquiries around willy-nilly to Simeone and Silva whilst The Emperor all along is planning on reeling in Jabba The Hutt.
Oscar Huglin
3
Posted 13/11/2017 at 19:59:13
So bloody cynical Oliver.
Gordon Roberts
4
Posted 13/11/2017 at 20:03:49
Jim White has just tweeted this info. Think Mr Moshiri is cultivating the already enhanced relationship with White, probably with a view to gate crashing the "Sky darlings".
Simon Dalzell
5
Posted 13/11/2017 at 20:07:43
This weekend's headlines: "Everton were so close to signing this manager before their 'relegation battle' defeat to Palace. He was in the building, but his Aunty's parrot talked him out of it."
Brian Williams
6
Posted 13/11/2017 at 20:13:39
Oliver, what's with your obsession with Star Wars? :-)
Chad Schofield
7
Posted 13/11/2017 at 20:15:51
Great, so we just look like ducks and Unsworth looks like a mug... And for what, the Portuguese Roberto? The failure of Hull and at Watford, aside from a home draw against Liverpool first game of the season... Well, not exactly much to get excited about.

Joe McMahon
8
Posted 13/11/2017 at 20:28:55
Chad Schofield - Beating Arsenal for a start a few weeks ago. Hull were doomed when he went there (January), another 3 games he may have kept them up. I think at Olympiacos he beat Aresnal in Champions League (may be wrong though). I'd take him in a heartbeat (but it's not up to me). Not sure why he'd leave Watford though, our squad is pretty dire and not replacing geriatric defenders and a prolific goalscorer (as we know) is shambolic. I'd take anyone with fresh ideas, and who would bring a professional coaching team, not the Ex Evertonians we have (Unsworth aside), they have been part of the decline.
Kunal Desai
9
Posted 13/11/2017 at 20:43:35
Not really a fan of this guy. Think Silva is just flavour of the month. He's lost the last two games on the spins to poor opposition, yes that is us in the present state. Any have decent manager does not oversee his team capitulate in 25 minutes to lose a game. Sorry he doesn't cut it for me. Wouldn't be surprised to see someone of his level at the club, people incharge don't think big, we are a small club going nowhere so we get what we deserve.

David Tennant
10
Posted 13/11/2017 at 20:49:34
I'd much rather have Dyche to be honest. his name is just not Latin enough to sound sexy.
Tony Hill
11
Posted 13/11/2017 at 21:44:32
If this has come through White then it is distinctly possible that Moshiri has fed the information. In any event, I think the continuing delay shows scant respect for Unsworth and cannot be doing a bundle for his confidence or his authority in motivating the players for another important game on Saturday.
It's the usual dog's dinner.
Chad Schofield
12
Posted 13/11/2017 at 21:48:57
Ok Joe, yes Arsenal result at home too. I'd rather see what the ex-Evertonian brigade can do before we kick them out. It might not work with them, and having a core around is likely to be difficult for any external manager to come in and properly give it a go. But, well didn't Koeman have 'fresh ideas' and Martinez before him have 'fresh ideas'.
Given Koeman's draw against Citeh, perhaps you're advocating he should have stayed... But then given Unsworth's just beaten Silva's Watford doesn't that mean anything?
Tony Twist
13
Posted 13/11/2017 at 21:59:41
It makes me shudder the way this club is listing, slowly trying to get a new manager. Who is deciding and are they really qualified to pick a suitable manager? Maybe it's just talk and Everton tomorrow will pull a rabbit out of a hat but the names mentioned are flavours of the month not managers who have proved their pedigree. Flavour of the month reeks of Mr Walsh's influence, maybe that's why he wasn't shown the door as Moshiri doesn't have a clue.
Tony Everan
14
Posted 13/11/2017 at 22:06:14
If we're offering to double his money and give him £200m to spend he may jump ship.
Watford getting haughty, as we would if Man City wanted to poach a decent manager of ours.
However, Watford do not treat their managers well. They chew them up and spit them out.
A bad spell at Watford and they chuck em on the scrap heap.
He may see Everton as an opportunity he can't pass by.

I think he would have to resign first .
Rick Pattinson
15
Posted 13/11/2017 at 22:09:14
The only Silva we need is David...
Neil Copeland
16
Posted 13/11/2017 at 22:24:32
I can't see us making any change until Christmas unless of course we have a terrible run of results before then. I think this is all media talk with no real foundation other than we will make an approach in the summer should Silva shine.
However, it is still possible of course that Unsworth really does well, we finish in the top half and win the FA Cup. I appreciate that seems a world away at the moment but if the confidence returns and we play a reasonably balanced and consistent line up then who knows. If Unsworth does well we may not need to look for anyone.
Assuming Unsworth is still in the job come January is he going to be given money to spend? I suppose the "safe" option for the club would be to entrust Steve Walsh with the kitty (with some input from Unsworth ).
I think the Palace game is equally as important as the Watford game, a win is a must to help build confidence further and get us on a roll. A defeat would be disastrous in my opinion as it will set us back lower than before the Watford game. It will also bring the managerial thing back into the mix big time. But hey, at least the talk of Jabbdyce seems to have cooled.
Rob Hooton
17
Posted 13/11/2017 at 22:28:12
Like Kunal I am not particularly enamoured by Silva and think he is the current 'flavour of the month'. Half a season with Hull and a dozen games at Watford with a sprinkling of good results mixed in with some dross. Could Unsworth be the next Guardiola, Mourinho or fella from the other side who all cut their teeth at the sharp end? Who knows but most of the managers in the league are over-hyped shite from the media and the club would probably be throwing good money after bad in my mind.
Just my ha'penny worth and probably wrong but hey ho COYB!
Phil Walling
18
Posted 13/11/2017 at 22:28:19
There will probably be a vacancy for an Academy Head / Under-23s coach when this saga is over.
Well played, Farhad – bleeding clueless!
Tom Bowers
19
Posted 13/11/2017 at 22:32:05
Not sure Silva would be the answer. Yes, he has made Watford a decent side so far this season but the Hornets still have some woeful deficiencies and as it stands at the moment I think Everton should stick with Unsy a little while longer.
If Coleman quits Wales then he may be a better option who may even have better communication with the players.
Don Alexander
20
Posted 13/11/2017 at 22:35:06
Silva has taken the same three coaches with him to every club from the time he started out in Portugal. They're at Watford too, so if we get him we get them I reckon, and that may just mean waving bye-bye to the current coaching likely lads Kenwright's indulged.
Thus, it'll no doubt have killed the enthusiasm of the entire coaching staff now at Finch Farm, just days prior to a fixture we should be aiming to win.
Brilliance from the boardroom, again!
Bill Gienapp
21
Posted 13/11/2017 at 22:44:29
Seems pretty clear the board would prefer to stick with Unsworth, if possible, and conduct a proper managerial search in the summer... but they're afraid of making it official before the Crystal Palace match, because a loss would be disastrous and arguably leave Unsworth in an untenable position.
As for Silva, I do rate him, though I would like to see what he accomplishes at Watford over the course of an entire season before handing him the reins. Admittedly, some of this comes down to simple optics - Silva comes off as sharp and saavy, whereas Martinez, more often than not, came off as a blithering idiot.
Len Hawkins
22
Posted 13/11/2017 at 22:49:12
David Tennant (#9),
I think Dyche sounds like an implement for females to swill out their nether regions after pokey noko, by the way I think you were the best Dr Who.
Lyndon Lloyd
23
Posted 13/11/2017 at 22:51:45
Jim White's tweet says, "it is being reported..." and he's referencing The Independent. Not for the first time, I suspect he doesn't have any info of his own.
Kevin Tully
24
Posted 13/11/2017 at 22:53:54
You would think we could at least find our own 'next big thing' in management. We're always looking to poach talent from other clubs, because we are seemingly inept at finding our own.
Neil Copeland
25
Posted 13/11/2017 at 22:54:53
Kevin, who knows we may have already found him.
Jamie Sweet
26
Posted 13/11/2017 at 23:04:47
We either need to appoint someone now, or say to Unsworth he's got until January / the end of the season.
We desperately need direction and stability... yet we find ourselves more unstable and directionless than ever before.
Nicholas Ryan
27
Posted 13/11/2017 at 23:08:12
If we want him, and he wants us; then we must learn from the Sigurdsson saga [no pun intended!] and pay Watford, whatever they want, instantly.
Ernie Baywood
28
Posted 13/11/2017 at 23:18:01
I rate him based on what he's done, but would I chase him? Absolutely not. He's got nothing like the pedigree for that.
Very much flavour of the month stuff.
How did Hull find Silva? Surely we'd be better off following a similar path if we're not going to get the 'big name'.
James Hopper
29
Posted 13/11/2017 at 23:45:46
Really? Three weeks without a permanent manager and the best we can come up with a rejected bid for Marco Silva?
Ian Riley
30
Posted 13/11/2017 at 00:22:18
Watford showing loyalty to their manager? Whatever next?
Silva will know building a squad and time don't go together at Watford. Don't believe today is when we approached the Watford board about Silva becoming our manager. Leaving it till today would be insane with four days till the next game with no time to find a replacement. What did the Everton board expect the owner at Watford to say?
I expect unsworth to be in charge till Christmas at this rate. Problem with that is if we remain bottom five or worse. Then our choice of manager is more limited. Past fortnight has been a missed opportunity to get a manager in and working with the players. Even unsworth must be wondering whats going on.
Leave it to long and the consequences may be to late to reverse.
Ernie Baywood
31
Posted 14/11/2017 at 01:07:03
Ian, if it's even true that we approached them we still won't know whether rejecting the approach was a position or a negotiating tactic.
I wouldn't start throwing words like 'loyalty' out there just yet!
Matt Traynor
32
Posted 14/11/2017 at 02:08:35
Both Martinez and Koeman were under contract to clubs when Everton approached. Both approaches rejected, and a compensation deal eventually reached - quickly in Wigan's case.
Therefore standard play out. Er, watch this space...
David Ellis
33
Posted 14/11/2017 at 02:09:06
Managers aren't like players. They're not registered with the club. It's frankly not up to the Watford board to "reject" an Everton approach. Everton were just doing the right thing by asking first - the answer from the board is irrelevant. We can just buy out his contract. Slavery/feudal system was abolished some time ago.
So I think this is likely to happen and I think it's probably the right call on the available evidence. Unsworth will be back at the U23s and perhaps should be looking to move on to a management job elsewhere if he wants to move his career forward... and good luck to him.
William Cartwright
34
Posted 14/11/2017 at 02:39:24
Absolutely right David. That is probably what will happen. As a part - time skitzophrenic (spellcheck), I see the choice is between a scouse flavored club structure and team / management and victory for Kenwright , or a gigantic leap into the international future with Moshiri's millions.
This was the stark reality underlying Moshiri's thinking with his comment to Kenwright that Everton are not "a museum" and his appointment of Koeman. Kenwright has fought back at every level to retain his influence. It's a cultural schism of massive significance for the club. Kenwright is gambling with possibly destroying the club or regenerating it along parochial lines which we know and love. Why else is Vlasic not played... Kenwright is pulling Unsy's strings I'm afraid, and Walsh's too.
I love the scouse model, but I feel it will only carry us so far, mid table at best. Marco Silva and his ilk will carry us further and reflect a deeper investment. It's a battle of wills between Kenwright and Moshiri from hereon, and if Moshiri wins (as he must for the sake of the Club) then whoopey doo. If Kenwright wins, sadly we are at best we are well and truly limited, if not fucked.
Strange how football mirrors life, and in these post Brexit days when de-internationalism is the direction of all things, that footy (or at least Everton) are trying to buck the trend.
COYB.
Jim Hardin
35
Posted 14/11/2017 at 03:05:15
So instead of Silva, who, in my opinion, has proven nothing in the EPL other than his teams cannot defend, if a foreign coach is considered, then what about Argentinian Gerardo "Tata" Martino? Manager of Newell's Old Boys, Paraguay, Argentina, Barcelona, and did miracles at Atlanta United (1st year team in MLS) although part of the credit goes to Carlos Bocanegra as technical director.

All of Martino's teams have the same distinguishable traits: they play attack-minded football, they are creative and the style is based on quick passing. In addition, Martino's teams also pressure high up the pitch, play out from the back and depend on their youth systems (but who doesn't at Barcelona?)
Joseph Terrence
36
Posted 14/11/2017 at 03:12:51
Mediterranean manager, known for playing attractive attacking football albeit leaving space open at the back. Recently, he managed against one of the the worst form teams in the league, and his team was up 2-0 at the hour mark. But his team then allowed the opposition to come from behind and win 3-2. Sound familiar?
Jay Harris
37
Posted 14/11/2017 at 04:11:51
I would only put Silva in the class of Dyche and Howe.
If we are going foreign we should go balls out for Simeone, Tuchel or Ancelotti.
Ernie Baywood
38
Posted 14/11/2017 at 04:35:33
Seems like we like the exotic appeal of a foreign manager but we're scared of someone from overseas!
Alan J Thompson
39
Posted 14/11/2017 at 04:39:22
Watford said they would not give Everton permission to speak to Silva so Everton did what all clubs do, they speak to the Press about not being allowed to speak to Silva. Isn't this the second rule of transfer dealings, the first being to get your players to chat up targets at International gatherings or on their hols.
Hi-Ho, Silva, away! Or not in this case.
Chad Schofield
40
Posted 14/11/2017 at 05:49:54
Joe re Arsenal vs Olympiacos. Silva indeed snatched a 3-2 win over Arsenal at The Emerites, talked up how they were never scared and how organised their defense was... And then got smashed 3-0 at home (with Giroud getting a hatrick)
https://www.google.co.uk/search?q=olympiakos+vs+arsenal
I fail to see how anyone could get excited about this manager giving the experience we had under Martinez. The parallels aren't just there because he's "forrin", but he's achieved less than Roberto - way to steady the ship!
Oh and I'll bite on the Brexit thing, William. A) leaving the EU is the opposite of de-internationalisation because most of the world is outside of the EU, and we need to trade and have immigration and B) if anything draws parallels with the EU, it's our Everton old boy backroom setup (and under Unsworth's EPL2 winning U23s, is our only actual recent success). In footballing terms that's a project almost as long as the EU project (plus it's not really what was advertised at the start), except just at a time when we could test it to see if it could work, we're looking to demolish it or at least hamstring it by paying millions more for Watford's manager... OK, the EU thing's drifting a bit here.
Will Mabon
41
Posted 14/11/2017 at 06:20:18
Silva is not the one. Another grasp at another straw.
Christine Foster
42
Posted 14/11/2017 at 06:46:51
20 pieces of Silva required.
Kenny Smith
43
Posted 14/11/2017 at 07:32:46
I help but think we'll end up with someone like Eddie Howe. He'll be described by Bill Kenwright at the press conference as the best young British coach around... but, let's face it, he's shite.
Allardyce is a non-starter for me; same for Dyche. Silva is another Martinez. Simeone would be the best option but he's NOT a realistic target.
I really don't know where we go from here. The only plus is that Moyes has now got a job.

Paul Tran
44
Posted 14/11/2017 at 07:33:25
You couldn't help being impressed with what Silva did at Hull last season. Like chalk and cheese before and during his time there.
But take a step back; he was on a hiding to nothing there. Arguably Dyche has done at least a good a job at Burnley.
At the moment it's a gamble about potential. Will Unsy grow into the job? Is Silva the next big foreign coach? Would Dyche improve again with better players? Whoever wants to come here will get the job.
No strong view here, though I'd prefer competence and communication over anything else.
Victor Yu
45
Posted 14/11/2017 at 07:43:16
Mancini wants to be back to the Premier League (he is asking for a lot though). He is still the best available option in my opinion.
Kim Vivian
46
Posted 14/11/2017 at 07:50:48
Maybe we should step outside the box and get some pointers from this guy.
Lovely story.
http://www.bbc.co.uk/sport/football/41902664
Trevor Peers
47
Posted 14/11/2017 at 07:51:43
It's obvious if this story is true, that Unsworth isn't a serious candidate for the job full time.
I hope that takes some pressure off him and we can pick up some results before a permanent manager is found.
Kevin Tully
48
Posted 14/11/2017 at 08:00:03
It seems clear now that we sacked Koeman without any sort of succession plan in place. As results and performances were becoming worse each week, you would have thought a shortlist was being drawn up at least a month before he went?
I don't think it is all smiles behind the scenes.
Michael Mcloughlin
49
Posted 14/11/2017 at 08:03:29
We can't know what going on behind the scenes and neaither does Jim White. I personally don't think we should be poaching other premier league managers as history has shown we haven't made a successful time if such appointment. Mike Walker, Roberto and now Koeman.
There are a number of potential managers out there of which Thomas Tuchel stands out. The board should move heaven and earth to get this guy in otherwise just leave Unsy in charge till Christmas. Which incidentally is looking more likely as I can't see an appointment being made now.
The club should make an announcement sooner rather than later.
Ray Jacques
50
Posted 14/11/2017 at 08:31:28
The usual farce with Everton. Sack the manager with no thought as to a replacement. Surely they must have considered a way forward in the weeks before removing Koeman, as it was just a matter of time before he was shown the door based on this season's results and was no big surprise.
Its obvious they don't want Unsworth to be given a shot at it or he would be announced as manager for the remainder of the season (or say for the next 10 games to see how we go) and Allardyce would have been appointed by now if they wanted him .
So what was the forward thinking, was there a plan after Koeman's removal?????
No doubt this being Everton we will lose to Palace on Saturday and the crisis will be well and truly be rejoined.
In any walk of life uncertainty and lack of direction or clear decision making leads to poor results. Shambles.
Phil Walling
51
Posted 14/11/2017 at 08:53:39
It's all down to the Palace game. A decent victory and Unsy gets more time. Lose and he's toast. What a mug he's been made by listening to Kenwright's pleas for help.
It will probably end in David leaving the club altogether !
Tony Marsh
52
Posted 14/11/2017 at 09:00:21
Ray @ 47
Don't worry mate Moshiri is well clued up. Top buisness brain that Farhad is he will have all the bases covered.No way FM allow Everton to just just drift through months of the season with no contingency plan is there??
James Morgan
53
Posted 14/11/2017 at 09:02:55
What has this guy done in English football that's any better than Sean Dyche except he's got a sexier name? I don't get the clamour for Silva at all. Maybe if come the end of the season he has had an impressive season with Watford then yeah, consider poaching him, but not yet. Just give it Unsy till the end of the season and pull out all the stops for Simeone in the summer.
Michael Lynch
54
Posted 14/11/2017 at 09:04:46
Joseph @35 my thoughts exactly. Silva might be the next Pochettino but his track record so far makes him more likely to be the next Martinez. His only experience in the PL so far is relegation with a poor team, and a few surprise wins with another poor team. Losing after going two up against us should have ruled him out of the running completely.
Matthew Williams
55
Posted 14/11/2017 at 09:04:54
More poor decisions from our shambles of a board. I feel sorry for Rhino but hope he can carry on & turn this season around with a much needed away win at Palace.
As for our next permanent Manager?... for me, it would still be Chris Wilder at Sheffield United with Rhino as his Assistant.
Keep it simple, keep it British... but please, no clueless mercenaries this time!
Eddie Dunn
56
Posted 14/11/2017 at 09:22:40
Typical of us, Lukaku is allowed to leave with no replacement and then Koeman (who was in trouble for ages) was sacked without a successor being approached. Palace on the other hand realised their mistake with De Boer and lined up Woy in record time.
Poor old Unsie. Did he really believe uncle Bill's assurances that he was in the running for the job?
As Phil says above, one defeat and David is toast. Win at Palace and the club get more time to line up their preferred candidate lose and they will be likely to panic and get in whover is available now.
This game is another big one.
If we lose, the doom & gloom will return and we will end up with Big Sam or Dyche. Win and we might get a fancy coach with some gell in his hair.
John Hammond
57
Posted 14/11/2017 at 09:33:30
BBC reporting the approach for Silva -
http://www.bbc.co.uk/sport/football/41977289
Anyone else feeling really uncomfortable trying to poach a manager who's only managed 11 games at his new club?
Steve Ferns
58
Posted 14/11/2017 at 09:42:58
Silva looks a top manager. He's been my preferred choice all along.
At Estoril he took a team that was more famous for it's race track (home of the Portguese F1 GP) from midtable in the second tier to 5th in the Portguese Superliga, and the EL. He left with Estoril in 4th the next season. A highlight was beating FC Porto at their ground, their first home defeat for 6 years.
Next he took over Sporting and did well, but not spectacular. He won the Portugese FA Cup and finished 3rd. Then came the most bizarre sacking ever, apparently because he didn't wear the club's official suit!!
It was then he went to Greece. Again he only did one season winning the league, but this was expected really, they've only failed to win it in 2010 and 2004 in the last 20 years or so. He quit for personal reasons, and had six months off.
He took over Hull in January of this year. He sold Hull's best player and wheeled and dealed amazingly well to give them a chance at staying up when everyone had written them off and were saying that they could not see them winning another game, and if it was not for their amazing start then they might go down with a record low points total. Hull won 9 league games all season. Silva won 7 of them. He took a team that had nothing going for them, added a few players that everyone else thought crap (Niasse included) and suddenly made a team that beat Liverpool, and Man Utd in the League Cup. He also financed it by selling Snodgrass who was their only goal threat (from set pieces).
He took the Watford job and had them in the top four until their recent run of defeats. The first defeat was the Chelsea game where they should have won, and were very unlucky, as they were against us. Really they should be top 4 right now.
I don't know where some have the Portguese Martinez from, he's nothing like him. Silva plays counter attacking football. He was defensively sound at Estoril, despite them being a midtable second tier team fighting their way up to 4th in the top tier. He had a very good defence with big sides in Sporting and Olympiacos. Of course, Hull were leaking at the back, but remember where they had been and how he turned them around.
His style of football is quite adaptive. He's a pragmatist capable of changing to meet the abilities of his sides. Be that the counter-attacking sides of Hull and Estoril, sitting deep and launching devastating quick breaks on the counter (think Niasse v Liverpool) or the possession based games of his Sporting or Olympiacos sides.
A word on Watford. They are owned by the Pozzo family. They have a portfolio of clubs, Italy, Spain, England and another. They have a scouting network that belongs to the ownership of the clubs rather than the clubs themselves. They sign a player and move them about the clubs. They hoover up South American talent and try to sell them on for big profits. Football is their business and they make money through player sales. They have had a high turnover of managers, nothing new for Italian owners. But if they are happy to sell off their best players for a fee, then they would be happy to take a fee for their manager.
Everyone is right to have doubts over Silva though. He's never completed more than a season at a club since Estoril. If he came here, it would be his 3rd job in 11 months. He's my preferred choice (I would love Tuchel or Simeone but I think they are out of reach) but I think we should wait just a little longer. Silva will stay at Watford until the end of the season unless a truly big club comes in for him. We need to be 100% sure on him, and I think he still needs to answer some questions on keeping a side going for a longer period, I would also want to see how he deals with a run of bad luck and defeats (like he has now).
Keep Unsworth until the end of the season, wait to see what Silva can do, and keep an eye on Simeone and Tuchel. Tuchel is second choice for Bayern. Top choice is Nagelsmann. Tuchel appears to be holding out for Bayern. Nagelsmann is only 30 years old (our defence is older!!) and very much a flavour of the month, and a downturn in form for Hoffenheim may persuade Bayern that Tuchel is the safer bet. Maybe we could then take a gamble on the "whizzkid" unless another big club makes him a better offer.
It makes so much sense to me just to wait and see, whilst keeping dialogue going with Silva, Tuchel and Simeone through their representatives.
Eric Myles
59
Posted 14/11/2017 at 09:43:49
Tony #49, you need to invent a sarcasm font mate, someone might think you're serious.
Teddy Bertin
60
Posted 14/11/2017 at 09:45:48
I don't know why people are so down on Silva. Sometimes I feel like certain people on here only watch Everton. How can people say that Watford have been awful? They've looked loads better under Silva and absolutely battered Arsenal and Chelsea.
Every club Silva has been at (before coming to the PL) he achieved something extraordinary. Last season he got Hull playing really well and if he'd had more time he would have kept them up. Watford have looked really good this season although they have looked a bit suspect at the back. They're still way ahead of us on a quarter of the budget.
He's a good, promising manager and I thought Watford made a great move getting him and it's paid off for them.
Is he the right man to gel this weird mess of a team at Everton? Who knows. But I'll tell you one thing people need to get over ideas of Anchelotti and Simone. They're never coming to Everton. We need another manager of Koeman's level ie. has won trophies elsewhere and proven that he can really improve a team in the PL. The problem is that there's no one like that about.
Personally I'd give Rhino time and wait till the summer. We won't get relegated and we'll have to rethink next season.
Iain Johnston
61
Posted 14/11/2017 at 09:46:17
I've just sent this link to Elstone...
http://outsideoftheboot.com/category/series/tactical-philosophy/

Don't understand the myth that Silva would have kept Hull up with more games. They were 2 points clear with 3 games to play then well beaten at home by an already relegated Sunderland, tonked 4-0 by an equally poor Palace then trounced 7-1 at Spurs.
Silva's Hull side conceded 36 in 18 and Watford are just as bad. The only difference between him and Martinez is that BBS had Lukaku to paper over the cracks.
Steve Ferns
62
Posted 14/11/2017 at 09:51:32
Good website Iain, but it's a bit to complicated for him. Maybe you should send him one with more pictures and less words.
Clive Mitchell
63
Posted 14/11/2017 at 09:54:21
Seems a lot of us are panicking. I'm not, yet – because the unqualified good news is that the dour Dutchman has been shown the door. Silva would be my choice, not least because he's not Sam and I love his passion for the game.
You won't catch Silva reacting to defeat by saying 'OK, that's football'. Anyway, it'll be time for Sam if we fall back into the bottom three by Christmas.
Sam Hoare
64
Posted 14/11/2017 at 10:02:37
Not for the first time I agree with Steve Ferns.
Some of the moaning on here is unbelievable. People saying why can't we be like Palace and West Ham and get a manager in quickly?! Would you want Moyes or Hodgson? No, didn't think so! If we wanted to get a run of the mill manager i'm sure we could have Allardyce, Coleman or Gary Monk lining up but Moshiri is trying to aim a bit higher than that. Sometimes you have to be a bit more patient if your aiming high!
Also to describe Silva as simply flavour of the month is short-sighted. He is very unusual as a manager in that he is yet to experience real failure. Unlike Koeman/Martinez he has improved every club that he has been at. His time at Estoril was particularly impressive. The relegation stains are clearly not his fault as Hull were already adrift when he took over, he almost saved them which would have been astonishing.
There's no such thing as a sure bet but Silva looks a highly accomplished coach to me and if we are being honest Watford were extremely unlucky to lose to us last week (2 injured players, defender slipping for the pen and missed their own etc).
As Steve mentions the bigger worry for me is that he has never stayed long at a club. We must be looking for someone who is really going to invest in our club and do everything they can to get us where we all want to be in the way Pochetinno has done at Spurs. Silva seems a bit too nomadic for my liking in that sense.
I also would be happy to stick with Unsworth till Xmas and see how the land lies. Silva would probably be my first pick with Tuchel very close if he could be persuaded. Dyche I think would do a solid job too. But how great would it be if Unsworth really stepped up? A real blue who knows and loves the club and who better to help blend our golden crop of kids into the real deal over the next few years. Caretakers stepping up seldom work out well in the long term but would love it if Rhino could prove an exception.
John Hammond
65
Posted 14/11/2017 at 10:04:57
Teddy (#56): I think some people take what the likes of Paul Merson and Phil Neville say about foreign managers as gospel. British managers never get a chance therefore all foreign managers are rubbish. What do they know about the league blah, blah, blah.
Mike Allen
66
Posted 14/11/2017 at 10:12:12
The media as a whole is not running with this so not getting too excited one way or another. However, why Silva? No way proven... maybe up-and-coming – but so is Unsworth.
Better option: bring in experience someone like Hiddink with Unsworth that could cover short- and long-term options. Going for someone like Silva has not been thought through, if true, that is.
Iain Johnston
67
Posted 14/11/2017 at 10:12:32
Personally I think all eyes are on Emery.
Steve Ferns
68
Posted 14/11/2017 at 10:18:00
Paul Merson? Has anyone watched him on the Debate (Sky Premier League Channel)? He's like some drunk they pulled in from the pub and told him to talk about something they known nothing about and then they'll get free drinks for the rest of the night. His knowledge of football is frightening.
He was trying to give an "expert opinion" on Qarabag v Chelsea. He was calling them "carrier bag" and did not know one player and had not seen one game. How people like him are allowed to con a living talking about football I don't know. Sure he was a top level player, and I'd listen to what he says on Arsenal (if he bothered to watch them), but the man clearly does not take his job seriously, he does no research, and seems to like an analytical brain. He's indicative of too many ex-pros stealing a living these days.
John – not aimed at you, just an excuse to have a rant about Merson!
Steve Ferns
69
Posted 14/11/2017 at 10:21:35
Emery is one to watch with interest. Neymar or Emery will be gone soon. I think Neymar wants to return to Spain with Real, which just sums the guy up. He's a complete wanker.
Emery obviously never wanted him. The owners are likely to fight to keep their star man and that will mean sacking Emery. Would he come here, or would he think he's now in the elite group of coaches? I think he would only take a job at a club with Champions League football.
Justin Doone
70
Posted 14/11/2017 at 10:35:35
We need to get Mancini ASAP before Italy make a move for him.
Simeone is NOT coming to Everton. He's only going to a club in the Champions league. A fierry character that demands full on effort but I'm not sure he's suited to England and vice versa. He will upset many players not used to that style of aggressive, in your face Latino temperament.
Forget Silva he's done less than Martinez had. What has he done? Why is he rated? He seems a nice chap but we've fallen for that trap before.
Dyche, Pulis and Moyes get the best out of limited players who are willing to put in the effort but the football will only get you so far for so long same with Fat Sam who can stay retired.
We need Roberto Mancini. He has the experience and is a winner. NSNO
Mal van Schaick
71
Posted 14/11/2017 at 11:19:23
I am stumped with this one. I was in favour of Koeman when he was appointed. So, what do I know?
Dyche is doing well with a limited budget, but is he a manager to take us forward? I don't know!
Laurent Blanc. Average points of 2.15 over his games in charge of PSG?
Everton need a 'match' with a manager, someone who understands what is required on and off the pitch.
A fun guess until the end of the season. Alex Ferguson, with Unsworth as assistant.
Tony Everan
72
Posted 14/11/2017 at 11:36:31
If they are going hook line and sinker for Silva I hope that they have done their homework behind the scenes.
Been given assurances that he wants the job and will resign as Watford manager.
If we are doing this blind the club could end up looking like a joke if he rejects us.
I wouldn't lose much sleep if he did, but it would make us look clueless.
Michael Lynch
73
Posted 14/11/2017 at 11:39:28
I take on board the points about Silva, particularly from the always erudite Steve Ferns. But I'm still not convinced. He hasn't coached a full season in the UK yet – Pochettino did exactly that at Southampton before Spurs took a gamble on him.
The work Silva did at Hull was fire-fighting at a tiny club, so is no real indicator of his use to us. This season at Watford will be more of an indicator, as Pochettino's full season at Southampton was.
Soton were a team a notch below Spurs, Watford are the same thing to us. If he can get them a top 8 finish, perhaps we should talk.
Brian Harrison
74
Posted 14/11/2017 at 11:41:49
Jim White is saying this morning that he believes Moshiri is prepared to offer Watford £8 million in compensation. I like Silva he plays the game the right way when you look how he had Hull playing and this season Watford. His thoughts are very much like David Unsworth of playing on the front foot.
I said I would like Unsworth to at least get till Xmas, but I would imagine that he will be an assistant to Silva, who unlike a lot of managers doesnt take a load of yes men around with him. So if that is the scenario that I say bring it on.
Brian Williams
75
Posted 14/11/2017 at 11:44:21
The club has done what "most" others do and asked the other club's board if they can speak to their manager (Silva). Watford board have refused but Everton know full well that Silva is now fully aware of our interest. If any of this is true that is.
We wait now to see if Silva is interested, because if he is he'll approach his own board and tell them he'd like to hear what Everton have to say. That, IMO, is the thin end of the wedge and a sign that he's very likely to come to Everton.

Dave Abrahams
76
Posted 14/11/2017 at 11:48:44
I think if David Unsworth doesn't get the job, and I doubt he will, he should be asked to continue as the U23s coach but with a considerable wage increase and a long-term contract. That is the least he deserves.
Brent Stephens
77
Posted 14/11/2017 at 11:58:14
Dave #70. I agree. I'd also suggest that, if Unsy goes back to the U23s, the incoming coach is asked to mentor Unsy, allowing him to be more involved in the first team than Koeman allowed (basically, it sounds as if Koeman shut Unsy out of things).
It's good practice in organisations to mentor / coach staff for possible future promotion. It needn't involve more work. For example, he could be asked for his views on selection and tactics (not necessarily as an input to decision-making, though his views might be seen as valuable) but just for him to get feedback on his views form the 1st team coach. He could sit alongside the new coach at 1st team games (U23s play different days / times normally) and learn by listening to the 1st team coach's explanations about selection, tactics, subs etc.

James Stewart
78
Posted 14/11/2017 at 12:00:22
Emery is an interesting one Steve. I think it depends on how well PSG do in the Champions League regarding what happens there. I doubt he would drop down to a team outside the Champions League.
There is also Sarri at Napoli working wonders now but how long can he stay happy there with Juve's dominance.
I'm most surprised we haven't looked at Leonardo Jardim
though. Worked wonders everywhere he has been and was really building something special at Monaco before his whole team was sold to the highest bidder.
Steve Ferns
79
Posted 14/11/2017 at 12:04:54
I'd agree Brian. Silva has an agent. Everton will have spoken to the agent and got the thumbs up. Possibly even agreed a deal. Maybe that's why it has all taken so long. Next step is to agree compensation with Watford. They are canny negotiators and will want top dollar.
If Silva is going in, it'll be interesting to see who Watford go for, probably another Italian. If they take a punt on Dyche, then I hope Unsworth would be in the frame for the Burnley job, I'd love to see him get the chance at a decent club to cut his teeth.
Eddie Dunn
80
Posted 14/11/2017 at 12:20:01
We would have loved Pochetino but we would have needed to take a punt on him earlier when he was unproven. Spurs got him and he is brilliant. Silva could be similar, but if we want him we need to get him now. let's face it, if he gets Watford top 6 there will be clubs lining up for his services.
Steve Brown
81
Posted 14/11/2017 at 12:31:14
With a track record like Watford, Hull City and Olympiacos and never having won a trophy, he is definitely the man for the job.
He will fit in the great Everton tradition of the last 30 years very well.
Michael Lynch
82
Posted 14/11/2017 at 12:31:24
Eddie @74, even if Silva gets Watford top 6 - which is very unlikely, who would be lining up against us for his services?
I can't see any of the Sky clubs going for him, they never take a punt on managers untested at the highest level. The only club with more clout than us that has a track record for taking a punt would be Spurs.
So, yes, if Pochettino gets the Real Madrid job, then they might go for Silva. But if they go for Silva in May, it won't matter whether he's with us or Watford, he'll probably move on to North London.
Jason Wilkinson
83
Posted 14/11/2017 at 12:34:58
No Silva we want Gold. Or preferably a Platinum trophy winning manager.
Iain Johnston
84
Posted 14/11/2017 at 12:42:33
PSG are replacing Emery either when his contract expires in the summer or before the winter transfer window. Listening to RMC the other week in France (caught the gist but they speak too fast for a proper translation), they think Monaco's Jardim is already being lined up to replace him.
Sarri is a good shout, he did good work at Empoli to win promotion and consolidated their Serie A place with a lot of 30+ players. His replacement took them back down again. Sarri is doing strong work at Napoli but he'll be difficult to prise away as he's just signed a new contract.
Mancini is a non starter, he stated last week that he wants 15m a year to return to the EPL.
Still no mention of Luis Enrique, i'm a bit surprised at that one.
John Catto
85
Posted 14/11/2017 at 12:50:04
Again, Everton look like a laughing stock. Our board want to be a big club but act like a small club. After 3 weeks, we are still scratching round for a manager. What a joke.
John Graham
86
Posted 14/11/2017 at 12:55:21
If we are looking for a European manger, why don't we do the research work ourselves and then take a chance on someone we have actually done our homework on, rather than just look at someone who another team have done the their research work on for their team, which might not be good enough for us?
Seems to me that, just because a manager has done okay, yes he has only done okay, with a mid- or lower-table team, it doesn't mean he is suitable for being at Everton. Surely their are managers currently plying their trade in Europe who we can check out and maybe give a go?
Sam Hoare
87
Posted 14/11/2017 at 13:01:18
Brian@69. That's interesting. I always assume that most managers bring their coaching staff with them.
If Unsworth wanted to be assistant manager to Silva then I think that would be very appealing as he is clearly a good coach and knows the young players and their capabilities better than anyone.
Craig Walker
88
Posted 14/11/2017 at 13:17:53
I don't know as much about Silva as some contributors but he does seem to be like Martinez to me. His team throwing away a 2 goal lead against us and missing a penalty was very Robertoesque. I'd much prefer him to Allerdyce though.
I saw on SSN this morning that de Bruyne was questioning the direction that Belgium were going in under Martinez. He was talking about formations and conceding too many goals. Sounds familiar. I watched Roberto respond with some verbal diarrhoea about respecting Kevin's desire in wanting to play for his country and how November was a good time to have these discussions. In terms of interviews, we really did go from one extreme to the other when we got rid of Martinez and replaced him with Koeman didn't we? Martinez would use 300 words when 10 would do and Koeman would just go "but okay, that's football".
Linda Morrison
89
Posted 14/11/2017 at 13:24:19
I honestly think that the board are unsure what to do. I know a few on here feel Kenwright should go, but Koeman was Morishi's man. It makes sense to give the post to Unsworth until the end of the season and look at the situation again. I do not think Silva will be any different to Koeman and the players will need to get to know another set of coaching staff etc.
Next summer it is likely that a number of top class managers will be ready for a move to the EPL.
Dennis Ng
90
Posted 14/11/2017 at 13:25:16
Would have loved Emery at the time we got RK and would still want him now. Not sure if we can wait given our rudderless situation. Would love to see either him or Tuchel immediately.
John Daley
92
Posted 14/11/2017 at 14:00:20
If the club really want to go down the route of a taking a punt on a promising young foreign manager often tipped to be the most likely to "do a Pochettino", then maybe they should go balls deep and try to grab Marcelo Gallardo before someone else snaps him up. He may have been christened "Chucky doll" because of his diminutive height and 'Good Guy' gob back when he played for Argentina, but there's a reason why, as a manager, fans of River Plate now simply refer to the man as 'Napoleon'.
Kevin Tully
93
Posted 14/11/2017 at 14:12:20
When you have respected journalists, such as Paul Joyce saying; "Pantomime season has come early at Everton," you pretty much know our fears about shocking mismanagement in the boardroom have some substance.
You only have to look at the transfer window in the summer to be very concerned at the direction the club was heading. We all called it. Personally, I thought bringing Rooney back as our highest earner confirmed a flawed recruitment strategy - too many people wanting their own players.
I think we are in more danger than most people realise. It will soon be Christmas, and there is a very real possibility we will be in the bottom three, with a lot of big money signings sulking because they have been dropped for younger, inexperienced players.
Rightly or wrongly, the likes of Schneiderlin and Mirallas can soon spread discontent right throughout the whole squad. We've already got Vlasic and Sandro muttering they aren't happy.
That's four we know of, there's bound to be more
Oliver Molloy
94
Posted 14/11/2017 at 14:20:52
I would be very surprised if Silva is the next Everton manager.
John Graham
95
Posted 14/11/2017 at 14:29:31
From what I see on here, the fans have lots more ideas and more options than anyone at the club.
If we can come up with names like Emry, Tuchel, Martino, Tardim and Sarri with a few others not mentioned, why are we still waiting to find a new manager?
Are they just frightened in case they pick the wrong guy? Or does nobody want to come to manage us?
It's got to be done soon...

Brian Harrison
96
Posted 14/11/2017 at 14:32:13
Kevin
I agree the transfer window was a shambles and who knows who was responsible for buying the players we bought.
As for Paul Joyce saying pantomine season has come early, did he want Everton to soldier on with Koeman, when it looked at times as if he didnt want to be here. Maybe he wanted us to appoint Allardyce but as 80% on ToffeeWeb poll didnt want him, then getting him would have put him on the back foot from the beginning.
I do wonder about these so called respected journalists, seems from time to time they all indulge themselves with certain clubs managers and players. I well remember another so called respected journalist Patrick Barclay saying he thought Brendan Rodgers, would eclipse anything that Shankly or Paisley did at Liverpool. So I wouldnt hold too much store by any journalist, especially expressing an opinion on certain clubs. Some of these journalists pamper to the top 6 you would never think listening to some that Liverpool had never won the league for well over 25 years.
Jay Harris
97
Posted 14/11/2017 at 14:36:46
Thats a very good point Kevin and supports the case for a strong experienced manager who can handle egos and cliques.
It is a great shame that all the good work Moyes put in to engender a great team spirit throughout the club has been so quickly dismantled.
I have the feeling that the real problem is dictator Kenwright who seems to be replicating the treatment of Paul Gregg and his wife with Moshiri so that he can continue to run his trainset.
Steve Bingham
98
Posted 14/11/2017 at 14:40:08
Justin @65 , do you not think that a manager like Simeone might just be the sort we need to upset a number of our over paid and under achieving players who in my opinion have got off rather lightly on the blame front for the debacle so far this season. Unsworth has made a couple of big calls so far with giving youngsters a chance and substituting the under performing Rooney. Give him this season ,publicly announce a new captain and continue to use these youngsters who obviously want to play their hearts out for him . It seems to me that the only main common thread on here is that we all seem to want the board to actually be seen as making a concrete decision.
Anto Byrne
99
Posted 14/11/2017 at 14:42:22
It's a top to the bottom clear out, let's get the correct coaches, fitness etc. We don't need a Moyes or a big Sam. Everton have to be built from the kids to be integrated into the club where the players become first-teamers, and play the way the team will always – carpet footballing. It's a 3- to 5-year project; no Koeman quick buy off the shelf. New manager has a plan, will the club buy into it?
Stephen Davies
100
Posted 14/11/2017 at 14:48:05
Jay #87
I think your right.
Partof the problem is that Moshiri & Kenwright have not been able to agree on who the next manager should be.
I believe BK wants Unsworth.
Moshiri...Silva.
The next 24/48 hrs should reveal where were heading.
Bobby Mallon
101
Posted 14/11/2017 at 15:25:40
Can someone enlighten me as to why Kenwright has any say at all? He does not own the club anymore Moshiri has 49.9% of the shares so why do people keep saying "Kenwright wants this and that"? Who cares??? Moshiri decides... Right?
Allan Board
102
Posted 14/11/2017 at 15:48:49
Employing a hard-nosed man didn't work last time, did it?
If you want a top coach, get top players 1st!! Stop bloody selling your best ones and buying turds to polish.
The best coaches don't do polishing.
Or accept 7th to 10th position for ever and keep Kenwright.
AAARRRGGHH!!!!!
Michael Kenrick
103
Posted 14/11/2017 at 16:50:04
I wonder if the key to that puzzle, Bobby (#97), is the fact that Moshiri kept Kenwright on as Chairman of the Board of Directors?
After all, that is a very powerful position in any business. Furthermore... Moshiri didn't even go for a place on the Board! That really doesn't fit with Moshiri wanting to call the shots, based on owning 49.9% of the Club. Yes, he has his man in Ryazantzev... but that's just not the same as being there yourself.
Now consider Moshiri is coming at this on the back of his mate Usmanov's attempts at Arsenal to leverage 30% ownership so he could get on their Board... Why on earth would Moshiri not want a place on the Everton Board?
Are we to conclude that Moshiri actually trusts Kenwright? His judgement, his experience, his history, his knowledge of the club? Perhaps Moshiri sees a combination of both business acumen and football nouse that has enabled Kenwright to stay in this position of power for going on 20-30 years (ie, back to when he joined the Everton Board back in 1989)?
I know the idea of a rift between them is front and centre in all media outlets on this new manager post – just not convinced I believe it all.
Steve Ferns
104
Posted 14/11/2017 at 17:00:58
Good point Michael.
In terms of big companies. The board and the chairman really meet to discuss directions of a company and frameworks. The real power in a company is in the hands of a CEO.
Ours is Robert Elstone. He has never inspired confidence for me. And when it comes to transfers, no one mentions his name. In terms of discussing numbers and details, this should be overseen by his department, rather the Walsh's and certainly ahead of the Managers.
Elstone seems to be made of Teflon.
John Pierce
105
Posted 14/11/2017 at 17:07:30
Bobby, 97.
The whole club structure is creaking from the top of the 1960s boardroom wood panelled floor to the bottom. All the big decisions have no transparency.
How many on the board get a vote? Is there even a vote? Is Moshiri so worried about his reputation that a proxy allows him cover without accountability?
Has he used Bill as a patsy all along? Anything that goes awry the fanbase is quick to point the finger at Bill. Clever Mosh!?
You'd figure without a defacto head of the club. The board must vote on any new appointment? Does that mean Elstone and Baxendale get a vote? Would certainly give Bill the power.
A DoF should be on the board so why isn't he?
The list of big questions is huge. The net result is no clear direction, an unhappy fan base and stymied in all matters.
How many times do we have to scream for a media presence from Everton FC who let the narrative and our solied reputation be trailed through the mud once again.
Leadership implies you take the narrative and shape it, not see were it goes. The media is trolling the club relentlessly for the vacuum at Goodison park filling their pages and screens with guff and supposition.
We look and are rudderless not far from running aground. Shambolic.
John McFarlane [Snr]
106
Posted 14/11/2017 at 17:18:19
Hi everyone, apologies for introducing an unrelated post, it's for Paul Kossoff especially, but feel free to use any information, either in part or in it's entirety,as there are no copyright issues. and it's been in the public domain for nigh on 60 years, and I can guarantee that it is 100% accurate.
A few years ago Liverpool surrendered a 2-0 lead at Anfield, I can't recall their opponents, or the final score, but I can distinctly remember the Radio Merseyside phone in, where Liverpudlians were ringing in, [in droves], many insisting that no team that Bill Shankly managed would ever capitulate in such a manner, once again, I can't remember whether it was in the Roy Hodgson, or Brendan Rodgers era.
Now to the business end of the post, on the 21st of December 1957 Charlton Athletic [Managed by Jimmy Trotter} played Huddersfield Town [ Managed by Bill Shankly] at the Valley. I was serving in the army at the time in Limassol, Cyprus, and while I knew that there had been a standout performer I didn't know the extent of his performance, until I was demobbed in August 1959. The following is an account of the match,
Quick-fire Summers revives Charlton.
Johnny Summers was a journeyman forward and Charlton were his fourth club. Aged 30, he was entering the twilight of his career, and on December 21st it became apparent that he was saving his best until the last.
Not that spectators at the Valley for the second Division match against Huddersfield had any clue what was coming. In fact he only thing that seemed to be coming was a whitewash.
Charlton lost Derek Ufton after 15 minutes when he broke his collar bone. They were only 2-0 down at half-time, but seven minutes after the interval they were 5-1 behind,
Then Summers, who was wearing a new pair of boots that he had even not broken in, went to work. He scored hat-trick in six minutes and then hit another two goals, all with his weaker right foot, to give Charlton a 6-5 lead.
Even then the drama was not over, Huddersfield equalised with two minutes left, but Summers was not to be beaten. With the last move of the game he set John Ryan up for the winner in an almost unbelievable 7--6 match.
Just another bit of useless information, I have a reservoir, and every now and then I dredge something up. If you stuck with it to the thank you, and now you can return more urgent business.
Barry Pearce
107
Posted 14/11/2017 at 17:19:31
Another flavour of the month manager.
Brian Harrison
108
Posted 14/11/2017 at 17:30:54
I would think that in the next 7 days the board will have to have a new man on board. Now whether that is Silva or David Unsworth I don't know but for the good of the club a decision needs making.
Personally I would take either Silva or Unsworth, as long as the door has been shut on Allardyce, as the poll here shows 80% of the 6,000 that have voted they don't want him. But doing nothing will only unsettle the club more than it is already, and at this moment in time we need players to know who is in charge.
Tony Dove
109
Posted 14/11/2017 at 17:38:43
Just heard that we offered Allardyce a contract until the end of the season and he turned it down. I can't decide which part of that story is the most ignominious.
Trevor Peers
110
Posted 14/11/2017 at 17:44:52
I wouldn't hold your breath, Brian (#108), the decision to appoint a new manager could linger on until the New Year knowing Everton.
Any other club would of sorted this out by now, but remember the Gylfi saga – it was embarrassingly long-winded.
Mike Price
111
Posted 14/11/2017 at 17:48:04
I remember fantasising once that if I saved Bill Gates's life and he made me the second richest man on earth, I'd buy Liverpool, sell Suarez and Coutinho etc to us for peanuts, hire David Moyes and watch them get relegated.
Is this Karma biting me or will there finally be a life changing shift!? I'm sorry for everything.
Tony Dove
112
Posted 14/11/2017 at 17:49:42
Trevor @110. Let us pray this works out better than the Gylfi saga... and less costly.
Soren Moyer
113
Posted 14/11/2017 at 18:01:04
He has got a few admirers in Europe right now. Not because of his results, but first and foremost for his system of play. He has my vote.
Colin Malone
114
Posted 14/11/2017 at 18:07:51
Big Joe Royle, speaking on the Everton website:.
"I have had a very remote hand (in first-team operations), I might say. But I am there. I sit in the stands and we have a little chat before Unsy speaks to the players at half-time, just to see if he is seeing the same things as me."
As I have said, Joe Royle has, and still is Unsworth's mentor. I'm happy with that arrangement till the end of the season.
Jay Harris
115
Posted 14/11/2017 at 18:08:56
Steve, that may be true in most businesses but Kenwright has surrounded himself with yes men and got rid of anyone who challenges him including (I believe) Koeman, who I think he stitched up.
He is an absolute dictator which is why I worry if Unsy ("I speak to the chairman 3 to 4 times a day") gets the gig.
I will never forget the Paul Gregg saga when Gregg who had previously been a long time friend of Bill's agreed to funding King's Dock as long as Bill resigned as chairman. Bill then invented Fortress Sports Fund and told everyone "the cheque will be in the bank in the morning". Of course it wasn't and Fortress Sports Fund disappeared into the wilderness but that enabled Bill to win the power struggle.
We will always be mediocre while Bill is dictating the play.
I get the feeling that Bill is also browbeating Moshiri and will get his way once again.
Peter Larkin
116
Posted 14/11/2017 at 18:32:47
Personally, I think both Kenwright and Moshiri are clueless. The mutterings from Moshiri via Jim White and Sky opened my eyes to this numpty!
In my humble opinion, Moshiri just wants us to be safe and stable until the stadium is built, so he can sell the club at a huge profit and him and Bill stroll off into the sunset.
His transfer dealings are not of an owner that wants to push us to the elite, he is robbing Peter to pay Paul – all while most of the fan base suck it up. We get what we deserve.
Mark Morrissey
117
Posted 14/11/2017 at 18:34:28
I'm very happy that Allardyce was only offered the job until the end of the season, it shows foresight by the Chairman. I'm also glad we have tried to poach Silva, Silva is a top coach. Again it shows ambition. I'm not surprised that Watford have said "hands off".
I hope they give it to Unsworth until the end of the season and then we get Simeone, Silva or some such other top manager in the Summer months.It's unfair for people to lambast the clubs hierarchy over the managing of this situation. They are taking their time.
Plenty were happy with Koeman, me included. He proved to be a prize cock and "Okay, this is football" but the club didn't dither about, they sacked the prize galoot, which is what most of us wanted, me included.
They are now taking their time. That's good, isn't it, FFS! What do you all want?? Did you want Moyes? Again, the club did not go back in for the Ginger pillock, which is good isn't it?
The club are taking their time, for goodness sake, fuckin' chill out and let them take their time. We have Unsy, it's not all doom and gloom. I bet Unsy won't have a red Chrimbo tree!!
Daniel A Johnson
118
Posted 14/11/2017 at 18:37:14
Why Silva?
Didn't keep hull up and a few good games with Watford. If hew as called Bob Wilson we wouldn't be going anywhere near?
The obvious target is Sean Dyche. But because he is British, brash and has only managed Burnley people think he's Allardyce Mk II. If he was called Seanvaldo Dychini he would be manager by now.
Lets not forget unlike Silva and Watford, Burnley came to Goodison and did a good disciplined number on us. Get Dyche in.
Jer Kiernan
119
Posted 14/11/2017 at 18:38:55
Can somebody tell me why this guy is even fit to be considered for the manager's job at a club purportedly supposed to have aspirations of breaking into the 4/6 of English football???
I assume if in interview Bill likes the "cut of his gib" that will be enough because he doesn't have a CV worthy of the name, he will be handed the role of maintaining mediocrity at Goodison Park for the next 7 years.
Ridiculous.
Karl Jones
120
Posted 14/11/2017 at 18:48:18
Cant understand the interest. Relegated with Hull last season and had plenty of time to turn it around. Lost the last three games with watford, including to, lets be honest a bloody awful Everton team after leading 2-0. We're in a pretty bad mess if we're showing interest in the likes of him.
Steve Ferns
121
Posted 14/11/2017 at 18:48:50
Why Silva? Daniel Johnson?
Did you read the above thread? He did exceptionally well at Estoril, won the Cup with Sporting (their first trophy for years). Won the League with Olympiacos. Has only ever finished in the top 5 when he has done a full season (i.e. the 4 years prior to last season).
So he's on 2 trophies (league and cup), has taken a Burnley sized club to top 4 in Portugal, has Champions League victories over Arsenal, Europa League Experience, and has generally improved every club he has been at.
Why Dyche?
Colin Glassar
122
Posted 14/11/2017 at 18:52:17
Sod it, just name Bill Kenwright manager with Jimmy Tarbuck and Paul O'Grady as his assistants and let the show go on.
Lawrence Green
123
Posted 14/11/2017 at 18:54:51
Whether Moshiri and Kenwright are in total harmony or not can wait for another day, the more important thing is that the players will return from International duty in a couple of days and then will have little time to prepare for the crucial game at Crystal Palace which begins a run of games that Everton must not lose if we are to begin to turn this season around.
Big club Everton, right now we're not looking like one, obviously we as fans don't want them to appoint anybody as the manager just for the sake of it but the search for a new manager, doesn't look as if it's progressed very far since the day they sacked Koeman.
Wouldn't the club have been better served to have appointed Unsworth on a short term contract from the outset? At least that way everybody would have known where they stood and the speculation which is now gathering momentum in all directions would have been lessened.
When the Echo's podcast can casually throw in an off the cuff remark about the lack of progress regarding the new stadium, whilst discussing the managerial vacancy at Goodison, it reminds me that the local paper is as mischevious as the national media and is almost waiting for a full blown crisis to unfold in order to sell papers.
They raise the same questions as we do on here like 'why does Moshiri only communicate via Jim White?" I don't think that the journalists have any more information than we have, but they and their kind are likely to increase the pressure on the club and that might prove to be detrimental to the team and its results.
Trevor Peers
124
Posted 14/11/2017 at 18:58:25
Hope we get that Silva guy he's the only manager who can handle the great Oumar Niasse!!!
Steve Ferns
125
Posted 14/11/2017 at 18:58:44
Tactical Analysis of Silva
The two central players, if two of Gueye, Davies or McCarthy are all capable of doing this, and are better players than Watford have. Silva likes width, and wingers who can tackle. Lennon fits that box, he's a scrapper. Lookman can learn, as can Vlasic, Mirallas is beyond learning. Gylfi is a much better player than Cleverly. Calvert Lewin can fulfil the disruptive striker role as well as Andre Grey. Niasse ain't much worse, and we can buy a better striker than Deeney in January.
Dave Evans
127
Posted 14/11/2017 at 19:03:13
I agree, Daniel @118. Dyche is underrated by many. He deserves a chance (if wants to come here now). He does not seem the type of manager who will waste any future money on players who cannot progress and perform. If we don't get him now, it is likely he will be in demand by some decent teams in the summer.
Michael Mcloughlin
128
Posted 14/11/2017 at 19:04:30
Now we are seeing reports Nuno Espirito has declined an approach from Everton. I wonder how many different manager refusals to embarrass Everton into having a proper policy in our manager pursuit. What a joke our board are.
Frank Wade
129
Posted 14/11/2017 at 19:07:35
The main story here is just more media and journalist speculation. There is no confirmation anywhere that Silva or Watford were ever approached, just a Watford spokesperson answering a question from the BBC and trotting out the club's position as one would expect. I was in favour of Frank de Boer last time, so respectfully holding my counsel this time.
I am happy that Koeman was asked to leave when he was, for Dave Unsworth to continue his audition and for continuous review of his progress and assessment of suitable alternatives if it becomes necessary. I hope it's someone who deserves the post of Everton manager and not the likes of Allardyce.
Phil Walling
130
Posted 14/11/2017 at 19:09:18
Unsy will get the job pro tem. His reward for saving us from relegation will be the tin tac when some sexy Euoroboss comes available.
What a great double act the chuckle brothers have become !
Steve Ferns
131
Posted 14/11/2017 at 19:09:46
Where are you seeing that Michael?
Approaches are to the clubs, they decline them always. It's then about haggling over compensation. Saints declined us speaking to Koeman. Hell Norwich declined us talking to Mike Walker until we forked out a million or something silly. If only we'd baulked at that.
What usually happens is that all managers have agents, we contact the agent, the agent will let it be known that the manager is interested, we may even agree terms (not quite legal) and then we will approach the club. The agent is likely to let it be known how much the club will want in compensation as it is usually in the contract (but apparently not in Silva's).
Why would Everton make an approach to Wolves and Watford at the same time? We would only approach one, and that would be to get our man. Silva is ours if we pay for him, it's a question of how much.
Winston Williamson
132
Posted 14/11/2017 at 19:16:13
I'll probably be shouted down, but why not give the job to Unsworth, full time. Not till Christmas, or the end of the season, but actually hire him as manager.
Then the job is his to lose.
None of the supposedly realistic possibilities feel a good fit imo.
I'm pretty positive that Unsworth would gradually re-introduce players like Sandro etc..if they show enough desire and form in training.
I'm also pretty sure he can give his approval on players our Director of Football identifies as options. Probably not from a golf course either.
Phil Walling
133
Posted 14/11/2017 at 19:19:04
Steve, Midland mates tell me it's all over their 'locals' and I've just read it in Goals.com
They are dragging the ocean floor for foreign treasure!
Steve Ferns
135
Posted 14/11/2017 at 19:22:51
I'd like to see Unsworth as permanent manager, but it's unrealistic. He's just not sexy enough for some, including players, investors, and Moshiri himself.
However, if we appoint him on an interim basis, then the job is his to lose anyway. Say he drags us back to top 8, and does so with just one or two signings (a striker of course) and uses the squad we have as well as promoting well from the U23s, why wouldn't he then get the job full-time? Suddenly, he would be a highly rated young manager.
Waiting until the end of the season makes sense on so many levels for me, not least for the subject of this thread, and my preferred option, Marco Silva. Let him show he can do it over a full season at Watford.
Steve Ferns
136
Posted 14/11/2017 at 19:26:11
Goal.com – found it. All it says is that Nuno turned down an "Enquiry". It's a non-story. He's not turned down the job. He knows he's well down the list, and does not want to spoil things at Wolves by pushing to talk to us. It's not even worth reading and means nothing.
Phil Walling
137
Posted 14/11/2017 at 19:27:38
Make him permanent? Just like Leicester did with Shakespeare, eh Steve? That was real permanent!
Soren Moyer
138
Posted 14/11/2017 at 19:27:53
I will take that Leonardo Jardim fella from Monaco as well!
Steve Ferns
139
Posted 14/11/2017 at 19:30:45
Soren - He's off to PSG when they sack Emery to appease that spoilt brat Neymar.
Phil - I was answering Winston. I don't think you can give it to Unsworth permanently, he needs to earn it first.
Colin Glassar
140
Posted 14/11/2017 at 19:31:15
Steve, Michael, because we are a bunch of amateurs run by a bunch of clowns. Only after every Tom, Dick and Harry have turned us down will they ask Unsy to take the job (and blame) until Xmas.
The cowards that are in charge will never own up to their crass ineptitude but they'll always find someone to hide behind.
Steve Ferns
141
Posted 14/11/2017 at 19:33:23
Colin, if Silva is a poor man's Pochettino, then Nuno is a poor man's Silva. He shouldn't be considered, not on the basis of less than 15 games for Wolves, and his prior record is far inferior to Silva's.
Iain Johnston
142
Posted 14/11/2017 at 19:34:59
Steve (#126),
In response to the YouTube link, do you not think it's the same approach as Martinez? Possession based triangles between the defensive midfielders, centre-backs and wing-backs. Then invariably getting caught out on the flanks because we play in a far more competitive league than Portugal & Greece, a league where almost every club can now afford a £30-50m valued striker?
Lennon's penalty was a result of such a move as were conceded goals against Chelsea, Man City & Stoke City. Their results against the RS and Arsenal were due to Silva switching to a more traditional tactical set-up with two up front and another midfielder. The same can be said for their comeback at West Brom.
We do the same, start with the 4-2-3-1, get nothing, then switch it to 1 defensive mid, a centre-forward and a striker, and bring a winger on.
I think the Premier League is moving away from the 4-2-3-1; Man City now play 4-3-3 plus Walker doesn't venture forward half as much as he did under Pochettino as Guardiola knows now that even with the best players pushing the fullbacks right up leaves you exposed in this league.
Chelsea play 3-4-3 and Spurs now seem to adopt the diamond more often than not. These teams are evolving whilst those continuing with what seems to be the only formation they know now seem to be well a truly rumbled.
Darren Hind
143
Posted 14/11/2017 at 19:38:29
This is where everyone starts turning down the job. I wonder if they would turn it down if they were actually offered it?
£6m to pander to the most easily pleased Board of Directors in football and these jokers are turning it down? ... Yeah, of course they are.
Soren Moyer
144
Posted 14/11/2017 at 19:42:06
Steve, I think PSG is after Mourinho.
Colin Glassar
145
Posted 14/11/2017 at 19:44:29
Steve, I'm not judging the merits of either Silva, Nuno or whoever. What I'm questioning are the buffoons who are the so-called custodians of our club.
Like Darren, all of this smells of horse manure.
Steve Ferns
146
Posted 14/11/2017 at 19:44:39
Iain, no142.
I would say that Martinez and Silva are very different. Martinez plays a possession based game that tries to control the ball. Silva's setup is counter-attacking and he cedes possession of the ball to the opposition and tries to then beat teams on the break. He plays this way because he often has inferior sides, such as Watford, Hull, Olympiacos (in CL), Sporting (in CL) and Estoril. Of course in the domestic leagues with Sporting and Olympiacos he controlled games and dominated the ball. This shows how he can be pragmatic and have different approaches to different games.
He's also a good coach:
Hull training day one
Another training video
Steve Ferns
147
Posted 14/11/2017 at 20:06:19
Trevor Peers
148
Posted 14/11/2017 at 20:06:37
Tend to agree with Steve @131, if they really want Silva it's just a question of how much he would cost.
According to the Times an initial offer of £8.5 million was rejected by Watford, with Silva now reportedly interested in the job.
Laurie Hartley
149
Posted 14/11/2017 at 20:56:33
If Silva comes to us he won't be able to say it was because he "needed a new challenge".
If it's not Unsworth then we need a manager who really does "need a new challenge" because that is what he will be facing at Everton. Is there a manager out there with that kind of courage and ability. We will see.
Mike Allen
150
Posted 14/11/2017 at 20:58:01
Don't get this lambasting the board. Martinez fooled some of the people most of the time; more than most were excited with Koeman – neither turned out to be what we wanted so the board got shut. Most again happy with Unsy standing in.
Once again, most of the fantasy football followers are singing Silva's praises so the board make an inquiry... fuck me, still not happy, you can please some of the people some of the time but we are not a big enough club to please most of the fantasy managers that keep appearing in thread after thread.
We have been a safe mid-table club for long enough, so get real – that's where we are (well, will be by May).
Peter Fearon
151
Posted 14/11/2017 at 20:58:58
Good. Good. Don't want him. We just turned them inside out despite being in the depths of a crisis. What does he bring to the table apart from having a vowel at the end of his name? Not much.
If his name was Postlethwaite no-one would give him the time of day. Yes, I know that has a vowel at the end too. The point is we lend foreign coaches a mystique most really don't deserve.
We need to give Unsworth to the end of the season and if it isn't working out, replace him with an accomplished manager.
Gordon Roberts
152
Posted 14/11/2017 at 21:05:25
Well said, Colin Glassar (#140).
Steve Bird
153
Posted 14/11/2017 at 21:08:48
As always in times of crisis at our club we can always guarantee one thing.
It's being run by a gang of chimps. (I expect to hear from a solicitor representing the interests of chimpanzees very shortly.)
A deafening silence from above, no obvious plan, constant denial, no blueprint for success, and a team devoid of confidence looking over it's shoulder to see what is occurring.
Unsworth will probably be given the job on a temporary basis for a year or two until Kenwright is assassinated by a recently formed Goodison Militia; it's the only way... we have to seize power for ourselves!!
Sad thing is I'm only half joking and I don't mean the bit about chimps.
Peter Fearon
154
Posted 14/11/2017 at 21:22:01
And if Walsh doesn't have a world class striker in by the end of January he should take the same taxi that took Koeman away.
Eric Paul
155
Posted 14/11/2017 at 21:23:24
If the board haven't been in talks with top managers behind the scenes and Silva isn't just a salmon pink herring to throw the media off the scent, someone should fall on the sword for dereliction of duty.
Colin Glassar
156
Posted 14/11/2017 at 21:37:51
Martin O'Neill and Roy Keane will be available tomorrow. Probably a bit too scary for our Beloved Chairman tbf.
Laurie Hartley
157
Posted 14/11/2017 at 21:40:58
I suppose the other question I should have asked at #149 is – "and are we looking for him?"
Eric Paul
158
Posted 14/11/2017 at 21:41:52
I would burn my seasie if O'Neill and Keane come anywhere near to Goodison Park.
Sandra Bowen
159
Posted 14/11/2017 at 21:49:38
Whatever your opinion of Silva, can we please stop using the win against Watford as any kind of stick to beat him with? Yes, the result says a loss from being 2-0 up but how on earth can any manager be blamed for the substitute goalie giving away two goals, a defender slipping to give away the penalty and your captain missing the target from 12 yards.
The real story from that game is that we got lucky, big time!!! The game I saw should have seen Marco Silva walk away with 3 of the easiest away points ever.
I'm not saying that he's the best or my preferred option but I'm certainly not using that game as any kind of reason against him coming in and nor should anyone.
Laurie Hartley
160
Posted 14/11/2017 at 21:52:08
Thanks for the reality check Sandra.
Jim Lloyd
161
Posted 14/11/2017 at 21:55:25
What manager we get... (or not being the likeliest outcome) is out of our hands. Who we'd prefer, what their stats are in manager 2000 or anywhere else, is interesting, a great debating point from many angles; but we have no say in it.
What's frightening to me, and others have said the same, is the situation in our Boardroom.
I can't believe (well, unfortunately, I can) that our club is in the hands of those who seemingly have no clue about succession planning, protecting your assets, your interests, and, just a tiny point to make fucking certain that every precaution is taken to ensure this club doesn't end up being relegated!
Sorry about the italics, won't use em again but I cannot believe that we have not prepared for the future after seeing the mess unfolding before our eyes.
Just say Koeman had been offered a national job, or Barcelona (oh aye but you know what I mean) he could have walked, as he showed no affinity with the club.
Some have already mentioned it and I've been thinking the same. There is something going badly wrong within the Board, to face the second part of the season with no manager in place. It also seems that the hectic selection of prospective candidates has been written on one of Bill Kenwright's free tickets for one of his shows.
If the papers are correct, we ask Watford, yesterday...bloody yesterday!, could they talk to to their manager. Surprisingly, they said "Not today, thank you very much."
So that's the one chance of a couple of weeks for a manager to get to know most of his players, without having to worry about winning a match...or even worse, losing one.
I'm not saying David Unsworth won't make a good manager; but to me, he's untried as a manager of a club, especially one in danger of losing their place in the Premier League. My view is this is an extremely risky answer to a perilous situation.
The cause that I think is why we're in a mess, is interesting. I believe that Kenwright struck up a friendship (oops, Freudian slip) with Farhad Moshiri and Moshiri really does fancy owning a Premier League club.
Yes, there is a possibility of one scenario being that he received funds from Mr Usmanov, for him to eventually take over the club if he doesn't kick that Yank out of Arsenal.
That's a bit too Machiavellian for me, but you never know... I bloody hope so too!
My view is Kenwright said he'd stay on as guiding hand; while we are undergoing the process from the corner shop club to the rarified atmosphere of the Brave New World of the Top Four... and in a nice new stadium as well.
I think that's what the root of this calamity stems from. I believe Kenwright is still in control of the Board and is using his influence to go for having Unsworth in charge until the end of the season and then look for a manager.
I think Moshiri is very concerned that we are in a dangerous position and that we should take the best man available to ensure we stay in the Premier League. He would then want to look for a proven manager at the highest level we can get.
The probability now, is we make a choice based on panic and not what is best for this club.
If we cannot get the best now...and maybe Simeone might talk to us in the Summer but it's unlikely now.
The man most likely to get us away from danger is Sam Allardyce. Whether we like him or not, is not the point. If we bring in Sean Dyche, as the only other alternative, we would have to give him a 3 year contract, or else he won't leave Burnley.
My own view is that I would take no chance whatsoever of us going down and the best available man for that job is Allardyce. He's not my favourite manager, he is a man who might stop us going down.
No guarantees, but because of the nightmare events, we definitely are in danger.
I just hope Farhad Moshiri sends our glorious leader into a nice Presidency or something...but get him out of the Board.
Wasn't he going to go when he was 70?
Tony Hill
162
Posted 14/11/2017 at 22:03:02
Well said Jim Lloyd, I agree entirely, but that ship has sailed with the vast majority of Evertonians waving it happily goodbye.
Jerome Shields
163
Posted 14/11/2017 at 22:10:02
I am beginning to worry about Moshiri. Maybe it wasn't his money that bought the shares in Everton. He is giving the impression he is prepared to throw around money like it isn't his. The now known 'scattergun' approach in appointing a new manager is highly unprofessional, with little thought or know-how evident.
It could actually demotivate the existing team and staff. He also could get another Koeman type failure. Very worrying times. Survival in the Premier League is about confidence. Moshiri isn't inspiring confidence, on or off the pitch.
George Cumiskey
164
Posted 14/11/2017 at 22:11:12
Sandra @159 exactly what I said about Silva, and I'd have him tomorrow. But of course I was derided on ToffeeWeb for the reasons you so perfectly described in your post.
Jim Lloyd
166
Posted 14/11/2017 at 22:13:14
Thanks Tony. I agree with you. I just hope the majestic liner we're on, isn't the good ship Titanic.
Soren Moyer
167
Posted 14/11/2017 at 22:27:32
Good news everyone! According to Sky Sports News, Fit Fat Sam has told Everton that he is no longer interested in Everton job! Thank fuck for that.
Laurie Hartley
168
Posted 14/11/2017 at 22:34:59
Jim (#161) – very pragmatic and common sense post. I think you are going to get hammered.
Chad Schofield
169
Posted 14/11/2017 at 22:40:33
While I'm not Kenwright's biggest fan, Jim, I do think you have to look at the fixtures we've played to date versus what's coming up. Allardyce would be a disaster. He has nothing to lose now, he's never going to be offered the England role again or a top job. With him at the helm you could expect to pay big bucks and money to be siphoned off any transfers... He'll get a contract at Christmas from some team who are struggling, to save them. It might even be Watford, as I'd be surprised to see them get too much from their next 5 games.
I wish we'd made an early announcement. Unsworth until Christmas would have given him a decent lift and an opportunity to work with the squad and even those members who aren't on international duty this past week. Instead he'll have a couple of days before playing a game that might cost him a job he's proudly said he loves.
There are a lot of names mentioned that are exciting, again though, the two EPL managers mentioned don't feel ambitious at all and potentially dangerous given their need to understand and work with our squad.
Stewart Lowe
170
Posted 14/11/2017 at 23:02:14
Am I the only one that thinks this Marco Silva is like another Roberto Martinez? I know Martinez won the FA Cup but he got Wigan relegated at the same time.
Didn't Silva get Hull relegated too, and he didn't win the FA Cup. And this is progress? 11 games at Watford and suddenly he is the next big thing??? Really??
Silva plays offensive football with a wide open defence, ring any Martinez bells??? We are supposed to be trying to reach the next level, and we can't do that with only potential. We haven't got 2-3 years to give someone like Silva a shot and to prove himself.
A Moyes era with no money is an a time you can afford to give potential a shot. We have big money now to try and bridge the gap on the top 6, but we don't have the big big big money that will allow us to keep sacking managers. We certainly don't have the wealth to keep giving new managers big budgets to spend. We have to get it right.
For me it has to be one from Simeone or Ancelotti, as we need a proven winner. If we can't get those two, we give someone like Hiddink or Unsworth a one year contract until a Conte, Ancelotti or Simeone becomes available, as you can be sure the managerial merry go round will bring someone decent to the table eventually and we may have to be patient.
Tony Everan
171
Posted 14/11/2017 at 23:06:55
Sandra 159
Agree we were very lucky against Watford , amazingly so. If we'd drawn nobody would be citing Dave Unsworth. Three defeats and a draw would have done him. If their goalie hadn't got injured they would have won by 2 or 3.
To me that game was no tonic, it was another example of how easy we are to score against. A bit of pace and skill and our defence cannot cope. That and every corner or set piece was met by a Watford head in our box.
There is no way Moshiri is going to entrust his entire project on someone with zero sharp end managerial experience . The trouble for him is the current candidates are not cast iron to do better.
Silva has the most potential as a manager I think of those currently linked.
Call me old fashioned and a tweedy gent but I feel uneasy about poaching another teams manager after only 9 league games.
It's boorish, uncouth behaviour.
If he gets us winning, I'll sign off on it though.
Tom Bowers
172
Posted 14/11/2017 at 23:08:27
It always seem the norm for ''interim managers'' from within to be passed over after a while. Shakespeare at Leicester is an example recently and I fear Unsy will go the same way. I am not bothered about the Silva or Allardyce refusals but would prefer Sean Dyche or Chris Coleman.
Who ever comes will not change things overnight. Until the offensive side of the team is improved I think the struggle will continue.
It is good to hear Bolasie is back in training but he alone is not enough and probably won't play until next month all being well.
Jim Lloyd
173
Posted 14/11/2017 at 23:36:28
I think you could be right, Laurie!
Chad, I've read your post and you've put a lot of thought into why you believe Allardyce should not be our manager.
But if I may, I'd like to come back on one or two of the points you've raised. Number one is the teams we played in the first four Premier League games. Yep, you're right it was a hard start. But the games I really got scared about, were the Atalanta one, the Cypriot team, Brighton, Leicester, even the last one at Goodison against Watford. I know we all see the games differently and conclude differently as well. Against Brighton and Watford I felt we could have so easily got beaten against the pair of them, though I was as manic as anyone in the ground when we got the third!
Having said that. We need a manager and one of the points I raised was the lack of planning that has led us into the situation we are in now. That is a Board action (or lack of it, that has us running round round, late in the day, to try and decide what to do.
In my view, you quite rightly identify the darker side of Allardyce, regarding what used to be called bungs. No doubt about it. But you say there are "a lot of names mentioned that are exciting" and then you mention the two English managers "don't feel ambitious at all and potentially dangerous, given the need to understand and work with our squad."
Could you name some of the exciting managers that we have a chance, given the situation we are in; and the timing; of attracting now?
You mention that Allardyce "will be given a contract at Christmas to save a team". Well it might be us!

Steve Ferns
174
Posted 14/11/2017 at 23:58:07
If you want a detailed analysis of why Allardyce should not be our manager then here goes Jim. Let's forget his off-the-field activities which should be an automatic bar, if you feel that a manager considered unfit for England to be fit enough to manage your club, then that's on you, but I have higher standards.
As for the playing side he would be a poor choice for the following reasons:
What does Allardyce prefer? He plays a 4141 formation. He likes big strong centre-backs - Williams and Keane will tick the boxes here. He also likes out and out defensive fullbacks, not your Seamus Coleman types. So Mason Holgate at right back, bye bye Jonjo Kenny. Baines is too small which may mean Holgate actually shifting to left back and Jagielka playing at right back.
The first key position is the anchorman. Not a defensive midfielder like Gueye or Baningime, but someone disciplined like Schneiderlin. Then ahead of him I would expect to see Gueye alongside Sigurdsson in the middle. Lennon is a defensive enough winger and will play right wing. Left wing would be Baines, as there he would not risk Lookman or Vlasic as they don't track back. Sigurdsson would have licence to get forwards, provided he put a shift in and got back too.
Up top would be Rooney. He would play isolated and be allowed a free role to find space like Defoe was allowed at Sunderland. He would need to be ready to chase down lost causes and late in games Allardyce would bring on Niasse to chase tired defenders.
We would sit very deep, which would see Williams look 10 times better. Keane would just defend and not be able to bring the ball out of defence and so he would look better. The defence would be instantly more solid, and we would wonder how we were shipping so many goals.
Schniederlin would be expected to hit 40 yard passes to the flanks, with Lennon's pace he would be the preferred target, unless Baines rediscovered his speed.
In January, expect a bid for Sakho of Palace, Kone of Sunderland, and Benteke of Palace. He would also look to add more height to our midfield. I suspect he would want someone with more pace who can play forwards and back down the left and we would sell off a load of players to finance this, probably Sandro, Klaassen, Vlasic, and Mirallas.
Youth would not get a game, Allardyce would not risk short term success with long term development, why would he he's on an 18 month contract. He doesn't care about what happens next. This would effect the youth recruitment, who would join a team not developing kids, giving them games, and preferring 30+ players instead.
18 month contract? Yes, The only way he takes the job is on at least an 18 month contract. 18 months of the shitest long ball football we have ever seen.
And all this because the team that could go 11th on Saturday are in "danger of relegation" with a £200m squad, and more to spend in January.
You're having a laugh.
Don Alexander
175
Posted 14/11/2017 at 00:06:10
The owners have got us in a right mess. I can see zero positives from what they're doing, or who they're allegedly interested in.
Allardyce has spent his entire management career aspiring to win a top job. He got it with the England gaff and then promptly ballsed his career and reputation up, for ever. My guess is that he'd now just love some muppet to pay him way north of £6mill p.a. for the maximum contract he, Allardyce, can extract because he knows he's going nowhere now, so his first relegation won't matter a damn to him.
Dyche is ambitious but has a boardroom who've stood by him and let him do his own thing despite a relegation. He's done it with his own team of coaches and I'd expect him to bring them all with him. That'd mean the removal of a lot of "Everton Oldies" from Finch Farm and Blue Bill would rather cut off his own dick than let that happen.
For Dyche, read Silva, except he's managed less than one season in the Premier League but he does know what relegation feels like.
Ancelotti, Simeone, Hiddink and anyone else whose whole career has been spent seeking/needing to win trophies in order to merely survive will not be interested in trying to rescue from relegation a team nobody in the wider world has ever really heard of, unless you're "in" football. When did any of them face the real prospect of relegation and how to prevent it?
That leaves us with the unemployed, or Unsworth, undermined as he'd now have every right to be feeling given the antics of a boardroom now on the record as wanting to sign a manager who ALWAYS brings his full retinue of coaches with him to take the place of those already at the club he's joining.
What a boardroom!
Jim Lloyd
176
Posted 15/11/2017 at 00:10:35
Too true Don.
Steve Ferns
177
Posted 15/11/2017 at 00:11:28
I got my calculator out, and used ToffeeWeb's transfer prices. Our squad cost £275m, and that's without adding up the academy players or players out on loan like Henry Onyekuru.
Nicholas Ryan
178
Posted 15/11/2017 at 00:16:16
Everton know, that Silva is not going to move mid-season. The "approach" was a shot across the bows, for a summer move. We will keep Unsy till then. If Watford's form falls off a cliff, then we may keep Unsworth full-time. Otherwise, it's 'Hi,Ho, Silva Away!!' [Lone Ranger, geddit? ]...OK, I'm going!
Steve Ferns
179
Posted 15/11/2017 at 00:22:19
At #58 I gave a potted history of Silva and the trophies he has won.
He won the 2nd Division with a small club called Estoril. Then he finished 5th in the top flight and then he finished 4th. Then he went to Sporting and grabbed 3rd and won the Portugese Cup. Then he went to Olympiacos and won the Greek League. That was the year before last. He took six months off, then managed Hull from January to the end of the season, winning 7 of the 9 games they won that season in just 16 games. Then he took over Watford.
He has Europa League experience. He has Champions League Experience, where he beat Arsenal with Olympiacos.
So please guys, tell again, how is he comparable to Dyche? What's Dyche ever won? What European Experience does he have? What sustained success does he have? What about Dyche tells you that he can adapt to Everton?
Sure, there's some doubts over Silva, and if it were up to me, I would give Unsworth until the end of the season (providing it didn't go properly wrong) and then re-evaluate then. Is Simeone willing to come? Has Tuchel got the Bayern job, will he come? What about Nagelsmann? What about Gallardo of River? What's Ancelotti up to? Has Silva showed sustained consistency with Watford? What about Unsworth, does he deserve the job full time? Or even Wilder of Sheff United, has he kept it going?
I'd only consider Dyche as a last resort. He'd really need to show that he can adapt and change.
Paul Kelly
180
Posted 15/11/2017 at 00:29:01
He took six months off, then managed Hull from January to the end of the season, winning 7 of the 9 games they won that season in just 16 games.
So, he won 7 of 16 games then Stevey boy, don't try sugar coat it including the previous league stats! Hull were out of the relegation zone with three games left weren't they?
Steve Ferns
181
Posted 15/11/2017 at 00:36:13
7 of the 9 games they won all season, in just 16 games he managed them.
Does that read better?
Point is, he turned Hull's mess around, and got them playing and winning, and their form was mid-table. It's not his fault there was too few games left to keep them up.
Paul Kelly
182
Posted 15/11/2017 at 00:39:54
No, it's exactley the same or am I missing something? Apologies if I am, but that reads as 7 wins in 16 games?
Paul Kelly
183
Posted 15/11/2017 at 00:41:41
43% win ratio, don't know how that compares without the google machine!
Steve Ferns
184
Posted 15/11/2017 at 00:45:18
Yes, 7 wins in league 16 games, plus one in the cup. But Hull only won 9 games all season, so 7 wins needs to be examined in that context.
Paul Kelly
185
Posted 15/11/2017 at 00:50:05
I say:
"winning 7 of the 9 games they won that season in just 16 games".
You say:
"7 of the 9 games they won all season, in just 16 games he managed them.
Does that read better?"
And after looking at all the evidence, I'm saying no more.
Gary Gibson
186
Posted 15/11/2017 at 00:57:22
Apart from that great run with Hull last season and this wonderful start to the season with The Hornets, what has this young Silva guy actually ever achieved?
Paul Kelly
187
Posted 15/11/2017 at 01:12:40
Sorry Steve, I've just typed a reply that took me 15mins, it ain't appeared on this thread, and I ain't typing it again, I respect your opinion, just didn't want you to think I was ignoring you.
It happened in the past, it's the reason I don't bother in the first place! Oh and I'm shit at typing!
John Daley
188
Posted 15/11/2017 at 01:42:55
Personally, I'm not convinced by Silva at all.
What have been some of the key failings of this current Everton team? They don't create enough chances, they concede too many goals and they can't win away.
True, he may have easily trumped Mike Phelan (it would have been hard not to), but if you look a little deeper into Silva's 'decent fist' at trying to drag Hull out of the drop zone you will find these are three areas he struggled to muster the necessary improvement in.
During Silva's time at the club, Hull created the least chances of any Premier League side, they conceded the second most goals and they only scraped a measly 2 points from a possible 27 away from home. In short, he failed to sufficiently improve their attack, their defence and their ability to pick up points on the road.
He's had a decent start as Watford manager but there's little tangible evidence at this early stage that it's anything more durable than just that. They've only won four games and have conceded 21 goals (one less than an Everton defence derided as regularly being all over the shop). So, what exactly convinces those at the top he would be worth whacking down £8m+ compo for and why would anybody who would actually consider jumping ship less than six months into a new job be deemed to possess sufficient character and commitment to take on what promised to be a massive, long-term challenge?
His previous record at clubs outside the Premier League? One season at Olympiakos where they won the league before he walked out for 'personal reasons'? They won it five seasons in a row prior to his arrival and again the season after he left. Anything other than winning the league would have been failure, pure and simple. He merely had to maintain rather than mould. An entirely different proposition to the one awaiting the next Everton manager.
Winning the cup at Sporting Lisbon? While their first trophy in eight years isn't to be sniffed at, his one season in charge saw them finish third in the league table. One position lower than both his predecessor and successor.
I honestly struggle to see any compelling evidence that he is a man who can walk into a club and conjure up radical improvement on what came before. He may be able to, he may not, but if he is the boards first pick, I'd love to know the reasoning for determining he's defo the right choice, rather than a desperate roll of the dice.
Will Mabon
189
Posted 15/11/2017 at 02:10:51
John, I agree. There is little real
evidence
to support any of the managers realistically available to us - and even less in the way of proof that they'd be successful. A new manager is a risky step, always is, but moreso when considering an out-of-form, disjointed and incomplete team, as we still are.
I believe the head start that Unsworth already has far outweighs the disruption and risk of bringing in someone else now, in terms of making enough improvement to ensure safety. Things might develop much better under Unsworth with time, too.
Should things take a serious turn for the worst, then the manager most likely to deliver what would be needed, based on the educated guess that employing a manager is, would ironically, be Bungy. Speculation around which manager would do what, is exactly that.
With that thought in mind, for me, it has to be more time for Unsworth.
John Pierce
190
Posted 15/11/2017 at 02:47:40
I'll stand by my original instinct. The candidates mooted have too much downside to gamble at this time. A summer appointment is more realistic.
Already ensconced Unsworth equally has a potential heavy downside. But his previous relationships with the younger players on which a lot rests is key.
He has the best chance of getting the uplift from those players. For me he stays until the end of the season.

Jay Harris
191
Posted 15/11/2017 at 04:07:12
If we've got £8.5m to throw around, why don't we offer that as a signing on fee to Ancelotti or Tuchel to come right away.
If money talks then we should get the best and there aren't many better than these two.
Personally I feel that the task is too much for Unsy at this stage of his career and I don't like the fact he is so close to Boys Pen Bill.
Jamie Crowley
192
Posted 15/11/2017 at 04:12:58
I haven't been to TW in days. Busy with life...
Come here to find this headline. Question...
How in the HOLY FUCK is this guy - complete flavor of the month - linked to Everton??
Seriously?
I'm not saying he's not a good manager. But he's certainly not a household name.
Keep Unsworth already if this is your bar.
Jezuz guy wins like 2 games, is new to the league, and we're interested in him? How far have our expectations sunk?
Unsworth - give the man a chance until Christmas.
David Barks
193
Posted 15/11/2017 at 05:37:23
Jamie,
Did you at least google the guy's experience and accomplishments? There is a world outside the premier league. He's won in Portugal and Olympiacos. And not just in those leagues, but also in Europe.
He's been highly thought of for a few years now and isn't the ultra-positive type like Martinez. He wants to play attacking football but he's not naive. I happen to see a lot of Pochettino in him.
Ian Hollingworth
194
Posted 15/11/2017 at 06:49:59
Silva, Allardyce, Dyche or Unsworth – just about sums up Everton's ambition.
Any news of spades in the ground yet over at Bramley-Moore Dock?
Whilst Billy Clown's Circus rules the roost, expect more of the same.
Chad Schofield
195
Posted 15/11/2017 at 07:00:31
Hi Jim, Steve Ferns
174
does an excellent job of analysing Allardyce's potential playing style. But it's not just solidifying our team (and Lord knows we need to) that's my main fear.  My fear is that we trample on our key differentiating factor, our backroom set up. Yes it plays into Bill's vision,  but we've just had a manager who had one foot out the door pointing at Barcelona and ignored what was right in front of him. 
Will Mabon 189 and John Pierce 190 succinctly sum up what I believe we should do short term. 
Jay Harris 191 although not think Unsworth's ready, mentions the precise reason why most names mentioned might be persuaded... But it needs to be more than just money. A figure like Hiddink who's at the tail end of his career might relish a project and to mentor.
I feel like each comment I write turns into a mini article. I'm really passionate about this though and am under no illusions as to the precarious situation we are in. While there are infinite variables,  how I see it there are four key potential scenarios where we stand. 

1) We panic now and get a fire fighter, like Sam Allardyce in. 
Best outcome is we're safe at the end of the season, but our stock's even lower as we'll have added journeymen to our squad to help us stay up... We have a disenfranchised youth set up and even if we sack Sam in the summer we're several steps back.  Premier League status is our focus and at best we tread water with Stoke et al. 
Worst case we go down with a similar set up and aspirations of getting back to our rightful place in top flight football... See Wolves,  Middlesbrough,  Villa,  Leeds,  Forest etc. There's a ready made excuse of the back room set up - but we do now have the chance to give Dyche/Silva/Unsworth a go - but do they have the experience in The Championship. 

2) We get in a bright young thing now. 
Best outcome they embrace the challenge work with our existing set up, picking up results short term, stabilising our position,  adding to our squad a mixture of youth already at the club and some experience (not near dead hopefully) in the January window. We get into Europe and build from there (best case remember...  I mean technically all the top teams could draw their remaining games while we win everything,  but let's be slightly realistic). 
Worst case it doesn't work, the team flounder through the up coming winnable games. We clear out our backroom because they're working against our latest investment OR we sack them and get it a fire fighter... With the two possibilities outlined in scenario 1.

3) We get a old hand in to mentor Unsworth.
Best case they attract in some of the glittering talent they've worked with. Get some solid results early on and work with our existing set up to continue for the next 10+years. 
Worst case they arrive for a big paycheque, berate our parochial set up. Blame everyone else and watch us decend into oblivion. 

Of course, not everything is binary... There's lots of grey areas in between these outlined scenarios. 
Pragmatically perhaps we could consolidate through this season and write it off,  but I think we're being hasty given the fixtures we have had and the additional burden of Europa League. Don't get me wrong I want European football, and unlike those deriding our three number 10s, I can see we needed to develop a squad, not just a team... It's just obviously a pity we have neglected other positions. 
But back to those scenarios. The most likely successful bright young thing for me is Unsworth because of his intimate knowledge of not only the U23s but overall existing set up. Of course there's a risk,  but then there's a risk in all of these. We stand at a crossroads with regards to putting faith in what we have or stripping in out a starting a fresh. I'm not adverse to the latter if we need to. I'm just not sure we're there yet. 
And finally, Jim, of all the situations to accelerate our decline,  it is the arrival of an Allardyce or Rednapp that spells the end. 
Chad Schofield
196
Posted 15/11/2017 at 07:17:25
Oh, that fourth scenario was going to outline Unsworth... But I think he deserves very to be thought of as a bright young thing. He's done brilliantly with U23s and his passion is infectious.
In the little time he's had, there have been improvements, and while I completely agree the Watford game was tight, it's a game of fine margins and lots of failed managers run on the shoulda, coulda, woulda moments... So let's not be too harsh on Unsworth. Barton's trying to make himself relevant by doing so.
Paul Tran
197
Posted 15/11/2017 at 07:58:30
Contracted managers tend to respond to 'interest' by dismissing it. They talk to their agent, who talks to the club, they settle the deal and find their way of pushing it through.
We can have all the 'targets' we like. The process is rarely quick. Maybe we're doing proper due diligence this time? Maybe the real battle is between Kenwright & Moshiri – the comfortable, sentimental sepia-eyed Everton versus Moshiri's ham-fisted attempts at making us a properly-run ambitious business? Attempts, I suspect, that are being vetoed by vested interests at the club.
That's the real issue here. For £6m per year, I think there'll be no shortage of willing candidates.
Tony Everan
198
Posted 15/11/2017 at 08:08:32
I am not attempting this as a slight against David Unsworth achievements with the U23s but can someone offer some perspective on what he achieved?
Where was our U23 team expected to finish in that league with the squad we had? By how much did we exceed expectations?
What concerns me is that the U23s for some clubs may be used as semi-training matches. Also to introduce returning injured players to some sort of competitive action.
Can anyone shed any light as to the magnitude or significance of U23 success in general? Also how successful historically are U23 coaches from other clubs?
Tony Abrahams
199
Posted 15/11/2017 at 08:13:00
FROM HOLES IN HIS SHOES, TO CHAIRMAN OF THE BLUES, don't worry Farhad, I got away with having no money for years!
BUT DONT YOU THINK ITS A SIN, IF YOU DONT SET OUT TO WIN? But with the money from the telly, we will fill our belly, and remember this club will never have a better chairman than me!
Martin Nicholls
200
Posted 15/11/2017 at 08:23:34
Steve (#179) – I'm playing devil's advocate here! Sean Dyche who has experience in the Premier League is a "last resort" in your opinion but it looks like you would consider the older and considerably less experienced Chris Wilder for the job. Why is that?
Tony Graham
201
Posted 15/11/2017 at 08:52:52
I think Silva could be something special, he has a football brain. If he can improve Hull and Watford, he certainly can improve us.
I say go for him... I don't think we'll regret it.

Rudi Coote
202
Posted 15/11/2017 at 08:55:18
This Silva guy is just a flash in the pan. He hasn't won anything or even nearly won anything. I'd give him a wide berth. Everton has made too many cockups with foreign managers.
Jim Lloyd
203
Posted 15/11/2017 at 08:56:59
It seems then, that we are panicking now, as we've seen what Koeman has done (or not) and then the Board have sacked him without having a defined course of action.
To me, having read of the various attempts that the club has supposedly made to bring in a manager, we're no further along than we were a month ago.
It now looks increasingly like our choices are being more and more limited as the days go by. The Board may surprise us all, have kept their powder dry; and unleash to the football world, our new top class manager.
I read your post with interest Chad and again, good talking points about the pro's and con's of the choices that lie before this board in who I've got no real faith in, whatsoever.
About the potential managers available including Unsworth, there certainly are risks, or downsides. As far as the style of football is concerned, I think we may as well forget purist, flowing style for this season. To me, this season we need to have one main target, and that is to stay up. The chance of us being able to bring in players in January who will dramatically improve our style, is remote.
It looks like we will have to play with what we have, with the addition of another goalscorer and at least another defender, preferably two. That is just to ensure we have as much in place as is possible to strengthen the team for the battle ahead.
Don't get me wrong, I'm not making a case out here for a favourite manager, as it seems we have very little, or no, chance of bringing in any of the bright managers that have been mentioned time and again.
So it comes down to this
a) Are we in danger of relegation or is that just not going to happen. If there is any danger whatsoever, then I'd have thought the first priority is to reduce it asap. If the Board thinks our position in the league is purely a temporary one and our football is showing plenty of signs that we won't be in this situation for long, then they might take a chance by giving David Unsworth charge until the end of the season.
b) Do the Board bring in a manager who has shown he can bring a team up to a decent standard in the league and offer him a 3 year deal. I'm referring to Sean Dyche. However, the board might not want to offer him a 3 year job to manage "the project" as they might want to get their man in during the Summer. then Sean Dyche would not come for a temporary appointment, I wouldn't have thought. He's got a good job at Burnley.
If there's any substance in the choice of Simeone being the man, or possibly Silva, or any other name bandied about for that matter, it's very likely that they would not be interested until our situation is known, ie, relegation or not. They would likely only show any interest after the season finishes.
b) If we are not thought to be in danger, then continuity would be fine, and David Unsworth could carry on until the end of the season. The Board then (we all believe!!!) will have in place their plan to restart the "Project"
c) If we are thought to be in danger of relegation and only want to offer a job until the end of the season, who is going to come now? If the answer is no one, then again, David Unsworth will carry on until the end of the season anyway. If that choice is made is he going to have the power to enter the transfer market in January, to sell and buy, then another manager comes in during the Summer and presents the Board with another list of players he wants.
The other alternative is Sam Allardyce, if he will take a 6-month job, it looks like he won't anyway but money talks as he's already proved.
I think this what the Board are split about. Who do we get in for the short term? I don't think that Moshiri will want to trust his "project"; and his millions to an unknown quantity in the outside world.
Hard place to be in, I think and the Board have not yet shown any decisive move, other than going begging clubs to release managers during the season... Bloody Nora!
For this six months, our future is at stake. I don't want to see the kids being shoved into a shit situation. Seen it before and it ruined some good young lads. We might have to bring in Journeymen (or good professional players) for this season. I think the unpalatable truth is, of those managers available, Sam Allardyce is the man who can most ensure we don't go down.
Eddie Dunn
204
Posted 15/11/2017 at 09:14:00
One thing people seem to be overlooking here. is our board don't have to suddenly make a decision and give the job to A N Other or Unsworth till the end of the season. They can sit and wait and see, game to game how Unsworth does.
They can decide at any point that they need someone else, indeed the only benefit of giving him the job till the end of the season would be to signal to the players that his authority extends at least for so long.
There would be little point in putting him in for the rest of the campaign and suddenly panicking in 5 or 6 weeks and getting a replacement in.
We will have a proper idea by Christmas and if we look established in mid -table, he should get the green light and if we are still only a point or two from the drop-zone (or in it!), we should appoint a new man.
Damien McKay
205
Posted 15/11/2017 at 09:23:36
Spot on, Eddie, no need to panic just yet. This appointment is key to our future and they must take their time to hire the right man.
James Marshall
206
Posted 15/11/2017 at 09:48:27
Nothing will change with a new manager anyway - I don't see what all the fuss is about at the moment since any new guy is still going to face all the same problems anyway.
Does anyone really thing there's some bloke out there with a magic formula that nobody else has noticed, which is suddenly going to transform this squad into a goalscoring, free flowing, defensively sound unit?
The media hyped all us Evertonians up into a frenzy over the International break, and everyone expected us to appoint a manager during that time – it hasn't happened and now everyone thinks the board have dragged their feet/fucked it up – based on media speculation.
At no point has anyone from Everton said a word as far as I remember – at least not directly giving out timeframes, or any clue as to who the new manager should be – aside from a few media-fed soundbites about Moshiri/Simeone, and Bill/Rhino. I mean, really? Have we all sunk so low as to believe all this shit?
I have a feeling that the club is going to stick with Unsworth (for now) – whether by design or otherwise.
Steve Ferns
207
Posted 15/11/2017 at 09:56:01
I agree James.
As I have said repeatedly, I Think Silva is the best candidate, but even he has a question mark over him and so it makes sense to me that we wait until the summer and monitor all the targets we want.
Why Wilder? He's a manager on a rapidly upward trajectory. He's got a team out of the conference, he's then got another team out of League 2. Then he takes Sheff Utd to the championship (they've been stuck in League 1 wildnerness for what seems like forever) and now they sit second. I think someone like Burnley would be a better step up for Wilder, but he's not one we should dismiss out of hand.
Tony Everan
208
Posted 15/11/2017 at 10:10:28
Delaying appointing a manager is to leave the club directionless and in a state of limbo. I can't in anyway see it as being a good thing. I think the discord and malaise will grow.
If we get beat by Crystal Palace the whole festering wound will burst open yet again. The puss will be all over the boardroom walls.
We all must be racking our brains as to what is the best way forward. I'm in no way convinced that prising Silva 10 games in to his Watford tenure will be good for his mental state. Doing this will backfire on us.
The best £10m the club could ever spend is by giving it to Gus Hiddink, or someone of similar stature , to stabilise the club and work with David Unsworth until June.
I think the one thing we have to accept is we need some breathing space at this time. Making a rash appointment is not the way forward for the club.

Michael Stevenson
209
Posted 15/11/2017 at 10:24:12
Someone might have just become available: "O'Neill – a two-time European Cup winner as a player who has won nine major trophies in management." Just a thought.
Steve Ferns
210
Posted 15/11/2017 at 10:30:43
Martin O'Neil is an inferior manager to Moyes. He was frequently outperformed by Moyes.
Last night he made ridiculous decisions. He was naive.
He wasn't worthy of the Everton job 20 years ago. Now he's a shadow of his former self. He's tired and old. He's well out of touch with club management. His football is dated. His coaching methods are rooted in the 70s and 80s.
He's a big no.
Michael Stevenson
211
Posted 15/11/2017 at 10:35:19
Was just a thought as I say. I don't like him personally – especially all the crap he's given us over our Irish players recently.
One thing he's got that Davey Moyes hasn't is trophies, like
Steve Ferns
212
Posted 15/11/2017 at 11:13:56
Yes. He's won a fair bit. 2 league cups, a load of stuff north of the border and a European final. Perhaps I should be more respectful to him.
Regardless, he's 65 now. We need someone 20 years younger, with energy and drive to get stuck in on the training ground and turn this round. I don't believe O'Neil has that.
John G Davies
213
Posted 15/11/2017 at 11:25:41
Steve (#212),
I would sooner have Allardyce with Pardew and Redknapp as assistants than O'Neill.
Talking of international games, what did you make of Maguire's performance for England.
Joe Duffin
214
Posted 15/11/2017 at 11:45:58
I think the people on here talking about O'Neill are talking about the wrong O'Neill.
Michael O'Neill would be a better bet, he has proven himself to be a great motivator, tactician and is great at getting best out of players.
He has more experience than Unsy, was a good player (top goal scorer at Newcastle ) and whilst may not be a "Marquee" signing – in my view he would offer more than Silva.
Bobby Mallon
215
Posted 15/11/2017 at 11:58:11
Laurant Blanc has not got a job. Ask him to come to Everton.

Steve Ferns
216
Posted 15/11/2017 at 11:59:14
Joe, I would say that Michael O'Neil is very interesting, but I think that he hasn't done enough to warrant a job with a top side just yet. Lower Premier League or Championship is his level.
Lenny Kingman
217
Posted 15/11/2017 at 12:02:06
The bit about fat Sam only coming to Everton for a long contract. Indeed, that is his MO. Steady a ship whilst its in troubled waters, if he can, and then revert post haste to what he really is...
A duffer doolan of a manager, with a tendency to further line his pockets through corrupt methods, sacked once this is exposed. Then, weighed down with piles of cash pay-offs from the years left on foolishly awarded contracts, leaves on a jet plane to the Costa del Crime to join in the fun and the sun with the rest of the conmen.
An unscrupulous clown who has made a lot of wonga from very little football ability. I fully expect Kenwright to put down the barge pole, and appoint him when all other avenues turn into dead ends.
Brian Harrison
218
Posted 15/11/2017 at 12:02:21
Heard Allardyce on the radio this morning: last week, he was saying he had no contact with Everton; this morning, he is saying he pulled the plug on any possible deal because he didn't believe they really wanted him. Well there are about 5,500 on here that don't want you either!!
He was asked about Marco Silva and he said well he couldn't keep Hull up, and then said he would have to walk out on Watford and that wouldn't look good.
If anyone had any doubt why we didn't hire him then listening to him this morning would convince you we absolutely made the right decision.
I think Moshiri needs to either do a deal with Watford by the weekend if that also means telling Silva to walk out and we will pay whatever compensation Watford claim off him, so be it. Or tell David Unsworth he has the job till the end of the season.
Because we are a club in limbo at the moment and you can bet that the players will be talking amongst themselves. Many of them will have agents that also represent managers so they will probably be hearing all sorts of stories which won't be good for team morale.
Alan Bodell
219
Posted 15/11/2017 at 12:13:11
Most on here are relieved that this fat, legend in his own head, is no longer in the running for the job but the most relieved must be the cleaners at Goodison that take care post match in our dugout.
He must spit out a pack of chewies each half, never has the decency to put them back in the used wrapper, horrible and disgusting.
Steve Ferns
220
Posted 15/11/2017 at 12:20:20
I would have said that today was D-Day. The players should all be back in training today, with a few more to return tomorrow. It's too late for a new manager to be in place for Palace, after today.
Then we have a quick succession of games. First off Palace away on Saturday, then Atalanta visit on Thursday, Saints away on the Sunday, West Ham away on the Wednesday after, Huddersfield on the Saturday at home, then away to the Cypriots midweek, before we got to Anfield on the Sunday, followed by Newcastle midweek, then Swansea come to Goodison on Saturday 16th December, and it's then that we get 7 days off between matches.
We could also argue that this 7-day period is the only period we have until 13th January, for a new manager to actually coach the team and to get them playing his way. Also, probably the first time Unsworth will have a prolonged period of time to get the team set up his way.
So if there is no new manager today, then Unsworth has to remain in place until 16th December, not matter what. Anything else is ridiculous. The team needs as much stability as we can give it.
If we play Sunday, Thursday, then bear in mind we will have Mondays off, Tuesday we will be in for training, Wednesday will be travelling or if at home, we will have gentle pre-match training, then Friday off, Saturday will be gentle training, with a game on Sunday. It makes it very difficult for anyone to get a grip of the side, because they cannot have two back to back days of training, nor can they have any real full on training days.
Sam Hoare
222
Posted 15/11/2017 at 12:30:29
Tony@198
I think the U23s almost got relegated the year before they won the league. They might have been expected to finish mid-table if they had a good year.
To win the league, beating academies like Chelsea and City that spend far more money on youth was an impressive achievement. And they did it playing good football.
I'm not sure how many successful youth coaches make the step up. Not that many. More so on the continue to than in England I'd think.
The odds are against Unsworth and everyone knows it is a huge step up. But given the lack of a clear, universally approved candidate I would say that he deserves at least till Xmas to see whether he can replicate his success at youth level. I would love it if he could earn the job though my head tells me it's a romantic notion.
Paul Mackie
223
Posted 15/11/2017 at 12:31:13
Let Unsworth continue for now. It's not like we'd be giving him millions to spend in January as whatever 'war chest' (what a bollocks concept that is, don't even get me started) we have in January should, in theory, be spent by Walsh anyway.
Chasing after managers we're never going to get like Ancelotti and Simeone is just embarrassing at this point.
Tony McNulty
224
Posted 15/11/2017 at 12:31:44
I have been awaiting a million pound advance for my next book deal.
Since the publisher concerned has shown no interest whatsoever, I hereby announce that I will not be publishing with them.
Thus my professional reputation remains totally intact.
Martin Nicholls
225
Posted 15/11/2017 at 12:34:34
BFS rules himself out. So have I because just like BFS, I wasn't approached either! Wishful thinking by him to believe a Club with integrity would ever consider his like.
Dave Abrahams
226
Posted 15/11/2017 at 12:38:52
Steve (220), I think we would be wise to play inferior teams in the two Euro games, I've got a ticket for the Atalanta game but I expect a reserve team to play. The West Ham game is at Goodison Park I think, but all the league games are important because, despite the Watford result, we are still in a terrible situation and in a dog fight to retain our place in the Premier League.
James Stewart
227
Posted 15/11/2017 at 12:45:19
Silva is the best Candidate over Tuchel, Steve?
I think it very strange Tuchel hasn't been sounded out more. Of course if he was and shot us down that is fair enough, but he has barely been linked. Strange for an out of work Champions League level coach.
Silva is promising, but I would have liked to have seen him complete a full season first. A recent relegation on his cv sets the alarm bells ringing post Martinez however doomed Hull were. Pochettino was at Southampton awhile before Spurs went all in. For that reason I would probably favour Dyche from the list of the uninspiring.
Jay Woods
229
Posted 15/11/2017 at 12:54:33
"Let Unsworth continue for now"... so that by the New Year we're rock bottom.
He has done nothing - NOTHING - to warrant being appointed, even until the end of the season.
And I wouldn't appoint anyone on the basis of their international team management; it's almost like a different sport altogether.
Dale Rose
230
Posted 15/11/2017 at 12:55:37
Well here we are again, more unknown unknowns. We have a manager albeit temporary. We have the players, starting to come together. So why are we after another manager? What can he do that Mr Unsworth can't? From what I've seen in this season and last not a great deal.
We can bandy names around as much as you like, but the so called big names will not come here. There are no quick fixes at the club at the moment. We need a fighter and Unsworth is the man. I don't relish the thought of yet another manager, coming in and failing and walking away with a bucket of money, which he will.
FFS, get behind Unsworth, the team and the club. This is not the time for fantasy football. Cry havoc, let slip the dogs of war.
Steve Bird
231
Posted 15/11/2017 at 13:17:51
It's taken me a while to get to this stage but due to the paucity of decent candidates I think we just have to roll with the punches and keep Unsworth till Christmas.
Let's put the responsibility back onto the playing squad and see if they can reverse the vehicle back out of the cul-de-sac they have driven it into.
January is a long way away football-wise, let's see where we are and who is about.
Sam Hoare
232
Posted 15/11/2017 at 13:27:52
Jay @229
"He has done nothing - NOTHING - to warrant being appointed, even until the end of the season."
He has moved us up the table. So far. He has illicited some fight and pride from the players which was sorely missing.
He also won the youth league against richer opponents with the kids that many of us think represent our best hopes of a better future.
If we are rock bottom at Xmas then by all means shout for him to be removed and I will join you. But you don't have a crystal ball.
Hugh Jenkins
233
Posted 15/11/2017 at 13:29:09
Jay (#229) – Can you say, what precisely, Unsworth could have done differently, in his four games in charge, so far, that would convince you that he deserved a further chance?
Additionally, can you say who, to your certain knowledge (not speculation) would have achieved better results than Unsworth has in his four games in charge, so far?
Frankly, it is fatuous to make a statement such as you have, unless you are imbued with divine knowledge and therefore know, undoubtedly, what the outcome would have been in all of those games, if Mr A, B, or C had been in charge instead of Unsworth.
We can all speculate as to what might have been – but can't say for certain that that is how it would have been.
Phil Walling
234
Posted 15/11/2017 at 13:31:38
Seems like Kenwright has settled on Unsy but Moshiri is desperate to get 'his man' in place before we beat Crystal Palace at the weekend .
Most clubs get taken over, we just get 'the happy couple'!
James Marshall
235
Posted 15/11/2017 at 13:40:34
Reports coming out that Wolves have rejected an 'official' bid for their manager, Nuno Thingumybob.
Wasn't that all over a week or so ago? It's looking increasingly likely that Rhino will get the gig, at least for a few months.
Kevin Tully
236
Posted 15/11/2017 at 13:49:25
We are approaching this important period in our history one of two ways:
A) The board know who their man is, and have known since results started to go backwards under Ronald Koeman. They had their finger on the pulse and could see there would be problems, so they naturally had a contingency plan in place. Millionaires & Billionaires know how to run a business. Inconceivable there was no succession plan in place, even when things were going well.
B) They sacked Koeman, and then they had a meeting saying "What now?"
Jim Lloyd
237
Posted 15/11/2017 at 13:56:23
Kevin, I think it may well have been the latter. According to News now everton, several are carrying comments from Alladyce, that he's ruled himself out of the Everton job citing their "Their indecision has put me off."
Tony Lew
238
Posted 15/11/2017 at 13:58:58
The state of this club. We've even been turned down by this utter joker. Moshiri's going to end up begging Big Sam to take the job.
Soren Moyer
239
Posted 15/11/2017 at 13:59:24
O'Neill!!!? Are you having a laugh?
Geoff Lambert
240
Posted 15/11/2017 at 14:01:07
Jim!
Fat Sam asked for ten grand in used £50s just to meet them.
Oliver Brunel
241
Posted 15/11/2017 at 14:03:02
As I predicted on several threads, The Emperor is not prepared to hand over the keys to the Death Star. Why doesnt Usmanov just march in and feed Kenwright to Jabba The Hutt?
Bill Gall
242
Posted 15/11/2017 at 14:03:27
It seems to me we have gone from the sublime to the ridicules as in Simeone to Aalladyce to the board don't now who they want to nobody wants to come only at Everton.
Bill Gall
243
Posted 15/11/2017 at 14:03:27
It seems to me we have gone from the sublime to the ridicules as in Simeone to Aalladyce to the board don't now who they want to nobody wants to come only at Everton.
James Marshall
244
Posted 15/11/2017 at 14:03:52
Because Usmanov owns a large part of Arsenal - do keep up, Oliver ;-)
Jim Lloyd
245
Posted 15/11/2017 at 14:23:21
Geoff. Is that all? That could have been a bargain! Anyway, for good or bad, it closes up one decision they have to make.
I think there are some posters on here who believe that anyone who feels he presents the biggest risk of us being relegated, won't get behind him ands the team if, however it happens, he is chosen to carry on until wheneever.
That, I think, is nonsense,
The problem is, if he is left in charge because there's no one else, apparently, willing to take the post for the rest of the season. My view is this presents the club with a temporary manager because of other choices they've buggered up. Not really showing the greatest faith in a man given the job of keeping us up. Nothing more and certainly nothing less.
Kevin Prytherch
246
Posted 15/11/2017 at 14:33:29
Out of Unsworth first 7 games (assuming he's in charge for them) 5 are away and the only other home game except Watford is a dead rubber in Europe.
No wonder no other manager was dying to get the job, one look at the fixture list would have warned them off for a month.
What's the betting that Silva suddenly declares he wants to speak to Everton just before the West Ham home game when he can hit the ground running.
Danny Broderick
247
Posted 15/11/2017 at 14:48:40
I would feel far more reassured if we appoint Unsworth to the end of the season. If we appoint someone for 6 months, their heart is not going to be at Everton, and they won't care too much about how we spend our money on in January, as long as we stay up.
I would trust Unsworth to bring in a couple of players in January that will enhance our squad. Short term managers will only be looking to bring in stop gaps. And there are no outstanding candidates to appoint long term at the moment.
James Marshall
248
Posted 15/11/2017 at 15:03:43
It's a fair point - what if all the potential candidates are biding their time to see if we (Everton) climb the table a bit before deciding if it's worth taking the gig?
Why would anyone want to take over at this point? We're not exactly rosy when it comes to marketability right now!
David Booth
249
Posted 15/11/2017 at 15:09:59
Not had time to read all the pre-amble on here - so forgive me if I am repeating what someone else has already said - but Allardyce has ruled himself out of the job.
He is quoted in today's Mail online as saying: "It never materialised as I thought it would, unfortunately. For me such a long time without a decision, I had to make a decision myself."
Thank Christ for that!
Meanwhile, the same report said we had had a second bid for Silva rejected by Watford, worth £8.5m
Some serious intent there then it would seem.

Jay Woods
250
Posted 15/11/2017 at 15:12:34
What could Unsworth have done better in his 4 games?
Hmm, let me see.
Starting away to Lyon with a striker, for one thing; I can't overlook that stupid omission.
But the bigger issue is that we are not playing any better under him than we did under the unmentionable one before him. It's not progress, it's not regress, it's just... stasis.
And stop invoking the Watford result as some kind of proof of his ability...
It's no such thing.
It was a fluke, a once-in-a-decade alignment of the planets.
Nothing more.
We still played like headless chickens in the game, and that will probably carry on and bring more depressing defeats under his leadership because the players look like they're not properly coached.
Chad Schofield
251
Posted 15/11/2017 at 16:13:31
Jay, I think you're being more t hands unfair. The Lyon game was mustn't lose to stay in the competition. We'd been badly beaten at home, so containing and frustrating them wasn't a bad ploy - I think we pushed too soon, but had Unsworth reactively changed the system, a lot wouldn't have given him credit.
Because of the number of games in close proximity, he didn't really have time to instill a great deal of training.
Unfortunately we won't now either, because again, we have a tight schedule. Unless Unsworth treats the remaining EL games as training matches.
But frankly anyone coming in would struggle.
I don't know if it will work out, but I would have liked the club to have made a proactive statement over the international break. Instead Unsworth's going into another game less prepared than is fair.
Ray Said
252
Posted 15/11/2017 at 16:22:17
I would like to see Manuel Pellegrini approached as he could be the right man for the job . Although he is in China at present rumours are that the great football goldrush there has hit the buffers so he could be tempted?
He speaks good English, knows and was settled in the North West, has won trophies in four different countries and produced fast attractive attacking footy with Real Madrid and Man City.
taken from Wik Pedia
'Pellegrini moved to Europe in 2004 to take the manager's post at Villarreal, a club near Valencia. Under Pellegrini, Villarreal achieved a third-place finish in La Liga in 2004–05, a Champions League semi-final in 2005–06 and broke the big two in 2008 by securing a second-place finish in La Liga in 2007–08.
Pellegrini's consistent record at Villarreal attracted the attention of Real Madrid and he was appointed manager there in 2009. He amassed a total of 96 points, a club record until it was surpassed by José Mourinho in the 2011–12 season, but lost the title to Barcelona by three points.
Pellegrini took up the manager's role at Málaga in November 2010. He led Málaga to a fourth-place finish in his first full season and to qualification for the UEFA Champions League. He made it to the quarter-finals of the 2012–13 Champions League, becoming the only coach to take two different teams to the Champions League quarter-finals in their debut seasons in the competition.
On 14 June 2013, he was appointed manager of Manchester City,[2] and won the Football League Cup and Premier League in his first season as manager, in the process becoming the first manager from outside Europe to manage a team to the English Premier League title. The title winning season was also noted for goal scoring prowess with Manchester City scoring 151 goals in all competitions – an English football record.
I think he could be 'getable' and I think he would do a good job for us. If he could be persuaded to take the job he would do for me especially in light of some of the names being mentioned.

Steve Ferns
253
Posted 15/11/2017 at 16:36:46
Dave 226) I would play a complete u23 side, if UEFA rules won't see us docked points. This would allow the first team to train on a match day and a rest day and not incur travelling.
John G, 213) I watched Ireland last night. I only half watched the Germany game to see how Jordan did (very well). What I did see of Maguire was that he looked decent. I was afraid that he was a bit of a tank, with the turning circle of an oil tanker when we were linked with him, right now though, he looks the better out of him and Keane. He's deceptively quick, has a good touch for his size, he is good on the ball. He would have been a decent signing.
James Stewart 227) Tuchel looks to be out of the running. There's nothing being leaked at all. He will be aware of the job, he's not getting his agent to attract Everton's attention in the press, Everton are not trying to attract his attention. It's all far to quiet to be anything other than he's not interested.
The whole Tuchel situation is strange. Bayern sack Ancelotti (for results and for badly coaching the side) and then do not appoint Tuchel. Instead they turn to their Howard Kendall, Jupp Heynkes who is about 70. He's in until the end of the season. At the time, it was suggested that the job will be Nagelsmann's. Nagelsmann is building a house in Munich, his kids are going to school there, and he supposedly just wanted to finish the season with Hoffenheim (yes it was about 5 games in). But now reports are Tuchel is more likely to take over. Regardless, Tuchel has a chance at Bayern and his eyes are on that, so I have discounted him. If he wanted it, I'd appoint him tomorrow, ahead of Unsworth or Silva.
Jay Woods 229 and 250 - You discount Unsworth's achievements too much. He managed the u23s to PL2 glory. But you need to look at who he was up against. The quality of Chelsea, Man City, Liverpool and Man Utd's youth setups is unbelievable. They have the cream of world u23 football between them. Each u23 squad is full of internationals from all over the world.
Unsworth won it last year with a load of lads from in and around Liverpool. There was a few players who made cameo's now and again (the Wolfsburg lad, Donkor, played about 5 games, usually as sub), but the core of that side were all local lads. Of course, Liverpool (the city) has more than it's fair share of talented young players, but the high number we keep producing, for a sustained period of time, goes to the very core of Unsworth and his coaches' qualities. They can develop players, mostly two footed, good technique, and good on the ball.
Unsworth is undoubtedly a quality coach. Can those skills translate to the first team? can he handle the egos of the first team players? I think he's worth a chance to answer these questions.
I also gave detail about our forthcoming run of games at 220. We have two games a week until 16th December. This means any coach cannot coach the side until then, as they will not be able to organise full back to back training sessions. It is therefore, very difficult to put right what is wrong. A new manager will have to assess players in game, Unsworth and his coaches should already have the players assessed and so should be able to get things together quickly. Then the week of 16th he can try to make a real difference to the way the team plays.
In the second half of the season, without EL and LC, we will have a lot less games and a real chance for the manager, whoever it is, to actually get to grips with the team on the training pitch and make a real difference to how they play.
I would brace yourselves for more erratic performances until 16th December, or slow progress at the very least. To expect otherwise is unrealistic. All Unsworth can really do is hold lots of meetings, watch lots of video and do lots of talking. We all know footballers hate that, and it's just as important that he gets team morale high and confidence even higher.
John Pierce
254
Posted 15/11/2017 at 16:38:23
Jay, forgive me if im wrong it might be your doppelgänger poster.
I often see your posts promoting and pushing our younger players especially in the age limit tournaments this summer. Jj Kenny a good example, and rightly so we have a good academy.
What I find odd is Unsworth is in part responsible for that crop and their skills, so why not give him some consideration?
We have glaring omissions in our squad filled by youngsters who under normal circumstances would be dipped in and out of the side.
They will have to play heavy minutes up to January at least, the man best placed to handle them surely is Unsworth?
We have 12 games, 10 in the league!
In balance I get that this is only part of a very tricky puzzle for whoever takes over but whilst a new manager might have good background knowledge on the Everton squad I'd hesitate that knowledge stretches to the youth players?
Unsworth to Xmas at least.
Steve Ferns
255
Posted 15/11/2017 at 16:39:29
He's too old Ray. This is a young man's job. Lots of work needs to be done on the training ground. This is a long term project. A short term deal will not interest Pellegrini who would be leaving a higher paid job there to come here for a shorter contract, and so he would definitely decline. If he wanted a footballing challenge he would return to South America, wiki should tell you that the "Engineer" has unfinished business there.
Mike Berry
256
Posted 15/11/2017 at 16:40:07
Would you want a bloke who is jumping ship after signing a recent contract and only been in charge for 12 games ?.
What price loyalty ? looks around £8.5m if you believe the rags.
Get Guus Hidink in until the end of the season and go from there
Steve Ferns
257
Posted 15/11/2017 at 16:41:02
John, you are confusing Jay Wood and Jay Woods. Jay Wood is pro Unsworth and champions the youth team.
John McFarlane [Snr]
258
Posted 15/11/2017 at 16:48:29
Hi Steve, [253] I've left you a message on the Jack Humphreys thread.
Steve Ferns
259
Posted 15/11/2017 at 16:52:47
Mike Berry, again, this is a young man's job. There's no point an elder Statesman coming in and doing a job. This isn't Chelsea where the guy will just oversee a team of world class coaches and the squad is full of quality and he just needs to pick the team.
The squad is a mess. The players are out of form, and low in confidence. We lack shape, we lack identity, we like a style of play, the players look confused. The manager needs to get to grips with the basics by drilling them hard on the training ground.
That is not what 70 year old Guus Hiddink will do (of course he would 10 years ago), or 64 year old Mauricio Pellegrini, or any of the other managers named.
Sam Allardyce did say one thing right, and that was he would bring in a team of 18 staff. If we're prepared to do that, and to pay the big money to break their current contracts, then fine Guus or Mauricio may do very well.
Unsworth on the otherhand, or Marco Silva, or Sean Dyche, will come in with a small band of coaches and will supplement what's already here and will do the actual coaching themselves. Ronald Koeman relied on Erwin Koeman to coach the players. Kluitenberg was the fitness coach, and only those 3 and the goalie coach have left. Martinez got rid of Moyes' team of fitness coaches and Prozone analysts. I believe Steve Walsh brought in a top team of analysts, so we should be ok there.
Bottom line is there is a serious coaching issue with the players and it is fixed on the training ground and the new manager needs to put his tracksuit on and roll his sleeves up and work hard.
Tony Marsh
260
Posted 15/11/2017 at 16:55:05
As far as I can see, Unsworth is the manager untill the club can bribe someone to put their neck on the block and take over a club with huge problems.
Forget the Watford result as being a turning point... Saturday will be more of a yardstick to gauge improvement. If we lose and Unsworth makes a pigs ear of next few games, which I think he will do, what then for EFC??
What do we do if we end up in the bottom 3 at Xmas which is not out of the question given what we have seen so far this season?
The headless chickens running the show will only have one option if we do sink in to the relegation zone... John Ebbrell – unless Kenwright throws Joe Royle to the Lions.
All this cork-popping because Allardyce has pulled out of the running may come back to bite you on the bum when there is no-one left to pick up the baton. Dyche, Silva are not coming and the Hollywood types aren't even mentioned now.
So come on, guys, what will we do if the worst comes to the worst by Xmas? We won't be able to sack or demote Unsworth no matter what...
Keep the corks popping, guys, but be carefully what you wish for – is my message.

Soren Moyer
261
Posted 15/11/2017 at 17:03:37
Ray, 253, Pellegrini is currenrly on a 35 mil contract in China lol. Its a no go.
For those calling for Tuchel; He has said he wants a CL team.
Mancini demanding 15 mil/year.
Angelotti is going to China.
Guardiola, Mourinho, Allegri, etc, wont come to us!!!!!!
So please stop throwing around names just for the sake of it.
Derek Knox
262
Posted 15/11/2017 at 17:04:51
I will be totally honest, I had never heard of this guy, till he took over at Hull last season.
While his team's certainly seem to play with a bit of heart, and dare I say it, some style, I am not totally convinced.
Is the consensus of opinion, because he is Portuguese, maybe he is the new Mourinho?
He may be, but still represents a gamble, in my opinion.
Jay Harris
264
Posted 15/11/2017 at 17:12:50
If Unsy is given the job for the time being in the absence of another coming in I am surprised there has been no mention of big Joe or John Ebbrell to help him out.
Seems to me Unsy's only support has come from BPB with his 3 phone calls a day.
If the club's hierarchy don't give this appointment some serious and timely consideration we will be in a bigger downward spiral than we are now.
Crystal Palace have looked a lot better than us this season and will be looking for a scalp on Saturday.
We need to be up to scratch to come away with anything and the uneasiness around the club is not helping.
I have said it before but if we have 8m to spend on buying Silva out why don't we offer Ancelotti or Tuchel a signing on fee of say 10m for a 3 year contract at 10m a year.
I am sure that would get their attention.
Steve Ferns
265
Posted 15/11/2017 at 17:17:16
No Derek. His stock is high because of what he did as a 36 year old manager at Estoril. He won the league in his first full season. Then he took them to 5th in the Portugese Superliga, then to 4th the season after. Then he took over Sporting and got them to 3rd and won the Portugese Cup (their first trophy for 7 years). He took Estoril and Sporting into the EL and did alright.
Next he went to Greece and continued his 5-4-3 consecutive league placings by winning the league. Of course, that club always win the league. But he also did well in the Champions League beating arsenal.
He resigned as Champion, then he had sixth months off, and then almost performed a miracle at hull. They had won just 2 games and were dead and buried. He won his first game and even got Niasse scoring. He pulled off some great results and they came up just short. Forget their final day hammering they were already down.
He's had a decent spell at Watford, their recent defeats were both very unlucky, against us obviously, and they were an inch away from beating Chelsea. They had Chelsea on the ropes and missed a sitter to finish them off, before Chelsea hit them with a sucker punch and then won it late on.
So, no, it's not because he's Portugese. It's because he is a winner. He delivers instant results. He's won trophies. He knows how to coach a side. He is pragmatic and able to change his tactics to suit. He sets his teams up in a way to win games.
Mourinho speaks very highly of him. Google it, Mourinho calls him the "kid". He has a lot of good stuff to say about him and his methods, but they are nothing alike.
Like others have said, I would like to see him finish out that season at Watford. He needs just a little more to be judged on. He's never had a truly difficult spell where nothing has gone right, and I would like to see how he handles that.
I posted some Hull videos above, you can see just how involved he is in training, none of that Koeman stuff of walking around not even watching it, or chatting to Kluitenberg with his back to the action, leaving it all to Erwin.
Steve Ferns
266
Posted 15/11/2017 at 17:19:11
Jay Harris, haven't you seen Ebrell stood next to him in the dug out, or on the pictures released from training? Did you not see Royle being escorted away at Leicsester as he tried to have a chat with Unsworth? The pair of them are very much involved. Though Joe does not quite do the day to day stuff.
Paul A Smith
267
Posted 15/11/2017 at 17:32:45
Silva certainly looks the part. So did Martinez of course but Silva has better credentials and more success in improving teams.
He could be flavour of the month as people say, I don't think thats totally unfair but we need a manager.
We haven't shown desperation to this point and it maybe heading that way?
Right now I am glad we haven't jumped into silly decisions but its getting unfair for Unsworth who can only plan game to game while hes hanging on.
With the transfer window not too far away I expect we will push the decision a bit harder very soon.

John Pierce
268
Posted 15/11/2017 at 17:34:21
Nice one Steve Ferns! Thought I might have been addled about the whole thing.
Mucho apologies Jay & Jay!
John Pierce
269
Posted 15/11/2017 at 17:34:21
Nice one Steve Ferns! Thought I might have been addled about the whole thing.
Mucho apologies Jay & Jay!
John Pierce
270
Posted 15/11/2017 at 17:49:02
Tony,
I think Sam is for hire no matter what he spouts in public. He's drooling like a St. Bernard for this job. He might pitch it as Red Adare and all that guff but it would be the biggest club job he'd ever get.
The only reason he's allegedly told us to do one is contract length if the media is to be believed. So if you believe he's stepping away I think he's hoodwinked you.
Come Xmas or March and if we are still floundering, he'll be there but with a stronger hand. He's desperate for the Everton job. He's spent the last two weeks throwing platitudes at Everton, since when does he ever do that?
He's trying to control his narrative not to look forlorn, spurned and desperate. Can't blame him for that.
But make no mistake he's gagging for the Everton job. His shot at redemption, rehabilitation.
Tony Marsh
271
Posted 15/11/2017 at 17:57:34
John @ 270,
I have given up worrying about it now. It's becoming more like a soap opera than a football manager appointment.. Whatever happens, it is hugely embarrassing for the club and not fair on Unsworth..
All this joviality, back-slapping and cork-popping over Allardyce not coming will soon turn to anger on here if we lose at Palace on Saturday. Watch them turn on Unsworth if it goes tits up...

Steve Ferns
272
Posted 15/11/2017 at 18:05:08
Tony, You're right about the soap opera bit. But, I doubt the fans will turn on Unsworth himself.
We really need a win on Saturday. A few results and it's a very different picture.
Paul A Smith
273
Posted 15/11/2017 at 18:06:46
Tony 271 your probably right there. I think turning on Unsworth is bizarre. Only good man management will improve a poor 11 and Unsworth has respect it seems.
We could get Guardiola and he still wouldn't pick the 11 everybody wants every week.
Unsworth is doing the best he can without any real firepower. I hold no result against him.
Steve Ferns
274
Posted 15/11/2017 at 18:16:09
As I explained above Paul, the new manager will not have a back to back training session until 16th December. No coaching can actually be done. Everything will be about keeping fitness ticking over. After the week between games from 16th to 23 December, we than have 2 games a week until mid January. After this, we will have a chance for some real coaching to be done.
Paul A Smith
275
Posted 15/11/2017 at 18:28:02
Steve 274 yes thats a fair point but all the coaching in the world won't give us any firepower til at least January.
Thats why I believe man management is the only way of getting a message across and slightly improving us.
The lack of training sessions makes man management more important.

Steve Ferns
276
Posted 15/11/2017 at 18:34:38
Dominic Clavert-Lewin will be a top striker. If he had played the entire season as the centre forward, and not shoved onto the wing, with players learning his runs, him learning where to make runs, and generally developing some attacking cohesion, then I would expect him to have scored far more goals, particularly than the paltry one goal he has in the league. And that Paul is how coaching gives us firepower. Likewise, Niasse being involved and developing the same attacking cohesion.
How would man-management improve us in front of goal? I mean other than freezing out Niasse and taking away his locker, and not giving him a club suit. Or even the way Sandro has been frozen out recently.
Ray Said
277
Posted 15/11/2017 at 19:12:59
Steve (235) yes, age is a minus factor with him. I liked your point about the major coaching work that needs to be done. I think we have one of the smallest coaching staff in the prem so most managers will want more coaches appointed as a condition to taking the job.
Soren (261) -35 MILL! Ok maybe we cant tempt Pellagrini then eh?
Paul A Smith
278
Posted 15/11/2017 at 19:26:45
Steve have a day off mate hes not leading the line because hes not ready too.
I get you want to show me how you know coaching but your asking how can man management improve firepower.
First of all I said improve the team without firepower and secondly in all this coaching knowledge you possess, have you never heard of a low confidence player getting an arm around him from the manager?
Never known a teamtalk to get the players full of passion?
Thats man management I don't really think it needed a coaches diary to see thats all Unsworth can do with
1 low confidence players
2 as you stated in the first place. A lack of training.
Gordon Crawford
279
Posted 15/11/2017 at 19:29:29
It's being reported that we could be reported for tapping up. I honestly jus love how this season is going. :(
Graham Coldron
280
Posted 15/11/2017 at 19:48:42
A possible tapping up charge beggars belief when you think about how bacon face ably assisted by Sky initially approached Moyes when Manure came calling - the common consensus being that when " Sir Alex calls you can't ignore him blah blah"
Rob Halligan
281
Posted 15/11/2017 at 20:07:09
A tapping-up charge can only be considered if you speak to the manage / player in question face to face. As we only asked Watford if we could approach Silva, and that approach was denied, then no tapping-up charge can be considered. End of story.
Tony Everan
282
Posted 15/11/2017 at 20:09:30
Phil Kirkbride saying Silva wants to talk to us.
Silva will have to resign?
Watford won't co-operate at all.
Rob Halligan
283
Posted 15/11/2017 at 20:12:35
If he resigns Tony, I suppose there is not a lot Watford can do? These things are so complicated though.
Peter Gorman
284
Posted 15/11/2017 at 20:19:31
Tony Marsh, I think you are conflating two issues. The cork-popping over Allardyce has nothing to do with the anger at the club. In fact, if Allardyce became manager it seems obvious that many on TW would double-down on their anger.
I'll celebrate this small slice of good news if it is all the same to you and reserve the right to spout off if and when the players next embarrass the club.
Brian Williams
285
Posted 15/11/2017 at 20:24:31
If what Phil Kirkbride says is true, that Silva wants to talk to us, that's game over.
Silva wouldn't request that if he doesn't intend leaving.

Tony Marsh
286
Posted 15/11/2017 at 20:40:51
Rob @281,
No one gives a shit about tapping up in this country just ask David Moyes and SAF. Moyes openly admitted it happened. Then again, that was Man Utd; this is Everton...
Rob Halligan
287
Posted 15/11/2017 at 20:43:54
Or the RS, Tony. They admitted to tapping up Virgil van Dijk, yet nothing was done about it.
Tony Marsh
288
Posted 15/11/2017 at 20:46:05
True Rob so let's just tap the fuck away ha ha.
Oliver Brunel
289
Posted 15/11/2017 at 20:46:34
A friend of mine from Uni days, his father lives in the Cayman Islands; owns a Bank, loads of stuff there. He drinks single malts with a frequent cruiser into the bay there.
You can take this with a pinch of whatever but he said to me one time they were talking football and Everton came up. Then this high roller comes on board and it's Usmanov. The next minute he's on the blower to Putin. That's what he said.
Then someone asks him what his next team will be and he says 'Everton'. This guy tells me loads of stuff, never bullshit, knows politicians, ambassadors and whores. That's where you get the info on the money.
Laurie Hartley
290
Posted 15/11/2017 at 20:54:35
One of three things is going on here:
1). The board have huge faith in David Unsworth and are backing him 100%.
2.) The board have got two or three managers in mind and are going through a selection / recruitment process.
3.) They are just sitting on their hands because they don't know what to do.
Sam Allardyce seems to think it's number 3 - I hope he is wrong because if he isn't thinks are looking bleak.
In the meantime we have got to get a result at Palace because if we don't things will look even bleaker with the fixtures leading up to Christmas.
Tony Abrahams
291
Posted 15/11/2017 at 20:59:20
I don't know how anyone can really rule themselves out of a job, they have never been considered for Laurie. Everton, must have spoken to Allerdyce, surely?
Derek Knox
292
Posted 15/11/2017 at 21:45:20
Thanks Steve @ 265, you have enlightened me there.
Just hope for everyone's sake it gets sorted soon.
Tony Hill
293
Posted 15/11/2017 at 21:45:52
If, contrary to reports, it is going to be Silva then I hope he (or any other sophisticated young coach upon whom we are waiting to pounce) can persuade enough of our players to run around for him for 90 minutes or so, and broadly in a forward direction, on the assumption that we don't just keep on giving goals away, of course.
I am not at all sure any of that is a given. We look like a confused club and I suspect we are a divided team, our triumph against Mr Silva's current side notwithstanding.
Paul A Smith is right. By far the biggest task is to build a winning team spirit or, at least, a spirit which makes us difficult to beat. Without that, we're fucked.

Laurie Hartley
294
Posted 15/11/2017 at 22:31:02
Tony # 291 - yes I am sure they have spoken to Sam Allardyce in which case that would fall into category 3.
If so - He who hesitates is lost - and I am seriously concerned because the run in to Christmas is tough.
James Marshall
295
Posted 15/11/2017 at 22:47:57
So we continue to wonder, continue to speculate, and continue to disagree on who should get the job - exactly like the Everton board!
Jamie Crowley
296
Posted 16/11/2017 at 01:39:07
Senor Barks back at 19sumthin' and you lot -
We have, at best, a disjointed, unbalanced squad. We're a fucking train wreck. But there ARE signs of hope to be sure in my opinion.
The "stud" of the month manages Watford. He's done wonders they say! Jesus walking on water say some! The next coming of Pocho-teeen-o says others!
Hang on
Our chaotic, fucked up (presently) Club just BEAT the team managed by the flavor of the month!
But wait you say! He's won shit in Greece!
Just... fuck... off
David Unsworth is a better selection for Everton Football Club as manager than this bloke - at this particular snap-shot in time.
Again GIVE UNSY SOME TIME!!! This fucking Silva-clown is not a better choice - PRESENTLY - than Mr. Unsworth.
All I am sayin'... is give Dave a chance!!!! [John Lennon singing].
Don Alexander
297
Posted 16/11/2017 at 02:16:52
Oliver (#289), interesting proposal indeed but why the fuck would Usmanov now be interested in a club where scoring and preventing goals seem as foreign to the squad as his own native language would be?
We're in a relegation crisis, as we near month five in a ten month season for Chrissake.
Michael Penley
298
Posted 16/11/2017 at 02:42:30
Don Alexander #297
Investment 101: Buy low, sell high.
Paul A Smith
300
Posted 16/11/2017 at 08:42:15
Don 297 the 30% of Arsenal he has is probably worth double what 30% of Everton would be too.
As of now it would be a very bad move for him business wise.
Your right about the players too and I think only Unsworth right now is best equipped get a tune from them.
I know some fans still think these average Joes have just forgotten how to play and what tactics mean but I think , in fact I know from watching them they are slow, aged and uninspiring.

Ray Roche
301
Posted 16/11/2017 at 09:11:38
Jamie Crowley (#296),
"This fucking Silva-clown"
Really? Given the choice right now of Unsworth or, Unsworth as number 2 to Silva, I would take the latter in a heartbeat.
Silva picked up a poisoned chalice when he joined Hull in January, a team bereft of direction, poor players, unfit and demoralised. He still managed to win a third of his remaining games, 6, twice as many as they had won in the previous games before he joined. This included a 2-0 win over the RS, but he could not prevent the inevitable.
Watford finished 17th. They're not doing too bad this season under his stewardship, despite losing to us in a game when they were clearly the better side.
A clown he is not.
Alan Smith
302
Posted 16/11/2017 at 09:29:58
Sell 30% of a two billion dollar business to buy 50% of £200m business? One that you can already influence through your own junior business partner.
No-one on this thread would swap 30% of Asda for 50% of Netto.
Tony Everan
303
Posted 16/11/2017 at 11:43:25
Why doesn't Silva resign?
We give him the money to buy out his contract.
Then he signs one with us.
Okay, he's got a contract but he is not enslaved . He's ultimately a free man and can do what the hell he wants.
We don't want teams tapping up our best players or manager either, but it's the way of the soccer world.
Dog eat dog.
Alex Mullan
304
Posted 16/11/2017 at 11:47:54
Tony 303,
That would be outrageous. Can you imagine if one of our amazing £30,000,000+ signings suddenly decided to 'resign' because we are shite and then someone else paid them a few quid to sign on? It doesn't work like that.
Saying that, there are a few of our latest signings I wish could resign.
Tony Everan
305
Posted 16/11/2017 at 11:50:08
I think Sandro, Ross, Morgan, Super Kev, and Davy K already have!
Brian Williams
306
Posted 16/11/2017 at 12:17:13
Alex (#304).
It sort of does work like that. If Silva wants to leave, a compensation package has to be agreed which is normally the remainder of the salary for his present contract.
He could, and others have I think, pay off his contract (it would be the new club that actually pay it in the end) and then sign a new one with a different club.
That's how it would happen if Watford don't agree to let him go but he wants to go.
Steve Brown
307
Posted 16/11/2017 at 12:20:54
Silva's track record – Portuguese Cup, Greek League title, relegation, 9th currently. A big step up from hiring managers from Wigan and Preston but at the rock bottom end of where our expectations should be.
Liverpool's manager has won 2 Bundesliga titles, 2 German Cups and a Champions League final appearance. It says everything about the mediocrity that has stunk this club out for 30 years that they hire Klopp and we want to hire Silva, Dyche, Allardyce (LMAO).
Just let Unsy run with it until the end of the season and hire a serious calibre manager.
Tony Everan
308
Posted 16/11/2017 at 13:14:40
If Silva doesn't resign, and I can't see it. Unsworth will be given the job at least until January. All depending how he gets on in upcoming crucial premier games.
If we have a poor result draw/loss against the rock bottom club the dynamic will change dramatically.
A dispirited loss will get all the relegation alarm bells ringing louder than at any point. Surely the owner cannot let it drift on then?
I want him to do well, and prove to us all he is the man.
The way things have panned out, it's still up for grabs for him.
Ray Roche
309
Posted 16/11/2017 at 13:58:24
Steve Brown (#307),
The difference is that the RS are perceived to be the much better and bigger club in other parts of the world. We are unknown outside the UK. We will have a much harder job attracting managers from abroad than that shower. Fans on here should take a reality pill. Abroad, we are a small club.
Kim Vivian
310
Posted 16/11/2017 at 14:03:55
Jamie's 296 comment.
I wouldn't have said it quite like that but I agree with most of that. While the board are (appearing to be) dithering about, we as a group – the fans – must surely get right behind David Unsworth. Give him some real encouragement – I'm sure he gets feedback re the forum sites.
Steve Ferns
311
Posted 16/11/2017 at 19:33:36
Let's put Marco Silva's track record in bullet points as people keep missing it:
2012: Estoril - 1st Division 2 Portugal
2013: Estoril - 5th Superliga Portugal
2014: Estoril - 4th Superliga Portugal
2015: Sporting - 3rd Superliga Portugal - won Portugese FA Cup
2016: Olmypiacos - 1st Superleague Greece
2017: Hull - 18th Premier League (appointed in January)
2018: Watford - currently 9th Premier League
They key stats is that every year he gets a full season his team has finished in the top 5.
Phil Lewis
312
Posted 16/11/2017 at 23:46:08
The fact that Everton seem serious in attempts to sign Silva, to my mind, is a sad indication of the unavailability and proven quality of current managers. He may well prove to be a good manager, but please, let us keep things in perspective in terms of the Premier League. A good start for Watford is hardly an earth shattering achievement. He would undoubtedly be a gamble at this stage of his career. Potential is something we have in abundance at Everton, but it takes a long time to come to fruition and provide us with trophies. Surely the Goodison faithful have waited and suffered long enough.
We have been plagued with under achievers 'has-beens' and second raters, both in managerial and playing staff for far too long. Thank God that dog of a man Allardyce was not added to that list, his appointment would have been the final straw for this life long supporter, who is old enough and fortunate enough to have witnessed truly great Everton teams.
Perhaps ultimately Silva will be the man for the job, but having learned painful lessons from the Koeman disappointment, I believe caution may prove the wiser move. So I would urge the Board to persevere with the current Unsworth/Royle combination.
We have some wonderful young players at the club, some of whom are currently out on loan. Nobody knows these players' capabilities better than David Unsworth. He has already shown that he is prepared to make fearless radical changes. Let's all get behind him, at least until the end of the season. Nobody in the World can bring overnight success, but from where I sit, Unsworth is as good a gamble as anyone.
Paul A Smith
313
Posted 17/11/2017 at 06:34:56
Steve (#311), that post is interesting. I love a post that people cannot really argue against.
Phil Sammon
314
Posted 17/11/2017 at 06:49:18
Paul (#313),
I'll argue with it, Paul. Steve explicitly states he was going to itemise Silva's career using bullet points... then goes on to use absolutely no bullet points.
Mike Allison
315
Posted 17/11/2017 at 08:35:53
Phil Lewis (#312),
I like your whole post, and the phrase "Unsworth is as good a gamble as anyone" pretty much sums up where I stand at the moment.
Paul A Smith
316
Posted 17/11/2017 at 08:45:14
Phil (#314). It's a list of facts I can see. Arguing against a fact will lead to insanity.
I see some absolute nonsense on here but a fact is a fact, mate.
Laurie Hartley
317
Posted 17/11/2017 at 09:30:18
Yes Paul but the fact is there are no bullet points in Steve's post as Phil quite rightly pointed out (with his tongue in his cheek).
Lyndon can you set up a "bullet point thingy" down with the URL and other thingys please.

Steve Ferns
318
Posted 17/11/2017 at 09:35:38
Sorry Phil, Laurie is right, it's all Lyndon's fault.
William Cartwright
320
Posted 17/11/2017 at 13:29:08
Steve @ 311... I think you mis-describe the key point about Silva's record; Year on year, he has improved the performances of all the teams he has managed. That for me is a key driver behind his potential appointment. He has also been doing that from a relatively early age so the long term 'promise' factor is good to.
You have a deep interest and knowledge of the game, Everton in particular, and I for one appreciate reading your comments. I don't always agree, but hey that's what makes it more interesting!
Amidst all the media crap swilling around regarding the replacement of Koeman I would make some observations:-
1. Thanks to Moshiri for having the balls and strength of character to remove 'his man' Koeman and Co. I was hopefully inspired by his appointment and extremely disappointed as to how it panned out, but he wasn't removed prematurely or too late.
2. The time taken to replace him for me is interesting. The fact that we did not have a clear replacement does not surprise me. I can imagine in sweetshop selection mode the choice(s) would be clear but trying to get the right man from a schedule of many candidates but each with his own selection circumstances must be a nightmare. Sod the media and to an extent the impatient fans; let the process take its course.
3. Hat's off to Rhino who has done something Koeman would never have done; put his ego on the back burner and consider the team's predicament and the club'd progression before his own. (That's an opinion without proof before we get all picky about it.) Rhino is still in with a chance, and if he get's the gig or not, he will be fairly rewarded. He is not stupid and will progress well in life within or without Everton – it will be his choice.
4. Silva would be my choice. His performance at Hull was for me amazing, given the position they were in, including getting good performances (goals) from Niasse. I also like" the cut of his jib" as they say. It seems superficial, but he talks well after the game, in control of his emotions, analytical, passionate but in control, and always positive – even when being self-critical of himself or the team. He reminds me of a young Mourhino, but not as full of himself, and Pochettino but more confident. Pochettino really is something special and Silva could be also.
Steve Ferns
321
Posted 17/11/2017 at 13:46:54
Cheers William.
I stopped short of describing Silva as you did because of last season, and this. But ending at his stint in Greece, his position got higher and higher.
As regards removing Koeman, I think they did the right thing at the right time. They could have given him until the international break and lined someone else up, like West Ham did, but did we really want a pantomime with a "dead man walking" or a period like we've had with a caretaker. Personally, I think a caretaker is better, but others may disagree. The process is frustrating.
I think everyone expected our offer for Silva to be accepted, and when it wasn't, and the second was rejected, he were taken by surprise. Perhaps lessons need to be learnt.
Unsworth's "audition" is not only for our benefit but also for others. Next time a Championship job comes up, you bet his name is thrown in, and he might get a decent offer. I hope he does, because if he is not able to get his chance with us now, then we want him to develop elsewhere and improve so he can come back to us further down the line.
Silva has always been my choice too. I was pleased when he took the Watford job and I even said on here, that he was one I was going to pay attention to, as when "the project" ended, he was someone I would like to consider as the next manager. I expected it to be in 2019 though.
Dave Abrahams
322
Posted 17/11/2017 at 13:57:34
Phil (312), you speak a lot of sense, I don't have a preference for any of the managers suggested, they all represent a gamble and we, the fans, have to support and back whoever is chosen.
My main concern is the unbalanced squad, whatever team has been selected during this season they have failed to gel, continue to leak goals, find it hard to score them, there is still little movement and dreadful passing, plus the fact there has been no settled formation. Add to this we are stuck with them until January, so whoever gets the job has a mammoth task on his hands.
It must be stressed we the fans have to get behind the team in every game, those who support the team away from home don't need telling it's the rest of us who did absolutely brilliantly versus Watford who have to keep it up. We are in real danger of going down.
Paul Kossoff
323
Posted 17/11/2017 at 20:10:33
With the owners of Watford's bad track-record on managers, what's the betting that Silva, if he doesn't go to Everton, will be sacked before season's end. Seems you don't leave Watford unless you're sacked.
Neil Copeland
324
Posted 17/11/2017 at 00:09:17
Phil 312, Steve 311 and William 320 all really good posts and the career to date facts of Silva are very interesting.
I am warming more and more to Silva based upon facts and general information/options on here and Silva's press conference earlier today. He comes across as someone who knows what he wants, has a plan how to get it and has high morals/integrity. However, I still think we should wait a little longer – whilst I appreciate our current predicament I don't see the need to panic (yet!).
Unsworth is doing okay, the fans like him and he is pulling the players together. He may not be the long term answer but he is in my opinion the best short term option particularly when taking into the account the back up he gets from Royle and Ebrell. Performances have definitely improved and although there is a huge amount to do I think he is making decent progress. He deserves a huge amount of credit and our full support.
I was one of those who wanted Koeman, I thought he was a big step up for us. I suppose it shows how wrong you can be. I still admire Moshiri for his refusal to take no for an answer when he went after Koeman, I think this showed his ambition and intentions for EFC were of a very high level. I hope he uses the experience to make a more informed choice this time around, I am pleased he is not rushing the decision (he is lucky to have an able caretaker in Unsworth).
I would like to see Unsworth given more time, I think he will do okay. If he is there for the January transfer window I am assuming he will be directed by Steve Walsh.
Should Silva decide he wants to join us (seems to be headed that way to me) I would not be perturbed as long as Unsworth is rewarded for his fantastic dedication and hard work.
Phil Lewis
325
Posted 18/11/2017 at 02:16:51
Dave (#322), You summed up our performance so far this season, perfectly. I share your fears for our immediate future. Regardless of who is in charge, as you rightly point out, they will be faced with a mountain to climb. All the more reason, I believe, that we keep faith, at least for the time being in the current regime.
A couple of wins would boost confidence enormously and we need continuity right now to build that confidence and belief in ourselves. You are right, the crowd were magnificent against Watford and showed just how much they do get behind the team when players show willingness to go that extra mile.
If nothing else, Unsworth has already shown that he is unimpressed by reputations or big money signings if they are not producing the goods. I admire his courage in throwing kids in at the deep end, when he believes they merit a starting place in the team. He is giving it his best shot and I for one, sincerely hope it works out not only for him, but for the sake of long suffering Evertonians everywhere.
Colin Metcalfe
326
Posted 18/11/2017 at 05:04:23
Dave (#322),
I have read several of your posts and you continually state we are in danger of going down. Sorry, although I respect your opinion, I strongly disagree; we have a good squad of players and with Coleman, Funes Mori, Barkley, McCarthy and Bolasie to come back sometime in December / January plus the fact we are on 11 pts compared to the RS and Arsenal on 19 pts – that's just 8 pts difference.
We have a talented squad and I would gladly gamble my mortgage that we will not be relegated – if you do not think that's the case, you simply haven't played the game at a decent level.
What I will say is that our defense is a real concern: Baines, Williams & Jagielka are unfortunately on the wrong side of 30 years old and are clearly struggling. Holgate is clearly out of his depth. (One poster on here once mentioned he is better than Stones... how silly does that sound now?) However, that said, with Coleman and Fues Mori coming back and the transfer window open in just a few weeks, that can be addressed.
Koeman was clearly not a good tactician nor a good coach and clearly had no idea of how to put the pieces of the jigsaw together. Players like Klaassen, Sandro and Sigurdsson don't become bad players overnight – they need time adjust, to play in a system that they are familiar with, and most importantly confidence.
If we would've had a decent manager, we would not be in this predicament, in my humble opinion Koeman was the worst manger since the dark days of Mike Walker... I mean, to watch some of his football was truly painful!
As for our current interim manager, Unsworth, he is playing the players he is familiar with and simply will not gamble on the the new faces brought in. I think most people in his position would do the same but he needs to be a bit more bold; he played without a recognized striker against Lyon – I am sorry but it ain't going to win you games and it's simply a negative defensive formation with the hope of hitting on the counter. It's a shitty way to play football. (I detest Leicester. Yes, yes, I know they beat us.)
I hope we can find the right manger for our great club and anyone going on about missing out on Moyes, big Sam or Dyche – please keep the faith... we deserve better than that lot!
Phil Lewis
327
Posted 18/11/2017 at 11:25:39
Colin (326) I feel I must defend Dave's (322) comments. I thought his description of our performances so far this season was completely accurate. Whether his fears, (and mine) of relegation are realistic or not, I felt it was naive of you to suggest that those who shared this opinion could 'not have played the game at any decent level'. I can't speak for Dave, I don't know him, but I myself only ever played for school, works and 'ale-house' teams. That dosen't restrict me in any way from making an honest constructive observation of the team that I have supported all of my life. Opinions are like arseholes, we've all got one! You don't need to have fought in a war zone, to make a factual legitimate report from one. And a footballing war zone is exactly what we have unfortunately found ourselves in.
Dave Abrahams
328
Posted 18/11/2017 at 14:37:26
Colin (326), Colin I sincerely hope you are correct and we move up soon and stay there, I would get absolutely no satisfaction if my fears became fact, it is just the way I see it at the moment.
As regards to playing football, I was a decent street footballer is all I can own up to, but you don't have to have been a good footballer to know a bit about and some ex professional footballers show their ignorance every week talking about the game on TV. Add to this Wenger, Mourinho, The fat Spannish waiter and Bertie Mee ( former Arsenal manager) among a few more never played top flight football but haven't and didn't do too badly Colin.
Bobby Mallon
329
Posted 19/11/2017 at 09:10:49
Once again can someone please Tell me why there is still talk of a power struggle? Surely Farhad Moshiri having 49.9% of the shares (and already bought the remaining shares but has not taken the option up yet of full control) then Bill Kenwright has no say or power. If Moshiri wants him out then it's just a matter of giving Bill his extra dosh and saying "Adios"?
Add Your Comments
In order to post a comment, you need to be logged in as a registered user of the site.
Or Sign up as a ToffeeWeb Member — it's free, takes just a few minutes and will allow you to post your comments on articles and Talking Points submissions across the site.