Unsworth pleased with incremental improvement

284 Comments [Jump to last]
Monday 20 November 2017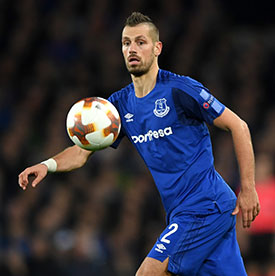 Morgan Schneiderlin had to be withdrawn at half-time against Palace because of a toe problem
David Unsworth saw a gutsy display and signs of progress from his Everton team in Saturday's 2-2 draw at Crystal Palace.
The Blues recovered from yet again conceding the first goal to draw level from the penalty spot with just five minutes played at Selhurst Park after Oumar Niasse had gone down under a challenge from Scott Dann and Leighton Baines converted from 12 yards.
That cancelled out James McArthur's goal after just 50 seconds and Everton would have to equalise a second time at the end of the first half after Wilfried Zaha had restored the Eagles' lead.
Niasse was on the mark when he collected Gylfi Sigurdsson's pass and calmly slotted past Julian Speroni after the Palace goalkeeper had played Dann into trouble and Idrissa Gueye dispossessed him.
It wasn't a contest or display for the purists, however, with a forgettable second half, albeit one in which the visitors looked better defensively after Tom Davies had come on for Morgan Schneiderlin to add some pressure on the ball in the middle of the park.
Unsworth revealed after the game that the Frenchman's substitution was a forced on due to injury.
"I was delighted with the desire today to come back twice," the stand-in boss said afterwards.
"You've got to show that little bit more quality. You can't expect just desire to get you results game after game in the Premier League.
"You've got to start somewhere and I feel there's been a steady improvement since I took the job."
"We tweaked the way we went about it [in the second half]. We were forced to bring Tom Davies on at half-time. Morgan had an injection before the game on his toe and he was struggling with it."
That change may also have contributed to the fact that Wayne Rooney didn't make it onto the pitch. The veteran watched from the bench as an un-used substitute and that led to inevitable questions of Unsworth.
"We picked a team and a squad of players that we thought would win a game," he said. "There's no issue there.
"Wayne has been fantastic since I took over. He's trained brilliantly and been involved in all the games so there's no issue with Wayne."
---
Reader Comments (284)
Note: the following content is not moderated or vetted by the site owners at the time of submission. Comments are the responsibility of the poster. Disclaimer
Kim Vivian
1
Posted 20/11/2017 at 07:20:05
That must be the injury that Morgan has been carrying all season then, I guess.
Jim Burns
3
Posted 20/11/2017 at 08:24:30
Sorry, Rhino – can't blame you for trying to be optimistic but there's optimism and blind optimism.
We got very lucky with both goals – end of. God help us if we are still in this shape when we hit the top teams again.
There were virtually no signs of improvement and our defending is as disjointed and woeful as ever.
One of the very few glimmers of hope is Niasse's willingness to keep pestering no matter what.
Alex Kociuba
4
Posted 20/11/2017 at 08:31:34
It has been said a hundred times before, but how crazy is it that it has got to the point where Niasse is one of our few glimmers of hope! I don't think I can come to terms with this new reality.
Liam Reilly
5
Posted 20/11/2017 at 08:35:04
Dreading the upcoming Derby.
Is it a 3-0 reverse if a club doesn't show up? Might be wise to take that now, although we'd probably get a mighty points deduction too that will take us down.
Steve Bird
6
Posted 20/11/2017 at 08:35:28
Personally I may have detected more effort and a will to work harder.
But tactics, execution and quality were still sorely lacking, no incremental improvement in any of those areas whatsoever.
Crucially they are the only areas that count if we expect to improve.
John Graham
7
Posted 20/11/2017 at 08:46:12
The only improvement is that we seem to be trying more. Performances are still pretty poor and tactics are not so good. I would say that, if it wasn't for Niasse, then we would be in even more trouble.
To say "progress is incremental" is being very optimistic. I think if we continue improving as we are, then we might just finish second from bottom instead of bottom.
A very poor performance against a poor Palace team on Saturday does not mean we are doing any better. In truth, apart from a second string Chelsea team in the League Cup, we have played some very average teams and have been lucky.
I can't understand why we only seem to have one option for a new manager in Silva. Let's hope there is something positive in the coming week or it will be another weekend of nail-biting and head under the covers. And with the derby coming up soon, we had better improve a lot more rapidly if we don't want to get battered.
Bob Parrington
8
Posted 20/11/2017 at 08:46:31
Number 1 quality for a coach is to be very, very positive – not put a negative (publicly) on any situation. So, he's well on the way to win my vote.
Okay, there are negatives along the way but the good manager/coach puts a positive spin on them. Not sure if this is in any books or training manuals but who gives a shit with that.
Must say, something that surprises me is that, with the wealth of similar talent at our disposal, a player was picked who needed an injection to his toe before the game. Maybe a strong shot of scotch or vodka would have been better!!!
Adam Fenlon
9
Posted 20/11/2017 at 08:47:35
Dreading the derby? I'd be dreading Derby County the way we are playing. I missed the first half on Saturday and now wish I'd missed the second!
Kenny Smith
10
Posted 20/11/2017 at 08:50:55
We've shown guts to come back from behind in the last 2 games but should we have to do that against Watford at home and rock-bottom Palace away?
We need to hang on to the coat tails of the teams in the middle of the table till we can get a couple of goal scorers in in January. No doubt we'll pay well over the odds. Bad times till then!
Ajay Gopal
11
Posted 20/11/2017 at 08:53:13
The mess left behind by Koeman is so bad, that I doubt the best coach in the world can correct that quickly. We have the 3rd worst Goal Difference in the league (which to me is more telling than the league position at the moment). Our midfield lacks bite and creativity, and our lack of striking options have been well documented. Where do we go from here?
I suggest we need a team of fighters and scrappers, so that would include:
Rooney
Niasse
Calvert-Lewin
Lennon
Sigurdsson (I know, but he showed signs)
Davies
Baningime
Kenny
Vlasic
Lookman
Pickford
Jagielka, Williams, Keane and Holgate have been horrible in varying degrees, and Baines plays because there is just no other option. We must pray that the medical staff is working overtime to get Bolasie, Barkley, Funes Mori, Coleman and McCarthy to come back soon ASAP.
Until then, as someone else has suggested on another thread, I would put Rooney in the Schneiderlin/Barry role, sitting deep, breaking play and quickly distributing the ball forward. He would be supported by one young runner from Baningime, Davies or Besic – my choice would be Baningime. Sigurdsson as the creative force, Calvert-Lewin and Lennon providing width and Niasse the front man.
My next Premier League team against Southampton:
Pickford
Kenny Keane Jagielka Baines
Rooney Baningime
Lennon Sigurdsson Calvert-Lewin
Niasse
Subs: Sandro, Davies, Vlasic, Lookman, Williams, Gueye
I would give the back 5 some time to settle down and get some sort of cohesion but make them work extra hard training sessions to get them in shape defensively.
Trevor Peers
12
Posted 20/11/2017 at 08:54:08
I did see an improvement on Saturday, not in pure football terms, obviously we're light years behind the elite.
Unsworth has slowly installed a fierce fighting spirit into a group of players that had totally ran out of gas, and for that he deserves a lot credit.
He probably won't be offered the job full time, but he has been the best man to steady the ship until we find a class replacement, let's hope that happens quickly.
Mark Dunford
14
Posted 20/11/2017 at 09:36:18
I think Unsworth is right. We'd have lost timidly on Saturday under Koeman and, although we were lucky in some respects, we also had a couple of decent second-half chances – Calvert-Lewin and Sandro – so could have sneaked what would have been a lucky win. There is more passion in the team than previously.
Referee was shocking at Palace – Sakho should have been sent off for a clear red for the assault on Calvert-Lewin when he broke clear and Niasse was lucky to last 90 minutes though to be fair he calmed down after a long telling off. It may not be a new dawn but it is certainly a move away from the abyss.
Tony Graham
15
Posted 20/11/2017 at 09:39:09
To the clowns running our club I say...
Enough! Stop twatting about, get Dyche in to try and turn us into something resembling a football team. Get a playing plan set, so each knows his job. Work hard on the basics.
Get the wasters out if possible in January and we might have a chance being a competitive side again with a few quality additions.
Something must be done... we are in dire need, we need wins!
Eddie Dunn
16
Posted 20/11/2017 at 09:39:30
Kim, it is a possible reason for the alarming drop in Schneiderlin's form. We are not usually privvy to the little niggles players are carrying but as we all know these things make a big difference to how you can play and at the elite level the small margins make all the difference.
I notice that Mourinho was outraged that Phil Jones received 6 injections before the last England game and still had to be subbed. Absolutely shocking that this could happen in a friendly.
I have wondered both before Baines had ankle surgery and since, if there is a compromised movement/pain in his joint that could explain his conservative approach to his role nowadays?
Perhaps my previous slating of Schneiderlin should be moderated, however there surely could have been alternatives to playing him.
James Stewart
17
Posted 20/11/2017 at 09:40:57
@11 Ajay, I don't get that point of view at all. Is the Watford or Burnley squad better than ours? No. I highly doubt any manager would swap many of ours for theirs. A good manager gets the best out of players, how many of our players are playing to their peak? Zero. Maybe Niasse.
If Dyche or Silva were in charge of this squad we would be 7th minimum.
Anthony Flack
18
Posted 20/11/2017 at 09:45:56
100% behind Bob @post 8
Public lambasting does not work Koeman did it far too often
At the other end of the scale Happy Clappy Martinez "we were immense" doesn't work either, especially when we were crap.
Rahman Talib
19
Posted 20/11/2017 at 09:56:15
Rooney is our new Barry.
Rahman Talib
20
Posted 20/11/2017 at 10:01:38
Every now and then I would ask myself, what if Rooney hadn't left?
What if we had the Cahill - Rooney partnership?
What if we had the Baines - Pienaar partnership feeding Rooney countless balls in dangerous areas?
What if Carsley was breaking up play and feeding Rooney his long diagonal passes from deep?
What if Arteta was commanding the midfield and feeding Rooney all the dangerous through-passes?
We could be regular top 4 by now.
Paul Kennedy
21
Posted 20/11/2017 at 10:12:11
Sorry, big fella, you need to take the rose-tinted specs off – we were crap. Very lucky against the bottom team. We are real relegation candidates.
Stan Schofield
22
Posted 20/11/2017 at 10:48:55
Under Koeman, it looked like there was no desire, no fight. Many on TW were very unhappy about that, saying the players needed to put a shift in and earn their keep.
Well, under Unsworth they are putting a shift in, showing desire and fight. As evidenced by coming back from behind in the last two games. Yes, we had luck (and that makes a welcome change!), but luck has best effect when it's backed by the desire and fight.
So Unsworth is undoubtedly correct in saying there is incremental improvement through the desire to battle. He also says that's only one of the ingredients needed. He admits we need to improve our organisation, to add to the desire to battle.
He's being honest and direct, with no bullshit, but he's diplomatic as well. So he gets my wholehearted support for what he's said. Not because he's a blue, but because he's doing his best to manage a difficult situation.
John McGimpsey
23
Posted 20/11/2017 at 10:49:17
Sooner Ross is back and feeding Wayne, the better. In fact, feeding anyone who fancies a run on goal.
Paul A Smith
24
Posted 20/11/2017 at 11:03:00
Rahman. That's a logical point of view from an ambitious fan. Be careful mate.
Imagine Moshiri really wanted us to join the elite. He could have added quality to the 4 top players we had when he arrived.
Frank Crewe
25
Posted 20/11/2017 at 11:04:24
Considering the amount of assorted midfield players we currently have, I'm sure it was possible to pick someone other than a painkiller-injected Schneiderlin.
I think he was picked purely to keep him happy and to prove he was back in the fold after the training incident with Ferguson.

Lee Brownlie
26
Posted 20/11/2017 at 11:04:48
'Number 1 quality for a coach is to be very, very positive – not put a negative (publicly) on any situation'... Number 1 quality?
So, your view must be that Martinez was absolutely the dogs bollocks, then, for seeing bright silver linings and pretty rainbows in actual darkening storm clouds over Goodison, yeah?..
'No balanced perspective – certainly no reality check – needed here, folks.. We're all good, ta!'...
Brian Williams
27
Posted 20/11/2017 at 11:14:09
James (#17).
I disagree. Is the Watford or Burnley squad better than ours? You bet they are!
There's only so much blame can be put on the manager. Bad management doesn't cause players to give the ball away, fail to run, or shit out of tackles on a regular basis (Schneiderlin and Sigurdsson). It doesn't cause individual defensive mistakes on the scale we've witnessed time and time again.
We have to many poor players, or is it just players playing poorly? Too many players past their prime also.
Eddie Dunn
28
Posted 20/11/2017 at 11:21:05
One of Unsworth's problems is that he has very little clout with the liklihood of another manager being brought in sooner or later.
Apart from more fight, there really hasn't been a great improvement in performance that a new manager normally gets out of the team. The young guns from his Under-23s have been his best performers. They respect him. Of the others, we have heard of the training fall-out and watched Rooney simmer on the bench.
When the new guy comes in, perhaps we will at last get that "new manager" boost as they all see they must please a man who will be around for some time.
Dennis Stevens
29
Posted 20/11/2017 at 11:25:42
James Stewart (#17) – Surely the point is that our manager wasn't turning out to be all that good as he clearly could not get the best out of our players – that's why he's been sacked. Ajay's assessment of where that has left us is quite reasonable.
Had they taken over in the summer, you may well be right that "If Dyche or Silva were in charge of this squad we would be 7th minimum."
However, that's not pertinent to the situation we now find ourselves in. Any new manager will be inheriting the same mess that Unsworth is trying to turn 'round.
Danny Baily
30
Posted 20/11/2017 at 11:26:43
I suspect that the following players returning from injury/omission will drastically improve the side:
Funes Mori, Coleman, McCarthy and Robles.
Top of the wishlist for January is a big striker to give us another option in games, particularly late on.
James Marshall
31
Posted 20/11/2017 at 11:27:03
The obsession with everything being down to the manager continues – when did this happen to supporters? When did it become completely and entirely because of the manager when a team plays badly? Did the media create this?
What if the management team have bought a load of players that simply can't play together? What if a squad was missing a focal point, a striker? What if that team just doesn't have the right characters in it to play well together?
Yes you can say these are mistakes made by Koeman, or whoever when it comes to recruitment, but to constantly state that any manager can change things with this group feels wide of the mark to me (and a small few others on here). I'm of the opinion that you could put quite literally any manager you can think of of, dead or alive, in charge of this squad and the results will be largely the same.
They're a bunch of duds with no ability to manage themselves properly on the pitch despite coaching and instructions – the manager can only do so much, but he can't control their every movement, this isn't FIFA18.
Has anything really changed with Koeman/Unsworth in charge aside from a few personnel and formation changes? The patterns are exactly the same, save for a bit more effort in the second half of games – Unsworth has essentially been able to changed very little, which leads me to believe the problem is clearly the players, not the manager.
Yeah he's played with wide men, and attempted to inject some pace, but what difference has it made? Zero. We're still a shitshow from back to front and that will not change with this group of players until we get Coleman, Barkley, Bolasie, and ideally a new striker in the team. The manager, any manager, has his hands tied at the moment.
Phil Walling
32
Posted 20/11/2017 at 11:28:23
What a waste of Rooney. Like his two predecessors, Unsy is intent on showing us he is a clever sod not afraid to leave out the high earners. But, for all his lack of pace, Rooney remains our only real football brain and should have been embraced as assistant caretaker, at least.
You just cannot have the nous and record of this true Evertonian and be relegated to reserve status so easily. Unsworth's teams and tactics stink!
Lee Brownlie
33
Posted 20/11/2017 at 11:29:11
Rahman Talib (#20)
'What if Rooney had played alongside Cahill, Arteta etc..?"
It's all a bit academic now, isn't it? And no matter how good we might have done for a while, they wouldn't all still be at it for us now, though, would they?.. Why?.. Because they aren't. Only Rooney came back to see out his career as it was his best actual footballing option!
Someone said this is a 'logical point of view' but it isn't really, is it, as it has no relevance either to where we are right now or to what actually came to pass, but is merely a pointless, dreamy, moment of 'What if..?' Very nice if you wanna go there, but pointless absolutely.
Me, I prefer to dream of a better future, not what might have been in a very different, simply non-existent, past. That said, sorry to piss in the chips of a fellow Toffee!
Pat Kelly
34
Posted 20/11/2017 at 11:31:16
Unsworth is just about holding things together but there's no sense of a fresh start which a new manager will bring. We are still in caretaker mode drifting along from game to game.
The delay and apparent indecision on appointing a new manager must be having an effect on morale. We have to get a manager in this week but then we needed a striker in August and that didn't happen either.
If Silva has any sense, he will steer clear of Everton. The root of the current problems lies in the lack of clear direction from the top. Moshiri, Kenwright, Walsh... Who's in charge? Nothing has changed.
James Marshall
35
Posted 20/11/2017 at 11:38:20
I don't think Silva is the answer anyway – like I said before, no manager is going to make much of a difference with this squad anyway.
Phil Walling
36
Posted 20/11/2017 at 11:41:31
I agree, James. Makes you think whoever they get will just be coming for the money. The last two have done rather well out of failure, haven't they?
Tony Everan
37
Posted 20/11/2017 at 11:43:52
Things are 5% better and that is down to Niasse, his terrier-like chasing and overall attitude. Lennon deserves credit too. I don't know whether Dave could do a lot more, but stability and direction could deliver much more improvement. There needs to be a decision on the manager, or we will suffer.
The derby! Don't even talk about it!! Our scouting team brought in Schneiderlin, Klaassen and Sigurdsson, while the scouts / recruitment for the other shower were bringing in Coutinho, Mane and Salah. For similar money I think.
They have a killer midfield with pace, directness and goalscoring threat. We sign those 3 players and we would be a different team.
Where and what does our scouting and recruitment do? Who are they accountable to? Where do they operate from? A shed on Buckley Hill?
John Hammond
38
Posted 20/11/2017 at 11:49:15
James (#31):
I'm in agreement with some of what you've said but I believe a manager could come in and change things. Someone who knows what to do with a defence. Fix that and it'll breath confidence into the rest of the team.
Right now we start a game tentatively, hoping not to concede and that affects every player. Obviously easier said than done though...
Raymond Fox
39
Posted 20/11/2017 at 12:02:16
Phil (#32), exactly my thoughts.
Surely it makes sense to play Rooney, even if it's only for half a game. To have him take no part in games, especially with the constant lack of creativity in our performances, is a mystery to me.
Yes he might not be the Rooney at his peak, but he can still produce the bit of skill from which goals are scored.
Don Alexander
40
Posted 20/11/2017 at 12:06:06
Tony's scouting observations (#37) resonate down the decades unfortunately. Just how many Liverpool teams had several former Everton-fans-as-a-lad in them? It never seems to improve and now I'm having to question just how much Walsh was involved when Leicester signed Mahrez, Vardy, Kante etc because those new recruits in our squad seem way off the pace.
And talking of way off the pace, am I the only one who thinks we're visibly less fit than many other teams? It's what you get when you appoint such grafters as Ferguson and Jeffers to the coaching staff I suppose, but at least they "get" Everton so that's alright as far as some of us are concerned.
New broom required to sweep out players, coaches and bad attitude. If he could also sweep out our chairman I'd probably wanna kiss his feet.
Lawrence Green
41
Posted 20/11/2017 at 12:10:22
If there is no available manager who is capable of fixing our problems then we might as well pack it all in.
We are talking about highly paid professionals who have some footballing ability not a bunch of donkeys we recruited from non-league outfits. I realise they haven't played as a team and haven't shown much as individuals either for quite some time, but if any possible new managerial recruit isn't able to form a team from this squad then perhaps they'd be the wrong appointment.
John Hammond
42
Posted 20/11/2017 at 12:16:46
Ajay, do you think Rooney is disciplined enough for this role? You've seen him play as a Number 10 and a forward this season right? He wants to play in every position all at once. Now you want him to be the player sat in front of this defence breaking up play?
Ian Hollingworth
43
Posted 20/11/2017 at 12:18:13
Has anything changed, we still make several player changes per match, we still have an abysmal defence and we will not be gifted goals like at Selhurst Park at the weekend.
Schneiderlin and Gueye both walked back into the starting 11 even though they have been poor this season.
Sorry, Unsy, but we need a top drawer manager and we need him now.
Steve Ferns
44
Posted 20/11/2017 at 12:26:39
One of the biggest problems in the squad at the time Koeman was sacked was a lack of confidence and another was extremely poor morale. It is the job of a new manager to inject confidence and increase morale.
The media refer to "new manager bounce" and cite this as one of the reasons to sack a manager. What is new manager bounce? It's the dramatic improvement that sometimes (but not always) occurs upon the sacking of a manager and the installation of a new manager.
Why does it happen? The players are suddenly all reset. They have no history with the new guy, and those out of favour before can now push to get themselves back in the first XI. Everyone suddenly competes harder than before to get into the team and this can dramatically shake off a malaise that a team has got itself into.
This competition for places, can increase the mood at the training ground, players can get a smile on their faces again and so the confidence and morale can increase dramatically as a result. A new manager can instantly cause this to happen.
Unsworth is not quite a new manager. He's part of the previous establishment. Players already know him, a lot have already played for him. Therefore, we never benefited from "new manager bounce". However, we have seen some players, such as Aaron Lennon return from the cold. We've also seen academy players step up. This should increase the competition for places, and lead to a better atmosphere and a lift in the general malaise that has engulfed Everton for at least 2 months.
What Unsworth is trying to do with these comments is to get the morale and the confidence rising and this includes us, the 12th man. He's telling us it's getting better. He's telling the players it's getting better. This then feeds into the next game: "Don't worry lads, we're working hard and we'll be even better in this game, we should win it". If we do win it, and can fall back on 3 games unbeaten, with 2 wins and a draw, then we can start to call that some kind of run of form. That will then really start to change the mood and get some confidence going.
Sometimes, the manager will tell you what he wants to happen, rather than what has happened in order to try to force a narrative. Not so much "it is getting better" as "it will get better".
Put simply, Unsworth is doing the right thing with his comments, and it's a world away from the blind sugar coating of everything Martinez did, where he had long gone past the point of trying to conjure some confidence and morale out of thin air.
I agree with the various posts above about Niasse. He is, to use the old adage, "the first line of defence" and he sets the tone for the closing down, or to use the modern term, "he starts the press". He is getting a lot of success for this and so it encourages teammates. They think that if they run harder, close down quickly, and at speed, the opposition will give up the ball and so we can get in, in a good position. He's given the team a real lift with his work rate. To be fair, Calvert-Lewin isn't far behind him, and Lennon has been a difference for his work rate in defence, as this simply wasn't being done before, especially by Vlasic, which is why he has dropped out of the team.
Ben Dyke
45
Posted 20/11/2017 at 12:27:18
The lack of strategy when choosing to sack Koeman is totally embarrassing. Usworth is due a lot of credit just for steadying the ship even if we haven't seen a massive change in results. But what a right royal mess the next manager is inheriting. A clueless poor Kenwright and a clueless rich Moshiri. And worst of all a ridiculous squad who have lost their confidence.
Paul Ward
46
Posted 20/11/2017 at 12:27:55
James Marshall @31. In full agreement about this obsession regarding the importance of managers. The cold facts are that we have some players that are unmanageable and like the proverbial bad apple, they can effect the rest of the team.
As much as I wanted Unsworth to succeed, I feel in the short time he has had, the performances are not improving yet. We would need the same luck up to Christmas, as we have had in the last 2 games to be able to stop the rot. Then with more luck in the January window and clear out of the dead wood we may survive.
Despite who is the manager in January I still believe it will be the players that will determine any improvement in results in future.
Brian Ronson
47
Posted 20/11/2017 at 12:36:29
@Ajay (#11), good shout about playing Rooney in a deeper role. Playing further up the pitch, he gets frustrated and starts chasing the ball. Playing deeper, he would still pose a goal threat because, even though he isn't as good as he was, he can still strike a good shot.
Though not brilliant, he needs to keep the current back four to see if they can gel. Keep Sigurdsson at No 10 as he will get better.
Unfortunately we are likely to lose Niasse for a couple of games which should give Sandro an opportunity. Any two of Lennon, Calvert-Lewin, Vlasic, Lookman in wide forward positions until Bolasie and Barkley are fit. Agree with previous contributors: Ross will be more effective playing as a forward.
James Marshall
48
Posted 20/11/2017 at 12:42:05
Exactly – professional footballers should be able to make simple passes, and an awful lot of our players are only able to do this briefly, and generally backwards. Why? Because they don't appear to be able to create the space for themselves to receive forward passes – why? Because they're just not very aware in my view.
Rooney is the only player we have with a proper football-brain, yet he was left out altogether at the weekend. He may not be the player he once was, but he has as much footballing ability in his brain as the entire squad put together. He makes space for himself, can receive the ball anywhere, and play himself into the right positions to make passes – yes, he loses it sometimes, but he always loses it trying to play the right ball – the rest of them just lose the ball.
The only other player we have that can do anything close to Rooney, is Barkley – both players have the change of direction when receiving the ball that literally none of the other players have, which is why we end up going backwards or sideways slowly all the time.
You need a blend in a successful, creative team, and we don't currently have that blend at all. Schneiderlin and Gana have their merits, but neither of them creates anything at all. We lack movement, we lack people running beyond the player with the ball, and we lack pace – all the things required to win football matches!
John Smith
49
Posted 20/11/2017 at 12:44:26
I'd take eternal optimism over Dour Dave or petulant Ron.
Chris Perry
50
Posted 20/11/2017 at 12:56:53
Oh my god!! Increments of improvement!! We finished 7th last season, clear by 14 points, we sell Lukaku and let Barry go and we are a pile of shite despite spending £140 million.
We play Southampton on Sunday (an equally shite team); however, unless we have some creativity and midfield presence, then they will batter us as they simply have better players.
What morons at the club allowed this to happen under Koeman and Martinez before him? If Williams plays, it is like giving them a two-goal head start!
Unsworth for all the shouting of dogs of war, blue bood etc, he is not the answer, and the longer we leave it, the harder it will get!
Dave Wilson
51
Posted 20/11/2017 at 12:56:58
I think the desire to appear knowledgeable has taken over the desire to support the club during a period of very real crisis. I'm absolutely taken aback by the hostility and ill-will directed towards David Unsworth.
What's all this "we were lucky" about? It's as if we can only focus on what the opposition did. If Pickford brought his A game, we wouldn't have needed to come from behind. We can also point to a good chance missed by Sandro and a glaring one missed by Calvert-Lewin. The same thing happened last week, we scored three and missed two great chances, yet some posters only focused on the negative to say how lucky we were.
How can people accuse Unsworth of being out of his depth, or tactically inept? Have you seen how disjointed this group of players are? Koeman was considered a very decent manager before this season and he couldn't do anything with them. The idea that a Dyche or a Silva could come in and wave a magic wand is beyond ridiculous.
Unsworth knew he had to get back to basics. He knew whatever team he put out, it was going to be painfully low on confidence. When a team is this low on confidence the only place to start is by getting the players to roll their sleeves up to fight their way out. coming from behind four times in two games proves we are doing that.
Small steps. When the fight returns, the confidence is never really far away.

Raymond Fox
52
Posted 20/11/2017 at 13:03:05
David's making the right noises and I think he is correct, we have improved even though its only by a small amount.
Martinez continues to be slated for the interviews he gave, yes they were overly happy clappy too many times to the media. I'm willing to bet, though, it's London to an onion that he let the players and other staff know what he really thought about their performances and what needed to done in the future.
This is the trouble about being a supporter of this club, we actually know almost bugger all of what goes on inside Everton. We only get to know half the truth most of the time if we are lucky, and from that it spawns various conclusions/guesses on here which eventually becomes accepted fact if enough fans spout it.

Steve Ferns
53
Posted 20/11/2017 at 13:04:57
Tony (#37), you say:
"Don't even talk about it!! Our scouting team brought in Schneiderlin, Klaassen and Sigurdsson."
You cannot blame our scouting team for any of these signings. Schneiderlin was a player Koeman insisted on, having worked with him before. Klaassen was scouted three times by Koeman personally, so surely he was his signing. Sigurdsson was also Koeman's player and he insisted on him (see his constant comments on a player not at our club for a measure of just how much he wanted him). Therefore, no one can be blamed for these players other than Koeman himself.
Klaassen, as I have said repeatedly, is one of hell a player. He's not a dud. You do not get the glowing reports he had about him, if you are as bad as some make out. I remind you again, read what the great Johan Cryuff says about him, particularly the comment about him being one of the 3 greatest players in the world for controlling the ball at speed (along with Xavi and Iniesta – comments were in about 2014).
That said, we play to Klaassen's weaknesses, not his strengths. Klaassen is an all-action player who requires the ball to be travelling at speed, and various players on his wavelength able to play incisive and one touch passes whilst breaking at speed. Koeman's vision was surely of Schneiderlin hitting passes at speed to Klaassen and then him playing it first time to Rooney or Sigurdsson, who also have an ability to see moves one step ahead, and so to play at breakneck speed, as well as having the technique to keep the ball moving quickly.
However, our midfield does the exact opposite. Everyone puts their foot on the ball and takes a few touches. Everyone also under hits passes to the extent that the receiver has to stop and wait for the ball to come to them, rather than zipping it into feet and allowing the receiver to display Premier League quality control.
These three (Klaassen, Schneiderlin, and Sigurdsson) are not bad players, it's just that Koeman did not think it through carefully. He had some mad plan to completely change how we played last season, and move to a fast paced counter-attacking style and did not think that the team actually lacked the personnel to pull this off and it would take rather more than these three players to pull it off, and a top class striker. But the main problem is a lack of pace.
Paul Bailey
54
Posted 20/11/2017 at 13:12:32
You have to give Unsworth credit for instilling more effort into the team and a bit more confidence in the team. Confidence comes from winning, or even not losing. He hasn't got a magic wand to instill quality straight away!
Our players have quality and it will come with the right encouragement, confidence and a bit of luck. Clean sheets and scoring goals in that order.
We have starting get a bit of luck, probably because the players Unsworth has installed a bit more positive thinking.
What needs to be done by him or a new manager is to sure up the defense ,so we don't concede. We have a goal difference of -12, which is relegation form!
So for the next match we need to focus on a something nil result, ie, a clean sheet and work from there. Desperate measures for desperate times. The players we have at the moment are not good enough to defend by attacking!
So please, coaching staff, focus on the defense, so at least we have something to build on in the second half!


Phil Walling
55
Posted 20/11/2017 at 13:13:02
Bloody hell, Steve – talk about verbal diarrhoea. Martinez lives on!
Dennis Stevens
56
Posted 20/11/2017 at 13:16:22
Hear! Hear! Dave Wilson (#51).
Steve Ferns
57
Posted 20/11/2017 at 13:18:04
The manager does make a massive difference. A bad man-manager can destroy the morale and confidence and unity of a team, ie, Ronald Koeman.
A tactically naïve manager, ie, one playing an old-fashioned 4-4-2 with two banks of 4 in straight lines, with a bog standard average Premier League team would get trounced by Mourinho managing any team in the league. Tactics, strategy and setup play a massive part in the modern game, where there is so much quality in every team in the league, with the bottom club, Palace boasting Sakho (£25m), Van Arnholt (wanted by Man City), Loftus-Cheek (England's new hope or should that be hype), Zaha, Benteke (Belgian international), Townsend (England international), Cabaye (French international), and more. There's a lot of quality at every side in this league, and so it comes down to tactics, nullifying the best opponent and overrunning the oppositions weak points.
Training is also massive. A poor coach can over train a side and make them go past the point of optimal fitness to the point where they are fatigued. A tired team, operating at 5% below optimal, can be a massive difference that makes them second to every ball, as tiredness is mental as well as physical. Also, a team can not do the right work, ie, Martinez ignoring set pieces and doing little defensive work, and so find themselves fundamentally exposed, or fail to understand the managers message, ie, Koeman, and look confused on the pitch, or not work on attacking play, and so have no movement ahead to the point where they just knock it around the back in the vain hope of something presenting itself, ie, Koeman.
The general situation is caused by Koeman's mis-management and a top manager could fix it, but it's not a quick fix.
Steve Bingham
58
Posted 20/11/2017 at 13:21:15
I don't agree that Rooney is an automatic first choice as he lacks pace but I do think that he should have come on at 2-2 to try and help us nick the win. I still say Unsworth should be given the job for the rest of the season.
Steve Ferns
59
Posted 20/11/2017 at 13:26:29
I expect Rooney was saved for the Europa League game. That said, I don't know why he didn't come on for the last 20 or 30 minutes.
Andrew Ellams
60
Posted 20/11/2017 at 13:32:08
You will never get the best out of Sigurdsson and Klaassen without a big Number 9 in the team. One excels at feeding them and the other excels at feeding off them.
That is where this season went so badly wrong. A bit of pace wouldn't go amiss either.
John Wilson
61
Posted 20/11/2017 at 13:32:53
Niasse is under-performing – relative to his skills and ability. He has had no pre-season, two seasons on the run. Look at the way he played for Senegal (international) and the Russian team.
I don't believe that Niasse is performing at peak level therefore even though his performance is keeping Everton out of the relegation zone; and Koeman would have lost his job a lot sooner.
Niasse is also playing with a terrible Everton performance. Unsy said, and as someone who has also studied psychology I think he's right, "When the team is low in confidence and belief relative the Premier League standard, the whole team suffers individually." It explains the drop in performance from last season, ie, Schneiderlin, Sigurdsson (no pre-season for Everton either).
In short, we must not have a short-sighted view of Everton under these negative factors.
Pete Clarke
62
Posted 20/11/2017 at 13:38:10
We are taking some very tentative steps towards confidence. I am sure Unsworth is aware of the players that react best to being under pressure or at the very least he is trying to find this out.
We have also been a bit fortunate in the past two games and that won't continue as we are going to have to battle out some wins sooner rather than later.
Talking of fortune, wouldn't it be nice if we got a bucket load of it in the upcoming Derby and managed to actually beat them bastards.
Paul Holmes
63
Posted 20/11/2017 at 13:39:58
Unsworth needs to sort out the defence, have you seen our goals against in the Premier League and the Europa League? Its' shocking.
Imo Keane is the worst of the centre-backs, he is woeful. How so many people on here pick him in the team is unbelievable! Fuck me, do you watch the match with a blindfold on?
The goalkeeper, Jagielka, Keane and Baines look like they are playing with diving boots on when crosses come into the box, nobody can win a header.
We have started to score goals, 5 in the last two matches, but ffs we can't defend, that is the problem going forward.
James McPherson
64
Posted 20/11/2017 at 13:41:53
Dale (#51), myself and others commented on "the mob rule" that descended upon TW around Koeman. Whilst ultimately no-one can deny he had to be dismissed, the personal vitriolic abuse that both he and those that were advocating a measured and thought-through approach attracted was extreme. It shed new light on EFC 2017.
When things get ugly and personal, knee-jerk decisions are often made. Here we now are, Koeman gone – with a rudderless void instead. It supports the view mobs' anger is very rarely assuaged – they just move on to their next "outrage". It's how the Geordies have been for years following that basket case of a club, NUFC.
The situation we find ourselves in rests firmly at the feet of the board. Their incompetence has reached new calamitous lows. Venting anger towards a thoroughly decent man, and loyal Evertonian, is as ugly as it is misplaced. I say this as someone who feels that Unsworth is not the best man for us at this moment. He is a great coach of youth and a man that puts EFC first. That alone, given the last 3 incumbents, ought to guarantee respect. Sadly not with EFC 2017 vintage.
Tony Abrahams
65
Posted 20/11/2017 at 13:43:59
We saved Rooney for a dead rubber? I was wondering how many players Everton had away on international duty last week, compared to Palace?
Because, when I was watching the game, they seemed a lot more in tune with each other. Whereas most of our team had been away from Finch Farm for the week before that game.
Nicholas Ryan
66
Posted 20/11/2017 at 13:48:28
The managers we want are Silva and Simeone; but the manager we need is Sean Dyche.
John Wilson
67
Posted 20/11/2017 at 13:48:40
Watford spent £50 million in the transfer window and look at their team perform. We spent £150 million and I do not understand why heads haven't rolled at Everton.
The Directors owe each other and all in Everton's constitution (internal rules of governance) a duty of a care to perform at a 'reasonable standard.' Any other organisation would sack the incompetent persons involved for negligence.
Dennis Stevens
68
Posted 20/11/2017 at 13:49:55
The Board ain't gonna sack themselves, John – sadly!
Greg Hasbrouck
69
Posted 20/11/2017 at 13:53:51
Sunday is likely a massive game for the team's psyche. Should they be able to claim 3 points on the road, it will be the first time they will have done so in a year(?).
It will mean 7 points in the last three matches and give the squad a sense that they're on a bit of a winning streak. That's something they can carry back to Goodison Park the week after, in a very winnable match vs the Hammers.
John Wilson
70
Posted 20/11/2017 at 13:54:36
Professional sports such as Premier League football is the only entity that does not follow rules of contract, ie, 'breach of contract;' or tort (compensation for breach of duty of care). If there were a relatively rich Everton fan, he could potentially sue Everton for breaching a duty a care.
A season ticket holder may be able to claim breach of duty of care by Everton's Board of Directors too under the law of negligence. I can't ever see this happening though.
Mike Gaynes
71
Posted 20/11/2017 at 13:55:02
Dave Wilson #51
"How can people accuse Unsworth of being out of his depth, or tactically inept?"
Because "people" have two eyes and a brain.
Some of Rhino's starting line-ups have bordered on the bizarre, and he has made zero progress in organizing the defense, which given his experience should be a strong point.
To call that viewpoint "hostility" or "ill will" is pure, unadulterated bollocks. There isn't a poster here who doesn't like and admire Unsworth or wish him the best, and I haven't seen a single comment that resembles the ire directed at Koeman.
It's simply that there are a whole lot of folks here who don't think Rhino has the experience or the nous to be a Premier League manager. That was my opinion when he stepped into the job and I have seen absolutely nothing to change it.
Dennis Stevens
72
Posted 20/11/2017 at 14:00:21
Good news for those who wish to see Unsworth replaced asap: Tony Pulis is now available!
Sam Hoare
74
Posted 20/11/2017 at 14:10:19
Was it Siggurdsson's first assist for us on Saturday? Should have been two possibly had Calvert-Lewin found the net as a striker should from 8 yards out at the start of the second half.
I never wanted to sign the Icelander but some fledgling signs that he is starting to have more impact on the game and provide some much needed creativity...
Crystal Palace are playing better than they were and let's not forget they beat Chelsea at their gaff a few weeks ago and were very unlucky not to beat West Ham too who they dominated. I don't think a point there is so bad despite their position.
Personally, I hope Silva is announced this week but, if not, then I still think that we are looking a touch better than we did under Koeman and reckon we have a decent shot at getting 6 or 7 points in our next 3 Premier League games which would possibly see us move into the top 10. Total speculation of course and unhelpful as such but I do agree that there has been incremental improvement under Unsie.
Derek Knox
75
Posted 20/11/2017 at 14:20:59
Off topic here, but SSN are reporting that Tony Pulis has been given the Order of the Boot at West Brom.
Where does that leave us?
Ray Roche
76
Posted 20/11/2017 at 14:21:33
Mike Gaynes (#71)
I think I read at the weekend that Unsworth has made two changes at half-time in each of his last four games. If this is correct, it shows that his first choice eleven were not up to the task. Okay, if you're changing tactically or through injuries, fair enough, but if it seems to be because your initial selection was wrong, something needs looking at.
Dave Wilson
77
Posted 20/11/2017 at 14:28:46
Mike @71,
It's a pity you don't use those two eyes and brain when reading the posts directed at David Unsworth. I could name a few who only ever post to criticize him. Some of the posts have been downright disrespectful.
What a pity you Rhino critics didn't use your eyes and brains when Koeman was driving moral, confidence and cohesion into the dust.
Unsworth was handed a monumental task, one which would have taxed the very best of coaches. I really look forward to him guiding us to safety, not to mention the comments from those of you who have dismissed him.
David Harrison
78
Posted 20/11/2017 at 14:29:25
Yes, Niasse is the new Marcus Bent. Limited ability wise but willing to run all day and do a job. I had hoped after all these years we would have moved on from this scenario but it seems we are back at square one, happy to average a point per game and avoid the drop, like 13 other teams.
Steve Ferns
79
Posted 20/11/2017 at 14:32:39
It can also indicate that he is a tactically astute manager not afraid to make changes.
A manager can replace players not performing with like for like, or he can be bold and swap systems. Some managers find it impossible to react to a complete change of system and can be caught out.
Unsworth has had success from doing so in the last two games by collecting 4 points.
Tony Abrahams
80
Posted 20/11/2017 at 14:35:55
That's why we need a proper manager, Ray, someone to settle us down. Discounting Niasse, then only Baines, Jagielka, and Lennon, played for Martinez, so that's some changes to our squad in 16 months. That's also including the three subs that we used on Saturday.
We are also changing the team and rotating the system, every time we play, and this is no good for a nearly new set of players who no longer play for the manager who brought them to the club, and are also getting shoved from pillar to post every week.
Paul A Smith
81
Posted 20/11/2017 at 14:51:58
James (#64) – what a load of nonsense. Get out of your bubble. Making out the fans are like Ultras... through pure frustration, a few fans got carried away.
People like yourself should know better and stick with Tennis or Snooker.
Kim Vivian
82
Posted 20/11/2017 at 14:58:18
Dave (#51); Yes – to all that.
Paul Kossoff
83
Posted 20/11/2017 at 14:58:59
Improvement! How bad must we be if the performance against Palace was an improvement? We truly are a fallen club and beyond a joke now.
Why do we all put up with this? When do we call for the resignation of the cause of our fall, Bill Kenwright! I really am fed up with the whole sorry over-paid, under-performing, lazy, couldn't-care-less attitude stinking players and the chairman!
Rant over, until Thursday at least.
Paul Kossoff
84
Posted 20/11/2017 at 15:04:34
Pulis sacked Monday, Bill rings him Tuesday, Pulis accepts Wednesday, beaten Thursday, excuses Friday, train Saturday, beaten Sunday, bottom three Monday.
The more things change, the more things stay the same.
James McPherson
85
Posted 20/11/2017 at 15:11:09
Paul A Smith (#81) – if it's okay with you, I will continue on as I have been for 50+ years and follow EFC.
My point is difference of opinion and viewpoint need not get toxic. The climate on this forum is markedly different from what it used – personal abuse is much more prevalent – no need for that.
You're of course right – there's a lot of frustration – but put that at the board's feet, where it belongs.
Steve Brown
86
Posted 20/11/2017 at 15:29:31
Dave (#51), well said! When it was announced on here that David Unsworth had been appointed caretaker manager, the point I made was that this might result in him leaving the club if it goes wrong and risk seriously weakening our successful Academy strategy. I don't think he is the long-term solution but to direct hostility and criticism toward him is an utter disgrace.
He has begun to steady the ship slightly by picking players who will as a minimum show passion, effort and commitment. Sure his selections have not always been great but he isn't afraid to change things around and make decisions. His main mistake has been to rely on senior pros who don't deserve his trust.
He didn't create this mess but he is trying to sort it. For as long as he is asked to do that let's back him and cut out the crap.
Mike Gaynes
87
Posted 20/11/2017 at 15:29:57
Ray (#76), my point exactly. You always say it more elegantly (and briefly) than I do.
Sam (#74), no, he has a goal and a previous assist.
Dave (#77), you've gone beyond bollocks to pure shite, unless you were down a cave somewhere and didn't read TW for the final month before Koeman was sacked. The call for his head was nearly universal. And being skeptical of Unsworth's qualifications doesn't make anybody either a Koeman booster or a Rhino hater... it's just facing reality.
Yes, he was handed a lousy situation. And no, he isn't up to it. Personally, I hope that whoever gets the job keeps Rhino as an assistant so that he is qualified for future situations.
Paul (#84), not necessarily endorsing Pulis as a candidate, but guarantee Friday won't happen. One thing I admire about him is he never makes excuses.
Steve Brown
88
Posted 20/11/2017 at 15:41:00
Some of Rhino's starting line-ups have bordered on the bizarre, and he has made zero progress in organizing the defense, which given his experience should be a strong point.
Mike, since when has David claimed he was a fully experienced Premier League Manager? The fact that he played in Premier League defence does not mean he can step in and work miracles on one of the worst defences in the league.
He was simply asked to step and serve when we needed him most, so tone down the edge in your comments and show a bit more respect to a proper blue.
Mike Gaynes
89
Posted 20/11/2017 at 15:59:36
Steve, I do salute him as a proper Blue. Criticizing his lineups and team organization aren't personal. On the contrary, I'm convinced he has the character, courage and presence to be a top manager someday, and I hope it's for us. But right now, having never worked with a senior side at any level, let alone the Premier League, he's over his head.
I recognize he's doing his best, and I will continue to cheer him on as long as he remains on the touchline, but as I've said many times before, this is no job for a beginner. I do not favor the idea of giving him "a chance" for months or the rest of the season... we need an experienced professional manager, and sooner rather than later.
Dennis Stevens
90
Posted 20/11/2017 at 16:09:31
You may be right, Mike. However, as far as I can recall, the chap we've just sacked was no beginner, he was an experienced professional manager. To my mind, Unsworth is already doing better than Koeman and I'm not convinced that another experienced professional manager would be doing any better at the moment.
I'm sure that the Board are seeking a new man with a higher profile, reflecting their apparent ambition for the Club. However, it seems quite possible that they may not secure his services for a while yet, and maybe not until the season's end. If that is the case, and Unsworth is not deemed to be a sufficiently safe pair of hands to see us through until May, then we're likely to see an ageing British manager brought in as a stop-gap – David Jones, perhaps.
Alan J Thompson
91
Posted 20/11/2017 at 16:11:08
Apparently the substitution was made because of a toe problem. They couldn't get it out of his arse!
David Barks
92
Posted 20/11/2017 at 16:21:21
Doing better than Koeman? We drew against Man City under Koeman. We drew against Palace under Unsworth. One seems worse to me. We beat Stoke and Bournemouth under Koeman. Unsworth beat Watford, but has lost every single other match.
Lost to Chelsea, Leicester and Lyon. And our football has most certainly not improved. Someone posted a damning stat about our passing against Palace, it was horrific. I think Pickford completed the most passes for us.
"Everton committed 26 fouls during the Palace game, the most of any team in Europe's top five leagues on Saturday."
"Everton only completed 164 passes against Palace. Only one in the last seven seasons have Everton had a worse record.
Sticking with Everton's passing stats, the final data point of note was that Jordan Pickford was Everton's top pass completion player against the Eagles."
That is not improvement nor is it good enough. Stop trying to explain it away. We are terrible under Unsworth. We sacked Koeman for good reasons. Nothing Unsworth has done is an improvement and in no way justifies him continuing as manager.

Justin Doone
93
Posted 20/11/2017 at 16:23:47
Our Silva pursuit is another embarrassment. No lessons learnt from our pursuit of Sigurdsson, just leave it and move on. He doesn't seem to keen.
The main concern is getting the best man in for the job. He's unproven in the Premier league. Not done much with Hull or Watford that wasn't already in place. Inconsistent play, some terrible losses, (to us) and a few good wins.
Steve Bruce kept Wigan and Hull in the Premier league – is he the man for us? No... Get Mancini in ASAP!
Jay Harris
94
Posted 20/11/2017 at 16:24:26
I don't blame Unsy for the current performances.
This mess was brought about by the idiot who sanctioned Lukaku's sale despite 2 years remaining on his contract and failed to recruit a replacement and a left -sided defender as Koeman had requested.
I get the feeling Koeman was at odds with Kenwright and/or Walsh and spat his dummy out and went to play golf instead when he realised nothing was going to come.
That idiot is still at the club and it is obvious that even Paul Daniels would struggle to wave a wand and get this lot to play to their potential.
We need a really strong manager to lay down some discipline and organisation particularly on a defence that was ruined by Martinez and hasnt recovered.
I really don't think Silva is the answer and was hoping (dreaming) that we might be able to persuade Ancelotti or Tuchel to come but now wish we would appoint Dyche asap.
It sums up our situation when, out of a back 4 of 3 senior England internationals and one Under 20 international, only one showed up and two of them were a disgrace to the word centre-back.
Greg Hasbrouck
95
Posted 20/11/2017 at 16:26:36
A well written and damning review of Unsworth:
https://royalbluemersey.sbnation.com/2017/11/20/16675674/david-unsworth-shouldnt-be-managing-everton-tactical-analysis-crystal-palace-sigurdsson-schneiderlin
Don Alexander
96
Posted 20/11/2017 at 16:29:49
Exactly so, Mike Gaynes (#89). I do wonder why anything perceived as less than 100% support for Unsworth is seen by some as being derogatory towards him. It's silly, and redolent of being accused of being a Koeman fan just because you didn't regularly lambast him.
Dave Wilson
97
Posted 20/11/2017 at 16:35:44
Mike,
Not sure why you feel the need to become so aggressive, but I think you have monopolized the "pure shite" on here.
Forget the last month. Koeman was given a free ride for months – you being one of those who gave it to him. Unsworth has been caretaking for a month trying to salvage what you yourself call a lousy situation.
Maybe you were too slow to judge the last guy and far too quick to dismiss the current one.
We'll see...
Sam Hoare
99
Posted 20/11/2017 at 16:51:28
Mike (#87), sorry I meant in the Premier League, I know his goal was in the Europa League. I think it was his first assist in the Premier League for us but maybe not.
Tom Bowers
100
Posted 20/11/2017 at 16:56:43
The draw at City with ten men? Nobody knows what the score might have been if they had 11 men for 90 minutes given the pastings they have dealt to many other teams.
Everton are in a bad phase at the moment but they have salvaged 4 points in the last two games that could easily have been zero but they got a few breaks which always helps.
We know all the problems and there is very little Unsy can do to rectify them as he has to go with what he has until January. Even if a new man comes in now he will be in the same boat.
Calvert-Lewin will come back on Thursday for Niasse and Rooney will probably replace Lookman with Mirallas getting the nod over Lennon. It's a nothing game so who really cares.
The big game is the next Premier League game against Southampton, so let's see if we can scrounge a result then.
Paul A Smith
101
Posted 20/11/2017 at 17:03:54
James, I hope you do continue to support Everton mate and its great to hear your still at it after 50 years.
Writing about fans who are not as composed as you or have less tact is as pointless as the abuse you mention. Not everybody can write like Greg O'Keefe and during a period like we are in its obvious your going to witness some over-reaction.
Mike Oates
102
Posted 20/11/2017 at 17:19:02
I really don't think Pep Guardiola could even turn this squad into a cohesive unit; he would struggle, and we would continue to battle against relegation. It's a collection of ageing defenders, far too many youngsters, struggling as you would expect in a poor team, and a bunch of totally misfiring "experienced pro's", and with very very few options in the final third.
We are having to play two out-of-form defensive midfield players as cover, as our current batch of centre halves are a shambles, even Keane is now at sea, whereas 3 months ago he was supposed to be the next World Cup English centre half. We have no left side defensive cover, a total dereliction of duty by Walsh and the Board, we have 3 No 10's , and nocentre forward, again a huge Everton Board cock up. How can Walsh let Koeman try to inject 7 new players into a team, virtually all in one go and expect it to function, particularly against 5 of the top 6 teams in our season openers? How can Walsh and Co have let possible defensive cover in the shape of Pennington, Browning, and Connolly go out on season loans and also a possible left side attacker, Dowell, go out on a season long loan. Its total mis-management from the very top.
We are a shambles, and I'm afraid we will continue to be even post the Winter Transfer month as, once again, we will need to find at least 2 defenders, and 2 attackers who will take months to gel.
Whoever comes in can do no more than ensure we get to 40 points and then will have to do another massive clear out of the dead wood, and just somehow integrate another 5-8 players at the start of next season. It won't be a 3-year project, it will be a 6-year project to get us anywhere near the Top 4.
A TalkSport presenter today actually said "why would Silva want to come to Everton, he has more chance of winning things with his new Watford team and if so would then possibly be in the frame for a decent top 6 job" – Everton will send him backwards for years ".
Sorry but, for me, Kenwright, Woods, Royle, Walsh, Ferguson – all have to go – stop the old boy's network !
Steve Moe
103
Posted 20/11/2017 at 17:31:04
Please hire a manager ASAP, I cannot continue to watch the product put on the field this year.
With that being said I will continue to watch/listen to every game. If we cannot perform better against the worst team in the league and he see's a draw for the club as steps forward, he is just as bad as Martinez in observing what is happening on the pitch.
We were lucky to come out with a draw, the tactics were all wrong within the formation and even though he changed some players, the tactics did not change. It was the tactics that were all wrong not the players. <
He has no idea what he is doing with the senior club. "The players have given me everything in training and on the pitch in games" David Unsworth. Somebody get this guy some glasses, Crystal Palace had 70% possession and handed you a draw.
Roberto Granelli
104
Posted 20/11/2017 at 17:34:35
Ladies and gents,
I always look at goal difference early to mid season as an indicator of possible final league positions and at the moment we are a bottom three club. Correct me if I'm wrong but I think Sunderland were the last team we didn't concede to, need I say more?
He talks about being happy with incremental improvements in the team,I don't see any improvement in the defence. Unsworth has yet to pick a team that hasn't conceded and seems to have caught Koemanitis, where having made the wrong choices initially, sends a different team and tactics for the second half.
Plenty of chat over Silva, but we actually managed to beat his team! I hear he seems to be Moshiri's pick at the moment, but he is a relatively inexperienced manager at this level. Do you think he could organise our shambles of a defence? I heard someone on the radio, saying that Moshiri knows a lot about making money,but not much about football.
I know this is heresy to a lot of you, but seeing that very few if any quality managers are interested in us, we could offer Allardyce, say a 2-year contract with 6- to 9-months pay off if it doesn't work. Much cheaper than relegation and we know he can organise a defence, which is where most good teams start from. Just putting it out there. What do you think?
James Marshall
105
Posted 20/11/2017 at 17:38:11
Oumar Niasse has 5 goals in 7 Premier League games this season – quite a strike rate, especially in our shitty team!
Dave Evans
106
Posted 20/11/2017 at 17:38:45
Laughable that some on here believe that our poor performances have little to do with management/coaching.
Players are not familiar with what each other are going to do and so lose the advantage of playing as a team. There is no connected play in any part of the pitch. There is no system apart from hoof it to Calvert-Lewin or Niasse.
Yet Dyche and Silva are within striking distance of Europe with the Burnley and Watford squads?
Nigel Munford
107
Posted 20/11/2017 at 17:48:01
James, definitely a good strike rate, 0.71 per game. For a striker that was written off, I'd say that's exceptional – and given, as you say, the poor team surrounding him.
Mike Gaynes
108
Posted 20/11/2017 at 17:58:10
Dave (#97), for the record, my position on Koeman up until the last two weeks was that it was premature to sack him because there was no other worthy replacement available. In those final two weeks, I did join the consensus that he had to go, no matter what.
However, my original concern has been borne out. We have not replaced Koeman, and as pointed out by David (#92) and the article posted by Greg (#95), our performances since Rhino took over have gotten worse, not better -- the fact that we've scrambled three desperate points notwithstanding.
Our performance at Palace was of abysmal quality, salvaged only by monumental work and sheer luck, and as Braun's article persuasively argues, Rhino's naive setup was largely to blame:
"David Unsworth set up his team to play scared against the worst team in the Premier League on Saturday. You can talk about individual performances until you're blue in the face, but it isn't going to change that fact. I've said it essentially every week since he took charge, but the truth remains as obvious as ever — "Unsworth isn't capable of managing this team."
Jim Wilson
109
Posted 20/11/2017 at 18:00:40
I wanted Unsworth as manager but I can't see him keeping a settled team together. His substitution of Lennon for Sandro made no sense to me.
The midfield was being over run so he weakened it even further by bringing another striker on, someone who can't hold up a ball and who has been finding it difficult to get into a game. And Lennon had been doing well.
It was the naive trick of throwing on another striker in the hope you will create something bu,t without a midfield playing well, it doesn't work.
I hope Unsworth's luck holds up against Southampton because I just can't see a good performance.
Jason Wilkinson
110
Posted 20/11/2017 at 18:02:24
What do the players do at Finch Farm? No cohesion in defence, can't pass to each other, no pattern of play and shots on goal must carry some kind of forfeit if they miss.
Ross Barkley is not the footballer we hoped he would be but Christ he makes the rest look shite in comparison.
I didn't want Rooney back. Klaassen was a wild punt as Dutch football is only mildly better than the SPL. Did the rest miss a bargain with Sandro? No. Michael Keane has been disappointing. (He is young so I will give him time) Sigurdsson? Got the right name he looks like he's smoked Klaassen's pot stash before he plays.
I can't blame the kids as they should be brought into a settled core of seasoned pro's not chucked in as a group to make up for the lack of effort from the seniors.
All-in-all Everton's coaching staff need to get the senior players much much fitter. Offer the greedy bastards a way out at the end of the season and plan to replace them now. All of them. Q. Name one you would keep?
Unsy, start measuring improvement in goals conceded. We might improve enough to finish outside the bottom three.
Chris Jenkins
111
Posted 20/11/2017 at 18:07:55
James Marshall [31] You are absolutely correct. The problem facing any manager taking the job permanently is the paucity of talent displayed by a many of the squad, particularly those signed by Koeman and Walsh.
Initially I wasn't overly keen on Unsworth as a candidate for the permanent manager but the abject failures of a couple of foreign imports in the form of Martinez and Koeman and the talk about Silva makes me think "be careful what you wish for".
The immediate focus must surely be only on Premier League survival. In this respect I feel David Unsworth should, at least be given another two or three games. Hopefully, Barkley, Coleman and McCarthy may soon be available as alternatives to the Koeman imports.
If, however. a change is made, then I would prefer to see Sean Dyche given the opportunity.

Michael Williams
112
Posted 20/11/2017 at 18:21:38
Some brief notes for fun:

Niasse is scoring a goal in the PL once every 76 minutes. A #9 is not our problem at the moment even though we still need another one in January if possible.

The Rooney talk is killing me. We have scored five goals in 113 minutes (plus stoppage) since he was substituted against Watford. He slows everything down even more. I hope Unsworth is phasing Rooney out just like ManU and England did.

Our main problem now starts at the back and no manager can save this defense. Baines is done in almost every way, Williams and Jags are old, slow, short and terrible on the ball. Keane is underperforming and has no one to partner with - he'll come good eventually. Kenny should come good too but he is so inexperienced. Everyone knows we need a left back, center back and Coleman back and in form. That's at least three new defenders.

From where I sit Unsworth is doing fine with 4 out of last 6 after only a few weeks on the job. The team is playing much harder and that's how you create your own luck. I also like that Unsworth makes changes at the half. Who came up with the "rule" that you should wait until the 60th minute? If it's not working after one half, fix it. It seems he reads the game and makes substitutions that have really made a difference. Unsworth appears to have some brains and I'll give him more time to keep figuring things out. He has real potential.
Derek Knox
113
Posted 20/11/2017 at 18:29:55
Off topic again here, just been watching Granada Reports and they are linking us with LVG, aka Spongebob Squarehead.
Please hope this is a late April Fool or anything but true.
Paul A Smith
114
Posted 20/11/2017 at 18:33:45
How does the fight we shown under Unsworth v Watford and Palace compare to Koeman's scrappy win v Bournemouth?
I thought we just beat 2 out of 3 teams we should be beating and the performances were all poor but scrappy.
Colin Glassar
115
Posted 20/11/2017 at 18:39:18
We'll be linked with lucifer himself next, Derek. I see Barcelona are being linked with Onyekuru. Put a £100m price tag on his head now!
But we are Everton and we will probably flog him for £12m and think we've done the deal of the century.
Raymond Fox
116
Posted 20/11/2017 at 18:51:42
It always strikes me as daft to suggest that a new manager will come in and wave a magic wand over a team when he doesn't know what the players are capable of, and they are then transformed into a cohesive unit.
Take the defence, apart from Kenny, who's probably been our best defender Jags, Baines and Williams are three of the most experienced defenders in the League, Keane is/was supposed to be a top defender, they know very well how to defend the problem is they cant now do it very well in Jags, Leighton and Williams case (could they ever) and the way Keane is playing, he's well over rated.
How experienced about defending is Unsworth? You mean to say he's not instructing the defence on what to do when the opposing teams are attacking? Its a joke to suggest that its the coach's fault.
No, far and away our biggest problem is the ability of the players their the ones who have to produce the goods on the field. It's all very well having a 'cunning plan' if the players have not the ability to carry them out.
As soon as we produce a top 6 quality player, they're gone to the top sides, add to that we cant sign any player that the top clubs want, that's the real reason we are going round in circles. We can change the manager a multitude of times but if the players are not good enough we are fooked for another generation.
Don Alexander
117
Posted 20/11/2017 at 18:56:48
Greg Hasbrouck (#95) posts the following link and, if it's a true reflection of events, the diagrams of player-position and passing against Palace need to be tattooed onto the back of every players hand at Finch Farm so they cannot repeat it, because they are a disgrace to a team of so-called professional footballers regardless of tactics devised by the manager.
I urge you to read it;
https://royalbluemersey.sbnation.com/2017/11/20/16675674/david-unsworth-shouldnt-be-managing-everton-tactical-analysis-crystal-palace-sigurdsson-schneiderlin
James Marshall
118
Posted 20/11/2017 at 18:58:49
Lots of money coming in on Louis Van Gaal at the minute – would another Dutchman really be the answer, given that it appeared a lot of our players didn't warm to Koeman and certainly our supporters didn't either?
Personally I'd be okay with Louis Van Gaal – I quite like his slightly inane ramblings, and he's certainly got the experience of managing egos.
Phil Walling
119
Posted 20/11/2017 at 19:03:13
Yet another Man Utd cast-off. Will this club never learn?
James Marshall
120
Posted 20/11/2017 at 19:05:05
To be fair, he's managed Ajax, Barca, Bayern, Man Utd and the Dutch national team so regardless of how things went at Utd, the bloke knows which way is up.
Chad Schofield
121
Posted 20/11/2017 at 19:07:13
Michael Williams 112, good technical breakdown, and as someone else said (as well as the man himself) Niasse had no pre-season.
I think his goal on Saturday was a really confident finish. Yes we do need to strengthen, but small blessings.
That's what we need to look at given the time Unsworth's actually had training and given the whole "Caretaker" label.
I really want Rooney to work our, still. But he's not a starter, unless we have a tight run of games and someone needs a rest.
I've littered this site with pro-Unsworth support, not because I'm blinded by him being a blue, but it's because he's with us now and all the other names are speculation.
Darren Hind
122
Posted 20/11/2017 at 19:08:14
Mike
There is no other way for him to set up. He has to search for his best formula. We are absolutely toothless up front we have zero creativity and even less confidence. We have to approach every game simply to stay in it, and hope something breaks. We simply don't have the tools to open up teams with guile so we are trying to scrap our way out through pure endeavour.
I wrote an article back in the summer saying we are not signing the players to trouble the opposition. I said Koeman was building a house and he had forgotten to put the roof on. You responded by telling me Tinkerbelle was dying because I wouldn't clap... you couldn't understand why not everyone was ecstatic about the transfers.
The situation has not changed, we are relying on the heroic efforts of a cross between Paulo Wanchope and Calton Palmer. The only other realistic striker option is a willing teenager who's development was arrested by being played here, there, and everywhere by the former manager.
In Barkley's absence, our only source of creativity is an ageing superstar who moves like he's had one bevy too many, and the Icelandic snail for whom we paid a king's ransom. What team worth its salt wouldn't fancy their chances of shutting Everton out?
Our defenders are nervous wrecks. They know that the defensive midfield players couldn't pass water, they know if they give it to one of the tackling machines it will come back, so they hoof it as far away as possible knowing it will probably still come back.
Those expecting cohesive displays from the rabble Rhino inherited are fooling themselves; we are woefully short of creativity, pace, confidence and until recently, fight. You are expecting Unsworth to nail jelly to the fucking ceiling.
It amazes me that so many of the people who stuck by Koeman as he served up a year of zombie football, culminating in taking us down into the bottom three, now want to dismiss the chances of the guy who has taken us back out again. There is not a manager on this planets who could provide us with a magical cure. They would all be faced with the same problem.
Who's to say Dyche or Silva won't shit themselves if they got the gig? What do they know about big clubs whose fans are more demanding?
Rhino's my choice all day long.
Brent Stephens
123
Posted 20/11/2017 at 19:09:23
Come on, Phil, you're calling our club out based on a rumour?!
Simon Dalzell
124
Posted 20/11/2017 at 19:09:30
I feel sick at the thought of Unsworth being allowed to continue this journey to oblivion. The article by Adam Braun on the Royal Blue Mersey website is spot on. "David Unsworth proves again that he shouldn't be managing Everton."
The stats and pitch maps he provides are very damning. The fact that a reasonable looking team on paper basically morphed into a super defensive 4-5-1 speaks for itself. I've been asking for Lookman, but what chance does he have with these ultra negative ' tactics'? This is against the team at the bottom of the league FFS.
I'm gobsmacked at the people on here that say he should be "given time" HM Prison, Liverpool maybe. If we fail to get Silva, Dyche is surely a decent alternative. Either must be a big improvement.
Not Unsworth's fault, of course, he should never have been in this position.
John G Davies
126
Posted 20/11/2017 at 19:16:17
It is looking like Unsy won't get the job. Rightly so in my opinion, he is not the man to take us forward. Very good at his own level but not for me as long-term manager. All out for Silva.
Guy Hastings
127
Posted 20/11/2017 at 19:24:18
Is that the sound of a blue adidas baseball cap being thrown into the ring?
John Daley
128
Posted 20/11/2017 at 19:30:00
Mike,
Saying Unsworth lacks the nous and "no, he isn't up to it" is a step beyond scepticism. You're not simply doubting that he is equipped to do the job at this moment in time, but declaring that he definitely isn't.
A judgement reached after, at most, five games in quick succession (four of which have been on the road, where this squad of 'previously better performing' players have managed to rack up precisely one win since January) in which there have been seeds of improvement in fight, goals scored and points picked up, if not defensive solidity, cohesion or composure.
For me, the most pertinent part of Unsworth's presser was what seems to have been omitted above:
"The longer I can work with the players and keep them together the better it will be, but I know what will be, will be.

We are training and playing in a bit of a different way from what we have been used to. It's not having a go at anyone else, it's how I want to set about things. That will take a little bit of time.

I'm desperate to get this group of players on to the training field for a period of time when we can implement what we want to do."



That it will take time, hard work and actual concerted coaching to remedy the many weaknesses we've watched be cruelly exposed week after week this campaign, makes perfect sense to me.
That any manager who struggles to hit the ground running, when faced with first wading through a Godzilla sized shit pile some other guy left parked on the starting line, must automatically be proper gash and has proven, conclusively, within space of a month, he is going to fail miserably? Not so much.
That some Mr Miagi like managerial maestro (Mr Nousi?) can stroll in, scan the dressing room and instigate an instant turnaround by having the same squad of players slap paint on his fence, before making a top secret tactical tweak he traded a bald Tibetan monk a big pack of pickled onion Monster Munch for? Fantastic if he could, but not fucking likely.
Whoever comes in is going to have to go down the same road, grit their teeth, get out on the training pitch, and work harder than a ginger lad looking to get laid in order to grind out results with this lot.
Phil Walling
129
Posted 20/11/2017 at 19:36:47
#121 – Why didn't Niasse have a full pre-season at Finch Farm? He came back from Hull last May....
Dennis Stevens
130
Posted 20/11/2017 at 19:40:31
Maybe because Koeman intended for Niasse to be somebody else's problem & didn't include him in the squad, Phil?
Phil Walling
131
Posted 20/11/2017 at 19:43:16
Well, if he was stuck with the U23s he would have had Unsy on his back, wouldn't he ?
Joe McMahon
132
Posted 20/11/2017 at 20:00:59
Off topic, looks like Newcastle have found a buyer for £300m. How much did Moshiri pay for his 49.9%, anyone know?
Newcastle I suppose have a ready made stadium and already have a very good/top manager.
John Pierce
133
Posted 20/11/2017 at 20:01:47
John Daley, I'm inclined to agree with you.
In each game, amongst the maelstrom of crappiness I've seen tiny improvements from the players, and I believe Unsworth has shown he has learned from each experience, notwithstanding he has made some big errors.
With many of the senior squad probably thinking this fucker aint going to be around for long, so the respect isn't there. Thats stifles progress.
So rightly he's gone to younger players, who respect him and squad players he knows; Niasse & Lennon.
As a result progress is very hard to discern but like you I think the germ of a plan is there.
Everton gave to be very careful, Unsworth has overseen a bucket load of away games. With two potentially winnable home league games on the horizon; West Ham & Huddersfield. To quash that ember of improvement and drop in a new manager puts a huge pressure on those fixtures. Fixtures I believe would start to bear fruit in if left alone to develop.
The whispers are strong Silva will be appointed. I think that's ashame, Unsworth to Xmas was my shout, still is.
Gary Carter
134
Posted 20/11/2017 at 20:09:17
We didn't show any signs of improvement in that game nor any of the games under Unsworth. Palace were just shit and they should have beaten us.
Dennis Stevens
135
Posted 20/11/2017 at 20:09:53
I'm not sure he was with the U23s, Phil. I think the expectation was that he would find a new club – just as well he didn't.
Mike Gaynes
136
Posted 20/11/2017 at 20:23:03
John #128, nobody said anything about Miagi magic or instant turnarounds from mystical sources. Granted it's an ugly challenge right now. But I don't think it's unreasonable to expect a detectable improvement in organization and strategy over five games.
I see none. There's been no real improvement in goals scored, just in good fortune... balls that wound up in the back of the net off pens or keeper blunders. That luck and a whole lot of hard work produced our win and draw in five games, not any improvement in quality of play. We've "scored" one nice goal in those five games, Calvert-Lewin's sweet header off the corner. That's it.
As Ray (#76) pointed out, any manager who makes multiple changes at halftime is warding off impending disaster from the first half, and Rhino has done that four games in a row. Obviously it speaks well of his decisiveness, and his subs have been well-chosen, but it also speaks of a complete inability to set up a team for the start of the game.
He hasn't sent out one starting lineup that made any sense to me at all, and our first-half performances have been ghastly. A manager must command both strategy and tactics, but in my view, Rhino shows nothing strategically, then responds tactically in a way that has salvaged points in the past two games -- again with a big assist from luck. So yes, I'm convinced he's unqualified.
With the single exception of Pep, I've never known a manager to succeed at the top level without any senior managing experience at all. (Even Zidane had a season advising Mou and another assisting Ancelotti.) Maybe Rhino has that gift and will grow into the job, and I will cheer my lungs out and happily chow down on crow if he does.
But I don't expect it.
Jack Convery
137
Posted 20/11/2017 at 20:27:25
We don't need a new broom, we need a fucking great big Kirkby Skip parked outside Goodison and fill it with bloody dreamers, hangers-on and never-wases. Professionals is what we need, not corner-shop theatrics. If the new man needs a hand to clear out the dross he'll have plenty of volunteers.
A question the new man needs to ask of anyone involved in the training, physio and playing side of the club is this – What do you actually do to make things better here?
If they can't answer, that sod 'em off immediately. I reckon there will be quite a few empty lockers that day.
Dennis Stevens
138
Posted 20/11/2017 at 20:27:47
As there's clearly no sign of an imminent appointment of a new manager, are those who are desperate for Unsworth to also be relieved of his responsibilities wanting the caretaker manager to be replaced with another caretaker manager, pending the appointment of a permanent manager – eventually?
John Graham
139
Posted 20/11/2017 at 20:35:07
I think we are now commonly known as the joke team in the Premier League. Total inept board who couldn't organise a piss-up in a brewery.
Surely between Kenwright, Moshiri and Walsh there is someone who can stick their neck out and either get a new manager (there's lots out there who would love to manage Everton) or appoint Unsworth (not my choice).
This is now going on far too long. If they can't make a decision, then they shouldn't be in charge of our great club. Get something sorted now!
Simon Dalzell
140
Posted 20/11/2017 at 20:41:43
Going by the bizarre team selections and tactics so far, Unsworth has not got the nous and he's not up to it.
Why for one minute should he be? He's never managed a senior side in any division. It just doesn't work that way. It's a reckless " punt" at best. The flattest, negative 4-5-1 against the mighty Palace. Brilliant.
And yes, Dennis, a proper manager to get us out of this hole, whether it's to the season end or further, it really doesn't matter. Call him what you like as long as he's got the ability. Permanent... caretaker... who gives one?
Dennis Stevens
141
Posted 20/11/2017 at 20:53:33
Simon, so bin Unsworth - then what? The Board haven't got a replacement yet otherwise they'd have already made the announcement.
Another caretaker manager? Ebbrell? Ferguson? If Unsworth is relieved of the responsibility after just a handful of matches [& I'm sure it would be a relief], who would want to replace him as caretaker?
We can't even get a replacement for Koeman as permanent manager!
Steve Ferns
142
Posted 20/11/2017 at 21:02:09
I disagree with the guy on Royal Blue Mersey, he's chatting shit. A few heat maps don't tell the whole story. What they give an insight into is a team under the cosh, with wingers pinned back and a midfield largely bypassed as the defence employed a safety first stance as they tried to defend.
The team lined up in a 4-2-3-1, the shape was clear if you watched the game. Sigurdsson did put in a shift and the shape shifted as we went a goal down and then as we tried to gain control of the midfield.
Because Unsworth is tactically astute, and Sigurdsson is a worker, he dropped deeper as we tried to gain that control. The 4-2-3-1 was how we were meant to play, but when you commit defensive blunders like we did, you have to rip the plans up and get back in the game. Once we did so, we somehow found ourselves second best again, until behind and then we shifted up a gear again before levelling and becoming second best once more.
The most telling of all the stats is that it was pretty much level for actual chances. Palace, for all their possession and joined up football, huffed, puffed and did little. Our two defensive blunders aside, we were able to comfortably withstand what else they threw at us.
We are getting better. Unsworth is right about that. The team is moving in the right direction. Unsworth just needs time.
For those of you, like the moron on RBM, who think he has had time, I ask you when?
He's been in charge a few weeks, yes that it true. But look at his schedule. He was in charge on a Monday, he then had a game twice a week until the international break. What happened in the international break? 2/3 of the squad disappear. He cannot train the team as 90% of the players he will use were away with their countries. They left on the Sunday after the Watford game and returned on Thursday or Friday.
To put it in simple terms, Unsworth has NOT had two back to back full on training sessions since he took charge. He or whoever else takes over, cannot do anything to fix this mess until December 16th which is when he will have the team for a week for the first time this season. Then we won't get another week until mid-January.
Unsworth doesn't have a magic wand. He can't whisper a few magic words to each player and suddenly they are cured of all of their ills. No, one is fixing this mess before the end of January.
What he has done so far has been good. It's baby steps. And we are moving in the right direction and the players do want to play for him, they scrap for him, and they are not giving up like they did under Koeman.
Raymond Fox
143
Posted 20/11/2017 at 21:06:26
As James (#118) has already mentioned, Louis Van Gaal has suddenly appeared in the betting list for the Everton manager's job. He's down to 4/1 at the moment!
There's no smoke without fire, as they say. Would he be a fit for us though, doesn't seem the sort to get his hands dirty, so it's a "No thanks" from me.
Mike Gaynes
144
Posted 20/11/2017 at 21:06:32
Dennis, stop making things up. Nobody is saying sack Unsworth for another caretaker or the first warm body that happens by. I'm simply opposed to naming him for the rest of the season.

John Graham
145
Posted 20/11/2017 at 21:07:31
If any other manager came in and produced the same results against the same teams in the same amount of time with the same tactics, we would all want him out.
Just because he played for Everton doesn't mean he should get more time. Face it, he's not up to the job.
Steve Ferns
146
Posted 20/11/2017 at 21:07:42
Mike Gaynes
Kenny Dalglish did the double in his first season as a manager.
If you want more recent than that, then you're not being very fair as you can count on one hand the amount of first team managers we have had since the Premier League began. Most Premier League managers are foreign and so come with a glittering CV and a bucket load of experience.
Unsworth's Premier League record still reads, played 4, won 2, drew 1, lost 1. You are being far too unfair with what you have said so far, and it's far from accurate.
Dennis Stevens
147
Posted 20/11/2017 at 21:08:03
Steve Ferns (#142) – Is that the guy on RBM who reckons Pulis may be our only salvation?
Steve Ferns
148
Posted 20/11/2017 at 21:12:03
I didn't see that! Man he needs help! It was the American guy, who was clearly not at the game and wrote a piece based on a few heat maps.
Grant Rorrison
149
Posted 20/11/2017 at 21:16:42
I'd give Unsworth the next three league games personally. If we're getting bad results at home to teams like West Ham and Huddersfield then he needs replacing, asap.
We've taken 4 points from the last 2 games. A further 4 from the next 2 would as good (better?) than any reasonable person could expect, surely?
People keep mentioning how bad Palace are, but, they've picked up over the last few games. This was their 3rd home game in a row that they've scored twice in, including against the champions, Chelsea. Who they beat 2-1.
What are the alternatives? A fella that got relegated last season. Despite not being in the relegation zone with only 3 games remaining. Who then lost the lot by an aggregate score of 13-1 !
Or, a guy who's taken 5 years to assemble a team capable of putting a few 1 nil wins together. When they're not losing at home to West Brom and drawing nil-nil with Huddersfield that is. Not exactly exciting options are they? :)
Dennis Stevens
150
Posted 20/11/2017 at 21:18:58
Mike Gaynes (#144), I'm not making anything up, Mike. I've read a few comments from people who no longer want Unsworth as caretaker manager & that seems to be an immediate demand.
I'm merely asking, not unreasonably, what do we do next, as we seem to have no permanent appointment sorted out yet. Presumably we would have to look at a replacement caretaker manager, but I can't imagine who.
I agree that some others seem opposed to him getting the gig either permanently or even for the rest of the season. Being that you say your opposition is to a longer term appointment, I'm surprised you've responded as though my query applied to you.
Kevin Tully
151
Posted 20/11/2017 at 21:19:26
So are all these other clubs in the Premier League missing a trick by not giving their U23 managers a chance at promotion? Maybe so. Or is Unsworth particularly brilliant?
Usually, if manager gets the bullet, the first team coach will take over the interim position, In our case, wouldn't this be Duncan Ferguson? Or is he not capable? So now our whole coaching set up is 100% populated by ex-players. Ebrell, Unsworth, Royle, Jeffers & Ferguson. Good old Bill, eh? Why not bring a few more in? Hibbo & Ossie can't be far off coming back, surely.
Whatever is going on, it's a shambles, as per.
Steve Ferns
152
Posted 20/11/2017 at 21:19:41
Grant, Unsworth does not have the chance to get this team onto the training pitch until after the game on 16th December, when he has a full week until the next game. It does not matter who coaches them between now and then, they've only got one training session between games and that cannot do any real work as it needs to fit in to the fitness program, so little work can be done on shape and passing, which is where we need the most work.
Unsworth has clearly been making improvements and this must have been done in the video sessions. But footballers have notoriously short attention spans and will not take on board what is shown their unless it is kept short and to the point.
Will Mabon
153
Posted 20/11/2017 at 21:20:27
Let's get Pulis in cheap as defensive coach...
Steve Ferns
154
Posted 20/11/2017 at 21:22:35
Kevin, these are the coaches who did not leave when Koeman was sacked and his staff walked with him. What did you want us to do, put Erwin Koeman in charge, force the other coaches to stay?
If Unsworth is given the job permanently, then he can go off and hire some decent coaches to fill the voids. No one would come to Everton on a month long deal. These coaches are not paid mega-bucks and so they will not leave the comfort of their current employment, even if it is a division or two below.
You want top coaches, as do we all. But we can only recruit these once we have certainty.
Steve Ferns
155
Posted 20/11/2017 at 21:23:54
Will why would Pullis be cheap, and seeing as he just got sacked, don't you thin there will be a forfeiture clause on his pay-off, if he returns to work at any Premier League Club in the next 6 months, and if so, it ain't cheap.
Simon Dalzell
156
Posted 20/11/2017 at 21:24:30
Dennis @ 141,
Sorry if I misunderstood, Obviously not bin Unsworth until a replacement is found (an established manager), not one of the same ilk. Silva, Dyche, Van Gaal if it comes to it.
I'm not anti Unsworth. I'm anti complete novice...
Simon Dalzell
157
Posted 20/11/2017 at 21:27:46
Steve Ferns.@142. Heat maps are incidental. Turgid defensive shite to the naked eye. I did see all the game, and to say "Unsworth hasn't got a magic wand" is so patronising, it's beyond words. It was Palace we were playing and we approached them as if they were Barcelona.
I would read all your comments, but I start work at 6. I believe in quality, not quantity.
Steve Ferns
158
Posted 20/11/2017 at 21:32:37
As I said Simon, without being able to have actual training sessions, what do you expect Unsworth to do?
What we need right now, more than anything, is to stop the season and have 3 or 4 weeks coaching the team, and getting everyone fit. Things will be different once the Christmas rush is over by the middle of January, and Europe is done, and we can get down to playing a game every 7 days, and then we can get a grip of everything on the training pitch, until then, quite simply, to expect anything different is complete fantasy.
Colin Glassar
159
Posted 20/11/2017 at 21:33:57
After being linked to Big Sam, LVG and now Tony Pulis why don't we just go the whole hog and get Garry Megson?
Steve Ferns
160
Posted 20/11/2017 at 21:35:00
Megson is busy saving West Brom.
Colin Glassar
161
Posted 20/11/2017 at 21:36:40
Megson was one of my favourite Everton players back in the day. He was very underrated imo.
Kim Vivian
162
Posted 20/11/2017 at 21:42:50
Steve, well said at 142. Particularly the bit about having time to work with his men. To underpin that, starting with the Monday after the Arsenal defeat through to Monday 18th Dec (you mention the 16th but we are actually playing on Mon 18th – Swansea) he will have had to preside over 13 matches in 8 weeks, 2 of which as you say, most of them buggered off with their countries, so effectively 13 matches in 6 weeks so very little training and drill time between.
It is extremely harsh to be writing Unsworth off after the last 5 games and I am in the 'seeing signs of improvement' camp. There's no way he is going to be there for the long haul but to be belittling his efforts to the degree that some on here and elsewhere have is absurd. As a group we need to get behind him over this temporary period and hope that the incumbent manager proves to be third time lucky. Who that might best be I frankly have no idea, but it seems that virtually every Premier League manager in the top half outside the top 6 has been mentioned except the Brighton fella – Chris Hughton.
Not a suggestion – Just saying, like.

Brian Harrison
163
Posted 20/11/2017 at 21:44:04
Colin,
Tell me this is a wind-up. Gary Megson was one of your favourite players.
Andy Crooks
164
Posted 20/11/2017 at 21:49:46
Good posts from Darren, John and Steve. If we had appointed a new man and he had, whatever way, got some points and pulled us out of the bottom three, we would be hailing it as a decent start.
Someone is going to need time and support here. If we appoint someone else, it will be the last throw of the dice. We will not and cannot sack another manager this season. Say we appoint Silva and we suffer a couple of heavy defeats, not an impossible, scenario as he has form for it. What is left but the Championship?
In my view, David Unsworth is being judged by absurd standards. If Silva or any manager on earth came in here he would, short term at least, require a large slice of luck to get the instant results that some demand.
We do not need to roll the dice yet. It is November, we are not in the bottom three and things have improved. I hope and believe that Unsworth will make us safe and allow time for reasonable consideration.
John Pierce
165
Posted 20/11/2017 at 21:53:43
Steve,
I think you judgement of the Palace game is correct.
I think the shape was clear, 4-2-3-1. It had balance and players in their rightful position.
Schneiderlin's inclusion, most unpopular was IMO there to give us physicality. Beni & Gana too small against the bears in Palace's team.
Valid criticism lay in how deep we played, it rendered Lookman especially inert.
Twice we pressed high, it yielded both goals.
Unsworth adjusted and made us play higher in the 2nd half. Davies, Calvert-Lewin pressed. We created a golden chance and an assault from Sakho.
As soon as the yellow neutered Davies, we slumped back.
Baby steps, tiny improvements but they are there.
Chad Schofield
166
Posted 20/11/2017 at 21:55:54
Jesus wept, Simon... You're making out he's been playing a 3-2-5 with Robles up front.
Don't you think that the first part is to try and solidify us slightly? He's not only done so but actually got us to fight back rather than continuing to just get whipped. Is utmost you'd advocate a 4-4-2, and all would be well. Honestly, what utter nonsense.
"I want a Proper manager" yes, and you'll be singing the same song as West Ham were by Christmas when they've only just organised us to where we are now under Unsworth.
Steve Ferns
167
Posted 20/11/2017 at 21:56:08
Good point on Davies, John.
Also, how many of you have played football at any level? How often did you talk about (or if good enough be told by a manager / coach) playing a certain way, yet once you got out on the pitch, you just couldn't get to grips with it.
The amount of times, I went into games with just one instruction, hit the by-line and whip it in. And yet, I was unable to do so as the opposition fullback would have me penned back in my own half. Sometimes, the manager can make plans, but the players are unable or cannot execute them. Then the manager has to make changes to get a grip.
This is Unsworth, his team are not doing as they were instructed. He's bold and he makes changes. Without drilling them into how he wants to play, he can simply tell them, and then make changes when it's not working.
The guys on the bench can see this, they can be given instructions by Unsworth and so are able to shift things around. He's doing that. He's showing the signs of being a good head-coach. He just needs to get out on the training pitch and get a proper grip of this team and then we can see the real Unsworth, the one we can judge, and then you can say he lacks tactical nous
Dennis Stevens
168
Posted 20/11/2017 at 21:59:00
Simon Dalzell (#156) – For all the bullshit emanating from Toffee Towers about this being Unsworth's audition for the role, I suspect they only expected him to try & keep the wheels from falling off completely until the International break we've just had.
I reckon they were anticipating last weekend's match at Selhurst Park would be the first game under the new permanent manager, with Unsworth either remaining part of the coaching team or returning to take charge of the U23s. I don't think the intention was for the novice to remain in charge indefinitely, at least not unless he surprised everyone by getting to the break with something like 3 wins & a draw under his belt.
As it is, there seems little choice but to continue with Unsworth pending a resolution at Board level. Even a replacement for the rest of the season would be very much one step back in the hope of two forwards, imo.
Steve Ferns
169
Posted 20/11/2017 at 22:05:56
Dennis, clearly Moshiri did not want him in place. He's made 2 or 3 bids for Silva if you believe the reports.
I don't know the record paid for a manager, but £10m might be it, usually you hear of £1m or £2m. These are serious bids. He would expect Watford to bite his hand off.
Silva has made it damn clear he wants to come by refusing to say he doesn't want the job, and hinting strongly he does. No doubt his agent has made his feelings very clear to Everton.
Alan Smith
170
Posted 20/11/2017 at 22:42:45
You all love complicating matters on here.
We played a good Leicester side away and lost because we weren't cynical enough and Kenny (not ready) sliced a ball in his own net. Unsworth made a mistake taking the wingers off to add to our midfield when he could have taken one striker (Rooney or Calvert-Lewin) off instead. The wingers were our only decent threat in that first half.
We then got a very lucky win against an average side at home. A vital 3 points through a pure lucky comeback.
And we have drawn with the worst side in the league this weekend, again with a ton of luck. Littered with individual mistakes.
We are completely awful and will remain so until Barkley and Coleman return.
Just think about it. I know you all think coaching is black magic and scouting is miracle working but football is really simple. Allardyce has proven he can make a team more organised and cynical and there's not much else a manager could do before January. (February as they tend to arrive on the last day of window).
Our players are shit. Rooney is the only player to have played top level Champions League football. Coleman probably could. Barkley will be in January or next season. None of the kids that all the fans love probably never will. Or they are years away from it. Keane is dogshit, Jags and Williams finished and Pickford is 6'-1" and already gave four goals away.
Imho We are shit because are players are shit. Walsh is a joke for signing them and should be sacked. And if Moshiri is serious about taking us forward then a prerequisite of any signing should be; a current full international, that is fast and strong enough for the Premier League. Scouting potential like Lookman is unnecessary at this moment in time. Especially when we produce our own and need players in the first team.
Does anyone deep down really believe Lookman will ever play for England regularly? And England are poor.
Basically, super coach Ferns can say all he wants on here but unless we buy some new players we will be extremely lucky to stay up.
And all you Moshiri fans, just remember, this fella tried to sell Barkley, Niasse and Mirallas even after he knew we were not getting a striker.
Steve Ferns
171
Posted 20/11/2017 at 23:02:38
You're welcome to your opinion Alan, but at least spell my name right.
And Allardyce took 8 games to get Palace organised. If you actually look into it, you'll see that came after a much criticised trip to Dubai. He also had plenty of time, a week between nearly every game, and it was a good 6 weeks after he was appointed that the results came.
Unsworth can only dream of having the time Allardyce had to get his team organised, and I bet he'd love to take the team away to Dubai for a week to really work on them in warm weather training.
Jason Wilkinson
172
Posted 20/11/2017 at 23:16:33
Alan (#170),
A bit harsh on one or two. Generally you got it spot on. We can't go on buying "for the future" when we need replacements now.
We recruited really poorly in the summer. We knew about Lukaku leaving. Coleman being a long term casualty. Baines having no replacement if injured (poor form)
We bought a player who can't get a work permit and sent several out on loan. One of these was Pennington who had some limited Premier League experience.
Barkley should have gone (not that I want him to). As this was publicly drawn out and makes the club look indecisive.
Most clubs bring their youth players into the 1st team but not 5/6 at a time. You can argue that some of them have had long enough in the team last season, season before, but they are still youth players.
Holgate, Davies and Calvert-Lewin have looked short on confidence and quality this term. Kenny is learning on the job and Keane needs a lot of help positionally.
Pickford is a bright young goalie who I believe will be a great keeper in the next 3/4 years. The problem is he needs to be taken out the firing line at the moment to protect his confidence from long term damage.
Come January I would be asking the likes of Mirallas, Schneiderlin, Lennon, Klaassen and Gana if they can offer us anything for the next 3 seasons... and, if not, thanks but see ya. Rooney and Sigurdsson need a good kick up their arses and need to prove they are worthy of a shirt.
Back to our "diamond" Ross "I would rather leave for nothing" Barkley. It's not just Koeman then as he hasn't signed a new deal. I don't think he has the stomach for a fight at the bottom end of the league.
Steve Ferns
173
Posted 20/11/2017 at 23:22:41
So Pickford wins universal praise for his England performance. He is now talked up as slightly ahead of Butland in the race to be the England keeper at the World Cup, and you'd bench him in favour of Robles?
Mike Gaynes
174
Posted 20/11/2017 at 23:36:53
Steve (#146), thanks for the info on Dalglish. As for what's accurate, I'm expressing my opinion and you're free to disagree with that. But I don't think you can point to anything I've said that isn't factually accurate.
Jason Wilkinson
175
Posted 20/11/2017 at 23:42:43
Steve (#173), I wouldn't say he won universal praise for his performance as one or two pundits pointed out his minor faults.
Playing behind a confident defence in a friendly and playing for us at the moment are completely different scenarios.
Jason Wilkinson
176
Posted 20/11/2017 at 23:49:25
For what it's worth, Joey Barton is having a go at Pickford now.
Steve Ferns
177
Posted 20/11/2017 at 23:56:40
Mike. I can and I did.
Steve Ferns
178
Posted 21/11/2017 at 00:08:30
Paste a link to one of these pundits pointing out faults in the England game. It was universal applause. Just looked on google again and everything is glowing about him.
There's few journos out there who give a proper critique of keepers. The main one is ex Premier League Goalie, David Preece, who being from the north east, pays close attention to Pickford and he rates him as having unlimited potential.
I'll take his opinion and that of Southall every day of the week over Joey Barton, who by the way says Michael Keane is "top class". So Barton thinks Pickford is crap and Keane is top class. That sums up Barton's ability to judge the two on current form. He's a clueless idiot who says whatever he can to make himself relevant. Every time he goes on the radio he makes a controversial comment. I doubt he actually believes half the crap he comes out with, he just says it to try to make a career for himself and get himself on to TV.
John Daley
179
Posted 20/11/2017 at 00:10:09
"
We've "scored" one nice goal in those five games, Calvert-Lewin's sweet header off the corner. That's it"
We've only scored one 'nice' goal, Mike?
You know as well as I do, it matters not how they go in, who off, or whether an opposition player cocked up on the way, as long as they end up over the line. If you're just going to discount any goals arising from defensive mistakes, spot kicks or a bit of good fortune, then you're deliberately drawing the curtains on your chances of 'detecting' improvement in that area, surely?
Under Koeman we scored five in his last seven league games and consistently struggled to create chances. We've managed to grab five in the last two and could have had several more if Baines, Sigurdsson and Calvert-Lewin hadn't failed to capatilise on the great chances that fell their way.
As for those thrust into a first time managerial role ever achieving any sort of success? It's not completely unheard of on these shores. Chelsea broke their decades long trophy drought after turning to a complete novice with no prior experience who was promoted from within. They went on to add another four under the experience lacking managerial novice already at the club who they gave the job to next.
I'm not making any claims that Unsworth can go on to do similar, but the suggestion that a coach will probably be unsure, or at a complete loss, what to do with the first team when he gets his hands on them, simply because he's never been tasked with doing it at that level before, is more fuelled by preconvieved notions of how 'the next guys' CV should read, rather than any corroborative evidence relating to the particular individual. Hence, the haste by some to say "well, I was willing to give Unsworth a chance but he's now shown, beyond a shadow of a doubt, he's completely out of his depth", before even a couple of weeks had gone by.
Steve Ferns
180
Posted 21/11/2017 at 00:21:07
Good shout, John. I forgot about Gullit. He might have been terrible at Newcastle. But he looked decent for Chelsea and was a key figure (along with Hoddle) in establishing them as an attractive team for the investment that followed.
Colin Metcalfe
181
Posted 21/11/2017 at 00:37:18
Papers seem to think West Brom might go in for Big Sam... now that, my friends, is a match made in heaven!!!
Steve Ferns
182
Posted 21/11/2017 at 00:45:39
Talk about out of the frying pan and into the fire!
John Crawley
183
Posted 21/11/2017 at 01:46:51
Steve (#152) – the game is now on the 18th December, we haven't got a week between games until after the third round of the FA Cup on the 6th January.
David Ellis
184
Posted 21/11/2017 at 02:38:49
I think the important thing is that we didn't lose. Losing drains confidence. Avoiding defeat helps re-build it, especially over a run of games. So that's two games we haven't lost and hopefully confidence will start to come back.
I think confidence is what is holding us back at the moment – that and general crapness, of course.
Will Mabon
185
Posted 21/11/2017 at 05:13:27
Steve @ 155:
Perhaps my sarcasm wasn't up to scratch there.
Darren Hind
186
Posted 21/11/2017 at 05:15:26
Mike (#136),
"With the single exception of Pep, I've never known a manager to succeed at top level without any senior management experience."
The crowd across the park turned themselves into a world wide brand by dominating the domestic and European game – managed by a couple of guys who had never managed before.
Steve Ferns is bang on the money. He has seen through the utter nonsense produced by Adam Braun at RBM – I knew he would.
I have to agree with Andy Crooks too. There is a certain absurdity to dismissing a guy as lacking "tactical nouse" when he has barely had the chance to get his players on the training ground... You guys do realise that if Silva, Dyche, or Fireman Sam were given the job, it would have been the same for them too?

Will Mabon
187
Posted 21/11/2017 at 05:16:41
Will Mabon
188
Posted 21/11/2017 at 05:20:37
If we get another manager in (Class, experienced, quality etc.), and he proves no better than Unsworth with the same players... will we call for another manager?
Chad Schofield
189
Posted 21/11/2017 at 06:45:00
Of course Will #188. Because if it was Pep (not that he'd obviously come - but type) then he'd be a fancy-Dan Jonnie-foriegner, if it was Dyche/Howe - too inexperienced, or finally one of Pullis, Allardyce, Big Ron, or Dusty Bin... A shit house.
Regardless of who's in charge, it won't be good enough – not in a Nil Satis Nisi Optimum way, but more of a toddler stomping their feet and drawing a picture of their friend Joey BetFred-Barton with their own poo.
Paul A Smith
190
Posted 21/11/2017 at 06:48:30
This Unsworth situation sounds simple after this thread. Loads saying he is not up to it. Loads asking "How do you know?" (Meaning they also don't know). Well, aren't we looking for somebody we do think we know is up to it? I personally don't want a new era to start with doubts?
All this nonsense about a lack of training sessions is outrageous. I wonder if West Brom are going to forget about a manager under this theory?
Will Mabon
191
Posted 21/11/2017 at 07:19:05
Chad, Paul – I just feel the best thing we can do is stay calm and wait a while longer as we are, and see how things grow. We don't know any manager's potential for sure, any more than we do yet of Unsworth.
Just looked on the BBC Sport football site. Rumours and speculation I know, but it's all about which recently-sacked manager may go to a club that has just or is about to, sack their manager – and where that sacked manager may go to replace a previously sacked one etc. A manager merry-go-round.
It's looking more and more like it's either an engineered bread-and-circuses fiasco, or as though eventual success may all come down to unknowingly stumbling upon the right manager based on pure luck... or stumbling upon the wrong one.
If for these reasons alone, I'd rather buck the trend and give our current "Manager" the help and support to develop into something we do understand.
John G Davies
192
Posted 21/11/2017 at 07:44:46
Steve Ferns,
I enjoy reading your posts and analysis.
But "90% of the players he works with are away on international duty"?
Mike Gaynes
193
Posted 21/11/2017 at 07:51:11
Darren #186, Steve reminded me about Dalglish. I would remind you both that that was nearly 30 years ago. Different era. If that's the most recent non-Pep example you can come up with, I think my point stands.
And for the record, I complimented Rhino's in-game tactics. The nous he lacks... utterly and completely in my opinion... is strategic. The training ground excuse doesn't cover his inability to set up a team for a game -- he's already far more familiar with his players and their capabilities than a new manager would be. Yet he keeps sending out these odd lineups, with predictably disastrous results that he has to scramble to repair at halftime.
Also for the record, I have never had the slightest interest in Dyche, Silva or (god forbid) Ugly Sam taking over this club.
Paul Tran
194
Posted 21/11/2017 at 07:54:44
We have good players who have been thoroughly confused and apparently under-cooked by Koeman. His replacement has to get them fitter, decide who goes where and generate some understanding between the players. Regardless of the manager's name, that will take more than four games and requires plenty of drilling on the training ground.
Too early to judge Unsworth and if he gets replaced, I wouldn't expect four wins out of four either.
And I have money on us not being relegated. Like the 'relegation crisis' two years ago, I expect to collect.
Dave Wilson
195
Posted 21/11/2017 at 08:35:50
You do get yourself in a muddle, Mike.
What on earth has the era got to do with it? You said to your knowledge only Pep had done it. You have been given three examples.
You are asking yourself the wrong question: it's not about "being successful" in terms of winning things. There are many examples where a novice manager has been successful in a "mission accomplished" sense. We're not asking Unsworth to win the league – we are asking him to steer us clear from relegation. That, under the current circumstances, would be a clear success.
You are a little quick to tell others that they are talking pure shite, but having realized that Unsworth has not been able to get his players on the training ground, you now narrow your criticism down to team selection.
Given that you are known on this site to be an admirer of Idrissa and Morgan and that the back five almost picks itself, I wonder what blindingly insightful team selections you could share with us to back up your repeated criticism of the caretaker manager?
I wonder who you would want instead and who you think they would select from those who have been left out?
Kim Vivian
196
Posted 21/11/2017 at 08:54:00
No previous top level management experience? Zidane hasn't done badly.
Paul Kossoff
197
Posted 21/11/2017 at 09:02:19
Zidane hasn't done badly at? Put him in charge of the lazy gets we have and see how he does.
James Marshall
198
Posted 21/11/2017 at 09:17:48
I wish people would stop citing the Madrid/Barca management model – it's totally different to the way we're setup, and totally different to managing any other club in the world – it has zero relevance outside of Madrid/Barca.
If you actually go and look at the way those clubs are run, you'll understand what I mean.
I see Koeman is in the running for the West Brom job.
I'd like to see Van Gaal get the job for the rest of the season.
Kim Vivian
199
Posted 21/11/2017 at 09:54:36
Who or where is not the point. The amount of experience is the discussion. And Paul nails it. Whoever we get has a task and a half on their hands.
Steve Ferns
200
Posted 21/11/2017 at 10:05:14
Mike Gaines, the training ground excuse does cover strategy. You talk about setting the team up, what the hell do you think happens on the training pitch? The set up is drilled into the team in training.
We have to work the back 4 so that they know the correct line to play. They have been far too deep all season long. In tandem with this, our line of midfield (the Gueye and Schneiderlin position) is also far too deep.
It's not simple enough to say to a player how high the line should be, they need to make adjustments in training and then this filters through to the game, and it will take about 5 weeks of solid training with one game a week before you see a real effect.
Shape goes hand-in-hand with setting the line. You also need to work on players individual roles and instructions. It's all well and good setting up in a 4-4-2. However, if you tell the central two to sit, and allow the wingers to get forwards, but then tell one of the strikers he needs to drop off, then what have you got? A 4-2-3-1, that's what. The set up needs to be carefully and relentlessly drilled into the players. They need to understand their roles.
Too often Davies, Gueye and Baningime have all vacated the middle of the park and charged forward in an uncoordinated manner to attack the ball or support an attack. This is evidence of them being told something by Unsworth but not having the time to put in, on the training pitch to actually get some cohesion and to work together, so that one does sit, if the other goes.
Another big problem he has tried to address is tempo. The tempo has been far too slow. This has improved, but mainly due to whacking it forwards more. We need to mix up the passing, by playing more short passes, but continuing to play those passes quickly and directly.
Following on from that is the press or closing down. It's all well and good to talk about closing down, but how do you close down. Do you block passing lanes like Guardiola? Or do you attack the man on the ball. Pressing might sound easy. It's just closing down the man on the ball afterall. But if it is not done correctly, teams can cut through you very quickly. You need to train to hunt in packs and work out which style of pressing you intend to implement. Good pressing requires all 10 players and comes from months of work on the training pitch.
So Mike. It's not a training ground excuse. How on earth can unsworth effect changes? He's not a silver tongued Cicero who can whisper a few magic words and every player suddenly has total clarity on their roles, requirements and the team strategy. This takes weeks and weeks of drilling. They defence still needs to unlearn all what Koeman had them doing and the midfield needs to disregard all the slow build up crap that he introduced over the summer.
Paul A Smith
201
Posted 21/11/2017 at 10:22:50
Steve, are you a spin off of Martinez?
As if these players don't know how to return to type if things go wrong. What, a defensive midfielder has forgotten how to tackle?
Your Schneiderlin Sigurdsson mind-reading theory of Koeman's is madness. Using Klaassen's speed of touch in the Dutch league to interpret what went wrong with our midfield is mad.
Cruyff said a lot of things, by the way. I will reserve judgement on Klaassen but I doubt Barkley has a worse touch than Klaassen.
As another poster said, the players are basically not good enough. If you think any manager can set us up to play the pressing game with a slow team, you haven't studied football half as much as you like to put it out there.

Steve Ferns
202
Posted 21/11/2017 at 10:28:18
Paul, Koeman spent £250m on these players. How can they not be good enough? The team has lost one player from last season, and that makes us relegation fodder?
The players there are good enough, and they just need some good coaching and a run of results to get their confidence back.
Andy Meighan
203
Posted 21/11/2017 at 10:57:18
Steve,
So Koeman spent £250 million. Doesn't make them good players. Just makes Koeman and Walsh poor judges of players. The Premier League table doesn't lie, does it?
We are where we are because we've got a poor squad. Maybe the injured players will make a difference... who knows? Stop trying to justify Koeman's signings – they're poor, end of.
Colin Glassar
204
Posted 21/11/2017 at 10:59:15
I often daydream about what it must be like to support a club that is well run, plays exciting football, wins trophies, competes at the highest level, enthuses it's loyal, faithful, following etc...then I wake up and realise I'm an Evertonian and nothing ever really changes.
I'm just looking forward to next season now.
Victor Yu
205
Posted 21/11/2017 at 11:00:26
Okay, so it looks like we are after Van Gaal now.
Going Dutch again? I don't like this!
Jay Woods
206
Posted 21/11/2017 at 11:00:48
Steve Ferns doesn't know what he's talking about.
I give you exhibit A: "Koeman spent £250m on these players. How can they not be good enough".
Anyone else see a problem with that statement of his?
Brian Harrison
207
Posted 21/11/2017 at 11:02:32
Steve,
They didn't only lose the second highest goalscorer in the Premier League, they sold Gareth Barry and have been missing Coleman and Barkley and Bolasie.
Just to highlight what a disaster the window was, our next highest goalscorer to Lukaku had I think 6 league goals. So we needed 2 of 3 strikers as the 2nd highest scorer hasn't played yet this season and looks like he will move in January.
Stan Schofield
208
Posted 21/11/2017 at 11:14:28
Steve@202: Correct. Unless I've wasted watching football over the last 56 years, and have absolutely no idea what a good player looks like, our players are actually very good. For example, Sigurdsson is very good, he was very good before coming to Everton, and there's minuscule likelihood of him becoming a crap footballer just because he's joined Everton. Keane is another example, and the list goes on.
When a good player joins a club that's struggling or in the midst of change, or in some disarray as we seem to be, there's a good chance that they'll struggle. They were signed for a reason (because they're good), but that doesn't stop them struggling.
Any team needs good organisation, tactics and motivation. To believe otherwise is, so far as I can see, naieve. Unsworth has made clear progress with respect to motivation, but the organisation and tactics need improving as well.
Every time the team struggles, some fans come out with the mantra, "the squad is shite, needs a complete overhaul, bla bla bla". They even criticise the younger players who've just come from the Under-23s. And the mantra "we're fucked, we're going down, it's all Kenwright's fault, bla bla bla". It's one thing being a bit down because the team is struggling, but let's get a grip on reality.
Paul A Smith
209
Posted 21/11/2017 at 11:15:45
So £250 million means they are definitely good? Plenty of clubs have bulk bought and suffered.
How many of them were worth Lukaku money? Not one. A lot of people think Lukaku isn't top drawer (which again is insane) so, if he is worth £75 million, that doesn't say much for our £25 million men.
Now that doesn't mean every signing is poor. Age and potential come into it everytime so anybody over 25 that only costs £25 million is an average player the top sides won't touch.
By the way, Steve, it's not for us to tell you why they're not good enough. You tell us why they are. Nobody you mentioned has any silver to the CV. Not one away win since they came here. Look where we are in the table, how many we concede.
All the evidence suggests these players, no matter how often they train, they are not good enough. Not for me anyway. How many top drawer performances have you seen from Schneiderlin? I am fed up of fans who think we only play at Goodison too.
And Steve, before I finish. Without Lukaku last season, yes we were shit. And would have been in trouble.
Stan Schofield
210
Posted 21/11/2017 at 12:00:23
It certainly seems the same old Everton of selling our best players and relacing them with players who are good but not as good as the best ones we sold. If we'd kept Lukaku and Stones, and handled Barkley well, and spent £200M on new players, that might have been a real sign of intention to make the 'next step' from what we've seen for many years (averaging 58 points per season) to consistent 'top-6' and Champions League (averaging at least 10 points more).
But we haven't done that, so we'll continue with mid-table for the moment, with the occasional brush towards the bottom. That's been Everton, it's supposed to change under Moshiri, but there's little or no sign of such change. Perhaps the players are 'not good enough' to reach and maintain 'top-6' level. We don't know unless the team is well organised. But I'm clear that the players are better than 'relegation material'.
Jay Wood
211
Posted 21/11/2017 at 12:13:14
Stan @ 210.
Well and truly nailed Stan.
Since they first arrived at the club or emerged from our academy, I consistently said the quartet of Stones, Lukaku, Deulofeu and Barkley had exactly the right age, ability, ambition, potential and overall profile we should look to both recruit more of and retain and add to.
Sadly, as you are all too aware, 3/4s of that quartet have moved on. Moshiri inherited all four players, but as you correctly call, there is yet any hard evidence of a 'brave new world' that things on the playing side and overall business model has really changed.
Would we be where we are today if all four were available to us..?
Sadly, as you are also aware, there were plenty of Blues who couldn't wait to take whatever coin we could for said players, or 'drive them themselves' to their new destination.
Paul A Smith
212
Posted 21/11/2017 at 12:30:29
Stan (#210). Restoring a bit of faith in Evertonians for me.
Kim Vivian
213
Posted 21/11/2017 at 12:33:55
Off topic this but it will be interesting to see how the RS get on against Sevilla tonight. I know our game was only a preseason kickabout but it might be an interesting barometer for something.
Paul Tran
214
Posted 21/11/2017 at 13:01:30
There are separate issues that keep getting lumped together here.
We bought good players this summer, not the ones that were critically needed. They have been confused as the rest of us by this season's 'tactics'. I think they'll come good under a decent coach.
Regarding the four players. Stones & Lukaku consistently said they wanted to play in better teams. Had Moshiri & Koeman acted with urgency and strengthened the squad immediately, they may have stayed. But they were complacent and effectively tanked two transfer windows. Barkley is still here; I suspect he has similar thoughts to the other two. I'd have driven Deufelou to the airport. Talented player, not physically/mentally tough enough for this league. Great player until he played.
This is a great job for anyone brave and ambitious. A half-decent squad, money to get replacements. As far as I'm concerned, they can take as long as they like, providing they sort out how everyone works together to make the team and club run properly.
I'd like someone with Chris Coleman's attitude. He's gone to a basket-case club, acknowledges the trouble they're in, but knows he'll be a hero when he gets it right. We're nowhere near the state they're in.
Dave Evans
215
Posted 21/11/2017 at 13:14:24
Stan @210, I agree.
I would add Deulofeu to Lukaku, Stones and Barkely as players who we needed to keep when we bought some new additions, if we were serious about top 6.
Deulofeu ('unfit. inconsistent, not bothered) now has 10 games under his belt at Barcelona.
Lukaku ('lazy, disruptive, awful touch') is still scoring a few goals for someone.
Stones ('sulky, liability, can't defend') is being coached to be potentially one of the best defenders in Europe.
Barkley ('inconsistent, dithering, thick') ........err hope he stays.
On your last point, I too reserve judgement on the quality of our current squad until one or two players are back fit and, more importantly, there is evidence on the pitch of them being well organised and coached.
Stan Schofield
216
Posted 21/11/2017 at 13:22:24
Kim@213: Not sure how that game will be a barometer relevant to us. Liverpool are in a run of good attacking form, despite a very poor defence. But form can change, it happened to them last season, and suddenly a lot of people were calling for Klopp's head. And if and when they lose Coutinho, they could struggle. Fine margins, as they say.
That is a frustration for us, because we've been consistently 10 to 12 points below 'top-6' (and 10 points below Liverpool, which could change significantly if we knew how the handle a derby). That margin is not a big one, and is (imo) breakable with the squad we've got so long as they are well organised.
Of course, it might have been more readily breakable if we'd kept Stones, Lukaku, et al. Water under the bridge, up to a point, but I'm hoping that Moshiri has learned something. That the value to Everton of keeping your best players can outweigh the value of selling them and trying to replace them with players who are not as good. Only time will tell.
Jamie Evans
217
Posted 21/11/2017 at 13:35:51
Nice Stan (#210), nice.
What a nucleus of a team the 4 players you mention would have been.
It's a shame some of our so-called fans couldn't see their potential, especially at home games where Stones and Barkley in particular, were regularly screamed at for daring to look for a positive pass and not hoofing it aimlessly upfield. I lost count of the number of times I heard our 'supporters' saying . "Just sell him. I'd take the money. He's playing for a move. etc, etc."
Paul Tran
218
Posted 21/11/2017 at 13:50:55
Stan, completely agree, except my nucleus would have three players!
Kim Vivian
219
Posted 21/11/2017 at 13:52:54
That's why I said "something" Stan. I have no idea what we might learn, if anything, but depending what occurs we might find a shred of comfort from something because I think we actually went backwards from then and are now showing signs of improving again however glacial.
On the other hand we could be plunged into even worse depression!
Stan Schofield
220
Posted 21/11/2017 at 15:13:12
Kim, I agree, apart from the bit about being depressed! The reason I say that is, although we've sold some of our best players, and not spent the money as wisely as we could have, I think (and hope!) there's been an element of learning for Moshiri.
I believe he has real ambition to get us into the Champions League (and more depending on how we do with that first aim) and regularly so, otherwise I can't possibly see why he would have been so determined to hire Koeman at £6M/year.
In this sense, I think it's a case of simple mismanagement in player sales and purchases, in his first real stab at moving us forward. If that is the case, it's surely something he'll learn from, given that he's supposed to be an astute businessman. If not, we're unlikely to progress, and can then look forward to averaging 58 points (or thereabouts) for the foreseeable future. Unless someone like Usmanov arrives.
In the meantime, those ToffeeWebbers who have habitually criticised our best players as lazy show ponies, and who wanted grafters to the cause of Everton, may have got what they desired. At the moment, graft over entertaining and effective attacking football is what we have to look forward to, and Unsworth certainly has credentials to get that, given He was one of Joe Royle's Dogs of War.
But having said that, he also has at least some credentials for football with flair, given the performances of the Under-23s. Which means that, if he can steady the ship and induce confidence, good attacking football could come as a matter of course.
We often heard the phrase 'trust in Koeman' last season. Perhaps at the moment, it's a case of 'trust in Unsworth'.
Rob Young
221
Posted 21/11/2017 at 15:20:22
Just noticed that, with Atalanta being nothing more than a reserve team run out to us, Sunday's game at Soton means Unsworth will have had 5 away games in his first 6 games in charge!
Jackie Barry
222
Posted 21/11/2017 at 15:24:08
I don't see any improvement, just a bit of luck in the last two games masking over the fact we are crap. The fact we still have no new manager highlights how poorly ran we are, were the laughing stock of the league right now, the trotters of the premiership.
Alan J Thompson
223
Posted 21/11/2017 at 15:32:23
Stan (#216); I hope that what they've learned includes not promising players that they will be allowed to leave after whatever time. I seem to remember that Stones was promised that he could go to Ma City after one more season, in the same way that Lukaku was told he could leave after a similar time and Deulofeu was signed with a buy-back clause in the deal.
I could be wrong about that and it could be that it came about from a couple of managers making promises but surely it was reported back to the Board at some time. However, it does seem to have a pattern of involving those players who appeared to me as the most skillful, certainly possessing the ability to beat a man.
James Marshall
224
Posted 21/11/2017 at 15:50:11
If Rhino wasn't a blue, he'd be getting it both barrels from everyone on here by now!
Jamie Evans
225
Posted 21/11/2017 at 15:54:37
Of course there has been improvement under Unsworth. Under no circumstances would we have got 4 points from our last 2 games under Koeman.
We are improving, just very, very slightly but have faith. At least the players seem to be fighting now. No panic buy managers please, don't just get it done, get it right.
John Graham
226
Posted 21/11/2017 at 16:28:00
I do think that the problem with Koeman was his man management (or lack of man management skills). We were all happy when we got Klaassen, were linked with Sandro, got Pickford and Keane and then Rooney... eventually landing Sigurdsson.
One thing we didn't like was that we brought in three similar players in Rooney, Sigurdsson and Klaassen. We also then lost our main goal scorer and failed to replace him.
Now its a case of Klaassen (captain of Ajax) is not good enough, Sandro (great at Malaga) not good enough, Sigurdsson (brilliant at Swansea) not good enough, Keane (great at Burnley) not good enough. Rooney (people having second thoughts) Vlasic (our best player until dropped).
I am sure if we get the right manager in (not Unsworth) then he should be able to get at least a couple of our buys up to the standard they were playing before we bought them. We need a proven manager, not someone who did okay with an U23 side which had some really good players and did well to win the Premier League 2.
Why everything has gone quiet on the manager front doesn't look good. We have got to get points and the only way is to get a top manager; if we need to pay out the money, it will be worth it in the end to stay in the Premier League.
We have got to get points out of our next three games, which are all winnable, before we start to play any of the top teams – where if we are still playing the same way, we will get slaughtered.
Stan Schofield
227
Posted 21/11/2017 at 16:45:59
James @224: Very unlikely. Koeman never got both barrels from everyone.
Colin Glassar
228
Posted 21/11/2017 at 16:46:17
Just watched the goals from the 2015 game against Villa (Rom 2, Ross, 2). Oh happy days. We were good and we didn't know it.
Mike Gaynes
229
Posted 21/11/2017 at 16:51:40
Dave (#195), I'm not muddled at all. I criticize Unsworth for two things: team selection and strategy/setup.
My reference to "shite" was in response to a comment that Unsworth was taking more abuse here than Koeman had. I stand by my response.
Regarding novice managers, I said "I knew of" no others besides Pep. Others pointed to Dalglish and Gullit, both of whom go back almost 30 years (back before I could watch English league games here in the US). Mea culpa, but the fact remains that elevating the youth coach to the senior side with no previous senior experience is virtually unknown in this era.
And if you think I've been a booster of Schneiderlin's play this season, you haven't been reading my posts. I've been a harsh critic, repeatedly pointing to his two bottled challenges that have cost us goals among other things. I want him out of the lineup NOW.
Your sarcasm aside, I've repeatedly advocated one holding mid instead of two and keeping Sigurdsson in the middle of the field. Nothing genius about either of those. Neither has really occurred, although Sigurdsson finally spent some extended time as the #10 on Saturday.
Steve #200, we're both speculating. When Rhino gets the time he wants with his team on the training ground, we'll see if things improve.
David Pearl
230
Posted 21/11/2017 at 17:04:42
I constantly read on here about us playing two defensive midfielders like they are twins. They are not. They play a different game. Perhaps if we had Jesus, De Bruyne, Sterling, Silva, Sane, Aguero etc if our team I might agree. But we haven't.
We can't press from the front. We can't keep hold of the ball, We cant press teams back. We have no real threat going forward. Two holding midfield players is not the problem. Gana and Schneidelin just don't gel. Our attacking options are extremely weak and limited. We sit too deep.
If it wasn't for the transfer window, I'd keep Unsworth for the rest of the season. But we do have a window coming up... so I guess it's up to Walsh to figure out what he thinks we need to reshape the bollox we are watching.
Paul A Smith
231
Posted 21/11/2017 at 17:13:22
Jamie (#217). I hope your the same Jamie Evans I know because you're spot on, mate. If Barkley had given all those balls where the critics wanted them, he'd still have to come off the pitch with dirty shorts to get any respect.
I think David Pearl is onto something too. Gana can go box to box. Unfortunately, and I hate saying this because he actually tries to be a proper footballer, but he is not good enough.
It's absolute essential both your central players are at least good distributors of the ball. Ours are not.
Paul A Smith
232
Posted 21/11/2017 at 17:23:04
If Steve Walsh is buying players for us. That's if. There's no reason why Unsworth shouldn't carry on until at least May.
I'd hate to think a new manager comes in and there's still no clarity on who buys the squad.
As far as I can see, since Moshiri arrived we have tried to buy the best players from relegated sides or relegation battlers.
Andy Crooks
233
Posted 21/11/2017 at 19:18:07
James (#224), if David Unsworth wasn't a blue, say he was Tuchel, I reckon we would be hearing, "It's a fair start considering the mess he inherited". Unsworth is getting both barrels and it is unfair, unreasonable and, in my view utterly devoid of reason.
Because he is a blue, he is being slammed by posters who want someone new, who – on the wafer thin evidence before us – assert he is not up to the job.
This job will take some being up to!
To Mike Gaynes, and frankly, Mike, I am surprised by your posts on this thread, and others; How long will you give the new coach, whom you are unprepared to name? The same time as Unsworth?
What do you want? We are in trouble, Mike, you appear to know what the answer isn't. Well what is the answer? Not up to you? Fair enough.
Will Mabon
234
Posted 21/11/2017 at 20:59:12
Stan @ 210; I've said similar many times. We saw a considered and planned attempt to turn Everton into the northwest version of Southampton of the last few seasons; selling the best assets and surviving in mid-upper table with lower level players, and
gems
(yuk!)
This is precisely why we specifically got Koeman – but they failed to fully understand the part played by Les Reid. Walsh was supposed to do that bit.
Some PR and the stadium with the occasional dream of a cup was considered enough to bring the fans along in the brave new dawn. Maybe the plan ultimately was to develop to the level of a top club some way down the road, maybe not.
Either way, the board and owners have been well and truly bitten on the arse. Corporate thinking still doesn't work for everything and "The market" isn't (yet) God. Their computer modelling doesn't work for football, which for now, isn't quite as predictable as Facebook.
There's been talk of money available to throw at a manager, but this is small potatoes compared to player costs. There won't be much more money for that IMO, and we'll see more sales yet.
Stan Schofield
235
Posted 21/11/2017 at 21:21:48
Colin @228: I wish you hadn't posted that, because I've just watched it. Some great moves, swift flowing football, involving the 'show ponies' and/or lazy bastards of Lukaku, Stones, Deulofeu and Barkley. Three of whom have gone to far superior sides, with the other possibly doing the same.
We could play like that two years ago, and we supposedly have a 'new era' with 'new money', but we've regressed. Very frustrating, but very Everton. I suspect we'll be averaging 58 points a season for some time to come, barring Usmanov or someone comparable.
Alan Smith
236
Posted 21/11/2017 at 22:02:12
Well said, Stan.
Everyone who criticised those young players should hang their heads in shame.
If you criticised them whilst also lauding McCarthy, Schneiderlin, Gana, Keane and Pickford, then you are absolutely clueless where football is concerned.
Mike Gaynes
237
Posted 22/11/2017 at 04:11:58
Andy (#233), I found your comment a bit confusing, but if you're asking who I'd like to manage the club, my first choice would be Tuchel, because he's a brilliant strategist and a superb developer of young players, and I loved the way Dortmund played under him.
(He wouldn't be here long, partly because he's wildly ambitious and partly because he has a gift for pissing off owners, press and fans with his arrogance, but he wins.)
And my second choice would be a name I've never seen mentioned here, David Wagner at Huddersfield, who studied under both Klopp and Tuchel and whom I met when he played for the USA.
Regarding your comment about Unsworth: "Because he is a blue, he is being slammed by posters who want someone new..." I would point out that, if he wasn't a Blue, he wouldn't have the job in the first place.
But I promise you my criticism of his performance so far has nothing to do with him being one of ours. Had we hired a youth coach with no senior experience as manager from another club, and that fellow had sent out the lineups we've seen and then made multiple subs at half-time of each game, I'd say he was in over his head.
And I'd suspect that if this wasn't Rhino, a Blue's Blue, a man we all love and respect, you'd be right beside me saying the same thing.
Again, I devoutly hope you're right and folks like Steve and Dave are right and I'm wrong, because with the rumour mill gone nearly silent, it appears he's going to be managing us for a while.
Mike Gaynes
238
Posted 22/11/2017 at 04:16:54
David #230, good point. Two holding mids can work well, but only if one of them is a box-to-box who contributes to the attack, both shooting and passing. And as you point out, we don't really have that, although Davies has shown that gift at times.
Darren Hind
239
Posted 22/11/2017 at 05:01:02
Mike,
Come on, now. You know you and I have had several discussions concerning our two tackling machines. I pointed out neither were top class and accused them of going to ground far too often. Yes, I know it was last season, but you can't surely be arguing against their inclusion in the team? Not after you put all those stats up to refute my observations.
The point Dave makes is a valid one. It's common amongst those who have criticised Unsworth's team selection to complain when he selects players they have talked up in the past and complain when he has left out players who they have murdered in the past. (See Marshy complaining that Calvert-Lewin wasn't selected in a tournament he has no time for...)
As for inexperienced coaches not getting to sit on the thrown, it's really strange that you should write off the examples you are given because you were not watching at the time. It still happened.
How many teams who are looking for somebody to steady the ship are lucky enough to have a guy in their ranks who has just surprised all the big clubs by lifting the reserve team trophy? Answer: none.
Unsworth's taking the helm was a complete no-brainer, although I have no doubt at all that those who are writing him off now will create the mother of shit storms if he doesn't win at Southampton. That's the kind of pressure you critics have him working under.
It doesn't matter; he will steer us clear of the relegation zone and all talk of appointing the guy whose team were absolutely destroyed by Eddie Howe's Bournemouth last weekend will be all forgotten.

Tony Abrahams
240
Posted 22/11/2017 at 07:47:45
Darren, I'm not sure about Unsworth, because I am not sure if he his management material. I personally think he's better suited to being a coach, in a similar way to Colin Harvey perhaps, and I don't want another man doing the wrong job at Everton again, after the last two.
If we lose at Southampton, I won't blame Unsworth because I think the easiest thing in life is to blame someone and it very rarely achieves anything but resentment, which is no good in a team game.
I will blame this indecisive board though, because we need stability right now; it's imperative, has been since the season started, and it's still no closer to happening. I thought and hoped the board were being prudent the other week; now I think they are either fighting like mad behind the scenes, or they haven't got a fucking clue.
Minik Hansen
242
Posted 22/11/2017 at 15:13:12
Tony, I agree with the blame game. Same with Unsworth being a coach. The board better sort this out, for now it's a mystery.
Dave Wilson
243
Posted 22/11/2017 at 15:59:25
Mike (#229),
I think you are muddled. I didn't say Unsworth was taking more abuse than Koeman.
Look at your original response to my point. You may want to stop digging
Steve Ferns
244
Posted 22/11/2017 at 16:37:34
The point you guys miss, with regards to the two "holding midfielders" is that they are not meant to be two holding midfielders. If they both sit in and don't move, then they are not doing their job, unless we are playing Man City and have had to "park the bus".
As I have said plenty of times before. The perfect embodiment of these two players, is as crafted by Benitez for the RS. It is he and Mourinho who really pioneered the 4-2-3-1. One of the two should be like Mascherano and the other should be like Alonso. Now you'll immediately think one is a defender and one is a lot more attacking, and you'd be right. But the reality is that Alonso actually plays behind Mascherano, if the team is playing well and mostly attacking.
The Mascherano is tasked with hunting the ball. His job is to chase all over the pitch trying to win the ball back. So he will actually move forwards more than the other to do this.
Because he is actively moving from position, the Alonso guy has to be a lot more static and rigid in terms of shape. His role is not to tackle. It's a fallacy that his primary function is as a tackler. Whilst he is a "defensive midfielder" his primary role is as an attacker. His job is to get straight on the ball as soon as it is won, and launch long passes to initiate quick breaks and rip teams apart. He should never be rolling a slow sideways pass to the Mascherano.
In the Watford game, we conceded immediately after the second half started. Watch the replay and you'll see that all of our central midfielders had advance and vacated the middle of the park meaning that Watford had an overload and so scored an easy goal.
In the Leicester game, we had a free kick, that Leicester quickly won possession from, Davies raced to a left-wing spot, was done by Gray, who charged up the pitch, Gueye raced to meet him, and was easily beaten and so Leicester had an overload, again because our central midfielders vacated the middle.
We might have had "defensive midfielders" in those games, but they weren't playing like it. In my opinion, in both games it was central midfielders, and they were a lot further forward with a lot more licence to attack, and to press higher up the pitch.
If Unsworth allowed them both to attack, i'd say that he committed a basic tactical error. However, I do not believe that he did. I think the Leicester incident was caused by Davies' youthful exuberance trying to win the ball and get us on the attack and trying to create a chance whilst everyone was up for a free-kick.
Against Watford, we actually had 3 on the pitch at that point. And no doubt that Unsworth would have told one of them to sit, and he'd be tearing his hair out with the three charging forwards like they did.
Our midfield has been an absolute mess, all season long. No doubt about it. The midfield is the key part of the side. These two "holding midfielders", playing well, will instantly solidify a defence, and make defenders look much better. They can also make the attack look much better by quality incisive passing.
In my opinion, we had an Alonso type player, Gareth Barry. We had a Mascherano type player, James McCarthy. And the two in tandem and with Barkley ahead and Lukaku up front, we looked world beaters and ripped teams apart in 2013-14. Things went downhill fast as McCarthy "broke" for want of a better phrase, suffering injury after injury, and becoming unreliable, losing form and quality as a result. Schneiderlin, is not an Alonso. He is something of a hybrid of the two (edit: wrong word used here – it implies he can do both jobs well, he can perform the passing side at a limited level, and he can do the Mascherano role at a limited level as he is far less mobile than Gueye and when he's at speed and tackles, he usually gets booked or worse).
He's not a great tackler, and never has been. He was box to box at Southampton and moved backwards before playing well under Koeman and getting his big move. He can certainly do a job, and he's not a bad tackler by any stretch of the imagination. So his best position is to sit in, and to play the Alonso role. Of all the players on our books, only Schneiderlin, Sigurdsson, and Rooney are capable of hitting accurate passes over 40 yards.
The key word I used is capable. Of course, Schneiderlin's passing has been woeful at times this season. But he is still the only one who can pass from deep to the flanks. Davies belts it straight out of play, or hits a 40-yard pass to the touchline at 7 foot in the air, so expects Lookman to control it. Gueye seems incapable of even kicking the ball 40 yards.
The knock-on effect has been that our midfield has got slower and slower and slower. Whereas last season we would win the ball and Gueye or a centre-back would get the ball quickly to Schneiderlin and he would launch a decent long pass, it just is not happening this season. They all have their heads down, and are not getting their heads up and looking. There is no movement ahead either. And so what we see is slow passing. Not just sideways, but under-hit passes. This is the thing that infuriates me.
A sidepass can be great, if you do it Barcelona style, and zip it into feet, and you can pass left, then back to the right, and then a diagonal forward. Done at speed and you can get an entire midfield on the turn and you suddenly have a second on the opponent to be able to create a chance. We were not doing any of that against teams under Koeman. We would have the ball on the right and Baines would be free on the left, and instead of hitting the switch ball, we would hit three short passes so that by the time it comes to Baines, he's just as closed off from passing as the right back had been.
Basically, it's nothing to do with the formation. Two "holding players" are actually two central players. One should be getting it forward quicker, the other should be pressing high up the pitch, and both should be much higher up the pitch. I believe Unsworth has moved them up the pitch. I was interested to see how Schneiderlin would perform in Unsworth's team, as I believed he would not vacate the middle and would exercise more positional discipline than the others.
Unsworth went for an interesting midfield on Saturday, with Sigurdsson in there. I thought when Rooney dropped deep against Leicester and was hitting passes, we looked quite good (going forwards). Sigurdsson can also do this and has far more stamina than Rooney and covers far more ground. Last season, we were at our best, when we had a great run in spring to early summer, with a central midfield trio of Schneiderlin, Gueye and Davies. Davies seems to struggle (being kind to him here) when tasked with playing deep in a role with a lot of defensive responsibility. However, if you free him from the responsibility, he naturally works back as well as forwards and still gets stuck in. Him and either Sigurdsson or Rooney as proper central midfielders, both working forwards and backwards with Schneiderlin sitting, could work. Gueye lacks the discipline to do it.
But we need to ensure that there is pace in the rest of the side, that means two pacy wingers (Lennon, Lookman, Vlasic, or Mirallas) and a pacy striker (Niasse or Calvert-Lewin), and we need Kenny getting forwards too, and Baines were he can.
Someone said it is not possible to press with a slow team. Yes it is. You don't need to be fast to press. Man City are pressing in classic Guardiola style, closing passing lanes, not necessarily swarming the player on the ball. You can do this with intelligence and not with speed. Or by drills on the training pitch drumming it in to you.
Pressing comes from the front, Niasse sets the tone, Lennon will follow, Lookman and Vlasic need to learn. Mirallas never will. Then after the front 3, its the midfield trio (including the AMC if you're playing one). All of these players have to press as one, and there can be no strollers.
Finally, what has Unsworth showed so far that makes you think he is a coach and not a manager?
Mike Gaynes
245
Posted 22/11/2017 at 16:41:33
Darren #239...
The stats I cited back then were for Gueye, and I still consider him absolutely irreplaceable in the side. He is second in the Premier League in tackles this season and made the one that created Niasse's goal on Saturday. He has more than twice as many tackles as anybody else in the team. That's amazing. He is top class defensively. His attacking limitations are obvious, thus the need for a quality attacking mid nearby.
Schneiderlin I have addressed above and in past posts. He was superb last season, one of my favorites. He never showed up this season. Doesn't even rate a seat on the bench IMO.
Regarding novice coaches, I acknowledged not knowing about the other two from the 1980s (which you don't seem inclined to accept), but I didn't "write them off". I think the fact that there's one successful example in more than a generation means something. You don't. Fine. If Rhino stays in the job we'll find out who's right.
As for your penultimate paragraph, I'm sorry but the idea that Unsworth is under pressure from us "critics" is utterly ridiculous. We're posters he never heard of on a chat board he doesn't read. It's a common fantasy here that TW has power to impact the manager, but that's all it is, a fantasy. Booing fans holding signs at a game are pressure. Harsh press reports are pressure. This isn't.
Finally, there's no need for sarcastic exaggeration. There's no "talk" about Wagner. I mentioned him once. Nobody else has. I do think having a woefully under-talented, newly promoted side in the top half of the table is the latest example of what a good young manager he is. He might actually keep up a side whose best player is Tom Ince.
Mike Gaynes
246
Posted 22/11/2017 at 16:52:04
Dave (#243)...
What you wrote was:
"What a pity you Rhino critics didn't use your eyes and brains when Koeman was driving morale, confidence and cohesion into the dust."
So you're saying the Rhino critics didn't criticize Koeman.
That's what I called shite. I stand by my assessment.
Steve Ferns
247
Posted 22/11/2017 at 16:57:42
Mike, I think Gueye was better without Schneiderlin in the first six months of last season. Since then, he has not performed at the same level. I believe Schneiderlin and Davies is a better partnership. I believe Gueye is very much replaceable.
I hold a similar view to you on Schneiderlin, as evident from our many discussions. But again, he is replaceable, but we don't have the replacement on our books, and it would cost £20m+ to do so to the level he reached last season.
Oh and Mike, Ruud Gullit was late 90s. In the 80s, he was a young player.
Dave Evans
248
Posted 22/11/2017 at 17:08:52
Darren Hind (#239),
If we do not win at Southampton, it will have more to do with the team failing to string more than two passes together and inability to recognize what each other are going to do next. As witnessed in recent games.
These are coaching and man-management problems that are still, for now, the responsibility of Unsworth. His ability to improve these things will have little to do with some fans rationally thinking other managers may be more suitable.
Don Alexander
249
Posted 22/11/2017 at 17:23:32
Steve Ferns (#244), your take on things essentially boils down to someone at the club having bolloxed the season by the failure to sign a potent, reliable, hard-working centre-forward (or two). None of Niasse, Calvert-Lewin, Mirallas or Sandro fit the bill.
Any player just wants their pass forwards to have a good chance of being controlled and used to good effect instead of coming right back onto our deep-lying defence, which has to be deep-lying because the ageing Jagielka & Williams have no real pace. Failing to sign another younger centre-back compounds the transfer-window fiasco.
The other thing that concerns me is the comment of Sigurdsson very recently about newly acquired improving fitness, allied to the rumour that Koeman had the first team squad training in isolation. To me,they're visibly not competitive with most other squads in terms of basic fitness, so I hope whoever takes the job does the necessary to have them attain that basic requirement before moving on to the harder parts of accurately passing and controlling a football.
Paul A Smith
250
Posted 22/11/2017 at 17:29:14
Steve, Is Gana a Defensive Midfielder? I would say yes; holding midfielder, no.
The reasons: he certainly isn't there to create. He can't shoot well, doesn't really have an eye for a through-ball, and isn't a great passer.
I am sure everyone can see he is there to break play up all over the pitch. In effect, defensive. Just because he doesn't sit doesn't mean he is not defensive.
I can see some people use Holding and Defensive in the same figure of speech but I think they all know Gana doesn't sit. That is as clear as daylight if you watch him.
The reasons he is the box-to-box midfielder is because he breaks play up and intercepts far more often than Davies and, for some crazy reason in English football, it is a crime to use a player with skill and vision in the central role, eg, Barkley.
While we concede week after week with two defensive midfielders that can't pull us out of trouble, the other end of the pitch, the critics, pundits and coaches will be convincing themselves a player like Barkley can't track runners or will take risks, ie, taking a player on (what a crime).
And again I repeat, that's while we continue with two defensive types that concede every week and can't win games.
John Pierce
251
Posted 22/11/2017 at 17:38:28
I still believe Sigurdsson would work with Davies or maybe Gana. Gana though has such a limited ceiling he really is only a short term solution, a specialist. He is nearly always the first substitute when we need to move up a gear. That cannot be right for a central midfielder, they must offer more.
I'd trade someone with an average to better all round game in a heartbeat, despite losing his defensive element. Everton are not a defensive side nor should they be, in most Premier League games, I would expect Everton to be on the front foot. Moreover, if Unsworth & Koeman for that matter kept playing Gana to help the defence and use him as a crutch then that's a mistake.
Taking away our ability to attack actually exposes are defence further as we don't have players handle the ball and transition. Its very noticeable our possession stats are awful this season. Again if you intend to play that way, a la Leicester then okay. But we constantly give the ball away. Gana is part of that issue to my eye.
It's interesting were the fault lines are on our team and yes there are many, but maybe if we could handle the ball better in the middle of the park our defence might not be as regularly exposed?
Tony Abrahams
252
Posted 22/11/2017 at 17:52:18
All the chopping and changing makes me think that Unsworth is more of a coach than a manager, Steve.
I know he's new to the job, but it's not only the players that he's changing every week, it's also the formations. I could be wrong, the board could really help Unsworth, by making a decision one way or another, but it's just the feeling I get, when I am looking at us right now.
David Barks
253
Posted 22/11/2017 at 17:57:22
Mike,
There are a couple of problems when looking at Gana's tackling stats. One being, they are inflated because of the team's complete inability to hold the ball and string passes together, of which he most certainly is among the chief offenders. When we have games against Crystal f'ing Palace and they have nearly 70% of possession, tackles are inflated.
The second thing is, it is far more important for a player in that position to be intercepting passes or forcing bad passes through pressure than tackles. Tackles in his position often are more indicative of poor positioning and having to make up for it with a tackle. Case in point, Matic. He isn't running around diving into tackles. He's on his feet and getting into all the right positions, forcing the ball to go where he wants.
Oddly enough, this is where Schneiderlin is actually better than Gana. As poor as he has been this season, his positioning is far better. His distribution has been crap, but he reads the game better. Far too often Gana is reacting as opposed to dictating. A central midfielder is supposed to impose themselves on the opposition. Gana does not do this.
Paul A Smith
254
Posted 22/11/2017 at 18:06:07
Dave Barks, I am glad you see Gana's weak spots. 'Weak' being the keyword. He's far too small and weak to run a midfield.
Watford away last season was so evident of his size it was horrible. He looked like a boy chasing men. He will get tackles in on anyone but never dominate.
Steve Ferns
255
Posted 22/11/2017 at 18:16:17
Yes Gueye is a defensive midfielder. His best attributes are all defensive qualities. He can play in a central role (as in an old fashioned 4-4-2).
He can sit and be disciplined. We've seen him do that. But it limits his best qualities and makes him use more of his worst.
Paul, he's not too small. He's bigger than Makelele who did dominate at a World Cup and in a Champions League final. Gueye is 174 cm. Makelele is 168cm. And the most dominant midfielder of the last 2.5 seasons is Kante. He's also 168cm. And Gueye is heavier than them both.
Steve Ferns
256
Posted 22/11/2017 at 18:34:41
Don, no, I would not say it comes down to the failure to acquire said type of player.
There is one person and one person only responsible for the problems and failures this season, Ronald Koeman.
We had a decent side at the end (not the very end mind, when they were on the beach) of last season.
That team was:
Robles
Holgate Williams Jagielka Baines
Gueye Davies Schneiderlin
Barkley Lukaku Mirallas
This was the side that was winning games at the end of last season. It is a 4-3-3 where Davies was slightly ahead of the other 2, but was not a number 10. Barkley and Mirallas were able to drift in from wide and take up the 10 position.
Koeman has played a similar team at his previous clubs. He likes a hard-working midfield and a front 3. The front 3 for him always boil down to Big, Skilful and Fast. Pelle, Tadic and Mane. Lukaku, Barkley and Mirallas.
Koeman should have realised he had a decent team, that something was working and should have built on it. He should have told Barkley whatever he wanted to hear and kissed his arse and done whatever it took to get the new contract signed. Then he should have put all efforts into signing a big striker to be Pelle. Forget Lukaku, he was irreplaceable, he should look at replicating what he had with Pelle, and that was much easier to do. Then he should have identified someone a hell of a lot faster (and better) than Mirallas.
Pickford was fine, get a good keeper in and make us better. Keane also, it's a like for like improvement. Even Klaassen, at a stretch, he could do Davies' job. But he did not sign the big man, he did not get a fast man, and whilst Sigurdsson and Rooney are very skilful, neither is Tadic or Barkley. If Barkley could not be appeased and had to leave, why not just sign bloody Tadic? He'd be available for less than Sigurdsson cost, and who better to play the Tadic role?
Instead he pissed about with the entire formation, the system, the defensive line, the tempo, the directness of passing, he basically changed everything. He had delusions that he was a super manager who could do anything. If he had played a different system at Saints and was trying to transition into it, then fair enough, but by the end of the season, he had had us playing like he had Saints and even Valencia playing. In a very dutch 4-3-3. So why change it?
There's no way anyone would be able to force him to change it. Not Kenwright trying to sentimentally foist Rooney onto him and telling he had to play, not Welsh in signing players he did not want. Koeman would have just played 4-3-3 and picked round pegs in round holes. Instead he changed everything. This tells you, it must have been his decision. Again. Why the hell did he do it?
There's only one man to blame. He ruined this season, and he walks away collecting the best part of the £18m salary he was to be paid for 3 years work, having done bad work and for only half the contract.
Steve Ferns
258
Posted 22/11/2017 at 18:38:35
Tony, the chopping and changing tells me the opposite of what it tells you.
Had this been a new manager, it would be us all saying he's trying to find his best players and best team, and to give him time. If it was Koeman, and it was Koeman, then we'd be saying what are you doing? You signed these players to play to your plan, so why are you changing it.
Unsworth has a massive squad. We've got 28 players. We used to have less than 20 under Moyes. They're all screaming for game time. Some of them he hasn't seen before, so like a new manager he needs to players in different positions to see if they work, see Sigurdsson, and Rooney. Others he knows well have played just one position, see Davies, Kenny, Baningime.
Colin Metcalfe
259
Posted 22/11/2017 at 18:56:13
My take on Gueye is that Unsy or the incoming manager will have to decide whether he merits a starting place in the team on just turnovers which admittedly Gueye es extremely good at as we saw for the second goal on Saturday.
I think Schneiderlin has been so bad this season it has overshadowed just how poor Gueye has been; there was an incident on Saturday when we were counter-attacking and I think it was 4 on 4 and Gueye totally misjudged the pass and it went straight to a Palace defender putting us on the back foot .
Gueye has without doubt qualities; however, his range of passing is very average, attacking skills and shooting is poor, and his positional play is very suspect to me. Against the so-called top six who keep the ball, his skills of harassing and chasing the ball are very much needed; however, against struggling teams such as Palace, we need a good passer and someone who will play forward looking for those gaps in their midfield/ defense (think Schneiderlin when he is on song) and for that job, Gueye is not your man.
Darren Hind
260
Posted 22/11/2017 at 18:59:22
Mike,
I live over here. I see the way things work and I have always said ToffeeWeb reflects the thoughts of Evertonia incredibly accurately.
If only 15% of them wanted Allardyce on a ToffeeWeb poll, I believe absolutely that only 10 to 20 % of the whole fan base wanted him. That's how accurately I believe this site represents the whole fan base.
Likewise with those who are criticising Unsworth knowing full well that he hasn't been able to get his players on the training ground. I've met plenty of them and (as reflected on here) most are people who defended and supported Koeman until there was no longer any point in doing so.
You doubt that? Take another look.

Tony Abrahams
261
Posted 22/11/2017 at 19:03:17
Interesting Steve, but if a new manager comes in and carries on doing what Koeman, and now Unsworth, have been doing then I will be a very worried man.
I'm getting worried anyway now, but that's because of the complete inactivity that is being shown with regards to the manager's position, but that's down to Moshiri and Kenwright, who I now believe are starting to play with fire.
I believe that a manager should play a system that suits both his ideas and also his squad, whereas a coach will look to keep changing things around, because he's coaching, rather than managing. I believe that there is a massive difference between the two things, if you can understand what I'm saying, Steve?
Steve Ferns
262
Posted 22/11/2017 at 19:47:20
No I don't follow you at all Tony.
The best coach out there (and he's a head coach - not a manager) is Pep Guardiola. He only ever plays formations that suit his ideas, then builds a squad to it, and so does what you say a manager would do.
I fail to see why a coach (and I assume you mean head coach) would change stuff around. A coach will be someone like Martinez who has a philosophy or way of playing and coaches players to fit that system and way of playing. So why would he keep changing stuff around?
A manager who is not a coach, I assume you would mean Redknapp or Keegan, who have no idea about tactics, would keep changing things, because they do ridiculous stuff like send on another striker, just because they aren't winning. And don't realise that if you are losing, then the best way of getting a goal is putting on a midfielder and getting control of the ball.
John G Davies
263
Posted 22/11/2017 at 20:05:20
"And don't realise that if you are losing, then the best way of getting a goal is putting on a midfielder and getting control of the ball."
A sweeping statement Steve. Is that the case for every occasion a team is losing?
Tony Abrahams
264
Posted 22/11/2017 at 20:06:30
You use the perfect coach Steve, who is given all the money in the world, to get on with what he his doing, but if I was to get into a debate with you mate, it would go round and round in circles, which is exactly what Everton's search for a new manager is also doing right now!
Tony Abrahams
265
Posted 22/11/2017 at 20:31:50
But Steve, considering that Guardiola would only play formations that would suit his ideas, do you think think he would have chopped and changed like Koeman and Unsworth, or do you think he would have tried to settle on a side that would best suit what he was trying to achieve?
He might be a great coach, but he also knows how to manage what he's got, to best suit what he wants, (it must be a lot easier having all the money in the world). So he's also managing, and I'm baffled over a title, and also by people who want to complicate the most simple game in the world.
Steve Ferns
266
Posted 22/11/2017 at 20:32:46
I think it's obvious what happened in the manager search.
Yes we sacked Koeman without a succession plan. But what should we have done, let him hang on until the international break, just to line someone else up?
It's also obvious that we tapped up Silva and Dyche, and got confirmation of interest from Big Sam. Moshiri was dreaming big and wanted a marque name and tried to lure Simeone and maybe Ancelotti or Tuchel or someone else of that ilk. We hung on as long as we could before going to the next level. But we were shocked to find the club where everything is for sale, and is used to having 3 managers in a season. Moshiri seems set on Silva, and probably resolves to get his man at the end of the season, but he needs a big win from Unsworth to give him the job until then and that's not happening. Also, Big Sam wouldn't agree an interim role either.
I think we're hanging on, waiting on results, and if they go the right way, Unsworth will get the job.
Meantime, Unsworth is desperate for it, and instead of grinding out draws and playing conservatively, he is forced to go for knockout blows, to convince the board to give him a chance long term. Had he been given an interim deal until the end of the season, I do believe we'd have seen a less gung-ho performance against Leicester, and things would have flowed from there. Instead, he's left trying to win big every game.
Steve Ferns
267
Posted 22/11/2017 at 20:39:04
Of course no,t John. I was just pointing out how Harry Redknapp was one of them who 90% of the times he was losing would aimlessly send on a striker.
Steve Ferns
268
Posted 22/11/2017 at 20:39:44
Tony, Guardiola spent a whole year chopping and changing and being called "fraudiola".
Steve Ferns
269
Posted 22/11/2017 at 21:01:57
Tony Abrahams
270
Posted 22/11/2017 at 21:07:31
I don't know, Steve, I was only going on what you wrote about him yourself in post #262.
Steve Ferns
271
Posted 22/11/2017 at 21:14:41
In relation to Guardiola I was pointing out that he fits your parameters of "manager should play a system that suits both his idea's and also his squad", but yet he chopped and changed his side wildly last season as he tried to make things work.
My argument is that the person who has set ideas and has a set formation, will make massive changes until he gets the results or performances he expects. He knows how it should work, and so will make the change.
In contrast a Harry Redknapp (I know I keep using him, it's because he is probably the worst manager to have managed more than a handful of games) would just keep blind faith in the team, because he cannot envisage how it is meant to play in his head. And when he does change things, it's like for like.
Tony Abrahams
272
Posted 22/11/2017 at 21:20:23
That table is not really that interesting to me Steve, because I'm only really interested in Everton mate, and somebody coming in to give our playing squad some real direction.
We all have our own opinions mate, and mine was that the best Everton, have played all season, was Unsworth's first match incharge at Chelsea. The second best was Haduk Split at Goodison, and both managers changed the team and the formation in there very next game?
A new team/squad needs stability, unless of course they can adapt to what their new manager/coach wants right away.
Kevin Tully
273
Posted 22/11/2017 at 21:20:34
If reports are to be believed, and Silva is staying put, then it looks like Unsworth will get his chance. I cannot see any other decent manager coming in knowing they were 3rd or 4th choice, especially the likes of Dyche.
I'm not happy with all this "I talk with the chairman 3 or 4 times a day" malarkey. I am also not a fan of the old boys' club of ex-players who now have full control of the coaching side.
Looking from the outside, it looks like Kenwright is strengthening his grip on the club, rather then fading into the background. Every single new signing thanked the chairman in the summer for his efforts, so don't believe for one minute Kenwright isn't as involved as he always was.
Could all of the above be a recipe for a new era of success? I very much doubt it. The club looks to be more rudderless than ever, even with all these new additions to the board.
It was never going to be easy with a new majority shareholder, going up against a particularly stubborn old guard, who have previous for crushing any outside interference.
Steve Ferns
274
Posted 22/11/2017 at 21:27:50
Tony, the top of the table for tinkering is Marco Silva. The most likely new manager.
Kevin, I see the report in the Independent as brinkmanship. Everton putting the ball in Silva's court and making him bring Watford to the table. If he really wants to come, then I fail to see how Watford can keep him. Players get dropped when they're unsettled by a move, how can a manager not be? We didn't trust Moyes when he wanted out to United.
Don Alexander
275
Posted 22/11/2017 at 21:36:31
Steve Ferns, your opinion is that Koeman was responsible for the failures of the window, and for the sake of the club, I hope you're right. My opinion is that he wasn't. I believe he made clear to the board what he required, and why, and I believe he was given sufficient assurance that he'd get what he wanted.
I believe the signings we made were acceptable to him (but Rooney mystifies me) but the recruiting failures amounts to now having an assembly-line of bullet-providers bereft of a barrel down which to fire them.
That's why we are and will remain in deep shit until we get such a centre-forward, who more or less immediately gels successfully, and that's what worries me most.
Dave Abrahams
276
Posted 22/11/2017 at 21:36:58
Steve (#258), I agree with you, as will most Evertonians that David Unsworth is no way to blame for the plight Everton are in and he is doing the best he can in very difficult circumstances, however you say he hasn't seen most of these players perform before and is trying them out as much as he can.
Except Steve, Unsworth is one of us, an Evertonian, and the U23s rarely play on the same day as the first team, so he will have seen all of them at least in the home games, he will know how and what they can do, so that is not a valid reason, certain players have not played since Unsworth has been in charge.
One of those excluded Vlasic, has mystified most fans. Sandro was a very welcome return to the first team, well for me anyway, and I hope there will be a couple more the longer David is in charge.
It's great that you are, like most of us, wanting Everton to get off the ropes and fight our way back up the league, we all have different ideas on how this can be done, I'd love one of us to have a foolproof plan, it's easier said than done.
Tony Abrahams
277
Posted 22/11/2017 at 21:50:45
Steve, I saw that Silva has also used the most players and new players, and he's also a new manager.
Koeman, would probably have been top of the chart during his first season at Southampton, Steve, so what do these charts really tell us?
Let's get Ronald back and get rid of Steve Walsh maybe!
Tony Abrahams
278
Posted 22/11/2017 at 22:04:10
Steve 271, why would a manager who had a set formation keep changing it? Change the players by all means, but surely not a system that you believe in?
David O'Leary, is worse than Redknapp for me, Steve. Ridsdale gets the blame, but the manager must have been on some fucking ego trip, to never question what failure could bring, and Leeds United have never recovered because of it.
Steve Ferns
279
Posted 22/11/2017 at 22:24:49
Sorry, you meant changing systems! Guardiola uses a 4-3-3, a 4-2-3-1 and a 3-4-3.
Unsworth has used 4-2-3-1 mostly, and changed the width to try and get hold of the ball to change things for the better. I fail to see how you can use him adapting in the middle of games as anything other than a plus. Would you prefer he stuck to one formation and one formation only, like Martinez, and if it doesn't work, then it's the players not him.
As for David O'Leary, I've long forgotten about him. Did he use the tactic boards for resting cups of tea on and writing "inspirational words"?
Paul A Smith
280
Posted 22/11/2017 at 22:42:04
Steve I am not suggesting he's not good because he is too small. Messi defies that rule. Kante maybe 1 mm smaller but the thing is he's a better footballer so if he can't dominate in strength he's got a better chance already. Makelele the same. Plus both of them are or were blessed with big dominant players around them.
On your Koeman failure point. How can it be solely Koeman's fault when he clearly stated he would like to keep Lukaku?
The board were also willing to let Mirallas, Niasse and Barkley go on deadline day. Surely not everything was Koeman's idea?
Steve Ferns
281
Posted 22/11/2017 at 22:53:48
Paul, Makelele and Kante dominate. Makelele ran the midfield for Real, for France and for Chelsea. Kante ran Leicester's midfield as they shocked everyone, and proved it was no fluke by running Chlesea's last season to do a rare achievement of back-to-back titles with different clubs. Please note the heights I gave were in centimetres, so there is a good 6 cm difference in height between Gueye and Kanté and Makelele. That's 2.4 inches.
There's no reason for Gueye not to run midfields. Should I also mention that Gueye is taller than Peter Reid, heavier too.
I think Gueye is a good player, my problem with him is that he chases the ball too much, and lacks the discipline of Kanté. Also, when he's on the ball, he's pretty woeful. He's certainly not at the elite standard expected from a midfielder at a side that wants to be in the top 6.
I think Davies can be (almost) as effective as Gueye and has much more skills on the ball. My view is we need another passer in the middle. I thought that was Schneiderlin. But unless we perform an exorcism or something, we're going to have to adapt Sigurdsson or Rooney. The former certainly has the engine to get about the pitch. Can he learn to work in tandem with Gueye or Davies and let them do the tackling and be close enough to get on the ball quickly and launch attacks, but not so undisciplined as to leave the back door open?
Mike Gaynes
282
Posted 22/11/2017 at 23:11:19
David #253, interesting observations on IGG.
I somewhat disagree with your first paragraph... certainly our inability to hold the ball is a big reason we rank third in the league in tackles, but Gana still gets a ridiculously high proportion of them. He's got 45. Second on the team is Schneids with 22. Nobody else has more than 17. That's amazingly lopsided.
I agree that interceptions are also important, and every team needs those too, although I'm not sure they're "far more important" than tackles. We're second in the league in that category, again because as you say we surrender so much possession. I think Gana is a major contributor there too... he's third on the team in interceptions, and his ball pressure does cause others.
You are correct that dictating and positioning are not Gana's strong points, but a player who pursues relentlessly and can take the ball off a dribbler every time -- Gana's success rate is a stunning 76% -- has great value too. Niasse's goal Saturday was, I believe, the third this season triggered by a Gana tackle.
To me, a "central midfielder" who "imposes" himself on the game is either a #10 or a box-to-box. Those aren't IGG's abilities, never will be. His job is to take the ball off opponents trying to attack our backline on the dribble. He is as good at it as anyone in Europe. And it's a vital skill for this club at this time.
Finally, your contrast with Matic is apt and I agree completely, but remember that's not just a function of the player but also of the system. Mou emphasizes positioning and interceptions over tackling -- his teams always rank near the bottom in tackles -- so he coaches Matic and his side to play that way. (I managed my teams that way too, incidentally.) If someone who thinks like Mou (or you and me) about defensive tactics winds up as our manager, Gueye will be sold off quickly.
But in our current system, he's irreplaceable.
Mike Gaynes
283
Posted 22/11/2017 at 23:18:47
Steve #281,
"There's no reason for Gueye not to run midfields."
There's one. He lacks the skills. As you say, "...when he's on the ball, he's pretty woeful."
I'd love to see Davies establish himself as Gana's partner full time. Would hate to see Siggy back there... still believe he belongs farther forward at #10. And we know Davies has the box-to-box skills to support him.
Steve Ferns
284
Posted 22/11/2017 at 23:30:48
He can run a midfield for all the reasons you say in the post above. But needs someone like an Alonso alongside him make him better than he is, to make each other better than they are.
As for not seeing Sigurdsson back there, I'd rather not see a number 10 in the side. Play Sigurdsson as an 8 instead, that little bit deeper. Our quest to implement a number 10 this season has been a disaster. We were much better last year without one.
I want to see an energetic trio like we had last season, with someone sitting like Schneiderlin and the other two buzzing around him. That could be Sigurdsson, because as you pointed out, Gueye still gets the majority of the tackles and interceptions.
It could even be Barkley, but I'd rather see him on the right of a front three like last season. He's far more dangerous in and around the opposition penalty area.
Chad Schofield
285
Posted 23/11/2017 at 06:36:24
Tony Abrahams, if you're letting Silva off as a new manager (not coach) for tinkering, then any new manager coming in would have to tinker... Except by that definition you'd label them a coach?!
Steve Ferns, a lot of interesting stuff. Essien (177 cm apparently) at Chelsea is what I'd like to see Idrissa Gueye play like... Win the ball and lay it off as a 5-10 yard pass. We don't want him trying to find creative passes or shooting. The only other thing I noted to comment on was Koeman's 4-3-3, which made us narrow and confused up front... Let's not do that, please.
Martinez played that 4-3-3 or 4-2-1-3 as a surprise with Lukaku on the right to target Arsenal's Left Back in 2014... But the he tried to play it a few other times and it became Martinez's big trick - a bit like McClaren's bring on all the strikers ~60 minutes.
Anyway, what a massive disappointment Koeman was. Dave Abrahams (#276), see the many explanations of everyone being kept out of Koeman and the first team's way. There's a heap of speculative reasons why Unsworth hasn't played Vlasic.
Chad Schofield
286
Posted 23/11/2017 at 06:41:06
Tony Abrahams
287
Posted 23/11/2017 at 08:14:11
Chad, it's the tinkering with formations that worries me mate, not the amount of players getting used by a new manager or coach!
Tony Abrahams
288
Posted 23/11/2017 at 09:18:55
Steve (#279), I have never talked about Unsworth changing things during a game, it's what a manager should do If things are not working.
You think that our team needs coaching, I think the players need things simplifying. You say Unsworth has mostly used a 4-2-3-1, all's I see is a different system each game?
When you are settled, you usually do better, but when you are unsettled, then you usually do a lot worse, so if he has to use every player to find out which will ones suit his system best I wouldn't be as bothered, as I am now.
Fuck flexibility mate, because it's stability what we need most right now?
Dave Abrahams
289
Posted 23/11/2017 at 09:33:41
Chad (#285) yes I agree, loads of speculative reasons of why Unsworth hasn't played Vlasic but not one genuine one, and I repeat David is not daft he will have seen all the players on the books either at Finch Farm or Goodison Park so will know their capabilities or lack of.
John G Davies
290
Posted 23/11/2017 at 09:38:54
Steve (# 284),
Interesting point. If Sigurdsson is the 8 who would be the 6 if you were picking Sundays team?
And with you not wanting a 10 in the side can you give us the starting eleven and formation you would go with on Sunday.
Dave Wilson
291
Posted 23/11/2017 at 11:42:45
Mike Gaynes,
You claimed (falsely) that somebody stated Unsworth gets more abuse than Koeman.
You come on all guns blazing dismissing a valid argument as "utter shite" Then when challenged about your hostility, you blatantly make up a post in order to justify it.
You may fold your arms and claim you stand by the hostile answer you gave, but anyone who reads this thread will see your invented argument is (to use your own hostile rhetoric) "utter shite"
Add Your Comments
In order to post a comment, you need to be logged in as a registered user of the site.
Or Sign up as a ToffeeWeb Member — it's free, takes just a few minutes and will allow you to post your comments on articles and Talking Points submissions across the site.