Unsworth: Late capitulation was unacceptable

67 Comments [Jump to last]
Thursday 23 November 2017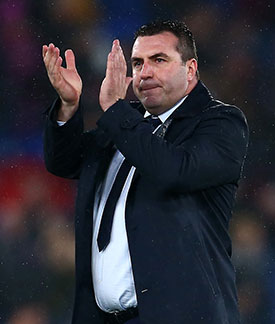 David Unsworth says that the players who took the field against Atalanta have to shoulder their share of responsibility for an awful 5-1 drubbing as he admitted he had learned something about "numerous" players.
The Italian side completed the double over the Blues in Europa League Group E, notching eight goals to one over the two matches as they capitalised on dreadful defending to run away with the game at Goodison Park and secure their passage to the next stage of the competition.
Atalanta were ahead by a single goal at the interval after Bryan Cristante slotted into an empty net after just 12 minutes. His team-mate, Timothy Castagne, had been ushered into the Everton box by slack defending by Michael Keane and once Joel Robles had been drawn out of his goal, it was a simple finish for Cristante.
Robles denied Alejando Gomez from the penalty spot but Cristante later doubled the visitors' lead when he rose highest to head home a corner.
Sandro Ramirez pulled one back with an excellent finish, his first competitive goal for Everton, but the wheels came off the home side's attempts to equalise when Robin Gosens lashed home from the edge of the box and Andreas Cornelius plundered two late goals to complete the rout.
Unsworth had handed starts to some of the players previously overlooked over the preceding month after he took over from Ronald Koeman but Sandro aside, few, if any, will have done their cases much good on a torrid evening.
"I asked the players to make it difficult for me to leave them out and the majority have made it easy for me," Unsworth lamented afterwards. "Those players who've been moaning or asking me for opportunities to play in the first team were given that tonight.
"I know it was a strange game and there was nothing riding on it for us but we had paying Evertonians there tonight.
"I stressed before the game that we must compete and the way we capitulated at the end was not acceptable.
"The players know that and they are a little bit fragile at the moment so you've got to be careful with this group but, thankfully, there are players to come back into the fold who have shown over the last couple of games that they are not fragile, that they are willing to be courageous and show a work ethic and desire to play for that shirt.
"I've learned a few things about a few players tonight.
"We're asking players to run and play harder, to get to the ball quicker than they're used to. Some can and some can't. You can't carry players. When your best player on the night is 18," the caretaker boss said in reference to Beni Baningime, "it tells you everything you need to know.
"I'd love to think every single player is hurting like I am. If they're not, they shouldn't be here at this great club. They need to know that the minimum requirement [at this club] is 100% desire.
"You need the players to give you everything they've got. Every manager needs to take responsibility but when the players step over the line they have to take it too.
"Like I said, I've learned something about numerous players tonight and that's good. It doesn't feel good and I'm sure every Evertonian would tell you the same but, again, if those players aren't hurting tonight like I am they shouldn't be here."
---
Reader Comments (67)
Note: the following content is not moderated or vetted by the site owners at the time of submission. Comments are the responsibility of the poster. Disclaimer
Brian Porter
1
Posted 24/11/2017 at 06:38:52
I'm with Unsworth on this one. Despite the fact that the game was meaningless in terms of the Europa League, it should have meant everything to those players handed an an opportunity to show why they should be in the team. This was like their cup final. I'm sure Unsworth's pre-match team talk would have included the words, "get out there and make it impossible for me to leave you out on Sunday," or similar. He can't be blamed for the fact that apart from one or two, they collectively failed to do so.
Sandro scored his first competitive goal for the club and will benefit enormously confidence-wise. Robles did well after being left out all season. Baningime showed maturity beyond his years, but that was as good as it got. Mirallas flattered to deceive as usual and Ashley Williams gave us a masterclass on how not to defend. Surely he provided proof positive as to why he should never wear the Blue of Everton ever again.
Michael Keane looked every inch a league two defender and worth nowhere near his transfer fee. We had been calling for Vlasic to get on the field but even he looked off the pace and nothing like the player we saw playing for Hajduk Split.
The rest were totally anonymous apart from one good shot from Dave, superbly cleared off the line. Kenny's crosses were over hit every time, and Rooney tried to pull it together but received no response from those around him.
There was no pride in the shirt or determination on display apart from those mentioned at the top of my post. It was painful to see the team I have supported for 59 years play so badly and with so little heart.
This is Koeman's legacy, not David Unsworth's fault at all. The clueless Dutch man has all but destroyed our great club, ably assisted by his team of hangers-on and a woeful attempt at player recruitment by the apparently Teflon coated Steve Walsh who should be sharing equal blame with Koeman in my opinion, for the woeful summer transfer window. Why is he still employed by the club. Don't forget, a couple of weeks ago he was recommending we employ Allardyce and Shakespeare as a management team. That is his level of ambition for the club, nailed to the mast.
Desperate times call for desperate measures. Get rid of the unnecessary Director of Football position and give us a manager with full responsibility for team affairs including transfers. Whoever we approach, particularly if it is a foreign coach, will, I'm sure, not want to be hamstrung by having to go through Walsh every time he wants to sign a player. In that respect, Walsh could prove to be a big stumbling block in any negotiation with prospective managerial prospects.
Time to be brave, Mr. Moshiri. Walsh is the final reminder of Koeman's disastrous reign and should be got rid of now. Give the new manager, whoever he may be, carte blanche to come in and rebuild the team according to his own vision and requirements. Nobody can do that with Walsh overseeing transfer activity. He hasn't exactly covered himself in glory in that department has he?
Rant over, maybe we'll see a backlash on Sunday. I live in hope, as I think most of us are now reduced to. But please, don't pillory David Unsworth. I felt truly sorry for him at the end last night. Not even Mourinho or Conte could have turned Koeman's shambles round in the time he's had available to him. Koeman sapped the confidence and the lifeblood of the players in his time here as I knew he would, but nobody believed me until it was too late. The Dutch vampire has moved on to seek a fresh killing ground, another club to sick the life from a la Everton, Valencia and AZ Alkmar. We desperately need a. Van Helsing to get rid of the last remaining blood sucker lurking behind the scenes.
Suggestions on a copy of Bram Stoker's Dracula please.
Kevin Prytherch
2
Posted 24/11/2017 at 06:40:19
Well said.
Everything he said there is spot on. I'm still behind him 100%
Zaid Omar
3
Posted 24/11/2017 at 06:52:38
It just makes me sick to think that Steve Walsh has not shouldered any of the blame. He should have been sacked along with Koeman and I can't believe the Board will allow him to drive the activity for the January transfer window. Bring a new manager on board and sack Walsh asap!!
Keith Conchie
4
Posted 24/11/2017 at 06:56:24
Good to hear Unsworth telling it like it is. He's been massively let down by some of the player's, and he's stated that by saying some of them shouldn't be here if they can't try hard enough.
Our defence is shocking, and worst of all is Williams, he should never play again for us. The same could be said for Mirallas and Rooney, they're both finished and proved that last night.
David Barks
5
Posted 24/11/2017 at 07:00:54
OK Unsworth, so what the hell have you done since taking charge? The football is worse. The defense is worse. You say you learnt something about some players, I think plenty has been learned about you.
Unsworth has chopped and changed the lineup in every single match, including the defense. His substitutions late in the game were met with horrible results. Klaassen was chasing ghost havign to cover for others lack of positional awareness and the horrible defending of Martina. He's subbed off and we lost the midfield. Mirallas sets up a goal and is immediately withdrawn.
Sorry Unsy, you're part of the problem now. The team has went backward since you took charge. The football is worse. Deflect all you want, but it's your job to make decisions that put the best team out on the pitch.
Tommy Coleman
6
Posted 24/11/2017 at 07:15:38
Big Dunc needs to be given a chance to take charge. Maybe he can find a balance and motivate the players.
It can't get any worse than last night.
Colin Glassar
7
Posted 24/11/2017 at 07:16:21
Is Unsy being clever here? Blaming unnamed players for not trying is a cop out imo. He chose those players, he prepared them, he gave them the pre-game talk and the HT one and we got gradually worse as the game went on!
I really wanted Unsy to do well and get the job but he's shown he's struggling, tactically, at this level and now blaming unnamed players for lacking effort, for me, is not on and is a cowardly move on his part.
Charlie Lloyd
8
Posted 24/11/2017 at 07:23:32
I have to agree with Unsworth regarding the players taking more responsibility when they cross the white line. Confidence is one thing but at least run round and look like your lifestyle depended on it. Maybe shouldn't single at but Keanes defending or lack of for the first goal was pure under 7s stuff. As for Williams. I'll not waste any more words on him.
I have to agree with David @ 5 too. Unsworth didn't get the subs right. We did lose the midfield, withdrew Mirallas when he was stretching them, introduced DCL which I'm just thankful didn't incur injury because without Niasse for Sunday we will need him then withdrew Kenny our steadiest defender to give Feeney a taste of action in an ill advised back 5.
What a shambles from both management and the players.
Justin Doone
9
Posted 24/11/2017 at 07:23:35
Sorry Unsworth. I agree but your not playing the right players or formation to help us stop the rot. Back to the U23s for you.
Hopefully that will stir Moshiri to appoint a manager asap. I'm just not sure it will be the right manager.
Please get Mancini.
Nick Lacey
10
Posted 24/11/2017 at 07:25:09
I also echo what the others have said here. Unsworth gave a lot of fringe players a time to shine and they completely let him/us down. Hopefully this will see the end of some of the players, ie, Williams, from even making the bench.
David (#5), I think that you're being a little unfair about Unsworth making changes to the line-up. Every and any manager who would have come in to manage Everton would have spent the first weeks chopping and changing players to see who works and who is up for the fight. He has now done that and in my opinion this was the last game that he could have done it with.
Now Unsworth should have a better idea of the players who truly want to play for Everton and ones who should be playing in the reserves.
Pat Whitmore
11
Posted 24/11/2017 at 07:28:41
Sorry, Mr Unsworth, but you can't put all the blame on the players. YOU picked the team, YOU have trained and coached them for the last month and it is at the moment YOU who has the responsibility of motivating them. I admit they are not playing with any confidence due to way the previous manager left them but YOU wanted to step up to the plate and take charge.
if this is the job you so dearly want face up it it and shoulder some of the blame our last manager was ever so good at laying the blame everywhere bar his own door.
The club needs a complete fresh start and if we carry on the way we are it's Championship football that we are destined for not Champions League. Time to face facts and realise that nobody has a divine right to remain in the Premier League, you only have to look at the teams that are now fighting to get out of that "Bear Pit" called the championship and if we do drop can anyone honestly see this current lot having the guts to drag us back out of it!
Peter Barry
12
Posted 24/11/2017 at 07:43:21
Everton's players had only pride to play for and they have just proved to us that they don't have any.
Paul Smith
14
Posted 24/11/2017 at 07:51:47
We need a new manager ASAP then he can get rid of the shite we have in this team.
Justin Doone
15
Posted 24/11/2017 at 07:53:27
With two-thirds of the season left and a transfer window to come I'm still optimistic the right manager can get us out of this mess.
But all this time Unsworth has had to assess the players and a new manager will need to go through the whole process themselves before bringing in the right players.
Unsworth has added a bit of fight and direction and I'm happy a few of the youngsters have been given a chance.
We now need to stop wasting time and get real. The experiment hasn't worked. Get in a real manager with Premier League experience.
We wasted money on the wrong players and more worryingly the wrong type of player. I don't know who or how but sort that out too.
David Connor
16
Posted 24/11/2017 at 08:16:31
Management and players alike just aren't good enough. Simple. If we avoid relegation, I would be surprised, but delighted. We deserve and demand better from top to bottom.
Just when we get serious money to spend, we blow the fucking lot on over-hyped shite. It could only happen to us.
I know players read these forums... So come on, lads, show us you care and have the bottle for a fight, because at this moment in time we don't think you have. Prove us wrong!!!
Liam Reilly
17
Posted 24/11/2017 at 08:24:09
Agree that the players are letting him down but there was some evident tactical errors on show last night.
Who was supposed to be playing on the left side of midfield, huge gaping holes exposing a poor Martina who was the afraid to get forward?
There's no point in playing Klaassen out of position, it's destroying his confidence.
And the marking at the corners! Amateur mistakes: not having a blue shirt as the first man and Keane dragged out of position easily for the second.
Rooney said afterwards that they are enjoying the training sessions. Well they fucking shouldn't be.
They should be well drilled on positions on set pieces; they were NOT.
Unsworth has to shoulder that responsibility.
It's a roulette spin if he stays in charge in my opinion, could easily go down.
Tony Everan
18
Posted 24/11/2017 at 08:26:55
We don't just need a new manager. We need a forest fire to raze to the ground this sub-mediocre set-up.
We are full of an ineffective, coasting dross. An amateur set up in every way.
The old guard and systems need flushing out with a Karcher 1000+, or better still a Chines government water cannon, and a professional set-up installed that befits one of the country's great clubs.
Peter Lee
19
Posted 24/11/2017 at 08:29:17
It was his fault. He set the team up, buggered about with the shape before halftime, made tactically illiterate substitutions and gave Feeney a debut (Aaaah isn't that lovely, great memories for your first match eh?) That ran up the white flag.
The next three games should have been an opportunity to get some points on the board with a settled team and disciplined shape. In ten days time, on current form, we will have blown it.
Moshiri et al at fault for not seeing through Koeman last season, not having a replacement ready to go when they sacked him and giving Unsworth 10+ games to have a play with the squad. Don't even mention strikers.
Hugh Jenkins
20
Posted 24/11/2017 at 08:47:07
Because of the mess Koeman left us in, Unsworth has had to try, in "live" games, things that most mangers would do in training and pre-season.
The results, are there for all to see!
I think that from Sunday, we will see a more settled side, with players in the correct positions, playing to a system that will be applied consistently in subsequent games.
Whatever happens and whoever is manager, the reality is , this is the squad of players we have until January.
The question then becomes, "is there anyone who could do better with this squad than David Unsworth"?
We can speculate, but we will never "know" with any certainty.
Noleen Daya
21
Posted 24/11/2017 at 09:05:58
I don't give a fig about formations at all. Right now, all I'm concerned about is the fact that more than half these players need to find the hole in the wall and bugger off!
Unsworth is right. If I were the manager, I'd rather play one less defender than Williams. He is the most atrocious defender I have ever seen playing for us. And to top it all – he's always throwing his arms up in the air as if he was wronged. His attitude sucks!
Here in South Africa, we have a lovely word for the likes of him – skollie, meaning a crime waiting to happen. How on earth he is so revered playing for Wales is beyond me.
Each and every player that Koeman bought (except Pickford) must go! Yes, that includes Rooney. I'm absolutely horrified that Walsh hasn't been fired with Koeman.
I am starting to feel that Moshiri can take his money and also go through that hole in the wall. He has not once addressed the fans to at least calm us down. Truly, we were better off when we were scraping and scrounging.
Time to fill the spaces in front of Goodison's gates guys. Protest, shout, scream – stay away from matches. Anything to make the hierarchy realise that we will not put up with this. Hit them in the pocket. Always works!
Dave Ganley
22
Posted 24/11/2017 at 09:15:42
Agree with a lot of the comments above as I agree with unsworth comments too. The players should be hurting but I doubt they are. Unsworth is obviously not shaping the players or motivating them but that shouldn't detract from the fact that the players can't pass defend or attack. They are a shambles.
The bit I disagree on is the legacy. This is Martinez/ Kenwright legacy that we are witnessing now. Koeman just carried it on. Martinez destroyed all the team spirit and fight and fitness and willingness to die for the club and it hasn't been fixed since. Kenwright hired the idiot so takes the share of responsibility too.
Kim Vivian
23
Posted 24/11/2017 at 09:29:34
A thoroughly well constructed interview. Unsworth is right to be well narked with many of his squad last night. I am sick of hearing from those on here who are berating Unsworth and I remain behind him to the best of his abilities.Tactically is where Unsworth's inexperience is falling him short and that is the crucial difference between the top managers, the average mangers ad the also-rans.
We should not be vilifying him for his inexperience and expect him to become the next Mourinho, Ferguson or Guardiola overnight. He is showing us small improvements since the Mercenary left and I expect to see more baby steps forward over the upcoming games. I am hoping for 5 or 6 points from Southampton, West Ham and Huddersfield if the players step up (unlike last night).
Unsworth is a decent man manager but inexperienced as a top coach. It may be that he could work well alongside a god fixer although that will be unlikely given they like to bring their own people in but that remains for the future.
Clearly in my view he is not (yet) ready for the long haul but in the meantime, given he's what we've got, stop calling for his head and give him, and the team, as much moral support as we can.
On a different note – I noticed it last night and particularly on Tuesday when the RS played Sevilla, their fans were immense. The visual of that scarf waving and the noise they make is awesome. It would be great if we could raise ourselves to that and turn Goodison Park back into the absolute fucking bear pit it used to be.
John Davies
24
Posted 24/11/2017 at 09:30:48
David Unsworth is – as a manager – a complete joke and a novice.
Six terrible, disjointed performances (Watford was a lucky win) is his record to date. His team selections, substitutions etc. all smack of youth team football at Sefton Park. Sure our players are not good enough either but Unsworth needs to can all his bullshit now and go back to the Under-23s – or better still if he really wants to be a first team manager – clear off to learn his trade at the sharp end of the Championship.
If this Board give him the manager's post at Everton for one month longer we are doomed, in which case he can get his grounding there after all !!!
Jesus, we are in the shite right now.
Tony Everan
25
Posted 24/11/2017 at 09:41:42
What would the score have been last night if my nan was the manager?
I know you don't know her, but just assume she is an average Nan and tell me what score.
Ciaran O'Brien
26
Posted 24/11/2017 at 09:48:47
We need to hire a new manager ASAP. Part of the problem is the uncertainty and constant managerial rumors in the press without any action by the club.
Although last night's embarrassing shit show against Atalanta was a dead rubber, we still conceded five goals at fucking home with so called experienced pros in the lineup.
Williams is the worst defender I've seen for us, even worse than fucking Alcaraz and Krøldrup. Robles although deserved to be ahead of Howard is also incredibly shit and was second choice at Wigan. Martina can attack but is clueless in defense but I suppose he was free, Keane is so short on confidence with not having a regular partner in defense but we paid way over the odds for him and he is fucking slow. Klaassen looks like he will join the many other useless but talented Dutch players to have played in the Premier League. Rooney is our best player which says stuff because he can't run and constantly gives away fouls.
There is so much utter shite in the side and with so much chopping and changing, they look even shitter.
I fear for our survival, we are leaking goals at a fucking alarming rate and not scoring which is the two ingredients for relegation. David Unsworth has done the best he can but he isn't good enough. The board need to fucking get their shit together and pay up to get who they want whether it is Silva, Dyche, Simeone, Big Sam and whoever or otherwise it is goodbye to the Top Flight for a long time.
If we stay up a massive clear out needs to happen. Kenwright, Woods, Elstone, Robles, Williams, Martina, Jagielka, Schneiderlin, Besic, Klaassen, Mirallas, McCarthy or Gueye, Garbutt, Stekelenburg need to go. If anyone offers £20m for Sigurdsson we should also listen. Give Seamus Coleman the captaincy with Rooney as deputy and send Lookman and Holgate our on loan.
Starting in January and the summer, a new left back, centre back, midfield general, two pacy and skillful wingers on both sides and two strikers, one number 9 and a creative forward.
Make no mistakes we are the second worse team in England after Sunderland. That's the fucking truth. There is too much a "jobs for the boys" culture at the club along with accepting shithousery and mediocrity which needs to change ASAP.
What has happened to my club, a once great club.
Stan Schofield
27
Posted 24/11/2017 at 09:49:08
The very fact that the manager (regardless of who that manager is) is criticising players indicates discord in the club. This was the case when Koeman was here, and it's now apparent that it continues to be the case.
Both manager and players are responsible for the performance on the pitch, with the manager carrying the higher responsibility because he picks the team, organises them, and dictates the tactics. Unsworth is right to criticise players who underperform, but at the same time should be open about admitting mistakes in his management.
He has made some progress in getting the team to fight harder since Koeman left, but that has limits if the organisation and tactics aren't effective. Those limits are showing, and it now appears that he has exhausted what he can do in his capacity as caretaker.
Joe Bibb
28
Posted 24/11/2017 at 09:51:23
Unsworth blames the players! He said they had no pride or passion! Well Dave I was at the empty Goodison Park and I noticed Atalanta's manager motivating his team, cajoling them, urging them on and they were 3-1 up.
Dave stood there, hands in pockets looking as if he were a sixth official doing nothing, no passion, no advice, no idea. It's a combination of players and manager but David Unsworth is not good enough to manage Everton Football Club.
Stan Schofield
29
Posted 24/11/2017 at 09:55:46
Tony@25: If your nan is like my nan, very kind but also very strict, someone who won't accept nonsense, I'd say 1-3. 2-1 if she was good at football tactics.
Andy Walker
30
Posted 24/11/2017 at 09:59:05
Unsy still trying to say the right things in the press conferences that he thinks the fans and most importantly BK want to hear.
Oh yes, we know all about our "great" club David, and we also know how you'd give your all and that "you're very thankful for the opportunity". I really don't want a manager coming in who's very thankful for the opportunity, that's verging on sycophantic.
I want a manager who wants to compete with his peers and believes he's the best manager out there and he wants to show this by beating his competitors' teams. You know the type, ultra competitive personalities with big egos who will never be very thankful to any club.
You're probably a very nice guy David, and I'm not trying to patronise, but I don't think you're anywhere near ready to manager a major club. Your desire to manage our club, although admirable and understandable, is actually aiding the Board's procrastination. It is relieving some of the pressure on the Board to pull their finger out, as your keenness to stay in the running, with the associated support of a significant proportion of the fan base, gives the Board an excuse to delay the appointment of an experienced manager.
mark burton
31
Posted 24/11/2017 at 10:06:34
A new manager should have been found and appointed two weeks after RK departure. Nobody wants to come now to manage a disinterested, disjointed and overpaid bunch of selfish pricks who couldn't care less about the club. Wages should be deducted for losses and bonuses for wins implemented. Maybe that might work.
Roger Sunde
32
Posted 24/11/2017 at 10:06:57
Besides Jagielka, Baines and some of the kids this is all Koeman signings.
It's not difficult to understand who the culprit is.
I still think Unsworth should be given time, considering the alternatives available right now.
Do people really want Big Sam and mediocrity for next 2 or 3 years?
Clive Rogers
33
Posted 24/11/2017 at 10:08:12
The buck stops with Kenwright. He is the chairman, albeit a completely useless one. He has given us 20 years of misery and turned the club into a complete shambles from top to bottom. With 20 years experience he should be guiding Moshiri, but look what happened with Sigurdsson.
We ended up paying a ridiculous fee for an average player at best. At least £20M over the odds. We are a laughing stock and it will continue while that clown is at the helm.
Kevin Prytherch
34
Posted 24/11/2017 at 10:23:40
How many of us here have been calling for Vlasic to be given a chance?
How many have questioned why Mirallas has been left out?
How many have questioned why Sandro hasn't been involved?
How many would be happy if Jags and Baines has played last night and been knackered for the next game?
How many would have been happy with Calvert Lewin starting and potentially injuring himself?
Unsworth put a team out that should have had something to prove. A team of players that should have taken this as their opportunity to say to Unsworth 'you have been wrong for not picking me, and 'I deserve to be in the starting XI for the next premier league game.
They didn't, they showed exactly why Unsworth has been right not to pick them and why they'll have to buck up their ideas to be involved in the future.
Unsworth got it spot on last night, put some of the overpaid prima donnas in the team, see how they perform and if they don't show the desire expected to play for this team then tough – you're out again until you show this desire.
Davies, Beni and Kenny showed desire, not many others did.
'Those who support him, support him in the championship' - would you rather another Koeman or Martinez, someone who's here for the money, spending a fortune on players who see the club as a stepping stone, or players who have reached their peak and are now happy taking the money off their ridiculously well paid contract?
I'd rather get behind Unsworth, watch as the fight and passion return to the team and we get some ugly wins, then watch him build on that.
We're not West Ham – demanding fancy football with no substance, clinging on to bygone days with Trevor Brooking.
We're Everton and we expect 100% commitment, with skill and flair on top. Let Unsworth get the first part right and then add he skill and flair, the results will follow.
Andy Walker
35
Posted 24/11/2017 at 10:38:51
According to Jim White now on Talksport the club is very close to appointing a new manager and have a shortlist of three. How can they be very close if they still have a short list of 3?
Once they've decided who they want they have to go and get them, that can take extensive negotiation and time. Unless of course the appointee is available.
Shortlist of three, Unsy, David and Unsworth?
Dennis Stevens
36
Posted 24/11/2017 at 10:45:07
Last night's debacle will have removed any doubts as to which players Unsworth can rely upon to roll up their sleeves and show the required commitment necessary to extricate ourselves from this dire situation. I expect he now has about a dozen and a half players who will consistently form the team and bench for the League matches coming up.
If and when Unsworth is superseded by a permanent appointment, he will have saved them a lot of time sorting the wheat from the chaff, as they'll be able to inherit this core group of players and build on it.
I just hope that Unsworth/whoever can get sufficient points on the board from these players performances so as to keep us clear of the relegation trap door.
Jay Woods
37
Posted 24/11/2017 at 10:48:05
Kevin Prytherch, are you a young guy? I'm trying to comprehend how you could write the unadulterated tripe you just did.
And Davis is an overrated and utter clown of a player: slovenly looking, slovenly playing, a liability every time he's on the pitch, but hey, "he's one of us", so that makes it all okay?
This People's Club derangement syndrome is every bit part of the cancer at the club's core as the rotten mismanagement from the luvvy-buffoon-in-chief has been.
They can take their community work (which is a consolation prize for endless on-field failure) and shove it, along with all the worthless ex-players and the club's self-mocking motto. Thank goodness most people don't speak Latin or the joke would be even more on us than it already is.
Colin Malone
38
Posted 24/11/2017 at 11:00:39
I'm confident Joe Royle can get us out of this mess.
Liam Reilly
39
Posted 24/11/2017 at 11:20:42
We should change the motto Jay to:
"Nos iustus non ipsum bonum"
Translates to 'We're just not very good'.
I remember my language teacher telling my class that a lot.

Tony Everan
40
Posted 24/11/2017 at 11:23:09
Andy,
JW says we are very close to appointing a new manager
It must be Dyche, Silva wont resign, they just can't give it to Unsworth.
Dyche will split opinion , most other options will too. But we should remember we are currently in a catering jar of pickle and Dyche [almost] openly has said he wants the job. That has to count for something!
I'm not excited in any way, but it is a pragmatic choice, he can only improve what we've currently got. I think he is a genuine feller, talks sense and is not in it just for the money.
Over time he could turn us back into a proper football team again.

Pat Kelly
41
Posted 24/11/2017 at 11:26:28
It's now clear a fresh start is essential. Few if any of the players, management, coaches, directors, owners, are blameless.
Moshiri is not the saviour we thought he was. He bought in but didn't take control, instead he left Kenwright in charge. All the old connections need to be rooted out, Kenwright, Ferguson, Rooney. Walsh too has to go. But what are the chances this will happen? Don't expect this mess to get sorted any time soon.

Brian Harrison
42
Posted 24/11/2017 at 11:28:45
Jim White saying that Moshiri has told him that we are close to appointing a new manager. Also they are also reporting that the Italian owners of Watford will sign the sacked Italian manager Ventura if Silva goes to Everton.
I thought that Watford have told Everton not to make any more approaches for Silva and Everton had agreed to it. I watched the interview with Silva yesterday and he still wont say he will be at Watford after the Newcastle game. I would have thought that Everton and Moshiri would have learned their lesson over thinking something was a done deal look what happened with Giroud. Everton thought the signing was a formality till he changed his mind.
Kim Vivian
43
Posted 24/11/2017 at 11:38:27
Does anyone think the new man, whoever he is, will ask (or be asked if Kenwright has anything to do with it) to work with Unsworth? Or will he get shipped back to the U23s? Maybe that is what is causing some of the hold up.
I think that could work out (especially in the case of Dyche for some reason) but usually these guys bring their own entourage, don't they? That was a significant part of the problem with Martinez (Jones didn't get half the stick he deserved), and a fair part the problem with the Mercenary - Koeman.
Nigel Munford
44
Posted 24/11/2017 at 11:41:16
So given what he's looked at in recent games and how the players have responded to the "prove I can't leave you out" then this must be his team:
Pickford
Baines
Jagielka
Feeney
Kenny
Davies
Baningime
Lennon
Lookman
Mirallas
Niasse
With a bench of:
Joel
Holgate (only defender worth putting on the bench out of the rest)
Gueye
Calvert-Lewin
Rooney
Vlasic
To come back from injury:
Coleman
Barkley
Funes Mori
Besic
McCarthy
Have I missed anyone as the rest are not even worth mentioning. That includes our £45 mill Sigurdsson.
Dennis Stevens
45
Posted 24/11/2017 at 11:57:09
Kim, if it was a problem with those guys, it'll be far worse if the Board resort to employing Allardyce.
Kim Vivian
46
Posted 24/11/2017 at 12:03:46
Interesting, Nigel, I agree. I also think none of Koeman's signings would make the first squad bar Pickford if no injuries. Keane I think could work out okay.
It's so much about confidence with the sprogs. Just see how Sandro improved once he bagged one.
Kim Vivian
47
Posted 24/11/2017 at 12:04:42
Ah shit, Vlasic, forgot him. Maybe Vlasic eventually.
Nigel Munford
48
Posted 24/11/2017 at 12:09:35
I had Vlasic on the bench Kim, still not sure about Sandro, but as for these:
Schneiderlin
Klaassen
Williams
Sigurdsson
Martina
I think they can all go and ply their trade elsewhere.
I must admit to being very excited when we signed Klaassen and Schneiderlin but they've been a big big disappointment.
Kevin Prytherch
49
Posted 24/11/2017 at 12:14:46
Jay – I'm not a young guy, but even if I was, why should age matter?
Unalduterated???
Depends what you want. Slating a 19-year-old (youngest midfielder to start a game in the Premier League for 2 years running, invited to train with the England squad at 18) and saying he's never going to be anything!! You'd have been great as the Spurs manager when Harry Kane was 19 and out on loan.
If you want a bunch of overpaid players who can't be arsed.. a la Schneiderlin, Klaassen, Williams etc, then that's your choice. They've proved themselves to be exactly what they are.
I want a team who fights for each other and loves the club (that doesn't just mean players brought through the academy – take Cahill for example, or Fat Frank at Chelsea).
If that's unadulterated tripe then we obviously want different things from the club.
On a side point – which parts did you specifically disagree with?
Sandra Williams
50
Posted 24/11/2017 at 12:17:23
As it's 'Black Friday' (in more ways than one!), I'm on the internet looking for a new Manager with 50% off (sorry Unsworth!). No luck so far. I'll keep looking. 😣

Andy Walker
51
Posted 24/11/2017 at 12:19:16
Tony, Brian, looks like Dyche, Silva or A N Other. Surely not Unsworth.
Stephen Davies
52
Posted 24/11/2017 at 12:22:30
I wonder if one is Fonseca at Shakta? Coming up to winter break there...
Jay Wood
53
Posted 24/11/2017 at 12:32:32
Fonseca is DEFINITELY one that should be on our radar, Stephen. I also believe he would be receptive to an approach and contractually, it would be less bothersome than trying to wrestle a sitting manager from another Premier League club.
Paul Smith
54
Posted 24/11/2017 at 12:33:07
After the performance last night there is now a bad virus running through the core of the club. It is probably easier to list the players who you want to stay rather than the ones to go. Here is my thoughts anyway.
Pickford: a must and only genuine good signing.
Coleman: so sorely missed and can't come back quick enough should be made captain.
Funes Mori: seems to get better each week he is out, looking at our other centre-backs.
Kenny: has got potential, just needs to be a bit calmer when in possession but is promising.
Lennon: I would keep as a squad player, he always gives his best and offers support to full backs, unlike other wingers.
Gueye: not having the best run at the moment but I cannot forget last season and hopefully can regain that form.
Davies: another who is in dreadful form at the moment but patience will hopefully pay off with him.
Baningime: has looked a bright spot and will hopefully get better the more he plays.
Vlasic: started season as our best outfield player but strangely overlooked by Unsworth until last night.
Niasse: another I would keep as a squad player just for the effort he puts in.
Bolasie: he didn't set the world alight last season but oh for a bit of power and pace in the attacking third.
Onyeruku: looks full of promise another with a fair bit of pace.
After that, if anyone else moved on and we got a fair price about it wouldn't bother me. The players I would like in which I think are attainable are as follows.
Tierney (Celtic): a good ball playing left back with tenacious qualities.
Akanje (Swiss): another young decent on ball defender in the Varanne mould.
Zakaria (Swiss): a beast of a specimen in midfield with the look of a young Pogba.
Embolo:(Swiss): pacey and powerful forward
These are just off the top of my head but we need the next raft of signings to have pace and power rather than laborious like previously signed.
Kim Vivian
55
Posted 24/11/2017 at 12:41:31
I'm thinking (possibly with a little trepidation) that it might be the Rangnick fella if the jungle drums are right about us having been talking to him. Or did I read somewhere that he had ruled himself out anyway?
Nigel – yes. Sandro, of course. A bit of an enigma, young Sandro.
He has been looking like a puppy legging it around everywhere with little control over its legs. Last night he seemed to change his boots at half time and looked a bit more useful once he got his head straighter (the goal). He seems to be trying too hard and needs to take half a second to think. Was losing a lot of ball last night and spraying it all over the Park end. Whether he can live up to the pre-signature hype (what the fuck was that unveiling video all about?) remains to be seen.
Klaassen, however, I do think might come good. Amongst others, he played one great ball through for one chance last night – I think it was to Rooney who squared it for ????? (someone) – and seems to like a quicker high tempo press. Also has a decent shot on him. Anyway we shall see. So far he has disappointed but I have seen potential.
It really is impossible to judge any of them based on performances this season but the bottom line is they all have more in them than we've seen so far.
Rudi Coote
56
Posted 24/11/2017 at 13:00:31
Brian @ 1
Nothing to add to that. You said it all. But who will take notice? I sincerely hope someone in a position of bending the ear of Moshiri does.
Nothing to play for last night except pride. I saw none... none whatsoever. A disgrace and shameful.
Nigel Munford
58
Posted 24/11/2017 at 13:49:08
Kim, yes agree about Sandro, but think he could improve, Klaassen, it seems his confidence is shot to pieces, and I agree he does prefer quicker passing and pressing, unfortunately we don't seem to be able to play to his strengths.
As for this Rangnick fella, I'd not heard of him until this week.
Fran Mitchell
59
Posted 24/11/2017 at 14:06:58
Our players are not great, but that they are playing so badly, they make it so easy for opposition to score, and seem vulnerable to concede 4-5 goals at any given time. It is not a sign of bad players, because they ain't that bad, but something much much worse.
This will not be fixed from within; a new manager is 100% essential. But at this moment, we are serious relegation contenders
What on earth did Koeman do here? This is the most dramatic collapse of form and confidence I can remember.
Arild Andersen
60
Posted 24/11/2017 at 14:27:44
Yesterday was shocking, unfortunately all matches in our European "adventure" has all been broadcast live here in Norway. I think it's safe to say that most Scandinavians will stick to Anfield in the future.
Oh well. It also means I've been able to watch all of it, and every time I think 'It can't get worse than the last match', but by God it can. This team has nothing, no fight, no determination or stamina, no physical presence and no direction in attack. To think now how excited I was this summer; probably a new stadium, nice looking signings, kids from a world cup winning team coming through. Quite rosy.
Unsworth must take a lot of the blame, as it is hard to see what they do in training, but he is badly let down by his senior players, and some of them should never be allowed to wear an Everton shirt again. Williams has turned into a bad joke. Martina is useless against decent opposition, Schneiderlin doesn't look interested. And there are a few more, but those three stand out in my opinion. Klaassen, Sandro – I won't write them off just yet, but it looks obvious that Sandro needs to play with a partner up front, he can't lead the line alone, and that Klaassen desperately needs more games – which we may not have the luxury to give him at the moment.
Who to take over? No idea actually, but Job #1 is to sort out the central defence, #2 is to get some movement and speed on and off the ball and #3 get them fit enough to run for 90 minutes.
Or no, these are 2, 3 and 4. #1 should be to tell Williams to shape up or ship out, to use CM terms.
Jack Cross
61
Posted 24/11/2017 at 14:48:12
Kevin Prytherch (#34).
Well said, I couldn't agree more.
Dave Abrahams
62
Posted 24/11/2017 at 14:49:26
Tommy (6), stop playing with your dad's computer, you'll be in trouble if he finds out !!!!!!!!
Jay Woods
63
Posted 24/11/2017 at 17:45:09
Kevin, it's the bit about getting behind Unsworth and "watching as the fight and passion return to the team and we get some ugly wins" that not so much beggars belief as puts it through a mincer and then grinds it into a fine paste.
What more does he have to do to prove his incompetence?
What fight?
What passion?
For now, I could see hope if they were even capable of doing the basics right, but that's been too much to ask all season. There is just no coaching, either happening or getting through.
John Keating
66
Posted 24/11/2017 at 18:25:46
Sorry guys we are in deep shit getting in some foreign manager with a ten year plan and a bunch of mid league overpriced foreign players who like wearing gloves and tights in the Summer will just confirm relegation.
Either get Allardyce in on a short term until end of season contract to give us a fighting chance of staying up, or Dyche on a 3 year deal.
After seeing Martinez and Koeman royally fuck this Club up with the full support of the Worlds Greatest Evertonian, I'd just like to see boring crap football with some sort of result for us at the end of it, just a good chance of keeping out of the relegation spots and a little stability.
If we stay up then let the blood letting commence and ship out the fucking lot of them.

Justin Doone
68
Posted 24/11/2017 at 00:27:54
The style and types of players required going from Moyes, Martinez, Koeman is chalk and cheese and then chocolate.
Some players ie top class can adapt if they're willing too but as proven we have had very few of them.
Without a long term strategy and identity we are asking to much from both manager and players to constantly adapt in such a short space of time. The next appointment could prove to be a blueprint of what the owners want. Therefore I'm willing to wait a little longer to get it right.
We no longer have Pulis, Dyche, Sam type players. How long and how much money would it take to change, adapt?
If they took over from Moyes it would have been sensible. Bring in 2 or 3 players and keep it simple.
Martinez was a massive change and seen by the majority as the right way to go playing 'modern' football.
He upped the basic skill and ball playing qualities (possession keep ball) replacing energy and fight (defensive, pragmatic).
Koeman talked about energy, possession, closing players down but it never happened. Can anyone remember a game showing Koeman's style of play? The players brought in (not all his fault) never suited the 'talked about' style. Instead players with vision and passing ability came in without an outlet (no pace, movement or runners) and lacking pace and strength.
Thanks to Martinez we have gifted young players. Look at our young defenders. Comfortable on the ball but take risks and lack basic defensive qualities e.g. strength and positional sense.
We have a mixed bag of players but lack the same key qualities pace and strength. I'm optimistic we have a lot of gifted young players but it's only potential. I believe it's easy to identify what we are missing. 3 quality signings can turn our season around. C.Def, L.Wing/Fwd, Striker.
Get Mancini in and add the missing ingredients in January for a Happy New Year. NSNO
Ian Hollingworth
69
Posted 25/11/2017 at 07:05:17
Okay, so if there are players who shouldn't be here let's hope the club gets rid ASAP.
Let's face it we have known it about some of them for a long time and how many chances does the club give them. It sounds like we have a rotten group and they obviously have zero respect for David Unsworth.
Sadly you just know that not a lot is going to change with Kenwright as the main man.
Bill Gienapp
70
Posted 25/11/2017 at 10:41:10
Tough talk, but who exactly is Unsworth calling out here? Williams and Keane were by far the most brutal performers... but he can't very well bench both of them and Jagielka's hardly an improvement anyway.
Martina? He's an easy scapegoat, but he's not a left back and he's not in line to start anyway.
Klaassen? He was poor, but not from lack of effort and he was being played out of position. He was also long gone by the time the wheels came off (pretty sure it was still just 1-0 when he was subbed).
Mirallas? He offered the exact same performance he's being giving for years. Hardly revelatory. The only way you'd learn anything from that showing would be if you hadn't watched an Everton match over the past three seasons.
Sandro? While an up-and-down performance on the whole, this was still a highly encouraging showing and he absolutely needs to get a run of games - starting on Sunday.
"Thankfully, there are players to come back into the fold who have shown over the last couple of games that they are not fragile, that they are willing to be courageous and show a work ethic and desire to play for that shirt." Sounds great... until you realize he's just talking about Jagielka, Baines and Lennon. Give me a break.
Peter Gorman
71
Posted 25/11/2017 at 10:42:15
It is fairly obvious that Unsworth is not the solution to our managerial problems yet but to those who are levelling criticism at him for selection, tactics and just plain old vitriol, you should be ashamed.
The senior players at this club are an utter disgrace and their reaction to going a goal down to Atalanta (and pretty much every game) is absolute silence. They are pathetic cowards and Unsworth never stood a cat in hell's chance.
The solution is new manager and new players. It is a source of acute embarrassment that Williams and Co will continue to wear the shirt and take a wage.
Andrew Vernon
72
Posted 25/11/2017 at 15:34:25
I know everyone is entitled to an opinion but some of those above are more than disappointing. To call a young lad like Tom Davies, "a clown of a player" says more about the poster than it does about Davies. For those criticising Unsworth because "he picked the team" – well, yes he did. The team he picked for a dead game was everything to do with the weekend's game.

To criticise the manager for picking those players is utter nonsense. For those criticising a manager because he didn't jump around on the touchline like a demented lunatic have a think back to how often Howard Kendall or Joe Royle or Harry Catterick got animated on the side of the pitch. No – me neither.

This team is massively lacking confidence. I often wonder how those people calling for Kendall's head in 83 felt like when "that clown of a defender Ratcliffe" or "the lazy gobshite Sheedy" or the "naive and lightweight Graeme Sharp when they and other kids like Stevens and Steven and Richardson lifted the league championship two years later. (This current situation is very comparable to that one). I have no idea whether the likes of Davies, Kenny, Calvert-Lewin, Baningime or any of them are going to emulate those heroes of yester year -nobody does.

Equally no-one knows how a manager is going to fare after three league games in charge of a team that was previously on its knees thanks to a manager who (in my opinion) never really wanted to be at Everton an a Director of Football - a mistake in itself – who became flavour of the month after picking up Vardy and Mahrez (Graham Carr, anyone?), allowing Rooney to return and not replacing Lukaku.

What I do know is that I will still be there supporting the team and manager regardless and I won't be slagging the young players off.
Add Your Comments
In order to post a comment, you need to be logged in as a registered user of the site.
Or Sign up as a ToffeeWeb Member — it's free, takes just a few minutes and will allow you to post your comments on articles and Talking Points submissions across the site.