Southampton vs Everton

204 Comments [Jump to last]
Saturday 25 November 2017
Match Preview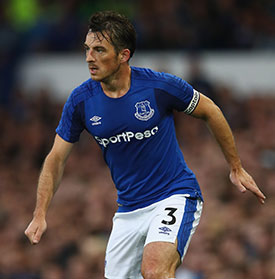 Leighton Baines will return at left back after sitting out the defeat to Atalanta
Everton will look to quickly forget Thursday's debacle against Atalanta as they travel to fellow strugglers Southampton.
The Blues' 5-1 defeat at the hands of the Italian side in the Europa League could potentially destroy the fragile confidence that had built among the players following a win and a draw in the Premier League.
Taking charge of his seventh match since stepping into the breach created by Ronald Koeman's sacking, David Unsworth sounded determined in his press conference yesterday not to let that happen. The caretaker boss reiterated his disappointment at the manner of Everton's late collapse and suggested again that a number of the players selected for the Atalanta game are unlikely to keep their place this weekend.
"Last night was obviously very, very disappointing," Unsworth said. "We've got to put that to bed very, very quickly.
"The players who were involved last night know exactly how I feel. They know that I feel they let the club down and that's a big disappointment.
"We've got to put it to bed, move on and we've got a big game on Sunday."
Of critical concern for Unsworth will be Everton's defensive frailties but with Phil Jagielka a doubt because of a groin injury, he could be forced to field the same central-defensive partnership of Michael Keane and Ashley Williams that was so susceptible on Thursday evening.
Unsworth revealed that Keane, along with the entire back line, is being encouraged to get back to basics and not be afraid to hit row Z if necessary, although it was positional sense and weakness from set-pieces rather than the defenders' use of the ball that was so alarming against Atalanta.
Mason Holgate has sat out the last two games with an injury of his own but he could be available for the trip to St Mary's. Morgan Schneiderlin remains doubtful with the toe injury that forced him off at Crystal Palace while Tom Davies and Oumar Niasse serve one-game and two-game bans respectively. Davies has racked up five bookings on the season while Niasse was the first victim of the FA's controversial new measures to combat diving.
Leighton Baines is expected to return along with Jordan Pickford, and there are likely to be a recalls, too, for Idrissa Gueye, Aaron Lennon and Dominic Calvert-Lewin but those absences — both potential and confirmed — will restrict the manager's ability to revert to the core line-up that has picked up four points from the last six.
Southampton have also made a disappointing start to the season under new boss Mauricio Pellegrino and come into the weekend just a point and two places better off than Everton.
Since edging West Brom at home 1-0 a month ago, the Saints have drawn at Brighton and lost to Burnley and Liverpool.
The Argentine says that he doesn't fear for his job, though, even though Saints dismissed Claude Puel for finishing eighth in 2016-17.
With this game on the south coast and an equally vital clash with West Ham on Wednesday, Everton have the chance to pick up some hugely important points in the space of four days. Win both or at least collect another four points from a possible six and the picture could feel significantly different than it did on Thursday night.
What could be key is keeping things tight and not conceding the first goal, something the Blues haven't been able to manage since the start of the season.
Kick-off: 1.30pm Sunday, 26 November, 2017
Referee: Kevin Friend
Last Time: Southampton 1 - 0 Everton
Predicted Line-up: Pickford, Kenny, Keane, Jagielka, Baines, Gueye, Baningime, Lennon, Sigurdsson, Rooney, Calvert-Lewin
---
Reader Comments (204)
Note: the following content is not moderated or vetted by the site owners at the time of submission. Comments are the responsibility of the poster. Disclaimer
Robert Leigh
1
Posted 25/11/2017 at 07:39:47
Good lineup Lyndon, though I hope to see Rooney back on the bench in place of either Lookman or Vlasic.
I know he didn't perform last week, but Lookman is the touch of flair we need to gets bums off seats and some excitement in the team.
Jamie Evans
2
Posted 25/11/2017 at 07:41:09
Full support. What I'd give for a clean sheet. Also, while I'm asking, it would be lovely to score first.
Ajay Gopal
3
Posted 25/11/2017 at 07:53:47
Good line-up on paper, Lyndon.
The central defensive pairing is the main concern obviously, with so many goals being leaked. Why not try Mo Besic in the left CB role? I believe he has played there before. Holgate, Keane, Williams have all been crap, with Jags seemingly the best of a bad lot.
Kim Vivian
4
Posted 25/11/2017 at 07:56:21
Who is going to be thorn in the opposition defence that Oumar has been? I would start Sandro and give him that brief - to chase, hassle, harry and generally get in their faces or make sure C-L does that and no mucking about on the flanks. We are terrible at getting in the enemy penalty area when we are threatening. How many times have balls just bounced into space for the defence to clear?
I thought Sandro picked his game up on Thursday so why not give him a chance to grow his confidence. I'm going to stick my neck out here and trust for a little more luck and a surprising 3-1 win. Soton will be expecting a picnic.
The refereeing this weekend is going to be interesting.
Lyndon Lloyd
5
Posted 25/11/2017 at 08:06:57
As always, the line-up is a prediction of what the manager will do rather than a preference.
Personally, I'd like to see Sandro play off Calvert-Lewin and try Rooney deeper in central midfield or Sigurdsson in "the hole" ahead of Gueye with two wingers.
I'd also be tempted to try Besic as a centre-half but he lacks height and we're weak enough on set-pieces. I'd be content never to see Williams play for us again but I don't see a decent alternative if Jagielka and Holgate are injured.
Brent Stephens
6
Posted 25/11/2017 at 08:07:25
Kim, yes Sandro would hassle, as does Calvert-Lewin. And I like Calvert-Lewin for his ability in the air. Both to start??
Kim Vivian
7
Posted 25/11/2017 at 08:14:09
Brent – if you were starting both, I guess leave you'd Sigurdsson out, yeah? And sit Rooney behind them. Sigurdsson has disappointed this year but it has not surprised me tbh. I prefer Klaassen.
I was flummoxed by all the hype and chasing in the summer. Couldn't understand it. No-one was interested in going after him even when the fee was at it's lowest. Stitched we were, I've said it before.

Jamie Evans
8
Posted 25/11/2017 at 08:31:51
My missus – who loves all things celeb related – tells me Coleen has invited Wayne back into the big bed. Perhaps his form will improve now?
Derek Knox
9
Posted 25/11/2017 at 08:37:36
Reasonable line-up with what is available, but such has been the performances and results of late, although I always hope, I find it hard to see even one point out if this.
Midweek game, although a win would have not mattered in terms of Europa, would have done a lot on the confidence level.
Alas, with nine changes, this was not to be. I must say though that Unsy's team selections and positions have bewildered me. I have no time whatsoever, for Martina, to play him as a left back, he is useless at right back, so why put him there or pick him at all?
I noticed also that the centre back pairing of Keane and Williams, was Keane on the left and Williams on the right, although they were that disjointed it was difficult to establish who was doing what.
One of the few players to have emerged in all this as a positive, is Beni, I do like the lad and his commitment, unfortunately not matched by his team-mates.
Gareth Clark
10
Posted 25/11/2017 at 08:41:26
Pickford
Kenny Keane Jagielka Baines
Idrissa Baningime
Lennon Sigurdsson Sandro
Calvert-Lewin
Robles, Williams, Davies, Klaassen, Vlasic, Lookman, Rooney

Baningime had a fantastic game against Atalanta... the only one who did. Sandro tried & was a little messy, but I think we need some continuity & he should get at least a place on the bench. Either him or Vlasic starting & the other on the bench.
Klaassen on the bench ahead of Schneiderlin – only because Schneiderlin may still be slightly injured & it would do his confidence a world of good not getting dropped.
The easiest for me to leave out would be Rooney – but that will never happen. I just hope he doesn't start.
Kim Vivian
11
Posted 25/11/2017 at 09:01:48
Indeed, Jamie, but what about his football?
Vijay Nair
12
Posted 25/11/2017 at 09:04:18
Kim @ 7, I'm interested to know why you'd prefer Klaassen in the team over Sigurdsson?
Everytime I've seen Klaassen play, he's been the proverbial "headless chicken", and this goes back to the final he played for Ajax against United.
When Koeman signed him, I thought I'd give him the benefit of the doubt. Maybe Koeman saw something there, but I'm yet to see what he offers to the team.
Charlie Lloyd
13
Posted 25/11/2017 at 09:26:08
If Jagielka can't make it a pairing of Keane and Williams doesn't inspire. Not only because of their errors on Thursday it's the fact that neither are mobile. An advancing fullback leaves a gap and teams will hit the channel left because it's blatantly obvious neither likes a striker running at him. Gabbiadini and Long love doing that.
Don't give needless free kicks away around the box because we don't defend balls in well. Keane and Williams again not excelling there. Both have been out muscled or jumped too often recently.
Richard Mason
14
Posted 25/11/2017 at 09:30:07
I remember when Eriksen came to Spurs first, he was shocking. I personally think Sandro and Klaassen will come good if the football played would suit there game.

Paul Birmingham
15
Posted 25/11/2017 at 09:30:49
I'd replay the Coventry 6-0 win at home almost 40 years to the day. This squad need some confidence and belief. After Thursday, I expect Southampton will go for a quick kill..
The "vets" and experienced players must take ownership and responsibility before the team gets on the park.
Who ever the new manager is, we must find a captain with assertiveness and the nark factor, as this team has been too lack lustre and rudderless when the pressure is on.
I hope and hope we win but with out Niasse there's no nuisance up front and I can't see where the goals will come from.
Hope and hope, for a win.
Charlie Lloyd
16
Posted 25/11/2017 at 09:32:13
Sigurdsson or Klaassen?
Sigurdsson any day. He's not done well, actually thought his last game was arguably his best, but it's form with him. That can soon change. Though he needs to pull his socks up.
Klaassen has come into a new league and just not adapted well. He may do in time but are we prepared to keep offering chances at the moment? No. If we improve collectively and move up the table then maybe more game time. I just keep thinking of Memphis Depay at Man Utd. He didn't adapt to the Premier League either and was shipped off to France after falling out of favour.
Laurie Hartley
17
Posted 25/11/2017 at 09:35:32
This is the team I would like to see start.
Pickford
Kenny, Jagielka, Williams, Baines
Lennon, Gueye, Sigurdsson, Baningime, Mirallas
Calvert-Lewin
451
We need at least a point.
Kim Vivian
18
Posted 25/11/2017 at 09:52:59
Vijay, I'm not saying I prefer Klaassen
over
Sigurdsson, I meant I prefer him
to
Sigurdsson. I think in time they could fit well together and Koeman might have been inspired. They are different types of player and I don't think we have been playing to Klaassen's strengths.
I have seen less of him of course because he was in a different league last year but I just think, from what I have seen of him, that he has more in his armoury and needs a quicker, more pressing passage of play than he has been given with us.
One could argue, I suppose, that it is his job to bring it but with our games this year they all seem a bit lost on the park. He has quick feet, a quick mind, a decent shot and an eye for a pass. If and when we can up our tempo a bit we might see a different version to what we have been witness to, except on a few occasions so far.
Sigurdsson I think, we know what he is capable of. He did better for Swansea than he is doing for us but with them (another struggling team) I think he flattered to deceive. I just don't get what everyone sees in him (at £45m).
I know you can't read too much in to YouTube clips but this vid gives some insight into what Klaassen could bring. A weaker league for sure but that is irrelevant as far as some of this goes.
https://www.youtube.com/watch?v=8SLY-WDLmiQ&t=251s
I just like the look of him I guess, and have hopes, but then I also like Mo Besic (I hate seeing him have a bad game) so that tells you what I know.
Mike Oates
19
Posted 25/11/2017 at 10:07:08
Accepting that Williams is totally past it, and should be dropped for some considerable time if not ever. Unsworth said on Thursday post match that we are allowing teams to get round us all the time - i.e. Palace last week, Atalanta on Thursday. Both teams just got men around our left full backs with ease and then you concede.
I don't think Kenny is immune to this criticism either. So Unsworth has to find wide men who can defend as well – but there is only Lennon and an out of position Davies who can do this . Lookman,Mirallas, Sandro, Sigurdsson, Klaassen, do not track back, do not tackle and are useless of giving Baines defensive cover.
We desperately miss McCarthy, Barry, Bolasie . So with 3 poor centre halves and an ageing, paceless left back and no defensive left-sided midfield player we are open to concede 2-3 goals a game . His only option is to go 3 at the back: Holgate, Keane, Jagielka; a midfield 5 of Kenny, Schneiderlin or Baningime, Gueye, Sigurdsson, Baines and a front two from Rooney or Sandro, alongside Calvert-Lewin.
Mike Oates
20
Posted 25/11/2017 at 10:10:43
One more point, I think Klaassen will come good, remember Eriksen of Spurs, who I said a tremendous player now but took a season to bed in. Similar lightweight players but with an eye for creativity and goals.
Kim Vivian
21
Posted 25/11/2017 at 10:19:52
Mike I don't think we'll be getting Barry back. I know you mean Barkley! :-)
Besic could provide defensive cover on the left.
Paul Kennedy
22
Posted 25/11/2017 at 10:34:36
Henry Onyekuru?
We have got no strikers, he is out on loan – other clubs chasing him... are we really stupid?!?!
Kevin Moorcroft
23
Posted 25/11/2017 at 11:05:03
I would love to be proved wrong but if Southampton score I don't reckon these have the bottle for it. New manager could help although David is doing okay considering.I think in January we'll see big changes to try to avert relegation; first to go should be Walsh.
My opinion is Koeman downed tools when he arrived – a manager hires and fires and that power was taken away from him by our Directors who are clueless (any self-respecting bloke would have done the same) as regards man-management.
Just hope we can hang on in there for a few weeks but not expecting very much. These players have no balls apart from a few of the kids

Steve Ferns
24
Posted 25/11/2017 at 11:12:55
I think Klaassen
could
be a great player. He was fantastic for Ajax. The great Johan Cruyff was comparing his control when running at full speed to Iniesta and Xavi and being better than everyone else.
Now if we actually wanted to get the best out of Klaassen everything would have to change. I bet a lot of you would think that the changes sound good. The changes would be:
- very high tempo - everyone breaking forward on the counter at 100 mph
- very direct football - long passes hit diagonally and down the channels rather than a hoof up the pitch
- deep defending - everyone getting back quickly behind the ball and defending as one
- intensive pressing - with everyone behind the ball 2 or 3 can surround the player on the ball and cut out the passing lanes and overwhelm him
- one touch passing - this is key to the way he and ajax played, there has to be fast passing, and lots of "give and goes".
Then we would all see the real Davy Klaassen. It's not a bad vision of Everton, and one I think we would actually like. But, it's never going to happen.

Alan Bodell
25
Posted 25/11/2017 at 11:16:19
I want to see Besic play 90 mins. Yeah I know he's been slagged here many times but give him another chance ffs, he can't do any worse than the shite we've been given this season, can he?
BTW, my cred is at stake here as I've told my fellow Blues many times I rate him when they don't... ha ha.
Ray Robinson
26
Posted 25/11/2017 at 11:24:02
Alan, I respect your opinion but if anyone has built their reputation on being a "mean" looking player alone, it's Besic. A poor Van den Hauwe without the talent in my opinion but his "attitude" appears to appeal to some Evertonians.
Peter Gorman
27
Posted 25/11/2017 at 11:24:35
Steve, an interesting comparison that but one major difference between Klaasen and those greats is that our boy looks like a complete fanny.
Steve Ferns
28
Posted 25/11/2017 at 11:43:06
The team I would like to see for these next couple of key games (without Niasse) and before we can hope for Barkley and Bolasie (couple of weeks away now) is a return to what we did well last season.
Rather than try and do anything new, Return to what we know and what worked. So it's the front 3 who can't be selected (Lukaku, Barkley and Mirallas). Pickford deserves to come in, in goal. Keane or Williams? Well I did say go with what works, so that means the awful Williams. Kenny or Holgate, if Holgate is 100% fit select him over the much better Kenny. Otherwise go with Kenny.
In midfield, Gueye, Davies and Schneiderlin. Remember this is last season. Schneiderlin is playing well, he's the "Rolls Royce" and sitting deep and passing it well. Gueye and Davies are ahead of him, with Davies getting forward the most. But all three are deep when we are defending. Only Gueye is available for selection. If Schneiderlin is found to be fit, fully fit, then go with him despite his poor form, as we are trying to get back to last season. If he is not fit then go with Baningime. But one of Gueye or Baningime needs to be handcuffed to the defence and not allowed to chase to far forward, not unless they get permission from the other as they are able to sit. Communication is key here.
Now here comes the twist. We've got most of last season's team playing so far. Now we are on to the Davies role, the player just ahead of Schneiderlin and Gueye. If they are in defensive midfielder positions then this is a central midfielder position and certainly not an attacking midfielder position, and certainly not the number 10 position. Now I have made this clear, I would select Wayne Rooney for it. Yes, he's very deep. This position in a defensive sense is chasing and harrying. Slowing up the player on the ball. Cutting off the pass, trying to intercept passes, and generally getting about the opposition midfield. Rooney was dreadful against Atalanta, no doubt about it. But his fitness was good. I was able to pay attention to him at times, as I was sat in the Park End and we were defending that goal at the end. As they overwhelmed us and hit us on the break, one player who was chasing back consistently, was Wayne Rooney, so the fitness is there, to be doing that late in games.
Rooney is not just in this role because his fitness is better than we would expect, or just because we cannot pick Schneiderlin, Davies or McCarthy. He is here so he can get on the ball from deep and make things happen. We are far too slow in transition. I've mentioned it so many times on here. Once we win the ball it takes forever to get the ball forwards, so much so the opposition has every man behind the ball before we can get to their box and then we meekly give it to them as we have no clue what to do next. Rooney can pass, even his doubters will acknowledge that he still has the vision to hit passes others cannot see, and create one on ones with the keeper. In this deeper role, he is flanked by two defensive midfielders to protect him, and he has the bullets to fire at the front three. He also likes to roam, he can read the game and so he could roam forwards (as opposed to backwards) and find the space a bit further up the pitch, if it's there and effect the game.
The front three all need to be pacy. Calvert-Lewin is the undoubted central player for me. He is the only one who can get his head on stuff and he's the tallest. So Dom in the CF position. Aaron Lennon on the right. But he needs to realise he is part of a front three, and getting back is great, but he's playing on the right of the striker and needs to be available in the channel for an early ball from Rooney. On the left, I'd go Lookman. He's been hit and miss, hot and cold, but he has the pace and skills and maybe with better service, quicker passing, from Rooney, he can get one on one with the full back and get into the box.
On the bench I'd have Sandro covering DCL and Lookman, Vlasic (covering Lookman and Lennon) Mirallas (again as an option for the front three), Sigurdsson (if Rooney does not work out he can come on as a number 10, drop Lennon and Lookman back a notch and switch to a 4231), Baningime (or Schneiderlin if he is not 100% fit, Keane or Holgate if he is not 100% fit (Holgate can cover most of the back four so Kenny would either play or not make the bench and Robles.
Pickford
Holgate Jagielka Williams Baines
Gueye Rooney Schneiderlin
Lennon Calvert-Lewin Lookman
Steve Ferns
29
Posted 25/11/2017 at 11:49:06
Alan, Besic cannot stay on the pitch to play 90 minutes. If he's not so bad he's subbed off, he is given a red and sent off. He's a dreadful footballer.
His touch is abysmal. His technique is shocking. His concentration is poor. He ball watches. His positional play is non-existent. Every tackle is a foul. He is far too aggressive after he's fouled people and so aggravates the ref to give a yellow when a Tom Davies would get away with it by holding his hands up and running off.
As for playing left sided centre-back alongside Jagielka. Besic is 177 cm (5'-10"), Jagielka is 183 cm (6'-0"), and Pickford is 185 cm (6'-1"). Would you really want a trio that small?
Kim Vivian
30
Posted 25/11/2017 at 11:50:38
Peter (#27), there is merit in what Steve says. Also your own colorful description is not totally incorrect. I would just drop the 'complete' because at times we have seen glimpses, and I think if you dropped Ronaldo or Messi into this team they would look pretty ordinary.
Steve @24 – it could happen if we get the right fixer in. I know he is off the radar but I reckon someone like Nuno (Santo) would aim to play that way. If he comes, Silva could set us up like that but I do worry about the defensive frailties of his teams (Watford have only shipped 2 less goals than us this season in the league - I think) rather like Martinez. A great few months and then we started leaking like a sieve.
So it remains to be seen, and we can but hope. I know survival is the top priority right now but we do need to look at a long term appointment. I do not see the merit of getting a fire fighter in for the rest of the season and then starting again in the Summer.
Let someone get us to 17th or better (preferably, and the interests of the well being of us all, much better), learn from the remnants of this shattered season, plan a strategy and implement it in the summer.
Peter Gorman
31
Posted 25/11/2017 at 12:01:00
Kim, respectively I disagree with you on Messi and Ronaldo; they are consumate professionals.
That never shy fog-horn Roy Keane was once asked for his take on the young Ronaldo, no doubt in the anticipation of a good old scathing review of a funny, foreign pretty-boy but instead he sang his praises, especially his dedication to perfecting his game.
Klaasen has shown next to no spine so far which is not to say I am unaware of the failings of pretty much all of his fellow seniors. But if a comparison is to be made with Iniesta and Xavi it is only fair to point out the gulf in mental fortitude on display.
Steve Ferns
32
Posted 25/11/2017 at 12:07:38
Kim, before Hull, Silva had a very good defensive record. He was seen more in the Mourinho mould of counter-attacking. However, the fact that his famous win was 3-2 over Arsenal, and 1-0, does hint that against the top quality players of the Premier League, he has a bit to learn defensively.
When people compare Silva to Martinez, they usually mean it as an insult or a slight upon his ability. I liked Martinez. He gave me the best football I have ever seen Everton play (okay, I was 8 in '87 and whilst I was going to Wembley between '84 and '89 eight times, I was too young to really have seen it and certainly to remember it).
What Martinez got very wrong for me was two key things. First he got rid of all of Moyes' Fitness coaches. The two acclaimed American guys in particular. He also did no defensive drills and no set piece drills. He believed you learn defending from defending on the attacking drills, and trying to get the ball back on the possession drills.
Marco Silva does believe in fitness and would ensure we have a top fitness coach (we do not have one right now, Kluitenburg was it and he left with Koeman). He would also ensure that we did set piece training and defensive drills.
His play is far more direct than Martinez. He does not play "one-way" only, he mixes it up. He is far more pragmatic. And he is more of a winner than an idealist.
Jack Ledwidge
33
Posted 25/11/2017 at 12:09:56
Klaassen is a good player and will come good. Thrown into a team of under-achievers and two managers that struggle with tactical awareness. In many ways, him and Sandro have been made somewhat of scapegoats.
Williams is finished at this level. I commented on this during an early Europa League game before a Premier League ball was kicked. Transition to a new club is never easy but harder when old pros, whose names command respect, but performances don't.
Side I'd play: Pickford, Kenny, Holgate, Keane, Baines, Baningime, Gueye, Lennon, Sigurdsson, Sandro- Calvert-Lewin. Then, at home to West Ham, one defensive midfielder with Klaassen in and Sandro and Calvert-Lewin up top.
Andy Meighan
34
Posted 25/11/2017 at 12:11:02
I don't know why we are bothering to look for a manager when we've got one here on our very own ToffeeWeb. Step forward, Steve Ferns!
With your expertise I'm sure we could make a late run for the Champions League spots this season. You make it sound easy, Steve. One problem though – it's not, is it... and Koeman and Walsh have seen to that.
Steve Ferns
35
Posted 25/11/2017 at 12:12:39
Peter, the comparison on Xavi and Iniesta was made by Johan Cruyff. He made it in 2014 when Klaassen was 21 and playing for Ajax. The comparison is not about the all-round game, it is purely about one thing and one thing only.
Klaassen can control the ball when running at full speed. This is one of the hardest things to do. How many truly good players slow down to control the ball, especially one smashed at pace?
Klaassen controls fast passes when running at full speed as if he is on a computer game. That skill is something Cruyff was raving about and said that only Xavi and Iniesta can do it. That is all. Don't make more of it that what it is.
Phil Sammon
36
Posted 25/11/2017 at 12:14:23
Kim & Steve,
I completely agree re Klaassen. This lad has only played in teams that have dominated year on year. He's got lots of talent but he plays a certain way.
I genuinely believe you could put Iniesta in this team and we'd be no better off. That's not to say Davy is world class, but rather, he has walked into an utter pile of shit.
Eddie Dunn
37
Posted 25/11/2017 at 12:17:24
I also think Klaassen will come good. It was interesting seeing him, Rooney and Calvert-Lewin in the "Sure Challenge" – worth watching.
Peter Gorman
38
Posted 25/11/2017 at 12:23:01
Steve, don't worry I am aware of the context and I am taking your post a bit further. You did say he could become a great player and that is probably where we disagree; on footballing greatness.
I think if all the stars align in Klaassen's favour as you've explained then yes we will see an improved player. But for me the true greats have at least some degree of self-motivation which Klaassen apparently does not. It is the same with Barkley, which is why I thought Martinez comparing him to Ballack was fanciful to say the least.
Sadly we have no players capable of taking control when the going is against them, certainly not above the age of 20, which is why I think none of them will achieve a thing in the game without being carried by those who are truly great.
Steve Ferns
39
Posted 25/11/2017 at 12:24:21
Was it Roy Keane who said that Rooney was better than Cristiano "Ronaldo" Aveiro (there is only one Ronaldo) as teenagers. But whilst Rooney did train well, he didn't do anything right off the pitch, eg the gym work, the recovery work, or live the life of an elite professional (stories about him going to McDonalds on the way home from training).
Whilst Cristiano Aveiro had a wall chart next to his bed where he had it all planned out for getting the optimum sleep needed for each day, tailored to the times of the games he was playing. He would also ensure that everything he drank or ate was allowed by a nutritionist.
In simple terms, he treated his body like a machine and ensured the machine was at 100%. And why not, he's getting paid over £10m per season, he'll have plenty of money to do whatever he wants and to eat all the big macs he wants after he retires. He can even look like the real Ronaldo and point to those old pics of him in his undies.
Ross Barkley should also adapt this attitude. I said at the time of the nightclub incident, Cristiano would not only not be drinking, he would be asleep in bed ensuring he got the optimum amount of sleep to aid his post match recovery. There's a reason why some guys make it, and you have to take your hat off to Cristaino, even if he does come across as a personality-lacking robot.
Steve Ferns
40
Posted 25/11/2017 at 12:26:21
Fair point, Peter.
Alan Bodell
41
Posted 25/11/2017 at 12:32:53
Ray #26, Steve #29, he will make you eat your words lads, he has never had a constant run for us since he came, about the only decent signing Martinez managed.
William Cartwright
42
Posted 25/11/2017 at 12:37:13
I don't have the knowledge of the availability and skills of the managers available or obtainable, but I do think the criteria for the manager should include the following:-
Passion? Must have it in spades to be able to transfer it into the players.
Ability to communicate? Goes without saying in a media driven world, but knowing what you can and cannot say for the good of the situation club-wise or player specific is necessary.
Experience? Possibly not the most important, but to clarify; A short history of good experience over a long and mediocre history is better every time.
Knowledge of and 'buy in' to the Club's history and character? I think that's way overrated and a job protection device for the old boy's network. However he would need to be aware of the challenging ineptitude behind the scenes.
Gender? A female manager would be interesting...
Age? Below 45 preferred.
Nationality? Not critical but ability to communicate well in English, if not fluently is a must.
Image? Not interested in Joey Barton's ramblings but I think he has a point, however well hidden. A really smart psyche does not have to be a stuffed shirt or tweed jacket, but even a tracksuit can be suave. A sense of image or first impression does give a message (but hey that's not critical in the overall scheme of things).
A proven winner? Yes that helps.
Immediately available? Must be, the sooner the better.
Long term? Optional. Take it step by step.
Traditionalist or innovative? Either can work, but innovative such as training methods and a desire for change favors the new or novel style.
Who does a list like this point to? The 3 chaps who come to mind are Tuchel, Sylva of the guy from Sheffield United. Also Rangnick would fit, but a definite no to Martin O'Neill. If he is selected then I will switch off all of my 50 years + loyalty and take up bowls.

Kim Vivian
43
Posted 25/11/2017 at 12:46:57
Peter (#31). I didn't say they weren't (consummate professionals) and the reason I used those two names was to emphasize that our structure and performances right now are going to do nothing to enhance anyone's reputation or exhibit their skills. So for that reason I don't believe we have seen enough to be able to pass final judgement on Klaassen. I remain optimistic as far as he is concerned but clearly there is such a contrast between what he has done and what he is now doing it becomes impossible to be anything other than subjective for now.
Steve. Your synopsis at 28 sounds great and almost plausible if it could work. Trouble is the Rolls-Royce you mention seems to have gone the way of too many Rolls-Royces and does not seem to work properly anymore. I'd rather see it replaced with a Merc.
I like the sound of the way you set out the structure of the team and play, and I agree with you fully about using Rooney deeper to speed up the transition and give more of an eye to going forward rather than looking over his shoulder. I also was very mindful of his work in defense in the latter stages of the match on Thursday.
Calvert-Lewin would need to fully embrace that centre-forward role and try and keep a fairly central position. Be assertive - hassle and occupy the defenders - keep them occupied in the Lukaku mould. He seems to spend too much time on the flank waiting for long balls down the pitch from Pickford which leaves him then in the wrong place when a chance in the area pops up. He is pretty adept at winning aerial duels but the ball rarely falls to our advantage because of the lack of support and anticipation from his teammates.
It would be nice to see it tried like that but it ain't gonna happen soon. As I said earlier I'd like to see Sandro in the starting line up.
I have a feeling that we might pull one out of the bag tomorrow somehow for some reason, and with the Saints/Hammers draw it would be a great weekend to pick up the 3 points.
Iain Johnston
44
Posted 25/11/2017 at 12:50:34
For me there's still far too many round pegs in square holes. If the team picked is 4-2-3-1 or even 4-3-3 we'll be too narrow.
Neither Calvert-Lewin, Sandro, Sigurdsson, Davies, Klaassen even Gueye or Baningime are left or right sided players, they are all centrally focussed and end up in each other's way or go chasing the same ball or player which just leaves huge holes, they never maintain their shape because they all naturally drift into the middle.
We have two players with bags of pace who should be being exploited on the wings, Lennon & Lookman, get them out there running at fullbacks rather than always looking infield or behind playing pretty triangles which do or mean nothing.
Where's the balance, where's the natural cover when inevitably the fullbacks are again exposed which has been the case ever since Martinez arrived?
It's the same style, formation & tactics as it was 3 years ago regardless of who stands on the touchline.
I'd love to see a 442, like so many of the teams are now returning to. Baines no longer has the legs for a wingback role so having Mirallas or Lookman ahead of him would surely be preferable plus there is already signs of a healthy partnership forming between Lennon & Kenny.
Pickford
Kenny, Keane, Jags, Baines.
Lennon, Sigurdsson, Gueye, Lookman.
Calvert-Lewin, Sandro.
I'd have Robles Williams, Baningime, Davies, Vlasic, Mirallas, Rooney on the bench.
Give Schneiderlin the time to get his head and possibly his foot sorted, we know he has quality. To continue playing him when his head is clearly in the wrong place isn't doing anyone any good.
Steve Ferns
45
Posted 25/11/2017 at 12:52:09
Alan, only decent signing Martinez managed?
Not Lukaku? Or Gareth Barry? Or James McCarthy? Aaron Lennon? Gerard Deulofeu? No? You're going for Mo Besic?
Alan Bodell
46
Posted 25/11/2017 at 13:02:09
Different views, Steve, isn't it? Barry and Lennon I go with you but that useless overrated Belgian? So happy the day we spunked the Mancs for £80m with him.
Steve Ferns
47
Posted 25/11/2017 at 13:05:52
Iain, 4-4-2 does not work anymore. You cannot play it. Quite simply the opposition overrun you and have one or two more players than you. It's a formation to consign to the history bin.
It worked for Leicester because Leicester were not taken seriously for 2/3 of the season. Nearly every team in the league thought they would beat them and attacked them. Leicester sat deep with two banks of four and slaughtered teams on the counter attack.
But we must also factor in Kante played like two men, so said most pundits. I would also throw in Shinji Okazaki, who I believe is a very underrated player. He put a shift in by supporting Vardy in attack but also running so hard he was often in midfield and making it a 4-5-1. Therefore, Leicester did not get overrun, not only because they were defending so deep, but also because they had two players who did not stop running and made the formation work.
Most of my tactical stuff is influenced by the works of Jonathan Wilson. Here's an article from 2008 where he describes why 4-4-2 is surpassed by 4-2-31- and he explains it fat better than I. He's also the author of Inverting the Pyramid, a truly brilliant book:
Steve Ferns
48
Posted 25/11/2017 at 13:08:41
Alan if we did a poll on here right now, are you happy Lukaku left, then I would expect it to be 100-0 in favour of no, and that you'd be alone in your view. But as you said, you're welcome to your opinion.
For me, it was a sad, sad day, showing that Moshiri's money and promise of spending was not enough to keep players at the club and so we could not call ourselves a big club, and if we could not keep our best player then how could we expect to crack the top four.
Dave Abrahams
49
Posted 25/11/2017 at 13:09:38
Steve. (28), I don't understand one of your points, maybe I've read it wrong or you didn't write what you meant to: You say picking between Holgate and Kenny, if Holgate is 100% fit then pick him over the much better Kenny, if not (fit) then pick Kenny, why would you pick Holgate if you think Kenny is much better?
Maybe it's me, if so I apologise.
Phil Sammon
50
Posted 25/11/2017 at 13:20:46
Steve (#47),
If there's one thing I hate more than armchair managers, it's people that reference books by them.
Give me a pundit that had Leicester winning the title... even after 10-15 games... there were none.
This prick you're quoting has managed in what division?
That's not to say his opinion is invalid, but to hold him up as someone who's opinion is worth more than yours or mine is frankly laughable.
Use your own eyes mate.
Steve Ferns
51
Posted 25/11/2017 at 13:21:16
Dave, I was on about returning to last season's team where possible. It worked so play it. That means Holgate over Kenny.
The only one I wouldn't play is Mirallas because his attitude stinks, his performances have been lacking and he adds little. Also, he wasn't that good last season anyway,
Steve Ferns
52
Posted 25/11/2017 at 13:24:05
Phil, my own eyes show me that, whenever there is a 4-4-2 on the pitch, they are getting slaughtered in the midfield by a 4-2-3-1, where the midfield 3 outnumbers the midfield 2. They also get overloads on the flanks and the 4-4-2 is just simply strangled to death by the lack of players to pass to, and available space to pass into.
4-4-2 does not work. It's one for the history books, like the WM.
Eddie Dunn
53
Posted 25/11/2017 at 13:29:39
The clever teams and coaches allow a certain amount of flexibility in these formations. If one player has a free role then the 4-4-2 can become 4-5-1 or various other permutations – the clever players can switch it during the game when they see opportunities in front of them. The key is the players being cute enough, like Man City. Martinez wanted to play like Guardiola, but he didn't have the players.
The other thing apart from formations is tempo, and over the years the great teams have been able to slow things down and suddenly inject pace into the game at will.
Neymar did just this for Brazil against England recently.
Steve Ferns
54
Posted 25/11/2017 at 13:34:29
You're right, Eddie, but a proper 4-4-2 is flat and rigid. If it allows a striker to drop off and the central two play a bit deeper so the wingers can bomb on, well it's now a 4-2-3-1 anyway.
Also Eddie, the 2 in a 4-2-3-1 is called a "double pivot" because these two tend to be fixed in position so that an expressive coach can allow his creative players to roam from position around this fixed point.
Gareth Clark
55
Posted 25/11/2017 at 13:43:25
4-3-1-2 is our best formation in these tough times in my opinion - and then shifting from that into a 4-2-1-3 in the second half.
Pickford
Kenny Keane Jagielka Baines
Idrissa Baningime Davies
Sigurdsson
Calvert-Lewin Sandro
Into
Pickford
Kenny Keane Jagielka Baines
Idrissa Schneiderlin
Sigurdsson
Vlasic Calvert-Lewin Lookman
Ian Bennett
56
Posted 25/11/2017 at 13:43:35
Sandro will start.
Pickford
Kenny
Baines
Jagielka
Keane
Gueye
Benny
Sigurdsson
Lennon
Sandro
Calvert-Lewin
Mark Siddons
57
Posted 25/11/2017 at 13:56:13
It's not relevant whether we are happy that Lukaku left, his continual soap opera re leaving to play Champions League was his, and his Dad's and his agents, choice. The point should be why was he not replaced!!! Mirallas going the same way... what is it with our Belgians?
John Keating
58
Posted 25/11/2017 at 14:07:03
If I thought we could defend I'd play 5 at the back and 5 in midfield. However, we cannot keep a clean sheet so that would be a waste of time.
Lyndon's team is probably how it will start and his reasoning at No.5 says why. I just pray Jags is fit if not it's definitely game over.
I said after Watford we'd used up a seasons luck to get the result, proved wrong by using next seasons luck to get a draw at Palace.
Is it possible we could use the 2019 season's luck on Sunday? I hope so. Hopefully we can get a draw, at least not be embarrassed.
John G Davies
59
Posted 25/11/2017 at 14:09:51
Steve (#28),
Your confusing me now. Earlier in the week you said you wouldn't play Sigurdsson as a 10, you would play him as an 8. You said you wouldn't play with a 10 at all.
I asked if you were picking the team for tomorrow with that in mind, who would be the 6 and what formation you would play?
Phil Sammon
60
Posted 25/11/2017 at 14:23:19
Steve Ferns for Manager!
Steve, you sound like a bloke who's read all the books but never actually watched a football match.
Clive Rogers
61
Posted 25/11/2017 at 14:37:56
None of the teams posted are good line-ups. That is the whole point, we haven't got a good team. As Unsy has found, we can't defend, can't create, and can't score – whoever we select. The summer signings and previous ones were just not good enough.
Gary Russell
62
Posted 25/11/2017 at 14:42:48
Steve Ferns, incidentally, are you the man who fell to earth? It just seems like you were never here... then, you are over everything, like the killer back four we are sadly lacking.
I am wearing my factor 50+ Fern Screen cos I am over exposed. No disrespect like, but do you get my drift?
Dermot O'Brien
64
Posted 25/11/2017 at 14:47:38
And incidentally, Gary?
:)

Gary Russell
65
Posted 25/11/2017 at 14:49:07
Aye...

Iain Johnston
66
Posted 25/11/2017 at 14:53:59
Steve (#47), I disagree to point. I agree with what both you and Eddie suggest that having a starting 11 who are practiced in evolving the formation to suit the game in real time rather than needing to make wholesale changes is the best option but I think there's a transition taking place in the Premier League.
Looking at the teams, only Man Utd, Southampton & Everton use the 4-2-3-1 regularly. Moyes played it against Silva's Xmas tree last week only to play well against Leicester using 4-4-1-1.
Palace played us off the park last week using 4-4-2 plus Burnley are flying high using 4-4-1-1 away & 4-4-2 at Turfmoor, even Eddie Howe has ditched it in favour of 4-4-1-1, so have many others.
Unsworth too has resorted to 4-4-2 to recover both the Palace & Watford games.
I wish we had the players to look at 4-3-3 which both the RS and City exploit very well, maybe when Bolasie returns. I'd like to see him and Sandro either side of Calvert-Lewin?
Conte is my head scratcher, what's his 3-5-1-1 about?
Or... am I missing the point completely? Should positional discipline within our 4-2-3-1 outweigh my wanting to see a change?
Derek Knox
67
Posted 25/11/2017 at 15:16:31
Gary 63, you should have kept your school/tw cred by putting it down to predictive text! :-)
Christy Ring
68
Posted 25/11/2017 at 15:22:43
Alan Bodell @41 Besic has flattered to deceive, he's had his fair share of injuries, but in his brief opportunities this season, he's been very poor, and the final nail in his coffin, was his abysmal performance for the u23's, when thrashed by Liverpool.
Steve Ferns
69
Posted 25/11/2017 at 15:28:11
Where you there on Thursday, Phil? You could have had my spare ticket? I was offering it on here, and someone said they wanted it for the Chicken and Mushroom pie, but they wouldn't bother with the game. And why would you read the books and not go to a football match? I read the books because I find it fascinating how a brilliant manager can consistently beat teams with better players. I wanted to better understand the tactical aspect so I can understand why a manager might do something which I might otherwise find bizarre.
Steve Ferns
70
Posted 25/11/2017 at 15:35:18
John G Davies, same thing.
No, number 10. Proper 4-3-3 but with players up top who can get wide.
I said play Sigurdsson flanked by Gueye and Schneiderlin in the midfield 3. Sigurdsson could get around a bit better than Rooney. But watching Thursday's game and seeing how Rooney was one of the few actually getting up and down the pitch at the end, when other's heads had gone down completely and they just wanted to get off the pitch, I think Rooney should have one last throw of the dice.
The reason its the last throw of the dice, is that in 3 games time, Ross Barkley should be back, and whoever is in charge has to get Barkley straight into the side and build everything around him. If he leaves for free, he leaves for free. If he is the main man and it's all going great, and we're shooting up the table, then why would he leave to sit on someone else's bench (Loftus-Cheek will make Chelsea think twice about Ross, Winks will do the same for Spurs, he won't sign for the RS, can't see Pep coming in, so that leaves Mourinho or Wenger, and I don't see that either).
But Back to Rooney / Sigurdsson one of them as an 8. With Gueye and Schneiderlin or Baningime as a 6 and 4.
Steve Ferns
71
Posted 25/11/2017 at 15:37:11
Gary I have been on these boards since before ToffeeWeb merged with Evertonia. I first used ToffeeWeb when my mate used to log on and print off the teamnews for us to read as we drove to the ground.
John Wilson
72
Posted 25/11/2017 at 15:45:41
Sandro should start based on his 'realised' potential at the Atalanta game. His goal should have saved Everton's blushes but even his latter 'stinger' of a shot was not enough when the rest of Everton make a pub's Sunday league look good.
Sandro is the only one who can hit the back of the net notwithstanding Niasse. Sandro just needs to stop being a Duracell bunny and control the rest of his game. Rooney is not a striker anymore. Calvert-Lewin can't hit the goal target never mind actually score. I can't see Calvert-Lewin reaching his peak for at least one more season.
Victor Jones
73
Posted 25/11/2017 at 16:00:12
Playing a 4-4-2 set up can work. Its stupid to just say that it cannot work. Any formation can work with the proper players all doing their proper jobs. But we are now talking about Everton. We at present are not even managing to do the basics. But 4-4 -2 could work with the proper four across the middle.
Some punters on this site are just complicating everything. Making points are fine. But dismissing a set up that has in the past been successful for many teams is just nonsense. I repeat 4-4-2 could work with the proper players. And that means only one holding player in the midfield four. Football isn't rocket science. But for any formation , you need the right players. But as we all know most of our squad are simply not fit for purpose.
ps: Our great team in the mid 1980s played 4-4-2. Our midfield was Steven Bracewell Reid...Sheedy. With other players stepping in when needed.
Has football changed that much that 4-4-2 is now redundant. I don't think so. Just get the proper players in position. All doing their proper Jobs. Which sadly we don't have at present.
Anyhow rant almost over. And on a lighter note. How about setting up 5-5-0 tomorrow. Or 4-6-0. Park the bus. Take the point. Get in some practise for the derby. Where a point would be great.
But can our defence be trusted to park a bus?
PS .Of course I want the win tomorrow. Southampton are not great. So let's not make them look good. We tend to make teams look better than they really are. And I suppose that a draw would not be the worst result. Then let's target our next two home matches. We need to start winning soon. But FFS tighten up that bloody defence. COYBs
Steve Ferns
74
Posted 25/11/2017 at 16:00:14
John, goal aside, I thought he was poor on Thursday. He missed a load of chances. His shooting was very wayward. But I can understand that, he's low on confidence and needs things to change.
What I do not like about him is that he cannot play centre forward. Lukaku would stay in the position and would understand that part of the time he would not get the ball but his job was to push that defence as high up the pitch as he possibly could. The higher up the pitch he could push them then the more room behind him for Barkley and Mirallas to work, as well as runners from midfield.
This season, we have played Rooney and Sandro there and they just drop. So the defence can push out and squeeze the space for whichever number 10 we are playing this week.
Calvert-Lewin or Niasse need to play centrally in every game until we get the striker. Maybe Sandro could play wide left coming in onto his right foot, an area he operated in for the majority of his goals last season. But he cannot play centre forward.
Another big problem I have with Sandro, is his awareness. He seems to be a step behind the rest. he gets the ball looks to make the pass, but the winger or midfielder has carried on the run and he's not seen it coming. Also his passing is very poor. He gives the ball away far too much. He's also finding it difficult to show off his dribbling ability (brilliant in Spain) because there's just no space for him. Which is why he keeps dropping off. He needs a major period of adjustment.
I don't want to write him off. I do think he should remain on the bench for now though. When things are less desperate he can get a few games.
Kim Vivian
75
Posted 25/11/2017 at 16:17:13
Steve - Didn't you think he improved after he scored?
On TV with all the home distractions and posting on the forum, beer, food, interruptions, armchair debate, replays and so on, one misses a lot compared to being there, but it seemed to me it took a load off his chest, he relaxed a tad and played better.
Maybe I was mistaken in that but that was my reason for nominating him to start in Oumar's absence and help potentially with that confidence. At the end of the day, if Spain is anything to judge by he knows were the net is.
Rob Dolby
76
Posted 25/11/2017 at 16:18:28
I think Clive summed it up quite well with whatever players are picked and whatever formations are used we haven't got a strong enough 11.
I am pretty old school in wanting to win the battles on the pitch and then try to play football. We are like a sieve all over the park. It's sad when Benni is the only player in the whole squad who looks decent.
My team tomorrow is:
Pickford
Kenny Keane jags Baines
Lennon Schneiderlin Gueye Baningime Sigurdsson
Rooney.
Not bothered about the science behind formation etc. I have gone for roll the shirt sleeves up and get stuck in.

Andrew Wayne
77
Posted 25/11/2017 at 16:19:53
Never mind ABV for Manager, ABW for me - anyone but Williams. He should never be allowed to play again in an Everton shirt unless it is in one of those celebrity games with Bradley Walsh as the opposition captain. Rooney for me is far too disruptive and thoroughly confuses the shape of the team by persistently dropping deep to collect and then gives the ball away. On his day he was a class above but there hasn't been anywhere enough of those in a blue shirt. Whoever plays up front we need some pace – Lookman, Mirallas or Lennon because we are too static and predictable to defend against.
Our defending was awful against Atalanta so Martina is another who should never be considered again as a first choice; between him and Williams they were responsible for the majority of the goals against on Thursday. We desperately need a leader who can address the tendency across the whole team to keep getting caught out of position. Whatever we do, we must not concede early again – completely throws any game plan out of the window, de-stabilises the team and further undermines any limited confidence amongst the players. 0-0 is a better result than chasing a 1- or 2-goal deficit that so often becomes 3 or 4 of late.

Don Alexander
78
Posted 25/11/2017 at 16:20:51
Steve Ferns, by the time of your 16th post on this thread (to within half-a-dozen) it occurred to me that you might not be alone in the way you think and try to make your case/s. I believe there's a tendency across professional football to over-analyze and thereby confuse most actual players.
To me and other contributors our lot seem unfit in comparison to many other teams and we have nobody able to hold the ball up front. No formation can be effective on such bases. It's like expecting to ride a bike with only one pedal and still challenge for the Tour de France.
"Inadequate, Incompetent, Insane" appears to be the mantra in the boardroom and Finch Farm these days, but still, all "the (Kenwright-appointed) lads" "get" Everton so that's alright to some.
A lot of the rest of us might not yet be "close" to jacking it in, but that'll deffo be the case after relegation.
a
Kim Vivian
79
Posted 25/11/2017 at 16:23:38
Fork'n 'll. Been out and just got in. Seems like West Brom are enjoying that new manager bounce that Steve Ferns talks about and given Spurs a bloody nose. May get beaten up in the second half but, bloody hell, we need a bit of that.
Watford winning too I see. I had them down to draw with the Mags.
Swan song for Silva?!
I've just worked out with my technical inefficiencies - you cant edit a new post if a previous post remains editable. I feel emancipated!
John Wilson
80
Posted 25/11/2017 at 16:35:41
Kim, I thought Sandro got better too. Everton are a mess currently and Sandro is no exception but the kid can score. Yes, he is awkward... but I think his confidence is shot to pieces like all of Everton incidentally, except Niasse for some unknown reason where he in fact seems to thrive on the pressure.
Ash Moore
81
Posted 25/11/2017 at 16:44:16
John (#80), Niasse is proving people wrong about him and loving it. The rest of the squad are proving people wrong about them too, but in a much less positive way.....
Kim Vivian
82
Posted 25/11/2017 at 16:45:17
Our best players seem to be the awkward ones just now, John.
Just fall over too clumsily in the area unfortunately!
Shit - looks like Palace have won.
Brian Williams
83
Posted 25/11/2017 at 16:54:23
Looking at the results today we HAVE to beat Southampton tomorrow and jump about six places in the league. Beat West Ham next week as well and we'll be around 9th.
Crazy!
Andrew Clare
84
Posted 25/11/2017 at 16:55:30
Somebody please tell me that this O'Neill talk is utter rubbish. It's very worrying.

Brian Williams
85
Posted 25/11/2017 at 16:57:01
Palace winning is good for us, Kim.
John Wilson
87
Posted 25/11/2017 at 16:58:23
Kim
It seems like the whole of the Premier League teams are improving. Moyes goes to the Hammers and stables their ship. Unsy is like the best YTS football coach... but terrible at Premier League level.
We deserve to go down as it will ruffle feathers at EFC top and bottom. EFC transfer window has just been brushed under the proverbial carpet, 'we'll tough this one out lads, as the fans are brick short of a building set' is how it feels. The Everton share value will plummet
Brian Williams
88
Posted 25/11/2017 at 16:58:23
Andrew, this O'Neill talk is utter rubbish.
Dave Lynch
89
Posted 25/11/2017 at 17:01:48
Brian.
We have had a few must win games recently and not won them.
Don't hold yer breath.
Alan Bodell
90
Posted 25/11/2017 at 17:03:43
Christy (#68), it was a run out mate, he is a very good player blighted by injury and I really hope he gets his chance to shut up my mates that don't rate him like Stevie Ferns (ha ha), COYB.
John Wilson
91
Posted 25/11/2017 at 17:08:18
Brian... Palace winning means they're out of relegation zone... and if we lose to Southampton, then we're back in the shit box.
Brian Williams
92
Posted 25/11/2017 at 17:09:20
Dave (#89).
I won't mate, but if only the players looked at that league and realised "Fuck me, two wins on the trot and a LOT of pressure has gone".
Kim Vivian
93
Posted 25/11/2017 at 17:12:55
Yes, you're right, Brian. I was looking over my shoulder!
Just checking the league, the results seem to have gone quite well for us today. Move up 5 place if we can hack it tomorrow. Hopefully the boys will see that and play like it's a cup final for us all.
John – Palace are still entrenched on the bottom 3 points from safety..
Kevin Prytherch
94
Posted 25/11/2017 at 17:14:10
John,
1. Why do we deserve to go down? Is it for giving youth a chance, giving a young English manager a chance and not playing our expensive foreign imports who have sucked the life and passion out of the sport.
2. Unsworth's record at Premier League level is: played 4, won 2, Drew 1, lost 1. Scored 8, conceded 7. Not exactly terrible at Premier League level.
Kim, No new manager appointed around the time of Unsworth would have had a 'new manager bounce, with Chelsea, Leicester and Lyon away. Maybe we should have expected to get a draw at Leicester but apart from that (dead rubber aside) we've got what we expected. Albeit with some indifferent performances. My guess is that out new manager bounce will happen over the next 4 games regardless of the manager.
Brian Williams
95
Posted 25/11/2017 at 17:14:32
John (#91).
Think you need to check again, mate.
Dick Fearon
97
Posted 25/11/2017 at 17:18:06
Serious questions must be asked of the entire coaching set up at Finch Farm including Unsworth and Ferguson. To fall so far behind the rest of the league in fitness speed and tactics is shameful points to severe weakness in the clubs training structure.
We must get a result from St Mary's and I hope Unsworth shows a bit of motivational activism from the dug out.


Colin Malone
98
Posted 25/11/2017 at 17:23:35
Gueye, Baningime, two great players but only room for one unfortunately.
What has Vlasic done wrong, besides being told to play out of position? We badly need Coleman back ASAP.
John Wilson
99
Posted 25/11/2017 at 17:24:16
Kevin.. Niasse has made Unsy look better than he is. Kim, the bottom PL teams are improving and Everton are not is my point. Unsy let an average Italian team make them look like one of the best Spanish teams against us at Goodison, ie, Barcelona.
At Goodison... Goodison is a laughing stock now. Premier League teams use to hate coming here now they can't wait to as they know it's points on the board, Miss Ford.
Do not kid yourself, you let the YTS kids come on the pitch whilst we're doing well not when we're doing shit.
Kim Vivian
100
Posted 25/11/2017 at 17:31:19
John, I know it was horrible but Thursday night was meaningless. Older heads will be back on the park tomorrow with Beni I guess and maybe Kenny. Hopefully Martina's left at home.
Just settling down now to watch Morata get a hat-trick and earn my Fantasy team 30 odd points (captain). I wish.
John Wilson
101
Posted 25/11/2017 at 17:33:22
Calvert-Lewin is not a striker – he can't score. Sandro in absence of Niasse is the only chance we have to score. Calvert-Lewin has his strengths but currently scoring goals is not one of them. All the opportunities that lad (Calvert-Lewin) has had and only scored 1 speaks volumes.
Charles Brewer
102
Posted 25/11/2017 at 18:10:01
Tomorrow is a big test and a big decision point. If, somehow, Unsworth can get a decently organised defence, a credible or at least threatening attack and a relatively unflustered and forward moving midfield, he could still be in the running for manager and for a decent finish in the Premiership.
Given the dreadful condition that Cloghead left us in, actually throwing the matches against Chelsea, Atalanta and Lyon could have been a sensible move, although I suspect that being hammered and humiliated is never a great way to get things going.
After the truly awful display in the second half on Thursday, I really have no idea how the defence can be sorted out. I actually feel very sorry for Williams who even when everything is going wrong at least doesn't hide or duck responsibility. I think he is probably a decent man trying for whom everything is going wrong (he nearly cleared the first goal, but actually gave it to their forward, a foot to the side and he'd have been a hero).
On the other hand, Keane ducking under the third goal seems to me to show a player who has got real problems, because I think attitude is often more important that actual skill - see Niasse.
I thought that as the match started even Klaassen looked as though he might be OK, but once again, a lack of a bit of good fortune, which might have got him going, was all he got.
One final point, since Niasse has now got a two game ban for a yellow card offence (if indeed it was an offence) I hope he will be as pissed off, and as motivated, by the crap FA decision as he was by the humiliating behaviour of Everton's Worst Ever Manager.
Indeed, in the way that Moyes was for a long time referred to as "OFM" may I suggest that Koeman is now referred to as "WEM".
Andrew Clare
103
Posted 25/11/2017 at 18:25:10
Thank you Brian.

Brian Williams
104
Posted 25/11/2017 at 18:28:48
No probs, Andrew. Just keep believing it. :-)
Oliver Brunel
105
Posted 25/11/2017 at 18:31:36
Is Jose Baxter back in the set up? Seem to remember something about him coming back from loan. I would start him up front with Calvert-Lewin and Lookman on the left wing, Vlasic on the right.
Tom Bowers
106
Posted 25/11/2017 at 18:35:43
What can we expect ? Not much change except the starting eleven. Soton not doing well either but probably have more idea going forward than Everton.
Everton will plug away as usual at their own slow paced passing game until they concede first as usual then it's desperation tactics again. If only Unsy could stick a rocket behind some of these guys especially in midfield at least to drive them forward at a quicker pace than they usually do.
The personnel that Unsy has available right now just aren't good enough to change in my opinion and so I foresee another frustrating game. I for one can't wait to see the injured players back and ready to go just to see if results improve.
Maybe Barkley, Macca and Bolasie could change things at least until January.

Alan Jones
107
Posted 25/11/2017 at 19:07:58
So, by some miracle, we go 10th with a 3-0 victory tomorrow. An indication of the true state of the Premier League. So, was Koeman and the pro-yect ditched too soon?
Team selection for tomorrow:Pickford in goal, then put the names of the rest of the available players – minus Williams – into a hat, pick 10 out at random and let them bagsy their position. It couldn't get much worse could it???
Kim Vivian
108
Posted 25/11/2017 at 19:09:28
Do we think we will see Barkley playing for us again?
John Pierce
109
Posted 25/11/2017 at 19:14:54
Results today, such as they are, give Everton every incentive to get the win tomorrow. Any win, coupled with a Man City performance of the standards they've set this season, we may be dizzy at midtable misery.
I hope if Unsworth retains the formation, he selects Calvert-Lewin to replicate Niasse's role. Picking Rooney will suffocate the team, despite the players best intentions.
Southampton are similarity going nowhere. They might just be the opponent we need.
Dennis Stevens
110
Posted 25/11/2017 at 19:18:28
I think we could conceivably be in 10th place tomorrow, John!
John G Davies
111
Posted 25/11/2017 at 19:29:36
Win tomorrow and we will be 10th?
Surely not?
We are already relegated according to some. 😁
Dennis Stevens
112
Posted 25/11/2017 at 19:31:11
One win does not a winter make, or something!
Raymond Fox
113
Posted 25/11/2017 at 19:32:51
Their 10/11 we are 7/2 and just about sums up our chances.
Without Niasse in the side we look tame, he's pulled us out of the fire a few times this season. He might have gained us a point with the penalty, but his two match suspension might cost us a lot more.
We will stay up, but we are further away than ever from a top side. Koeman should have paid us £10m not receiving it, what a mess he has left.
John G Davies
115
Posted 25/11/2017 at 19:47:10
Steve (#70),
I agree re Rooney option. I would not play him anywhere else in the team at the moment. He could sit in front of the back four, with the space that position allows. A misconception that people think the player in that position has to have a tackle in his armoury. Not true. The best player I have seen in that position didn't tackle at all.
For tomorrow's game I would have Gana push onto Romeu high up the pitch. He is the player who gets them out most of the time. Beni in the two in front of Rooney could be a good option until we can add to the squad.
Joe McMahon
116
Posted 25/11/2017 at 19:54:54
Tom (#106) not sure what miracle Macca (as you call him) will perform when back. Sideways passes and wild fouls/cards maybe. It's a bit like Darron Gibson really, way too many years at the club (ideally wouldn't have arrived), always injured and hardly any goals.
Steve Ferns
117
Posted 25/11/2017 at 19:58:42
John, excellent point regarding Oriel Romeu. Getting at him is key.
John G Davies
118
Posted 25/11/2017 at 20:07:38
Rooney deeper Steve? I can't really see him as a box-to-box No 8 playing a full game tbh.
I wouldn't mention his, or 99% of the players who have ever played the game in the same breath as the maestro. But similar pace nowadays for Rooney, sees a pass and can take a free kick.
Our biggest problem is in the transition. I know we need players with pace to counter attack perfectly but needs must at the moment?
Ray Robinson
119
Posted 25/11/2017 at 20:10:01
As far as I know, Romeu is suspended.
John Malone
120
Posted 25/11/2017 at 20:12:10
Steve 117, it would be a great point if Romeu wasn't suspended for tommorrow's game!
Steve Ferns
121
Posted 25/11/2017 at 20:12:31
You are correct Ray, even better. He's a terrific player.
John, my vision is of us winning the ball and Rooney getting to forward with a first time pass. One of those he plays "without looking" because he's had his head up before the ball has come. I'm not talking about him getting into the box after he's hit the pass, just him getting on the ball and starting moves.
Christy Ring
122
Posted 25/11/2017 at 20:20:52
Joe @ #116 In case you didn't know, Macca's game is pressurising and winning the ball, as he did against Arsenal, and the odd goal is a bonus.

Oliver Brunel
123
Posted 25/11/2017 at 20:22:30
I wouldn't play Calvert-Lewin. I would give Sandro a role up front playing off Lookman. We need more movement in and out of the transition these players are to slow, not sure if that's fitness or just their normal state.
Christy Ring
124
Posted 25/11/2017 at 20:22:33
John G @ 118 Romeu is suspended tomorrow.
Steve Ferns
125
Posted 25/11/2017 at 20:39:46
Oliver, I hear what you're saying but we need to push their defence up the pitch and create space for players to work in. Sandro drops off. We need Calvert-Lewin to push them up and to be a target with his head.
Andy Crooks
126
Posted 25/11/2017 at 20:42:46
I hope that the players have enough pride and integrity to make tomorrow an FA Cup Final. I hope Unsworth feels the same... I believe tomorrow is our most important game in many, many years. We can step away from a relegation battle or step into one.
I don' t believe there is a lack of effort, there is, though, a lack of courage. The willingness not to hide. The guts to take a chance. No fucking hiding tomorrow.
Joe McMahon
127
Posted 25/11/2017 at 20:47:15
Christy, I did know thanks, I'm just not a fan. He did that much pressurising and winning the ball at Wigan they got relegated. We will have to agree to disagree.
Steve Ferns
128
Posted 25/11/2017 at 20:55:21
Joe, what about McCarthy in 2013-14 – the best season we have had in the Premier League. McCarthy and Barry were immense that season. Barry with his passing and McCarthy in his relentless work, tackling, intercepting, harrying and pressing.
Sam Hoare
129
Posted 25/11/2017 at 21:22:30
So tough to pick a good team at the moment given the lack of form!
Pickford
Kenny Keane Jagielka Baines
Davies Gueye Sigurdsson
Lennon Niasse Calvert-Lewin
For me that's a hard working team with good energy some pace and presence up front.
Lennon and DCL can drop in to make a 5 in midfield but also have the pace to get forward and break quickly where possible. DCL is also a decent outlet for long balls.
Davies is off form but so our all our central mids. Both him and Siggy are hopefully capable of covering the ground and getting forward when the opportunity provides. Perhaps you could play Rooney in this position or opt for more defensive cover from Schneiderlin or Baningime but I hope Davies has the ability and temperament to work his way out of his lull.
Steve Ferns
130
Posted 25/11/2017 at 21:40:31
Sam, Oumar is suspended.
Paul Kelly
132
Posted 25/11/2017 at 22:17:44
Davies suspended too. Beni in there?
Nigel Munford
133
Posted 25/11/2017 at 22:51:17
Sam, put Beni in for Davies, Lookman in for Calvert-Lewin, and Calvert-Lewin in for Niasse, and you're good to go!!
Justin Doone
134
Posted 25/11/2017 at 23:44:53
Get Mancini in.
Until then every away game and possibly home too 5-4-1 and the aim is to keep a clean sheet. Keep it simple, sit deep to deny space but we have to be tight to their players not stood 5 yards off them. Play 3 fwd players to counter attack.
Robles, Baines, Holgate, Jagielka, Keane, Kenny. Mirallas Davies/Baningime with Gana and Lennon. Calvert-Lewinup top. Lookman, Sandro and Rooney off the bench.
A clean sheet and a point would be wonderful right now.
Tony Everan
135
Posted 26/11/2017 at 00:15:23
A clean sheet and a win would be a miracle. Southampton would be the new Lourdes for Evertonians.
Graham Coldron
136
Posted 26/11/2017 at 00:27:23
For once please let us try to avoid the usual sky live performance, ie, no capitulation, no sending off, no comedy own-goal, no inept defending and the usual Shiite we tend to specialise in when we are on the telly. Come let's stick a collective two fingers up to the nation and come away with a resounding win.
Gary Russell
137
Posted 26/11/2017 at 01:20:56
Fair enough, Steve. You just seem to post prodigiously of late.
Paul Ferry
140
Posted 26/11/2017 at 03:11:35
Paul Birmingham -15. 'I'd replay the Coventry 6-0 win at home almost 40 years to the day'.
Perfect Paul! One of my two ever favourite team performances.
https://www.youtube.com/watch?v=Hg1cQy5oh64
Did Dave Thomas ever have a better game for us? Dave and Big Bob Latch; what would we give for that now?
The other great one? Sunderland 6-4-1985. The two best headers by the same fella in one game? The ball from Brace for Trevor for the third!!!!!
If only Kev Sheedy, Tricky, Brace, and Reidy were 24 today!
https://www.youtube.com/watch?v=_YnbAO9XGRo
On another note. Sorry to change tone. Since when did ToffeeWeb threads become Steve Ferns Q&A? The 'match-day thread' is to say the least very 'Ferny'. It's all a little dull in my opinion. I sort of rolled eyes when I saw that master tactician Steve wants Williams and Schneiderlin to start tomorrow.
Steve Brown
144
Posted 26/11/2017 at 06:39:28
Think it is way to early to make judgements on Keane, Klaasen or Sandro. They are young players who have been part of a struggling side – Klaassen and Sandro have hardly played in fact to form any assessment. Sharp Heath, Steven even Reidy were written off before they came good so l think we should be patient with these boys.
On the game itself, bloody hell it is a big one. Win and we are 11th with two home games to go. Lose...?!
Paul Smith
145
Posted 26/11/2017 at 06:52:26
My team for today would be as follows:
Pickford.
Kenny, Keane, Jagielka, Baines.
Gueye, Baningime.
Lennon, Sigurdsson, Vlasic.
Calvert-Lewin
On another point why haven't the likes of Klaassen, Sandro and Lookman been playing in Under-23 team to build confidence.
Ajay Gopal
146
Posted 26/11/2017 at 08:08:41
Leaving out our most experienced goal scorer – Rooney would be folly, he would play the Niasse role as our main striker and defender from the front. Lennon and Sandro as our main wide men and offering protection to the full backs – Kenny and Baines. Calvert-Lewin and Mirallas coming off the bench to provide additional goal threat late in the game. Beni and Gueye as our central midfielders protecting the back 4. Sigurdsson orchestrating things from the centre.
Pickford
Kenny Keane Jagielka Baines
Baningime Gueye
Lennon Sigurdsson Sandro
Rooney
Subs: Robles, Williams, Schneiderlin, Besic, Mirallas, Lookman, Calvert-Lewin

Christopher Timmins
147
Posted 26/11/2017 at 08:31:33
Sorry, Ajay, but it has to be Calvert-Lewin to lead the attack today and the walking monument to warm the bench!
I am hoping for an improved performance from our A team today and that we can extend our unbeaten run in the league to 3. 4 points over the next few days should see us in mid table and the need for an immediate appointment put on the back burner.
I still want Unsworth to succeed but if the Board chooses to make a change I will want the new man at the helm to to succeed.
There are too many contributors on this site who are half hoping that the team do not do well in order that they can complain.
Oliver Brunel
148
Posted 26/11/2017 at 08:43:53
Paul (#140) I concur. What an exciting team that was at times; Dave Thomas the mercurial winger and McKenzie and Latchford, Andy King, Dobson. Compared to today's fairies?
These players should be forced to watch the great Everton teams of the past but would be painful for most of these dreadful tarts who are playing for us today. Get Gordon Lee in!!
Sam Hoare
149
Posted 26/11/2017 at 10:27:41
So Niasse is of course suspended and Davies too. In that case:
Pickford
Kenny Keane Jagielka Baines
Gueye Baningime Sigurdsson
Lennon Calvert-Lewin Vlasic
Vlasic is perhaps a risk but he's quick and direct and I think as likely to score/create as any other wingers we have. I'd love to pick Lookman but he's been poor. Rooney is simply too slow in an already quite pedestrian team and I'd have Sigurdsson over him.
Team is not in good shape and we will really miss Niasse!
Peter Mills
150
Posted 26/11/2017 at 10:29:45
John (#99) "Niasse has made Unsy look better than he is" – I suspect it's the other way round, with Unsworth's man-management skills, taking Niasse into the U23 fold last season, being rewarded now by flat out effort by Oumar.

Grant Rorrison
151
Posted 26/11/2017 at 10:44:29
Win today and we're up to mid-table and 5 clear of the relegation zone. Crisis, what crisis?
Dennis Stevens
152
Posted 26/11/2017 at 10:47:14
Great album, Grant. However, as Supertramp albums go, I prefer Crime of the Century. Perhaps that's also more apt in some ways!
Andy Meighan
153
Posted 26/11/2017 at 10:50:28
Grant (#151), We don't win away though, do we? I really hope you're right but I just can't see it.
Paul Kennedy
154
Posted 26/11/2017 at 11:01:44
I think sometimes we look at the past with really rose coloured glasses some of the times in the 70s after the original School of Science team from mid to late 60s. We really had some crap players and squads remembering getting beat by Walsall in FA Cup goal scored by Bernie Wright looked like an American pro footballer but his padding was pure brawn ripped us apart, so a couple of weeks later we sign him and he was a disaster did not have a clue.

Put that along with Jim Pearson, Dave Clements, was it any wonder we used to bring cards and a cribbage board sit in the ground part of Gwladys Street End gates were around 18,000 but I still believed in the club. I can now confirm the belief has been well and truly knocked out of me. I just wait for the next embarrassment.
James Marshall
155
Posted 26/11/2017 at 11:10:10
Grant @151. If we win today, an awful lot of us are going to be eating our hats.
Nigel Peters
157
Posted 26/11/2017 at 11:18:02
At the moment it's very easy to be pessimistic and extremely difficult to be optimistic. Reality is we don't have a fit centre half worthy of the name so we are always going to concede most times at least 2. Today it will be Keane and Williams as they are the only 2 that are fit. The full backs pick themselves as we have no choice.
Without Niasse we only have one centre forward in Calvert-Lewin so he is in. Behind him we need guile and creativity which has to be Sigurdsson as it's what he used to do for Swansea so why not us.
We need width and pace which has to be Lennon and Mirallas who are both experienced Prem players. The centre of midfield has to be Guy and Bang and that's it.
Three most likely subs, Rooney, Lookman and Sandro mainly because we are unlikely to score so have to try something different. Personally barring injury I wouldn't make any subs maybe Lookman for Mirallas but that's it. Good, bad or indifferent we have to start getting some stability and continuity in the side.
Sorry everyone but it's as poor a side as I can remember and I have been a Blue for 54 years at least the bad sides of old had fight. I'm dreading the Derby I just want to hide away somewhere at one time we could have least kicked them off the park now we don't even have the players to do that.
Oh and I'm not impressed with any of the names we have been linked with for a new Manager might as well stick with Unsworth at least he has some pride
Charlie Lloyd
158
Posted 26/11/2017 at 11:18:56
Sam @ 149
I agree with your team selection.
Sigurdsson seems to showing signs that better form is coming. I do still expect much more for £45m though.
It's clear to see why Rooney was phased out at Man Utd. Some flashes of the player of old but he's along way from his peak. Along with Schneiderlin it shows that Mourinho has judgement. I'd beware of another Man Utd fringe player we have been linked with, Luke Shaw.
Also, isn't it a turnaround to be saying we will miss Niasse. True though.
Grant Rorrison
159
Posted 26/11/2017 at 11:23:05
Pickford
Kenny Holgate Williams Baines
Lennon Gueye Sigurdsson Lookman
Mirallas Sandro
3-1 to us.
John Graham
160
Posted 26/11/2017 at 11:23:27
For me this is an ideal time to try a 5-3-2.
My team would be:
Pickford
Kenny
Holgate
Jagielka
Keane
Davies
Gueye
Baningime
Sandro
Calvert-Lewin
I know we have changed the team every game but I think with that team we could catch them out on the break.
Bench would be:
Robles
Martina
Sigurdsson
Rooney
Mirallas
Lookman
Lennon
Just hope for a win to get us up the table.
Phil Walling
161
Posted 26/11/2017 at 11:24:12
NIgel @158. They may have little choice than to stay with Unsworth but truth is he's hopeless. But, as ever, sentiment rules at Goodison Park!
Dave Williams
162
Posted 26/11/2017 at 11:39:54
Sam (#149) agreed. That gives us effort, guile and width.What none of us can select is solidity as that will only come when the team is drilled in defensive play and then puts that into practice on the pitch.
There is far too much standing and watching rather than anticipating and reacting resulting in lack of cover everywhere.
As a few have posted we have three winnable games now which would make us feel a lot better.
Can Christmas really come early??
John Hammond
163
Posted 26/11/2017 at 12:01:25
Sandro has to start surely. Gets his first goal and then gets dropped – way to build confidence.
Sit deep, frustrate them and hit them on the counter. No bombing forward from Baines and Kenny. Lookman and Vlasic on the wings. Gueye and Beni sat in front of the defence, Sigurdsson the No 10. No place for Rooney in a counter attacking team.
Easier said than done though. They haven't been drilled to play this way so it'll probably all go to shit – Unsworth's biggest mistake.
Ian Lang
165
Posted 26/11/2017 at 12:07:21
Any blue noses at the game and remember when Norman Whiteside absolutely volleyed the ball out on the half-way line for a throw-in and it twated the linesman full on in the face, knocking him off his feet and out for about 10 mins? I was in the Street End but can't remember the team we were playing, anyone on here know?
Raymond Fox
166
Posted 26/11/2017 at 12:08:43
I cant be confident about today, not when they keep playing like a League one side. I'd gladly take a point now.
The only optimistic aspect of our squad, is that they have the ability to be better than they have played up to now. Who knows – they might pleasantly surprise us today!
I hope so, but I wish Niasse was playing, I would give us more of a chance if he was on the field.
Ian Lang
167
Posted 26/11/2017 at 12:11:53
Win today is what we need, unbeaten in 3 with two wins, move up to 11th in the league, confidence grows and we'll only be 8 points off 5th .COYB
Joe Foster
168
Posted 26/11/2017 at 12:14:06
I predict a 1-0 to Southampton today.
Sam Hoare
169
Posted 26/11/2017 at 12:32:51
Schneiderlin starts. He must be amazing in training.
Colin Glassar
170
Posted 26/11/2017 at 12:33:43
I'm dreading this game as Southampton have been on a really bad run and you know who's everyone's favourite team to break their duck against? 3-0 Southampton.
Will Mabon
171
Posted 26/11/2017 at 12:33:50
When I woke earlier and glanced down, my man gear had become arranged in such a way that indicated a 2-1 win for us. It was an omen, I'm sure of it.
Max Murphy
172
Posted 26/11/2017 at 12:34:38
Paddy Power have just raised the odds from 9/1 to 12/1 on an Everton win, with Rooney scoring. I've put £50 on it.
I know, too much mulled wine at the Christmas Markets!
Andy Meighan
173
Posted 26/11/2017 at 12:35:46
Just seen the side... Absolute joke! He hasn't learned nothing from Cloghead's mistakes. Schneiderlin and Gueye cannot play together, full stop.
And as for playing Mirallas... words fail me. Him and Schneiderlin should never have got near the first team again after their disgusting behaviour a couple of weeks back.
Unsworth is just as big a clown as the other failure. Expecting nothing from today.
Paul Wyndham
174
Posted 26/11/2017 at 12:35:56
Type some speculative line-up and formation. Say I've got a feeling we'll win this one 2-1 and finish with COYB... Jesus, and we wonder why the Club's in such a state.
Kenwright Out!
Ian Lang
175
Posted 26/11/2017 at 12:36:14
Ridiculous team selection from Unsworth. Schneiderlin and Gueye doesn't work FFS, and him (Schneiderlin) along with Mirallas should be no where near this 1st team...
And why the fuck has he dropped Sandro...? the lad scored, played a decent game the other night he will have confidence and now he's dropped...,expect same shit and another defeat today.
Rudi Coote
176
Posted 26/11/2017 at 12:36:15
Winnable? The Saints are thinking the same.
Geoff Lambert
177
Posted 26/11/2017 at 12:38:03
Lyndon Lloyd are you up yet Haha??? Is it just me or is there no live forum today?
Will Mabon
178
Posted 26/11/2017 at 12:38:41
Have to agree, there's something about that Gueye-Schneiderlin partnership that only the management seem to see.
Colin Glassar
179
Posted 26/11/2017 at 12:39:32
Geoff, it's going to murder on there today
John Charles
180
Posted 26/11/2017 at 12:41:02
Unsworth not inspiring confidence.
Schneiderlin and Gueye????
Not different to Koeman - just fatter
Anthony Flack
181
Posted 26/11/2017 at 12:42:07
Not sure about starting Lennon - time for super Kev and Siggy to do something
You never know, I might even go as far as to say I have a better feeling about this one !
Hey ho - come on you Blues
Sam Hoare
182
Posted 26/11/2017 at 12:43:28
I can only assume that since their walk out Mirallas and Schneiderlin have been really putting a shift in during training and Unsie thinks they are burning to prove their worth. Makes like sense to me.
Southampton will be very much seeing this as a chance for 3 points. We have a pourous defence (Michael Keane has been truly woeful this last month or two) a slow midfield and very few goals. Gotta predict a Soton win but very much hope I'm wrong!
Phil Walling
183
Posted 26/11/2017 at 12:47:48
Unsworth says he's picked a team to perform. So why does he include so many who never do ?
Although, having said that, whoever he picks only ever put in half a shift and that includes the goalie who specialises in making half saves that go in on the rr-bound !
Denis Richardson
184
Posted 26/11/2017 at 12:49:21
Southampton are having just as bad a season as us and we start with 7 defensive players... again.
Gueye and Schneiderlin together haven't worked for a while but we keep flogging the dead horse hoping a miracle will happen.
On the positive side at least Rooney's not in the starting XI, Sigurdsson has another chance to play in his proper position and Mirallas also starts. Am still a big believer in Mirallas as he's one of the few decent attacking players we have who also actually shoots!
Not too made up about Lennon and Calvert-Lewin has a big task.
On the whole, this looks like we're hoping to grind out some kind of result. Keep it tight and hope to nick one, now where have I seen that before?
Will take anything other than a loss if offered. 0-0 would be good just to get some confidence into the defence. We're about as safe as a fart in a net at the moment.
Ste Traverse
185
Posted 26/11/2017 at 12:49:30
Schneiderlin? Mirallas?
Even Williams gets a place on the bench??
Nothing down for us today.
Unsworth is totally out of his depth but it's not his fault. It's those knobheads above who are to blame.
Paul Holmes
186
Posted 26/11/2017 at 12:51:13
Calvert-Lewin as the centre forward, he's a winger at best! How does that Keane keep getting picked the Italian press were right, in his 2 games at centre back against Atalanta they scored 8 goals and missed a penalty (should have been more).
They laugh that he cost us £30 million, they think it must be a joke. They are right – he is rubbish! Play anybody else – they cant be as bad as him.
George McKane
187
Posted 26/11/2017 at 12:54:16
Just rushed back home to see the game - - heard the team news in the car - -haven't had time to really think about it but my first thoughts are that (sadly) Unsworth has learnt nothing and is just continuing the total mis management of the team ( as well as The So Called Owners/Directors totally Mis Managing The Club) - - I was at Goodiion on Thursday and how Mirallas is anywhere near the team is amazing for me - - similarly after last week with Scneiderlin - - and cannot fathom Ramirez not starting after at last scoring a goal - - - is there a complete Death Wish syndrome at this Club - - sorry Unsworth - - you are not for me - - listened to Eddie Jones this morning on BBC - - what a winner - - what a motivator - - what a thinker - - what a tactician - - what a winner - - Ohhhhhh - - just for anyone with any of those characteristics - - we need total bravery and courage here at this Club - - a Manager who is a Leader and in January a Player who is a Leader - - we are rudderless - - completely lacking in a any thought - - we are drifting into obscurity unless something is done now.
I have moved my armchair - I am looking across the River - I can see the proposed New Ground and can see the Rood of Goodison - -there is some brightness around in this grey - - please please whoever makes these decisions - - please - - get it right - - go for broke - - a completely (non aligned - - brave, hungry manager - - out to prove something - - please.
John Keating
188
Posted 26/11/2017 at 12:55:20
Think I would have given young Beni the nod over Schneiderlin but apart from that I don't think he could have picked anything else really. Just shows how bad things are.
Dead lucky if we escape with a draw.
Please don't embarrass us further!
Paul Wyndham
189
Posted 26/11/2017 at 12:56:39
Don't be surprised to see Schneiderlin sent off again for two reckless, couldn't care less tackles, also as soon as we inevitably concede the first goal watch his and Sigurdsson's heads go down and the pair of them avoid receiving the ball.
I'd have preferred Besic to Sigurdsson, you know he's going to give 100% and wont hide, pessimistic I know but I can't see us getting a point from this game, just hope I'm proved wrong.
Phil Walling
190
Posted 26/11/2017 at 13:01:35
Wakey, wakey Eds! We wants our Forum, we know it's early over there but we can't have a proper moan without it!
Geoff Lambert
191
Posted 26/11/2017 at 13:05:40
Lyndon Lloyd Zzzzzzzzzzzzzzzzz...Zzzzzzzzzzzz
Paul Tran
192
Posted 26/11/2017 at 13:05:52
Paul Ferry #140. Thanks for the link. One of my favourite days at Goodison. That was a cracking two years under Lee. Before he imploded we played some brilliant footy. He has to be one of the unluckiest managers ever.
Colin Glassar
194
Posted 26/11/2017 at 13:08:21
Lyndon must've forgotten to set his alarm clock or, maybe he just can't be bothered and who could blame him after the season we're having?
George Freeman
195
Posted 26/11/2017 at 13:08:59
Dennis at 154,
The OS describe the line up thus: "Mirallas joins Gylfi Sigurdsson and Aaron Lennon in an attacking triumvirate, deployed behind Calvert-Lewin." Well that's one way of putting it I suppose.
Paul Tran
196
Posted 26/11/2017 at 13:09:23
Forum, please. I'm on a train for three hours and I need some kind of commentary (and the banter/moaning!).
Brian Hennessy
197
Posted 26/11/2017 at 13:09:29
In fairness, who could blame Lyndon or any Everton fan for that matter for keeping their head under the covers until this is over.
Might be a good plan.
David Barks
199
Posted 26/11/2017 at 13:11:08
http://ToffeeWeb.com/comment/live/
Colin Glassar
200
Posted 26/11/2017 at 13:12:55
Another new, and unwelcome, record. Everton have conceded the most first minute goals (10) in Premier League history.
As for the Gana detractors, he's made 31 successful tackles so far this season. The highest in the Premier League.
Phil Walling
201
Posted 26/11/2017 at 13:13:12
Colin, it's difficult to be impressed with today's team selection and Have to admit I've totally lost faith in Unsworth -he's just not up to it ! Big defeat today must hurry up the new managerial appointment or , at least see a new caretaker put in place.
Reidy, perhaps ?
David Barks
202
Posted 26/11/2017 at 13:14:33
So with that lineup, Southampton will all be smiling knowing that they can just push forward all match. Only three attacking players in the lineup, so Southampton will know they will always have enough numbers in defense without dropping too many men back. Just ask Palace, with their nearly 70% possession last match.
Shane Corcoran
203
Posted 26/11/2017 at 13:14:42
Colin, of all the teams (six?) that have been in the Premier League every season we'd be ranked worst. Therefore meaningless stats such as your first one are likely to sit with ourselves. Let's try and not make ourselves even more miserable.
Kevin Tully
204
Posted 26/11/2017 at 13:15:32
3 points would take the pressure off everyone, and maybe these players can start to show their true worth. Thinking about it, the fixtures we had at the start of the season really ruined us and shredded our confidence. We haven't yet recovered.
The fact our highest paid player isn't even deemed worthy of a starting spot sums up our summer transfer policy. Total ineptitude.
Derek Knox
205
Posted 26/11/2017 at 13:16:49
Just seen the team news, could someone please tell me, why does he keep playing Schneiderlin?
He has been absolutely hopeless this season, yet he keeps getting a starting slot if he's not suspended.
Yes Phil, nobody has mentioned Peter Reid, if we can't get Silva or Dyche, I would have no qualms about him given a shot, after all he has had managerial experience at the top level, I'm sure He's learned a bit more since then, and would certainly have the motivation skills much required.
Shane Corcoran
206
Posted 26/11/2017 at 13:16:58
Who's that Kevin? Rooney?
Brian Hennessy
207
Posted 26/11/2017 at 13:17:02
Apart from picking Schneiderlin the rest of the team isn't too far off what I would have went for. Yes Sandro got a goal midweek but apart from that he was pretty woeful.
I would have went for Beni instead of Schneiderlin or even try Rooney in front of the back 4 he can't be any worse than Schneiderlin has been.
Geoff Lambert
208
Posted 26/11/2017 at 13:18:06
Well done Mr Barkes.
Thomas Surgenor
209
Posted 26/11/2017 at 13:18:17
My only objection to that line up is Schneiderlin. I wouldn't have had him near my panel. His performances (or lack of), his discipline at training and the fact he didn't wear team colours on Thursday all point to a lack of commitment or connection to the club.
Looks like Davies is the fall guy this week. Beni must have moved ahead of him now.
I can also only assume that Klaassen will not figure again after Thursday's display.
Colin Glassar
210
Posted 26/11/2017 at 13:18:43
Phil, Shane, sounds like there's a new sheriff in town so I have to count my replies. Still no live forum?
Shane Corcoran
211
Posted 26/11/2017 at 13:20:31
I don't follow Colin but here you go http://ToffeeWeb.com/comment/live/

John G Davies
212
Posted 26/11/2017 at 13:23:25
Three points today will give Unsy a bit of breathing space until the new manager is appointed. The majority of Blues are not in favour of Rhino getting the gig. ToffeeWebbers give a fair reflection of how Evertonians in general are thinking.
General concensus seems to be he is not up to it. A point I agree with unfortunately
Jay Harris
213
Posted 26/11/2017 at 13:23:29
I guess he put Schneiderlin in as he thought he might be playing for Southampton and remember the way he used to play at this ground.
Personally I wouldn't have Schneiderlin anywhere near the first team.
We need 3 points today let's hope the lads that have gone get something worth shouting for.
COYB.
Nigel Peters
214
Posted 26/11/2017 at 13:23:45
Well you can blame me if it goes wrong. It's exactly the side I would have picked (didn't realise Jags was fit) bar Schneiderlin who I would have preferred Beni to. I can understand him going with experience though.
If we don't get anything with what I see as our best side at the moment, then I will give up any management pretensions and rule myself out of the job. Good Luck, Rhino!!
Derek Knox
215
Posted 26/11/2017 at 13:24:04
No live forum, any reason why not?
Bill Gienapp
216
Posted 26/11/2017 at 13:26:09
"Looks like Davies is the fall guy this week"
He's suspended for this match, just FYI.
Tony Everan
217
Posted 26/11/2017 at 13:28:30
It is a great opportunity for us here. Southampton are playing poor and cannot score.
Yesterday someone said they've had 3 shots on target in the last 4 games. If we close them down and defend like men possessed we can sneak a win .
Soren Moyer
218
Posted 26/11/2017 at 13:30:51
No live forum!
And also "In order to prevent discussions threads being dominated by protracted discussions between a small number of members, we have capped submissions to five per article."
WTF!
Add Your Comments
In order to post a comment, you need to be logged in as a registered user of the site.
Or Sign up as a ToffeeWeb Member — it's free, takes just a few minutes and will allow you to post your comments on articles and Talking Points submissions across the site.