Unsworth: Senior players need to take responsibility

149 Comments [Jump to last]
Sunday 26 November 2017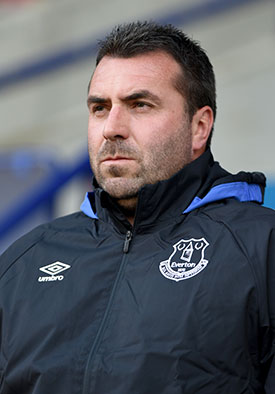 David Unsworth says Everton fans will rightly be furious after the 4-1 defeat to Southampton and has called on his team to take some responsibility for the team's increasingly worrying plight.
The caretaker boss oversaw a second heavy defeat in the space of four days in which the Blues' defence crumbled in the second half, with very little to offer at the other end either, leaving the club in crisis and hovering above the relegation zone.
He cited the failure of his central defenders to deal with crosses and the loss to controversial suspension of Oumar Niasse but he said the second-half display in particular was unforgivable after Gylfi Sigurdsson had brought them back level with a sensational strike.
"I'm absolutely gutted," he told evertontv afterwards. "I'm sorry for all the Everton fans who came down here today and all the ones who were watching because we can't keep performing like this, certainly. It's just not good enough.
"You just can't keep conceding goals the way we are from crosses," Unsworth had complained earlier to Sky Sports. "We've got three centre-backs then two centre-backs but people are getting between us and it's the manner of the goals that's killing us at the moment.
"We missed Oumar. There's no getting away from the fact we missed Oumar Niasse today and, in my opinion, he should have been on the field today but anything that's going against at the minute is having a big impact.
"Injuries are killing us as well so we need to regroup and I can't stand here and defend the players today. It was a totally unacceptable second-half performance and the Everton fans are, quite rightly, going to be furious but so am I. It's not good for our football club."
Asked how the team bounces back against West Ham in what is a huge match between two struggling teams on Wednesday evening, the manager said that it was vital that spirits are lifted and that certain players stand up and take responsibility.
"It's a massive week for us on the pitch. What happens off the pitch will be decided by other people so we need to just come back in in the morning, we need to regroup, we need to do what we always do and go through what we've done well and what not so well.
"We need to pick everybody up but the players have to take responsibility. It's really important that senior players take the responsibility. We're in a fight and the only way you get out of it is by standing up and being counted.
"You can't shirk your responsibilities, you have to stand proud and stay together and there's not enough of that at the moment. I'll stand here and take my responsibility — absolutely not a problem — but the players have got to come with us and the football club as well.
"If players aren't ready to take responsibility then you get players in who [are].
"It's got to a [point] now where if any of the players are looking at the [managerial] situation and making excuses it now has to be solved.
"If it's going to be me, fine. If it's not then let's get somebody in as quickly as possible and we need that to happen fairly quickly."
---
Reader Comments (149)
Note: the following content is not moderated or vetted by the site owners at the time of submission. Comments are the responsibility of the poster. Disclaimer
Andrew Wayne
1
Posted 26/11/2017 at 16:28:47
I am guilty as others of having a pop at Rhino but having just seen his Sky post-match interview I have never seen anyone more gutted as he said himself. He is a Blue through and through but has been put in an awful position for which he was or is clearly ill-suited.
Our Board need the greatest opprobrium for having failed significantly in the replacement of key players and abject failure to appoint a manager.
John Davies
2
Posted 26/11/2017 at 16:31:16
Just seen Unsworth's post match interview. He accepts no responsibility whatsoever for his shit team selection, shit formation, shit tactics, shit substitutions, shit reactions to what happened during the game. No, nothing to do with him. All down to the players he says.
Wow! That is one deluded guy.
Brian Williams
3
Posted 26/11/2017 at 16:57:53
Said the same thing after Atalanta too. Seems they either can't or won't take responsibility.
Something terribly, terribly wrong at our club!
Victor Jones
4
Posted 26/11/2017 at 17:01:12
Doesn't seem to be doing much good lambasting our players. They have been lambasted since July.
Let's see if they change their attitude on Wednesday night. I hope so. I hope that something stirs them into producing some sort of a reaction. Some sort of a performance.But who knows? This is Everton after all.
Gordon Crawford
5
Posted 26/11/2017 at 17:01:45
Poison has well and truly set in. It's getting to the point where certain players need sacked, with bill and the board.
Alan J Thompson
6
Posted 26/11/2017 at 17:04:24
If you were a manager considering the Everton job, would you think that you couldn't do any worse? Or would it be, "Never in a million years"!
Barry Thompson
7
Posted 26/11/2017 at 17:05:08
Well if he's relying on that we are truly fucked
This is a useless team for useless players. There's nothing here for you.
Peter Fearon
8
Posted 26/11/2017 at 17:12:04
Some lessons from this match. Ashley Williams should never wear an Everton shirt again. His game has deserted him. Calvert-Lewin may well develop into talented goal scorer but he is not a target man and cannot act as a lone striker. Mirallas is a late sub at best, not a starter.
Sadly, Unsworth is not ready for the full-time management position. We need Rooney to step up and lead this team from the front, not deep in midfield.
Nathan Jones
9
Posted 26/11/2017 at 17:12:08
We're in big trouble, there is something seriously wrong. I don't think this is as easy as getting in a new manager. Who ever we get, we still don't have a centre-forward or wingers. This allows the opposition to attack and overload us with the confidence that we can't race up field.
I also don't think we can get a top quality manager, they won't come due to the team in this league position; it's notoriously difficult to get decent players in January.
I'm at the point of saying "Get Big Sam till the end of the season." Then get someone good, and give them a big budget. Put Unsworth back in the U23s. He was doing a fab job there and I don't want this spell to ruin the reputation of a true Evertonian doing his best.
David Reid
10
Posted 26/11/2017 at 17:16:06
Yawn sorry David its a collective responsibility. I only hoped the reason why Sean Dyche hasn't been appointed yet is because he wants to leave Burnley in the top 4 having beaten Arsenal, but my hopes are dashed with this quote "I have told the players we continue to develop, we continue to move forward. I have also told them this is the reality. Football is a harsh game and sometimes it hurts you".
Never a truer words spoken Sean ask any Everton supporter we are all in need of paracetamol.
Clive Rogers
11
Posted 26/11/2017 at 17:17:03
I have lost faith in Unsworth as he left Calvert-Lewin on the pitch who was absolutely dire today and should have been off at half-time.
Barry Thompson
12
Posted 26/11/2017 at 17:17:28
Big Sam doesn't want the gig on a short-term basis.
Kieran Kinsella
14
Posted 26/11/2017 at 17:18:48
The coach has to take responsibility for tactics. Haven't heard anything from Unsworth on a technical level about the problems. For example, CB positioning, marking, getting turned. He's just in this "try harder" kick which is well and good but does he not see the tactical and technical errors?
His whole coaching staff consists of journeymen veterans from relegation battles of old. Surely John Ebbrell or Big Dunc have trace memories of Joe Royle drills on defending corners? Clearly none of these jokers are their based on the playing finesse or coaching experience.
So what do the bring to the table? I honestly would like Farhad to find a mate who knows about football and appoint him as Chairman. Then get rid of Kenwright.
Next, line up Jeffers, Ebbrell, Jose Baxter, Rooney, Big Dunc and say "All of you were either shit players, prodigal sons or both. Get the fuck out." Then actually fire Ashley Williams. Sue Koeman for not registering Garbutt as a back up LB.
David Connor
15
Posted 26/11/2017 at 17:23:16
What spineless bastards. That team won't even survive in the bloody Championship. It's full of teams who scrap, week-in & week-out. We won't even do that... Absolute fucking shambles of a club.
Mark Riding
16
Posted 26/11/2017 at 17:27:56
Damaging his reputation this fella. Him openly saying he wanted the top job was a mistake. No other caretaker does that from the off. Win a few, improve performances and then throw your hat in the ring. Arrogant, and it's backfired big style (and I actually like the fella, btw).
David Mosses
17
Posted 26/11/2017 at 17:31:10
If we are to get a new manager let's hope that it's not Martin O'Neill. The only thing he should be getting is his pension. After what he and Keane said about Everton neither should get anywhere near Goodison Park.
Peter Hadwin
18
Posted 26/11/2017 at 17:32:09
As an Everton fan living in Huddersfield, I cannot believe we are not looking at Wagner. Look at how they set up against Man City today. How we could have done with that against a shit Saints team...
Mike Hughes
19
Posted 26/11/2017 at 17:33:11
25 games left.
28 points required = 9 wins and a draw.
Can't see us beating West Ham or any other team until 18th December – Swansea at home.
I see us going into the new year with 17 or 18 points with about as many games to play.
Survival this season, on this form, with be very difficult.
There is a need for the board to act very, very quickly – and with a level of good judgement they have not shown so far.
And I think we have to go for someone available immediately.
Big Sam or Martin O'Neill look highly likely to me – and their appeal is growing by the hour.
AVB's name has come to the fore recently though I think he or his ilk would be disastrous right now.
Desperate.
Barry Thompson
20
Posted 26/11/2017 at 17:41:59
Maybe it has now dawned on Unsworth that he is not ready for the big chair as there is massive difference in managing a team of Under-23s keen to listen and develop in the hope of making the grade and stepping up to the first team, than managing a gaggle of egotistical bang average millionaire mercenaries who think the world revolves around their every whim.
Win or lose, it's still "kerching!" Fucking big broom needed in January. The place has been full of habitual losers, chokers and hangers-on for far too long.
Barry Thompson
21
Posted 26/11/2017 at 17:45:15
Christ Peter @18, things must be dire if you are contemplating bringing in that fucking X-Factor reject from a few years ago.
John Keating
22
Posted 26/11/2017 at 17:47:54
Mike,
A lot of us having been saying this since 2-3 games in. In fact the writing was on the wall preseason. Not so much results but actual performances.
The problem is the Board like so many supporters for some reason known only to them think that we are Everton Football Club and cannot be relegated, all this is just a temporary blip.
I read so many posts on here with shit like we won't get sucked in to a relegation battle, we have good players who just need organising. we are 2 games off mid-table, we don't need the likes of Allardyce, we need a top manager with a 10 year plan. It is unbelievable to read, absolutely unbelievable.
This team and Club are shit from top to bottom. If I were Allardyce and offered a fortune to come here I'd knock it back and yet some delusionists want some fucking foreign Johnnie.
I'll be there stupidly on Wednesday night because I'm thick. Of all the teams down there, we are the least equipped to handle it and I for one am thinking of emigrating.
Guy Hastings
23
Posted 26/11/2017 at 17:48:03
Steve Walsh can get the next fast train out of town. To start the season without a recognised striker/CF was a total dereliction of duty. End of (Walsh).
Chris Jones [Burton]
24
Posted 26/11/2017 at 17:48:17
This is largely down to the players. Two incidents stand out for me today.
1. Their second goal came about when a decent challenge (from Gueye) saw the ball rebound off a Soton player in the direction of the byeline. There were circa 6 Everton and 3 Soton players in the area. One of their's gets to the ball first and puts in a great cross = Goal.
2. Also in the second half, a Soton player loses possession in his own 18 yard area and two of our players are closest to the loose ball, and both facing goal. They are half-asleep and lose/surrender possesion meekly to the Soton player who clears it = wasted gilt edge opportunity.
I'd be having them train in a field of stinging nettles till they fucking wake up.
Peter Hadwin
25
Posted 26/11/2017 at 17:50:29
I have watched Everton since 1977 and this is the worst team I have seen. Only Sigurdsson and Kenny showed up today. Schneiderlin and Gueye are the worst midfield pairing I have seen in a blue shirt.
We need a new manager now because we will be doomed if it carries on like this. I wanted Unsworth to succeed but it is not going to happen the players have let us fans down and we need to let them know it.
Not sure how it will change but the status quo will not work. Down to Moshiri to show his worth now.
James Morgan
26
Posted 26/11/2017 at 17:56:27
I wonder if everybody is still snobby about Allardyce now? Cause we sure as hell need him right now! We've got a one way ticket to the championship!
Jim Wilson
27
Posted 26/11/2017 at 17:57:24
Spot on again John Keating.
West Ham with Andy Carroll are going to be a massive problem for us. Huddersfield obviously are and then the Derby.
We need that basic dour manager in now. We need organisation and motivation right now. We need to sort out a left back for Wednesday and not entertain a mad idea of a central defender or the stupid 3 at the back. And a settled team ffs.
Common sense right now!
Lewis Barclay
28
Posted 26/11/2017 at 18:02:11
We're going to need to buy our way out of this in January by paying stupid money for some players with some passion and something to prove, who aren't good enough for the Champions League (just yet).
Is it possible to buy a whole new defense in some kind of group purchase deal? Maybe there's something on Groupon?
Kev Johnson
29
Posted 26/11/2017 at 18:04:12
Oh shit. This takes me back to the dire days of the 83-84 season. It's lucky they don't have cushions any more in the Main Stand.
We are up to the neck in it. I really can't see us improving.
Colin Malone
30
Posted 26/11/2017 at 18:05:34
Unsworth. Stop hanging out the dirty washing in public. It should be, we not them. You have just lost the dressing room, for sure.

John Davies
31
Posted 26/11/2017 at 18:06:12
"If it's going to be me then fine". WHAT? The lad has lost his marbles.
Look, we all loved Unsy as a player and still love him as a true Blue. But as our manager? Not a chance. If he really loved the club he'd step aside now knowing he is not up to the job. Who is? More importantly who would want it?
Mike Hughes
32
Posted 26/11/2017 at 18:08:18
John #22
I have never had the attitude that we were too good to go down. I've been an Everton fan for well over 40 years so know that thinking that way comes back to bite.
I just hoped those days were behind us and we were on the up with investment etc.
There are no excuses for the balls-up this season has become.
Survival in the Premier League is everything for EFC. Unfortunately, whoever comes in next will have to do something extra special to get us out of this mess.
They will have to hit the ground running, hence anyone with a long-term "project" / learning on the job approach can immediately be ruled out.
Whoever comes in, my fear is that those on the pitch are not up for the fight.
Minik Hansen
33
Posted 26/11/2017 at 18:08:26
Look at Köln in Bundesliga. Gives you a bit of hope.
Andy Crooks
34
Posted 26/11/2017 at 18:08:50
Truly desperate and disappointing stuff. Referring to the Niasse suspension and putting it forward as an attempted excuse is fucking toe curling. For me, this is turning point.
I believe that had Unsworth been given the job immediately he would have had authority and respect. Sadly, he now has neither. The shameless sack of shit he presides over have betrayed him.
He is finished.
James Ebden
35
Posted 26/11/2017 at 18:10:33
What's happened to Keane? He made the most defensive headers in the league last year. This year he is shit. Forget a striker, we need 3 CB in January!
Geoff Lambert
36
Posted 26/11/2017 at 18:15:04
We need 3CB 2 Strikers a left back and our injured players fit to make a fight of it. Ohh! and we need a manager as well.
John Graham
37
Posted 26/11/2017 at 18:15:21
First person to take responsibility should be the manager. He picks the team, he decides the tactics.
Okay, so some will say certain players aren't up to it, but I look at our squad and the squads of the reams above us and can see their managers are getting the best from what they have got.
As mentioned in the past, being an ex-Everton player is not one of the top qualities we should be looking for in a manager. Unsworth is way out of his depth.
Moshiri and Kenwright need to start agreeing and get a move on to get in a top manager and then, once done, Kenwright needs to hand over the decisions to someone else. The whole club needs to be swept through and anyone (ex-player or not) who is not up to the job should be out.
We have got to get more professional and start making decisions to get the club back to where is belongs. I would bet we are the club with the most ex players working for them at the moment in the Premier League. Great if they can make an improvement but should not be there if they can't.
Jonny Flynn
38
Posted 26/11/2017 at 18:18:26
Common consensus is it is as bad as it gets. Southampton can't score but I was sure we would give them a bag full today, it's just who we are. We have a team of over aged non-triers hiding behind our inexperienced manager as an excuse. New manager in straight away to put a rocket up their overpaid arses.
I would bring in Besic, he would try his heart out and kick a few opponents into the air while he's at it. Give Sandro a few games Calvert-Lewin way off the pace. Try Rooney alongside Gueye in midfield. Play Lookman and Vlasic on the wings for energy. Try anything.
Surely the whole club needs to meet tomorrow and be told few home truths. Ruffle some feathers, who gives a fuck. We as fans deserve more.
John Keating
39
Posted 26/11/2017 at 18:23:03
Mike,
To all intents and purpose the new manager will only have what we already have to work with. We might have a chance to pay silly money and get Tierney from Celtic and Gibson from Boro to help out defensively but forwards ?????
What Club would sell us an asset extremely rare – a guy that can score. What good striker would want to come here? No, sorry, we are where we are and the new manager will have to get on with it.
Months ago, I wanted Allardyce on a short term deal but most were opposed to Allardyce supposedly because we were too good for the likes of him. After Koeman was sacked I think we could have got Allardyce on a short term deal but now, quite rightly, he seems not interested.
That will obviously please the majority who think its a retrograde step, we are too good, his football is shit etc etc etc etc. I just hope they're saying this come May.
The last person we need is someone with a fucking 10 year plan We need someone with a next week plan. We need someone who can organise and man manage. My missus is available or Ediie Jones the Rugby guy. Either would be better than all these arseholes posters are quoting!
John Pierce
40
Posted 26/11/2017 at 18:31:25
These players fooked Koeman off what makes you think they'll have any respect for a caretaker?
The vacuum created by the silence at the club has completely undermined the Unsworth.
The club hierarchy is at odds, that fear has led to complete paralysis over any appointment.
That's what tou get when tou don't have a defacto leader. Omnishambles.
Pat Kelly
41
Posted 26/11/2017 at 18:31:30
Moshiri is an absentee owner who lives in Monaco. He knows nothing about football but has a hobby called Everton. The Board and Chairman are in hock to Moshiri and can do nothing. The Chairman is a sentimental old fool who believed Rooney could still play football. The Director of Football has been found out. Unsworth has been thrown in the deep shit and is out of his depth.
The players can see that no one gives a toss so they don't either. It's a driverless wreck heading over the cliff. Kenwright can do nothing so should sell up. Moshiri needs to hire a football brain to run the club for him or else find a new hobby.
Paul Smith
42
Posted 26/11/2017 at 18:34:30
Brilliant post, Pat... nailed it for me. Succinct and terrifying to boot.
Oliver Molloy
43
Posted 26/11/2017 at 18:34:47
For me, it is crystal clear David Unsworth is not the answer. Can anyone tell me what the game plan was today? I'm still trying to work it out.
A lot of our players don't look fit to me, physically we are not at the races and there is just no understanding between the players on the pitch.
After every game we hear DU come out with the stuff the fans want to hear – famous blue shirt, it's an honour, commitment but the bottom line is he is not capable of doing anything with this bunch of players, he is out of his depth at this stage of his career and in my opinion the longer he stays in charge the more harm he will do for both himself and the club.
I'm hearing that there is a toxic atmosphere throughout the club from the board room to the training ground and even coaches falling out. Players have formed into little groups each bitching about the others and taking sides.
Rooney (like it or lump it) can't be sat on the fucking bench for a full 90 minutes when we are playing shite – he will be back this Wednesday because it's in his contract he starts all Premier League and FA Cup matches at home, if fit (Kenwright!).
It looks like the club are in free fall and nobody is sticking together on the pitch or in the boardroom. Kenwright apparently wants Dyche because Moyes recommended him; Dyce was interested but has had second thoughts. Sam Allderdyce wants at least a three-year deal; Martin O'Neill is a non starter I think.
Moshiri with his " Northwest is the Hollywood" for football managers shows he is a clown when it comes to PR. The man should just fuck up.
Everyone in football cannot believe what is going at Everton, we really have become the subject of laughter to many a supporter and pundits alike. The club just keep making mistakes after mistake.



Mike Hughes
44
Posted 26/11/2017 at 18:38:16
John (#39),
I was expecting Walsh to unearth a gem in the striker department for a relatively low fee. But it seems he may be another over-hyped dud.
As mentioned, I'd just be happy to survive now. Ugly football and scabby 1-0 wins will do for me.
I've always preferred something that displayed a bit of passion (however limited) than this "philosophy" / "the way football should be played" crap.
It's a long way from School of Science but so is Reading, Bristol and Ipswich.
Oliver Brunel
45
Posted 26/11/2017 at 18:41:38
Pat, spot on there. Although who knows what could happen if Usmanov backs out of the project?!
Jason Wilkinson
46
Posted 26/11/2017 at 18:42:54
Bang average former players working on the coaching staff = bang average performances on the pitch. Add into the mix a shambolic transfer policy and relegation beckons.
Gordon Crawford
47
Posted 26/11/2017 at 18:46:10
Oliver can you please elaborate on Usmanov and Everton? Usmanov doesn't have anything to do with the running of our club.
Eric Paul
48
Posted 26/11/2017 at 18:47:33
Calvert-Lewin is and will be a very cultured player however now is not the time for cultured players hence Niasse, we need more players with his attitude and work rate.
As for Unsworth, he has been left high and dry by an indecisive board. Hopefully the delay is down to negotiations with a worldy and all the managers linked are salmon pink herrings.
Chas Humphreys
49
Posted 26/11/2017 at 18:47:36
Schneiderlin brings nothing to Everton that's why he struggled at Man Utd.
We are in deep shit and why Unsworth states we are not is a relegation situation yet is beyond me.
Niasse gets our vote for effort but he is not a Premier League striker of the kind Everton need to progress.
Also, Unsworth stated that you can't bawl at the modern player!!! How about this if you're not prepared to fight for Everton FC, then get the fuck out of our club. End of!

Chad Schofield
50
Posted 26/11/2017 at 18:48:57
One of the most disappointing matches I can remember watching. I've defended Unsworth and his selections, but aside from starting Williams he was setting himself, the team and us up to fail.
Baines and Keane's injuries weren't his fault. But Mirallas flatters to deceive and Schneiderlin goes through the motions of a man nearing retirement. Calvert-Lewin will I believe come good, but it'll take a few seasons and Sandro should have started. Sigurdsson left is like playing Rooney in goal – he will try, but it's both a waste and going to cause problems.
Siggy's goal was well taken, and it cruelly gave us hope... But we didn't deserve it.
Chris Jones 24 pointed out two points at which I was going apoplectic.
We are in trouble, and it is the board who've got us here. Koeman of course has to take his share, of the blame (God knows he's taken enough cash). Players won't, aside from clichéd "need to do better" etc, and neither will Walsh. But it's Unsworth, Ebrell and Royle who have to take their responsibility for setting out this team today... Absolute rubbish.
Joseph Edwards
51
Posted 26/11/2017 at 18:50:39
Every time you think we have reached the bottom of the pit of despair it gets deeper. Unsworth has done himself no favours at all with his selections or substitutions,we should be recalling all loanees immediately and playing anyone ahead of Williams, Keane and Schneiderlin.
Get Dyche in immediately and spend big in January to dig us out of this spiral of depression. I honestly for the life of me see any way out of this rotten situation, I think the poison Koeman injected into our club has took too much of a hold. I honestly think it's Championship football next season.
John Pierce
52
Posted 26/11/2017 at 18:51:11
Can Unsworth force the Club's hand? Why not? He has been manipulated, and undermined at every turn.
If he said either appoint me or I walk, I wouldn't blame him. It might just force the board into decision?
James Stewart
53
Posted 26/11/2017 at 18:53:26
@41 nothing to add to that perfectly and tragically put.
Oliver Brunel
54
Posted 26/11/2017 at 18:54:37
Gordon, Usmanov is the de facto funder of the project, not Moshiri. Usmanov is the player here, he's hell bent on leaving Arsenal and wants somewhere else, but what if he has second thoughts about 'the project'? And you know who's the only winner in this tale of woe? You guessed it. Our very own Sargent Bilko.
Gavin Johnson
55
Posted 26/11/2017 at 18:58:24
Joseph (#51),
Absolutely appoint Dyche and recall the likes of Galloway or Connolly. Spend big in January and sell big too. Mirallas, Besic, Williams, McCarthy, Lennon, Schneiderlin, Stekelenburg and Martina should all be sold. I'd also offer Klaassen back to Ajax in exchange for Kasper Dolberg who is out of contract this summer. We need to bring in some players but there's 8 or 9 players that need to be shown the door IMO.
Colin Glassar
56
Posted 26/11/2017 at 18:59:37
We are an empty shell, a hollow vessel. Thank you messrs Moshiri, Kenwright, Walsh, Koeman, Elstone, Walsh, Woods, the Russian fella etc – a complete shambles.
Oliver Brunel
57
Posted 26/11/2017 at 19:01:44
I'd give my support to the appointment of Dyche. But I was very impressed with that Watford win away at GeordieBelly Town yesterday.
Oliver Brunel
58
Posted 26/11/2017 at 19:05:11
Why did we not bring Dowell back from loan??
Jason Wilkinson
59
Posted 26/11/2017 at 19:05:24
Gordon (#47)
USM Finch farm is very real. We were given £75M for this. If USM ask for their ball back (the cash), what do we have to take to cash converters to find the money?
Moshiri is a Financial Fair Play man – he stated this prior to our spending spree in the summer. We need a "go fuck yourself" owner prepared to fight the authorities to get what he/she wants. Moshiri will play by the rules when it comes to Financial Fair Play.
Doug Harris
60
Posted 26/11/2017 at 19:07:16
Schneiderlin brings absolutely nothing to this team. I have yet to see him contribute to an attack that we are sadly lacking in other positions also, but when you have no supply line from the middle of the team, what chance has any forward got? Beyond me to see how any coach or manager picks him.

Maureen didn't and Koeman would have done us all a favour by leaving him at Southampton. Ironic today against a previous club he was totally outclassed and left standing by a better coached midfield. Get rid.
Jim Wilson
61
Posted 26/11/2017 at 19:09:29
Clearly there is something wrong with Unsworth being in charge, whether he is being undermined, not respected, not setting the team up correctly, a mixture of all that.
But only at Everton would you have a striker problem and not play your England international. so lauded at Man Utd, but here at Everton scoffed at by a big swell of Evertonians. He should be played up front and told to do 2 things, work hard and Score for us.
Everton are down as far as I am concerned unless something is done immediately. We need one of the 'dour' managers that some Evertonians do not want to get us organised and motivated instantly.
This is the biggest nightmare yet and common sense is needed now. No foreigner with big ideas, it's nonsense. I am angry frustrated but above all upset because it is so unnecessary. I have heard of buying the title before but never buying relegation!

Minik Hansen
62
Posted 26/11/2017 at 19:14:30
Thank God it's pre-January. If the window had been shut, we'd be doomed. Must be taken as a real opportunity to correct some stuff. Please let us get a decent manager in this very moment. COYB.
Brian Harrison
63
Posted 26/11/2017 at 19:14:34
Oliver, bringing in Dowell back isn't the answer, another kid to throw in at the deep end.
Talking of young lads, as much as the lad tries Calvert-Lewin shouldn't be anywhere near a Premier League team on a regular basis. The problem is, he doesn't score and Sandro hasn't scored a league goal yet.
The men who make the football decisions thought, by selling Lukaku and getting rid of Valencia, we didn't need at least two proven strikers. Also, being a lone target man is a very difficult role and seems every time the ball is played forward, we don't retain it, which puts more pressure on our ropey back 4.
Jer Kiernan
64
Posted 26/11/2017 at 19:20:39
I fully expect Keane to pull a sicky, he has been hiding all season so nothing new there I am stunned as I would say is Unsworth at the apathy of these guys. What a horrible bunch of twats our current squad are. You don't need a degree in psychology to see this guys couldn't give a monkeys .
I have supported this club 30+ years and have seen some dire footballers pull on the jersey but never felt the way I do about this current crop.
I would agree a protest is in order to oust Kenwright but is it too old fashioned to call for a good aul pelting of the team bus with rotten fruit ?
Anyone?
Oliver Brunel
65
Posted 26/11/2017 at 19:21:10
I was thinking of straight swapping Calvert-Lewin for Dowell. I think it could work with Niasse up top as well.
Pat Kelly
66
Posted 26/11/2017 at 19:27:21
Oliver (#45) Maybe Moshiri is just Usmanov's bagman, who knows? They have a long history together with Moshiri in a subservient role. Anyway I doubt these guys are in the football business for the love of the game.
It's an investment with the cut and chase of the Boardroom and the associated dealings. They can afford to lose if things go sour. Everton is only a minor trinket in their portfolios.
Brent Stephens
67
Posted 26/11/2017 at 19:31:45
Unsy hasn't been able to rescue us from the dire mess left by Koeman. Why the hatred expressed by some towards Unsy. He was ASKED to try and as an Evertonian who "gets" Everton (whatever that crap means) tried his best.

Greg Hasbrouck
68
Posted 26/11/2017 at 19:32:39
A question to the forum; do you keep Barkley and just let him walk for free in the summer? A stabilizing force like Barkley, with Bolasie and Coleman coming back, may be just what we need to stave off relegation. It seems like what he might provide could turn out to be worth far more than the $20M he may fetch in the January window.
John Raftery
69
Posted 26/11/2017 at 19:34:01
We can only bring players back from season long loan deals in January when break clauses may be triggered. Somebody should be sorting out now who is coming back and who isn't.
We cannot afford to waste days if not weeks pursuing managers who will not be released by their clubs. Burnley are no more likely to allow us to speak to Dyche than Watford were to release Silva. The only options for us are managers who are currently unemployed or who are currently operating outside the Premier League.
Our plight is rapidly becoming desperate. So let's ring Big Sam. The time to worry about playing an attractive style of football is when we have 40 points. Actually it is hard to imagine anything uglier than the rubbish we have served up over the past four months.
John Roberts
70
Posted 26/11/2017 at 19:40:15
Agree with Nathan at 9. It's not really an attractive prospect to manage our club just now, Yes there might be money but we need so many positions that need reinforcing, the whole defence for a starters not to mention the obvious striker issues! shocking management that bit.
getting a striker who can score in the Premier league in January when we are almost bottom will need some luck! it's all very desperate.
Jon Withey
72
Posted 26/11/2017 at 19:40:57
Positives?
Ummm, well although he isn't worth £45m at least Sigurdsson isn't garbage.
Also, Gana does still get us plenty of the ball back.
Vlasic at least shows some persistence, guile and direct running.
For whatever reason, our central defense is shocking and we just can't build anything around that.
Looking at us from a relegation perspective, it's defense that we need to prioritise - we might nick the odd goal, even with this lot.
Principally we need a manager and coaching team who can get on top of this situation.

Joe McMahon
74
Posted 26/11/2017 at 19:41:26
To think there were plenty on here only 2 weeks ago, that were saying "what's Silva done etc". Well he won't be coming so don't worry about it. We are in a right mess, but we not only need a manager but a whole new coaching team. None of this keep it in the family bollox. The whole ex blues are part of the problem. I've heard Weir and Stubbs mentioned to be part of our coaching set up. Well Weir was sacked by Sheff Utd after winning 1 game in 13, and Alan Stubbs undid all the hard work of Neal Warnock at Rotherham.
This Ex Blues/one of us attitude is the problem. I cringe when I hear people say Bainesy , Rhino or Unsy. I've read on hear people saying they want any new stadium to have Archibald Leitch design somewhere, Why? I don't see any City fans getting teary eyes about days in the Kippax, and I work in Manchester so see plenty of them. Football has moved, our attitude as fans has to also, it;s 2017 not 1982.
John Raftery
75
Posted 26/11/2017 at 19:41:55
Greg (68) Given our parlous situation I think we have no alternative but to keep Barkley and take the £20m hit in the summer. Moreover I am not sure I would trust our club to use the money well. Bringing in a player who might take three months to settle is not what we need at present.
Les Martin
76
Posted 26/11/2017 at 19:45:11
Rhino is a lovely bloke and we know blue through and through, but during these hard times we need a manager with detachment of the team personalities, but one who can be ruthless and efficient in getting to the root of the problems and being strong enough to make some very tough decisions.
I think this saga may well have some shocking consequences when the new incumbent takes his place..
Brent Stephens
77
Posted 26/11/2017 at 19:51:35
A sad thing for me is that there is no obvious first XI that picks itself. The managers have chopped and changed. We on TW have nothing near agreement on what the first XI should be. And look at the calls to bring in U23 players and bringing them back from on loan. Scraping the barrel.
Duncan McDine
78
Posted 26/11/2017 at 19:55:46
I was at the game today and TBH the first half was just as bad as the second... they would have been booed off at HT if not for one bit of class from Siggy. He and young Kenny were the only players that played anywhere near the required standard today.
On this form, we're going down - make no mistake, and Rhino is right, its the players fault.
Eric Paul
79
Posted 26/11/2017 at 19:55:49
Why do people keep talking about Usmanov? Apart from sponsoring Finch Farm, which will be cheap when he supplies the steel for the new stadium, he is fuck all to do with Everton.
John Keating
80
Posted 26/11/2017 at 19:56:56
I think it's far too late in the day to be looking at a long term manager. Right now we are in deep shit all over the park, defence, midfield and up top.
We need someone with experience, pay him whatever he wants, on a short term deal, to try and keep our Premier League status. Whoever comes in will be on a hiding to nothing with this squad and I reckon he would be lucky to keep us up, however, he has to give us a fighting chance.
Forget young guns, get someone with experience. Seems according to most, not me, we are too good for the Allardyce's and Pullis's of this world so God knows who could help us? Gus Hiddinck??
Sam Hoare
81
Posted 26/11/2017 at 19:58:16
What a poisoned chalice we are right now. I'd say almost zero chance of Silva or Dyche, though at this stage i'd be delighted with either.
I was happy that Unsworth got a crack at the job and for a while I thought I could see genuine signs of progress. A little fight and pride if nothing else. Sadly that too looks to have vanished now and if anything we are looking even more bereft than the end of Koeman's time.
People talk about Allardyce and O'Neill like their dour approach will guarantee survival and improvement. It won't. There are no guarantees in this game. And personally I still don't want either of them here. Though admittedly the options are looking thinner and thinner.
I'd take AVB if that is an option. He's a good manager who knows how to organise a team and has left almost every team in a better state than he found it (bar Chelsea under Roman's meddling hands). Not sure why he'd want the job but perhaps he feels he has unfinished business. Unlikely we could pay him more than he'd getting currently in China (5th best paid in the world).
Otherwise how about Eddie Howe? Desperate times.
Brian Williams
82
Posted 26/11/2017 at 19:58:20
The Emperor, Jabba The Hut, and now it's Seargeant Bilko and this USM shite. Ffs man, grow up.
And there's a perfectly good reason we haven't brought Dowell back from loan ... we can't!
Steven Telford
83
Posted 26/11/2017 at 19:58:24
It's not right to blame Moshiri, he has financed what many people regarded as the most exciting summer transfer period we ever hand.
It's not even right blame a failure to replace Lukaku, what's the excuse for the defenders, age? And as for the midfield, we know Gana is usually top class,
Schneiderlin and Mirallas need to go. A toxic pair.
Back to basics (till the January window at least) park the bus, 5-4-1 or 4-4-2, Gyfi in his correct position, and try to grind out some draws and some 1-0s. But LOCKING the back needs to be a priority.
At the rate things are going we'l struggle to attract talent.
Oliver Brunel
84
Posted 26/11/2017 at 19:59:12
Eric (79) oh no. Usmanov is the money behind USM and then Everton. Who is behind that? I don't know.
Brent Stephens
85
Posted 26/11/2017 at 20:01:31
Away end sold out again. Some boos at the final whistle but what I heard around me was sighs of desperation more than anything.
Dermot Byrne
86
Posted 26/11/2017 at 20:02:09
What does "gets Everton" means? My fear is that that may be the problem. He gets a club that has done fuck all for decades and has a Chairman and some fans who still ramble on about history because that is all we have or expect.
Brendan McLaughlin
87
Posted 26/11/2017 at 20:04:35
Greg (#68), I'm hoping with Koeman gone Ross will be itching to get back on the field and prove a point with us.
Grant Rorrison
88
Posted 26/11/2017 at 20:07:11
What kind of club puts a man with absolutely no relevant experience in charge of the first team?
I cant believe it's been weeks since Koeman was sacked and we haven't appointed a proper manager.
It's obvious that Unsworth isn't up to it. Isn't rated by the people in charge and doesn't have a cat in hell's chance of landing the job permanently.
He sounded like he wanted putting out of his misery in the interview I watched after the game today.
Paul Smith
89
Posted 26/11/2017 at 20:07:20
Can't believe how many people wanted Unsy in the first place.
Can you envisage anyone but a Blue (sentimental shite IMO) coming to manage Everton with a CV based on managing an Under-23 squad?
No! it wouldn't happen. So everyone, and there's lots on here who wanted him, are guilty of colluding with sentimental horseshit. Sorry guys like all of us, I'm hurting tonight.
Kim Vivian
90
Posted 26/11/2017 at 20:12:45
If Sigurdsson hadn't scored, would anyone have noticed him? (Apart from being barged off the ball early in the first half to let their man cross.)
Eric Paul
91
Posted 26/11/2017 at 20:12:50
Oliver,
Yes I know Usmanov is the U in USM but that doesn't connect him with us apart from being a sponsor
Grant Rorrison
92
Posted 26/11/2017 at 20:15:27
What is this weird obsession with claiming that some kid had a good game just because he's a kid? Or that some player or another played well just because of one action in 90 minutes that he didn't fuck up?
We were garbage today, just as we have been ALL season.
Lawrence Green
93
Posted 26/11/2017 at 20:21:39
All this talk of the window opening is missing the point, somebody, anybody has to get the team performing to try and get as many league points as is possible from our next ten fixtures of which only Spurs away follows the opening of the window.
The next two home games are pivotal to our survival chances and if we mess those up we may not recover, as away from home we don't look like we can obtain a single point.
Home - WHU, Huddersfield,Swansea, Chelsea, Man U
Away - Liverpool, Newcastle, WBA, Bournemouth,Spurs
Everton will only have 15 matches *not including Spurs, to try and save themselves once the window does open and as we've seen so many times before this particular team/squad doesn't respond to pressure it wilts under it.
Michael Long
94
Posted 26/11/2017 at 20:25:07
It's actually heart breaking right now to watch this great football club and its supporters being let down by people at the club, top to bottom. No idea, No fight and No ambition. From the board to the players, it's a laughing stock.
The board have made an utter utter cock up this season on numerous occasions. Starting in the summer by saying to Man Utd that Lukaku won't be sold until a replacement is here. The fact we didn't replace him was our first shot in the foot. Mind u put that down on Steve Walsh, who by the way is getting away with so much murder. The fact that it has been 5 weeks we sacked Koeman, and still not close to an appointment, is absolutely pathetic and unprofessional. Kenwright, Elstone, Woods and the rest of the Dinosaurs need to get out the club ASAP. Moshiri has to take criticism too. Instead of speaking to Jim White. Communicate with the supporters and make a statement. A manager should have been appointed during International break. Appoint someone!!!!!
As for those players, there are some I wish to never see where an Everton shirt again. First player comes to mind is Williams. I genuinely can't remember hating an Everton player more than him. He is a liability and just not bothered. GET RID
Pickford - Feel sorry for the lad
Kenny - Not ready
Jagielka - Getting on and the worst Everton captain I have seen
Keane - Needs all the confidence he can get, other than that Shite
Baines - Finished
Schneiderlin - Another player I hate, not arsed one bit bye bye
Gueye - Not himself
Mirallas - (read Schneiderlin)
Calvert-Lewin - Not ready
Sigurdsson - poor
The rest all either shite or not good enough.
Unsworth not ready. Last few games has damaged his chances. However players have let him down big time. This man is Everton through and through, and this board and bunch of cowardly players have completely hung him out to dry.
If that last few weeks haven't been a wake up call (which it should been 100%) then today is the Alarm bells. Sort it out otherwise it'll bye bye Premier League, Hello EFL.
John McFarlane [Snr]
95
Posted 26/11/2017 at 20:28:44
I sympathise with everyone who is hurting tonight, at the age of 79, I have experienced every emotion a football supporter can go through, [attending matches since 1948] but now I'm free from pain.
The current situation has left me numb, so I'm ready for whatever Wednesday night can throw at me, I must confess that I've never felt so low, so early in any of our other troubled seasons.
Jer Kiernan
96
Posted 26/11/2017 at 20:35:22
I still think there is a lot to be said for pelting the team bus with rotten fruit on Wednesday night. Let these clowns know who we should blame. It matters not who is in the dugout if you cannot/will not mark your player!
I am sick of hearing about their lack of confidence etc – we are constantly making excuses for this horrible bunch of wasters.
I wonder what will happen if the new manager comes in and Keane is still defending like an out-of-shape 10-year-old? Schneiderlin and Holgate cracking jokes on the bench while we get stuffed, despicable! Who will we blame then ?
James Marshall
97
Posted 26/11/2017 at 20:37:03
I think Sigurdsson is taking flack unfairly - he keeps being played wide which he simply cannot and should not be doing. Play him in the middle, end of story - Google what the Iceland coach has been saying about him.
As for the rest of them, well you can dress it up any way you like but there's clearly some disharmony or some sort of problem running through this squad that we don't really know about.
We also quite patently obviously miss not having a striker on the field - we cannot relieve the pressure at any stage and the opposition just get the ball back over & over. In turn our midfield are always chasing down the ball, which leads our defence to be under constant pressure - the failure is as much to do with not having a proper striker on the pitch as anything else.
Koeman couldn't make it work, neither can Unsworth, and I fear no other manager on the planet will be able to either. We need a striker. End of.
Chris Rudd
98
Posted 26/11/2017 at 20:37:16
Pat Kelly: Well put... every word. Hurting tonight like every other Evertonian.
Come on Moshiri – a manager now!
Michael Long: Mirallas and Schneiderlin absolutely cowardly footballers.
Go now! Stick together guys... see you Wednesday.
Kim Vivian
99
Posted 26/11/2017 at 20:37:22
@95 - Respect, John. Truly.
Jer Kiernan
100
Posted 26/11/2017 at 20:39:50
John @95,
Can I ask have you ever seen a bunch who apparently care less about losing games etc? I would doubt it. I can't believe the apathy of this lot.
I raised this when Koeman was being sent to the gallows and now it's Unswoth's turn and I am wondering what will happen if the next Manager can't build up their fragile "confidence"?
I thought 30+ plus years a blue felt like purgatory
Anthony Hawkins
101
Posted 26/11/2017 at 20:49:15
I'm with John #95 that I'm numb now. No hurt or pain, just numb.
Everyone of team Everton is collectively responsible for the outcome and it stinks. I do agree that Everton HAS to employ a permanent manager soon but they also have to be willing to cull the deadwood as the rot is spreading.
Karl Parsons
102
Posted 26/11/2017 at 21:02:25
Yano that poster on Goodison Road with all the proud Firsts on it? Well looks to me like we are about to add another first. The first Club to relieve a Caretaker Manager of his duties.
Moshiri and Kenwright sit on their hands (and count their money) whilst me, and me brother spend in excess of 300 quid watching that utter tosh.
FUMING!
Stephen Stanway
103
Posted 26/11/2017 at 21:13:07
Can't believe people on here blaming Unsworth for anything. He didn't have a choice which defenders to play as they are crap or old and crap. Forwards well not much choice there as we don't have any choice so he could only have decide on the midfield and sadly Schneiderlin as had to many chances this season.

Sad to say this but we are not going to do any better till after we get at least 1 CB and a forward plus a manager who can get the defence / team getting clean sheets. He'll also need to be a lucky manager as it getting to that stage as I can't see any end to this situation :(

Bobby Mallon
104
Posted 26/11/2017 at 21:14:11
Karl Parson, I hold my head to you and fans like you who travel the land watching that shite. Sack Unsworth now!
Jack Convery
105
Posted 26/11/2017 at 21:14:29
Moshiri's money is Usmanov's money. It's that simple. Surely we all can see Moshiri knows nothing about football. Who in his right head has Jim White as a mate? We have been lead down the garden path.
If Moshiri got rid of a CEO from his company, wouldn't he know who was going to replace him immediately? Yet Koeman was sacked with no one identified or so it appears. Would you let your best performing employee – the one who makes sure your company has a chance to compete against its competitors leave?
If he did leave would you not replace him with someone of a similar standard? Yet Lukaku was allowed to go and never replaced. Nah something stinks and its the decaying corpse of EFC.
John McFarlane [Snr]
106
Posted 26/11/2017 at 21:20:12
Hi Jer [100] No I don't believe I have, despite their limited abilities I always felt that they played for personal pride, and for the Club and its supporters.
I just hope that somehow things can be turned around for the sake of my 13 year Grandson, [who has had a season ticket since he was 6, alongside me in the Park End] and that he, and all the younger supporters can enjoy some of the good times that we older Evertonians have enjoyed.
He has already experienced the disappointment of two Wembley defeats, [Liverpool and Chelsea] and I would hate him to suffer the agony of relegation, as I did as a 13 year old in 1951.
I don't suppose the players think of what our Club means to us, we're stuck with Everton for life, it's not like getting short changed at Tesco, and swapping to ASDA. We can but hope.
Eric Paul
107
Posted 26/11/2017 at 21:32:25
Jack @105,
If you're privy to this info can you enlighten us who our new manager will be as you are a man in the know.
Jer Kiernan
108
Posted 26/11/2017 at 21:54:19
@John 106, Thanks for confirming that. Your opinion is valued and gives great insight and I am not surprised to hear you confirm my suspicions that we are seeing what happens when the "modern" footballer is called upon to show some grit.
They are a keen enough to pull on the jersey but not arsed to sweat for it. They lack what John Giles describes as "moral courage" myself I feel they lack either.
Like yourself, I hope this can be turned around it is going to take a very special manager to do it and some strong leadership from the very top.
Here's hoping for better fortunes. All the best.
John Roberts
109
Posted 26/11/2017 at 21:59:55
Michael at 94!
Totally agree, Williams is just dreadful, shocking and should retire to the MLS or something. I post every week how bad he is, poor tackling, gets booked every game, slow, clumsy, constantly gives dangerous free kicks away, penalties the lot. Loads of dead wood to go and Williams should drive the bus.
Mark Morrissey
110
Posted 26/11/2017 at 22:11:36
David Unsworth's a true blue but he would have been far better in telling Moshiri, "I'll hold the fort". His unerring proclamations of "Yes. I want this job" felt wrong on first hearing. Every time since then, every time I hear him saying, "Yes, I am the man," I find it embarrassing. It's as though he's begging for the job and I feel sorry for him.

I think he should do what every other young manager does and he should go away to earn his spurs. Getting the U23s to play for you is one thing but managing a sick team with bone idle, non-Evertonians is another new dimension.

"I talk to Moshiri 3 or 4 times a day." So what, I talk to my Boss every day but it counts for nothing. My Boss is still a bellend and therein lies the problem. Moshiri is presumably having some direct influence over the way Unsy is thinking and that is wholly not needed.

We need a new manager and Bill, stop looking down on Goodison through your rose tinted "blue" spectacles. Toughen up man and talk with Moshiri and the break the bank in January and I mean break it or we're doomed.
Christy Ring
111
Posted 26/11/2017 at 22:18:51
Not only did Koeman leave an ageing defence, who we can't replace until January. But he loaned out Browning, who can play centre and right back, and Galloway centre and left back, and with Baines now injured, it's absolutely shocking that we have no reserve left back at the club. That's how our club is being run.
Kieran Kinsella
112
Posted 26/11/2017 at 22:26:04
Greg 68 & John 75
Barkley? Firstly before he even gets on the field he will he disgruntled fans and ask Jag if they are all booing for him. Secondly, if he does get on the field where will he play? Number 10? so we replace Sigurdsson's occasional goals for his mazy runs into a dead end.
Talent apart, Barkley is the most mentally fragile player I can remember. If WWI leadership was at play, Moyes would have shot him at dawn years ago. Bolasie is a wildcard. At best he has the Niasse impact, at worst he is another Mirallas.
Coleman is the only injured one I have any faith in. Fumes Mori, is probably watching now chuckling thinking, "You thought Ash had a howler– wait till you see me back." Then he will score an own goal, clothesline the ref and kiss the badge on his own ass after he is carded.
The loaneees aren't able to be recalled if they're on season long loans. Garbutt wasn't registered to play. Their is no hope. None. Kenwright and Mosh have done a Doug Ellis and Randy Lerner hatchet job in record time. The club is finished.
Jackie Barry
113
Posted 26/11/2017 at 22:26:25
Our defense has been on it's last legs for a few seasons now and it's worrying that nobody in our management saw it coming and failed to do anything about it. Jags and Baines have been good servants but their time has come. All good things come to an end. Keane for me is an unknown quantity, not going to say he is junk right now especially considering how the rest of the squad is performing.
Anthony Millington
114
Posted 26/11/2017 at 22:28:26
Christy, I completely agree and said it was bad management before the season started. What kind of manager goes into a season including a Europa league campaign with just 1 left back? Baines is on the decline and cannot be expected to play every game.
We have 3 Premier League games in a week at the moment and it's a joke that Galloway was loaned out and Garbutt not registered to play. Both could probably defend just as well if not better than Baines as they are more physical and have younger engines..
Instead now we face Christmas with no left back at all even though we have two left backs on our books who would do a better job than Williams Holgate Martina or whoever else will play there..
Raymond Fox
115
Posted 26/11/2017 at 22:29:16
How are we to beat West Ham on Wednesday?
They will murder us with high crosses into the box, I presume Carroll will be playing.
It's with a heavy heart I point out that West Ham are 9/4 to win.
Kieran Kinsella
116
Posted 26/11/2017 at 22:30:11
Christy Ring 111
Yes he loaned out Galliaway a LB cover but don't forget he also loaned out Robinson another LB, Connolly a RB who plays at LB, and kept Garbutt a LB but didn't register him with the Prem. I know Koeman is conservative but his anti leftist policies were extreme.
Kieran Kinsella
117
Posted 26/11/2017 at 22:32:26
Moyes will get his first win against us. He must licking his thin blue lips.
Justin Doone
119
Posted 26/11/2017 at 22:58:33
Agree with comments about the board and there shoot first ask questions later mismanagement. Koeman is a good manager but just like Martinez in his 2nd season he undid all the good basic foundations of the team and tried to change to much to soon.
I never wanted him mainly because of his 'clothes line' challenge on Amokachi but one thing it showed was that as a player he was willing to do anything to stop the opposition.
I wrongly presumed like Moyes he'd get the team basics spot on with being organised and hard to beat. Unsworth appears to have the same issues.
Transfer fiasco is the fault of several people but it still doesn't address the failings of coaching the current team who ever is at their disposal. It was right he was sacked because he failed as a coach to bring about a style of play but I'll give him credit for trying out different formations and players.
The same for Unsworth. What he says is true about players letting him down but Williams and Schneiderlin have failed us all season and should not have been given a 7th chance.
Get him back with U23s and hope he learns from it but before making important changes ensure we have a manager in place signed and sealed and a plan b just in case he changes his mind and says no.
Ray Griffin
120
Posted 26/11/2017 at 23:03:58
Apologies if it's been mentioned already, there are so many comments on here haven't had time to read them all. BTW, I love the passion everyone is showing by posting on here.
One thing I don't really get, what sort of message is Unsworth sending when he stated that Beni Baningime was the best player on Thursday night yet dropped him to the bench today?
Smacks of Martinez & his favoring of certain players no matter how poor their form. Baines has been great for us over the years but he's not good enough anymore. Same applies to Jags.
Williams believed the hype from the Euros that he's a good defender but he's too slow and lazy, Keane is out of his depth, Schneiderlin has to be one of the least effective midfield players I've ever seen at Everton (45 years & counting). I could go on & on but it's far too dispiriting. We're the worst team in the Premier League by far, we are getting hammered by average teams – I dread the FA Cup draw, we'll probably get beat by no matter who we get.
Justin Doone
121
Posted 26/11/2017 at 23:43:30
I for one don't think Everton are to good for the likes of Pulis, Sam, style managers any more than I do about Howe or Tuchel (German lad?). I simply don't think we have the players to fit their styles.
a- We don't have any big strong forwards to win z pace and the ability to beat their man and deliver quality crosses into the box. Bolaise 'was' quick but that's it.
c- if we had b (wingers) we still lack a (an aerial threat).
d- we lack ball players, movement, energy and pace for Howe or Tuchel.
Therefore any of them would need time to bring in players and get their ideas across to a team who would be adapting to another new style of play.
The simple Target man approach is far quicker to understand and bring in the right type of player. It's not rocket science to search for 6'-2"+ strikers and defenders with 'a bit about them'.
However, of all the names that would suit our current squad I think Mon could work. I actually mean this. But...
He and nutter Keane can come and literally end McCarthy's career as well as show small team Everton that we shouldn't have messed with them and get us relegated. That's a NO from me.
I'm sure they both recently signed contracts extensions with IFA so hopefully they will show some 'loyalty' and 'fight' with Ireland.
Steve Ferns
122
Posted 26/11/2017 at 00:14:43
Unsworth is right. The senior players do need to take responsibility for their performances. To a man, no one can come off that pitch with their head held high. Kenny was the only young player selected and he I thought he did well considering he is very right footed.
Unsworth clearly decided on senior players. He's been criticised for playing too many kids and so he decided to play all of the senior pros today. He picked a side, that at the start of the season, Lennon aside, would have been thought of as our strongest side (obviously not including the long term-injuries).
It looked a solid 4-2-3-1 on paper.
Pickford
Kenny Keane Jagielka Baines
Gueye Schneiderlin
Lennon Sigurdsson Mirallas
Calvert-Lewin
Not a bad side I thought to myself. Maybe he might go for more how I would prefer it and push Sigurdsson a bit deeper and make it a 4-3-3. But no, he didn't play a 4-3-3, he didn't play a 4-2-3-1. He played a fucking 4-4-2:
Pickford
Kenny Keane Jagielka Baines
Lennon Gueye Schneiderlin Sigurdsson
Calvert-Lewin Mirallas
The two banks of four were clear to see. Pellegrini must have been laughing to himself. Predictably we were swamped in the middle of the park and outnumbered on the flanks. Sigurdsson was not holding position well at left midfield and so they were getting at Baines. The first goal came from an incisive swift break down the left as they cut us open like a hot knife through butter. No one covering themselves in glory there, not Kenny, not Jagielka, not Keane, not Schneiderlin, not Baines, and not Pickford as all looked bewildered as Saints passed through them and danced around them to score.
Then came the thing I have been dreading all season, the injury to Baines. If's a calf injury and so he looks to be out for a while. Unsworth change was not necessarily a bad one, he brought on Williams and looked to got to a back five with Lennon at right back and Kenny at left back. Well I think he did. It's impossible to be sure as Jagielka spent a lot of time at right back and Lennon looked lost as they just danced past him. In midfield Sigurdsson moved into the middle ahead of Schneiderlin and Gueye and behind Mirallas and Calvert-Lewin. Sigurdsson got us out of jail to take us in level at half time.
Second half we went from bad to worse. They kept pouring down our right and we were powerless to stop it. The first Austin goal was absolutely dreadful. Why didn't Jagielka do more to block the cross? Why didn't Williams jump? Could he get himself any lower? Did he deliberately pass Austin on to Keane? Why didn't Keane try to get there ahead of Austin? Three centre backs and non of them did anything to prevent the goal.
Third goal, we have got back into shape and closed them off. All Saints had to go next was play it backwards 20 yards couple of passes and bang they were now free on goal as our defence all stood watching. First Jagielka watches Tadic run away from him and allows him to cross unchallenged. Williams lets Austin have a clear header after running to the near post and letting Austin be free in the middle and of course Tadic picks him out. To be fair to Keane he was on a man, and so was blameless for this one.
Fourth goal comes about due to confusion between Kenny and Lookman. Kenny leaves his man, back peddling to attack Cedric who he thinks might cross, but he cuts it inside to the Ward-Prowse, Lookman goes for this guy leaving Kenny to get Cedric, and now neither have either man and Cedric chips a lovely pass into Ward-Prowse who finds himself in space in the box, he knocks it back to Davies who is unmarked on the edge of the box, and whilst Vlasic comes across, it's too little too late and he picks his spot and Pickford has no chance. It was Schneiderlin's man but he left him to close in on Ward-Prowse. But this really sums Everton up. We were too easily beaten. We got sold on everything. It was like men against boys.
Unsworth got his tactics very wrong. 4-4-2 was a big mistake. He also seems to listen to the criticism he got every game and then react to that criticism accordingly. Too many kids they say, right I'll pick all the experienced pros I can. Leicester no width and not attacking, I'll go for wingers and play on the front foot. Watford, they said I was too naïve and too attacking with my wingers, well I'll play narrow.
Unsworth is a good coach. He knows tactics, he's shown his familiarity with different systems and sends the teams out in the correct shape. The players undo the shape on the pitch as they do not stick to the instructions and become ragged.
The defence is not drilled. They do not know what they are doing and they have been like this all season long. Keane is a current England international. Williams is captain of Wales and was a star of the Euros in 2016. Jagielka we all know just how good he has been, and he's old but he's still the fastest of the three. Yet all of them are all over the place. None of them are stood in the right place. They don't keep on their man. They are too easily beaten. They give up. They lack fight and heart. Sure most of that is nothing to do with Unsworth, it comes down to the individual player. But as manager he picks them. Also, despite the limited time on the training pitch he has had ample time to make it clear who the defenders are to pick up. He's not coaching novices here, he's coaching seasoned internationals. Maybe he's saying and doing all the right things, and it's just not going in. Either way, it should be showing signs of getting better and it's not. It's getting worse. And this is very, very worrying.
I fail to see how any of the dinosaurs like Allardyce, Pullis or O'Neil can fix this. I was very interested to read that Simeone's guys contacted us, and that's why he was in the frame. Moshiri clearly wants to limp to the end of the season and get Simeone in. Well, that ain't gonna happen. No one will take this job for 6 months, no one of the calibre needed anyway. Silva would be great, but Watford are going to block whatever we try unless we pay them a massive amount, and he's probably thinking that the job is not worth the trouble.
That leaves Dyche. We have to get him in. And he's probably thinking they never really wanted me, it's not worth the effort, I'm happy where I am. And so we will need to break the bank to get him. It's only £3.5m to buy him out, and his salary demands will be half of Silva's by all reports, but Dyche may demand parity.
I still think Unsworth could have done this job. But he needed authority. The club never allowed him authority. They made it look like a couple of games only, and yet here we are over a month later. If they lied and said to the end of the season, then at least he would have authority to be able to give the players the kick up the arse they deserve. I expect Dyche on a 3 year deal or more will be able to do that. This state of Limbo is killing us, and it needs to be stopped, Unsworth is right about that.
Dennis Stevens
123
Posted 27/11/2017 at 00:38:16
Hear! Hear! Steve.
David Israel
124
Posted 27/11/2017 at 01:49:02
I find it rather odd that someone who takes on the players for not taking responsibility has now left on the bench, for two successive games, one of the very few players that, since the start of the season, has shown any character and willingness to get involved and, yes, take responsibility. That man is obviously Wayne Rooney.
Steve Ferns
125
Posted 27/11/2017 at 01:53:05
He played the full 90 on Thursday. So he's played in the last two games.
Don't get me wrong. I expected him to play, but I can understand that after the effort he put in against Atalanta (yes he was crap, but he did get up and down the pitch more than anyone), that he would be left out to recover for Wednesday.
David Israel
126
Posted 27/11/2017 at 02:00:06
Sorry, Steve, I meant the last two Premier League games.
Steve Bingham
127
Posted 27/11/2017 at 02:26:34
Can anyone throw any light on why Rooney is not getting on the pitch?
Don Alexander
128
Posted 27/11/2017 at 02:38:50
Steve (127), I suggest it's because he's a liability in terms of integrating with those in the squad. His salary is way more than anyone else's, his performance gets in the way of everyone else's, he can't/won't limit himself to his given role up front thereby not providing a target for whomever else (and even if he could it's likely to be ineffective from what I've seen), he's only 31 but a proven binge-boozer, and he can't even drive a car straight.
Other than that he's the perfect role-model. And he "gets" Everton of course.
Jay Harris
129
Posted 27/11/2017 at 02:42:19
Steve,
Please give up with the Unsworth propaganda.
He really wanted the job and has had enough time to show some signs of being up to it.
The sad truth is that he is nowhere near ready for this challenge and very few are.
It will take a manager of immense strength of character and experience to stop the Titanic sinking and Unsy regrettably is not that man.
We need a man who will stand up to Kenwright, Elstone and Walsh and tell them how it is and how its gotta be not some yes man that "speaks to the chairman 4 or 5 times a day".
Laurie Hartley
130
Posted 27/11/2017 at 03:18:04
Death by a thousand cuts for David Unsworth – feel sorry for the man. This lot will take HIM and US down.
When I went to bed last night I knew we would get hammered and nothing had changed when I woke up this morning. I logged on to the BBC football pages knowing what awaited.
I feel like weeping today and I am preparing for life in the loony bin if Wednesday goes the way I think it will.
Steve (#122) – "I fail to see how any of the dinosaurs like Allardyce, Pullis or O'Neil can fix this."
Pulis and O'Neill can't – Allardyce can – he is the best in the business at it. He's proved that conclusively by doing it for the last two seasons.
The problem is we don't like him. Bloody Hell!!
I'm not having it any longer – let's stop wringing and sitting on our hands – get on the blower and get him in.
Ste Traverse
131
Posted 27/11/2017 at 03:38:57
Unsworth is massively out of his depth. But the current situation isn't totally his fault, it's the fucking useless pricks above him who are to blame.
One criticism of Unsworth though is he stated he speaks to that beaut Kenwright '3 or 4 times a day'. What for? Tactical advice??
It really pisses me off that over the years anyone higher up in the club seems to have been briefed to brown nose that charlatan masquerading as our Chairman during interviews. They'd gain more kudos speaking the truth rather than sucking up to that total joke Kenwright.
Lee Brownlie
132
Posted 27/11/2017 at 03:48:44
I reckon David Unsworth thought that simply by being an 'Evertonian', and by NOT being Ronald Koeman, that these players would therefore step up their game for him, regardless of the fact that he's not doing much of anything different in regards to team selection, formation, and tactics.
What else did he do? He dropped a couple of Koeman's signings from the starting line-up from the first eleven, even though that included one who was showing some promise (Vlasic), but basically kept with the idea that having lots of 'defensive' players – despite that they weren't performing as any sort of functional defensive unit! – would give us a better chance of not conceding.
Totally WRONG on that (as had already been shown!) and blaming the senior players only, when it now seems he won't even bring the most senior, most experienced, one we've got on even as a sub – and one who would at least give us some fight I'm sure! – just shows his incompetence at this level. Hate to say it.. Sad.. Sickening, even... but also very evidently true.
For me, whats Unsworth think he's seeing on the pitch to think we can't use a player like Wayne Rooney? To come out and blame the senior players and yet leave the best we've got sat on his arse must be alienating himself from a player I believe we absolutely NEED right now!
Both Rooney and Niasse, once over his stupidly enforced FA ban (wankers!)– and who'da thought we'd hear those names alongside each other?! – NEED to be in this side to give us some fight. Sigurdsson too, as at least last night he was having a go when others weren't (and scored that cracker!). I also think Lennon's giving it a good go, as he always does and, especially in front of Kenny, offers us something workable down that right side. No Schneiderlin for sure, I think we all agree!! My current EFC team would therefore be:
Pickford
Kenny
Keane
Jagielka
Baines
Lennon
Gueye
Davies
Sigurdsson
Rooney
Niasse
Subs: Baningime, Sandro, Holgate. Vlasic...
Amit Vithlani
133
Posted 27/11/2017 at 05:02:20
Have a read of Andy Hinchcliffe's comments, for those blasting away at Unsy.
Hinch, probably one of the more erudite pundits, said not even Guardiola could turn around this shower of shite.
The point is, Unsy's authority has been disastrously eroded by a game to game mandate against the back drop of a humiliating chase from a list of managers who will simply not come.
Add to that the use of Jim White to deliver updates on the search, leaving Unsy to face the media with no clue – read his comments in the presser on Friday – and there is no way he can walk into the dressing room with any authority.
Without any form of authority or leadership at management level, we are now seeing the full extent of the character of this squad on the football pitch.
It is now completely down to the squad to find self belief and a collective sense of responsibility to do the basics and keep a clean sheet.
Unsy has to be replaced of that there is no doubt. His audition was never a fair one but 8 games in, it is clear a number of players will not play for him. It would be crazy to continue on a game to game basis.
However, we are no closer to appointing a manager so this will continue. We can't fire Unsy because there is no one else – apart from Joe Royle perhaps – who can step in.
What an absolute shambolic mess we are in.
Add to that a serious injury to Baines, fitness issues for Keane and no Niasse and going into the game against West Ham we have the terrifying prospect of a hopeless Ashley Williams lining up with Martina or Kenny at left-back.
We are fucked.
Chad Schofield
134
Posted 27/11/2017 at 05:02:53
Steve Ferns, I can't argue with anything you've written here. Yesterday's formation was a mistake and the first forced sub perversely set us into arguably a better shape, only for the second forced sub to get rid of our only CB on the day acting like a CB to some degree - still fail to see how Keane's aerial dominance shown last season and at the start of the season has vanished.
The dithering board and subsequent rumours have led to Unsworth not having a chance... And that realistically stays the same even if he miraculously conjures something up on Wednesday without Baines, Keane or Niasse.
Wednesday looks bleak as it looks like Holgate will be in to cover Baines, either as a three or as a makeshift LB. The alternative is Martina - who has had one game to memory where he's not looked completely alien to the game of football. The problem is, unless Keane came off as a precaution, that mean Williams... I don't know which liability is worse Cuka or Coco.
Davis is back from suspension, but others have suggested Rooney deeper alongside Gueye. Whether (the one slight glimmering light) Benigime gets a nod instead is a risk.
Width we need Lennon to protect Kenny. Vlasic over Lookman for me on other side.
Sigusson behind Sandro.
Another glaring obvious thing is that Siggy needs to be in the middle, not out wide.
Mirallas and Schneiderlin can go Instagram themselves doing borderline homoerotic millionaire stuff.
Even if we make an managerial announcement today (and by that I don't mean a 24/7 110% worldwide search statement), I am not looking forward to Wednesday.
Laurie Hartley
135
Posted 27/11/2017 at 06:05:45
Amit # 133 - couldn't have put it more succinctly myself.
Ogbanna, Reid, Collins, Aurnotovic, and last but not least Carrol are all at least 2" to 4" taller than Jagielka, and Williams. Kean is the same height as the smallest of their lot who is Collins.
The ginger one's stirring pre match team talk - "just keep banging it into the box boys."
James Hughes
136
Posted 27/11/2017 at 06:25:28
Amit, where are Hinchcliffe's comments please, I would like to read them.
Steve Claridge on 5 live yesterday, stated the players would be looking at each other and wondering who they can rely on....
Amit Vithlani
137
Posted 27/11/2017 at 06:44:42
James @ 136
Andy Hinchcliffe
Former England international believes Everton's problems run deep
BY DAVID PRENTICE16:04, 26 NOV 2017
Everton FA Cup winner Andy Hinchcliffe believes that Everton's problems run much deeper than simply appointing a new manager.
The former Everton and England left-back, who was part of the last Everton team to win silverware alongside David Unsworth in 1995, was on analysis duty for Sky TV at Southampton today.
But after the 4-1 hiding by a team who have struggled for goals all season he said: "There's talk of getting another manager in but the problem is the personnel they've got.
"What XI can you put out to maybe grind out a 0-0 draw, maybe to outfootball the opposition?
"They can't seem to do anything well. So you can get Marco Silva in. You can get Guardiola in but what on earth would he do with this bunch of players?"
"There's no defensive urgency. There's no urgency to get blocks in and stop the opposition doing what they want to do."
Lyndon Lloyd
138
Posted 27/11/2017 at 06:45:59
Here's a video as well with what Hinchcliffe said yesterday:
Said the same the minute Koeman was sacked.
Andy Hinchcliffe hitting the nail on the head. pic.twitter.com/EMcKXNlxPR

— Tony Scott (@Tony_Scott11) November 26, 2017
James Hughes
139
Posted 27/11/2017 at 06:52:17
Thank you both for the info.
Anthony Jones
140
Posted 27/11/2017 at 07:48:54
Too emotional to be a Premier League coach.
Next...
Laurie Hartley
141
Posted 27/11/2017 at 08:45:44
The thing is Lyndon we cannot just accept that there isn't a manager capable of sorting this out otherwise it's all over. We have to try to find away out of this.
It is true Guardiola probably wouldn't know where to start with this lot. He is used to working with a scalpel – we need a bloke with a hammer and chisel.
Ian Hollingworth
142
Posted 27/11/2017 at 10:21:54
Plenty on here wanted to give Unsworth a chance. Well he has had that chance and the one fact we know now, is that he is not up to it.
There is obviously a big gulf between coaching an under 23 side to managing a Premier League side. There is very little pressure on the U23's and coaches are part of the whole development setup.
We were guilty of following the Kenwright model of he's an Evertonian so it will be okay. The sooner we all pop that bubble the better as there is no room for sentiment.
I was very concerned when Unsworth stated early on that he spoke to the chairman several times a day. That was the red flag we needed.
West Ham and any other team needing points will be dying to play Everton and as such they start with an advantage against our bunch of gutless losers. Moyes will be chomping at the bit for Wednesday and apparently our chairman texts him a message before every single game.
We need a manager ASAP and we need Kenwright moved on pronto. Thanks again Bill.
Chad Schofield
143
Posted 27/11/2017 at 10:23:42
But the problem also lies in the time hammer and chisel man has to work with the player and get results, Laurie.
Should Allardyce, Pullis, O'Neill, Thor, or Santander and his Elves arrive today they have tomorrow's session before Wednesday night... Then Friday before Huddersfield... Then look at the fixtures through December. Factor in the injuries, and it's a massive task for anyone.
It's going to be a tough month regardless who is in charge.
I'm not suggesting we're doomed, but we have to be slightly realistic.
Roger Gordon
144
Posted 27/11/2017 at 10:31:27
I think Sam Allardyce is the man. He's never had charge of a club with top potential and is sound on fitness and training and football management in situations like we are in.
The team is obviously tired, as much psychologically as physically. Key players have been long-term injured, some are getting "old". We have played twice a week for almost 6 months, and had a shit fixture programme at the start of the season.
They need good psychological input and give some fresh youngsters more game time. Too much has been expected of Calvert-Lewin and Tom Davies. Go for Allardyce.
Winston Williamson
145
Posted 27/11/2017 at 14:11:39
These players disgust me, to my absolute core...
Steve Bingham
146
Posted 27/11/2017 at 15:55:36
Just come onto Sky Sports that apparently we have gone back to Fat Sam with our caps in hands and tails between our legs.
Just how low are the board prepared to drag our club through the gutter? What the hell is going on behind that boardroom door?
Peter Roberts
147
Posted 27/11/2017 at 18:27:14
Just as the kicker in all this, the person Everton wheel out on social media to talk about demanding action and pulling our socks up?
Morgan Schneiderlin.
You couldn't honestly make it up.
Chad Schofield
148
Posted 28/11/2017 at 04:32:18
You're right Peter... I almost spat my beer out when reading Schneiderlin saying we have to stick together. It certainly had a ring of Mugabe's meandering speech about it.
Funny how the official site chose not to have comments on that.
Karl Meighan
149
Posted 28/11/2017 at 09:04:47
Mourinho, Guardiola, Klopp, Ancellotti or Ferguson would struggle to have done much better than Unsworth.
Unfit, overrated, poor older players, overrated and overhyped kids and Championship quality strikers and thats just the start of the problems we have.
Any team starts with a strong spine, gives little away and starts from there. Concede no goals lose no games, what we have is 3 defenders who are finished, a vastly overrated centreback and a kid with little protection who's strengths are going forward.
This side is a bad as the shite Pickford left behind at Sunderland, rip it apart in January or the Championship awaits, it amazes me that Koeman signed the garbage he did whilst making no attempt to sign any of the Southampton players he managed for 2 seasons.
Peter Roberts
150
Posted 28/11/2017 at 18:05:15
Chad
The official site might not have had comments but the Facebook page did. Suffice to say that did not go down well!!
Barry Lawler
151
Posted 28/11/2017 at 21:29:09
I got bored after 50 odd comments from presumably season ticket holders who the majority of have never actually played football at any level. Unsworth this Unsworth that, a lot of nonsense.
Players need to stand up and take responsibility, Keane is absolutely garbage. Goals 2 and 3 should have been dealt with out wide but they weren't, so now the ball comes in, Williams has lost his man but Keane can see it all, he doesn't react cos he's worried about his man but Kenny is behind him, you just move on one, basic under 11 defending.
Did Unsy say I don't want anyone going with runners, 1-2s just leave them, if as a player you don't believe in what the manager is trying to do, you take responsibility. I've never had a season ticket because I've played every Saturday for 20 odd years but the nonsense on here and in the ground when I do go is embarrassing.
Steve Ferns
152
Posted 28/11/2017 at 21:33:45
Agreed on the goals. Was goal 2 the one where Jags is done by them knocking it back and then passing wide to Tadic on the left and he gives them a 2 second head start, Williams just ducks under the cross and Keane makes a lame attempt to get it. That goal summed up our defence. All three of our centre-backs at fault. No one taking responsibility, and pointing the finger at everyone else.
Barry Lawler
153
Posted 28/11/2017 at 21:38:11
Yes, but we know about jags and Williams, so once that ball comes in, keane sees it all, he can deal with it, the ball out wide is a concern, now its a danger it's coming in, deal with it then bollock everyone.
Add Your Comments
In order to post a comment, you need to be logged in as a registered user of the site.
Or Sign up as a ToffeeWeb Member — it's free, takes just a few minutes and will allow you to post your comments on articles and Talking Points submissions across the site.