Unsworth: As an Everton man I'm hurting

99 Comments [Jump to last]
Tuesday 28 November 2017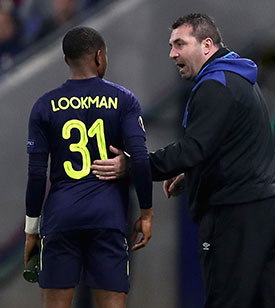 David Unsworth says that he has no regrets about stepping into the void created by Ronald Koeman's dismissal but concedes he is pained by the club's current plight.
Everton's director of coaching and manager of the Under-23s was asked to take charge of first-team team affairs five weeks ago in the hope that he could provide some stability while the Board of Directors lined up a permanent appointment.
Just one win in seven and two particularly heavy defeats in the last two games has ramped up the urgency for the club hierarchy and led to some regrettable scrutiny of Unsworth's performance in what have been very trying circumstances.
"I'm hurting," Unsworth admitted in his press conference this afternoon. "As a proud Everton man, I'm hurting. I think I have to tell the Everton fans how much it hurts me just as much as it hurts them.
"But I don't think you ever turn down the opportunity to be standing where I'm standing and that's the case at the moment. I'm hurting but I still remain a proud Everton man."
Asked if he felt he had been hung out to dry during what has been a challenging period for the club in which he has been the sole representative of the club facing the media's questions, the 44-year-old reiterated his stance that not answering the call from his beloved Blues would have been unthinkable.
"You never turn down the opportunity to be Everton manager. I think it's really important that you try and help the club out in a difficult time. Five weeks ago I was asked to come in and do a job to lead the team. I did that and I've been doing that.
"I wouldn't have turned [the opportunity] down. I didn't turn it down five weeks ago, five days ago, five minutes ago I would have done exactly the same. I'm a proud Everton man, this is my club and I love this football club.
"At the moment we're in a difficult time and it's been tough but it's time for people to stand up now. I'll stand up there as long as I have to and as long as I need to to help my football club."
Everton are reportedly in talks with at least two candidates, believed to be ex-England boss Sam Alladyce and Shakhtar Donetsk man Paulo Fonseca, but Unsworth is expected to be in the dugout for tomorrow's huge match against fellow strugglers West Ham United.
"As we sit here now, I believe the Board are talking with a few people," Unsworth explained. "Talks are ongoing but nothing has been finalised as yet with anybody so I continue to do what I was asked to do five weeks ago which is prepare the team, pick a team and a win a game on Wednesday.
"Until somebody tells me differently, I'll continue to do what I've done for the last five weeks.
"I don't know [if the West Ham game will be my last in charge], is the honest answer," Unsworth continued after admitting that he would be committed to continuing his work with the U23s and youth teams once he steps down as caretaker boss. "If it is, I'd just like to take this opportunity to thank all the staff, in particular John Ebbrell, all the fans for their amazing backing because they have been terrific and we'll continue to give our all. "If it's not, we'll come in Thursday and Friday and we'll just keep rolling. Like I say, whoever gets the job will get my full support and my backing."
---
Reader Comments (99)
Note: the following content is not moderated or vetted by the site owners at the time of submission. Comments are the responsibility of the poster. Disclaimer
Jamie Evans
1
Posted 28/11/2017 at 18:12:27
Full support required tomorrow night from any fellow TW's who are going. Massive. Absolutely massive. Onward Evertonians. Let us make the place shake for what I feel will be Unsworth's last game.
Liam Reilly
2
Posted 28/11/2017 at 18:15:14
If he's got ambitions of managing Everton in the future then he'd surely be better with an opportunity in the Championship or League 1 to continue his education.
Ian Fisher
3
Posted 28/11/2017 at 18:20:54
Such a shame for Usworth as he'said tried but unfortunately not been the man for the job.
Big ask of him though as it wasn'the only Koeman who left but his brother and another couple of Koeman'so backroom staff, so a tall order for all the junivor staff at the club to step up. Handling the first team is a huge ask for those used to u23 and u19 squads.
Kevin Tully
4
Posted 28/11/2017 at 18:26:21
Watching his press conference today was all a bit cringeworthy if I'm honest. Talk about playing to the crowd. Sounds precisely as you'd expect a young Bill Kenwright to speak. Maybe those three or four calls a day are rubbing off.
No doubt some will lap it up though.
Barry Pearce
5
Posted 28/11/2017 at 18:27:19
Gutted for rhino, I really hoped he could make the jump from the Under-23's, but sadly it wasn't to be.
Lewis Barclay
6
Posted 28/11/2017 at 18:31:02
Here's what he should do tomorrow then:

Pickford
Kenny, Jagielka, Keane, Holgate
Besic, Gueye
Lookman Sigurdsson, Baines
Rooney
Lyndon Lloyd
7
Posted 28/11/2017 at 18:32:33
Massively cynical that, Kevin (4). No doubt he was desperate to do well and maybe even earn the job for himself. He looks broken but has retained his dignity and integrity throughout the whole thing.
I just wish he'd been able to steady the ship until the end of the season because we're about to take a step I never ever thought we'd have to.
Ste Traverse
8
Posted 28/11/2017 at 18:34:32
Even when a caretaker takes charge you can see an upturn in performances and results, sadly with Unsworth, we've got steadily worse.
He's not helped himself with some strange team selections, and his comments regarding us not being in a relegation battle were just bizarre.
Unsworth had the balls to step up to the plate but is totally out of his depth. This situation simply isn't his fault though. It's our useless board, the same crew who have been letting this club down for years and years, who need to be castigated for the position we are in.
Sean Callaghan
9
Posted 28/11/2017 at 18:42:40
I don't know about Unsie playing to the crowd or me lapping it up, Kevin. On the contrary, I thought it was an honest and heartfelt assessment by a very principled and decent bloke.
I just wish things had worked out better for Rhino and I wish him all the best where-ever he ends up (hopefully back weaving his magic with the U23s)
John Davies
10
Posted 28/11/2017 at 18:42:50
"Until someone tells me differently I'll continue to do what I've been doing for the last five weeks".
What? Putting out sides with no shape, no structure and no game plan who get hammered every game? Sorry but I don't want to listen to him anymore I'm afraid.
And before anyone gets on my case for being too harsh let me say that this man has been a great servant to the club but a terrible choice (by deluded Luvvy Bill) as first team manager – caretaker or otherwise. That idiot has all but destroyed his CV and put him way out of his depth. I really feel for him but the step up from Under 23's to the first team has been totally beyond his capabilities. So sorry Rhino.
Mike Gaynes
12
Posted 28/11/2017 at 18:51:04
Kev (#4), I know you're a sarcastic chap by nature and I love ya for it, but that's just wrong in my opinion. Rhino's been nothing but class through this ordeal, even though it's been clear to me from the start that he wasn't qualified for this job. He's made no excuses, and I haven't read anything from him that remotely resembles "playing to the crowd."
I expect him to leave the club to take a top job in a lower division (you have to Crawley before you can walk, right?) , and I'd say that after 2-3 years at a Rotherham or Gillingham, he's going to make us a fine manager.
Brent Stephens
13
Posted 28/11/2017 at 18:59:24
Nice to see that Rhino is able to conduct himself with dignity.
Kevin Tully
14
Posted 28/11/2017 at 18:59:26
The time for the "greatest fans, bestest club in whole wide world" chat may be appropriate when you've just won a Cup etc.
When you say these (exact same) phrases over and over at every press conference, which he has, means one of two things. Deflection, or bullshit. Probably both. As I say, he's a baby Kenwright in the making, exactly what we don't need right now, or ever again.

Brian Williams
15
Posted 28/11/2017 at 19:04:47
Yeh Rhino's been SOOOO much worse than Koeman!
Ray Robinson
16
Posted 28/11/2017 at 19:06:17
Only my opinion Kevin, but you're talking bollocks. The guy is Everton through and through and I think you do him a great disservice. Your statement tells me more about you than it does Unsworth who is clearly a broken man but has remained dignified throughout.
Kevin Tully
17
Posted 28/11/2017 at 19:09:32
It's no wonder Kenwright has managed to hold on for so long.
Dick Fearon
18
Posted 28/11/2017 at 19:10:46
Lyndon, already my brain is in a state of dreaded confusion bordering on panic then you come out with:
We are about to take a step you never ever thought we would make.Those few words from anyone else would barely register but from your much respected self they sound extremely ominous. Certainly more so than appointing Big Sam.

Dave O'Connell
19
Posted 28/11/2017 at 19:15:19
I feel for Unsy, the team was in a terrible state when Koeman went.
Looking back now, was Martinez that bad compared to this???
Mike Hughes
21
Posted 28/11/2017 at 19:19:37
Sam Allardyce is a step closer, according to McNulty.
Paul Tran
22
Posted 28/11/2017 at 19:20:43
Absolute class. Dealt a poor hand by a negligent board happy to hang him out to dry and diminish his authority while they continue their power struggle. Did his best, don't think he's been good enough, but I'd be very loathe to criticise him.
James Marshall
23
Posted 28/11/2017 at 19:21:08
I think he made a lot of mistakes – we've been WAY worse under him than Koeman. Moyes is right, Unsworth needs to go & manage at a lower level to work it all out.
His constant changes in personnel, weird subs, changing things at half time all the time, because things weren't working, then changing it again – you simply can't do that every game. You will get torn apart without a gameplan, and Rhino didn't have one in any of our games.
Don't get me wrong, I like the bloke but he's not a manager of a Premier League team and should never have been given 5 weeks as manager.
Bradley Smith
24
Posted 28/11/2017 at 19:21:50
Deserved his chance, Rhino; hasn't worked for him. Well out of his depth.
There's a mixture of players who are finished and young players who are not good enough, the powers that be keep stating how ambitious we are?
If we had any ambition we would still have Stones at centre-back, Geri on wing, Ross an Rom up front and then spend the £200 million, that's real ambition.
Southampton too Virgil van Dijk your not going anywhere and so did Liverpool with Coutinio, so why are we persistent to let are better players go? Shambles.
Don Alexander
25
Posted 28/11/2017 at 19:23:18
Unsworth has just turned 44 years old. Nearly half the present managers in the Premier League are younger or just three years older than him, so he's perhaps leaving it a little late to now embark on management with a view to making it to the top.
Moving on, he's just another example of Kenwright and the board using him to try and blind the fans that they have a plausible plan when the whole football world has being saying the opposite, more and more loudly as the farcical management recruitment process slews onward. The evident fact that whatever millions they're offering in salary hasn't been enough to meaningfully attract anyone of note speaks volumes for the way our club is now regarded inside the world of football, never mind the millions more on the outside, and us fans.
I just hope Unsworth's not been damaged in terms of future employment because he really doesn't deserve that.
James Marshall
26
Posted 28/11/2017 at 19:25:37
Millions are meaningless – all these managers have enough money already, and have options with other contracts at other clubs. Coming to Everton is highly likely to ruin a manager's reputation at the moment!
Colin Glassar
27
Posted 28/11/2017 at 19:29:33
Okay, Unsy was found out and has been battered for it but he has faced up to the fans and media in a dignified manner.
Where are the two gobshites who put him there in the first place? Why don't they come out and face the media glare? No, they hide behind a decent man who's been treading water since day one and they don't even have the fucking dignity to tell him what's going on.
Have a go at Unsy by all means but remember who's to blame here for our shameful collapse this season.
Tommy Bowman
28
Posted 28/11/2017 at 19:34:00
To be fair to him, he stepped into to a problem of colossal magnitude left by his predecessor and Steve Walsh's ludicrous transfer policy (Buy every fucker bar what we needed).
He's an easy target as he's the bloke in charge and 'true blue' or not – he's done an awful job. He'll be hurting, not just as a manager found out at a higher level than his talent , but as a genuine Evertonian.
He has to take some of the blame for our awful performances. He picked the team. He set the formation. They followed his tactics.
Having said that, my real ire, my genuine fury in fact, is directed towards some of the players.
There is a streak of total cowardice that runs through our team. Players who trot around the middle seemingly without a care in the world, shoulders hunched when we go a goal down, not acknowledging their teammates let alone finding accurate passes to them. Going through the motions of being a professional footballer but doing little else.
Our defence is feeble... Ashley Williams should be frogmarched out of Goodison and have his contract burnt before his eyes. Keane is a quivering wreck, confidence shot. Jagielka and Baines, fine players though they've been need pensioning off - they're no longer the players they were and I think they both know it.
So my real wrath is not for Unsworth, it's for the half dozen frauds masquerading as professional footballers, whose heads go down at the first sign of trouble, they get battered, shrug their shoulders and pick up their £100k a week with seemingly not a fucking care in the world.
It looks like that gum chewing, shite spouting caught-on-camera fill me pockets Big Sam will be managing us from what heard. At Everton... Everton . Sam Allardyce .
'He'll keep us up' I hear some of you say. Well sorry, I want better than that for Everton
Fuck me - from Golden Vision to Golden Shower in 60 years.
Cheers Bill, Cheers Wood, Cheers Moshiri... great reward for nearly sixty years of support. Sam-fucking-Allardyce
John Kavanagh
29
Posted 28/11/2017 at 19:47:05
Unsworth could easily have done a Schneiderlin and just chickened out but when asked to by his club he stepped up to the plate. It's to their shame that the experienced players have let him down so badly.
Only youngsters Kenny, Davies, Calvert-Lewin and Benny plus Omar have shown any real heart and fight, plus occasionally Lennon, Sandro (too keen) and Vlasic.
As Unsworth himself intimated, the payoff (P45s hopefully literally as well as figuratively) for the rest will come in January, which I am now looking forward to more than Christmas. Jags and Baines can go on to a deserved happy retirement at the Stadium of Light.
As Allardyce prefers so called experienced pros over youngsters, then boy is he in for a shock next week at what's on offer thanks to Koeman et al.
Jim Wilson
30
Posted 28/11/2017 at 19:47:49
His big mistake was not keeping the same team together. Instead we got changes every game which made us even worse than when Koeman was in charge. The last thing we needed I'm afraid. Cracking Evertonian though!
Dreading the game tomorrow. I do not want the treacherous Moyes getting one over us.
We need to play it tight, work harder than we've done so far, stop them from creating and I would take a point now to sop the rot.
COYB!
James Marshall
31
Posted 28/11/2017 at 19:52:39
I think we all 'get it'. I also think Unsworth is there to be debated as a manager as well – I'm not having a pop at him for any reason other than I think it's the truth in the cold light of day.
Yes he's been hung out to dry, and has been dignified etc, but he's also made a ton of mistakes, and had he not been a blue he'd have been slated to the heavens just like Koeman was.
It's only because of who he is that people are being kind to him – he's been useless in truth, and I don't mean that with any malice.
Joe McMahon
32
Posted 28/11/2017 at 19:52:58
The board not have a realistic plan when Koeman was dismissed is a disgrace, but then again we have become used to that over the past 20-30 years.
I Think David Unsworth has been hung out to dry, and put under a lot of pressure considering he's stepped up from managing the U23s. David is a decent guy and the board have failed him and us.

Mark Morrissey
34
Posted 28/11/2017 at 19:59:55
I'm in the Kev Tully camp. I think Unsy has talked too much and almost begged for the job. He should have simply said less, that's it.

Let your management do the talking and be economical with the soundbites. We know he's a blue but he was almost trying too hard to convince us all of stuff we already knew.

Don't say "I've been talking to Farhad 3 or 4 times a day" it sounds obsequious and Moshiri will see that and it won't impress him. It makes you look desperate. Moshiri doesn't want a "yes man", he wants results.
Raymond Fox
35
Posted 28/11/2017 at 20:00:44
What else can he say if he's asked direct questions, he is just saying as it is. With the injured players both long term and short term missing he does not have a lot of good options to change the team does he.
Add to that we don't know what the attitude of the individual players are like, we have heard of possible problems with a couple of them at least.
What about Rooney's domestic situation, is it the reason he's not being picked, we don't know enough to be too critical.
What I do know is I'm dreading this West Ham game, the ease with which Austin scored his two goals points towards Carroll giving us a mountain of trouble. I fear the worst I have to say if the balls in the air in our box, as it surely will be.
Ray Robinson
36
Posted 28/11/2017 at 20:04:07
Kevin, there are separate issues at play here: firstly what has Kenwright got to do with this thread really? Koeman claimed to talk regularly with the Chairman too – that didn't make him a clone did it?
Secondly has Unsworth done well as a manager? No, undoubtedly not, not at all.
Thirdly, you claim that Unsworth is deflecting and bullshitting.
Well it's this latter point which I'll take issue with you on. He's a true Blue, a thoroughly decent human being who is hurting and doesn't deserve criticism for stepping up to the plate even if he did make a pig's ear of the job.
As others have said, reserve your ire for those that put him in that position.
Tony Mace
37
Posted 28/11/2017 at 20:08:33
KT # 4 Cringeworthy?
JD # 10 Idiot?
KT# 14 Baby?
C'mon
Have a word with yourselves please

Jack Convery
38
Posted 28/11/2017 at 20:08:54
By thinking Unsworth would be ready to manage EFC, Kenwright showed once again hes an idiot when it comes to football.
I said a few weeks ago name me one team in the Premier League who would hire Unsworth as manager. I said no-one. The fella has been hung out to dry because of Kenwright's ridiculous notion of the new manager has to be blue through and through. What a joke.
I tell you, Kenwright is behind contract extensions for Baines, Jagielka and Mirallas – all of whom have not done it for EFC since the start of Bobby's 2nd season.
Kenwright hates it when is mates are not in the team. He hates it even more if he reckons they are being mistreated – hence his sour relationship with Koeman, who realised they were not up to scratch – hence his purchase of Williams to replace Jagielka and subsequent signing of Keane.
If we had got a left back and FFS why didn't we, its almost certain he would be in the team now, as we lack energy and drive down the left, never mind all over the bloody pitch. Can't have my mate Leighton on the subs bench, he's great my mate Leighton.
The board, the backroom staff and the team are split down the middle = Kenwright's arse-lickers and the rest. We are a joke and a rest home for ex players and a fucking rest room for supposed legends who lets face it have won fuck all in a blue shirt. My god, even Wigan have won the FA Cup never mind those teams that have managed a League Cup win.
I and many like me have believed and realised for years we are badly run. Now the whole world knows it. Kenwright please leave and take the never-wases and hangers on with you. We are EFC not BKFC! Allardyce at Goodison and not as an opposition manager – you couldn't make it up. FFS go and go now and take Walsh with you. Anyone who can recommends Sam / Shakespeare is clearly not good for EFC – never mind the lamentable signings he bought and those he tried to bring to the club. Rant over.
Henrik Lyngsie
39
Posted 28/11/2017 at 20:34:56
Obviously it is a difficult job to be caretaker manager for such an extended period of time.
However, you get the feeling it is preseason and you are giving a number of players a run. But I don't see the core of the team, I don't see the leaders or the experienced guys lifting the team. Off course there are thousands of opinions among Evertonians about the best starting eleven, but unfortunate it seems like Unsworth is having as many opinions. The fact is that he has managed the team for seven matches and no one knows who are the preferred eleven. Off course when you are loosing you have to change. But Unsworth have been changing around since his first match.
I don't know if he is indecisive or incompetent or whether it is more a matter of too many people having a say. Is he a politician trying to please all?. Play the youngsters, play the seniors, play Rooney, dump Rooney, play Sigurdsson where ever. I can't find any logic and coherence in his team selection. I would claim we have plenty of good players but no team.
Declan Martin
40
Posted 28/11/2017 at 20:35:47
I agree with Tommy #36.
Ashley Williams epitomises everything that is bad about the current team and should be thrown down a mineshaft. Keane is young and the malaise is clearly getting to him. Jags and Baines have been great for us but are sadly on the wrong side of the age gap, and both have lost vital pace.
So– should we name the "the half dozen frauds masquerading as professional footballers, whose heads go down at the first sign of trouble . . "?
Schneiderlin leads the crew, with Mirallas, even Rooney and Sigurdsson not far behind . .
Who else?
Kevin Tully
41
Posted 28/11/2017 at 20:36:57
We are talking about footy here, aren't we? Saying our temporary coach seems good at the old bullshit seems to be sacreligious to some. Fair enough. The long pauses and 'greatest' mantra reminds me of Kenwright, that's all.
No need to get your panties in such a twist, lads. I also think he's wonderful and he 'gets us.' A top, top blue. Who should definitely get the job one day. 'Cos we're the best fans and the greatest club. Lovely. Legend.
Dave Abrahams
42
Posted 28/11/2017 at 20:39:23
The Echo are reporting that Allardyce could be announced as Everton's manager tomorrow before the West Ham game although they say that Unsworth will be in charge of the team.
Charlie Lloyd
43
Posted 28/11/2017 at 20:47:37
Lyndon @ 7
I totally agree with the comment regarding Unsworth.
Kevin @ 4
It's your opinion fair enough. My opinion is that yours is distasteful and overtly cynical.
Kevin Tully
44
Posted 28/11/2017 at 20:49:23
I'm going to talk tactics on mumsnet, they're less judgemental.
Jim Whiffen
45
Posted 28/11/2017 at 20:58:25
Kevin, I think you are spot on in your assessment.
A few more telling it like it is and we might get out of this shitstorm we've sleepwalked into.
Eoin Whyte
46
Posted 28/11/2017 at 21:02:09
Did his best but hung out to dry by our farcical board. With many of the backroom staff moving on it became near impossible for poor Unsy. Can't blame him for giving it a go though.
Once you saw the likes of Joe Royle involved, who hasn't been involved in a Premier League set-up or managed in god knows how long, you knew we were bang in trouble.
Agree with #38 Jack's rant to an extent. Kenwright's involvement is poisonous. Has been for the last 20 years.
Ernie Baywood
47
Posted 28/11/2017 at 21:02:44
The criticism of his short reign is a bit harsh in my opinion. He did bring some improvement... the first 3 or 4 games (excepting the away Europa League match where he rested players) brought an upturn in effort generally. We still weren't great but he had them working.
As things have dragged on things have got worse but an interim manager dragging on is straight from the textbook of how not to manage a club. In fact it's straight out of any management textbook.
Basically, he's done what you could reasonably expect him to do. Granted, nothing more, but he still hasn't deserved to be left in this position.
There's every chance that this has ended the first team management career he was trying to build. I feel for the guy.
Mark Riley
48
Posted 28/11/2017 at 21:05:21
The guy has no experience of managing a Premier League team but had the balls to step up to the plate. The team has no confidence, no desire and is completely unbalanced due to the neglect of its former manager and board. He did his best and is a devout Evertonian who cares passionately about the club.
Yet there are people on here calling him a joke and an idiot. Should be ashamed of yourselves.
Jimmy Sørheim
49
Posted 28/11/2017 at 21:05:29
I think it is crystal clear Unsworth is holding back what he REALLY feels of this board, he feels like a representative from the PR department.
Unsworth needs to tell the fans how he sees the club being run now that he is the manager, he has already told us the squad is a joke, now please expose the board by lambasting them for selling Lukaku.
That is what a TRUE Evertonian would do, tell the truth!!
Michael Farrelly
50
Posted 28/11/2017 at 21:06:16
I'm sorry but in times of crisis you look to leadership both on and off the field.
On the Field
We have not witnessed any off our players step up to the mark in this regard. We needed a 'Peter Reid' style battler in the middle of the park barking orders and getting stuck in, leading by example. Despite all the investment we have no one of this ilk, closest would be Rooney who's appalling off field behaviour certainly diminishes any real and sustainable leadership credibility he may build with his highly paid team mates.
Off the Field
This has been the most alarming aspect of our current free fall to oblivion Unsworth has been cast in front of the media to figure head the crisis - poor chap is hopelessly ill-equipped for this task. The current predicament would most likely prove too big a hurdle for the current elite crop of Premier League Managers to manage effectively. Remember the 'special one' at Chelsea when it all started to go to rot.
No the leadership of the club the same leadership that placed the arrogant Dutch prick in charge, that brought in the clueless Steve Walsh that funded the deluded and disastrous player recruitment drive are inexplicably silent. Poor old caretaker Unsy is left to front the media after each on field disaster, it's a stark pathetic abdication of leadership from the board, Bill K and what's his face!
Mick Conalty
51
Posted 28/11/2017 at 21:07:39
Do Moshiri and Kenwright have to pay out Keoman's contract of £18m? If Rhino had been a success, they would have paid him buttons comparably, they must be sick having to pay out again. Don"t forget much more wants more.
That sign on Unsy's desk, the one that says The Buck Stops Here. It was given to him by the board.

Eric Paul
52
Posted 28/11/2017 at 21:11:36
Kevin Tully
The greatest fans are there through thick and thin not just after success, do you want him to slag his boss off. I take my hat off to him for taking an impossible job on in the short term, where was Ferguson as he is the only first team member of staff still there. Big Dunc, my arse.
Brent Stephens
53
Posted 28/11/2017 at 21:15:32
Kevin (#44) – mumsnet would give you a run for your money!
Kevin Tully
54
Posted 28/11/2017 at 21:16:14
How dare you say anything about the biggest legend that ever graced the Goodison turf, Eric. Shameful. I'm truly disgusted and a little sad. That man even has a club crest tattooed on his arm. Where are Unsworth's tattoos? Eh?
Eric Paul
55
Posted 28/11/2017 at 21:18:51
On his fuckin heart, legend???
Eoin Whyte
56
Posted 28/11/2017 at 21:34:26
Will be interesting to see the crowd reaction for Sam's 1st game...
Mike Andrews
57
Posted 28/11/2017 at 21:36:44
Excuse me, but if you have the coaching skills to win a league with your club's most promising youngsters against the most promising youngsters of other, richer, clubs how do those skills evaporate? Do we not have to look at the players here? Do we not have to look at the legacy he inherited?
I cannot accept that someone talking with pride about Everton should be pilloried. Equally, I am deeply scared for our future and know that he has not achieved.
Please, not Allardyce.
ps: quite amused when predictive text sent up 'allergic' for 'Allardyce'.
Darren Hind
59
Posted 28/11/2017 at 21:42:41
The guy took over a team in free fall, a bunch of players devoid of confidence, devoid of pride, most of whom don't give a fuck about this club. No decent strikers. The slowest players in the league, four first team regulars with a combined age of 128.
A team which – and lets be very clear about this – was ALREADY occupying one of the relegation berths. A team who's creative players were clogging up the treatment room. A group of players who had had their love of the game sucked out of them by a charmless, clueless bully who was allowed to spend 200 million quid making us the ugliest team in football.
Unsworth wasn't just dealt a poor hand, by giving him total responsibility and zero authority over this crew, The Everton board were quite possibly dealing him the shittiest hand ever dealt to a premier league manager... Four games before he could get his coat off followed by an international break meant he has been unable to get his players on the training ground. He couldn't even sign new players to freshen things up. He was stuck with the misfits Koeman had brought in.
I don't think I've have ever wanted an Everton manager to win as much as I want Rhino to win tomorrow. I want him to be able to say that despite all the above, he was still able to move the club up a few places and out of the danger zone.
Kevin Tully.
Maybe you got your fingers burned by supporting the last two managers so readily, I don't know, but your comments are very disappointing. This is no Kellie Maloney. He's the only modern day player I can remember who entered Gwladys Street stand as a paying customer.
Rather than question his heartfelt pain. Why don't you spend a little time reflecting on job he has been trying to do... When you've done that you may want to give a little thought to the impossible circumstances under which he has been expected to do it.
Brian Williams
60
Posted 28/11/2017 at 21:48:28
Hear, hear, Darren. Unsworth's supposed to undo what the great future manager of Barca has left him, in five games?
Jesus Christ himself couldn't have turned it round because most of these players have been gutless and cowardly throughout.
He's been forced to chop and change to see if any of the useless fuckers would play to anywhere near their previous standards.
Ian Brandes
61
Posted 28/11/2017 at 21:48:30
Well said, Darren!
Steve Ferns
62
Posted 28/11/2017 at 21:51:12
Spot on, Darren. He's made a few mistakes for sure. But he had to try things. And it's not easy when the team is like it was. Win tomorrow and he leaves it in a better place than when he took over and eases the pressure on the new boss.
Pete Clarke
63
Posted 28/11/2017 at 21:55:03
Totally wrong having a go at Unsworth.
Every bit of criticism should be thrown right at the board who clearly know absolutely nothing about football.
Asking the players to stand up is also not going to work as there are no leaders apart from young Davies or Kenny and that will take years.
I thought City were shit last season with the squad and manager they had but slowly through organisation look at them now.
That organisation starts at the top and we have no leaders anywhere.
Brian Williams
64
Posted 28/11/2017 at 21:56:06
What really pisses me off about our predicament is that we'd have only had to raise the standard by a relatively small amount to beat Southampton, who are poor, and we'd only have to do it again tomorrow against West Ham, who are poorer still.
But the worst thing of all is that I just can't see us doing it.
Mike Andrews
66
Posted 28/11/2017 at 21:57:23
Darren, if there was a "Like" button on here I would press it many times. That's what I was trying to say but not as well!
Eddie Dunn
67
Posted 28/11/2017 at 21:59:26
Well-in, Darren.
John G Davies
68
Posted 28/11/2017 at 22:01:26
Great comments in support of Unsy. I hope they are all proved right. A blue in the mould of all of us but I fear he will send the wrong team out tomorrow. I hope I'm wrong but I fear I'm right.
Brian Williams
69
Posted 28/11/2017 at 22:03:01
John. He could send a fucking eighteen man squad out there tomorrow and it'd be the wrong team.
Can you see the right team.coz I can't!??
Paul Holmes
70
Posted 28/11/2017 at 22:06:07
How can you moan at the board? They gave Koeman 140 million to spend on players, FFS! (the 7th most spent on players in Europe). The players are rubbish, they get paid vast amount of money and they perform terrible no matter what manager we have.

With Allardyce he will organise the team better so we might stay up but the next couple of transfer windows must be spent getting rid of this dross and better recruitment as it will take us at least 3 years to rebuild following Koeman and Walsh's historically rubbish player recruitment with big bumper contracts in tow!
Trevor Peers
71
Posted 28/11/2017 at 22:10:40
The biggest mistake Unsworth made was accepting the job as caretaker, then letting Kenwright blow smoke up his arse about his chances of getting the job full time, which was a cruel pipe dream.
Kenwright is the real villain of the peace, but Unsworth should of kept his head and insisted he stuck to the caretaker job only, until we appointed a experienced manager
Ian Bennett
72
Posted 28/11/2017 at 22:10:42
Absolute shambles.
No manager after 5 weeks and a hugely lob sided squad of players with zero fight despite pissing £150m up the wall. How can we spend so much and clubs like Atheltico spend buttons, but be so far away.
Niasse was minutes from leaving, and wasn't registered for Europa. Only incompetence saved us from losing our only goal threat.
Rooney was a spent force at United. £150k a week for a lad that's shot. Wtf.
No left back cover at all, and choosing not to register Garbutt and allowing Galloway to leave with no back up.
No left sided player cover with Bolasie out till new year.
No right back quality with Coleman ruled out till new year at best.
Central defence in a shambles Funes Mori out for the season, and Jags n Williams finished LAST SEASON.
This is systematic negligence.
Tony Abrahams
73
Posted 28/11/2017 at 22:12:51
They like Unsworth, Kevin, why wouldn't they? He's a blue through and through, and it isn't his fault they have left him in charge, whilst they have fought like fuck in the background.
I think I know what you meant Kevin, maybe having more of a go at the club, and it's incompetence, is what you really meant to do, but Unsworth has been out of his depth, and like Darren, I pray for a win tomorrow, because if we lose it's back into the relegation,places.once again.
Hopefully this experience will make Unsworth, a better manager in the long run, but I don't see it myself, and think he would be better suited trying to be either a coach or a number two.
If he wasn't on a hiding to nothing when he started, then the job only got harder and it wasn't just David Unsworth's lack of experience that stood out, because the way he's been treated by our board, has been absolutely shambolic. I wish Unsworth well, he will get another job, but the others, well I'm not so sure about them?
Frank Wade
74
Posted 28/11/2017 at 22:29:26
Darren Hind - I think you have perfectly summed up the situation. I too had hoped that Unsy would be able to step in and steady the ship based on his cameo v Norwich and his excellent work with the u23s. It was not to be and I am gutted for the man. The criticism of BK for choosing Unsworth is bizarre as lots of us were happy at the time, that he was brought in to do a job. It didn't work out for a variety of reasons. Our dear neighbours had considerable success with the same 'bootroom' strategy in the past.
If Marco Silva was first choice, surely Fonseca is 2nd logical choice, not Allardyce.
John Davies
75
Posted 28/11/2017 at 22:34:24
Tony Mace #37. Read what I said at #10.
I said that idiot (BEING KENWRIGHT not Unsworth) has ruined his CV by putting him (UNSWORTH) out of his depth.
No problem. Of course I accept your apology.
Brian Williams
76
Posted 28/11/2017 at 22:36:07
The problem in the boardroom is that we have, on one side, a billionaire who is playing fanatasy football manager and seeking big names who are totally unrealistic and on the other side we have a romantic dreamer who wants every employee to be an ex player.
Both of them are far, far removed from what we need and where we need to go.
I'm afraid this "family" club Moshiri bought into is bollocks.
We need hard headed, professional, ruthless people at the head of the club.
We aint got em and it doesn't look like we'll get em any time soon.
And when Allardyce steps back to the table it'll be like the high pressure double glazing salesman fleecing the old desperate couple and making them pay way over the odds.
Andy Crooks
77
Posted 28/11/2017 at 22:37:30
Good post, Darren Hind. David Unsworth was given a shite hand by a shameless sack of no marks. They hoped, really hoped, that he could deliver a cut price miracle. No one could. And now? Well who knows. The miracle required will not be cheap and it will not be inspiring.
The custodians of our club are inept, inadequate and gutless.
Peter Mills
78
Posted 28/11/2017 at 22:40:02
David Unsworth has been thrust into a maelstrom. He's been in charge for just over a month during which he has had 5 away games, 2 home, when the only players who have shown any heart have been the ones he has previously coached such as Davies, Kenny, Baningime and Niasse.
To call him out for being unable to improve our fortunes, to change the attitude of complacent millionaires, during that month is harsh in the extreme.
Steve Ferns
79
Posted 28/11/2017 at 22:41:11
Just like most of the players, Andy
Jackie Barry
80
Posted 28/11/2017 at 22:46:08
I like Unsworth but it was going to always be mission impossible for somebody on the inside due to the rot that has set in. Unfortunately, it needs an outsider, an outsider who doesn't give a crap about the status quo, somebody who will get the cogs moving again. If Morshiri has any balls he will clear out the crap from the top down and realize the club needs direction not people living in the past. Problem is I'm not even sure he knows what he's doing, which is why Kenwright and him are a match made in heaven.
Gavin Johnson
81
Posted 28/11/2017 at 22:53:45
Darren
Nice eulogy of Unsworth's tenure but at the end of the day he just wasn't good enough. If he was, the players would have shown him a little more respect and there would have been a little more fight, especially in the last two games.
Some of the big time Charlie's in that side don't care less that Unsy's a true blue. His tenure's been very similar to that of John Carver at Newcastle. Players like Schneiderlin and Mirallas have no real allegiance to the club and will just move on if we get relegated. Maximum effort is the minimum requirement and as much as I don't like Allardyce we'll get at least that much and better drilled defence.
I'm actually coming round to the idea of Big Sam if some of the reports are true that we will have him until the end of the season. We can go back and get Marco Silva then.
Ernie Baywood
82
Posted 28/11/2017 at 23:02:47
I recall after the Arsenal game saying that I thought Koeman would get another few weeks simply to avoid a caretaker being thrown into the next three fixtures.
When they didn't wait, I think we all saw that as them being 'decisive', which was a welcome change of pace.
Well that air of decisiveness has gone now. They look like they didn't have a clue what came next. I'd bet my bottom dollar that there is a war going on right now at the upper levels of the club. We're just seeing the symptoms rather than the true illness.
For the good of the club, they need to resolve this quickly. If there are differences at board level then we're just going to keep seeing the same problems. Kind of puts a new light on our inability to sign a striker in the summer. We've seen it over the last 5 or 6 weeks. What makes us think that January will be any different? And if January isn't any different, we're fucked with this current squad.
Steve Ferns
83
Posted 28/11/2017 at 23:05:10
Being decisive is now about Big Sam, Shakespeare and fucking Sammy Lee.
£6m a year. And 2.5 year contract. Who the fuck let this happen?
Andy Williams
84
Posted 28/11/2017 at 23:13:38
His biggest mistake was putting Schnides back in the team. Whether that was bowing to pressure or that he thought we needed the experience I don't know. Not having Niasse available for Europe and after his ban was catastrophic for him and us. We should have won against Chelsea when he changed the team in the second half. Most people were pleased with the change in mentality. He put out a similarly attacking team against Leicester and was punished for it against a team regaining their confidence. We held Lyon until he had to change the team to try and get the win. The team started gaining confidence and we ground out a couple of results. Since then we haven't had an attacking outlet. The teams confidence was shattered again. He has been trying to firefight all along never knowing how long he had to get it right. I accept we need a new permanent manager who has no connections with the club. But I very much doubt that anybody could have done much better than he did in the situation - apart from playing Schnides.
Barry Williams
85
Posted 28/11/2017 at 23:19:40
Those slagging Unsworth off do realize that he has had the minimum amount of time to actually train these players in-between games? People criticize his team selections, however he played wingers, which people were asking for, dropped Rooney, which people were asking for and employed Niasse from the start, which people were asking for! He also employed Mirallas down the middle, again which people were asking for. He dropped Williams and Martina from the big games, which people were asking for.
I have disagreed with some of his decisions, primarily playing Schneiderlin and keeping DCL on all game against Southampton. However, his hands have been firmly tied. When did he have time to drill the defence, which is the worst I can recall since I saw my first game in 1980? Koeman had time with these players in preseason, bought a lot of them and still failed miserably. At least Unsworth injected some fight and we now know Benigme is a talent.
Unsworth had virtually no backroom staff as the majority were sacked and no time to get any in. He has had no support from the board and has been left in limbo from game to game. Koeman chopped and changed and couldn't find the right formula with the players even though he bought them, that is after being in charge for 18 months too!
My question to the detractors, and it is a genuine one: What do you think he should have done differently?
Colin Glassar
86
Posted 28/11/2017 at 23:21:08
Steve 83, Bill and Ben The Flowerpot Men. Useless, both of them!
Barry Williams
87
Posted 28/11/2017 at 23:28:39
Andy Williams - 84
Missed your post before posting mine! 100% in agreement.
My worry is, can anyone get anything out of this group?
Dan Davies
88
Posted 28/11/2017 at 23:51:06
Hey, Kev Tully has it right. Fair play for having the balls to speak his mind.
As for Darren ' our saviour is Unsworth' Hind you've been proved wrong Darren mate at least have the humility to admit it.
I don't care if Unsworth shits blue shit, he's not capable of being EFC manager in the Premier League.
Andy Crooks
89
Posted 28/11/2017 at 23:57:35
Dan, Darren has not been proved wrong. Had Unsworth been given the job immediately I believe things could have been mightily different. He was handed responsibility without time or authority. He had no chance. No chance at all.
Don Alexander
90
Posted 28/11/2017 at 00:07:48
Although this thread's about Unsy the reality goes way beyond him and the job he loyally stepped up to do, and I admire his instinct and aspirations in doing so. The realities are spelled out by Brian Williams at #76. The realities are how we're now perceived in the world of professional football and, courtesy of the boardroom sanctioned by our owner, I'm sure we're now perceived as a basket-case club upon which any bullshitting player, coach or manager can feast, regardless of results.
We are now about as feasible a proper football club as, today, Bramley Moore is a proper football stadium. The current board need to be jettisoned, pronto, and we need to hope Moshiri has hitherto unseen acumen in then appointing people we do need.
Steve Ferns
91
Posted 29/11/2017 at 00:08:58
He never had a chance, but he made a lot of mistakes. He put out teams that were reactive to the criticism he had received. He even played 442, that side reeked of Old Joe Royle, and the 90s tactics got slaughtered.
He did the job with dignity. He showed a capacity to learn and to listen. He would have sorted things out and stopped the rot if he had authority in dealing with the players. He certainly had one arm tied behind his back.
And most importantly, he had no time to drill the defence and fix what was wrong at the back. As Allardyce will no doubt prove, it doesn't take much to fix what is wrong here. It just takes time and energy, and any idiot can do it.
Dan Davies
92
Posted 29/11/2017 at 00:12:03
Had no chance Andy because he has no managerial experience beyond training kids.
He was Kenwright's romantic pick because he would bow down and kiss blue bills blue arse.
If Unsworth had any ambition at all in being a top level manager he wouldn't be doing what he has been for years- hiding- within EFC rather than cutting his teeth in the lower leagues.
I've nothing personal against Unsworth I'm just saying it how I see it. According to Mr.Hind Unsworth was our saviour. He was wrong. FACT.
Steve Ferns
93
Posted 29/11/2017 at 00:16:46
Well enjoy your 39% boss. Even Unsworth has a better win ratio in the league than Big Sam. So that says a lot doesn't it?
Dan Davies
94
Posted 29/11/2017 at 00:22:10
Come back Darren.
John G Davies
95
Posted 29/11/2017 at 06:58:59
"I'm going to talk tactics on mumsnet, they're less judgemental."
They will welcome the gossip about Rooney's chavvy tart... Druggies... Prezzies... Jailbird.. Etc etc.
Darren Hind
96
Posted 29/11/2017 at 07:05:13
Dan Davies
It's wrong of you to lie and say I claimed I said "Unsworth was our saviour" and you look rather silly trying to score the cheapest of points trying to do so.
I wanted Unsworth in the job months ago, before last season even finished, I certainly won't be denying it and when he was asked to step in save the disaster created by the guy you so stubbornly supported. I looked at the options and STILL wanted it to be Unsworth.
You see, unlike you, I understood the reality of the situation. I knew we were in total disarray and that ANYBODY would have struggled to arrest the freefall created by the rotten atmosphere that had been allowed to fester in our dressing room. I understood that the damage was done in the Europa League and I don't give a fuck about dead rubbers.
I stand by my belief that Rhino was the best man for the job. He didn't get the opportunity to get his ideas across, but the confidence-drained disjointed team he inherited have come from behind five times in the past three games. That shows these confused players are at least fighting for him.
If you want to come on this site and try to tell others they got it wrong, you may want to sit in front of a mirror and ask yourself why you so staunchly supported a guy as he squandered £200M to produce a team heading towards the Championship playing Zombie football . . You may want to ask yourself if you are in any sort of position to try to tell anybody else they had gotten it "wrong"?
Because of the situation he inherited, knowledgeable Evertonians will not judge Unsworth. You don't need to leave this page to see that... but if, in the future, you want to see how they and history treat your man, just take a look back anytime in the future.
Dan Kemp
97
Posted 29/11/2017 at 08:04:50
What I don't understand is this – in his first game against Chelsea he came out with a 4-1-4-1 formation that addressed the problems with balance that Koeman had. The team performed for him, and with better luck we could have won that game.
Why didn't he stick with that formation and line-up??!!
Tony Abrahams
98
Posted 29/11/2017 at 08:35:05
Are you being serious Steve Ferns? I also think 4-4-2, is outdated but Unsworth went 4-4-2, when we were two down to Watford mate, similarly Koeman, did the same when we were losing against Bournemouth, which also resulted in a turn around for the blues.
Unsworth problem was he dealt the hand he was given wrong, and carried on were honest Ron left off, chopping and changing, instead of trying to settle us into a system, which is hopefully what the next manager will do now, fucking pronto.
Dave Abrahams
99
Posted 29/11/2017 at 09:30:57
I don't think many Evertonians are blaming Unsworth for being in the mess we are in, we all know where the blame belongs, most of us know how deep the problems are, and question how anyone, at the moment, can pick a decent team out of the present squad.
Now we will never know how Unsworth would have got Everton out of trouble or not, but I thank him for his efforts.
Personally I think Allardyce will give us a better chance of staying in the premier league, especially if Sammy Lee is part of his coaching staff, nothing is guaranteed but the quicker Allardyce starts the better for Everton.
John Keating
100
Posted 29/11/2017 at 09:44:41
Steve (#91) – sorry, mate, I think your last paragraph is delusional. To say that any idiot can fix what's wrong at the back is well idiotic.
It's not just the shambles at the back it's midfield and up front. It's not just what's happening on the park but off it. Fitness levels are atrocious, the players seem knackered after the pre-match warm up!
Unsworth was given an impossible remit. A complete clear out is needed, both playing staff and boardroom. The Club is a laughing stock and embarrassment.
For anyone to think that this is an easy fix is frightening and whoever comes in will need the luck of the devil and the rest of the season to hopefully sort it – just to evade relegation.
Gavin Johnson
101
Posted 29/11/2017 at 12:29:57
Dan Davies (#96),
You're completely wrong about Darren. He never said that Unsy was our saviour. He said that Rhino could do the job as well as Ronald Koeman, and after 1 win in 7 games, Darren's been proved absolutely right.
Darren Hind
102
Posted 29/11/2017 at 22:49:47
Gavin Johnson and Dan Davies
Rhino – the fella "who isn't up to the job" – Stepped up to the plate when we were in the bottom three and in free fall, after six games he has us two points from 9th place. He didn't have any money to spend and he didn't have the luxury of being able to train with his players.
When we lost narrowly at Chelsea and Leicester most fans knew we had given it a good go. When we lost heavily in the European dead rubber Most didn't think it mattered. The clueless Koeman had long since fucked our chances up in that competition.... and when we lost heavily to Southampton, people realised that we had three defenders missing and we lost two more from an already makeshift defence.
But here's the thing. Rhino was given a simple remit, get us out of the shit, He has now done that and hands over the team in much better position than when it was handed to him. Allardyce takes over a team within touching distance of the top half and with a home game against a shell shocked Huddersfield which will virtually guarantee it.
The support for Unsworth was deafening tonight. "RHINO! RHINO! RHINO" rang around the ground as the faithful roared their appreciation and gratitude. A very knowledgeable crowd are the Goodison faithful? They understood that despite all the handicaps and obstacles. Their boy had done good... He'd done better than good.
What deafening applause. You two would have loved it.

Gavin Johnson
103
Posted 29/11/2017 at 23:22:45
Yes, it was great tonight, Darren. I support Everton Football Club (not whoever's managing) so I was made up with tonight's result and performance. Unsy can leave with his head held high and pass the baton on to an experienced manager who will now keep us up.
Dan Davies
104
Posted 30/11/2017 at 23:26:18
Boy done good! Hahaha Big Sam picked the team and dictated the tactics... Darren, are you that naive? Seriously?
Wake up, pal.
Add Your Comments
In order to post a comment, you need to be logged in as a registered user of the site.
Or Sign up as a ToffeeWeb Member — it's free, takes just a few minutes and will allow you to post your comments on articles and Talking Points submissions across the site.