Allardyce confirmed as Everton boss on 18-month deal

251 Comments [Jump to last]
Thursday 30 November 2017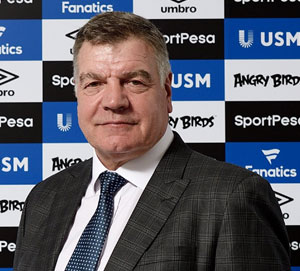 Everton have officially announced Sam Allardyce as their new manager after the 63-year-old finalised a deal until the end of 2018-19.
The club had revealed yesterday via a short statement that the former England boss was travelling to Finch Farm to complete the formalities of his contract and he then attended last night's game against his old club, West Ham, from the Directors' Box at Goodison Park.
The arrangement represents an apparent compromise between the two parties, with Allardyce agreeing to a shorter 18-month term than the three years he was reportedly after when he first discussed succeeding Ronald Koeman last month.
Everton, meanwhile, are believed to be paying him £6m a year, a substantial increase on the £2.5m annual salary he was on at Crystal Palace last season.
"I'm delighted to confirm Sam as our new manager," major shareholder Farhad Moshiri said. "His strong leadership will bring great motivation and get the best out of players.
"Sam understands the long-term ambitions we have for this great club and I know he is a man who gives it his all and is focused 24 hours a day on the club."
Allardyce, meanwhile, called for unity and commitment from the squad following the Toffee's dreadful start to the season.
"Let's try to get a healthy spirit around the club," he said. "I think that whatever's happened before we've just got to all rally around. Because we are all in it together and let's all pull in the same direction.
"We have to give the players every possibility to play to their best, really give them no excuses for not playing to their best and get them right back up to the top level we believe they're capable of.
"Peter Reid is one of my best mates, so are Andy Gray and Paul Bracewell, whom I worked with at Sunderland. These people have always made me aware of just how special and unique a club Everton is and I feel really enthused and energised to come in as manager."
Known as the man struggling clubs turn to steer them away from relegation, Allardyce has successfully ensured the Premier League safety of , Crystal Palace, West Ham, Sunderland and Blackburn Rovers in recent years after initially making his name at Bolton Wanderers.
Though he has become synonymous with the English northwest, he was born and raised in Dudley in the West Midlands before getting his start in football as a player with the Trotters in the 1970s.
His first managerial assignment was also in the northwest with Blackpool before he moved to Notts County, the only club to date where he has overseen relegation, although he was hired too late to save them from the drop to Division Three.
After joining Bolton, he led them to the Premier League and eventually into European competition via a sixth-place finish but left in 2007. A stint at Newcastle followed before he was brought in at Ewood Park, Upton Park, the Stadium of Light and then Selhurst Park to bring stability and order to struggling teams seemingly headed for relegation from the top flight.
Though his achievements at Bolton remain the pinnacle of his managerial career thus far, Allardyce's biggest appointment prior to the Everton job was that of England manager last year.
Hired to replace Roy Hodgson, it was an opportunity he hoped would allow him to dispel his image as a "fire-fighter" and manage at the top of the game. His spell lasted just one match, however, as he was sacked following a sting by the Telegraph in which he was recorded apparently negotiating with an undercover reporter posing as a Far Eastern businessman looking to pay money for help in skirting Fifa's third-party ownership rules of players.
Having rehabilitated his image somewhat when he was taken on by Palace, he elected to retire from the game when they parted company at the end of last season but he has now answered the call from Farhad Moshiri and the Everton board to try and stabilise what has been a chaotic 2017-18 season at Goodison.
His first match in charge will be against Huddersfield Town this weekend. Caretaker boss David Unsworth steps back down to the Under-23s having overseen eight matches that included two wins, two defeats and a draw in the Premier League and three defeats in cup competition.
---
Reader Comments (251)
Note: the following content is not moderated or vetted by the site owners at the time of submission. Comments are the responsibility of the poster. Disclaimer
Peter Roberts
1
Posted 30/11/2017 at 18:02:00
Interesting that he's only taken an 18-month contract rather than the longer-term contract he was seeking. Good move from the club to save on the compensation we'll owe him when we hire a new, longer-term manager.
Jamie Evans
2
Posted 30/11/2017 at 18:02:37
No. Please no. Help me. This can't be happening.
Kim Vivian
3
Posted 30/11/2017 at 18:03:48
It seems a little unreal, doesn't it, Jamie?
Danny Harris
4
Posted 30/11/2017 at 18:04:48
Welcome, Sam. I would love you to prove people wrong and hopefully win something/anything.

You're more than just a firefighter. Time to prove it!
Kevin Naylor
5
Posted 30/11/2017 at 18:06:03
If he beats the RS in a week or so's time, he'll be a hero.
Kevin Moorcroft
6
Posted 30/11/2017 at 18:06:24
We can only wish him good luck although 18 months is a short contract with stability obviously being the object.

Results will dictate the future be interesting to know what level of budget he'll actually have at his disposal. Unless I'm wrong a few of these present players want shifting on but he'll know that – maybe the usual EFC Sell to buy.

I reckon many would agree bearing in mind the performance of some recently and of course Sam will have his cronies to come in.

David Pearl
7
Posted 30/11/2017 at 18:06:59
Finally. Unsworth clicked at the right time, picking Rooney in his most effective role. I'm sure he witnessed what we all saw last night... a bit of fight, and also what he needs to address as in us giving the ball away needlessly.
A few tweaks and he will have us playing better in the coming weeks. So let's get behind him.
Brian Williams
8
Posted 30/11/2017 at 18:09:25
Peter. He's "only taken an 18-month contract" because that's all he was offered!
Paul O'Neill
9
Posted 30/11/2017 at 18:11:29
He's here now. Not anyone's first choice but he's saying the right things and he's now officially a Blue so let's get behind him.
Welcome to the best club in the world, Big Sam.
Mike Crawford
10
Posted 30/11/2017 at 18:12:44
How's this for a nightmare scenario.: Sam Allardyce not only presides over a derby win but next year oversees our first trophy since 1995. Impossible?
Geoffrey Hall
11
Posted 30/11/2017 at 18:13:46
Good luck to Big Sam. A couple of new players and we will be fine.
It is what it is – let's get behind him.
Michael Callaghan
13
Posted 30/11/2017 at 18:14:27
This is a nightmare. Everton way down in the gutter now.
Dave Abrahams
14
Posted 30/11/2017 at 18:16:43
Does the £2.5M compensation allegedly due to Crystal Palace come out of the £6M or do Everton pay that on top?
Jim Wilson
15
Posted 30/11/2017 at 18:17:12
Hopefully a settled balanced team with a strong midfield to win and keep the ball, especially at Anfield next week, will make us hard to beat. I hope Allardyce knows this and wish him the best of luck. His slate is clean and it is what he does from now that matters.

Alan Jones
16
Posted 30/11/2017 at 18:18:41
I never wanted Martinez. I never wanted Koeman. I always wanted an English manager. Forget your pipedreams of a so-called big name.
Can't wait until all of the whingers come on here and complain when we're in the top six and still threaten not to go to the game. Get over yourselves. Support our new Manager and get behind our team.
Ian Burns
17
Posted 30/11/2017 at 18:21:47
Far from my choice but he's our manager so let's get behind him. I pray he does in fact take us up that table and away from the scary relegation battle.
As I said on another thread, I ask one thing of Sam Allardyce: Please do not dump our youngsters, they are our future once you have served your 18 months.
Harry Catterall
18
Posted 30/11/2017 at 18:24:43
We are paying Big Sam more than many of Europe's top managers, Zidane included. He brings with him RS Sammy Lee as his assistant.
How bad would relegation really be? I feel like I am on the Titanic.

Derek Knox
19
Posted 30/11/2017 at 18:28:12
I don't think he was the choice of any of us, but until last night we were almost in free-fall, okay he wasn't in charge last night, but was on the verge of being confirmed, regardless of last night's result or performance.
Now the inevitable has happened we should all get behind him, after all said and done, he has only signed an eighteen month contract.
He may just be the new broom that is needed, because I don't think he tolerates passengers, and shirkers. We have a few on board already, who will have to shape up or ship out.
Be very interesting to see how much he alters the team for Saturday. The difference last night to performances of late, was stark, even though West Ham were poor.
It was amazing to see what confidence does for a side, apart from a short spell in the second half, we dominated the game, the springboard being Pickford's penalty save.
Hopefully he will be able to assess our needs between now and January and given some kitty money, not rocket science I know, but Koeman obviously didn't see it!
Dave Lynch
20
Posted 30/11/2017 at 18:32:35
Really Alan.
Your that sure he will get us into the top 6?
Me... I'd prefer a manager with some respect both for his style of football and his honesty and integrity.
As in life you reap what you sow and we have stooped very, very low with this appointment.
The press, as they did when he was England manager will be hounding him for a story of corruption and dodgy dealings, a Leopard cannot change it's spots and every transfer will have them scrutinise it to within an inch of it's life.
Welcome to the Big Sam Circus with Bill and Moshiri the clowns and us supporters as the paying public.
John Graham
21
Posted 30/11/2017 at 18:37:05
He was not my first choice when Koeman first left but as we struggled I thought he became the obvious choice.

I don't care who our manager is, doesn't even matter too much who plays for us. The main thing is we compete with every team and win as many games as possible.

I don't foresee any dramatic changes, maybe more organisation and hopefully more confidence in the players but we will have to battle.

Good luck to Sam and the team, whoever he picks, and let's hope we can now move steadily up the table.
John Pierce
22
Posted 30/11/2017 at 18:37:50
A clear shift in power last night. Moshiri pictured with Allardyce, as they sat in the main stand, Kenwright no where to be seen.
Bill joined later. But the intent is clear. Moshiri's appointment. Bill clearly didn't agree and has been demoted to the ensemble.
I'm petrified about the appointment, I'm sure this isn't the stop gap everyone thinks it is. Moshiri and Allardyce's rhetoric sound anything but a chance to kick on, nothing about saving us from relegation.
I wouldn't be surprised if he has an impact, the squad has talent and skills, despite hiding that from us in recent memory. So that's why I find it so galling, any reasonable organizer will get more from this team. It's not broke so bad that it needs life support.
After the 3rd went in, we actually showed a little confidence and knocked it around. Davies almost in an instant reverted back to the one touch demon, instead of the headless chicken he's become.
There was no need to panic, but the real reason we are is the boards lack of succession planning. Get your replacement lined up before you fire the fella.
Paul A Smith
23
Posted 30/11/2017 at 18:37:50
I am willing to back Allardyce, see how it goes and then judge. If there is no improvement after 12 games, I will be the first to want rid.
This club needs lifting to where it should be. No outsider will ever get my patience – he either comes in and does well, or he's out – simple as that.
Now we know Moshiri will say virtually anything to get the masses on his side too. Last year, McCarthy was Everton family; this year he takes Sammy Lee on.
Kase Chow
24
Posted 30/11/2017 at 18:39:25
Mike (#10),
Why is that a nightmare scenario? That would be my dream scenario.
Make it true and I'd be happy to have him stay for longer than 18 months. I just don't get why we can't be positive given he's the first manager since Moyes to get us organised
Mike Crawford
25
Posted 30/11/2017 at 18:43:04
Yes Kase. Just playing devils advocate. You never know
John Pierce
26
Posted 30/11/2017 at 18:43:39
If the man has any sense the team picks itself Saturday. Baines for Martina, Niasse for Lewin. As you were 4-1-4-1 or 4-5-1 if you prefer.
Terry Underwood
28
Posted 30/11/2017 at 18:45:33
He is innocent of any wrongdoing till proved otherwise in a court of law, so all the moral judges need to get over themselves. Like it or not, he is the manager and deserves our support, the clue is in the name... supporters.
COYMB
Richard Reeves
29
Posted 30/11/2017 at 18:45:59
My gut feeling is that we've denied someone of being a really good manager by not giving him that authority and respect by appointing him permanently and then panicking because of a few terrible performances which in part are because of not giving him the job.
As for Allardyce i'm expecting poor football,the youth to be shut out and a few tall players brought in but I'm hoping he's going to surprise most of us and turn out to be one of our best managers,it's about time and in recent decades we do better when there's little expectation.
Jim Whiffen
30
Posted 30/11/2017 at 18:46:07
#9 He was my first choice.. As for all the 'Keyboard Guardiolas' never going to Goodison again; It was full and rocking to the rafters last night.
David Israel
31
Posted 30/11/2017 at 18:47:12
Derek Knox (#19), he certainly was my choice after the debacles against Atalanta and Southampton. Ironically, last night's result makes the situation less dangerous, but we sorely need someone who can organise the team and make it a fighting outfit. We have form in this type of thing, as we all remember the Dogs of War – who went on to win the FA Cup.
All the best, Sam!
Neil Copeland
32
Posted 30/11/2017 at 18:49:29
I was not in favour of Big Sam joining us but he is here now and we need to get behind him.
Interesting that he already refers to Everton as "us", very unlike Koeman in that respect. I am fascinated by his appointment and in lots if ways looking forward to seeing how he handles things. His words suggest that he is looking beyond a relegation fight, he was talking about Everton's ambition which suggests a longer term view.
I wish him well if for no other reason that he is now a large part of Everton.
Dermot Byrne
33
Posted 30/11/2017 at 18:55:39
He looked well chuffed when we scored. There's a step forward!
Jamie Evans
34
Posted 30/11/2017 at 18:57:52
Unreal is right, Kim. As unreal as this clown winning at Anfield Sunday week.
As for him winning a trophy with us, ha ha ha - he's never taken the FA Cup seriously. I will always support my team, regardless of who is in charge, but please, please don't kid yourselves this is a good appointment. Search your feelings, you know it be true.
Gordon White
35
Posted 30/11/2017 at 18:59:11
Jim (#15) and Alan (#16). Couldn't agree more. At the end of the day we all hope he does well.
What we have to hope is that he gets offered a long term contract at some point. Because that will mean were doing really well.
If Koeman had done well, he wouldn't have been here very long. It's good to have a British manager.
Les Martin
36
Posted 30/11/2017 at 19:01:02
I am really interested in seeing how Sam goes on at a top club with now great resources, as he has always been mainly fire fighting digging poor teams out of a hole with a spoon. He now has a chance with a club with potential to be really going places, despite our dreadful start.
He will be tough and get us organised and balanced ! he will take no prisoners and certainly wont be taking a knife to a gunfight, caveman Sam is a bruiser and will club them to death. Interesting times as to who he fancies and who is shipped out, especially with the January window coming up; I wish him all the best.
Roger Helm
37
Posted 30/11/2017 at 19:01:23
A small minority of bitter-enders will never be happy but it seems most TWers take the view that Sam is now a Blue, and already saying the right things about the club, unlike his Dutch predecessor. So let's get behind him, or at least give him a fair go, and stop giving ammunition to our critics.
Raymond Fox
38
Posted 30/11/2017 at 19:05:42
My... we are sanctimonious, anyone would think he was a child rapist or heavens above the crime that has been elevated above murder or so it seems! Hold your breath, a racist!
He's forgotten more about football than the majority of the younger managers know. He'll whip the club into better shape I'm sure, but you can't expect miracles overnight; it's still going to be tough.
He is saying all the right things, which is to be expected and taken with pinch of salt, but he's right when he says we all need to pull in the same direction.
David Barks
39
Posted 30/11/2017 at 19:05:44
Well, this gives him the opportunity to do what he hoped to do with England, change his reputation as strictly a fire fighter. There is talent in this team, now it's up to him to get the best out of it.
Len Hawkins
40
Posted 30/11/2017 at 19:06:49
No way did I think he should be in charge but he is, so now I hope he takes EFC on the ride of their life. He has 18 months to convince the Teletubbies on the Board and the Supporters that he can take the club forward. I hope he does I hope he makes himself unsackable and makes a complete success of the job. Time will tell.
One thing that boils my piss is why the players could play like that last night but couldn't be arsed after Koeman was kicked out?
Peter Mills
41
Posted 30/11/2017 at 19:08:36
Ever the optimist regarding all things Everton, I suspect our new manager may do okay...
David Israel
42
Posted 30/11/2017 at 19:11:03
Peter (#41), in the end we usually do okay. Even Gordon Lee went close – all we needed was a proper 'keeper. There's a good parallel, I think, bar the 'keeper.
Neil Carter
43
Posted 30/11/2017 at 19:14:54
Not my choice. Would liked to have seen Unsworth given time.
Expect ugly football And instant results – or what's the point in giving him the job?
Kevin Tully
44
Posted 30/11/2017 at 19:15:19
Does anyone care who the manager is as long as the team is winning? I don't. Allardyce will tell it how it is in plain English. He won't talk us down like Moyes, he won't talk absolute gibberish like Martinez, and he won't look like he'd rather be somewhere else like Koeman.
He also has a point to prove, this is most likely his last ever big job. He has an excellent back room team, and money to spend in January. There is no reason he cannot produce decent football, the type Everton fans want to see. Back to front quickly and no tippy-tappy in front of our own 18-yard box. I personally think he'll be a good fit.
Open your minds, look with your own two eyes and decide for yourself whether the on field action is worth watching. I wouldn't look on here for any 'analysis' though, quite a few fans cannot wait for him to fall flat on his face. You know who they are.
Christopher Timmins
45
Posted 30/11/2017 at 19:17:29
Len Hawkins
I can only echo your sentiments!
Paul Kossoff
46
Posted 30/11/2017 at 19:18:55
That it's come to this, Allardyce, our worst outcome. Kenwright and our "saviour" Moshiri, really should be run out of town, beyond embarrassing and believe, they couldn't run a paper round between them. And that bunch of over paid twats on the pitch, if they had done the job they are paid to do, we wouldn't be in this situation!
One win and it's all okay? Let's wait and see what happens before waving the flags shall we. Now I suppose news on the new stadium will either be rolled out, or it will be quietly forgotten.
All together now, This is Everton!
Dave Evans
47
Posted 30/11/2017 at 19:19:00
Welcome to Big Sam. Really enjoyed last night's entertainment from Unsy and the team that had Goodison rocking. Keep it that way.
John Pierce
48
Posted 30/11/2017 at 19:21:33
Roger there's nothing 'bitter' as you put it about the viewpoint you disagree with.
This fella treats the FA cup with no respect, a competition I grew up to revere. He has little or no time for young players, only using them as a last resort.
This club part through tradition, part as through necessity have had great youth players and always used them.
His style of football, critical to the way Evertonians feel about their team, is not what we want to see.
For me he would have to categorically change his m.o. and attitude towards the three elements above for me to even flicker towards begrudging acceptance.
Do you believe after years of performing in this way this guy will change his tune?
The owner has placed stability above everything else, despite knowing full well the fan base is riven over Allardyce.
He's certainly got a pair of balls on him, I'll say that for him, coming into a club that doesn't want him.
If this appointment goes poorly, Moshiri and his competency will be in seriously question, a third manager in barely 2 years? One maybe, two smacks of carelessness, a third?. Wholly incompetent.
Ian Hollingworth
49
Posted 30/11/2017 at 19:31:13
Kevin Tully (44) great post and spot on with the attitude we need to go forward.
Big Sam is now manager and the only thing that matters is we start to win football matches.
Managers and players will always change but it is still our Everton.
COYB
Steve Ferns
50
Posted 30/11/2017 at 19:31:42
Len Hawkins #40, the reason is authority. Unsworth was perceived to only be there for a couple of games. Not much he could do to the players. The metaphorical kicks up the arse didn't work. The players just expected to wait him out. Had he had a contract to the end of the season, then it might have been a different story. That would not have prevented us getting a top manager if one became available.
As for Allardyce. Well as Dave Lynch #20 says, Allardyce will be watched like a hawk. He's either getting £6m a year, or £6m for 18 months. Either way it's astronomical money. He had better be satisfied with that and focus his efforts 100% on the team, and no nice little earners elsewhere.
Next, as I said elsewhere, he needs to deliver Ross Barkley on a new contract, our 2nd best player last season, and at least our second best player now. Not only does he need to sign a new deal, but Allardyce needs to get him playing better than ever, which is expected from a 24 year old.
Then, Allardyce needs to forget all this staying up crap. This was a top 7 team looking to chase down the top 6. We are 2 points off 9th. We should expect 8th, minimum. Allardyce can keep quiet for now, then beat Huddersfield and then he should cease all talk of relegation and keep talking about ambition.
I can stomach counter-attacking football, defending deep and soaking up pressure from the big boys. But counter-attacking actually requires attacking. Let's hope Allardyce is better at that at Old Trafford, Anfield, The Arsenal Stadium, and the other bigger clubs, than his old mate Moyes.
Everyone will be behind Allardyce. Don't worry about that. No one wants to see Everton fail. Therefore, we need him to succeed. What those of us who really dislike him cannot promise is that we will stand by him through thick and thin.
And this is the problem for me. There will be those of us, me included, who already have our knives sharpened. Don't get me wrong, we will vocally support the club. And yes, from inside the ground, I ain't letting that crook put me into self-imposed exile. The problem is when there is a downturn in results, and there is always a down turn in results. If he has three bad defeats, without effort. Particularly, if it's towards the end of the season and we are safe. Then I cannot promise I won't be at the forefront of the Allardyce Out Chants. It's up to him to avoid this and to be successful enough to build up goodwill by winning games. It's up to him to raise his expectations. He's 63. This is his last job. Surely, he wants to win something. And surely, he will feel that with a bit of luck, he can get this present squad going, and then the sky is the limit.
Like everyone on here, I want us to win every game, and to do so in style. So rest assured, no one is hoping Allardyce fails, he just needs to hit the ground running.
Forgot to add about the youth players, but I can only echo the sentiments as posted above. In particular he needs to carry on playing Kenny, Davies and Calvert-Lewin. I can see Allardyce utilising DCL as a young Kevin Davies and he will no doubt bulk him up in the gym.
Colin Metcalfe
51
Posted 30/11/2017 at 19:39:29
Kevin, the so-called tippy tappy football is running away with the league at the moment. Give me that any day compared to the absolute dross we are about to witness!
Chad Schofield
52
Posted 30/11/2017 at 19:40:56
Not who is have chosen, but he's signed, so welcome Sam.
Kevin Tully
53
Posted 30/11/2017 at 19:49:42
Steve F - "Everyone will be behind Allardyce"
Apart from the ones who aren't, you mean? I could quote 100 posters that are clearly NOT behind Allardyce. I'll keep it civil, but you really should read what you type before posting.
John Pierce
54
Posted 30/11/2017 at 19:50:13
Steve, your comments match my feelings. My expectations are no lower than any other season.
Like any Everton manager, he is being paid an eye watering amount. That I'm afraid comes with a few conditions. Struggling at the foot of table is not acceptable, scoring and playing attacking football, including youth players, deference to the hard running but dynamic style we love at Goodison.
A team that bows to no-one, treating the cups as they should do with respect and geniunely trying to win it.
These conditions are not there to berate Allardyce with, they are the same criteria for ANY Everton manager.
This club and fanbase expect more than just survival, and he needs to deliver that with no goodwill, no optimism and win over most who would as you elude to, stab him at the first chance of a downturn.
He has no honeymoon, no room to breathe, he has to win from day one.
If he can do that then he would have my respect. He has a lot to do to earn it though.
Mark Morrissey
55
Posted 30/11/2017 at 19:50:30
Moshiri did say he could be the Everton manager for as long as he wants, if he's successful. I truly believe that Sam Allardyce will see this as the best club job he's ever had and after the England blip he'll want to challenge himself to prove every one wrong.

Fail at this and he's a failure, full stop. Same goes for Shakespeare

Win us the FA Cup Mr Allardyce and all will be forgiven.
Paul Mackie
56
Posted 30/11/2017 at 19:50:33
Gonna be a long 18 months.
Tony Hill
57
Posted 30/11/2017 at 19:52:28
Let's just wait and see.
Alex Mullan
58
Posted 30/11/2017 at 19:53:13
Is this £2.5 million the Arteta money?
Colin Glassar
59
Posted 30/11/2017 at 19:53:42
Big Sam wouldn't have even been in my top 10 list of possible Everton managers but he's here now and I've got no alternative but to wish him the best and hope he can achieve the stability he's been hired to do.
So, with a deep breath and a sigh, I say good luck Sam.
Ian Burns
60
Posted 30/11/2017 at 19:57:11
Kevin Tully (#44), spot on post, said as Allardyce himself would have posted!
Steve Ferns – surprised to see you post – I have read so many times in recent threads that, once Allardyce was appointed, you were not coming back until he had left.
Jamie Evans
61
Posted 30/11/2017 at 19:57:40
8 more wins and a couple of draws then we can get rid. If he's as good as he thinks he is he'll be gone by February. Please God.
Mike Hughes
62
Posted 30/11/2017 at 19:58:07
Welcome to Everton, Sam!
I wish you the best of luck in sorting out the mess you have inherited.
Though the board may have air-bushed, Nil Satis Nisi Optimum from the club, I sincerely hope you can remind them that this is what EFC is meant to be about.
By the way, we haven't won at Anfield for 18 years. Now would be a good time to put that right. Nothing flashy - you know how that lot whine. 0-1 will do.
Good luck at Everton FC.
Paul Kelly
63
Posted 30/11/2017 at 19:58:31
The only problem I can see is the amount of new obstructed views in the family enclosure when he stands up to bark his orders.
Colin Glassar
65
Posted 30/11/2017 at 20:03:26
Unlike some, I think Sam will use the young lads, especially the scousers ie Rooney, Davies, Barkley, Baines and Kenny etc He will want to keep the Goodison faithful on board.
Phil Rouse
66
Posted 30/11/2017 at 20:04:51
Oh dear me. A 18-month contract? How low we have fallen???
Tamhas Woods
67
Posted 30/11/2017 at 20:06:48
The medicine is harsh, but the patient requires it.
Bill Gienapp
68
Posted 30/11/2017 at 20:06:51
I was dead-set against this appointment, but now that he's here, I'm willing to give him a fair shake. If he's simply after a fat payday, then get us to the end of the season and politely be on your way, thank you very much. And if he's not just paying lip-service to this talk of ambition and sees this job as a genuine opportunity to enhance his reputation, then so much the better.
The main fear – as others have stated – is that he rubbishes the youth pipeline in favor of bringing in a bunch of overpaid journeymen. Davies, Lookman, Calvert-Lewin, Kenny, Vlasic, Holgate, Baningime... with Dowell and Onyekuru primed to join next season. We could be on the cusp of something genuinely exciting.
Tony Hill
69
Posted 30/11/2017 at 20:08:48
Mike (#62), yes, a win at the RS just like the one he managed last year as we all, no doubt, remember.
John Graham
70
Posted 30/11/2017 at 20:09:14
Doom and gloom. Doom and gloom. He hasn't managed his first game yet and there are people on here who already have their knives sharpened.

Yes, lots didn't want Allardyce (me included) but he is here now and he is our manager so he deserves our support. Ok if things are going bad in a couple of months the moaners can start having a go, but at least give him a chance first.

He looks a passionate guy who has already got it in his mind that we are his team and he won't sit back and and let any player not give his all.

Now let's all go and take some happy pills and give our support to our new manager and the team.
Phil Bellis
71
Posted 30/11/2017 at 20:10:12
He's got the same brief as made Moyes a millionaire... 40 points. Only this one won't be here 11 years.
This hopefully buys us safety and the chance to get a longer term "project manager" in when the time is right.
Dave Abrahams
72
Posted 30/11/2017 at 20:13:30
Tony (57), exactly, nice and simple, patience is a virtue and hopefully will be rewarded.
Mike Hughes
73
Posted 30/11/2017 at 20:15:24
Paul #63 - yes the family enclosure must be gutted given the skeletal figures of Koeman and Unsworth will no longer skip along the line in front of them.
Greg Hasbrouck
74
Posted 30/11/2017 at 20:16:51
All those worried about his style should first consider the players/resources he's traditionally had at his disposal. Teams with quality, dynamic players don't often find themselves in a relegation battles.
Any objective review of Sam's coaching career reveals a manger who's consistently gotten more out of his clubs than was actually there. If he can continue to get more from less, there's a clear upside to what he may be able to do with more talent and resources at his disposal.
Raymond Fox
75
Posted 30/11/2017 at 20:21:40
John 54, it sounds like youve made a lifelong study on Sam.
As Kevin said all will be behind Allardyce except the ones who are not.
What it will take from some fans is also some realism and a little common sense.
John Keating
76
Posted 30/11/2017 at 20:22:00
It will be interesting to see on Saturday how many of our high principled supporters boycott the game.
Maybe I just go to the wrong pubs and sit in the wrong place but I really can't recall any anti Allardyce venom I've read on here the last few days.
To me there was just an air of resignation that this is where we are and this is what we have to do to get out of it. I really can't recall anyone I bumped in to on Wednesday threatening to boycott the Club.
I've seen every manager since Carey and we've had good and bad but somehow the Club is still here. I've read some shite on here the last few days about our so called principles and all the usual motto stuff, well personally I don't take too much notice to it as since the above mentioned Carey we have had the odd principle failure.
No doubt those washing their hands of the Club will read about the games in the papers. Me, I will give Allardyce the same chance and respect every manager or player gets when they join us.
Jay Wood
77
Posted 30/11/2017 at 20:22:40
Steve @ 50:
"There will be those of us, me included, who already have our knives sharpened. Don't get me wrong, we will vocally support the club. And yes, from inside the ground, I ain't letting that crook put me into self-imposed exile."
This is a considerable volte-face Steve from a tsunami of posts in recent weeks categorically stating, as others have already pointed out, that you would not be attending games or paying monies to the club until Sam was gone.
Nothing wrong with that. A True Blue simply can't disassociate themselves from the club, no matter how exasperating supporting them can be.
Nice to know at least one of the angry mob has in effect acknowledged their indignant rhetoric was in truth largely empty and hollow.
Dan Doran
78
Posted 30/11/2017 at 20:23:00
I feel like most Everton supporters are sentimental, myself included. We want to win a certain way and we want to do it with players and managers that have Everton in their DNA. I've long thought that even if we didn't make the champions league or win any silverware that year, at least we could hold our heads up proudly knowing that we were a club that had morals and standards.
The past few weeks has changed my mind. Staring a true relegation fight in the eyes for the fist time as an Everton supporter (12 years) has made me realize that survival comes before sentimentality.
I don't think that our fortunes will shift dramatically from previous years now that Big Sam is the manager. I think we'll stay up, and comfortably. Nothing more. I do think there is a silver lining to this though. I hope this makes us realize how vulnerable any club is. Maybe we've been putting too much faith into hiring a "true blue" instead of finding the best professional for the job. Perhaps we can grow as a club. We need to stop this mentality that THIS is the year that we need to get it right. (We say that every year) We need to see this as a larger project. One that will have ups and downs. As long as we learn from the mistakes and correct them, I believe we will reach our goal of returning to footballs elite.
(Not this year though!)
Sam Hoare
79
Posted 30/11/2017 at 20:25:54
Like many others he wouldn't have been in my top 10 and I feel angry that the board have let the panic infect their decision making so easily but now he is our manager. And i'm excited. I always get excited by a change as the optimist in me believes the new dawn will be a beautiful one.
He will be highly motivated, he has a very experienced coaching team, he is clearly capable of motivating players. I expect he will be absolutely desperate to rid himself of the hoofball tag and will want to dispel these myths and play decent football whilst being effective. Whether he can do this remains to be seen.
I very much hope he proves the detractors like myself wrong.
Good luck Sam.
Ciarán McGlone
80
Posted 30/11/2017 at 20:26:09
I can't see how anybody can be happy with this appointment, given the 'brave New world' pronouncements from the club..
It turns out the new era is a bit of a circus and we now have an appropriate ringmaster... However, I suppose he has to be given a chance to see if he's any better than the mediocre cv he's produced to date..
I fear those calling it an unnecessary knee-jerk and backward step will be proven right.
Joe McMahon
81
Posted 30/11/2017 at 20:27:35
Guys it could be a lot worse, West Ham fans already want Moyes gone, why did he not start Antonio and Sakho?
For 18 months I'm happy with Sam, it's not as if Everton managers over the past 20 odds years have anything great is it. Hopefully we will be in a better place in 18 months and then look to the future with a long term appointment.
Steve Ferns
82
Posted 30/11/2017 at 20:28:04
Ian Burns, as I said in my post, I can't miss the thing I love just because of that crook. I'll go and be behind the team 100% as always.
Kevin Tully, no one wants to see Allardyce come here less than me. I would fork out good money, if there was a whip around to raise £7m to make him do one. He's here now. Can we protest it outside the stadium? No. Should we organise protests inside the stadium? No.
There's nothing we can do. We're Evertonians. All of us who enter the stadium will be behind the boys in blue. We will roar them on.
But we will also hold Allardyce to account. He must maintain high standards. He will not get an easy ride. It doesn't seem like he wants one to be fair. Let's hope he can walk the walk, now.
Tim Locke
83
Posted 30/11/2017 at 20:29:03
The issue most of us have with Sam is; say his name and you think of a fat bloke who manages crap sides, plays horible football and likes to buy players who once were good.
Clearly we don't know how he will do but he has a lot to overcome before fans are going to truly warm to him.
Brian Harrison
84
Posted 30/11/2017 at 20:29:44
Someone just tweeted what managers that clubs have hired in the last 12 years.
Crystal Palace - Pulis, Pardew, Allardyce, Hodgson
WBA - Hodgson, Pulis, Pardew
West Ham - Pardew, Allardyce, Moyes
Newcastle - Allardyce, Pardew
Everton - Moyes, Allardyce
Fulham - Hodgson, Hughes
Sunderland - Allardyce, Moyes
Stoke - Pulis, Hughes
Blackburn - Hughes, Allardyce
Gavin Johnson
85
Posted 30/11/2017 at 20:35:34
It should work in the short term and might exceed our expectations if he does well enough to see out the final year of his deal. Allardyce is a shrewd operator and gets the most out of what he has to work with. He has been an innovator using sports science and modern technology which is incongruent with some of the agricultural football his teams have played. This squad and the money he'll have at his disposal will hopefully be BigSam's chance to self actualise and realise his ambitions and be the manager he's always seen himself as being.
I think he's got a good backroom squad. I have nothing against Sammy Lee and will give him a chance. We would have done if we'd have signed him in his playing days. Why should it be any different now he's a coach?!
Craig Shakespeare along with Steve Walsh, seemed to be the backbone in Leicester winning the title. In the short term this might be a very good appointment.
John Pierce
86
Posted 30/11/2017 at 20:36:41
Ray,
Not so much a student of Allardyce, I just know what I want to see from my team.
And even if that is not instantly attainable, clear pointers that show a road map, a plan towards the qualities I want to see from my team.
Everton are stuck on their own in the premier league not quite good enough for the top, however much better resourced than the rest. So without any sustained success and the occasional dalliance with the bottom of the league the style of play, an inclusive youth policy and respect for the cups actually take on much higher value. More so with the injection of funds we have.
The last manager was a world away from those ideals and this one historically is no better.
Steve Ferns
87
Posted 30/11/2017 at 20:38:13
Tim Locke, the issue I have with him is the BBC Panorama programme and the allegations of bung taking that led to his son losing his licence to be an agent.
Then the allegations in The Guardian that he was forcing young players to use certain agents before freezing them out if they refused, Ravel Morrison and Jermain Pennant provided recordings of this to The Sun.
And thirdly, the fact that he was caught by The Telegraph "advising" how to get around 3rd Party Ownership. Corrupt or not, these are situations a man on his salary should be avoiding. Why did he need to be paid £400k for advice whilst managing England?
He had better be whiter than white here, as we will not stand for it. And you can bet the papers will be queuing up to entrap him.
Tom Harding
88
Posted 30/11/2017 at 20:39:21
He can fuck off as far as I'm concerned. EFC polluted
Joe McMahon
89
Posted 30/11/2017 at 20:40:06
Tim Locke (#83), as many have said Jay Jay Okocha, Gary Speed, Nicolas Anelka, Gael Givet, Fernando Hierro, Ivan Campo and Youri Djorkaeff. There are players there who have played in Champions League regularly and a World Cup winner.
Steve Ferns
90
Posted 30/11/2017 at 20:47:11
http://news.bbc.co.uk/sport1/hi/football/eng_prem/4148528.stm
Joe this is the side you were on about. I was there that day. One of the worst games of football I have ever seen. Every Moyes v Allardyce match was a battle, a war of attrition. Don't delude yourself he is going to suddenly get us playing like Man City.
I expect, that like Moyes, Allardyce will ease the handbrake off once things are starting to go well, and will call this "expressing ourselves". Best you can realistically hope for is similar to the best Moyes had to offer. I will disagree with the likes of Tony Marsh as some of Moyes' best stuff was great. But one defeat and it was back to basics and clean sheets and KITAP1. More of the same expected from Allardyce.
Nick Entwistle
91
Posted 30/11/2017 at 20:53:07
Remember when some weren't happy to be finishing ahead of Spurs and Liverpool and others said be careful what you wish for?
Ray Roche
92
Posted 30/11/2017 at 20:54:14
Allardyce would not be on my short list in an ideal world, however,this is from his Wiki pages and is quite interesting:
"Allardyce is a keen proponent of sports science and using technology and innovative techniques in coaching his teams, such as computerised performance analysis and yoga. Martin Hardy of The Independent described him as "one of the pioneers of sports science in English football".
Former players and pundits have cited his preparation as his main strength, which allows his teams to have better organisation and defensive stability.Former Bolton player Kevin Davies also highlighted Allardyce's man-management skills as a strength. "
Raymond Fox
93
Posted 30/11/2017 at 20:54:30
John, I think you and Steve protest a little too much, hes not very white shall we say, but football has much murky water what with agent bribes, tax evasion etc, thats not to say two wrongs make a right.
I also think you have to give him some time, a few weeks at least to make alterations, theres a hell of a lot of work to do before things have been changed and settled down.
Mick Conalty
94
Posted 30/11/2017 at 20:54:36
I wonder who will end up down the job center when Big Sam's staff turn up. Does he pay his own staff out of his £6m. pa or will they be on big fat contracts like Big Sam?
We want to see an express train not a gravy train, so we the fans and EFC expect nothing but the best from them.

Ash Moore
95
Posted 30/11/2017 at 20:57:01
Joe McMahon – Getting the most out of foreign veteran players is NOT the remit here. Bolton was a long time ago.
Steve Ferns
96
Posted 30/11/2017 at 21:01:15
Guardian Article on Allardyce
Ray, read the above, it's got far more of what you want to read about. However, I would say that where he was ahead of the game with ProZone, that lasted for a season to 3 seasons at the most. The standard in the Premier League has gone on far more than that since then. It's like Wenger and his revolution in the Premier League. He was ahead of the game and then the rest catch up.
Sure, there's a lot of positives in articles like this one. And attention to detail seems like something we've been missing.
Tony Hill
97
Posted 30/11/2017 at 21:01:58
Steve Ferns (#87) – this is the second time today you have quoted the same piece of shit from The Sun. I think your chaotic, self-contradictory campaign against Allardyce has become demented.
Steve Ferns
98
Posted 30/11/2017 at 21:05:02
How's it shit if they have the recording? And unfortunately if they have the recording then you can't consider it from another source.
Tony Hill
99
Posted 30/11/2017 at 21:08:25
Read your own link on the other thread. They do not have the recording. All the allegations are denied.
Kim Vivian
100
Posted 30/11/2017 at 21:09:56
Tim Locke 83. I think that sums up just how I feel, mate. I have to give it a least a couple of (league) games before my gut kicks in and tells me how I really feel. At the moment it is just total non excitement, so we shall see.
He has the RS early in his tenure, of course, and I thoroughly look forward to seeing how he plays the Psyche war with Klopp before and during the game. Allerdyce is a belligerent bastard who won't be intimidated and I do expect him tp be like a 12th man for us in that game. A good win at the weekend, take it easy in Cyprus and we will be set up for that. This will be a defining game for his and the fans' relationship, and I believe he will rise to it.
Licking my lips already.
Kunal Desai
102
Posted 30/11/2017 at 21:15:52
My biggest worry is looking further ahead. Allardyce might be here for 6, 12 maybe even see out his contract but what clearly is evident and will concern many others is the board searching for a quality manager after he's gone.
Based on the decision made over the 18 months I expect the same from this board. We will suffer more embarrassments and humiliations as fans. This won't stop.
Gordon White
103
Posted 30/11/2017 at 21:18:56
Colin (#59) and Mike (#62). My sentiments too.
Welcome to EFC, Sam.
Joe McMahon
104
Posted 30/11/2017 at 21:19:22
Ash @95, wasn't Anelka in his mid 20s? He certainly wasn't past it anyway, and Jay-Jay was great.
Ian Horan
105
Posted 30/11/2017 at 21:21:12
It's interesting reading the views on Allardyce and also his backroom team. Allardyce has referee to Everton as us, he has stated his focus is to move up the table.. .not a word on relegation.
Also comments on Sammy Lee being an ex red. That was 35 years ago... he is a highly regarded coach by his peers and the FA.
Allardyce is not my choice however if you had invested £80 mill you to would protect your investment the best way you can. It's time to view Everton's future not the history.. only two ex blue players have won silverware as manager. Let's get real. COYBB
Don Alexander
106
Posted 30/11/2017 at 21:24:59
First, the board/Moshiri have again shown ineptitude in courting Allardyce, then freezing him out as far as he was concerned, and then getting in bed with him at huge expense. Not that I could have come up with anyone else mind you but in a proper club someone in it must surely have been charged with the responsibility before Koeman was sacked to have lined up a viable replacement who wanted the job. But this is Everton of course.
Anyway, he's now here. Personally I'm perplexed by him only getting an 18 month contract. To me it means he either wanted only 18 months, and that makes me doubt his ambition to get the club well up the league, or the board don't trust him to achieve "the project", meaning he may well not be given the funds to sign players he'll want. If that's the case then the board have already removed significant clout from him vis-a-vis kicking some of the soft asses in the dressing room as he bids to have them knuckle down and perform properly, and that ain't good either.
Hope I'm wrong of course.
Ray Griffin
107
Posted 30/11/2017 at 21:25:52
I'm no fan of Allardyce but why not give the fella a chance? There's far too many moronic comments on here about tearing season tickets up etc., usually from a group of self proclaimed "true blues" who celebrate when we're winning but don't stand by the club during hard times.
If Pep landed up here & signed up Messi, there would still be a bunch of idiots on here moaning & groaning, I wonder how many of them have ever managed to engage in any kind of successful relationship.
John Keating
108
Posted 30/11/2017 at 21:29:32
Personally I can't remember any manager, and I've seen a few, being given by Club or supporters goals and levels required by a certain time or number of games in order to gain some sort of acceptance.
To some it obviously won't matter what Allardyce achieves or not achieves he will never be accepted.
I would have far more respect for people to just say he is unacceptable full stop rather than this wish you washy, well I'll give him 10 games, and, until I see this free flowing football etc etc.
What a load of shit. Want him or not he's here. Either support him and hence the team or go to Tranmere.
Steven Pott
109
Posted 30/11/2017 at 21:33:38
I was pleased to hear we had appointed a manager. I was more than interested to learn that Steve Walsh is calling the shots and working directly with Farhid to make the decisions, hence the sacking of Ronald without a plan unless Mr Walsh's plan was to bring his pals Sam and Craig onboard.
All good if we climb the table and win games.
I noticed the Echo headline yesterday drawing attention to the fact that Jim White got the phone call from Farhid to announce the new manager by passing the Everton communications team.
Interesting times I just hope we stay Everton! in recent years we have always shown our class. Dismissing Ronald, undermining David...I just worry where we are heading. Money isn't everything if you don't spend it and that was the only reason we didn't get the strikers we need.
COYB!
James Marshall
110
Posted 30/11/2017 at 21:35:35
It's funny how the same people that slate Kenwright for being a sentimental old bugger, are the ones banging their sentimental drums about Everton, morality and Allardyce.
He was never found guilty of anything and you can bet your bottom dollar that backhanders have been rife in football since day one. If you think he's the only one, then I'd suggest your view is purely a media fed, short sighted one.
Moving in, good luck to the man. He's always hand his hands tied by clubs with a lack of funds, which he has now so it'll be interesting to see what he can do with some cash and some decent players.
He always gets more out of players than they otherwise offer and I have a strong feeling it was his idea to play Rooney deeper last night. He did the same in his one England game with Rooney. It works.
Frank Crewe
111
Posted 30/11/2017 at 21:35:55
I was reading comments from West Ham fans and it was just like our fans. The managers rubbish, the board are money-grubbing conmen etc etc.
I wish I knew who this quality manager/superman is because I don't think he actually exists. There aren't many managers at the level we require so finding a decent one in such a small gene pool is always going to be hard. The older ones all come with baggage and if a you pick a younger one who ball's it up you become his baggage.
I've said it before on these pages no manager comes with a guarantee of success. It's just pot luck. As far as I can tell, all that really happens is that sometimes a club and a manager just come together at the right time and it works. Like Ferguson at Man Utd, Clough at Forest, Kendall at Everton, Paisley at Liverpool. Something happens that you can't put your finger on and you can never recreate, no matter how much you try.
I don't know if Big Sam will be a success or failure at Everton. Although like most manager/club combinations it will probably be somewhere in-between. But as I've said maybe, just maybe, Allardyce at Everton will be one of those one in a blue moon combinations that works for both sides. For the time being we can only wait and see and hope because that's what fans do. Boards, managers, players, come and go but the fans stay forever always living for that one moment when it all comes right.

Mike Hughes
112
Posted 30/11/2017 at 21:38:12
Tony #97, I agree.
Some people were throwing their rattles out of the pram barely 48 hours ago in protest at SA - not going the match any more; preferring we got relegated, buying 18-month gold member subscriptions to Weight-Watchers in protest at "Fat Sam" etc. (What about "Fat Ronald" and "Fat David"?)
Now some have apparently relented.
It's a bizarre turnaround that smacks of flakiness, attention-seeking and (my new phrase after this week on TW) - 'drama-queening'.
But 'demented' will do.
I wouldn't mind if it was against the RS but it's against us now. An own goal. It's not helping EFC in any way.
In fact, this week has been the TW version of those Medieval witch trials conducted by the deranged Matthew Hopkins (great, great uncle of Katie):
If he drowns, he's innocent.
If he floats, he's guilty! Burn him!

(Yes, I know he won't float).
I'm sure there are plenty of other worthy causes out there that could do with a bit of that obvious misdirected energy as the festive season commences.
The Salvation Army?
(I've heard you get a free tambourine to bang on instead of TW).
Point taken.

But he's the Everton manager now.
Respectfully, please just give it a rest.
Neil Humphreys
113
Posted 30/11/2017 at 21:39:44
An all-time low.
Walter Smith was bad – this is just embarrassing.
Kris Boner
114
Posted 30/11/2017 at 21:42:24
A manager with something to prove, a history of making teams hard to beat and with the wealth of experience he has is fine for the situation.
I want him to succeed and if he does I want him to see out his 18 month contract. The Everton I know and grew up with don't fly through managers like some other pretenders.
If he isn't the man to push us forwards again after Koeman when given the chance then fine. But I don't believe Big Sam should be considered a temporary fix. He wouldn't have been many people's first choice, for a myriad of reasons, but he's here, he sounds like he wants it, and he's in a pretty good position to push forwards like he's never had before in his career.
For me, he gets 18 months to prove he still wants it and can achieve it, and if at the end of 18 months we are where we are supposed to be, I won't hold his past against him and will happy ask for his contract to continue.
Any other outcome sees him walk. Including failure this season, to achieve acceptable consolidation after our horrendous start.
(I've swallowed the sour pill that was signing him, but I'd love him to achieve more than the Moyesiah)
Ray Griffin
115
Posted 30/11/2017 at 21:43:41
Spot on Frank (#111)
Phil Bellis
116
Posted 30/11/2017 at 21:49:36
Neil... Are you old enough to remember Walker?
Ben Dyke
117
Posted 30/11/2017 at 21:55:25
It's funny seeing the people willing him to fail so they can justify their "I'm never going to the match again" pronouncements when we knew all along the second we win 2 matches in a row under Big Sam they'll be back here joining in again. Keyboard warriors the lot of them.
I can guarantee not a single season ticket will be given up because of Big Sam. And not because Big Sam is a nice bloke are we behind him.
Perhaps his greed is what makes him a good manager. But actually I don't care. As long as we stop conceding goals and start scoring more we'll all be happy.
Steve Ferns, you'll be back here overlooking his faults like the rest of the us the second our form improves.
Hywel Owen
118
Posted 30/11/2017 at 21:56:00
They wouldn't play for Koeman; they made Rhino into a laughing stock last Sunday.
Last night, although Unsworth was nominally in charge, there was an ogre sitting in the stand. Suddenly – they play!!!!
Funny old world...
Des Farren
119
Posted 30/11/2017 at 22:07:51
James Marshall @110.
"He was never found guilty of anything" and
"I have a strong feeling it was his idea to play Rooney..."
There are the deluded but there are also the totally deluded.
Derek Cowell
120
Posted 30/11/2017 at 22:09:36
Phil Bellis at 71 so Moyes only had ambition to get to 40 points! Well by any measurement then he was clearly the success at Everton that I remember him to be with his numerous 4th, 5th, 6th, 7th and 8th finishes during his 11 years. We never had league positions like that since the mid to late 80's and once under Royle, I think.
Steve Ferns at 90, the same applies to your statement that Sam will only equal the best that Moyes had to offer. Who would complain about that looking at where we are now and the two 11th place finishes under Martinez.
What do people want?! We are nowhere near the 'top 6' teams and haven't been for years. Yes we were 7th last year but 9 points below 6th!
If Sam was to get us finishing say 10th this season and 7th next season would that be a failure? I don't think so, not that I think he will of course!
I just wish Evertonians would stop rubbishing what Moyes did for this club and where he consistently had us finishing in the league. How many other teams consistently beat the top teams.... none! Yes he disrespected us when he left and I wouldn't want him back but don't rewrite history. He did well for us in my book. We were consistently 'the best of the rest' with no money to spend. Like under Gordon Lee's day when we were possibly just a good keeper short from a challenge at the top, with Moyes we mainly just lacked a top striker.
Give Sam a chance ffs!
Paul Holmes
121
Posted 30/11/2017 at 22:09:56
Allardyce will be a success if we win games, end of story. It's a results-based business. Koeman was hopeless this season, Unsworth was only slightly better so now it's Sam's turn,.

Only time will tell but, let's face it, he only has to win a couple of games, keep a couple of clean sheets and he will have done better than the other two after a couple of games in charge.
Trev Patterson
122
Posted 30/11/2017 at 22:17:08
Alright, my fellow Evertonians, Maybe Big Sam is not everyone's choice of manager but I reckon he wont stand for lazy bullshit players like Mirallas and Schneiderlin.
I reckon he'll have the balls to tell them how it is. You never know with Sam a bit of money behind him to buy the right players I think he'll surprise a few people. Let's get behind him folks... COYB BOYS!!
Justin Doone
123
Posted 30/11/2017 at 22:21:44
I have no personal issue against Fat Sam but he has only ever proved to be a limited manager. Look at his record, avg points, lost more games than won, goals conceded. At best it's consistently poor.
This was an opportunity to go and get the best we could and if Sam is honestly the best they could think of then shame on them. At £6M a year and a few more million to pay off Crystal Palace that's like shopping for a Rolex in the Pound Shop.
We can all argue about the previous poor teams, lack of money, players brought in, style etc. but if doesn't cut it. For me, he was simply an easy, out of work, go to manager and like Siggy we have taken far too long and paid over the odds for someone else's missing jigsaw piece.
5 weeks and no ambition or plan having already sacked Koeman. The pursuit of Silva at least shown a little bit of outside the norm but in all honestly he would have been a huge risk and is unproven.
It's now official, so we continue to support the club and the players on the pitch. Will he better Unsworth's points tally over the next 8 games? I hope so because if not I don't trust this board to step in and do the right thing.
As for all the good young promising players I can only hope Walsh and Unsworth can help keep them happy until Fat Sam clears off. If not then we need to insert buy back clauses when Fat Sam flogs them off. Here's hoping Fat Sam turns out to be the best, a kind of Moytinez?
Phil Bellis
124
Posted 30/11/2017 at 22:24:22
No problem, Derek.. I believe that was indeed Moyes's brief.
Any points above, a bonus gratefully accepted. He gave us expectations of "we know our place"... Job done!
Sam Hoare
125
Posted 30/11/2017 at 22:24:30
Mike Hughes @112
You have a go at those who were opposed to Sam for relenting and then accuse them of 'flakiness'.
You then say it has been like a witch hunt and say 'please give it a rest'!
Slightly contradictory sentiments there.
Surely it's a good thing if those who were opposed are prepared to now back the man who is our manager?
Kim Vivian
126
Posted 30/11/2017 at 22:28:03
Justin - 123. "Will he better Unsworths points tally over the next 8 games?"
I fucking hope so too, seeing as Unsworth only had 5

Eddy Bernard
127
Posted 30/11/2017 at 22:30:01
Jamie @34 Spot on mate,
Allardyce has never shown any interest in the FA Cup as a manager so I wouldnt go booking any hotels around Wembley in May. I have a bad feeling about this and reckon we could be signing Pulis with about 10 games to go.
Iain Johnston
128
Posted 30/11/2017 at 22:35:28
November 1994 in walks a manager with a similar game plan as Allardyce and an historically similar win percentage rate.
Strange that...
John McFarlane [Snr]
129
Posted 30/11/2017 at 22:42:35
I have read the pro and anti Allardyce posts on various threads, and frankly I view it akin to a post general election debate. Immediately after the results have been declared, people are saying what the new government will do, when they actually mean, what they think it will do.
I have tried to distance myself from the debate, as I have had my say on a relevant thread where I expressed the opinion that any Managerial appointment, could be the best thing or the worst thing to happen to any football club, time will tell.
I find it a bit rich that some people are so concerned on matters of principle, and state [presumably on principle] that if "Sam Allardyce is appointed Manager of Everton, I will never step foot inside Goodison Park until he is gone" and then do an about turn, this is not directed at any individual it is a general observation.
I think I have made it quite clear in the short time that I have been submitting posts, that as a lifelong Evertonian, [79 years and counting], I will never desert the club on principle, and if I have a change of heart feel free to have a go at me.
It saddens me that though we all have the interest of the Club at heart, some are intolerant of the views of others, and have less than polite exchanges regarding things we can't control.
Personally I would much rather discuss events on the field of play, hopefully in a civilised manner, I trust that this post can be accepted as a mild rant, best wishes to all.
Kieran Kinsella
130
Posted 30/11/2017 at 22:45:10
I will admit that I was skeptical about HK III, Moyes, Martinez and Koeman but I was quite happy with Walter Smith.
Obviously I don't know what I am talking about with incoming managers... So this time I will stay on the fence.
Colin Glassar
131
Posted 30/11/2017 at 22:45:13
John, you remind me of Harold Matthews. Great post, sir.
John McFarlane [Snr]
133
Posted 30/11/2017 at 22:50:05
HI Colin, [131] I had hoped there was more of a resemblance to Stanley Matthews, but thanks for the compliment anyway.
Andy Crooks
134
Posted 30/11/2017 at 22:55:03
He's our manager and so I support him 100%. I am intrigued as to what he will do and how it will go. He deserves something that David Unswroth didn't get; time and patience. However, he does have the authority that Unsworth was appallingly denied.
I hope that he gets a fair chance. He has inherited a mess created by Koeman. David Unsworth started the clean up. Like him or not, Sam Allardyce needs and deserves time.
Raymond Fox
135
Posted 30/11/2017 at 22:56:04
Justin (#123), player quality obviously does make a huge difference to the results a manager produces.
Its the main reason the usual top 6 are the usual top 6, they assemble squads worth a total value several times bigger the teams below them and that includes us.
Iain Johnston
136
Posted 30/11/2017 at 22:56:41
Eddy (#127), interesting assumption especially as apart from his relegation fodder teams Allardyce has seen more FA & League Cup semi's & finals than many of us as our previous managers over the last 17 years haven't exactly been banging on Wembley's door.
Kevin Molloy
137
Posted 30/11/2017 at 23:03:07
Goodison last night felt like home for the first time in ages, like some sort of an awakening. I get a feeling things are on the turn certainly our luck for one. Welcome Sam make us proud to be blue again. COYB.
Mike Hughes
138
Posted 30/11/2017 at 23:06:30
Sam Hoare (#125),
Nothing contradictory at all in my post to anyone with an IQ over 45.
Keep up, Sam.
Andy Williams
139
Posted 30/11/2017 at 23:09:21
How many would complain about Messi coming to us – with his tax fraud conviction? Good luck, Sam – I hope you prove me and everyone else wrong.
Bill Watson
140
Posted 30/11/2017 at 23:11:30
Ian #105
Correction; three ex-Everton players have won silverware when later managing the club:
Catterick, Kendall and Royle.
Michael Lynch
141
Posted 30/11/2017 at 23:16:24
Interesting that Moshiri uses the word "stability" more than once in his interview, when asked what Sam will bring to the club. Stability and a platform to build on.
I think that's what the majority of the fans are looking for in the short term. I certainly hope Sam delivers, and I'm pretty confident he will. He's improved the points per game tally at every club he's been to, and he seems a lot more committed than Koeman ever did.
It feels good to get some certainty after the past few dreadful weeks. Looking forward to seeing how we get on against Huddersfield - it may be too early to see any real results from Sam's approach, but we should at least get an idea of how he sees the shape of the team initially.
In fact, I'm looking forward to a game for the first time in ages.
COYB!
Laurie Hartley
142
Posted 30/11/2017 at 23:20:03
Colin # 131 - there is a certain similarity in style. I often think about Harold.
Perhaps at the end of each season we could have the annual Toffee Web "Harold Matthews Awards" for the "best fan article", "best fan comment" and perhaps "most humourous comment"?
Colin Glassar
143
Posted 30/11/2017 at 23:27:45
Great idea Laurie. Harold always had a way of coming across as being the voice of reason amidst all the shouting. John snr seems to be continuing in the same vein. Sometimes we just need to shut up and listen to each other.
Mike Jones
144
Posted 30/11/2017 at 23:37:55
Good appointment!
Peter Warren
145
Posted 30/11/2017 at 23:38:45
Steve Ferns get lost. Evidence you exhibit is "Ravel Morrison and Jermain Pennant provided recordings of this to The Sun."
I can't think of 2 worse examples of "footballers" who their talent and then you mention "The Sun".
Keep to your tactical analysis which is interesting as opposed to your I don't like / dislike Allardyce and will prove it.
BTW in respect of your third point it shows your complete ignorance of world football and the law; simply; you have no clue.
David Israel
146
Posted 30/11/2017 at 23:57:28
Ray (#92), I suppose that is why he has now joined the School of Science. In the end, it all makes sense. Mind you, I wish him every success: I'm an Evertonian before I'm anti-whatever.
Rob Dolby
147
Posted 30/11/2017 at 00:04:18
I make no excuses for it, I wanted Sam after the Leicester game. The squad is devoid of leaders and has a total lack of confidence.
Sam is the man to put some steel and arrogance back into our play. He isn't afraid of upsetting the big 4 apple cart.
Just picking a few words out of his presser warmed me to him even more. We, Our, Us are all words that encourage team work. He will weed out the bad apples and strengthen the squad regardless of reputation.
Sam has a tarnished reputation but so did Brian Clough and George Graham but they did ok at their clubs. Results cover a multitude of sins and as long as we are winning the people will stay off their high horses.
Steavey Buckley
148
Posted 01/12/2017 at 00:30:19
What Big Sam brings to the club is footballing nous. That comes with years of footballing experiences. Something that previous managers, Koeman and Martinez, were lacking in.
Also, Big Sam brings two old campaigners in Sammy Lee and Craig Shakespeare formerly of Leicester, previous Premier League champions. Definitely good number 2s to have around.
Steve Brown
149
Posted 01/12/2017 at 00:33:27
Well we panicked and look what we got? Garbage. Embarrassing as we sit two points below the top ten.
Well garbage in, garbage out.
Peter Laverty
150
Posted 01/12/2017 at 00:35:59
Is it any wonder we had to turn to a journey man to plug a hole?
Best fans in the world, my arse. Fickle bunch of cunts more like it!
Just waiting for Barkley to get fit so he can take a bit more stick for being easily our best player.
No manager wanted this job and for very sound reason. It is the most poisoned chalice in football.
Steve Brown
151
Posted 01/12/2017 at 00:45:11
So Steavey (#148), you are saying that Allardyce (won nothing) has more football nous than Koeman (won everything)? Interesting perspective.
I do agree with you about Sammy Lee – he is definitely a No 2.
Tony Stanley
152
Posted 01/12/2017 at 01:06:49
I can't believe Everton Football Club have hired Allardyce as the new manager, something is very very wrong here.
James Watts
153
Posted 01/12/2017 at 01:32:21
Still struggling to get behind this appointment. I don't believe we were in real danger of going down. And I thought that before west ham. Sure we were struggling but I believed it would be turned round.
The reason I'm struggling? It all boils down to this guys record is pretty poor. Despite the picture his mates in the press paint it.
He has lost more games at each club he has managed than he has won. Except Bolton where he lost the same number of games he won. Just let that sink in. And that's before we even look at his playing style.
That is not the calibre of manager I expect at Everton.
I'll be behind the team 100% but Allardyce has a lot to do to convince me he should be in the job.
Bob Parrington
155
Posted 01/12/2017 at 02:10:39
Should this be a case of "The King is Dead. Long Live the King!"
He's got the job. Let no one undermine him. He's certainly got a job on his hands to take us well clear of relegation.
Let's be honest with ourselves. Even though we won 4-0, there were still long periods of the game when we could hardly get a touch of the ball and we couldn't string 2 passes together.
We still had the statutory penalty conceded by Williams. Okay, overall it was a more positive team performance but we really do need to build on this.
Drew O'Neall
156
Posted 01/12/2017 at 02:21:36
Good manager I just hope he still has the heart for the fight and carries himself with the integrity needed to be the leader of one of the football world's oldest and greatest football institutions; Everton FC. NSNO.
Nicholas Ryan
157
Posted 01/12/2017 at 02:29:00
It's interesting, that I have seen hundreds of posts, saying he is immoral; hundreds of posts saying his football is defensive; hundreds saying his football is boring. I have not seen a single post, saying that he is incompetent.
Peter Fearon
158
Posted 01/12/2017 at 03:05:43
Nicholas (157) incompetent? Well, if you don't count his hundred per cent record with England and his very short and unsuccessful time as caretaker manager on Preston, his win percentage is about 38 per cent. Not great by any measure.
But even if he had a record like Pep Guardiola, if his ethical lapses disqualify him from managing England, why don't they disqualify him from managing Everton?
The fact is that he should have been banned from football for an extended period after he was caught out by The Telegraph if not for life. He should certainly not be managing Everton.
Darren Hind
159
Posted 01/12/2017 at 03:29:39
"Keep an open mind" KT?
What, like you did with Unsworth when he was trying and succeeding to haul the spiritually dead team he inherited up the table?
Lots of "He's our man now so we have to get behind him" ... Fuck that!
Plenty of hypocrites with a long history of nailing their dreams to whatever rotten beam this board have wheeled out, have not given Unsworth a minute's breathing space. In many cases, they were downright nasty about him... now they are calling for others to "Keep an open mind" – Priceless.
Sam Allardyce is quite possibly the most reviled man in the game. Mention his name and you will get a whole range of responses ranging from ridicule to outright disgust. Fuck all this so called "legal wrongdoing". That doesn't concern me. It's his crimes against the beautiful game that have earned the derision and ridicule.
There has been huge sections of the fan base at the last four clubs he has worked for who didn't want him and were very happy to see the back of him... There's a very good reason for that.
I've seen this movie too many times; This is the bit were many Evertonians fawn all over the latest deadbeat wheeled out as "The new saviour, with a plan", by a board they claim to despise... and if I leave the cinema and come back in nine months time, the same fans will be screaming for his head claiming the board have duped them.
Those who screamed the house down over a meaningless dead rubber against Atalanta are in for a real treat come January. Wait until you see how this guy treats our only hope of a trophy.
Fuck this "We need to support him from the off" lark... Allardyce is getting six million quid (a crucial part of the oft repeated plot) to manage this club. He should indeed be watched like a hawk. Every long boot treated with the derision it deserves.
If he wants the respect of the Evertonian, let him fucking earn it. Let him show there is more to his repertoire than dowsing fires. Let him prove he has more than a bit of crash bang wallop in his locker.
Blind faith, unconditional support and a child like belief that the Leopard will change his spots are at the root of all our problems. Lets for once put the horse before the cart and make this one prove he is more than just a mercenary.
"Did they get you to trade, Your heroes for ghosts?"
"Hot ashes for trees, Hot air for a cool breeze? Cold comfort for change?"
"Did you exchange, a walk on part in the war, for a lead role in a cage".


Steavey Buckley
160
Posted 01/12/2017 at 03:32:22
Steve (#151),
One of the main criticisms from the fans about Koeman and Martinez was their tactical ineptitude and failure to focus on the opposition's failings and weaknesses. Big Sam always does his homework on opposition to set up his teams to exploit the opposition.
Even though Big Sam always had a transfer budget usually less than teams he managed in the Premier League. Although Moyes would have been one of Everton's best if he had no jumped ship for Man Utd. Since then, the only way has been down for him. A footballing sad story if there has ever been one.
Dennis Stevens
161
Posted 01/12/2017 at 03:56:55
Bill Watson #140 & Ian #105 - I also believe even Colin Harvey won the Charity Shield. However, more to the point, perhaps, is that the number of non Evertonians winning anything is a grand total of zero. I don't expect that to change anytime soon!
David Barks
162
Posted 01/12/2017 at 04:33:41
Darren,
Unsworth was serving up some of the most inept and clueless football seen at any club at any level in England. There was a reason why going into Wednesday's match, had we lost we'd be in the bottom three.
The performances by the team were shocking and getting worse with every match. It's also no coincidence that the team suddenly performed much better knowing that their new manager was in the stands watching.
Unsworth is nothing more than a former player who accomplished nothing in the sport. You talk of zombie football. Christ, until Wednesday Unsworth's teams hadn't even risen from the dead. I'm no fan of Allardyce, but your arguments for Unsworth are completely nonsensical.
I don't know where you get this notion that Unsworth was being slated by all right away. It was the complete opposite. Everyone was singing his praises as if he was some club legend. To this day I still do not know where this great love of Unsworth as a legend comes from, just as I don't understand the same feelings for Ferguson. It was only in the last week or two that everyone saw how completely out of his depth Unsworth was that opinion changed, in many cases very reluctantly, with poster after poster saying how they "were calling for Unsworth to be given a chance" only to realize that the team went backward.
Billy Dawber
163
Posted 01/12/2017 at 04:38:13
I agree with some comments but not all. Over the moon to have an English manager at last. Listening to some of Sams comments should make us all very positive about the future and not to forget what we have been through these last few years. We have played some wonderful football in patches and had some great memories but have never won a thing for ages.

Memories do live a long long time and only when we have won something we will all be able to have these once again for the right reasons. There is no feeling like it when you see your team lift a cup or win the league. I have had the privilege of seeing us lift cups and leagues albeit a while ago now. But I remain optimistic that the good times will come again.

We need to stay positive and only time will tell when we have a new stadium and a really good team again plus a great manager, will it be Sam? no one knows yet but let's get behind him and the lads and give it a real good go.
Laurie Hartley
165
Posted 01/12/2017 at 04:49:31
James (#153) – Now that he has been appointed Everton's manager I think you will find that "his mates in the press" will desert him very quickly. They don't like us much.
The undermining of our new manager, and the club has already started. It won't be "plucky little Everton" anymore.
Here is a sample of what I am on about from the the BBC's Chief Football Writer Phil McNulty entitled "A tinge of desperation and a liberal dose of fear".
Very subtly done.
http://www.bbc.com/sport/football/42161475
Note the photograph that he has used to head up his article. Couldn't have used one of him walking into Finch Farm could he?
I have believed for a long time that if we are ever to fight our way back to the top the only ones backing us will be us. We will get no help from outside.
Time to pick a side – I have.
Julian Wait
166
Posted 01/12/2017 at 04:54:01
If anyone is not going to Goodison from The States in January/February and in March/April? – I would love to have 2 tickets for each of the games in that time.
My 16-year-old wanted to see a derby at Goodison before we leave for Bramley-Moore Dock and I will do everything I can to make it happen – he's never been able to travel to the UK during the season before... so don't burn your tickets, give them to me. ;-)
James Watts
167
Posted 01/12/2017 at 05:36:26
Laurie #165.
McNulty was with the Echo until fairly recently wasn't he? Not sure if he's a blue who doesn't like Allardyce or red taking the piss to be honest. But I think he'll get a decent backing from all those media people who were peddling the Sam was our only hope rhetoric that was being painted.
Look at he mirror (I know) but they were crediting Allardyce for the win against West ham! Apparently it was his team talk that won it for us!
And you wait until we get players like Coleman and bolasie back, who will improve us anyway. He'll be the best English manager around even though any half decent manager would get similar results once all the players are fit.
My big problem with Allardyce is that his record is crap. And has been throughout the majority of his career. Yes he's gone to a few places recently to fire fight but when looking at his whole career he looses much more than he wins. Even when he was in his glory days at Bolton he lost as many as he won. His style and side deals are not as important to me as it with others. I simply don't believe he is good enough to manage us. It's that simple for me.
Come kick off, I'll be 100% behind the team. Always have been, always will be. Unfortunately for my sanity. But backing Allardyce himself? Going to take a while for that to happen.
Laurie Hartley
168
Posted 01/12/2017 at 05:53:02
James # 167 - If he has to win your confidence before you back him there is nothing wrong with that at all. I hope does.
But the press - Merson has jumped ship already. Earlier in the week he was saying Sam Allardyce was the best choice for the role - he has now done an about turn and suggested that we (Evertonians) don't want him.
Divide and conquer. I am tipping there will be more of this to come.
John Pierce
169
Posted 01/12/2017 at 05:53:28
Darren, youf comments re Allardyce are replicated in several posts I've left in the last 24 hrs. Dead on.
No respect for the FA Cup, rarely includes any youth players in his team, and a style of play more akin to a playground than a Premier League ground.
He would in my estimation, have to renounce all three elements and start winning immediately for me to move towards any form of acceptance.
As we are pigeonholed as a 'better than the rest' team, but not quite good enough; style, youth and the fa cup are hugely important factors to how I feel about Everton.
This 'self styled big dog' has and does eschew all three. This appointment is doomed, he has no goodwill or honeymoon. Start winning or else matey. That's no basis for an appointment. But for £6m he should be at least getting us to 7/8th and a serious cup run.
I shall not hold my breath.
Tahir Abdullah
170
Posted 01/12/2017 at 05:59:23
Welcome Fat Sam; brought in to stop the rot on the pitch and will no doubt do such; in this regard Kevin Tully @44 nails it.
More pertinent to me is the point referred to by Kunal @102; what happens beyond the expiry of the next 18 months?
David Currie
171
Posted 01/12/2017 at 06:32:17
David (#162), You say Unsworth accomplished nothing in the sport. He won the FA Cup in 1995 and played once for England as well as playing many seasons as a first team regular in the top league in England.
As a coach, he won the U23 league last season and has done a great job coaching and promoting young players to the first team. He took charge of the first team when they were 18th and now we are 13th.
Alexander Murphy
172
Posted 01/12/2017 at 07:13:55
I'm far from happy with this appointment.
For many it is a necessary evil. Surgery to avert.
No, it bloody well is not.
It's yet another glaring symptom of bumbling ineptitude.
We haven't ended up at this sad and sorry state of affairs because the club is being run excellently. We are exactly where we are because of DECADES of shabbiness passed off as "running the club".
"Running the club" ?
Short for "Running the club into the ground" !
Evertonians raised to admire the success of other clubs.
Know your place Evertonians, because it is NOT even in the same room as the masters table. Worse is to come.
This appointment does not guarantee survival in the top flight. It does, however, guarantee a continuance of our now customary lack of success.
"Tell yer Ma, yer Ma,
To wipe away all your tears,
No trophies for twenty three years,
Tell yer Ma, yer Ma".
Hearing that angers me.
Not because of the raggle-taggle, glory hunting, carrier bag, tag-a-longs singing it, it angers me because it's true.
Misty eyed Kenwright, Evertons least successful chairman, ever.
Darren Hind
173
Posted 01/12/2017 at 07:46:38
David Barks,
For once, try to step back and take a little of your own advice – shut up... and perhaps listen.
I wonder if you quite grasped the situation Unsworth found himself. He not only took over a squad brimming with discontented players. He was stuck with them. He had no opportunity to bring in new players. no opportunity to work with the players he had. A bunch of misfits, all of whom had clearly fallen out of love with the game.
When He didn't have enough defenders at his disposal against Southampton all you could do was bleat about his enforced selections and when he suffered further injuries to his make shift defence you screamed it was his fault.
Take this bit in carefully. Not only did we have a young right back playing left back, we had a right winger playing right back another young defender off injured and a 35-year-old captain who was out on his feet... and you can't understand why a side which had been shredded of all confidence long before Unsworth took over fell apart?
The guy was faced with a choice in each of his games. He either asked the experienced pros to perform to a level they were capable of, or do what many regard as the unthinkable in a relegation scrap – play the kids. With balls of steel, he defied all convention and brought back his kids.
You are 100% correct that you don't understand the affection with which Unsworth is held, but you are 100% wrong in your false claim that I said he was slated by ALL, just as you are 100 % wrong in saying everyone was "singing his praises as if he was a club legend" .
I seldom post on the live forum, even for away matches, mainly because no matter who is in charge, I like to support the team for that 90 minutes and people like you tend to moan and bleat for the entire match. (No wonder you don't seem to learn anything.) But there are some very knowledgeable people on that site, so I still read the comments, even after I've been to home games.
I've read the "support" you speak of, the hysterical response to enforced selections, I've seen the inane criticism and like anyone who visits the forum, I know for a fact you have been front and centre caning Unsworth at every opportunity.
When I got back from the match on Wednesday, I found it highly amusing to read post after post screaming that Unsworth hasn't got a clue – before a ball was kicked (the comments are probably still there). Apparently Rhino had gotten his team selection all wrong!!
I was at Goodison the other night and I have to say, I have not seen such an outpouring of affection since Rooney burst on to the scene as a boy. The noise around the ground as the faithful chanted Rhino's name was incredible. Then I got to thinking...
Rhino has done well in most people eyes, with relegation staring us in the face. Most people didn't give a flying fuck about a dead rubber in Europe. Nobody seemed to care about your "What if he lost?" nonsense. They just knew he hadn't and that he had moved us several places up the table.... But!!!! He was only in charge for five league games. He had come unstuck in two of them. Why this incredible outpouring of support for him?
Perhaps it was quite simply a response to the unnecessarily nasty, ill-informed criticism he was forced to endure from a small section of the fan base who clearly don't have a Scooby.
Of course you don't understand, David, but those who do won't need an explanation.
Here's a thought to cheer you up for Chrimbo, David (something needs to): In your desperate attempt to criticise and badger the warrior who stepped up to the plate under impossible circumstances... you've probably made a significant contribution to him being immortalised!!!

Gary Edwards
174
Posted 01/12/2017 at 07:47:41
I've tried hard to find the positives in Allardyce's appointment but am struggling; it's a bad decision on many levels and I shudder when thinking about the long-term effects on the club.
Sam Hoare
175
Posted 01/12/2017 at 08:02:00
Mike Hughes@138
I think I pointed out the contradiction fairly clearly. If you can only address it with a puerile retort I would say that speaks volumes.
Nice that the day after implying that our editor Lyndon is a bigot you are now implying that I suffer from mental retardation. Clearly name throwing is more your style than any form of reasoned argument.
Steven Jones
176
Posted 30/11/2017 at 08:05:25
I am a big fan of Big Sam, his methods and process are comprehensive and given a more talented squad, with more money and a great stage I am excited to see how we build something strong.
It will take at least 6 to 8 weeks for his individual players processes and man management to take hold. It will take similar or less for his organisation on defence, set plays and methods of attack and counter attack to embed.
Post January window we will see a more balanced squad and I also believe his we are all in it together, his always buoyant backroom staff, his alignment with Steve Walsh, resect of Everton as a club, Big Dunc retained, Unsworth in the fold with the U23s.
This looks a more solid foundation for the future of EFC.
I will be delighted to see some of the negative posters on here calling for a contract extension once we/they get to know Big Sam more and see the foundations and progress we will undoubtedly have.
One thing we can contribute as fans and supporters is provide a positive environment for the likes of BS, Sammy Lee and Craig Shakes to feel this is their home and we are all behind them.
Let's get behind our Management Team and show that we are truly a magical club and special for someone like Big Sam to create an amazing legacy for us and himself and his coaching team.
Kim Vivian
177
Posted 01/12/2017 at 08:22:09
Daren 173. Well said. Good post.
Kevin Tully
178
Posted 01/12/2017 at 08:22:14
Oh dear, Darren. I think you'll find I defended St David of L4 on numerous occasions. Show me a single post where I slated him for the teams' performances and I will gladly apologise.
I only ever criticised the man (in a joking manner) for sounding like Bill in his pressers. I'm sorry if this offended you, I really am, but in your rush to roundly condemn anyone who didn't want the lad as permanent manager, you clearly took this extremely personally, without actually being able to comprehend what was actually written.
I don't know why you remind me of this guy, but you do:
James Watts
179
Posted 01/12/2017 at 08:32:59
Laurie #168.
I actually took the Merson shite as him having a go at us because we've got a fantastic manager and shouldn't question it. In other worlds, he was backing Allardyce but if he fails he's laid the ground work to say it's the supporters fault as we didn't back him. But like the mirror article give the West Ham result to Allardyce and over looking that it was Unsy. They will protect Allardyce and blame everyone else if it goes wrong. That's the way I see it anyway.
Unsy would have been my choice, until Christmas at the very least. But c'est la vie. We are where we are now so I'll just have to grumble in my head and leave it up to Sam to change my mind about him.
Andrew Wayne
181
Posted 01/12/2017 at 08:39:48
ToffeeWeb comments are increasingly resembling the Guardian CIF whenever anything remotely tangential to Brexit is raised. Has there ever been anything more polarising than this appointment?
Mark Stone
182
Posted 01/12/2017 at 08:55:47
Find it amazing how this is met with such greater ridicule than the appointments of Koeman and Martinez – both of whom as we know were woefully out of their depth, and together conspired to take us a team with no money who were constantly in and around the top 6, to a team with a blank cheque book in a real danger of relegation.
Amazing that the same fans who thought De Boer and Bilic would be good enough to manage our great club, are unhappy with the appointment of a proven, competent Premier League manager. Do us a favour, when you're crying out for Big Sam to go – remember what happens when you get what you wanted.
Andrew Wayne
183
Posted 01/12/2017 at 08:57:57
I meant to add (had to jump on train) that as a regular reader but infrequent poster I have always enjoyed the varied range of opinions that do sometimes get a little excitable.
However, there is an increased acrimonious and abusive element between more than a few that is unworthy of the majority of posters usual intelligent and often humorous debate – a plea to turn it down a notch.
I understand that feelings are running high and views are strongly held but you are all better than that surely.
Ian Hollingworth
185
Posted 01/12/2017 at 09:01:50
Interesting recurring theme on TW that everyone gone or not available to us anymore appear to be much better than they exactly were. Same is now applying to Unsworth.
The players were not responding to Unsworth and performances were woeful, even the game we won against Watford. I am sure that is not all Unsworth's fault as the position the board put him in, ie, temporary manager cannot have helped the ways the players felt towards him.
Wednesday night showed a different attitude, strange with a new manager in the stands. Although the attitude was great, the football was not on Wednesday and Everton's main tactic was to lump it long to Calvert-Lewin.
Strange now that the people who are dead against Big Sam are repulsed at his long-ball game but happy to praise Unsworth for a performance that contained a lot of hoof ball.
The ovation for Rhino was quite right and out of respect for a fellow Evertonian, but I would not mistake that for everyone wanting him to carry on as manager as he clearly was not up to the task.
You may not like Allardyce but he is the manager for now and we need to start winning football matches on a regular basis.
Mike Hughes
186
Posted 01/12/2017 at 09:08:41
Andrew # 183
You make a good point.
The Allardyce appointment has polarised opinion hugely. But there were too many double standards for me. Personally I thought he was getting unfairly vilified so I spoke out – as others have as well.
The last division like this on TW was the Saturday's Dilemma thread – when EFC beating City might have handed the title to Liverpool.
Time to take a breather, step away and let the manager get on with it.
Let's hope Big Sam brings more unity by winning frequently.
Laurie Hartley
187
Posted 01/12/2017 at 09:09:14
James (#179) – let's hope it doesn't go wrong and he wins you over. Another good performance and three points this weekend would be a good starting point.
James Watts
188
Posted 01/12/2017 at 09:13:10
Mark #182.
Find it amazing how this is met with such greater ridicule than the appointments of Koeman and Martinez – both of whom as we know were woefully out of their depth
You are completely forgetting, at the time of their appointments we didn't realise they were out of their depth. Based on Sam's record, he is way out of his depth.
Martinez had just won the FA Cup albeit getting a team relegated in the process. The majority of fans thought let's see how we go (and remember we had no money or expectation like now). And after the first season, many fans thought he was the Messiah.
Koeman came with a very solid couple of seasons from Southampton where he had overseen a lot of player turnover, which is what he was expected to do for us.
So come on, let's not be selective in comparing a manager with a career win rate of just over 30% with those eh?
Kevin Tully
189
Posted 01/12/2017 at 09:15:07
Hopefully, Sam will soon have a mural on the side of the main stand (advertising gravy) I know some posters who would really like to see that as they walk up to the ground. Easy now lads, some of you will have a 'Connery" if you're not careful.
Darren Hind
190
Posted 01/12/2017 at 09:18:13
Ahh, Kevin,
Talk about taking it personally without being able to comprehend what was said. You really are priceless.
At no point did I say you slated Unsworth for his team selection – admit it. You made that bit up didn't you?
You have made it clear from the start that you didn't think Unsworth was the man for the job, Nothing wrong it that, Half the fan base didn't want him... but it's the nastiness of your digs.
When you referred to him as a young Bill Kenwright, I thought you had maybe overlooked the fact that comparing anybody to Kenwright would be seen as the ultimate insult amongst many fans, but when you were pulled up, you were more than happy to attempt to back up your claim. You have recently taken to sarcastically referring to him as St David. That's your prerogative, but spare us the hypocrisy.
You have heartily supported the last two stooges this board have appointed only to turn on them when you realised they were frauds. It's entirely your prerogative again to support and applaud the latest appointment, but it's a bit rich to come on here and ask others to keep open minds.
Kevin Tully
191
Posted 01/12/2017 at 09:21:08
As I said, mate – I sincerely and heartily apologise if that upset you. Just find it strange that supporting Everton managers is now viewed as something to be ridiculed.
ps: – May I now go on record to state I back every Everton manager until I no longer want to? Usually, this will be after a considered period of reflection of at least 6 months before I definitively make my mind up. Cheers.
Eddie Dunn
192
Posted 01/12/2017 at 09:31:19
Darren, you make some good points in defence of Unsworth and I agree that if the club had stated that the job was his at least until the end of the season, then the players may have got the message and put more effort in.
It is obvious to me that once the board had appointed Allardyce, the players suddenly woke-up, realised that this was the time to put in maximum effort and that now they were playing for their futures.
Some had already been doing this, but deep down inside a switch was thrown. Unsworth tried his best but was dealt a bad hand with injuries and the dead rubbers in Europe etc.
I was surprised though, that we never got that "new manager" boost that other caretakers have had elsewhere. It could be down to the way the players already regarded him, only being the under 23's boss, unlike many other situations where the assistant takes over.
It's all academic now, but I have hope that Sam Allardyce will get us up the table and playing better football than many expect.
The game is full of ugliness, money, greed and cheats , so I can't be bothered about his alleged deals etc. I do think that there has been a coup of sorts though and Steve Walsh is now Moshiri's man pulling the strings and Kenwright has been side-stepped.
I wonder if it was just Koeman's intransigence that prevented Walsh from bringing in a second choice striker once the Giroud deal flopped? Interesting times ahead.
Steve Ferns, I am glad that you have stayed and I know you and others want us to succeed more than you want to bury the hatchet into Big Sam. So let's all be fair to the new manager and hope he surprises some and things go well.
Alan J Thompson
193
Posted 01/12/2017 at 09:33:42
It seems that a lot say that "Sam" is the man for now. That in itself begs the question, then who is the man for the future. For mine, still a poor decision by a Board that doesn't seem to know what it is doing.
NSNO, and wipes away a tear.
Dave Ganley
194
Posted 01/12/2017 at 09:46:31
Hear, hear, Eddie. There has been so much upset and conflict over the last 4 years that I'm completely fed up with who is right and who is wrong to support/not support new manager/caretaker manager.
Fat Sam was not my choice, in fact I was dead set against it. Probably down to the fact that it just highlights how far we have fallen. However, he is here and we have no alternative to give him a chance and hope he can get us playing like a team and climbing up the table, something we haven't seen since Moyes was here.
I was completely against Martinez and supported Koeman so what do I know! Both turned out to be a shambles so maybe Allardyce can turn out to be a success, you just never know.
We are at a low we have not seen for some considerable time and we need to pull together for the sake of the club. We are where we are so lets all hope Allardyce can pull a few rabbits out of the hat.
Just as a side issue, the players since Martinez took over have been nothing short of a disgrace. A complete lack of professionalism. When form dips that's excusable. What is not is a lack of effort and that has shone through many times over the last 4 years.
Many players are just not worthy of a blue shirt if only for their attitude. Hopefully Fat Sam can either sort out the attitude problem or get rid, we can just do without these players. I get the impression that Sam does not suffer fools gladly.
Darren Hind
195
Posted 01/12/2017 at 09:51:06
No problem whatsoever KT. Certainly no apology needed
We are all very passionate about this club and this is a forum for people to agree and disagree.
I'd be more disappointed if you didn't pull me up for something I said which you don't agree with.
Having given it more thought and having read your thoughts on Kenwright, I don't think you were intentionally lumping Unsworth in with him.

Jim Potter
196
Posted 01/12/2017 at 09:57:56
"He has all the virtues I dislike and none of the vices I admire" (Churchill).
He is here. He is Everton manager. (Sigh). Ergo, good luck Mr Allardyce.
"For myself I am an optimist – it does not seem much use being anything else". (Churchill).
Tony Everan
197
Posted 01/12/2017 at 10:02:06
Walsh is just as important as Sam right now.
2 strikers, January 1st is crucial. With different attributes. Gameiro and Giroud or similar.
We need him to be earning his corn, literally as we speak.
It wont be easy, but you don't get paid a million a year as a scout for nothing.
Ray Roche
198
Posted 01/12/2017 at 10:06:42
It will be interesting to see if Allardyce can do something positive with the likes of Sandro, Klaassen etc, both players have talent and in the right circumstances will be useful to us.
If he can get Keane back to his best that will also be a major positive too.
Mark Burton
199
Posted 01/12/2017 at 10:08:48
Anybody on TW that was never going to Goodison again if Sam was made manager got season tickets to dispose of?.
Laurie Hartley
200
Posted 01/12/2017 at 10:10:48
Perhaps these former players' respect for the manager might help:
John Malone
201
Posted 01/12/2017 at 10:12:13
Ray 198, like what? Put them on EasyJet flights to Amsterdam and Alicante??
Colin Malone
202
Posted 01/12/2017 at 10:15:07
We now have a manager who:
Won't detach himself from the players, as what Koeman did.
Who won't be too soft, as Martinez is.
With his down-to-earth Northern personality, I cannot see him losing the dressing room.
With a couple of bob to spend, with the help of Steve Walsh, hopefully this could be Big Sam's purple patch of he's managerial career.
The future? 18-month contract for Allardyce. Silva has 18 months left... I'm pretty sure something is happening behind the scenes as long it does not go belly up for Silva.
Kenny Smith
203
Posted 01/12/2017 at 10:31:01
Sam's here now for the foreseeable so let's all get behind his big massive head and support the club. After all, we're all in this shit together.
James Lauwervine
204
Posted 01/12/2017 at 10:37:51
Prove me wrong Sam please because I have never felt so low as an Evertonian. Beat the RS and maybe I'll start to think differently.
James Marshall
205
Posted 01/12/2017 at 10:41:23
Des@119
No, that's not me being delusional, that's a fact – Sam Allardyce was never convicted of anything. If you're going to pick a fight with a stranger online, at least have a valid point to make.
The latter part is backed up by Allardyce playing Rooney in midfield for England.
Derek Knox
206
Posted 01/12/2017 at 10:51:00
Laurie (#200), interesting link with some reassuring endorsements from respected players and manager's in Football.
Like they say, the proof of the pudding, is in the eating.
The fact being that he is here now for 18 months, whether anyone likes it or not, there has been enough disappointment and mis-management in recent times. Let's give the guy a chance at least, he may even surprise us, and get the best out of some under-performing players.
Mark Morrissey
207
Posted 01/12/2017 at 10:56:00
Refreshing to read that people are prepared to give Allardyce a chance. It has been hard work being an Evertonian over the past few years (and the rest I know) but it's going to be an even longer tougher season if we don't now try and support the management team.
They are here for the duration so let's not bleat on anymore about Allardyce this, Sammy Lee that. Like it or lump it they are ours now so let's not make reading ToffeeWeb a boring chore over the coming months. Let's get behind the team and to coin a festive phrase "one and all".
Roy Noon
208
Posted 01/12/2017 at 11:09:42
It was nice for Unsy to sign off with a win. Though I reckon, in true EFC style, if Pickford hadn't have saved that penalty, we would have collapsed like a pack of cards and ended up with nothing.
I doubt whether Allardyce was anyone's first choice, but, given all the circumstances, I can understand why our Board turned to him. Hopefully, he will bring organisation, discipline, commitment, respect to our club and this will result in an upturn of fortunes. May even be able to inject a bit of flair?
I fondly remember the Bolton team of Okocha, Djorkaeff etc – they were an enterprising outfit, so he isn't just about disciplined defending. Interesting times ahead. Better to be optimistic about the future rather than staring glumly in to me ale.
Tony Hogan
209
Posted 01/12/2017 at 11:26:28
Here's a question?
If the manager had to play, who would you have in your team? Moyes, Roberto, Koeman or Big Sam?
Koeman for his silky skills? Roberto for his experience playing for Wigan?
Big derby game next week, Big Sam plays in that for me.
Although Sam wasn't my choice, I actually feel more optimistic about a long awaited win at Anfield than I have for years, under Sam at least we won't lie down and die like we usually do, hopefully.
Brian Williams
210
Posted 01/12/2017 at 11:28:13
Firstly, I firmly believe that Moshiri has done what he believes was needed to stop us slipping further and further towards the drop zone.
I won't believe anyone who claims that they knew we were about to turn the corner and there was no need to panic. Every Evertonian I know was really worried and just couldn't see where our next win was coming from.
To go back to Moshiri though, I also firmly believe that he has no intention whatsoever of letting Allardyce mange our club for 18 months. I think he's done what he's done with a view to Allardyce stabilizing things and getting us to mid table safety, at least.
It became obvious we were not going to get any of the managers Moshiri wanted so he needed someone who would accept the shortest contract possible. I think he's more than willing to write off the remainder of Allardyce's contract at the end of the season and then go all out for the man he wants with a clean slate, a decent budget, and a new season to look forward to.
But you know what, and this is gonna sound weird. I hope Allardyce makes it impossible for Moshiri to sack him at the end of the season. I hope by some fucking miracle of the gods that something clicks and we do so well that nobody wants him sacked.
I didn't want Allardyce, not at all, but if he managed us to a derby win, and some good performances against the top six, while bringing some of the players in we need in January, then that'd do for me.
I know it's pie in the sky but that's what I hope for. I can't understand any Evertonian that doesn't want him to do better then we believe he can. And talking of pie, I'll happily munch through a huge humble one, and chant his fucking name if he can do that!

Because this Isn't about loving Allardyce, or any other manager – this is about loving Everton!
John G Davies
211
Posted 01/12/2017 at 11:39:25
Posts going to the extremes re Unsworth.
He's not a saint and he's not a sinner. He's just a half decent ex player who stepped into the manager's chair, didn't show the hirers and firers in the games he was in charge that he had the credentials to win a permanent contract, and was subsequently replaced.
I know one poster is taking the mickey by calling Rhino a saint. And I know one is serious when he calls him a warrior who will achieve immortality as an Everton man.
Ray Roche
212
Posted 01/12/2017 at 11:44:44
John Malone #201
Cruel, John, cruel!
Jay Wood
213
Posted 01/12/2017 at 11:44:50
Useless that Unsworth, innit?
At least he is appreciated somewhere.
Oh! And nominations for the various awards were open to ALL sports, not just footy, UK-wide.
Steve Solomon
214
Posted 01/12/2017 at 11:47:13
Steve Jones @ 176
I agree wholeheartedly. Well said.
I have no problem with Sam so far. Let him prove himself first, then we can jump on him and feed him to wolves (haha).
Somehow there feels a solidity to the management staff suddenly, and a cohesion. This is a good sign.
He is saying all the right things so far and I hope it is genuine, but I have no reason to believe otherwise. His statements that spoke about his Evertonian mates struck a chord, and yes, may just be master diplomacy or a Jedi mind trick.
But the fact that he is trying to get the fans on his side is a huge plus and does mean something. It is far more than Koeman ever tried. I'm excited about this new direction for our beloved team.

Tony Mace
215
Posted 01/12/2017 at 11:50:36
Brian (#210) well said.
Should we win the derby, I shall be singing his name to the tune of Coldplay's Paradise
COYB
John Sagar
216
Posted 01/12/2017 at 11:51:18
It's only my view on this, but I would rather have someone that's got a point to prove to football fans in general and the media rather than relatively unknown European manager that's snatched out of contract.
I think the will be some sore legs at Finch Farm and some old-fashioned ass-kicking going on... about time!!
Alex Mullan
217
Posted 01/12/2017 at 12:00:52
There was once a time when Big Sam was on the cutting edge of football experimentation. I recall in the late 90s he was famed for his use of Opta stats and purchasing players like Jay-Jay 'so good they named him twice' Okocha. I think it's quite sad how many people have prejudged him before he has even had a go with us, almost willing him to fail.
Quite honestly, we are an absolute shambles this season and I think a few people need a reality check as to what we are at this point. We have a net spend of about £40-50m, a far cry from the new Man City or anything like it and charlatans like Koeman and Walsh managed to balls that up (no idea how the latter is still allowed to steal a wage).
The expectations are so unrealistic that when a decent manager like Sam comes in he will never be good enough because so many people seem to think we have a God-given right to be in the top four, because we signed the likes of Sandro, Klaassen and Co.
Wake up and get behind Sam or risk making this situation worse.
John Smith
218
Posted 01/12/2017 at 12:03:27
It's hard to know who to blame more, Koeman or Walsh. However internally, it's obvious who they blamed more.
Tony Everan
219
Posted 01/12/2017 at 12:21:45
Brian 210, that's how I read it too.
This season now is an audition for Sam, no matter what anyone says. If he gets us to 7th, he will have a case to build on it. If he gets us top half and an FA Cup also. I didn't want him but I would be impressed with either scenario. He would deserve longer and more funds.
11th - 17th playing turgid football and he will be gone in June, with a wheelbarrow full of cash.
8th-10th, will see us in Moshiri-Limboland, but I think he would be gone in favour of Silva, Simeone, or Tuchel etc
Tony McNulty
220
Posted 01/12/2017 at 12:26:00
I am just back from an overseas trip for three days and I am still in a state of shock.
Jay Wood
221
Posted 01/12/2017 at 12:30:11
Must have been a helluva trip, Tony...
Alex Mullan
222
Posted 01/12/2017 at 12:32:03
We can't just hire him and then sack him after 6 months into an 18 month deal. We would be a laughing stock and it would be a massive PR disaster – and a particularly scummy thing to do might I add. Hardly an attracting prospect for a 'big name' to know that we are that conniving. Aren't we a better club than that?
Bobby Thomas
223
Posted 01/12/2017 at 12:32:09
Sam Allardyce is a better manager than both Martinez and Koeman. Each was fucking abysmal and would have relegated us.
We need to sort the recruitment out, starting at center back. The last 2 jokers have spunked a combined £20 million on Williams and Funes Mori. If we flog Mori at some point we may make most of it back, due to his age. As for Williams, he needs to drop a division.
Left back is possibly an even more pressing position than center back. If Coleman comes back well, I'd play Kenny left back till we can get that position sorted. Baines is done, and teams are targeting him. In a break with convention, some cover would be nice as well.
I'm some bloke that works in an office and I knew 18 months ago we needed to sign a long term replacement for Baines, preferably under 25, and gradually work him in and fade Baines out. How experienced football men have allowed that position to reach this point is genuinely staggering.
There's been so much change over the last 2 years I don't think a massive amount of signings are required. There's quality there. In the short term, we need 3 signings to go into the first team, and we need to get them right. The absence of the following players is de-stabilising the side:
A) Pacey center back that's good in the air, and generally an all round nark that gets things organised on the pitch.
B) Left back that isn't finished.
C) Quality front man that can play with his back to goal, link and go in behind. These lads are rare and generally cost.
Nail these 3 signings and add it to the quality we have, as well as getting rid of some of the dross (Klaassen £10 million loss), and we will be in decent shape.
Dave Abrahams
225
Posted 01/12/2017 at 13:05:04
Dave Ganley (194), a cracking last paragraph Dave, don't think Sam will have a lot of time for some of them if they don't buck up.
Brian Williams (210) Alex Mullen (217) and (222) and John Sagar (216) great posts for having the common sense and decency to basically say 'Give Sam a chance before you make your minds up' along with a few more posters with the same attitude. After all, we are fair or should be with the added bonus of being Evertonians.
David Israel
226
Posted 01/12/2017 at 13:21:18
David #162, you've nailed it!
I think we should all put the Unsworth episode behind us now, and concentrate on what lies ahead, with an open mind. After what happened against Atalanta and Southampton, I only feel relief that someone who is an acknowledged safe pair of hands, whatever his personal shortcomings, has been appointed.
Ian Edwards
227
Posted 01/12/2017 at 13:22:35
I think Allardyce should play Holgate tomorrow. I'm not sure who will be fit but the partnership of Williams and keane clearly doesn't work. We should also explore whether Garbutt can be added to the squad or Galloway brought back from his loan spell.
Jamie Evans
228
Posted 01/12/2017 at 13:30:12
Alex 222, yes we can and we should. As for being a laughing stock, it's a little bit late for that unfortunately.
Mark Stone
229
Posted 01/12/2017 at 14:07:08
James (#188),
'You are completely forgetting, at the time of their appointments we didn't realise they were out of their depth. Based on Sam's record, he is way out of his depth'
I'm not forgetting this at all. I'm pointing it out. Here is my point – when people start crying out for this boring manager to go because he isn't cracking the top 4, and drooling over for the next flavour-of-the-month to come in (like many on here were with Martinez, De Boer, Bilic, Koeman) – do yourself a favour and remember how it turned out last time.
Unless you are one of the top, top teams in the Premier League (which sadly we are not) what wins football games is having a solid defence, being well organised and everyone knowing their jobs.
Bore of with your 30% win rate as well, how many games you think Mourinho would have won with Sunderland and Crystal Palace the last couple of years?
Brian Williams
230
Posted 01/12/2017 at 14:13:29
Alex (#222).
We'd be no more a laughing stock than we've been whilst in the bottom 3 and getting twatted by 4 and 5 goals after spending BIG during the summer.
Aren't we a better club than that? Than giving somebody 18 months money for 6 months work you mean?
Far from a laughing stock it might just show that at long last we're getting a ruthless streak instead of being "good old Everton, that lovely club that's nice to everyone."
Michael Lynch
231
Posted 01/12/2017 at 14:16:17
Talk is cheap, but an excellent first press conference from Sam. I for one am optimistic and think he will turn out to be a good appointment. If you'd have asked me six or seven weeks ago, there's no way I would have said that, but the performances under Koeman and Unsy in all competitions this season have been amongst the most depressing I can remember.
Exciting times to be a True Blue, as it always is when a new chapter is starting.
The only way is up. I hope.
Alex Mullan
232
Posted 01/12/2017 at 14:18:20
Jamie 228,
You would be happy with that approach? (sacking someone after 6 months of an 18 month contract before we even know how well he is going to do).
Do you not find it irritating when players use Everton like a stepping stone? I presume you do, because who doesn't? You would be okay for us to use someone as a stepping stone though?
We can't just sign him up for 18 months then stab him in the back, that would be so utterly beyond contempt it beggars belief. I couldn't even see Chelsea doing that, nevermind a sop like Kenwright.
Alex Mullan
233
Posted 01/12/2017 at 14:28:16
Brian (#230),
There's a difference between being serious and cut throat in a tough and competitive league and being downright unprofessional. The latter, which I dare say we would be if we sacked Sam after 6 months on the basis that he is 'not fashionable' would leave us with a reputation as being a club without any sort of contractual decency. In the long run do you think that would attract anyone to fill the job or join us, beyond mercenaries?
And you know what, maybe we are too nice sometimes, but I chose Everton because we are a decent club with great history and values and not some cold-hearted sell-out plastic piece of crap who would do anything for a point.
Jamie Evans
234
Posted 01/12/2017 at 14:30:51
Alex (#232),
I can't disagree with any of your last points. However, for our current manager, I would be happy to make an exception. Altogether now, "We found love in a hopeless place."
Phil Lewis
235
Posted 01/12/2017 at 14:49:21
Lets get real. Our new leader comes with his tried and trusted 'survival kit' and very little else, except a smug smirk and a fat wallet.
All talk of him never having had a chance to lead a big club is nonsense, as we are not a big club in the sense of winning trophies we are an average club, as much as it hurts me to say it, just like all the other average clubs in peril, that he has managed before. England are only an average team on the world stage. The big clubs in the Premier League are made up mostly of foreign players.
So Mr Sam 'The Spiv' average Allardyce, has merely been gifted yet another nice little bung from our 'benevolent fund' at average Everton, to perpetrate his average 'don't lose' survival philosophy, which the Board see as the perfect solution to ensure that their Premier League millions continue to roll in. Really wets the appetite, doesn't it?
John McFarlane [Snr]
236
Posted 01/12/2017 at 14:51:10
For anyone seeking a momentary light relief from this ongoing and [seemingly] perpetual Managerial debate. I would recommend taking a couple of minutes of your time to read "Favourites aren't always the best" on another thread.
It's written by some old fool, who with more time to look back on, [than he has to look forward to], is threatening to reveal his eleven favourite players from the 1940s/50s/60s/ 70s/ and 80s "Webmaster permitting"
His choice of goalkeeper featured in part one, is Gordon West, to some just a name, but to others a chance to drift back to the days when football really was the 'Beautiful Game.
I feel sure that having spent a couple of minutes away from the Managerial debate, and having charged your batteries [so to speak], you'll be good enough for another 200 posts of delight and despair. Best wishes to all.
Tony McNulty
237
Posted 01/12/2017 at 14:59:23
Jay (221)
I was in Dublin actually.
No, I am still trying to get my head around: (1) the performance at the weekend (lower than whale faeces); (2) the 4-0 win from nowhere; (3) the fact that the Board panicked and decided "needs must"; (4) the juxtapositioning of the words "Sam Allardyce" and "Everton Manager."
There is still a great deal in there to be processed.
Jay Wood
238
Posted 01/12/2017 at 15:13:23
Only joshing with you Tony.
I was in a similar situation. Tuesday night, through until Thursday morning, I was 36 hours without internet in a Brazilian backwater.
Once I got the net back, TW was my first port of call. Eye-popping just about covers it. My first post on here on learning about Sam's appointment and the 4-0 whopping of der 'ammers was to explain my plight and ask:
"Did I miss much?"
You can't afford to miss a day of the Everton soap opera!
Brian Williams
239
Posted 01/12/2017 at 15:20:02
Alex (#233).
What's the difference between sacking Allardyce after 6 months (not because he's not fashionable, nobody mentioned that as a reason) and sacking Koeman before his contract was up? Do you think Allardyce is gonna be bothered? The same man who quit Crystal Palace remember?
Where was his contractual decency when he quit there? I think you're being naive.
If Moshiri sacks him at the end of this season it'll be either because he's been absolutely gash and we've either been relegated or just survived, or because he's done the short term job that Moshiri hired him for, with a view to then hiring the manager Moshiri sees as taking us in the direction we all want to go.
You may have feelings of guilt over sacking someone and then giving them millions to help em get over it, a man from an almost unique group of employees who regularly get massive payouts for failure, ie, Martinez and Koeman, but I won't.
I don't want to sit watching us play Burton, Reading or Millwall coz we did the right thing by Allardyce ffs.
And as for history..... I want us to make it not keep looking back at it!
Sure we can keep up our excellent efforts when it comes to EitC but the Premier League is not a charity!
Oliver Brunel
240
Posted 01/12/2017 at 15:26:14
It's clear this was a contingency back-up plan when Silva and Fonseca fell through. They will be back in for Fonseca at the end of the season I am sure.
Jamie Evans
241
Posted 01/12/2017 at 15:37:44
Hope you are right, Oliver.
Geoff Williams
242
Posted 01/12/2017 at 15:44:24
Not my choice but the decision has been made to appoint him so it is important for the club's sake that we give him a chance.
Michael Mcloughlin
243
Posted 01/12/2017 at 15:59:12
I am quite pleased with the management team that Sam has put together. I think Sammy Lee is an excellent appointment who knows the game inside out. Likewise with Shakespeare he will bring a lot of experience and knowledge to Everton Football Club.
I was very impressed with his press conference, I thought he come across as honest and forthright. He also came across as very knowledgeable about the game and what is needed at Everton.
He will do for me.
Stan Schofield
244
Posted 01/12/2017 at 16:21:42
John@236: Gordon West would have been an England regular but for the best goalie in the world at the time, Gordon Banks.
I remember that Gordon West could throw the ball as far as most other goalies could kick it.
Paul A Smith
245
Posted 01/12/2017 at 16:26:47
Allardyce will use the players that are at the best level regardless of age. By all accounts Craig Shakespeare is a great coach and Allardyce is well educated on sports science. His team will know exactly who to pick from all the data and knowledge they collect. Age won't come into it.
The only way we become a laughing stock is if you listen to reds who haven't got a clue about Liverpool nevermind football. Or our own bunch who think selling our best players is sound.
Other than that most people seem okay with Allardyce. The open minded fans who don't fall for trend.
Alex Mullan
246
Posted 01/12/2017 at 16:35:00
Brian 239,
The difference is Koeman failed to deliver and Sam hasnt even managed a game yet and already people want him sacked at the end of the season. That is the difference and the point I was clearly making.
Brian Williams
248
Posted 01/12/2017 at 16:44:46
Alex. That certainly wasn't the point I was making. In fact if you look at one of my posts I state that I hope Allardyce makes it impossible for Moshiri to sack him.
The point I was making is that I "believe" Moshiri views him as a short term appointment and has hired him on an 18 month contract because he couldn't hire him on a 6 month one.
I believe, unless Allardyce works absolute miracles, that Moshiri will sack him and look for a long term manager at the end of the season.
Alex Mullan
249
Posted 01/12/2017 at 16:49:24
Let's just hope he does well and people support him because there's only one way to go if the atmosphere continues.
Ben Dyke
250
Posted 01/12/2017 at 16:57:01
Allardyce is just in the same position as any other Everton manager – do well you stay, do badly you go! The arguing is in the what constitutes well and bad.
For me, the expectation is always at the moment to finish top half and have a good cup run – but my hope is always a Champions League place and a cup win. Somewhere in all that between hope and expectation is what determines if he's been successful or not at Everton.
George Freeman
251
Posted 01/12/2017 at 17:02:40
Paul # 245
"Age won't come into it" I see that BS is holding a shirt in the press conference, hope he is not thinking of playing himself.
Tony McNulty
252
Posted 01/12/2017 at 17:05:39
Jay (239)
After due reflection, my brain has decided that it can only take on board this information by calling our new manager, "Samuello Allardicio."
Allardicio now joins a roll call which includes Catterick and Kendall at one end of the spectrum, and Walker and Koeman at the other.
Rian Magee
253
Posted 01/12/2017 at 17:09:48
There really is no pleasing some people. It wouldn't matter if we'd got Silva, Fonseca or even Simeone... I guarantee you'd have heard complaints and the same 'he doesn't get us', 'he's not a true blue'.
Still, it's good for a giggle how petty some of this stuff gets... having said that, everyone is entitled to their thoughts!
I for one don't mind in the slightest Big Sam is here. In fact, I'm pretty happy about having a gaffer that won't take any nonsense or laziness and knows the Premier League.
Aye, it's a press conference and you usually hear the same guff but there was one word being used that I liked hearing a lot of and it didn't escape out last manager's mouth much...nope, not 'ambition'... but 'we'. Which enforces the core point I'm failing to make...
Regardless of our personal thoughts on the gaffer or coaching staff... we need to accept it, embrace it and move forward together. We need to support our deadly club together. Who knows what will happen... but COYB!!
Eugene McLoughlin
255
Posted 01/12/2017 at 17:18:09
I think Lee used to be assistant to Koeman at Southampton... they were very good then, maybe just maybe he might be good for us???? I hope so, I hate the redshite as much as anyone but if the little runt weasel does a job for us, I say let it be?
David Israel
256
Posted 01/12/2017 at 17:42:17
Stan (#244), the fact that Gordon West didn't play, instead of the unavailable Gordon Banks, in that ill-fated quarter final in Mexico, back in 1970, most probably cost England a place in the semi finals. For me, that was the best England team I can remember, better than the World Cup-winning one of 1966.
Three Evertonians played in that match: Keith Newton, Brian Labone, and Alan Ball. I remember the game well: what a let-down!
John McFarlane [Snr]
257
Posted 01/12/2017 at 19:00:21
Hi Stan, [244] I presume that you read the "Favourites" thread and if so, I hope it gave you some respite from the cut and thrust of the Managerial debate, and you can resume hostilities feeling refreshed. My opinion is that as far as that contest is concerned the horse has well and truly bolted, and the efforts of all Evertonians should be directed at showing the team that we will support them through good and bad times.
If you did read the article you will have read that on his debut for Everton, Gordon West showed an ability to throw the ball great distances with a degree of accuracy, something that was new to us, and something that he continued to do throughout his career.
As the title of the article suggests, favourites aren't always the best, and in my opinion and I don't think many will disagree, the best goalkeeper we've had in our lifetime is Neville Southall. However when it came to choosing a favourite, I was torn between Gordon West, and Jimmy O'Neill, and I've seen every keeper since Ted Sagar
I apologise to everyone for gatecrashing the Sam Allardyce show, but I have followed it as best I could, but in truth after the first fifty or so posts, different people on both sides of the divide, were expressing the same views, there was nothing new being brought to the debate.
I appreciate that I may be the odd one out, but there isn't a thread for reminiscence, and for supporters of my age, the past is all we can look forward to. Apologies once again.
John McFarlane [Snr]
258
Posted 01/12/2017 at 19:32:58
Hi Stan Schofield, I have replied to your post, but they've opened up a new thread, and everyone seems to have shifted over to that. The old thread "Allardyce confirmed as Everton boss etc". is still open so maybe you'd care to view my post.
Raymond Fox
259
Posted 01/12/2017 at 19:48:23
Phil 235, I think you should have more sugar in your tea, it may help!
Des Farren
260
Posted 01/12/2017 at 20:44:07
James @ 205 – not convicted – you set a low bar... neither has Trump, yet.
Anyway, the idea that anyone, not employed in a coaching capacity for Everton FC ,should be advising players before a game, was, to me at any rate delusional in the extreme.
However, I read today in one of Lyndon's articles, that is exactly what happened. He addressed the team before the game. I am the delusional one. My apologies.
John G Davies
261
Posted 02/12/2017 at 09:13:54
No, he didn't talk to the team.
The win was all down to Rhino.
Stan Schofield
262
Posted 02/12/2017 at 18:54:10
David@256: Good point. Related to this, and it really niggles me to this day, Harvey and Kendall should have played regularly alongside Ball, because it was arguably the best midfield in the world, only the great Brazil one (Rivelino, Gerson and Cloadoaldo) being anywhere near comparable. Talk about squandering available talent. No wonder the England set-up since then has been so generally mediocre.
Kev Johnson
263
Posted 04/12/2017 at 19:37:17
If trump attacks north Korea and all out war breaks out, I am going to stand next to Big Dunc. He has seen out two managers already and still he survives. I love him but is he Bill's blue-eyed boy?
Add Your Comments
In order to post a comment, you need to be logged in as a registered user of the site.
Or Sign up as a ToffeeWeb Member — it's free, takes just a few minutes and will allow you to post your comments on articles and Talking Points submissions across the site.