Lookman and Vlasic excel in fine win in Cyprus

209 Comments [Jump to last]
Thursday 7 December 2017
Apollon Limassol 0 - 3 Everton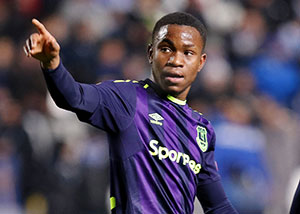 Ademola Lookman capped a lively display with a brace, the second of which was a spectacular 25-yarder
AFP/Getty Images
Everton signed off an otherwise miserable Europa League campaign with an emphatic win over Apollon Limassol
Ademola Lookman had the Blues 2-0 up at the break thanks to a rare header and a thumping long-range effort and Nikola Vlasic put the iciing on the cake with an impressive individual effort late in the second half.
Both teams had already been eliminated from the competition and with nothing riding on the outcome, assistant coach Craig Shakespeare took the opportunity to blood some youth players and name a raft of youngsters, none of whom have played any senior football, on the subs bench.
Harry Charsley and Fraser Hornby made their debuts while Morgan Feeney made his first start but it was two wingers with prior first-team experience who lit up the game for Everton in a game they might have won even more decisively were it not for European debutant Kissas in the Limassol goal.
Everton's young outfit acquitted themselves well in the early going and came very close to scoring on two occasions in the first 10 minutes.
Lookman was released into space by a lovely Klaassen pass but the winger delayed his shot too long in front of goal and his effort was ultimately saved well from point-blank range.
More trickery from Lookman was eventually broken up as he tried to dribble his way into the box but the ball fell invitingly to Charsley whose impressive curling effort was heading for the top corner until the 'keeper palmed it behind.
Everton did score with 20 minutes gone, though, with Vlasic the creator this time. The Croatian got a second chance to cross which he did from the byline and Lookman was well-placed at the far post to head home.
And it was Lookman who doubled the lead in spectacular fashion a few minutes later when he picked up a long clearance from Robles and unleashed a powerful shot from 25 yards out that Kissas couldn't keep out.
Sardinero tried to reduce arrears for the home side but he was denied by an excellent stop from Robles.
Then, after Papoulis's effort from outside the box was palmed away, Sardinero popped up again on the edge of the six-yard box but Robles closed the angle and saved comfortably.
Back at the other end, Mirallas took advantage of the space that opened up in front of him but dragged a shot wide of goal 11 minutes before half-time.
Apollon thought they had make it 2-1 in the 39th minute when a free kick from the left bounced into the far corner off a slight touch from Papoulis but the referee's assistant had spotted an offside "goal" was chalked off.
Kissas was forced into a another save as half-time approached when Vlasic fired hard and low and the 'keeper got down quickly to block it with his legs before Papoulis shrugged off Baningime's challenge but sliced wide for Apollon.
A late penalty claim by the Cypriot side when Besic went sliding in on his man was waved away as the Blues took a 2-0 lead into the interval.
Robles was called into the first save of the second period, an awkward block from a long-range effort as the home side carried the greater threat going forward in the first 10 minutes of the second half.
But Everton sparked into life in the 56th minute when Vlasic's backheel put Lookman in again but the latter went for hat-trick glory rather than squaring a return ball and Kissas parried his shot behind.
A somewhat harsh decision to penalise Klaassen for handball right on the edge of his own box gave Limassol a chance from a direct free kick but Pedro's shot cannoned off the defensive wall.
Kissas had to come to Apollon's rescue twice in the space of a few seconds to make blocking saves from both Mirallas and Hornby as a comfortably-positioned Everton occasionally exploited the space afforded by the home side's back line.
Shakespeare's first change of the night saw Hornby make way for fellow striker Nathan Broadhead with nine minutes left.
Great work by the young Welshman almost set Vlasic up but, like Lookman in the first half, he couldn't engineer a shot and was eventually closed down.
The former Hajduk Split man did much better a minute or so later, though, when he prodded Broadhead's flick past the last defender, sprinted onto the ball and slipped it past the advancing goalkeeper to make it 3-0.
16-year-old Anthony Gordon came on late for Mirallas with a couple of minutes to go while Alex Denny replaced Charsley in stoppage time.
Kick-off: 6pm, Thursday, 7 December, 2017
Everton:
Robles, Baningime, Feeney, Besic, Charsley (Denny 90'+1), Klaassen, Schneiderlin, Vlasic, Mirallas (Gordon 88'), Lookman, Hornby (Broadhead 82')
Subs:
Hewelt, Collins, Duke-McKenna, Denny, Lavery.
---
Reader Comments (209)
Note: the following content is not moderated or vetted by the site owners at the time of submission. Comments are the responsibility of the poster. Disclaimer
Michael Kenrick
1
Posted 07/12/2017 at 16:47:56
Debuts for Charsley and Hornby!
Derek Knox
2
Posted 07/12/2017 at 16:52:03
Hope nobody winds Hornby up! :-)
He could go off the rails.
Steve Ferns
3
Posted 07/12/2017 at 16:52:55
Surprised they've gone with Hornby. But good luck to the lad. Also a chance for Charsley to jump the queue as back up left back.
Let's hope the young blues and reserves give a good account of themselves. Will Schneiderlin step up as captain or go missing again?
Andrew Keatley
4
Posted 07/12/2017 at 17:02:59
That looks to me like only one specialist defender in the eleven... 18-year-old Morgan Feeney.
Fraser Hornby given a start. Can't imagine many saw that coming.
Paul Kossoff
5
Posted 07/12/2017 at 17:04:44
In the situation we are in we are better off out of it. Hopefully a point at the dark side on Sunday and take off from there with some confidence.
Sorry, Lyndon, but I can't think of a more under performing player than Morgan Schneiderlin to put on top of the article, well maybe Ashley Willams.
Once again Radio Merseyside ignores Everton, oh but they have rugby on!
Steve Hogan
6
Posted 07/12/2017 at 17:15:05
Derek (2)
Think most of the gang missed your pun re Hornby (probably an age thing), don't forget your coat on the way out...
Andrew Keatley
7
Posted 07/12/2017 at 17:21:56
I think that every single player on the bench – if they were to come on - would be making their debut appearance in the first team.
That could be a football first. Anyone know?
Kieran Kinsella
8
Posted 07/12/2017 at 17:22:14
I don't know Hornby. Where does he play?
John G Davies
9
Posted 07/12/2017 at 17:24:46
Really pleased he has picked this side. As you say, Lyndon, this one is a genuine dead rubber, unlike the other 5 games played.
We don't know who will be playing Sunday but, looking at tonight's team, we can have an educated guess who won't.
Paul Kossoff
10
Posted 07/12/2017 at 17:27:34
Apparently Hornby runs out of puff till he gets a head of steam up.😋 Please stop now!
Paul Kossoff
11
Posted 07/12/2017 at 17:29:19
Quick get your coat, Derek, you'll miss ya train. 😋
Jay Wood
12
Posted 07/12/2017 at 17:29:32
Strewth Derek @ 2.
That's a real groaner!
So why am I still laughing at it...?
Ray Robinson
13
Posted 07/12/2017 at 17:33:07
If Hornby is playing, it'll be 0-0. Think about it!
Steve Hogan
14
Posted 07/12/2017 at 17:36:03
Ray (13)
I'm thinking but still don't 'get it'...
Peter Anthony
15
Posted 07/12/2017 at 17:38:29
Hopefully Hornby and the other young lads will put in a performance to show they are ready to push the first team. Austin Powers comes to mind...
"Do I make your Hornby baby? Do I?"
Sorry, I will get my coat as well.
Jay Wood
16
Posted 07/12/2017 at 17:40:54
Blimey! The trainspotting anoraks are out in force on this thread.
Ray @ 13... difficult to gauge the scale of the likely score with this selection.
Ray Robinson
17
Posted 07/12/2017 at 17:44:53
Steve, it was the name of the railway set that I had when I was a kid - Hornby dublo (00 gauge). Apologies for an old fart's joke but I knew some other old gits would get it!
Jakub Kollar
18
Posted 07/12/2017 at 17:46:47
Ladies, anybody got a link to watch the match? Not a BT Sport subscriber... Thanks.
Steve Hogan
19
Posted 07/12/2017 at 17:48:10
Brian Hennessy
20
Posted 07/12/2017 at 17:51:08
Are any of these young lads our next "Flying Scotsman" or are they all English?
Chris Keightley
21
Posted 07/12/2017 at 18:04:29
Goal!!!!
Richard Mason
22
Posted 07/12/2017 at 18:15:41
Some great passing from Klaassen playing the deeper role.
Richard Mason
23
Posted 07/12/2017 at 18:29:28
What a goal, Lookman having a blinder.
Anthony Dwyer
25
Posted 07/12/2017 at 18:37:23
I've been caught out by the early kick-off... Any live streams, peeps???
Jeff Armstrong
26
Posted 07/12/2017 at 18:40:03
What happened to the Europa League squad list, the one where Niasse was not named and therefore could not feature? Surely all these kids weren't on a squad list submitted in August?

Jay Wood
27
Posted 07/12/2017 at 18:55:36
Good workout and the young 'uns are doing just fine.
Considering the back four is a real mish-mash of players, they're doing OK.
The goals will help Lookman's confidence. The header was a really good finish, whilst Vlasic did well to retrieve Mirallas's overhit 1-2 to provide the cross.
Nice hit for his 2nd, but the keeper has to keep them out.
Glad he didn't!
Quite nice watching Everton without the stress levels!
John Harrop
28
Posted 07/12/2017 at 19:08:34
From the BBC:
The bizarre thing about this Everton squad is that it is largely made up of youth-team players, and is managed by Craig Shakespeare, who has been at the club for about a week.

Surely it would make more sense for David Unsworth – who presumably knows these kids well – to take this game?
They've got a point.
Stan Schofield
29
Posted 07/12/2017 at 19:16:13
John, I don't think so. Unsy is the under-23 coach, whereas this is a 1st team game, and Shakespeare is part of the1st team management. That said, it might be expected, and is likely, that Unsy would have provided information to the 1st team management on these players.
Simon Dalzell
30
Posted 07/12/2017 at 19:21:30
Shakespeare all day for me. Confine the Unsworth 'experiment' to the dustbin.
Mike Allison
31
Posted 07/12/2017 at 19:23:35
I'm worried we'll get fined by Uefa for not picking a strong enough team.
In the first five games.
Boom boom.
Ciarán McGlone
32
Posted 07/12/2017 at 19:38:16
Our best game of the competition..
Although not sure I understand Baningime playing at right back... Surely we have an available right back, or even Holgate? Bizarre.
Jay Wood
33
Posted 07/12/2017 at 19:53:03
Sweet.
Don't any one try to tell me there isn't enough talent to work with at Everton.
John G Davies
34
Posted 07/12/2017 at 19:54:00
What an absolute credit to David Unsworth and his staff. He can have a conveyor belt producing talent for the first team. A lot with good chances to have a long career in the Premier League.
Feeney stood out to me. I'm told Unsy loves this kid. Described him as a Dave Watson type of centre-half.
John Pierce
35
Posted 07/12/2017 at 20:06:00
A very tidy performance. The two that should shine did. Vlasic & Lookman. Deffo first team squad players.
I would hope both get in the match day squad Sunday.
Klaassen showed signs of an awakening which, for me, is not unexpected. A good player marooned by the maelstrom of events.
Three wins, three clean sheets. 🤣
John Keating
36
Posted 07/12/2017 at 20:08:21
Absolutely outstanding displays by all the youngsters. They are all a credit to themselves, their families and the Club.
The youngsters can only gain from this experience and hopefully it will give them the taste for more.
Andy Crooks
37
Posted 07/12/2017 at 20:12:49
How did that team get a draw at Goodison Park? We have some senior professionals at the club who are shameless and utterly devoid of integrity. Well done to the team tonight.
Jamie Evans
38
Posted 07/12/2017 at 20:14:11
Young guns go for it, the kids are alright, etc, etc. Congratulations young blues. Very, very proud evening for you all. And just a quick word for Craig Shakespeare tonight. Only been with us 2 minutes so to get a win with a team as young as that is impressive. Make sure all the lads get a Farley's Rusk as a thank you.
Steve Ferns
39
Posted 07/12/2017 at 20:15:02
Just back from the pub, watching the match. I thought we were superb, considering the previous five games and the number of U21s out there (including Lookman and Vlasic in that).
There was some great moments. I wasn't that happy with the more senior players though. Mirallas had some good flashes, but was petulant when he should have led by example. Schneiderlin didn't have his worst game, but it was hardly a captain's performance. Klaassen was steady, but a couple of shaky moments and no real glimpses of the sublime skills for which we signed him (they are there, honest).
Besic was up and down. There was a few times where he charged forward forgetting he was the only adult in that defence and had responsibilities. He needed a far more disciplined performance than what he gave. Robles did well though, couple of decent saves, but easily beaten for the disallowed goal.
For a right-footed attacking midfielder, Harry Charsley was fantastic at left-back! Baningime was decent, but itching to step into midfield. Feeney was a rock at the back. But the best kid by far was Fraser Hornby, he led the line really well and looks one for the future for sure. I read he's a midfielder who had a growth spurt and filled out so got pushed up front recently. That would explain why he has a good all-round game.
Lookman was fantastic. But if he, Mirallas and the equally excellent Vlasic all played tonight, who is playing on the left against RS? And is one of them who has been filling in for them in the training going on back at home.
Reserves: 1 win, First team: 0 wins. Reassuring end to an embarrassing campaign.
Don Alexander
40
Posted 07/12/2017 at 20:15:53
Wonder if the Fat Controller's been given something to think about re Premier League selection?
Barry Williams
41
Posted 07/12/2017 at 20:17:12
3 games, 9 scored, none conceded. What is going on!!??
The kids were excellent tonight, some of them playing out of position too. Weird to think that we drew 1-1 with this team at Goodison with a first team, play the kids with a few seniors and we come away with a comprehensive win!
Lookman was Man of the Match for me today. The only thing that spoiled the match for me was the histrionics from their team. It was ridiculous and the referee did nothing about it, despite how blatant it was.
However, that is modern football, this is the reason I generally don't watch games now, I just watch Everton as we seem to still do it a lot less than other teams despite the Niasse ban. What I will say, how come he is the only one in the opening 4 months of the season that has been pulled up on it!!??
Anyways, good performance by a very young team!
Stan Schofield
42
Posted 07/12/2017 at 20:19:28
The youngsters not only have ability, but also a winning mentality. This bodes well for the future of the 1st team. With Allardyce here, and players like Rooney, perhaps the club as a whole is now finally developing this winning mentality, which has been sorely lacking for a long time.
Also, the three wins in the trot, with 9 goals scored and clean sheets, will surely provide a boost in confidence and determination prior to the Derby. COYB.
Neil Copeland
43
Posted 07/12/2017 at 20:22:10
Chuffed for Hornby!
Neil Copeland
44
Posted 07/12/2017 at 20:24:27
Barry, it was actually 2-2 at Goodison but agree with your point.
Derek Knox
45
Posted 07/12/2017 at 20:36:15
I was very impressed with the younger contingency tonight, especially Lookman, Banimgime, Charsley and Hornby.
Much lesser with the so-called senior mentors; not one (apart from Robles) showed that they were the key men!
Young Feeney too played well, which as a result tonight was meaningless, but spoke volumes for hope, re-assurance that the right bricks are available for future improvements.
Gavin Johnson
46
Posted 07/12/2017 at 20:37:09
Wasn't able to watch the game. Did Klaassen have a good game?
Paul Wyndham
47
Posted 07/12/2017 at 20:37:27
Been the game, Well done, the kids... disgraceful from Mirallas and Schneiderlin – both going through the motions and couldn't be arsed. Lookman by far the best player on the pitch.
I can't see a future for Klaassen; if he can't impress against that rubbish, then he will never make it in the Premier League and how we drew at Goodison with them is a mystery – they are gash.
January sale ASAP please– get shut of the dross.
Kenwright Out!
Paul A Smith
48
Posted 07/12/2017 at 20:43:28
Excellent stuff from the youngsters. Lookman's skill at times was a joy to watch and Hornby upfront never stopped working.
I was pleased with Klaassen too but thought Schneiderlin looked as cumbersome as ever. How fast did we look as a team compared to the home tie?
We looked like we knew what we were doing. Poor opposition but great bedding in game for the future players.
Paul (#47), I thought Mirallas did well and helped the youth in attack. He worked hard as far as I could see.
Dennis Heaton
49
Posted 07/12/2017 at 20:45:29
Derek (No 2) – I don't think Hornby has trained very much lately...
Phill Thompson
50
Posted 07/12/2017 at 20:46:39
Steve (#39)
Hornby has always been big for his age even, I first saw clips of him in midfield for Scotland U17s and he was the biggest outfielder on the pitch.
The transition to playing as a striker started last season, and he looked a goalscorer but then was injured. He's only really been back 6-8 weeks and hasn't got much U23s time to his name.
It's fantastic to see him do so well tonight, and if he's not knackered, he could play for the U18s at Goodison in the Youth Cup vs Ipswich tomorrow night.
Jay Harris
51
Posted 07/12/2017 at 20:49:43
I might be in the minority but I thought Kevin Mirallas had a good game, unlike Schneiderlin who looks a shadow of the player he once was, constantly turning backwards and trotting around with no sense of urgency.
Lookman and Vlasic rightly get all the plaudits and I thought Robles did very well but Beni is never a right-back.
Ernie Baywood
52
Posted 07/12/2017 at 20:57:51
Always nice to be in a position to rest players in the last game of the group stage...
Seriously, obviously the game didn't matter. But as we saw in the last Europa League game, a thrashing can still have an effect on confidence around the club.
So well done boys.
Sam's selection against Huddersfield made it pretty clear he's going to reward performance. I wonder if anyone has played themselves into the derby tonight?
Steve Ferns
53
Posted 07/12/2017 at 21:00:07
Cheers Phill.
Jay, I didn't think he had a bad game, I just wasn't happy with his petulant attitude and think he should have tried to lead by example as the oldest of our players. There was some great flashes, but not enough overall for me.
Dave Abrahams
54
Posted 07/12/2017 at 21:10:30
Phill (#50), yes I was hoping to see Fraser Hornby and Anthony Gordon tomorrow night, will be surprised if they play though.
Phill, you are clued up on the Youth team players, how young / old is Anthony Gordon who came on for the last few minutes tonight, is he possibly Everton youngest ever first team player?
Kevin Moorcroft
55
Posted 07/12/2017 at 21:13:28
We all know its early days but WTF was Koeman and his brother doing? And of course the money we were paying them.
Some good lads in the reserves never even looked at – chopping and changing constantly – players out of position, void of any confidence.
I'd love to meet the pair of 'em down a dark alley!
Steve Ferns
56
Posted 07/12/2017 at 21:13:36
Ernie,
Lookman had the left-wing slot. He should have gas in the tank and should play against Liverpool on the basis of retaining the winning team in the league. Vlasic should be on the bench and the first one to turn to.
I wonder why Sam sent Vlasic, Mirallas and Lookman all to play, when these are the three who would contest the left wing role?
I can understand the need to get a performance like they did out of Lookman, but he will also have missed some valuable training, particularly defensive work as a unit.
Derek Knox
57
Posted 07/12/2017 at 21:18:03
Jay, I appreciate everyone is entitled to an opinion, but I could recommend a visit to Specsavers, as regards Mirallas.
Again tonight's game was meaningless as far as the Europa League goes but it did do a lot for those young lads, who to a man never let us down, as for those who should know better!
Robles is not included in the above, as he he did what was asked and kept a clean sheet.
Graham Hammond
58
Posted 07/12/2017 at 21:21:38
Although this game was a dead rubber, it was important for many reasons, giving valuable, much needed game time to many first team/squad players and youngsters too. I would have Lookman, Mirallas and Vlasic very near the starting eleven if not necessarily actually in it.
We need to get more pace and movement into our team, just like the RS have; youth is the key and the way forward for us. Over to you, Sam; little chance, I suspect.
Brian Williams
59
Posted 07/12/2017 at 21:21:40
I don't think anyone who played tonight will be in the starting lineup for Sunday. There're one or two who may make the bench but I reckon Allardyce had his starting eleven on paper before this game and it would make sense for none of those to have travelled.
Paul Kelly
60
Posted 07/12/2017 at 21:21:50
Had a mate called Hornby, had a fetish about being knocked over by a steam train, when it happened he was chuffed to bits!
Enough of those jokes but how about our youngsters hey? Lookman I believe, after watching him in the U20 World Cup and sporadically since is an absolute gem of a player. Hope he makes it as a regular by the end of the season, so much talent, give him the minutes and let him shine. (I'm not advocating him starting at this stage though.)
Bright future for the rest – onwards and upwards.
Steve Ferns
61
Posted 07/12/2017 at 21:22:52
Dave he wouldn't be the youngest ever. It said he'd be the second youngest ever to score if he did tonight.
Only seen the highlights on YouTube of the U18s, but with 12 in 10, from the No 10 spot, Anthony Gordon, aka the ginger Messi, looks a real prospect.
He's not lightning but he's fast over a couple of yards, he's got great feet, great touch and close control, so he glides last players and this season his finishing has been sensational, which apparently it was not last season.
This is all second hand mind. Only saw him off YouTube and read up on him.
Dave Abrahams
62
Posted 07/12/2017 at 21:32:22
Steve (61), thanks for that. I've only seen flashes of him on the Everton web site, looks very good. I just wondered if Gordon could have been the youngest ever Everton player so thanks for putting me straight.
Barry Williams
63
Posted 07/12/2017 at 21:36:44
Neil Copeland - 44
Yes it was, a real oversight on my behalf! I think I am subconsciously blanking out moments of the season!
Steve Ferns
64
Posted 07/12/2017 at 21:43:00
Dave (62), I think getting 4 in the 7-1 drubbing of WBA has kicked him up to another level, he has not stopped scoring since. Of course playing just off the striker, you expect goals, but to be the league's leading scorer is real indicator of his talent.
Steve Ferns
65
Posted 07/12/2017 at 21:46:09
My last sixth and final post on this thread, but did anyone find out why Sandro didn't travel? Can we read into it that he was earmarked to start on the left or up front with Calvert-Lewin on the left? Or perhaps expected to come off the bench with Niasse up front and Calvert-Lewin on the left?
Any ideas? And has Lookman just played himself back into the starting line-up?
Sam Hoare
66
Posted 07/12/2017 at 21:58:37
Those asking who will start on the left Sunday then the answer is surely Sigurdsson if Sam sticks with the same team and formation that won the last two games.
I also think there's a chance he could play Calvert-Lewin on the left and Niasse in the middle as that gives us more pace and direct threat on the break which is surely our best chance of scoring.
Frank Wade
67
Posted 07/12/2017 at 22:02:11
Dave (#50),
According to the Transfermarkt site, Anthony Gordon DoB is 24 February 2001 so, using Excel, I calculate he is 16 and 286 days today, slightly younger than Rooney when he made his debut at 16 and 297 days. Joe Royle was 16 and 281 days and record holder is James Vaughan at 16 and 270 days.
All my own calculations so subject to verification, but if my maths are correct and there aren't others I have missed out on entirely, Gordon is the 3rd youngest to debut in the 1st team.
Hugh Jenkins
68
Posted 07/12/2017 at 22:04:48
Ciaran (32) – don't be surprised to see Holgate in the back 4 on Sunday – that is probably why he didn't play tonight.
John Pickles
69
Posted 07/12/2017 at 22:05:06
I'll tell you what, that Hornby got a good engine in him.
Barry Williams
70
Posted 07/12/2017 at 22:05:58
Steve Ferns - 65
Reports a few days ago said he'd had a knock!
Hugh Jenkins
71
Posted 07/12/2017 at 22:07:01
Steve (#65). I believe Sandro has picked up another injury – that is probably why he didn't travel.
John Keating
72
Posted 07/12/2017 at 22:09:17
Steve,
Sandro is injured and I would expect Allardyce to keep the same starting 11 on Sunday so Sigurdsson will be on the left.
Mike Hughes
74
Posted 07/12/2017 at 22:20:17
Well done Sam Allardyce. Another nail in the coffin of your (very pompous?) doubters. You didn't even have to be there to turn this thing around.
Win after win after win. EFC are like a 20-tonne juggernaut with brake failure since Sam has arrived – just don't get in the way or else!!!
Is this the greatest start to a managerial career yet at EFC? The statisticians will know.
5 scored, 0 conceded and 9-0 if we account for your influence against West Ham. And bringing youth through as well.
(Over the top? Just trying to add balance the OTT negativity of last week.)

James Carroll
75
Posted 07/12/2017 at 22:20:30
So 9-0 since Allardyce arrived.
Nice.
Shane Corcoran
76
Posted 07/12/2017 at 22:33:37
Mike #74, I agree.
Pile the cash on the Blues for Monday and get on them each way for the title too.
Mike Hughes
77
Posted 07/12/2017 at 22:42:28
Shane – the match is on Sunday (don't be late).
The title has gone for this season. Even Miracle Man Sam can't achieve that (yet).
Also got a 12/1 place bet today on a horse called Allardyce in the 15:45 at Clonmel.
This man is a genius!!! Get him on to the Brexit negotiations. And the Middle Eastern peace talks.
(OTT? Nothing compared to last week.)
Drew O'Neall
78
Posted 07/12/2017 at 22:59:24
John (#69),
I don't think he's on track to be choo-choosen at the weekend.
Phil Williams
79
Posted 07/12/2017 at 23:00:44
The answer is 537. Does anyone know the question?
Dan Davies
80
Posted 07/12/2017 at 23:07:37
Phil @ 79, how do we keep this on track?
Phil Williams
81
Posted 07/12/2017 at 23:11:54
Dan. There is link to the thread honestly.
Dan Davies
82
Posted 07/12/2017 at 23:28:58
Thought it was to do with the Hornby stuff Phil. 537 being side fencing? Or am I barking up the wrong tree?
Paul Birmingham
83
Posted 07/12/2017 at 23:34:14
A good performance by Everton. Good combination of old and young.
Now for Sunday and a win. Break the hoodo of 20 years, on our old ground.
Peter Roberts
84
Posted 07/12/2017 at 23:35:36
Phil
Is it the total of the squad numbers on the bench?
Phil Williams
85
Posted 07/12/2017 at 23:35:59
You're woofing like a good un. Related to tonight's match Dan.
Colin Glassar
86
Posted 07/12/2017 at 23:36:01
Just watched the (recorded) game without knowing the result and what a pleasant surprise! The kids were excellent and hats off to Schneiderlin and Mirallas for setting such a good example to them.
I thought Robles, the defenders, Lookman and Vlasic were all excellent. Klaassen is a worry as he seems to be chasing shadows all the time and he can't tackle to save his life.
Kieran Kinsella
88
Posted 08/12/2017 at 00:03:03
Colin,
Agreed. I feared the worst with a patched-up team. But I remember another dead rubber for Man Utd years back after Everton "legend" Jesper Blomqvist tore them apart with Gothenburg. Fergie, like Sam tonight let some kids play and they beat Galatassary 4-0. Some kid called Beckham scored from 25 yards out... maybe Lookman and Co?
James Lauwervine
89
Posted 07/12/2017 at 00:06:54
Proud of the youngsters tonight and even more proud of the 1,400 blues who made the trip. Hope you had a great night, lads :)
Loving the new clean-sheet Blues!
Steve Bird
90
Posted 08/12/2017 at 00:22:24
Support like that separates us from the rest. Supporting the blues is a way of life encompassing all emotional and spiritual aspects of our being. It's not just looking at the current league table and picking one of the top teams.
The lows we share together (and squabble over) give us a greater perception and depth into being a real fan and allow us an enhanced enjoyment of the good times.
No self grandiose or self-entitlement – unlike, for instance, our next opponents.
Jay Wood
91
Posted 08/12/2017 at 00:26:42
Good call out for the 1,400 travelling blues in the BBC live text commentary:
"There are around 1,400 Everton fans who have made the trip tonight which is pretty extraordinary isn't it? Considering the context of the game."
Good on yer, all those who made the trip.
Paul Wyndham
92
Posted 08/12/2017 at 00:53:27
If that's the example Schneiderlin and Mirallas set then the kids would do well to avoid their direction. They both avoided responsibility, passing sideways and backwards, going through the motions and looking like they couldn't be arsed at all. The sooner the pair are shown the door, the better.
They are part of the problem we are currently experiencing and will never be part of any future solution. I can't believe Schneiderlin was captain; I would be happy to see him never wear the Royal Blue again. Bring on the January Sales and let's get rid of all the shite. Leadership is needed on the pitch ASAP.
David Israel
93
Posted 08/12/2017 at 01:16:37
A cousin of mine, who's stationed at RAF Akrotiri, went to the game and has told me he absolutely loved it. The skill and the endeavour of all the youngsters were a joy to watch, he said.
As I didn't watch the game, this second-hand account will have to do. At least we exited the competition in some style. And we appear to have a great pool of talent in depth.
Michael Long
95
Posted 08/12/2017 at 01:47:30
3 Wins, 9 goals scored and 0 goals conceded. Okay, not the best teams to come up against but wins are wins – that looked unlikely around mid-November.
Lads played well tonight. Impressed with Feeney, Charsley, Lookman and Vlasic (should be getting more minutes IMO).
Onto the daunting fixture next. And I don't think there will be a sober Evertonian come 2pm on Sunday. But for once it would be warming at least to see the team go there and actually put up a fight. However, due to past experiences, I can't see it happening. Hope I am wrong on that one...
But good result and hopefully keep it up.

Brian Williams
96
Posted 08/12/2017 at 01:50:42
Tonight's result, or should I say last night's result, shows just how bad and fucked up things were when you consider our so-called first team struggled against Limassol and couldn't manage to beat them.
It's actually hard to believe how, and just as hard to understand why, things got to that sorry state.
Scarey, scarey stuff!
Derek Knox
97
Posted 08/12/2017 at 02:13:34
I've just watched the highlights again and they all played well, like many have said, not top class opposition, but a magnificent confidence booster.
I have always liked Lookman but felt he should have had a lot more game time than he has. If anything, I thought the senior players were mostly outshone by their younger counterparts.
Be interesting to see if any are included for Sunday; I'd have Lookman and Vlasic there in some capacity. I can't make my mind up about Klaassen... quite often, the game seems to pass him by, but there looks to be a decent player in there somewhere; it's taking a long time to emerge for a £25M player!
Sunday's encounter will obviously be a different kettle of fish, but at least confidence levels are high, which should help.
Peter Gorman
98
Posted 08/12/2017 at 03:32:55
Klaassen continues to look a complete waste of space – he didn't have a 'bad' game but what actually does he do to justify the large fee? I can't see him taking us to the next level and to call him the 'Dutch Naismith' is a complete insult to Naismith. He is more like the Dutch Cleverley. As a former captain of Ajax, you might think he would be capable of imposing himself on a game but he doesn't seem to try.
By contrast, Feeney is a kid who couldn't keep his mouth shut all match. Constantly barking at the defence (mainly Besic, after yet another brain-dead decision) or just geeing up his team-mates. Not a surprise at all that when Mirallas got involved in his little spat towards the end it was Feeney who was straight in there. He should have been made captain last night, at least then we wouldn't be sick of seeing the likes of complete frauds like Schneiderlin or Williams wearing the band. They are lucky to wear the shirt.
Vlasic and Lookman showed what they can produce but there is still plenty of work to do on their game as too often they were choosing the wrong options. The potential they both have is amazing.
Trevor Peers
99
Posted 08/12/2017 at 06:14:28
Excellent result this, forget the poor quality opposition for a moment and focus on the transformation in organization and attitude that Allardyce and his team have brought to the side in such a short period of time, even with a team sprinkled with youngsters.
After the debacle of the Southampton game, it's nothing short of a miracle, it's such a relief to have a management team who we can have a bit of faith in. I actually believe we can now go on and give a good account of ourselves on Sunday, something which was unthinkable a few weeks ago.
Brian Porter
100
Posted 08/12/2017 at 06:29:13
Phil, love all your references to the old Hornby ZRailways. I had a fantastic railway layout, but mine was Tri-ang, same OO gauge, different trains etc.
But, that game last night really highlighted for me the total ineptitude of Ronald Koeman as a manager. He couldn't even set up a so-called first eleven to beat the minnows of the group and yet here we had a team of mostly youngsters going away and trouncing them 3-0.
Any club thinking of employing Koeman please note!
The lads did well last night. I am not going to knock any of the senior players. It was a team effort and a great result, despite the context of the game. I'm sure Allardyce will have watched the game and seen plenty of promise for the future. If only Koeman had shown similar faith in the younger players!
As someone has already asked though, how come the kids could play when we had a squad list for the Europa League and none of them were on it?
And why wasn't the Limassol player booked for simulation for his blatant dive over Mo Besic?
Ian Jones
101
Posted 08/12/2017 at 06:32:15
Whilst it was great to see so many youngsters start and do well last night, it will be interesting to see how many of them either stay at Everton and progress or move on.
The BBC state that for last night's game 'The average age of Everton's starting XI (23 years 15 days) was the youngest by an English club in Europe (excluding qualifiers) since their game against BATE Borisov in the same competition in December 2009 (22 years 319 days).'
EVERTON (4-5-1) Nash Coleman Hibbert (76' Mustafi) Duffy  Bidwell Rodwell (8' Akpan) Forshaw Baxter Osman (81' Craig) Agard Yakubu. Subs not used: Howard Nsiala Garbutt McAleny.
Looking at the team from that game, we have lost many of the youngsters included in the squad that day, for a variety of reasons.
Mustafi, Duffy, Bidwell, Rodwell, Akpan, Forshaw, Craig, Agard, Nsiala, McAleny.
Garbutt still around. Baxter (returned).
Perhaps, with With David Unsworth in charge, the latest batch will fare better.
Derek Knox
102
Posted 08/12/2017 at 06:33:07
I don't know if anyone listened to the post-match interview with Lookman, basically he was asked, "Why do you think the team has changed so much in two weeks?" and he replied "We are more organised and working together now."
Which beggars the question, wtf was Koeman doing with them?
It still really gets my hackles up, that he has put us back so many years, when we thought that we were on the new horizon, an investor at long last, and he not only destroys it, but gets rewarded for it too!
Brian, it has been a Tri-ang time for us all recently, but a platform for success has been expressed tonight, with several good points to signal well for the future!
Phil Williams
103
Posted 08/12/2017 at 06:58:48
Peter (#84)
Good guess. It's the squad numbers of the 14 who played with an average shirt number of 38. Whatever happened to good old fashioned 1-11?
With the money we will be spending and the expectations of the coming years, these kids will have to be exceptional to become regulars in the team. Good luck lads.
Steve Hogan
104
Posted 08/12/2017 at 07:42:54
As time marches on, we will all realise just how hapless Koeman really was. He should have done so much better with the squad of players he had available.
Alan Bodell
105
Posted 08/12/2017 at 07:47:31
Mike Allison #31, take a bow mate, ha ha.
Jerome Shields
106
Posted 08/12/2017 at 07:58:04
I thought Lookman was good, but I thought that Vlasic was even better. His link play and positioning was first class.
Kim Vivian
107
Posted 08/12/2017 at 08:04:30
A game lacking in any real pressure and everyone talking about not great opposition but remember this is the lot who beat Lyon, and came to Goodison and drew with us. I don't know if they fielded a weakened (or second string team) so all credit to the youngsters, some of whom I hadn't heard of before last night. Great for the squad and club.
Nice to see Robles back in between the sticks and make some important stops, Lookman was very self-assured and looked mature beyond his years – I so much hope we can keep hold of him – Hornby one for the (not too distant) future, and well impressed with Feeney.
It was a shame some of the so-called senior members of the squad barely stepped up to the line although I thought Mirallas did have some decent moments near the start. It's a shame he gets so easily frustrated when things aren't going his way.
Tony Abrahams
108
Posted 08/12/2017 at 08:11:07
Echo what is being said by many about Koeman's regime, and sometimes coaching in general.
A good manager will generally keep things simple, whilst most coaches don't know the meaning of the word. Over-complicated bollocks usually results in what we've witnessed since the start of this season, and I'm glad we have gone back to simplicity.
It was great to see Everton attack from both flanks, and this has got to be the aim for the team now. Sigurdsson has got to play inside and we have got to get someone who can go past a man out-wide.
I'm not saying this should be done right away, but when you have got skill and speed on the flanks, it usually makes the team more balanced, and we have already gone from nearly capsizing to sailing on calm waters in the space of 10 days, but we have now just got to negotiate a heavy storm this weekend to really steady the ship.
Alan Maher
109
Posted 08/12/2017 at 08:19:57
I was at the game and it was great to see the team put in a good performance. Surprised by the negative comments about Klaassen as I thought he played well. Mirallas was poor and his attitude stinks. Vlasic threw his jersey into the crowd after the game and made some young lad's Christmas. Great finish to a satisfying night.
Les Martin
110
Posted 08/12/2017 at 08:28:11
I think playing Vlasic and Lookman on the flanks and Calvert-Lewin in the centre would be the perfect counter-attacking foil in the derby. I hope Sam takes note.
A very encouraging performance by our talented youngsters.
John G Davies
111
Posted 08/12/2017 at 08:28:29
Tony,
The heavy storm that is forecast could help us. Heavy snow from 9am Sunday. Hoping for freezing cold and gale force winds to go with it. Let's see how the samba boys enjoy that.
On the subject of pace in the wide areas. It's a must for any modern team to have it, sooner we get it the better.
Onyekuru has got it but in the meantime there is a kid playing wide left for Celta Vigo who will be bought by a bigger team sooner rather than later. Well worth a look.
Dale Rose
112
Posted 08/12/2017 at 08:34:01
I had a Tri-ang train set and a Subuteo for Christmas one year and use to tie the red players to the track and start it up.
On a lighter note, great result. Sets the scene for Sunday.
Kim Vivian
113
Posted 08/12/2017 at 08:42:31
John – Yes, weather looks nasty up there for Sunday afternoon. Rain, sleet or snow and a 'feel like' temperature of –1 or –2. Could work in our favour that. Surely all the RS ladies will be out buying gloves before then.
Tony Abrahams
114
Posted 08/12/2017 at 08:45:57
Walk before we can run, Les, especially at Anfield, because if you can get past the first 30 minutes unscathed, then it might just be possible to open-up.
I saw the weather forecast, John G, and although I would honestly play Liverpool every day of the week and twice on Sunday, I wouldn't mind us getting snowed in! I know every derby game is important, but it's got to be the FA Cup game which takes on the much greater significance for us blues right now.
Phil Walling
115
Posted 08/12/2017 at 08:53:49
A great watch last night even if it was only the ressies versus weak opposition.
As far as Sunday is concerned, I have placed my usual tenner on Blues to triumph at odds of 10/1. My bookie tells me that the most common bet is RS to win by at least three goals. Just won't happen!

Eddie Dunn
116
Posted 08/12/2017 at 09:02:18
I actually thought that the much-maligned Schneiderlin had a good game, prompting the youngsters and keeping things simple. He sprayed a few incisive passes and was looking to link things up much more than of late.
Mirallas, on the other hand consistently overdid his runs, losing possession and failing to pass. Vlasic was unselfish, a willing runner and could have had a tap-in when Lookman instead went for the hattrick shot. Robles was my Man of the Match, keeping us in it on several occasions.
Of those on show, I would think Lookman, Vlasic and Schneiderlin and of course Robles, will be the only ones near the bench on Sunday.
Incidentally, it was hard to guage Hornby's contribution, his link-up play was okay, but if he wants to become a first class player, he needs to stoke-up his fire and get up a proper head of steam. If he can, his stock will rise, he could be a model professional, and he might improve his station in life.
Laurie Hartley
117
Posted 08/12/2017 at 09:14:10
That's a good bet, Phil.
John G Davies
118
Posted 08/12/2017 at 09:15:07
Enough already with the railway jokes please.
For all those posting them I wish your arl fellas would have jumped off at Edge Hill. 😁
Karl Parsons
119
Posted 08/12/2017 at 09:24:25
A quick word for the travelling blues. Amazing support from the dead rubber society. Well played each and every one. Take a bow.
Anthony Dwyer
120
Posted 08/12/2017 at 09:32:30
Agreed Tony,
The FA Cup game is much more important to us than the league game but it would be nice to see a good performance on Sunday.
I'd sit a solid back four very deep with Schneiderlin in front of them. I'd use Gana as a man to man-marker on Courtino too. My thinking is to restrict the RS of space in behind our back line and starve Courtino of space and time on the ball.
First job is to stop the RS as, let's have it right, they're on fire. Second job is to enable our strikers to get a couple of decent goal-scoring opportunities.
I'm going on a limb and calling it a 0-1 win to the Blues.
ps: We're 9/1 just to win with William Hill. 😁
Sam Hoare
121
Posted 08/12/2017 at 09:37:59
Very impressive effort by the youngsters and I very much hope that we will see more of Lookman and Vlasic this season. They are still raw and need to work as hard as Lennon does but they have genuine flair and the talent to become top players if they apply themselves fully.
Great to get the Allardyce reign off to two wins and two clean sheets in particular but far harder tests lie ahead in both the near and the distant future. Confidence is a valuable asset though.
Jim Burns
122
Posted 08/12/2017 at 09:56:34
Paul @ 92 – I agree in part. I thought Schneiderlin was a little neater with his passing than of late but still a lot of ground to make up if he is to earn his place.
I watched Mirallas closely and thought his overall energy and contribution lacking in edge as usual. It was summed up with a decent shot from him towards the end – saved by their goalie and as it rebounded out Mirallas had stopped and was still watching the result of his effort, before reacting too lately to the fact that if he'd have stayed on his toes he'd have been onto the rebound. Sums him up – always falling short imo.
He's had long enough and 5 managers can't all be wrong.
Bill Gienapp
123
Posted 08/12/2017 at 09:58:09
For what it's worth, Apollon Limassol also managed draws against Lyon and Atalanta. They may be minnows, but they aren't complete pushovers.
Eric Paul
124
Posted 08/12/2017 at 09:59:09
Derek @102
I thought the same; Koeman has a lot to answer for.
Terry Underwood
127
Posted 08/12/2017 at 10:29:10
Wow, not only do the players seem to be gaining confidence but the TWers as well. The comments now and two weeks ago must surely have come from too different sites!
If Lookman can just learn to look up from time to time, he will become one hell of a player. I saw two occasions when a simple square pass would have resulted in a tap in. Having said that, he does give me cause for hope.
I thought Hornby was first class. He will surely help us pick up points in the future, his performance could signal the start of something big if he doesn't get shunted out on loan...
Okay, sorry, but all the best ones have gone. :(
Dave Williams
128
Posted 08/12/2017 at 10:36:13
Continuing the train theme didn't this competition used to be called the Inter-Cities Fairs Cup?
Great performance – Sam will have a plan for the RS.
Brian Williams
129
Posted 08/12/2017 at 10:38:39
Train theme was "done to death" on the live forum which for once was very entertaining and a really good laugh. I normally avoid it like the plague but last night was actually very entertaining.
See what winning creates???
Colin Malone
130
Posted 08/12/2017 at 10:57:27
Vlasic must start on Sunday.
Steve Ferns
131
Posted 08/12/2017 at 11:00:48
Tony 114, Koeman wasn't making the coaching complicated. It is not as if the players were running complicated set runs and the man on the ball was all confused.
We were stood stock still, not offering a pass. There was no movement in attack, when players lost the ball they were walking back into defence, or a light jog at best. There was no ferocity to win the ball back.
We clearly lacked attacking movement, closing down, defensive cohesion, desire, and fitness. Which leads everyone to be able to question the coaching.
Arsene Wenger is one of the best coaches this country has ever seen. He coaches he players and develops their games. But when it comes to tactics he is extremely simplistic. He plays a very flexible system and allows players to roam from position freely, and to "express themselves", which results in them looking terrible in defence on occasion.
Complicated plans do not need to be complicated for the players. For example you can tell the left winger to run 3-5 set runs, ie. down the wing then cut in 10 yards at a right angle 10 yards from the box to receive the ball. You then work this by the winger running that drill 20 times a day for five days with a central midfielder being the one to do the pass. You can expand this drill slightly by making him run 5 yards from the left to receive a ball off the other central midfielder before playing the pass, so as to simulate the other midfielder having won the ball.
Just one example, but you can keep things very simple, and you run a few of these drills 100-200 times a month and it becomes imprinted on the players to move in one of a few ways once we win the ball, and so there is attacking movement, players like Rooney can look superstars with their passing because they only need to look up to 1 or 2 places and they will know exactly where their passing target will be.
Training is all about rehearsing set movements, be it in attack of defence. Koeman didn't do it. God knows what they actually got up to in training.
Martinez also didn't do much of it. For him it was all about passing drills, and close control. Lots of piggy in the middle stuff I'm told and trying to develop their short passing game and lots of 3 v 3s and 4 v 4s with the small goals to develop the game playing in tight spaces. This is all well and good but you need to rehearse movement too.
Clive Mitchell
132
Posted 08/12/2017 at 11:08:24
Agree with those who see last night as an indication of the extent of the disaster Koeman visited on us. It may be a very complicated thing for all I know, but the evidence was on the pitch in almost every one of our games this season under Koeman. We were so bad that when pundits said "but these are good players" you just thought "not on the evidence of what we're seeing every week they're not." Thank goodness he's gone.
Aidan Baker
133
Posted 08/12/2017 at 11:37:26
Really pleased for Harry Charsley last night. As a distant cousin, it makes being a blue even more enjoyable when a family member pulls on the shirt.
Harry came through the ranks with friends Tom Davies and Kieran Dowell and having seen them get some success, it's nice that he finally got the opportunity as well because as we saw last night, he'll put in a shift even in a position on the pitch which isn't his when needs dictate. I'm sure that willingness is why he won U18 Player of the Year a few years ago.
Also strikes me, on the evidence of last night, that until January when big Sam either dips into the market or registers Garbutt, Charsley and Martina are the only potential understudies to Baines at left-back.
Steve Ferns
134
Posted 08/12/2017 at 11:41:12
Great stuff, Aidan. I have seen him playing in an attacking role. I read he likes to play as a No 10, but often plays wide. The Echo said he played right back last game, and then last night he pops up as a left back. Is this right?
Considering he is an attacking player, he put in a great performance and you wouldn't have thought he was out of position.
John Smith
135
Posted 08/12/2017 at 11:46:05
Jeff Armstrong (#26),
"What happened to the Europa League squad list, the one where Niasse was not named and therefore could not feature? Surely all these kids weren't on a squad list submitted in August?"

Under 21 players are automatically eligible and don't impact the total number of players on your list.
Barry McNally
136
Posted 08/12/2017 at 11:55:27
Aidan 133, just wondering what Charsley's Irish roots are?
Tony Abrahams
137
Posted 08/12/2017 at 12:02:23
Steve, I'm glad you understand what you write, but I'd guarantee most footballers would switch off when they heard the coach say complicated plans don't need to be complicated for the players?
Koeman was talking double Dutch to the players because it's obvious the players never understood what they were getting asked to do, whereas since Allardyce had his 5 minutes with the team before the West Ham game, then a team with more holes than "Kenwright's old shoes" have been replaced with one who look like they've been told to listen to that old Beatles classic 100/200 times, "I Want to Hold Your Hand"!
Dennis Stevens
138
Posted 08/12/2017 at 12:12:39
The great thing about having all these decent youngsters pushing the senior players (often disappointing and/or aged) for first team spots is that it means there's really no excuse for buying more mediocre dross. Any investment in new players really should be targeted at bringing in quality improvements in their prime. Less quantity, more quality – and use the young talent we have developed.
Steve Ferns
139
Posted 08/12/2017 at 12:17:53
Tony, are you telling me the player cannot understand "run forward and turn right and receive the ball"? Especially after you walk him through it and then do this simple move 20 times in a session, for five days in a row and keep doing it in odd sessions for the rest of the season?
There's a reason that Guardiola is smashing everyone, and it's not just having the world's best players. They are the best coached team England has ever seen. Their movement is frightening and that is not spontaneous, it has all been rehearsed on the training pitch. The players run set runs to pull defences apart and create gaps for people to pass and run into. It's all planned.
Meanwhile, simplistic and tactically clueless coaches like Harry Redknapp can't win a game. Like it or not, it's the 21st Century now, and all teams are coached differently to the past. Sam Allardyce might have a simple message, but he employs varied and complicated tactics and that's evidenced by his use of Prozone (here he gets data on shape and movement which he works on relentlessly in training). Why do you think he works with 18 staff but Koeman only had 5? Koeman is the more simplistic of the two.
Peter Gorman
140
Posted 08/12/2017 at 12:18:15
Barry @136. Accordingly to the commentators, his mother.
I too was pleased to see Charlsey get a game as he has just been improving year on year. I still think that age group is a bit 'golden' and we may see more make their debuts before long.
It is fair to say, unlike the game years ago against BATE where some of the kids looked out of their depth, this time around they all acquitted themselves really well. Including the sub Nathan Broadhead, a very different type of striker to Hornby but made an impact for the last 10 mins.
John G Davies
141
Posted 08/12/2017 at 12:20:50
https://en.m.wikipedia.org/wiki/The_Continuing_Story_of_Bungalow_Bill
The conductor Tony?
Tony Abrahams
142
Posted 08/12/2017 at 12:42:44
Maybe he is, Steve, I wouldn't know. But who do most of these staff work for though, the manager or the players?
Football, is a simple game, over complicated by too many people, and the fact that you use Guardiola and Wenger, shows me that you must agree too, because these are the exception rather than the rule?
When Wenger speaks, Steve, I listen; not so much Pep, because I get less interested in this type of stuff with every passing year, but Arsene, for all his brilliance, has never been able to recreate a team as good as the one he had, when he was left with George Graham's back four?
Although it pains me to say it, Liverpool, are an exceptional attacking team, and I'm praying that Klopp can't find a system that stops them being brittle in defence, whilst his formation continues to expose them.
"Football is a simple game" – that is the only thing I want Everton's new coaching staff to continue to drill into our team!
Stan Schofield
143
Posted 08/12/2017 at 12:59:46
Tony, you're dead right – football is a simple game, and needs not get complicated. But I think Steve is right as well. To me, repetition is the key.
Surely, in any walk of life, when you're training for something, it's constant repetition until it becomes second nature. That's when the team starts clicking as a team. It's the organisation of 11 separate players, who are so well drilled, through repetition, that things become second nature, the moves become more fluid, and the ball starts doing more of the work. Then the players start excelling.
With the kind of organisation that Allardyce is reputed to bring, I believe it should bring out skills, particularly of the 'ball players' like Ross (if he stays), contrary to the stereotype of him as being all hoof-ball.
Michael Lynch
144
Posted 08/12/2017 at 13:06:35
Fascinating stuff about the coaching, Steve (though I'm bloody sure you're on post number 9 on this thread – do you have some pictures of the TW management getting intimate with barnyard animals?)
Out of interest, do you know all of this stuff as a fact or are you going by the evidence of what you see on the pitch?
Mike Hughes
145
Posted 08/12/2017 at 13:08:14
I wouldn't be surprised if the match on Sunday is postponed.
Heavy snow forecast.
Sam weaves his magic again!

Steve Ferns
146
Posted 08/12/2017 at 13:11:13
No, I think football is a very complicated game. It's one of the most complicated sports.
Think about other sports. Football is all about the ball and how you manipulate the ball into the goal. Other sports have similar objectives but limitations on the manipulation, such as Rugby and American Football, or Baseball and Cricket. This means the actions you can do in those sports are less and so they are in fact less complicated.
The very fact that the Americans make a sport similar to the very simple game of rugby look so complicated should give you nightmares of what football will definitely become in the future.
The coaches who keep the game simple are not winning trophies. Look at the last winners of the Premier League: Conte, Raneiri, Mourinho, Pellegrini, Ferguson.
Ferguson himself was an old school manager. Certainly, one of your "keep it simple" guys. But the Ferguson of 2013 and the Ferguson of 1993 were very different managers. By 2013 he was largely absent from the training pitch, Phelan was effectively the man in charge of training. He had tacticians in his backroom like Queiroz and relied on a succession of new blood and new ideas to keep things fresh. He may not have pioneered any new tactics, but he certainly employed what was effective, and so utilised his coaches to employ complicated tactics in his later years.
Ranieri is a very tactical coach. The Tinkerman was not called so for nothing. But I will concede that his greatest triumph came with the least of his tinkering and the more basic of his tactics. But watch highlights of any Leicester game to see how he was changing things constantly mid-match to see that his 4-4-2 was not simple, especially the role Okazaki played, which really stretched the formation out of 4-4-2 into a 4-5-1.
Conte is an ultra-complicated guy, as most Italian coaches are. Nothing about his team is simple. But he certainly makes it simple for them.
Pellegrini is a great coach, a real pioneer. One of the few football men with a university degree, which earned him the nickname: the Engineer. He made complicated look simple, but complicated it was.
Mourinho is probably the most complicated of the lot. A simple coach does not produce the detailed dossiers on each team and each player for each game like he does, if he is keeping it simple.
The game you yearn for is long gone, Tony. The trick is to make it seem simple, to make the message simple, and to have as few instructions in the players' heads as possible.
Whilst the players looked confused under Koeman, I believe that was due to a lack of instructions, rather than being overloaded. If overloaded, they would be making runs and just not be spotted. They all stood stock still, both in attack and in defence.

Steve Ferns
147
Posted 08/12/2017 at 13:13:50
Certainly not fact Michael. I can only go off what I see and read.
Tony Abrahams
148
Posted 08/12/2017 at 14:02:20
Steve, you should check what you write before posting sometimes, because sometimes it's like you miss your own point. (That's how I read you anyway, mate.)
You don't really know, you just go with what you believe, but it doesn't matter if Conte is the most complicated human being in the world, because what he did last season just showed him to be a top man, who is right in-tune with his profession.
He's been at Chelsea five minutes, they aren't doing that good, so what did he do? He looked at his squad and played a system that he thought would suit them, and look what happened? They won the Premier League, just 12 months after we had all the experts (who are 90% boring, jobs for the boys, types, filling up the believers with bullshit) telling us that 3 at the back doesn't work in England.
Steve, I don't yearn for any type of football mate, especially now you can confirm it's long gone? But Is the trick to trick the players into believing it's a simple game? Because you are going round in circles after saying it's a complicated game in the same post. Honest!
Steve Ferns
149
Posted 08/12/2017 at 14:12:56
Tony, I'm not missing my point, but I apologise if I have failed to communicate that to you.
You were making the point that football is essentially a simple game. I made the point that it is one of the more complicated games.
I used the example of Conte, because his tactics are very elaborate and complicated. I could go into detail here, but I believe that this should be my last post on the subject and so it will be.
Many teams in the Premier League have played a 3-man defence on the back of what he did last season, but all failed to grasp the most critical element (most notably for me, Ronald Koeman) and that is a defender, such as David Luiz who moves into midfield with the ball to play between attack and defence. John Stones is now doing this to great effect; without such a player, the 3-4-3 simply does not work.
This is just one example of the complexity of Conte's system and it is not the system to suit Chelsea; it is the system he played with Italy and the system he played at Juventus. He came into Chelsea and played the system Mourinho used until he could show the players that they had to switch to his system – all the while, he was drilling and preparing his team to unleash the 3-4-3.
We can certainly agree that the complexities of systems and tactics do not need to be translated to nor should they confuse the players themselves.
Stan Schofield
150
Posted 08/12/2017 at 14:45:46
I think football is simple, in that the manager sets out a system to the players, one they can understand and which their skills can cope with, then the system is practiced in training, with repetition and drills.
But that system might work less well against some teams than it does against others, so the manager has to have, in addition, a variation of that system that works better. This will depend on the opposition. In turn, there may be a need for another variation, and so on. Not only does it depend on the opposition, it may depend on how the opposition change their tactics during a game, so system variations may be needed during a game.
So, to me, football is simple by virtue of an understandable (simple) system, but also complicated by a need to have system variations depending on the opposition and the course of games. The teams with managers skilled enough to get the players to understand the variations, and organised enough to train them through repetition, and with players who can execute them, are the most successful.
Beyond that, football is not complicated.
James Hughes
151
Posted 08/12/2017 at 14:49:46
Speaking about tactics and coaching, Allardyce is making all the right noises, in his 'pressser' for example:
Asked how you stop Liverpool, he said: "We've just been installing some of the basics we believe in; team play and how we affect each other's game and live or die by our team work.
"What sort of areas do we want to try and expose?
Also expressed Concern over McCarthy's injury record.
Martin Nicholls
152
Posted 08/12/2017 at 14:52:14
Steve Ferns (#65) – "my 6th and final post on this thread" – you're now up to 12 Steve including one of the longest and most drawn out I've ever seen on TW! And the very interesting John MacFarlane senior worries about exceeding his quota!
Tony Abrahams
153
Posted 08/12/2017 at 15:01:06
Exactly Steve, because once you confuse your own players then it usually means your time is up.
Steve, you obviously love the coaching side of the game, but other than Rugby, all the other sports you listed are a lot more stop-start than football, which should mean every team would have to practice a lot more set plays, a lot more repetition?
You say Man City's movement is not spontaneous, and it has all been rehearsed on the training ground. Fascinating stuff, I agree, but for all their possession and movement, the player who I've loved watching this season is De Bruyne, simply because of how early he does things. Spontaneity at its finest!
I think that life is full of contradictions, Steve; I've just pointed one out with regards to City, and I find debating with you can leave me feeling this way.
Anyone who makes things look simple, is what I love, Steve – it's why I enjoy watching De Bruyne, and it's why I don't think the game I yearn for will ever completely disappear. Thank god for The Germans, I say!
Steve Ferns
154
Posted 08/12/2017 at 15:06:34
Martin, the quota has clearly gone, as per the consensus on the feedback thread. And your quotation of me is wrong. If you use quotation marks then please at least get it right. Reason I said I wouldn't post any more on the matter is clearly you are bored of the subject, as may others be. Which is a shame as it's always fun to have a discussion with Tony Abrahams because he certainly knows his stuff.
James, he's clearly a seasoned pro in press conferences. Let's see if he remains so, when the going gets tough. Remember how well Martinez came across in the early days, or that breath of fresh air, Mr Koeman, but he transcended into "But okay, that's football" every press conference.
Steve Ferns
155
Posted 08/12/2017 at 15:09:52
Apologies, Martin, you are right.
Stan Schofield
156
Posted 08/12/2017 at 15:22:14
Tony @153: The skills that players like De Bruyne have are complicated, in the sense that ordinary mortals find them difficult or impossible. But as you say, these players make it look easy. That's a sure sign of a real 'expert' in any field – someone who can do difficult (complicated?) things but make them look easy.
I think similar applies to great managers and great teams. The best ones have a recognisable system (and variations thereof), recognisable to someone like me (who wouldn't have a clue how to organise a team of footballers) and that not only look simple (to the likes of me) but are simple by virtue of them being easily understood by players and observers.
In contrast, struggling teams seem to have no system, certainly not a simple one that works. Like us under Koeman, we often seemed all over the place. Liverpool under Klopp, he has an effective attacking system (so they aren't struggling on that front) but doesn't seem to have an overall system to take them further (and they do struggle defensively), and he doesn't seem good at varying his attacking system, so when it goes wrong, they can't cope.
John G Davies
157
Posted 08/12/2017 at 15:34:26
Man City are the most spontaneous team around on the counter-attack. How can you drill winning the ball on the edge of your own box and turning it into a numerical advantage?
Answer: You can't. The spontaneity to play the counter-attack pass with the second or even third pass in mind can only come off the cuff.
Stan Schofield
158
Posted 08/12/2017 at 15:47:19
John, you're right, it is off the cuff, it's creative. My point is that this individual talent and ability works best when it's done within a good system. There's no point in Alan Ball or De Bruyne knocking through a brilliant through ball if there's nobody there to receive it.
Like anything, talent like that shows itself best when it's done on the basis of a good system. After all, people with such great individual skills (in any field) have developed them through practice and repetition that brings out their talent. Of course, it works less well (or not at all) if the talent isn't there. You need both talented players and good organisation.
Andrew Ellams
159
Posted 08/12/2017 at 15:48:43
The key to an effective counter-attacking team is speed of thought and the ability to spot and make a quick first pass. With Rooney playing where he did vs West Ham and the Red Shite being wide open every time they attack, this is our absolute best chance of any sort of success on Sunday.
Tony Abrahams
160
Posted 08/12/2017 at 15:49:56
Agree with you, Stan, and as I've already said, I pray Klopp, doesn't find the happy medium.
It only looks that way to you and me, John G! I think Guardiola, has produced an incredible formula when it comes to football, but it's the game that will always be off the cuff, more often than not.
Tony Abrahams
161
Posted 08/12/2017 at 16:04:03
Interesting point, Andrew, but to make this work I think we would need a couple more attacking players on the pitch than we can afford to begin the match with. The way Liverpool are playing, I'm not sure this is the way to start, but who knows? I'd love it to work...
Just watched Davies and Kenny on Sky Sports News: two young Scousers who are living the dream, and it was lovely to hear them talk about "winning". The most important ingredient in the game, but it's also something our players have long forgotten how you go about doing it!
John G Davies
162
Posted 08/12/2017 at 16:05:54
I think we are all in general agreement on this one, Tony, Stan. Of course, any top team has to have a disciplined set-up off the ball and a basic shape on the ball.
My point was that spontaneity has to be a big part of success. There are plenty of times in a game when off-the-cuff is required. How can you drill for counter-attack? You can't, as the situation will be different every time.
I have watched Barca live, both with Pep in charge and several times since. The genius is in the simplicity.

Oliver Brunel
163
Posted 08/12/2017 at 16:07:46
Wouldn't it make sense to get Dowell back?
Andrew Ellams
164
Posted 08/12/2017 at 16:08:20
Tony, if we could play Rooney deep and Sigurdsson behind say Calvert-Lewin and Lennon with Davies and Kenny breaking from behind, we could get behind them quickly in 2 or 3 passes. We just need to be very disciplined and quick in reverse if a move breaks down.
Tony Abrahams
166
Posted 08/12/2017 at 16:47:22
It sounds good to me, Andrew, I hope you're right mate, I haven't really thought about us as an attacking threat yet, but if we are going to win the game, then it's something we are going to have to do.
John G, this is gonna sound mad, but I don't even enjoy watching Barca that much mate!
Aidan Baker
167
Posted 08/12/2017 at 16:54:25
Barry 136:
Irish grandparent on his Mum's side. He does have Irish blood on his Dad's side (my side) but it's further back.
Darren Hind
168
Posted 08/12/2017 at 16:56:48
I know there is a genuine desire to make the site a more enjoyable place to visit, but it's impossible to please everyone. Surely there has to be an element of live and let live?
I've seen a few people complain about Steve Ferns's tactical analysis lately... why? Clearly, some posters enjoy getting into the different approaches to the game.
Steve's been talking tactics, formations and selections for a long time now. You pretty much get from him what it says on the tin.
If it's not your bag, just do what you do when you are watching Match of the Day when the Red Shite come on – fast-forward.
You gorra let the analysts do their thing!

Steve Ferns
169
Posted 08/12/2017 at 17:01:40
John G Davies. actually you can train that. Pep Guardiola's Barcelona did frequent training sessions that were open to the public and could be filmed.
The training you do for this kind of stuff is playing 3v3s and 4v4s in small tight areas to improve touch, control and passing. They have tiny "goals" for you to pass into to score, which replicates trying to hit a longer pass with pace and accuracy for a Xavi or Iniesta to take control of.
They also do constant work on triangles. They do drills where it's 3v1 and they have to run up the pitch in a tight space passing it around the 1.
Guardiola went to the Bielsa school of pressing, different from Klopp, and it centres on closing off passing lanes rather than overwhelming the man in possession. Drills are done to work on cohesion in pressing and identifying where the passing lanes are and blocking them off. Also they do like to identify the player in the defence weakest on the ball and press the team to ensure that player gets on the ball.
And yes de Bruyne is a spontaneous player. Most definitely. I will not argue with that. But repetition of movement and rehearsal of movement in training can plan this spontaneity. This could be a drill where Jesus lines up on the left and makes a diagonal run to the centre forward position, Ageuro runs to the right wing, whilst Silva makes a run to the left wing, and so this movement ahead is planned and creates the space that de Bruyne is anticipating through the training to know that he has three potential passing options or a fourth option of running into vacated space, or a fifth option of shooting.
It's been at least 4 years (before Martinez) since I watched all the Guardiola and Bielsa training videos I could find, but they should still be there on youtube, but bear in mind they all have Spanish titles when searching.
The greatest complexity in tactics comes from the fact that Guardiola may set up in a basic tiki-taki formation, Whilst, Mourinho has the perfect system to counter it and completely nullify it. Guardiola sees this and so makes changes to get players to start running into different areas. Guardiola might have actually anticipated this and so he may simply indicate this by calling this tactic 2. And so Mourinho then has to decide on shifting his tactics again to try to counter it. And again this may be anticipated. This is where the tactical aspect can become complicated and like a game of chess. This is never more evident than a serie A match, and the best "chess master" of the last 10 years or so, is Conte.
John G Davies
170
Posted 08/12/2017 at 17:06:22
Plan spontaneity?
Sorry Steve, by definition you can't do that.
We will have to agree to disagree in this one.

Eddie Dunn
171
Posted 08/12/2017 at 17:11:42
Steve Ferns, very interesting. I imagine that it is very difficult trying to get players to play set patterns because of the countless options that occur when your opponents try to stop you.
However, I am aware that very complex set plays are rehearsed to death by Rugby teams and it has become an essential part of the game. I wonder if the same is done on the training ground, but I suspect not by us, as even yesterday Sigurdsson was interviewed and he mentioned that they hadn't had any training sessions with Sam yet.
I see Liverpool's attack as being particularly off the cuff, with players willing to switch positions. I suppose that if your players are as skillful as these, then more options are always at your disposal.
Lukaku is the sort of player that would benefit from set routines...knowing when to make his run and knowing who was going to put in a cross, and from where. He was unlikely to drop a shoulder and nutmeg someone, creating his own opportunity, although his power did enable him to bustle a man out of the way.
In conclusion, the very best players may benefit from such coaching but they still have the ability to go off piste and do it any way they care to.

Antony Matthews
172
Posted 08/12/2017 at 17:13:19
Heavy snow forecast for Sunday. Would not surprise me if it got postponed due to flight cancellations from Scandinavia.
Aidan Baker
173
Posted 08/12/2017 at 17:13:50
Talking of management tactics and coaching styles, when Everton set up their coaching system, which they market and sell abroad (especially North America from what I can see), one of the key elements is the ability that young players are encouraged to use both feet like many great players (Messi, Totti, Ronaldo etc). I seem to remember Martinez in one of his flannel-filled interviews talking of the importance of this issue.
The new generation of players, like Dowell, Davies, Kenny etc, are the first generation of youngsters who have worked with this system since starting with the club as young boys. That is why Charsley can play at right-back, left-back, left-wing, right-wing and still perform.
Compare that with the generation in front of them Leighton Baines has been a great player and servant to the club but you could never move him across to the right side of the pitch to play, as he has no real ability with his right peg.
Steve Ferns
174
Posted 08/12/2017 at 17:17:02
John, they are working heavily in training on creating space by rehearsing set runs and plays. If Jesus cuts in from the left then someone will fill that space. Players are always on the move and so very hard to pick up and to mark and the space opens up. Once the space opens up, players like Silva and De Bruyne can exploit it.
Contrast that to Everton. Mirallas loves to come in from the left, and then there is no-one on the left. Under Koeman we would have 3 or 4 stood (yes, literally stood) on top of each other and no-one moving at all.
If Rooney is in advanced position and drops, then someone from midfield (such as Tom Davies) should be going forward to fill that position. If Mirallas cuts in off the left, then Sanrdo could pull wide from a centre-forward position to occupy that role. Rooney could move forward to take a centre forward positon and so the movement would actually lead us to creating the space in tight areas where we have struggled to break down teams.
Instead, the player on the ball was running, and the rest stood like statues and watched.
Steve Ferns
175
Posted 08/12/2017 at 17:20:49
Aidan, is this the Tosh Farrell programme? He is an awesome coach and responsible for Barkley and the rest, as Under-12s. If you look closely at the players who have come off the Everton conveyor belt in recent years, more than half are two-footed and comfortable on the ball.
But it is said that the English academies are producing very technical players, and they've lost that old fashioned British characteristic of determination and hard work, and being able to scrap it out in a League 2 style.
John G Davies
176
Posted 08/12/2017 at 17:22:40
https://goo.gl/images/q3VQXe
I don't agree Steve. But we can't to and fro due to the limit.
However.
As previously advocated Steve.
👍
Dermot Byrne
177
Posted 08/12/2017 at 17:24:41
Steve .I know sod all about tactics as I played rugby. Could talk rugby tactics all day.
So to a football simpleton like me who has watched football for 57 years but never seriously played it, your stuff is an education for me and really interesting.
Ta.
Paul A Smith
178
Posted 08/12/2017 at 17:31:37
Tactics can go on forever but I think focus discipline and responsibility are most important. I hate 3 CBs because I see too many incidents where players forget their jobs and pass on the responsibility.
I would love somebody to take Rooney's latest role on responsibly and give the team another dimension. Admittedly there are not many candidates but I don't see Rooney getting half the joy in midfield against the top 6 teams?
The flow of the game or incidents such as goals, cards, injuries can change tactics in an instant but responsibility has to continue for 90 mins. I can see Allardyce playing Calvert-Lewin wide to stretch the vermin and maybe Sigurdsson playing behind Rooney this time?
Aidan Baker
179
Posted 08/12/2017 at 17:44:31
175 Steve Ferns.
Don't know the name of the programme but what is evident is that the current crop are more technically gifted than many of the previous generations and as you state this is not just happening at Everton.
I live in Italy and many here are now looking enviously at how good the new generation of English players are, particularly after winning both the U20 and U17 World cups.
Given that Everton had 5 players in the U20 World Cup, I see a bright future if they learn how to cope in the real world of the Premier league (become hard as you mention). This season players like Calvert-Lewin, Kenny, Davies and Beningime have all tasted the real world of the Premier League and can only get better, as they all have the technical ability to be players at this grade.
Also get Dowell, Williams and Connolly back and see how much they have grown as men in the Championship (they have played nearly every minute at their loan clubs). The others are not always playing so much which maybe an indicator, maybe not.
There is a future of Everton born and bred football players ready to make the grade at Everton and not plow the lower leagues, like many of the past academy players.

Tony Abrahams
180
Posted 08/12/2017 at 17:45:48
Interesting Aidan, but all the players you mention are not really two-footed, are they?
I wasted my own vocation in life, because I'm convinced I could learn any young kid to kick a ball with either foot.
It's all about balance, and you're weakest foot is actually your strongest leg, because if it wasn't, you wouldn't be comfortable standing on it whilst you struck the ball with the other foot!
Think about this long enough, and I'm sure it will make sense.
Paul A Smith
181
Posted 08/12/2017 at 18:00:23
Spot on, Tony Abrahams, and practice makes perfect.
The way Ronaldo improved his technique and balance over the years has been a joy to watch. Confidence plays a big part but youngsters should take a good homework period on Ronaldo practice.
Derek Knox
182
Posted 08/12/2017 at 18:01:19
Sorry for being slightly off topic here, but I was reading an article on Newsnow, if memory serves, but basically it was about Sam and the January Transfer Window.
He said, I have identified the areas that need addressing, I won't pay for a player if I don't think he's worth it, I want to make the right choices for Everton, first and foremost, and I want to keep my job.
Not verbatim, but that is the gist of it.
I openly admit, that I wasn't too keen on Sam being appointed, but he is certainly winning me over. It goes to show that you should not believe the gossip that surrounded him prior to being appointed.
He certainly has come across as genuinely caring about the needs of the Club before his own. I can only hypothetically speculate what would have been, had he been appointed instead of Koeman, and where would we be?
Hope my my enthusiastic optimism is not blown to pieces on Sunday, but I won't change my opinion on one potential result, and hope we carry on the Resurrection.
Still, better late than never, as they say.
Stan Schofield
183
Posted 08/12/2017 at 18:05:10
John@170: I agree that you can't 'plan spontaneity' as such, but you can set things up so that spontaneity (when it happens) is more likely to have maximum effect. I honestly think this is true in any field where creativity is used, like in music, engineering, maths, etc.
Someone is born more talented and creative than others, just as a footballer is born more talented and 'football creative' than others. They're identified as naturally (sometimes unusually) good in that area, then they're gradually trained in it, using the 'system' that has been developed up to then (usually by similarly talented predecessors) with their talent being channeled within that system. Particularly unusually talented and creative ones are labelled 'genius'. They eventually reach 'professional maturity', and show the technique they've developed within that system. The really good ones are particularly creative and spontaneous, but it's all influenced by how they developed within the system.
Rooney was born a genius, and the system that trained him helps bring that genius out to best effect.
John McFarlane [Snr]
184
Posted 08/12/2017 at 18:11:26
Hi Martin [152], You're right about one thing, I do have concerns about exceeding my contributions, but I'm not too sure about the interesting bit, [but I do try].
Hi Steve [154], You say that the 6 comments limit has clearly gone, can you tell me when it was officially removed? I have been monitoring the situation closely, and have seen nothing to suggest that it has.
Without wishing to reignite the respect debate, I don't think that to criticise anyone for incorrect use of quotation marks, is conducive to good relations. I think that the most important thing is that the message is understood.
If I was to be on the end of such a remark, I'd feel that the person who directed it, was attempting to belittle me.
Paul A Smith
185
Posted 08/12/2017 at 18:21:04
Good points, Stan Schofield. I think both sides of the argument make good points and there are so many variables in football.
A mate and I were discussing Rooney and Ronaldo recently and we both thought Rooney was ahead of Ronaldo at 18 in terms of productivity and brain. Ronaldo left him for dead within 3 years.
The way he has looked after himself should be an official blueprint for youngsters. He's become more and more creative and spontaneous with his will to be the best.
I don't see that in many young players these days. Who has his commitment and desire?

Paul A Smith
186
Posted 08/12/2017 at 18:24:54
John McFarlane Snr. Always a wise head. Much respect to you for following the blues as long as you have and still having the time to be civilised. 👍
Darren Hind
187
Posted 08/12/2017 at 18:27:55
To counter-attack you need good movement, first and foremost this can be and is taught. All the vision and spontaneity in the world won't help you if you don't have the movement in front of you.
The first quick release ball is often made so much easier by the guy making it knowing where his runners are going. This is most definitely practiced.
Spontaneity? Na – you need that when facing a packed defence; to counter, you need good movement, pace and the ability to pass a ball... That us fucked!!!

Paul A Smith
188
Posted 08/12/2017 at 18:28:17
It's a funny old subject because the best moments in football cannot be coached but coaching a team is vital.

John McFarlane [Snr]
189
Posted 08/12/2017 at 18:49:07
Hi Paul, [186] thank you for your compliment, I firmly believe that major confrontations, such as play fights begin as fun, but when one boy hits the other a little too hard, things turn nasty.

The same thing can happen in a verbal or cyber exchange, and that's when we all get caught up in it, the result being that those of us who wish to contribute to any particular debate find ourselves restricted through no fault of our own. .
Tony Abrahams
190
Posted 08/12/2017 at 18:52:42
I said before, it was all contradictions, Paul A!
John G Davies
191
Posted 08/12/2017 at 18:58:19
Paul A.
True, very true.
Well summed up.
John McFarlane [Snr]
192
Posted 08/12/2017 at 19:03:22
Hi Tony [191] I'm on thin ice regarding the 6-post issue, but what I'd like to know is this, "Who coaches the coaches?"
It may be a little before your time, and it may also be hypothetical, but do you think that today's coaching methods could have made Stanley Matthews and Tom Finney better players?
John G Davies
193
Posted 08/12/2017 at 19:09:56
This is one that always stuck in my mind. 4th goal, the obvious ball is straight into Amo. Anders assesses the situation and knows that he can leave Amo even more free by playing a ball to Gary Ablett and drawing the defender out, not many would do that.
High intelligence and spontaneity at its best. If they practised that drill, would the coach tell him to play the pass to Amo or to Ablett?
John McFarlane [Snr]
194
Posted 08/12/2017 at 19:15:02
Hi again, Tony [190] I've got your number right this time, I don't think I'd get a job on a boating lake.
It looks like the Alex Parker thread has run its race, so I'm going to do some work on Part Three.
Darren Hind
195
Posted 08/12/2017 at 19:33:12
It was the wrong option, and not a particularly good ball. Only a fantastic tackle cum cross by Ablet rescued the move and Amo got the chance he should have had a couple of seconds earlier.
Still, all's well that ends well
Dennis Stevens
196
Posted 08/12/2017 at 19:43:32
Many thanks for all the tactical insights, chaps. I find the debate very interesting. Please don't feel inhibited by those that don't wish to enjoy the discussion, they're free to ignore it if they wish.
Eugene Kearney
197
Posted 08/12/2017 at 19:45:37
Derek Knox at #2 - EXCELLENT. ;-)

Paul A Smith
198
Posted 08/12/2017 at 19:57:07
John G great example. The Amo clincher was a move that couldn't really be coached. Ablett's run was as spontaneous as the pass from Limpar. He saw the space and ran like a kid to make it his ball.
There's an Arsenal goal that stands out for me in similar fashion. Ashley Cole at Villa Park. Henry said ecstatically afterwards "That's the best team goal since I came to Arsenal."
We all know Wenger coaches teams to play quick intricate football but that goal had too many instances that couldn't be coached. Teaching and coaching are confused in football.

Tony Abrahams
199
Posted 08/12/2017 at 19:57:43
Sorry John @192, I've been giving my fingers a rest! For my own tuppence worth, I believe that coaching can improve a team, a few wise words can improve you as a player, but the things that can really help make the player better is his team-mates. The players that you play with are the most important thing!
Steve @169, can be interesting at times, but when he talks about 3 v 3s and 4 v 4s in this post, I think he gets it wrong when he says the small goals are to help the players replicate a longer pass?
I might have interpreted Steve wrong again, John, but the small goals are very difficult to score into, when you have a player standing in the middle of it, so I believe this is used so the ball gets squared across the goal from the bye-line, and it's so much harder to defend.
Barca and now Man City, score more five-a-side goals than anyone, and after what Steve explained in this post, then I believe this is the reason why.
Incidentally, John, I'm getting older myself, 48 today, haha, but when I played, this type of play was drummed into us on a daily basis, sometimes by a coach, but mainly because it was the only way to score. I say this and mention age, because I sometimes watch academy football, and whereas it was called a five-a-side goal in my day, the kids now call it a sweaty goal!
I say I love simplicity, so I know I'll always love a sweaty goal! It makes me laugh when I hear the kids talk about a sweaty mate!
John G Davies
200
Posted 08/12/2017 at 20:30:03
Thanks for the spontaneity of your reply, Darren.
Paul A. There is none so blind as them that don't want to see.
Tony Abrahams
201
Posted 08/12/2017 at 20:33:25
A five-a-side goal, or a 'sweaty' is actually a tap-in, but is usually made because of good play out wide. My oldest memory of any Everton player is Gary Jones dribbling along the bye-line before cutting it back for one of his team-mates to score.
Then came Dave Thomas, who used to gallop down the wing before crossing for Latchford (usually) to score with his head.
football constantly changes, but the most dangerous teams will usually attack you from wide areas, and this is something I don't think will ever change?
John G Davies
202
Posted 08/12/2017 at 20:35:36
Darren Hind
203
Posted 08/12/2017 at 20:42:21
I just stated the obvious, Ablett made a fantastic run and gave Limpar a second option. He should have played in Amo to finish, But he chose to spontaneously give Ablett a very difficult pass.
Luckily Ablett's determination made something out of it. His tackle-come-cross will live long in the memory of many an Evertonian and gave Amo the pass he should have received a few seconds earlier... Fantastic goal, almost entirely down to Ablett's incredible desire.
I think Gerry Francis made the mistake of planning his game to defend against somebody who wasn't even playing... .Many a fool has done that.

John G Davies
204
Posted 08/12/2017 at 20:46:41
Gerry Francis was a good player and a good coach.
He would probably agree with my view for Sunday's game. We have to stop Heighway getting the crosses in for Toshack or were goosed.
😂😂
John G Davies
205
Posted 08/12/2017 at 20:53:39
He who shouts loudest does not always win the day.
With that in mind.
https://yarn.co/yarn-clip/faf9f050-dae9-405a-adaa-2c5c39e23cc5
Tony Abrahams
206
Posted 08/12/2017 at 20:55:41
It might have been a bad ball, Darren, but I don't think it was the wrong option though.
It used to get on my nerves when playing in midfield, all you could hear was "Get it wide, get it wide." I used to feel it took away too much of a player's individually... still do, but it won me over in the end though, because creating a two-on-one out wide is probably the only thing in football which is impossible to defend against.
John G Davies
207
Posted 08/12/2017 at 21:17:21
Tony A.
The ball ended up in the back of the net mate. It was the right option.
Darren Hind
208
Posted 08/12/2017 at 23:53:26
Tony A
I have always advocated getting the ball wide myself, I was taught it and preached it. I know it is a game of opinions, but I like to see the beautiful game played simply – when your striker is unmarked in acres of space, you give it to him.
I have just watched it again and, as you say, given the space he had to put it into, it wasn't the best pass. Thankfully Ablett's fantastic will to get there created the chance anyway and the icing was on the cake.
Anders was one of my all-time favourites. He would have been my Man of the Match at Wembley too, but for me. He was just edged out by the young warrior who totally eclipsed a then, bordering on world class Mark Hughes.


Tony Abrahams
209
Posted 09/12/2017 at 08:09:20
It explains why you wanted "Rhino" to get the Everton job, Darren!
It's funny but I remember the Watford game more than any of our other cup finals, probably the joy of it being the first time I had ever seen my team win a trophy, but that semi-final against Spurs was one special day!
I thought our name was on the cup from the minute I came out of Ashton Gate, and sat in the car to hear us get Norwich at home in the next round, and I hope my kids/all our kids, get to see us win the cup for their first time next May.
John G Davies
210
Posted 09/12/2017 at 08:55:50
A game of opinions, Darren. Very true. It's funny how personal favourites can colour that opinion.
Rhino was outstanding in the final against Man Utd, MotM as you say.
But the Mark Hughes you describe as "a then bordering on world class" never played another game for Man Utd.
Sold 3 weeks later having scored 8 league goals that season.
Doesn't detract from Unsy's performance though.
Cheers.
Darren Hind
211
Posted 09/12/2017 at 12:13:53
As you may know, Simon, the Manchester United players didn't consider Hughes world class due to the amount of goals he scored, although he matched the 12 he scored that season by scoring the same amount for Chelsea the next.
Rhino was just a kid, and he fought and beat him physically all afternoon. Those who were there will never allow him to be damned by faint praise.

John G Davies
212
Posted 09/12/2017 at 12:34:38
Come on, Darren, be honest. You were getting the Mark Hughes of 1985 mixed up with the Mark Hughes of 1995. Unless you are seriously saying "by then, he was bordering on world class"
At the age of 32....
In the new spirit of us all being mates. I will give you an out. You could be saying he had been world class but was now only bordering on it? 😁
Tony Abrahams
213
Posted 09/12/2017 at 13:28:29
He was some player, Sparky... I can still recall his goal in a Cup Winners Cup Final for Man Utd against his old club Barcelona. Nothing to do with Everton, I know, but it's a goal that I have never forgotten, because it encompassed everything I love about the beautiful game!
(And it was also something that would have had every coach putting their fingers over their eyes with the sheer impudent tenacity of the finish!)
Maybe I shouldn't get in the middle of you two but I will try because I like you both, but fucken hell men, let's just get on the same side for the next 24 hrs, until we've played the other shower!
Darren Hind
214
Posted 09/12/2017 at 13:56:12
Indeed, Tony, I am behind our boys 100% and if we win I will not be trying to denigrate the performance by talking down the opposition.
Sparky was 31 when we played that final, a year older than the world class Messi... and a year younger than the world class Ronaldo.
John G Davies
215
Posted 09/12/2017 at 14:08:27
Messi and Ronaldo. They were both borderline world class at that age. 👍
Tony, as always mate it's our beloved Blues who are important. Not the teasing we get into now and again.
A little laugh does no harm though.
Terry Underwood
216
Posted 10/12/2017 at 13:12:21
Football is a VERY easy game... first half tactics bags of kicking it -------> that way. second half, bags of kicking it <-------- that way. See seeeemples
Add Your Comments
In order to post a comment, you need to be logged in as a registered user of the site.
Or Sign up as a ToffeeWeb Member — it's free, takes just a few minutes and will allow you to post your comments on articles and Talking Points submissions across the site.