Poor Everton beaten by struggling Cherries
Saturday 29 December 2017

97 Comments [Jump to last]
Bournemouth 2 - 1 Everton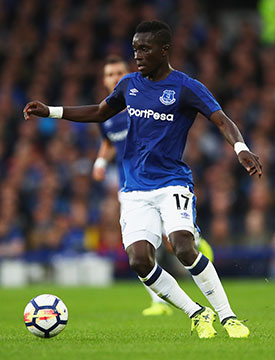 A rare goal by Idrissa Gueye gave Everton the platform to end 2017 with a victory but it was Bournemouth who found a winner
Everton finished 2017 with Sam Allardyce's first defeat as manager as Ryan Fraser's deflected winner handed Bournemouth their first win in nine games.
The Blues had been punished by the diminutive midfielder in the first half when James McCarthy's giveaway led to him scoring the opener and while Idrissa Gueye scored a well-taken equaliser 12 minutes into the second half, the visitors couldn't hold on to a point.
Gueye had been expected to sit out again after straining his hamstring against Chelsea last week but he was selected in a defensive midfield trio that was rounded out by Morgan Schneiderlin and James McCarthy, making his first appearance since returning from hamstring problems of his own.
The overtly defensive posture had predictable ramifications for Everton's ability to attack; while there was, on the whole, a good deal more passing and confident possession of the ball, Dominic Calvert-Lewin remained an isolated and ineffective presence up front.
Unsurprisingly, therefore, it was Bournemouth who had the better chances in the first period. Callum Wilson rolled Michael Keane easily and saw his half-volley beaten away by Jordan Pickford while Jordan Ibe was also foiled by the Blues' keeper who pushed his fierce drive behind.
The home side did take the lead in the 33rd minute, however, when McCarthy's back-pass was collected by Wilson, he fed Josh King and when the ball was squared across the box, Fraser was there to steer the ball past Pickford.
Allardyce made a much-needed change at the break, introducing Wayne Rooney, returning from a virus, withdrawing McCarthy and, combined with Oumar Niasse's introduction for Calvert-Lewin soon afterwards, the change in formation would contribute to Everton regaining parity within 12 minutes.
Rooney had dragged a left-footed shot narrowly wide and when Simon Francis gave the ball away to Gylfi Sigurdsson from the resulting goal kick, the Icelandic international picked out Niasse in the Bournemouth area. His lay-off found the advancing Gueye and he swept it home to make it 1-1.
Everton failed to push on from there, however. Instead, it was the Cherries who responded, with Francis exchanging a one-two pass and sliding it square to Wilson but Pickford was there again to make an excellent save.
Benick Afobe came very close to putting Eddie Howe's men back in front when he turned neatly past his marker but a heavy touch took it through to the 'keeper before Yannick Bolasie replaced Gueye with 20 minutes left.
The Congolese winger had one chance where he eschewed a decent shooting opportunity and chose to play it wide to Niasse and then ballooned over when the Senegalese striker's cross was headed out to him.
Then, three different episodes where Everton sloppily gave the ball away in their own half put them in danger of falling behind again. Pickford had to race off his line to avert danger on the first two occasions and then parry another effort from Ibe who then clipped the crossbar as Bournemouth continued to threaten.
After Sigurdsson had had a shot charged down at one end, the hosts made the breakthrough that they had been threatening after the protection afforded by Gueye had been lost in midfield at the other.
Fraser was played in on the edge of the Blues' box and with Keane backing off, he jinked his way into position before firing a shot off the defender's heel and over the stranded Pickford with just a couple of minutes left on the clock.
The loss ends Allardyce's seven-match unbeaten run in all competitions and keeps Everton's attacking deficiencies in sharp focus as the January transfer window approaches.
Everton end the year in ninth place but will rue having dropped five points from two winnable games against two teams struggling near the bottom of the table over the Christmas period.
---
Reader Comments (97)
Note: the following content is not moderated or vetted by the site owners at the time of submission. Comments are the responsibility of the poster. Disclaimer
Tony Everan
1
Posted 30/12/2017 at 18:20:24
Disappointed by the lack of focus today. Some mindless passing cost us the match. Players need to be mentally sharper and more confident.
We have had no attack at all yet this season; it needs to be fixed next week. The fallout from Koeman's diabolical transfer window is still toxic and lingering.
One attacker will not fix the problem – we need 2 or maybe 3.
McCarthy and Bolasie still not sharp enough for the first team but hopefully will improve in the very near future.
John Davies
2
Posted 30/12/2017 at 18:44:55
Anyone who watched the game can tell you all you need to know. A really poor performance again under the new boss. So negative it defies logic. Awful waste of my precious time and money.
We will get smashed on 5th January.
Chad Schofield
3
Posted 30/12/2017 at 18:54:49
As was said during the unbeaten run, it's a results game... and yet we're treating very winnable games as though we're playing Barcelona.
We're about to hit a tougher round of games. Of course we don't have the distraction of playing on a Thursday... but I think our patience is going to be tested.
Jim Bennings
4
Posted 30/12/2017 at 19:13:45
We've been pretty poor for a while, more organised but we have rode our luck in more than one game – let's not beat around the bush.
We need far more quality going forward. I'd go as far as saying we need a complete overhaul of our attacking options – there's no pace and no power; the few who do have a bit of pace just don't have any end product.
Ian Bennett
5
Posted 30/12/2017 at 19:15:12
Clear the deadwood and fire the head of recruitment.
This squad has so many gaps and a huge lack of quality. More worrying is the replacement names being put up look no better.
We seem to have gone massively backwards from a time when Moyes could pick a player, but no bloody money to buy them with.
Jeff Armstrong
6
Posted 30/12/2017 at 19:20:11
Ian, correct with Nzonzi and Cenk, read Schneiderlin and Sandro. Why bother changing shite for shite?
Jim Bennings
7
Posted 30/12/2017 at 19:30:25
John Davies you are probably right though, we will get smashed at Anfield if we rock up there on Friday like we have played in the last three games, there is no way that lot across the park will fail to beat us at home again in the space of a month.
John Boon
8
Posted 30/12/2017 at 19:51:08
Nobody can be pleased after watching that display. However it is far too soon to blame Allardyce. He will still require time to sort out what is a difficult situation to come into.
Today we made ridiculous defensive errors. The second half changes did bring about some improvement, but there is still a long way to go.
Negativity is not due to Allardyce. I still think that Koeman brought about the total chaos we see today. Unfortunately he made the worst and most expensive signings ever. Everton need to be sure they don't do the same thing in January.
After seventy years of supporting I still say, "Once a Blue always a Blue". But lately it is a very frustrating and difficult challenge.
Dick Fearon
9
Posted 30/12/2017 at 20:08:03
I have not seen a team pass the ball backwards anywhere near the number of times as does Everton.

Paul Birmingham
10
Posted 30/12/2017 at 20:08:57
In m view on the back of increasingly sluggish games - Swansea, WBA, and today, I have to say that whilst we are in a better position than 6 weeks ago, the application and endeavour and spirit and belief today was for me numbing.
The squad both Sams have inherited, but to play the starting line up today with three ultra defensive MFs, showed too much respect for AFCB, whom couldn't win in the last three months, and as ever gratis magna all, EFC, stroll up and make their day by surrendering feebly.
We all feel the pain and the supporters whom went today should be refunded for every outlay they paid to watch this today.
It's Sams inherited squad, he picks the team, but surely now playing DCL, in solo mode is finished as it's like playing in space and the ball gets close but never arrives..
I live in hope but without the best EPL keeper again playing out of his skin, we'd have been stuffed by at least 5. In all my time watching 45 years, the last 3 years have been the worst in terms of playing style and lack of conviction and drive in the club, made worst in some ways by seemingly being in our must lucrative position in history in terms of finance and trading capability in the xfer market.
I really hope the Sams do well and the club prospers, but there's some very tough games the next month, and I hope and pray we turn up and play with belief and have a go against Manure and in the FAC away match at our old ground next Friday.
It seems RK really didn't have a clue but since the home loss v Sunderland at Chrimbo 2013, the rot started and a few flashin the pan unbeaten runs but without ever beating the rivals away, the demise has been constant.
New year and fresh hope and for all of us let's home, EFC picks up, with genuine plans and intent.
Now for a month of miracles for the forth coming games...let's hope we start shooting at least... Living in hope..
Jim Bennings
11
Posted 30/12/2017 at 20:15:33
Easily the most frustrating and annoying part of it all is how we pissed away so much money in the summer yet we have relied on a 20 year old striker that had virtually no experience of football on the top two divisions (Calvert-Lewin).
He's not good enough at this level but it's not even worth blaming the lad , he's tried but it should never have been down to him to shoulder the burden , if Koeman had his way Niasse would have been sold an hour before that August deadline day too, just what the hell was that Dutch fool thinking???
Then you have a rookie right back filling in for a man who broke his leg in March .
A free agent average at best right back (Cuco Martina) filling in at left back because we failed to replace our ageing 33 year old regular left back Leighton Baines.
It's just descended into a total farce.
Koeman, Walsh , I don't know who was in charge of transfers last summer but they failed the club drastically.
Too much time (and far too much money ) spent on Sigurdsson, who for the fee he commanded just doesn't impact games enough.
A combined 48 million quid wasted on Schneiderlin and Klaassen, truly horrendous management that was.
The only roaring success has been Pickford .
The seeds to a poor Everton team were sown in summer , not sure what we can expect Allardyce to really do with the shit available.
Peter Cummings
12
Posted 30/12/2017 at 20:15:49
Another shambolic pile of garbage to add to the list this season means that, unless some sort of miracle comes out of next months 'window' our season is effectively over, when we get turfed out of the cup by Salah and Co next week.
While successive managers are now counting their winnings after screwing the club and fans we continue on the path of total mediocrity and hopelessness for the coming future.
Andy Meighan
13
Posted 30/12/2017 at 20:17:55
Nothing to do with Allardyce... nothing at all. As Tony (#1) says, the fallout from the Koeman tenure is shocking. That said, to play 3 defensive midfield players against an ordinary side like them is criminal.
I see a lot of our fans are bemoaning a lack of a good striker. Here's a question: If we do land a half-decent striker or two, who the hell is going to feed them? The lack of creativity in that midfield is diabolical! It's pedestrian, bereft of ideas, and – worst of all – lacks the one ingredient vital in today's game... Pace!
What does that impostor Schneiderlin have to do to be dropped? A complete average footballer and the biggest waste of money in the club's recent history.
Ditto Sigurdsson. I thought he was starting to show signs that it was going to turn for him but no; he's morphed back into the player that was shocking under Ronnie boy. Another one with a distinct lack of pace
I'm expecting more of the same against Man Utd, which is a shame Because, let's be fair – they can be got- at. Bad day all round.
Kunal Desai
14
Posted 30/12/2017 at 20:34:19
I just don't forsee where the next decent player or manager is going to come to this football club. The house has been crumbling down for years nothing changes and the owners clearly have no ambition taking the club forward. The days of Nil satis Nisi Optimum are so long gone.
Michael Lynch
15
Posted 30/12/2017 at 20:45:23
http://www.liverpoolecho.co.uk/sport/football/football-news/everton-verdict-sam-allardyces-honeymoon-14096474
The Echo is rarely right, but it is on this occasion. And to be fair Sam has said as much too. He tried to be more positive in the second half, but we're shit. The best we can hope for this season is avoiding a relegation scrap. I'm not sure this transfer window will do an enormous amount to help us, but perhaps Coleman returning will, and Baines too to a lesser extent.
Jay Harris
16
Posted 30/12/2017 at 21:25:58
I couldnt say one single player played well today but Schneiderlin and Keane were atrocious.
Keane just seems totally unaware of whats going on around him and its no coincidence that as soon as we give Holgate and Williams a rest we start conceding goals.
I then suffered watching Southampton playing some good stuff and totally embarassing United and wished it was us but we will probably get thrashed on Monday.
Mike Hughes
17
Posted 30/12/2017 at 21:38:21
Koeman should be hung up by the bollocks for what he has done to this club.
Incompetent, impotent fat tool.
Sam is undertaking a salvage operation.
Good luck to him.

Guido Blumberg
18
Posted 30/12/2017 at 21:52:04
There are still some fans of Sam Allardyce? The game was embarrassing, if Sam Allardyce used 8 players to defend against this very weak opponent, how many defensive players will he use against Manchester United? Or is he going to put the bus that moves the players in front of the goal?
In the next month, Everton can buy Neymar, Cristiano Ronaldo, Robert Lewandowski, or any top level forward and it will be useless. With the disastrous manager that we have he will also put them to defend.
Paul McIntyre
19
Posted 30/12/2017 at 23:22:35
Just watched first goal on MOTD.
Schneiderlin should never wear the shirt again..
From the moment of mccarthy back pass he jogs back into the box with Fraser tearing past him to score.
Charlie Lloyd
20
Posted 30/12/2017 at 23:27:23
Jeff Armstrong
21
Posted 30/12/2017 at 23:27:25
Allardyce is a charlatan. The other day, it was how poor we are going forward, and today he plays a 9-3 formation, leaves Lookman and Vlasic at home, against West Brom and fucking Bournemouth, for fuck's sake!
He has no intention of playing offensive football. He has form, gets a nosebleed above 10th place; out of his depth and comfort zone...
Paul Holmes
22
Posted 30/12/2017 at 23:33:01
Good points on here, especially from Jay Harris (#16). The problem is that, after spending all that money we have no real quality. The team is only as good as your players and our players are average at best on mega money contracts. We need a clear out and to rebuild but it will take years.
I don't blame Sam as he did not buy any of this rabble but he needs to get players in and get some out as quickly as possible because we are anti-football at this moment in time.
James Watts
23
Posted 30/12/2017 at 23:39:53
What does anyone expect? A bang average manager, who plays shite football and picks THREE defensive midfielders. Only ever going to be one winner.
1 shot on target? Along with 3 against WBA make that 4 shots on target against 2 of the bottom 3.
Can't wait until this season is over. Koeman et al left us is a mess but I never wanted Sam, still don't. Now you see why. After the honeymoon period of playing a couple of shite teams at home has truly gone after 4 dreadful performances. If this guy is still in charge next season then I'll be on an even longer hiatus.
Fucking dreadful.

Paul Birmingham
24
Posted 30/12/2017 at 23:48:57
Reality check and the ale, but did Keane ever play more than x3 games for Manure? I've said before he's a cricketer ( nothing against cricket, I like cricket) but in my view he's looking worse than Billy Wright.. Seriously he's been well sussed out, and he's not in my view even top level Non league standards as he looks lost and has no sense of position.. This defence... well worst of two, I'd
take, Mason in place of Keane , henceforth and thus we need x 2 CBs - De Vries plus the Napoli lad and at least 1 LB and x2 CFs.
We sadly I have to say are playin alehouse and We need miracles in abundance for the next month..
I'm seeing 100pc , at the long term damage that RKs term did.. The heart and soul had been lost by a massive amount. Steve Walsh must be on double OT rates now to last, as we are in my view on the ropes, just off the floor. 3 and at least 4 top signings needed and a proper club captain who will lead by example , aka Rooney in his prime.
Happy New Year to All Evertonians.

Shaun McGough
25
Posted 30/12/2017 at 23:51:58
sams fault, brings rooney on then plays him holding midfield, gaye subbed???, hope that is morgans last game for us, is Sammy lee sniggering at these decisions.
Vijay Nair
26
Posted 30/12/2017 at 23:57:37
Starting THREE defensive midfielders, playing for a draw against Bournemouth??? Seriously??
I fully expected us to park the bus against the big 6, but that means being more expansive against the rest!
Vijay Nair
27
Posted 30/12/2017 at 00:04:03
Mike (17), is part of that salvage operation playing for draws against the likes of Bournemouth?
We can blame the likes of Koeman/Martinez all we want, but Sam is not even TRYING to win games with his tactics!
Andrew Keatley
28
Posted 31/12/2017 at 00:07:09
Jay (16) - My sentiments exactly.
Andy Crooks
29
Posted 31/12/2017 at 00:22:18
The team set up by Sam Allardyce today was an example of how utterly dull and uninspired he is.
Someone thought that this man should be our coach. That Sam Allardyce and Everton should be linked. Sad days.
Todd Watkins
30
Posted 31/12/2017 at 00:23:59
At least we have signed Tosun . Nzoni is close to.
Colin Glassar
31
Posted 31/12/2017 at 00:27:09
A pathetic end to a pathetic year.
Ian Horan
32
Posted 31/12/2017 at 00:41:09
Todd at 30 there's no news of Tosun signing anywhere. Last update was his club turned down 25 mill
Colin Glassar
33
Posted 31/12/2017 at 00:46:48
Ian, latest news is that he's in London waiting for the deal to go through. Everton are balking at the asking price (£25m) payment terms (we want to play in instalments) and sell on clause (we don't want to include one).
This will probably go through in late January after he's injured himself playing tiddlywinks.
Mike Powell
34
Posted 31/12/2017 at 00:48:19
Absolutely awful. One shot again in the whole game. Schneiderlin shouldn't play for us again. Calvert-Lewin is not up to it. Why don't we make forward passes?
We still need about six players – the only player worth keeping is Pickford; the rest are not good enough.
Ian Horan
35
Posted 31/12/2017 at 00:59:09
Ha ha cheers Colin, you can just see a late bid by a London club pinching him as we argue true Everton style on payments .
Tony Williams
36
Posted 31/12/2017 at 01:00:06
Not because we lost today but I didn't want Allardyce, I will never accept him and if all you Allardyce lovers want to watch the football he is dishing up then you all have yourselves to blame, this is not the way that II have been used to watching Everton over the years. We have never as yet been entertaining under him. I know you are going to jump on me and tell me it is a results based game we are into nowadays but I want to be entertained as well especially after the price you have to pay to watch the bore rubbish he is serving up.I for one will not support them blindly, it's the worse thing you can do.
Tony Williams
37
Posted 31/12/2017 at 01:00:06
Not because we lost today but I didn't want Allardyce, I will never accept him and if all you Allardyce lovers want to watch the football he is dishing up then you all have yourselves to blame, this is not the way that II have been used to watching Everton over the years. We have never as yet been entertaining under him. I know you are going to jump on me and tell me it is a results based game we are into nowadays but I want to be entertained as well especially after the price you have to pay to watch the bore rubbish he is serving up.I for one will not support them blindly, it's the worse thing you can do.
Tony Williams
38
Posted 31/12/2017 at 01:00:06
Not because we lost today but I didn't want Allardyce, I will never accept him and if all you Allardyce lovers want to watch the football he is dishing up then you all have yourselves to blame, this is not the way that II have been used to watching Everton over the years. We have never as yet been entertaining under him. I know you are going to jump on me and tell me it is a results based game we are into nowadays but I want to be entertained as well especially after the price you have to pay to watch the bore rubbish he is serving up.I for one will not support them blindly, it's the worse thing you can do.
Tony Williams
39
Posted 31/12/2017 at 01:00:06
Not because we lost today but I didn't want Allardyce, I will never accept him and if all you Allardyce lovers want to watch the football he is dishing up then you all have yourselves to blame, this is not the way that II have been used to watching Everton over the years. We have never as yet been entertaining under him. I know you are going to jump on me and tell me it is a results based game we are into nowadays but I want to be entertained as well especially after the price you have to pay to watch the bore rubbish he is serving up.I for one will not support them blindly, it's the worse thing you can do.
Tony Williams
40
Posted 31/12/2017 at 01:00:06
Not because we lost today but I didn't want Allardyce, I will never accept him and if all you Allardyce lovers want to watch the football he is dishing up then you all have yourselves to blame, this is not the way that II have been used to watching Everton over the years. We have never as yet been entertaining under him. I know you are going to jump on me and tell me it is a results based game we are into nowadays but I want to be entertained as well especially after the price you have to pay to watch the bore rubbish he is serving up.I for one will not support them blindly, it's the worse thing you can do.
David Hallwood
41
Posted 31/12/2017 at 01:01:22
Someone mentioned the £2mil Arteta add Cahill and Coleman and I start to ask exactly what does Walsh do or bring to Everton. Isn't he suppose to be the man who sniffs out bargains.
Hugely disappointing game I think everyone's said the obvious and I've been droning on about Sneid and gana playing in the same team, but 3 managers have a paired them together with predictable outcome. SA is suppose to be this statistic and tactical genius and he can't see that?
Kase Chow
42
Posted 31/12/2017 at 01:01:48
Todd #30, where have you got your news from?
I cannot see the confirmation on any single news outlet?
Charlie Lloyd
43
Posted 31/12/2017 at 02:03:26
Tony @ 36 through to 40
I understand your sentiments regarding entertainment and I'm just as frustrated about today. Especially setting up with 3 defensive mids.
I can't forget where we were 4 weeks ago though. We were doomed. If we hadn't have acted decisively by bringing in a manager who would tighten us up we were starring survival in the face. We have somehow managed to get ourselves clear and up to 9th but we are hardly pleasing on the eye. The reason? Poor squad of players who deserve to be no higher than they are. The problems at the club are not recent there has been a steady decline for many years with poor recruitment and not replacing players early enough.
I'm not a big Allardyce fan but I really haven't got time for Martinez or Koeman who have got us to this place.
Ernie Baywood
44
Posted 31/12/2017 at 02:13:47
This is exactly why you judge individual performances and results over a period of time. I'm sick of being criticised for commenting on the performances when we have scraped draws or wins.
Performance is the best indicator of future results. The performance here was every bit as shit as the others that have yielded results.
As for the game in isolation, why the hell we didn't just put it out when Martina was injured I don't know. Instead McCarthy aborts a pass that the 'stricken' Cuco was blocking and instead tries a suicide pass. Cuco can get fucked too - there was nothing wrong with him and he should have been up and helping the team.
Just a horrible game to watch. Par for the course with us.
Todd Watkins
45
Posted 31/12/2017 at 02:48:32
Kase#42. Well I guess its not solid but many fans and pundits in Turkey have said their farewells to him.
Phil Sammon
46
Posted 31/12/2017 at 03:12:03
I absolutely did not want Allardyce, but I've got to say I've been happy with him until this game. He has solidified a hopeless defence and I thought he'd done well to get a few goals out of a completely unbalanced forward line.
This game was the first one where I really didn't understand the tactics. Schneiderlin, Gueye and McCarthy as a central three was absolutely criminal. Not one of them has a forward pass in them. I can accept it from Gueye as he is wonderful in other areas. Schneiderlin is the current whipping boy, and for good reason. I can't decide if he can't be arsed, or if we are just witnessing the absolute collapse of a (formerly) good player.
Bolasie is not even 60% fit. How the hell can he be? Has the bloke even had 90mins for the U23's? One of the worst injuries a footballer can have, particularly when you are such an explosive player. Shocking decision to include him instead of Lookman or Vlasic.
Martina is trying his best, but he is going to go down as one of the worst Koeman signings, and that's saying something. Doesn't a leftback, generally, have to be capable of kicking the ball with his left foot?
One thing I'm sure of...it's not going to take much for Everton fans to turn on Allardyce.
Tony Williams
47
Posted 31/12/2017 at 04:02:16
Charlie (43), we all knew what Allardyce was all about and so should Moshiri if he had any nouse. By the way I don't know how my post appeard 4 times.

Hari Matardri Ranamthram
48
Posted 31/12/2017 at 05:44:47
Schniederlin seemed tired towards the end. Bolasie needs to play few more games in PL2. Using Sigurdsson on the left flank will be much more effective if we had a pacey left back. Well, I guess our players are scared to pass. The reason was Koemann then and now Sam. The main reason is said to be a striker but seems like the root cause is training.
Trevor Peers
49
Posted 31/12/2017 at 09:02:52
Reading some of these comments are laughable, did we really think by appointing a new manager that life would suddenly become a bowl of roses?
We are entrenched in a battle for survival, not one transfer window has been traversed yet, Bournemouth are battling for their lives did we really expect this to be an easy fixture, given the weakness in the present squad.
Of course the football isn't going to be pretty, we lost a battle today, but I'm confident we will win the war. Allardyce is on an 18 month contract and looking at some of the other candidates for the job, Silva for instance, he is the best man for the job.
Geoff Lambert
50
Posted 31/12/2017 at 09:12:03
Trevor stop talking sense.
Ian Hollingworth
51
Posted 31/12/2017 at 09:55:41
We are suffering from over 20 years of mismanagement and sub quality players yet Allardyce haters are happy to pin it all on him.
We have much bigger problems than Sam Allardyce as manager.
Quite simply our players are not good enough and it is going to take a major overhaul of the squad before our expectations can be met.
With our current board and owner this would take many years and to be honest I do not have much faith in them doing it anyway.
Susong Hermawan
52
Posted 31/12/2017 at 10:06:43
Poor game and no spirit last night.. Man Utd next, good result i hope!
Mark Murphy
53
Posted 31/12/2017 at 10:18:41
"All you Allardyce lovers"
Who? So those of us who are being realistic and can at least recognise that Allardyce has steered us to safety are "Allardyce lovers" and as such are to be sneered at?
Let me repeat - I did not want Allardyce any where near my Everton and the linking of his name to us appals me BUT - I do believe we would be at least 5 points worse off now without him and I, as well as many on here, could not see where the next win was coming from.
If recognising the job he has done so far and not screaming anguish at the defensive strategy to achieve it means I'm an "Allardyce lover" then Marry me Sam - I'll be the lady, and you'll be the man!
Len Hawkins
54
Posted 31/12/2017 at 10:20:56
Yes the team was a shambles yesterday overloaded with defensive midfielders, Jagielka paired with Keane does that not suggest he is trying out all permutations to see who is staying and who is going. I don't think he doesn't know he has a squad of also-rans and Holgate and Williams are probably his best defensive pairing. He has the breathing space now to try different systems and players and I would think he knows who will be waving bye bye shortly.
Has anyone heard if The Chief Exec has been struck dumb he is the "operations manager" for Everton FC and the silence from him is deafening he should be assuring those who have invested their hard earned in Season Tickets and Everton Merchandise instead of insulting them with his total silence.
Clive Rogers
55
Posted 31/12/2017 at 10:24:43
Ian, 51, that is the problem. Kenwright has ruined the club with his mismanagement and is still there like a millstone round our necks.
Martin Nicholls
56
Posted 31/12/2017 at 10:33:18
Len#54 - rest easy! Our CEO has spoken! As sure as night follows day, a "stadium update" has quickly followed a lousy performance!
Brian Harrison
57
Posted 31/12/2017 at 11:08:24
The only thing that was different yesterday was the result, the performance was just as dire as they have been since Allardyce arrived. Yesterday Allardyce with all his experience, decided to start McCarthy a man who hasnt played a minutes football this season, and hardly played much last season. He took part in a behind closed doors game and all of a sudden after such a long lay off he is good to start the game unbelievable. I can imagine the comments on here if Unsworth had done that. Also Bolasie has been out for over a year with a very bad injury and again 45 minutes for the U23s and he is on the bench and comes on against West Brom and again plays yesterday.
Look all clubs rotate players during this period but to play McCarthy and Bolasie is bordering on desperation.
So again he chooses to leave out our best defender in recent weeks Mason Holgate, who in partnership with Williams have looked our best pairings. So back comes Keane, now I know many have complained about Klassen and Sandro being bad buys but for me Keane is the worst of the 3. His positional sense is awful and once an attacker has got him turning its like watching Bambi on ice. for their first goal yesterday a truly awful pass from McCarthy but Jagielka had the man marked now all Keane had to do was look behind him to see were the danger was. But no he stood there in no mans land ball watching which gave their lad a simple tap in.
I know Man Utd are not playing well but if we sit back as we probably will with 10 men behind the ball, then they will probably find a way to score against us. Then its our nemises in the FA Cup I dread to think what might happen in that game.
Neil Copeland
58
Posted 31/12/2017 at 11:18:50
Len, good post - Sam is sorting the wheat from the chaff whilst the opportunity presents itself. I think we will see at least a partial clear out in Jan with a few more lined up to leave in the summer.
Sam has already stated a number of times that he believes we do have creativity in the squad but insufficient quality strikers to benefit from it. I think we need to be patient and see how he sets up once we have more quality upfront.
David Connor
59
Posted 31/12/2017 at 11:19:38
For the second season running now a massive overhaul of this very average squad is needed in the next 2 transfer windows with several players needing shipping out and several better quality players coming in. My players to be given the boot are:
1: Schneiderlin – just ain't good enough. If he played as good as he talks he would be a fucking world beater.
2: Baines – been a great player over the years but age has finally caught up with him. Not even worth a squad place now as he is hardly ever fit.
3: Jagielka – like Baines, he's been great for us but he is just too slow now and has dropped too many bollocks the last couple of seasons.
4: Williams – Never got our money's worth out of this player.
5: Ramirez – Seems to be way out of his depth in a very poor Premier League. Not had many chances, yes, just doesn't seem to have the quality he showed in Spain. Big shame though.
6: Mirallas – Should have got rid 2 seasons ago when we could have got a few quid for him. Too inconsistent and a fucking big baby.
7: McCarthy – Massive injury problems for this lad who had so much promise. I fear an early end to his career for this fella. A luxury we can no longer keep.
8: Klaassen – It's obvious this player has struggled since we signed him; he looks lost everytime he takes to the field. I don't think he will make the grade here. Take a loss and put him and us out of our misery.
9: Besic – Like McCarthy, hardly ever fit. Shown great promise when we first signed him but everytime he plays, you think he isn't gonna make it through without seeing a red card. Not good enough.
So, 9 players I would like to see gone in the next 2 windows. I don't want us to replace shite for shite, so Steve Walsh had better start earning his fucking money as of now, because this far he has been as big a waste as the Dutch prick we have just got rid of. Excuse the French & have a good New Year, fellow Blues. Let's all hope 2018 is gonna be a lot better than 2017.
Kunal Desai
60
Posted 31/12/2017 at 11:21:58
Funny how not so long ago it was the inheritance of Martinez players and now the Koeman players which Sam is left with. In six months or a years time we all be saying our manager is now left with what Allardyce left behind. Shouldn't the pressure really be cranked up on bill and his mates.
They have been getting away with it for years and taking the easy option. Sick and tired of the pricks thats are incharge at the top. Thats where are problems over decades ultimately lies.
Steve Pugh
61
Posted 31/12/2017 at 11:29:55
Wow.
I actually read this thread before finding out the United the result and from what I saw here I expected to find out that Southampton had slaughtered Man U (the team beaten 2-1 by Burnley on Boxing Day) instead I discovered that they drew 0-0 managing 3 shots on target.
If we manage that I trust that everyone will rave about how good we were.
This team (scarily) is doing better than it was. Anyone who thinks differently is conveniently forgetting those final games under Koeman and most of Unsworth's as well. Nobody likes watching Everton the way we are but most of understand that we will have to get through it.
Allardyce hasn't inherited a squad he has inherited a group of players. He has admitted that there are too many of them to assess properly and quite possibly saw the Bournemouth and West Brom games as an opportuntity to try things out. Perhaps assuming that the price some of these players cost he thought they should be able to beat these teams.
Until the last two games he played it safe and managed to get some good results. Then he experimented against two weaker teams, if he carries on experimenting against Manure then my guess is wrong, but if he returns to his preferred central defence, plays Rooney and Siggy in the positions that had worked well before Roo got the Flu then maybe he has more nous than some people give him credit for.
This season is all about stopping the rot that began when Moyes left and got out of hand under Koeman.
People moaning that our season will be over if we get knocked out of the FA Cup should be glad, I had visions of our season going right to the wire...whether we stay up or go down. SA has, at least as they're concerned saved us from that already. Personally I think there is still a long way to go but I hope they are right. (Yes I know they were using it as a stick to beat the Big Guy).
I'll still support the boys and I'll accept the dross for a little while longer yet, if it's still the same at the end of the season...then I'll call for a change.
David Hallwood
62
Posted 31/12/2017 at 11:32:42
Brian (#57) He may have picked Keane & jags with Man U in mind...well let's hope so.
But on to my obsession, Schneiderlin. I've just watched the lowlights on MOTD, and I've looked at their 2nd goal about half a dozen times. Now Schneiderlin isn't the only one a fault, but if anyone's got access to a recording of the goal concentrate on him.
Their player goes past Kenny, who incidentally went to ground too early, then Schnieds fronts him up, and does what can only be described as a 60's dance manoeuvre makes no attempt to tackle or track his run, instead runs or jogs into the box to get back into position.
Holding midfielder? really. Defensive? what would Lee Carsley or Makelele have done in a similar situation. Last year he looked like a Rolls Royce of a footballer, but like anybody who's bought a dodgy car that looks like a bargain on first viewing, the faults don't take too long to show through.
He offers nothing; doesn't defend, can't attack, he's the Claus Thomsen of the 2010's
Paul Kelly
63
Posted 31/12/2017 at 11:39:50
"Bolasie is not even 60% fit. How the hell can he be? Has the bloke even had 90mins for the U23's?"
That sums the Bournemouth match in a nutshell, what the fuck was ole big thinking? He couldn't run at all, he couldn't even out pace the yard dog marking him and he turned like a steam train!
Noticed Davies was meant to come on and he switched to Yannick.
Whatever, Bolasie is no where near fit enough to play more than ten mins, McCarthy, half hour. Stupid fucking decisions that cost us dearly, we made Bournemouth, that team that hasn't won this side of a full moon( could be wrong) and we made their midfield look like superstars!
Plus their pies are shite!
Andrew Clare
64
Posted 31/12/2017 at 12:00:23
In a nutshell we are a very badly run football club. We have been for 20 + years.

Paul Birmingham
65
Posted 31/12/2017 at 12:13:12
Colin @31, Andrew @64,spot on and it's been like this the last 30 years..
It's been misery but the hope is that in 2018, the club stabilises and builds poisitive momentum...starting Tomorrow and Friday!
(Started 🍺early today as my birthday tomorrow) but every day is a good day.
What we've endured is in Biblibal proportions and it's got to change , as the black humour aside , as supporting EFC should carry a Government health warning.
2018, the start of the "New Age at EFC"?
🙂👍
All The Best to all Evertonians and ToffeeWebbers , they will never stop our banter.
Karl Meighan
66
Posted 31/12/2017 at 12:15:54
Allardyce has given most of the squad a chance to shine now, this has been against sides Wba, Bouremouth and Swansea who are all in the dogfight.
This is a very good indication of how average/poor a squad that was left by Koeman imo.
Lots of posters still dreaming that this squad of players have the makings of a top team. Bringing in 2 unproven players in Lookman and Vlasic which is what most will be calling for, what else is there will not transform them into a top side.
Confidence, attitude and systems can all make improvements to performances but without quality which we severly lack the top 6 is not even close with the bottom 6 being more realistic.
Mark Murphy
67
Posted 31/12/2017 at 12:33:12
Kinell Steve (Pugh) not only did Southampton Not Slaughter Man Utd, they also didn't beat the team that Burnley beat 2-1 on Boxing Day!
Man Utd drew in the end with Burnley, 2-2.
Wishing everyone a great night tonight and here's to an upturn in our great teams fortunes in the New Year – whoever is in charge!
Karl Meighan
68
Posted 31/12/2017 at 12:39:45
Everyone have a great night and lets hope we all improve Everton FC first and foremost come 2018.
COYB.
Michael Lynch
69
Posted 31/12/2017 at 13:08:31
I'm not sure I was watching the same game as those who are calling out Sam for not trying to win against Bournemouth. On the contrary, the reason we lost was because he went gung ho and let the game become too open.
Sure, he started with three DMs, and if it wasn't for a dreadful back pass from McCarthy, who was immediately hooked, we would have gone in 0-0. But in the second half, two of the DMs were replaced by attacking options in Rooney and Bolasie, so we ended up with one DM on the pitch, and -– in Lennon, Niasse, Rooney, Bolasie, Sigurdsson – five attacking options. Sam clearly got it wrong, because we're simply not good enough to take on a nippy team like Bournemouth in a toe-to-toe attacking game. I'm just hoping he doesn't take that risk again until we've got a better balanced squad.
We should be aiming to grind out results for the foreseeable, then see where we are come May.
Terry Underwood
70
Posted 31/12/2017 at 13:49:42
IMO Niasse is a more complete option than Calvert-Lewin, but we really do need to cut out the stupid passing and giving the ball away. We got out of jail once before giving the RS 70%+ possession, we are not likely to be so lucky again, especially as Dr Death is unlikely to disrespect us with a weakened side again.
On paper we are on a thrashing to nothing Fortunately we play on grass, not paper. A blizzard, howling wind and sub zero temps would help too
Tim Spring
71
Posted 31/12/2017 at 14:45:18
We were awful yesterday, and have been pretty dire all season but how short are some people's memories who are commenting on here?
Under Koeman we were in free fall, we could feasibly have seen ourselves in the bottom 3 at Christmas, and down by May.
I wasn't enamoured by getting Big Sam in as manager, but what he's managed in the past 6 weeks with the same terrible squad as his predecessors has been way above what any of us could have expected.
Remember these are the same players that got embarrassed by Southampton, should have lost to Brighton and might as well have not even turned up United, Leicester and Burnley. Of course the football is still awful and there are individual performances that are as bad as I can remember in 30 years, but Big Sam has had to organise a defence that has more holes in it than a slice of Emmental.
Guys, we're still playing Martina, Niasse, Schneiderlin Keane/ Williams, and Calvert-Lewin – do people really think another manager could have got more out of this squad?
We've (sometimes) stopped the rot at the back, and I'd hope there are 3 signings to come in January, otherwise I'll be getting used to more of the same, occasionally beating teams below us in the league and playing for a draw every away game for the rest of the season.
Steavey Buckley
72
Posted 31/12/2017 at 15:13:43
Everton were not mismanaged under David Moyes, he kept Everton in the Premier League and over achieved as high as 4th in the league on a budget that Manchester United had for their Under-23 team. David Moyes comes in as the 2nd best Everton manager in the past 60 years after Howard Kendall, who super over-achieved with Everton on what budget he had.
The reason why David Moyes could not win the Premier League – he did not have the same financial clout until recently (and that was squandered by Koeman). That was down to having a chairman and board of directors in the past who believed they were running a fashion shop or a theatre.
Will Mabon
73
Posted 31/12/2017 at 15:32:11
Everything I've read here today says everything that needed saying about yesterday. I'm away to start preparations for the end of yet another year (only six months long this one, it feels).
Enjoy the end of this one, and the start of the next. Best wishes to all.
Jon Withey
74
Posted 31/12/2017 at 15:43:55
Steavey (#72) agreed, nobody is perfect but Moyes did a decent job relative to the teams around us at the time.
Actually whoever was scouting for recruitment did a good one too. Arteta, Cahill, Jagielka, Baines, Yobo, Lescott, Martyn, Howard, Johnson, Bent, Yakubu, Pienaar, Coleman, Donovan, McBride, even Fellaini and Jelavic (for a while).
All solid hires under financial limitations and only a few costly gambles in Van der Meyde, Krøldrup and probably Bilyaletdinov – that has gone backwards since he left in my opinion.
For some reason, we have been paying a lot more for similar or worse calibre – is it really just the market?
Kevin Dale
76
Posted 31/12/2017 at 15:46:27
Yesterday's mistakes: Playing McCarthy after being injured for so long, playing 3 defensive midfield players, dropping Holgate, playing 1 upfront, team sitting deep, moving Rooney back to play Bolasie who is clearly off the pace, and then blaming the players for making mistakes! The tactics are the manager's, he seems to be taking out all the youngsters and favouring older players? I hope I'm wrong and Big Sam was just looking at the players in his squad and testing combinations? Or is that wishful thinking?
It's been strange to me the team selections and tactics in the past two games. The teams put out look very defensive, yet the manager bemoans lack of chances created? We play Calvert-Lewin up front on his own with what seems to be a big gap between him and the midfield players. And when we do get the ball upfront and play it into the box, no-one is there? Why? Because the first thought is defensive. Don't get me wrong; I don't want to be playing like those across the road, but our system and tactics need to be a little more offensive in my opinion.
I'm not a Big Sam fan, I will admit that, but I do believe in giving managers time. My support is always for Everton FC and not particular for any one person in it, and as such, I always want and hope for the best, plus I think we Evertonians are the best and most knowledgeable supporters in the land. That's may problem, we are making too many mistakes, basic mistakes at that, and it really is very frustrating for us fans. It's about time we played the best players in the best position, we brought players to fill the perceived weak positions, and we played to win as a team. That's all I ask!
I'm still giving my full support to my club, but let's start applying some common sense to the team selection and tactics please.
Oliver Molloy
77
Posted 31/12/2017 at 16:04:11
Thank goodness we got Sam Allardyce instead of the owners' rumoured choice, Silva – he seems a little like Martinez!
In saying this, Everton with the players we have in our squad (if totally committed) should be more than a match for teams like Bournemouth, with all due respect.
Any team may have great players but, if most are not up for it, your opponents have an advantage and Everton just haven't been up for it lately, in my opinion.
Allardyce's first job was to has address the dire defending but he's not happy with what he has got so I wouldn't be surprised to see a signing. Going in to 2018, rumours that Mirallas, Schneiderlin, Sandro, Besic and Niasse have asked to leave in January, and will providing values are met.
Barkley will probably stay until the season ends unless he gets a mega offer from interested clubs – he is the boss now, not Everton.
Happy New Year to ye all.

Andy Crooks
78
Posted 31/12/2017 at 16:59:59
This is how we start the new year. With, believe it or not, Sam fucking Allardyce as our coach. Craig, sacked by Leicester for being a useless sack of shite, Shakespeare, whispering wisdom from the stands.
Sammy, yes, Sammy Fucking Lee, contaminating our dugout.
This is as bad as it has ever been.Not a fucking one of them is fit to sit in Goodison Park.
Darren Hind
79
Posted 31/12/2017 at 17:07:49
Yeah, Andy...
But there'll be Jam tomorrow.
Steavey Buckley
80
Posted 31/12/2017 at 17:18:52
Jon "is it really just the market?" Moyes at one time cared about Everton and with limited resources improved Everton beyond their limitations and expectations. The end of the beginning of Everton came when he left without mentioning, then hiring of Martinez meant that Everton became badly organised. Yet, he left Everton in 2016 with a relatively good squad all paid for.
The real decline came when Koeman was hired, he was unable to acquire good players at a good price, instead over paid on players who are not up to standard, Koeman as well as being a poor motivator and organiser.
Then SA has been hired to sort Everton out defensively and keep Everton in the premier league. But Everton still have no soul until something happens on and off the field. So where Everton go from here, no-one really knows. Allardyce will do what is just needed in the short-term.

Dave Ganley
81
Posted 31/12/2017 at 18:02:15
Agree with most of what you say Steavey apart from the fact that Martinez left a bag of shit when he left. A squad full of bang average players with a couple of exceptions and none able to be team players. Add in the fact that none could also last a full game without gasping like a 40 a day man then that was Martinezs legacy
Ian Burns
82
Posted 31/12/2017 at 18:48:22
As always I have read all of the posts but from a personal point of view I didn't want SA but I understood the rationale behind his appointment. However, having watched the last two games I am now so upset at the turgid football and the fact he hasn't been able to motivate Schneiderlin or give the team in general the confidence to go forward with any sort of intent - I can't wait for the end of this season and hopefully the back of this most negative of managers.
Steve Pugh
83
Posted 31/12/2017 at 20:17:15
Sorry Mark, you are right. I heard the United equaliser go in on the radio but I blanked it from my mind.
On a brighter note Arsenal must be as bad as us, they drew with West Brom 1-1 as well. And Man City couldn't even beat Palace.
Footballs a funny old game.
Liam Reilly
84
Posted 31/12/2017 at 21:57:23
You never change your centre half pairing if it's working, but we did.
Jags turns his fucking back on a shot with 3 minutes to go and it goes in off his foot. Seriously, you don't do that in Sunday league.
Major overhaul required.
Dreading Monday and Friday.
Oliver Molloy
85
Posted 31/12/2017 at 22:41:26
Andy @ 78.
Sam Allardyce and his team will only be here until the end of the season, in my opinion.
I agree, he just doesn't fit long term. Like many a footballer, he has quite a high opinion of himself.
I expect Moshiri to demonstrate to all he can be ruthless.
John Davies
86
Posted 31/12/2017 at 22:43:08
Andy Crooks (#78). How negative and gloomy can you be?
You're spot on though mate. What a fucking mess we are in. The club is in its worst state since I started watching back in 1963.
Happy New Year my arse!!!
Pete Clarke
88
Posted 31/12/2017 at 23:37:44
The fact that Bournemouth are even in the Premier League is a massive credit to Eddie Howe as that is one poor team. He is making the most of it with good coaching.
We have far better players in our squad and we seem incapable of putting two passes together. That's down to coaching.
Neil Cremin
89
Posted 01/01/2018 at 08:05:28
Sam steadied ship. Now that we only need 15 more points for safety, we will see Sam and his teams ability to move to next level.
Concerned that he is beginning to sound like Koemann and blaming players passing.
Team Selection also puzzling and more so change at half time. As stated on live thread, I would have subbed Rooney for Sneids not Macca. Moved Macca back and allowed Gana move further up park.
My biggest consistent Moan is that habit we have developed since start of season of playing ball back to a goal keeper to hoof it up the field, particularly when his distribution is so poor. We must have done it at least 10 times against Bournemouth. That is a Koemann legacy and will really begin to believe in Sam when I see that habit eradicated
Another moan is that in these threads we have our favourite fall guys Macca, Williams, Sneids, Martina, even Sigs but in the games I watched:
Is Baines any better than Martina defensively,
Is Maccas poor backpass any worse than those of Davies, Gana, only difference is he didn't get away with it whereas others were bailed out by defence.
Would Williams or Holgate have turned their back on shot that lead to goal
Finally can our goalkeeping coach teach Pickford to
1. Keep ball in play from his hoofing of back passes
2. Hold the ball or deflect behind instead of parrying back into play.
Yes he made some brilliant saves but he is not without faults and exempt of criticism.
Happy New Year
Lenny Kingman
90
Posted 01/01/2018 at 12:20:47
A couple of 5-0 bashings this week could see fathead Sam bounced out of the club. Which would suit his M/0 and no doubt suit many Evertonians.
Tom Bowers
91
Posted 01/01/2018 at 12:38:38
Wow ! Brighton take only 5 minutes to score against Bournemouth !!!!!!

Rob Dolby
92
Posted 01/01/2018 at 12:58:21
Wanting us to get tonked 5-0 isn't the definition of a toffee it's the definition of a kopite.
The big Sam haters have to accept that he is here for the next 16 months and get on with it. 1 loss in 7 with the bag of shite squad we have isn't bad.
We have a good goalie, a few good youngsters and Rooney. The rest are either too old, injured or very limited and very lucky indeed.
It's obvious we need a couple of strikers and players who can hurt the opposition but so do all teams. We are paying Walsh and co a small fortune to get the players in, let's see what happens in January and if Moshiri bankrolls the signings.
Mourinho is moaning about not matching City in the transfer market. That is an indicator of where we sit.
Blaming big Sam for a shit style of play is naive given the players available.
We have witnessed this type of footy since the purse strings got pulled on Walter Smith. I don't get what people want out of the current squad. We just aren't good enough to play attractive footy.
Under Roberto we had Barklay, Gerry, Lukaku with Jags Coleman Baines and Stones.
Now we have a 36 year old Jags an injured Baines and Coleman with very little else. What style and how do people want us to play.
Did anyone watch us under Koeman or Unsworth and think that we played great and were unlucky trying to play expansive football. Get real.
Let's hope we get a result today against a Man U money machine who play dour percentage football but who sit in the top 4.
Coyb
Brent Stephens
93
Posted 01/01/2018 at 13:09:24
Lenny #90 "A couple of 5-0 bashings this week could see fathead Sam bounced out of the club. Which would suit his M/0 and no doubt suit many Evertonians".
Rubbish. Name one Evertonian (apart from yourself) who that would suit.
Mick Conalty
94
Posted 01/01/2018 at 13:32:19
I think I am getting to hate Everton more than the RS
another miserable Christmas thanks to the blues while the RS go from strength to strength. We are
like Newcastle a poison chalice destined failure and mediocrity. If the RS fell down the toilet they would come up with a pot of gold whereas Everton would just fall down the toilet, End Of. We have had nearly 30 years as proof of this. I am afraid the Gods have deemed that they are not on the side of this once great football club. I am just praying for a miracle.
George Cumiskey
95
Posted 01/01/2018 at 13:40:18
Just watching the good football Brighton and Bournemouth are playing, compared to the dross we serve up.
Rob Dolby
96
Posted 01/01/2018 at 14:13:39
Well worked 4th goal from these 2 great footballing teams.
Change the record.
Andy Meighan
97
Posted 01/01/2018 at 14:23:17
Lenny 90
What a pathetic post. What fan wants us to lose 5-0? Maybe losing by that score might suit you but it certainly doesn't benefit any Evertonian. With the tools at his disposal, he's done a great job so far. I just wish people like you would just accept it.
Jack Convery
98
Posted 01/01/2018 at 15:03:51
Everton FC as an organisation are shit - end of. Happy New Year, surely 2018 can't be as bad as the last 5 years - can it ?
Lenny Kingman
99
Posted 01/01/2018 at 16:57:12
#93
All of them.
I am playing the devils advocate here. Me, I'm just suggesting possible scenarios. A 5-0 win for the Blues on Friday would suit me, and that's a fact.
Add Your Comments
In order to post a comment, you need to be logged in as a registered user of the site.
Or Sign up as a ToffeeWeb Member — it's free, takes just a few minutes and will allow you to post your comments on articles and Talking Points submissions across the site.