Allardyce blames defending for United defeat

148 Comments [Jump to last]
Monday 1 January 2018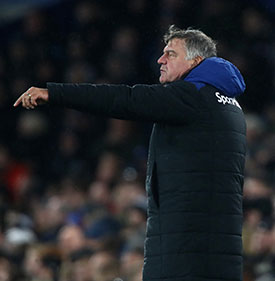 Clive Brunskill / Getty Images
Sam Allardyce expressed his displeasure with the way Everton gave up the ball and then failed to contain Manchester United as Jose Mourinho's side ended a sequence of three successive draws with what ended up being a comfortable win at Goodison Park.
Cheap giveaways by Wayne Rooney and Mason Holgate handed the visitors opportunities to put pressure on the Blues' back line and first Anthony Martial and then Jessie Lingard capitalised on space on the edge of the box to sweep home similar shots from the edge of the penalty area.
"I don't dispute the result or that Man United are the better side but what I do dispute is that [their] goals weren't (sic) that great because of our deficiencies in the first goal," the manager said afterwards.
"We were negative in our response to Wayne giving the ball away instead of getting on the front foot and keeping Manchester United outside of our penalty box. We've allowed Martial to take a touch, look up and plant it right into the top corner.
"It's just not supposed to happen like that. The lads know better than to back off to your own box. We didn't lay a finger on any of their players from Wayne losing the ball in their half to five yards outside our box and them scoring.
"I can't accept that, as a defender. We should have held the 18-yard box, we should have then gone and pressed the ball, kept United away from our box and then I don't think they would have scored that goal."
Allardyce tried to get his team back into the game with a double change just past the hour mark and it eventually yielded a chance for Oumar Niasse which he headed wide but United eventually doubled their lead.
"I think James McCarthy showed the rest of the lads what we needed to do and that was to close Man United down again and we got a bit of momentum going," Allardyce explained.
"But the second goal was a lot worse than anything we've done for a long time because they've scored off our throw-in. That, for me, is something that at this level I just can't accept.
"We've gifted United two opportunities to score today and you can't do that against [a team like that]."
---
Reader Comments (148)
Note: the following content is not moderated or vetted by the site owners at the time of submission. Comments are the responsibility of the poster. Disclaimer
Mike Dixon
1
Posted 01/01/2018 at 21:36:15
He's spot on.
Cannot argue.
If the tradesmans tools are blunt, the job he delivers will be poor.
Sam has been given a toolbag full of metric spanners and all the nuts are imperial.
He needs a medal taking the job on.

Brian Williams
2
Posted 01/01/2018 at 21:39:00
Summed it up in a nutshell.
Ian Hollingworth
3
Posted 01/01/2018 at 21:43:39
Allardyce doesn't shirk from telling us how it is and that is very refreshing from an Everton manager whether you like him or not.
Michael Lynch
4
Posted 01/01/2018 at 21:52:02
Yup. I think Sam is surprised at just how shit we are, even worse than he suspected. Whether he's given the chance to build a team himself is another matter - the pressure on the board will be immense from a vociferous element of Blues to ditch the manager at the end of the season. Will Moshiri give in to that, or will he give Sam a proper go at managing the club with his own players?
John Charles
5
Posted 01/01/2018 at 21:55:29
Sam tells us after every game the deficiencies in attack or defense but does very little rectify for the next game - particularly in attack. 2 shots on target in the last 4 games. ZERO shots on target in the last 2 Home games. Is non of this Sams fault? Have we ever been that poor before - am sure someone has the stats
Dave Ganley
6
Posted 01/01/2018 at 22:00:42
We lost that game entirely due to the awful way Allardyce sent them out to play in the 2nd half. So negative, just sat back and waited for United to come onto us. We got exactly what we deserved. Nothing. Whatever he said at half time didn't work. We were well in that game at half time and he complete went against the tactics in the 1st half. We just went hoof ball and totally bypassed the likes of Bolasie and Vlasic who were productive till then. Players make mistakes but Allardyce consigned us to that defeat by the way he sent the team out to play in the 2nd half. Cowardly.
Brent Stephens
7
Posted 01/01/2018 at 22:05:11
So many games in so few days called for rotation. But I honestly don't know what the best XI is. And each of them is more likely to put in a dire performance as a good one in any game. Error after error after error after...
After the exit from the FA cup on Friday, we can focus on survival and rebuilding a team. More than a few significant signings are called for.
Jim Bennings
8
Posted 01/01/2018 at 22:12:14
The thing is though Sam when you keep defending so bloody deep and inviting pressure and allowing top quality players to shoot from 20 yards there's a certain ominous nature of it all.
We have completely neglected the fact that we need to attack as a team not just defend , hence offering nothing as a team in four games now.
Lee Whitehead
9
Posted 01/01/2018 at 22:14:57
Well said, Mike (1). I wish people would get off Sam's back and let him sort out the mess left by Koeman who very nearly ruined our club.
And as Ian (3) said "he tells it like it is" not like the usual BS we have heard over the last 3 years.
John Keating
10
Posted 01/01/2018 at 22:19:47
Allardyce was spot on. We were screaming in the Park End as you could just see both attacks finishing as they did.
Mike at 1 is spot on. You can only work with what you're given. Also how do you legislate for experienced professional footballers being unable to do things you do in the school team ?
He has tried almost every permutation and so far nothing stands out. The sooner this season ends the better
Mike Keating
11
Posted 01/01/2018 at 22:20:33
Brent @ 7
Please - I'm going to Anfield on Friday. Don't write us off just yet.
After the first half display tonight, I was pretty confident. But Mason Holgate is not a right back and Martina is so right footed, why play him at left back?
No-one was marking Pogba who was outstanding. Sick as a pig.
James Stewart
12
Posted 01/01/2018 at 22:31:11
Pathetic. His tactics will get him the sack. We are a mess and might as well have appointed Moyes for a lot less if all we wanted to do was set up like a non league side.
John Keating
13
Posted 01/01/2018 at 22:33:30
I'm not sure if on this and other threads posters saw the same game ?
Bolasie was toiling about 10 minutes into the 2nd half and Rooney looked as if he was going to spew up, he looked drained.
I doubt very much Allardyce sent them out at half time to sit back. The problem was United were too good and we couldn't get the ball off them. When we did we couldn't keep it!
We have an inferior squad that needs sorted and that can't be done in one or two transfer windows.
United might have been under strength but they were miles better than us.
Jim Bennings
14
Posted 01/01/2018 at 22:33:37
The sad thing about Everton now is the next two games against Liverpool and away to Tottenham it's just all going to be stopping them scoring.
Is this really how bad it's become with this club now?
Just sitting there and hoping we can keep the opposition out?
What happened to trying to score and trying to win?
Joe McCormick
15
Posted 01/01/2018 at 22:38:34
Noticed that what we need is 2 full backs. Hopefully Seamus will be back but need to replace Leighton sooner rather than later? Couldn't keep the ball and night till McCarthy came on.
Mike Dixon
16
Posted 01/01/2018 at 22:38:52
John 13.
Agree, we didn't sit back out of choice, Man Utd upped their game.
It's nonsense to say we need to attack in numbers, who?
We have deficiencies all over the park.
Ray Roche
17
Posted 01/01/2018 at 22:43:16
Whichever way you look at it, our two previous games were against bottom three sides. We played three defensive midfielders, didn't get a shot on target, garnered one point from six.
Tonight, first half, we at least took the game to them, unlike Chelsea when we sat back. Why did we not do that against West Brom or Bournemouth? Pathetic, spineless displays. You can't blame the players for those tactics.
Mark Andersson
18
Posted 01/01/2018 at 23:07:00
Oh dear... 2018 off to a typical ToffeeWeb start of polar opposite views.
I hope Sam reads these threads so he can feel safe knowing that your average fan knows nothing about the game.

Mark Riley
19
Posted 01/01/2018 at 23:37:36
@18. They're called opinions. Of course they're going to be different. If they weren't, we'd learn nothing.
Eddie Dunn
20
Posted 01/01/2018 at 23:37:58
It is crystal clear that Man Utd have better players than us despite their missing personnel. They upped their game in the second half and our tired (unfit or sick) Rooney and (ring rusty) Bolasie just faded. Vlasic looked lost and Keane and Schneiderlin were like a couple of old tugs caught in the Mersey tide.
Man Utd were looking to shoot from range, as they knew Pickford's lack of height gave them a chance if the defence didn't close down.
Williams was too slow. We look unbalanced with our fullbacks missing and our only source of creativity first half was poor Bolasie. Not yet fit and his pace diminished, I do hope he improves over time.
Watching Mata and Lingard, it was plain that we had nothing to compare in our midfield. We need new faces everywhere.
Jim Bennings
21
Posted 02/01/2018 at 00:05:20
Our midfield holds no fear to opponents – that's why.
Man Utd were poor but at half time they probably thought "Do you know what, these are actually looking worse than us here" and they cranked it up and won it at relative ease.
At least when McCarthy came on, he started letting Man Utd know they were actually at Goodison Park!!!
The midfield we possess now are just puny like, Schneiderlin is a non entity paceless and it's just all too much for Davies yet, midfield battles are now just passing him by.
David Barks
22
Posted 02/01/2018 at 02:13:07
How anyone can say Sam didn't send them out to defend deep in the second half is beyond me. It was clear as day on a bright Bahamas afternoon that they were instructed to defend our half. Vlasic and Bolasie were both sitting in a five man wall in front of the four man wall of our back four, and their heads were on a swivel simply searching for the player and space they were told to defend.
It was so patently clear that they came out to keep it tight in the second half and we gave away the game. I could understand if you were at the match and couldn't see it. But it was perfectly clear on TV and from the commentary.
They sat back and had no thought other than defend. Completely opposite from the first half when Bolasie was pushing up field. It was only after the goal that Vlasic was allowed to start pushing forward again, but you could see even then that his primary concern was marking a United player. That is a recipe for defeat every day of the week. It was pathetic. I was so encouraged after the first half thinking maybe Sam had realized those tactics weren't good enough here. Sadly he reverted to type in the second half and we inevitably lost the game. Pathetic is an understatement.
John Keating
23
Posted 02/01/2018 at 05:35:41
David I'm glad you pointed out that on the telly you could see what the match goers couldn't.
Amazing really as usually I come home and watch the recording and I find it's the opposite.
Anyway I am sure you could see that Bolasie was knackered after about 50 minutes and Rooney looked as if he was going to spew up.
Allardyce didn't set them up to start the second half the way they did. United upped their game and when you have superior players all over the pitch who are comfortable on the ball you're fucked ! And we were.
Our whole squad is substandard at this level regardless of who the manager is.
Steve Brown
24
Posted 02/01/2018 at 06:12:32
Having criticised Allardyce for his negative selections, I cant do that about last night. He set the team up positively with two wide men and the first half looked positive.
We lost last night due to three reasons. Firstly, Niasse cannot retain possssion as a solo striker and his positional play when we were attacking is poor. Secondly, the team started the second half slowly and dropped too deep when Man U pressed them higher up the pitch; that combined with our poor pressing around the box meant they could dominate possession. Thirdly, they overloaded our right side to expose Vlasic and Holgate.
McCarthy wasnt a negative substitute, as he was brought on to rectify points two and three. It would have been better to keep Bolasie and Rooney on the pitch, but my guess is they were exhausted for different reasons.
So fair play to Allardyce on this one, he did his part but the players didnt. Takeaways from last night a) Holgate is not a right back and shouldnt be played there again b) Holgate and Williams are our best centre half combination c) Davies plays better higher up the pitch d) Schneiderlin cannot play without a high energy CDM beside him e) We perform better with pacey widemen f) We need a forward right now.
The squad has quality but it is woefully unbalanced as we all know. So let's get active in the transfer market!
Steve Brown
25
Posted 02/01/2018 at 06:14:51
Can I also give a shout out to Cuco Martina? Heavily criticised and playing out of position but he has improved a hell of a lot recently. One of our best players last night.
James Watts
26
Posted 02/01/2018 at 07:16:26
Steve (24). Couldn't disagree more than if you had said the sky is green.
He set the team up positively with two wide men and the first half looked positive. Those wide men played as second full backs. And I'm willing to bet money that was by instruction.
Secondly, the team started the second half slowly and dropped too deep . Which were instructions from Allardyce. He has said as much in post match interviews.
And so on.
For me, Allardyce got it all wrong, again. Just as Koeman repeatedly did before him. A man with such 'experience' should not be falling into these traps. He has no answer when his back to wall tactics fail. He's proved it for the 4th game on the trot and will prove it for the rest of the season when hopefully the door will hit him nice and hard on his fat arse on the way out of Goodison.
And as for your other comment re Martina. That shows how god awful the team played last night.
Mike Dixon
27
Posted 02/01/2018 at 08:10:06
All this talk about Sam negating attacking football is laughable.
To play attacking football you need players capable of doing so.
Yannick can high tail it down the wing all night and whip it across but we don't have a striker so it's pointless.
Lennoxtown hasn't done that in years now.
Coleman still injured.
As for playing attacking midfielders, who? Ross?
Let's get real, we do not have the personnel to play expansive attacking football.
Don't blame Sam, this is not his shit show.
Thank him we are not conceding 4,5,6 every week anymore.
Listen to what he says.
He's got players who can't retain a ball, professionals sulking, players who can't defend, no striker..
Whoa hang on he sounds a lot like you lot on here
Maybe he is right as most on here say the same as Sam and are experts too!
Joe McMahon
28
Posted 02/01/2018 at 08:25:22
Attacking football and Everton is a fantasy. Below is our starting line up 9 years ago v West Ham. I always remember this match as the strikers came on as subs (FFS). Final score was 1 - 1 and yes a Hibbert OG.
Everton
24 Howard
02 Hibbert
03 Baines
15 Distin
18 Neville
23 Coleman
10 Arteta (Bilyaletdinov 90+3)
17 Cahill
20 Pienaar (Beckford 90)
25 Fellaini
26 Rodwell (Yakubu 62)

Karl Meighan
29
Posted 02/01/2018 at 08:57:17
Some on here are on a different planet Allardyce has given almost all the squad a chance and the simple answer is the players are not good enough.
Allardyce cannot give players quality and turn them into top players by having a system being organised and having a plan.
But hey ho lets bring in the answer that is Klassen and Sandro who showed great potential when they played with the formation 3/2/5.
Steve Brown
30
Posted 02/01/2018 at 09:44:33
James 26, and strangely I don't agree with a word you wrote either. Yet we both watched the same game. It's all about opinions right?
Brent Stephens
31
Posted 02/01/2018 at 09:51:03
Mike #11 "Brent @ 7 Please - I'm going to Anfield on Friday. Don't write us off just yet".
Mike, I'm (still) going too on Friday, to Anfield. I will actually go in hope - that something turns up.
Re the full backs. Yes, problems. Martina is no less effective defensively at LB than at RB; but very little goes forward from there when he has the ball. He is far better going forward at RB; I wonder if somebody else should be tried at LB for the moment, somebody who would be more likely to get the ball forward.
Mike Keating
32
Posted 02/01/2018 at 10:08:43
Where's Luke Garbett?
Or how about swapping Kenny to the left and Martina over to the right where is naturally suited?
Brent Stephens
33
Posted 02/01/2018 at 10:14:54
Mike #32, that might work. Martina at RB - defensively not bad, and good going forward. Kenny at LB - defensively good and might just be more able and more willing to get that ball up the line when in possession (maybe relying on some of those recent sliced long balls which, while going out of play on the right, would curve nicely inwards on the left!!).
Whatever, the nature of attack depends to a large extent on what comes out from defence. I think our attacking problems rest partly with the abilities of our defensive players. Comfortable on the ball - Jags? Williams? Not really.

John Keating
34
Posted 02/01/2018 at 10:39:18
We just throw a name out and think that individual will change everything.
Vlasic, we need him, we play him. Good going forward no defensive sense.
For Lookman see Vlasic.
We need Niasse, we play him, tries but out of his depth.
Once McCarthy's fit we need him, we play him. Played well but no way is there 90 minutes in him.
We need, Bolasie, see McCarthy.
The permutations are endless. To compete in this league teams need 11 fully match fit players we do not have them. We are going along with half a team playing out of position, inexperienced at this level, and others generally out of form. It's like The Perfect Storm.
Slag Allardyce all you want, Mourinho, Guardiola et al would have the same issues and arrive at the same result.
We are now reaping the rewards of total mismanagement since the day Martinez walked through the door and forgot to train, practise and defend.
Allardyce is an easy target because so many didn't want him here but you would be better spending your time aiming your ire at those that put us in this position not the youngsters who are playing out their skins and the management team who have to work with this dross.
Anthony Hawkins
35
Posted 02/01/2018 at 11:11:05
@Brent #33 - the trouble is that non of the defence seem confortable with the ball. Neither does the midfield and neither do the forwards.
There's a bare bones element to the squad that can be built around, with both eyes on the future, but extremely limited for the now.
Even if fit, Bolasie and McCarthy are not the solution to the now. Neither are Jags or Williams. Even Keane seems to be lacking right now.
Barry Pearce
36
Posted 02/01/2018 at 11:17:00
I don't like Allardyce one bit, but the squad is simply not good enough.
Like others have said on other threads.
Oh for the days of Cahill, Arteta, and peanuts.
Tony Abrahams
37
Posted 02/01/2018 at 11:23:54
Totally agree with you about our defenders Brent, and it's maybe possibly why he's trying to bring Keane, into the centre of our defence, even though milk turns quicker?
The crowd grumbled when we brought on McCarthy, hopefully because it wasn't for Snides, but right away we looked a much better team. I say this because I think we have got some decent players, even if I don't think we've got enough of them.
I watch Liverpool occasionally, and if they are pressed, they also give the ball away a lot, but because of their intensity, they retain possession back quickly, when they pin teams back.
We done it ourselves yesterday, when James McCarthy, started pushing us further up the pitch, and we actually started to look like the better team, but got caught with the second goal, not long after Lingard stayed down on the floor for a couple of minutes and took the sting back out of us.
James Hughes
38
Posted 02/01/2018 at 11:27:36
John I think we put names into the frame more in hope and desperation than as a plan.
We can all see the squad is unbalanced and that wasn't addressed during the summer. That apart from being a disgrace, means we have to squeeze players into positions and hope for the best.
If we don't learn from this then we will get what we deserve
Chris Owens
39
Posted 02/01/2018 at 11:45:44
Wrap James McCarthy in cotton wool, and sell him a.s.a.p. He's had a good few minutes on the pitch and is getting rave reviews. Cash in now before he's back on the treatment table again.
Brent Stephens
40
Posted 02/01/2018 at 12:00:16
Anthony #35, yes, so many are not comfortable on the ball. I'm not even sure what the bare bones are that we could build around, save Pickford. The rest are still developing (Holgate, Davies, Kenny, DCL) or are nearly-men who aint going to get better (Lennon; Macca; Klaassen; Sandro; Siggi?dare I say Bolasie?; Schneids - ok, some of them are only nearly nearly!) or now reaching "past it" (Jags; Baines; Williams).
Leaves Gana; Rooney who goes from excellent touch to crap touch.
Not one outfield player I could rave about. Depressing.

Brent Stephens
41
Posted 02/01/2018 at 12:04:45
Tony #37 "I watch Liverpool occasionally, and if they are pressed, they also give the ball away a lot".
That's why, sticking my neck out, I have a hunch Sam will start with Macca on Friday, or play him at some point in the game. I'd like to see a high tempo, pressing game start to the match. Macca, Gana, Davies, DCL, Lennon all as part of that.
John G Davies
42
Posted 02/01/2018 at 12:28:51
Two months ago:
"This is the worse squad we have had in living memory"
Today "Allardyce is a cunt, he can't get them playing"
Certain posters can't have it both ways.
Mike Gwyer
43
Posted 02/01/2018 at 12:32:46
Who can we, the most loyal band of supporters on gods earth, blame the most seems to just go on and on.
Any new manager you can name will make no difference whatsoever. For me, Everton Football Club is full to the brim of players who are well and truly totally fucking shite, we have spunked over £150 million on players that are not worthy of wearing the blue jersey. So blame big Sam all you like but even Jesus and his holy grail would stutter to get these players moving the ball about the pitch. It almost brings you to tears watching how bereft of ideas Everton players are when they have the ball at their feet.
I too can't wait to get rid of Friday's game because that lot across the park will not fuck up a second time when they are given almost 82 percent possession.
Solution: I have no idea but for me it's now not a manager problem but the quality of players we have on the pitch. Hopefully players will be leaving this great club and for some of them, the sooner the better.
Ian Hollingworth
44
Posted 02/01/2018 at 12:34:03
Mike (43) spot on.
Ian Edwards
45
Posted 02/01/2018 at 12:53:02
I was largely supportive of the decision to appoint Allardyce but the recent tactics have been horrible.
It's as clear as the nose on your face that no chances are going to be created with just one up front and the rest of the team packed with defenders and holding midfielders and one wide player.
Three holding players started against Bournemouth and when a goal down last night McCarthy was brought on.
They have the audacity to charge £41.00 for an obstructed view to watch that dreary negative rubbish. This is worse than Moyes...if that's possible...
As for Friday expect a performance and attitude worthy of a non league team going to a big club. Allardyce will say sit deep and then pray the score is kept down. .
Dave Ganley
46
Posted 02/01/2018 at 12:55:05
You can always get the best out of what you have. 10 to 15 years ago, Man Utd were a far better team than the current lot are yet we always managed to give them a game, especially at Goodison Park.
Yesterday's capitulation was pitiful against an average Manc team. Yes the players aren't world beaters but we just caved in in that 2nd half by being asked to sit and defend while United actually tried to win the game.
This is what I said on another thread about people accepting mediocrity. How many people have just shrugged their shoulders and said well they were just better than us? Maybe they are but that's no excuse for shit house tactics in that 2nd half when we failed to barely get out of our own half.
This is Allardyce's tactics and anybody trying to defend that shite baffles me. We played exactly the same against WBA and Bournemouth, what's the excuse for that?
Players may be limited but any half-decent manager can and should get the best out of those limitations. We were not even close to doing that yesterday in the 2nd half. That game was up for grabs with a bit of effort but Allardyce completely scuppered that with rubbish tactics designed to contain not to win. Shameful.
Steve Ferns
47
Posted 02/01/2018 at 13:01:17
Post Match press conferences from a new manager often result in positive comments.
Martinez was all positivity, and we lapped it up. It was great to hear the top man say we "can do" instead of talk about what we can't do (Moyes). Fast forward three years and the press conferences were deluded ramblings that bore no resemblance to the game. Positivity without substance.
So in game Koeman, and it was refreshing to hear the new manager tell it like it is. "Honest Ron" he became known. But that soon gave away to "But that's football".
Allardyce is now said to be a refreshing change. No doubt he can identify what happened on the pitch and tell us his observations and what we did wrong. But it's already starting to grate for me. Instead of telling us, do something about it. It's still early, he still hasn't had a chance to get new players in, and so I'll cut him some slack.
My point is, what the new guy says is always great to hear at first, but soon the very thing you like about him is the very thing you hate.
Steve Ferns
48
Posted 02/01/2018 at 13:03:48
We lost it at half-time, Dave. We were the better side for the last 25 minutes of the first half. Then Man Utd came out and got on top and there was nothing we could do about it.
As I said elsewhere, Calvert-Lewin for Niasse would have made a massive difference, as the ball could not stick once we got it forwards, and Niasse is incapable of bringing in other players like Bolasie or Vlasic.
Karl Meighan
49
Posted 02/01/2018 at 13:24:18
Dave @46 three managers have tried has any of them got what you consider to be the best out of them?
Could it be that the players who have all played in various positions and formations are simply not good enough. Effort, structure and will can give you so much quality cannot be given.
Steve Ferns
50
Posted 02/01/2018 at 13:34:23
Not good enough compared to Man Utd? Sure. Not good enough compared to Bournemouth? Not having it.
Add to them the performances against Swansea, West Brom, and largely, in every game so far. Allardyce is yet to put a 90-minute performance together, and he's played some teams like Newcastle, Huddersfield, and the ones mentioned above where even this team in a bad run of form should be able to look convincing.
We finished 7th last season and only Lukaku and Barkley have not been available for selection. There's no reason for it, not when we spent what we did.
Dave Ganley
51
Posted 02/01/2018 at 13:36:39
Karl, the last 3 managers just haven't been good enough full stop. Say what you like about Moyes, and I'm in no way saying Moyes was great, but he did get the most out of what he had.
In the 2nd half we didn't chase, harass or give them any problems whatsoever, save for when McCarthy came on. We just let them have the ball to do as they wished. Those boos for the substitutions weren't for the players coming on – it was for the statement it made.
Playmaker Rooney coming off, we replaced him with a workhorse instead of Sigurdsson. Chasing the game at 1 down and show no intent to try and at least get back on level terms. Calvert-Lewin stuck on the bench till the last 10 mins. No ambition no willingness to put united out of their stride and no attempt to win the game.
No, Karl, the last 3 managers have been absolutely rubbish in getting the best out of the players. They make Moyes seem like a football genius compared to them. The shithouse board keep employing average to crap managers. When our stock was quite high after Moyes we went for a rubbish relegated manager and its got no better since. Disgraceful.
The board should be ashamed but they just don't seem to give a damn. It's left to us, the fans to actually care whilst we endure one shit performance after another.
Steve Barr
52
Posted 02/01/2018 at 13:38:04
Steve @48. My son managed to see the game (home from the USA and unfortunately his 2 games were this one and away at Bournemouth). I came home a few weeks ago and got West Ham and Huddersfield!
Anyway, his take on the game mirrors yours. He said he and others around him didn't want the first half to end as we were in the ascendancy and, based on previous, you just knew we'd sit back in the second half and the inevitable would happen.
We always seem to do this – not just a Big Sam trait, I'm afraid. Moyes did it often, I particularly remember the FA Cup Semi-Final against Liverpool!
I'm afraid this season is another write-off and until we get new leadership, on and off the pitch (mainly the owners), we will not progress.
Our owners have no vision or ambition and our current plight is the inevitable consequence of decades of neglect at this level.
Dave Ganley
53
Posted 02/01/2018 at 13:38:21
Steve, I totally agree we lost that game at half-time. It was a game we could have won if we'd shown the same level in the 2nd half as the 1st but Allardyce and his awful tactics wouldn't let us.
Jay Wood
[BRZ]
54
Posted 02/01/2018 at 13:40:45
Dunno how anyone can categorically come out and say that the manager definitely sent them out to play deeper in the second half, whether based on watching at the match, on telly or on a dodgy stream.
The manager's own post-match comments refute this 50 seconds into this clip:
"Defensively we weren't too bad in the first half, but in the second half we just decided we weren't going to bother closing United down..."
That reads to me that the team were not playing to Sam's instructions. The result of this on-field decision taken by the players was to cough up 2 goals from our own mistakes, backing off without putting in any sort of challenge to the player on the ball.
Rob Young
55
Posted 02/01/2018 at 13:43:44
Jay,
But we also didn't bother in the first half or in the previous games. Yet, he keeps picking the same players even though they don't follow his instructions?
Steve Ferns
56
Posted 02/01/2018 at 13:52:59
Jay, it might have been a player thing. Did you see the freekick we messed up right at the end? Well right up til then we had been all over them. After that scare (gifting them a chance from nothing), we seemed to lose a bit of huff.
Then Mourinho tore a strip out of his side because they came out much stronger. Unfortunately, we were unable to match their effort in those vital 15 minutes after half time, and they scored in the 59th minute (think that's what the scoreboard said), and Allardyce did not try to do anything to wrestle back control.
A substitution at 0-0 and 59 minutes would have been McCarthy for Davies. After we went a goal down, and needed to attack more, I didn't think this was the right sub, but he actually took off Rooney for McCarthy and then put on the very one footed Lennon for Bolasie and we were done as an attacking force. I don't know why he thought Lennon can play down the left, it's not like he can play in nice passes on his right from the left flank like Sigurdsson can, who stayed say on the bench.
So maybe, Mourinho won it at half time, but Allardyce didn't do anything to try to get control back, and I felt he did not envisage that Utd would come out all guns blazing after half time, which seemed obvious to me. Again, Clavert-Lewin should have been on the pitch.
Stan Schofield
57
Posted 02/01/2018 at 14:00:06
Steve@52: Spot on. Regardless of who the manager is, there seems to be a chronic fragility, which surely comes from the top.
John G Davies
58
Posted 02/01/2018 at 14:04:29
We need a dog in midfield, Stan. One who can play but won't accept anything less than 100% from his team mates. We are too nice.
David Barks
59
Posted 02/01/2018 at 14:07:31
This quote from Allardyce after the game, along with the visible evidence to start the second half when the midfield was forming a five-man wall in our half, is why it seems fairly clear it was instruction from Allardyce to come out and defend the 0-0.
"That's going to be our main objective to make sure we pick up more points and wins by not conceding goals, knowing that one goal can win us three points because our ratio of chances created is very limited."
He sent that team out to simply defend in the second half and maybe get a late corner or free kick to try for a goal. That was it and it was pathetic and we lost.
John G Davies
60
Posted 02/01/2018 at 14:10:47
Niasse up front give us no option, David. The ball does not stick when it's knocked into him. The midfield doesn't push up high enough as they know it will bounce off him.
A lad who gives his best but is obviously not good enough.
Steve Barr
61
Posted 02/01/2018 at 14:11:47
Jay,
I appreciate one does not know what's actually said behind closed doors. My statement is based on what I see now and have seen from Everton over a long period of time.
I gave up believing what anyone concerned with the club says publicly a long time ago!
Steve Ferns
62
Posted 02/01/2018 at 14:12:40
Schneiderlin is a sulker. He doesn't say much. Gueye never seems to talk, so i'd say he is too nice. Davies seems to be too quiet, but he does get stuck in when with players who are similar in age to him (ie his u23 mates) so I think he'll get more vocal as he gets older. Sigurdsson is very quiet. McCarthy seems too nice but he doesn't sulk he does try to put it right.
Which leaves Rooney, and I think he is someone who won't accept anything less than 100% and he does badger the ref, like Pogba was doing last night.
Also, did anyone note the way that Pogba effectively killed off the game? There was 10 minutes left. Holgate took down Rashford and got booked. Pogba was upset at the challenge and went beserk. Not only did he waste time, but it unsettled us and we lost momentum and didn't really threaten again and the ref instead of adding on 5 mins plus, added on nothing (think it was 3 minutes) and the game ended very flatly.
At one stage though it looked like Pogba wanted to play left wing so he could get at Holgate. This is where we needed someone with steal to have gone out to the right mid position and looked after Holgate. Back in my pomp, I would certainly have looked to do so, and would be ready for a fight with Pogba. yes, certainly we are too nice. The only player we've had who hasn't been too nice in the last 10 years is Cahill.
Dave Evans
63
Posted 02/01/2018 at 14:30:10
Good players have combinations of skill, work rate and aggression (not allowing the opposition to take the piss). Gana and some youngsters tick a couple. Rooney all three in patches when he can run and Seamus Coleman all three in most games before he was injured.
But the current squad at this point seriously lacking.
John Keating
65
Posted 02/01/2018 at 14:31:09
Reading all the tactical and personnel experts on here, based on out of form, too old, not yet fit, too young, playing in the wrong position etc etc etc; my team for Friday would be
Pickford, Vlasic and Lookman.
Ordinarily I would only have picked Pickford but as it seems Vlasic and Lookman are the ones capable- apparently- of getting us back to School of Science stuff I've reluctantly chosen them.
Oh yes I would also bring back Koeman as apparently the negative shite football only happened after he left.
Jay Wood
[BRZ]
66
Posted 02/01/2018 at 14:44:20
Rob @ 55. Sorry, but your claim is patently not true on both points.
The team did 'bother' in the first half and in previous games, as the string of shut outs under Sam Allardyce proves.
Due to the very heavy fixture schedule he has not been able to "keep picking the same players." Out of necessity, to reduce the risk of injury from fatigue, he has had to juggle the squad.
This, in part, has impacted on results. The settled back line of Kenny-Holgate-Williams-Martina has been our most effective in that regard. They - and other players performing well in the team since Sam arrived - could not be expected to play every minute of every game of the 9 fixtures Everton had to fulfill in the month of December.
David @ 59 : United clearly upped the tempo immediately after the break. Everton clearly didn't do what they had been doing until then (and in previous games under Sam) - get in their faces and get a foot in.
This quote I offered from Allardyce equally clearly demonstrates he was not happy with that and so it is more than reasonable to conclude the team was not following his half-time instructions as you so confidently speculate.
Steve @ 61: "My statement is based on what I see now and have seen from Everton over a long period of time."
Exactly! It is a meek, default, systemic mindset of the players...? the club...? the hierarchy...? that didn't raise its head for the first time in the second 45 minutes of yesterday's game.
It is an ailment that permeates many aspects of the club and has encumbered more than just the present manager.
Steve Ferns
67
Posted 02/01/2018 at 14:49:36
Jay one factor you might not be aware of is the atmosphere. Sad to say, for a Man United game, it was the most flat atmosphere I can ever recall. I believe it was due to playing the late kick off on New Year's Day. Also, whilst the game was a sellout (the obstructed views in the Upper Gwladys were all taken), there was quite a few empty seats in season ticket holder spaces.
I think a more boisterous crowd could have helped the team up their tempo early in the second half.
Rob Young
68
Posted 02/01/2018 at 14:59:16
Jay, this was about us closing down the opponent, and I respectfully disagree that we bothered to close them down in previous games. Maybe the reply was not that clear, I admit, but in my mind I was talking about our midfield including Gana / Schneiderlin / Davies / McCarthy.
It struck me most at Bournemouth when we had three defensive midfielders and still the opponent walked right through on many occasions without anyone getting close to them. As did Man Utd a few times in the first half yesterday as well. I did not see us close them down at all. We sat back.
McCarthy did well when he came on and it was only his first game back at Bournemouth, that's fine. The other three have been awful, poor and average at best this season.
Jay Wood
[BRZ]
69
Posted 02/01/2018 at 15:18:18
So Rob, to be clear. You are now saying that we have not 'bothered' to close down in just the last 2 games you reference, correct?
Because your earlier post rather implied a longer time span than that. As you yourself acknowledge, it wasn't clear. If so, possibly true in part, but not IMO applicable to the 1st half against United yesterday.
Changing your focus as you now do in your last post to the individual and collective performances of our midfield players is a different discussion altogether.
Rob Young
70
Posted 02/01/2018 at 15:56:07
Jay,
previous matches I meant last 4 (including) yesterday.
Anyway, let's hope there is no room to disagree come Friday evening.

Karl Meighan
71
Posted 02/01/2018 at 16:44:07
Dave you make it sound easy, the best out of what hes got, we were unbeaten in 8 before the Bouremouth game.
Tactics formations these things are not mentioned in a winning team, Allardyce puts these invisible creative players on yesterday at 1 down its more likely we lose the game by 3 or 4 goals like other times this season. At 1 down there is still a realistic chance of rescuing the game. Man Utd don't stop attacking because we throw more bodies forward.
So do we just keep sacking managers until we strike it lucky, it took Moyes who you seem to be a fan of time to put things in place as it will with any new manager.
Steve Barr
72
Posted 02/01/2018 at 16:47:43
Jay @66.
As I said in my OP "we always seem to do this – not just a Big Sam trait" and I'm afraid that any manager will be hamstrung while we have the current ownership in place.
Sad to say we'll have to await the coming of a visionary to take over from Kenwright which is not very encouraging for us Evertonians, having to rely on a miracle!
They do happen though, albeit historically at the manager level with the likes of dare I say Shankly at Liverpool, Nicholson at Spurs, Clough at Derby and Forest, Revie at Leeds and of course Catterick and Kendall here at our beloved Everton.
Unfortunately things have now changed since the advent of the Premier League and money, and unless club owners have that ambition and vision the likelihood that any one manager will make a big impression is limited in my view.
I'd love to be more optimistic as we enter a new year but you never know!
John Charles
73
Posted 02/01/2018 at 18:18:50
Steve @67 yes the atmosphere was non existent, I believe this is because most people (like me) thought we would get beat and that Sams team would offer nice thing going forward just desperately hoping for a nil nil.
As it happens I thought we were ok first half before reverting to Sams norm in the second
Julian Exshaw
74
Posted 02/01/2018 at 18:40:14
I would call it 'The McCarthy 10 minutes', a glorious spell last night when a few tackles had Goodison on its feet and most armchair viewers like myself shouting at the TV. It was like an adrenaline rush which followed 25 minutes of frankly embarrassing, wishy washy dross from our boys. Mourinho, clever sod that he is, duly noticed this stirring of Toffee passion and broke up the game with what turned out to be a minute-long substitution. It killed our momentum dead.

Now that 10 minutes should be standard at Goodison, under lights against Man Utd with, love them or loathe them, a passionate trio of coaches. The fact that it isn't is the thing that saddens me most with this team. As to why it is non-existent is anybody's guess. One can forgive a lack of talent to a point, but a lack of passion when pulling on that blue jersey can never be acceptable. Here's to a 90-minute McCarthy moment on Friday!
Graham Blakeman
75
Posted 02/01/2018 at 19:22:28
Clearly we all agree the current tactics and setup are awful to watch. We are set up this way because our attacking players are so technically poor and basics like ball retention in the final third are absolutely fucking abysmal. This has been going for ages and will take ages to put right. Basics such as passing the ball on the deck and into feet are sadly missing due to years of inept coaching.

I'm also glad the manager has seen with his own eyes, how badly we are getting these fundamentals wrong. Like he says giving the ball straight to the opposition from a thrown-in is completely unacceptable at this level.

Dave Ganley
76
Posted 02/01/2018 at 20:02:53
Karl the only reason I'm a fan of Moyes was because he managed to put some pieces into place to make us competitive again after he picked up the mess that he was saddled with. To be honest it's not unlike the mess the previous 2 managers have left us with. I don't mean to say it's easy as it's clearly not but that 2nd half was absolutely atrocious especially given how we played in the 1st half. We haven't had a team that would put the effort in consistently since Moyes was here. It should be a given that players don the basics every game. Sure class generally wins in the end and those 2 goals were very good, but it was so avoidable. We had the capability as was shown in the 1st half to trouble them and it was certainly obvious to me that they had been told to sit deep in the 2nd. Very negative and ultimately useless strategy.
I agree that it will take time to turn us around again but for me at least, Allardyce is not the man to do it. He's dour as is his football. I would hate to watch this for any period of time. I've had my fill of dull to boring losing football under koeman and Martinez. I'm more annoyed that this has been allowed to happen in such a short space of time rather than the performance yesterday. Moyes stayed probably 2 or 3 years too long but he left the club in decent shape with all the top clubs wary of us if nothing else. Now we are a laughing stock with a succession of rubbish managers that have dragged our club down to this pitiful level and the current incumbent won't make us any more of a football power than we are now. Yesterday and the previous Xmas games have proved that to me. How on earth is it justified to go to Bournemouth and WBA to not lose a game? Awful tactics as was yesterday in the 2nd half. That run that we had was littered with luck and whilst it's part of the game, you try not to rely on luck. Dodgy penalties, having our woodwork struck on a fee occasions, it wasn't tactical genius that got us some results. We are a mess and big Sam is part of that mess. Kenwright has a lot to answer for, not least being in the position whereby Allardyce was even considered for the Everton job
Andy Crooks
77
Posted 02/01/2018 at 20:28:52
Sam' s honesty will be refreshing only until we reach the point where he will, in some way, be seen as being culpable for the shite being dished out.
That day might be soon enough.
John Keating
78
Posted 02/01/2018 at 20:31:18
Yes our football is slow, dour, boring with no skill whatsoever.
As I mentioned in another thread I would love to support a fast exciting skilful team like Arsenal or Man City.
Can you imagine what they would do to shit bottom of the league teams like West Brom and Palace ?? They'd never come away with draws like we did.
Dave Ganley
79
Posted 02/01/2018 at 20:37:46
Without wishing to compare ourselves to Man City and Arsenal, I'm quite sure either went to those sides putting 10 men behind the ball, John. Is that the extent of our ambition now? It's okay to be dour and negative at rubbish teams because Man City and Arsenal had off days there? Sorry, John, that's a terrible counter-argument for Big Sam.
David Barks
80
Posted 02/01/2018 at 20:38:54
John Keating,
Again with that ridiculous comparison. You really should put it to rest. There was no comparison between Arsenal drawing after a terrible penalty decision against them and us parking the bus to hold out for a 0-0.
John Keating
81
Posted 02/01/2018 at 20:50:04
David Barks
yes David repeating myself.
Have you read the non stop cut and paste repeats from the anti brigade ??
My 2 posts are not in the same league !
I would suggest you balance it out and pull them up
Mike Dixon
82
Posted 02/01/2018 at 22:22:48
David 80.
There is direct comparison.
One point.
It's a results business.
Reality.
You can play fancy Dan football to your hearts content, but if you don't pick up points you are toast.
Horrible I know, but don't blame Sam blame Murdoch.
Karl Meighan
83
Posted 02/01/2018 at 22:41:53
The mess was left by Koeman and it wont be sorted out before Allardyce has had a transfer window.
The going away keeping it tight and nicking a winner is the best we can expect with these players.
The lets attack playing with four number tens was tried and had us in the relegation zone. Andy@77 if Allardyce keeps us in the Prem he will hav turned are season around.As for culpible for the shite being dished up, two defeats in ten stands up with most in the division, take a look at results before he took over they were shite as proved by the sacking and the Unsworth failure.
I read luck mentioned, you make your own luck on a football pitch and talk of sacking Allardyce before a pre season, transfer window or a dozen games in charge is laughable.
John Pierce
84
Posted 02/01/2018 at 22:59:25
Already in a much relieved position before the Chelsea game, more so after it Allardyce chose to remain without adventure nor attacking intent against two of the poorest teams in the division.
The was no need to produce either the bizarre selections he came up with and the turgid tactics, when under no pressure to do so.
So whether the man gets better players or not he has already shown he's not for turning. Yuck.
Karl Meighan
85
Posted 02/01/2018 at 23:20:34
Based on 2 games and bizarre and turgid to you John, and sorry I don't know what "hes not for turning" means? So cant really answer that.
Under no pressure? It's the Premier League, pressure on every game as if you don't pick up points you end up in the relegation zone.
As for tactics you can have the best managers in world football coming up with a masterplan but you need the players to carry them out otherwise there just notes on paper. I will put it like this Benitez is supposed to be a brilliant tactician so why are Newcastle below and possibly a worse than us.
Mike Dixon
86
Posted 02/01/2018 at 23:20:37
Just watched Carroll get a brace. God forbid we get a big striker that the anti Sam brigade are so afraid of .
David Barks
87
Posted 02/01/2018 at 23:22:44
Mike Dixon, what? Thoroughly confused as to what you're trying to say there.
Ernie Baywood
88
Posted 02/01/2018 at 23:39:25
A boxer who knows they're up against a better standard fighter doesn't just cover up in the corner. You have a go... see what happens. It's a free hit - give it your best shot.
We're just going on the pitch waiting to be beaten and I can't accept that. To then blame defensive errors when all we do is defend doesn't wash at all with me. If we can't defend, maybe try attacking every now and then?
Roman Sidey
89
Posted 03/01/2018 at 00:35:56
John Charles, 5, I read a few minutes ago that before this spell of matches, the last time we went an entire home match without a shot on target was December 2011. I think it was against Stoke, and I remember being very angry at Moyes and joining the chorus of supporters saying that it was grounds for dismissal. How much the game has changed in six years is amazing inasmuch as going an entire match without a shot on target is now becoming terribly common.
Graham Blakeman, 75, the fundamentals haven't been a strong point at Everton for as long as I've watched them (2002), and the throw-ins in particular drive me mad. It seems under four managers I've been around for, only the fullbacks are allowed to take throw-ins. In some cases this gives the opposition all the time in the world to set up to defend and we regularly concede possession from them. So this seems to be something the manager could do something about by simply saying "use some common sense when it comes to throw-ins."

Karl Meighan
90
Posted 03/01/2018 at 01:22:39
Going on the pitch waiting to be beaten, weve lost 2 in 10 which is alot better than Koeman or Unsworth managed.
For me its simple average/poor squad that conceded lots getting tonked 3 and 4 easily by average teams= back to basics, be hard to beat, clean sheets if possible be compact keep it tight, concede no goals lose no games and stay in the games long enough to give ourselves a chance of winning.
Alternative be positive play widemen who offer no cover to fullbacks have a bit more of the ball get tonked by Soton, Atalanta twice, Lyon, Man U and more and probably end up like another Leeds.
Phil Lewis
91
Posted 03/01/2018 at 02:34:29
Let's make one thing clear, Allardyce was a panic appointment. Rumour has it that Moshiri had cut a deal with Chinese financial backers with regard to the proposed new stadium. True or not, early season results sparked real fear of relegation and with it, the consequence of financial meltdown and backers pulling out. To avert this impending disaster, the order was given, appoint the man who guarantees Premier League survival, at all costs. Everything that this club stands for both on and off the pitch was sacrificed. Fans protests ignored. There was simply too much money at stake. Nothing could be left to chance.
Regardless of recent results, maybe the tried and trusted Allardyce formula will achieve its goal, i.e. Premier League survival. It will undoubtedly achieve little else, for no other reason than the man is simply incapable of producing creative football. Not since the days of Gordon Lee, have I witnessed such negative tactics. Some argue it's a case of 'needs must'. I understand their logic, but cannot subscribe to it. I have a life-long love of Everton, but I am also in love with football. Adventurous, creative, total, glorious, passionate football, played from the back, with a solid defence.
I make no apologies for being a purist. As much as I hate to say it, that is the direction Klopp is taking them across the park. There has to be another up and coming Pep Guardiola somewhere in the world, just waiting for the opportunity to take residence at our 'shiny new Docklands stadium'! You would have to be a masochist to take any sort of pleasure from the football currently on display at Goodison Park. I believe that will be the case at least for the next 18 months while this smug artisan is in charge.
Dave Ganley
92
Posted 03/01/2018 at 09:43:47
I get what you're saying Karl and indeed results are better than they were (couldn't get much worse) but I will never give thanks for having to endure anti football.
The performances against Atalanta Southampton, Lyon etc were nothing like the first half against United. The above 3 were just awful, the first half against United was positive then we just went into our shell and back ked off them. Unacceptable. I can just about get my head around parking the bus against the likes of Chelsea and RS (although I hate it) but not against the likes of WBA and Bournemouth. All round it's horrible and it comes to something when people are happy with this. Little or no shots on target during a game is not how football should be played
Karl Meighan
93
Posted 03/01/2018 at 11:29:19
Phil @91 if things were as simple as you seem to think we would simply get one of these managers who play great attractive football and win trophies every season.
Not since Gordon Lee – Kendall and Royle apart for a spell – every manager since has dished up shite and trophyless losing football teams. Moyes did a good job imo, I should add to that.
Allardyce was appointed in a panic, that would be almost every appointment after a manager is sacked regardless of Club during a season.
The direction Klopp is taking the RS he has added slowly to a squad that already had top quality players in it, the Everton squad is sadly lacking the creative force that Klopp had to build on.
The rest of your points are it seems about a dislike for the man, which unless you know the man personally I find strange.
Ray Robinson
94
Posted 03/01/2018 at 11:56:00
Phil #91, you seem to be forgetting the Walter Smith era - as bad as anything right now!
I can see both points of view although I don't think Allardyce was a panic appointment, it was a logical, pragmatic one in my opinion.
For years, Evertonians have moaned about lack of investment. Then when an investor comes along and takes measures to protect his commitments, we moan about appointing a manager who should "safeguard" our premiership status, albeit playing safety first football. Well, every manager in the league apart from the self-preserving top six, has the same instructions - to keep the team in the top flight regardless - apart maybe from Eddie Howe whose club try to play attractive football but flirt with relegation every year - a club whose home gates are 10,000 and has relatively lower expectations.
Let's face it, the PL is a greedy, self-serving organisation but everyone wants to be a part of it. Allardyce's teams may play boring football but I can see the reasons for it.
As an aside, I don't believe that we currently possess the players to play an expansive game - but that's a separate discussion.
Phil Lewis
95
Posted 03/01/2018 at 12:40:03
Karl (#93).
Football is a simple game and when played at its best, it is kept simple. It is money which complicates it.
I don't need to know Allardyce personally, to dislike him. I disliked the way he played football, I dislike the tactics he employs as a manager and his shady dealings which culminated in his England managerial departure, speaks volumes about the man.
As a matter of fact, I don't know Donald Trump either, but that doesn't stop me despising him.
Karl Meighan
96
Posted 03/01/2018 at 13:20:23
Phil, if football was so simple, every kid who supports Everton would grow up playing for them. As for disliking people, your choice; I will make my choice if and when I get to know a person and won't base it on something I've read or the stereotype of them.
George Cumiskey
97
Posted 03/01/2018 at 13:23:15
Nobody expects to win every game, but shouldn't we be showing some kind of semblance of at least trying to win? Instead of this "safety at all costs", "ten men behind the ball" type of football? Especially against the lower placed teams?
Phil Lewis
98
Posted 03/01/2018 at 14:14:24
Karl (#96),
With respect, you seem to have missed the point I was trying to make. Which was that great players and great managers for that matter, make the game look simple.
To qualify my remarks about money complicating matters, I meant that money brings greed, resentment and fear. All the things that stifle creativity and passion. Manchester City for instance had abundant money before Guardiola. I am not so naive to believe that people are not attracted by financial rewards, but it is his genuine love of the beautiful game, his creativity and vision which has made the difference to City's performances from previous managers. Allardyce is not on the same planet as him, let alone the same league!
As for only disliking people once you get to know them, I must assume that you would have excused Hitler's invasion of Poland, by putting it down to him "probably mixing in the wrong company".
Neil Cremin
99
Posted 03/01/2018 at 14:20:36
Chris (#39),
Thankfully you are the only one who is having a go at the only player who showed some bottle and didn't kow-tow to Man Utd. He took them on and showed their star players no respect. He showed us all what we have been lacking for months and hopefully silenced the unbiased moaners when he was brought on. We can have loads of players on the long-term injured list, would you say the same for them?
On a recent thread it was shown how many games Macca has played since joining us and which has surprised many. Unfortunately he has become a fall guy for our woes often perpetuated on this site. Those who are not biased have praised his performance, others have found it hard to admit his role on driving the team forward on Tuesday but have the good sense to say nothing and then there is you.
Right now, we could do with a few more with the spirit of Macca to drive the team on. Remember the Dogs of War.
Roman Sidey
100
Posted 03/01/2018 at 15:23:00
Neil, I think Chris' post was actually a thinly veiled compliment to the lad. That's how I read it anyway.
Karl Meighan
101
Posted 03/01/2018 at 15:34:47
Phil it hasn't got nothing to do with the fact the said Guardiola has unlimited funds to buy the best players in the world, with the finances you say complicates the game. and just one point on that Guardiola has yet to win a trophy at City as it takes what your not allowing Allardyce time.
David Barks
102
Posted 03/01/2018 at 15:48:54
Karl,
No, Guardiola's success at City isn't simply down to money. He has taken a group of players and made all of them much, much better. He has transformed Sterling. De Bruyne has been taken to an entirely new level and then a level beyond that. Silva vastly improved. Fernandinho vastly improved. Stones, massive improvements.
Guardiola said to hell with the English love-in of Joe Hart and got rid. He was blasted for that all last season. Everyone is now having to eat a massive humble pie. Walker has become a massively improved player under him.
Of course he has spent money, but many of the players he's working with have been there and he has improved them. Sane was a purchase that has been impressive. But Jesus was a big purchase that has been constantly injured. It is still Aguero leading the attack. He's turned Delph into a wing back for God's sake.
Management is much more than just buying players. Guardiola is proving that, with his style dominating England after being told by the British press that he would never succeed in the physical English game with that passing it or the back approach. He makes his players better, simple as that. And he attacks.
Jackie Barry
103
Posted 03/01/2018 at 15:50:45
Agree to a large extent but why did he change things? Williams and Holgate were rock solid. Feels strange to say that.
John G Davies
104
Posted 03/01/2018 at 15:58:36
Karl,
Guardiola has without doubt improved the players at Man City. It helps if the players you have are all £50 million plus players to start with.
Karl Meighan
105
Posted 03/01/2018 at 16:01:19
Yes, David and Allardyce has and has the money to buy this type of quality, turned Stones and Walker into better players, Walker already proven at the level and hasn't played 30 games De Bruyne cost £50m Stones has been injured, as for Delph if he played for a team outside the top 6 imo it would be a different story in fact the likes of Phil Bardsley who is average as fuck would look a world beater with those players around him.
By the way I never said Guardiola wasn't a top manager but comparing what resources he has at City to What Allardyce was left at Everton is simply laughable.
If only anybody had left that quality at Everton.
Phil Lewis
106
Posted 03/01/2018 at 16:03:44
David #102
Amen to that! Sanity at last!
David Barks
107
Posted 03/01/2018 at 16:23:46
I just do not buy this crap that Allardyce doesn't have players to work with. His tactics is making it impossible from an attacking perspective and making everyone just focus on defense.
Klaassen is a talented player. To write him off after a handful of appearances in an underperforming side is lunacy. He was the Ajax captain and led his club to the Europa League final, scoring 16 goals let season. He's started 3 league games this year. You can not judge him by that. Same goes for Sandro. Lookman can't get a spot on the bench. Gets some game time in a Europa League tie, scores, then back into the dark.
Allardyce is choosing to not try to attack because he has said he is focusing on just not giving up goals. As a result he isn't even considering those attacking players and instead loading a midfield with Gana, Schneiderlin and McCarthy, with Lennon being given game time as if he's a star. Nobody can say what Calvert-Lewin is capable of because he's been thrown up top to run onto misplaced long balls from Pickford.
There are decent players in our team. He could start with natural wide men and have Gilfy in the middle where he belongs. He could try to have at least a semblance of balance in the team. He's chosen not to.
John G Davies
108
Posted 03/01/2018 at 16:26:27
How high up the table do you think Pep could have improved this squad in 7 weeks David?
Dermot Byrne
109
Posted 03/01/2018 at 16:28:13
You may be right David in most of what you say.
What I definitely agree with is
He could start with natural wide men and have Gilfy in the middle where he belongs
It is madness to play him elsewhere.
Ask Southampton and Iceland.
I hate our "can play in many positions" crap that we say so often. How about can play in one position well?
Dermot Byrne
110
Posted 03/01/2018 at 16:30:02
But Griff on wing John G? Surely?
John G Davies
112
Posted 03/01/2018 at 16:39:55
With you on that one Dermot.
Should be played centrally or worse case scenario tucked in on the left of a three
Jay Harris
113
Posted 03/01/2018 at 16:41:04
David the major problem is we don't have Guardiola nor his expensively assembled squad.
We have seen a succession of manager fail with the bones of this squad and the appalling recruitment of unsuitable players while allowing our top players to leave while under contract.
None of this shit is down to Allardyce. He has at least come in and steadied a sinking ship of titanic proportions can we all please give the man a chance to reshape the worst Everton team in my 57 years of watching them.
Neil Cremin
114
Posted 03/01/2018 at 16:55:04
Maybe your right Roman but I am so used to reading vile against all of our players on this that sometime maybe I don't see irony.

David Barks
115
Posted 03/01/2018 at 17:04:15
Jay,
That comment right there is the crap I'm so sick of. "Worst Everton side in my 57 Years". Total and complete nonsense.
Allardyce came in with favorable games and picked up a coupe of wins, aided by a string of fortunate penalty decisions. But penalties happen and sometimes you benefit from them. That being said, the ship has made another turn as is staring straight back into the storm. To credit the early response to Allardyce and seemingly ignore the past 4-5 performances, you can't do that. What's more important, what happens 4 weeks ago or what is happening now and for the past 2-3 weeks? If it was sunny 4 weeks ago but now it's raining, should I go out without an umbrella because I can remember the sunshine last month?
Jay Harris
116
Posted 03/01/2018 at 17:12:26
Was Southamton at home a "favourable" game and need I remind you of the result.
Was Limassol a "favourable" game too?
Atalanta?
You cant make a silk purse out of a sows ear and right now we are a sows ear and have been for most of the season.
I personally can see a bit of a lift in the players because of the new regime that I didn't see before but it is obvious to all and sundry including Allardyce that we need change and we need a goalscoring forward.
Jay Wood
[BRZ]
117
Posted 03/01/2018 at 17:56:12
Phil @ 98:
Sorry Phil, an honourable ideology about the 'beautiful game' you put forward, uncorrupted by money. But then you shoot yourself in the foot by putting up Manchester City and Guardiola as an example of what a 'purist philosophy' can achieve.
City has been ruthless in pursuit of on field (and off field) success, backed by the wealth of a medium-sized nation state. This included a carousel of different managers, all of whom won trophies financed as they were each season by an annual budget some clubs spend in total in 10-15-20 years.
The city owners have longed to appoint Guardiola since they first stepped into the club. They were initially not an attractive enough draw, but with each passing year as trophies accumulated and managerial 'upgrades' continued unabated, they were finally able to position themselves as worthy of his interest.
Together with the timing of the failing of the presumed perfect mixed marriage of Bavarian efficiency and Catalonian flair, Guardiola was kicked out of the marital bed at Bayern Munich and jumped into the sack with the upstart Manchester floozy who battered her eyelids at him whilst coquettishly waving a considerable wedge of cash.
Guardiola is unquestionable one of the best club coaches - if not THE best - in the history of the sport. Yes, he improves players. Yes, his side's indisputably play a beautiful game. But it does help a wee tad when the clubs he manages are also able to recruit the very best players in the world by paying sums that could end world poverty.
To somehow use Guardiola, Manchester City and all they represent as a stick to beat both Everton and Sam Allardyce with - as both you and David Barks are doing in this thread - is...well...just barking.
David Barks
118
Posted 03/01/2018 at 18:08:31
Jay Wood,
Ok then, how about Spurs and Pochetino? Definitely not paying the money to end world poverty. Grabbed their manager from Southampton. Plays a style that focuses on attacking the opposition and making the opposition worry about you instead of worrying about them.
Karl Meighan
119
Posted 03/01/2018 at 18:19:46
Didn't we grab a manager from Southampton, and we all know how that ended. We are the starting blocks, as I'm pretty sure Spurs had at least a handful of good players streets ahead of what Allardyce has to work with. I like Pochetino but as yet the Spurs trophy cabinet is bare.
Darren Hind
120
Posted 03/01/2018 at 18:29:12
I wish people criticising Allardyce would stick to the facts. They are depressingly damning without giving people ammunition to defend Allardyce.
Man City are a different entity – they are operating in a different stratosphere. Let's leave them out of an argument they have no place in.
Allardyce is brazen as fuck; when he told us it was "normal" to not get any shots on target and that we have to keep clean sheets to get a result, he was insulting the intelligence of every Everton supporter.
That people are trying to defend his hideous spoiling tactics is beyond me. Forget Man City and their vast wealth. Let's see some of those excusing this shameful cowardice come on here and talk us through the gutless performances against West Brom and Bournemouth. Let's hear why we have only mustered one shot on target in our last three games. Let's hear the excuses for playing three defensive midfield players against a Bournemouth team who cost a fraction of ours.
I thought Koeman was a coward, but this fella makes him look like Richard the Lionheart.
To think I so desperately wanted Moyes gone... I'm now looking back with dewy-eyed nostalgia on the days when Baines, Pienaar, Osman and Arteta entertained us despite the glass ceiling.
If this guy goes to Anfield and asks his players to defend in numbers until the inevitable happens, he will never be forgiven.
Jay Wood
[BRZ]
121
Posted 03/01/2018 at 18:37:09
David, you won't hear any argument from me about the comparative merits and demerits of Guardiola, Pochetino, or Sam Allardyce for that matter.
Both your chosen coaches have their teams playing a style of football I could definitely buy into and would welcome at Everton.
Both those coaches were also recruited out of season, at well-financed and well-managed clubs. They have determined from the moment they stepped into their respective posts the players they wanted to retain and those they wanted to recruit. Before their first season commenced they had weeks to drill and prepare their squad in the manner they wanted to play the game.
By referencing them as you do you are not making a genuine like-for-like comparison to Everton and Sam Allardyce on multiple levels.
I will repeat for the umpteenth time here on TW, with the fixture list falling as it did and looking at the results even under Koeman and Unsworth:
* I never believed we were truly at risk of relegation
* I fully anticipated the run of positive results that have lifted us to mid-table
* I did not want Sam as Everton manager
* I did not believe there was a need to appoint Sam Allardyce
* I believed and still believe there were and are better options out there
* That said, Sam has impressed in his short 2 months at Everton thus far
* He immediately addressed the most pressing need, to stop the team conceding 2-3-4 even 5 goals a game
* This in turn gave us a platform to stay in games for the full 90 minutes, rather than being dead and buried with 30 minutes to go, playing in front of a half-empty stadium as fans left in their droves in despair at another tanking
* He speaks with clarity, honesty and authority, repeating much of what we TWers see and think about the team and individuals
* I am prepared to be tolerant and patient, given the situation Sam inherited
Shoot me!
Steve Carse
122
Posted 03/01/2018 at 18:38:22
It seems everyone has swallowed the oft repeated media conclusion that Guardiola has improved individual players. Strikes me that the only proof or correction of that would be if/when said players leave City for a lesser side when still holding down a starting position in the team. Without that test, how does one distinguish between the key being the manager's technical and organisational excellence or improvement in the individual skills and capabilities of the players? Indeed is it even possible to distinguish the two?
Simon Temme
123
Posted 03/01/2018 at 20:26:43
Allardyce, has been in the last few matches a master in pissing down our backs' and telling us it's raining. How after we are set up so defensively are we then able to do anything but sit deep and hope the opposition don't score. Get us to 40 points and please show him the door. We knew what was on the menu with him and it's becoming unpalatable very quickly.
John Pierce
124
Posted 03/01/2018 at 20:52:51
Sam is giving all the guff in the world on fatigue blah, squad rotation blah, clean sheets blah.
Its fairly simple if you select the same players and ask then to spend almost the entire game without the ball, conceding possession you will just burn the fuckers out. Playing without the ball is so much more physically and mentally demanding.
Perhaps if in games were the opponents are less, erm daunting you might consider some ball possession and look at the other goal to give them a rest?
We gave talented players but every time they get the ball, they have no options other than instructions to punt, and are so battered they can barely find a pass let alone play it.
He destroys creativity and rarely lets creative types in the side unless they can cope with the physical demands.
Lookman, Vlasic, Klaassen, Sandro all overlooked because they aren't the ogres he prefers.
Sigurdsson is barely coping with his workload and has nothing to hit. Bet he dreams about a forward pass.
There is a heavy price to play without the ball. When you decide to deliberately play that way against sides equal or poorer than yourself, well you just are asking for it.
Utterly soul destroying.
Tony Hill
125
Posted 03/01/2018 at 21:09:58
Not quite as demoralising as when we were 17th with the second worst goal difference in the league, I wouldn't have thought.
Though I now fully appreciate that was illusory and we were always going to be fine.
Karl Meighan
126
Posted 03/01/2018 at 21:21:19
We have very talented players and Koeman, Unsworth and now Allardyce sent them out to play shite, talented players regardless of tactics don't get fucked 3 and 4 almost every week.
John Pierce
127
Posted 03/01/2018 at 21:34:57
Tony are you arguing over degrees of how 'shite' we are? If so I'll cede were are slightly less shit than under Koeman.
But the bar was set so low, it would have taken a truly incompetent fool not to be less shit than Koeman?
Jon Withey
128
Posted 03/01/2018 at 21:41:37
Has Allardyce even had 10 games yet ?
I've read so many posts berating his destruction of our fabulous squad it feels like a couple of seasons already.
Allardyce looked rattled after the last game, you have to wonder how Silva would have fared under this pressure.
Tony Hill
129
Posted 03/01/2018 at 21:44:42
I think we need to see how we look after we get some new blood in, John, which I think we will do this month. I think it is too soon to write off Allardyce generally and I think it is too soon to write off the season.
You and other critics may be proved right but I think Allardyce deserves more credit and leeway than he is receiving. Specifically, I do not agree with those who believe that relegation was never a threat.
Give him a proper chance.
Tony Hill
130
Posted 03/01/2018 at 21:57:22
I would add one other thing, and I certainly do not aim this at anyone on here. I fear we are in danger of becoming a toxic fan base because we care too much now after so much disappointment.
I was one of the biggest critics of Martinez and Koeman and they had to go but the reaction to Allardyce before and after his appointment and the mood and "feel" around the stadium (identified on another thread) worry me. If we are not careful we will end up fulfilling our own prophecies of doom.
George Cumiskey
131
Posted 03/01/2018 at 21:57:46
So Sam talks with clarity and honesty and repeats much of what ToffeeWebbers see. Then why does he pick Schneiderlin every match? What a strange decision for a man with such honesty and clarity.
Karl Meighan
132
Posted 03/01/2018 at 22:15:53
George I want him to be given a chance to manage, not pigeon holed and stereotyped after 10 games in which the results have been decent enough with the train wreck he has been left with.
Crystal balls and what he has done before don't interest me just what he does in the future with are Club.
Don Alexander
133
Posted 03/01/2018 at 22:21:20
Tony Hill (@130), well said indeed and "mea culpa" for what it's worth.
The average age of TWer's must be around 50 I guess, meaning most of us have seen the Football League Championship won at least twice. We've also seen repeated failure at board and management levels to sustain success for more than two or three years at best. The rest has been dross of one disappointing sort or another.
That said, Moshiri bought in on the back of more than a few years with Arsenal. He's a billionaire based, presumably, on not throwing good money after bad. So even if we all (okay, mostly) continue to vent our spleens about the abject performance thus far on recruitment and performance I believe it'll be worthwhile if the money is found to sign better players than those we have.
If it's possible to feel sorry for a billionaire he may be feeling he's stuck between a rock and a hard place right now but that's his, and our's too unfortunately, problem. The summer fiasco leaving us all but bare at centre-forward, famished at left-back, and needy in central defence is something he could address right now if he's got the cojones. Get it right and in summer the football world will see us a growing major contender for further top quality signings. Sit on his pennies and we're fucked, unless Allardyce reveals hitherto unseen qualities as a footballing Jesus Christ by turning our water into wine.
It's the Premier League way, brutal and unforgiving.
John Pierce
134
Posted 03/01/2018 at 22:23:20
Tony the last comment is probably true, toxic is right. But in part because we've actually appointed, imo, three duffers in a row.
We also have to accept the average tenure of a top flight manager is 18months, and despite the posts of some you cannot rail against this modern approach. The cost of failure is too much to bare for the club.
I'm afraid the manager has to get it right quickly, foregoing the period of grace we might have once thought fair.
I know traditionally we have had a more patient approach than some clubs, but we know that was more a financial restraint than perhaps good judgement. My particular patience ran out with the appointment of Martinez.
The manager is the fall guy for the real issue, the board room. Because our focus, and ire is often drawn to the pitch the board room is were we point fingers but do little about.
We have hounded, or simply not wanted 2/3 of the last managers. Perhaps the only thing that might unify the fanbase is a concerted effort to remove the chairman. But whats the point now he's been reduced to little more than a figure head?
The real issue is why Everton who pay astronomical fees for managers cannot find an established, sucessful manager to employ.
But as to giving Sam a fair chance, he was never going to get one, so why appoint him? The real devil here is not Sam, but the arrogance of the club.
Ray Robinson
135
Posted 03/01/2018 at 22:23:56
Irrespective of what anyone thinks about Allardyce, why do some people think we were never in danger of being relegated?
I've been supporting Everton 56 years and believe me, in my opinion, this team was spiralling downwards like water down a plughole.
Give him some credit at least for arresting the decline albeit with some questionable tactics. He was only doing the job he was brought in to do.
Whether he is capable of adapting and whether he is the man to take us forward is a matter to discuss when we're safe. Let's face it, he hasn't been given a long contract.
Karl Meighan
136
Posted 03/01/2018 at 22:28:20
Being honest, Ray, I don't even think were safe now. 3 points for a win things can change very quickly. We're just less likely to be relegated now with Allardyce in charge.
Ray Robinson
137
Posted 03/01/2018 at 22:34:18
Karl, I agree totally. We won the games we had to win based on solid defending, penalties and quite some considerable luck. Our team is so brittle, lacking creativity and toothless up front that another bad spell could suck us back in. I'm still nervous.
Tom Bowers
138
Posted 03/01/2018 at 22:51:25
You need to score goals to win games. Everton have very little offensively to trouble any team except Rooney and that's why the pressure is always on the defence to come up big far too often and against teams with goalscorers they will always get found out.
No matter how Sam shuffles the back, the sad reality is always the same. They have ridden their luck since Sam came and the next two games RS and Spurs will once again prove what a less than average bunch this group are.
They now seem to be dragging their feet in the transfer market when I would have thought certain deals may have been in place before Jan.1st. like the Van Djik deal with the RS.
Watched a terrific game at the Emirates today which really showed how football should be played with non of this ''keep-ball'' in your own half for long periods. Lots of defensive mistakes but the attacking play was just breathtaking from both sides.
Phil Lewis
139
Posted 03/01/2018 at 00:00:24
Jay (#117),
On the contrary, I stated that of course financial reward is the primary attraction. That applies to managers and players alike, indeed to ordinary working people also, in all walks of life.
But the point I tried to make was the manner of Guardiola's success. He will not compromise his footballing philosophy regardless of how much money is at stake or how much criticism he receives. His teams attempt to play beautiful fearless football, in spite of money, not because of it. Reputations or fear of failure are not part of the equation. That should be applauded.
Previous managers there had the same resources, but I don't recall any Man City teams playing such wonderful stuff as this one. It is fair to make comparisons. Leicester showed what can be achieved on a small budget, playing exciting football. Man Utd have spent huge sums, but lag way behind Man City in every aspect of their game. Mourinho must be green with envy. I believe even in these beleaguered times that Everton have attacking players with the ability to compete, given the opportunity.
To those who don't want to hear of comparisons being made with Man City, may I liken football to a game of chess then? Seemingly Mr Allardyce chooses to deploy his players, apparently in every game, regardless of the opposition, with the sole purpose of achieving stalemate! Why? Because he simply doesn't possess the imagination or flair, necessary to achieve checkmate. Dull and negative. Get used to it, because the man has nothing else in his locker.
John Pierce
140
Posted 04/01/2018 at 00:29:53
Phil, bob on that.
Jay Harris
141
Posted 04/01/2018 at 01:12:14
I really don't know why the Allardyce knockers are complaining so bitterly.
Guardiola, Simeone etc were not available.
Ancelotti, Tuchel etc were not interested.
Silva was not available and since then, Watford have gone into freefall with Silva unable to rescue it, so maybe, just maybe, Allardyce was the right man at the right time for us because the realists among us could not see a worse team in the Premier League and quite a few better teams in the Championship.
Now he may not be the man to take us forward but he sure as hell deserves more support than he's getting right now.
Karl Meighan
142
Posted 04/01/2018 at 11:28:45
He will not change his footballing philosophy Guardiola? Crystal ball comments, you don't need to when the Clubs you manage can buy whatever players you need. He hasn't had to come in to a Club threatened with relegation so we don't know if he would change or not.
I will also point out City had won the Prem 2 out of the last 4 years, so they must have played some decent stuff there. Guardiola failed to win a trophy last season. Based on your timescale shouldn't he have been sacked?
One last point, we have the players to compete, Klassen and Sandro I presume your on about as well as Vlasic and Lookman, all have played games and 3 managers have failed to see enough to give them a run of games.
Jerome Shields
143
Posted 04/01/2018 at 12:11:37
Allardyce's tactics are to have the whole team defend, so he is blaming the whole team. In the second half, he changed from a defensive system to an offensive system, which freed up the red backs to support the attacking play, and put Everton more under pressure.
Jay Wood
[BRZ]
144
Posted 04/01/2018 at 12:37:39
Phil @ 139
Actually Phil, you got things very mashed. @ 98 you 'qualified' your remarks about money complicating matters, by stating money 'brings greed, resentment and fear. All the things that stifle creativity and passion.'
Immediately - IMMEDIATELY - you then referenced Manchester City and Guardiola and how his passion for the beautiful game has City playing football as they currently are.
Do you not see the obvious contradictions in your thought process?
You make a cliched claim that 'money brings greed, resentment and fear. All the things that stifle creativity and passion' and then immediately give an example that totally contradicts your claim.
My posts at 117 and 121 explain in detail the flaws in your position, as well as expressing my desire to see a coach such as Guardiola or Pochetino in situ at Everton, producing the football their teams play.
Amusingly, you also appended 'Allardyce is not on the same planet as [Guardiola], let alone the same league!' Swap out Everton for Allardyce and City for Guardiola in that sentence and you are getting closer to the true cause of the Everton conundrum.
In your latest post, possibly unbeknown to you, you acknowledge that when stating: 'Man Utd have spent huge sums, but lag way behind Man City in every aspect of their game. Mourinho must be green with envy.'
If THE super power of the Premier League era (United) and one of the few coaches in the history of football who can come close to matching Guardiola's achievements (Mourinho) are struggling in their wake, then – as previously stated – using the example of City and Guardiola as a stick to beat both Everton and Allardyce with - is a disproportionate one.
As for your analogy to a chess game. Cute, but again flawed. The first and primary rule in chess is to protect the King at all costs, or all is lost. Solid defence, then, is the absolute priority.
Allardyce is still playing the opening gambits in his Everton career, playing chess with someone else's draughts set.
Now it is of course an extreme hypothetical because we will never see the man at our club, unless Moshiri is able to replicate the City model in the coming years. But if it was Guardiola plonked into the manager's seat at Everton on the night we beat WHU rather than Sam, inheriting the squad and the situation as it was, how quickly do you think he would have had this squad playing the free-flowing football you desire? How many of the squad could so comfortably interchange and switch position in-game without detriment to the team performance as the quality and depth of City's squad are capable of?
You have clearly a pre-determined position on Allardyce. As I've repeated in this thread, even though I didn't want him as Everton manager, he is here now, inheriting a difficult situation. I am prepared to be tolerant and patient and see how this plays out, whereas you and others clearly are not.
That does not equate to me being easily appeased, or lacking passion or desire to see Everton genuinely compete for trophies playing scintillating football, before you or any one else leaps to such a non-sequitur.
Phil Lewis
145
Posted 04/01/2018 at 13:00:17
We all want to be winners. Fact, human nature. Sometimes we fail in our quest for victory. If we have been adventurous, fearless and diligent and performed to the best of our ability, then we can face failure with dignity. The same must be said of those who lead us. Basic facts of life.
Everton fans historically, have generously applauded such players who have performed to these principles. Even the less talented, provided they give their all. It is impossible to win matches without employing these methods and attacking the opposition. Unless of course you count the odd goal in a dour game, won from a set-piece, a breakaway, or a mistake by opponents.
What sort of game is it that you want to watch? Do you really want to see an Everton FC motivated by simply not losing? Because that is all that Allardyce has to offer. That was why he was appointed. It had nothing to do with football. It had everything to do with Moshiri's fear of losing Premier League status, the money that goes with it and backers who have invested in the new stadium.
My love of Everton, is coupled with my love of sport. Whether playing or watching football, I was brought up to believe in accepting victory or defeat with gracious dignity. Applauding the superior technique of the victors whilst giving generous praise where due, to losers. Basic sporting principles. That is the true meaning of sport.
I am fortunate enough to have witnessed and supported three Everton teams in my life, who have played brilliant football and won trophies. One of them was bought on a shoestring! None of them ever played with only the fear of losing as their motivation. Of course matches were lost. But every match was played with a managerial strategy to win.
This is not a history lesson, these principles apply today and the living proof is Pep Guardiola and other managers who play with a similar philosophy. Make no mistake, Guardiola would undoubtedly manage in the same manner, even if he was managing 'The Dog and Duck FC' because that is the only way he knows. Thank God for football that it is.
Phil Lewis
146
Posted 04/01/2018 at 13:29:54
Jay (#144),
A very well delivered and plausible post. Food for thought. Perhaps I should work on my tolerance and patience! I'm afraid I'm not entirely convinced though. It would be hypocritical of me to backtrack on my general dislike of Allardyce, which I confess was born before his arrival at Everton. But I find it difficult to be charitable to someone who it would seem holds polar opposites to my personal football beliefs.
I wish I had your faith.
Darren Hind
147
Posted 04/01/2018 at 14:00:58
Jay (#141),
These realists amongst us? Did they really not see any teams worse than us? Are they blind? Do they not understand how a league table works? Do they even exist?
When Sam Allardyce took over, there were seven teams below us and, while several were heading south, we were heading north. We had just completely smashed one of them (Oh yeah, we're supposed to concentrate solely on a 15 minute when they made a fist of it and forget the fact that it could very easily have been six) .
Make no mistake, the panic button was pressed when Allardyce was appointed and we are now living with the consequences. What we are witnessing now is absolutely shaming.
I love when people come out and "explain" to us the difference between Pep Guardiola's situation and Allardyce's – very informative – but ask them why Allardyce isn't brave enough to pitch his tactical wit against the likes of Alan Pardew or Eddie Howe instead of curling up in a ball and seeking to spoil the game by refusing to play... and long-winded justifications evaporate to nothing.
There is no justification for allowing a goalkeeper to have the afternoon off. There is no justification for cowering against teams which cost a fraction of ours. Not only is it against the very ethos of the game – it's complete dumbfuckery. If Rondon hadn't missed one of the season's worst sitters, we wouldn't have even got the solitary point the last three games have yielded.
You don't play eight defensive players against teams who cost a fraction of your own and have been getting twatted up and down the country. You don't tell your players to get ten men behind the ball because they are not good enough going forward... and, if you have anything approaching a competitive nature, you don't replace your main goal threat with a defensive player who offers virtually nothing going forward.
Support, justify or excuse this anti-football if you want, that's your prerogative, but please don't come on here and tell us that those who do are the realists here.
Phil Lewis
148
Posted 04/01/2018 at 14:07:59
Jay #144
P.S. As an Evertonian, I genuinely hope that Sam Allardyce makes me eat my words.
Jay Wood
[BRZ]
149
Posted 04/01/2018 at 14:26:21
Thanks Phil. I appreciate and respect your comments and position.
Too often on TW polarised views rapidly descend into slagging matches, petty insults and vitriolic brinkmanship.
It really is possible to have differing views yet engage in civil debate without dropping your bottom lip and stomping your feet, as you have demonstrated.
Here's hoping we achieve tomorrow what no other Everton team has ever managed: a win at Anfield in the FA Cup.
Karl Meighan
150
Posted 04/01/2018 at 16:15:57
Couldn't agree more Jay we all want the same thing a strong Everton side. I'm sure a win tomorrow would have us all celebrating.
Add Your Comments
In order to post a comment, you need to be logged in as a registered user of the site.
Or Sign up as a ToffeeWeb Member — it's free, takes just a few minutes and will allow you to post your comments on articles and Talking Points submissions across the site.