Everton finally agree a fee for Tosun
Thursday, 4 January, 2018
£27m deal imminent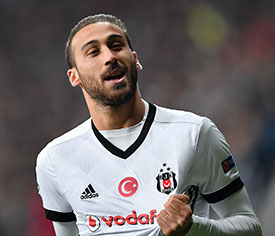 Updated
Club officials have met with Besiktas president, Fikret Orman, in London and look to have agreed a fee of £27m for Cenk Tosun.
It appeared as though Orman drove a hard bargain as he used an apparent bid from China as leverage to get the asking price for his player.
The striker's move from the Turkish club was expected to be done, dusted and announced by today after he travelled to London for New Year's Eve but talks between the clubs stalled until Orman returned from a trip to South Africa.
The Besiktas head honcho denies he raised his price but he appears to have got Everton to meet his valuation without add-ons as part of the deal.
"Besiktas is a serious club, which goes according to international football rules," Orman said at a press conference where he unveiled new signing, Domagoj Vida.
"Everton have made an offer but China offered 35 million euros for Cenk Tosun. And we said no. He is a very valuable player for us.
"Cenk wants Everton. Negotiations are ongoing, with good intentions. "There is no finished situation right now. If the conditions are right for us, the transfer takes place."
While previous reports had suggested that the Blues had already bid that amount, subsequent claims by Paul Joyce in The Times pegged the offer at around €24m (£21.2m), with the remainder dependent on appearances.
Word emerged on Wednesday night from Turkish media sources that a deal had finally been concluded. Serdar Saridag at Milliyet.com.tr claimed that Besiktas had agreed an improved fee of €27m for Tosun, as did Ertan Süzgün while Firat Günayer reported that the final fee will be €28m with add-ons included.
The final agreed price rose to £27m this morning, however, when it was reported by Sky Sports and The Guardian, with the player scheduled to travel to Merseyside to conclude the transfer.
"A final deal has not been reached yet but we have an agreement over the price," Orman was quoted as saying. "The end is near. The transfer will be wrapped up by the weekend."
That was echoed by Sam Allardyce who said: "Personal terms are the final stage. That might happen before the Cup tie, might even get him registered before then, but that will be tight. He wants to join us."
---
Reader Comments (393)
Note: the following content is not moderated or vetted by the site owners at the time of submission. Comments are the responsibility of the poster. Disclaimer
Jeff Armstrong
1
Posted 02/01/2018 at 23:43:29
Can he play on Friday if signed by close of play Thursday?
James Flynn
2
Posted 02/01/2018 at 23:50:52
Well, we need something.
Tony McNulty
3
Posted 02/01/2018 at 23:56:36
Very hard to come to too definitive a conclusion in the basis of the YouTube extracts but: he seems to be able to head the ball; he can use both feet; and he knows where the net is.
All very premature but there just looks to be a tad of the Alan Shearer about him.
Not sure if he can hold the ball up as a lone striker but that hardly works for us anyway.
He certainly looks better than what we have at the moment.
Here's hoping.
Don Alexander
4
Posted 02/01/2018 at 00:08:22
Sigh.
This season he's on a par with Arouna Kone in terms of goal-scoring and Besiktas wanna replace him with Islam Slimani, the 6'-2" Leicester legend with an excellent record in another second-rate league in Europe but who's only scored an average of one in every four games for a team far more dynamic than ours.
The last goal-scoring legend we signed from the eastern Med, a certain Kevin Mirallas, he of identical height but way more pace than Tosun, also had a scoring record way more prolific than this guy but it still only translated to one in five for us.
Sigh.
Jim Bennings
5
Posted 03/01/2018 at 00:11:01
One thing is for sure this lad simply has to hit the ground running .
We are desperately in need of quality in front of goal and we just aren't in a position where we have time to wait three or four months of acclimatisation.
Shaun McGough
6
Posted 03/01/2018 at 00:11:13
Is he in the building?
Ian Horan
7
Posted 03/01/2018 at 00:19:22
Let's hope he isn't another like Mitrologuo? Formerly of Fulham
Todd Watkins
8
Posted 03/01/2018 at 00:24:00
Put him and Vlasic up front.
Barry Williams
9
Posted 03/01/2018 at 00:35:32
I have no idea how this will pan out, none of us have, but I want to balance things out by looking at things positively.
Right, comparing him to Mirallas, well they played in different countries, Greece is not Turkey much in the way comparing a Scottish player's record to an English player's doesn't really mean a fair comparison.
Comparing him to Kone, who was injured all the time at Everton so we never got to see the proper Kone, the one that tore the arse out of us in a 3-0 win for Wigan never really appeared for Everton, although there was that hatrick!
Tosun - Turkey p 25 G8
Kone - Ivory Coast p 39 G9
Kone has 1 more goal in 14 more international appearances!
I am not using these stats to justify Tosun's ability, just using them as a balance to any negativity before he has kicked a ball. We need another striker, he's a striker, an international and will improve the squad in a particularly weak area!
Rooney has scored the same amount of goals as Lukaku, 1 more than Vardy this season, so I guess on that criteria some would keep him in the side over Vardy and Lukaku! There are quite a few others I could mention too!
Anyways, until I see him in an Everton shirt I won't be convinced that we've even got him!!!!
Ray Smith
10
Posted 03/01/2018 at 01:09:06
I'm not sure how thick Steve Walsh's skin is, but he is being made to look a fool, with the Turkish owner Omran holding talks in London.
So why is Walsh in Turkey when Tosun has been in London since New year's eve, and Omran was in South Africa. No deals get done with Besiktas without Omran overseeing all transfers.
Absolute joke. No doubt Bill Kenwright will broker the deal.
You couldn't make this up.
On a positive note, I hope Tosun is worth the effort!
Brian Wilkinson
12
Posted 03/01/2018 at 02:11:01
If we get the guy in, I would also enquire about Kevin Gameiro as a possible loan, or take a chance on Dembale on the price he is available for, then look to offload some.
If we can keep McCarthy fit, he would be a great addition alongside Gaye, if Moyes comes in with a decent offer then I would certainly let Schnids move on before McCarthy.
Certainly need a left back signed, but with some that we may offload, January could be a good window for us.
Peter Healing
13
Posted 03/01/2018 at 04:49:27
Don't come. You'll end up being shit.
John Keating
14
Posted 03/01/2018 at 05:18:33
Why not try for Batshuayi at Chelsea? He's a big lad but doesn't seem to be Conte's cup of tea. Experience of the PL, not injured and ready to go.

Possibly a loan deal until the end of the season with the option to buy?
Vijay Nair
15
Posted 03/01/2018 at 05:34:32
John (14), agree with you on Batshuayi. Like Lukaku when he left Chelsea, I think he'll have something to prove.
Tony Everan
16
Posted 03/01/2018 at 07:02:16
Batshuayi is a safer option I think , but it was rumoured he had the opportunity to come here in the summer and turned it down. He doesn't fancy it.
We must give Tosun a chance at least he seems to want to come here. But like others I am concerned his stats are not stellar , and he is unproven in a top league.
Like everyone else ,my fingers, toes and balls are crossed in hoping he becomes a goal scoring hero for us.
Christopher Timmins
17
Posted 03/01/2018 at 07:06:01
Let's hope the deal happens in the next couple of days. Sam has a good record in the January window but this is Everton!
Anthony Hughes
18
Posted 03/01/2018 at 07:21:43
I know it's nothing to go on but he's 26 and can any of us honestly say we'd heard of him before a couple if weeks back. He could be something but if he's really quality wouldn't he be plying his trade in one of Europe's top leagues at 26?
Colin Glassar
19
Posted 03/01/2018 at 07:35:00
I'd go for Batsuyahi as well. Younger, cheaper, knows the prem etc.. Chelsea have told him he can go for £25m.
Sam Hoare
20
Posted 03/01/2018 at 07:39:06
Agreed on Batshuayi.
Hard to get excited about any striker though as they will likely be starved of service unless we find a midfield who can keep the ball and move it forwards without misplacing one pass in three.
Jim Bennings
21
Posted 03/01/2018 at 07:40:55
It either goes one of two ways .
He starts well like Jelavic and more recently Gabbiadini at Southampton then gets totally found out and the league is too much for him, or he doesn't start well and then by summer he's off saying he doesn't like the culture/weather/can't handle the physicality of it all blah blah blah.
I'd love him to come in and make a real career for himself at Everton but time will tell.
Geoff Lambert
22
Posted 03/01/2018 at 07:59:20
If he comes in and scores a hatrick on Friday he can do and go where he likes on Monday.
Rob Newling
23
Posted 03/01/2018 at 08:14:39
For those who remember our darker years:
Link
Super Kev - more like 3 new signings- if ya knows ya Turkish ! :-)
Darren Murphy
24
Posted 03/01/2018 at 08:29:55
Deal meant to be done today, then get Batman in from Chavski so we can have a duo of Batman and Tosun. Gamiero, Aubameyang or Dembele should be bid for but the first two look more likely.
A Left back is a must, pacy attacking midfielder and a left sided centre back then we're fine till the Summer. Easy on paper.
Jim Bennings
25
Posted 03/01/2018 at 09:19:15
We should go for Shaw or Masuaku from West Ham, both pacy modern style left backs.
Shaw ripped us a new one several times on Monday with the amount of times he got behind our defence , I haven't seen Bainsey do that for four years.
Craig Walker
26
Posted 03/01/2018 at 09:24:10
Hope he can have an impact like Jelavic did when he first came.
On a separate topic, what has happened to Ross Barkley? I'm sure that in Unsworth's first press conference as interim manager he said that Ross was 4 weeks away from playing.
Absolutely dreading Friday night.
Tony Abrahams
27
Posted 03/01/2018 at 09:24:40
It's a lot easier when you have got a player like pogba, pulling the strings just infront of you though Jim, surely?
Tony Abrahams
28
Posted 03/01/2018 at 09:30:05
Dreading Friday night Craig, I'm sure you're not alone, but try and forget about it mate because it's coming anyway. I just hope we are all just going to bed, instead of getting out of bed this Saturday morning!
Chris Gould
29
Posted 03/01/2018 at 09:31:04
I'm excited about the prospect of this guy coming in. He looks a real handful and won't have problems with the physical demands of the premier league like Klaassen and Sandro.
I would like to see one other striker coming in this window but doubt that will happen unless we offload Sandro for a decent fee.
We need a driving force in centre midfield until Davies is up to the task. The boy has some growing to do before he can be expected to carry that responsibility.
As said by everyone, we desperately need a left back. I think Martina has done a good job for a freebie, but his lack of a left foot means he offers nothing going forward. He also tackles with the wrong foot from that side and it won't be too long before he mistimes one and gives away a penalty.
Against Utd so many attacks slowed down on the left because the ball was played to Martina who had to turn back onto his right foot and then pass sideways.
Getting a marauding left back is equally important as getting a decent striker.
James Watts
30
Posted 03/01/2018 at 09:41:55
Wouldn't get too excited Chris. Go read the latest comments from the Besiktas camp. Not sure which club is taking the piss. Us or them, so expect it to drag on until January 31st and then fail due to paperwork not being in place .
Dave Pritchard
31
Posted 03/01/2018 at 09:48:52
All these comments saying get so-and-so in then go for you-know-who etc etc
I know nothing about how transfers work but I suspect it is not as easy as most on here make out.
James Stewart
32
Posted 03/01/2018 at 10:01:42
More than 35m now they want, taking the piss, move on to other targets.
A lot less than that would bring in Dembele. I would even take a striker off Leicester they have way too many. Slimani always looks good whenever I've seen him. Cracking goal other night.
Chris Gould
33
Posted 03/01/2018 at 10:08:20
James, it's hard to know who's taking the piss as it's as likely us as it is them. Reports suggest it's them upping the price but who really knows?
I think we're desperate to get him in for Friday and the early transfer was designed to give us a lift for that match, so it may come down to how desperate we are to make that happen. Otherwise we can expect another drawn out saga like Sig and Sandro.

Terry Murray
34
Posted 03/01/2018 at 10:21:23
James Watts - post 30. What do the besiktas fans think about him? do you have a link?
Liam Reilly
35
Posted 03/01/2018 at 10:49:57
Tony #27
"It's a lot easier when you have got a player like pogba, pulling the strings just infront of you"
I noticed Pogba wasn't trying his flicks after McCarthy slid in on him; he was back to moaning at the ref.
Schnederlin stood off him a lot and they both had a warm chat at the end of the game.
Hope McCarthy is fit for Friday with Gana. Best pairing for me at the moment.
Tony Abrahams
36
Posted 03/01/2018 at 10:53:53
James@30, I'm not sure how much they want, but they have said that a team in China, offered 35 million euro's for Tosun. They also say that Cenk, wants to play for Everton, but I expect they won't sell just yet, especially considering they are now having a mid-season break, which probably equates to trying to "break our balls"
Tony Abrahams
37
Posted 03/01/2018 at 10:57:08
Agree Liam, but I wouldn't have Snide, anywhere near the first team squad at the minute. I was just trying to defend Baines, because he hasn't really had a player infront of him for years.
Jim Bennings
39
Posted 03/01/2018 at 11:11:38
35 million is a joke for a player with no Premier League experience, we have had our fingers burned too often .
I searched the International stats of Tosun and what worries me is just 3 goals for Turkey since March 2016 and he had little impact at the Euro 1016.
I'm hopeful if he does sign he hits the ground running but surely there's more proven Premier League options if you are talking 35-40 million??
Geoff Lambert
40
Posted 03/01/2018 at 11:16:52
As Jim says 35 million not a chance, He might be worth a punt at 15 million but that is silly cash for a unproven lower league player.
Just hope this doesn't backfire like the last transfer window.
Andy Williams
41
Posted 03/01/2018 at 11:17:30
Surely just ask the Tosun's agent if he has any intention of moving to China. There may well be an offer but I reckon it is only a mercenary few who would rather play there than here.
Nick Parker
42
Posted 03/01/2018 at 11:22:45
My mate is a Chelsea season ticket holder he would drive Michy to anyone who would take him. Says he has one of the worst first touch's going
Why is nobody trying to get Dzeko? Old but a proven goal machine
Nitesh Kanchan
43
Posted 03/01/2018 at 11:24:22
The Besiktas club owner has become greedy now after bids came from Roma and China, with the Chinese offering £35 million; forget him and move on. Tomorrow he might say China have upped their offer to £50 million. I hope we don't make the same mistake as last time – putting all our eggs in one basket.
I think we can convince Porto with that money for Aboubakar who are a selling club or get Llorente on loan to head in Sigurdsson's crosses having already played with him before. Slimani is another option.
Geoff Lambert
44
Posted 03/01/2018 at 11:24:24
Sam quoted as saying, "Finding a striker is Everton's priority in January" but admitted they may not find a solution before the transfer window shuts.
What is Walsh doing to earn his crust????
Iain Johnston
45
Posted 03/01/2018 at 11:26:12
Move on blues.
I'd bite Chelsea's hand off if all they want is £25m for Batshuayi. He has a much higher profile too and will want to push for a place in the Belgium World Cup squad.
Peter Barry
46
Posted 03/01/2018 at 11:26:55
This is destined to end in tears. You cannot trust Turks.
Sam Hoare
47
Posted 03/01/2018 at 11:30:33
Feels very much like they are trying to squeeze every penny out of us which they are more than entitled to do but I don't see a player there worth risking €35m on.
Walsh's job is surely to have a list of alternatives and we suffered in the Summer due to our dogged pursuit of Siggurdsson and eventually paying well over the odds for him.
If Chelsea are happy to take £25m for Batshuayi then make it happen. Or Boayke from Red Star. My personal preference would be Silva from Milan, a great young player who has struggled to fit in at Milan but could be a brilliant signing on loan with a view to permanent.
And then get a left back! Shaw would be great but seems unlikely now he's getting a sniff at Utd. Tierney, Joe Bryan, Telles (porto) or Kurzawa(not playng at PSG) would all be good options.

Kim Vivian
48
Posted 03/01/2018 at 11:34:02
Shame Aubemeyang seems to have made his peace with Borussia. I don't like the way this Tosun move is panning out. It's a classic case (typical for Everton) of "believe nothing your told, and only half of what you can see."
Lewis Barclay
49
Posted 03/01/2018 at 11:38:10
If Batushuyi is only £25m let's get him and Tosun and try and get Shaw as well.
Out: Mirallas, Klaassen, Sandro, Besic, Barkley
And what the hell is going on with Lookman?
He's immature at worst. Why the hell would Alardyce not start him on the opposite wing to Bolasie.
I'm willing to bet that teams would be terrified of a side with Bolasie, Sigurdsson (or Rooney) and Lookman in for 60 minutes.
If Barkley was available too and had the right head on his shoulders, then we'd be talking!
Paul Hewitt
50
Posted 03/01/2018 at 12:23:24
Why are people quick to blame Everton over this deal not being done yet? Besiktas accept a £25 Million offer, now want more. How's that Everton's fault?
Anton Walsh
51
Posted 03/01/2018 at 12:23:56
Even if we got Ronaldo he would be upfront all alone waiting for the pass of the season off Jags or Williams. Then when it eventually did come from a corner clearance he would have to battle like a gladiator to get it, then hide it up his shirt until the cavalry arrived. Knowing Sam's style that would be never.
Erik Dols
52
Posted 03/01/2018 at 12:27:21
Sorry for the football manager-post, but I just read that Bakambu will be leaving Villareal for around £35m. Would have loved to see him at Everton. Same age as Tosun (26). Scored more than 10 goals in the Primera Division for the past two seasons and since he is on 9 goals halfway the season would easily do the same this season if not sold.
So proven to score goals in a big competition. He's really quick, good with both feet, great shot from inside the box. Decent header and strong lad. In retrospect, we should have bought him in the summer as he seems a natural replacement for Lukaku to me.
Darren Murphy
53
Posted 03/01/2018 at 12:27:27
Another one that went quiet was Koulibaly from Napoli, I remember the rent boys were interested too now that link went quiet. He'd be ideal.
Yeah Lookman and Bolasie on either wing would be my opinion too, with Sigurdsson playing the Number 10 role and Rooney behind Tosun... or whoever we get.
Paul Birmingham
54
Posted 03/01/2018 at 12:29:31
Like with the majority of transfer deals with EFC, it's rarely smoothly done, and festers conjecture, ifs and buts and in this case there appears no clear communications between the two clubs and in our case as supporters we are left up that creek we know so well.
Hopefully we get a least a paddle in place, aka new centre-forward in time for the Friday game at our old ground.
Only surety it seems is EFC, in managing transfers, are amateurish.

Paul Holmes
55
Posted 03/01/2018 at 12:35:03
We need new players asap because we are only 7 points from the bottom 3 and Spurs away is our next league game. We will get nothing there on the basis of our last couple of performances so we could be only 4 points above the relegation zone.
I have watched West Ham, West Brom, Palace lately and they all look better than us. New signings (at least 3 or 4 with some going the other way) are a must.
Tony J Williams
56
Posted 03/01/2018 at 12:38:28
Beat me to it Anton.
We could have Aguero in our team, yet the 40-yard gap between the midfield and the forward would negate any kind of danger he would pose.
Bill Gall
57
Posted 03/01/2018 at 13:09:41
Whats the problem over the fee? Did Moshiri not say, over the fee for Sigurdsson, "it is only monopoly money", whatever that meant?
George Cumiskey
58
Posted 03/01/2018 at 13:16:13
Does anyone really believe that signing one forward is going to make any difference to our style of play or performance?
Come on people, be realistic... Sam Allardyce is the manager!
Paul Williams
59
Posted 03/01/2018 at 13:30:35
Total bollocks. €35 million from China. Really? Did they leave a name? Well no, but we're pretty confident they're genuine...
Hope whoever's negotiating for us sees through this and walks away.
Jackie Barry
60
Posted 03/01/2018 at 13:47:24
Okay, this is the evidence we needed to show that Walsh doesn't have a clue. With Koeman gone, he has free reign to do his job and he still can't do it.
Les Martin
61
Posted 03/01/2018 at 13:57:32
I have no doubt that Sam will totally reshape the team and that includes shipping out some who have barely unpacked their suitcase in Merseyside.
I expect our Turkish delight to happen followed by Nzonzi and possibly a loan or two, then we will see a clearout where he can. An interesting month ahead, folks!
Clive Rogers
62
Posted 03/01/2018 at 13:58:39
The club need to table a take-it-or-leave-it offer, then move on if it is not accepted.
Jackie Barry
63
Posted 03/01/2018 at 13:59:36
£31 million, we seriously cannot find anybody else for this kind of money?
Len Hawkins
64
Posted 03/01/2018 at 14:33:31
My sums don't add up: Everton offer £25mill then they want +£2mill because the Peeking Ducks want to pay €35million. So what is it, £27 mill or £30+ mill??
Dermot Byrne
65
Posted 03/01/2018 at 14:36:55
Jaysus, these numbers seem to be being banged out by bad PR people. Useless profession imho.
James Byrne
66
Posted 03/01/2018 at 14:46:26
I always remember a few years ago being on holiday in Turkey and the local shop owners would do anything to get you in to buy their wares.
One of the signs outside a shop had me creased over, it read "Cheaper Than Shoplifting"! But we should know who we are dealing with here.
Grow a pair of balls, Mr Walsh, and draw a line on this nonsense. It's not a fucking auction.
Sean Patton
67
Posted 03/01/2018 at 14:55:39
'Cenk wants Everton', I'm afraid that is checkmate, Mr Orman. You can make up all the phantom bids you like but player power trumps everything.
Brian Harrison
68
Posted 03/01/2018 at 15:00:24
Well the fact is we need more than one striker so I would hope that there are other options being looked at, because we will need more firepower to make sure we don't drop much lower in the league.
As far as Allardyce shipping players out, well that decision is more in the player's hands than the manager's despite what he would like to happen. Allardyce said the squad is too big, but the likes of Mirallas who hasn't kicked a ball under Allardyce, only signed a new contract last year so, unless someone is prepared to pay him more than we are, he will just pick up his money till he is ready to move on. Sandro and Klaassen will I would imagine have 3- or 4-year contracts so again, unless it's financially right, they won't move either.
Maybe Moshiri is thinking, "Do I really want to lash out millions just to own a mid table team? Wouldn't I be better off forgetting the new ground, get them safe and sell my shares and get my money back?" Because for us to compete with the top 4 he will need all his money and his mate Usmanov's money as well; if he had been going to join Moshiri, it would have happened by now.
Oliver Brunel
69
Posted 03/01/2018 at 15:04:28
Mickey Mouse management from top to bottom. Apparently the people running the 'community' section don't even reply to business emails. Risible. Bunch of fools on the Ship of Fools...
Jay Harris
70
Posted 03/01/2018 at 15:11:25
What was the point of Walsh flying out to Turkey if he didn't come back with at least a signed heads of agreement and preferably a contract or does Bill have to have the final say hence their chairman flies to London to meet our chairman and the deal falls through.
FFS, Everton – get it sorted and as Brian said we need more than 1 striker so where are the other irons in the fire?
Karl Jones
71
Posted 03/01/2018 at 15:39:21
The scary thing is that they knew that Lukaku wasn't signing on for at least a year and they still don't really know who they want as a replacement. You would have thought that somebody would have been lined up and ready to sign 1st January, (never mind 1st June last year). The RS did it with Van Dyke, so you can do all the negotiating well before the window opens. What the hell does Director of Football Walsh do? Its no wonder the whole club is in a mess and the price has gone up for the ground! What a surprise. You would have thought inflation would have been factored in from the beginning, so why even mention it?
Eugene Kearney
72
Posted 03/01/2018 at 15:55:14
Nearly 4 o'clock Wednesday and we stlll don't know what's goin' on,,,,,,,,,
John Smith
73
Posted 03/01/2018 at 15:58:04
Fantasy league wishing here, but I want Alex Sandro (LB), Leon Goretzka and Sergi Roberto (Midfield), and Batshuayi (forward).

Kevin Tully
74
Posted 03/01/2018 at 15:58:51
Phil McNulty just tweeted: "Plenty of pressure on Everton director of football Steve Walsh to get Cenk Tosun deal done very quickly - more in the spotlight now Koeman has gone and can hardly say he's not had enough time to get a striker deal lined up after the fiasco of no Lukaku replacment."
Fiasco? Everton? You don't say!
John G Davies
75
Posted 03/01/2018 at 16:02:54
Kevin,
Time for a bit of bluff calling.
Approach Chelsea for Batshuyai and leak it to the media if they accept the 25 million rumored asking fee buy him.
Joe Foster
76
Posted 03/01/2018 at 16:08:47
C'mon hurry up what's taking so long.
Tony Everan
77
Posted 03/01/2018 at 16:17:38
Calm down dears, it's edging closer still. It's so close now you can smell it.
In fact it is closer now than when I started typing this thread.
Just imagine how close he is to signing as you're reading this.
Chris Gould
78
Posted 03/01/2018 at 16:19:19
Not close enough to be available for Friday!!!
God dammit!
John G Davies
79
Posted 03/01/2018 at 16:19:31
Paul Kelly
80
Posted 03/01/2018 at 16:31:35
It don't matter if he's available for Friday if our previous three matches are anything to go bye! Or maybe even a few before that for some!
Jay Harris
81
Posted 03/01/2018 at 16:34:00
IMO Batshuyai isn't as good as DCL and is not the prolific goalscorer we need.
I endorse Erik's opinion on Bakambu and what about Dzecko, Gabbiadini etc.
Paul Kelly
82
Posted 03/01/2018 at 16:38:27
Reaching out to Mr Hoare, is there any players in the foreign leagues who'd suit Sam's MO for a striker other than this fella?
Jason Conlan
83
Posted 03/01/2018 at 16:42:49
I don't get the whole "he plays in a shite league" argument.
Henrik Larsson played for Celtic and was quality. Everyone thought he wouldn't do anything when he went to Barca, he won the Champions League and he also had a very productive loan spell with Man Utd. Hopefully he won't be anything like Mitroglu but I don't know why people are comparing the 2 because one is Greek and the other Turkish. Ian Horan (#7)?
Bill Gall
84
Posted 03/01/2018 at 16:43:43
I don't think it is time to calm down, the edging closer will most probably be on the 31st of January. If they are in London, Bill Kenwright will have taken over, and is finding out that free tickets to 1 of his shows does not make up for the extra money they are supposed to be asking for.
Oliver Brunel
85
Posted 03/01/2018 at 16:46:35
I'm surprised Besiktas are considering selling him anyway unless they are pessimistic re: Champions League chances. I would be suspicious and walk away from this. We tend to get outwitted by other clubs ie. Kiev-Yarmalenko etc. They need to play it a lot cooler. If a player and agent know the deal leave it as it is and walk away. It always works. You can be sure the Chinese wouldnt be dancing around like fannies.
Paul Kossoff
86
Posted 03/01/2018 at 16:47:45
Apparently West Ham have bid £27 million for him, and were after him before Everton's interest.
Get on the blower to the Chelsea and buy Batshuayi; straight swap for Ross would do it!
John G Davies
87
Posted 03/01/2018 at 16:50:38
That makes a lot of sense Paul.
Paul Kelly
88
Posted 03/01/2018 at 16:54:41
Bill, reckon two tickets and a pass to meet the cast should do it?
John G Davies
89
Posted 03/01/2018 at 16:55:03
Bill Gall.
That is unfair to Bill.
If he unleashes his negotiating skills on the Besiktas chap we will have Tosun by 6pm.
https://youtu.be/mvDX30jwHYA

Geoff Evans
90
Posted 03/01/2018 at 17:01:09
Typical of this club, not one ounce of class. Different year same old shite.
Look around, why would anyone rush to come here?
Peter Hughes
91
Posted 03/01/2018 at 17:06:39
Jay Harris, Batshuayi not as good as Calvert-Lewin? Jesus wept! Keep taking your medication lad!
Sam Hoare
92
Posted 03/01/2018 at 17:08:38
Paul Kelly@82
Plenty of big target men out there if thats what you mean!
Bas Dost at Sporting has been prolific. Also Aboubakar has been doing well in Portugal.
The likes of Dzecko and Bakambu have been mentioned but also Willian Jose, Haller from Frankfurt, Poulsen from Leipzig or Petagna who I think scored against us for Atlanta.
Duvan Zapata was one mentioned when Walsh went off to Italy and Babacar from Firoentina could do a job too.
Plenty out there!!
Paul Kelly
93
Posted 03/01/2018 at 17:15:18
You came back with aplomb there mate! Only one I have any knowledge on is Bas Dost, reckon he'd cut the mustard in the prem (only one way to find out I suppose) the rest ? Well exactly why I asked you, it'll give me something to look up for the next few hours.
Cheers.
Paul A Smith
94
Posted 03/01/2018 at 17:17:46
Batshuayi? Chelsea have just played us with no strikers starting and he was on the bench.
We don't really need another Niasse.
Paul Kossoff
95
Posted 03/01/2018 at 17:18:47
Jay, the twelve apostles wept at the thought of Dominic Calvert-Lewin being classed as better than Batshuayi!😁
Paul Birmingham
96
Posted 03/01/2018 at 17:32:04
From Here to Eternity, as it mainly is these days with the club.
The month of miracles for EFC needs to start now.
I can't see Klopp underestimating us on Friday...we live in hope this evening for this plus a more new signings asap.
Dennis Stevens
97
Posted 03/01/2018 at 17:34:46
Five minutes before the window closes we'll be completing the protracted signing of new striker Peter Crouch!
Duncan Lennard
98
Posted 03/01/2018 at 17:36:36
Scored against us for Atalanta Sam? Sorry, but could you narrow it down a bit?
Iain Johnston
99
Posted 03/01/2018 at 17:44:09
Jay (#81)
Calvert-Lewin has a less than 1-in-3 ratio, a goal every 289 minutes.
Batshuayi has a ratio of a goal every 88 minutes... How prolific do you want him to be?
Dzeko is 32 in 2 months, do we really want to spend in excess of £20M to add the all the other senior citizens we have?
I'd take Gabbiadini for £15M though.
Andy Riley
100
Posted 03/01/2018 at 17:56:52
Iain #99
I say sign Dzeko ASAP - 32 in two months is a better ratio than Dixie!
Jay Woods
[LAT]
101
Posted 03/01/2018 at 18:05:02
This is torture, this waiting... I can't concentrate on my work, or on anything my wife is saying to me (although that latter one is how it usually is to be fair).
I can't even decide if we should walk away or up our bid. These Turkish clubs sound like the Ukrainian ones in terms of hardballing.
Mike Gaynes
102
Posted 03/01/2018 at 18:12:03
I'm going to nominate a name that hasn't been mentioned -- Alfred Finnbogason of Augsberg. 11 goals in the Bundesliga this season. Iceland teammate of Siggy and key to their successful WC campaign. Excellent composure in the box, strong in the air, efficient. And way cheaper than the likes of Aubemeyang or Werner.
Tony McNulty
103
Posted 03/01/2018 at 18:17:41
With apologies to Sam Johnson, being an Evertonian is often the triumph of hope over experience.
Mike Gaynes
104
Posted 03/01/2018 at 18:19:15
Andy, Sam and others... forget Dzeko.
First, there's no way that Roma will sell their leading scorer while still challenging for the Serie A title and CL slots.
And second, if Dzeko dismissed speculation about Bayern and Real, why in the hell would he come to us?
Ain't happening.
Chris Gould
105
Posted 03/01/2018 at 18:23:32
Batshuayi doesn't want to come here. He made that clear in the summer and has probably sounded out Lukaku about the club.

I would much rather we get Tosun who works his balls off and seems to be very keen to play for us. His attitude is just what we need. I reckon he'll be a big hit.
Don Alexander
106
Posted 03/01/2018 at 18:24:36
You havin' a laff Mike? Everton buying a consistently scoring major league centre-forward already well known to our most expensive play-maker, and vice-versa? Why on earth why would we do that when we can trawl the lesser leagues for less prolific people few have even heard of and then get gazumped on arrival?
Mike Gaynes
107
Posted 03/01/2018 at 18:26:13
Sorry, Don... lost my head there for a minute.
Darren Murphy
108
Posted 03/01/2018 at 18:29:57
It'll be Joe Max-Moore instead at this rate.
Geoff Lambert
109
Posted 03/01/2018 at 18:32:31
Chris (#105),
Attitude and works his balls off!! Not good enough. See Calvert-Lewin, Sandro etc.
We need someone who can score goals not run around huffing and puffing all day.
Jackie Barry
110
Posted 03/01/2018 at 18:37:35
How about Yakubu? I hear he is only 27.
James Marshall
111
Posted 03/01/2018 at 18:37:44
People get entirely hung up on stats, especially for strikers but there's always a whole lot more to it than that – a good quality forward player brings work-rate, movement and the ability to create space for others, and bring other players into scoring positions.
If you're completely concentrating on goals scored, then you're not really looking at the bigger picture, which is what you have to do.
There's also the issue of 'player fit', and by that I mean attitude, and ability to fit in/get on with the other players – it really matters, especially in these days of huge contracts and player-power.
Yes of course goals matter, but it isn't the be all & end all when you're buying a striker.
John Davies
112
Posted 03/01/2018 at 18:50:54
I honestly thought things could not get any worse. The club is screwed from top to bottom. Do we have anyone, in any position at all, who is any good? Our kit man is spot on for sure but I don't see anyone backing him up.
Welcome to the Mickey Mouse Club House everyone.
Geoff Lambert
113
Posted 03/01/2018 at 18:51:20
James it's a striker we are talking about of course its all about goals.
Name me one famous striker from the last 50 or so years who is remembered for his work rate or ability to create space for others?
I do know what you are saying, but when it comes to the best strikers in history they are only they are remembered for one thing only. Goals scored.
James Marshall
114
Posted 03/01/2018 at 18:53:21
One thing that strikes me of late, is the amount of Evertonians at last getting in touch with the realisation/reality that we're a club that used to be 'big' but haven't been for 20 years!
Until we get a new ground, I don't see much changing on the playing side since no players want to come to stuffy old Everton – they want the new and improved Everton – the ground will really help that perception in my view.
James Marshall
115
Posted 03/01/2018 at 18:53:59
Geoff - agreed, but we are NOT going to buy one of the best strikers at the moment, let alone in history!
I do get what you're saying though.
Jon Withey
116
Posted 03/01/2018 at 18:55:21
Quick, give them £45 million!
Or maybe take a deep breath and look elsewhere!
Brian Wilkinson
117
Posted 03/01/2018 at 18:57:38
We have one last chance of a trophy this season so I am hoping we get this guy before the cutoff deadline.
Failing that and we pull the plug, I would go and get Dembele and Kevin Gameiro as a forward line, if the price quoted for Dembele under £20 Million is correct, I would take a punt at that price.
Also a great shout for Das Bost from another poster.
James Marshall
118
Posted 03/01/2018 at 18:59:53
Why does Dembele never get mentioned for the top clubs?
Yeah, that's why.
Geoff Lambert
119
Posted 03/01/2018 at 19:04:05
I think Calvert-Lewin would do as well as Dembele if he was playing in Scotland.
Mike Gaynes
120
Posted 03/01/2018 at 19:04:09
Brian, it's Bas Dost.
I think Dast Bos was a submarine movie, wasn't it?
Lev Vellene
121
Posted 03/01/2018 at 19:08:03
You silly people, you KNOW this will happen, even if only for the one reason: How else will we be reading about "Too-Soon" on these hallowed pages in the weeks/months to come? You want the pain, you want the verbal outlet! It's TW!!! ;D
Mike Gaynes
122
Posted 03/01/2018 at 19:08:18
But in all seriousness, no chance for Dost either. Sporting is tied for the league lead and Dost has almost half their goals.
Geoff Lambert
123
Posted 03/01/2018 at 19:09:28
I hope we don't do a submarine impression and sink without a trace with Niasse shouting "dive dive dive"
James Marshall
124
Posted 03/01/2018 at 19:10:40
I agree Geoff - I reckon I could whack in 10 a season playing for Celtic and I have a stuffed right knee, a piece of plastic in my spine and I can't run for more than about 30yds without needing a bit of a lie down!
Kim Vivian
125
Posted 03/01/2018 at 19:11:01
I heard he's in the building.
Better move on to plan B
Kim Vivian
126
Posted 03/01/2018 at 19:11:42
How much have Sevilla offered for Sandro? Anyone know?
Geoff Lambert
127
Posted 03/01/2018 at 19:12:20
James! you are not Darron Gibson by any chance are you?
Brian Wilkinson
128
Posted 03/01/2018 at 19:13:07
I was thinking outside the box Mike, something to sink our opponents. Bit too quick typing and the dreaded autocorrect for me there, Mike.
Mike Gaynes
129
Posted 03/01/2018 at 19:14:58
I think you've hit on a key point there, Brian. Our strikers all seem to think outside the box. Instead of in it.
Clive Rogers
130
Posted 03/01/2018 at 19:17:34
Kim, #126, it's been reported they want him on loan.
Jim Bennings
131
Posted 03/01/2018 at 19:19:21
Is this Tosun deal happening or what?
Or will we still be sat here come next Christmas Eve deliberating why we have no striker still and Steve Walsh has been sent on another "Around the World in 80 days" scouting mission????
Lev Vellene
132
Posted 03/01/2018 at 19:19:55
Mike #129
I hope Sam and/or Sammy can reinforce Big Dunc's tales of the fabled 'box' for our players! Someday they might try to have a look inside it...
Dermot Byrne
133
Posted 03/01/2018 at 19:24:33
And only Gylfi can shoot from outside and strangely is on the wing, Mike
Ray Smith
134
Posted 03/01/2018 at 19:25:16
Can anybody tell me what Steve Walsh does?
Because I'm blowed if I know.
2 weeks in Italy during last window, result nothing.
Extended long weekend in Turkey, result, player and negotiations taking place in London!!!!!
James Marshall
135
Posted 03/01/2018 at 19:29:05
They offered £4.20 and a multi pack of Hula Hoops for Sandro.
He'll be off in the morning.
Lenny Kingman
136
Posted 03/01/2018 at 19:30:59
He should cough up some serious coin to come from the Turkish backwater to play for a legendary club like Everton.
Jay Woods
[LAT]
137
Posted 03/01/2018 at 19:34:54
Like your angle, Lenny Kingman. You're using this *taps own noggin* Go to the top of the proverbial!
James Marshall
138
Posted 03/01/2018 at 19:37:39
Ray – the player was in London for New Year's Eve, so I assume it was all easier done here than going back & forth to Turkey.
Chris Gould
139
Posted 03/01/2018 at 19:44:46
Geoff (#109),
The hard working quality is just one of his attributes. The guy can clearly play and is very different to Calvert-Lewin. He's also far more physical than Sandro. I think he'll bring qualities that will quickly impress, but I guess we'll only know for sure if he finally gets here.
I'm still holding out hope (very optimistically) that he'll be here in time for Friday.
Ray Smith
140
Posted 03/01/2018 at 19:52:14
James 138
That was my point. Tosun was/is in London. Orman was on holiday in South Africa and is now in England to negotiate.
So what was Walsh doing in Turkey?
Apparently Sam is responsible for persuading Tosun to join us, by phoning him personally.
Beats me, unless I've got my facts wrong!
Sam Hoare
141
Posted 03/01/2018 at 20:09:16
Mike Gaynes, I was advocating Dzeko simply positing an Allardyce-esque European option. I don't think we could get him and wouldn't massively want him.
Finnbogason hardly sets the pulses racing and is having his first decent season in a major league aged 28. Not like our last Icelandic punt has gone particularly well though perhaps he has an Allardyce appeal.
Lenny Kingman
142
Posted 03/01/2018 at 20:11:37
What happened to your Brazilian posting then Jay? You over there in Latvia getting Valeri Belekon to do the right thing and invest his newly awarded millions in Blackpool FC per chance [smiley}
Jay Woods
[LAT]
143
Posted 03/01/2018 at 20:15:03
Let's not confuse me with Jay Wood in Brazil, now!
And no, I'm in Latvia getting medical stuff sorted out - my wife is Russian and there's a big Russian population here, which means loads of clinics.
Oh, you didn't know the Russians are a nation of hypochondriacs? Oh yeah. And then some.
The Irish have a pub on every corner, the French have a lingerie shop and the Russians? They have clinics.
Lenny Kingman
144
Posted 03/01/2018 at 20:17:14
Sounds great. Enjoy, and tell me when you next need some company on your forays abroad.
Mike Gaynes
145
Posted 03/01/2018 at 20:29:33
Sam #141, this is his second excellent season for Augsburg, and he did have a 29-goal season in the Eredivisie, so he knows how to find the net. But more to the point, I've watched him play 4-5 times in recent months, including twice for Iceland, and he's a really intelligent player, ice cool in the box.
Joe Foster
146
Posted 03/01/2018 at 20:40:38
Has Bill Kenwright been spotted wearing a fez yet?
Ray Smith
147
Posted 03/01/2018 at 20:44:26
Joe 146
Priceless.
Made me laugh.
Eddie Dunn
148
Posted 03/01/2018 at 21:08:22
Kenwright will be at the presser with Tosun, dewy-eyed, reminiscing about his many hours spent in Bodrum with Anouska revamping their rather shabby old villa with traditional, hand-dyed rugs and scatter cushions.
Fond memories...a crumbling old pool, cracks in the walls, insect infestations and horrible food...must stop thinking about Goodison.
Minik Hansen
149
Posted 03/01/2018 at 21:27:25
The first signing to work wonders on the front. Another one and it will set fire to and inspire the squad. I don't mind Tosun not playing on Friday, as the attacking is still in the works for Sam, he will further have time on the current players - Sam just has to manage and see more of them, I sense it will help everybody.
Frank Crewe
150
Posted 03/01/2018 at 21:44:09
Has he signed yet?
Mike Dixon
151
Posted 03/01/2018 at 21:50:24
I hope he signs, I hope he's good. Just finished watching Arse V Chelski. How anyone can have a go at Sam for not playing attacking football is beyond me. I don't think any of our squad would get a game with those two. We are simply incapable of playing anywhere near that level. Fact.
Tony Everan
152
Posted 03/01/2018 at 21:51:15
Not yet Frank, but it's a bit closer. Billy and Fik having an all-night session.
We will wake up to a new dawn with a striker.
Tony Everan
153
Posted 03/01/2018 at 21:53:14
I was thinking the same Mike.
Oh to have a bit of pace and quality in attack. It was a thrilling match to watch.
Ashley Roberts
154
Posted 03/01/2018 at 22:15:30
Definitely not unless they reduce their asking price. 35M for a player that has really only played in the Turkish league I would say is a huge gamble. I would sooner take Ings or Sturridge from the red shite. At least these guys know the ins and outs of the Prem league and have proven scoring records. Tosun for me is a total long shot and do we trust Walsh to know what he is doing?
David Pearl
155
Posted 03/01/2018 at 22:33:22
Joe 146, with some Pez
Colin Glassar
156
Posted 03/01/2018 at 22:38:51
If I was Bill Kenwright, I'd tell the Turks that I'm getting bored of all this and walk away.
Iain Love
157
Posted 03/01/2018 at 22:59:01
If we get him, we get him. If we don't, we don't. We don't know if he will be any good for us or not. Sandro looked great on YouTube but looks like a child playing with the big kids and Klassen is a 2nd tier player. So will Tosun be any better?

I actually think we don't need a top class striker at the moment, just someone who can hold the ball up and bring others into play and Tosun looks like he can do that job.

Jack Convery
158
Posted 03/01/2018 at 23:04:38
Move on and let others know we will not be held to ransom. Go get Batchuyi from CFC on loan instead.
Matt Butlin
159
Posted 03/01/2018 at 23:09:35
Sounds like it's done "according" to Twitter
Brian Williams
161
Posted 03/01/2018 at 23:10:54
Done and dusted. ;-)
Andy Williams
162
Posted 03/01/2018 at 23:13:50
Echo reporting that Turkish report saying deal is done for £24million. Only when he is holding the shirt up!
Nigel Munford
163
Posted 03/01/2018 at 23:16:12
Yep let's go get Batshuyai, another player who's name no-one on TW can spell.
Nigel Munford
164
Posted 03/01/2018 at 23:22:26
Andy are you Brian's brother?
Mike Gaynes
165
Posted 03/01/2018 at 23:22:37
Mirror says it's not quite done: http://www.mirror.co.uk/sport/football/transfer-news/everton-closing-cenk-tosun-transfer-11793213
Andy Williams
166
Posted 03/01/2018 at 23:27:56
Conjoined twins Nigel.
Colin Glassar
167
Posted 03/01/2018 at 23:30:53
It's almost done but not quite, yet. In steak terms this would be three quarters. I still believe it's medium rare. It could be well done though, who knows?
Just trust in Bill Kenwright and his world class negotiating skills, and patience. I bet he burns the fucking steak!!
Alan McGuffog
168
Posted 03/01/2018 at 23:33:04
Any news about his hamstring / groin/ chalfont that will keep him other till March ? Oh ok November then
James Flynn
169
Posted 03/01/2018 at 23:33:26
Jim (21), Craig (26) - Would be fantastic if he came on like Jela.
We have to keep in mind that Jela walked into a side waaaay better than our current one.
Jackie Barry
170
Posted 03/01/2018 at 23:35:54
So what exactly has Walsh done here?
Mike Corcoran
171
Posted 03/01/2018 at 23:51:51
Would love to get Micky Batshit
Damn predictable tux
Brian Williams
172
Posted 03/01/2018 at 23:53:28
Nigel. Only during the week. At the weekends he's my sister Shirley.
Phil Smith
175
Posted 03/01/2018 at 00:09:40
He looks decent enough but not for that money. For that I want proven goals. What I do like about him is that he's good in the air and can score with both feet. Don't get the feeling like he's ever gonna be more than a 10 goals a season guy...
Jeff Armstrong
176
Posted 04/01/2018 at 00:27:34
Arda Turan, a midfielder that can actually play the game, pass it, move, flick, move, one-two, friggin move, keep the ball moving forwards... you know, towards the opponent's goal, unlike most of our sideways, safety-first exponents of the not-so-beautiful Everton game.
Dan Davies
177
Posted 04/01/2018 at 00:32:34
Such an optimist Phil... I love it. Positive thinking ay!
Phil Smith
178
Posted 04/01/2018 at 00:54:29
Not much more than that in Turkey, Dan. Prove me wrong, Cenk, I'd love you to.
David Israel
179
Posted 04/01/2018 at 00:55:34
Is he in the building now? If so, do chain him down!
John Crawley
180
Posted 04/01/2018 at 01:11:02
Recruitment has really gone down the pan since Moyes left. How we are spending £27 million on a guy who has scored as many goals in the Turkish league as Arouna Kone is beyond me, particularly when we haven't got a long-term manager in place. In short, a joke.
Peter Larkin
181
Posted 04/01/2018 at 01:40:34
Tosun is slow, for fuck's sake, have we got orders at Finch Farm where we must buy slow players!?! Crabs... a team full of them. Look at all the top teams – all have lightening fast players up top.
I watched his YouTube clips; you only have to look at the state of the goals he scored. 95 percent of goalkeepers in the Premier League would save 70 percent of his shots!!
So we spunked the Stones money, spunked £100 million of the Lukaku money, now the Barkley money will be spunked on a slow Turkish striker... Everton that.
Next summer, it will be Pickford; then we have zero else to sell unless China offers us a fortune for Rooney. The game's up, guys... the worm has finally turned.
Peter Anthony
182
Posted 04/01/2018 at 02:32:27
Re the 'not at £27M' objections, it is approx a third of the price of the centre half the shite have just shelled out for. So, I think we can all agree money is mental in football.
I don't care what he cost, I care what he does on the pitch. Big Sam has said you like and die as a manager by the impact of your signings, he must therefore believe he can score goals for Everton. Please be correct, Sam, starting Friday, if at all possible!
James Byrne
183
Posted 04/01/2018 at 02:33:43
We really are crap at buying players. We've never been any different. Why do we make such deals so difficult.
In a world where data communications are so powerful people like Steve Walsh or the owners of the club can virtually debate these deals from their desks. I know at some point people will want to meet face to face, but we seem to do this the wrong way when other clubs appear to get it right.
Paul Kelly
184
Posted 04/01/2018 at 03:09:46
It wouldn't be us if it wasn't dragged out.
Alan McGuffog
185
Posted 04/01/2018 at 05:02:50
As usual we have paid over the odds. I'm certain for that outlay we could have brought in both Adana Kofte and Sigara Borek. Something to chew over?
Phil Walling
186
Posted 04/01/2018 at 06:14:32
Anyone spotted the bandage on his left wrist which is likely to keep him out until next season ?
Niase has been lined up to provide counselling whilst he builds up his fitness to Premier standards
Darryl Ritchie
187
Posted 04/01/2018 at 06:18:35
Just to clarify; are we talking Euros or Pounds? The main article starts off talking of a £25millon Everton offer that was rejected, and then finishes by saying a €27 million offer was accepted.
The last time I checked (a few minutes ago), €27 million is worth just over £24 million. Did the Turks lower the price?
Brian Porter
188
Posted 04/01/2018 at 06:22:03
Steve Walsh obviously loves his role as Director of Football: Lots of foreign travel, top hotels, meet new people, watch a bit of football, and, oh yes, maybe try to negotiate a deal or two. (does he take an interpreter or save money by using sign language?).
Trouble is, so far none of his jaunts to places new and exotic seems to have borne fruit. Does this make him the highest paid waste of space at the club? After his trip to Turkey last week it seems we are now conducting face to face talks with their club president. in London! Is Walsh even involved any more?
I just don't see the point of Walsh or his grand title. Transfers are no smoother than before his arrival and if anything, appear more protracted than ever. If this one falls through after the player has openly said he wants to come here, it says a lot about Walsh's skills (or lack thereof), as a negotiator at this level.
Maybe he's best suited to unearthing gems for the U23s from Fleetwood Town, Stalybridge Celtic etc.
Christopher Timmins
189
Posted 04/01/2018 at 07:21:35
One down and ? to go. A left back is an absolute must in my view.
James Marshall
190
Posted 04/01/2018 at 07:33:54
He was born in Germany, and I think he played for the German under 21's or something so I'm going to say we're buying a German striker with a Turkish name.
Somehow that makes me feel more confident in him.
Lyndon Lloyd
191
Posted 04/01/2018 at 07:38:07
Sorry, Darryl (187), as the original article has evolved, it's become less clear. The original reports were that Everton had offered £25m and this was accepted... only for Orman to move the goalposts.
It seems, however, based on subsequent claims, that EFC only offered €24m (£21.2m) and have now upped that to €27m, either with or without further add-ons included (which would take the final price higher, perhaps to the £25m that Orman was after).
Lee Whitehead
192
Posted 04/01/2018 at 07:43:05
Peter 181 - I feel like slitting my throat !!!!!!!!!!!!!!

Joe Clitherow
193
Posted 04/01/2018 at 07:43:41
Alan 184
What are these odds we have paid over and who sets them? I'm genuinely curious.
Seller has valuation, names price, buyer has separate valuation, they negotiate. Buyer then either pays and gets or doesn't and doesn't. There is no third party valuation of "the odds" in there as far as I can see.
Jeff Spiers
194
Posted 04/01/2018 at 08:17:52
Brian@188. Excellent post. I am too very curious as to why Walsh is here. I think he is taking the piss big time. Get a grip Mr Moshiri
Rob Young
195
Posted 04/01/2018 at 08:59:58
So, if this guy comes in I am sure Walshy is tying up a left back?
Surely on Jan 1st we could have arranged to have registered Garbutt, have Galloway back from Sunderland?
Not saying either is the answer bit both more suited to play there instead of Martina. Try he does, and you cannot fault him at all, but surely Martina should not stay our only option behind Baines?
No Tosun tomorrow night I guess.
Surely one day we will win there again? Niasse to score!

Tony Hogan
196
Posted 04/01/2018 at 09:00:00
My original conception of the position of Director of Football was an experienced and learned football man with experience of playing or managing at a high level.
What does this guy Walsh actually do?
Being Kenwrights mate is he a 'go for' or even a glorified scout, either way he needs to take some responsibility for the ridiculous signings and valuations paid.
Sam Hoare
197
Posted 04/01/2018 at 09:03:29
I'm not very impressed by Walsh's efforts so far but perhaps his value and work will be more fairly judged in a few years time. If the likes of Lookman, Gibson, Onyeruku and Vlasic are in the first team and performing at the highest levels then perhaps he will have been vindicated.
Lennart Hylën
198
Posted 04/01/2018 at 09:07:37
Only time will tell if this is a good signing or not. But I have my doubts. How many Turks have been hits in the PL? Lets face it we are poor right now, outplayed by WBA and Bournemouth with hardly a shoot on goal. Unless you turn the table upside down these are far from top teams. The euphoria from the summer signings faded fast.

James Hughes
199
Posted 04/01/2018 at 09:14:26
Brian #188
Does this make him the highest paid waste of space at the club
I think that honour belongs to Schneiderlin at the moment, hoping that changes quickly though
Len Hawkins
200
Posted 04/01/2018 at 09:27:27
It must be a real laugh for some of you when you go to buy anything, you need it but you know before you buy it that it is a load of shit but you buy it anyway.
As for Slim Arnie what is he another stick insect like Crouch give me Stout Tosun anytime.
Tony Abrahams
201
Posted 04/01/2018 at 09:32:19
Snides is giving me nightmares James, especially when you consider how much money he his earning each month, for just going through the motions. I don't know wether to give him credit for his demeanour though, because it's like his passing, it's got no disguise whatsoever.
Derek Knox
202
Posted 04/01/2018 at 09:38:22
I think you are all being a bit harsh on Mr Walsh, so far, he has negotiated one of the biggest orders for Apple Tea and Turkish Delight, to ever leave the shores of Turkey.
Not only, but also, he has secured by virtue of his Silver Tongued skills 60,000 lucky Turkish Eye Keyrings, these will be a must for every Evertonian in the coming months!
He has also promised Cenk, if things don't go according to plan, he will arrange for him to officially change his name via Deed Poll, from Tosun to Tosser.
Well there you have it, and you were all worried, is there no trust left in this World?

Tony Everan
203
Posted 04/01/2018 at 09:44:04
Is it allowed on TW to be optimistic and confident about Cenk Tosun's arrival?
If it is , I will toast his arrival. It is a new beginning as far as I am concerned. The first step on a new path following the disastrous Koeman era, and its associated failings.
It would be wrong to heap all the responsibility of improvement onto Tosun's shoulders. It is a small step in the right direction and it proves the club is learning and acting.
Support the man , he may be earning big money , but he has shown desire to be here. He deserves respect for that and encouragement.
Let's welcome him with open arms to our great club.
Rick Pattinson
204
Posted 04/01/2018 at 09:45:52
I reckon Tosun will be a hit. He's highly rated...Don Hutchinson came in his pants when he knew he was coming here that's good enough for me!
Colin Glassar
205
Posted 04/01/2018 at 09:47:55
Now we need a left back (Shaw, Bristol City kid, Van Aarnolt, anyone with a left foot) and a creative MF player.
I hope we keep Sandro and Klaasen. Send them out on loan to toughen them up.
Ray Roche
206
Posted 04/01/2018 at 09:55:27
I find it amusing that no one seems to know what Walsh does but also say that he's shite at it... just sayin'.
James Hughes
207
Posted 04/01/2018 at 10:07:28
Ray, isn't he supposed to be in charge of player recruitment?
So buying 10 number 10's (weren't they a ciggie) No left back and failing to woo Mrs Giroud with the delights of L'pool 1and not having a back up. All that sort of equates to him being shite
Derek Knox
208
Posted 04/01/2018 at 10:07:55
Colin @205 regarding Klaassen and Sandro, if Apple Tea and Turkish Delight cant toughen them up, then I reckon nothing can. :-)
Ray Roche
209
Posted 04/01/2018 at 10:10:58
Fair point James, just the comments on these threads about "what does he do" and then "he's rubbish at it" made me smile.
Anyway, Rooney and Klaassen were nothing to do with Walsh. I see his main role since his arrival as being one who has brought in players for the future, Onyekuru etc.
James Hughes
210
Posted 04/01/2018 at 10:15:07
Ray, I am glad something made you smile mate, they seem to be few and far apart around here. have another :)
Brian Harrison
211
Posted 04/01/2018 at 10:24:07
Yes we need strikers, but what needs changing is our style of play at present whether its DCL or Niasse there is nobody within 25 yards of them when they receive the ball. Our midfield spend more time in their own half than the oppositions, which makes any link up play almost impossible. Seems our manager is drilling his side in their defensive duties but ignoring what we should do when in possession. So far we have that many men in and around our own box that the only option seems a 40 yard ball forward toward our lone striker.
When you look at the better teams their forwards are playing one twos around the oppositions box, but we very rarely are able to do this with our style of play. So I hope that if Tousan signs he is given more support that we have given to the strikers that have played so far this season.
Neil Wood
212
Posted 04/01/2018 at 10:29:21
If he signs today will he be eligible for Friday?
Ray Roche
213
Posted 04/01/2018 at 10:33:04
James, on reflection, I think it was wind.
Sam Hoare
214
Posted 04/01/2018 at 10:33:27
Sky Sports reporting it as done at £27m. They're often wrong of course.
I wish him all the best but can't say i'm super excited. The one thing we are crying out for is some pace and movement in the final third; not totally convinced he will bring that.
Still very unsure on our current recruitment team, seems like we are spending alot of money without making things much better. Of course Tosun has not even worn the shirt yet let alone kicked the ball but worth pointing out that him and him and Siggurdsson cost the same as Firmino and Salah
Andy Williams
215
Posted 04/01/2018 at 10:42:20
Got to be registered by noon Friday to play in the derby. He was in the Team of the Group Stages for the CL. I know he already been voted shite by the TWers (alongside anybody else in a blue shirt - especially if under 21)but it's not that bad for a shite player.
Ray Roche
216
Posted 04/01/2018 at 10:42:47
Sam, we have pace and movement in Vlasic and Lookman as well as,now, Bolasie. Trouble is two of them rarely get on the pitch. Even Sandro offers movement and some pace but the lad has zero confidence right now. In a good team I think he'd be a player.
Colin Glassar
217
Posted 04/01/2018 at 10:42:49
Ok so it's done then? How many games do we give him before the 'supporters trust' on here declare him officially shite and a waste of money?
Craig Walker
218
Posted 04/01/2018 at 10:45:48
I'd like to see us make a move for Walcott or Sturridge. I don't like the latter but there's no question that he is a goalscorer and has proved it in the Premier League. I read something on Facebook recently that said Sturridge was after a move away from Anfield and that Stoke City, Leicester City and Holby City were interested. Hee hee. Think he could be good for us though.
What do people think of N'Zonzi? He never seemed that great to me whenever I saw him play for Stoke. I'd take him over Schneiderlin though.
There's a lot of deadwood to be cleared when you look at our squad.
Andy Williams
219
Posted 04/01/2018 at 10:45:51
Colin have you read nothing? It has been decided already
Michael Lynch
220
Posted 04/01/2018 at 10:47:54
Deal done! Can we start slagging him off yet, or do we have to wait until he's played for us?
Brent Stephens
221
Posted 04/01/2018 at 10:51:30
£27m agreed, say Sky.
Sam Hoare
222
Posted 04/01/2018 at 10:53:46
Ray@216, that's true but to be fair to our managers Lookman, Sandro and Vlasic are all kids still really. None of them has hit the ground running and made themselves undroppable. I hope they will all do so in the years ahead.
I just feel that we have often spent big on the wrong players. We got Bolasie when I felt Zaha would be a better bet. We got Keane when i'd have preferred Maguire. We got Siggurdsson when we already had Rooney and Klaassen and were crying out for a Salah-esque player. Schneiderlin was added to what was already a fairly slow midfield. We didn't get a left back even though Baines is getting on and we had no other left backs!!
Its just feels to me like the recruitment process has not always been well thought out in terms of the balance of the team.
Dermot Byrne
223
Posted 04/01/2018 at 10:56:46
Michael 220. Was thinking of asking if we can have a Drafts facility aka email.
Then folk can write a good piece of vitriol now, save it and insert some reason for it before publishing at end of Jan.
Think that's a goer?!
Colin Glassar
224
Posted 04/01/2018 at 10:58:15
Michael 220, I think we can officially start during the warm up before tomorrow's game.
Geoff Lambert
225
Posted 04/01/2018 at 10:59:49
Dixie Dean
on sky sports http://www.skysports.com/watch/video/sports/football/teams/everton/11193137/dixie-dean-evertons-goal-machine
Jamie Evans
226
Posted 04/01/2018 at 11:01:50
No matter how shite this fella is gonna be - and if you listen to most on here we've just paid £27 million quid for the next Arouna Kone - console yourselves in the knowledge that no matter how bad he is, he can't be as bad as Tom Davies who, despite being a young lad who gives his all every game and this time last year was our saviour, is now useless.
Please lets show this lad some patience 'eh . and maybe young Tom as well ?
Paul Kelly
228
Posted 04/01/2018 at 11:16:30
Cheers for that Geoff, quality.
Sam Hoare
229
Posted 04/01/2018 at 11:39:04
Watched all the videos of him again. Still reckon he'll be a bit too slow for this league but he does know how to finish and obviously works very hard.
His attitude is exemplary by all accounts and he apparently even takes a personally hired football personal trainer with him away on his Summer break to keep in good shape! Could have a few words with Ashley Williams
Best of luck to him. Hopefully he's more Shearer than Beattie.
Mark Andersson
230
Posted 04/01/2018 at 11:46:23
Michael Lynch... Brilliant... I think they have started. Oh well is this the never ending turning point the missing piece of the jigsaw. Oh forgot we need another 22 pieces of the jigsaw and a cleva manager who knows how to put it together..
The blue tide is rising, we just need it to drown the incompetence men who steer the blue ship.. before we can sail into new glorious waters of success.
John G Davies
231
Posted 04/01/2018 at 12:03:59
That's that sorted then.
YouTube videos have been studied and he is officially crap.
It's like butting the wall sometimes on ToffeeWeb.
Jon Withey
232
Posted 04/01/2018 at 12:10:51
Scores with both feet then - I guess well see !
Pretty harsh starting him for the derby, he'll barely see the ball surely.
Steve Carse
233
Posted 04/01/2018 at 12:14:31
Alan (185), I don't think they have the same agent as Allardyce though .
Rob Halligan
234
Posted 04/01/2018 at 12:14:33
Good to see one position we're lacking in solved. Next in should be a left back. For me I'd sign Aaron Cresswell from West Ham. The lad has got a sweet left foot and can put a mean cross over. Did anyone see his cross for Andy Carroll's first goal against west brom? He has also got a decent shot in him and has scored some screamers for west ham. Get him signed up ASAP. Only downside is he's a RS, but I think we can put up with that if we get him.
Ray Roche
235
Posted 04/01/2018 at 12:15:33
Sam#222
Sam, I could have written that post myself! I agree with just about all of it, although I do think that Vlasic has done enough to be considered a starter.
Todd Watkins
236
Posted 04/01/2018 at 12:16:32
Why is everybody putting crap on him. Let him show what he can do. He's better than Calvert-Lewin buy a mile.
Jerome Shields
237
Posted 04/01/2018 at 12:17:48
If he plays on Friday he will find himself isolated as Sam puts his defensive system into action. The tactic will be to nick a win, like the last time.
If Liverpool score first, the alternative tactic will test if Allardyce has the ability to organise effective forward play. High balls will be useless. We are unlikely to get the high chance that lead to the goal in the last game.

Shane Corcoran
238
Posted 04/01/2018 at 12:19:15
I can't believe it's taken until 4th January to agree this fee. I mean what the hell is the club at? Oh, and he's probably crap too. Everyone out!!!!!!!
Andrew Ellams
239
Posted 04/01/2018 at 12:21:54
If we are going to bring a left back during this window I'd like to see a bid for Layvin Kurzawa from PSG. Got experience, a regular in the French national squad and got the physical attributes to deal with English football.
Roger Helm
240
Posted 04/01/2018 at 12:24:23
I don't think you can be a fast nippy forward and an old-fashioned number nine at the same time. I think the idea that he will be a better physical presence up front and have a head to get on the end of Siggy's deliveries. Let's hope it works.
Tom Bowers
241
Posted 04/01/2018 at 12:29:52
We need a goalscorer who has zip and can quickly control the ball and hold it.
Sandro has disappointed in his area so let's hope this guy does not.
Bolasie is finding his feet and also has zip so one hopes maybe these two can strike up a good partnership.
Ian Edwards
242
Posted 04/01/2018 at 12:40:04
Peter Larkin 181.
Give Tosun a chance...as for wasting Barkley money on a slow player...do you really think Barkley has pace?. The reason we hardly won any away games with a hotshot like Lukaku was because slow Ross was unable to quickly link midfield with attack.
I disagree with Allardyce. the problem isn't with the strikers. It's that they are not getting any chances created by a dreadfully negative formation. As for too many number 10s under Koeman...we now have too many holding midfielders being selected by Allardyce.
Chances aren't being created. Pele wouldn't score with these tactics.
Will we ever have a go at Liverpool at Anfield? It would appear not in my lifetime.
Omer Yilmaz
243
Posted 04/01/2018 at 12:42:55
Well done Everton. I hope he will be very succesful in your team.
Nitesh Kanchan
244
Posted 04/01/2018 at 12:49:25
Finally the signing is completed. Big Sam told some interesting things in his press conference. No player will be loaned, only sold. So Klaassen's and Sandro's Everton careers might be over and it is going to be interesting to see what happens with Mirallas, Besic, and Lookman who haven't been given opportunities by Big Sam except that training session game 11 vs 11. Also, he wants to have a go at Liverpool tomorrow with Cenk starting on bench.
Alan McGuffog
245
Posted 04/01/2018 at 12:50:17
Steve (#233). Both recommended highly by Steve Macmanaman.
Adam Carey
246
Posted 04/01/2018 at 12:52:46
It looks like we have him, and from what I believe he should be eligible for the FA Cup tie tomorrow. Good; now let's get the left back situation sorted.
As for this dragging on, we are 4 days into the transfer window and have agreed a fee. This is with a team who appear to be playing silly games over the fee.
Is it just me that thinks that the whole transfer window information overload is the issue here? Sky have some kind of blog now where 'experts' discuss transfer rumours. Why??
On top on their nonsense transfer page which runs all season commenting on hearsay. Reminds me of the old ceefax/teletext rumour pages where you would see rubbish, then could call an 0800 number to hear rubbish.
The January 1st deals like Van Djik and Diego Costa were all sealed out of the window. Let's calm down a bit.
Chris Gould
247
Posted 04/01/2018 at 12:53:38
Rick (#204),
Don Hutchison jizzing in his pants is certainly a good barometer for measuring a successful signing. Apparently he couldn't get any blood flow for Klaassen or Sandro but filled his boxers with man juice when we signed Pickford.
It's a very good sign indeed and shouldn't be easily dismissed. I now have zero doubt that this guy will be a huge hit.
Brent Stephens
248
Posted 04/01/2018 at 12:55:50
EFC saying: "Personal terms are the final stage. That might happen before the Cup tie, might even get him registered before then, but that will be tight" – suggests he'll get game time tomorrow if it goes through on time?
Andy Crooks
249
Posted 04/01/2018 at 12:57:32
How long before we judge him. I reckon the end of the season, at least. Some judgements, though, seem to have been made from the very moment he was mentioned on the rumour mill.
Brent Stephens
250
Posted 04/01/2018 at 12:58:29
Chris #247 is there a website where we can see Don Hutch's boxers? So we can get the vibes for the next potential signing?
Shudder.
Sam Hoare
251
Posted 04/01/2018 at 12:58:36
John G Davies@231 has anyone actually said that he is crap? Or are you being miserable just for the fun of it?
Serhat Senel
252
Posted 04/01/2018 at 12:59:12
Over the 4 years with Besiktas, Cenk Tosun has been in the same squad and competing with Mario Gomes, Demba Ba, Aboubakar, and now Negredo; still he found himself a solid place in the starting line up regularly. This guy has been scoring goals in the league, in the Champions League and for the National Team with the header, right foot, left foot, and all.
Everton not only got a top striker but also a passionate footballer with good character. He is also fluent in English and German. He is made in Germany like Mesut Ozil.
For £24 plus million (and looking at the transfer fees in the market now), and urgent/obvious need for a goal scorer, Everton just got hit the jackpot.
Paul Gallagher
253
Posted 04/01/2018 at 13:05:49
I think the problem any new unknown and untested signings in the EPL will have when they sign for Everton. The fans have probably every right to be skeptical after last summer, as none of the signings have worked out thus far. I think Everton seem to make signings so complicated. The other clubs seen to identify a target, go for it and with in a few days, a player has signed.
Darren Murphy
254
Posted 04/01/2018 at 13:08:07
@236, Spot on there Todd.
Nitesh Kanchan
255
Posted 04/01/2018 at 13:10:46
While we are at it,get a deal done for Talisca as well with Besiktas for next season. Easily would be an upgrade on Barkley and aging Rooney.
Ric Dowse
257
Posted 04/01/2018 at 13:23:09
It's a tough job finding positive comments on ToffeeWeb these days. I say give this fella a chance, give big Sam a chance, quit moaning, get behind the team and enjoy it. Since when has supporting Everton been an easy ride? Okay so they spend £150m. That isn't big money these days boys and girls
Chris Gould
258
Posted 04/01/2018 at 13:23:18
Haha Brent, a quick google search surprisingly suggests no such website exists? Unfortunately we have to make do with Don passing on his ballbag's wisdom via twitter and the media.
Brent Stephens
259
Posted 04/01/2018 at 13:24:17
Serhat #252 - thanks for that post. I'm feeling relaxed and optimistic.
Nitesh Kanchan
260
Posted 04/01/2018 at 13:25:31
@252, Tosun has really stepped up a notch this year especially, he has been best player for national team as well as Besiktas. I saw the Champions League games of Besiktas and he links up well with midfield players and wingers.
He formed a good partnership with Hutchinson and Talisca up front not so much with Negredo though, another forward. The concern is whether we can give enough service to him from midfield. Sigurdsson's and Bolasie's play will suit him well though.
Brian Harrison
261
Posted 04/01/2018 at 13:26:40
A bit worrying when Allardyce was asked would we be signing another striker he asked where are they? So between you and Walsh and Shakespeare you don't know of another striker we could bring in.
In his press conference he was asked about Sandro and he said we hadn't had any offers for him, but said he wasn't interested in players going out on loan which I think is right. He was also asked about Mirallas and he said does Kevin want to go, is the club right for him and is the transfer right for us. I think a simple we are open to offers would have covered it. No mention of Klaassen, but from his earlier statement he won't be allowed to go out on loan.
I would have liked someone to have asked about Lookman and how come he has hardly had much game time since his brilliant goal against Apollon Limassol. For me, he is the one player who can go past people with his skill and pace, and seeing we are not blessed with this type of player I cant understand why he wasn't on the bench against Man Utd. I just hope with Bolasie recovering from injury this doesn't restrict Lookman to look elsewhere.
Dale Rose
262
Posted 04/01/2018 at 13:27:47
I'm not looking forward to tomorrow night. I think its going to be an exercise in pain. Not for the players, the fans.
As regards this guy, videos can make anyone look good. The Sandro videos were excellent, bit like the eighties quote "Nice video, shame about the song".
I hope he does something, I really do, but at the moment after all the money that has been wasted over the last twelve ,months, I'm not holding my breath.
Chris Gould
263
Posted 04/01/2018 at 13:35:23
Brian, I think the problem with Lookman is that he loses the ball more than he actually goes past people. He also offers nothing defensively.
At the moment he's too much of a risk as we are still poor at the back if we don't have every outfield player organised and prepared to defend.
I prefer Vlasic and Bolasie and think in time that those 2 and Tosun up front may be enough to gain 7th. Which is as good as it could get this season.
Chris Corn
264
Posted 04/01/2018 at 13:41:05
Paul Gallagher @ 253. It's not really true that other clubs sign players easily. Van Dijk and Saleh took ages to sign for Liverpool, De Gea never signed for Madrid despite a protracted "Will he? Won't he?" saga. There are loads of other examples, just ask fans of other Premier League clubs. The very nature of modern transfers is complicated due to agents etc and to claim Everton are the only ones to fall foul is not true.
Our major problem this year was not the signing of the players, it was the appalling strategy applied.
In fairness to this lad, Besiktas were clearly trying to raise the price but he seems to want to play for us.

John Boon
265
Posted 04/01/2018 at 13:43:19
Tosun has got to be given a chance and fans need to be positive. Some say he is slow. Remember we were on the brink of signing Giroud and he scored plenty of great goals without being a speed merchant.
I really don't care what system we play against Liverpool. I am far more interested in games following the Derby when I hope we can play attacking football. We do have other players who have speed. Tosun can feed off them as long as he doesn't just receive Hoof-balls that Calvert-Lewin has had to contend with up to now.
David Israel
266
Posted 04/01/2018 at 13:43:34
Well, 'we Mounties always get our man!'
Andrew Clare
267
Posted 04/01/2018 at 13:45:40
I am sure Cenk is a very good player just like most of the players we have signed over the past year but if he doesn't fit the the system he will be just like the rest.
What worries me is that most of the foreign players we have signed have been used to a far more sophisticated way of playing compared to the hoof it up the pitch/park the bus style Sam prefers.
The result being that by half time they are completely knackered after chasing lobbed balls for 45 minutes.
Do our players ever practice quick one twos on the edge of the box?
David Israel
268
Posted 04/01/2018 at 13:53:47
Alan #185, nice to see some people never lose their sense of humour. And I'm sure those two would be an instant hit!
Martin Reppion
269
Posted 04/01/2018 at 13:54:43
As I have said before, I know I am a dinosaur. But I miss waking up in the morning in to see in my newspaper that Everton have signed Adrian Heath or (even) Ian Wilson. All this 24/7, or should that be 60/60/24/7 speculation as the web is uploaded to by the second, speculation and ill-informed comment does my nut.
I can remember discussions in the pub over which players we'd like to sign because some guy had a cousin who'd seen a good striker play against his team.
But now, people spout as fact the witterings of the half baked media pundits whose job is to fill endless seconds of SKY TV news reel or TalkSport phone in with the filling between the bread of their advertising.
We all speculate on who we'd like our club to sign (and yes we'd all like Aguero or Messi but it's not going to happen) so depending on our levels of ambition or realism we demand the board sign Dembele, Luke Shaw, Fellaini or Jesus Christ. But what do we know? How many of us actually know which players are under contract, which ones have kids just settled into a school or an ill mother in law the wife doesn't want to be too far from?
Let the club know we expect better by all means. But let the guys paid to do their jobs get on with it and don't waste all that time writing about every player in Europe who would improve the team.
Oh for a bit of media hush followed by the announcement that we've signed 2 strikers, a left back and a taxi for the deadwood.
Jay Woods
[LAT]
270
Posted 04/01/2018 at 14:05:20
Kicker in Germany are lauding this transfer as a kind of big win for Bayern Munich, as it means they won't have to face him when Besiktas meet Bayern in the Champions League.
Link here (in German, obv.) : http://www.kicker.de/news/fussball/intligen/startseite/714206/artikel_vorteil-bayern_everton-kauft-tosun-fuer-30-millionen-euro.html
Jim Bailey
271
Posted 04/01/2018 at 14:13:06
Martin @269,
As a fellow dinosaur, great post.
Johan Elmgren
272
Posted 04/01/2018 at 14:26:04
Well that's all good, getting a forward into the squad. It has sorely been missing this autumn. Now all Allardyce has to do is change his approach to the game and focus equally much on attack as he does on defence. If he doesn't, this purchase will be completely wasted as Tosun will get zero service from the midfield.
To all those saying that we don't have good enough players, let me just remind you that most of this squad managed 7th place last year. Fact is that we are much stronger than last season with the purchases made this summer. The only weaker part of our team this season has been in attack where Lukaku has been vastly missed. Barkley was one of our most creative players last season, as he has been for the last seasons, but we bought replacements for him in both Rooney and Sigurdsson. We also have Klaassen compared to last year, and altough he hasn't set the world alight yet, these are players that could do the job Barkley did.
I would say that the main thing that got us into this mess is that we didn't manage to replace Lukaku. Before the window closed in August we hadn't lost a single competitive game. In fact we did almost manage to beat Manchester City away... A team that has only lost four points so far this season, and until recently we were the only team to get points off them. So up until the window slam shut we were good and confident, but after it did shut and we hadn't bought a replacement for Lukaku, the whole squad seemed to be deflated, and lost the upcoming games and were instantly drained of their confidence. It didn't help that Koeman constantly changed formation and players in the starting lineup to try to find a solution to the malaise.
So I would say that the players are good enough to challenge the top six, but I'm afraid we won't under the current manager, since he is too focused on defence. We could easily play the possessionfootball we played last season now with the new striker, but I I don't think Allardyce has the knowledge to do it. So until he's gone I'm afraid the purchase of Tosun is null and void.
Martin Reppion
273
Posted 04/01/2018 at 14:28:17
Jim @ 271.
Trouble is we are both perpetuating this t'interweb thing.
I'll get back to my whippets now and later crank up the stove.

James Byrne
274
Posted 04/01/2018 at 14:32:58
I'm excited about Tosun. He just needs to sort out his barnet!
Derek Knox
275
Posted 04/01/2018 at 14:35:00
Martin @269, A taxi for the deadwood? More like a Pantechnicon (with a trailer attached)
Shipping the deadwood out is great in theory, but who wants deadwood these days?
Furthermore, it's no use, assuming we do move a few, or all of the above, by bringing in wood that is on the turn, or riddled with woodworm, dry rot, wet rot, you name it!
Mahogany, teak and oak should be the minimum, no balsa or kiln dried firewood! :-)
Phil Bellis
276
Posted 04/01/2018 at 14:35:31
Ah, happy days lads...
"Rangers Scott Signs For Spurs"
"Kendall joins Liverpool"
Pat Kelly
277
Posted 04/01/2018 at 14:42:56
Let's hope he doesn't live up to his anagram : Once stunk

Steve Ferns
278
Posted 04/01/2018 at 14:43:50
I wasn't impressed at all with Batshuayi this season. I've kept an eye on him as I really did fancy us getting him in the summer. But when you consider what it would cost to get him in, his age, and where he is actually at, I don't know if Batshuayi is worth it.
The other one that I and others wanted us to go in for in the summer was Iheanacho, who went from City to Leicester. He's been poor. Dembele is mentioned again above, I really want him in the summer as well, but he has been poor. My favourite of the lot was Kasper Dolberg, but he's been dreadful. That's four players most would have loved to have seen come, especially me, and all are likely to have flopped (on the form exhibited this season).
Tosun is someone I had not really paid attention to before, but having read up on him, watched a few videos, and seen the reaction of Turks, I am really excited about this one. I have a good feeling about it. He sounds like Straquelursi but with technique. Of course he's not got the same height but he's a big bull of a player and works very hard on and off the pitch. He's just what we need.
Sandra Williams
279
Posted 04/01/2018 at 14:44:59
Martin @ 269. Couldn't agree with you more!! The whole of the football world has changed so much since I went to my first game in '75. Not only does all the speculation get on my nerves (99% of it is utter made-up nonsense) but also the changing of games/days/times etc. I'll always love my Club but, at times, I feel like I'm falling out of love with football as a whole. I guess that makes me a dinosauress (if that isn't too 'PC')!!
John G Davies
280
Posted 04/01/2018 at 14:45:46
Sam Hoare,
I have cheered up now that I have seen your latest rib tickler
Tony Williams
281
Posted 04/01/2018 at 14:51:49
Hooray, everything is rosy in the garden again, Champions League here we come.
Sam Hoare
282
Posted 04/01/2018 at 14:57:02
John G, any time :)
John G Davies
283
Posted 04/01/2018 at 14:59:15
Gracias Sam. 👍
Steve Ferns
284
Posted 04/01/2018 at 15:01:35
I detect a hint of sarcasm there Tony! Regardless, Tosun and a decent left back could transform this side, particularly if Barkley comes back soon.
Martina has done better than expected defensively, but it's like attacking with one less man, Calvert-Lewin has been great but he needs help and competition. We also need some creativity high up the pitch, and Sigurdsson is too slow to do that. If Barkley gets fit and plays out the season like he played out last season, then we would be a team transformed.
George Cumiskey
285
Posted 04/01/2018 at 15:04:06
Let's hope this lad can also play left back, centre half, on any wing and attacking midfield.
Just incase our exceptional board think one signing is enough .
Andrew Ellams
286
Posted 04/01/2018 at 15:05:18
Steve Ferns, Dembele, Dolberg, Batshuayi and Iheanacho are all an improvement on what we currently have at the club and are all young.
We're not in a position to be picking from the A-list right now.
Jamie Crowley
287
Posted 04/01/2018 at 15:13:12
That's a LOT of money to spend on this kid.
Hope he comes good.
I think we paid 25 million for Lukaku... the world's gone mad.
Shane Corcoran
289
Posted 04/01/2018 at 15:29:31
Don Hutchison reckons that as he's only 24, he has time to improve.
People actually get paid for these opinion, even when they can't get his age right.
James Hughes
290
Posted 04/01/2018 at 15:37:13
Some positive comments from new(ish) posters. Re: Omer, Serhat & Nitash. Hope they prove to correct.
Word of advice to those people, if you ain't completely Blue, then run now while you still have a chance of keeping your sanity. COYMB
Paul Gallagher
291
Posted 04/01/2018 at 15:48:57
Am I the only one on here contemplating not watching the game Tomorrow night?
Tony Williams
292
Posted 04/01/2018 at 15:54:20
Steve (286), not crticising Tosun, looking forward to seeing him although I do think we need another striker and a top class central defender, but I am not an Allardyce lover and never will be and giving him money to spend, I worry, especially if Walsh has got anything to do with as well. Any manager worth his salt wouldn't allow others to pick his signings.
Steve Ferns
293
Posted 04/01/2018 at 15:58:05
Tony, most of the managers worth their salt do just that, in particular the managers in the top 3 positions of the league right now.
Phil Bellis
294
Posted 04/01/2018 at 16:11:00
I'll be in my usual Anfield derby spec Paul...behind the sofa
Jack Convery
295
Posted 04/01/2018 at 16:15:20
As he signed yet !! If he does the press boys will be given a turkish style smoking bubbly thing they all use, to get that Turkish feeling. BKs PR man is on that one right now. When asked how did you come to get him - BK as fast as a whippet pulls a fez from under the desk and shouts JUST LIKE THAT ! What a joke we are. oh and I will be watching tomorrow as EFC have turned me into a masochist
Mike Dolan
296
Posted 04/01/2018 at 16:18:15
He should make the team better allow the midfielders to move up . I think you have to look for more goals now for Rooney, Siggy and who ever is on the wing as well as what the lad can chip in himself. I would be happy if he can pop in 12 goals in a season. Good luck to him. Next up is a modern left back.
Jamie Evans
297
Posted 04/01/2018 at 16:25:21
Paul 291, I'm not sure.
I find I can very rarely bring myself to watch the Klanfield derby and I've been like this for a while. The sight of that hovel, not to mention listening to that song, just winds me up to much now. Stupid I know but even if I qualify for a ticket through my ST, I end up giving it to a younger blue in my family. Someone not yet engrained with the fear like me.
Geoff Lambert
298
Posted 04/01/2018 at 16:44:24
Paul 291
Hate watching the modor derby, Might go fishing for the night and leave my radio at home.
Whats the worst that could happen??
Tony Waring
299
Posted 04/01/2018 at 16:50:58
Geoff 298 - we'll probably win and get Man City or Chelsea in the 4th round!
Stephen Davies
300
Posted 04/01/2018 at 16:52:23
#299
You could fall in and drown
Geoff Lambert
301
Posted 04/01/2018 at 16:58:47
Tony if thats the worst I will take that all day long.
Stephen I was a national champion swimmer in wellingtons .
Paul Gallagher
302
Posted 04/01/2018 at 17:03:02
I expect us to play Alamo Football and be torn to shreds, make the RS look like Brazil circa 1970. Geoff, Karius can join you on a fishing trip as we will have zero shots on target. 4-0!
Liam Reilly
303
Posted 04/01/2018 at 17:03:15
Dreading this game. Klippity will have them fired up after the dismal derby and will no doubt want a cricket score.
We need to go after them, as that will surprise the shit out of them. Throw in the new guy; he's match fit so why not; then let Sandro or Siggy play off him.
What the fuck am I saying; it'll more likely be pack the middle with CL running the channels and 90+ minutes of keeping the score respectable.
Serhat Senel
304
Posted 04/01/2018 at 17:06:22
Brent @259 and Nitesh @260; I hope Cenk will settle in quickly and get used to the tempo in EPL.
I am Turkish but I closely watch Everton as well as other EPL teams, one thing strikes me the most is that specifically Everton just lost its ability to come up with young promising players and now spending a lot of money on foreign players...like West Ham...
I can see now a litte bit of change by bringing the new goalkeeper- Everton needs young talented player and some more time to turn them into a good team
Paul Kossoff
305
Posted 04/01/2018 at 17:14:12
I bet he's injured, not fit, off on holiday, papers lost,😥
Brent Stephens
306
Posted 04/01/2018 at 18:07:18
Serhat #304. There are some promising signs about our young lads coming through from our Academy. Several have already come through, at different stages of their development but all with good potential - Holgate, Davies, Calvin-Lewin, Kenny, Beningame.
Derek Knox
307
Posted 04/01/2018 at 18:24:35
Stephen @300, or get bitten by a Red Mullet, or a Red Snapper! :-)
Robby Burns
308
Posted 04/01/2018 at 18:38:00
He's currently at the Titanic Hotel.
Kristian Boyce
309
Posted 04/01/2018 at 18:49:38
While looking at some pics of Tosun online, I guess that from some of his older photos, him and Rooney share the same barber/surgeon. Bizarrely, there's a few of him in his younger days that make him look very similar to Sandro. Are we actually sure this is a real person or is Sandro trying to rejuvenate his career with us under another name?
I bought a copy of Football Manager 2017 about 6 months ago and signed Tosun for around 6m for us. He had 3 blinding seasons scoring 25+ goals each season before selling him for about 30m to Chelsea. So when we were linked with him in real life I got a little excited, but then recounted the joy and despair of my Champs Manager days with Bakayoko.
Dave Older
310
Posted 04/01/2018 at 19:00:28
Tosun is the Turkish Harry Kane according to Sky. I will have some of that. Let's hope he can do the business for us. The revolution starts here.
James Marshall
311
Posted 04/01/2018 at 19:03:13
Same old hype which is always good fun. I'll say one thing, the kid can finish...
I remember saying the same thing about Sandro. Hmm.
Kim Vivian
312
Posted 04/01/2018 at 19:03:41
Right then - WHY are we not going after Aubameyang .?
James Marshall
313
Posted 04/01/2018 at 19:07:09
Because he's going to Arsenal and we're signing the new Harry Kane.
Paul Birmingham
314
Posted 04/01/2018 at 19:23:54
Let's hope henceforth in this xfer window there's positive twits for EFC. Hopefully no over night bug or soft tissue injury.. We all half expect something to go wrong...
Tomorrow, let's see what happens.
Chris Corn
315
Posted 04/01/2018 at 20:01:19
Regardless of whether this fella arrives, I think he should persevere with Sandro . He was a 1 in 2 striker last season and is still young. If we actually had midfielders who could get the ball and themselves in behind defenders instead of being cowards in possession , our strikers might have more joy.
Len Hawkins
316
Posted 04/01/2018 at 20:01:19
Harry Kane is Harry Kane I want Tosun to be Cenk Tosun of Everton if he can stuff the ball into the onion bag he'll do for me!
Peter Gorman
317
Posted 04/01/2018 at 20:11:17
I hope he is capable to converting the one chance he'll get a game.
Jack Convery
318
Posted 04/01/2018 at 20:14:14
I hope he not going to wear those shoes with turned up toes ! By the way has he signed yet ?

Alan McGuffog
319
Posted 04/01/2018 at 20:29:55
Tony 299 .over the years the Everton way has been ( on occasion ) to claim a big scalp and then we get a home draw against Gasworks Rovers. We're all planning what to wear at Wembley when
Tony Everan
322
Posted 04/01/2018 at 20:51:10
some are concerned he is slow , but it's not the be all and end all. It's more about timing and being in the right place at the right time. Instinct.
If he can link up and use the pace of Bolasie /Vlasic/Lookman/Lennon/Sandro or a new signing like Welbeck he can be a success.
Alan Shearer wasn't Alan Wells , but he didn't let it stop him banging them in left right and centre.
Cenk looks like a CF in the Shearer mold. If he can be half as successful we will have a diamond.
John Davies
323
Posted 04/01/2018 at 20:51:17
Chris Corn #315. I agree totally mate. Sandro looked really decent in La Liga and we have possibly ruined him. I don't see how anyone can say he's shite when he hasn't been given any game time, nor any service from midfield, so he can show what he's capable of. Provided he doesn't throw a paddy - and keeps working at it - he is still young enough to come good.
Brian Wilkinson
324
Posted 04/01/2018 at 20:59:58
Paul@291 make no mistake those Reds will be more scared than us Blues right now.
For weeks they have been saying 4 5 even 6 nil, that was before they lost Salah and Coutinho and we got Bolasie and McCarthy back, add to that just short of 8,000 Evertonians in the stadium and only Keane as a recent injury.
If Tosun plays any part in the game then that's an added bonus., you have a midfield that could consist of McCarthy, Rooney, Bolasie, and Siggerson.
It's hard to remember the last time we went to Anfield with an almost fully fit squad, Jesus we normally have a shite bench, it will be filled by players that can called upon.
We will not have a better chance of ending our dire form across the park.
Chin up Paul, we can win this.
Rob Halligan
325
Posted 04/01/2018 at 21:11:33
Jeez Brian, (#324). You fill me with some much confidence, that I feel like we've already won this game. However, just think back three days, when Man Utd were short of so many players that I bet most thought we'd never have a better chance of beating them.
Sod's Law tells me that, sooner or later, we have to beat the RS at Anfield, hopefully tomorrow. I just hope you're right.
COYB. FTRS.
Paul Gallagher
326
Posted 04/01/2018 at 21:54:08
Brian, does Allardyce and the players believe we can win the game. Our record at Anfield since 1999 would suggest there must be some sort of psychological weakness when it comes to playing the RS.
Quite often poor RS sides have beaten us when we had been favourites, like the 2012 FA Cup Semi-Final. I hope you are right Brian and it isn't Alamo football for 90 mins.
Lenny Kingman
328
Posted 04/01/2018 at 22:53:00
I see the price of useless lumps up front has gone up from £5 to 27 million.
A stellar career in Germany, one reserve game led him to scarper to the land of his fathers where he won the Toto cup and some other titles that even our beloved blues could have won.
Somewhere down the rocky trail this term maybe Sandro and Tosun can be sold on as a package deal to some other mismanaged side as useless and more useless.
Andy Crooks
329
Posted 04/01/2018 at 23:16:49
Top analysis, Lenny. I agree, let's not see what he is like. Chances are he is shite and you have won the race to call it.Top post.
Colin Glassar
330
Posted 04/01/2018 at 23:20:03
Just in. Has this guy signed yet?
John Daley
331
Posted 04/01/2018 at 23:33:34
"A stellar career in Germany"?
What sort of career was he supposed to have crammed in before turning 20? He was a youth team player who made a single senior start and moved on because he was unable to make the breakthrough. If he was thinking straight, he should have just thrown himself head first into a wood chipper right there and then and had done with it, because not a single footballer in that sort of situation has ever gone on to achieve far greater success elsewhere, have they?
The price of "useless lumps" may have soared, but proposing a player be sold, before they have even played a single game, is proof positive that pulling your arse cheeks apart prior to posting still doesn't cost a single penny.
Kase Chow
332
Posted 04/01/2018 at 00:01:37
Lenny (#328),
Brilliant. Your negativity is astounding
If we don't sign someone, we are incompetent. And if we sign someone, then they must be incompetent and, de facto, we are incompetent
You're a star.
Keith Harrison
333
Posted 05/01/2018 at 00:44:05
He'd had a medical but still hadn't signed by 8 pm. Maybe Sam is going to sign him on the pitch at half-time tomorrow night?
Welcome back, Rob. Fancy us to do them this time!
Mark Boulle
334
Posted 05/01/2018 at 08:29:31
So another day passes and he's still not actually signed. I hate these drawn out processes - I wish the club would do hourly updates...player is having a medical, personal terms have been agreed...etc etc. The not knowing and constant checking drives me mad!
Nigel Munford
335
Posted 05/01/2018 at 09:44:09
Has he signed yet?
Tony Everan
336
Posted 05/01/2018 at 09:45:47
No Nigel , but he is in the building, and we know what that can mean.
Maybe Liverpool have offered 29m to Besiktas up front , 500 000 to his agent ,and an extra 10 000 pw wages.
They will announce his signing at 7pm and will watch the match betwixed King Kenny and Ian Rush.
Sorry, just trying inject some humour on this dark and dreary day.
Mark Boulle
337
Posted 05/01/2018 at 10:21:23
How long before the first comment along the lines of "I bet the delay in signing Tosun is because we're selling first Barkley in order to have the funds in the bank to get him"...?
Oh wait, I just said it!
Nigel Munford
338
Posted 05/01/2018 at 10:30:31
Who knows with us Tony
Nigel Munford
339
Posted 05/01/2018 at 11:04:49
55 minutes and counting.
Andrew Lum
340
Posted 05/01/2018 at 11:09:28
Does anyone know if we can register Luke Garbutt now that the window has opened again? Not saying he is the answer to our left-back problem, but at least we have another option before we sign someone.
Rick Pattinson
341
Posted 05/01/2018 at 11:25:33
I reckon this Tosun will be an instant hit...he wants to make a name for himself and prove himself in the premiership he's keen to sign. All the Turk fans are gutted he's leaving Besiktas. Oh here's a shout. Felliani is unhappy imagine him back in the midfield bossing it and chucking his weight about that's what we are missing...someone who can win the ball. I'd have him back anyday. What do you lot think??????????
Jon Bentley
342
Posted 05/01/2018 at 11:46:58
15 mins to register him for tonight
Gonna miss it aren't we?!
I suppose it might be better to get him in and trained up steady rather than risk another player with a long term injury because he's thrown himself about to impress!!
Geoff Lambert
343
Posted 05/01/2018 at 11:52:07
Rick, I think we have enough Man utd rejects.
Nick Lacey
344
Posted 05/01/2018 at 12:12:29
Can't believe that we've need striker since Lukaku left and we haven't signed anyone yet. These negotiations should have begun earlier so that it was completed by the 1st January. It appears that he wasn't even registered by 12 today so he can play tonight. It would appear that we are run by amateurs.
Nick Lacey
345
Posted 05/01/2018 at 12:14:25
Rick 341. I'd take him back if we can get him for less the half that we sold him for.
Mark Boulle
346
Posted 05/01/2018 at 12:18:21
Midday been and gone, still no confirmation.
What the FUCK is the club playing at? GET HIM SIGNED!!!!
Rick Pattinson
347
Posted 05/01/2018 at 12:20:39
Geoff, he's hardly a Man Utd reject. He played 141 games for us. Was consistent and bossed the midfield. He can do what Schneiderlin can't. Reckon we could get him on the cheap too.
Gordon Crawford
348
Posted 05/01/2018 at 13:26:00
It says on the news that the transfer has hit a snag and so he is unavailable. What a joke we are, total amateurs.
Mark Boulle
349
Posted 05/01/2018 at 13:27:21
Whose news Gordon #348? Have you got any more detail?
Stephen Davies
350
Posted 05/01/2018 at 13:32:58
Hit a snag?
He's in London. I wonder if West Ham are sniffing?
Rob Young
351
Posted 05/01/2018 at 13:35:03
Echo now confirming he's not available tonight

Mark Tanton
352
Posted 05/01/2018 at 13:36:01
We're just dragging our feet as usual, it's not done on purpose, we're just not very good at all this transfer business, are we?
Hopefully Big Sam will demand an answer over why we couldn't get it done in time and transfers will be another area we tighten up and professionalise in. Allardyce has to get the club running properly off the pitch too, not just on it. He's got the experience to transform the club.
Michael Lynch
353
Posted 05/01/2018 at 13:36:59
Fairly standard Everton stuff. The Barkley transfer to Chelsea will go through like a greased turd, while we'll still be negotiating the Tosun deal on January 31st.
Rob Young
354
Posted 05/01/2018 at 13:38:25
Listening to Conte's press conference and they way he's talking about Barkley, it must be done and dusted
Gordon Crawford
355
Posted 05/01/2018 at 13:44:31
Apparently, Mark, Niasse won't give him his locker and so he doesn't fancy carry his kit around the place.
On a serious note, I don't know more than this, pal. It's in The Echo. But this doesn't surprise me at all. The words 'professional' and 'Everton' just don't go together any more, unless it's 'professional screw-up'.
Joe McMahon
356
Posted 05/01/2018 at 13:46:47
We should be used to it by now. Until Bill Kenwright is no longer connected with/to Everton FC nothing will change, apart from us drifting further away. We are about as near to playing in the Champions League as Sheffeld United are.
James Byrne
357
Posted 05/01/2018 at 13:58:42
So the Tosun deal hits a snag, player won't make the Liverpool game!
Fuck Off, Everton FC. The hard-working fans who go home and away are sick of this amateurish crap. Get your acts together, you shower of twats.
Clive Rogers
358
Posted 05/01/2018 at 14:03:03
Kenwright is a millstone round our necks. Personally I can't stand the sight of him when he appears on MotD or that poxy advert with Klopp in it also. Wouldn't you know Kenwright would get his mug on that one!!
Chris Jones [Burton]
359
Posted 05/01/2018 at 14:04:41
Evidently some on here are privvy to every detail, every fact, every nuance, because they've immediately condemned our club, and its personnel for the "snag" (as they do whenever anything goes wrong).
Pray tell chaps, how do you know this to be true? Surely you've some evidence to support your accusations (implicit or otherwise) against named persons. Can we see it please?
Tony Hill
360
Posted 05/01/2018 at 14:05:02
Who knows what the hitch is but we have a sorry track record of fumbling and protracting our transfer business. It is part of the messy impression we give of ourselves and we really do need to try and streamline things.
It suggests a negotiating practice which is out of date and/or that we continue to be in a financial position where every penny saved matters. Not exactly a New Everton.
Brian Wilkinson
361
Posted 05/01/2018 at 14:08:56
That has told me all I need to know about tonight's match. Days ago, I felt had we signed this player in time,he had a chance to be involved at some point tonight, I fully expect this will be completed today conveniently after the cut off time for tonight's match.
He has been here since the window opened, 5 days on and still trying to get it over the line.
I was hoping Sam would be going all out for our last chance of Silverware by signing our biggest area that needed fixing in attack.
I'm not blaming Sam for the deal not being done, as again we just cannot seem to get a deal done smoothly.
Looks like we are banking on keeping them out rather than us having a go at them; great shame, he could have made a difference at some point tonight.
Paul A Smith
362
Posted 05/01/2018 at 14:09:21
Its hard not to be caught up in over reactions but we are a terrible club. Charity and community work papers over the amatuer dealings we do.
One of our best leaving and they can't even conclude a deal we are desperate for on derby day.

Blaming Kenwright solely is the most ridiculous unhelpful answer.
Mark Boulle
363
Posted 05/01/2018 at 14:10:39
Exactly, Tony (#360).
Chris (#359), of course we've no "evidence"; however, top clubs in the main get their transfer business done with the minimum of fuss, paying what it takes to do that.
How was it the Shite were able to pre-negotiate and finalise a deal for VVD such that his signing, done and already dusted, could be announced on 1 January? Why weren't we doing the same with Besiktas to have this thing completed on the same day?
Derek Knox
364
Posted 05/01/2018 at 14:10:44
It really does beggar belief, as this potential transfer has hardly just happened at the last minute; how many meetings and negotiations has there been?
We hear that the fee has been agreed between the Clubs for a couple of days now; so you think, good now that's it all done and dusted.
Apparently not, how could they go this far; and let's not forget our Director of Hoofball made a special mission to Istanbul; to iron out the wrinkles, while most of the negotiations were taking place in London?
I cannot for the life of me, believe that they still haven't agreed personal terms; if it's over a locker, Ross's is available now, unless that deal hits a snag too!
Steve Ferns
365
Posted 05/01/2018 at 14:11:01
Good point on Garbutt, why didn't the club register him on New Year's Day? Don't tell me we aren't going to bother? What about bringing Galloway back on loan?
I was scathing of Koeman for not registering Garbutt, but surely the club should have de-registered Byrne on New Year's Day and put Garbutt down? Surely he could have been training with the first team in preparation?
Or has Allardyce run the rule over him in the behind closed doors game and decided he's not good enough? If so, why aren't we getting a left-back in quickly?
Keith Hitchen
366
Posted 05/01/2018 at 14:15:31
Back to Turkey, too greedy – we have enough nearly men. Try and get some serious players in and hope we make it to the end of the season still in the Premier League.
Chris Jones [Burton]
367
Posted 05/01/2018 at 14:16:37
Mark (#363),
"How was it the Shite were able to pre-negotiate and finalise a deal for VVD such that his signing, done and already dusted, could be announced on 1 January?"
Quite easy I imagine when you wave a world record £75 million for a defender under their nose! And they likely fancied they have that cash to spare when Real are sniffing around a certain Brazilian and muttering "£140 million". :)
Joe McMahon
368
Posted 05/01/2018 at 14:17:33
Chris Jones (359) what I can say though is since since 1999, when your man became Chairman, Everton have won bog all, never played in the Champions League (don't say qualifiers), have a home stadium with a wooden stand and sold their only quality 2 strikers in this time at knock down prices. Sheikh Mansour being told not for sale by Kenwright, Kings Dock fuck-up – the list is endless.
Chris Jones [Burton]
369
Posted 05/01/2018 at 14:19:30
Joe #368
There you go again making statements based on supposition. Kenwright is not "my man". I've never said he is. I am just challenging the 'knee-jerk' culture among some on TW.
Antony Matthews
370
Posted 05/01/2018 at 14:28:58
He prob saw us play Man u and thought f*** this for a game of soldiers
Shane Corcoran
371
Posted 05/01/2018 at 14:37:38
Steve #365, who's Byrne?
Jackie Barry
372
Posted 05/01/2018 at 14:41:54
Looking in from the outside I would be laughing my head off at Everton FC the 'Trotters Independent Traders' - T.I.T of English football. Problem is I can't laugh, I love this club.
Mark Tanton
373
Posted 05/01/2018 at 14:43:33
Mange tout Jackie, mange toute. As they say in Turkey.
Joe McMahon
374
Posted 05/01/2018 at 14:44:22
Chris (369), I accept you never said Kenwright was your man. But I just don't think any comments are knee jerk when there are years/ two decades of failings and mismanagement, both on and off the pitch.
Jackie Barry
375
Posted 05/01/2018 at 14:44:52
Lol. Very good Mark.
Jay Woods
[LAT]
376
Posted 05/01/2018 at 14:45:19
Oh come, come, chaps. At least we now have a ready made excuse for losing the game tonight.
Brent Stephens
377
Posted 05/01/2018 at 14:46:35
Any chance that he might already be signed and we're just keeping the rs guessing as to team selection and also, therefore, tactics?
Brent Stephens
378
Posted 05/01/2018 at 14:47:50
Sam Byrne.
Dermot Byrne
379
Posted 05/01/2018 at 14:48:48
Steve 365: they asked but I turned them down. Too busy on TW
Steve Ferns
380
Posted 05/01/2018 at 14:52:19
Haha, nice one Dermot.
Brent is right Sam Bryne. One of the kids who is too old to be called up for "free", he's clearly not going to play for the first team, so de-register him and register Luke Garbutt. Or is that the straight forward thing to do?
Kevin Field
381
Posted 05/01/2018 at 14:56:51
Mark 363 - I think that Besiktas do it differently, and they have a canny chairman looking to get the best for his club.
Basiktas holding out for more... canny Chairman...
And now Cenk Tosun still to agree personal terms (apparently he has been at Finch Farm, but hasn't signed in time for the Derby game)...
VD had already agreed most of it 7 months ago in a cafe in Blackpool.
And they've done a fair bit of business over the years (Adam Lallana, Dejan Lovren, Sadio Mane and Nathaniel Clyne) so they know how each other works...
And back when the 'meeting' was grumbled about the offer for VD was reported to be £60mil... Southampton held out... and agreed a fee of £75mill with extras.
But I share your frustrations that we seem to have these protracted transfer saga's...
Tony McNulty
382
Posted 05/01/2018 at 15:07:53
Brent (377),
The same thought had occurred to me.
Sam does play games. I remember his mind games about Tim Cahill just before one EFC match against one of his teams. His words about Cahill 'looking after himself' were clearly designed to plant some thoughts in the officials' heads.
I suspect tonight's plan is to try for a draw and take them back to Goodison.
Brent Stephens
383
Posted 05/01/2018 at 15:10:50
Dermot, Sam Byrne always seemed to me to carry a bit too much weight.
Is that why they turned you down, Dermot?!
Dermot O'Brien
384
Posted 05/01/2018 at 15:14:07
I hear the snag is over translating the contract to Turkish. Apparently there's no Turkish word equivalent to Installments.
Paul A Smith
385
Posted 05/01/2018 at 15:29:30
The loyalty of our fans compared to competence of the club is another level.
I need to ask myself how long I can remain a mug for.
David Israel
386
Posted 05/01/2018 at 15:59:08
I'm no fan of Bill Kenwright, far from it (a mention of his Boys' Pen stories give me the creeps, to say nothing of his infamous utterance 'What a Manager!'). But to blame him for this saga is equivalent to blaming the Queen for NHS shortcomings.
Jeff Spiers
387
Posted 05/01/2018 at 16:03:09
Paul @385 Being an Evertonian has never ever been easy. I am in my 65th year on this planet, and we have all been up and down with EFC. Trust me it doesn't get any easier. BUT we are Blue by birth, and if that makes me a mug so be it. I will never turn my back on us, we are blood!
Jay Harris
388
Posted 05/01/2018 at 16:12:59
David,
Kenwright is the chairman and as such oversees everything including transfer negotiations.
Since he became chairman we have seen a catastrophic series of events which would have forced any other chairman to resign.
Almost 20 years after his buyout of the club we are still being run like a championship club.
That is why people are fed up with him not just this latest saga.
David Israel
389
Posted 05/01/2018 at 16:14:01
When you read things like 'negotiations have hit a snag' (as the Echo is putting it) you can put the trouble down to agents, 90% of the time.
Most people perhaps don't remember this, but we only landed Tim Cahill after his transfer to Crystal Palace 'hit a snag', when the then-Palace chairman Simon Jordan refused to pay a commission to Tim's agent.
David Israel
390
Posted 05/01/2018 at 16:17:07
But I agree with what you say, Jay; don't get me wrong.
In the summer, though, we were very quick off the mark, signing Pickford, Keane and Klaassen in a jiffy. Was that a sign of an improved professionalism, still under the same chairman?
Paul Johnson
391
Posted 05/01/2018 at 16:25:40
Paul @ 385, I have just had the same conversation with my cousin and fellowblue. At what point will stupidity overtake loyalty. I believe Bill is at the heart of our shortcomings. I have great admiration for his love of Everton but football is big business and we have to take our heads out of the sand and take sentiment away from our thinking.
Fuck Barkley off now. Remove Bill And his lapdog. Sack Allardyce and go and offer Luis Enrique a 7 year deal. In 5 years we might see a trophy in 7 we will be champions.
If we keep doing the same things we will keep getting the same results.

Andrew Lum
392
Posted 05/01/2018 at 16:27:51
Thanks Steve #365. Can't believe we are going to persist with Martina at left-back while Baines is still out indefinitely. How many times have we seen Martina check back to his right foot in a promising crossing position? And it's not like Martina is a better defender than Garbutt.
Alan McGuffog
393
Posted 05/01/2018 at 17:00:58
I'll be going to stay with my Turkish mate in Kas in May. I'll find out what is holding the deal up. I'm sure we'll see him in a blue shirt by November
Paul Birmingham
394
Posted 05/01/2018 at 17:06:16
Not gonna be too scathing, ahead of a tough night, but at this rate we are unlikely to get any more players in during this window.
This latest twist is not unexpected and no surprise after a lifetime of mediocrity in transfer deals.
This delay is no surprise and let's see what happens tonight.. Good luck to all Evertonians tonight and let's hope we get some luck in this game...
Eric Paul
395
Posted 05/01/2018 at 17:15:44
Jay@388
Negotiations are usually carried out by the chief executive, head of recruitment or director of football
Geoff Lambert
396
Posted 05/01/2018 at 17:17:56
I don't belive anything till I see the man with the glasses and pen sitting next to the player. Come on Dave Harrison get that pen working.
Brian Cleveland
397
Posted 05/01/2018 at 17:44:29
Been seeing "imminent" for 4 days now last time I remember that word being used was in reference to Gylfi... and if that is what "imminent" means then the window will be closed long before the deal can be done...
Brendan Fox
398
Posted 05/01/2018 at 18:00:00
Cenk is reluctant to sign the contract as it appears his weekly wage is made up of food stamps, a paid up Littlewoods catalogue account and free tickets to Boys' Pen Bil's latest blockbuster West End productions...
Tony Everan
399
Posted 05/01/2018 at 18:32:47
Transfer man been preoccupied with Barkley. Cenk still in the Switch Island premier inn.
Will get a text soon and should be sorted "imminently".
Carl Taylor
400
Posted 05/01/2018 at 19:36:54
We're slick in getting wages off the bill, not quite so sharp when it comes to adding them, strange that? I just hope this lad hasn't stalled because he wants to watch how many chances we create for him if he had played tonight "Hello, is that Turkish Airlines? Yes, one way ticket out of Merseyside please" "Yes Mr Tosun, as soon as possible you say, no problem"
Michael Lynch
401
Posted 05/01/2018 at 19:46:12
Considering that Sam was talking up Tosun taking part in tonight's game, it's beyond a joke that the lad still hasn't even put pen to paper.
Imagine what it must be like supporting a competent football club. Weird probably.
Gordon Crawford
402
Posted 05/01/2018 at 20:56:11
Deal is done, he is now an Everton player.
Kunal Desai
403
Posted 05/01/2018 at 21:02:59
Barkley deal funded the Tosun signing.
Gordon Crawford
404
Posted 05/01/2018 at 21:55:53
Kunal have a day off. Lol
Add Your Comments
In order to post a comment, you need to be logged in as a registered user of the site.
Or Sign up as a ToffeeWeb Member — it's free, takes just a few minutes and will allow you to post your comments on articles and Talking Points submissions across the site.