Liverpool vs Everton

92 Comments [Jump to last]
Thursday 4 January 2018
FA Cup 3rd Round Preview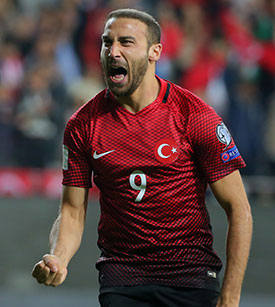 Cenk Tosun's proposed transfer from Besitkas is reportedly close to completion and could be ratified in time for him to be eligible to face Liverpool
Updated Everton's road to Wembley starts in one of the last places they would have wanted it to… at Anfield against a Liverpool side who are unbeaten since the first derby of the season on the same ground less than a month ago.
On the 10th of December, Sam Allardyce took his new charges across Stanley Park with a mission to defend and not much else and though the danger of relegation has eased, not much appears to have changed in the interim.
Despite winning at Newcastle and brushing Swansea aside at Goodison Park, the Blues have turned in frustratingly inept attacking performances over the last four games, registering an average of one shot on target per game.
All Evertonian eyes will, therefore, be on the manager again to see how he approaches a team whose attacking prowess has not diminished since he fortuitously came away from Anfield with a point. Liverpool have scored 16 goals in five matches, the 0-0 draw at home to West Brom four days after the 1-1 draw with Everton being their only blank.
Jurgen Klopp was criticised for being too complacent with his line-up against the Blues when he rested Philippe Coutinho and Sadio Mané but he will be without two of that so-called "fab four" again this time, albeit not by choice. Coutinho will be omitted as his proposed move to Barcelona has reared its head again now that the transfer window is open while Mohamed Salah is ruled out as he undergoes treatment for a groin injury that kept him out of the reds' trip to Burnley on New Year's Day.
In addition to that, both the Egyptian and Mané will be in Ghana 24 hours before this FA Cup Third Round tie kicks off as they attend the Africa Footballer of the Year awards. Both players will take a six-hour flight back to Merseyside but Allardyce will be hoping that it sufficiently impacts Mane's preparation. Virgil van Dijk could start, though, following his £75m move from Southampton that was completed on Monday.
The Everton boss, meanwhile, will also be pulling for the final details of Cenk Tosun's transfer to be ironed out in time for him to be registered to play in the match. It seems that, according to FA regulations, the Turkish international would need be registered by noon tomorrow which should, assuming a final fee is agreed, mean the player can undergo a medical and then sign the required paperwork in time to qualify.
If his move from Besiktas be completed in time, it could alter Allardyce's game-plan, although on the evidence of the past few games, it's going to take more than the addition of a striker to transform Everton into an effective attacking unit. It would certainly be a start, though.
Having rotated his squad for the match against Manchester United, the manager could revert to the line-up that was so successful in the early part of his tenure, when Mason Holgate was excelling in his natural role at centre-back, Jonjoe Kenny was getting to grips with life in the first team at right back and Gylfi Sigurdsson was beginning to show signs of settling following his decidedly iffy start to life at Goodison.
Two of those three were benched on New Year's Day while Holgate played out of position and the 2-0 defeat provided enough support for the argument that they should be restored to their previous roles.
Another foot injury for Michael Keane which required stitches on Monday looks like it will force the issue at centre half regardless. The former Burnley man won't be risked by Allardyce for this match.
Elsewhere in midfield, James McCarthy's positive impact off the bench will likely earn him a place in the starting XI alongside Morgan Schneiderlin, particularly if, as is likely, Idrissa Gueye misses out with a hamstring strain.
Up front Dominic Calvert-Lewin's hold-up play would give him an advantage over Oumar Niasse, who was poor against United, and he might get the nod to start even if Tosun signs.
They might not have won at Anfield for 19 years but Everton have a favourable cup record there, having never lost an FA Cup tie on Liverpool's turf. They drew 1-1 on their last meeting in this competition thanks to a Joleon Lescott goal and you would wager that Allardyce would take another draw and the opportunity to face Klopp's rabble at Goodison if he could.
Kick-off: 7.55pm, Friday 5th January, 2018
Referee:
Last Time: Liverpool 1 - 1 Everton (25 January, 2009)
Predicted Line-up: Pickford, Kenny, Holgate, Williams, Martina, Schneiderlin, McCarthy, Rooney, Sigurdsson, Bolasie, Calvert-Lewin
Full details: ToffeeWeb match page
---
Reader Comments (92)
Note: the following content is not moderated or vetted by the site owners at the time of submission. Comments are the responsibility of the poster. Disclaimer
Tony Everan
1
Posted 04/01/2018 at 09:58:55
It will be tough , but we can frustrate them again. I feel the team is stronger with McCarthy in it. Theirs weaker without Coutinho.
We will be set up very defensively I think 5-4-1 , in order to keep their pace at bay. I would settle for a draw and attack them more at Goodison.
Jamie Evans
2
Posted 04/01/2018 at 10:03:18
Does anyone think we have a chance tomorrow night ? Anyone ? Come on my fellow ToffeeWebbers, someone must be able to lift my mood. I would bite your hand off for a draw and a chance to have another go at them at our place. Unfortunately I just can't see them not scoring, meaning if we then managed a shot on target - a big if I know - it would have to go in for us to get anything out of the game at all.
I don't like those odds.
Someone please tell me I'm wrong and we are going to get something.
Peter Anthony
3
Posted 04/01/2018 at 11:08:01
It is the F A Cup. Not since 1892 when we lost to Burnley have we lost a cup tie at Anfield. It is 11 men vs 11 men. 90 minutes. Kicking a spherical bag of wind between some wooden posts.
Despite all of the above, we need a bloody Miracle on current form. See you behind the sofa.
Jim Bennings
5
Posted 04/01/2018 at 11:29:06
Regardless of Liverpool missing Coutinho it's impossible to see Everton having the bottle to stun that place tomorrow night, bottle and Everton mentioned together is something I have not seen since the 1990's.
What irks me is Liverpool seem to have players that no matter where they come from know what it means to represent the club in a local derby , then you look at us and even local lads like Barkley etc play within themselves almost in fear rather than being desperate to beat them.
Davies was anonymous at Anfield last year in April and was shit in December.
Who's going to stand up and make themselves a hero and a man tomorrow!!!?
8 years without a win in a derby match is unacceptable for an Everton Football Club.
Richard Lyons
6
Posted 04/01/2018 at 11:35:52
For some obscure reason, I'm reminded of this sketch with Rowan Atkinson as football manager giving a team talk...
https://www.youtube.com/watch?v=Tc6Jrs6gPfA
Not saying that's what's going to happen to us... just saying...
Max Murphy
7
Posted 04/01/2018 at 12:01:23
Jamie #2. Not a hope in hell of drawing or winning.
Peter #3. Quoting stats does not help us. All too often in recent years, any decent records we've held against fellow teams have been dashed. So-and-so have never won at Goodison in 30 years - we get beat. XYZ hasn't scored against Everton in 10 seasons - he scores. etc.

And the same will happen tomorrow. A nailed-on defeat.
Steve Carse
8
Posted 04/01/2018 at 12:10:09
Have we ever lost a cup tie against them in rounds preceding a semi-final?
Tony J Williams
9
Posted 04/01/2018 at 12:39:25
It will be a shite game, with shite defensive tactics and they will pick us off with 2 late on goals.
We will have one shot on target, when the wind takes a long Pickford punt into their keeper's hands.
Ad infinitum.
Rob Halligan
10
Posted 04/01/2018 at 12:57:43
Why does the OS feel the need to put an away guide to Anfield on the site, when most of us probably live nearer to Anfield than most RS?
Anyway, three thousand of us in the league game can make more noise than them bastards. Eight thousand will make it sound like a home game for us.
COYB FTRS.
Craig Walker
11
Posted 04/01/2018 at 13:03:43
It doesn't matter whether we are playing better than them, whether they have Igor Biscan marking our prodigious forward, whether we are above them in the league, whether they're "the worst Liverpool team for X years", we just don't turn up against them and invariable have lost the game in the tunnel before a ball is kicked.
During my time as an Evertonian it was only when we had Duncan Ferguson in his first spell that we had them rattled consistently. I read in the Faith of Our Families book that Peter Johnson never lost a game against the RS when he was chairman. Who'd have thought that that particular period would be our best against them for decades?
Hate derbies and am dreading this game.
John McFarlane
12
Posted 04/01/2018 at 13:04:35
Hi Steve [9] Everton have lost FA Cup games against Liverpool in rounds other than semi-finals and finals on four occasions:
1901-02 – 0-2 in Round 1 (that was before top flight clubs were exempt from earlier rounds);
1931-32 – 1-2 in Round 3;
1954-55 – 0-4 in Round 4; and
1987-88 – 0-1 in Round 5.
I was actually present at both the 1955 and 1988 games, in 1955 Liverpool were in Division 2 and without an away win, when they won 4-0 with goals from Johnny Evans (2) Billy Liddell, and Alan A'Court. In 1988, the goal scorer for Liverpool was Ray Houghton.
Jamie Evans
13
Posted 04/01/2018 at 13:20:14
Thanks a lot boys. My mood is considerably brighter now. 😭
Neil Wood
15
Posted 04/01/2018 at 13:30:29
Fuck 'em... go right at them:
Pickford
Kenny Holgate Williams Martina
McCarthy
Lookman Bolasie
Sigurdsson
Sandro
Tosun
Joe McMahon
16
Posted 04/01/2018 at 13:35:49
Richard (6) it's your fault, I clicked the link and ended up watching half a dozen inc this classic
https://www.youtube.com/watch?v=beCYGm1vMJ0
Andrew Clare
17
Posted 04/01/2018 at 13:52:15
Tony#11,
Unfortunately you are dead right.
It's been a long time since we controlled a football match.One day someone will get it right a Everton, one day.
Stewart Oakes
18
Posted 04/01/2018 at 14:10:34
Last time we won over there, the winning goal was scored by a striker bought from a Turkish club, could lightning strike twice.
Paul Kelly
19
Posted 04/01/2018 at 14:24:18
8000 plus Everton fans at Anfield, the most scousers that place has seen since it was our home ground!
Rob Halligan
20
Posted 04/01/2018 at 14:39:00
Haha, well said Paul Kelly. The Norwegians will think they've arrived at the wrong ground tomorrow. Fuck em all!
John Keating
21
Posted 04/01/2018 at 15:06:56
Think you might be right with that team Lyndon.
He's tinkered around the last few games but I think he will revert to those who have been better, though that's relative !
I can't see us being, as usual, too expansive, and think he'll keep to form and hope he can restrict them and hope we get a lucky break.
Best case a draw and bring them home to do it all over again !
Alan J Thompson
22
Posted 04/01/2018 at 15:10:54
Jamie(#2);"Does anyone think we have a chance tomorrow night?"
Peter(#3); "It's 11 men v 11 men, 90 minutes".
What, with Schneiderlin playing?
Tom Bowers
23
Posted 04/01/2018 at 15:27:26
The RS may put out some reserves as they push for automatic Champions league.
We know Coutinho is out but any team we face these days is a problem.
A pity Tosun wasn't already here as the striking options are very limited, still we can always park the bus and piss off Klopp again.
Seriously though none of us can hope for anything unless we have a big slice of luck.
Jamie Crowley
24
Posted 04/01/2018 at 15:28:14
Jamie @2 -
No.
What's worse is when I watch the shite play, I think how nice it would be if we played that type of attacking football.
Sue me. We're boring as shit 99% of the time, and the dark side plays a brand of football that is, in an objective moment, wonderful to watch.
Ugh.
Jim Bennings
25
Posted 04/01/2018 at 15:31:31
No Coutinho or Salah tomorrow for them .
If we shit ourselves yet again and play completely on the back foot it's unforgivable for me.
Tomorrow MUST be the time when we really make a trip to Anfield matter.
The fact we have gone there for 19 years now shit scared and practically beaten before we set foot on the pitch needs to be put to one side , men in blue need to stand up and show up and show guts and backbone , not be beaten by the noise pre-kickoff by their flag waving nuts.
Show up Everton and make a hero of yourselves.
Brian Harrison
26
Posted 04/01/2018 at 15:48:27
Jim (#25),
I can only assume that you have drank copious amounts of alcohol before posting, it wouldn't matter if they played their Under-17 side – Sam will still play with only one up.
You have to go back to Joe Royle as the last Everton manager to have a go at them. The fear they put in our managers and players and fans is mind-blowing. But you will get some pundit who will say that form goes out the window in derbies, but I suggest they look at our record at Anfield before uttering such nonsense.
I just hope tomorrow isn't a total embarrassment, the only thing that worries the other lot's supporters is they say surely in one game at our place you're going to win.
Jim Bennings
27
Posted 04/01/2018 at 15:51:09
Brian,
I'll wait until 10pm tomorrow night before the copious amounts of alcohol start. I think we'll all be needing to forget what happened in the two hours prior.
Jack Storm
28
Posted 04/01/2018 at 16:29:59
Klopp already saying no Salah or Coutinho. Bit odd, even from him, to say that today.
Paul Kossoff
30
Posted 04/01/2018 at 16:57:44
Nice impartial head line from the echo today, "Don't let them off the hook!" Picture of Van Dick and F u minio! Well done the echo showing their true colours, fk twats! Please God let us stuff them stupid!
Steavey Buckley
31
Posted 04/01/2018 at 17:00:55
Everton should play a 4-4-2 formation with 2 strikers if Everton are to play SA's type of football of getting the ball forward as quick as possible: Pickford, Holgate (RB,) Keane(CH,) Williams(CH,) Martina LB,) Kenny(RW,) Gueye(CM,) McCarthy (CM,)Lennon (LW,) DCL(CF) and Niasse(CF.) Subs: Rooney, Sigurdsson, Bolasie, Jags, Shneiderlin and Robles.
Ray Robinson
33
Posted 04/01/2018 at 17:40:32
Anyone else still waiting for their tickets to arrive in the post?
Dave Lynch
36
Posted 04/01/2018 at 19:44:42
Can't we please just have a fucking go at them, instead of sitting back and inviting them to score at will.
I'd love to see us just compete instead of parking the proverbial. Couldn't care less if we got beat by one or two, just put a fucking display on for us...Please .
Brian Harrison
37
Posted 04/01/2018 at 19:52:26
Steavey 31
Allardyce said in his press conference this morning that Keane would not play as he sustained a cut to his foot against Man Utd and it needed 5 stitches. I will be happy to see Holgate and Williams in the centre of our defence.

Ian Burns
38
Posted 04/01/2018 at 19:52:55
Dave - 36 - totally share your sentiments but SA couldn't a gallop against WBA or Bournemouth he most certainly won't do it tomorrow or next week vs Spurs. I despair.
Jay Woods
[LAT]
39
Posted 04/01/2018 at 19:57:53
I'm all for a Charge of the Light Brigade assault and redecorating Anfield with their players' blood, but if that means we go down gallantly to another bitch-slapping then I'll take a bus-parking snoozefest any day over that.
Nigel Munford
40
Posted 04/01/2018 at 20:15:36
Swap Schneiderlin for Gueye and that'd be my starting 11.
Andy Crooks
41
Posted 04/01/2018 at 20:19:03
Why fear them? Are they unbeaten and top of the league? Do the gave a good defence? I reckon our best team, set up correctly, with every last man BELIEVING, and trying and realizing what it means to US, will beat them.
They are not Barcelona. I would rather have Allardyce than the lamentable Klopp. I would rather have every cursed bit of bad luck that we have suffered than be one of them.
Sam Allardyce, do it. This is your time.
Jack Convery
42
Posted 04/01/2018 at 20:21:03
The difference between EFC and a Stopped clock. The clock gets the time right, for which it is designed, twice a day. Everton get f all right 24 hours every day, every week, every month and every year, and so far all of this century - takes some doing that don't you think ?
Dave Williams
45
Posted 04/01/2018 at 21:03:52
Salah and Coutinho are out as is Henderson. VVD will have no understanding with his teammates and if he plays Mane should be knackered from flying.
We need a team which will work its balls off and fight for everything which means James has to play based on his cameo against MU.
The management team needs an inspired talk before the game and at half time and just get stuck into them.
Rooney also has to start as he will be well up for this.
Pickford
JJK Holgate Williams Martina
McCarthy Rooney Davies
Bolasie Tocsun/ DCL Siggy
Brian Wilkinson
46
Posted 04/01/2018 at 21:15:18
Jamie@2 yes I really do think we can beat them tomorrow.
I am normally dreading the game, but with Coutinho and Salah out and Everton having Bolasie and McCarthy back along with just short of 8,000 Evertonians in the stadium we have a team we could field to not only match but beat them.
To do this we need to start Schnids on the bench and play McCarthy and Bolasie from the start, I would even put Beni alongside McCarthy for some steel in midfield.
I do not think Keane will be too much of a loss, Holgate is better in the middle than out wide.
It all comes down to Sams team selection and tactics, be bold, get it right and I fancy our chances.
Hope that makes you feel better Paul, no doom and gloom fellow Evertonians let go smash them in their own backyard, and ram it down the throats of those gloating Reds.
Paul Tran
47
Posted 04/01/2018 at 21:21:34
I don't care how we beat them, as long as we beat them. Minimum tomorrow is everyone going out there knowing we can win and leaving everything on that godforsaken turf.
Kim Vivian
48
Posted 04/01/2018 at 21:29:12
Wpw - C'mon WHam and Moyes. Show us how to do it tomorrow.
Steavey Buckley
49
Posted 04/01/2018 at 21:29:24
Tosun is German by birth so has no need to apply for a visa at the home office. Can play tomorrow once the signatures are completed and has already passed a medical.
Tony Abrahams
50
Posted 04/01/2018 at 21:33:24
It's not over yet Paul, but it looks like a smash and grab, for THE HAMMERS at Wembley. Do for me tomorrow!
Dave Abrahams
51
Posted 04/01/2018 at 21:50:50
Dave (45) and Brian (46), no complaints with those teams but would start with Lennon and finish with Bolasie, he might fare better when Liverpool are tiring in the last twenty minutes, but I wouldn't worry too much who starts and finishes as long as we win.
Kim Vivian
52
Posted 04/01/2018 at 21:51:27
Well played, Hammers!
Dave Abrahams
53
Posted 04/01/2018 at 21:55:07
Tony (50) I understand your sentiments, but WHU can catch us and you don't want that, do you? And it might give Moyes ideas above his station; a draw will have to do them.
Brian Wilkinson
54
Posted 04/01/2018 at 21:58:04
If there is a chance of them tiring, Dave, then if Bolasie is coming off the bench, he will need Lookman to come on as well to keep up with him.
I think he will start with Calvert-Lewin and have Niasse on the bench
I would not play Tom Davies, for some reason, the derby games seem to bring the average game out of him.
Tony Abrahams
55
Posted 04/01/2018 at 22:04:17
Spurs looked tired Dave, and didn't look like they quite had the energy to try and get through West Ham's two banks of defence.
After all the football that these players get through over Christmas, I think it might be better to frustrate Liverpool again tomorrow.. but, then again, if football was that easy to predict, we would all be making a fortune on the fixed odds every week!
I might be on my own, but Liverpool don't scare me. I hate them but I've never once been scared of playing them. I just wish our players felt the same way.
Laurie Hartley
56
Posted 04/01/2018 at 22:24:08
Sam Allardyce has said that he will go there to win because there are no points at stake.
A win at Mordor would make a huge difference to the mentality of the fans, the players, and the Club as a whole.
I hope he does go for it and the players turn up.
Not as nervous as I was before the last one -– that for me is a big plus.
Up the Blues!
Brent Stephens
57
Posted 04/01/2018 at 22:47:06
Tosun to do a Fred Pickering and nab a hatrick on his debut.
Colin Gee
59
Posted 05/01/2018 at 00:39:14
First time for something like 30 years since I last went to that place across the park. If I am turning up tomorrow then our fucking players better had do as well!
We've got to win there again sometime; no better time than in a live FA Cup tie on the tele with the backing of 8,000 mad Evertonians
Darren Hind
60
Posted 05/01/2018 at 06:12:34
I have a good feeling about tonight.
They're far too cocky.

Dick Fearon
61
Posted 05/01/2018 at 07:44:03
Lyndon, you mention DCLs 'hold up play' are you havin a laff.

Liam Reilly
62
Posted 05/01/2018 at 08:17:41
Think I'm going to tape this one and fast forward through it later, as my kids shouldn't be put through the kind of language I'll no doubt be muttering at the TV.

Andrew Ellams
63
Posted 05/01/2018 at 09:08:43
People keep talking about Tosun. Have I missed something? It's 11 hours to kick off and as far as I can see he hasn't signed yet.
Mike Kehoe
64
Posted 05/01/2018 at 09:51:53
We will set up defensively as to go after them plays entirely into their hands, think of the Arsenal game. RS are devastating on the counter so Bolasie will be an outlet along with possibly Lennon/ Lookman. The missing ingredients from last Anfield visit may be McCarthy and Bolasie whose qualities could make all the difference. Irrespective of whether Tosun is signed I don't want to see Niasse start as his indifference against the mancs was unforgivable. The limitations of his skill are obvious but he does not pick himself: to amble around midfield and not attempt to tackle or close down when the ball is within a few yards is completely unacceptable and just ensured they could pick passes almost at their leisure. McCarthy for snide will add more dimensions as McCarthy's drive and enthusiasm highlighted, albeit briefly, snides profound mediocrity.
With McCarthy and Gaye in midfield and pace up front this is definitely winnable.
Tony Abrahams
65
Posted 05/01/2018 at 09:54:10
Never mind Tosun, Andrew, but it's now just over ten hours to kick-off, and we haven't heard from Georgie Mc!
I don't know if you go to Anfield George, but I bet you've looked down the hill from mere lane, and cursed the other crowd many times, on your way too and from Godfrey!
Maybe not George, you come across as a better human-being than that, preparing to concentrate on the things you love so much more than the things you don't, but either way can you please get on here and cheer up your fella Toffees now please mate!
Joe O'Brien
66
Posted 05/01/2018 at 10:48:59
Jamie @ 2, I think we have a chance against them... it's a cup match. For me, Sigurdsson has to start as does Lennon and McCarthy. Hopefully Tosun gets signed up in time.
Get in their bloody faces for the full 90 mins. I want to see Anfield deserted bar our 8,000 travelling supporters at 90 mins. COYB
Derek Knox
67
Posted 05/01/2018 at 11:37:49
I think one of the keys for tonight's game is wayward passing, if we give the ball away as often we have done recently, they will capitalise on that.
The other key factor that I have noticed in the games where we have been beaten; which is closely linked to the aforementioned; is allowing the opposition, whoever they are, too much space.
It happened in the Manure game, and to a degree with Bournemouth; though that was more poor passing (sideways and backwards) that contributed there.
For the reasons mentioned, I hope if Schneiderlin plays, he does not commit any of the above; there can be no passengers or casual play tonight.
Whether the new man plays is debatable; if he does have any involvement at all, I would imagine it would be from the bench, when we are two goals to the good; and requiring an Insurance Policy!
John G Davies
68
Posted 05/01/2018 at 13:17:59
I'm dreading tonight's game. If we get beat, there will be a couple of fellow ToffeeWebbers on using it as a stick to beat Allardyce.
Every cloud has a silver lining for them.
Rob Young
69
Posted 05/01/2018 at 13:18:12
Happens every time, at some point before the derby I get the feeling it will be our day! We're Everton, just say it out load E-V-E-R-T-O-N. Magic!
They'll never understand what it is like to be lucky enough to be a Blue. They can never really beat us because we know and have something they will never know and can never have.
Tonight we'll show them! Come on you Blue Boys!!! My God, I am ready for them. Ready for every single one of them.
Will be in their main stand somewhere high up wishing I was down in the Everton end but hey, I'll be there. And if we win not one will stop me from enjoying that. And if we lose I'll show them my colours and be as proud a Blue as every other day of my life.
For us, lads. For Everton FC. For Dixie, Howard and Big Nev. Latchford, Royle and Davie Watson. For every single Buenose around the world!
It's time
It's time
James Marshall
70
Posted 05/01/2018 at 13:38:01
Wasn't the deadline for Tosun to play midday today or something? Seems like that's been & gone...
We should just go for them tonight, sod it, we have everything to gain – like Allardyce said, the league is the priority so sod it, go all guns blazing I say.
If we can do such a thing!
Dale Rose
71
Posted 05/01/2018 at 13:50:40
Rob Young (#69), all the way mate. Fuck the red shite, and just go for it, with all guns blazing.
Steve Ferns
72
Posted 05/01/2018 at 14:05:01
Dale, we did go for it, all guns blazing, under the gung ho Martinez. And we got smashed each time. That was with a side good enough for 5th and a record points total. What makes you think this present side, with all its problems can go for it, all guns blazing, and actually win?
All this is academic anyway, Allardyce is in charge, and Allardyce will play Allrdyce's way. If we are lucky, we will get a draw or sneak a win. If our luck does not hold, we will go down to a narrow defeat.
No point hoping for something that ain't gonna happen. Allardyce might not like the cups, but usually that is because he has other things on his mind. If things carry on as they have been, then we can expect a very middling position in the league and to be a good 10 points or so clear of relegation. So in essence, tonight's game is our season. Lose and we're just limping to the end of the season and to see what happens then.
For that reason, I fully expect Allardyce to do everything he can to win the game, but that will still be doing things his way, his brand of KITAP1. As much as I dislike the man and his methods, he does present the best chance of getting something off the best Liverpool team for a good few years.
Clive Rogers
73
Posted 05/01/2018 at 14:06:22
Tosun not playing, deal has hit a snag.
Rob Young
74
Posted 05/01/2018 at 14:08:48
We can't draw Steve, I'm out of the country for the week when the replay would take place and I never miss a derby at Goodison.
Just have to win it on the night.
Paul Tran
75
Posted 05/01/2018 at 14:43:20
Steve, we went for it in Martinez's first Derby. The striker who didn't score in big games scored twice, everyone's favourite departed golden boy Deufelou missed a sitter when we were 3-2 up.
When we got tonked at Anfield we werent gung-ho, we weren't anything. No attack, midfield or defence.
I don't care how we beat them. Just beat them.
Craig Walker
76
Posted 05/01/2018 at 14:49:48
Rob @69. I admire your enthusiasm and your passion for the Blues. Unfortunately, they have better players than us and have a belief that they are going to beat us, no matter what. Carragher said last year that he could never understand the moments before derbies how the Everton lads would be shaking his hand whereas he just wanted to win and would blank them. They have a winning mentality which permeates through their club. We have the exact opposite every time we face them. I hope I'm wrong but we've been let down by Everton year after year against them. The distant memories when Big Dunc used to frighten the life out of them and when the likes of Kanchelskis and Campbell stunned them at Anfield just seems like a lifetime ago now. My lad is 7 now and has never experienced us winning a derby.
I'll be watching through my fingers tonight every time they attack us. Maybe we'll get something one of these days but I hate these games and I hate the RS.
Rob Young
77
Posted 05/01/2018 at 15:22:06
Craig, I am 42 and wear a suit most day but when we play them I'm like a 14 year old believing the whole world is against me.

Raymond Fox
78
Posted 05/01/2018 at 15:27:10
Well they have their two best players out so that should give us some kind of chance!
With that in mind we should go for a win, problem is we are not creating chances from the midfield, to trouble teams.
I have a sneaking feeling though we might give them a game tonight and win.
A pipe dream, probably, lets hope we get a few lucky breaks.
Derek Knox
79
Posted 05/01/2018 at 15:35:49
Not too sure about playing DCL up front for a game like this, the lad has massive potential, but is still learning, and I don't think a game like this would be conducive to that learning curve.
I would play Oumar, unpredictable yes, but if we don't know what he'll do, sure as eggs are eggs, the RS won't know either. Plus he would definitely be more of a nuisance factor to them.
Obviously no Tosun, even from the bench, Bolasie can be a major player.
Jim Bennings
80
Posted 05/01/2018 at 15:42:29
Can't see anyone other than Rooney who is likely to score in a game of this magnitude
Jim Bennings
81
Posted 05/01/2018 at 15:45:00
Craig Walker
I've got a 20 year old brother who has never witnessed Everton win a match at Anfield , never had the euphoria of celebrating a win away to the enemy...
Disgrace or what ????
George Cumiskey
82
Posted 05/01/2018 at 15:47:30
Allàrdyce has been on sky saying it's a one off match and to go for it.
Let's see if he puts his money were his mouth is,or he picks Scheiderlin and co.
Steve Ferns
83
Posted 05/01/2018 at 15:49:13
Derek, Oumar is made of Teflon. Doesn't matter how many hoofs we send up the pitch, they call come back. Calvert-Lewin does make the most of hopeless hoofs up the pitch and anything 50-50 or close and he wins his fair share. He holds the ball up well and brings others into play.
Just think back to Anfield in December. He had no service at all, he had just one thing to do, and he made the most of it and won a penalty. Niasse started that game remember, and like against Chelsea, he was ineffective, only that day he was hauled off early.
For me, Niasse is a very limited player, but sending him on against tired legs, his speed and ability to create chaos is enough to maybe help us get something out of the game. Niasse is definitely a better option from the bench.
Darren Hind
84
Posted 05/01/2018 at 16:01:11
11v11 we need to stop their attacks at source. press high and fight them all over the park.
Golden opportunity for Allardyce, its almost a free swing. Nobody is really expecting us to win, but he will accrue a lot of Brownie points from people like me if we go there and have a proper go. . . if he manages to pull it off, they'll sing songs about him for years.
RS are without their big guns, that has to be encouraging
Colin Gee
85
Posted 05/01/2018 at 16:18:33
For me it's Niasse on the bench. let DCL run them ragged for 70 minutes then bring on Niasse from the bench.
Who ever plays up front though there's got to be someone along side them to pick up the second ball. And, everyone who plays has got to put in a shift, no place for passengers in a Derby.
Stephen Williams
86
Posted 05/01/2018 at 16:23:50
If we go all guns blazing, the only thing that will happen is we'll be shooting ourselves!
Also don't understand the wishes for a draw and then 'have a go at them at Goodison'. If we did that they'd rip us apart on the break and be embarrassed at home.
Sorry, but the only strategy away or at home is to keep it tight and hope to nick something on the break or from a set piece.
Boring I know - but its where we are right now.
Joe McMahon
87
Posted 05/01/2018 at 16:32:12
I see opinions are split DCL v Niasse. What I like about DCL is his effort, however he is built like Leon Osman and his shots are so weak it's as if it was a Last of The Summer Wine cast member shooting. We are going to a team that has scored double the amount of league goals we have and are in the knock out stages of the Champions League. I was still in my 20's when we last won there, Kenwright became Chairman and i'm 49 this year. So all the omens are looking good.
Jon Withey
89
Posted 05/01/2018 at 17:24:36
Odds of 20/1 for us to even score in this game - nevermind win it at 55/1.
John G Davies
90
Posted 05/01/2018 at 17:31:37
Jon,
That will be a Bookmakers enticement.
Read it properly.
Maximum bet £1 probably
Tom Bowers
91
Posted 05/01/2018 at 17:41:02
Would be terrific to get a result but being realistic we would need a big upsurge in form.
They will lack Coutinho and Salah but still have the firepower to score goals at will but having said that, this is the cup and anything can happen, especially if we score the first goal with a minute to go.
C.O.Y.B.
Dermot Byrne
94
Posted 05/01/2018 at 18:33:51
Jaysus. The weatherman on BBC news at 6.00 just began his forecast by saying "come on you reds. " Newsreader from Wirral giggled.
No surprise there but will lodge complaint just to make his life uncomfortable!
Dave Abrahams
95
Posted 05/01/2018 at 18:35:50
Tony (65), don't think you will be hearing from George tonight, just seen him being interviewed on ITV, just being himself and tipping Everton to win 4-0, it was about Barkley going and tonight's game.
Kim Vivian
96
Posted 05/01/2018 at 18:38:53
Was he English, Dermot?
Dermot Byrne
97
Posted 05/01/2018 at 18:50:46
Don't think so Kim. Kept going on about the snow forecast over the Fjords.
Kim Vivian
98
Posted 05/01/2018 at 18:51:20
Skiing updates
Steavey Buckley
99
Posted 05/01/2018 at 19:00:48
Pickford, Kenny, Holgate, Jags, Martina, Bolasie, McCarthy, Schneiderlin, Rooney, Sigurdsson, DCL.
John Charles
100
Posted 05/01/2018 at 19:03:18
Not a team to terrify the shite
Kevin Prytherch
101
Posted 05/01/2018 at 19:03:20
Cheers Steavey
Been checking my sky sports app and they've got us playing with 10 men!!!!
They've missed Bolasie out!!
John G Davies
102
Posted 05/01/2018 at 19:03:35
Not a bad side he's gone with.
Goal threats in Rooney, DCL, Bolasie, Siggurdson.
Kim Vivian
104
Posted 05/01/2018 at 19:10:38
Who's going to be biting VVDs legs, Unsettle him on his debut. He's not worth the money they paid.
Mike Hughes
105
Posted 05/01/2018 at 19:33:56
Prepared for the match in my usual professional manner.
Pasta, isotonic drink and a long walk for our Dixie. (Got a stitch on the way home but walked it off.)
Breathing exercises and some light limbering up.
Can of Stella just about to be opened.
(I can't watch these games down the pub as too many rs about and it just winds me up).
1-2 to us (all three goals by VVD).
COYB!
Add Your Comments
In order to post a comment, you need to be logged in as a registered user of the site.
Or Sign up as a ToffeeWeb Member — it's free, takes just a few minutes and will allow you to post your comments on articles and Talking Points submissions across the site.