Allardyce: Everton are resigned to losing Barkley

254 Comments [Jump to last]
Thursday 4 January 2018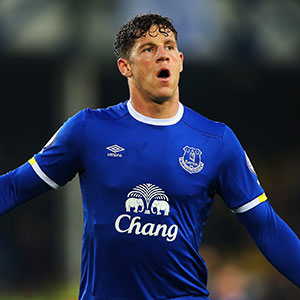 Allardyce: "I think that we are resigned and the club was resigned before I got here that we're going to lose Ross and I can't see that changing"
Sam Allardyce hasn't ruled out some possible outgoings this month although he has stressed that players will only be allowed to leave in permanent deals.
The manager was asked about the futures of Ross Barkley, Kevin Mirallas and Sandro Ramirez during his press conference ahead of tomorrow's FA Cup derby against Liverpool. He rejected talk of a firm offer having been lodged by either Valencia or Sevilla for Sandro — loan approaches have been mooted but his reported £120,000-a-week salary would be a stumbling block — but admitted that there could be interest in Barkley.
Kevin Mirallas, meanwhile, will only be sold if the conditions are right for all parties involved.
With Barkley having called off a proposed move to Chelsea on transfer deadline day last August, there were hopes among some supporters that his long injury layoff and Ronald Koeman's departure from Everton in the interim might have given the boyhood Blue pause to reconsider his decision to leave the club.
Barkley's relationship with Koeman was notoriously difficult but the change in manager doesn't appear to have altered the picture around the 24-year-old's future, with Allardyce anticipating inquiries about him during the current transfer window.
"I think that we are resigned and the club was resigned before I got here that we're going to lose Ross and I can't see that changing," the manager said.
"I expect there would be some interest some time in this window if there's going to be any interest from one of the big boys."
Barkley's contract expires in June and rival clubs are able to negotiate pre-contract terms with him this month with a view to signing him at the end of the season, with Everton due a nominal fee as compensation for his development.
The Blues' hierarchy will be hoping, however, that there is sufficient interest in the England international that clubs like Chelsea or Tottenham, both of which were said to be seriously interested a few months ago, will feel the need to buy him now rather than risk losing out on him once he is a free agent.
For his part, Mirallas is once again being linked with a move back to Olympiakos or to Turkey. The Belgian international signed a two-year extension to his Everton contract last spring but has fallen out of favour at Goodison and hasn't started a game since the dead rubber against Apollon Limassol a month ago.
"It depends on many factors," Allardyce said regarding the prospect of Mirallas leaving this month. "It depends on, one, does Kevin want to go? Two, does he fancy the club that comes in for him? And, three, 3do we agree with the fee that's being offered?
"If it's right or us, and if it's right for him then that that transfer may well occur. Who knows?
"You never say never to what goes on in the January window, when people are in a position where they want to move players on or strengthen the squad."
---
Reader Comments (254)
Note: the following content is not moderated or vetted by the site owners at the time of submission. Comments are the responsibility of the poster. Disclaimer
Nitesh Kanchan
1
Posted 04/01/2018 at 12:07:12
Big Sam saying Barkley is leaving. He was only getting fit to leave in January rather than playing for us. The club has lost £20 million on him and 5 months wages as well.
Looks like Moshiri was speaking the truth when he said a £35 million deal was agreed and he was having his medical at Chelsea. Barkley lied about it by denying it on Twitter.
Phillip Warrington
2
Posted 04/01/2018 at 12:15:45
Barkley shafted the club the club should shaft him, hold him to his contract and keep him on the bench for the Under-23s... let him sulk while he watches the World Cup on tele, then maybe him and other players will think twice about holding clubs to ransom.

Everton made him the player he is and he thanks the club by shafting them out of any reasonable transfer fee?!
Jackie Barry
3
Posted 04/01/2018 at 14:26:28
Any chance of a straight swap of Barkley for Batshuayi? I admit like most I wanted him to stay but it isn't going to happen for whatever reason.
Adam Baig
4
Posted 04/01/2018 at 14:34:54
Jackie, I would rather swap Barkley for Marcos Alonso.
Winston Williamson
5
Posted 04/01/2018 at 15:09:45
Yes, Barkley would not get anywhere near our first eleven, would he? Lennon, Mirallas, Lookman, Vlasic, Sigurdsson, Bolasie, McCarthy, Morgan? They're all better than Barkley!
When Barkley plays, the opposition are scared of him – scared of his unpredictability – scared he'll pick the ball up and run at them with pace and power (remember that????). This means more than one player is forced to focus on Barkley and this creates space for our other players.
He's not the greatest or cleverest of players, but he's much, much better than the shite we've endured this season.
John G Davies
6
Posted 04/01/2018 at 15:14:57
Barkley doesn't want to play for Everton. He wants off.
We have had incessant posts telling us Barkley would sign after Koeman was gone; It's all Koeman's fault... Barkley has been treated like shit...
HE DOESN'T WANT TO PLAY FOR HIS BOYHOOD CLUB.
Darren Murphy
7
Posted 04/01/2018 at 15:21:24
How long has Barkley had to unlock his apparent "talent"? Too many years and proven nothing consistently. Needs a cuddle to play with confidence and had plenty of time to prove he's not going to do it here. Any other players got roasted... at least here. Cracks me up.
Steve Ferns
8
Posted 04/01/2018 at 15:22:00
John G, I don't believe that. Sure, I may well be in denial, but we pay his wages and I am sure if he's leaving for free he'd want to go out on a high, and if that is not a good enough reason, then he needs to play well to make the plane to Russia. Either way, he is under contract and has to play.
Adam Baig
9
Posted 04/01/2018 at 15:25:24
John G Davies – I think a few people should read what you put in capitals and let it sink in.
It is that point that really upsets me.
And, before anyone goes on about Rooney, that was a totally different situation .
Andrew Ellams
10
Posted 04/01/2018 at 15:25:54
I fear Barkley's career will go the same way as Jack Rodwell's for exactly the reasons stated by Darren.
John G Davies
11
Posted 04/01/2018 at 15:27:00
Steve,
"Doesnt want to" and "has to" are two separate things.
Roger Helm
12
Posted 04/01/2018 at 15:27:37
It would be a bad move for Ross to leave. He would end up as a squad player in a top six side rather than a regular starter here. His development seemed to stall about three years ago and he needs to get it back on track. He won't do that warming the bench at Chelsea.
Steve Ferns
13
Posted 04/01/2018 at 15:28:06
Darren the difference from last season to this is Barkley and Lukaku. And to me, it's more Barkley and Lukaku.
As for unlocking his talent, the level he set in 2013-4 and the level he set from January to April 2017, don't forget we were a top four team in the second half of last season, or if we tailed enough to miss out, we just missed out. So for a sustained period, Barkley did show just how good he is.
Some have unrealistic expectations and want him to beat 5 men every time he gets the ball. If he does something crap 3 times for every time he does something right, then he's doing enough. And quite simply, he is by far our best player and we have struggled without him.
Why else has this team gone from Challenging for 6th to being as poor as we have been? If it is all Lukaku, then why haven't the strikers all been missing sitters? It's more than we've created nothing. And that, my friends, is due to missing Barkley.
George Cumiskey
14
Posted 04/01/2018 at 15:28:25
Allardyce has been on Sky and said Barkley won't be staying; he'll go in this window if possible.
Dale Cooper
15
Posted 04/01/2018 at 15:30:11
What is up with Barkley!? Has he had that bad a time at Everton?
As a player, he's just not that great. I certainly do not see him playing regularly for a club considered better than Everton, yet he seems determined to move. Having said that, I think he'd be a real asset at Everton which is why I'm sad to see him go.
To me, it makes no sense though. Barkley will not do better than Everton so why not stay? Is he that miserable here? Is he delusional? Does he think he's some sort of superstar?
Sam Hoare
16
Posted 04/01/2018 at 15:31:57
Barkley wants to leave. He must have been gutted when Koeman got sacked as the idiotic Dutchman would have provided Ross with an excellent excuse... 'It's because of Ronald!"
It isn't. It wasn't. He could have signed a new contract by now. He wants to go.
Shane Corcoran
17
Posted 04/01/2018 at 15:32:04
Out ta fuck with ya.
Jim Bennings
18
Posted 04/01/2018 at 15:33:28
Waste of space!!
Doesn't want to be here and hasn't wanted to be since Martinez left.
Martinez was the only one who got anywhere near some good football from Barkley, notably 2013-14 and a brief three month spell at the start of the 2015-16 campaign.
He doesn't want to stay, he shouldn't have screwed us over last August.
I'll put good money on this time in three years he's at Newcastle, West Ham or some other mid-table rabble.
Stephen Brown
19
Posted 04/01/2018 at 15:33:31
Ross should sign a new contract with a reasonable/fair buy out clause! Therefore we get fee and he gets a move if required!
I'd hope he'd give the new regime at least 6 months before trying elsewhere if necessary!
At the moment I'd say we need him but I think he also needs us as can't see him getting on Spurs or Chelsea teams!
Come on Ross - tell your agent to do the right thing!!
Steve Ferns
20
Posted 04/01/2018 at 15:35:22
It's worth more than the measly fee we'll get to keep him until the summer. The club should be trying harder to keep him. Allardyce never picked him for England, sure it was only one squad, but it shows what he thinks of him, as Livermore and Antonio got in ahead of him.
As for the "contract offer", does anyone actually know what he was offered? It could have weird or wonderful terms or clauses to it to make it sound lucrative but at the same time be less than reasonable.
David Barks
21
Posted 04/01/2018 at 15:35:43
Just give it up, he wants to leave. He is wanted, as proven by the bid in the Summer. And he will be a totally different player in a team that actually wants to play football. Don't delude yourself. How can you say he will do no better than Everton when Chelsea had a bid accepted for him this past Summer?
He's doing the right thing for his career and has every right to do so. Have a problem with it? Blame the ownership of Everton for allowing this club to sink to the state that it is currently in.
Tony Hill
23
Posted 04/01/2018 at 15:36:39
Perhaps this is Sam's way of forcing the issue and calling Barkley's bluff. It's very stale now. I would have loved him to flourish with us but it's dragged on more than long enough.
Jackie Barry
24
Posted 04/01/2018 at 15:39:31
Steve I think Barkley is a good player, great player no, but definitely what we could do with right now. However, he doesn't want to play for us and I think that's it. We need to now think about the club and what's best for it not him.
Alan J Thompson
25
Posted 04/01/2018 at 15:39:32
It is a shame that Barkley doesn't seem to want to stay but is that any reason for such vitriolic postings? Get used to it, contracts being run down are part and parcel of employment conditions in the same way as giving Mirallas an extended contract and then saying he can leave if the fee is right.
Michael Kenrick
26
Posted 04/01/2018 at 15:40:05
Dale and others,
I agree, it's really hard to even begin to comprehend what is going on in Ross Barkley's mind.
But on previous threads, a number of posts have identified his personal off-field situation on Merseyside as the causative factor, rather than the club, it's managers, or fans.
The fact that it started to affect his game so long ago, and does not appear to have changed despite changes in owners, managers, projects and philosophies in the meantime would seem to support that – while neatly giving everyone at the club a pass on this incredible failure to hold on to one of our best ever prospects.
John Keating
27
Posted 04/01/2018 at 15:43:15
Unbelievable! Now it's Allardyce's fault he wants out and we should be doing more. If it wasn't so pathetic it would be laughable.
We've seen far better players than Barkley leave this Club. If he doesn't want to be here then thank you and goodbye.
If he feels he'll get more game time at Chelsea or Spurs then good on him and time will tell. It's entirely his decision to leave regardless what the Club offer his head has been turned.
Let's move on and concentrate on more important matters.
Steve Ferns
28
Posted 04/01/2018 at 15:45:19
I don't buy the whole off-the-field issues with gangsters or whatever, he can simply move areas. The North West is a big place and you can travel quite far in an hour, well past the reaches of Manchester. Contrast that for how far you can get for an hours travel in a car in London!
The point is Barkley can move to Southport or Formby, West Manchester, East Cheshire, or The Wirral. All lovely areas inhabited by footballers with big mansions playing at Everton and other northwest clubs. He can change his personal life without changing his club.
Shane Corcoran
29
Posted 04/01/2018 at 15:45:25
Alan #16, some will argue that football shouldn't be seen as other employments are and in particular where the player/employee in question has an emotional attachment to his employer, similar to those making the argument, i.e. the fans.
Stan Schofield
30
Posted 04/01/2018 at 15:47:50
The bottom line is, if a top club is interested in him, it makes sense for him to do exactly what Stones and Lukaku did. At least he'll have a fair chance of winning a medal or two.
Jay Woods
[LAT]
31
Posted 04/01/2018 at 15:48:50
Nice timing by the club.
Sign a new striker and then bury the bad news about Ross under the confetti.
'tis a bittersweet experience being a Toffeeman.
John G Davies
32
Posted 04/01/2018 at 15:49:47
The "gangster" (😁) who threatened him is in gaol.
He wants off and has done for quite a while.
Ready made excuses make it easier for him.
David Barks
33
Posted 04/01/2018 at 15:49:55
John,
Where are all the posts blaming Allardyce?
Alan J Thompson
34
Posted 04/01/2018 at 15:54:05
Shane (#29); I understand your point and in what other non-sports business would you get a Development Fee for people under 24 (or 25 is it?) finding employment elsewhere?
Lewis Barclay
35
Posted 04/01/2018 at 15:54:08
Attitude. That's the problem, Mr Barkley. You can go to any other club to try and succeed but you'll not get far with the wrong attitude.
John Keating
36
Posted 04/01/2018 at 15:56:29
David, I at no time said "all" however have you read Steve Ferns's post #20??
Fucking unbelievable.
I know people are critical of Allardyce but to actually mention his name in a post about Barkley leaving is completely out of order.
David Barks
37
Posted 04/01/2018 at 16:02:49
John,
Post 15 doesn't mention Allardyce. It says he must have been gutted when Koeman was sacked because Koeman being here would have provided an excuse for him leaving, presumably for those who believed that it was Koeman's treatment of the player that led to Barkley refusing the contract.
Steve Ferns
38
Posted 04/01/2018 at 16:03:02
John, I assume you meant my reference to Allardyce not picking Barkley for England.
Are you seriously saying it is not a relevant factor to mention that he had one manager, in Koeman, who has publicly critical of him, far above that of criticism of any other player we had, to go to another manager who selected Livermore and Antonio ahead of him?
It is a factor that Allardyce didn't pick him. And I never said that it's Allardyce's fault, but it would certainly be something Barkley would consider.
David Barks
39
Posted 04/01/2018 at 16:05:33
John,
I apologize. If you're talking about Steve Ferns's post, then you're absolutely right. That's a ridiculous notion. Allardyce has zero to do with Barkley refusing a contract for the past year and still wanting to leave now. Absolutely nothing to do with his decision whatsoever.
Jim Bennings
40
Posted 04/01/2018 at 16:05:53
Some used to say Barkley wasn't performing as he was made the scapegoat too often; well, here is the story...
Ross, lad – you ain't seen nothing yet until you'r playing in London with the notoriety of the player-bashing London meedia and the standards of the likes of those Johnny Come Lately Chelsea fans.
If you don't have 29 great games in 30, they'll rip you apart... and if you are fragile mentally, you are screwed up and sold off!!!
John Keating
41
Posted 04/01/2018 at 16:12:14
Steve, I know you are anti-Allardyce but even you must see what a ridiculous statement you are making?
Are you really so bigoted??
Barkley made his feelings known to the manager and Club long before Allardyce was even thought of as manager here. How can you even imply it would be something Barkley would consider??
Had Barkley been a member of every England squad before and after the single one Allardyce was responsible for, then there may be something to mention in passing but you are really scrapping the bottom of the barrel.
The Barkley situation has got absolutely nothing to do with Allardyce; mentioning his name as if it had a minuscule to do with him leaving just shows the pathetic hatred shown towards Allardyce.
I can't really comment anymore as I'm getting disgusted by the anti-Allardyce feeling shown on every thread.
This thread is about Barkley leaving and nothing else.
Darren Hind
42
Posted 04/01/2018 at 16:15:57
Can we please stop glamorising these gobshites by referring to them as "Gangsters". They are the lowest of the low who make their money selling poison to our children.
Jamie Redknap, who had done a couple of interviews with Barkley, told us about a year ago that Spurs wanted Barkley. He was clearly interested. His head was turned at a time when Koeman was acting the twat. Now all we can do to counter interest from Spurs and Chelsea is offer him a stiff neck playing for Allardyce.
Cant think why he hasn't signed..

James Hughes
43
Posted 04/01/2018 at 16:19:41
Seems a bit harsh to slagging off a scouser for wanting to try pastures new. There are many of us on here who have moved away from our great city.
So I am home in 1983 and receive abusive call from EFC . Wanted to know why I wasn't renewing my season ticket. Conversation was a bit terse, did I know that other Cities were not as good as ours. Why are you leaving, this is the club you support, etc.
So it happens to all of us.
Very lame story aside,the only real grievance we can have, is that he is (possibly/probably) leaving on a Bosman. Hope he stays but denying your boyhood club a transfer fee is not how it should go.
Les Martin
44
Posted 04/01/2018 at 16:20:15
If Ross goes his career is diminished as if he goes to Chelsea or Spurs he will get so little playing time so how can he improve ?
A backward step, as a Ross Barkley on the top of his game would thrive under Sam and get "that" important playing time, and a chance to break into the England squad.
Be careful what you wish for lad, that is not quashing ambition but remember Jack Rodwell
Darren Murphy
45
Posted 04/01/2018 at 16:21:58
@13 Steve, I appreciate your post and get what you're saying, Ross on his day is bang on mate...on his day. He isn't consistent and the bs going on with the handbags at da club and leaving fiasco Koeman etc doesn't work for me mate. Lennon is older for example...he when bought showed heart , stealth and got us out of a sticky patch. Not saying he's better than Ross hell no, but appreciate he also went through a mental issue and cracked on.
I just don't see Barkley doing well here because of the above and I've got no doubt he'll bench warm elsewhere with the occasional England game and shine. It's not just a physical game and definitely a mental one too.
From my experience training marines I've seen plenty of hardcore recruitment fall mentally.
I'd like a bid for Zaha as my first choice player Aubameyang has Arsenal lurking.
Anyone know if Garbutt can come back from loan asap? Haven't seen his loan deal.
Charlie Lloyd
46
Posted 04/01/2018 at 16:23:54
Steve @ 13
I'd counter the opinion on Barkley. The reason we went from nearly top 6 to bottom 3 was because the defence was leaking goals at an alarming rate. Not because we were missing Barkley. Now we've sort of got the defence solid we've picked up form and points.
Paul Smith
47
Posted 04/01/2018 at 16:24:00
Can't believe the discussion is about when/where he's going and not about Sam referring to his suitors as "big boys".
Adds some perspective hey.
Stan Schofield
48
Posted 04/01/2018 at 16:25:23
John@41: You're right, Barkley going has nothing to do with Allardyce on the face of it, because he refused to sign a new contract well before Allardyce arrived.
On the matter of Barkley possibly being pissed off with Koeman for the latter's behaviour, if this were the case then it's conceivable that he'd also be pissed off with the Everton board, since they apparently did little or nothing to stop Koeman. Which would, of course, do nothing to prevent him leaving for pastures new.
Jack Storm
49
Posted 04/01/2018 at 16:27:27
Just cash in now. Take whatever we can get.
Michael Kenrick
50
Posted 04/01/2018 at 16:28:16
Doesn't it all depend on what you believe?
If you believe Barkley has had issues with Everton managers. then changing the manager should be cause for him to reconsider his position. Then, the fact that he is still offski despite having a new manager could indeed mean that Allardyce is a factor in confirming his decision to leave.
If you believe it's down to being scapegoated for poor performances, largely by the crowd, but to an extent by Koeman as well, then Koeman having gone should logically force a rethink... but it doesn't seem to have done. So again, perhaps Allardyce is a factor?
If you believe it's down to the poor terms offered in his new Everton contract, then that's a very simple "greedy bastard" rationale that enables you to reject all other explanations very easily.
If you believe the off-field explanation, and that he decided to leave a long time ago, and have all his Everton tattoos removed, that seems to show a desire to completely start over somewhere else, irrespective of who is the Everton manager.
Take your pick.
Rick Tarleton
51
Posted 04/01/2018 at 16:29:02
There are obviously factors beyond football involved in the Barkley situation. I think he's an excellent player, not consistent, I agree, but just to watch him take control of a pass and move forward all in one action is a delight. There's no-one else in the club that can control a ball like that.
I always felt that Lukaku's lack of willingness to run the channels left Barkley stranded. Barkley needed a striker to run the channels so that he could pass to the striker or the striker needed to run the channel to create a diversion to open up space for Barkley.
If there's a way of keeping him at the club, it must be explored; he is a genuine talent and we need him.
Greg Hasbrouck
52
Posted 04/01/2018 at 16:32:42
I'd love to hear an explanation from Barkley as to why he wants to leave. With Lukaku it made sense. He wanted Champions League football and he had Champions League quality teams that wanted him as their centerpiece. The same can be said of Stones.
But with Barkley, he's either going to a smaller club than Everton (if he wants to start) or else he'll be a depth player on on a Top 6 squad. I just don't understand *why* he sees either of those outcomes as desirable.
When the primary thought was he hated Koeman, it made sense. It no longer makes sense.
Stan Schofield
53
Posted 04/01/2018 at 16:35:31
Michael@50:
Although his leaving has nothing to do with Allardyce on the face of it, you can imagine that Alladyce's presence here is hardly motivation for Barkley to stay, given the 'style' of Allardyce's football as highlighted in hundreds of ToffeeWeb posts.
All that aside though, overall it's almost inevitable that Barkley would leave sooner rather than later, just like any other player here targeted by a top side. If he wants to actually win things, it makes sense for him.
Stan Schofield
54
Posted 04/01/2018 at 16:39:20
Greg@52: Regarding your last two sentences, it does make sense if you consider that the board allowed Koeman to behave the way he did. Just like they allowed Koeman to treat Niasse as he did. Perhaps Barkley can see this.
Michael Lynch
55
Posted 04/01/2018 at 16:39:42
I'm not sure why we need to have another big discussion about why Barkley wants to leave. He, along with Lukaku, was regarded as our only world-class player last season. He wants to move for the same reason that Lukaku wanted to move, and the same reason John Stones wanted to move – in the hope of reaching the very top of his profession, at a club that can offer him Champions League football most seasons.
It's got nothing to do with managers, fans, gangsters, or any of that stuff. And the idea that Barkley went "oh fuck Big Sam's coming, that's me off then", is beyond ridiculous.
Dave Abrahams
56
Posted 04/01/2018 at 16:43:26
Darren (45), Garbutt hasn't been on loan, he wasn't registered to play for the first team squad last summer, he has had a few games for the U23s, seems to be a good player going forward and good on dead ball situations, but two unsuccessful loan deals plus injuries have stalled his progress, don't know if he will improve from his original potential.
Galloaway could be recalled from his Sunderland loan deal, which again hasn't done much for his career.
I agree with much of your comment on Ross, started off at seventeen with very good form and enormous potential, the potential is still there seven years later, don't know about the progress, maybe, possibly whatever.
Keith Monaghan
57
Posted 04/01/2018 at 16:43:55
It's been obvious for ages that Ross wants to leave us – it's his choice and not anyone else's fault.
If Ross was half as good as some of our fans seem to think, the big offers would have rained in ages ago – what happened to the £60M bid Citeh were preparing 2-3 years ago? It was just paper hype.
The evidence of our eyes tells us that he is very ordinary and rarely performed to his much hyped potential – no chance of being worth a place in a top 6 team – couldn't even get game time in a mediocre England team in the 2016 Euros.
Get what we can for him – he'll achieve very little in the game, just like he has in the last couple of years; mentally weak, poor decision-maker, lazy & not a team player. The sooner he goes, the better for the club & us fans.
Steavey Buckley
58
Posted 04/01/2018 at 16:44:02
What Ross Barkley is doing to Everton football club is unacceptable. This club should not be just any football club but his home team. But if he is determined to go, why hasn't he gone? The transfer window is open, all he has to do, is tell his agent, which club he wants to sign for.
Then drive down to the airport and catch a flight to London and sign for Chelsea or Spurs. He should not just hang around the Finch farm until the end of the season, and create a bad atmosphere. He owes that much, out of respect to the fans.
Jackie Barry
59
Posted 04/01/2018 at 16:44:11
Michael hits the nail on the head, he has every right to move to better things as he sees it. Now whether he will be successful time will only tell. One thing for sure is that we need to replace him, preferably with an Arteta type player, something we have been lacking for years.
Brian Williams
60
Posted 04/01/2018 at 16:51:39
Barkley's contract becomes due for renewal.
Club make new contract offer.
Barkley refuses new contract offer.
Club refuse to improve new contract offer.
Barkley was leaving from RIGHT THEN.
Doesn't matter what the reasons are/were he's been leaving from RIGHT THEN, always was and nothing's changed, and all the "I still think he'll stay" and "now Koeman's left it'll be different" hypotheses are just wishful thinking and daydreaming. (IMHO).
Michael Kenrick
61
Posted 04/01/2018 at 16:52:36
You're right, Stan and Michael – I missed out the Rooney-Rodwell-Arteta-Lescott-Fellaini-Stones-Lukaku rationale, which is simply that Everton can never satisfy his career needs.
I like your inference, Stan, that Allardyce's appointment simply underlines and confirms that sad fact 1000 times over. But John isn't gonna like it...
Barry Williams
62
Posted 04/01/2018 at 16:53:07
I may get shot down here, maybe rightly so, but for me Barkley has flattered to deceive over his Everton career, which has actually been quite lengthy. On his day, brilliant. But, like Lukaku I always felt he was playing a lot more for himself than the team.
I came to that conclusion after watching him fail to chase back on many occasions when he lost the ball, which was often. When Sigurdsson loses the ball, he chases back to get it, Rooney likewise (though he loses the ball far more often than he should).
I have watched Barkley for many years lose the ball and then his immediate reaction was to look up to the sky, arms outstretched, thus losing precious seconds to get back and help out the defence and midfield get the possession back that he had lost.
I have watched him go for goal when others have been better placed. I have watched him pick the wrong passes and I have seen games just literally pass him by. Yes, I am mentioning the negatives, but with the plaudits he receives and the importance fans put on the player, there shouldn't be so many negatives.
He has been dropped by Everton on occasions and overlooked by several England managers because his form made it possible for him to be overlooked (though I do have my own theories about England's selections, but that is one for another day).
I have no idea why he wants to leave, all is guesswork but it is just a pity that the club that have nurtured him, stood by him through injuries and poor form will get next to nothing in return for letting him go at 24. It just doesn't sit right.
Christy Ring
63
Posted 04/01/2018 at 16:55:22
We should keep him until the summer, he's now back fit after missing the last 5 months. What have we got to lose, we'll only get a nominal fee now, so play him for the rest of the season.
Duncan McDine
64
Posted 04/01/2018 at 16:55:49
I hope the full story comes out if and when he leaves. It might end up being the best move for him (as it was for Rooney), but I've got a strong feeling that he'll fall into the Rodwell/Jeffers catagory. Its just a shame that Everton won't get much, if any, money for him.
Peter Laing
65
Posted 04/01/2018 at 16:58:25
The incident in the Liverpool bar earlier this year was the straw that broke the camels back regarding Barkley and his long term future with Everton. Since then Barkley has steadfastly refused to sign a contract extension and has been blighted with injury. Regarding potential suitors good luck to Ross if he thinks that he has a chance of playing in his preferred No10 position at either Chelsea, Spurs or Arsenal. There are also better players ahead of him at both of the Manchester clubs and at Liverpool.
Moshiri was well and truly fucked over by the collapse of Barkley's move to Chelsea and as the owner and having spent heavy to replace Ross my feeling is that from the hierarchies perspective there is no going back.
Ross has decided that his future lies elsewhere and to be honest we just need to move on. Given the extent of the injury, lack of game time and general state of mind Barkley has zero chance of making the England World Cup squad. It will be interesting to see where Ross does end up and whether playing for Everton really was the pinnacle of his professional career.
Peter Laing
66
Posted 04/01/2018 at 17:00:31
P.S - remember that Derby winner from Ross ? ?? - no me neither
Brian Hennessy
67
Posted 04/01/2018 at 17:08:42
Well that's that then, a pity, I would have liked him to stay.
No point in keeping him till the summer. Get some kind of a fee for him and get him off the weekly payroll. If he knows he is moving on in a few months I don't expect him to put in a shift for us till then - plus it will take him weeks more to get match fit once he is ready.
Koeman, Unsworth and Allardyce can't all be at fault and I am sure he was offered a decent contract to stay.
Looks like Sam is hoping to create a bidding war - all be it a low priced one considering the short time left on his contract.
By bye Ross - don't let the door hit you in the arse on the way out
David Connor
68
Posted 04/01/2018 at 17:11:45
Reputed £100,000 a week on the table. Flattered to decieve most of his playing career. The lad and his twat of an agent have shit on us from a great hight when we stood by him through all his injury set backs and piss poor form.

He is without doubt the most talented midfielder we have but the lad seems to have mind his mind (as small as it is) up. Move on. Many a player has left us for pastures new thinking they were to good for us and come unstuck big time.I for one think he could be another Pienaar, Gosling, Rodwell etc.

Here's hoping...
Colin Malone
69
Posted 04/01/2018 at 17:16:17
I love the lad in the Everton way but, I don't give him a second thought now.
Steve Hogan
70
Posted 04/01/2018 at 17:17:32
A few months back, I had some sympathy for Ross, particularly after the public 'outing' by the dutch master of diplomacy, Koeman.
Since then, I've realised , he's played us like a fiddle. Whether on the instructions of his management 'team', or what, he was on the verge of signing for Chelsea, before someone (or club), whispered in his ear, and said 'Hang on, get fully fit at Everton, on full money, and we'll be back in for you, with the added bonus, of a couple of million signing on fee'
Nice work if you can get it. The only people not to benefit are his boyhood club, who he has 'shafted' good style.
I'm convinced he could have made at least a substitute appearance by now, given the length of Bolasie's injury.
I'm putting my money on Spurs.
Jim Bennings
71
Posted 04/01/2018 at 17:20:55
Peter Laing
Or that winner against United , Arsenal, Chelsea or City???
No nor me because like Lukaku was so often slated , he never turned up for the big games.
Actually think the loss of the pacy winger Deulofeu was always greater anyway!!
Keith Monaghan
72
Posted 04/01/2018 at 17:23:09
Barry @ 62
SPOT ON - Agree 100%
Nitesh Kanchan
73
Posted 04/01/2018 at 17:40:13
There is no problem if he wants to go to some clubs to win trophies or play in Champions League or for getting higher wages immediately than waiting with us,but the problem is where a player of his calibre are easily getting sold for minimum 40 million to billionaire owner clubs with prime years still to come and considering Chelsea invested Barkley money on getting Drinkwater for 35 million,he has really cost the club big time here.If he had made that decision last season he could have been sold at minimum 50 m like Stones but instead he decided it in his last year of contract.Why not sign the contract and leave in summer to profit the club like Stones and Lukaku did? Really pissed of here and to think Barkley of all people to do that who I thought loved this club unlike Lukaku and Stones is even more sad.
Eric Paul
74
Posted 04/01/2018 at 17:43:27
He's been hounded out by his own fans booing him, just look at most of the posts above and it's already started for Tom Davies
John Hughes
75
Posted 04/01/2018 at 17:44:32
You are the weakest link Ross - goodbye! (and take Steve Ferns with you)
Stan Schofield
76
Posted 04/01/2018 at 17:46:58
Nitesh@73: Whether it's sad or not depends on what has gone on behind the scenes, which of course none of us knows. All we can do is lay out possible scenarios. One scenario, apart from the simple notion that Barkley wants to further his career and win things (which he'd be unlikely to do at Everton for the foreseeable future), is that the EFC management from the board level downwards has pissed him off. It's only a scenario, a plausible one. Niasse for example could have felt the same way, but I can't see that any top clubs are after him.
Barry Williams
77
Posted 04/01/2018 at 17:47:47
Eric Paul - 74
I never agree with fans booing players (even the opposition ones, it makes them more determined, and it is just so bloody childish), the criticism levied at a 19 year old Tom Davies is ludicrous. But, do you think Chelsea, Spurs, Man Utd fans etc. will be more charitable to him?
Eddie Dunn
78
Posted 04/01/2018 at 17:51:05
Barkley has obviously decided he needs a change. Entirely understandable considering how long he has been at one club. As a person,and as a player, he needs to test himself in a new environment and perhaps he believes that he can force his way to being a regular pick at Chelsea or Spurs.
I would have liked him to stay and indeed Unsworth seemed hopefull, but the scene has changed once more and he may be off to pastures new.
Good luck to him.
Eric Paul
79
Posted 04/01/2018 at 17:51:16
Barry
It probably wouldn't happen because they usually loan their promising youngsters out
Barry Williams
80
Posted 04/01/2018 at 17:52:34
Eric Paul - 79
My reference is to Barkley, if he hits a poor run of form, what do you think will happen?
Barry Williams
81
Posted 04/01/2018 at 17:55:03
Eric Paul - 79
Sorry, I wasn't clear enough!
Tony Dove
82
Posted 04/01/2018 at 17:57:37
We are faced with another 496 days of Sam Voldemort and his cohorts and if Ross stays it might help make some of those days more bearable.
Phil Brown
83
Posted 04/01/2018 at 17:59:15
I think that you are all looking at it from your point of view - how about trying to see it from Ross's side?
Put the clock back 3 or 4 years to the U19 or U20 World Cup when he was the stand out player, head and shoulders above the rest and Harry Kane looked a complete donkey and Deli Ali was still in the MK youth team.
They have both absolutely flourished at Spurs and kicked on to much greater things including a regular place in the England team whilst Ross seems to have gone backwards.
Surely he must want to go to Spurs to develop into the player we all hoped that he would be with Everton? The Spurs players will have told MP how much raw talent he has and what he could add to the team there.
He will get to play in his best (only real) position of collecting the ball from the defenders and driving forward to create chances for Harry Kane and Deli Ali.
Or he could stay with us and create for Niasse and Siggurdson - which option would help fulfill his potential and get him back into the England set-up?
Nitesh Kanchan
84
Posted 04/01/2018 at 18:00:02
@71,Del Boy seems to be available again it seems.Miss his fast crosses across the box something I never saw in this game before,shame that he couldn't make it physically.Him and Mirallas were joy to watch in the wings in Martinez first season and his goal at the Emirates.What a team that was with Barkley,Barry and Macca in midfield and Lukaku Naismith up front and Jags,Distin,Coleman and Banies/Oviedo at the back.
Eric Paul
85
Posted 04/01/2018 at 18:02:06
Barry
I don't know what Ross Barkleys thoughts are regarding the Situation at Everton but I doubt any other fans booing him will bother him
Rob Dolby
86
Posted 04/01/2018 at 18:02:50
Get some money for him and move on.
He had the potential to be very good but in reality he will be lucky to play in the premiership in a couple of years time with his lack of work rate.
Barry Williams
87
Posted 04/01/2018 at 18:03:28
Eric Paul - 85
Neither of us know! So, do we know he is being hounded out by his own fans? My point was, if that is the case, other fans will be less forgiving at the 'top' clubs. Lukaku has already had stick at Man U, he is there top scorer. Whether Everton fans' booing is more detrimental to Barkley as a Liverpool lad than that of other clubs, we can only guess at, but he certainly won't be treated more charitably imo. Again, we don't really know.
What we do know is that he is likely on his way out regardless!
Christine Foster
88
Posted 04/01/2018 at 18:03:57
Its rather sad from a number of perspectives, his talent is greater than we have on the pitch, his love of Everton made him one of us who made it good. I held out the hope that it was just Koeman and I still believe his attitude did influence his decision to leave. But we have had absolutely no comment from Ross or his agent, not any valid reasons why.
But I truly hoped, as did Allardyce obviously did, that he would reconsider. Alas not. But I wish him well and do not feel the same as many of the posters, he has no responsibility to go to a club he doesn't want to for the benefit of the Everton FC. Something has appeared to have soured Ross Barkley's view of the club, its supporters or life in Liverpool. He has a right to be ambitious and I wish him well for the future.
One last point regarding the vitriolic comments of some, one of the biggest clubs in the country see his value. As did City with John Stones, I remember the good riddance comments about him too, and as for the ridiculous comparisons with Rodwell.. he has already outstripped by a country mile his achievements..
I personally look forward to hearing, at some point, the reasons why this boyhood blue, wanted to leave. Till then, nothing more to say but good luck.
Keith Monaghan
89
Posted 04/01/2018 at 18:08:11
Unsy's expectations re Ross were clearly driven by wishful thinking.
I too don't agree with booing our individual players - if anyone could say he was hounded out by our fans it would be John Stones with the park End's reaction to him dribbling his way out of our penalty are v. Spurs in his last full season here.
No way has Ross suffered from this type of booing - if he's suffering it's from being too often told how what a diamond he is/was and realising he's not living up to it.
I too think some of the recent criticism of Tom Davies on here is way over the top and totally unjustified. Our younger players aren't being helped at all by the performances of the senior players. Tom, DCL, Holgate and Kenny have had too much pressure on them at their age and experience level - Barkley, with his several years in the squad should be classed as a senior player this season if he'd been physically fit to contribute.
James Newcombe
90
Posted 04/01/2018 at 18:08:44
He's a rat. Rooney was called everything under the sun for leaving, but at least the club were (very well at the time) compensated. RB has run his contract down for the convenience of Spurs - what an Evertonian!
Jim Bailey
91
Posted 04/01/2018 at 18:08:55
Good riddance.Home town club my arse. True blue ditto. Over rated, slow witted, cumbersome and a liability. Apologies to TWebbers who think differently, but sites like this are for opinions agreed with or not, and this is mine on Ross Barkley.
After picking splinters out of his arse for a few months at a (bigger club) he might well think that he could of played this sorry scenario out differently.
Steve Bird
92
Posted 04/01/2018 at 18:09:14
Ross as a player was a completely accurate copy of the team he played for, impressive on his day , especially against lesser opposition but still always showing a gulf in class in comparison to the creme de la creme.
All of this is indicative of the club , we spent a decent few quid this summer with a view to challenging the top six and are disappointed by our lack of progress.
In reality a decent few quid is about £200M too few to change things.
In reality Ross mesmerising lower teams defences wont get him on the plane to Russia whoever he plays for.
Christine Foster
93
Posted 04/01/2018 at 18:16:09
James Newcombe (90) and Jim Bailey (91) could just be that such personalised comments as yours have added to the reasons he wants to go. Glad too that not everyone has that opinion. No need to call him a rat, or make personal comments regarding his intelligence. I thought we were better than that.
Ian Burns
94
Posted 04/01/2018 at 18:18:14
I am sad to see Barkley has no future with EFC. Sad because he still has so much talent despite the years waiting for it all to flourish. Sad because no manager has yet been able to bring it out of him, although Martinez was close for a short time. Sad because his forthcoming transfer is more of a reflection on the state of EFC than Ross himself. Sad because he is a blue.
I would feel a great deal happier if Juan Mata and the left back from Bristol City were passing him on the way in. But hey, I gave up dreaming a long time ago.
Jackie Barry
95
Posted 04/01/2018 at 18:23:15
Why do people keep writing about Ross as if he has no choice but to leave? It's actually his choice, he wants out! Sorry that people seem to be unable to accept it but you need to move on.
Stan Schofield
97
Posted 04/01/2018 at 18:36:10
Jackie, I can't see that people are doing that. We all know it's Barkley's choice. People are just pondering as to why he's made that choice, laying out the possibilities. Some of us see it as inevitable, because surely no player wanted by a top club would choose to stay at Everton. In the 1960s and 80s, yes, but not now, because we're not a top club.
Darren Murphy
98
Posted 04/01/2018 at 18:38:40
@Dave 56, You're dead right mate regards young Luke, sorry pal I typed that quickly as I had a training session on but thank you for the clarification. I did wonder as to why we didn't try the lad instead of Martina.
Has Ross had his day? Would he if motivated and enthusiastic about playing with the new players...I just don't know.
John McFarlane
99
Posted 04/01/2018 at 18:40:52
Hi Christine, [93] I echo your sentiments entirely, I think that no matter what our personal views are on any subject, there is a way to express them that gets our point across. There is in my opinion, no excuse for foul or abusive language, or character assassination.
Ross Barkley for whatever reason has decided to leave Everton, and although I don't personally remember Dixie Dean playing for the club, I always use his leaving Everton, as the starting point, when I name influential players who have either left by their own choice, or by the choice of the club.
Dixie Dean left, 'Everton are still here', Tommy Lawton left, 'Everton are still here', Alan Ball left, 'Everton are still here'.
There is a long list of good players who have left the club down the years, add Ross Barkley to that list, and I'm quite sure that Everton will survive.
Kenny Smith
100
Posted 04/01/2018 at 18:47:33
We're crying out for creativity and for me he's still not good enough to get a regular game. God only knows where he'll fit in at Spurs or Chelsea. I can see him at Arsenal they're full of players who flatter to deceive so he'll fit right in.

Paul Kossoff
101
Posted 04/01/2018 at 18:51:15
Barkley will go for nothing season's end sticking two fingers up to
(his club.) Why? Because it's Everton, that's why!
Still injured is he? Yea I bet.
PS I'm saying this because I'm never right!😁
Russ Quinlan
102
Posted 04/01/2018 at 18:51:28
I lost patience with Barclay ages ago, starting with that shite display at home against the RS, he seems to think he's better than he is and when he's getting ragged on the park, he just loses it and plays even worse, how he didn't break a RS leg on that day I don't know.
For a supposed 'blue' he has never said a word since he was apparently leaving, not a fooking word to all the supporters who cheered him on and yes there are some boo boys but if you're a 'man' then you ignore it and get on with it, its just a bloody excuse, Ill not be sorry to see him flounder in a mid table team like all the others, Jeffers, Gosling, Rodwell, Lescott, the list goes on.
Stephen Davies
103
Posted 04/01/2018 at 18:58:36
#91 cumbersome slow witted, over rated and a liability.
You must be thrilled dilerious ecstatic and over the moon that hes leaving.
James Marshall
105
Posted 04/01/2018 at 19:02:01
It felt like he left months ago for me.
It's a shame but players always come & go and it's not worth getting worked up over anymore.
Part of me still thinks he wants out of Liverpool as much as he wants out of Everton.
Iain Johnston
106
Posted 04/01/2018 at 19:02:33
Maybe it's because he doesn't want the superstardom, he doesn't want to be the homegrown wonderboy that all the fans pin their hopes on.
Maybe that's just too much pressure for him to bear.
Maybe he just wants to be a footballer with a bit of talent in a squad of talented players so he can have a fair degree of anonymity.
Maybe it's the reason he said no the Chelsea.
Maybe it's time we started to consider just how all of the saturated media coverage effects certain players.
Geoff Lambert
107
Posted 04/01/2018 at 19:09:04
He must be shite when the two teams who want to sign him finished first and second last year.
I guess their managers know fuck all about football or Ross, maybe they should come on here and learn something from the fifa managers are us brigade.
I wish he was in our midfield now we might have someone trying to drive forward and look for a pass in the opposition box for once.
Jay Wood
[BRZ]
108
Posted 04/01/2018 at 19:11:05
And here endeth the Fantastic Four who just 2-3 years ago I had high hopes of restoring Everton to a real power in the land again:
John Stones - City
Gerard Deulofeu - Barcelona
Romalu Lukaku - United
Ross Barkley - ???
All four of exactly the right age, profile, ability and potential to transform our club.
All four exactly the type of player we should be looking to recruit and retain if we are serious about competing at the sharp end of English and European football.
A truly impressive spine to a team. All gone.
What does that say about the custodians and management of our club, their ambitions and intentions for our club, and the status of our club?
The club has handled the Ross Barkley affair extremely poorly to the point we are only likely to receive relative pennies for our investment in the lad.
Not that I'm completely exonerating Ross. At least when Rooney left we got some considerable coinage for him. Ross' own choices and actions have denied us a similar compensation.
All very sad and inevitable for quite some time now.
Ian Bennett
109
Posted 04/01/2018 at 19:11:09
Disappointing to lose a player of his ability, and follows Lukaku and Stones as players we can't afford to lose.
Any long term progression up the league can only take place when we stop selling to our rivals.
Kim Vivian
110
Posted 04/01/2018 at 19:19:07
He'll be back. Won't like it down there.
Stan Schofield
111
Posted 04/01/2018 at 19:19:12
Jay@108: Good post, says it all.
Trevor Lynes
112
Posted 04/01/2018 at 19:19:12
Barkley never reached his supposed potential and his best ever goal haul in a season was 10. He flattered to deceive and never had the stamina for 90 minutes. None of the managers he had were able to get consistently decent performances from him and no one knew his best position. He was well paid throughout his time at EFC and never gave full value for money in attitude nor ability.I desperately wanted the lad to develop his game and be a top player for us but he never rose to the level he was expected to achieve. Lukaku scored 26 goals last season and Barkley scored FIVE. Yet Barkley received tremendous support from the fans who were willing him to succeed. He obviously could not take the criticism and sulked his way through his contract taking the money for doing f**k all.His attitude does him no good if he is expecting to play elsewhere. At least Lukaku played every game and did not s..t on his employers. If Barkley hangs on until he is on a free transfer then he is crap IMO and not fit to wear the shirt.
Dave Williams
113
Posted 04/01/2018 at 19:24:49
Loads of ability but no football brain. I'd love to know why he wants out and I go with the personal issues outside football as otherwise surely his agent would have been vocal- the utter silence from Ross and the agent is startling in this day and age.
We survived Bally leaving us ( it took me years to get over it) but I won't lose a wink of sleep over Ross.
Darren Murphy
114
Posted 04/01/2018 at 19:27:48
The only one I miss is Delboy Jay. The rest are prima Donnas.
Bernard Dooley
115
Posted 04/01/2018 at 19:29:33
Lyndon; surely Barkley can only sign a pre contract agreement with a foreign club not another Premier League club.
This variation of the FIFA rules is perhaps there to maintain the integrity of the league should a player sign, for example Chelsea or Spurs and then have a stinker playing for his current club in a prem fixture against his prospective employers. Now .tapping up...that's a whole new ballgame
Clive Mitchell
116
Posted 04/01/2018 at 19:30:26
This is a very sad situation. The only person who's ever been at the club who might deserve some of the blame is Koeman. Ross (his representatives?) presumably feels that he's bigger than Everton currently are. He's as talented a player as I've ever seen in a blue shirt. I want to wish him well, so I pray he doesn't go to Chelsea. I genuinely fear for his career, as I'm not sure the Ross we've seen at Everton will cope elsewhere. It would be awful to see him strut his stuff somewhere else; but it would be worse to see him sink into footballing obscurity - or worse.
John Keating
117
Posted 04/01/2018 at 19:30:26
The ball is in Barkleys court.
If he wants to go this month and a club are prepared to buy him then sell. Better getting a few quid than nothing.
if he wants to go at season end then fair enough. Once fit IF Allardyce wants to play him then do so, if Allardyce wants to keep him away from the first team squad then so be it.
As mentioned before we have seen far better players leave this Club.
It's a great pity there has been no comment from Barkley as it might have made things far more comfortable for all interested parties.
Alan Jones
118
Posted 04/01/2018 at 19:31:03
Shame he can't resolve his problems. However, won't there be the small matter of a medical to pass before he can sign for anyone else??
Maybe no one will want to sign him and he'll be desperate to sign a contract to prove himself or he will be just another sad story of talent unfulfilled like Odemwingie.
Imagine Ross sitting outside White Hart Lane on the last day of the transfer window pleading with them to sign him
Dave Newall
119
Posted 04/01/2018 at 19:35:24
A conversation along these lines took place on deadline day in the summer(I MISS SUMMER) chelsea" so ross how are you" ross" can't wait to sign for you" C "how is the hamstring " R crap I'm out till december" C "so why don't we let the daft gits at Everton pay your wages till then and we'll sign you when your fit" R "Ok den don't worry I'll drag the injury out till you're ready to sign me"
Julian Exshaw
120
Posted 04/01/2018 at 19:40:08
This is a tough one. If ever a player epitomised the word potential it is Ross Barkley and this is what Chelsea are buying. We have seen his talent in flashes but he seemed to be becoming increasingly frustrated last year under Koeman ( but who wouldn't ?). What I dislike is the thought that we are selling a player who ,potentially, could become a world beater. Let's be honest, who wouldn't pick him from our current crop of midfielders at the present time? So I hope he stays and plays and turns our season around. I won't be holding my breath though.
Mark Riley
121
Posted 04/01/2018 at 19:41:50
Let him leave and sit on the bench at Spurs or City. I'd rather have a one legged Rooney than Barkley. 24 years old and still plays like a 17 year old.
He's no Evertonian.
Martin Nicholls
122
Posted 04/01/2018 at 19:44:38
Like Steve, I don't buy this gangster stuff, but for different reasons. If Ross was so desperate to escape the attentions of such people, why did he consciously submit to a further 3/4 no the of this alleged aggro by turning down Chelsea on deadline day? In my view, it's all about
Jackie Barry
123
Posted 04/01/2018 at 19:48:13
Are gangsters really that bad in Liverpool? I mean we're not talking godfather stuff here are we?
Ian Horan
124
Posted 04/01/2018 at 19:59:22
Interesting comparisons on here between Dele Ali and Harry Kane development since the u20 world cup and how they have kicked on and Ross has gone backwards. Ross had always been physically bigger and more powerful than his age group hence he stood out. Now he is playing against grown men he has lost his advantage of power and strength. Were as the Spurs darlings have developed technically. In my opinion ultimately Ross wont kick on likr Ali and Kane due his lack of football intelligence. Sadly Ross has also shown a lack of loyalty to Everton he was out for nearly 2 years with a double break of his leg , Everton stood by him at 17 years old . I believe this is why a lot of supporters have become apathetic to the contract situation and couldn't care less if he goes...
Andy Crooks
125
Posted 04/01/2018 at 20:05:46
I think Ross is a fine player and I would love him to stay. There has been some unfortunate stuff said about him. It looks like he is going so, good luck to him. We don't own him and being a local lad doesn't mean more is required from him.
I can understand those saying let us keep him on the bench and make him miss the world cup. But, what good would that do? Make us feel a bit better?
Keith Harrison
126
Posted 04/01/2018 at 20:12:50
For whatever reason, the lad wants to go - or is it he would rather not stay?
Whichever, he goes with no ill will from me, but I can't help feeling if he 'loved' the club that much, he could have gone in August when his value was some £20 million more than it is now- and reducing daily probably as his contract runs down.
Stan Schofield
127
Posted 04/01/2018 at 20:14:52
Ian@124: Barkley is employed by Everton Football Club Co. Ltd. (I think that's still the company name), and it's a business relationship between him and the club. EFC has 'stood by him' only in the sense of the club seeing a benefit to be gained by having him here. They didn't do it to be charitable to him, they did it for business gain. If the club had considered him not to be of business benefit to them, they would never have offered him any contracts.
If you want to see past episodes of the club handling players dispassionately, with only the club's business in mind, I refer you to the way the club handled two of our greatest players, Alex Young and Alan Ball.
It's football business, not EitC.
Stephen Williams
128
Posted 04/01/2018 at 20:17:20
Christine,
Whilst I'll not lower myself to insulting RB, I can't slap him on the back and wish him well either.
He is a self confessed blue and there is no doubt that he has been helped in his career by a whole bunch of people at the club. He has known for quite some time (probably more than a year) that he didn't want to extend his contract but instead of moving on gracefully and ensuring 'his club' got something back for their investment in him, he decided to run his contract down so that the club get nothing or next to nothing.
Whilst that's his prerogative, that is disrespectful to the club and fans so, whilst I won't enter that party myself, he (you) can't argue that others shouldn't be disrespectful to him in return.
The club need to learn from this.
Mike Berry
129
Posted 04/01/2018 at 20:18:51
good riddance to him. Hope this gives Kieron dowell his chance
Michael Williams
130
Posted 04/01/2018 at 20:34:55
I wish Ross all the best. For whatever reason he's leaving just like Stones, and Lukaku. What else do all three have in common? They were the most ripped players here on TW with the possible exception of Mirallas. Now it's Davies turn.
Tommy Carter
131
Posted 04/01/2018 at 20:37:28
Mike Berry. What a ridiculous comment. It's people like you who've motivated Barkley's desire to leave. If you honestly believe that Kieron Dowell will achieve even a fifth of what Ross will in his career then you are totally deluded and have no understanding of football outside of our club.
The amount of stick Ross got from Evertonians was nothing short of a disgrace. All I ever saw was a boyhood blue trying his very best. Never shying away from the ball, always trying to make things happen even when he wasn't able to pull it off. When he was able to do this, it was spectacular.
I think Everton fans wanted so much from him. They saw his stature and shooting ability and wanted him to be our version of Steven Gerrard. When he wasn't able to show this, the fans turned on him. Maybe they wanted him to be the Rooney we never got to see. Well he isn't that type of player, he doesn't have the natural aggression that those players have which makes his impact less noticeable in the premier league.
Make no bones about it, Ross is possibly the most talented product of our youth academy, ever. With the exception only of Wayne Rooney. He leaves us with his best years ahead of him and some other club will enjoy the qualities that most evertonians could simply not appreciate
Peter Anthony
132
Posted 04/01/2018 at 20:37:45
If barkley, as seems certain now, leaves this month for a nominal fee, or free at end of the season, that is treasonous behaviour if he is a real Evertonian.
It is however, very congruent behaviour for a boyhood red who still loves them, or a very selfish individual who lives in a bubble away from working class fans and probably thinks he is above them, hence paying no respect to either Evertonians or Everton FC.

Mark Murphy
133
Posted 04/01/2018 at 20:40:37
Is there any truth in him having his Everton tattoos removed or is it just a rumour?
Ray Said
134
Posted 04/01/2018 at 20:40:53
I think Barkley is a goodplayer and I would have liked to have had the chance to see him in his self declared best position as a second striker as he all the attributes to do the role very well-size, power, pace, dribbles and shoots well- and it would minimise his weak points-sloppy passing and not chasing back.
My view is that he has looked at what was on offer from the club -say 150k per week - and thought or been advised 'run the contract down , get a massive signing on fee say 10 mill and still get a minimum 150k per week somewhere else' so he is off. His choice and we have lost much better players and coped with it and we will do so this time.
Stan Schofield
135
Posted 04/01/2018 at 20:43:25
Peter@132: Really, 'treasonous behaviour'? Tad dramatic isn't it? We're talking about a bloke who runs about on a football pitch with 21 other blokes, kicking a sphere of leather around.
Tony McNulty
137
Posted 04/01/2018 at 20:52:58
1. Will anyone take a big punt on such an inconsistent player after such an injury? Well maybe.
2. He was never able to hold down a place with us when we were "best of the Premiership rest." So he's now going to hold down a place in one of the top four sides is he? Well maybe.
3. He didn't perform when being over-praised by Martinez. Similarly he failed under the tougher Koeman regime. So he'll be successfully walking hand in hand down the yellow brick road with yet another manager will he? Well maybe.
4. He will have a great rest of the season now and set the World Cup alight will he? Well maybe.
If he leaves, Ross will be taking his problems along with him. I fear another Jack Rodwell.
Tony Marsh
138
Posted 04/01/2018 at 20:57:36
Short memories some of you lot have on here. Booing Ross last season was shocking and I don't blame the lad for wanting away. Look at the absolute shambles the club has deteriorated in to since Gobshite Koeman put a gun to Barkley's head and said sign or leave. You can't make a contracted player leave FFS. The club and the fans have treated Ross Barkley shamefully, almost Niasse like.
What would any of you lot on here do stick around the shambles that is EFC sharing baths and toilets in the crumbling changing rooms at Goodison Park or go to a team fighting for the Championship in a state of the art stadium playing CL football every year? Never mind being an Evertonian it's a No brainer. Getting knocked out in town last year has probably forced Barkley's hand. Last one out turn off the lights, that's current day Everton for you. Everyone wants to leave, Billionaire or no Billionaire Shareholder/Owner.
Michael Mcloughlin
139
Posted 04/01/2018 at 21:03:02
While Ross has a lot of ability along with a lot of potential. It's obvious he isn't happy at Everton. Whether it's because he believes he can get more trophies elsewhere or can play better football elsewhere. Whether it's because of the fans getting on his back or because not enough people chanted his name. Maybe he thinks he just needs to get out of Liverpool and see a little bit of elsewhere. Whatever the reason is, it's enough for him to leave his boyhood club. I don't believe he has taken this decision easily, but it is clear he has made it.
No we wont get the millions for him, but then again we didn't pay millions for him, whatever we get is a bonus. The important thing here is one of our young lads who has come through the ranks at the club is flying the nest. He is going on to pastures new and I for one wish him well. I hope he find some his true form and can dazzle us playing for England. Like he has dazzled us at times at Goodison. I would rather that than to see what was a bright star of the future wilt into a dud squib of the past.
Good luck Ross, thanks for the memories
Andy Crooks
140
Posted 04/01/2018 at 21:08:20
Well said, Stan.I would not be for having Ross hung drawn and quartered, no matter how treacherous he has been. That particular fate should only apply to grown men who suck their tumb after scoring a goal.And, frankly, they would be getting off lightly.
Will Mabon
141
Posted 04/01/2018 at 21:14:20
The irony here is, if Barkely wanted to stay and find his best form, and be an attacking force... would Allardyce's team selections and tactics even suit or allow it?
Dave Abrahams
142
Posted 04/01/2018 at 21:17:00
Jay (108), John Sones and Lukaku had no affinity to Everton really and they both wanted to leave and got their way. Delboy had a great talent but couldn't seem to have the stamina to last ninety minutes, despite that I liked him and hoped he would stay and sort his physical problem out, nevertheless we couldn't have kept him if we had wanted to, Barcelona had a buy back clause in his contract which they used to bring him back to Spain, it now looks like he hasn't progressed because according to reports they are letting him go.
I don't know the ins and outs of why Barcley is leaving the Blues but after watching him since he came into the team and waiting for his potential to evaporate into a real and consistant talent I am still, after seven years, waiting for this flower to bloom.
Ross's lack of fight is the part of him that really got to me, lose the ball, then chase after his man for three or four yards then just give up, really and truly riled me, I just could not accept that side to his game and do not understand any fan who does.
I never heard any boos directed at Ross, from The Upper Bullens Stand anywa, plenty of moans and groans, but none of them were as loud as those directed at Wayne Rooney in the recent game versus Swansea, although Wayne was given generous applause when he was substited, mind you he had scored the final goal by then.
Paul Tran
143
Posted 04/01/2018 at 21:18:27
I've said plenty about Ross over the years, but he doesn't deserve any abuse.
He doesn't want to play for us, it's a matter of getting the best deal we can and moving on.
I've thought for a long time that he wants to a follow Stones and Lukaku to bigger clubs he no longer thinks we can be. If you want to shout at anyone, shout at the people who failed to strengthen the squad quickly enough to keep these players interested in staying.
Eric Paul
145
Posted 04/01/2018 at 21:21:06
An interesting point Barry, I just don't think the booing hurts as much from a set of fans you have no emotional connection with. Remember jags in the Wembley tunnel at half time trying to convince him the boos weren't directed at him and how upset he was
Stan Schofield
146
Posted 04/01/2018 at 21:25:49
Paul, spot on with that last sentence. If this problem isn't sorted, we'll continue to squander talent. When the problem is there, the best players get itchy feet because they don't see any progression, then no surprise they'll respond to offers from bigger clubs. If it carries on we'll lose the youngsters like Davies, Kenny, DCM and Lookman sooner rather than later.
Stan Schofield
147
Posted 04/01/2018 at 21:27:38
I meant DCL, not DCM.
Oliver Molloy
148
Posted 04/01/2018 at 21:45:40
Kenwright has tried everything to get Barkley to stay at Everton, except offer him what he wanted which was the same deal as had been offered to Lakuka.
The club offered 80 grand , 10 grand per goal , 20 grand per win which I think is a great deal.
However in defence of Barkley and if the rumours are true that the likes of Scheinderlin , Siggurdsson ,Sandro even are all on 100 grand + basic then Barkley probably has a point.

Ross Barkley has the natural ability but for me he just doesn't do the business often enough.
Who knows how he will do at the likes of Chelsea. In terms of better footballers around him that should help him but he will have the pressure all right - every game he plays.
Regards Ross calling off the January move to Chelsea , Kenwright apparently was the mystery caller just after he had his medical , pleading Barkley to stay at Everton.
Kenwright dreams of another "holy trinity" in Rooney , Barkley and Davies , but that just isn't going to work out long term.
Barkley not signing for Chelsea ( because BK called him ) was the reason Moshiri and his relationship going cold , Moshiri was fuming apparently.
Someone also mentioned on here that our new manager would hardly be inspirational in getting Barkley to stay , I would agree with that.
I think Barkley would be mad to sign for anyone in January , if he is looking to get as much money as he can , surely he would be better off signing on a free.
Tom Dodds
149
Posted 04/01/2018 at 21:52:21
Michael @26
I posted a few months ago that he was defo going to Chelsea and the deal was done, despite his desire to go to Spurs.
My accountant is familiar with Barkley's chef (he cooks 3 nights a week in Ross's house in Formby; the other 4, he stays with his mum in Wavertree).
His chef confirmed all the dealings with other clubs, for want of a better way of putting it... But added that it was indeed as you put forward – his social life here that was basically making his life in Liverpool become untenable. So fucked up this situation has become.... and a shame all-in-all. But that really is it.
Mike Dixon
150
Posted 04/01/2018 at 21:57:02
Will (#141),
Sam has no attacking midfielder, so we will never know.
Don't lambasted Sam for not having that particular tactical option. He simply does not have the personel to do so.
Tony Everan
151
Posted 04/01/2018 at 21:58:52
He must be text buddies with a few of the Spurs England players. They want him there; he has decided a long time ago that's were he's going.
Daniel Levy will sign him for £10m plus add-ons or for free in June if not.
For a club that has nurtured and cared for him, for the fans who adored him, we have been financially and emotionally shafted by Ross.
Jay Wood
[BRZ]
152
Posted 04/01/2018 at 22:03:31
Dave @ 142.
With respect Dave, your point about John Stones and Lukaku is a redundant one. Do either either of them have any greater affinity to Man City or Man Utd than they had at Everton? No. And you can say the same of the overwhelming majority of Premier League footballers, certainly all overseas imports.
Don't confuse the point I made with the fact Ross is a local boy with a close affinity to the club. The issue for me isn't a question of fidelity. It is more one of ambition and genuine desire to challenge at the sharp end for trophies again.
As recently as 2-3 years ago we gathered together 4 extremely talented young footballers, be they through the academy, from lower or Premier League clubs and from overseas, around whom we could build a genuinely serious team.
Successive custodians and managers at the club failed to enhance the side at key moments and, in the case of Stones and Lukaku, the club's ambitions did not appear to match their own.
Together with other talent coming through the academy, Moshiri's investment and the riches pouring in from TV money, we were extremely well-placed to crack the code.
Can you honestly say we have signed better players to replace those 3 + 1 more to go this month? I would argue 'no'.
I repeat, those 4 players [had] exactly the age, ability, ambition, potential and profile we should seek to recruit and retain more of.
It is a wickedly missed opportunity, IMO.
James Hill
153
Posted 04/01/2018 at 22:21:34
Good luck to Ross wherever he ends up. It hasn't worked out for whatever the reason, no-one really knows. I just like to say thanks for some great moments and don't play well against us.
Hugh Jenkins
154
Posted 04/01/2018 at 22:33:52
In this day and age, if Ross had any affinity at all for EFC and the negotiators on behalf of the club had any sense, a new contract could have been negotiated that had a reasonable release clause and a guarantee that the club would let Ross go if any club met that valuation and Ross indicated that he wished to leave.
That hasn't happened and we are now left to speculate on whether that is because of ineptness on the part of the club's contract negotiators, or Ross being a greedy little beggar and is looking for a fat signing-on fee from his new club.
It might serve him well to look at the fate of the last two who pulled this type of contract stunt – ie, Messrs Gosling and Moyes.
Stan Schofield
155
Posted 04/01/2018 at 22:43:49
Jay@152: I recall us playing some great football under Martinez, which to me indicated the quality of the squad. With those four players the backbone of it.
And I thought at the time, if this carries on, those players will want to leave, because they won't stay at a disorganised and mismanaged club, they'll want success to match their talent. And indeed it's happened.
James Stewart
156
Posted 04/01/2018 at 22:46:11
Not really bothered to be honest. Barkley is one of the most infuriating players I've ever seen. Bags of ability, but no brain.
With Sigurdsson and Rooney on the books he is probably best moving on. That said he would be foolish to go to Chelsea or Spurs. Won't make it off the bench. Rodwell Mk 2 if that happens.
Tom Bowers
157
Posted 04/01/2018 at 22:53:27
It's arguable whether Everton would have been or would be any better with an in-form Barkley available this season but he has obviously been at loggerheads with management and now I believe it's time to cash in.
He never really became a consistent performer after all the early hype and whilst he does possess a lot of skill he will never be the player we all hoped he would be.
It's time for a few others to be traded also as Sam tries to create a squad that has the right attitude and ability to perform on a consistently high level.
That will take a few more signings as he will weed out some of the ''Koeman'' brigade.
Gordon Crawford
158
Posted 04/01/2018 at 23:16:05
Don't know what's going on behind the scenes, but this situation should never have happened. It's a disgrace and all guilty parties should be ashamed.
Tony Everan
159
Posted 04/01/2018 at 23:24:41
We should ask Sevilla if they want him for Nzonzi.
It would be a good experience for him and he would be well away from Merseyside.
Paul O'Neill
160
Posted 04/01/2018 at 23:29:43
The most depressing part for me is the comment about 'one of the big boys' coming in for Ross. That bit causes a far deeper sinking feeling than anything about one player wanting to leave, although it does sort of explain why he wants to.
Colin Glassar
162
Posted 04/01/2018 at 23:31:40
Good luck, Ross. That's three gone now, who's next I wonder? Sell to buy, that should be our new motto.
John Malone
163
Posted 04/01/2018 at 23:38:07
Tony 151, I couldn't agree more mate, Ross Barkley has shafted Everton Football Club big style!
For a guy who is supposed to be a Blue, he has had us over a barrel and took the piss!
He didn't want to play for us anymore because he had his head turned by 'a Champions League club' the modern day footballers disease! He should've been honest to the club and told them so and given us the chance to recoup a fair fee for an English footballer of his age and potential!!
I think he is making a big mistake and will get swallowed up and benched by any team needing to maintain very high standards every week. I've watched him from day one and he has improved a fair bit but he is still a long way off being a top top-level footballer.
He lacks the concentration, work rate and intelligence to cut it with the best in the Premier League and Europe!
Brian Wilkinson
164
Posted 04/01/2018 at 00:06:35
I touched on this in a post over a year ago, when talk was would he stay or leave.
I think every Evertonian in the ground for our last home game of the season against Watford knew then, when he scored there was very little celebration from Ross, just arms half heartedly raised with no kiss of the badge or clutching of his shirt or sliding on his knees.
Never before have I ever seen Ross not celebrate wildly after scoring a goal for Everton. After the game, I said to my brother, "Ross will be on his way out no matter what we offer him." His body language said as much that Friday night.
Good luck to the guy. We have had players come and go before, it will happen again, but we will still be following Everton and no player is bigger than Everton Football Club.
What we do need to do is ensure we never let a prospect get down to the last year of their contract again. Contracts are nothing nowadays, it just means more money for a selling club, so get a long-term contract nailed down. Gueye and Kenny are a start.
Keith Harrison
165
Posted 05/01/2018 at 01:08:03
Colin, the first 2, Lukaku and Stones, actively agitated to get away from the club. Ross refused to sign a new contract that has been on the table at least a year.
I'm not terrifically happy about the way the club is run either but what would have persuaded these lads to stay?
Regarding the theory of Ross getting away from Merseyside, why didn't he move a bit further away and hire a driver for training etc?
Sean McCarthy
166
Posted 05/01/2018 at 01:24:23
IT says in the OP that Sandro is on £120k per week. Surely that's a typo??? If it isn't then put it down as yet another example of how fucking clueless the club is if it's negotiating deals with Championship standard players for ONE HUNDRED AND TWENTY THOUSAND POUNDS A WEEK!!!!
He must spend most of his time pissing his pants laughing that someone is prepared to pay him such an outrageous amount of money. No wonder he's looked useless whenever he's played!!
Sean McCarthy
167
Posted 05/01/2018 at 01:50:40
As for Barkley, he currently has 22 England caps. What are the odds he won't get to 30??
Flatters to deceive... and even Woy who was pretty useless as England manager, saw that Barkley was a liability.
I won't be shedding tears when he goes and fully expect him to be labouring in Stoke's or Newcastle's midfield within 3 seasons.
Alan J Thompson
168
Posted 05/01/2018 at 01:59:50
Colin (#162);
Who's next to leave? Anyone with ability to beat a man. Have we got one?
Somebody on here said that Barkley would go to a team who are "mid-table dross" and then included Jeffers and Lescott among his examples who did. So, if Arsenal and Man City are mid table dross then what are they all leaving?
The only thing that does seem apparent is that few if any of us have much idea as to why he wants away.
Kevin Moorcroft
169
Posted 05/01/2018 at 02:44:04
To be fair, Ross is his own man as they all should be. If he wanted to stay, then he'd be pushing for a place and as any manager should state: If they don't want to play their heart out for the club they, should go elsewhere, no matter.
These guys get well paid, can live where they like, travel in style, and have the pick of the girls at such a young age. What more could a fella want in life and come out of it with enough money and security for life.
Sorry, but get £30 million plus for him and move on. Anyone else ????
Up the Blues!!
Kevin Moorcroft
170
Posted 05/01/2018 at 02:52:21
Salaries are irrelevant with the huge income from sponsorship and Sky. Gate receipts are just a small fraction of the income.
In my opinion, it wouldn't make much difference if they charged £20 a head to get in across the board and a tenner for OAPs and kids.
Money is secure if you're in the Premier League as long as Sky are there and the world is watching. £120 grand a week is fuck all! I'm sad to say but that's it nowadays.
Peter Anthony
171
Posted 05/01/2018 at 03:44:25
Treason definition: betrayal against the state.
Not showing the same loyalty to the club that nurtured and helped him since a small child, through career-threatening injuries too. Guilty of treason against the state of Evertonia. In my view, yes.
If he wants to leave for personal reasons, or even footballing reasons, that is acceptable but not to look after the club that grew him by signing a deal that meant we get a proper fee, is treasonous against the state of Everton. Lukaku came to a gentleman's agreement clearly. Why not Ross? Greed of agent? Tail wagging dog? The agent works for the player. Shafted by the diamond from Wavertree indeed.
Creating and scoring goals is the most difficult and therefore expensive element of a team. With Ross's age, nationality, proven ability to create chances in the Premier League. Leaving for £15m to Chelsea. What a shambles.
Up the Toffees.
Steve Carse
172
Posted 05/01/2018 at 04:14:49
Just a thought, why are people wishing Barkley, or any other individual who is not playing for Everton, 'good luck'? Are they really hoping that he plays well at his new club and in so doing help that club to outperform his old club? Presumably not, so what are the well wishers hoping happens to him? That he enjoys the increase in income he will be receiving at a cost of perhaps £20m to his old Club and therefore its supporters (that's around the level of income the club receives at the gate in an average season -- so we will all be happy then will we that the money each and everyone of us has spent on match tickets and so directly given to the club over the last 12 months has just been negated by the selfish and greedy actions of one of its players)?
Let's not overestimate though the personal benefit to Barkley in all this. A bigger signing on fee, yes. A bigger salary, yes. But putting both of these together can't boost his wealth over a contract of say 4 years by much more than around say £5-8m. Sizable certainly but well short of the £20m cost to Everton. So the biggest beneficiaries in his decision not to leave in August are Chelsea (if that is indeed where he ends up) to the tune of the £20m saved on the transfer fee. So well done Ross, your actions will have resulted in a switch of net wealth from our beloved, relatively financially poor, club to a richer competitor.
Yep, 'good luck' -- tosser.
James Hill
173
Posted 05/01/2018 at 05:45:55
Colin 162 All clubs have to balance the books and get rid of dead. Do think the funds from the sale Suarez and Coutihino were or will be used to fund the purchase of other players. Van Dick perhaps being one.
Michael Kenrick
174
Posted 05/01/2018 at 07:17:16
Thanks for posting this 'sauce' again, Tom (#149). I did recall reading that along with other similar posts that seemed to strengthen this as being the cause.
The 'gangster' in question may be gaoled, we are told, but that seems insufficient to stop him from seeking a fresh start. All very strange.
It's odd that no-one will come out say what it is... there must be a lot more ITK who are keeping very quiet about the real reasons.
I don't think we've had a mysterious one like this since Gary Speed left under very strange circumstances almost 20 years ago. His tragic death years later prevented discussion of the reasons back then, and the long list of possibilities raised at the time eventually faded from the memory without ever being resolved.
John G Davies
175
Posted 05/01/2018 at 07:31:48
Tom 149.
If he leaves Liverpool at least Ross will know his mum is safe seeing how the chef is staying with her.
Michael there is no maybe about it.
The situation where he was threatened was 2/3 years ago, still being used as an excuse for him leaving.
Andrew Ellams
176
Posted 05/01/2018 at 07:38:13
Are these the same gangsters threatening Slippy Steve when he almost signed for Chelsea? Looks more to me that Ross struggles with the pressures of being the home grown hero.
Dave Abrahams
177
Posted 05/01/2018 at 09:16:07
Jay (152), yes Jay you are correct about players and their affinity to clubs, I was trying to draw attention to the fact that Ross did have some affinity to Everton, being born in the city and coming through the ranks from an early age at the club.
My main point, although I never asked you, was do you really think Ross is a great player and will he become one. You obviously know your football and if you think Barkley is capable of becoming a consistently good player, never mind a great one, then that surprises me honestly.
Ross is going so whether we fans like him or not so there is little we can do about it, it is how they leave Everton that leaves a lasting impression, so for me when Ross goes he's gone. When a player like Gary Speed was practically forced out of the club then e goes/ went with my upmost sympathy and regret, and he was always held in the upmost respect by me and a lot of Evertonians. That's life I suppose Jay.
Stan Schofield
178
Posted 05/01/2018 at 09:32:04
Tom@149: Trust a chef to provide food for thought.
Tony Everan
179
Posted 05/01/2018 at 09:38:30
Medical at Chelsea today , going for 15m. Deja vu?
Probably the best outcome for the club at this late stage considering he wants out.
I'm happy that it is over, I am bored to death of talking about him. However , it will remain interesting to see if he can fulfill his undoubted potential. I wanted him to stay , but wish him luck for his future.
In the interest of balancing the squad I'm not sure that the money should be reinvested in another midfielder. I would say get in another quality striker with some pace.
Walcott or Welbeck can give us more threat , and give us that danger we need. They get no game time for Arsenal.
Our younger players then can be given more time to develop over the next season.
Eddie Dunn
180
Posted 05/01/2018 at 09:38:36
Good business for Chelsea as £15m is a snip. Once under contract his value will be double that and a few good games and he could be sold on for more again.
Unless Chelsea are about to release some of their benchwarmers, it could be a frustrating period for Barkley, I suggest he buys a cushion.
James Ebden
181
Posted 05/01/2018 at 09:48:34
steve #172
bang on.
amazes me people defending him when all he has tried to do is line his pockets and shaft the club who nurtured him from a boy.
James Byrne
182
Posted 05/01/2018 at 09:55:11
I'm glad to see the back of Barkley and see his saga come to an end at Everton. I hope he does well and proves people like me wrong but I doubt it.
The one thing that niggles at me however is the deep rooted damage that Koeman has done to some of these players while he was in charge. It looks to me players like Gueye, Schneid's, Davies, Lookman and Siggy etc have suffered terrible losses in confidence. Something wasn't right about that mans tenure at the club.
Alan McGuffog
183
Posted 05/01/2018 at 10:01:00
Certainly follow the point that Steve makes and I wish him neither good, nor ill, fortune. Assuming he goes to a "bigger" club, and does not end up as a bench warmer, I shall be interested in seeing how good a player he turns out to be. Or not ! My personal view of Ross is along the lines of the Emperors Suit of Clothes
Karl Jones
184
Posted 05/01/2018 at 10:02:08
Everything this club does from the time taken to hire a hoofball manager, the way we negotiate transfers and the way we sell our best players in a heartbeat, proves how small minded and insignificant Everton have become.
Liam Reilly
185
Posted 05/01/2018 at 10:10:35
15M is good value for RB in today's market.
Clearly he doesn't want to play for Everton; so let him go and move on. The club will be here long after he hangs up his boots.
Still undecided on whether he'll kick on like Rooney or end up in the wilderness like Rodwell. One things for sure though - straight into the England team if he signs for either Chelsea or Tottenham.
Michael Lynch
186
Posted 05/01/2018 at 10:13:28
Business is business, and Barkley can make his own decisions. I don't blame him for leaving. However, if it really is the case, and it seems to be, that he was advised to turn down Chelsea in August simply so that we could foot the bill for all his rehab, and Chelsea could then buy a fit player four months later for half the price, then that's an absolute disgrace. Whoever came up with that is a smart businessman, but an absolute twat of person.
I am assumimg we knew at the club what was happening, that we were being mugged, and I'm surprised we haven't gone public with it. We've been stitched up good and proper, but that's life as Esther Rantzen so succinctly put it.
Stephen Brown
187
Posted 05/01/2018 at 10:14:25
Whichever way you look at it this is really poor from Ross!
Whatever has happened recently he really shouldn't forget that when he was 17 he had a triple leg break which the club helped him through allowing him the chance to flourish as a pro footballer and become a multi millionaire! He's also just received top notch treatment for his hamstring whilst being paid just to lose his boyhood club £20m!!
However you dress this up it's really poor and makes Rooney, Jeffers, Rodwell and Ball seem like angels!
Very disappointed! I'm not a malicious person but hope it goes tits up for him!
James Morgan
188
Posted 05/01/2018 at 10:19:15
£15m profit. Get shut.
John Keating
189
Posted 05/01/2018 at 10:24:29
I have no doubt there was a time years ago when Barkley was a mad Evertonian, playing for his team was the ultimate for him.
The lad gets older and like we all do our priorities and perceptions change. Maybe he thought he was the best of the best and could get untold riches and trophies elsewhere.
I have no doubt that it's true that players and agents from other clubs meet, talk, tap up etc and more than likely this added to Barkleys mindset.
The fact is once we get into the realms of millions and league championships boys dreams and allegiances take a hit.
Barkley made his mind up ages ago. He was going regardless there was never going to be enough money to keep him, we can't compete at the top end. We can't compete with the winning of championships and cups.
When Barkley has been rotated until his head spins off at Chelsea until the end of his career he will no doubt return to his boyhood Club, tell everyone Everton is the love of his life and drive off in his Ferrari.
Lets move on. Bye Ross. Thanks for the 15 million, we could have got nothing.
Rob Tedford
190
Posted 05/01/2018 at 10:44:40
Apart from the city game under koeman I've not enjoyed watching an Everton team since Martinez first season , we had a an exciting team with exciting young players with potential to reach top level , in my mind we had four players who would reach the top and take us back with the big boys,
Stones Lukaku Deulofeu and Barkley , I hoped these 4 would make us great again and their potenal couldn't be argued but for one reason or another either miss management on the pitch or in the boardroom or an arm around the shoulder instead of a kick up the butt we have lost all four of them and replaced them players will half the ability or in lukaku's case not replaced at all
This miss management of letting players leave or as with Ross letting his contract run down is a massive disappointment we need to learn from
I would also add that some people on here need to be careful what they wish for as all four of these players have been moaned at and booed more than any I've seen in a blue top , now they've left and look what we're left with
Ian Jones
191
Posted 05/01/2018 at 10:46:28
One thing that has interested me re Ross is his apparent disappearamce from Goodison Park on match days. Whilst you would perhaps not expect to see injured players attend every game, especially those without previous connections to the club, I don't recall Ross showing his face at the ground.
Good luck to Ross. Will be interesting to hear his thoughts on leaving Everton if ever he talks.
John Harrop
192
Posted 05/01/2018 at 10:56:58
Absolutely right Stephen #187. On top of everything else, he was also defended by the club after the Kelvin MacKenzie article, when the Sun was banned.
The most disappointing aspect is that he appears to have almost gone out of his way to damage the club.

Eddie Dunn
193
Posted 05/01/2018 at 11:03:58
Michael #186. Was it really the case that he decided to stay with us just to have his hammy fixed at our expense?
Surely Chelsea would have put the stop to the deal because of the injury, (he would have failed the medical) ,but were good enough to reassure him and EFC that they would come back in in january.

Jamie Barlow
194
Posted 05/01/2018 at 11:14:38
A shithouse of the highest order. Him, his agent and Chelsea have done a proper number on us.
Can't say I'm that arsed though really. Hated watching him play.
Dave Williams
195
Posted 05/01/2018 at 11:17:35
If it was about money then surely his agent would have been playing the press as agents do.
The silence is almost unique in such deals and I subscribe to the theory he has been told to leave town- sounds dramatic but otherwise why has Ross and his agent been so quiet.
Never become the player we hoped and for me he lacks the footballing intelligence to be at a consistently high standard.
Ironic that some posters moan about being a selling club and others moan we are paying ridiculously high wages to new players. As someone posted earlier we need the right manager to take us forward and become competitive with the top six- only when we can compete for trophies and play regular CL will we keep our best players.
Ajay Gopal
196
Posted 05/01/2018 at 11:22:05
The RS will sell their best player for 150 million (reportedly), we sell a player who was at one time one of our 2 world class players (Lukaku being the other) for 15 million! That is the gulf between the 2 clubs at present, sadly. I have never been more down as an Everton fan - not because we are selling Barkley for so low, but once again the hope of a True Blue footballer who will take us back to the glory days has been dashed.
Don Alexander
197
Posted 05/01/2018 at 11:24:42
To me the notion of any fan or supporter having any time for Barkley given his antics off the pitch, attitude on it, and performance all round, is risible. Had he not been "local" his consistent failure to make significant contributions would have been hammered by all, and rightly so. Whatever Koeman's opinion of him as a personality (if he has one) he was given over 40 games last season to show him, Koeman, and us what he's all about and all he showed us was that he's a fairy, as he did under Martinez, Moyes, and every other manager whose seen right through him as I do. His record of stunning goals is little better than the likes of Phil Jagielka and Lee Carsley as far as I'm concerned but he's no way comparable to either in terms of giving to the Everton cause.
As and when he returns here I hope this fake gets what's coming. His commitment as a so-called True-Blue was even less than his commitment to a meaningful tackle, if that's possible.
Jim Harrison
198
Posted 05/01/2018 at 11:42:25
Ajay, mate, whatever you are smoking is almost certainly not good for your health
World class???? He couldn't even get in the England squad let alone team! I will add that Rom could in time be a world class player, but currently he has scored the same amount of goals as our has been, and I bet if you look at it less match effecting ones. But to call Ross world class? You are off your bean lad
In fairness to the player, what he goes on to achieve in the future is not set, but currently he is a better than average prem midfielder recovering from a long term injury.
John Raftery
199
Posted 05/01/2018 at 11:45:25
With only 16 league games remaining and the club well off the pace for the top six, £15m for a player at this stage of his contract is more than we might have expected, especially for one who has not played since last May. From Ross's point of view he has seen two top players leaving the club and inferior replacements arriving. We will need two or three years of rebuilding just to get back to the level we were at in 2013. Ross is approaching the peak years of his career. Who can blame him for leaving a club which is at best treading water?
Moving to Chelsea will be a gamble on his part but not much of one. He may well be nothing more than a bit part player there, he may sink without trace but he has the opportunity to learn from a top class manager, has a chance of playing Champions League football and a chance of medals not to mention a salary topping £100k per week. We might have matched the salary but can offer little else other than mid-table football with a mediocre squad and a set of fans all too ready to look for scapegoats. Who can blame him for seeking pastures new?
Jerome Shields
200
Posted 05/01/2018 at 11:47:40
This is a bad move for Barkley, but good luck anyway.
Michael Lynch
201
Posted 05/01/2018 at 11:49:38
Eddie @193
That may be the case, except that Barkley himself said that he pulled out of the medical. Chelsea were aware of the injury at the time - they weren't going into a medical blind, thinking he was fit, they'd clearly already taken into account his hamstring problem. Chelsea were happy to pay £35m for him at the time, as seen. At some point someone - be it Chelsea, Barkley or Barkley's agent - decided to leave it, knowing that the next four months were going to be all about getting Ross back to full fitness. No brainer for Chelsea/Ross - let Everton sort all that out, come in with a much lower bid in January. The only risk for Chelsea was Spurs coming in.
But, if anything, it would have been Ross reassuring Chelsea that he'd sign in January rather than the other way round.
Alan Bodell
202
Posted 05/01/2018 at 11:50:42
He'll be no great loss but what promised so much delivered so little and i'll be amazed if he can find a regular spot in ANY team in the top flight never mind Chelsea, bench warmer at best and has been for 3 seasons.
Shane Corcoran
203
Posted 05/01/2018 at 11:54:03
Willian, Pedro, Hazard and Loftus-Cheek behind the front man.
Bakayoko, Fabregas, Kante, Drinkwater in the deeper roles.
All the best Ross.
Clive Mitchell
204
Posted 05/01/2018 at 11:59:39
Jamie, 194 - since you hated watching Ross Barkley play, what have you loved watching?
Jay Wood
[BRZ]
205
Posted 05/01/2018 at 12:01:15
Stan @ 155 and Dave @ 177.
I think you and I Stan have very similar thoughts about the mindset that permeates the corridors of Goodison Park.
Maybe, eventually, with time it will shift with Moshiri at the helm, but nearly 2 years into his reign there really doesn't seem to be much of a change as to how the club operates. The most talented players either want out or are sold to fund incoming transfers.
There appears to be a perception both within and outside the club that - yeah! - decent enough club, 'n all that, but the potential to be a real contender again?
Phtt! Yer 'avin a larf...
And that leads me on to you question, Dave.
Let's turn the clock back to Roberto Martinez's 1st season (2013-14), which Stan also references, correctly recalling some of the truly scintillating football we played with the 4 young guns mentioned.
John Stones was 19
Gerard Deulofeu also 19
Ross Barkley 20
Romelo Lukaku also 20
Now because how things panned out in Martinez's next 2 seasons, that 1st season tends to get air brushed out of recent history. Some go as far to say the fall off under Martinez started at the end of that season.
The data shows that is absolute bollocks. Yes, Everton stumbled at the death with losses to Palace, Southampton and City. Ironically, given the core subject under discussion, Ross scored an absolute beauty in that City game. Indeed, it won the club's goal of the season award. But also, rather bizarrely, many a blue (I wasn't among them!) actually WELCOMED that defeat to City as it potentially denied the pinkies the chance to win the title.
What was I saying about the mindset that permeates Everton FC...?
Any way, back to that 1st season under Martinez. Check out these numbers. In the final 12 games of that season, our record read:
P 12 W 9 D 0 L 3 F 24 A 12 Pts 27
Included in that run were 3-0 and 2-0 THRASHINGS of Arsenal and United, respectively. That kind of return, projected over a season, is title challenging form.
Now add to that quartet of young 'uns the following more senior players, but not yet 'aged' players, who were in their prime: Howard, Coleman, Jags, Distin, Baines, Pienaar, Osman, plus the likes of James McCarthy (just 23) and Bryan Oviedo (also 23) , it was more than merely a reasonable, workman-like team. It was a team on the cusp of really, but REALLY challenging for trophies.
Indeed, I recall Lukaku saying in an early interview that season how he told Jags the quality of players at Everton was as good as at Chelsea. Jags response? He laughed at him. That 'Everton mindset' again, from the club captain, no less.
We ended that season comfortably in 5th (could have been 4th!), well clear of both Spurs and United with a record points haul in the PL era, the 6th most potent attack and the 3rd best defensive record.
There was genuine excitement and anticipation as to what this team could achieve under Martinez.
But, this being Everton, Martinez seemingly stopped doing what he had got so right in his first season. Yes, Lukaku was recruited full-time, but Gerard returned to Spain in his 2nd season, only returning in Roberto's final season.
Recruitment was subsequently poor. The football poorer. Martinez's pressers exposed a man living in a parallel universe nobody else inhabited.
Those players in their prime aged, their abilities waned, but rather than be replaced, they were given contract extensions. The four young guns also drifted away.
I wanted to paint that picture first Dave before answering your specific questions:
1) do I think Ross is a great player and will he become one?
2) do I think he is capable of becoming a consistently good player?
To reference Martinez again, Ross was not helped when - still very young - Roberto made one of his super-hyperbole statements, claiming Ross WAS (not could be, or has the potential to be) but WAS THE best footballer England has ever produced.
That said, Ross played his best football under Martinez and consistently so. The age he and the other young guns were, of course he had poor moments within games, or bad games, but he and the other 3 had REAL ability and offered much more to the team than pretty much anyone in our current squad, I believe.
Even under Koeman, Ross was still one of the better players - on his day, I admit. Now for me, Koeman made some legitimate comments about Ross, his maturity and his need to step up to the plate more. But Koeman (and by association the club) did not play a smart game with Ross, given the proximity of the termination of his contract.
So in conclusion Dave, I believed Ross had the potential to be a truly great player. His development and progress to greatness has definitely stalled and I feel now he won't achieve true 'greatness'. He is still a very, VERY good footballer. The type of footballer I would wish to recruit and retain at Everton. In his case, it is not to be.
I also consider Ross over his career at Everton has performed more consistently than many credit him with.
Taken overall, we had 4 young and exceptional talents on our books who, with the right guidance, the necessary additions to other areas of the team, at the right time, could have formed the spine of an exceptional team for a decade.
And we blew it.
To repeat what I said earlier, it is a wickedly missed opportunity, IMO.
Derek Knox
206
Posted 05/01/2018 at 12:13:01
I think Nitesh @1, has more or less summed it up in his post, and I concur with him. To think how the Club have developed his career; and from an early age, apparently filling his boyhood dreams.
Like so many have mentioned, he has promised potential, for how long now?
If he does sign for Chelsea, again like many have said he will find his chances extremely limited; not only will he be found out; but I expect if he does play; and scores a goal, he will kiss the badge; says it all really.
Normally I would wish him all the best; but the way he has treated Everton recently excludes him from that send off.
Paul McCoy
207
Posted 05/01/2018 at 12:21:31
If I were a younger Premier League player, I think deciding whether I wanted to play for a club who've appointed managers of the calibre of Conte or Allardyce would be a very easy decision indeed.
Ross was probably set on leaving already, but as a club we've pretty much stated now that we're only bothered with Premier League survival rather than actually winning anything.
Rick Pattinson
208
Posted 05/01/2018 at 12:23:43
See ya later then, Ross. You'll be an average player in a great team. Use the money to get Fellaini back... get a midfielder with some fight.
Jamie Barlow
209
Posted 05/01/2018 at 12:27:35
Not a lot Clive@204. I suppose it's down to the type of player you like. I like players who put in the effort.
Tony J Williams
210
Posted 05/01/2018 at 12:49:25
So that's a "No" then Jay (205)?
Geoff Lambert
211
Posted 05/01/2018 at 12:51:56
Give me 5 min of skill over 85 min of effort every day.
Anybody can put in the effort, only a few have that little bit special that gets you up off your seat.
Sam Hoare
212
Posted 05/01/2018 at 13:02:25
We have missed Ross this season and will continue to miss him until we find a central midfielder with some pace and power who is actually capable of beating a man and transitioning defence into attack quickly.
He's never pushed on as he might have but still scored or assisted around 30 goals in the Premier League over last two seasons with us.
James Marshall
213
Posted 05/01/2018 at 13:11:42
Players come and go, and my mind has never been entirely made up over Ross anyway. Sometimes he was class, sometimes he was infuriatingly average – it's all swings & roundabouts.
I gave up with the sour grapes over players after Gary Speed left, so this one won't be too hard to take. The whole thing about player loyalty went out with the Ark – supporters would do themselves a favour by forgetting about that notion these days (I mean that sincerely).
Yeah, we're losing some money on Ross, but it isn't my money so why should I care? We're paying £27m for Tosun which could be brilliant or terrible business, do I care? No, again, it's not my money. EFC is a business like any other, and players are traded here, there & everywhere. None of it affects me.
I wish Ross luck anyway – for me the issues are deeper than football & money, though I have no real backing for this stance, I do feel he needs to get out of Liverpool.
Adam Baig
214
Posted 05/01/2018 at 13:11:55
Geoff 211
The problem is, the 'special' players also put in the effort these days. For me, the biggest problem we have is lack of effort from everyone on the pitch.
Think about the likes of Kane, Silva, Hazard - they are constantly on the move, looking for the ball and ready for it.
Ross has maybe had 5 games with that attitude in all the time he's been here.
Phil Bellis
215
Posted 05/01/2018 at 13:20:05
Adam,
Epitomised, for me, in one player already at Chelsea... Willian
Adam Baig
216
Posted 05/01/2018 at 13:21:31
Phil – if there is any chance that Willian could be part of the deal...
Joe Clitherow
217
Posted 05/01/2018 at 13:21:54
£15M to Chelsea with imminent medical according to BBC.
Probably the best outcome and a reasonable amount of cash under the circumstances.
But, sorry, the guy is either really as thick as some of us already thought (including me) or he really does not have any football ambitions. No way is he anymore than a benchwarmer there. Hopefully someone is talking about Batshuayi coming the opposite way.
James Marshall
218
Posted 05/01/2018 at 13:22:14
I agree with Adam too – look at Barca, Man City etc, those are top players because they work harder than anyone else. Yeah you need the talent & skill but without the right attitude & work rate it means nothing.
Ross does lack work rate, I think we can all agree on that.
Sam Hoare
219
Posted 05/01/2018 at 13:39:12
Jay@205, a very good and slightly depressing post.
It's true that four years ago we had a truly exciting team with some young talents poised for greatness and an excellent blend with experienced (but not yet old) Premier League players. Since that excellent first season under Martinez it has been truly downhill, our recruitment that Summer just didn't quite cut it.
Atsu was a poor replacement for Deulofeu, Besic was signed off the back of one good world cup game, Eto'o seemed to upset the dressing room balance and we didn't buy the dominant centre-back to replace Distin who was beginning to age. If only we'd had Moshiri's money then, we would have had a much stronger foundation to build upon.
Liam Reilly
220
Posted 05/01/2018 at 13:43:32
He'll need to improve his work rate in that Chelsea side, James, or he won't play. They've too many forward players who are weak without the ball and that's what surprises me about this move.
Personally, I feel that we have a ready-made replacement for his creativity in the U23s with Liam Walsh but he needs to get into the gym, bulk up (a la Sterling) and stay injury free. 2018 will be a big year for this kid; I would love him to get a chance in the first team.
Ernie Baywood
221
Posted 05/01/2018 at 13:47:02
He's crap, good riddance etc...
He's about to sign for the current champions!
As for the rest of the comments, they remain conjecture. He hasn't spoken about his reasons for wanting to leave. Maybe one day he will. It's possible he just doesn't think we're that ambitious – a view many of us hold.
At the end of the day, our club will carry on... it's Ross whose career is at stake. Good luck to him.
David Johnson
222
Posted 05/01/2018 at 13:55:40
So called blue running his contract down, hope he gets massive splinters in his arse. Wanker.
Dale Rose
223
Posted 05/01/2018 at 13:59:59
Sadly going to be a bench warmer. .
Jamie Barlow
224
Posted 05/01/2018 at 14:01:04
Conte on Ross Barkley: "For sure, we are talking about an English player, a young player who has a good prospect for Chelsea. I think the club decided this investment for his contract, I think it is a good opportunity for the club to buy this player."
Doesn't sound like Conte asked for Ross. Chelsea making a quick double-your-money signing. Don't blame them really and I'm surprised more clubs aren't in for him for the price.
Michael Williams
225
Posted 05/01/2018 at 14:14:30
The relationship between Barkley and the supporters was broken well before we, and maybe even he, had an inkling he might be leaving. Before his hamstring injury, more than half the people here made it very clear they did not rate him as a player and many said he's lazy and lacks a brain.
Paul Tran
226
Posted 05/01/2018 at 14:37:30
Ajay #196, there is s gulf between us and Liverpool in one respect; we all wanted to believe that Ross would eventually consistently perform to a high level, whereas Liverpool went out and bought Countinho, who is one year older and performs, creates and scores at a consistently high level. That's why the transfer fees are that wide apart and to me, says a lot about the ambition and running of the two clubs.
Steve Ferns
227
Posted 05/01/2018 at 14:43:06
Jay wood: Superb post
Les Martin
228
Posted 05/01/2018 at 14:52:40
I feel that Ross is going to be a very unpopular individual with many of the faithful with the way this transfer has panned out.
Here we have a lad who was set for a £35m move to Chelsea only to withdraw at the death , in effect now losing our club £20m in transfer money on a reduced fee.
Added to that in the meantime he has been well cared for on the Everton treatment table and drawing his wages without kicking a ball.
I think its shameful the way he has used the club and the Everton hierarchy along with many must be thinking -good riddance we don't need someone who has obviously treated the club badly and has only had thoughts about himself.
Jay Woods
[LAT]
229
Posted 05/01/2018 at 14:55:29
Barkley
is
lazy and
does
lack a brain. But he's still the best midfielder we have (until his imminent transfer goes through).
Evertonians make great fans but seldom do anything good for the club pitchside.
Ian Rush, Michael Owen, Lallana, McManaman, Fowler and Carragher all turned out to be the worst kind of blue. Barkley, though, can still surpass them for treachery if he does a Steve McMahon and returns to the city a few years from now and joins that mob in red.
Jay Woods
[LAT]
230
Posted 05/01/2018 at 14:55:29
Barkley
is
lazy and
does
lack a brain. But he's still the best midfielder we have (until his imminent transfer goes through).
Evertonians make great fans but seldom do anything good for the club pitchside.
Ian Rush, Michael Owen, Lallana, McManaman, Fowler and Carragher all turned out to be the worst kind of blue. Barkley, though, can still surpass them for treachery if he does a Steve McMahon and returns to the city a few years from now and joins that mob in red.
Jay Woods
[LAT]
231
Posted 05/01/2018 at 14:55:30
Barkley
is
lazy and
does
lack a brain. But he's still the best midfielder we have (until his imminent transfer goes through).
Evertonians make great fans but seldom do anything good for the club pitchside.
Ian Rush, Michael Owen, Lallana, McManaman, Fowler and Carragher all turned out to be the worst kind of blue. Barkley, though, can still surpass them for treachery if he does a Steve McMahon and returns to the city a few years from now and joins that mob in red.
Danny Halsall
232
Posted 05/01/2018 at 15:05:27
I have just seen Conte's comments and it is obvious he is not one that he wanted. The guy didn't even use Ross's name. Can't wait to be rid of him.
Iain Johnston
233
Posted 05/01/2018 at 15:15:43
Sam@219. Martinez had the opportunity to sign Alderweireld for 5m euros when he was over in Brazil annoying everyone for ESPN, he opted for Besic and Barry instead.
We'd also enjoyed the benefit of two players for free which now had cost us £30m, the best part of BBS's budget.
I think the pre seasons affected the players too, before 14/15 we didn't really have one and didn't win a game whereas in 13/14 we'd enjoyed a morale boosting USA trip, everyone returned on a high and I think that was reflected in our play especially prior to Christmas...
The Stoke & Fulham games stand out for me and we were only really properly beaten once before new year, the 3-1 at City... I've tried to forget the stupid 1-0 loss to Sunderland.
We were definitely poorer after new year performance wise although results taken on face value reflect a different story. I remember feeling uneasy during home games against Villa, WHU & Cardiff plus away at Fulham where we needed an o:g to get back in it and the same to win at Sunderland.
I don't think our 5th place was so comfortable as some would make out either as we were only 3pts ahead of Spurs and with 5 to go threw away 4th from being 2pts ahead of Arsenal to ending up 7 pts behind them.
I do believe the rot had started to set in even then. 14/15 was horrendous to the point where we were only 2 pts better off then at the same stage as when Allardyce took over.
The managers have been backed financially as, including Tosun we've spent nearly 380m since Moyes left... More than enough to replace Stones, Lukaku, Deulofeu and Barkley twice over.
Jay Woods
[LAT]
234
Posted 05/01/2018 at 15:16:13
Guys, I only submitted that post once, yet it has appeared 3 times. One click, 3 copies. Just FYI for your debugging guru.
Dave Abrahams
235
Posted 05/01/2018 at 15:20:34
Jay (105), thanks for your reply, I didn't need you to paint that picture of how Everton is run, I agree with a lot of it, but briefly, going back to four years ago when Kenwright was in charge of the club, I didn't expect anything really good to happen to the club, I will give Moshiri plenty more time, two years is not enough.
Regarding Lukaku, he was always going to go, IMO, no matter how we performed so we will have to disagree on that one, same with Stones once Chelsea had turned his head and money started talking, City'smoney was the loudest.
Delboy, sadly he hasn't really progressed, or it looks that way, whatever the reason Ross has gone for I haven't got a clue, so will net hazard a guess.
Jay for one reason or another you seem to be putting the blame on other people for Barkley not realising his undoubted potential, how about Ross himself, didn't he realise how good he could / can become with more work and effort on and off the pitch, he never plays very good two games on the run, has great spells and very poor spells in a single game, consistently.
I know every person is different so maybe it is not a good argument, but Alan Ball and Kevin Keegan were not born with natural skill but worked at it continually to become the great players they were,closer to home Stevie McMahon went to Bellfield every day, hail, rain or what ever the weather, wasn't really getting noticed at sixteen or seventeen but was determined to play for Everton wouldn't let nothing stop him, it is about wanting and fighting to get where you want to be.
Give Ross his due he came back from an injury that might have stopped a lot of players, so he did have some fight in him, so what has stopped his progress since, it looks like something has stopped him, maybe it is Ross himself.
George Cumiskey
236
Posted 05/01/2018 at 15:20:45
Something smells very fishy about the Barkley move to Chelsea. In the summer he's on verge of moving to the club for 35 million,then he changes his mind comes back to Everton.
Gets over his injury and gets paid while doing it, then goes back to Chelsea for 20 million less.
Is it me or does it sound like Conte said go back to Everton get fit and come back for a lot less money, and you'll get a massive signing on fee.
Am I being a conspiracy theorist ?. It really is a complete mystery.
David Pearl
237
Posted 05/01/2018 at 15:23:51
That's probably what happened George. He also used the time to find a nice boarding house
Kevin Tully
238
Posted 05/01/2018 at 15:25:45
So Barkley was going in August for £35m, and now he's leaving for something IRO £15m. You can be sure some of those millions have their way into the account of Ross and his agent for stalling until now.
Personally, I don't blame the lad one little bit. I was absolutely amazed to hear booing when he got the ball and never went past three players; "Terrrrnnn Rosssss"
I made my feelings known about these 'supporters' at the time.
James Marshall
239
Posted 05/01/2018 at 15:27:39
Of course it's entirely possible something dodgy went on - we'll never know, but it has to be a possibility.
We can all flog our blue-faced opinions on this all afternoon, but Ross will still leave.
Given the length of contract he has left, and the injury he's had (have you SEEN the scar!?) it might be that we're lucky to get anything for him at all at this point in time.
*dons tin helmet*
George Cumiskey
240
Posted 05/01/2018 at 15:41:05
James@239 I'm not sure you got the gist of what I said.
He was going to a club for 35million , hangs on for six months goes back to the same club for 15million.
And you don't smell a rat ?.
Joe Clitherow
241
Posted 05/01/2018 at 15:41:22
Geoff 211
"Give me 5 min of skill over 85 min of effort every day.
Anybody can put in the effort, only a few have that little bit special that gets you up off your seat."
I'll call that the Georgi Kinkladze School of Thought (Honorary Graduate G.Deulofeu) and while it looks great on MotD highlights it is always a disaster from any other viewpoint of genuine football success.
How about 90+ minutes of effort as an absolute minimum with however many minutes of skill you can throw in in top of that? Is that too much expectation once a week for the salaries these guys get?
There is a very good reason Messi and Ronaldo are better than everyone else; it is because they work harder than anyone else and don't hide, like every other genuinely great player. Wayne Rooney also had/has this same ethic. It's why we had him less than two years before he was eagerly snapped up and why teams seem to be happy to let Barkley run his contract down, quite possibly purely for speculative resale value
This particular penny never seems to have dropped with the likes of Barkley and Deulofeu, whatever few and far in-between moments they have given us which we could probably all point out.
Phil Smith
242
Posted 05/01/2018 at 15:51:31
If he goes for £15 mil and we don't get a player from them, I'll lose my shit!
Jay Wood
[BRZ]
244
Posted 05/01/2018 at 16:01:39
Dave @ 235. To pick up on one thing you said:
"for one reason or another you seem to be putting the blame on other people for Barkley not realising his undoubted potential, how about Ross himself, didn't he realise how good he could / can become with more work and effort on and off the pitch, he never plays very good two games on the run, has great spells and very poor spells in a single game, consistently."
No Dave. I think you have completely misunderstood the gist of my posts in this thread.
Firstly, on Ross himself, I agree with you. Naturally gifted footballer that he is, he seemingly lacks the fire in the belly, the raw hunger to succeed, as possessed by the players you mention. It is a vital ingredient to achieve true greatness.
So no. I am not excusing Ross for failing to achieve more in his career and passing the buck on to others.
My posts clearly refer more to the malaise and mindset as I see it that pervades Everton FC, with particular reference to 4 extremely talented youngsters we gathered in one place 4 years ago.
Heaven knows TW is full of posts and posters bewailing the appointment of Allardyce and the football being played under him. Yet some of those very same posters vehemently criticised all or some of those 4 young guns, ironically calling for 'more effort' from them rather than revel in the football skills they brought to the table.
Those 4 lads represented the nucleus of a potentially very good team we could have become under the right management, schooling, investment and recruitment.
And we blew it.
Harry Adams
245
Posted 05/01/2018 at 16:19:58
This is not what I wanted to happen. I had kept fingers tightly crossed that the 'situation' was down to irreconciliable differences with Koeman. It seems that it was deeper than that and that the long line of folks who thought that was the root cause were at least partly wrong.
Such a shame. Ross, his history, and his home meant a lot to me and for many others. The 'thick Ross' narrative is boring, insulting, and gratuitous. But he has in my view made a massive mistake here. Think Drinkwater, Ross. He will get more time than you.
Alas, I see Ross in a few years from now with persistent injuries in a basement Premier League team regretting the day he met Koeman for the first time and wishing that he had never left the club he still supports.
Barry Jones
246
Posted 05/01/2018 at 16:22:25
At least this debunks the "its all because of Koeman" myth. Personally, I don't think we should partition blame anywhere. If one feels the need to do so, it should be deposited where it truly belongs, with Ross, his agent and $$$$$. Regardless, its Ross's career and his decision to make.
I would wish him luck but the "U" turn in the summer has left a bitter taste in my mouth. Some people blame BK for that. I'm not sure. It sounds manufactured between Chelsea and his agent to me.
Andrew Keatley
247
Posted 05/01/2018 at 16:23:04
I am not sure if someone has covered this already but if this move to Chelsea goes ahead (after the aborted transfer in the summer) then the first time he comes back to Goodison as a Chelsea player he's going to get one hell of a bashing from the crowd. I reckon it will be as brutal as it gets.
Andrew Clare
248
Posted 05/01/2018 at 16:25:32
Let's face it a football club is a business now and has been for some considerable time. So, this Barkley situation can only be looked at in one way from a business point of view - a bloody disaster!
Through totally inept handling of the player the club is about to lose a very substantial amount of money.
Why oh why are we such a badly run club.
More evidence of this ineptitude will be in evidence tonight. Two great football clubs from a football mad city both with enormous support will confront one another. One is constantly chasing success while the other- us just cannot get their act together year after year.
Albert Jones
249
Posted 05/01/2018 at 16:33:28
What if Chelsea said, "pull out now, get your hamstring sorted at Everton's expense and we'll buy you in January at a reduced fee, which will be reflected in your terms, conditions and benefits"? Yes, I like a good conspiracy.

Dave Abrahams
250
Posted 05/01/2018 at 16:35:07
Jay (244), Yes Jay I seem to have misunderstood your article, but without going on and on, I still think Lukaku and Stones would have been gone to clubs who pay more no matter where we were in the league, Delboy's form has stuttered, so has Ross's so who knows what would have happened.
That the club was badly run, hardly anyone will argue against and yet one of the culprits is defended and admired by many, but that is another debate.
Hope you enjoy the game tonight Jay, all those for and against Barkley will leave that argument alone for now, if we win tonight. Gueye, Keane and Niasse are not in the squad.
Barry Jones
251
Posted 05/01/2018 at 16:39:24
I think the club tried hard to push him out of the door in the summer and rightly so. This is the very scenario that it wanted to avoid; accepting a pittance from one half interested bidder in the winter break.
Dave Abrahams
252
Posted 05/01/2018 at 16:39:34
Jay, to possibly depress you a bit more, according to people close to the club Lookman is not even in Liverpool, he is back in London, homesick. Never rains but it pours.
Frank Crewe
253
Posted 05/01/2018 at 16:40:30
I see there are still plenty of people going on about "potential". Young player with potential are what clubs without money get. Rich clubs get proper players.
These are just off the top of my head in no particular order. Rodwell, Deulofeu, Jeffers, Anichebe, Vaughan, Ebrell, Grant, Garbutt, Browning, Cadamateri, Pennington, Galloway, probably Davies and I'm sure there are plenty of others. All these players had "potential" but they all failed to live up to it. Especially Rodwell, Deulofeu and Jeffers who had opportunities at richer clubs and still flopped. The only young player Everton have produced in the last 30 years who actually realised his potential is Rooney.
I'm tired of hearing about this or that youngster bubbling under with bags of potential playing in Everton's first team. I want to see players who have realised their potential playing for Everton's first team. Personally I doubt Barkley will make much impact at Chelsea at all. He'll be a little fish in a pond full of great whites. The pressure to perform game after game will tell on him just like it did on Rodwell and Jeffers and he'll be an expensive bench warmer before they move him on in a season or two.
I would also point out that to allow young players to come through means not buying older players in their positions. So buying Tosun is blocking the development of Calvert-Lewin. We can't have it both ways. If we want success we have to buy players who are ready to play regardless of what youngsters we may have. There isn't any spiky haired scouse Pele's that are going to save Everton's bacon stewing in the U23s. If we want success we have to buy it just like the top six do.
Joe McMahon
254
Posted 05/01/2018 at 16:51:19
Agree Frank, you could also add Branch and Jeffers. I just don't see anything/enough in DCL either. As teenagers Owen, Fowler and Rooney were delivering, and DCL isn't in that class. Delofeu may prosper in Spain though?
Joe Green
255
Posted 05/01/2018 at 16:54:04
Frank (253) "The only young player Everton have produced in the last 30 years who actually realised his potential is Rooney" - how quickly is Hibbo forgotten?! And Ossie too for that matter. I could fairly add Seamus too as being Everton produced.
Frank Crewe
256
Posted 05/01/2018 at 17:16:59
Hibbert and Osman? Hardly world class. I don't remember other clubs beating a path to our door to have them off us. Hibbert didn't score a single goal in his entire time at Everton and Osman had the fans on his back constantly because he was inconsistent.
Jay Wood
[BRZ]
257
Posted 05/01/2018 at 17:18:27
Hi again Dave.
Yeah. I'm not hung up on the specifics as to why Ross is leaving. You can argue that until the gangsters' molls come home...
My key point in this thread is with the right investment in the right players at the right time, under the tutelage of the right manager, the likes of Stones and Lukaku could have been excited by the 'project' and the direction the club was going and been encouraged to stay and commit more years to the club.
And don't forget, both still had years rather than months on their contract like Ross, so the club chose to sell them rather than insist they respect their contracts, as other clubs have done with star players.
Look at the state of the squad 'then' - a mere 4 years ago - to the state of the squad 'now'. Those senior players in their prime are now aged and rapidly on the wane. The younger players are not of the same caliber as that 'Fab Four'.
The squad 'then' just needed tweaking and upgraded when necessary. To come close to replicating that scenario 'now', IMO our starting position is far more distant then it was 'then'.
For me the issue here is not the loyalty, desire or application of the individual players, but the entrenched mindset at the club fossilised in past glories, rather than striving to write new ones.
And you really do know how to depress a guy with your snippet about Lookman!
Are you or Tony going the game tonight, or don't you like to soil your soul by attending Mordor...? A bet on the pinkies by you wouldn't go amiss!
Either way, here's hoping!
Jeremy Jansen
258
Posted 05/01/2018 at 17:20:57
Honestly... it was pretty clear the club was going to get screwed when Ross nixed the move last time around. What wasn't clear was when we were going to be screwed and how hard. So the possibility of him moving now and for so little when compared to the previous amount just brings all of those feelings to the surface again. Ross is probably the most frustrating footballer I've ever witnessed. The moments when he is bang on show the level of the potential within but those moments are far outnumbered by the instances where his decision making lets him down (not just bad decisions but the exact opposite of what needed to happen in the moment) along with the loss of possession with no real effort made to gain it back. The crazy bit happens when you look at the stats on paper, IIRC his chances created were positive, and you try to reconcile that with what your eyes see game in and game out and it drives one mad.
Ross is a diamond. But he can't be put into a crown until you polish him up and have him consistently sparkling. The thing is, his cut may be wrong and you'll never get that brilliance out of him. It would be bittersweet if someone was able to get him shining like all of us believed he could but I don't foresee that happening.
I'm largely just disappointed with Ross... It definitely feels as if he has done the club wrong. In general, I try not to get too bothered by these things because it is a business from all sides. The players careers don't last forever and one injury can end it all so I don't fault them leaving when someone comes with the offer to double or treble their already ridiculous wages or gives them the chance to play when they've been stuck on the bench. But I think one can still make those moves with class and grace so everyone can have positive feelings about it. Everything about Ross' protracted exit has felt quite shady and I think a lot of the positive will he had built up with Evertonians has been depleted by now. So long and thanks for all the fish Ross.
Paul A Smith
259
Posted 05/01/2018 at 17:37:09
Jay 257 your spot on.
If we wanted to keep him, then as a business we would never have let the lad get down to 2 years.
The club had his critics as an excuse to not sort it out then. Now the critics are fuming.
Then they wait and offer him a deal he knows is less than what an expensive new signing will get ie Siggurdson, Tosun.
So while he has been sat on less money than Ashley Williams and Schneiderlin McCarthy (my god) he has watched Stones Deulofeu and Lukaku be sold to bigger ambitious clubs. And probably read masses of tweets, posts, reports of fans saying it made sense.
The club do things the right way and all that nonsense. How daft I would feel now if I had said that.
Now the same lot will blame Barkley for seeing right through the boards ambitions and following his own ambitions.
The fact they never got 35 million on Deadline Day last summer showed how much they wanted the money. They always did and it backfired through an injury.
Dave Abrahams
260
Posted 05/01/2018 at 19:19:41
Jay 257) I gave you wrong information on Lookman and Niasse, they are both on the bench, it wasn't intentional.
Well Jay we will never know now if the four you mention plus good additions would have made us into a trophy winning squad, not continuing the debate but I am honestly more upset at Liam Walsh going to Bristol City, really really rated this lad, don't know the ins and out of this deal but it doesn't look like Everton (again) have done us any favours.
Tony has gone to the game with his sons Sonny and Cameron and my great grandson Alfie, I couldn't get a brief, tried to rob one of theirs, but they were too wise to me, don't like the look of the team but hope springs eternal, 2-1 to the Blues.
Jay Wood
[BRZ]
261
Posted 05/01/2018 at 19:47:45
Dave, I thought of you immediately when I saw the Liam Walsh news.
I knew you'd be as gutted as I was, given our exchanges on the lad in the past and how highly we both rated him.
I reckon he is someone who could break back into a PL side down the line.
Here's hoping for tonight, as you say.
COYB!!!!
Add Your Comments
In order to post a comment, you need to be logged in as a registered user of the site.
Or Sign up as a ToffeeWeb Member — it's free, takes just a few minutes and will allow you to post your comments on articles and Talking Points submissions across the site.