Tosun completes transfer from Besiktas to Everton

126 Comments [Jump to last]
Friday 5 January 2018
£22m deal done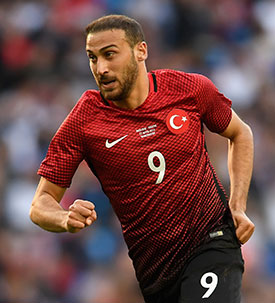 Updated
Everton have completed a £22m deal for Cenk Tosun who becomes the first signing of Sam Allardyce's tenure.
The 26-year-old put pen to paper on a four-and-a-half-year contract at Finch Farm this afternoon but the protracted negotiations over the fee with Besiktas and then the player's personal terms means that he has not been registered in time to face Liverpool in the FA Cup this evening. Instead, his signing was announced at half-time of the cup tie.
Club officials met with Besiktas president Firkat Orman in London on Wednesday to hammer out an agreed price for Tosun and he travelled to Merseyside with his agent yesterday morning to undergo a medical and complete the formalities of the transfer.
The Blues agreed a £21m deal, with just shy of £1m clause-related add-one, in order to land a much-needed goalscorer whose registration was submitted in time for him to be eligible to face Liverpool in the FA Cup tomorrow evening.
Turkish media sources had pegged the final fee at €27m while reports in the English press quoted the same price but in Sterling but the figures released by Besiktas says that with a further €1.25m dependent on appearances and Everton qualifying for the Champions League, the move would only top out at around €24.5m.
"It feels great to be an Everton player," Tosun told evertontv. "I'm really happy to be here and happy that everything is done. I'm really excited to play for Everton as soon as possible. Everton is a great club with a big history and a big culture and I'm looking forward to showing the fans the kind of player I am.
"I bring my skills here and everybody is going to see what kind of player I am. I believe I can be a good player in the Premier League for Everton."
Allardyce, meanwhile, hailed Tosun as the best striker in Europe for the money. He personally called the Turkish international to let him know how badly he wanted him to lead the Everton attack and was happy to see the club land his first target of the winter transfer window.
"This lad looks like he is strong mentally and has a good pedigree," the manager said. "He is Turkey's No.1 striker and has scored goals in the Champions League and the Turkish League but he is desperate to play here in the Premier League.
"He is an all-rounder, with good movement. He is two-footed, perhaps not the biggest but he's very efficient in the air and in the box he gets good space to get his head on the ball.
"We looked at the qualities of the player, his talent and goalscoring, and his resilience, too. I do not think you can look any more than we have done and, for the price, he is the best in Europe at the moment."
Born in Germany but of Turkish descent, Tosun elected to play for Turkey and ended up making his name in that country's Super Lig, having started his professional career at Eintracht Frankfurt.
He joined Gaziantepspor in 2011 and spent three seasons there racking up 39 goals in 109 league appearances before being picked up by Istanbul giants, Besiktas.
His game came on leaps and bounds with the Black Eagles where he notched 41 times in 96 league games while also lighting up the Champions League this season with a rocket of a goal that was named goal of the group stages.
Tosun's acquisition represents a belated striking signing to replace Romelu Lukaku who left Everton for a club record fee in July. In the interim, the Blues have had mostly relied on the precocious talents of Dominic Lewin but manager Allardyce has been keen to ease the burden on the 20-year-old's shoulders.
---
Reader Comments (126)
Note: the following content is not moderated or vetted by the site owners at the time of submission. Comments are the responsibility of the poster. Disclaimer
Steve Dowdeswell
1
Posted 05/01/2018 at 21:25:05
Welcome to the club Cenk. Hope you can settle quickly and hot the ground running. Will be nice to see two up front maybe with DCL and Tosun.
Peter Hughes
2
Posted 05/01/2018 at 21:48:53
Dcl is piss poor
Andrew Presly
3
Posted 05/01/2018 at 21:51:27
Great PR as always lads, well done all.
Kase Chow
4
Posted 05/01/2018 at 21:57:26
Hopefully he can do well between now and the Sunmer so he can bed in and then have a fab season next season
Charlie Lloyd
5
Posted 05/01/2018 at 21:58:38
Peter @ 2
Your entitled to your opinion...even though it's shite.
Let's hope Tosun can settle in and help our attacking options.
Colin Glassar
7
Posted 05/01/2018 at 22:00:43
I'd almost forgotten about him. Now that Ross has left will the 'sell DCL' campaign begin?
Joe O'Brien
8
Posted 05/01/2018 at 22:01:15
Charlie I was just about to post the exact same message.
Darren Murphy
9
Posted 05/01/2018 at 22:02:20
Great stuff, now for Shaw.
Ian Hollingworth
10
Posted 05/01/2018 at 22:05:22
Glad this got done once the Barkley money was in the bank.
Great ambition from Everton yet again.
Wonder whose next out of the door before we can get a left back
Tony Sullivan
11
Posted 05/01/2018 at 22:08:13
Peter Hughes (2)
Oh to be an Evertonian and support the Boys in Blue, a really well argued critique of DCL.
With supporters like you who needs .
Dave Whitwell
12
Posted 05/01/2018 at 22:19:23
Season over in Jan, seriously what's the point, this should've been wrapped up days ago, only Everton can make transfers drag. The season is over we should've waited tell the summer to see if there were any better options.
Lev Vellene
13
Posted 05/01/2018 at 22:22:46
One positive, eleven grouching about his transfer, or anything/whatever...
Welcome Cenk! We did almost good today! You better do better! .
George Cumiskey
14
Posted 05/01/2018 at 22:33:48
I'm afraid I agree with Peter@2 DCL is not a natural goal scorer, runs all game and doesn't score or create chances.
Steve Ferns
15
Posted 05/01/2018 at 22:33:59
I've no doubt this lad will get off the ground running. He's energetic and physical. The things we love in a forward.
Sandro wasn't booed. He was supported for those very reasons. Koeman just didn't give him a prolonged spell as he flitted between the three strikers he had (including Rooney playing up) before then turning to Niasse. Unsworth discarded Sandro. Still the fans are pretty much behind him and still giving him support.
So I've no doubt that Tosun will get what he needs. He just needs to turn up and do his thing. Let's hope the lad is the answer to our prayers.
Mike Allison
16
Posted 05/01/2018 at 22:37:29
"only Everton can make transfers drag"
Dave (12) if you seriously believe that and it contributes to a negative impression you have of Everton, then chin up son, I've got good news. Supporters of all clubs think that and for a fairly obvious reason; we follow Everton transfers from the first hint of a rumour, through all the on/off hardball bullshit shenanigans that go on, to that final week where it seemed like it'd be done on Monday but isn't actually done til Friday, so that by the time the player signs we think it's dragged on interminably. Other clubs seem to just announce new signings out of the blue. That's because you haven't followed the whole story with their transfers, which have in fact followed pretty much exactly the same pattern. Their fans think Everton just sign players out of the blue, because they haven't followed the whole story with ours. There will be fans round the country who's first knowledge of Everton signing Tosun will be tomorrow when they see a headline. Many of them will think 'fucking hell, how come Everton can sign players so quickly when my club turns every transfer into a saga?' because they, like you, are looking from a very blinkered perspective. Transfers often take ages, especially when the selling club doesn't want to sell, and sometimes they go relatively smoothly. Everton are no better or worse than anyone else in this, with the possible exception of the very richest and most attractive teams, and Man City took ages to buy John Stones, Barcelona still haven't signed Coutinho, and Man United are currently frustrated about a left back called Sandro they've been trying to sign since the summer. We've actually bought lots of players (too many in fact) really rather efficiently in the last eighteen months.
Peter (2), no he isn't. That's not just a daft thing to say, it's demonstrably false. Try to control your basic emotions, like frustration, instead of just slagging off our young players because something hasn't gone the way you want. Calvert-Lewin is skilled, quick, has a fantastic work ethic and attitude and is learning every time he goes out in the pitch. Although if, by piss poor, you mean that he doesn't control 50 yards lumps at neck height instantly whilst under pressure from two defenders, then either beat the other three who are nearer to him than any of his teammates before running the ball 30 yards forward and lashing it into the top corner, or hold off all five men he's outnumbered by for 4-5 seconds before playing an incisive through ball to the one midfielder who's managed to get near him, then maybe you're right.
Steve Ferns
17
Posted 05/01/2018 at 22:37:49
George, if he's not a natural goal scorer, why did he score the winner a World Cup final and why was he prolific at every youth level?
Why do the likes of shearer rate him, and why do they all say the goals will come. You need to be patient with him. He's going to be a top striker and he's going to score a load of goals.
I bet if you were a spurs fan, you'd have been saying the same about Kane, only with Kane's lack of pace you might have questioned him more, as comically a load of spurs fans did. It takes young players time to adapt to the men's game, and he's up against international defenders week in week out. Patience please.
George Cumiskey
18
Posted 05/01/2018 at 22:44:09
Ok Steve only time will tell which one of us is the better football analyst LOL.
George Cumiskey
19
Posted 05/01/2018 at 22:46:10
By the way Steve what's your take on Scheiderlin ?.
David Connor
20
Posted 05/01/2018 at 22:49:37
Good luck, lad ― you will need it. I hope they are paying you well. You will have to earn it as you will have only yourself to rely on. Our support play is virtually non-existent.
Steve Ferns
21
Posted 05/01/2018 at 22:52:43
I don't think people appreciate the role he plays in the team. Schneiderlin, in that role will only really shine if the team are on top. Clearly he is not at his best. But like most of our players, instead of trying to put them back to their best, people just want to bin them off.
Keoman, Unsworth and Allardyce have all had him as a key member of the side, so it tells you that the manager thinks he is the best we have got.
As I have said time and time again, there's two types of defensive midfielder, those who sit and provide the shield, and those who run about and put the tackles in. You can't have one guy do both, because if he runs out and makes a tackle, but misses it, then you've got a gaping hole and the opposition has an almost open door to the goal. Carsley was far better as a defensive shield, but his job was much more limited. Schneiderlin is expected to provide passes and get us going. With Rooney dropping deeper, I thin Schneiderlin has been better, because he's got a shorter pass on, instead of looking up and seeing a lack of movement.
My hope is that Tom Davies can play this role, and that he might be disciplined enough within 3 years. It tends to be the position for an older player, so maybe we will have to sign someone better in the summer.
Alasdair Mackay
22
Posted 05/01/2018 at 22:52:49
I am quite positive about today - I am glad the Barkley thing is done and dusted, it had dragged on too long.
I think Tosun is a good signing - he will score goals and, more importantly, he will take the pressure off the squad's reliance on DCL.
My take on DCL is that he WILL be a fantastic player, as will Kenny, Holgate and Lookman. We have some genuinely exciting young players at the moment.
My take on Schneiderlin is that he is bang average. He doesn't do alot wrong, but he doesn't do alot of anything.
He and Mirallas need to go.
Sando needs more time.
Klaasen may as well go if no-one will play him.
Tim Fowler
23
Posted 05/01/2018 at 22:58:56
I know nothing whatsoever about this bloke but, man alive, we need him to be a success. We've spunked some dough recently in all the wrong places and on some players who just don't look like they will cut it, eg, Sandro and Klaassen.
Derek Knox
24
Posted 05/01/2018 at 23:11:10
He must have Kennel Club papers too, Sam has just stated on SSN that he has got Pedigree! :-)
A lesser spotted Turkish Goal Hound hopefully.
Andy Crooks
25
Posted 05/01/2018 at 23:19:19
Dominic Calvert-Lewin is a good player. He has the guts to try something special, he has a top attitude, he works hard, he is learning in a tough season.
He will be a great player along with Kenny and Holgate. Also, I was impressed with Tom, who came and actually believed we could win. Torsun is joining a club that, after a setback, are on course again.
Tom Bowers
26
Posted 05/01/2018 at 23:30:13
We all hope that finally this club can get something going.
It wasn't a bad performance today but the usual things let us down.
If the Sammies can cure these problems then we can be more hopeful especially with Tosun coming in and Bolasie getting fitter with every match.
DCL tries hard but I question whether he has what it takes to be a regular starter.
If Seamus comes back and they can sort out the other 3 positions then it promises to come good for next season. It's likely Keane and Holgate will be the central partnership down the line but Martina is not up to snuff.
Several players are , quite honestly, on the downward side of their careers and probably won't be at Goodison next season.
Tony Abrahams
27
Posted 05/01/2018 at 23:38:18
I think DCL, is going to be a very good player, if he keeps learning. If he does he will be getting on the end of some of the crosses, he just missed tonight, in the future, but it can't be easy playing up-front on your own especially when Liverpool's two central defenders must both be around 6ft 4in.
I don't like Sniderlin, George, thought he played okay tonight, but one man's meat is another man's poison, because I would definitely build my team around Sigurdson, if I was the Everton manager.
Keith Monaghan
28
Posted 05/01/2018 at 23:46:27
Peter @ 2:-
Everyone's entitled to an opinion, but with all due respect, you must be on another planet with that view of DCL.
DCL may not have set the world on fire, but he's given his all and shown a lot of skill in a very difficult position in a poor side. He's by no means the finished article, but has shown very good potential in his first full season and has a work ethic missing in some players still talked about as having great potential after 6 seasons in the Prem.
Unlike a senior player who played for us tonight, he didn't give the ball away cheaply, stroll around making reckless tackles leading to a booking inside 10 minutes, and trying so hard to get sent off that he had to be substituted, from when on our performance as a team was considerably improved.
I had expected us to lose tonight, but was disappointed in the end and took pride in the performance, which was much better than the one I watched form the main stand on New year's Day.
I wasn't in favour of appointing Sam, but tonight gave me some cause for looking at the future more optimistically, although I know we've plenty of room to improve..
Andy Williams
29
Posted 05/01/2018 at 23:48:11
Christ we sign a much needed striker and half the comments are slagging our players off. DCL wins more aerial duels than anyone in the league. I think if he actually has anyone alongside him to make use of them instead of him having to do it all himself he will come good. Stop effin' moanin'!
Steve Ferns
30
Posted 05/01/2018 at 23:51:09
So Tony, would you go with the team as it was from the 55th minute, with Rooney off the pitch and two wingers?
How to accommodate both Rooney and Sigurdsson is the big question for me. And I think in the short term, Rooney central and Sigurdsson wide left is the best solution. But we then need to compensate by getting someone wide right who is fast and skilful, meaning Bolasie. We cannot put Tosun upfront and move Calvert-Lewin to the wing, like Allardyce did at Anfield (first half he was wide and Niasse was central before he moved DCL central and Niasse wide left, before pulling the ineffective Niasse off) or Koeman frequently did as he tried to introduce Sandro and find a spot for Rooney.
Also, we cannot play Sigurdsson and Rooney central with one defensive midfielder, such as Gueye, behind them. Rooney needs a tackler (Gueye / Davies / McCarthy) and a sitter (Schneiderlin) with him. Perhaps Sigurdsson could play with two tacklers and forgo the need to have a sitter if the two tacklers were disciplined enough between them (such as Gueye and McCarthy).
Back to Calvert-Lewin, if you really want to know where he is at, compare him to Solanke and Tammy Abrahams. I think he's better than both of them, and I think most pundits would agree, however, I don't think that was the case during the u20 world cup where Solanke was rated as the best of the three.
Colin Glassar
31
Posted 05/01/2018 at 23:53:22
As our season is over, and we aren't going to get relegated, I hope Sam gives more game time to the likes of Beni, Lookman, Vlasic, Davies etc... It's been a tough baptism of fire for these lads so I hope they can start to enjoy the rest of the season and express themselves.
P.S. I'm not forgetting Pickford, Keane, Kenny, Holgate, DCL etc...as they have already established themselves imo.
Steve Ferns
32
Posted 05/01/2018 at 23:54:23
That's what I said too Colin. I also hope that whilst Tosun is given time to settle, we don't forget to give Calvert-Lewin enough games to continue his development.
Rick Pattinson
33
Posted 05/01/2018 at 00:00:10
For starters. Bolasie and McCarthy have changed the team for the better without doubt. Bolasie with pace and an occasional cross McCarthy with a bit of grunt. Davies doesn't do anything but run around like a headless chicken. Schneiderlin is very average with a short pass range. Poor Martina is out of his depth. And DCL may as well sit down on the pitch cuz he doesn't get any service. Hopefully Tosun brings something extra oh and let's get Felliani back on the cheap!
Chris Corn
34
Posted 05/01/2018 at 00:00:46
Mike Allison @16. Great post regarding the transfers. I've said exactly the same on another thread only not in as much detail.
I've yet to see anyone challenge you because you are spot on. It's the same with this notion that we are the worst run club in the world. The majority of clubs in professional football would love to be in Everton' s position . The problem is we want more and unfortunately, even with better finances, we are still way outside the elite.
Barry Williams
35
Posted 06/01/2018 at 00:02:38
Rick Pattinson - 33
I would have Fellaini tomorrow, unlikely but hell yes.
Quick question, would folks rather have him or Barkley in the team?
What was massively evident tonight is that we needed a striker who could hold a ball up an create space! That doesn't mean DCL or Niasse still don't have a role to play, or indeed Sandro!
Jim Lloyd
36
Posted 05/01/2018 at 00:06:07
I don't think our season is over. It seems to me that we have a bit of time to build on tonight's performance, without the desperation of trying to just grab a point out of each match.
From how bad we were, I see us becoming more of a team and with Tosun, our first glimmerings of becoming a team again, will hopefully get a finishing edge that's been missing.
We've got some fine young players (I love Mason Holgate, he takes no shit from anyone, bit hot headed but gets right in the oppositions faces carry on lad). Jonjoe is becoming almost first choice full back and Dominic has been working like a trojan up front. Hopefully, he and Tosun will compliment each other and cause mayhem for us.
James Mac made such a difference tonight and Schneiderlin pulled his tripes out and maybe we'll see him playing like he did before he got injured. I think we're seeing Sigurdsson beginning to blossom now. We still need strengthening and a left back is absolutely a top priority, but it's getting good players in during the January window that's notoriously difficult.
All in all, I'm looking forward to the second half of the season, as I believe we'll see a team being built up that will give us a decent base for next season.
Rick Pattinson
37
Posted 06/01/2018 at 00:15:03
Barry 35. Well I'd have Fellaini over Barkley anyday... just his age that's the issue over Barkley.. Oh and the fact he wants £170k a week.
But then he bosses midfield, gets on the end of crosses, corners etc. If I was big Sam I'd be offering £15 million for him seeing as he's unhappy at Man Utd.
Dan Davies
38
Posted 06/01/2018 at 00:34:09
Welcome Cenk! Hopefully this boy scores goals and plenty of.
Tony Hill
39
Posted 06/01/2018 at 00:36:42
Colin (#31), Baningime is a lovely sight to see. Alongside Dowell (who needs to develop strength, stamina and a nasty edge and is currently infuriating me) he is the most aesthetically pleasing young player I have seen in a long time at our place.

Poised, elegant and packed with football intelligence, I would love to see him succeed. He's shot through with Everton style and has the top sportsman's grace under pressure. Let's hope we get the best out of him; I think he's a jewel.


Jackie Barry
40
Posted 06/01/2018 at 00:41:39
I was really unsure about this guy but, having watched his interview after signing, I have this feeling he will do well for us. Welcome Cenk!
Karl Parsons
41
Posted 06/01/2018 at 01:41:43
I've just made a new friend: Mike Allison #16. Spot on laa.
Andrew Keatley
42
Posted 06/01/2018 at 04:17:16
Steve (30) - Tammy Abraham was not part of the England Under 20 World Cup Squad last year; he was part of the England Under 21 squad that played in the European Championship.
Tammy Abraham and Dominic Solanke also got the call-ups to the full England squad in the recent friendlies (v Brazil and Germany), when Calvert-Lewin was over-looked. But that is big club bias if you ask me, as I agree with you that Calvert-Lewin has done more this season than the other two to kick on and establish himself – I just don't know whether others would agree, including Gareth Southgate etc.
Dennis Ng
43
Posted 06/01/2018 at 04:36:24
Mike (16) Good response there. I really don't get people slagging off Calvert-Lewin. Had the team been better possession wise, I think he would be far more effective. Tosun is more proven and perhaps gives us options with size that Calvert-Lewin, Sandro and Niasse can't. I hope his arrival will open other teams up to and can help Calvert-Lewin shine. I also hope Sandro does well too, I really think he will be a very good player if played in the right system.
Sandra Bowen
44
Posted 06/01/2018 at 08:05:51
Mike (#16). Absolutely spot on. Amen, brother.
Dean Johnson
45
Posted 06/01/2018 at 08:16:49
You need to have youth, but you also need players at their peak, the finished article.
Dom is a great trier, we all love that, but he's just not good enough, yet. If we want to improve then we have to get more experienced pros to help and Tosun will do the job. Dom will probably start fewer games now because he just doesn't carry much of a goal threat. A few weeks on the bench, honing his finishing in training and we could have a player there
With Tosun and a few choice additions, I am optimistic
Dave Whitwell
46
Posted 06/01/2018 at 08:26:18
Chris / Mike – I understand your take on the transfers and don't entirely disagree, I have been watching football go over 30 years and don't just look at things from an Everton perspective, but we do not handle these things efficiently.
As an example step back to the farce of the managerial appointment – they clearly sacked Koeman without clear thought process of who they wanted or thought they could get and the situation dragged on for ages.
I am just absolutely gutted about this season which probably is affecting my judgement, but to me it is just such a waste. We have achieved nothing, gone backwards and in my view have a weaker squad, and a very negative short term manager.
"We are not going to play open and expansive football" – that said it all to me before the game; we are unfortunately not as good as Liverpool, so yes if we played that way then maybe they would smack us, but our players can play a bit too and maybe we would've caught them on an off day without Salah and Coutinho, our mentality is wrong and until we fix that we will never beat them at Anfield and they know it.
Apologies to Cenk this is nothing about him and probably on the wrong thread, but I wish him well and hope he has a great career at Everton
Joe Foster
47
Posted 06/01/2018 at 08:49:26
Mike (#16) – well said, that man.
Darren Murphy
48
Posted 06/01/2018 at 09:06:54
@16, finally a bit of sensible perspective man, Calvert-Lewin just needs a rest or hopefully with Tosun some support. Playing them two up top would be my first choice. Good points, Mike.
John Keating
49
Posted 06/01/2018 at 09:26:10
This season we've been bad but, without all our youngsters stepping up above and beyond normal expectations, we'd be really in the mire.
Most teams introduce the odd youngster into the team when playing well and can possibly cope with it. We have been forced, due to incompetence, to play 3, 4, 5 at a time and, although they've made mistakes, on the whole we should be proud of every one of them.
It seems Calvert-Lewin is getting a bit of stick from the experts well considering he is still learning, plowing a lone furrow up top with no support, getting little if any service, well, I doubt any top class experienced forward would have achieved more.
Hopefully Tosun can take a bit of weight from Calvert-Lewin.
More important is to ask why one week in to the window other serious positional deficiencies have not been rectified? We haven't heard anything about a left back.
Jamie Evans
50
Posted 06/01/2018 at 09:43:18
Welcome, Cenk, and good luck. Young Dom could do with a blow as he must be absolutely goosed chasing big hoofs and lost causes for most of the season. Who knows, maybe Cenk and Dominic could be played as a 2 up front?
Stop laughing at the back.
Jon Withey
51
Posted 06/01/2018 at 10:00:26
He's a punt but he's done well so far in his career, so let's hope he can continue with us.
Glad to hear we had Lookman and Bolasie on again last night to give the opposition more to think about on the ground.
Tony Waring
52
Posted 06/01/2018 at 10:03:04
To all those complaining about the length of time taken to complete transfers, I have one question. Have you ever bought or sold a house? Buyer and seller agree on a price and it's passed on to the solicitor; end of story, n'est çe pas?
John Keating
53
Posted 06/01/2018 at 10:13:24
Tony, buying a house has got nothing to do with buying and selling players.
A player can and is identified long before the transfer window is open; agents representing buyer, seller and player have the deal thrashed out.
The day the window is open, the Clubs "officially" speak to each other, the "deal" agreed, the player does the medical and signs. This happens all the time and has happened for years.
The only time problems occur is when there is an issue at the early stage and one of the Clubs misbehave, such as the RS in the Dick Van Dyke scenario... Look how quick this Barkley "transfer" happened.
Everton have known we needed, for example, we have needed a left back for ages. If we had wanted our "representatives" could have put feelers out to say Celtic weeks ago regarding Tierney and a deal done to get him here in the first couple of days of the window.
I know a couple of players who knew they were leaving long before it hit the media and general public.
James Marshall
54
Posted 06/01/2018 at 10:15:51
His record is good, about a goal every other game – I'll take that. The market makes it very difficult to buy goals, and we were spoilt with Lukaku (yeah I know, opinions aside he does score goals, and yes against lesser oppo/lazy etc, let's not go there).
He seems like a nice chap too, well spoken in interview, and appears to have a brain on him – something I've often thought a lot of our players lack (Barkley, Mirallas, Deulofeu, Niasse spring to mind).
Two footed, decent in the air, good movement and this is key for me – Calvert-Lewin plays his heart out and runs for fun, but his movement isn't very good, and he doesn't exactly worry defenders with his runs, or drag players out of position for our midfield to get forward. Hopefully Tosun will do that.
Tony Cheek
56
Posted 06/01/2018 at 10:35:47
Apparently his first name is pronounced "Jenk", and he was known as "Commander" in Turkey! Welcome and hope you do well!
Les Martin
57
Posted 06/01/2018 at 10:44:52
I think Tosun will definitely be our Turkish delight, when he has adjusted to the Premier League. I am sure Sam and his team will have a cunning plan how to utilize his qualities.
As for Calvert-Lewin, he is going to be one of the best, he has all the natural tools physically strong, the quickest in the club I read somewhere and he can score given the opportunity. The problem is that he has been in a struggling side creating few chances and offering little support; for a lad of his age he has been excellent under the circumstances.
If we were blessed with several strikers, I would like to see Calvert-Lewin go out on loan like Kane did to get some more experience and to hone his craft; we will then get something very special in return.
Eddie Dunn
58
Posted 06/01/2018 at 10:49:52
In defence of Calvert-Lewin, I would point out that he has managed to get himself onto a good many hopeful punts up-field when the defender has been favourite.
His pace is his best asset at present, but the other elements in his game are improving. He has had a thankless task of late, with little service and scant support, so the lad has done well.
Lee Whitehead
59
Posted 06/01/2018 at 10:50:41
Just going through our squad and the more I go through it the more optimistic I become. And I include our new coaching staff!!
Jordan Pickford
Jonjoe Kenny,
Mason Holgate
Michael Keane
Ademola Lookman
Dominic Calvert-Lewin
Tom Davies
Cenk Tosun
James McCarthy
Sandro Ramirez
Yannick Bolasie
Idrissa Gana Gueye
Gylfi Sigurdsson
Muhamed Besic
Seamus Coleman
Ramiro Funes Mori
Beni Baningime
Nikola Vlasic
The above are all young upcoming players or established players who want to plat for Everton.
Regarding Dominic Calvert-Lewin – he reminds very much of a striker we used to have who used to divide opinion when he first arrived at EFC: Graeme Sharp – and look how he turned out given a bit of time & patience.
Come on guys – let's get some positivity going... "Our time will come!"
COYB
Frank Crewe
60
Posted 06/01/2018 at 11:01:59
If we want to get the best out of him then he has to have more support than Calvert-Lewin has been getting. I don't want to see him ploughing a lone furrow 40 yards ahead of the midfield.
When Lookman came on our attack improved. With him on one side and Bolasie on the other we had pace on both sides and our goal came from a quick break up the park. Although how Jags, who I thought had his best game this season, got forward so fast I'll never know. I want to see more of this.
So we have to find a way to accommodate wingers on both sides and keep Sigurdsson on the park as well. Stretch the oppositions defence and allow give a goal threat from both wings. Maybe push Rooney into a DM position next to Gana (it's no coincidence we've struggled while he's been injured) and Sigs behind Tosun. If that doesn't work bench Rooney and put McCarthy next to Gana.
Finally we need to make Keane watch Van Dijk videos so he can see how a proper CB plays and scores at set pieces. Keane has the attributes but he lacks the aggression. Tired of his pussyfooting around. If he can't get some fire in his belly then replace him with someone who has.
Paul A Smith
61
Posted 06/01/2018 at 11:58:30
I am glad he is here and welcome but the issue here should be the club. What a joke. Season over the same day we drag the main transfer out again.
Forget mortgage comparisons. This is a billionaire board doing business – not a working man trying to get hold of a solicitor who has 300 other working men trying to do the same thing.
Cup run over and the rest of the season is a fight. We didn't even give ourselves the chance to get on a pedestal for one night.
The manager and fans looked let down after the game (Allardyce nowhere near as upbeat as usual). Tosun may do well nice and quick and we can forget all the incompetence and ride this out for a few more years like we do.
Oliver Brunel
62
Posted 06/01/2018 at 12:04:22
Frank (#60) makes a good point. I hope we don't isolate Tosun up front in the Calvert-Lewin role. I would play Niasse up top; between these two, they could cause defences problems. Niasse is a canny player, better than what most people think; his pass into Gueye the other week was sublime.
Give Tosun a run with Niasse. It will definitely be interesting but if we play Tosun as the sole striker- where is he going to get creative balls from? There was only Barkley capable of this and we have given him away on a virtual freebie.
Paul A Smith
64
Posted 06/01/2018 at 12:17:28
Oliver, I fear the same and Tosun will have to go looking everywhere for the ball.
We need a quality nippy ball player in the middle. I doubt it will happen though from the hints Allardyce and the club have made.
Lukaku was smarter than people think and saved his energy for the right runs but, like you said, had Barkley there to make that happen.
Kim Vivian
65
Posted 06/01/2018 at 12:46:33
Does anyone know – was he at the match last night? A good chance to see for himself the task he faces.
Drew O'Neall
66
Posted 06/01/2018 at 12:48:12
I agree with Oliver and like the idea of two hard workers up front pressing defenders. This will allow our less mobile midfield to get further up the field and take more risks with their passing which they have, thus far, been unprepared to do.
Clive Rogers
67
Posted 06/01/2018 at 12:52:02
Oliver (#62), did you watch Niasse last night? He was awful. Almost as bad as he was in the league match.
Sam has seen enough, I feel. It won't be him without a doubt.
Ernie Baywood
68
Posted 06/01/2018 at 12:57:12
It's the easiest thing in the world to say a young player won't turn out to be a star... the same opinion used 10 times will be right 9 times.
But that doesn't excuse lazy opinions. Surely anyone can see that he's a talented young player being asked to do something well beyond his current capability and experience. In fact, the job would be beyond most players given the lack of support he gets.
Hopefully another striker means he can be allowed to develop at his own pace.
Oliver Brunel
69
Posted 06/01/2018 at 13:15:40
Clive – granted he was poor yesterday but I personally don't rate Calvert-Lewin. I think Niasse has been better overall.
Of course, we shouldn't be in this situation; a top Premier League club should have two world class strikers. What about bringing Dowell back to partner Tosun?
Barry Pearce
70
Posted 06/01/2018 at 13:46:58
Tony (#39) – your observations on Kieran Dowell are spot on. I hjust don't think he's an Allardyce type player. Really hope I'm wrong.
Sam Hoare
71
Posted 06/01/2018 at 14:09:30
I think Calvert-Lewin holds the ball up well, has decent touch, good pace and is very handy in the air and at linking play. He's better outside the box than inside.
I'd like to see him play with Tosun or even as part of a front 3 with Tosun and Bolasie. That's a physical trio that will cause issues for most defenses.
James Marshall
72
Posted 06/01/2018 at 14:32:45
On the pronunciation issue – a bit of digging online tells me it's pronounced, 'Kench Tow-zun' with the 'tow' being said like you would say 'towel'.
Peter Lee
73
Posted 06/01/2018 at 14:32:54
We need to be patient, a quality in short supply amongst fans generally and posters here particularly.
We won't see the best of Tosun immediately, as we haven't seen the best of Calvert-Lewin, because we don't retain/win the ball back, have quality control and avoid giving the ball away.
Forwards don't solve that. Midfield players have that job, and then wide players to move up the pitch.
Sam said that the process of winning the ball, getting good control and putting pressure on the opposition with it, he calls it transition (we did it well for the goal last night) is something that needs work on the coaching pitches. He said that there has been no time for that type of development work since he was appointed; preparing for two games a week took priority.
Well, sadly, we have a bit more space coming up. A full week between our next two games and then a ten day break before Leicester. Far from the season being over, I am eagerly anticipating how the team develops over the next couple of months, especially if we add to the squad in the sparse areas and as players come back from injury.
That said, it will likely take a full window and pre-season to solidify a better approach. Given where we start from with this current crop of players, any manager coming in would tell you that real progress will take three years or more. Unless there are no obvious signs of progress by the end of next season, changing managers will just mean starting again.
I'd have Fellaini back in a heartbeat, by the way. His favoured position, even as a kid, was in front if the back four.
Dave Pritchard
74
Posted 06/01/2018 at 14:36:32
Dowell – as soon as a player goes on loan, people start calling for their return. I have seen many comments on here that Calvert-Lewin should go out on loan. If that did happen I would expect comments that he should be recalled.
Calvert-Lewin is most definitely a trier and has shown promise. It would help him if he wasn't expected to be the lone striker. Too early to either write him off or to hail him as a long term solution.
Dave Evans
75
Posted 06/01/2018 at 14:39:05
Mike @16 sense, perspective – agree.
James Marshall
76
Posted 06/01/2018 at 14:44:07
Fellaini, love him or loathe him, is a beast in midfield. He make Schneiderlin look like a girl guide.
Clive Rogers
77
Posted 06/01/2018 at 14:52:04
Oliver (#69), Niasse has pace and a good shot but his first touch is poor and his hold up play and laying off are dire. He's just not got the technique.
I've watched Dowell a couple of times for the U23s and really rate him, but he's a midfield player often used on the wing. He can't be brought back during this season in the terms of the contract with EFC.
Jim Bennings
78
Posted 06/01/2018 at 14:53:57
It's doing Dowell good being out on loan; some players — unless they are like what Rooney was at 17 — need to cut their teeth in lower rough-and-tumble leagues.
Ideally, we should have had Calvert-Lewin and Davies on loan at Championship clubs this season, bulking up and getting more in tune with the physical demands.
Calvert-Lewin is a willing runner but a Premier League striker at this moment in time — he is most definitely NOT, even on the rare occasion he does get into a goal-scoring position, he fluffs it more often than not with a seriously weak shot, and failed to read any one of the three top-drawer crosses Bolasie put in last night.
Davies scored a good goal 12 months ago but has suffered badly this season and the Premier League is at present gobbling up the lad; games are passing him by and looking far too quick for him.
We ought to look into improving the squad in the summer, signing far better quality in the age bracket of 24 to 28 and loaning some of these lads out even for half the season to get them stronger.
Clive Rogers
79
Posted 06/01/2018 at 14:58:35
Jim, 78, you sound just like big Sam. Can't disagree with what you say though. All very true.
Andrew Presly
80
Posted 06/01/2018 at 15:17:01
Van Dijk signed on or basically before 1 January. Plays last night and scores winner.
The striker we've waited 6 months for signs mid Derby game, 5 days into the window, whilst we're losing and the only remaining chance of a trophy is slipping away and ultimately does.
This is the difference. We've got a losers mentality. 24 years without a trophy now.
Going on to win the Cup would have been a long shot, sure. But we don't really even give ourselves a chance.
We don't exist to win.
Ian Hollingworth
81
Posted 06/01/2018 at 15:31:30
23 years since we last won a trophy
Not won a derby in 16 attempts.
How do the custodians of our once great club get away with it?

Brian Williams
82
Posted 06/01/2018 at 15:48:43
Has anyone seen the breakdown of what we actually paid for Tosun and the add-ons?
It just shows what a load of crap is written on the amounts being bandied about leading up to the transfer. Nowhere near £27m, by the way.
Jim Bennings
83
Posted 06/01/2018 at 15:50:12
Ian,
Add to the list:
No away win at Chelsea since 1994;
No away win at Arsenal since 1996;
One win at Old Trafford since 1992 (under the much maligned Martinez);
Never won the League Cup in our history.
Since the inception of the Champions League new format in the early 1990s, we have never once reached the group stages – yet heavyweights like Blackburn and Leicester have!
You are right, Ian, how do the custodians and powers-that-be endlessly get away with consistent failures??
John Pierce
84
Posted 06/01/2018 at 15:52:47
It's simple, with any striker we have bought, if the current tactics aren't amended to give a player support, then he will look as marooned as those before him.
This fella, regardless of his quality, has spent so many games on the front foot with Beskitas who win most of their games. If he's asked to become a donkey over-night it doesn't bode well.
Solely on the video stuff, he likes a shot from distance. Pace, not so much... but has excellent physical presence. I also hope Calvert-Lewin is not binned as a result.
Jim Bennings
85
Posted 06/01/2018 at 16:02:38
John,
You talk about service but last night Bolasie has put in numerous "striker's dream " crosses that any centre-forward worthy of their salt would be licking their lips with. It was crying out for a centre-forward in the Giroud or Andy Carroll mould.
Calvert-Lewin was nowhere near challenging for at least three of them and the one he did challenge for, he was out-muscled by that powerhouse Andy Robertson.
Yes, the lad is young but I don't want to be seeing him leading the line again at this club until he has developed both himself physically and worked far more on ball control, shooting power etc.
He needs a good honest year toughing it out on loan where you get chances to make mistakes and learn how to be stronger. The position we are in, we need production now – not five years away.
We are not a training club for the young; we need established quality players to win us games like last night's (against a Liverpool team that were there for the taking second half).
Steve Brown
86
Posted 06/01/2018 at 16:20:05
Pronouced "Jenk Toh-suhn", according to the Echo.
David Barks
87
Posted 06/01/2018 at 16:21:01
The ownership get away with continued failure because there is no organized effort to call them out or force a change. The closest that we've come to having that was during Destination Kirkby. There was an organized effort against what the owners were trying to do. I'm sad to say I had accepted the stadium move at that time as a necessary move to eventually get the new owner we needed. I was very wrong and regret my vote.
In my opinion, this site could be that organizing force. I know the editors don't want to really take a stand on one side or the other. But, in my opinion, they should. This site could be the rallying cry to finally hold the club accountable for decades of failure. No doubt some people will leave the site, those who say any criticism means you aren't a true blue. But I think it would attract many more discontented voices that are sick to death of the way this club is run and with Kenwright as Chairman.
Tony Hill
88
Posted 06/01/2018 at 16:23:37
Yes, Jim. Lookman on one side and Bolasie on the other from now on. Sigurdsson behind him. That's starting to look interesting and I think this fella's going to thrive.
We are taking shape and the next two years are very promising in my view.
Tony Everan
89
Posted 06/01/2018 at 16:36:56
Well said, Jim,
I was thinking the same watching Bolasie getting some quality crosses in. We are crying out for a striker in his prime to get on the end of those sort of balls.
Sigurdsson and Rooney are also capable of providing balls in of top quality. Tosun will get good service, I hope, and deliver.
Calvert-Lewin needs more time and strength. He is a boy still, and playing against seasoned Premier League defenders is very tough. A loan season makes sense.
John Pierce
90
Posted 06/01/2018 at 16:38:09
Jim, I wouldn't disagree with what you've said there. Calvert-Lewin needs to be an understudy and has plenty to work on.
As to support or service, you might note we played a very different way last night as to previously under Allardyce. It actually resembled contesting a game. He even said it was win or bust.
Based on Allardyce's career and games to date with us, I cannot see that evolution,. I'd hope though, with the season over, he is is directed to season the promising players and change his tactics, to give this Evertonian something to cling to.
Peter Lee
91
Posted 06/01/2018 at 16:43:00
David, I take issue with you over two things.
Firstly, we are customers, consumers of what Everton Football Club's owners choose to offer. We are more passionately engaged than those who patronise Tesco but no different. The only way customers show their dissatisfaction at Tesco is to shop elsewhere. Protests will have no effect but by all means try to organise one. The last one went well, not really.
Secondly, given the balance of views on here, far more critical in general than the people I meet home and away, I question whether you could generate greater support for your views than already exists.
Kim Vivian
93
Posted 06/01/2018 at 17:00:01
Agree with you, Peter, adding that I think if this site as a vehicle became less impartial, it would lose members. The open discussion, simply moderated by the eds (though they do express their own views) is refreshing. If it was used as a rallying cry – even if it was a stance I supported – I would be less than impressed.
John G Davies
94
Posted 06/01/2018 at 17:03:55
Peter,
I haven't spoken to one fan at the game who likes Kenwright. Have you?
Steavey Buckley
95
Posted 06/01/2018 at 17:16:05
To get the best out of Tosun, Everton have to play 2 strikers. He may well be the best striker in Europe for the money, but if he has to fend for himself, he could end up like Calvert-Lewin or Niasse and chasing shadows. At last night's game, Calvert-Lewin, at times, was 20 yards away from the nearest Everton player.
John Wignall
97
Posted 06/01/2018 at 17:23:23
Good luck to Cenk Tosun – now let's play two up-front.
James Marshall
98
Posted 06/01/2018 at 18:19:53
If you want to learn how to say his name, use this
Link
and skip to 1:30 to hear how to say Cenk Tosun.
If anyone cares.
Paul A Smith
99
Posted 06/01/2018 at 18:19:55
James Marshall – spot on about Fellaini. Amazes me how often we realise what we had once it's gone.
Brian Williams
100
Posted 06/01/2018 at 18:28:59
So it's pronounced "Kench Taosun" with the Tao sounding like the Mao of Chairman Mao.
Cheers James.

Lyndon Lloyd
101
Posted 06/01/2018 at 18:32:05
As Steve (86) says, this Turkish news clip from Thursday suggests that it's pronounced "Jenk Toh-sun":
James Marshall
102
Posted 06/01/2018 at 18:33:36
Jenk/Chenk
Toh-sun/Toh-shun
I will accept either variation, Lyndon!
Rick Pattinson
103
Posted 06/01/2018 at 19:17:47
I don't care how you pronounce Cenk Tosun just as long as he doesn't end up being Wank Tosun.
Mark Taylor
104
Posted 06/01/2018 at 19:24:27
On Calvert-Lewin, other than at times last night, he has been totally isolated, pretty much needs to be re-introduced to his team mates after the match. There is no striker on the planet who could have successfully operated based on the way we have been playing. But I've seen enough to believe he will be very handy if we ever actually manage to play a bit of football. He is way, way better than Niasse.
The good thing about Tosun, if he proves to be any good (remember we have bought one or two £20-30m turkeys recently) is that he will give Calvert-Lewin a chance to have a rest. Doing what he is doing every game would burn anyone out. And it would be interesting to see him playing alongside Tosun – having someone within earshot might take a bit of getting used to though...
But I think that would need to be in a 5-3-2 and to make that work, we need a left back who can play wing back. Shaw for example, or Chilwell. Martina is not close to being able to while I think Baines wouldn't have the energy needed anymore.
Jim Bennings
106
Posted 06/01/2018 at 19:29:35
Time will tell how Tosun ends up doing here, but we obviously are desperately in need of him hitting the ground running.
One thing is for certain the honeymoon period that Sam was had before Christmas is now over and we need to get back to basics again.
Neil Carter
109
Posted 06/01/2018 at 19:49:03
Good luck, Cenk!!!
Hope you can fill the goals gap.
Peter Lee
110
Posted 06/01/2018 at 20:34:38
John G D. It's not like or dislike. After all, none of us know him.
The majority appreciate what he has done for the club, few are subscribers to the various conspiracy theories that are trotted out regularly. I think it is significant that most have been STHs for many years. We sat together during darker days including the Johnson era which left us in a debt that meant that Moyes was hamstrung in terms of spending.
Cue another Kenwright thread.
Tony Williams
112
Posted 06/01/2018 at 21:09:34
Darren (9) my sentiments entirely. In my opinoin he is the best left back in the country. Now for another striker and a top class central defender.
John Audsley
113
Posted 06/01/2018 at 23:01:17
Peter,
Kenwright has been on the board since the 80s so was a big part of the Johnson regime. At least the Johnson regime won us a cup.
He may have been a twat but to blame him for Moyes being hamstrung for cash years later is crazy.
David Johnson
114
Posted 07/01/2018 at 08:19:04
How long did it take Kenwright to spend the Rooney fee?
The Rooney fee provided our entire transfer kitty for about a decade. He's a conman and Everton fans have fallen for it, hook, line and sinker.
Paul McCoy
115
Posted 07/01/2018 at 11:44:02
Hope this new guy enjoys playing up front on his own.
David Hayes
116
Posted 07/01/2018 at 12:23:29
Mike (#16), I have to say in all honesty, that I had never thought about other club's transfers in that way. They seem to happen instantly but are in fact more drawn out and complicated in the main than ours.
The overall frustration of many of us spills out and finds the scapegoat default setting. It's really uplifting to to read a more considered post. Thanks.
Almost forgot... Welcome, Cenk! COYB.
Jerome Fander
117
Posted 07/01/2018 at 13:16:14
Welcome to Everton, Cenk. Hope you score plenty and then choose to stay and win silver with us. Good luck.
Peter Lee
118
Posted 07/01/2018 at 18:06:17
John Audsley, if you ask Leeds fans whether the debt accrued in pursuing the European Cup, a debt which has screwed them ever since, was worth it, you'll get a typically blunt Yorkshire response.
As for Moyes being hamstrung, he said it himself.
Shane Corcoran
119
Posted 07/01/2018 at 18:11:20
I think I might start supporting Leicester. They know how to get a transfer done quickly. Watch that Adrian Silva boy go.
Sandra Bowen
120
Posted 07/01/2018 at 18:15:39
Does any team actually play with 2 up front these days?
Plenty of teams play with wide forwards but I can't think of one single side that ever plays two strikers as out and out strikers.
I'd like to see the trio of Calvert-Lewin, Tosun & Bolasie with Sigurdsson behind them given plenty of game time between now and seasons end. Bit of pace, Physicality & a little bit of guile. Also plenty of opportunities for Lookman please.
Steve Ferns
121
Posted 07/01/2018 at 18:19:25
Sandra a standard 4-4-2 does not work. No one plays two up top any more. It's like playing with 10 men. You'll never see us play with 2 strikers again.
The only way to make a 4-4-2 work is to have one striker lead the line, and the other striker drop off a little. This pushes the midfield centre a bit deeper and allows the wingers to push up a little. Oh wait, that's a 4-2-3-1.
Sandra Bowen
122
Posted 07/01/2018 at 18:24:48
Exactly, Steve. Reckon we can get anyone to stop asking for us to play 2 up top?? I doubt it.
Dermot Byrne
123
Posted 07/01/2018 at 19:10:02
Ah, but Steve... if all defences are drilled to play against teams that do not play 4-4-2, can we take them out of their comfort zone by playing 4-4-2?
David Pearl
124
Posted 07/01/2018 at 19:23:00
Cenk says he has heard about the atmosphere in Goodison Park. I hope not.
I don't want Nzonzi – he is Sam's Schneiderlin. With our new striker and the return of Bolasie, the continuing emergence of Lookman... the only player I'd go for now as a must is a left back.
Ray Jacques
125
Posted 07/01/2018 at 19:23:36
The problem with our transfers compared to the RS is they are run like a business and we are run as a hobby. This is seen in the two clubs from the top and ultimately shows on the pitch.
They need a defender for 6 months and he is signed and ready to play on 1st January, we need a centre forward for 6 months and haggle over a fee so he can't play in the cup game. Result, their defender scores the winner, typical Everton.
Moshiri needs to get Kenwright out of the door and run the club in his way. Hopefully he can do a proper job and sort the whole place.
Sam Hoare
126
Posted 07/01/2018 at 19:38:22
Two players I'd love now:
Left-Back: Alex Telles from Porto. Strong, fast, excellent crosser, enjoys a tackle. Will probably get snapped up by a Champions League club next Summer but perhaps we could get him now if we made a handsome bid (probably upwards of £20m). I'd also love Shaw but not sure they'd sell.
Deep playmaker: Leandro Paredes. I know. We've got lots of central midfielders. But few who can really take care of the ball and do the legwork too. This lad can. Upgrade Schneiderlin and throw in some McCarthy and you get this young Argentine. Similar to Banega who I wish we had got. Could be the Arteta replacement we've been needing since he left.
Michael Lynch
127
Posted 07/01/2018 at 19:40:10
God, I hope this fella is good. And I hope he isn't isolated up front the way Calvert-Lewin has been.
But he never seems to be in the right place to get a clear shot at goal, and when crosses come in he's rarely the one who gets on the end of them.

Who knows, maybe he'll develop that classic striker's nose and be another Gary Lineker. He deserves a bit of a rest though and maybe a few appearances as a 60th minute sub.
Andy Crooks
128
Posted 07/01/2018 at 19:44:26
David (#87), that' s an interesting post. I think you should put up a more detailed article. I think it would lead to an interesting debate.
Andy Crooks
129
Posted 07/01/2018 at 19:59:54
Steve (#121),
I enjoy and respect your tactical analysis. However, I must fundamentally disagree this time. 4-4-2, in my view, is only like playing with ten men if you have the wrong two up front. Yes, it takes special players, but if you have them, it works.
Now, I know you will disagree with this but one of the great Juventus sides played 4-4-2. They played with Vialli and Ravinelli up top and it worked because they worked.
I understand that the formation had a fluidity about it but it was set up as 4-4-2. It can work with the right players and an imaginative coach. Also, to be honest, a young Roy Keane would help.
Brian Porter
131
Posted 07/01/2018 at 21:28:23
Big welcome to Cenk. Wishing him years of success at Everton FC.
Andy Meighan
132
Posted 07/01/2018 at 22:06:58
Ray (125), Yes, they needed a centre half and got one. And by the way paid vastly over the odds. Yes he was fortunate enough to score, only because of of Pickford's mistake. Ask yourself this: where was he for a so called 75 million centre back when Sigurdsson stroked that ball home from the middle of the 18 yard box for our equaliser? I'll tell you. Nowhere, because his positional play is shite. He was all over the yard.

Holgate had a far better game than him as did Jags. Don't go creaming yourself on the red shite because, believe me, Take a couple of players out of their side and there isn't that much between us.
Tony Everan
133
Posted 08/01/2018 at 09:03:54
We need to keep it simple until we have got a quality left back. This has to be the focus now.
The club has done well getting Tosun early and I am confident they will be doing their best to get the best possible left back.
It will be tough prising a good one away from a club competing for promotion or cups. We may have to settle for a loan until June to consolidate the position until Baines can get fit and compete for it.
Ray Jacques
134
Posted 08/01/2018 at 14:11:43
Andy at 132, I hate them with a passion for hundreds of reasons over the past 40 years and hope Van Dijk flops, but if you think we are only a few players off matching them then you are in denial. They're light-years ahead as a team and a business organisation.
Using your argument, what were Jagielka and Holgate doing when the corner came in? Every year, I think we will turn the corner against them but the clock is now ticking into its 8th year since a win. Coyb

John Audsley
135
Posted 08/01/2018 at 18:12:00
Peter,
I live in Leeds, it's much more complex than just the European dream they tried to achieve.
However, if you love Bill, that's fine... I'm happy for you.
Moyes blaming Peter Johnson for his lack of cash!! Yes, that's totally correct as well...
Are you related to Richard Dodd?
Michael Kenrick
136
Posted 11/01/2018 at 16:30:25
Add Your Comments
In order to post a comment, you need to be logged in as a registered user of the site.
Or Sign up as a ToffeeWeb Member — it's free, takes just a few minutes and will allow you to post your comments on articles and Talking Points submissions across the site.