Everton suffer dreaded Cup exit at Anfield
Friday 5 January 2018

274 Comments [Jump to last]
Liverpool 2 - 1 Everton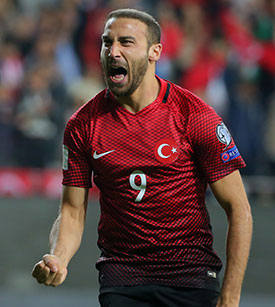 Cenk Tosun's proposed transfer from Besitkas has not been completed in time for him to be eligible to face Liverpool
Everton are out of their last cup competition of the season as a soft penalty and Virgil van Dijk's late header won this third-round tie for Liverpool.
An excellent Gylfi Sigurdsson equaliser midway through the second half gave the Blues hope of earning a replay at the least but their continued problems in attack and a critical error in judgement from goalkeeper Jordan Pickford scuppered their chances of advancing to the fourth round.
It was rough justice on Everton who played with much more adventure than was the case in the league fixture here last month and had Liverpool worried heading into the last quarter of an hour.
Tellingly, though, Sigurdsson's goal, a composed side-foot finish at the end of an Everton counter-attack which cancelled out an infuriatingly weak penalty decision for reds in the first half, was the visitors' only shot on target.
It meant that despite the increased threat posed by Ademola Lookman, the Blues weren't able to find a winner and it permitted Jurgen Klopp's men to win the game from an 84th-minute corner.
Sam Allardyce made changes to his starting XI from the side that lost to Manchester United on New Year's Day, recalling Dominic Calvert-Lewin, Sigurdsson and Jonjoe Kenny to the side and starting James McCarthy in midfield.
Mason Holgate moved back inside to his favoured central-defensive role alongside captain Phil Jagielka.
Allardyce's side approached the game on a more even footing than was the case a month ago, showing some attacking intent down the right flank with Yannick Bolasie.
The winger got around new reds signing Virgil van Dijk early on with the defender not quite grabbing enough jersey to give referee Robert Madley something to think about.
Rooney was booked for scything through Joe Gomez in only the seventh minute while Sadio Mane ballooned an effort well off target just before the quarter hour mark and James Milner later volleyed another effort across the face of Pickford's goal.
At the other end, Everton were faring well enough in terms of approach play but saw attacks founder when they got to the final third until Bolasie swung in successive crosses that yielded a second corner but, like the first, it came to nothing as Martina belted a shot high over the bar.
Mane sliced another shot wide from outside the box before referee Madley intervened with the award of an infuriatingly soft penalty as Lallana flopped to the turf under the attentions of Holgate.
Milner converted the resulting penalty and Liverpool assumed control of the contest, with Everton's early adventure having dissipated.
Tempers flared five minutes before the break as Firmino crashed into the advertising hoardings following Holgate's push and reacted with words that sparked anger in the young defender. The pair squared up to each other but were restrained and the incident passed.
Everton announced the signing of Cenk Tosun from Besiktas during the half-time interval while Sam Allardyce sent his side out unchanged for the second half.
They won a corner five minutes in but Sigurdsson's out-swinger was too long to trouble the Liverpool defence. That was followed by the withdrawal of Rooney for Lookman a minute later, the veteran's frustration threatening to earn him a second yellow card.
Gomez missed badly with a free header from a Liverpool corner shortly afterwards before Lallana raced through but, thankfully, fired wide as Jagielka closed in on him.
Milner's trip on Bolasie earned Everton a free kick in a dangerous area in the 55th minute that Karius fumbled but got away with the error.
Back at the other end, Robertson skinned Bolasie all too easily but his powerful drive was parried away well by Pickford while McCarthy's late tackle on Milner was penalised with a yellow card.
Van Dijk popped up with a free header from a deep cross but steered it took close to Pickford who gathered at the second attempt as Liverpool continued to press and Everton struggled to maintain any impetus.
Everton equalised, though, with a classic counter-attack, led by Bolasie who helped the ball forward to Lookman and he threaded Jagielka in on the edge of of the box. His lay-off to Sigurdsson allowed the Icelandic man to pick his spot with a pass into Karius's net.
A rare free kick award from Madley gave Everton another free kick chance with 15 minutes to go but Sigurdsson's delivery fell too short. For Liverpool, Oxlade-Chamberlain fired in a set-piece from a similar area which ended with a shot flying across goal and out to the far side.
Allardyce introduced Niasse with 10 minutes to go in place of Calvert-Lewin but Liverpool retook the lead a couple of minutes later when Pickford came too far off his line and was punished by Van Dijk who connected with a header.
Bolasie had a chance to open Liverpool up in stoppage time but went for glory from way out instead and wasted the chance, leaving the home side to see out the game.
It was Everton's first defeat on Liverpool's turf in the FA Cup and ends the club's quest for a first trophy for 22 years for the season.
Full details: ToffeeWeb match page
---
Reader Comments (274)
Note: the following content is not moderated or vetted by the site owners at the time of submission. Comments are the responsibility of the poster. Disclaimer
Jim Bennings
1
Posted 05/01/2018 at 19:04:38
Can see Mane, Firminho and Oxlade-chamberlain having a field day against our slowcoach lads like Jags and Schneiderlin
Andrew Keatley
2
Posted 05/01/2018 at 19:09:57
This was a perfect opportunity to play Lookman from the start; a front 3 of Lookman, Bolasie and Calvert-Lewin might have given Liverpool's back four something to really worry about.
Jim Bennings
3
Posted 05/01/2018 at 19:10:04
We have got to do something tonight , it's been a really underwhelming week for Evertonian and a very underwhelming disappointing Christmas period watching sterile football , results and getting shafted by Barkley and Chelsea.
I'm really on the cusp of losing interest in all things Everton , the way the club does letdowns and hardluck stories better than any of them.
Tonight will either reignite some lost love or just confirm even more that Everton is a club nowadays that is just pretty shit to support , a marriage that's always flirted with divorce for its long suffering fans.
Please please show up blues and prove us wrong.
Andrew Keatley
4
Posted 05/01/2018 at 19:12:39
Oh, and Schneiderlin... again; I don't know how he gets so many opportunities to start games. I look forward to watching him amble around doing the square root of nothing all game.
Andrew Wayne
5
Posted 05/01/2018 at 19:16:11
I would take a 4 nil stuffing tonight just to see an Everton team turn up and go for it. Throw caution to the winds and attack. In 12 months time nobody will remember if we lose. In 12 years time everyone will remember if we win. NSNO COYB
Paul Smith
6
Posted 05/01/2018 at 19:17:07
I'm worried about relegation still. Got a bad Everton type downer on the whole club at the moment. Still be at Wembley next week mind.
Stephen Brown
7
Posted 05/01/2018 at 19:17:40
That is not a great Liverpool team! Can things just go for us for once??!
Brian Wilkinson
8
Posted 05/01/2018 at 19:24:39
Have a look at the Liverpool line up, then take a look at ours, if ever we had a chance of getting a result then it's tonight, a big plus for me is Bolasie and McCarthy starting and although I might be the only one on the next one, I am glad we have Jags and Holgate in the centre, Jags will give his all, throw his body in the way if needed but will find row z before trying any fancy stuff inside our box.
With both line ups, we will never have a better chance than tonight, knowing the gods we will land Chelsea at home in the next round, if so the gangster will be the least of Ross worries :-)
Tom Bowers
10
Posted 05/01/2018 at 19:33:20
With a little trepidation Brian I think you may be right.
It all depends how we come out of the traps to start the game.
Anything like we have been used to most of the season and we will get roasted.
Defence needs to hold firm but they haven't really instilled confidence no matter who starts there.

Brian Wilkinson
11
Posted 05/01/2018 at 19:36:36
Think we will be alright Tom with Jags and Holgate in the middle, Kenny decent on the right but I expect them to attack Martinas side, let's hope he gets backing on that side.
Christy Ring
12
Posted 05/01/2018 at 19:48:13
Have to keep it tight, Worried by our left side, and hope McCarthy lasts the pace, and overcomes his injury problems.
Chris Gould
13
Posted 05/01/2018 at 19:51:00
Andrew #2
I have to disagree. Starting Lookman tonight would have been a mistake. The kid doesn't retain possession well and can't defend.
We need to be organised and work as a unit if we're to have a chance.
I don't think Lookman is anywhere near ready for a game like tonight.
Maybe with 20 mins to go if we're behind and need to try something different.
Still gutted that we won't get a glimpse of Tosun.
Michael Lynch
14
Posted 05/01/2018 at 19:54:06
Turn down the sound while the Norwegians sing their dirge, then off we go. Time for a win lads.
Andrew Wayne
15
Posted 05/01/2018 at 20:27:52
I absolutely hate the Derby - too many years of us not turning up. Jags tonight patting backs and shaking hands FFS. Default position is we are going to lose. BBC love in again with Klopp and Liverpool. Can we at least work their keeper? Bobbly fucking Madeley again!
Alex Mullan
16
Posted 05/01/2018 at 20:32:19
Holgate makes a fucking balls up every time he plays.
John Dingle
17
Posted 05/01/2018 at 20:36:31
Never a penalty. Robinson has arms all over Bolasie and Keown says Bolasie needs to change wings to get something, implying Robison is playing well. Holgate does the same and Keown says the young man needs to learn to keep his arms down. Where is the consistency.
John Dingle
18
Posted 05/01/2018 at 20:46:52
Pleased all the BBC panel agree with me no pen, even Murphy.
Roger Helm
19
Posted 05/01/2018 at 20:48:33
Even pundits unanimous it wasn't a penalty. Everyone could see the RS player pick up both feet and throw himself down.
Holgate very lucky to stay on after grabbing the ref.
Paul Smith
20
Posted 05/01/2018 at 20:52:32
Forget the penalty we have created fuck all again. Tosun has been unveiled during the derby on social media, to bury how shite we are .
Mark Hughes
21
Posted 05/01/2018 at 20:55:28
Lallana in front of diving panel, methinks.
John Dingle
22
Posted 05/01/2018 at 20:59:12
Pleased all the BBC panel agree with me no pen, even Murphy.
Robert Jones
23
Posted 05/01/2018 at 21:12:45
Someone, HIT A FUCKING SHOT. It's pathetic.
Ash Moore
24
Posted 05/01/2018 at 21:48:27
George Cumiskey
25
Posted 05/01/2018 at 21:49:02
Sam Allàrdyce is a shithouse , bringing on a midfielder when you are one nil down. Vlasic should of been on, oh and I see Scheiderlin forgot to turn up again.
But I bet he's playing in the next game, utter surrender.
Tony Everan
26
Posted 05/01/2018 at 21:52:35
Nothing between the teams tonight , thought we did well.
Only thing separating the teams was one of the worst penalty decisions of the season,from a very weak referee. Lallana had his arm across Mason simultaneously.
Lallana should get a ban for flinging himself to the ground and deceiving the ref.
Disgraceful.
We all know it won't even be looked at.
Jim Bennings
27
Posted 05/01/2018 at 21:54:26
That's me done for it all now anyway , totally give up with the same old hard luck tales at this once great club, the season is dead now I'm sorry if I just can't get up for a battle to reach 40 points , I couldn't give a shit .
Liverpool played within themselves yet again we hand it to them on a plate with a stupid mistake .
Good luck to everyone going to the remaining games this season anyway , hope you all get to see a better brand of football than we have seen the last few games but chances are anyway it'll just be hard luck stories like tonight, that's Everton Football Club in the modern era eh?
But for me I just can't be bothered with one step forward and theee back , that's all we have had at this club for two decades now.
I'm done with it, need to put my efforts into something else that doesn't continuously end in letdowns.
Oh and P.S... if that had been Tim Howard who made that mistake for the winner ,he would have been slaughtered, you pay the money for big performances in big games , just saying like.
All the best , people.
Andrew Presly
28
Posted 05/01/2018 at 21:56:20
It's the lack of hope that kills you.
Colin Glassar
29
Posted 05/01/2018 at 21:57:34
Nothing new to see tonight. At least we had a go but the derby curse continues.
John Pierce
30
Posted 05/01/2018 at 21:58:34
January 5th, season over, nothing more to say.
Alasdair Mackay
32
Posted 05/01/2018 at 21:59:17
I thought we played okay - best we've played under Allardyce, actually.
The penalty was soft and the winner was a mistake by the keeper (very rare for Pickford) and it bounced off the top of van Dijk's head - no technique there at all.
I thought we were unlucky. That's the way the FA Cup goes.
The performance was something to build on. Best derby performance since Moyes left. Best at Anfield since before Moyes.
Jay Woods
[LAT]
33
Posted 05/01/2018 at 22:01:29
We will never be able to consistently compete with that rabble of Oslo-London-Belfast pin-ups until we find a way to match them financially.
Now that said, we had a scandalous referee tonight who gave a penalty for a non-existent foul and who refused to give us a free kick until midway through the second half.
The performance from our boys was surprisingly positive, not the bus-parking so many expected; for me, McCarthy made a major difference, but Lookman deserves more game time now as well.
Pickford, on the other hand, was to blame for their winner and needs to get the weaknesses in his game promptly coached out of him.
Let the LFC fans gloat, it means nothing when the referee gave it to you on a platter.
Ian Hollingworth
34
Posted 05/01/2018 at 22:01:50
Big difference tonight QUALITY and AMBITION
We don't have enough quality and club has no ambition.
When will this club end our misery.
Brian Williams
35
Posted 05/01/2018 at 22:03:05
Referee was diabolical. Not only did he give a penalty that never was but he bottled it with the Holgate incident.
Alan Bodell
36
Posted 05/01/2018 at 22:03:05
Mason lad, you can do that anywhere in the prem but not at Analfield or Old Trafford, softies there are certs but lesson learnt eh ?
Mike Dixon
37
Posted 05/01/2018 at 22:03:06
If anyone comes on here and lambasts Sam, I am going to lose the plot. A goalkeeping error, from a class act. No less no more. Against a side, like it ot loathe it , who are better than us, we improved. We were better. Jesus, with a striker God knows how much we might improve.
Sean Patton
39
Posted 05/01/2018 at 22:03:51
sick and tired of the same old story it's just boring now a groundhog day but without the comedy.
Andy Crooks
40
Posted 05/01/2018 at 22:04:06
I thought that was a good effort with a lot of promise.Kenny will be good as will Holgate and Calvert - Lewin. I didn 't expect a win but it was a step forward from the mess left by two utterly lamentable managers.
I thought we deserved a draw and only for dreadful goalkeeping we would have got it. Phil Jagielka was superb, Schneiderlin was utterly abysmal.
David Barks
41
Posted 05/01/2018 at 22:04:52
Mike Dixon,
One shot on target, one. Following a match with zero shots on target. They were without their best two attacking players, we still wouldn't attack. Give me a break.
Amit Vithlani
42
Posted 05/01/2018 at 22:05:01
Plenty of effort, limited guile, limited creativity. Three straight defeats and 6 goals conceded makes me yearn for a boring clean sheet, but then I recall the luck on our side as we clung to draws against WBA and Chelsea.
Spurs next and Arsenal on rhe horizon, so not like we have a run of fixtures we can bank on to get some momentum back.
Far too much rests on Cenk Tosun's arrival; I dread to think what will happen if he fails to find the net in the first few games.
Michael Lynch
43
Posted 05/01/2018 at 22:05:56
Good performance tonight but we're still lacking in quality across the team. Did our best considering the players we had out there tonight.
Desperately need Coleman and Baines (or a new left back) back, along with Tosun and a box to box creative with loads of pace.
Mike Dixon
44
Posted 05/01/2018 at 22:07:27
David 41. One is better than nil. We have no striker until 7.48pm. Our squad is poor. However much you hate it. Koeman did it. Baby steps yes. But upwards.
Andy Crooks
45
Posted 05/01/2018 at 22:08:35
Brian, I missed the end if the first half. Did that actually happen? Was that really said? I hope not.
John Audsley
46
Posted 05/01/2018 at 22:10:48
The soul has been ripped out of the club this season. Koeman and the clueless board have done so much damage it will take an age to sort it out but to lose like that is another fucking nail in the coffin.
Everton sucks the life out of you, but we still come back.
Got to give Sam time and hope he can clear some of this shite out of the club.
Only Everton could sign a striker hours too late for the biggest game of the season then announce it at half time!!!!!
Fucking amateurs.
Brian Williams
47
Posted 05/01/2018 at 22:10:56
Andy. In the replays it shows in slomo Holgate incensed and he distinctly says to Kenny I think it was "He called me a n*****."
I MAY have that totally wrong but it looked clear as a bell to me. I watched it back several times and I'd swear that's what Holgate said.
John Davies
48
Posted 05/01/2018 at 22:11:00
Tonight was just the continued GARBAGE that we get served up week in week out.
60 years a Blue and I've never felt so desolate and desperate about the future of our club. I've honestly had enough. I can't be arsed any more. It's pathetic. The club is rotten from top to bottom. There is NO-ONE that I have any confidence in to save my beloved club.
So my season ticket is shredded and in the bin and I will not allow the fucking idiots (chairman, owner, manager, players et al.) at Everton FC to take the piss out of me any more.
I guess this is what it is like to be cheated on by the woman you love. I just hope my wife does not break my heart like this fucking football club has. Good luck to all you Blues. I'm done with it all.
Michael Lynch
49
Posted 05/01/2018 at 22:11:16
Klopp has said it wasn't it pen. That has to be a ban for Lallana for cheating then doesn't it? Surely?
Stephen Brown
50
Posted 05/01/2018 at 22:11:18
It's more disappointing when we've been robbed! Good effort by the players!
But as has rightly been said season over on January 5th! What's the point??
Hats of to Jags tonight! Outstanding performance from an excellent servant to the club. It's a shame he will never win a trophy with us!
Peter Lee
51
Posted 05/01/2018 at 22:11:54
Jim Bennings, tara lad, enjoy the rest of your life.
Graham Blakeman
52
Posted 05/01/2018 at 22:12:55
Its absolutely unforgivable that we didn't get a striker in for that game. They buy a major player on the first day of window and he wins the fucking game for them.
We have had all season to scout and do a deal as soon as the window was open.
I'm not going slag off the players, because its already been said many times what we think of them.
To me, this owner Kenwright is the most incompetent man at the club. He is taking the piss out of all of us.
Tony Everan
53
Posted 05/01/2018 at 22:14:34
Stephen , we can still get 7th and the Europa cup qualification.

Erm , second thoughts..
Philip Braithwaite
54
Posted 05/01/2018 at 22:15:14
Mr Bennings. I imagine before the game started you taped your mouth up as you seem to be talking out your arse.
Liverpool did not play within themselves, they are so worldly better than us at the moment, but realistically tonight they where very average. We are average, agreed, but we could have easily(and possibly, deservedly ) earned a replay.
Give credit when it is earned.
Steve Ferns
55
Posted 05/01/2018 at 22:15:19
Dunno what difference coleman would have made as I thought Kenny was excellent.
In general I thought we weren't bad. Not good, but ok. We're clearly no where near as good as the RS.
Baines might have made us better, but other than that, up to Tosun signing that was more or less our best XI. Sure Gueye might have made us slightly better, but again we're talking fine margins.
Season is over for me now. All that's left is to get some more points on the board to stave off any fears of relegation and after that, why not concentrate on getting a running start at next season by keeping the likes of Holgate and Kenny playing, play Tosun and acclimatise him sure, but keep developing Calvert-Lewin. And get Lookman and Vlasic more involved and let them have a chance.
At least then, there'd be a point to this season otherwise we'll just be cruising to mid table and on our holidays come April.
Mike Dixon
56
Posted 05/01/2018 at 22:15:19
Graham 52. They bought him 5 months ago. Wake up.
Eddie Dunn
57
Posted 05/01/2018 at 22:15:23
Well I thought we did well and deserved a draw. The ref was the most biased I have seen for ages. He also bottled it when Firminio called Holgate "a n*****". Holgate was telling the ref exactly what was said and the ref must have heard it as he was so near the action.
I noticed how the issue was conveniently forgotten by the BBC panel in the summing-up.
If it had been a player from an Eastern European club I think there might have been more hand-wringing from the pundits.
I thought Schneiderlin had an excellent game as did McCarthy, Kenny, Jags, Martina and most of the team.
Rooney is so slow and should be used as a sub from now on and Siggurdson should take the 10 berth.
Lookman also needs more minutes.
I hate those Red shithouses and hope they for once get a difficult draw (away at Man City would do nicely).
Up the blues!
Paul Smith
58
Posted 05/01/2018 at 22:15:33
We had 1 effort on goal, 2 in 5 games.
3 defeats on the bounce, I don't know how we can spin that positively.
Hopefully Tosun can gel with DCL and we need Seamus back.
Mike Dixon
59
Posted 05/01/2018 at 22:17:42
Paul .52. Gel with DLC no chance. DLC will never be Big Bob.
Paul Birmingham
60
Posted 05/01/2018 at 22:18:52
Done by a RS AH referee. In my view we gave it a decent go. Gutted as until the pen we held our own and had chances to win.
Say no more.
La Vie Cest La Vie, with EFC?
Chris Butler
61
Posted 05/01/2018 at 22:20:16
Isn't anything going to be done about Firmino's racist comments to Holgate in the first half. It's obvious something was said to him, or he wouldn't of reacted like that.
Barry Williams
62
Posted 05/01/2018 at 22:20:21
Massively disappointed with the result, the fact that we couldn't get a striker in for the game .....
but
We actually looked like a decent side today, Bolasie adds something, Lookman certainly did, McCarthy will, Jagielka was excellent and we had fight, shape and some decent moves! It was 100 times better than the last derby, despite the result. We scored from open play, they didn't (sort of).
Not happy, but I am deffo more optimistic, secure safety, decent run, onto next season!
If Holgate was called the N-word, action needs to be taken. Also, Mr.Lovren ala Niasse's punishment for simulation etc, should also be investigated. Not sour grapes, just fair play.
It was much better today me thinks!
Hywel Owen
63
Posted 05/01/2018 at 22:20:26
Considering that we had no weight up front (guess whose fault that is) I thought that the lads put in a brilliant shift tonight and were unlucky to lose. The penalty was debatable to say the least. Now let's get on with the rest of this disastrous season and finish as high as we can in the league.
COYB
Sam Hoare
64
Posted 05/01/2018 at 22:21:06
The season is NOT over. This could well be the year that we bed in the players who will serve us well over the next decade.
I thought there were some really positive signs from Kenny, DCL, Lookman and even Holgate tonight. Pickford had a poor game for the first time in a long while.
We may not have had enough shots on targets but we passed it much better and played with much more passion and belief. If we continue to do that all season then we may still get 7th and Europe and if not then we might still lay the foundations for brighter times. COYB.
Brian Williams
65
Posted 05/01/2018 at 22:22:06
Eddie#57.
Thanks for confirming that. I mentioned it earlier in the thread.
Mike Dixon
66
Posted 05/01/2018 at 22:22:30
Heel. Sense. Thank God. We, the Chosen, need to banish the Koeman era, embrace Sam, and turn Goodison into a fortress. Amen
Paul A Smith
67
Posted 05/01/2018 at 22:24:47
I used to hate a bad word being said about this club from anyone not so long ago. Nowadays I can't hide from the fact its been fur coat and no knickers far too long.
As sad as it sounds, myself and a group of mates a while ago had a discussion about if we would win again at Anfield in our lifetime.
Me being 37 soon that sounds a bit mad if I live a decent lifespan but is it mad?
We are decades behind them. We are about 3 Derbys down already since that chat and didn't have a hope of a victory in either.
By the way the chat started about refs giving them every 50/50 (like tonight) and football being sewn up by the big clubs.
Its not all about beating them of course but come on, what are we now? We sell quality all the time and its got to stop to beat teams like them.
How come not many thought -maybe i'm wrong about Stones Deulofeu etc, how come all these big clubs want them? Shouldn't we buy some quality around them an see how it goes?
The board have been supported wildly since Moshiri came in while they stripped us of 4 outstanding talents all with potential to be better and replaced them with what?
It really is as somebody said above, getting really pointless. Bowing to the big clubs.
75 million Southampton have just got for Van Dijk. Thats real businessmen.
Coutinho will go for more than Barkley and Lukaku combined.
I don't know whether to laugh or cry.
We couldn't even back the manager with a forward in time for another big derby game.
Darren Hind
68
Posted 05/01/2018 at 22:28:38
Brian @35
Did that actually happen? I looked long and hard, but I couldn't tell. I suspected by Mason's reaction that something like that had happened.
Anyway, we lost for two reasons; Our young keeper made an error of judgement (that sometimes happens). And we were on the wrong side of a twat decision against them (that always happens).
We had a go and, despite feeling sick as a parrot, I saw enough to stop me climbing out onto the window ledge.
Michael Shaw
69
Posted 05/01/2018 at 22:28:44
So Predictable. Expect nothing nowadays. No trophy since 95' and embarrassed every time we go into Europe.
A board that uses local media to be patronise supporters whilst they and the big shareholders enjoy all of the TV and Premier League revenue. No wonder our best players have been desparate to leave the club. The club more concerned about not ending up like Leeds or Villa when they should be aspiring to keep up with the elite. No real ambition other than to maintain mid-table medicrioty and avoid a relegation fight. Good job I like music and BRANDY.
George Cumiskey
70
Posted 05/01/2018 at 22:29:50
Scheiderlin utter crap, Siggy scored a great goal but done nothing else. Niasse not the answer and I'm afraid DCL isn't either. Also in my honest opinion Rooney finished as a top premiership player.
Shaun McGough
71
Posted 05/01/2018 at 22:31:02
Retrospect for llalana , got to be jokeing, Holgate racially abused, but lets not tarnish the media darlings and talk about how great van dick was. Thought we played better than the league game but lets just get the next 13 points on the board asap and write this season off.
James Marshall
73
Posted 05/01/2018 at 22:33:11
Siggy scored a great goal but did nothing else?
Did you not see the tireless running he did, and does in literally every game played out of position out wide? Sigurdsson works his arse off and deserves more credit - play him centrally and you'll see just how good he his.
Siggy in the middle.
Terry White
74
Posted 05/01/2018 at 22:33:21
Barry (#62) what did Lovren do to earn your anger? He wasn't playing.
Mark Hughes
75
Posted 05/01/2018 at 22:34:59
Out of the team today...
Keep:- Pickford, Kenny, McCarthy, Sigurdsson, Bolasie.
Release:- Holgate, Martina, Schneiderlin, Rooney, Calvert-Lewin.
Don't know:- Jagielka
Terry White
76
Posted 05/01/2018 at 22:36:33
Yet another George Cumisky (#70) negative post. We never do anything right for George. But, you are quite entitled to express your opinion.
George Cumiskey
77
Posted 05/01/2018 at 22:36:40
Yes James I saw his tireless running and DCLs but they created zero chances.
Eddie Dunn
78
Posted 05/01/2018 at 22:38:40
Siggy was fantastic..the lad puts a shift in every game and his dead-ball skills are top class, lay off him, he is a quality player and as we seem capable of driving away anyone with an ounce of talent, let's give the lads our support instead of this pathetic whinging.
Peter Laing
80
Posted 05/01/2018 at 22:39:43
Any post match comments from Everton on the racial abuse of Holgate by Firmino ?
Graham Coldron
81
Posted 05/01/2018 at 22:39:46
I feel tonight like I felt after the 1977 semi final at Maine Road - you'd think that as the years pass stuff like this would get easier but it never does.

Terry White
82
Posted 05/01/2018 at 22:39:48
While Pickford must take the majority of the blame for the goal, why did Niasse come off the post? Exactly where the ball went into the net.
John Keating
84
Posted 05/01/2018 at 22:40:22
I didn't go tonight and watched it on the telly.
Sour grapes maybe and it won't affect the result but the penalty needs looked at by that panel - and Hazards last night.
If they say Niasses contact was not enough for take down then Llalana should be banned for life!
A lot more spirit tonight. Those moaning about the result and never going back, never watching us again, well what was different tonight than the last 20 years.
As I said to all those that said they'd never go back after Allardyce was appointed, good luck, enjoy yourselves you won't be missed and please give your season tickets to a youngster that will appreciate it.
Dave Abrahams
85
Posted 05/01/2018 at 22:40:22
I thought it was an improved performance, we deserved more from the game and maybe a better performance from the referee, didn't give us much at all.
There will be more to come from the Holgate / Firmino incident with the referee giving no cards out, the BBC gave a big look at what Firmino was saying to get Holgate worked up, while Holgate could be in trouble for pushing the Brazillian into the crowd and also putting his hands on the referee.
Good performances from Jagielka, MOM for me followed by Bolasie. McCarthy, Kenny, Holgate, Lookman for his non stop running and battling DCL.
If we can continue to play like this we can finish in the top half of the table, not great I know, but after the way this season has panned out it will be enough for me,but plenty will be aghast at that and Incan also understand that as well. I know we have had very little to cheer us over a very long period but things can only get better, I think.
James Marshall
86
Posted 05/01/2018 at 22:40:51
George, he can't do it all - he runs his heart out but he needs support and needs to play 90 minutes in the middle. He has one hell of an engine on him.
Honestly, once Sigurdsson starts to play centrally with Yala and Lookman on the wings with Tosun up front, I think things will change.
David Barks
87
Posted 05/01/2018 at 22:40:56
Yes embrace Sam. Embrace zero to one shots on goal a game. Embrace going into every match with the mindset of please don't get beat instead of let's win the fucking match. Ah yes, embrace that.
Tony Hill
88
Posted 05/01/2018 at 22:41:08
We're going to be ok. That was an encouraging performance in the context of our re-building. It's very, very difficult now but I think we're going to get it right and we must stay calm and absolutely supportive of the current regime. A couple of mistakes tonight and they won. So be it.
We are going to get new players; we are a wonderful, historically successful club and we will come again. I believe that time is not too far away.
Superb from Jagielka and, despite his challenging evening, I am more than ever convinced after tonight that we have a future great in Holgate. A nasty bastard as well as a natural defensive talent.
That shower are not going to break us. Let them have another night tonight, one of too many over the last decades I know - but our time is coming, I can sense it.
Here's a thing below which always cheers me, though I've probably fucked it up, I'm hopeless at anything like this. Let's wait for the weather to change.

www.lettersofnote.com/2012/01/wind-clock-for-tomorrow-is-another-day.html
Tony Hill
90
Posted 05/01/2018 at 22:42:51
I have indeed fucked it up. It's E. B. White Letters of Note for those who can be bothered.
John Audsley
91
Posted 05/01/2018 at 22:44:49
Siggy in the middle all the way. He worked his arse off tonight and scored a beautiful goal.
We are improving and much better than under that fraud Koeman.
Sam and Co need time.
I need to go to bed with a bit of hope. Glad I'm not sharing room with George tonight .just Mrs A.
David Connor
92
Posted 05/01/2018 at 22:45:38
The days of us being a big club are long gone, I'm afraid. We are just another Palace, Newcastle, West Ham etc.
I've followed the blues for 45 years and this is one of the most toothless teams I've ever seen wearing the blue shirt. Very Sad.
Shame on everyone running our great club... Huge changes needed from top to bottom, starting with players with a winning mentality. We have to many poor players, end of...
Paul A Smith
93
Posted 05/01/2018 at 22:48:03
There was improvements in hunger tonight but we still can't create. Great chance to beat them gone again.
Rooney needed to keep his head but he can't play midfield every week. Definately not in scrappy midfield battles.
Brian Williams
94
Posted 05/01/2018 at 22:48:52
Our main problem is that we have too many "makeweights" in the team. They were better than us in almost every position.
We have weak links like Martina, Niasse, and to a certain extent Schneiderlin although I thought he did ok tonight.
DCL is a great young player but asking him to lead the line alone ius ridiculous.
So we have there four positions which we're weak in.
You can't compete with the better teams when that's the case.
We need IMO, a left back, another striker (in addition to Tosun) and TWO pacey attacking, creative, midfielders.
When the opposition have 11 players of a certain standard and we oppose them with only 7 of a similar standard we're on to plums I'm afraid!
Kevin Prytherch
95
Posted 05/01/2018 at 22:49:17
Kenny - superb and looks like he's got a nasty streak
Holgate - excellent, even if he was naive for the penalty
DCL - superb all round play, he's a finish away from being a quality striker
Lookman - comfortable and dangerous
Davies - tireless and positive (not tonight but in general)
Pickford - mistake aside - he should be England's number 1, or very close.
Regardless of the result, we could have one hell of a future here. Let's get them in the team this year where mistakes don't matter and get ourselves in a position to kick on next year.
Dave Abrahams
96
Posted 05/01/2018 at 22:50:43
I'm sorry I left Siggy off the list of those who played well, when he plays in his own position he will show what a very good player he is.
Jay Harris
97
Posted 05/01/2018 at 22:53:38
David,
Please give the man a chance.
I for one can see gradual improvements and he has only been here a month.
We could and should have come away from Mordor unbeaten but we matched up to them on their territory for most of the game and its a long time since you could say that about any Everton side in recent history.
They had their new aquisition out we did not. You cant blaim SA for that and VVD was arguably the difference between the two sides tonight.
Max Murphy
98
Posted 05/01/2018 at 22:54:19
For a season that promised so little, has delivered even less.
Tony Mace
99
Posted 05/01/2018 at 22:56:31
#67
"Didn't have a hope of victory"
I thought we did after our goal and played a lot better than some recent games
Dodgy pen - move on
Dodgy flap from Pickford - out of character - move on
Frustrating yes but let's not get carried away
With Tosun we should hopefully have a bit more in attack
COYB
Chris Leyland
100
Posted 05/01/2018 at 22:57:18
I am 47 and well-used to suffering at the hands of the shite but my 12 year old son went to bed in tears tonight saying that he is dreading school on Monday and doesn't want to go. What can I say to him? Once, just once I'd love him to be able to go into school after a derby with his head held high and take the piss out of the gobshites. It is soul destroying supporting Everton at times..
Tim Lever
101
Posted 05/01/2018 at 22:57:28
Thought the attitude was right tonight - better than for years
Why didn't someone kick Lallana through the fence - give him something to hold his legs about. Really angry about that decision. Screwed the game for us.
Stephen Brown
102
Posted 05/01/2018 at 22:59:00
On an aside !
I never thought I'd write this sentence in my life .I'm loving Sammy Lee!!!!!
Simon Dalzell
103
Posted 05/01/2018 at 23:00:00
Tony @ 90. Thanks for lifting my spirits. As I am typing this, I'm firmly hanging on to my hat, as well as my hope. Alas, I have no clock to wind, but I strongly believe tomorrow is another day.
Mark Boulle
104
Posted 05/01/2018 at 23:01:29
I'm encouraged by some of the comments on here. Maybe Kenny, Holgate, Pickford, Lookman, Davies etc can be the core of something good, with quality signings like Sig and hopefully Tosun around them.
Something has happened to me with derbies though. I'm not from Liverpool, but I'm as ardent a Blue as any non-local can be. Up until 2 or 3 years ago, any derby I watched I'd spend most of the game literally shaking, reacting more furiously or joyously to bad or good stuff than in any other televised game.
Lately though that's completely stopped. I watched tonight and barely felt anything, my goal celebration was a Tim Henman-style clenched fist, no more.
Am I the only Toffee to have had this happen? Is it just inevitable as actually winning derbies, or having even the tiniest expectation that we might, is totally sucked out of you?
Steve Ferns
105
Posted 05/01/2018 at 23:01:44
Yeah, I agree with Dave Abrahams and I've said it before, with regards to Sigurdsson, I'd like to rotate him and Rooney for the midfield playmaker role. Both need defensive support, Rooney in particular needs 2 alongside him. He cannot play with just one. Sigurdsson has more energy though and when he plays there he gets forwards more, which is why we were more dynamic. I still think both should be deeper than the traditional number 10 position.
When we don't play Sigurdsson in the middle, then I can understand playing on the left, just to have him on the pitch. But if we do that, we need Bolasie or Lookman to be on the right for their pace and trickery. If Sigurdsson is in the middle, then we can include Vlasic to the two aforementioned and have a pair of wingers to go the opposition.
It just remains to be seen exactly how Tosun will play, when he's ready. But forgetting him for a moment, I do think Calvert-Lewin benefits from having two wingers on the pitch looking to get forward and help him as well as get crosses in to him.
Paul Birmingham
106
Posted 05/01/2018 at 23:02:00
Graham at 81' zackly the way way I feel. 40 years of dodgy trainers and pain... Tonight sums it up, and even The Belmont , their local for me, is quiet.
Jim Lloyd
107
Posted 05/01/2018 at 23:02:07
The point to this season, as i see it is to try and recover from the disaster handed to us by Koeman. We had a collection of players but were about the poorest team in the premiership.
We were on the way down under Koeman, I didn't see any way that we'd avoid relegation with him at the helm. I think Sam Alladyce is turning us from a relegation bound collection of players into a team. We were left without quality players in a number of positions, not just a goalscorer.
We've got some fine young players who might well make top professionals but asking them to become seasoned premier players overnight is taking a chance on burning them out.
I'm not sure how good our new centre forward is going to be for us but he's been chosen as a centre forward, the first one of Sam's signings. I hope he can bring in at least one defender, hopefully two, and, if we can sell or send out on loan, some of the players who aren't figuring, bring in a midfielder/winger for the left hand side.
I don't see us becoming a good side overnight. I think we'll need to see who we can bring in during this window and build up from there. Perhaps in the Summer, whoever the manager is, and I hope it's Alladyce, can improve us with some quality professionals and, equally importantly, trim the squad down by flogging Mirallas, and also Sandro and Klassen, if they don't prove up to the premiership level by the summer. Niasse and Martina? Well, they might be useful as squad players, they at least pull their tripes out.
I think there is ambition in this club, and it belongs to Moshiri. I believe he's seen enough of the antics form the current incumbents on the Board and will take steps to bring in a more professional group.
For twenty years or more, we've had a board who have had neither expertise, or ambition and my view is that Kenwright was content to be the Chairman who could relate all outr foprmer glories but did very little about the present.
Only time will tell; but I think Mr Moshiri is very ambiitous. He has identified the absolute desperate need for a Stadium, and will ensure we get one down on the waterfront. I don't think he will allow his cash to be frittered again and I hope he'll shove Boys Pen Billy upstaies and out of any Boardroom activity.
There is ambition in this club and I see it as a transition stage now from Museum to modern business.
I was made up with the lads performance tonight. Yep, some were, are of limited skill but I thought they did us proud. I was especioally pleased to see James McCarthy getting more involved and hopefully he can recover the form he showed in his first year. Siggy played well and scored a beaut. Dom played his heart out and it'll be good to see if he can form a partnership with Tosun, as he's done a hardf job on his own exceedingly well. The defence were pretty good overall, and our midfield was at least more fluid than it has been.
I thought the referee was a biased prick!

Tony Hill
109
Posted 05/01/2018 at 23:04:33
I tell you something else that was encouraging. Jagielka has lost about a stone and I thought our all-round stamina looked better. They didn't outrun us. Ryland Morgans is a very important acquisition for us and I saw the first signs of his contribution tonight.
Let's also, on that note, pause to admire the effort of Bolasie over 90 minutes. Despite his awful late shot and failure to pass, it is a joy to see him back and so remarkably fit.
As I say,there are serious reasons for hope. Let's get our heads up. I think we can qualify for Europe. The season is not over.
John Keating
110
Posted 05/01/2018 at 23:05:34
Holgate was lucky with the push but I think it's great that the youngsters have a bit of edge and anger about them, as long as it's channel led right.
How many years have we said we were too nice, never complained to the ref just accepted decisions. Quiet on the pitch.
We definitely need to move on a left back ASAP. Cuco tries but charging down the wing and having to stop, turn and put it on his right foot is hindering us.
Carl Allan
111
Posted 05/01/2018 at 23:07:02
So it's officially our longest run without a derby match victory in our 140 year history with failure again tonight. 16 games and 8 years, even Blackpool and Wigan now in the third tier have beaten them more recently. Will it ever end ?
Our season is effectively over now and I have only just taken the Christmas tree down.
Steve Ferns
112
Posted 05/01/2018 at 23:07:45
Jim, I hope that one lesson Everton learn from Ross Barkley is to never look after these kids properly anymore. Who cares about burn-out? If the player is going to be finished at 27 because he's played too many games as a kid, why should we care he's left. We have done right by the kids for a number of years and helped as best we can by pulling them out of the team at times for the sake of their longevity. But why should we take a long term view, if they're gonna just leave for the first big 6 club to drop their knickers? Burn them out.
Shaun McGough
114
Posted 05/01/2018 at 23:14:02
#80 Peter Laing, to say a RS player abused one of our players is like calling them murderers, its all holgates fault, swiftly brushed under the media darlings carpet.
David Israel
115
Posted 05/01/2018 at 23:15:18
Re the Firmino-Holgate incident, I understand a bit of Portuguese, and I could clearly see Firmino calling Holgate 'filho da puta', which means 'son of a bitch'. He may have added the N word, but I didn't get that, in all fairness.
Shaun Lyon
116
Posted 05/01/2018 at 23:17:34
Chris at 100 - I've got three years on you and my eldest is sixteen. Maybe fortunately for him he grows up down south, so is spared the abuse of quite so many reds at school (though god knows, they are everywhere) but he gets the connection with his dad's side of the family and is a massive blue. After every derby defeat I feel almost guilty for taking him to Goodison when he was very young and yet at the same time I'm proud that he sticks to the faith when he could have switched to some London team who happen to be having a good season. You do just think we might get a break from time to time though. There was nothing in that game tonight - finest of margins and some poor refereeing didn't help. One day, surely, surely to God we will beat the bastards - and I hope your lad is there to see it.
Peter Laing
117
Posted 05/01/2018 at 23:19:16
We've just signed a striker and the one other position that Moshiri needs to show his hand and spend serious money is Centre Half. The redshite have just gone out and spent £75 million on a collusus and we need to be trying to get close to that.
The centre halves have been chopped and changed all season and any one of a number of permutations hasn't really worked. At the moment we have a combination of young prospects and a couple of players the wrong side of 30.
If Moshiri means business then we are going to need to see some serious action in the transfer window. The redshite are on the cusp and we are in real danger of being left behind if in fact we are not already.
Mike Price
118
Posted 05/01/2018 at 23:20:45
Pickford is poor on crosses and always moves too early on penalties .very Howard like, he needs to get that sorted urgently.
Still can't stand how smiley and nice our players are at the end, it's the wrong psychological message, they should be furious and channel that feeling into controlled fury and aggression for the next derby. 16 is getting farcical and the weak, nice boy makeup of our squad is a major factor.
Barry Williams
119
Posted 05/01/2018 at 23:21:11
Terry - 74
My mistake - Lallana was who I meant, obvious from the context me thinks, no need to be pedantic and facetious! As for anger, no anger from me tonight, just like a sense of fair pay and equality!
Tony Abrahams
120
Posted 05/01/2018 at 23:21:16
Usually gutted losing to Liverpool, but I go along with Sam@64, especially his first paragraph. I loved the heart shown by our younger players tonight, and think we can turn into a really good team, if we sign the right players.
I have hated Snides, this season, but he played well tonight, McCarthy's energy, is fantastic, and we should build a team around Siggy, playing in the centre of the park.
That was the most unlikely Allardyce team, I have ever saw tonight, because through no fault of his own, (it's obviously down to recruitment) the only area of the pitch in which we were dominated tonight was in the air, and it was no surprise this is what cost us the game in the end?
We need more craft, but we have regained our fight, the only other thing that really frustrated me, was that we never looked to use Lookman enough. He had the beating of Gomez, but we kept looking for Bolasie, who I think plays for himself too much.
Chris Leyland
122
Posted 05/01/2018 at 23:25:33
Thanks Shaun - I get exactly what you say. It is a mixture of guilt that I have set him up for a lifetime of disappointment but also pride that he sticks with it. We are going to the Spurs game at Wembley next week as he has never been fortunate enough to see us there and I'm hoping against hope that we get a result so at least he can say he has seen us win there.
Brian Wilkinson
123
Posted 05/01/2018 at 23:27:49
I commented pre match how I thought we had the team to have a go tonight, we certainly had a go, final third and getting on the end of crosses pinged in and the few free kicks we had in good areas just never fell to a Blue shirt attacking it.
What I will say though as in my pre match posting, is Ii was made up Jags started tonight, he was everywhere, no nonesence and for me was easily man of the match, brilliant game from Jags, quite a few others upped their game and played well, sadly we were done by our own mistakes and a ref who bottled it big time, other incidents already covered but shit out of giving us a free kick and instead blowing for ht.
Firmi could be in big trouble.
James Marshall
124
Posted 05/01/2018 at 23:28:20
Pickford is never going to be great on crosses because he isn't very tall for a keeper. He has plenty of other merits though, and as Big Sam said, he's only 23.
Jim Lloyd
126
Posted 05/01/2018 at 23:32:25
Interesting point about Barkley, Steve. And also your view of the young players and how the club should treat them.
About the young players and just burning them out if needs must, I disagree with you on that one.
I look at all the young talent that we've had coming through and the ideal way of bringing them on, so we are told, is by introducing them into a team that's playing well and giving them a massive boost to their morale by playing them alongside top professionals.
Well, in the main, our lads are playing because we don't have the top professionals for them to understudy. We're using them because we have to. I've seen on here, Tom Davies come in for a load of stick, Dom Lewyn and Mason Holgate also. I've criticised Ade Lookman for being too greedy. But these lads are learning as we go along. If (big if, maybe) we become a more successful squad, then the young players like Barkley and Stones would be more likely to want to stay. Both SDtones and Lukaku gave us an extra year but saw where we were and were the Manchester clubs were.
As for Barkley, I think we did right to try and look after him. Mabe it was Koeman, or maybe he just wanted away, I don't know, but I agree with you on the way he left us. Personally, I think he was available for Chelsea in the Summer but cut the transfer proceedings by not going for the medical. Why? one can only guess but I don't like the way he left us. If he'd have signed the contract on offer from the club and Chelsea wanted him, the amount wouldn't have bothered them.
The way I see it, he left us with Hobson's choice and I don't like the way he did it. But it doesn't mean that we should just burn all our young talented lad out.
Shaun Lyon
127
Posted 05/01/2018 at 23:33:24
Chris - really hoping that happens for you both mate - and the rest of us!
Donal Neill
128
Posted 05/01/2018 at 23:35:06
Long time lurker. First time poster. We're now in the midst of the longest run ever of not beating them. 16 games. The number 1 objective for the rest of the season has to be to beat them in April. I don't care how we do it.

The pain of watching the derby has now become unbearable for me. 16 games !!!! Ffs. There not Barcelona. I give up.
Andy Williams
129
Posted 05/01/2018 at 23:38:34
Gutted but we played better at Mordor than we have for many a year. There is a team emerging. Players that will fight for each other. players with raw talent. Obviously not there yet but it is not far off. Jags was excellent. Holgate other than a mad 10 mins was excellent. Kenny will be a player. Macca if he remains fit will be great again. Siggy in the middle with a target to aim for will be great. Lookman bulking up and looking more dangerous by the game. Fit again Bolasie always a handful. Pickford will be great - naïve for the cross. Martina was solid and has been. Tom will come good as long as the bloody naysayers don't destroy him. Schneids - getting better but still crap. We carry on improving the way we have, a few quality players, Tosun to carry on his goal every 2 and we will be fine.
Jeff Armstrong
130
Posted 05/01/2018 at 23:38:40
James (#124) yes, but at 23 Pickford should have known for the last 5 years if he wants to be a top keeper then he doesn't come for that cross, he's been 5'11" for those 5 years, he didn't grow 6 inches overnight!
Ffs, it was an abysmal attempt from a supposedly top keeper, he cost his team the game and all us supporters the chance to take them racist arseholes back to Goodison Sorry but he's been great all season... but tonight, at a crucial moment in a major cup tie, he was shite.
Steve Ferns
131
Posted 05/01/2018 at 23:39:29
I'm just frustrated that having done right by the kids for so long, and handled them correctly, another one leaves before we can gain the benefit of his very best.
Look at Rooney, we played him in phases, and we played him in set positions. Ferguson got him and played him everywhere and every game. I think that was to the detriment of Rooney, as he never really made one position his own, he was just a "forward", and from playing every game he is now a very old 32.
Harry Adams
132
Posted 05/01/2018 at 23:39:40
David (115): isn't it 'son of a whore' mate?
Mike Jones
133
Posted 05/01/2018 at 23:40:25
We have a psychological inferiority complex. I manage a number of RS and I am their report. They still tell me my team is shite. I want us to be the new Man City in my lifetime
Tony Hill
134
Posted 05/01/2018 at 23:41:02
Chris (#122) you have introduced your son to a unique club, and you don't need me to tell you that. We have a pedigree and a way of being together which very few, if any, can match. History does count for a great deal and football did not commence with the Premier League.
Supporting Everton teaches us all to endure (Christ knows we do) in the face of adversity and to value things for their own sake, regardless of success. Of course, there are many times when all of that seems like bollocks but I don't think it is actually.
I also think we'll beat Tottenham.
Paul Thompson
135
Posted 05/01/2018 at 23:41:10
#48 'Tonight was just the continued GARBAGE that we get served up week in week out.'. Err, no it wasn't. It was much better all round, even compared to the recent Anfield Alamo game.
There are two types of posters on this site. One set comments on the actual game, the others repeat variations on their doom-laden view that the game's up. On that note - David Barks, 'give me a break'. If only. And editors, can you initiate a prize for the first person to spot a positive George Cumiskey comment about anyhting at all?
Jim Lloyd
136
Posted 05/01/2018 at 23:48:44
Tony 88,
Good post. I've also printed off E B White's letter and will definitely be winding the clock up when I get to bed! Well said.
Andy Williams
137
Posted 05/01/2018 at 23:50:39
Spot on Paul# 135. Can we add a few more names to your list?
James Marshall
138
Posted 05/01/2018 at 23:51:09
I don't mind admitting I was on the edge of my seat second half, screaming at the TV (the cat even went upstairs, which he never does) for the first time in a while watching us.
We were really good value tonight, and could easily have got a result. It was a tight game.
Obviously we need to shoot more to score more, and that's hopefully on the horizon with Tosun to play against Spurs one would assume.
As a side note, I see Klopp even stated in interview that it wasn't a penalty tonight. I think that says it all.
Colin Gee
139
Posted 05/01/2018 at 23:54:25
Gutted. Thought we played well enough to win.
I and 8000 Evertonians turned up and for once so did the players.
Seen this posted elsewhere.
Typical Everton, Boyhood Blue shits on the club and costs them £20 Million, Everton announce a signing at Half-time when we are 1-0 down which should have been done two days ago and the signing that the shite made scores the winner, is there a more 'Everton' thing than that .
As for the Firminio Holgate incident, I do hope the FA charge him with using racist language, Brian #35 I saw exactly the same thing, once the pushing and shoving calmed down, Mason says to Jon-Joe Kenny " He called me a N*****"
You could tell from the way Mason reacted that he had said something to him.
Paul A Smith
140
Posted 05/01/2018 at 23:56:21
Steve Ferns I totally agree with you on Rooneys rotating roles.
Tony Mace. I meant in footballing terms mate. On paper so to speak.Looking at Allardyce in his press conference and hearing little things he's said lately I have the feeling he is fed up about something?
He didn't seem his cool self and seemed to show a few grim expressions.
I don't think he is involved in transfers reading between the lines.
Walsh has the power in that respect.
Tony Hill
141
Posted 05/01/2018 at 23:58:11
Thanks Jim (#136), thoughtful as always.
Steve Ferns
142
Posted 05/01/2018 at 00:02:47
Paul, it is understandable as it is a relatively short term appointment (even if he does indeed make to the end of his current contract - which I doubt), Moshiri will have told Allardyce that Walsh is in charge of transfers as he wants a longer term view, than Allardyce blowing money on 33 year olds to try to increase the chances of getting a place or two higher in the league and so his chances of getting a new contract.
But, is Allardyce really bothered, because, by all accounts, Allardyce and Walsh are good friends, and surely he will trust Walsh's judgement and Walsh will want to help him out as well. Walsh will need a signing or two to come off, and if Tosun flops badly, I wouldn't be surprised to see Moshiri get rid of both Allardyce and Walsh at the end of the season.
Phil Bellis
143
Posted 06/01/2018 at 00:02:59
James M... I believe diddy Jordan is the same height as wee Neville Southall.
Peter Laing
144
Posted 05/01/2018 at 00:05:00
We had a couple of warnings with Van Dijk from corners but did not take heed. It's been a bug bear of mine and our Achilles heel for too long – the inability to defend a corner. Hopefully Sam will be able to sort this out. Strong and commanding centre-half needed and a man on the post – fuck the zonal marking, it's shite and doesn't work.
James Marshall
145
Posted 06/01/2018 at 00:08:26
Phil - Pickford is 6'-1" which isn't exactly tall for a keeper these days.
Just to give a few comparisons:
Forster 6'-7"
Courtois 6'-6"
Cech & Hart 6'-5"
Stekelenburg & Butland 6'-4"
De Gea 6'-3"
Sigurdsson is the same height as Pickford at 6'-1" and I don't think he looks particularly tall jumping against big centre-halves.
James Marshall
146
Posted 06/01/2018 at 00:08:56
Oh and by the way, Van Dijk is 6'-4".
Si Cooper
147
Posted 05/01/2018 at 00:09:35
I actually enjoyed our overall performance tonight much more than almost anything else we have produced all season. Even factoring in the fact that they were missing Coutinho and Salah, we were much more trouble for them than we were in the league game.
If the likes of Bolasie and McCarthy had had a few more weeks under their belts, I think we would have been able to get a result, all other things being equal, so there definitely will be something more to come if we can avoid further injuries and get more absentees back on the pitch.
I'm still hoping for two top class left-footed defensive reinforcements from somewhere in the near future mind you.
Steve Ferns
148
Posted 06/01/2018 at 00:11:02
https://youtu.be/5lzAR3yk3Ao?t=51m6s
Anyone who thinks Pickford's height is an issue should watch this. And who are any of you to disagree with Neville Southall?
Jeff Armstrong
149
Posted 05/01/2018 at 00:11:21
Steve (#131), I get where your coming from, we underuse our youngsters, but to who'se benefit?
Not ours obviously, look at Rooney, we underused him back in the day, United signed him and said thanks a lot, now look at him, we re-sign him 13 years later and at 32 he's fucked, his brain is saying one thing but his body and feet are about 1 second behind, hence the fouls, shit passing, and general shit play.
Fine, he's okay when a pen comes along cos he's got time and actually thinks about things... apparently he adds spin so when he misses it might come back out to one of ours, honestly he actually said that, what about just concentrating on scoring the friggin pen from the spot?
Rooney is finished and tonight, when he went off, we upped our game. Please, Fireman Sam – just leave him where he belongs... on the bench.
John Boon
150
Posted 05/01/2018 at 00:11:47
Pre game comments all negative. That's before we even start.
I have read all the comments and thank god there were far more positives. I thought that, despite the shots on goal we played a good game. We were away and easily matched Liverpool. This is the first time we have actually participated since the start of the season.
Whenever we lose, many supporters feel obligated to find players to blame. We are a team and one player did not make us lose. Sure there were individual mistakes, but that will happen every game.
Give Allardyce a chance. I do think he is still analysing what he has. A few more astute signings will help.
John Davies (#48). You will be back. I am a supporter of seventy years so I understand your frustration. What are you going to do on Saturday "feed the ducks down at the park"?
George Cumiskey (#70) With your comments you would actually be better off feeding the ducks.
Damian Wilde
151
Posted 05/01/2018 at 00:17:02
I couldn't get a ticket for our end, but got a lounge ticket for £60. With scran, I thought, why not?
Main stand was impressive to be fair, staff polite and helpful and the food nice, I hammered the fried chicken & homemade 'slaw.
Then they all started singing the sick Coleman song.
In my seat, quiet as a mouse, even when we scored. The only bit of blue I had on was in my University of Warwick scarf (a doctorate graduation gift from my Mum), which is blue, white, & black striped (I came straight from work & was wearing it so couldn't change); even the prick on the door lounge challenged me, but backed down when I said "Listen, fella, it's a University of Warwick scarf." He made me take it off to check it, prick.
When they got a second, a vile fella ran from about 15 seats to my left (row in-front) and screamed in my face continually. I pointed out there was CCTV. The cowardly little bastard then walked off. I was a touch shaken tbh.
Then afterwards getting a quick glass of water at the bar, abusive songs in my face from tourist fans. I then left.
DUSGUSTING CLUB.
Gutted we're out, thought we deserved a draw. So wanted to get them back to Goodison and still be in the hat and keep our season going. :(
I hate the redshite. Never again in their end.
Jim Lloyd
152
Posted 06/01/2018 at 00:19:34
It was Sam Alladyce who phoned Cenk Tosun and told him he wanted him in his team. I think that Sam Alladyce is a lot better manager than some give him credit for.
I also think that the team behind him, is a professional and enthusiastic group of men who will do Everton well. I haven't seen Sam sign any 33-year-olds but the 26-year-old looks a decent prospect. Coming fo another league however, we'll have to wait and see.
I think in January, it's going to be hard... and costly to bring in the quality players we want. I hope we can get a defender (2 if possible) and a midfielder in, even if it's on loan and maybe send a few of our players out on loan with Mirallas sold and maybe Sandro.
I'm willing to wait and see who we get in this window and how we get on for the rest of the season. I'm sure Farhad Moshiri will not have sanctioned the transfer of Tosun if he didn't have faith in Sam Alladyce.
Damian Wilde
153
Posted 06/01/2018 at 00:21:38
John (#48) can you shred the plastic season ticket card? You must have a quality shredder at home.
Steve Ferns
154
Posted 06/01/2018 at 00:22:27
Contrast your treatment to what happens when they sneak into our sections at Goodison. So much for the "friendly" derby. I remember going to Goodison as kid in the 80s for the derby and being with my Dad (a blue of course) and my uncles (two of them are reds) and it being the norm. It's a shame that the derby has changed so much of the decades.
Steve Barr
155
Posted 06/01/2018 at 00:23:36
Let's be honest we really are a poor footballing team, and any positives from today's performance should be judged on the dross that's preceded it over these past few years. We did play better than before but it is all relative. This performance was just not good enough.
Few shots on goal and, when we did get into dangerous positions, crosses were wasted with no moe than 2 blue shirts in the box. Our defending of set pieces was abysmal and I for one expected them to score from every one of them.
Our off-the-field performance is just as bad, from our merchandising, box office and overall PR and business acumen. The only positives I can see are youth development on the pitch and the club's work in the community and with the ex player's organization off the pitch. None of these are going to help us in the Premier League any time soon.
Other than that, Happy New Year.
Charlie Lloyd
156
Posted 06/01/2018 at 00:23:46
Damien @ 151
Thanks for sharing your experience although not a pleasant one.
Steve Ferns
157
Posted 06/01/2018 at 00:24:19
Jim, Tosun is definitely a Walsh signing and has been on our radar longer than Sam has been manager. That doesn't mean that Sam doesn't rate him highly and is not made up to get him, or did not do everything he could to help the transfer along.
Jim Lloyd
158
Posted 06/01/2018 at 00:24:30
Damian, well done mate. You went through a right trial in the Orcs nest as a proper blue amongst the scumbags.
James Marshall
159
Posted 06/01/2018 at 00:26:16
Steve, I don't think Pickford's height is an issue – I was just pointing out that he may never 'the best' on crosses due to his height. That's not to say I think he's bad on crosses, merely that he will get beaten at times due to being only 6'-1".
As I recall, Big Nev wasn't 100% on crosses either, but in my view he was the greatest goalkeeper of all time, my childhood hero, and my all-time favourite Everton player!
Charlie Lloyd
160
Posted 06/01/2018 at 00:29:56
Steve @ 142
I respect your blueness but at the post (#142) there's so much presumption. Let's just have patience and let things evolve for now.
Peter Mills
161
Posted 06/01/2018 at 00:30:49
I've just got in from the match and read all the above posts, and am genuinely surprised at the amount of positive comments that have been made.
Maybe it was standing in that place for the first time in 15 years, at the extreme right of the Anfield Rd End next to those in the Main Stand, but I spent most of the game with my toes curled in embarrassment at how awful we were. Certain players (Schneiderlin, Bolasie and Martina) were appalling. We barely put 3 passes together, then when we got a goal out of nowhere, and Liverpool (who were not very good) were reeling for 10 minutes, we didn't go for the kill and allowed them to re-settle.
All of the lads I went with saw things as I did, so I am taken aback at how upbeat some posters are.

Tony Twist
162
Posted 06/01/2018 at 00:30:52
Hopefully big Sam has learnt from the goal we did score that it is important to have attacking intent on the pitch and not being overly defensive.
Us Evertonians must have done bad things in a previous life as we are certainly paying for it in this life. School boy goalkeeping from Pickford for their winner. Yeah he is young but he doesn't seem to learn from his mistakes. He might be the same size as Southall but that's where the similarities end for the time being. Let's hope he is more determined to get things right after that error tonight.
Steve Ferns
163
Posted 06/01/2018 at 00:31:04
Fair enough, James, but if you watch the video and see what Southall and Given say, then they are suggesting 6-foot goalies are the way forward and that Goalies shouldn't really be coming for crosses anymore, unless they are badly hit (such is the quality of delivery in the modern game).
Southall points out that 6 foot 5 goalies are coming down to 7 feet (remember with arms aloft their natural height is well above that without jumping) instead of going up to attack it like Southall used to, as the crosses were hit height higher into the air.
As for Pickford's error, I'm sure the pair of them would have said he shouldn't have come for it and should have stayed on his line and made an easy save.
Jim Lloyd
164
Posted 06/01/2018 at 00:31:45
Have to watch it, Steve, otherwise we'll be banished; but how do you know that Tosun has been a Walsh signing. I'm interested because Sam Allardyce said that they all look at whose available, what their good and bad points are and what are the chances of us getting them.
It seemed to me that the group, Walsh, Allardyce, Shakespeare agree who to go for. Do you know how it works? I'd be interested.
Paul Birmingham
165
Posted 06/01/2018 at 00:33:26
Graham at 81' zackly the way way I feel. 40 years of dodgy trainers and pain... Tonight sums it up, and even The Belmont, their local for me, is quiet.
Sean, it's a small world... C'est La Vie... EFC

Eric Myles
166
Posted 06/01/2018 at 00:35:39
I've complained before that Pickford never comes for crosses when he should, now I know why he doesn't.
Clive Mitchell
167
Posted 06/01/2018 at 00:35:39
Move on.
And think again those who think the season's over when we're on 27 points from 22 games.
Can't believe Van Dijk is 6'-4".
Steve Ferns
168
Posted 06/01/2018 at 00:35:49
Peter, I thought Liverpool were excellent tonight. And I think the majority on here recognise that we were outclassed. Most, myself included, expected a massacre, and having come out of the game having had chances to win it, I think most are "happy" or at least satisfied that we gave it a go, and our worst fears were not realised.
You have to look for positives with Everton, otherwise you'd just give up. You have to have hope and dreams of it suddenly all coming together, which is probably why I spend so much time with an eye on the youth team, although I rarely go to those games now, and why I get so upset when someone like Barkley leaves, taking a big part of my hope with him.
Damian Wilde
169
Posted 06/01/2018 at 00:39:18
Steve, agree. As long as a fan behaves (as I did impeccably), they should be left to be.
Charlie & Jim, cheers, appreciate your kind words.
Oh and I forgot to say... Pickford, no!!!
Rob Halligan
170
Posted 06/01/2018 at 00:42:03
Damian Wilde (#151). That club, and all their supporters are the scum of the earth.
I heard during the half-time that the trouble between Holgate and Firmino was because Firmino questioned the colour of Holgate's skin. Don't know how true this is, but if true, then that club, and all their players are the lowest of the low.
The way I feel right now about that shithouse club makes me want to vomit.
Charlie Lloyd
171
Posted 06/01/2018 at 00:42:54
Peter @ 161
As I saw it, they scored a debatable penalty and a set piece. Apart from that we were rarely troubled apart from some crosses that looked dangerous. We were away and, let's be fair, have a team that doesn't really match theirs. However, I believe we had a go and although we came up short they certainly didn't embarrass us. Damn sight better than the last few seasons we've visited.
I hate losing there, I really do, but we got amongst them more and apart from 15 mins at the start of the second half we stopped them dominating us. We need to offer more, we all appreciate that, but hopefully that'll come.
Jim Lloyd
172
Posted 06/01/2018 at 00:47:52
Liverpool are years (decades) ahead of us both on and off the pitch and it was the case that they were one of the biggest spenders over the course of the Premier League. Don't know here they are now in the spending league but fairly high I should think.
Like Steve, I was expecting a massacre, as they are a better side with more accomplished players than us. Tonight though, I was thinking about our performance. Yes, we gave the ball away on an almost regular basis and at times we didn't seem to know how to string passes together.
But tonight, it seemed to me there was a passion and a "No Surrender" attitude amongst the players and on occasions, we did move the ball around quite well.
Signs of hope, I thought but, most importantly in my view is how we progress in the league for the next 5 months. It'll be interesting to see who else we can bring in and ship out; and as long as we stay out of any future relegation struggle and stay safe around mid table, that's my main hope. It will be a bonus to see us become more of a team than we are now and start settling into a pattern of play that bodes us well for the future.
From where we come from, which was just about the worst team in the Premier League, though with some decent players, I'll settle for us to make steady progress for this season.
Gavin Johnson
173
Posted 06/01/2018 at 00:55:30
I thought it was an entertaining game and took me back to the days prior to Moyes, Martinez and Koeman when derby games were competitive and anything could happen.
Paul Gallagher
174
Posted 06/01/2018 at 01:00:52
I would say 10th at best... but more probably 11th on 50 points. Man City have more points now than we will receive by May. How pathetic after spending £200 million in 1 year. What a well-run club we are.
The RS aren't great shakes, they have one of the worst keepers to have ever played in the Premier League. Any decent team would have put 2-3 goals against him. A few crosses he would have dropped or missed.
Jack Convery
175
Posted 06/01/2018 at 01:03:09
The planet is dominated by evil right now and they are a symbol of it. Barrels of Shit & Smelling of Roses – they're full of it. By the way so was the ref.
I also reckon if Firminio is found guilty the FA will find a way to do Holgate too. Will Lallana face a conning the ref investigation – nah... he's not Niasse and he plays for a Sky darling.
I thought better of Lallana til tonight. I also see Klopp still pontificates the pen in the Premier League game wasn't a penalty – deluded or what? When everybody tells me I'm wrong I'm still actually right – what a guy.
Where's Moses, his staff and 7 plagues is he still for hire ?
Damian Wilde
176
Posted 06/01/2018 at 01:05:22
Rob (170) Cheers. Couldn't agree mire, I already hated them, but after how I was treated tonight, it's just hugely amplified.
I heard on Twitter. Disgraceful if true, but wouldn't surprise me, standard for them.
Paul Gallagher
177
Posted 06/01/2018 at 01:05:39
Klopp has lost 6 cup finals in a row, he should manage us, lol.
Si Cooper
178
Posted 06/01/2018 at 01:10:56
So if everyone is saying it wasn't a penalty, then Lallana's collapse to the ground must be simulation that successfully swayed the referee. Why weren't the pundits calling for him to be banned?
The Hazard incident last night seemed equally fraudulent but at least the 'experts' didn't make themselves out to be utter hypocrites by adhering to the maxim that it's a penalty if you would have to take evasive action to avoid contact. I still can't work out why that reasoning didn't apply in Niasse's case though.
Chris Watts
179
Posted 06/01/2018 at 01:11:17
I don't see what others see about Calvert-Lewin. Did nothing all night. However, all the young players will be twice as good from the experience of this season. We bought poorly last year and still... are 4 top class players away from top 4. Better performance tonight.
David Edwards
180
Posted 06/01/2018 at 01:15:27
I agree with those who saw a better performance tonight – but we really are clutching at straws. Still a huge gulf in quality compared to a Liverpool team playing within themselves. Well done for the spirit – but our lack of attacking threat remains a concern (great goal though).
A major shake-up still required, and hopefully this window brings us some. Sam still not the answer long-term. However, I saw enough tonight to think those elusive 13 points are within our reach before May.
Still very queasy seeing Sammy Lee on the touch line, but credit to him for showing some real emotion when we fell behind near the end! He may grow on me, but by the time Big Sam goes in the summer, it'll be goodbye anyway!
Si Cooper
182
Posted 06/01/2018 at 01:18:56
Peter Mills – 'toe-curling embarrassment', 'appalling'?
That seems a massively harsh judgement on what I watched tonight, and I would say this is the most positive post match thread I've seen for quite a while as well.
Paul Gallagher
183
Posted 06/01/2018 at 01:19:22
If we had Messi and Maradona, Pele, in the same team at their best, we would still probably lose against the RS. Everton no longer think like winners; as long as we don't get relegated, we are a success.
Karl Parsons
184
Posted 06/01/2018 at 02:01:43
I was one of the 8,000 and will be one of the 3,000 next week. The fuckers on here who just wanna have a snipe at us because we are shite, I say fuck you.
You don't know what it's like to be a proper die-hard Blue who lives and breathes Everton FC.
Am I happy with our current state of affairs (on top of losing to that shite again)? No. But ya know what? I will back my team, ahead of anyone, no matter what.
It's like ya brother who pisses you off all the time. But lo behold anyone who slags him off. You'll end up on your arse if it's in within earshot of me, laa.
I'm not asking you to not have your say. Do it if ya want. What I am saying is look at yourself in the mirror and say "Can I be a better Evertonian?"
It's what makes us who we are.
Caio Jenks
185
Posted 06/01/2018 at 02:14:23
I hope the Holgate-Firmino incident doesn't overshadow Lallana "fooling" the ref. Lallana definitely deserves a 2-match ban a la Niasse. I'm afraid the dive is going to get swept under the rug while all the focus is on the possible racial abuse incident.
Mike Dixon
186
Posted 06/01/2018 at 03:40:19
Karl.
Yes, yes and yes.
It's what makes us who we are.
Summed up perfectly.
If you don't understand...
Rob Hooton
187
Posted 06/01/2018 at 04:03:41
I thought Bolasie put some great crosses in first half and looks like he is livening up a bit, very promising for him and us if he continues improving.
As many have said, I thought the players put a great shift in tonight and that must have been one of the worst refereeing performances ever!
Things seem to be slowly clicking – a McCarthy and Gueye midfield axis could well be dynamic – especially if it means Schneiderlin is dropped!
I never expected to win this but some glimmers of hope to cling on to, COYB
Rob Hooton
188
Posted 06/01/2018 at 04:19:20
Steve Ferns, (#148). Big Nev was my hero, almost anything he says is gospel to me!
Rob Hooton
189
Posted 06/01/2018 at 04:37:12
Karl (#184).
It was great to hear you and the other 7,999 roaring the team on, turned the telly right up and joined in at home.
Brilliant away support as always, wish I could get the odd ticket
Frank Rice
190
Posted 06/01/2018 at 05:34:12
Living in Los Angeles so I saw bits on my iPhone at work. Just watched the game on the tape. I thought we looked better than a lot of previous games.
Rooney is gone for me – Sigurdsson must be our no 10. Rooney is an impact sub only – he's a liability in these games... I'm just waiting for the red card.
Holgate is our best centre-back – Jags had a great game tonight; let's try to get him on the pitch as much as his legs hold out. Williams has had a massive loss of form this season.
I hope the Turkish lad comes good. I can't see much from Calvert-Lewin at the moment – headless chicken. He needs a rest from the first team and like Rooney would probably progress better coming on as a late sub.
I had reservations about the two Sams – I but I think they are both solid football coaches and a world away from the Dutch impressionist of a Manager.
COYB
Bob Parrington
191
Posted 06/01/2018 at 06:06:45
Worst refereeing I have seen in some long while. The dust was just settling on the arm across Bolasie's chest by Robinson, which the referee and the nearby assistant failed again to ignore, when malpractice Madely awards the RS a penalty for an arm across Lallana's. Officials ignore many RS fouls and gave them free kicks for nothing on numerous occasions.
But every time a cross came in from them, if Van Dyke was in the area, he almost always was allowed to get to the ball. Our defensive heading abilities are crap and have been for the past 10 years at least. We should have learned from the earlier chances... but no, we didn't, and therefore it is our own fault that we lost.
George Cumiskey
192
Posted 06/01/2018 at 06:15:01
I wonder how fantastic we will be in our next defeat?
Really happy Salah and Courtino didn't play, or it could have been a real tonking.
Steve Brown
193
Posted 06/01/2018 at 06:31:19
Rooney has one bad game and he is gone, despite 11 goals and 2 assists in a poor team.
Pickford makes one mistake and he's too small, despite having a 100% claim success for crosses before the game last night.
Some of the criticism of players on here after one bad game beggars belief.
David Barks
194
Posted 06/01/2018 at 06:40:36
Now now George. According to Karl, you need to keep quiet. As he says:
"You don't know what it's like to be a proper die-hard blue who lives and breathes Everton FC."
How dare you. You must celebrate our single shot on goal, third defeat in a row, or else you're not a proper blue.
Frank Rice
195
Posted 06/01/2018 at 07:00:15
Rooney will always score goals but he hasn't got the pace to play up front any more. I would have loved him here a couple of seasons ago.
He gives the ball away too much from midfield – especially his short ball game. Doesn't look fit enough for this level.
It's a waste to have Sigurdsson in left midfield – we should build the team around him.
I wouldn't criticise Pickford too much for the winning goal – he's our Player of the Season for me.
John Wignall
196
Posted 06/01/2018 at 07:32:35
We were a lot better tonight; something to work on for the rest of the season.
John Barnes
199
Posted 06/01/2018 at 07:44:09
Dave Barks (#194).
What a sad comment.
Jim Johnson
200
Posted 06/01/2018 at 08:01:54
I am dismayed at the negative 'fans' on here. Fortunately we have plenty of loyal positive fans to put the case in a balanced way.
Without being naïve we do have the makings of a VERY good team, one that will entertain us and thrill us in the future. The youngsters have proved that for the last 9 months with their energy and enthusiasm, we are now light years from where we were a couple of months ago.
We are seeing players regaining their confidence and belief, so much so that the young players are showing a bit of mongrel (well done Mason) that is much needed. There are always going to be bad ref decisions. Get over it as soon as the game finishes – it will eat you!!
Just an aside (ahem... grammar) – it's not "should of".... it's "should've" "might've" "could've" ... WILL !!!!! Nil Satis, et cetera.
ps: Many thanks to all the positive contributors, it helps a lot when many of us are overseas.
Mark Andersson
201
Posted 06/01/2018 at 08:20:25
Not going to comment on the match, as I knew we would lose, just being realistic. However, I will comment on the biased BBC presenter Gary Lineker. I'm over from Australia so caught the match live on TV for the first time in donkey's years.
Considering he once played for the Blues, he has no shame in drooling over the RS.
I thought the game was easy for Liverpool and fuck me of course their new man would come up with the winner. Typical!
Ash Moore
202
Posted 06/01/2018 at 08:22:08
It always amuses me when you're essentially told to do one, for the crime of being pissed off with EFC. I'm 37, so the glory days were my early days. We last won a trophy when I was 14,and was riding a bike to school; I'm now finding my first grey hairs.
Do you think when they chose the club motto it was because of a focus group??? Nil Satis was meant to mean something and it's our shame as supporters we let the club devalue those words.
What few appreciate is just how consistently and often the club has royally fucked things up and been allowed to get away with it by the nominal custodians – ie, us, the supporters, the fans. We let Moyes bottle it, Kenwright get away with it, and Moshiri make a mess of it. We've seen Martinez not knowing what he was doing, Koeman not even pretending to give a fuck, and are now reduced to the bare minimum – Big Sam. A man celebrated for giving a fuck and being competent at his job be our savior, glory glory hallelujah!
No I think fan anger and frustration at this stage is well overdue. If the enablers stopped enabling who knows what might happen. Maybe even something different, like being successful.
Nah too hard, maybe some of you can wake me up in August with stories how we'll be in the Champions League spots the coming season again. You know who you are. Anyone who was deluded enough to think Koeman and this shower were going the champions league has got the club they deserve. Just spare a thought for the rest of us.
John G Davies
203
Posted 06/01/2018 at 08:24:07
I thought every player gave everything he had.
Bolasie makes a difference to us, makes the wrong choice sometimes but the pace and control on the counter is something we have badly missed.
Jagielka tremendous. Great finish and some nice passing from Sigurdsson.
MotM for me was Jonjoe Kenny. Not the best going forward which won't help him in the modern game but outstanding defensively last night. More aggressive going forwards with more numbers in the final third than we have seen for a long time in the second half.
I'm sick... but not disappointed in what I saw last night.
Les Martin
205
Posted 06/01/2018 at 08:45:10
We can concentrate on getting a Champions League place now!
But seriously, we are improving and we have talent, with more drive and composure in the engine room and we could be a real threat.
Jonjoe and Mason are going to be top top defenders and they didn't cost £75m.
Tony Abrahams
206
Posted 06/01/2018 at 08:46:38
It might be a sad comment, John, but it's obviously exactly how he feels. I have skirted this thread, which is positive considering we have just lost to those dirty horrible phoney bastards, and I also feel a lot more positive myself.
I understand those fans who were frustrated that Allardyce never targeted the easier games over the Christmas period, but he's had to rip everything up and start again IMO, and this had to start with our defence.
I was happy with the fight last night; we had more of a will, and the players looked like they genuinely cared, especially the younger kids, who will be hurting from this and – if you learn more in defeat – then this will stand them in very good stead.
Damien, I can take Liverpool fans individually, but as a group, they are fucking horrible. Haven't been there for years, but I've been treated better going to visit people in jail, and I'm honestly not exaggerating.
I asked a steward outside if they have these fences for every team. "No, only for youse," was his smug reply. "Youse are the only ones that turn up late," he said, even though it was still 20 minutes from kick-off. "Most of us haven't got far to travel though," I said, cutting right through his obvious disdain.
I don't mind any Liverpudlian that hates Everton, it's the falseness of them that really grates. We are too honest for are own good. Called "bitter" because we hate them. Not me mate, I'm not bitter, especially when I can see right through how phoney a lot of Liverpool supporters really are. They fucking hate us, don't be kidded, learn off the bastards, and treat them with the obvious falseness, they save especially for us...
I talk about contradictions, the biggest one is fear. We are that desperate to "BEAT" them, we sometimes lose are logic, but they are that desperate not to lose to us, that they never lose that focus.
Dave Ganley
207
Posted 06/01/2018 at 08:53:01
I don't know how anybody can be happy with last night. Before anybody else comes in saying they're a true Evertonian they go the game blah blah blah, I go to the game have done for years and I still back my team but we have just been beat yet again by those fuckers. Next season will be 20 fucking years since we win there.
Anyone happy because we showed a bit of heart and effort have a word with yourselves. That should be a given in every game. It's not. We are in a shit state, have been for years. I for one am sick and tired of it.
The ref didn't lose us that game we did. We had 1 shot on target. Pathetic again. What other half-decent club would tolerate the shit we have to year after year? None that I know, well at least no club that wants to achieve anything.
In the 90s, we had far worse players but had a much better record against them. Bit more heart I guess. Maybe it's the modern footballer not giving a fuck but we are tolerating this shit. There is no silver lining and those trying to suggest there is are just deluding themselves.
The last 5 years have been heart breaking to see us go backwards almost to The point at which Walter Smith had us. We are fucking awful. Kenwright had had such an easy ride. When are we collectively going to protest to get that idiot out of our club? Those twats across the park wouldn't allow this to happen over there.
I'm sick and tired of people trying to put a positive spin on a pile of shit and then accusing the rest of us of being negative. No wonder we are fucking serial losers with that attitude. Fucking 20 years since a win there now and even longer without a trophy and fucking Sam Allardyce in charge. Where is the positives in that?
John G Davies
208
Posted 06/01/2018 at 09:02:27
I haven't read all the posts Dave 207 but didn't see anyone saying they were happy?
Tony, condescending smug bastards. Phoney as they come most ist of them. The worset ones are the ones I had conversations with a couple of months ago. "I don't want to see you relegated"
I always give them the same answer: "Don't you? Strange that, I want nothing but badness for your club."
Always gets them.
Hornby Road, a far more hospitable venue than the pit.
Charles Brewer
209
Posted 06/01/2018 at 09:03:25
Since I expected a 4-0 hammering, I'm rather more sanguine than lots of the posters. If we had had anyone remotely resembling a Latchford / Ferguson style centre-forward, I suspect we'd have had half a dozen goals last night. The number of crosses, set pieces in the right place was excellent. Calvert-Lewin is looking better and better as a swift attacker but on his own is rarely going to score. I thought Holgate (back where he can play) and Kenny were very good and even Sigurdsson was effective.
However, a bent-or-cowardly referee is usually worth a couple of goals and so it proved.
Probably the best aspect of Allardyce so far is the Musketeers' approach from the young lads. I was sorry Tom Davies wasn't on when the Holgate
incident took place. Watching one of the ladyboys get decked by a Scouse lad would have made up for the loss. But then my favourite football picture of all time was Duncan Ferguson holding that ratty little Kraut by the throat.
Liam Reilly
210
Posted 06/01/2018 at 09:11:33
There was no lack of effort and we were defeated by a poor decision by the ref and another poor decision by the goalkeeper (but Pickford has done well all season so wouldn't be too harsh on him).
The Holgate incident will surely be investigated as should the dive for the penalty.
John Charles
211
Posted 06/01/2018 at 09:11:55
Karl, I was one of the 8,000 and will be one of the 3,000 next week. And have been a season ticket holder since 1977 – does this make me a die-hard true blue shite-hating supporter? The best I can be?
5 games – 1 goal – 3 shots on target – no wins.
Better display last night but does anybody seriously think we will not revert to doing absolutely nothing going forward next week? As for the outstanding youngsters: Holgate and Kenny look good; Davies maybe; Calvert-Lewin... just can't see it.
Paul Smith
212
Posted 06/01/2018 at 09:15:59
I travel the country watching Everton, and will be come what may... but that was shite. Our headed clearances outside the 18-yard box mainly fell to the enemy, no one in the box to get on Martina's or Bolasie's crosses, celebrating Calvert-Lewin almost getting his head to it in their box, no cohesion, a lack of willing from throw-ins (been happening for years). Our lack of shots is more than concerning.
Sigurdsson has quality but does a lot of chasing back & pointing. Pluses: passion, fight, Schneiderlin, McCarthy, Gueye to come back, Coleman, can't come soon enough, Cenk revealed on Twitter at half-time (motivational genius) or madness – go with the former, the fans, Danny Murphy's gag about benefits & the fan with crutches, ladyboy to be banned for life for racially insulting Holgate.
Steve Ferns
213
Posted 06/01/2018 at 09:24:39
John G, have you watch Kenny before he made the first team, either in the World Cup or in the U23s?
The assessment I would give of his game was more about his attacking ability than his defensive. My only worry was that he might be a bit weak physically and therefore defensively.
He's brilliant going forward. He is fast and he loves an overlap. His crossing is excellent. There was one late in the game where he came in off the touchline and picked out Calvert-Lewin who just missed getting his head to it. It was a lovely deep cross.
This is what I expect we will see more of from Kenny. He has a lot to offer going forwards. I suspect that he's concentrated defensively and maybe will start to loosen up a bit with more games under his belt.
Peter Mills
214
Posted 06/01/2018 at 09:24:56
Steve (#186), Charlie (#171), Si (#182). I can only say it as I saw it, I thought it was grim, but my opinion is different to those of others on here whose opinions I respect, yourselves included.
I thought it might seem different after a night's sleep, but I can't say it does. When I go to the game I usually watch it having had a couple of pints of anaesthetic.
Having had a dry January so far (severely tested post-match) I had to endure going to that place having nothing more than a figurative piece of leather to bite on. Maybe that's the one positive thing I can do to improve the situation, get back on the Tetley's.
John G Davies
215
Posted 06/01/2018 at 09:33:10
Steve 213,
No I didn't watch him in any international games, so based my assessment on the Prem games I have watched him in.
He is keen to get forward and overlaps well, a little erratic in his crossing but hopefully that will come.
He has improved massively in his main job of defending so maybe he is getting that right first?
Terry Farrell
216
Posted 06/01/2018 at 09:35:33
Holgate, Kenny, Jagielka, Sigurdsson were superb last night. Llallana should have been told by the ref to get up with a yellow card in his face. It was not a soft penalty it was no penalty!
Glad to see some positivity on here for a change as, although we have some way to go, we are moving forward from where we were.
Holgate and Kenny have an edge which is great to see. Sigurdsson has to play No 10 –that's where he is at his best.
Pickford had a 'mare on the corner but he has been great.
Peter Hughes
217
Posted 06/01/2018 at 09:38:23
Were my eyes deceiving me or did some clown on here say Calvert-Lewin is getting better and better?
Jesus wept! Some of our fans talk rubbish, one of the worst strikers I have ever seen in a blue shirt – and, believe me, I've seen some bad ones!
Andy Williams
218
Posted 06/01/2018 at 09:40:34
Nobody is happy but those who don't just use this website to pour out the frustrations of their lives against the young kids who play their heart out for the club that we all supposedly love should look back at some of the predictions for the score (and performance) for this game when it was announced.
Paul Birmingham
219
Posted 06/01/2018 at 09:43:00
A new year but same old fate at our old ground; dodgy ref and self-inflicted mistakes.
Immune to the RS jibes, but inside I'm like the rest of us, wondering... Life and Times of an Evertonian.
Stan Schofield
220
Posted 06/01/2018 at 09:48:13
There wasn't much between the teams last night, but the referee was clearly biased. The penalty incident will hopefully be investigated as a deception of the ref, like the Niasse ban, and if it isn't then it would just show how corrupt the game is.
Their 2nd goal was simply a gift. The best move of the game was our goal, pure and simple.
Tony Marsh
221
Posted 06/01/2018 at 09:51:19
Don't you just love those fans who are blaming Allardyce for the mess the club is in right now? Attributing last night's defeat to a manager that has been in the job 5 weeks and who inherited the most unbalanced squad in the world.
Let me put it like this for the knockers. Before Allardyce arrived here, many had resigned themselves to relegation we were being tanked by the like of Southampton. Relegation well that will now not happen thanks to Sam restoring some sort of cohesion to the team. As for losing at Anfield well under Moyes,Martinez and Koeman we used to get murdered over there.We have been twatted over there all my life and I'm 50. Think it's 3 wins in my life time FFS.
Please by all means have a pop at Allardyce if you don't like the brand of football he is playing with a team that's not his but don't blame Allardyce for an unlucky defeat across the park. Under the other managers it would of been 4s and 5s we conceeded... Our record against them sucks and always has done.
Stop whinging about a manager who has rescued the club from the drop and give him some time to mould this shower in to a proper outfit. If we are still awful this time next year then have a go at him.
Brent Stephens
222
Posted 06/01/2018 at 10:02:19
Gutted. We performed better than of late and better than I expected. This thread is a mix of positivity and negativity – I have to say, I heard not one piece of negativity around me last night, before, during and after the game.
That was the first time I'd been back to Anfield since I was in my teens, 50 odd years ago. I'm envious of their stadium and their money.
I hate their collective nastiness (but not sure we're lily-white, judging by, for example, some things I saw last night). Times were when fans could mix together at the game; not now – witness Damian's experience above.

Nigel Munford
223
Posted 06/01/2018 at 10:02:39
At least it was a Premier League team that knocked us out last night and not Plymouth Argyle, oh sorry plus the referee as well, forgot about that.
I thought our goal was excellent counter attacking, and it's what we've been asking for for months and months – we need more of that.
Clive Mitchell
224
Posted 06/01/2018 at 10:44:07
Peter, 217 - "some of our fans talk rubbish". Very smart to prove your point in the same post.
Tom Dodds
225
Posted 06/01/2018 at 11:16:38
i don't really want to go into the ins and outs of last night right now, But... just an off the wall thought;
When the other cities have their (variable) derbies, there is always a see-sawing of, say, Man City win one, Man Utd win one; Arsenal win one, Spurs or Chelsea win one (obviously leaving out the draws) etc etc – you get the idea.
I find the stats, the maths, and the overall chances of 2 clubs in our City where one of the teams hasn't won for 19 years (and counting)... Weird.
As someone who has played roulette for years, don't get me wrong, I have seen (although rarely) red or black come up 12-15-ish times in a row, but that scenario really is random chance dependant, not human endeavoured.
Raymond Fox
226
Posted 06/01/2018 at 11:23:20
They tried their hearts out but we just lack players who have that bit of extra class. We gave it a go and were far from disgraced, in fact we could have drawn the game but for the soft penalty.
Special mention for Jags; I thought he had a very good game also Bolasie who showed he still can be an important player for us after suffering his major injury.
It was a tighter game and result than I and most pundits were expecting.
Gordon Crawford
227
Posted 06/01/2018 at 11:40:04
Peter (#217) – he is a young boy in a team that is struggling. Then he is feeding of scraps and that is an over-statement. The boy is talented but needs help and a break also.
You're being very harsh.
Tony Everan
228
Posted 06/01/2018 at 11:47:13
Was Lallana's dramatic collapse to the ground worse than Niasse's? Yes.
Was the minimal contact enough for Lallana to collapse the way he did? No.
Did Lallana also have is arm across Holgate? Yes.
Why no referral on this? You know the answer.
Brian Harrison
229
Posted 06/01/2018 at 11:47:34
I have to admit that I feared another backs-to-the-wall performance and a heavy loss, but it wasn't and I am pleased Sam gave it a go. Not the result we wanted but a much better performance than in our previous game against them.
I think Holgate was terrific he is growing in stature game by game and is the best central defender at the club. I think if he can keep improving I could see him getting an international call up.
Sigurdsson has shown that, play him in his right position and he will score goals. I feel sorry for Rooney he gives it is all but the legs wont take him were the brain is telling him anymore.

I also thought Lookman did great when he came on I have said before this kid looks like a talent for me. I love to see him when he picks the ball up wide then cuts inside into open play, he did this for the goal. He deserves a run of games as he has pace which always troubles defenders and he has goals in him.

Finally I hope the message gets through to Sam, you don't need to park the bus and, now we have a striker, it's time to take the game to sides. That doesn't mean going gung ho but last night proved you can go to a top 6 side and have a go; on another day, we would have got the draw we deserved.
Christopher Timmins
230
Posted 06/01/2018 at 11:57:31
Everything is relative. The performance last night was a whole lot better than the one on Monday but, given the resources expended during the summer, we are still a long way off. For the rest of the season, I am hoping for the following:
1. Exceed the 50 points total by the end of season;
2. A settled team;
3. Purchase of a first-choice left-back;
4. Youngsters Kenny, Holgate and Calvin Lewin, to be given an extended opportunity to show if they have what it takes;
5. A complete return to fitness for Bolasie and McCarthy;
6. Sigurdsson plays in the hole and Rooney used as an impact sub in last 20 minutes of games;
7. Seamus to play a role in the last 6 games of the season.
The manager has a real opportunity to put his mark on the team over the next 20 weeks.
Andrew Wayne
231
Posted 06/01/2018 at 12:04:13
Next morning reflection, following a trip to the gym – somewhat negated by a fry up!
We played a damn sight better than we did in the League and the younger players put some of their elders to shame, although all around there were more shifts put in than all season – Jags was outstanding.Shows some signs that we will give them a proper game and maybe even a win at Goodison Park (optimist).
Ref played a big part last night and never mind the penalty, he clearly didn't tackle the Firminho incident despite the fact that he cannot possibly have not heard what was said and it being pointed out by Holgate.
Bill Griffiths
232
Posted 06/01/2018 at 12:08:25
Peter (#217), if anyone's talking rubbish it is you. I would agree that, on the whole Calvert-Lewin had a poor game last night but he has shown previously that he is a talented player with great potential.
Unfortunately, due to circumstances beyond his control, he has had to play alone upfront in a poor and struggling team without any support. He has done this without any complaint and has given his all, even though at times he has struggled, as was the case last night.
Ideally, he would be playing with a more experienced partner up front and maybe rested occasionally as part of his development. The same can be said of Tom Davies to a certain extent.
These young lads need our support not idiots coming on here saying they are the worst players we've ever seen in an Everton shirt.
Give the lads a chance.
Christy Ring
233
Posted 06/01/2018 at 12:08:55
I thought we played well last night. The referee actually gave us nothing. Gomez should have been red carded, and even Klopp said it was no penalty.
McCarthy and Schneiderlin worked their asses off. I also believe we are a better team with Sigurdsson in a free role and Rooney on the bench. We were a lot better when Lookman came on.
Dave Williams
234
Posted 06/01/2018 at 12:16:29
Peter Hughes – that's some statement!
Did you ever see David Irving, Rod Belfitt, Bernie Wright, Mick Lyons (when he played centre-forward as a youngster), Brett Angel, Mo Johnston, George Telfer, Mick Ferguson...??
Calvert-Lewin is a young lad learning the game. He isn't physically mature yet but has battled and run himself into the ground trying his utmost for our club with no help from his more experienced teammates, many of whom have either hidden or sulked while Dom puts in the graft.
We all have opinions but this lad will be top class provided the supporters don't destroy his confidence.
Bill Griffiths
235
Posted 06/01/2018 at 12:16:35
I don't t see how anyone can say it was not a penalty. It was as much a pen as Calvert-Lewin's penalty at their place.If you put your hands on a player, you are tempting fate.
What annoys me is that refs aren't consistent and lots more pens should be given. The same thing was done to Bolasie last night but not given.
Damian Wilde
236
Posted 06/01/2018 at 12:24:22
Tony (206). Great post. Indeed - FALSE. I hate that. They'll win fuck all again. They'll implode as usual.
Maybe I'll watch the next derby in the local nick then!!!
If only Pickford had stayed on his line. 😑
Gordon Crawford
237
Posted 06/01/2018 at 12:25:45
How many times did Caragher do this and a lot worse to Everton players? Football has changed for the worse, that is just jostling. They should replay the match.
Carl Taylor
238
Posted 06/01/2018 at 12:28:07
The positive from last night is that I can see the nucleus of a decent team. 4-2-4 or 4-2-3-1, but the following team should give anyone a game;
Pickford
Kenny
Holgate
Jagielka or Keane
A N Other left-back or Baines
Gueye
McCarthy
Bolasie (right)
Lookman (left)
Sigurdsson (central)
Tosun or Calvert-Lewin
Up to Sam to be positive and pick a team like that for the rest of the season now.
Jay Griffiths
239
Posted 06/01/2018 at 12:30:24
Two derbies away in a season and I've seen the final whistle in both! Gutted walking back through the park with the constant loop feeling of despair. There isn't a word or phrase in our language to gauge how I feel about them.
I haven't seen any of the replays just the hurly-burly of the game with all the emotion. To me it appeared that our back four were good. Can't knock any of them.
Calvert-Lewin can't be knocked in my opinion too. The kid seems to try his best but needs a partner.
McCarthy has aggression and passion that we've sorely missed.
Lookman was a battery of positivity and will hopefully have a big part to play going forward.
Niasse looked poor and never passed the ball off once. Thinks he has a point to prove so tries to run through everyone.
I'm with this club through thin and thinner so onward with the season and hope we can be part of the process that sees us to Bramley-Moore. That is our priority in my opinion.
ps: Just watched that prick McInally say that Holgate should've been given a red for pushing the ladyboy over the hoardings thus negating the need to discuss the aftermath! Klopp is on Sky all last week saying their player, Brewster, at 17 years of age, has been racially abused. We were in row 3 last night with a clear view of the incident.
Holgate exploded with such spontaneity when Firminio ladyboy said his piece that we could only assume that it was a racist comment. Kenny fronted him too. This will be a good barometer as to where we all stand outside of the media darlings. Will any of them be brave enough or do we expect their whole team to start printing more support tee-shirts!

Kim Vivian
240
Posted 06/01/2018 at 12:41:41
All this bent/RS refs stuff is bollocks. The penalty decision was a bit of a joke but it could have been called either way. Would a free kick have been awarded outfield? I think so.
However, this simulation is going on all over the country – it was no worse than Hazard the other night who, like Lallana could easily have stayed on his feet but that would have gained them nothing. The fact that it happened to us last night was typical but at least it wasn't the deciding goal which sweetens the bitterness a tad for me.
If there had been no penalty, they may just have scored a couple or three from open play – just as we might if we tried shooting. Sadly, it's the way things pan out so we have to lump it or make ourselves ill. Van Dijk's winner was due to indecision from Jordan but it was a well taken goal. The Dutch bastrad watched it all the way in and got a good head on it.
I agree it was the right defensive set up last night but if Williams had been on him I think he would not have made it.
All-in-all, another shocking result but at least we did come off knowing we tried. As others have said, time and time again, the deplorable failure of the club to land a centre-forward has led us here. Hopefully Tosun can start to alleviate the pain. But they must keep looking.
David Hallwood
241
Posted 06/01/2018 at 12:42:58
Just to open the debate out slightly. What we've just seen is just further proof that we are nowhere near the top 6, and that we're in a Catch-22 that, unless we do a Leicester (a one-off season where we reach the Champions League and can attract better players) or more realistically a Man City, and we'll probably need someone even richer than Moshiri-we ain't going anywhere soon.
Go back 3-4 seasons, when we had the young guns of Barkley, Lukaku, Stones & Deulofeu, everyone one of them expressed a desire to leave (Delboy aside) and go to a 'bigger club'. I'm assuming that's Barkley's motivation in that he's 23 and wants to play on the big stages, but even so this problem will persist where all our better players be poached by the 'bigger clubs' and we end up like Southampton (NorthWest).
Remember we used to be the big club, buying the the likes of Alan Ball, Martin Dobson, and Gary Lineker from the 'smaller' clubs. We are now a smaller club and it's hard to see a path back to greatness, unless we get lucky, Steve Walsh actually does his job, and signs a player like Mahrez or Coutinho from the lower leagues from around the world. Or the board bite the bullet and realise that the only way a player is going to choose us over, say Arsenal, if we stuff his pockets with oodles of cash.
Depressing isn't it.

Logan Shave
242
Posted 06/01/2018 at 13:03:12
Firstly, the penalty decision. The consensus seems to be no penalty but, whatever you think, if Holgate didn't have his arms around Lallana, it wouldn't have been given. The contact looked minimal, but having his arms there forced the ref into a decision. Naïve from Holgate.
Overall, there were some positives: we looked more attacking than the previous derby; Bolasie offered a threat (although looked knackered in the 2nd half); and Lookman showed flashes of promise. Even Schneiderlin got forward on occasion!
Rooney concerns me, he often loses the ball and seems to think he has more time than he does. Needs to use his skill to create more space for himself if he wants to take his time.
Their 2nd goal was a bad error in judgement from Pickford. Can't be too harsh on him though, because he's saved us countless times this season. The bigger worry for me is his kicking. It was woeful and he rushed himself unnecessarily, kicking first time into touch when he had time to take a touch and pick a ball.
George McKane
243
Posted 06/01/2018 at 13:04:42
I predicted a 4 - 0 win on Live TV last night -- slightly tongue in cheek but firmly believing we would win - - and have received the expected barbed comments on FB and Twitter from those lovely Red's.
I belief that Everton can win every game - - or for me there is no point going to or watching any game. I also believe that after a game - - especially a defeat - - I look for some sign of improvement or something in the display that tells me it can get better or there is a reason for the defeat. Again, I tend to look for the positives but whatever I know that no matter what I will be at the next game and the game after that and so on and so on.
I woke up this morning and took my coffee into my living room and still on my table was my signed (by Neville Southall) Christmas present of Faith of our Families - - a new Everton Book - - from my daughter Helen - - who sits next to me at Goodison, as she has for 40 years - - alongside it my poetry books, Mandelstam and Akhmatova, some Lennon books - - I walked upstairs and The Mersey was still there - -with a Blue tint to it and along the River towards Ellesmere Port was a slither of silver (lining) on the Water - - I turned around and I could still see the Roof of Goodison in the background across the Water and in the forefront - - almost touchable - - the site of our new ground - - was still there.
We got beat last night - - of course I am angry, upset, fuming , sad, mad and - - and what - - well funny enough - - I can see something positive - - I tend not to be interested in anything not Everton based in football but watch games of course on TV and MOTD and so on with casual interest - - so really I have never taken a deep interest in Sam Allardyche and have tended to go along with the expected comments - - hoof football, negative, and corrupt - - but I can honestly say that this morning I listened to his comments about the game and the performance and I thought he spoke tremendous common sense and I felt - - I maybe wrong - - I cannot say I know for certain - - but I felt that he knew what he is doing here - - knows what he has to do and may just may be able to move us forward a little this season with possible potential for the future. He spoke more sense that most Managers in our recent past and also Sammy Lee's look of woe when their goal went in spoke volumes for me - - maybe I am looking for "signs" - - well of course I am.
There have been many posters on TW over the past weeks talking of not going and tearing up their Season Tickets in "protest" against Allardyce and lsat night after the game I read many slagging our players off - - saying "they had 2 players missing" (so diid we) - - and "that's it for me" - - then of course all that's fine - - no one is forced to go and watch Everton - - and everyone is entitled to their opinion - - good or bad - - but slagging players - - especially younger players - -really annoys me - - there are some who have seriously called Barclay, Stones for example really unpleasant names - - picking on those players immediately when anything goes wrong - - well now worries they have gone now - - and I have read on The Live forum serious slagging of Calvert-Lewin and Holgate - - shame on you - - marvellous whole-hearted players - - especially considering less committed players that we can all name.
Maybe I am crazy but I will say it now - - I think the future is looking brighter for Everton and Evertonians and I will be proud when it comes around knowing that I/We stood up for us when times were tough.
I love lunatics - - I admire Tristan Tzara, Hans Arp, Emy Jennings, Hugo Ball - - for their courage when everything was going wrong. When I was younger in the early 60s there was a guy who stood in Gwladys Street - - he had red hair, a great big barrel chest, wore his shirt and coat open to the waist whatever the weather, big hairy chest, braces over his shirt, always, and he always shouted "Evertonski" - - I still shout Evertonski - - he was a Dada Man - - anyone remember him - - We Are All Evertonians - Always Were and Always Will Be.
I really don't like mentioning RS on here but my experience at the game last night was horrible - - there is a feeling of phoniness, falseness, bandwagonners, that resonates around them. Not for me. Everton Me - - Warts And All.
Like most of us on TW - - I have a moan and whinge and act like a crab sometimes -- but like most of us I will watch the Spurs game and go to TDH and the WBA and Leicester games and truly believe that the rainbow is just around the corner.
I run a Theatre/Arts group for young people - - Link - - and I instil in our young people loyalty, commitment, bravery and sheer audaciousness and I have many mantras that I give to them - -"Never take medicine for other people's sickness's" - - We Are Everton - - We Are Evertonians.
Peace and Love and Harmony to Ever(ton)yone - - wishing you all A Bluetiful 2018.
John McFarlane
244
Posted 06/01/2018 at 13:06:13
Hi all, I can't believe that people who have been informing the world, some on a daily basis, in graphic and explicit terms, that Everton are, to put it mildly, not very good, expect them to go to Anfield and put on a performance. I would ask them "Is this an unfair expectation?"
To those who may have a view like my own, which is knowing that the team is some way off being considered a real contender for top six placing, they did show some spirit last night.
If they're not good enough – that's not their fault; if however they're not trying hard enough, that certainly is.
Steve Barr
245
Posted 06/01/2018 at 13:47:34
George, John, I admire your support of Everton but understand the frustration that many negative posters must feel about Everton.
The frustration, as far as I'm concerned, should mainly be aimed at the club's owners who have presided over a slow decline over these past decades, not the players. However, many of our players were guilty of downing tools and not trying under Koeman for example and fully deserve criticism for that.
Effort is expected from professionals at any level and the effort our players showed last night was excellent, but should be a given in any game, never mind in a derby where we've come up short for so many years.
Andy Williams
246
Posted 06/01/2018 at 13:52:06
Excellent post, George #243. I read it agreeing with everything then realised I knew you.
Do you remember Brian Brown? – I think he worked with you at Yellow House (excellent charity by the way). I am his step-son. Remember meeting you many years ago – somewhere, sometime.
Peter Hughes
247
Posted 06/01/2018 at 14:00:00
Clive (#244), thank you for confirming my view that some of our 'fans' talk rubbish!
Adrian Townsend
248
Posted 06/01/2018 at 14:03:12
Every sympathy to those of you whose kids are going to have to suffer earache from the smug RS on Monday morning. I suffered the same late 60s & early 70s. They were a nauseating bunch then and nothing has changed in 50 years. I might get something from a couple of the glory hunters I work with in London who couldn't even find Liverpool on a map but, when you support EFC, that comes with the territory.
For me, the season is nowhere near over. As some of the posters have said, it is an opportunity to develop the team and fill the obvious gaps, particularly up front. Although the manner of how it happened is sickening, I'm not too disappointed to be out of the cup as it could be a distraction and relegation would be a real possibility if we revert back to playing the way we did at the start of the season – hopefully Sam will ensure we don't.
Personally the next few games can't come quickly enough – I want to see if the improvements I sensed last night continue and in particular what we are getting for our £27M. COYB!
George McKane
249
Posted 06/01/2018 at 14:07:36
Thank you, Andy. I remember Brian with ultimate fondness, cigars and coughing. Good spirit; good heart.
Steve, agree about Management and Managers but I was aiming at those who (especially) slag off immediately younger/newer players. As far as I could see in the past 3 years, it was many of the so-called experienced players who turned off and downed tools as you say – Jagielka, Schneiderlin, Williams, Baines – and yet Calvert-Lewin, Holgate, Barkley and others were immediately and vociferously called names.
Now I personally think Baines and Jags are finished and have been for a while and I can say that without needing to calling them horrible names. Everyone shows their disappointments and frustrations in different ways and they are entitled and others are entitled to question and disagree.
There are posters on here who I have never heard a positive word from about Everton – it's like self-flagellation. If I believed it was hopeless, I would pack in. I have read people saying "It's The Hope That Kills" – absolutely not for me – "It's the NO Hope That Kills" for me.
Alan McGuffog
250
Posted 06/01/2018 at 14:35:14
George.
I could never describe the fella but by God I heard him "Evertonski" indeed. Or when he was in poetic mode "Ever-fucking-tonski!"
Clive Rogers
251
Posted 06/01/2018 at 14:43:22
It's ironic that they now want us to renew our season tickets in January as that's when our season is usually over. They should do a season ticket that runs to mid-January.
John McFarlane
252
Posted 06/01/2018 at 14:58:20
Hi Peter [247]; firstly I posted the comment at #244, I have gone back a little way on this thread, and can find no trace of Clive.
Secondly, I'm not sure whether or not, you are having a dig at me, and placing me among the "fans" who talk rubbish.
Ian Hollingworth
253
Posted 06/01/2018 at 15:01:58
If we were an ambitious club, we would not have the likes of Niasse and Martina in the squad – never mind actually playing. We have too many players simply not up to it.
Having no left-back is criminal negligence by the muppets that run this club. They will be willing to wait for Baines to return – even though he is ready for replacing anyway.
Max Murphy
254
Posted 06/01/2018 at 15:16:09
Pickford is not the great player many on here suggest. He can never gather the ball first time.
If he makes a save, he will invariably pad it out in front of him (he did this twice against Bournemouth and was lucky to get away with it) which will lead to 4 or 5 tap-ins a season from opposition forwards.
He is not tall enough, and is not commanding in the air. I would select Robles every time.
Mark Taylor
255
Posted 06/01/2018 at 15:17:16
It's huge blow because it pretty much ends the real business of the season and we didn't look great last night.
But if you want signs of progress, they were there. We were much better than in the Premier League game (it would hardly be possible to be worse). We actually got some attackers in the last third. When Sigurdsson was put in the middle behind Calvert-Lewin, he started to offer something.

It is pointless playing him where we have been given he has no pace and lacks dynamism. Lookman brought some much-needed energy and Bolasie, once he is fit enough, will be a big upgrade on Lennon.
I think Kenny and Holgate have been doing okay given they are young, especially the former. The problem is, if anything, they have had too much thrust on them. And that especially applies to Calvert-Lewin who I think has talent and has been tireless in the hapless role of lone striker (sometimes 40 yards away from team mates as we have provided little or no support to him). He could do with a rest. Hopefully our new striker will enable that. And god knows, maybe we try the lateral idea of playing both of them at some point.
On a side point, very disappointed to see Barkley skin us for £20m. I hope he is not expecting a warm welcome when he comes back. Sometimes I think a club has to put principles first. I'd have offered him a 2-year extension with a £30m buyout, and told him he would play if fit and worth his place for the rest of the season. Then he could go as per the original deal with Chelsea. Refuse that, then to hell with £15m, you sit on the bench, miss any chance of the World Cup, and risk becoming the forgotten man.
But you need some balls to play this game and I'm not sure we have any...
John Pierce
256
Posted 06/01/2018 at 15:37:16
From the wreckage of the game, and hence our season, Jonjoe Kenny is emerging nicely at full back.
There are things to work on, physical prowess and he gets tight too often for my liking. But his attacking play reminds me of Gary Neville, he's a give-and-go merchant, not a dribbler like Seamus. There really is no reason to put Coleman near that team until he's completely fit. Everton now need to find a right-sided midfielder to compliment him.
With the season over and 4 wins required, Allardyce has to be told he needs to give the games to the younger guys, season them and give us a chance for next season. It's the only thing that makes sense and will keep me interested.
As for the the main issue of the night, the penalty. Whilst it goes against the grain, all teams now push the envelope so far to win a game; if you want to look around, it is they as in the teams (including Everton) who are to blame. It's part of the professionalism associated with the money-driven culture.
It's time to accept diving, simulation etc is part of the game as much as bringing down the last man. We still perhaps try to apply standards from 20 or 30 years ago. We all recognise the game has moved on, and if a player can win the game for their team diving then they will do it.
The best bit of last night was cartoon-style double-take checking it was Jags burning up the wing! 🤣
Colin Malone
257
Posted 06/01/2018 at 16:11:55
No one can argue that we are improving. Big Sam has instilled confidence that was massively lacking in the playing staff he inherited. Let's see what he can do with a couple of more signings.

Michael Kenrick
258
Posted 06/01/2018 at 18:18:04
I can understand that some saw us play slightly less worse than we did in the Premier League game, and they may see this as a 'positive'...
But we lost... we scored with our only shot on goal... in the FA Cup 3rd Round. Utterly, utterly shameful.
I have to admit, Dave Ganley absolutely nails it at #207.
Franny Porter
259
Posted 06/01/2018 at 18:30:28
It's of my opinion now that our club is a shambles.
The only money we have spent since Moshiri come on board has followed sales.
Likewise the shambolic signing of Tosun, they couldn't get the deal over the line in time for our most important game all season yet sold Barkley in about ten minutes.
The appointment of Allardyce smacks of an owner desperate not to miss out on the cash cow of the Premier League... fuck what the fans think.
I was even prepared to reserve judgement on Allardyce until after the Man Utd and Liverpool games; however, the West Brom and Bournemouth games told me everything I needed to know.
Finally, considering Moshiri is so rich, the fact we had Martina at left back and an aging Jagielka in defence, during a transfer window, is a fucking disgrace.
John Pierce
264
Posted 06/01/2018 at 18:58:43
Franny, I believe the appointment of Allardyce is as you see it. An ass-covering move to protect the stadium investment.

Kunal Desai
265
Posted 06/01/2018 at 19:30:34
#207-David Ganley. 100% percent bang on the money. I echo every sentiment there.
The only way in which this club changes going forward, and I've been banging on about this for years, that is our fans have to take matters into there own hands.
There has to be protests in thousands before and after matches along Goodison Road, demanding the removal of Kenwright, Woods and Elstone. The club doesn't move forward otherwise.
So I ask our supporters, and in particular to our matchday supporters who get to all home games as well as away ones, what is it to be? 20 more years of misery at Anfield or taking your actions to see a better future for the club and competing with the better teams in the league?
Christine Foster
266
Posted 06/01/2018 at 19:57:47
Like it or not, we are were we are. The disgraceful management both on and off the field is reflected in the shambles our team was and to some extent still is under Koeman and now Allardyce.
The difference is we are playing as a unit now which we weren't under Koeman. That is an improvement but we are so bereft of key players, it's still hard to call us a team.
I come from the days when both sets of supporters bantered but did not hate, but my last derby I attended at Anfield some 12 years ago was my last. Spat at and swore at... but I could not still hate... I will not allow them to drag me down to their level.
I can understand why so many do and alas we are seen as a poke of fun, ridicule and that makes me angry. But the real anger I have is reserved for the management of this club who have allowed it to happen and continue to do so.
But the days of Kenwright and Co are coming to an end; I believe Moshiri did appoint Allardyce to protect his investment against the wishes of Kenwright and I believe he was right to do so. I believe without him we would be in the bottom three right now, we were truly that bad.
There is no silver bullet to overnight success, just money, management and ambition. Under Koeman, we lost all three; we also lost our best players too.
A rebuild begins with building a solid base and stopping the rot. It isn't pretty. We aren't playing football, we are playing part one, stop conceding the goals... get safe.
Next ,we need to build a team and that will take at least a season, we have gone backwards so badly its criminal. But to just blame Koeman is wrong – he was only 50% of the problem. Moshiri now has to get rid of the other 50% of the problem.

Dave Abrahams
267
Posted 06/01/2018 at 20:17:00
Dave (#207), you are absolutely right to voice your opinion of how poor you think Everton are at the moment. I also think from reading your posts how much of an Evertonian you are and I can understand how you feel after watching another defeat to them.
I thought we did well last night because we played better than we have done in the last few games, with a lot more attacking than previously; however, the real reason I felt in a better frame of mind, than of late, was because, when I looked at the two teams, they were playing without two of their best players, one of which they will not see anymore.
Then I looked at our team, a team which will be a lot different in a few weeks. Not having a go really but three of those players I don't think will be getting regular starting places soon. Bolasie although not a team player does add something to Everton's attack, he will get stronger and better. A new striker will be playing, and possibly two or three players will also be coming in.
McCarthy will hopefully improve his fitness, he certainly improved the midfield last night, could have done with a bit of help. Sigurdsson will come off the wing and play as he did when he came inside; a new left back can only improve the side. The improvement was only small last night; I can see it getting better much sooner than some think.
Dave, maybe Moshiri will not be the saviour we crave for but give him a chance. Two years is only minutes on what the other fella has had and maybe he will be gone soon, sermon over.
George, saw you on the TV, you looked nice and happy and relaxed. I'm with you, not against any Blue. I get down a lot more than you but we will get better, like Ginger Foran, the Bluenose you talked about. He loved Everton, they were his life's blood.
I can still hear and see him, in The Stanley Park End, rushing to the corner flag when the opposition were taking a corner, giving the winger loads, especially when it was a Liverpool player. Gone but never forgotten. He will be singing up in God's Goodison now, even though we got beat last night.
Jay Griffiths
268
Posted 06/01/2018 at 20:24:55
I agree with the sentiments on the mismanagement of our club stated by many fans and supporters. Too much love and not enough investment from Bill has come home to haunt us now the Premier League has evolved into a advertising global behemoth. He never had the right people to maximise our evolution. Chang and Kitbag are examples of our position in this field.
To add fuel to this well burning fire, how did we manage to lose Barkley for £15 million after a fee of £30 plus was on the table from Chelsea last season? That lot got maximum outlay for Suarez and now Coutinho. People have been remiss in their duty somewhere or Ross has just thrown it up us dry. Didn't even buy us a drink!
This question should be answered.
Tony Hill
269
Posted 06/01/2018 at 20:31:57
Michael (#258), and others; on we go, ludicrously pretending that the damage done to confidence, fitness and resources over the last few seasons – and, specifically, in the summer window – can be wished away by "giving it a go" and "attacking more" and "having more shots on goal"
Because that's all it takes, isn't it, a change of mind and heart, because we're Everton and, and, er, that's what we're about or we were in the 60s anyway.
Fucking nonsense. Give Allardyce time to breathe and build a side. There were encouraging signs last night which were not just about launching The Charge of the Light Brigade.
Otherwise we can carry on complaining that we're just shite, get rid of Allardyce and polish our principles and our bold attacking play in the Championship, sooner rather than later.
Of course, you all know of a top quality technical coaching genius who's aching to join us, as soon as you can run Fat Sam out of town. After all, he's been here for 5 weeks now so he's had his chance.
Tony Abrahams
270
Posted 06/01/2018 at 20:40:23
I'm on the side of the fence which think that post should end this thread Tony!
Andy Meighan
271
Posted 06/01/2018 at 20:53:21
Tony (#269), well said.
There was nothing between the two teams last night. Other than the ludicrous penalty decision. A decision that will stick in my craw for many a long year. Then again, just another one in a long line of stinking decisions in derby history.
We've had 2 pens in nearly 90 years there and to hear them fucking morons booing Calvert-Lewin every time he touched the ball knocked me sick. My god, what a vile race of people they really are.
When you're alone with them, they try and patronise you and be mates Absolute shite ― they fucking despise us! But at least we have the decency to tell them we hate them. Yes, mark my word... Our day will come against them, it really will. I just hope I'm alive to see us rub their smug noses in it.
Laurie Hartley
272
Posted 06/01/2018 at 20:54:17
Tony Marsh (#221) and George McKane (#243) – are an unlikely double (if I may say so fellas). But you both see what I, and a growing number of others see, a team that has had heart surgery performed by another unlikely double – Sam Allardyce and Sammy Lee. We are getting better.
Joe McCormick
273
Posted 06/01/2018 at 21:13:58
Peter 217. I guess you missed Bernie Wright and Brett Angel!! Fact remainder is 5th January and all we have to look is a fight for 7th.
Question is: Do we look forward to next season or go with the kids?
Roger Sunde
274
Posted 06/01/2018 at 21:52:47
We had Stones, Deulofeu, Barkley and Lukaku... now we have Willy Wonka as left back and some guy called Oumar on top.
George Stuart
275
Posted 07/01/2018 at 01:09:20
Well, that was alright. Not too bad.
We all thought we'd get beat and we did, though frustratingly so. No change there then.
The penalty? Yeah it was. Soft and frustrating but correct call. One thing though was the lad "made the most of it". The media tore the back out of our lad for "going down too easily" in the league derby. At least three sessions on TV in a whole week of vitriol. We wont hear anything about the RS.
But where was the Everton red card? Allardyce stymied that one by removing Rooney.
I said last year that without Coutinho Liverpool were an ordinary team. This season they have Salah. Without either of them we made them look like a very ordinary side.
No, the boys did okay. Forge on. Seventh spot will do me post Koeman.
Colin Gee
276
Posted 07/01/2018 at 01:24:00
Joe (#273),
Isn't 7th realistically where we are, we're nowhere near the Top 6, basically we are at the moment the best of the rest?
Bernie Wright was before my time, but Brett Angell is the worst Everton 'striker' I have ever seen. He even made John Spencer look World Class.
Dave Abrahams
277
Posted 07/01/2018 at 08:56:34
A lot of young Evertonians are lucky they never saw Peter Harburn, signed from Brighton in the late 50s for £10,000. He never lasted long, thank God; once seen – never forgotten, for all the wrong reasons!!!
Jeff Spiers
278
Posted 07/01/2018 at 11:37:49
Just to add to the difference between us and the RedShite supporters. We are bitter, but only at their arrogance and smugness. They hate everybody else. The Mancs, Chelski, Citeh, any team that dares to cross their hallowed path. More so that we are their history. Ignore the plastic bastards!
Jeff Spiers
279
Posted 07/01/2018 at 11:43:52
ps: That away support at Anfield was something out of the 300. Rabid and up for it! The kop, well, bless them, they try.
Tony Hill
281
Posted 07/01/2018 at 13:18:18
Dave (#277), bloody hell you've dredged that one up. I dimly recall him as a shocker.
I've just looked him up and he played 4 times for us and scored once. He'd done okay at Brighton but admitted himself that he probably wasn't ready for us. He then went on to Scunthorpe and Workington.
He died in 2010. It's strangely touching, isn't it, that players like him of very limited ability are still remembered and recorded.
Phil Lewis
282
Posted 07/01/2018 at 13:27:14
Max (#254),
Very interesting point, Max. I believe Pickford has some wonderful qualities and is a good shot stopper. But like you I have grave concerns about the lad. His lack of height is a crucial factor at this level.
As a matter of fact, when we signed him, a friend of mine who scouts for Chelsea, told me that they have a policy not to consider goalkeepers, regardless of reputation, if they are less than 6'-2" tall. When coming for corners or any sort of crosses, it would seem obvious that an extra couple of inches give an advantage.
For Liverpool's second goal, his lack of confidence coming out for the corner was evident. He hesitated, took his eye off the ball, glanced at players in front of him and in that crucial split second when timing is all important, got nowhere near the ball. Neville Southall would have instinctively timed his clearance, attacked the situation, punched the ball clear and took Van Dyke's head with it if need be!
I wonder if Pickford' lack of height has anything to do with his seeming lack of confidence in such situations? I've also witnessed a couple of goals against this season, into top corners of the net, where a couple of extra height inches could have produced fingertip saves. I've not got a downer on Pickford, but people should be aware of his obvious deficiency.
Before people start quoting great saves he has made for us already, I agree, but I am simply making a valid observation about a part of his game which he can improve on. Peter Shilton was a similar height, but he had reflex and timing perfection to compensate. I hope Jordan works on his game to achieve the same consistent standard.
You mentioned Robles. I think he had excellent aspects to his game and has produced outstanding saves, as well as having a decent clean sheet record. Yes, he could be erratic and frustrating at times, much in the same way as Gordon West was many years ago. But I think many fans had a downer on him before a ball was kicked and he seemed to become a whipping boy for the ill-fated Martinez regime. Overall I believe Robles to be a decent keeper, who has had a raw deal.
People ought to put Pickford's fee to one side and simply judge each performance on merit. It may be that giving Robles a run in the side, could be the kick up the backside to work on the areas of both his and Pickford's respective games which definitely need improvement.
Goalkeeper is arguably the most important position in the team. We rotate outfield players regularly enough to get the blend right, why should goalkeeper be any different? It would be a much healthier position at Everton, if keepers were given more opportunity to fight for the position and judged accordingly. Don't be fooled by reputations and price tags.
Tony Abrahams
283
Posted 07/01/2018 at 13:48:18
Southall is the best goalie, I ever saw, but I saw him make loads of mistakes, so it's all about learning from your mistakes – that is surely the thing that matters the most?
Pickford, Kenny, Holgate, Calvert-Lewin and Tom Davies are all making mistakes every game, but if the crowd stay with them, they will become much better players, along with Lookman, Vlasic and Baningime.
These kids are not good enough to take us to the top just yet, I'm aware of this, but they are all good players; they are all getting little sniffs at least, of playing in the first team.
At least 5 of these players have got fucking big-hearts, which is something Everton Football Club, hasn't had for a very long time.
John G Davies
284
Posted 07/01/2018 at 13:57:17
Anyone criticising Pickford needs to have a word with themselves.
He made the decision he was coming for the corner because Van Dijk had won two headers very easily in the 10-15 minutes before the goal. Having come, he should have went right through Van Dijk with two fists to the head. Refs don't give pens for that.
Another point, if he had stayed on his line, would he have saved a header from the edge of the six-yard box into the bottom corner? Very much doubt it.
Tony, Southall, also the best keeper I ever saw, would not have come for the cross. He didn't do that.
Shane Corcoran
287
Posted 07/01/2018 at 14:14:42
Nice one John. You still said he should have done something he didn't which is being critical. Fine in my book. Just strange you're telling others to have a word with themselves.
He was partially at fault.
Pete Clarke
290
Posted 07/01/2018 at 15:18:47
Neville Southall became a great goalkeeper but has was dropped a few times early on to make way for a very good Jim Arnold. Maybe Pickford could do with a rest too.
Southall did come for crosses but he judged them very well and beside that he had defenders who protected him by attacking the ball like a striker. In fact, Derek Mountfield had a goal ratio that a lot of strikers would be happy with.
The one good thing to come out of this season will be the experience that the young lads have gained. I like them all and especially that tough approach to opposition players who try to intimidate them.
John Boon
291
Posted 07/01/2018 at 21:45:45
As a fanatic Blue of many years, I was very disappointed and distressed to lose in the FA Cup, particularly to them. However, I really did think we put in an honest effort and deserved more. The penalty that never was made a dramatic difference.
Since the game, I have watched other cup games, including Arsenal. Every team fan is disappointed when their team is eliminated. I don't know if this is being optimistic or pessimistic but I try to get over it by accepting that only one team actually wins the cup.
Whether we get knocked out in the third round or the final, we are still the losers. Losing to the RS makes things more difficult. There are still 31 teams who have a chance of beating them in Round Four.
Michael Kenrick
292
Posted 08/01/2018 at 00:42:41
Some interesting rationalising going on there, John:
There are still 31 teams who have a chance of beating them in Round Four.
Unless the format has changed, I think you'll find there's really only one team that will get the chance of beating them in Round Four.
Rob Halligan
293
Posted 08/01/2018 at 00:55:15
Being a bit picky there aren't you, Michael? I think we all knew what John 291 meant. Although it would have been better if he had written "there is still a chance any 1 of 31 teams have a chance of beating them in Round Four.
Michael Kenrick
294
Posted 08/01/2018 at 01:12:13
Rob, before the draw was made, there was a chance any 1 of 63 teams (probably more with replays) had a chance of beating them in Round Three (as you put it). Did that somehow increase the odds of them losing to us?
No, coz ultimately there was only one team who had the chance of beating them in Round Three. And we failed. It just struck me as a very strange way of rationalising a very simple knock-out competition.

Rob Halligan
295
Posted 08/01/2018 at 01:23:03
Until the draw is made tomorrow night Michael, then any 1 of 31 teams have a chance of beating them in Round Four. Like you say though, once the draw is made, only that one team has a chance of beating them. At least that's how I interpret what John meant. (Confusing this!)
John Boon
296
Posted 08/01/2018 at 04:50:52
I'm smiling. I didn't realise that my post would cause any discussion. I do realise that there are actually more than 31 because of replays. I also know that after the draw there will only be one to play the RS.
If I could really have my way they would have to play all 31 at the same time, or one a day for thirty one days .Yes that does show my bias but I have been that way since I became a Blue for life when my Dad took me to my first game at Goodison in 1947.
Mike, keep up the great work for all the writers and contributors at Toffee Web. No where else do we really get an opportunity to express our frustrations, and communicate and commiserate with fellow Evertonians. Whatever the ups and downs, I need Everton far more than they need me, whether I like it or not. COYB
Tony Everan
297
Posted 08/01/2018 at 07:41:39
It is sad that the only joy left is the joy of Liverpool's possible demise.
I will be supporting Kieran Dowell and Nottingham Forest. If he can knock them out with a 20-yard left-foot screamer, I will be out of my chair like it was an Everton goal.
Tommy Davis
298
Posted 08/01/2018 at 08:35:59
I haven't written much for some time, bar the odd reactionary diatribe, but I thought we did a lot better than our Premier League game last month at Castle Greyskull, was it a great performance, no it wasn't, but this same squad was going to one place only some two months ago & that was the Championship! In fact very few could actually see where our next win was coming from, Koeman had done such a number on us, along with the players & not to mention the situations with Niasse, Barkley, Garbutt & others, were somewhat bemusing, to say the least!
Allardyce did a good job on Friday with what he had available to him & it's been a pleasant surprise to see James McCarthy performing so well, along with his nasty streak, which we've missed in the team, apart from perhaps Rooney & Williams, but they always seem to be very obvious about their nastiness, whereas Macca seems to have a hold of his, to some degree anyway! Bolasie showed more improvement & if he can maintain what he's doing, imagine what he'll be like in another month or so, it will be like having two new signings, with him & Macca?
I dislike the RS immensely like most bluenoses & our record against them is atrocious, especially at our old stomping ground, which is getting close to 20 years without a win there, which is mind boggling & gut wrenching. However, one of the previous posts (Tom Dodds #225) mentioned our abysmal record at Anfield, but seemed to say that we've been the only team in a local derby to be this bad, (Unless I read it wrong), but if memory serves me right (gulp) didn't Man City go from the early 70s until around 2006 (?) and not win a single game at Old Trafford?
I think City were relegated several times, but it wasn't for long spells, so the time frame is around 35 years approx & probably around 28 games at a guess, perhaps some statto could get it exactly? I remember the big fuss on TV when City finally won at Old Trafford, saying it had been over 3 decades since they'd won last! Didn't Spurs go 18 or 19 years too, without winning at Arsenal? I hope I didn't read your post wrong Tom, my apologies if I did mate!
Add Your Comments
In order to post a comment, you need to be logged in as a registered user of the site.
Or Sign up as a ToffeeWeb Member — it's free, takes just a few minutes and will allow you to post your comments on articles and Talking Points submissions across the site.