Moshiri admits he was shocked by poor start to 2017-18

45 Comments [Jump to last]
Tuesday 9 January 2018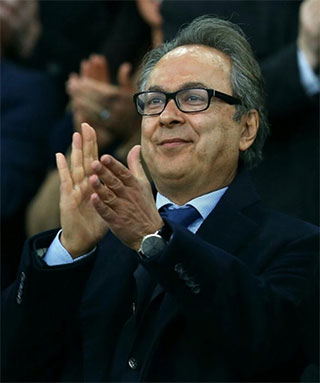 Farhad Moshiri says he is "quietly confident" that Everton will have a much stronger second half to the season now that Sam Allardyce and Cenk Tosun are through the door.
The Turkish striker's £21m move from Besiktas was confirmed last Friday, a deal that ends the search for a replacement for Romelu Lukaku and provides what the club's major shareholder describes as the "last piece of the jigsaw."
Evertonians holding out hope for a left-back signing to cover for and then replace Leighton Baines or another creative presence in midfield might disagree with that assessment but there was plenty to encourage Blues fans from a revealing interview with Moshiri on evertontv.
"We had a very difficult start to the season. I don't deny it; it was a shock for me," he explained.
"After the very good season we had last year and the heavy expenditure, expectations were high. The fixture list was bad, we didn't have a proper pre-season, we had the [early start in the Europa League] but still the team didn't appear to have a shape.
"So we had to take action. Now the team is performing much better, and I'm confident that with Bolasie, McCarthy and, hopefully, Seamus coming back that we we will have a very good second half of the season. So, I'm quietly confident.
"We have invested quite heavily in infrastructure. What you see is the visible part — buying — but there is an awful lot going on behind the scenes to make success sustainable."
The action that Moshiri referred to was to replace Ronald Koeman with Sam Allardyce in November, a manager whom he described as "a real football man" with "a tidy football brain who makes things simple.
"Performances are, in many ways, as important as the result so the first seven games under Sam were very good and we just didn't have the rub of the green — the last minute goal at Bournemouth, the soft penalty at Liverpool — but it will turn.
"The important thing is the fighting spirit. If you're fighting, we have enough quality to do well.
"We've bought £200m in players. Some of those were long-term [acquisitions] With [the likes of Michael Keane], very expensive young English players, we invested in for the next 10 years.
"The defence was ageing and we wanted to rectify the goals issue [created by] Romelu's absence so the last piece of the jigsaw wasn't completed and that gave us a problem.
"Calvert-Lewin has done an admirable job. The number of goals, assists and penalties he has created, for a lad of his age, is incredible.
"It's just too much pressure on him so buying Cenk Tosun is to take the load off him so he can develop in a proper way. We really rate him. Now with Bolasie back and Sigurdsson and Rooney we have our own 'Fab Four'!
"We are optimistic. I think there is a big second half [of the season to come] for us. With the players coming back, with Cenk Tosun who is a very, very good striker…
"There are not a lot of strikers around, so, hopefully, we've hit it right. He's got the physique, speed, a good left foot and right foot and header, and we need a target for Sigurdsson's bullets!"
---
Reader Comments (45)
Note: the following content is not moderated or vetted by the site owners at the time of submission. Comments are the responsibility of the poster. Disclaimer
Tony Everan
1
Posted 09/01/2018 at 20:49:33
He shouldn't have been shocked. Many of us feared the worst when no quality striker was signed. We had a terrible transfer window, with a squad overloaded in midfield and totally deficient in attack.
No cover for the defence. The early games in the Europa League qualifiers were a precursor to what was coming. Without attacking quality any team will suffer in the Premier League. I hope they don't forget that.
Jim Bennings
2
Posted 09/01/2018 at 21:05:16
I'm not too sure that signing Tosun constitutes as "the last piece of the jigsaw".
To talk about the ageing defence well it still exists and the fact we still haven't replaced Leighton Baines at left back means there's more work still to do .
We also need to play the game with more accuracy and aggression in the final third, I just don't see much success continuously playing these static holding midfielders like Schneiderlin, Gueye and Davies, at least McCarthy has a bit of tenacity about him.

John Audsley
3
Posted 09/01/2018 at 21:16:29
I'm not convinced yet.
It's fine for him to say how shocked he was at our start to the season but surely he realised without a striker you can't score goals.
It's great that we signed Sigurdsson but he still didn't buy someone up front.
But we have now.
And the season is finished in many ways.
Such a waste, Mr Moshiri, Walsh should be held accountable considering they knew Lukaku was going and it's his job to get players signed.
Will Mabon
4
Posted 09/01/2018 at 21:17:49
Agreed, Jim. I wonder did he write that script. Whoever did seems unaware of the shortcomings of the squad. If we have indeed acquired the last piece of the jigsaw, what is the jigsaw?
Jim Bennings
5
Posted 09/01/2018 at 21:20:02
"A big second half of the season coming?"
Sure, now we have nothing left to really play for we'll arguably look good under little pressure, no doubt the "big second half of the season " will not tie in with a win at bogey away days Tottenham or Arsenal, nor will it see us end our woeful Merseyside derby record!?
Think he's getting a touch of the old Bill Kenwright marshmallow clouds above us psyche is our Farhad.
Oliver Brunel
6
Posted 09/01/2018 at 21:24:29
The last piece of the Jigsaw. An unknown Turk. Gulp.
Oliver Brunel
7
Posted 09/01/2018 at 21:28:21
Does anyone know what this jigsaw looks like? Is it pear- shaped?
David Barks
8
Posted 09/01/2018 at 21:39:38
"Performances are, in many ways, as important as the result so the first seven games under Sam were very good and we just didn't have the rub of the green — the last minute goal at Bournemouth, the soft penalty at Liverpool — but it will turn."
Oh my God! The performances under Sam have been good??!!! We've been useless in attack, can hardly get a shot on goal!! We've lost 3 straight, taken only 2 points from the last 12, and knocked out of the Cup at the first go.
Liam Reilly
9
Posted 09/01/2018 at 21:48:23
He's just buying time; everyone knows Sam Allardyce was not his first choice and this is nothing more than some spin.
His eye is clearly on the stadium and keeping the side in the Premier League is a must until that's ready.
Daniel Lawrence
10
Posted 09/01/2018 at 21:48:57
Oh dear...
Daniel Lawrence
11
Posted 09/01/2018 at 21:50:46
"We've bought in £200 million worth of players" and a net spend of practically fuck all.
Kenwright Mk II
Tony Sullivan
12
Posted 09/01/2018 at 22:12:57
Unlike many supporters on here, it does seem that Moshiri does believe in the the player investment we have undertaken.
He does say that mistakes have been made, so is not claiming all in the garden is rosy, but he does have a plan which is being undertaken at all levels throughout the club, ie, playing squad, management team, corporate sponsorship and new infrastructure. There is evidence to support all those claims.
I am sure he believed in Ronald Koeman, he was Moshiri's man, but when things went pear shaped under Koeman, despite the expenditure in the summer, Koeman was summarily dismissed at a heavy financial cost and the ship was steadied within weeks of the appointment of Sam Allardyce and his team.
I know we can nit-pick every decision and rant on about net spend, and we sold Lukaku and have no ambition ad infinitum, but it appears to me that Moshiri is the real deal and is going about things as you would expect from a successful billionaire.
John Pierce
13
Posted 09/01/2018 at 22:22:38
Based on the main headlines from the AGM, Moshiri and his board have spent the entire evening trolling every bugger going!
The financial side does seem transparent, so I feel happy about the stadium and the added bonus that 'Rodger from Speke' will be blowing a gasket.
The football side, Moshiri's words show how poorly he understands things. To surround himself with Walsh & Allardyce and the rubbish they peddled this evening makes him look small time.
Since the Merseyside derby last season Everton have been awful. Abject. To try a spin it any other way is disingenuous to the fanbase.
It kills us not having a communications officer to control the rubbish that this lot spout.
The comedic value if it all has taken the edge off. Jesus wept.
Jack Convery
15
Posted 09/01/2018 at 22:56:54
Was the AGM held in No 9 – sounds like it. Moshiri has put paid to Jim White and jumped in the Liverpool Echo's bed. Doesn't he know most of us ignore that once great paper?
I suppose Usmanov has put the cost of his steel up, hence the price rise in the Stadium. It's all fishy to me. If I was a LCC ratepayer I'd want to know the ins and outs of this deal pronto.
If we hadn't pissed off out of Europe we could have applied for Objective 1 money given the financial, employment and social benefits the new stadium will bring to the water front area. I for one will believe it when I see it.
I now wish to be known as Thomas – it's my right as a doubter of all things EFC Board.
Colin Glassar
16
Posted 09/01/2018 at 23:02:09
Moshiri probably knows a lot about finances and stuff but whenever he talks about football he comes across as a bit of a div. Last piece of the puzzle, my arse.
Jack Convery
17
Posted 09/01/2018 at 23:16:46
CG : If your arse is the last piece of the puzzle, what's the first?
Jerome Shields
18
Posted 09/01/2018 at 23:21:04
Allardyce sold him a simple solution: avoid relegation and use the players we have, with the replacement of like-for-like positions at little cost. Part of the jigsaw is scattered on the floor, the attacking part of it.

Tosun hopefully is one piece, but it is what Allardyce does with the other pieces will really tell the tale. There is still one piece somewhere, regarding the centre half position. Hopefully it is not lost.

Moshiri better be prepared for more shocks as more teams get to know how to break down Allardyce defensive system, if his attacking tactics don't keep them busy.
Sean McCarthy
19
Posted 10/01/2018 at 01:52:51
Call me a cynic but Moshiri sounds like he knows the square root of fuck all about football!! Jigsaws, Fab Fours and Sigurdsson's bullets?? Was he pissed when he gave this interview??
Stick to the business side of things, Moshiri. We've enough football related bullshit from Blue Bill without anyone else adding to the mix!!
Darren Hind
20
Posted 10/01/2018 at 06:13:58
Looks as if we have scoured the earth to find somebody with even less understanding of the game than Kenwright.
Still, if he delivers the stadium...
Andy Meighan
21
Posted 10/01/2018 at 07:31:42
Felt myself going red when I read that "last piece of the jigsaw" line. Embarrassing.
Tony Everan
22
Posted 10/01/2018 at 07:55:48
"We have our own fab four", damn it , Barcelona and Real Madrid will be bashing at Mr Moshiri's door soon. Cheque books at the ready , blowing apart our attacking dream team.
Mr Moshiri – don't use "Fab Four" again until we're in the "Top Four".
Jim Bennings
23
Posted 10/01/2018 at 08:24:37
Moshiri will struggle to live that one down admittedly.
"Our own Fab Four"
I mean really??
Yeah ok Bolasie might offer a bit more pace and Sigurdsson is better than what we have seen from him in the first three months but Rooney is 32 and has limited time left, nobody knows if Tosun can do it yet.
But apparently Tosun completes this jigsaw?!
But Moshiri talking about our own "Fab Four" it's a bit cringeworthy and it reminds you of a over exuberant excited 8-year-old boy going the match for the first time thinking average players are World beaters. That's what comes of two years mixing with Bill "showbiz" Kenwright.
I'm surprised he didn't refer to Williams , Jagielka and Baines as the "Rolling Stones".
Reg Gates
25
Posted 10/01/2018 at 08:53:44
My eyes are not the best, but did I read "Tidy football brain" or "Tiny football brain"???
Mark Andersson
26
Posted 10/01/2018 at 09:47:46
So Bill writes the script – there you go, Moshiri lad... you will sound like me a few decades ago. Most of them will lap it up... just ignore the ones who think they know better, 'coz they're bitter..
Hi 5, mate!
Tony Marsh
27
Posted 10/01/2018 at 09:51:02
What a load of toe-curling nonsese. EFC is a Jigsaw puzzle with loads of pieces missing, more like. Why is Moshiri talking about a Fab Four?? It is embarrassing. How about Sandro, Klaassen, Keane, Rooney, Sigurdsson as the Fucked-up Five...
I can't believe this Moshiri dude is supposed to be a clued-up business brain. If this shite he is talking is the sign of things to come, God help the stadium issue.
Derek Williams
28
Posted 10/01/2018 at 12:57:04
The last Jigsaw I remember was Stuart Barlow.
Good to hear we've got a new one. Was there a picture on the box or are we just randomly fitting pieces together, trying to form one?
Fingers crossed Mr Moshiri leads us out of the wilderness – or is that wilderMess?
Peter Fearon
29
Posted 10/01/2018 at 13:43:41
Two questions not asked and therefore unanswered: if the flaws in Big Sam's character disqualify him as England manager why do they not disqualify him from being Everton manager?
And are the tactics with which he is so closely associated and which he has demonstrated to such limited effect since his arrival really compatible with the attractive attacking entertaining football every Evertonian wants to see?
Ajay Gopal
30
Posted 10/01/2018 at 13:44:49
I have respect for Mr Moshiri, but some of his comments were cringe worthy. It is now being reported that Lukaku is contemplating legal action for the "voodoo" comments!
Do we really need this bad publicity? What was the purpose of making those comments? Poor PR by Everton. Come on, Moshiri, get your house in order!
Michael Lynch
31
Posted 10/01/2018 at 13:49:12
Ajay, I thought the same. This guy is a fabulously wealthy, highly successful businessman, but he comes across as a complete idiot. As soon as I read the "voodoo" comment, I cringed. He's got form – the nonsense about Barkley having a medical at Chelsea for a start. And some of the stuff he's quoted as saying about Barkley insisting that Stones be allowed to leave sounds decidedly iffy too.
He might be investing in the club, and for that I'm very grateful, but fuck me he's a PR liability. And that's before we get into the whole Jim White stupidity.
Chris Jones [Burton]
32
Posted 10/01/2018 at 14:02:13
Peter Fearon #29
I think different rules apply where the England job is concerned. The level of scrutiny by the press is incredibly intense and one can get sacked for issues totally unrelated to football. Evidence, Hoddle basically sacked for his non UK PC veiws on karma and re-incarnation. In some countries he might be sacked for NOT holding such views!
If the same rules applied to clubs that applied to the England job, a number of managers would have to walk. Would Antionio Conte get the England job when he's been found guilty of failing to act when having knowledge of match fixing? I seriously doubt it! Would you be happy to have Conte as Everton manager?
Rob Young
33
Posted 10/01/2018 at 14:05:45
That voodoo comment is making me very, very uncomfortable. What a tool! All it needed was for Lukaku to deny it, as he was always going to do even if it had been true, to make us look like fools (once again).
And, even if it had been true and Moshiri was aware of it, why mention it at all? What good would it do? For whatever reason the lad wanted to leave, leave he did and well over 6 months ago. Moshiri seems to have no clue at all.
We're a laughing stock (first the Simeone comments and more recently Aubameyang) and now this? And he believes performances have been good?
Kenwright was cringeworthy at times but this guy seems to be taking the piss. Very, very embarrassing all this.
Brent Stephens
34
Posted 10/01/2018 at 14:14:16
I think Moshiri might have misheard what Lukaku was talking about on the phone - possibly it was about his VD results, not voodoo.
Michael Lynch
35
Posted 10/01/2018 at 14:28:24
The worst thing is that we thought all the Billy Bullshit stuff was a thing of the past. Moshiri is actually – unbelievably – worse than Kenwright. I must admit, I thought it was impossible, but we've managed to find a bigger dickhead than our Chairman. At least he's richer I suppose, but he needs to shut his stupid mouth before he gets charged with something.
Phil Walling
36
Posted 10/01/2018 at 14:38:53
Bullshitters galore. We don't half pick 'em!
Dave Wilson
37
Posted 10/01/2018 at 15:34:07
I think we should give the guy a chance. He is putting his money where his mouth is.
Mike Dolan
38
Posted 10/01/2018 at 18:56:32
This season is a long way from being over and we have a great deal to play for. We have to aim for a top-seven finis; if we can achieve that, this transition season will not be for naught.
I would be ecstatic if Klaassen and Sandro end the season well and turn out to be the players we thought they were going to be.

Jack Convery
39
Posted 10/01/2018 at 19:46:57
Just how do these people make fortunes? They are so incredibly naive away from their sycophantic circle of brown noses. Sometimes I wonder if we are actually the DHs of this world. Get a street wise PR expert in right away Mr Moshiri and don't open your mouth in public when questioned about EFC, without taking advice first. Cool or a Tool? It's your choice.
Phillip Warrington
40
Posted 10/01/2018 at 20:57:44
I fear for Everton FC. Mr Moshiri states new stadium prices escalating alarmingly and we're only a couple of months into the development.

Usmanov will be providing building materials for stadium. Is Mr Moshiri's involvement and Usmanov involvement in Everton FC a smoke screen to make a huge profit from the new stadium, and the final knife in Everton FC, which, for me being a simple man, have trouble believing? The money talked about will not cripple the club for a long time. I mean the interest payments alone will be substantial.
Jim Bennings
41
Posted 10/01/2018 at 21:00:46
Mike
Would you really class finishing 7th again as a great deal to play for?
Most don't want the Europa League again and if asked in private I very much doubt Allardyce would want it either.
7th I'm afraid, we've been there and done that so many times over the last 15 years under Moyes etc, not to sound ungrateful like, just saying that this was meant to be the season we really made something happen.
John Raftery
42
Posted 10/01/2018 at 21:28:44
I'll happily take qualification for the Europa League. There is nothing else for us to play for this season.
Steven Jones
43
Posted 11/01/2018 at 10:09:07
Moshiri was right about the team not having any shape under Koeman and that is why he had to act and I liked the "Let's bring the fight back".
The rest of the overall plan and road map is there. Things will take time and there will be bumps in the road. Let's get behind our man.
Trivial Animal Farm type jibes against anyone who is trying to move EFC forward, pretending we have the font of football knowledge and hiding behind slanging tripe is offensive, totally hypocritical, and negative to properly supporting and helping build the new vision for EFC on The Banks of the Royal Blue Mersey!
Don Alexander
45
Posted 11/01/2018 at 10:55:51
In terms of footballing savvy, "What an owner!"
Clive Rogers
46
Posted 11/01/2018 at 11:07:59
Phillip (#40), two thirds of the stadium costs will be funded through the city council at low interest rates. I think we have to believe that an astute businessman like Moshiri knows what he is doing with finance. Now, if it was Kenwright...

Mike Dolan
47
Posted 11/01/2018 at 15:05:48
Jim (#41).
I don't think anyone should be totally happy until we are in the same sphere as the Barcelona's and Manchester City's of this world. But you have to be realistic and from where we are at this moment in our history we are a club in the very first stages of a huge transition.
Seventh place this particular bollixed up season would be and achievement and would give us a platform at least for the future. We need a lot of work because at times we still play like a bottom-three side. Its coming around but slowly. Seventh and a Europa League place this season and I'm happy.
Matthew Williams
48
Posted 15/01/2018 at 14:04:59
I'm seriously having major doubts about this bloke.
Knows fuck all about Football...even less about Everton Football Club.
Maybe the 50.1% should have a say !?.
Add Your Comments
In order to post a comment, you need to be logged in as a registered user of the site.
Or Sign up as a ToffeeWeb Member — it's free, takes just a few minutes and will allow you to post your comments on articles and Talking Points submissions across the site.