Meis looking to capture the magic of Goodison

51 Comments [Jump to last]
Wednesday 10 January 2018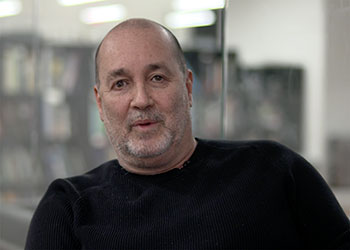 Dan Meis, head of the architectural firm charged with designing Everton's news stadium, recorded a video from New York for shareholders at the AGM
Architect Dan Meis says that he and his firm have a unique opportunity to create a stadium unlike any other in the Premier League with the site at Bramley-Moore Dock.
Everton's plans to relocate to the banks of the Mersey are progressing, with more than £9m spent on the planning and design phase so far. Evertonians have been waiting patiently for the first artist's impressions of the new stadium from Meis's studio and while none were provided at last night's Annual General Meeting, Meis recorded a video for shareholders that was played during the event.
"It's an incredibly exciting time for us," he said. "I know there has been a lot of anticipation about seeing the building come along and we have done some work. I think 2018 is going to be a very exciting year for all of us as the project moves along.
"People have heard me say many times that it's pretty unusual for me to start a project with the kind of vision and brief that the club provided for us. That was one of the reasons why I was first excited about the project and then I fell in love with the club and Goodison.
"It's really become a really unusual and a a very passionate project for me and, I think, a career-defining one. That kind of strong vision about who the club is and who the community is will, I have no doubt, create a unique building that will be a model for football the world over.
"We've seen these modern buildings (stadia) become these kind of large, bloated — modern, yes; exciting, yes; spectacular, yes — but losing some of the intimacy, the power and the experience of sitting as close to the pitch and on top of the players as you can get.
"That has been the vision of the ultimate building. That's going to be unique when compared to any of the new [stadia] that we've seen in the league."
Meis has made a number of trips to England as part of his research and Merseyside in particular to get a feel for Liverpool and to immerse himself in the culture of Everton FC and its supporters.
The immensity of a big occasion at the Grand Old Lady with Evertonians in full voice is not lost on him and the is determined to carry that into the new ground.
"The notion of [Everton being] the 'People's Club' will be translating into the architecture," he continued. "You can't see a game at Goodison and not understand how powerful the fans are to the outcome of the game.
"There's no better home pitch advantage than a building like Goodison and that kind of 'fan first' and 'football first' attitude has been at the core of everything we're doing in the early concept designs.
"I think one of the greatest challenges of this project is how you go from an iconic place like Goodison… there are memories in that building that you can't replace. What we think about the most every day is not to lose the magic of Goodison.
"That's one kind of 'iconic' but now we have this incredible site on the river and the opportunity to do something that's architecturally iconic and to bring those two things together. We have the opportunity to do something that hasn't been done in any of the new [stadia] in the Premier League."
---
Reader Comments (51)
Note: the following content is not moderated or vetted by the site owners at the time of submission. Comments are the responsibility of the poster. Disclaimer
Melissa Connolly
1
Posted 10/01/2018 at 06:17:06
Anyone know roughly when we're likely to see design concept?
Ralph Basnett
2
Posted 10/01/2018 at 07:41:11
Yeah, great. Show us some designs!!!!
Colin Glassar
3
Posted 10/01/2018 at 07:45:37
After a year of talk, this guy hasn't even shown us a rough sketch of his ideas. I hope he's not getting paid by the hour.
Derek Knox
4
Posted 10/01/2018 at 08:03:50
While I appreciate that looks are nothing to go by; never judge a book by it's cover, and all that.
Would you buy a Car from him; if he was the Salesman?
As Colin mentioned he's taken a year to sharpen his pencils; hope he starts to get things in motion soon; and provides us with a decent Architect's Impression of what the finished design will look like: not one of these Airbrushed Postcard Impressions.
They say Rome wasn't built in a day; but they would have constructed The Colosseum, The Circus Maximus, and The Appian Way; while Dan has played his violin.
So come on down; and show us, You are Dan the Man.
We are getting Desperate Dan!
Tony Graham
5
Posted 10/01/2018 at 08:06:12
Iconic yes, but not too futuristic I hope. Is this guy too over the top!?
Dean Johnson
6
Posted 10/01/2018 at 09:04:36
Blah blah blah, when will he show us some of his work?
David S Shaw
7
Posted 10/01/2018 at 09:18:33
We can read a fair bit into the design from what has been said.
"Sitting on top of the pitch, fans as close to the pitch as possible".
To me that says we are looking at a tiered design that has quality overlaps that has fans on the first rows of the upper tiers close to the pitch.
How many stands that is for I don't know.
We have been told previously there is only the one large home end. While pleasing to have one, it is very disappointing to only have the one.
Whether that large home end is also tiered, who knows.
Brian Williams
8
Posted 10/01/2018 at 09:30:41
Okay, this should shut some people up. This is Meis's vision for Bramley-Moor Dock. nearly every seat has a view of the river too.
Iconic enough for you?????
https://images.cdn.fourfourtwo.com/sites/fourfourtwo.com/files/styles/inline-image/public/1svangaskardkids.jpg?itok=sN_xiD97
Derek Thomas
9
Posted 10/01/2018 at 09:38:48
Talks a very good game.
Shane Corcoran
10
Posted 10/01/2018 at 10:07:32
Has Bill become a ventriloquist?
James Ebden
11
Posted 10/01/2018 at 10:10:13
I can't help but wonder how he was appointed in the first place. A friend of mine owns Pattern Architects, and he designed the original City of Manchester stadium for the Commonwealth Games, and has done several stadiums in the Middle East for the upcoming World Cup and other events. He was quite excited about the upcoming Everton move and was looking to tender for it, then a day or so later Meis was announced.
Let's just hope he delivers on his words, as it seems someone picked him out specifically for this.
Bob Parrington
13
Posted 10/01/2018 at 11:20:20
Some of you guys are such sceptics! Sometimes I wish I was so negative as you are but, ultimately, I'm glad I am a positive person as I think otherwise I would be as miserable as shit after almost 65 years of supporting Everton.
I can just hope that we get better before I go in to never never land!
But, give Meis a chance. Things like this take time to evolve. Let's not be too hasty inner judgement!.
If I get the opportunity to travel back to UK or Europe this year via the States, I might just try to grab a lunch with him. Now wouldn't that be interesting. My Dad worked as a timekeeper at Smith Coggins at Birkenhead Docks. So I'm just a plain old, old Evertonian offering to buy him lunch to have a chat!!!?? I reckon he might take the chance! That's what I think of him.
Let's accentuate the positive, guys and gals!
George Cumiskey
14
Posted 10/01/2018 at 11:55:55
Derek Knox @ 4 brilliant – tears of laughter rolling down my face.
Then I remembered the old saying: "Many a true word said in jest", and I started to worry.
Colin Malone
15
Posted 10/01/2018 at 12:01:51
No need for a running track, now that the Brummies have the Commonwealth Games, so it's back to the drawing board. Bowl shape is a definite no-no.
Brent Stephens
16
Posted 10/01/2018 at 12:02:44
My guess is that Meis produces a draft design based on an initial brief; the club discuss further the aesthetics, the practicals, the financial implications – and might then say "how about...?". And so a into a revised draft etc etc.
Pure guess. But if this is the case, why on earth would the club release the first design draft, knowing as they do what TW is like! "Ah. come on, you told us it was going to be like dis! Now your changing yer tune! Can't trust dese buggers! Typical Kenwright."
Brent Stephens
17
Posted 10/01/2018 at 12:07:16
Brian (#8), "This is Meis's vision for Bramley-Moore Dock. nearly every seat has a view of the river too. Iconic enough for you???"
My guess is that Meis is grappling with the challenge of giving almost every seat a view of George McKane Towers.
James Flynn
18
Posted 10/01/2018 at 12:51:12
Since we saw a few weeks ago they're still scraping mud samples for construction study, exactly what does anyone think Meis can come up with right now?
My guess is that he's spent the year looking at exactly how close he is allowed to have the first row of seats. My understanding is that any new stadium have to have the first row further back by 7-8 yards than we have at Goodison now. That for a beginning.
Then how to keep the Goodison feel of having the supporters right on top of the pitch, given this new distance.
Then, the seating capacity. Haven't read anything beyond speculation regarding that. How will the stands go up to project an intimate, yet intimidating place for supporters to enjoy and opponents to dread. Oh, and without a single, obstructed view.
Given the kinds of construction and design computer programs, he could do all that. I'll bet he has come up with several options by now.
But none of those options can be selected until he knows how the foundation of the building will go in. Which goes back to soil samples are still be taken for study.
Based on decisions finalized on how the foundation will be built, I would think Meis will present Moshiri with some definite ideas on how the stadium will go up. Will the length of the pitch run parallel to the river, angled, perpendicular even?
He can't know any of that because a decision on the foundation hasn't been made yet.
For me, it's definitely a go on the new stadium. So, I'm happy. If by the end of 2018, we don't see his vision in pictures, likely I will join the "What's going on here?" crowd.
Right now, he doesn't have the most basic of design information available; how the foundation will be constructed. Given that plain fact, I can't see how he can publish any "This is what we're going to do." designs for us to see.
Because he doesn't know, he can't know himself.
The work is ongoing. We'll find out soon enough what we'll be getting.
Derek Williams
19
Posted 10/01/2018 at 13:44:01
All we are saying... is Give Meis a Chance.
Power to the People's Club!!!
Derek Knox
20
Posted 10/01/2018 at 15:31:32
Brent @16, you are close there, the initial design was on the back of a Benson & Hedges 20 pack, but fear not, the latest modification is now on a Happy Meal carton (emptied of course) rumour has it he has twenty Happy Meals a day.
I have news for Dan; they are not working; he looks like he has just been told The Grim Reaper has demanded an urgent meeting.
Well in Derek @19, he must have had some involvement Stateside too; because Tom; from Tom and Jerry; used to say "I hate Meises to pieces!"
Roger Helm
22
Posted 10/01/2018 at 16:06:52
£9 million spent so far on planning and design? Assuming these sort of people bill at £200 per hour, that's 45,000 billable hours so far. What have we got to show for that? I haven't seen anything resembling a plan so far.
Is it just me (I know, I live in Yorkshire) or are we being taken for a ride? I would welcome an explanation from some of our TW building experts.
Simon Smith
23
Posted 10/01/2018 at 17:03:15
I believe it was Fred R Barnard that once said a picture speaks 10,000 words" ... so I would say, let's see some pictures!
Even if they are only artist's impressions, it would give us a clue what to expect.
Mike Dolan
25
Posted 10/01/2018 at 18:19:00
You are a suspicious lot. It's great to be by the river but you have to get the engineering right before you start. You are dealing with rising tides, water tables, landfill, saline corrosion. Hopefully we'll be playing in the Great Grand Daughter for the next 120 years.
Tony Sullivan
26
Posted 10/01/2018 at 18:24:21
James Flynn, thank you for a concise summary that doesn't include conspiracy theories or double-dealing by various members of the board.
Peter Howard
27
Posted 10/01/2018 at 19:09:05
Derek (20)
You're memory's going.
It was Mr Jinx who used to say that.
Dermot Byrne
28
Posted 10/01/2018 at 19:21:05
Thanks James. That taught me something.
Charles Brewer
29
Posted 10/01/2018 at 19:35:44
The waterfront at Liverpool is one of the most dramatic human built landscapes on Earth. An even half decent architect will know that this has to be his bid for cultural and professional immortality.
This isn't just a football stadium next to a scrubby park or in a grungy suburb (Anfield, the Etihad, Wembley), where the ground lends lustre to the district, this is an edifice which can and must combine with the location – vast river, superb confident 19th century buildings, history as the world's greatest port. If he does not come up with something to make the entire planet look on with awe, he will know he has failed in his life's work.
This isn't a matter of money, it's an opportunity like no other.
Brian Williams
30
Posted 10/01/2018 at 19:47:04
This design for me.
http://sportsvenuebusiness.com/index.php/2017/06/03/dresden-home-worlds-first-suprastadio/
Dave Abrahams
31
Posted 10/01/2018 at 22:14:37
Charles (29), I'm getting on a bit, but after your reading your post I'm staying alive to see that mate, brilliant.
Don Alexander
32
Posted 10/01/2018 at 22:31:10
Brian (#8), please tell me that's not Kenwright and Elstone in the foreground.

Will Mabon
33
Posted 10/01/2018 at 22:57:13
Brian @ 30 - interesting design but lacks the certain earthy character of that linked in your post number 8.
Les Martin
34
Posted 11/01/2018 at 08:49:18
The whole area is going to be transformed with our magnificent stadium the standout. Mr Moshiri is taking his crew to the Liver building to oversee operations and will then have a panoramic view of construction, its all being planned very well.
This is going to be so special that Anfield and LFC will in time becomes the areas second club, there WILL be a power change and shift its inevitable, such is the catalyst of the Bramley-Moore project and its surrounding development.
I know this was a dream 10 years ago but it will happen, Enjoy the ride and the envious comments and jealous sniping of the dark side along the way, and its going to be in bucket loads.
We may not have them on the pitch just yet but we have them on the stadium !

Brian Williams
35
Posted 11/01/2018 at 08:55:24
Will (#33).
It's a close call for sure, Will!
Brian Williams
36
Posted 11/01/2018 at 08:56:16
Don (#32).
It may well be, mate. "What a stadium."
Colin Malone
37
Posted 11/01/2018 at 13:52:51
Brian Williams.
Wow, what a stadium. That would do for me.
John Hughes
38
Posted 11/01/2018 at 14:32:00
August 2022 – I'll be 82 then.
Can't we get a Chinese building construction crew in and have it up and running in about 4 months. Stop messing about and get it done so can enjoy it before I go to Goodison in the sky. COYB.
John Keating
39
Posted 11/01/2018 at 15:08:10
When I was in the Friary infants, I got a certificate for drawing, if it's any help?
Colin Malone
40
Posted 11/01/2018 at 16:45:42
Brian Williams. Dresden stadium is close to the pitch but goes back too much. Need a more upright structure.
Niall McIlhone
41
Posted 11/01/2018 at 20:43:35
I went to Dresden pre-season, the ground was impressive but fairly standard. I am just glad the design with front row fans being close to the pitch wasn't delivered for the start of this season because most of our players would have stunk the place out. Not pleasant for patrons on the front row – it would put you off your scouse pie.
James Flynn
42
Posted 11/01/2018 at 20:56:28
Dermot (28) - Then we're both in the dark because I don't know shit about construction.
Since the new place is going to happen, I'm as anxious as any of us to see what it will look like.
I do accept we'll have to be patient. Pretty exciting, though.
Just for fun, I'll guess capacity will be 52,000.
John Keating
43
Posted 11/01/2018 at 22:09:58
I've been to a couple of games at Dortmund and thought it was spot on for us. Very intimidating for the away side.
David S Shaw
44
Posted 12/01/2018 at 10:09:35
John Keating – imagine that Dortmund End behind both of the goals! It would the envy of Europe.
Julian Exshaw
45
Posted 12/01/2018 at 11:44:41
Oh ,just get it built!
Colin Glassar
46
Posted 12/01/2018 at 12:12:50
I've sent him a box of crayons, and some paper, to see if he can send us a drawing of what plans he's got in his head.
Eric Myles
47
Posted 12/01/2018 at 13:15:01
James (#18), from the little I know of engineering, it's the other way around. You design the structure and then determine the foundation requirements as you need to know the weight they are to support.
Anthony Hawkins
48
Posted 12/01/2018 at 21:34:32
It'll be unique to the Premier League because the design won't be bloated – it'll be small.
James Flynn
49
Posted 12/01/2018 at 23:30:23
Eric (47) - "from the little I know of engineering, it's the other way around."
Which places you an order of magnitude above me regarding engineering.
It amounts to the same thing, though.
There's calls fore some designs to show us. If it's the stadium design first or the foundation first; Meis cannot provide a look until he knows what is possible on the site.
And I'll stick to my guess on capacity being 52,000.
Colin Glassar
50
Posted 13/01/2018 at 07:23:09
Anthony, so unique it'll be invisible?
Mike Connolly
51
Posted 13/01/2018 at 08:01:06
Agree with Brian 30
Instead of going further away from the pitch as the tiers get higher, it moves closer to the pitch. It would be a brilliant and an intimidating atmosphere – a bit like Goodison (well maybe not this season).
http://www.telegraph.co.uk/football/2016/06/01/could-suprastadio-put-chelsea-liverpool-and-tottenham-to-shame-w/

Michael Connelly
52
Posted 13/01/2018 at 14:50:39
Don't be worrying about the foundations, gents. There will be nice hard rock at some point below the surface of the ground that will be used to support the structure.
Dennis Stevens
53
Posted 13/01/2018 at 15:15:58
As the Club has committed itself to a named architect, the Suprastadio concept is not on the agenda, I presume... (?)
David McMullen
54
Posted 14/01/2018 at 22:30:59
I'm sceptical. I'm certain there's no going back and that this ground will be built on the waterfront.
We have this once in a life time opportunity at a fantastic location and have to come up with something pretty special and "iconic". I'm worried that the club will let us down. We're teased with tasters about steep intimate seating and creating the closeness we get at Goodison, we know it won't be a bowl, but no one has yet said or shown what it will look like and what the capacity will be.
I appreciate everyone has their own views but i'm a big fan of the Lucas Oil Stadium https://en.wikipedia.org/wiki/Lucas_Oil_Stadium and there are many things that we can take from that ground will they listen?
Retractable roof would be amazing, on a cold waterfront, probably ruled out by Meis. Brick exterior, great for the dock side location, boxy design rather that a bowl makes it look like 4 stands. It seats 67-70,000. It's also built below ground level which is ironic as we have to fill in a dock to bring it to ground level. You can even hide seating if you're not using the full stadium.
I feel like a stuck record when I make this point but we need to have a big capacity to catapult us back up with the big teams as we are lagging behind. Any less than 60,000 will be a missed opportunity. Prefer 65,000 myself it would make a statement.
That's were my sceptisim comes in. Don't think some of the board are that ambitious yet look how other clubs attendances rise in line with bigger stadiums successful or not on the pitch. Beats me that anyone can think below 60,000 we have to at least be level with our rivals if not better.
Add Your Comments
In order to post a comment, you need to be logged in as a registered user of the site.
Or Sign up as a ToffeeWeb Member — it's free, takes just a few minutes and will allow you to post your comments on articles and Talking Points submissions across the site.