Everton vs Crystal Palace
Thursday, 8 February, 2018
Match Preview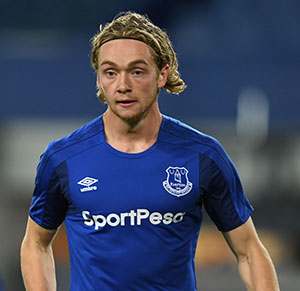 Tom Davies could have played his way back into the starting XI with his second-half display at Arsenal
Everton return to the relative comforts of home this weekend looking to put last Saturday's nightmare at the Emirates behind them when they face Crystal Palace.
The run of fixtures between now and the end of the season, which features just two more games against top-six opposition — both at Goodison Park, means that Everton have a large degree of control over how this campaign plays out for them.
They may have slipped to 10th after last weekend's results and the relegation zone might be just seven points below them but home games against Palace Brighton, Newcastle and Southampton provide ample opportunity to get past the 40-point mark without fretting over how poor the Blues have been on their travels over the past year.
Everton sit closer to seventh place than the drop zone coming into this weekend and, almost comically, have a real opportunity with that favourable run-in to finish in the same position they did last year. That seemed almost unthinkable in the depths of October when the club sat in 18th place and it still doesn't seem to make sense given that Sam Allardyce has presided over a run of just one win in eight games.
It represents a target for Everton and if the humiliation suffered at Arsenalwas hugely instructive on how the manager should not be setting up his team, the win over Leicester that preceded it clearly points the way in terms of the line-up and formation he should employ going forward.
Seamus Coleman, Gylfi Sigurdsson and Wayne Rooney were all conspicuous by their omission at the Emirates and are almost guaranteed starters for the visit of Palace. Tom Davies, meanwhile, will hopefully have earned his recall to the starting XI after his energetic display off the bench last weekend.
A midfield trio of Davies, Rooney and Idrissa Gueye sitting behind Sigurdsson would seem to offer the right blend of directness, distribution and tenacity and establish the link between defence and attack that has been sorely lacking at times this season.
In central defence, it would not be surprising to see Phil Jagielka return, probably alongside Michael Keane who had, arguably, his best game for the Blues so far against the Foxes. There are question marks over his marking and positional sense at set-pieces that might make him a risk, however, particularly against a robust side like the Eagles.
Up front, Oumar Niasse has looked more effective as an impact substitute while Dominic Calvert-Lewin made a strong case for another start against Arsenal but Allardyce's apparent preference for the Senegalese striker will likely see him start, with Cenk Tosun having to remain patient for his chance.
Along with Coleman, Theo Walcott will be the one to whom Everton will turn for inspiration, the former Gunner proving to have been a savvy addition to the front line already with an assist and two goals to his name already. He was unfortunate not to score against his old club last Saturday and his pace and eye for goal will be an important weapon for the Blues this weekend.
You can actually get slightly more favourable odds when you bet online using 888 Sport on Walcott to score than Tosun who probably won't even start while Rooney is also backed strongly to find the net at some stage. Cuco Martina is 33/1…
Palace, meanwhile, will be looking to Christian Benteke who scored in this fixture last season, particularly given the fact that their biggest attacking threat, Wilfried Zaha is ruled out through injury. He suffered a knee injury in the Eagles' 1-1 draw with Newcastle United and looks set to be sidelined for the next month.
Roy Hodgson also has Bakary Sako who has six goals to his name this season, four more than Benteke, level with penalty specialist Luka Milivojevic and James McArthur who has five, one of them also against Everton the reverse fixture between these two sides in November. The former England boss can also call upon the unknown quantity of January signing Alexander Sorloth.
Since losing to Arsenal at home on 28th December, Palace have been on a decent run of form, a far cry from their horrendous start which cost Frank de Boer his job before it had really even begun. They've only lost two of their last 12 in the Premier League and have won as many games away from home in that time as Everton have in over a year.
If Allardyce can draw the same kind of performance out of his charges as they produced against Leicester 10 days ago, however, the Blues should have enough to win this one and allow themselves to breathe a little easier again.
Kick-off: 3pm, Saturday, 10 February, 2018
Referee: Jonathan Moss
Last Time: Everton 1 - 1 Crystal Palace
Predicted Line-up: Pickford, Coleman, Jagielka, Keane, Martina, Gueye, Rooney, Davies, Sigurdsson, Walcott, Niasse
Quotes sourced from ToffeeWeb match page
---
Reader Comments (146)
Note: the following content is not moderated or vetted by the site owners at the time of submission. Comments are the responsibility of the poster. Disclaimer
Mark McParlan
1
Posted 08/02/2018 at 19:12:15
We'll win this game if we don't let Sam Allardyce anywhere near team selection. He'll try and play a back 5 with Gueye and Schneiderlin in front, suffocating all attacking intent and creativity before the match has even begun.
Play a back 4. Martina, Keane, Williams, Coleman. Gueye in front on them, protecting the back 4. Rooney and Sigurdsson ahead to complete the midfield 3. A front 3 of Bolasie (reluctantly), Tosun, Walcott. Sorted. 4-3-3. You're welcome Sam.
Jim Bennings
2
Posted 08/02/2018 at 19:16:48
If we play like we did against Spurs, West Brom or Arsenal then there's no point in even turning up.
I've seen enough of Palace of late to see they look a more lively team than us, they at least create sacks of chances even in the games they lose which is more than you can say of Everton right now.
Zaha will be a loss but Hodgson seems to have them playing as a unit and a togetherness, again which is more than you can say of us right now.
It's another huge game (they all are ) but start poorly on Saturday and go behind in the manner we did against West Brom then the atmosphere will quickly turn toxic.
John Keating
3
Posted 08/02/2018 at 19:17:52
Probably right with that team, Lyndon.
I would probably play Mangala at left-back in place of Martina simply because of their aerial threat from set pieces.
On paper you are right that we appear to have a relatively easier run-in than some; however, I don't think that means much with us.
As we have seen bottom-half teams are more than capable of beating top half teams. Teams below us need the points more than us and as this squad seem to be overburdened with wimps and a lack of backbone, spirit and fight I wouldn't be surprised to see us dropping as many points to them as everyone else.
The quicker this nightmare finishes the better.
Tony Everan
4
Posted 08/02/2018 at 19:22:37
That's the team, apart from Mangala replacing Cuco.
This team is better than anything Palace can muster. We are at home and can attack them. Their best player is injured and the omens are good for a clear win.
3-0 to the blue boys.
Minik Hansen
5
Posted 08/02/2018 at 19:24:10
I'd be amazed to see Klaassen, Tosun and Walcott together, with their touches might just be able to interchange in attack.
Lori Fekete
7
Posted 08/02/2018 at 19:28:52
If Schneiderlin starts, please start the search for the new manager. Niasse and Calvert-Lewin haven't had the quality we've needed all season, so we buy a £27m striker but don't play him. Give him a run in the team against the lesser sides at home, otherwise we're just going to Sandro him.
Terry Davies
8
Posted 08/02/2018 at 19:32:59
I can't argue much with that team except for Martina. Every time I see his name on the sheet, I know that, if their right-winger or wingback has any kind of decent game, we're in the brown stuff.
Has Garbutt been registered for the rest of the season? He was for our last game in January but haven't heard if that's been continued after the window closed. Surely this would be an ideal game to give him a go.
Derek Knox
9
Posted 08/02/2018 at 20:00:43
Good preview Lyndon, I just hope and pray your predicted line-up is somewhere near the actual one.
I think nearly every Evertonian and TW'er knows where the problems lie, but it is inconceivable that, a Manager on £6M a year can't.
I know he wasn't a popular choice by many, myself included; but any vestige of winning the fanbase over, by achieving results and playing with a modicum of entertainment; has all but evaporated.
Yes, the remaining home games seem winnable, but only coupled with the right team selection. While it is a very dangerous strategy to assume these teams will roll over and surrender.
Staying in the Premier League is massive to a lot of teams; ourselves included, so that extra spur can often supercharge a team, to achieving an unlikely result.
As if we need reminding, the recent results of Swansea, Bournemouth and Watford, is case and point.
Jimmy Hogan
10
Posted 08/02/2018 at 20:21:20
They totally outplayed us earlier this season at Selhurst Park and we lucky to escape with the draw. Hopefully home advantage and a sensible team selection should see us grab the three points. If he starts Schneiderlin though...
Dermot Byrne
11
Posted 08/02/2018 at 20:22:29
If Schneiderlin plays then I give up. To me he actually brings others down. I am sure he is a nice lad and has plenty of money to now just call it a day and move into creative arts or charity work. If he is selected again the I think we need to look at another deal Sam may have made!
Jay Harris
12
Posted 08/02/2018 at 20:23:14
Even when we were playing well, Palace were always a banana-skin waiting to happen and I expect the same this weekend. It is critical that no matter who starts we have some motivation, energt and enthusiasm.
I don't think you'll be far off with that lineup, Lyndon, but personally I would not play Keane with Benteke on the horizon. I know it will get criticism but I would play Williams and Jagielka at the back.
I would also give Tosun a starting berth with Niasse available as a sub if we need him.
Dave Abrahams
13
Posted 08/02/2018 at 20:43:41
After over two months the team is still mostly static, hardly any movement, the passing is no better, there is no leadership on the field, less off it. We are still turning out and being sent out with just pot luck and hoping for the best, no plan of any description. Mostly individual players coming up with something to get the crowd going, like Colman and Walcott in the last home game, and Everton are paying £6M a year for this???
Only Allardyce can see what is going on because it is his job. I wish he could see what we can see but even then he wouldn't have the integrity to resign.
Christy Ring
14
Posted 08/02/2018 at 21:03:46
I'd start Tosun upfront, Davies instead of Schneiderlin, and Keane and the Jag, in a back four with Coleman.
Steavey Buckley
15
Posted 08/02/2018 at 21:04:33
Crystal Palace will be missing most of their main attacking players of Zaha, Bakary Sako and Ruben Loftus-Cheek. So Everton will have less to worry about when Crystal Palace get into the Everton half, so, should be more attack minded as, expected, Crystal Palace will park the bus and try and snatch a draw.
A 4-4-2 formation of Coleman, Keane, Jagielka and Martina, Walcott, Davies, Rooney, Sigurdsson, Niasse and Calvert-Lewin will give Everton a more solid looking attacking team than the one that played so disastrously against Arsenal last week.
Paul Birmingham
16
Posted 08/02/2018 at 21:56:24
Win this Saturday, by hook or crook, it will soothe the raw gaping wounds, across the whole of the club and supporters. It's a big ask .After last weekends, crap house show, the sinews of the Goodison Park structure could be tested this Saturday.
There's no room for failure, but Palace, despite their injuries to their best players, will still fancy their chances.
Roy, still wants to avenge his Derby day bounce.. It still irks him.
Win please, and with style and manner? Please win.
Phil Smith
17
Posted 08/02/2018 at 23:07:36
Sick of us playing defensive at home! I'd go all out with:
Coleman Holgate Mangala Garbutt
Gueye Sigurdsson
Walcott Tosun Niasse Calvert-Lewin

John Kavanagh
18
Posted 08/02/2018 at 23:29:02
I don't care who the oaf picks so long as Schneiderlin and Williams don't feature. The problem isn't just the selection though; it's the patented Fat Sam hoofball tactics that are clearly frustrating/intimidating some players. (See poster on another thread who heard Allardyce's "instructions" to Kenny at Arsenal.)
The key to stopping Palace will be stopping them on the wings and, as ever, our left side is an open invitation. On that basis Bolasie shouldn't really start either. Since we have no defence attack is our only option.
Hope springs eternal and I want to see a Niasse hat trick (including one dubious penalty) melt Woy's face. Especially after his campaign with his FA chums to get our man banned. Send him back to Lahn Dahn with a bus pass and a big bag of Werthers Toffees stuffed where the Sun don't shine. 4-0 please. COYB.
Clive Mitchell
19
Posted 09/02/2018 at 00:15:37
Don't pick Schneiderlin.
What makes me angry is the pathetic surrenders to the top 6. Our record against them stands at played 10, 3 draws, 7 defeats, goals for 5 goals against 27. That's abject, Burnley would be ashamed of that record and so should we be.
Chelsea have lost more matches against teams outside the top six than we have – yet they're 19 points ahead of us. I've seen Everton teams struggle before.
But I've not seen them give up almost before they start like this lot have done time and time again this season. Don't ever pick Schneiderlin again and make sure your bags are packed for May 13.
And don't pick Schneiderlin.
Alan King
20
Posted 09/02/2018 at 01:29:21
I believe Dominic Calvert-Lewin, Mason Holgate Tom Davies must play a role in the game against Crystal Palace on Saturday. The hunger of these youngsters is enough to get the 13th man going and then we will see a victory at the most intimidating ground in the Premier League when we the fans are totally engaged.
Peter Fearon
21
Posted 09/02/2018 at 04:33:54
If I see Ashley Williams out there again pumping up and unders into nowhereland, I will choke my cat. I say that knowing that Sam is Sam. What we see on the field is in his DNA. It is no use expecting him to morph into Joachim Löw before Saturday.
Either we expect this tasteless dross from now on and accept it as the new normal or we demand his ouster in the most vocal way and refuse to be mollified by an isolated win here or a point there.
He MUST go, along with his coterie of coaching minions. My God, he is making me nostalgic for Moyes!
Mark Andersson
22
Posted 09/02/2018 at 04:34:48
Alan King... hahahaha. Wot ya been smokin lad. We all live in hope that this Everton will just click and win playing great football. You know the same as we all buy a lotto ticket and dream till the next time.
We will lose this game, because we have a bunch of players who don't like to play football just pick up stupid amounts of money..
The only thing you can predict is that most on here will berate Sam no matter what the result is... and rightly so. But I would also point to the board and start giving them the stick they deserve..
Mark Andersson
23
Posted 09/02/2018 at 05:30:20
That bad eh Peter Fearon... and here was I a few years back dreading Bill bringing back the Ginger One. For all the money Everton have spent, we have gone backwards..
Brian Porter
24
Posted 09/02/2018 at 06:19:02
I sadly no longer have any hope of us winning any match with Allardyce in charge. He has reduced me to total apathy. They should erect a new sign above the gates at Goodison Park:
Abandon hope all ye who enter here!
;
William Cartwright
25
Posted 09/02/2018 at 06:21:29
How we can be seriously contemplating not winning this match tells us all exactly where Everton stand at the present. Sad days...
David Barks
26
Posted 09/02/2018 at 06:24:59
Given all the key players Palace are missing, there is zero excuse to not win this match comfortably.
Kenny Smith
27
Posted 09/02/2018 at 06:35:18
There's some massive games this weekend for most teams below 7th. In a season of must-win games the Palace match is another we dare not lose. We could be starring at the bottom 6 if we do. With the next game another big one at Watford.
We've sunk to depths we haven't seen for 20 years. Big Sam out !!!!
Peter Barry
28
Posted 09/02/2018 at 06:44:58
Anyone else like me wondering why no other player at all has subsequently suffered the Video inspired banning that was retrospectively inflicted on Niasse even though the ref actually dealt with the imaginary 'offense' he committed during the game?
Kunal Desai
29
Posted 09/02/2018 at 06:55:01
Here's one for you all, Palace haven't won a game this season when Zaha hasn't played. Let's hope it stay that way tomorrow.
Darryl Ritchie
30
Posted 09/02/2018 at 06:57:33
David, we might win, but with our form lately, we will not be comfortable doing it. I see another 90 minute nail biter.
We do not intimidate anyone. They will be confident of a result. We will defend... as usual.
Victor Yu
31
Posted 09/02/2018 at 07:10:19
Must win game.
But I know Sam is going to have 9 men behind the ball to try to grind out for a point.
Michael Williams
32
Posted 09/02/2018 at 07:27:26
Pickford, Coleman, Keane, Jagielka and Mangala, Gueye, Walcott, Davies, Rooney, Sigurdsson, Tosun
The bonus for me is the amount of injuries that Palace have to their mediocre offensive players who would have done what everybody now does when they come here: go all out to put pressure on quickly, shut the crowd up (easily done) and generally terrorise our defence in the first 20 minutes, go a goal up and then get 10 behind the ball in a organised fashion and let us chase the game and probably fail miserably!
It's a complicated relationship Everton!
Gary Grant
35
Posted 09/02/2018 at 09:14:17
And here's another reason this guy should never have been anywhere near our football club. No class. "I tried once but couldn't get through." Tried really hard then, eh, Sam?
I still consider it shameful that, after a few bad results, there were Evertonians on here actively welcoming this big-mouthed, arrogant crook as our new manager because "he is a pragmatist and will save us from relegation. We certainly won't lose by four or five once he's got hold of the defence."
Remind me how that's going sometime, won't you?

David Hallwood
36
Posted 09/02/2018 at 09:26:52
If he picks a 4-2-3-1 with Gana & Schneiderlin as the defensive midfielders, I won't watch or even listen to it.
It comes to something when you're relieved that a team fighting relegation have so many injuries. But that's Allardyce for you; spend all your time respecting the opposition and you forget the object of the exercise is to win.
Nathan Osborne
37
Posted 09/02/2018 at 09:40:22
No five at the back. This is a game where we have to be the better team for the majority of the game.
Pickford
Coleman Keane Jagielka Martina
Gueye
Davies Rooney Sigurdsson
Walcott Tosun
David Milner
38
Posted 09/02/2018 at 09:44:31
We have a chance to play attractive attacking football against a Palace team, without their star man, and to entertain the fans.
But Big Sam is in charge so we will probably end up with 11 defenders selected. Can anyone explain why we turned down loan offers for Jagielka, Williams & Schneiderlin.
Holgate & Keane need to be selected together for this game with Coleman coming back in & Garbutt at left back or Mangala as is more likely at left back.
I would like to see a team of:- Pickford, Coleman, Holgate, Keane, Garbutt, Gueye, Rooney, Davies, Walcott, Tosun, Calvert-Lewin.
Subs of:- Robles, Kenny, Sigurdsson, Niasse, Funes Mori, Vlasic, Bolasie.
But I suppose that is too progressive & bold for Big Sam. So lets look forward to 90 minutes of boring defensive football as is more likely, especially as we are playing at home.
Of course the supporters don't go to football at Goodison nowadays to be entertained, do they? Roll on next season with no Big Sam. We now have between now & the end of the season to line up a proper Manager. Let's hope Moshiri does not make another mistake.
Dave Williams
39
Posted 09/02/2018 at 09:57:34
I'm with Michael #32. Tosun has to be given a chance in a game like this. It was unfair to Mangala to throw him in against Arsenal in a back three (sheer madness) so with him being big and left-footed put him in at left back.
That team should be good enough to win but we must start with energy and fight.
Clive Rogers
40
Posted 09/02/2018 at 10:28:16
Mangala was shocking last Saturday; I can't see him playing at all. A decent defender should slot in fairly comfortably. He had no idea when he went forward down the left so shouldn't be considered for left-back.
Chris Gould
41
Posted 09/02/2018 at 10:48:13
I just can't predict whether we'll be absolute shite or simply mediocre.
Keeps it interesting I suppose.
Brian Harrison
42
Posted 09/02/2018 at 11:02:23
As I am walking towards the ground tomorrow, my question will be the same as its been for the last few home games: What side will Allardyce select?
I have absolutely no idea on formation or starting 11 and that for me is the problem. We have had different formations and personal changes most weeks, so its not hard to see why we lack consistency.
Jamie Evans
43
Posted 09/02/2018 at 11:06:22
Gary 35 spot on and a point I have also made over the last month or so.
Remember the poll of shame everyone, remember the poll of shame.
50% of respondents wanted this loser.
That's all he is and all he ever has been.
Derek Knox
44
Posted 09/02/2018 at 11:13:12
Chris @41, I would play it safe if I were you, and plump for somewhere between absolutely mediocre and simply shite, that should do it.
Of course I am basing that comment on Schneiderlin and the other no-hopers starting.
Rick Barnes
45
Posted 09/02/2018 at 11:19:52
I'd tend to argue that in a team game, success or failure relies upon the performance of twenty two players, and singling out one player is slightly unfair -
...but Schneiderlin has been a shithouse and has brought the groundswell of criticism on himself.
If they show the footage of him ushering Mkhitaryan into the box at Finch Farm even Schneiderlin's mum would struggle to defend his pathetic display. He's by no means alone, and I'd say Keane, Williams and Sigurdsson show similar lack of heart.
Dropping any or all of them won't guarantee a win, but playing them this week (and especially Schneiderlin) tells players like Beningime, Davies, Kenny and the U23s that your position is not based on form or merit, but on perceived value and reputation. You couldn't blame them if they followed Lookman and Barkley.
I feel sorry for players such as Coleman, Walcott, Niasse, Rooney, Gueye, Pickford, Kenny, Holgate and Calvert-Lewin who are having to shoulder the work of two men to cover for the passengers in this team.
Rick Tarleton
46
Posted 09/02/2018 at 11:22:59
I think he'll stupidly pick a back three including Mangala, then Gueye and the dreaded number 2 in front. Rooney, Davies and Sigurdsson as a three man attacking midfield and Walcott and Niasse up front. This differs from the team I'd pick in about six ways, but Sam's concentration will be on not losing again.
It's an absolutely vital game. The one good thing is that without Zaha, Palace are demonstrably weaker and quite predictable. However, their confidence will be higher than ours and their manager has a clue, ours hasn't.
Tom Bowers
47
Posted 09/02/2018 at 11:37:08
Whilst it is somewhat important who he starts it is more important that they are focused and have then intensity to want to win the game from the off.
Yes, Mangala should start – after all, they are paying him a big wage no doubt, so why leave him on the bench.
Nobody has proved themselves at central defence this season but Probably best to start Holgate with him.
Give Martina a rest and start Garbutt with of course Seamus on the other side.
As for midfield it's a lottery but tend to agree Sigurdsson, Rooney, Davies and Gana may be the best ploy with Walcott and Niasse and/or Tosun to start up front.
There isn't much else to choose from and as I said it's how they come out of the blocks that's the important thing.
It's been the biggest single problem this season that they have started most games very lethargically and usually get themselves chasing the game very early on.
James Marshall
48
Posted 09/02/2018 at 11:40:23
Rick@45
I don't think it's fair to label Sigurdsson a passenger. He's been played out of position all season. His natural inclination is to come inside and he runs about more than anyone else.
Not very effectively but that's due to him being stuck on the bloody left wing!
Neil Cremin
49
Posted 09/02/2018 at 11:47:49
Maybe I don't understand football but all this negativity against Martina and putting Mangala in his place doesnt make any sense.
Firstly as a defender Martina is no worse than any of the rest of the team and in my opinion better than most. He certainly puts in his effort, signs on it was his tackle that created the first goal against Leicester.
Like so many others in the team, he is being played out of position but this only shows when he moves forward and needs to cross because he has no left foot for crossing and needs to cut inside which most opposing managers recognise. (Who crossed the ball for Calvert-Lewin's goal against Arsenal?)
I also played full back and know that one needs the support of the forward player in front to help with defensive otherwise you get exposed if the opposition attack in numbers. Same reason for having holding midfielders in front of the two centre-halves.
Sigurdsson is too slow so offers no defensive contribution when we do not have the ball hence Martina exposed. Use Mangala if there is a problem on Saturday and see if a natural left footer offers and improvement. Not the idiotic format adopted on Saturday when nobody knew their job.
I would also like to see Klaassen in there at some stage, most likely off the bench, instead of Davies or Rooney to see what he can bring to the table.
John G Davies
50
Posted 09/02/2018 at 11:51:47
Easy one this.
Compare them 1 to 11 against us.
Conclusion?
We are better.
Select a team to play on the front foot and get the first goal.
No excuses if he sets them up for a war of attrition. That will suit them down to the ground.
Jer Kiernan
51
Posted 09/02/2018 at 11:56:51
I have just noted the remark that Fat Sam had made about Woy Hodgson when he got busted I had forgotten this. Roy has said he doesn't want an apology and will shake Fat Sam's hand on Saturday.
He is a real gentleman and I have to say I felt (not for the 1st time this season) embarrassed for our club. I never wanted this Oaf as our Manager and will not watch if he starts next season at the helm
He is just an all round low life, However in today's game gentleman rarely win so hopefully we are 3 points closer to safety come Saturday evening.
My mantra is and has always been: Get us 40 points then fuck off!
Shane Corcoran
52
Posted 09/02/2018 at 12:06:34
Jer, is that post a joke?
You've used the terms "Fat Sam" twice, "Woy" once and called Allardyce an oaf and then continued to say that Hodgson is a gentleman.
You've just done what Allardyce did. What does that make you?
Rick Barnes
53
Posted 09/02/2018 at 12:12:27
Hi James,
Sadly I feel that Sigurdsson is the player that disappoints me the most, because of all of them he's the one I had hopes for. But I'm yet to be convinced by him. I feel that games are played around him.
Sometimes he's like a piggy in the middle, and I struggle to think of a tackle he's made, or a time he lost the ball but chased his opponent down and fought to win it back. I think he loses the ball and just looks back, disappointed.
I get the argument to play him in the middle, but surely a professional midfielder can adapt to slightly wider – it's not like he's being asked to play in goal. If he plays at 10 and shows something I'll be happy so I hope you're right but so far I'd pick Rooney before him.
As for the other three, in my opinion Keane is the deer in headlights, Williams an ostrich with his head in the sand, and Schneiderlin some kind of disinterested, heartless sloth...
Jer Kiernan
54
Posted 09/02/2018 at 12:23:33
@Shane
Simple reply, dude, I am only some guy on a forum, I am not in public life – end of story. Your point is not valid, my points about Fat Sam are.
Only other guys on forums will see my post – I doubt fat Sam or Roy read this website as much as you/we may like to think so...
There is a separation there, Fat Sam is a low-life greedy clown who drags our club to new lows with him. I didn't and don't want him. If you do, you will look foolish now and in the future.
Christian Watson
55
Posted 09/02/2018 at 12:27:23
A cliche I know but this is a must-win game. If we lose, I fear we could be doomed. Pleased Zaha is out. He would murder our backline. C'mon Everton, 2-1.
Shane Corcoran
56
Posted 09/02/2018 at 12:31:53
Jer, my view on Allardyce is irrelevant to this discussion.
You are indeed one guy on a forum and Allardyce was just one guy who thought he was having a private conversation. You're knowingly taking part in childish name-calling which you know hundreds of people will read. Allardyce was talking to a couple of people. Which is worse?
In any case, the point I'm trying to make is, why would you call Allardyce "Fat Sam" or call Hodgson "Woy" instead of their actual names? This has nothing to do with either of these men, but to do with you. It's no big deal but I find it odd that grown-ups behave like that, that's all.
Jer Kiernan
57
Posted 09/02/2018 at 12:59:22
@Shane
I would say your opinions (which you seem to want to keep to yourself) on Fat Sam are Very relevant. Unless of course you spend your days mining football forums for people's perceived lack of manners, in which case ,I don't wish to indulge you in this endeavour.
As stated above, I call Fat Sam, 'Fat Sam' because I have little or no regard for the man and I am in fact just expressing my opinion on a free and open (I think) forum; if that reflects badly on me in your opinion, matters not. I am not the England Manager taking a bribe or slagging off my predecessor. I did use the term "Woy" as to indicate to what I was referring and if I did find out for some reason Roy Hodgson was reading this and saw it, I would, unlike our current moral-less manager, be a man and apologise.
Since you think your opinions on Fat Sam don't matter (I wonder why?), I ask you one thing: Would you prefer some ordinary schmuck on a Toffees website shows ill manners or bad taste? Or would you prefer the current manager of our once great Club be a bribe taker, corrupt, and not be man enough to apologies for either? You need to get things in perspective here, my friend.
Our club keeps stooping to new lows and it's not because of my lack of taste or morals.
I look forward to your answer.

Jimmy Hogan
58
Posted 09/02/2018 at 13:02:47
Rhino's fatter than Fat Sam!
Kevin Tully
59
Posted 09/02/2018 at 13:15:32
Well, at least we now know who was responsible for this raft of awful signings over the past 18 months:
Allardyce said: "Everything we looked at from the club's point of view – and I am not just talking about me and Steve Walsh – I am talking about the whole scouting system and the board, and the algorithm company we use, everything about it said, 'yes' (Tosun will succeed in England)."
Algorithm company? Unbelievable, Jeff!
John G Davies
60
Posted 09/02/2018 at 13:19:27
Algorithm company... Fuckin algorithm company?!?!
Statements like that will definitely come back to byte you on the arse.
Shane Corcoran
61
Posted 09/02/2018 at 13:22:49
Jer, you're picking me up completely wrong, possibly intentionally to deflect from my point.
I didn't want Allardyce as manager. I admit that, after the Southampton defeat, I was so worried about relegation that I'd have taken anyone. As it stands, I find him obnoxious and just not very good. I hope he's gotten rid off as soon as we're safe, despite the loss of of whatever it is we'll owe him.
I said my opinion of him mattered not, in my response to your initial post. So wonder no more. There you have my opinion in black and white, nothing to hide, all out in the open.
Back to the point I was actually making. You're expressing your opinion that Allardyce is fat because you don't like him. So, if you liked him, he wouldn't be fat, or you just wouldn't mention it? Why not just criticise him for the reasons you don't like him? What has his physical size got to do with it?
You used "Woy" to indicate who you were talking about. Because nobody would know who you were on about it you'd typed "Roy Hodgson", would they?
Whether I'd prefer a better manager at Everton or for posters to have "better manners" isn't relevant (before you wonder why I won't tell you the answer, it's the former). I wish the war in Syria would end but I also wish Aldi would keep their aisles clear. I can have two wishes, maybe even more.
But you're right, a bit of perspective. I just wonder at the mindset of adults that like to call other adults names, based on their appearance.
Anyway, this pint-sized, beardy-faced leprechaun has to go pick up the wee 'un.
Jer Kiernan
62
Posted 09/02/2018 at 13:24:04
@Shane
Hot off the press: "Alogrithim Company" £6 million a year on top of him being a "bad egg".
Your opinion on this please? Or would you prefer to focus on my bad forum ethics? Fat Sam should be our sole focus as fans; as it stands, he will be our manager next season – only the fans can stop this.
I did at the time say that the better the results are, the slimmer he would get.
ps: I find the use of term "leprechaun" offensive as I am Irish (just kiddin of course ) but let's be aware of what people find "offensive" these days. (Where is the line drawn?) I am for free speech and the right to "ignore" what ,you don't like, I am sorry but it's 'Fat Sam' for me if you find that offensive, I am sorry. Perspective please.
pps: You need to go to Aldi late on Sunday – all us serial killers shop then and never have to queue... have a good one :)
Terry Underwood
63
Posted 09/02/2018 at 13:24:29
Off topic here but it made me chuckle, hopefully will put a smile on blue faces.
My cousin is a Saints season ticket holder, he told me about a cartoon that is doing the rounds in Southampton. It shows an ass and a pair of wriggling legs protruding from a dustbin. The caption reads: 'Jurgen Klopp looking for the Van Dijk receipt.'
Jon Withey
64
Posted 09/02/2018 at 13:35:49
Just make up your mind, Sam, and stick with more or less the same team – one without Schneiderlin as any sort of defensive shield, for heavens-sake.
Simon Jones
65
Posted 09/02/2018 at 14:22:14
I'd love to see us start with a genuine 4-3-3 formation.
I've got (in my head) Pickford in nets, obviously; Coleman back in defence with Walcott in front of him, centre three of Rooney next to Gueye.
Sigurdsson in front of them (behind the front three), not sure who to have on the left of the front three (well I do, he's called Ademola Lookman) and I'd give Tosun a start, maybe Calvert-Lewin on the left?
The other defence berths have Holgate at centre with Jagielka or Williams, Kenny at left back or Garbutt.
Tom Davies & Oumar Niasse on the bench, Schneiderlin available to get the kettle on about 5 minutes before the end of the second half.
Drew O'Neall
66
Posted 09/02/2018 at 15:03:35
Got to play Tom Davies in my opinion.
Normal back four with Coleman on the right.
Gueye behind Sigurdsson left, Davies (in the middle), Rooney right.
Tosun and Walcott up top.
Plenty of legs, passing, pace and power and pretty balanced.
Lots of scope to adapt in game with that personnel also.
Shane Corcoran
67
Posted 09/02/2018 at 15:11:13
Jer, your first line has gone over my head I'm afraid.
I'm not focusing on your bad ethics as such. Your opening comment seemed contradictory to me, to knock a man for insulting another and then to do the same yourself. This discussion is sort of going on on the other thread too by the way.
I don't find you calling Allardyce "Fat Sam" offensive, I find it silly. Plough ahead with it though. I merely brought up the point but you're happy with it so that's fair enough.
And obviously I'm Irish too, hence the leprechaun comment.
Danny Baily
68
Posted 09/02/2018 at 15:23:58
One of the three winnable games remaining. An absolute must win.
Frank Mullin
69
Posted 09/02/2018 at 15:25:21
Maybe we should start Algo Rithm at left back? Can't be any worse than what we've got. Still, probably not registered him.
But seriously, this is a must win game. I can't see us getting another point away from home in the run in and precious few at home. There are opportunities for 3 points v Palace, Brighton, Newcastle and Southampton which should, if we win them all, see us safe.
We can't afford the likes of Schneiderlin or Williams being given a look in. Accidents waiting to happen. I think Bolasie will have a point to prove so give him a chance. At least he's one of the few who try to take the game to the opposition. With Seamus and Theo down the right as well, there is potential to provide Oumar or Cenk with some decent service.
Let's get on the front foot from the start. It's been the case all too often this season that we've started slowly, lacking confidence and just waiting to go a goal behind before we wake up.
Do we seriously need Algorithms? Nah. Just hard work, passion, belief and a modicum of skill will suffice. Simples.
Danny Baily
70
Posted 09/02/2018 at 15:29:22
Frank, good point. Forgot about the Saints. Make that four winnable games. Can breathe a little easier now!
Jer Kiernan
71
Posted 09/02/2018 at 15:30:31
"And obviously I'm Irish too, hence the leprechaun comment." – and with a name like that, t'be sure, t'be sure... :)
My point is, as fans, our sole and only focus should be to get to 40 points and do whatever it takes to get rid of Fat Sam. Being the nicest club or fans gets us nowhere.
As I say ,I am a stickler for freedom of speech and the freedom to "ignore" anything you may find mildly offensive. Paddy or no, there are actually people out there who would be offended by the 'leprechaun' comment (even on your behalf) – that's the way things are going nowadays so I will stick with Fat Sam as I feel (although I will admit in a petty way) it shows just enough the disdain that I have for him.
I am 15© stone btw :) ... but I wear it well :)
All the best
Vinny Garstrokes
72
Posted 09/02/2018 at 15:31:23
I think this fixture will have nothing to do with the two sides, it is going to be Karma for Roy Hodgson.
Sam Allardyce mocked him when he was caught in the sting that cost him the England job and Roy was asked very recently if he had received an apology. He said that he hadn't and anyway it was too late now to get one.
Allardyce also stated recently that he did not get on with Roy like he used too! Whatever you think of Roy Hodgson, I personally have always thought him a gentleman and the negativity that has prevailed with me these past 6 months since the start of the season makes me conclude that this will not go our way.
James Marshall
73
Posted 09/02/2018 at 16:10:51
Jer, how tall are you? Just so we can get a better understanding of how well you're wearing that 15.5 stone.
Fat Sam isn't really that fat. Rhino is way fatter but nobody calls him Fat Dave. They call him Rhino. Rhino's aren't even fat so it's a shit nickname for a fat bloke.
John@60, I see what you did there.
Frank Mullin
74
Posted 09/02/2018 at 16:22:45
Algorithms.
What next? Eileen Drewery? Doris Stokes even!
Jer Kiernan
75
Posted 09/02/2018 at 16:33:17
@James
I am 5'-10" and my 15 stones is worn very well indeed (hint no stripey shirts).
Regards Rhino, he did get the nickname during his playing days and for good reason. You have hit the nail on the head, btw: nobody calls Rhino 'fat' cause nobody thinks he is a corrupt cunt who is lowering the standards at our club every time he opens his mouth :) hence the pet name Rhino. :)
Speaking of comparisons, would Rhino have been given the axe had he overseen such a shambolic mess as at Emirates? Not to mention the appalling and cowardly performances at Bournemouth and West Brom at Xmas etc etc?
Now to get the misses to yank me corset (not a double-entendre) before I head out
Jim Bennings
76
Posted 09/02/2018 at 16:34:30
Pickford
Garbutt (LB)
Keane (CD)
Jagielka (CD)
Coleman (RB)
Davies (defensive mid)
Rooney (deep lying pulling strings next to Davies)
Walcott (RM)
Bolasie (LM), maybe he might rise to it being against his old club?
Sigurdsson Number 10 (Yesss, actually in the Number 10)
Tosun (CF)
Is it really asking that much to field that team tomorrow?
Jim Bennings
77
Posted 09/02/2018 at 16:38:37
Tosun must start, this fella is just going to end up the same way as Sandro or other cast-offs the longer he sits games out.
Let's see him and what he can do over the next 5 games and if there's still not much improvement then fair enough take him back out the side but there's only one way of finding out and that's at least 5 successive 90 minutes for him to sweat it out and show us his worth.
Alan Bodell
78
Posted 09/02/2018 at 16:42:44
Zaha missing is a big bonus but Mahrez was missing when Leicester came and almost did us so with them knowing that it won't be easy and if the gum-chewing twat thinks it a good idea to play that French cunt alongside Gana yet again, I'll believe he accepted this job getting payrolled from Anfield as their agent provocateur.
Anyone with access to see Leipzig play tonight, sit back and enjoy Mola rip Augsburg apart; thanks you useless twat for not playing him.
Mike Allison
79
Posted 09/02/2018 at 16:46:33
Even with the season we've had, we should finish 7th from the position we're in. That is likely to mean early round Europa League qualification again, given what's happening in the domestic cups. Anything less than this is a failure.
Frank Mullin
80
Posted 09/02/2018 at 16:59:06
I admire your optimism Mike (#79) but I suggest you change those spectacles you're wearing from rose-tinted to extra strength binoculars.
Europa League qualifier? Don't delude yourself. We're well and truly in a dogfight here just to stay up.
Ajay Gopal
81
Posted 09/02/2018 at 17:24:47
I had a back 3 in my team selection last week and we duly received a shellacking, so I will go with a conventional 4-3-1-2
Pickford
Coleman Holgate Jagielka Garbutt
Gueye Rooney Davies
Sigurdsson
Tosun Walcott
Subs: Robles, Mangala, Klaassen, Baningime, Niasse, Bolasie, Calvert-Lewin
Jim Bennings
82
Posted 09/02/2018 at 17:28:26
Mike
I just can't see us finishing 7th.
We don't win enough games whilst others around us seem to pull out unexpected victories, Watford and Bournemouth over Chelsea, Burnley eek out wins and Leicester seem to be able to do the same.
Our away form has held us back woeful for over a year now, we have recorded ONE away win from the last TWENTY.
It's hard to see more than 42 points, that's not going to get us any better than mid to bottom.
Bear in mind too that Everton usually down tools and get the deck chairs out for the last four games of the season and results take a downward spiral even in decent seasons.
My bet is once 39-40 points is reached that's when our season finishes.
Tony Hogan
83
Posted 09/02/2018 at 17:43:54
Amazing that Ajay (#81) and Jim (#76) can pick good balance teams and a guy getting paid £6 million a year can't...
Jamie Crowley
84
Posted 09/02/2018 at 17:45:46
This is three points in the bag.
Why? Because in Fat Sam's "A team against teams we can beat, B team against the Big Boys" rotation policy, we are playing a team below us and hence will set up somewhat appropriately.
Lyndon's starting midfield is what I'd like to see and think is probable. If it's Gueye, Rooney, Davies, and Gylfi we will win.
If Sam has his B team set up, we lose.
And the few remaining Sam happy-clappers will come out smiling and saying we need to be more patient if he starts that midfield and gets the win.
Not me. He has to go soon.
Snake oil salesman.
Jamie Evans
85
Posted 09/02/2018 at 19:04:30
I see the team has been leaked again. That's about 4 weeks on the run now. I'm sure this never used to happen before our current manager arrived.
Andy Crooks
86
Posted 09/02/2018 at 19:14:15
Come on, Jamie, what is the team?
John G Davies
87
Posted 09/02/2018 at 19:18:10
Alan 78.
He's not in the team.
Trevor Lynes
88
Posted 09/02/2018 at 19:19:21
Is Bolasie injured? Surely he and Walcott with Tosun or Niasse should be the way to get a win at home. If the side is constantly changed, there is no way we will get consistency at either end of the pitch.
Grasping at straws comes to mind.
John Charles
89
Posted 09/02/2018 at 19:27:06
Pickford
Coleman, Jagielka, Mangala, Garbutt
Davies, Gueye, Rooney,
Walcott, Tosun, Sigurdsson
Phil Walling
90
Posted 09/02/2018 at 19:30:30
Jamie, there has always been a market for advance team news. Here it had expanded in tune with the increased demand for brown envelopes!
Phil Walling
91
Posted 09/02/2018 at 19:43:42
Just taken £35/ £25 against a draw tomorrow on the assumption that it will be the 'first team' (as v Leicester) playing!
Darren Hind
92
Posted 09/02/2018 at 20:02:40
Phil
7/5 for a draw? It's widely on offer at 9/4. You may have backed the win. That's generally available on Odds Checker at around 7/5.
Check your bet lad, you may have placed a different bet than the one you intended. You wouldn't be the first!

John G Davies
93
Posted 09/02/2018 at 20:07:03
What bookies do you use, Phil?
https://www.oddschecker.com/football/english/premier-league/everton-v-crystal-palace/winner
Brian Hennessy
94
Posted 09/02/2018 at 20:14:48
Cheer up lads - I see Walter Smith has turned down the Scotland job so we are still in with a chance of tempting him back for next season after Sam gets his marching orders.
Mike Allison
95
Posted 09/02/2018 at 20:19:30
It's not optimism Frank, it's maths.
Kunal Desai
96
Posted 09/02/2018 at 20:58:37
Tomorrows team which starts. Confirmed:-
Pickford, Coleman, Keane, Mangala, Martina, Rooney, Gueye, Davies, 
Walcott, Niasse, Sigurdsson.
Tony Abrahams
97
Posted 09/02/2018 at 21:11:41
I hope that's wrong Kunal, because we haven't won a game all season, if someone tells me the team, before I've seen it with my own eyes mate.
My little Godson hates me, because when he's all excited trying to tell me the team, I'm screaming for him to shut up or I will turn the car round and go home.
Dave Abrahams
98
Posted 09/02/2018 at 21:11:50
First time I've ever seen the team released the day before the match, officially or unofficially, what about the subs Kunal, or are they being kept secret?
David Barks
99
Posted 09/02/2018 at 21:12:46
Lookman is on the pitch right now, in case anyone is interested. Almost set up a goal within a couple of minutes being on the pitch.
Eric Paul
100
Posted 09/02/2018 at 21:18:38
Tomorrow's team:
Pickford
Coleman Keane Mangala Martina
Rooney Gueye Davies Walcott Sigurdsson
Niasse
Todd Watkins
101
Posted 09/02/2018 at 21:22:03
Can we please play Tosun. I think he will benefit with link up play with Coleman and Walcott. No Snoozerlind please. Put Davies in wiith Rooney and Siggy. Attack attack attack.
Kunal Desai
102
Posted 09/02/2018 at 21:25:37
Tony/David - This team is taken from a poster who also got both the Leiceater and Arsenal lineups before hand and is generally spot on with his stuff. We'll see tomorrow.
Vinny Garstrokes
103
Posted 09/02/2018 at 21:33:50
Timmy just about to come on for Milwall!!

John McFarlane
104
Posted 09/02/2018 at 21:39:30
Hi Dave [98], I take it you mean in the modern era, you surely haven't forgotten when the Everton board met on a Tuesday evening, and I believe a committee selected the team, Invariably it was O'Neill, Donovan, Lindsay, Farrell, Jones, Lello, Wainwright, Fielding, Hickson, Parker, Eglington.
The team was published in the papers, and the only changes made were enforced, [injuries etc,] so much for Shankly's "The same as last year"...
Derek Knox
107
Posted 09/02/2018 at 21:45:08
Kunal @ 96, with all due respect, how can you say it is confirmed, when team sheets officially (subject to changes) are only produced an hour or so before kick off?
By the way, I hope your team do get the nod, as it looks more positive, than what we have been used to (unfortunately) seeing.
This is a winnable game, their main danger men are sidelined due to injury, but still not to be taken out of context.
Let's get safe, and start to think who we really want as manager, for next season and beyond!
James Hill
108
Posted 09/02/2018 at 21:48:34
Some people on here are going to have a heart attack if they don't calm down. I for one believe Sam will get it right. For the rest of this season, I'm okay with playing the fringe players in the games against the top teams as long as long as we beat the teams below and around us. So we do need to beat Palace. Hopefully this will allow a blueprint for next season, ie, who goes and what we need to bring in in to replace them.
If we going pick up on everyone little word like "algorithm" and turn it in a beating stick on the current manager then I would seriously suggest taking a chill pill.
In my opinion this has been a good time to test out players and formations against the team way above us if we win it is a bonus if we get beat well when the last time we got a result against at Arsenal. The disappointment for me is the lack of effort by some players. Next season though I won't except not having a go at the top six. I expect in the next 6 games we will see a more consistent team as play teams around us.
For me this season is written off in terms of Europe and we are out of the cups. Staying up and getting things sorted out for next year is the more important. Sam will be here next season whether we like it or not. Like I said I think he will get it right but I can also understand the frustration felt by many.
BTW Just watched RB Leipzig play Augsberg what a load of rubbish, not a single tackle in the game. It was like watching a training game. Lookman came on for the last 10 mins. God forbid our game ends up like the Bundesliga.
Dave Evans
109
Posted 09/02/2018 at 21:53:24
Neil (#49),
Spot on about the 'extra' negativity about Martina.
The Leicester game was our best team performance in a long while.
I hope for more of the same tomorrow.
Andy Crooks
110
Posted 09/02/2018 at 21:58:27
Sorry, James, I disagree." Algorithm" is not a little word. It is a magnificent buzz word and one which, in my view, should most definitely be used as a "beating stick" for anyone who uses it. In the context which Sam used it, I reckon he should be beaten with it until he explains what the fuck he is talking about.

Eric Paul
113
Posted 09/02/2018 at 22:27:56
Derek @107
Providing there is no illness, the team that has been preparing all week will be finalised on Thursday.
Geoff Lambert
114
Posted 09/02/2018 at 23:10:11
Think we will pull this one out of the hat I am going for a 3-1 victory.
COYB.
Andy Williams
115
Posted 09/02/2018 at 23:18:31
The Daily Hate reporting/making up that Walsh is facing the sack. Do you think someone has noticed what a great job he has done.
Rob Halligan
116
Posted 09/02/2018 at 23:30:08
Eric, I believe you announced the team for the Arsenal game on here a good few hours before kick off, and also I understand you may have been pretty much spot on for the team against Leicester.
Seriously mate, if what you're saying is true, then you must be getting your information from someone within the club, and this person needs to be identified ASAP.
As daft as this may sound, but this information could easily land in the hands of the opposition, who can then pick their team, line up, etc, to put a team out to beat us (although at the moment this is not too difficult to do).
I have never heard of any team manager announcing their team until an hour before kick off. If the team you have announced on here is the team selected for tomorrow, then seriously mate, you need to take steps to inform the club that there is a mole within the cub.
Gareth Clark
117
Posted 10/02/2018 at 06:30:43
Pickford
Coleman Jagielka Keane Garbutt
Idrissa Davies
Walcott Rooney Sigurdsson
Niasse
Subs: Robles, Mangala, Kenny, Klaassen, Bolasie, Calvert-Lewin, Tosun

Start off a solid base – introduce Klaassen, Bolasie, Tosun and/or Calvert-Lewin if we need a bit more going forward. And Mangala if we need to shore up after a 2-goal lead.
Martina needs a break & Garbutt deserves a chance.

Lenny Kingman
118
Posted 10/02/2018 at 07:51:04
I think we should manage to put Palace away today but with the attitude spoken most publicly by the manager about the players efforts, or lack of in this case, who knows. They may have decided to down tools till such a time they see big boy Allardyce's back heading through the exit door with his P45 and big wedge tipping out of his deep pocket.
Derek Knox
119
Posted 10/02/2018 at 08:20:09
Eric @113, thanks and hope you are right, a big improvement on the Arsenal selection. If there is a good time to play Palace it is now, with all their main men out.
I say that, because Palace always seem to do well against us, (who doesn't recently) a win is a must, only 4 points between us and them.
Andy Meighan
120
Posted 10/02/2018 at 08:20:52
Gareth (#117),
Why does Garbutt deserve a chance? He's been out on loan to Championship clubs for god knows how long now and hasn't made an impression whatsoever. So why do you think he'd walk into the side now and make an instant impression? He's not playing for a reason: he's not that good.
This Martina bashing is getting on my nerves He's been no better nor worse than the trash around him but it seems he's an easy target. Give it a rest, it's getting tedious.
Amit Vithlani
121
Posted 10/02/2018 at 08:20:52
I don't know if the supposed leak of the team to Eric Paul @ 100 is true but I will say this:
1. The team posted by him for Arsenal was 100pc correct and could not have been a lucky guess.
2. If he turns out to be right on this occassion as well, this is the first time I can remember any team having their line up leaked so many times. I get my information from public sources. It shows the public and reckless nature of the leak.
Either someone within the club is doing their best to undermine the team, or there is just gross incompetence and a lack of care from whoever it is doing this.
To be clear, no blame should be directed at Eric Paul – he is only a messenger – but I am staggered at how unprofessional we have become that there are people with access to information who are dishing it out.
George McKane
122
Posted 10/02/2018 at 09:06:26
No game for me today - - routine ruined - - exhausted and bed bound with flu.
Cosmic grooves from New Brighton to all Blues everywhere - - this is our Club not Allardyche's - - he is merely milking us for his retirement fund for a while - - wont be long now.
Darren Hind
123
Posted 10/02/2018 at 09:13:35
Amen to that George
Get well soon lad.
Eddie Dunn
124
Posted 10/02/2018 at 09:16:55
I would not play Mangala at left back. The man has muscled-up so much in the last couple of years that he looks particularly immobile, and I can't see him being quick enough on the wing.
So I would stick with Martina. He may be a little limited going forward, but he has stuck manfully to the task in awkward circumstances.
I must add my voice to those who think Schneiderlin should not even get on the bench. He is a shadow of the dynamic midfielder I watched at Saints a few years back. A player seemingly lacking motivation, energy and bite.
Hopefully, the return of our talisman Seamus and the inclusion of Davies from the start, will give us more drive and aggression. I also want to see Tosun start the game to see if his good movement and touch can be the link for the likes of Walcott to create some chances.
I would keep the human battering ram Niasse on the bench until the final quarter and use him against the tiring defence.
A win is expected but I wouldn't be surprised if we have to settle for a point as Palace are no mugs and Hodgson will have done his homework.
Our defence are always likely to cough-up a goal so the onus is to bang-in 2 or 3 before the usual calamity, and twenty minutes of hanging-on.
Let's hope for that much needed win, to ease the pressure and give the team some confidence.
Tony Everan
125
Posted 10/02/2018 at 09:21:39
Maybe he just got lucky, but if not the leaks have to stop immediately.
It's a critical time for our club and the last thing we want is team selections being leaked, resulting in advantage to opponents.
If he's bang on the money again, there needs to be an internal inquest to get to the bottom of it and shut it down.
Dave Abrahams
126
Posted 10/02/2018 at 09:34:18
John (104), All those players named played under the time Cliff Btitton was manager, he even signed Jock Lindsay, are you sure a committee picked the team under the managers nose, surely Cliff Britton wouldn't have stood for that, then again you usually get things right.
Derek Knox
127
Posted 10/02/2018 at 09:42:20
Eddie, agree with using Niasse from the bench, I have said it many times that he seems more effective than starting from the off.
This would be the ideal game to give Tosun a run out, how the lad is going to benefit from being benched, or not picked, is beyond me.
The early team indicators are looking like an attacking formation, which would suit his style of play. Why pay the money we have done (which is not inconsiderable) then proceed to have him sit there watching, besides his confidence is not going to improve from the bench or the stands.
Tony Abrahams
128
Posted 10/02/2018 at 09:50:04
That's Two bad omens I've heard now, and I haven't even thought about the game yet.
George, I know you are rough, so I will put your bet on for you mate. Its about time this team stepped up to the plate, because usually your posts are the only thing worth looking forward to on a Saturday.
I'm also thinking about the West Country blues, and every other Evertonian, who has got far to travel on this horrible day. As for the mole, my money would have to be on Snides!
Eddie Dunn
129
Posted 10/02/2018 at 10:00:57
Tony, if you're looking for a mole, what about Little Sam?

George McKane
130
Posted 10/02/2018 at 10:19:32
It takes a great deal for me to willingly miss a game - - I work in Europe a lot with our young people at Yellow House but always manage to make arrangements to get home for the games - - this week I have been really ill (not like me) but I had a big job - - 2 days in a Special Needs School - - working with kids - - beautiful work - - and I drove myself on to do it - - took my mate Dan and others from our gang - - but it exhausted me - - spoke with Dan's Dad this morning and am passing my ticket onto one of their family - - my daughter will come and pick it up - - you see Mr. Allardyche this is what being part of Everton means - - looking after each other - - the kid using my ticket is fostered and she loves Everton but hardly get's a chance to go - - good luck to her today - - she will sit with my daughter and grandson and with Dan - - we are not mercenaries looking to "screw" someone - - we are a family of fans - - friends - - you don't get it do you Mr. Allardyche - - the sooner you've earned your little Dubai Pot the better - - leave us and our Club - - you are not a good advert for our Glorious Club - - you have earned nothing yet take a lot - - I am glad I am not you - - I am really exhausted but without being patronising feel good that some kid is seeing Everton in my place - - no money asked - - my daughter will have to do a lot of running around to meet this little girl - - but so what - - We Are Blues - - I really hope that the next few months are the end of this dreadful man's time at Our Club and that the fools that run Our Club wake up from their delusional dream and deliver to us The Management/The Team/ The Club that we deserve and want - - I want a Club and Team to be proud of.
That's enough from me today - -knackered - - best wishes to you all - - - Up The Blues and Cosmic Blue Grooves.
Laurie Hartley
131
Posted 10/02/2018 at 10:21:25
Grooves received in Korumburra George.
Press this button George it's not cosmic but it always makes me feel better.
Phil Walling
132
Posted 10/02/2018 at 10:25:33
My grandson places my bets in England. It appears he inadvertently backed us to WIN. Obviously, the gods would not expect any forecast from me but a victory.
So be it !
Peter Mills
133
Posted 10/02/2018 at 10:38:46
George, I'll stick a fiver on us to win 4-0 for you. If it comes in I'll get the cash to you somehow, you can put it towards one of your causes.
Get well soon.
Jamie Evans
134
Posted 10/02/2018 at 11:34:21
Get well soon George. We will win today mate for you. Just got a feeling.
Tony Everan
135
Posted 10/02/2018 at 11:38:43
Get well soon, George, I have been laid low by some nasty strain of it for 2 weeks. I was going to suggest a tonic but there's only one that would really perk you up.
A decent performance, a few goals, another great game from Seamus. Oh, and dare I say it, an Everton win at the end of all that.
Jamie Evans
136
Posted 10/02/2018 at 11:40:35
Andy 86, apologies mate for such a late, late reply.
The posters at 96 and 100 have team.
No Tosun again.
Anthony Murphy
137
Posted 10/02/2018 at 12:07:17
I hope that proves not to be the team nothing to do with my preferences but more to do with how this type of info is being leaked... if it proves to be true, surely someone is undermining the management team or am I overthinking it?
Aarron Stobie
138
Posted 10/02/2018 at 12:16:47
If we can go out there and take the game to Palace, like we did against Leicester, then we will win. But we can't continue with this sitting back and defending because we can't defend. So it's a game where we just need to score as many goals as possible.
We should never start Schneiderlin again as he has no discipline and doesn't know how to make the right decisions. Tom Davies should start and he should be able to play freely with Gana behind as Tom Davies leaves a big gap in the midfield; therefore Gana can just sit and break up the play.
Niasse should start maybe alongside Tosun with Sigurdsson behind. The wingers should be Bolasie and Walcott with Vlasic on the bench for backup. Jagielka and Keane should play at the back as some of Mangala's mistakes cost us heavily against Arsenal.
Coleman at right back and Luke Garbutt at left back. They can bomb forward as well as defend hope for a good result. COYB
Dave Abrahams
139
Posted 10/02/2018 at 12:47:41
George (130), try not to worry about Everton today George, sometimes there is more important things than football and even Everton, get yourself better, there are plenty more games to come and you can cheer twice as loud at the next match.
Best wishes George, have a couple of nice hot toddies to keep you warm, looking forward to your next post.
Eddie Dunn
140
Posted 10/02/2018 at 13:04:51
Dear George, may I also wish you a speedy recovery. Hopefully a good result will propell you back to good health.
Rob Hooton
141
Posted 10/02/2018 at 13:05:21
Get well soon George, hope the blurs provide a tonic of a performance today.
Palace will play with a lot of energy and we need to start the same for once. Hopefully no sign of Schneiderlin today, been a long time since one player was so unanimously disliked and it is plain for all to see why this is.
Fancy Theo, Tosun and Coleman to get on the scoresheet today so will probably get beat 4-3!
COYB, give us a good one please, only watched MOTD once in2 months
Phil Grayston
142
Posted 10/02/2018 at 13:26:42
Which is the leaked line-up? I was convinced that the person who supplied the Arsenal line-up had genuine information. If so, it's pretty serious
Mark Tanton
143
Posted 10/02/2018 at 13:31:20
Is there a rat in the club? Leaking information is really the very last thing Everton needs.
Barry McNally
144
Posted 10/02/2018 at 13:36:07
George, get well soon - hope the girl has a great day out - fair play to you and your daughter.
Dermot Byrne
145
Posted 10/02/2018 at 13:54:36
George...you try and tell folk just how hard man-flu is and hey, you're never believed.
We know mate.
Hope it goes soon
Kunal Desai
146
Posted 10/02/2018 at 14:01:51
Clearly a mole somewhere
Pickford, Coleman, Keane, Mangala, Martina, Gueye, Davies, Rooney, Sigurdsson, Walcott, Niasse
Mark Tanton
147
Posted 10/02/2018 at 14:06:28
So how many games did the boss keep Rooney and Sig apart?!
Colin Malone
148
Posted 10/02/2018 at 14:09:38
Hodgson is laughing now saying "Get down their left.
Chris Gould
149
Posted 10/02/2018 at 14:14:15
That's ridiculous, 3 correct lineups in a row leaked to the general public!
Let's hope that Keane and Mangala can forge a formidable partnership (as unlikely as it sounds, I'm trying to be positive). We need to be solid and patient today, but we MUST have a proper go at them!
Press like we did against Leiscester and hope the chances fall to Walcott.
Darren Hind
150
Posted 10/02/2018 at 14:16:41
HaHa Look what you've started George.
A whole group of people backing 4-0. Lets hope this is one of those rare days when we all end up happy AND the bookies take a bashing.
I'll be leaving in about 20 minutes, I wont be having a bevy either Mc Donalds for err . . .the little fella, but being an Hillman Minx. I wont be weighing the team down under the burden of my bet Good luck to those who do have a go
I'm a nervous wreck. We have to win today

Jay Wood
[BRZ]
151
Posted 10/02/2018 at 14:23:40
So is that 3 consecutive games Eric Paul has correctly named well in advance of the match?
That cannot be down to lucking out and pure guess work, given the wide-ranging changes between each game.
Absolutely NO BLAME being directed at Eric who apparently has very well-informed sources at Finch Farm, but I add my own voice of concern expressed by others that such sensitive information is being so easily leaked to the public, so far in advance.
The mole needs digging out.
Anthony Murphy
152
Posted 10/02/2018 at 14:48:29
I think we'll win today, but if we get beat – and comfortably – will Moshiri act? Sounds unlikely, but his first choice is currently signing on.
George, get the old mix tape out...Van, Dylan, Neil Young you'll soon pick up!
Eric Paul
153
Posted 10/02/2018 at 22:11:09
You do know fans are the last to know???
Add Your Comments
In order to post a comment, you need to be logged in as a registered user of the site.
Or Sign up as a ToffeeWeb Member — it's free, takes just a few minutes and will allow you to post your comments on articles and Talking Points submissions across the site.