Everton vs Brighton & Hove Albion
Friday, 9 March, 2018
Match Preview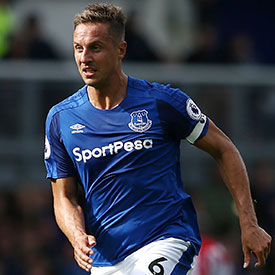 Phil Jagielka is expected to return to the starting XI after recovering from injury
Everton return to Goodison Park following two disappointing away games for a clash with Brighton that has taken on much importance than it otherwise might.
The Blues' run of poor form, just two wins in the last 11 in the Premier League, combined with the Seagulls' own improved results, means that they will begin the weekend sitting below Brighton in the table and just seven points above the relegation zone.
That has heaped more pressure on Sam Allardyce to oversee a third successive home victory that would significantly ease fears that Everton could dragged into the scrap to beat the drop this season.
Though he will be missing a first-choice centre half in the form of the suspended Ashley Williams, the manager has been boosted by the return to fitness of Phil Jagielka, Ramiro Funes Mori and Leighton Baines, all of whom are now available.
"Our injury list is not too bad at all," Allardyce said in his pre-match press conference. "Obviously, we've got a couple of long-termers in Mangala and McCarthy but the rest of the players are okay.
"There [is a decision to be made at centre half]. We've got Funes back as well after two or three Under-23 games [so] we've got a number of centre-halves we can choose from as a replacement for Ash."
Baines's presence at left back and Jagielka's experience in the middle have been missed in recent weeks and it would not be a surprise to see both drafted back into the starting XI but whether Allardyce would be tempted to drop Michael Keane and replace him with Funes Mori remains to be seen.
Up front, Cenk Tosun's goalscoring return to the side last weekend will surely have earned him a place and Dominic Calvert-Lewin could also keep his spot if Allardyce opts to keep the same attacking unit as that which faced Burnley and bring Wayne Rooney in at the expense of Tom Davies.
The manager will be treating Chris Hughton's Brighton with plenty of respect if the comments in his presser and then to the print media afterwards are any indication. He is all too aware of the costs to him personally if Everton don't win this important home game given how poor they have been on their travels and that the next two visitors to Goodison are Manchester City and Liverpool.
"I can't continue to lose football matches. It is as simple as that," Allardyce said. "There is no point beating about the bush and saying you can have as much backing as you want. There is great backing from the owners but I have to win matches to reassure them that I am the right man for the job.
"Brighton are picking up points home and away so it'll be a hugely difficult game for us and it's not one we can underestimate at all,"
"We all aware of the disappointment [in our form] away from home but we have to look at the home results and say that's where our bread and butter lies. That's where we've been good.
"We've won the last two home games and I think we've only conceded two goals that were penalties so we've played well at home but our away form is the big problem we have.
"We have to put that behind us, make sure there's no legacy from the disappointment of the last two games and be in top form on Saturday because we need to get a win.
"We have a put a bit of pressure on ourselves because of the last two away results and we have to cope with the pressure and deliver for the fans who are very, very important to us, home and away."
Kick-off: 3pm, Saturday 10 March, 2018
Referee: Roger East
Last Time: Everton 2 - 2 Brighton & Hove Albion (October 1982)
Predicted Line-up: Pickford, Coleman, Jagielka, Keane, Baines, Gueye, Rooney, Sigurdsson, Calvert-Lewin, Walcott, Tosun
Full details: ToffeeWeb match page
---
Reader Comments (153)
Note: the following content is not moderated or vetted by the site owners at the time of submission. Comments are the responsibility of the poster. Disclaimer
Kevin Molloy
1
Posted 09/03/2018 at 07:21:52
All three fit again players should be back in from the start to stop the gaping hole that is our defence. Keane has been awful so can't complain if dropped – he is, after all, slower than my gran's 100-year-old cat. Fingers crossed for three vital points.

Kim Vivian
2
Posted 09/03/2018 at 07:52:54
I like the look of Lyndon's predicted line-up except I would swap Keane out for Funes Mori. We would then see at least two players (him and Seamus) with some fight in them.
I do believe we will actually get back to winning ways with this one. Brighton will be feeling cock sure, and over confident possibly, after their Arsenal performance coming to an out-of-form Everton. I am predicting 2, maybe 3-1 this week. The first 3 of those 20 points I am looking to Allardyce and the team to bring us between now and May.
If we lose this then succumb to Man City and the RS, the consequences are chilling.
Victor Yu
3
Posted 09/03/2018 at 08:03:02
I fear we would be relegated if we don't win this game.
Andrew Clare
4
Posted 09/03/2018 at 08:06:20
I really really hope we win but where is the evidence that it will happen?
I also hope there is a massive display of discontent with Allardyce shown by the Goodison faithful. We do not want this man anywhere near our club after season's end.
Eddie Dunn
5
Posted 09/03/2018 at 08:14:26
A pivotal game. if ever there was one. A win, and safety is almost certain, a loss and we face the prospect of playing the two best attacks in the Premier League and the likelihood of slipping into the relegation dogfight with our home fans turning on the team and manager. The toxicity would be detrimental to us scrambling out of the mire.
We need to win this game. The players and management will be well aware of this and if they can't get themselves up for this game, then they don't deserve to play this sport.
Kunal Desai
6
Posted 09/03/2018 at 08:15:56
I'd like to see Holgate alongside Jags. Davies starting.
Neil Lawson
7
Posted 09/03/2018 at 08:16:44
It is outrageous that a home game against the mighty Brighton should be so important.
All of us are amateur managers and we all have our opinions of what constitutes the best line up. However, it is equally outrageous that we don't have a regular and settled starting eleven who can be backed up by reliable replacements if injury or suspension demands. What sort of manager chops and changes for no obvious reason. Answer... a useless one.
Desperately hoping we may sneak a win. Given our current plight that is all that matters. Find safety and immediately find a new manager.
Eddie Dunn
8
Posted 09/03/2018 at 08:27:43
I wonder if Sam has a clause in his contract that he can't be sacked if he keeps us up? Or he can't be sacked if we finish top half?
The hierarchy may have agreed to such a thing in their panic a few months ago.
Jim Bennings
9
Posted 09/03/2018 at 08:31:23
A bigger game in the context of Everton's season than it's being billed.
Failure to win then you might as well say we won't be winning any of the next four because the next four read as below.
Stoke Away
Manchester City Home
Liverpool Home
Swansea Away
We already know we don't win away games and certainly we don't possess the backbone to win away to sides who will be fighting tooth and nail for survival whilst there's no way this spineless Everton team are good enough to beat man City or Liverpool, let's be brutally honest.
Failure to beat Brighton will be 2 wins in 13 and will quickly become 2 wins in 17 following that four-game batch.
Anyone trying to say that is not relegation form??
Jamie Evans
10
Posted 09/03/2018 at 09:16:15
Jim 9, genuinely terrifying to read.
I thought tomorrow was a must-win before I read your post... but now!
The crowd have a massive part to play tomorrow.
Full support.
Brian Wilkinson
11
Posted 09/03/2018 at 09:23:28
Great to see Jags back, more than happy if that is our starting lineup.
Really cannot see anything but a home win, providing that is our lineup in defence, not too bothered if Keane misses out but if he starts at least we have Jags in there.
Kim Vivian
12
Posted 09/03/2018 at 09:24:38
Jim – Christ, I forgot about Stoke. Can't see us winning that one with Shaquiri ripping Martina to shreds.
An even more chilling prospect if/when we then lose to Man City and the RS. Puts even more emphasis on this weekend, but I do think we will do it.
Robert Leigh
13
Posted 09/03/2018 at 09:26:39
I agree, Kunal, Holgate was playing very well and then the Firmino thing came along.
I'd like to see:
Pickford
Coleman - Holgate - Jagielka - Baines
Sigurdsson - Gueye - Davies
Walcott - Tosun - Bolasie
Subs: Robles, Funes Mori, Kenny, Rooney, Schneiderlin, Calvert-Lewin, Niasse
i just feel Bolasie running at their right-back and putting some crosses in to Tosun could prove fruitful
Mike Allison
14
Posted 09/03/2018 at 09:27:27
Our home form and the likelihood of finally having a left-footed left-back to balance the side are causes for optimism.
In terms of the line-up, I think which particular individuals we choose is far less important than the attitude and motivation of whoever takes the field. I don't mind any two of Jagielka, Funes Mori, Holgate and Keane, I mind that they are focused and committed for the whole match. The biggest criticism of Everton's season is that there is genuine doubt over whether that will be true of the eleven who are picked.
John Charles
15
Posted 09/03/2018 at 09:38:36
Vital game. I think we will win.

Funes Mori for Keane, who is awful.

Rooney for Calvert-Lewin, who offers nothing out left.
Colin Glassar
16
Posted 09/03/2018 at 09:41:13
Win one more game and we are more or less safe. Then can we get rid of Sam?
Dennis Stevens
17
Posted 09/03/2018 at 09:44:43
Crikey – it hadn't dawned on me until looking at the table just now, but we could in theory be in the bottom 3 after the derby!
Brian Porter
18
Posted 09/03/2018 at 09:52:09
I hope Funes Mori starts. He has something to prove as he will be aiming for a place in Argentina's World Cup squad, so he will be going all out to impress not just our pathetic excuse for a manager, but also his international team boss. He probably has more incentive than any of our defenders to do well, so will give his all for the team, I think.
Keane just doesn't have what it takes to be a top Premier League player and also, importantly, Funes Mori is a natural left-footer, something we are crying out for at the back.
John Raftery
19
Posted 09/03/2018 at 10:01:42
This is not the time for the home crowd to show their discontent. That can wait. Tomorrow, the team needs the crowd to be be up for it and, above all, the crowd needs the team to be up for it. If three of Moyes's squad, Baines, Jagielka and Seamus, are playing, the team will know what is required of them.
Martin Nicholls
20
Posted 09/03/2018 at 10:05:03
Robert (#13) – I was on front row last week at Burnley to see in close-up Bolasie's woeful attempts at crossing a football. Based on that and my recall of him prior to his injury, I can't see Tosun getting much joy from his crosses! We can but hope though as law of averages suggests he must get one right sooner or later!
Clive Rogers
21
Posted 09/03/2018 at 10:06:45
Calvert-Lewin and Davies were both very poor against Burnley and should not be considered. Having said that, it's a struggle to think of someone for wide left. Bolasie has been really poor.
James Marshall
22
Posted 09/03/2018 at 10:10:50
The positive thing about all this is that we still have plenty to play for despite people saying our season is over.
I know, I know.
Geoffrey Williams
23
Posted 09/03/2018 at 10:11:23
The season has been a total disaster both on and off the field. Tens of millions of pounds wasted on substandard players. Dire performances on the pitch. Poor team selection and tactics.
The appointment of a manager with very limited ability whose only claims to fame are as a rank average player who has built a reputation of not managing a team to relegation and was manager of England for one game.
I genuinely fear relegation. Where are the wins coming from? The negative 'we mustn't lose' attitude of the manager are more likely to bring defeats rather than victories. We really need some luck over the next few weeks.
James Marshall
24
Posted 09/03/2018 at 10:12:27
Coleman, Jagielka and Baines all starting? That's 3 injury risks in the backline – add in Funes Mori to that and we could start with all 4 defenders coming back from injury. Never gonna happen.
Johan Elmgren
25
Posted 09/03/2018 at 10:31:47
I suggest we all get behind our team for this one and forget about our Allardyce woes for a while. We need the win and the players need our backing... Booing Allardyce could upset the players.
However, if we lose this game we should boo Allardyce all the more because, if we don't win this game, I can't see where our next points will come from... If so, we need a change in management asap to shake the players into life.
Gareth Clark
26
Posted 09/03/2018 at 10:32:20
Pickford
Coleman Holgate Jagielka (c) Baines
Idrissa Davies
Walcott Sigurdsson Bolasie
Tosun
Robles, Keane, Kenny, Klaassen, Rooney, Calvert-Lewin, Niasse

Gives us some pace out wide & some physicality too. If Bolasie isn't ready, then play Calvert-Lewin, and play 2 up front.
Nick Swallow
27
Posted 09/03/2018 at 10:34:51
"First choice centre half Ashley Williams..."
That alone should see him sacked.
Brian Hennessy
28
Posted 09/03/2018 at 10:40:03
This match is live on Sky Sports here in Ireland – not sure if that is a good or bad thing considering the dross being served up...
Johan Elmgren
29
Posted 09/03/2018 at 10:41:47
"I can't continue to lose football matches. It is as simple as that," Allardyce said.
"There is no point beating about the bush and saying you can have as much backing as you want. There is great backing from the owners but I have to win matches to reassure them that I am the right man for the job."
It seems from Allardyce's prematch comments, that the meeting with Moshiri was one about the ultimatum "start winning or get the sack".
Steve Brown
30
Posted 09/03/2018 at 10:49:01
Are we keeping Mangala on loan then? Why we don't send him back to Cittah I don't know.
Steve Brown
31
Posted 09/03/2018 at 10:49:58
Brian 28, it's bad.
Mike Doyle
32
Posted 09/03/2018 at 10:50:58
Let's be honest. Bolasie is terrible – and was before his injury. He has that one trick of waving a foot over the ball before trying to push it down the touchline side of the defender – and that's about it. Hardly a surprise as he was effectively a squad player at Palace.
As Martin (#20) points out his crossing is terrible too. The only thing he seems to offer is unpredictability – ie, neither he or his team mates have any idea what he's going to do next.
Thinking of the good wingers we've had over the years (Thomas, Steven, Kanchelskis etc...) makes watching him even harder. Yet another in the litany of mediocre players bought in the last couple of years.
Paul Welsby
33
Posted 09/03/2018 at 11:01:48
Johan, if booing or singing songs about the rat that is Sam Allardyce getting out of our club asap affects the players, then we are definitely in the shit.
Me for one, and a good many Evertonians I know, will be singing as loud as we can, because we feel it's just unacceptable to have this vile bastard anywhere near our club.
If the players don't like it, they should've pulled their fingers out their arses way before this rat was even mentioned and we wouldn't be where we are right now. So fuck the players – they should be stronger men than being affected by a few songs or booing.
Raymond Fox
34
Posted 09/03/2018 at 11:09:32
I don't think anyone can be confident we will win this match. If you look at the teams below us, though, none of those can be confident of winning matches either. I believe 38 or even 36 points will be enough to stay up because there's going to be a lot of drawn games when the bottom-of-the-table teams play each other.
For all the pessimists, we are 50/1 to be relegated (Betfair). We will be a lot less if we lose this match!
I can't believe we will not get another 2 to 4 pts though, that will ensure we are playing in the Premier League next season.

Ray Roche
35
Posted 09/03/2018 at 11:21:24
Paul, singing songs affects the players? I'll be astonished if they don't join in.
Paul Welsby
36
Posted 09/03/2018 at 11:22:36
Gareth Clark – I think that's the best team we could send out.
James Marshall
37
Posted 09/03/2018 at 11:31:01
Allardyce has proven, week-in & week-out, that our performances are equally as rubbish regardless of team selection, so you can all choose whatever team you like, you'll still be served up a load of crap.
Johan Elmgren
38
Posted 09/03/2018 at 11:43:55
Yeah, Paul, I agree with you, Allardyce needs to leave asap, and the players should be able to deal with the singing. But, with the state that we are in at the moment, I think it could do more damage than good...
It's become a really important game for us after our poor form since the turn of the year, and those players are only human. We need the three points, and then he can feck off...
Sam Hoare
40
Posted 09/03/2018 at 12:02:44
Bolasie was decent for us before he got injured. But has looked pretty terrible since returning. No surprise perhaps after such a bad injury and just hope he can find some better form. Calvert-Lewin has disappointed me in recent weeks and Sigurdsson is not a winger. Not many effective wide options except for Walcott. Makes you wonder why we loaned out Lookman?!
I find it pretty hard to select an exciting team these days. Might be tempted to throw in Anthony Evans from the U23s who has been doing well, a debut always gives the crowd a lift which we badly need.
We really lack pace in all departments, especially in midfield. Absolutely baffled how this was not addressed in the Summer where we bought Rooney, Klaassen and Sigurdsson who are all unbelievably slow!
Pickford
Coleman Holgate Jagielka Martina
Davies Gueye Sigurdsson
Walcott Tosun Evans
Derek McMonagle
41
Posted 09/03/2018 at 12:04:43
Hughton has just got the Manager of the Month award for February. It's a great pity they don't have a Bum of the Month award. We all know who would be a strong contender for that.
Brian Wilkinson
42
Posted 09/03/2018 at 12:17:14
We all know what happens the following match after winning manager of the month, normally the kiss of death, fingers crossed.
Kevin Tully
43
Posted 09/03/2018 at 12:25:25
How on earth this Everton side have managed to amass 34 points is beyond my understanding. I've watched every other Premier League side on numerous occasions, and we do seem to be by far the worst team in the division if you look at team spirit combined with a coherent tactical plan. Even the poorest West Brom side of recent years should have taken four points off us, that's how bad we've been.
This isn't all down to shitty signings, there is something deeply rotten at Goodison, and I think the players and coaching staff who are causing unrest need to be identified and shipped out in the summer. We need a full clear-out. Top to bottom. We also need someone at the top to employ said person to carry out the cull. Massive job, absolutely no time to waste.
David Hallwood
44
Posted 09/03/2018 at 13:01:50
Great preview as ever, Lyndon, but it's like using purple prose to describe a 💩. And speaking of turds, I've sat through some shite In my time: Walker, Smith, Kendall Mk Il and lll, but none as dspressing as this team.
Worst of it, your line-up contains 10 full or ex-internationals, so it isn't the honest journeymen of 20 years ago totally out of their depth, but players with no heart or fight and they probably think they're too good or too big to be getting down and dirty with the plebs – except that they're the reason we are where we are.
And Big Sam who delights in playing one-dimensional agricultural boring ugly football as long as we keep a clean sheet – except we don't.
So, for the first time in my life, I'm past caring about the team; nobody in the club seems to be arsed so why should I be? Yes, it's a must win game; will we get the 3 points, probably not, but even if we do, unless there's a comprehensive change from the DoF down it'll only delay in inevitable. Think Aston Villa and shudder.

George Cumiskey
45
Posted 09/03/2018 at 13:05:17
Ray @35 brilliant, love it.
Andrew Clare
46
Posted 09/03/2018 at 13:07:52
Brighton will arrive at Goodison full of confidence, highly motivated with a well thought out game plan. Everton on the other hand will be low on confidence, unmotivated, with no game plan.
Why? Because the players have no confidence, can't be bothered and the manager hasn't got a clue.
If we don't win this one, we are in big trouble. The thing is... why should we think we will beat Brighton?
Paul Welsby
47
Posted 09/03/2018 at 13:20:01
Johan, I will be there supporting the team as always... but Sam is getting it, mate. I'm sick of this rat.
I just can't sit there, as I think the supporters in the ground have a responsibility to the hundreds of thousands of Evertonians all over the world who, for one reason or another, can't get there, to drive this rat out.
That's just the way I feel, Johan, and I know many don't, but everyone is entitled to protest in whatever way they choose.
There seems to be a small percentage who are willing to let things carry on which is their choice, so I'm making my choice tomorrow, if that's alright?
I'm not asking for anyone's approval or backing, it's something I feel I need to do along with a good few fellow Evertonians I know personally.
Fellow supporters don't have to join in, do they, Johan? But please, I can't agree that the players will be affected by booing or singing to chase this rat out of our club. I'm more inclined to believe Ray Roche's suggestion that the players are more likely to join in.
Gary Drain
48
Posted 09/03/2018 at 13:26:34
How is singing about getting Allardyce out going to help the team? All it's going to do is create tension on the pitch which will stop the players playing. We've seen this happen before and it can do nothing but have a detrimental affect.
Save it for half time or full time when the players are leaving the pitch so everyone knows how you feel without it effecting what is happening on the pitch.
Jim Bennings
49
Posted 09/03/2018 at 13:29:58
How about for once the players themselves man up and start taking personal responsibility?
Or is that too much to ask nowadays, do they need to consult their agents to see if it's ok to actually work hard and sweat with pride and passion once on the pitch!?
Paul Welsby
50
Posted 09/03/2018 at 13:33:51
If only, Jim!
Gary Drain, singing or booing Sam when he isn't there is just, how can I put it? Fucking daft.
Pete Clarke
51
Posted 09/03/2018 at 13:38:45
Paul (#47).
Appreciate those words mate as I am 12,000 miles away but would love nothing more than to give it to that big good for fuck-all Neandarthal.
The players will understand anyway as he will blame them for everything that can possibly go wrong.
Jon Withey
52
Posted 09/03/2018 at 13:44:52
Sooner we get to 40 the better – protest the last game of the season.
Johan Elmgren
54
Posted 09/03/2018 at 13:50:24
Of course everyone is entitled to vent their frustrations in their own way. Opinion will always differ wether it has good or bad effect on the players, but I think in such an important game as this, why take the risk?
I'm for supporting the players during the match, and if we eventually lose (god forbid), then it's open season on the manager...
Paul Welsby
55
Posted 09/03/2018 at 13:52:31
I just don't know what else this manager has to do for us Evertonians to come together and push in the same direction for him to be removed.
Like I said earlier, I am not asking for approval. I am just doing what I feel I have to do. It probably won't work knowing our board but doing nothing is not an option anymore.
Gary Drain, I didn't mean any offence before, and I'm not going to let the rat they call Sam, or this board's lack of ability to run our club in the way it should be, make me start arguing with my fellow Evertonians.
Dave Wilson
56
Posted 09/03/2018 at 13:53:54
Let's just get safe so we can sleep easy in our beds.
Jamie Evans
57
Posted 09/03/2018 at 13:57:28
Paul Welsby, breathe my friend.
Breathe.
I feel your pain honestly. 96% of us on this site know how you feel so if it's going to make you feel better by giving it to Lardiola tomorrow then go for it.
You've paid your money, etc, etc.
I think what other posters are trying to say is don't forget about the players.
They need to hear from you as much as FS does.
We still need 2 more wins until we are safe and fans like you at the ground are imperative in us getting them.
Keep the faith mate.
This is nearly over.

Phil Smith
58
Posted 09/03/2018 at 13:58:00
Have to start with 2 up top and that should be Niasse and Tosun with Walcott on the right and Garbutt (I really want to see how good/bad he is!) on the other side with Sigurdsson and Gana in the middle.
Whatever it is though, we have to have our two best strikers up top at all the remaining home games.
Gary Drain
59
Posted 09/03/2018 at 14:18:45
No need to apologise, Paul Welsby! Just a difference in opinion.
In more optimistic news, looking at the run in after the Swansea game, they're definitely winnable.
Allan Board
61
Posted 09/03/2018 at 14:25:39
The team is rubbish, as a collective. Throw in the fact the manager is not interested either and it spells disaster.
All this talk of formations is wasted as the players don't care – and haven't done for years! This situation is coming to boiling point after 20 years of it simmering and no decent manager will touch the place with a shitty stick!
You don't have to protest at games or outside the ground or shout abusive tirades at players or coaches either to make the owner realise that Bill, his mates, and nearly all the staff and players need removing... Just stop going to the games!!! I promise, it makes you feel better.
And realise that the Premier League is just a bullshit bubble. Go support your local grassroots football or run a team for youngsters -t he rewards are massive for you, the kids and the area.
And it's real football, played for the right reasons – the love of the game.
William Cartwright
62
Posted 09/03/2018 at 14:35:00
Well, along with 94% of ToffeeWebbers, I have long been posting my share on negative abuse at Allardyce and the geberal management of the Club. I see no reason to change my view. However, I do like a bit of counter-perspective in any situation and I am wondering exactly what he is responsible for (according to himself – absolutely nothing).
But what if there is a malaise in the dressing room? We suspect / believe there has been something amiss for a very long time. What if the corridors of power are more controlling and divisive behind the scenes than we imagine? Could it be that he is actually wallowing in a really shit situation which has no positives to improve it no matter what he tries?
Is hanging out the players really his last resort? Perhaps Tosun was 'not up to speed' as he claims?
Perhaps Garbutt is just taking the piss during training? Etc, etc...
I still am of the opinion Allardyce is not for Everton but crikey, we actually do not know with any real certainty what is going on behind the scenes... Do we?
Dave Abrahams
63
Posted 09/03/2018 at 14:39:03
Paul (50), I understand how you feel, plenty of us do. Just a suggestion: why don't you give the team at least 20 or 30 minutes tomorrow to see how they are shaping up? We'll all know by then if they are up for it (for once). If they are, get behind them, forget about Sam, and cheer the team on, hopefully to a much needed win.
There are a few home games left this season; Sam can get his reward / comeuppance then, whether we are safe or not. He won't give a fuck either way as long as he's got his pay off cheque in his arse pocket.
Kevin Naylor
64
Posted 09/03/2018 at 14:42:23
5/4 to win this game tomorrow, yes 5/4 at home to mighty Brighton but I still wouldnt back them at 2 to fookin 1!
Jamie Crowley
65
Posted 09/03/2018 at 14:45:51
I said we wouldn't get relegated, counting on this one as a sure 3 points.
This is big, big game. If we lose this, it's real. We'll be in a world of shit.
John Pierce
66
Posted 09/03/2018 at 14:48:53
Nine games left, two very hard games at Goodison Park against Man City and the RS, but the rest would be eminently winnable in any other season than this.
Our optimism and positivity has been shredded to the point were those 7 remaining games against bottom-half opposition have many of us looking nervously over our shoulder.
It's truly a crime that a list Stoke, Swansea, Huddersfield, Brighton, Newcastle, Southampton and West Ham has us shitting our pants.
We won't get relegated, mathematically it's minute, the bookies have us nowhere near it and some of the run-ins the others have are horrendous.
As for Saturday, we'll win and it will be ugly as sin. That's entertainment, apparently, according to Fat Sam.
Peter Cummings
67
Posted 09/03/2018 at 14:57:25
I watched the Brighton v Arsenal game last week and they won't be pushovers, but the Gunners were nothing like they can be on the day as they proved in Milan when they turned them over on their own turf.
So unless there's a complete U-turn in form tomorrow and we win, a slide into the relegation zone is inevitable, given those next two 'Homers', strangely enough, I think if we do improve tomorrow, being an eternal optimist, I believe it will give us a chance of taking something from them too, in spite of Fat Sam.
Unless we up our game dramatically tomorrow, we will continue on the downward slope and into relegation territory.
Dave Abrahams
68
Posted 09/03/2018 at 15:04:29
John (#66), I'm one of many fans who think we can go down, but not tomorrow – that attitude is going in the bin for this game.
I'm going to the match to cheer them on, If the team can't start fighting now, they never will, I've got to think that they will prove they do care against Brighton.
Jay Harris
69
Posted 09/03/2018 at 15:43:01
Tomorrow is not a time to express anti-Allardyce sentiment. It is a time for all Evertonians to come together and support the team.
It is also a time for the players to show they care about the supporters and show maximum effort and endeavour.
For me, Keane has been a total embarrassment all season and should definitely sit this one out and based on the enthusiasm and performance in the U23 game I would give Funes Mori a chance to reestablish his career. If nothing else, he carries a goal threat, which is more than some of our so-called forwards do.
Although I don't think Martina has been as bad as some people make out it is a welcome relief to have Baines back as our left-back. Throw Jags and Seamus in the mix and I think you have our best back 4.
Midfield is Walcott, Gana, Davies, Sigurdsson with a front two of Niasse and Tosun to rattle Duffy and Dunk.
Pete Clarke
70
Posted 09/03/2018 at 15:57:34
Let's face it, we are hoping that a few changes to the team might make a difference but we could all be slagging those changes off tomorrow if it goes pear shaped.
It has been criminal of the club not to have had a single left-footed player in the team for a majority of the season though so, for that I am hopeful we will be too much for Brighton.
Dermot Byrne
71
Posted 09/03/2018 at 16:03:31
I have no effing idea what will happen tomorrow.
And there lies the problem.
But, ever the 10-year-old... 3-1!
Derek Knox
72
Posted 09/03/2018 at 16:22:10
I thought last week when I saw the team, at long last he is being positive up front, then when I looked at the defence it was so weak.
Which was unforgivable really, because Baines was back (got to be better than Martina, even having been out for some time) Funes Mori was available, having played with the U23s, (not even on the bench) Williams has been awful for most of the season (shoo-in).
Burnley picked up on our defensive frailties and exploited us. This results in the midfield dropping back to try and thwart the onslaught, and therefore not being able to get the ball forward. Resulting in us being Ecky Thumped.
If Pickford hadn't been there, it could easily have been a much more embarrassing scoreline.
I am not confident about tomorrow at all, confidence being absent throughout most of the team. Brighton have their tails up following the win over the Arse, and being above us now, will want to maintain that position.
If we do not win, we are in a precarious position with the games ahead of us, surely Allardyce will be given the Order of the Boot, Dilly, Dilly!
Paul Welsby
73
Posted 09/03/2018 at 16:22:40
Jamie Evans I took your advice and had a breather, pissed right off because I feel just the same, Everton eh!
All jokes aside I am all for supporting the team and the plan wasn't to just start giving it to Sam from the off. I'm one of them who isn't as confident as others we won't be dragged right in the shit, so the team does need our support.
I am not comfortable just giving this rat shit only when we are losing or we get beat, he needs to know he's just not what we want at Everton. That smirk as he walked off the pitch last week spoke volumes to me and many more Evertonians I have spoken to.
This vile bastard has to be chased because he is laughing at us, poking fun at us and purposely winding us up. When I see Fred Flintstone and Barney Rubble in our dugout, I get this feeling inside to run across the pitch and give him a yabba dabba doo right on his chin.
I know it's not the right way and I am not going to carry it out but honestly we have been through some shit together but this is literally taking the piss.
Dave Abrahams, I get it, mate, but I am sick to my stomach of letting these bastards off the hook. They all deserve it not just huge head, but yes, I agree, Dave, let's just see what unfolds tomorrow.
Why do I dread going to Goodison? Shouldn't it be a place I look forward going to? I hate match days all because of the whole lot of them, bastards.
Gareth Clark
74
Posted 09/03/2018 at 16:32:12
If we're looking for a winger, and Bolasie isn't the option – then we have to use Vlasic... he has so much raw talent & it is very difficult to get the ball off him.
I also think Beni Baningime is an option that we need to look at in midfield... he is so calm on the ball & very good at actually defending, intercepting, tackling, as well as being very good on the ball & has a pass on him too. Kind of reminds me of Moussa Dembele.
Schneiderlin needs to be taken out the team, Baningime is the best option to replace him, and Klaassen deserves a chance top.
John Hammond
75
Posted 09/03/2018 at 16:47:38
I'd go with the same midfield and forward line as last week. We need some sort of consistency. Bring Niasse on in the second half. Bolasie and Schneiderlin have to be kept off the pitch at all costs.
Bolasie is completely and utterly ineffective in every aspect of the game. He was infuriating to watch before his injury. As for the centre-backs I'd take Keane out after what Burnley did to him last week.
Rob Halligan
76
Posted 09/03/2018 at 17:14:37
Anyone remember the second half of the semi final against manure, when we had been totally shit in the first half following Martinez 's game plan?
The second half the players came out, basically said to Martinez "shove your game plan up your arse and we'll play it the way we want to play". Nearly worked as well.
Tomorrow the team should come out for the first half, have one of those group huddles before kick off and decide there and then to shove Allardyces game plan up his arse and play the way they want to play. Lardy Arse can shout and scream all he likes on the touchline as we romp to a 5 - 0 win.
Pickford. Coleman, Funes Mori, Jagielka, Baines. Gueye, Sigurdsson, Rooney, Davies, Walcott. Tosun.
Joe Foster
77
Posted 09/03/2018 at 17:24:22
If we don't win tomorrow, then we are truly in the realms of a nightmare scenario.
Jamie Evans
78
Posted 09/03/2018 at 17:25:37
Tomorrow's team:
Pickford
Coleman, Jagielka, Keane, Baines
Gueye, Rooney
Walcott, Sigurdsson, Bolasie.
Tosun.
Paul Welsby, feeling any better, mate?
Dave Abrahams
79
Posted 09/03/2018 at 17:26:16
Gareth (74)! Vlasic should definitely be on the bench at the very least, I just worry he hasn't had a game at all for weeks... don't know why. Allardyce is a law unto himself, but we absolutely need some-one who can dribble past the opposition, Bolasie can do this but often forgets to take the ball with him, he has been very disappointing since he came back.
I'd at least have Beni Banginime on the bench instead of the woeful Schneiderlin. Beni at least cares about Everton and will put himself about; Schneiderlin cares about himself.
James Marshall
80
Posted 09/03/2018 at 17:35:18
Coleman, Funes Mori, Jagielka, Baines – no manager is going to pick a back 4 all coming off injuries.
Paul Welsby
81
Posted 09/03/2018 at 17:42:41
Calmer, Jamie, much calmer. I can't really see myself feeling better until Sam has fallen off a cliff.
Eddie Dunn
82
Posted 09/03/2018 at 18:11:18
James, I think you are right. Surely it would be folly to play all of those just back from injury, but with this guy in charge, who knows?
Dick Fearon
83
Posted 09/03/2018 at 18:28:45
Desperately hoping I am wrong but I fear that Murray will provide a lesson to Tosun, Calvert-Lewin, Niasse and whoever coaches our strikers on the dark arts of an old-fashioned centre-forward.
Darren Hind
84
Posted 09/03/2018 at 18:31:05
That preview brought back memories, Lyndon. Especially the score line last time these two met at Goodison.
We were in the top Balcony where it turns round and narrows right up at the park end. Both teams came blasting out Hearn's/ Haggler fashion and it was 2-2 going on 5-5 after about 15 minutes.
The place was empty and you could virtually choose your seat, so it was really surprising when a guy from Brighton came racing in late with his two sons in tow. They dived into the seats in front of us.
The arl scoreboard at the front of the Park End top tier wasn't visible from there and he turned around and asked me if there was any score. I told him they had both proper gone for it and it was 2-2... He just gave me a cynical look and turned back to his lads and said "That's the trouble with these Scousers, They all think they are fucking comedians."
The rest of the game was crap and Matey from Brighton and his lads wouldn't have found out it wasn't 0-0 until they got back to their car.
Paul Ferry
85
Posted 09/03/2018 at 18:36:09
Cheers, Paul Welsby (#47)
I just can't sit there, as I think the supporters in the ground have a responsibility to the hundreds of thousands of Evertonians all over the world who for one reason or another can't get there, to drive this rat out.
I'll be booing from Chicago but it will be in the ether before it reaches Gary, Indiana. Great sentiments. Thank you. Hard to believe that some others would prefer to watch a bunch of English public schoolboys lose in Rugby again.
Do the globals proud mate!!!!
Max Murphy
86
Posted 09/03/2018 at 19:04:14
Thankfully the Six-Nations will provide a welcome diversion from the dross that will be served up at Goodison tomorrow.
Derek Knox
87
Posted 09/03/2018 at 19:29:05
Darren @84, that was probably Mr C Gull, and his fledglings, collectively known as 'The Gullibles'! :-)
Minik Hansen
88
Posted 09/03/2018 at 19:42:14
In this rollercoaster season, lately I have been less interested about upcoming games and news between games, that I forgot we now have Walcott in our squad. That was the only thing that excited me, reading this review.
Nonetheless, it's a home game, and oh well, it's impossible for me to ignore an Everton game. I tend to forget everything and support the club from kick-off. We can win this. COYB.
John Pierce
89
Posted 09/03/2018 at 19:42:25
As soon as we are 3-0 up tomorrow I expect the ground to tell Sam where to go. Get to fuck lad.
Barry Pearce
90
Posted 09/03/2018 at 19:56:09
If and when we do get safe. I'd like to see Evans, and Hornsby given some game time. Agree with others benni should be in the squad at the very least. Schiederlin will be moved on next season (hopefully) I would also bring Vlasic back in the squad.
I believe Hornsby as the makings of an excellent target man, and Evans as been in great form in attacking midfield.
Just my opinion.
Christy Ring
91
Posted 09/03/2018 at 20:24:47
Pickford
Coleman Holgate Funes Mori Baines
Wallcott Gueye Davies Sigurdsson
Tosun Rooney
Darren Hind
94
Posted 09/03/2018 at 20:42:51
This is making me crazy; I know Billy Wright scored one of the goals in the 1982 game, but I don't remember the other scorer... Joe McBride keeps coming to mind, but something doesn't ring true.
No YouTube (that I can find). So a lollipop to the first person to name the other scorer.
Danny Baily
95
Posted 09/03/2018 at 20:48:16
Let's win this so we can make up the numbers again next season.
Clive Mitchell
96
Posted 09/03/2018 at 20:49:34
It tells you much about us and our season that naming our starting 11 for a 'need to win' game is closer to picking the Grand National winner than it is to a certainty. I've no idea what the best line up for tomorrow is. I'd go for Davies and Niasse. Probably.
Ian Bennett
97
Posted 09/03/2018 at 20:56:11
Shuffling the same deck of duffers.
Oh well here goes.
Pickford
Coleman
Holgate
Jagielka
Baines
Davies
Gueye
Rooney
Sigurdsson
Tosun
Walcott
John G Davies
98
Posted 09/03/2018 at 20:58:52
Inchy, Darren?
Rob Halligan
99
Posted 09/03/2018 at 21:00:13
Darren,
I think Adrian heath may have scored the other goal that day.
Andrew Keatley
100
Posted 09/03/2018 at 21:02:55
Surprised by some of the complacency on this thread. Of course I very much hope we will be able to get to 40 points quickly, jettison Allardyce, and use the remaining games to lay some foundations for next season.
My fear is that reaching 40 points is going to prove difficult as we are playing awful football, our manager is awful, nobody is in good form, not one of our players shows any meaningful sign of leading us out of this slump, and we have no idea what our best XI is – or which formation actually suits our players.
A win tomorrow will be a huge step towards avoiding relegation, but I am just struggling to see where any wins are coming from right now. It is more than likely going to have to be an ugly, lucky, seat-of-the-pants win that we probably don't deserve - same as we managed in the earlier home games against Bournemouth and Watford.
I'd take any kind of win tomorrow. Anything else leaves us looking over our shoulder in a pretty unhealthy way.

Jamie Evans
101
Posted 09/03/2018 at 21:14:36
Christy / Ian, the team for tomorrow is @ 78.
Positive on paper but I thought the same last week and then we kicked off and there was no one within 10 yards of Tosun.
We can but hope.
And can someone check on Paul Welsby please?
Dave Williams
102
Posted 09/03/2018 at 21:18:16
I am the eternal optimist but I shuddered when I read Jim Bennings post outlining the next 4 fixtures.
I remember all too well the Wimbledon game – I actually crashed my car into a pillar in an underground car park when I switched the radio on and heard we were 2 down and I was at the Coventry game. The feeling on those two days was gut-wrenching to the point of almost being physically sick and I do not want another day like those two.
A win tomorrow should see us almost safe and the players simply have to go out and fight. Sidwell of Brighton said they went at Arsenal from the start as they knew they wouldn't be up for a fight and they are bound to do the same tomorrow.
We need to have bodies in midfield to stop them from playing through us but more than anything we need scrappers to get hold of the ball so we can play. Baines and Coleman will help by pushing forward and keeping the ball on the floor.
We can't play a back four just back from injury and Mori would be handy on the bench if Baines needs replacing:
Pickford
Coleman
Jagielka
Keane
Baines
Gana
Sigurdsson
Niasse
Walcott
Tosun
Rooney
I must say, I have changed that team four times so far, such is the paucity of players who are in form or who will scrap. Davies and Baningime will fight though I can't see Beni starting. See if Rooney is up for it – if he plays well, we will win.
Above all, we need a noisy and passionate crowd to get behind the team from the start- the time for recriminations is once we are safe or, heaven forbid, when the worst happens!
Jamie Evans
103
Posted 09/03/2018 at 21:20:59
Meanwhile the poll is up to 5%.
Jeff Armstrong
104
Posted 09/03/2018 at 21:25:37
Re the result against Brighton back in 1982, evertonresults .com is a fantastic site for researching our history.
I just had a quick look at that particular season and it brought back a lot of memories of different games that season, not least the cup run that saw us virtually treble home attendances for FA cup ties, this was a time when cup football was so much more interesting and exciting than the dross served up in the league games. Different times... oh for a cup run, not on many manager's (Bison head) agenda these days is it? More of a hindrance to the perceived excitement of (still dross,unless top 4) league games.
Fuckin hell, in 1982 no-one had a pot to piss in, it was purgatory, no work, the game was dying on its arse, 16,000 was our norm, only aided by derbies and Manc visits that brought our average up to 21,000 – really sad times, just before Howard kicked on; even then, attendances where poor compared to now.
Paul Welsby
105
Posted 09/03/2018 at 21:32:24
I can't wait to see his team selection tomorrow, but more so his formation. I think he will be worried about getting beat, so I have a feeling he will treat it like an away game against the mighty Brighton.
I can't be bothered attempting to name a team as this clown has just destroyed my enthusiasm and any hope I had. Let's see if we are happy tomorrow after the match with the result? Maybe then if results go our way we can relax in the knowledge we are near as damn it safe.
Night, ladies and gentlemen, early night for me in preparation for a bumpy ride tomorrow at our beloved Goodison Park. I can't remember the last time I looked forward to going? That's how fucking grim it is.
Paul Welsby
106
Posted 09/03/2018 at 21:37:27
Depressed Jamie! But thanks for asking. Night all.
Darren Hind
107
Posted 09/03/2018 at 21:50:34
Was it Heath, Rob? I'd have been there all day trying to get that one. I didn't realise he had signed by then.
Give that man a lollipop!
Minik Hansen
108
Posted 09/03/2018 at 21:55:57
Pickford
Coleman Keane Jagielka Baines
Gana
Davies Rooney
Walcott Sigurdsson
Tosun
John Davies
109
Posted 09/03/2018 at 22:02:11
Jamie (#103). And the 5% need their heads examined.
Anish Dosani
110
Posted 09/03/2018 at 23:01:38
Need balance for once:
Pickford
Coleman Jagielka Keane Baines
Walcott Gueye Sigurdsson Bolasie
Calvert-Lewin Tosun

John M Boon
111
Posted 09/03/2018 at 23:06:36
Tomorrow is not the time to protest. End of the season would be a better idea.
This must be a positive omen:.
I have followed The Blues for over seventy years. Moved to Canada in 1963, but never lost my fanaticism even in the worst of times. Today, Friday, I took my grandson to take his test for his driving licence. Waited over three hours openly complaining about the wait. There were at least 60 other people in the room. Guy next to me said, "Are you from Liverpool?" When I said "Yes" he immediately said, "I hope you're not Red. It was amazing that, in a packed room 4,000 thousand miles from Goodison, I met a true blue Evertonian.
We get every game here on television. Tomorrow with my two sons, John Everton and Andrew Goodison, we will be joined by one more scouse git who is Evertonian to the core. It was like a Blue Aangel fell from the sky. We have to win!!!
Christy Ring
112
Posted 09/03/2018 at 23:08:25
Darren @ 107, it was Heath who scored, and McMahon and David Johnson played with Heath, Sharp and Sheedy.
Joe O'Brien
113
Posted 09/03/2018 at 23:50:38
My biggest thing is for Seamus to be given the armband tomorrow. If he's captain, we'll win. It would be the one good move from fat Sam since his unfortunate appointment.
If he's made captain, he'll have it for years. He's made for it.
Dave Bowen
114
Posted 10/03/2018 at 01:17:22
If Calvert-Lewin plays (& I hope he doesn't), please play him centre-forward and only centre-forward.
How the two tactical geniuses we've had in charge this season (Rhino excluded) think he's a winger/wing-back is beyond me. When he's played wide, he is basically non-existent or cack. It also does him no favours with the fans whatsoever.
Sean McCarthy
115
Posted 10/03/2018 at 01:31:08
Paul (#36). How on earth does the "best team we can send out" include Bolasie? He's utter dog shit. Another one of our signings where the selling club seen us coming and fleeced us!!
We pay top dollar for players nobody else is interested in and Bolasie was one of them. The personification of the one-trick pony and it's not even a good trick!!
Hopefully he'll be one of the ones out the door in the summer along with Allardyce.
Steavey Buckley
116
Posted 10/03/2018 at 05:31:33
One of my concerns in the last 2 matches that Everton have lost, when losing those matches when Allardyce did not respond to the opposition manager's substitutions that swung the game.
Nitesh Kanchan
117
Posted 10/03/2018 at 05:42:23
If there ever was a good time to start with two centre-forwards, it is now against Brighton. Niasse and Tosun should start; both of them will fancy scoring against Brighton defence. We need to have as many goalscorers as possible on the pitch at the start when Brighton will sit back.
Mike Kehoe
118
Posted 09/03/2018 at 06:02:38
Reading Lardiola's comments there reminds me of Dudley Moore's one legged audition for the role of Tarzan. Gets me thinking of Allardyce saying to Moshiri the home forms good etc.
Obviously a must win game but caution has to be exercised so as not to upset the delicate souls of the players. As ridiculous as it may seem, their on x amount a week and all that, their heads will go down and tension will become so toxic they will not be able to drop the ball on the floor without missing.
An Everton win then Lardiola out today
Darren Hind
119
Posted 10/03/2018 at 07:02:42
Get paid KT@43
I have always, always believed the old maxim about the league table never lying . . .until now. This one is telling us a whopper. Some of the teams below us are nowhere near as bad.
Andy Crooks made the same point about a month ago and was shot down by the search engine merchants. Our luck has been astonishing this year, I can barely think of a game when our woodwork has not been rattled.
We have to embrace that luck, the future of the club is almost relying on it and fuck knows we've had very little of it over the last 20 years.
You're second paragraph is a short one, but it says everything.
John G and Christy
Thanks for the conformation. I cant believe I don't remember one of the scorers in a game we have laughed about so many times down the years.
The old lady will be rocking today and if we can score first, thee crowd will roar the boys home to safety, but their is so much anti-Allardyce feeling, I shudder to think of the crowd reaction if they score first and we start to struggle.
2-1
Tim Michael
120
Posted 10/03/2018 at 07:32:01
Today's game against Brighton shows what a terrible situation the fans are in.
On one hand, we are desperate for a win to ease those 40-point concerns... but, on the other hand, none of us want to see that smug and arrogant face claiming how well he'd done to get the win.
If we get to 37 points by 5pm today, then my advice is to switch off your TV, phone etc and wait for him to pass. You'll feel better for it and as we move to the season's conclusion we can then all wave him goodbye in our own chosen way!
Tony Everan
121
Posted 10/03/2018 at 07:35:52
Tosun must start.
I thought he did ok last week, some good touches and took his goal well. He will come on a bit for that game and another weeks training. I fancy him to get on the scoresheet again today.
Tim Michael
122
Posted 10/03/2018 at 07:36:28
By the way, I've already chosen my MotM for today's game .the woodwork! It's had a great season so far and no doubt will play a big part. It's one thing so far we can rely on!!
Neil Cremin
123
Posted 10/03/2018 at 07:40:25
I haven't read the threads but this game is a defining one for our season because if we lose we are definitely in a relegation battle. As pointed out in previous threads I do not see any other TEAM who are struggling to pick up points with the exception of West Brom.
This game is also going to be fascinating on a number of other areas.
1. The Managers: Why Chris Hughton was not considered when we sacked Koemann. Experienced in the premier league, proven winner, dignified and get his teams to perform as a cohesive unit. Certainly far less risk than
2. The centre halfs: Interestign to see how our pair compare with ex Everton Shane Duffy. Hope he doesnt prove to us what a stupid short slighted decision of Martinez to sell him when our own centre halfs at the time were the wrong side of 30.
3. Baines vs Martina: Martina has become the whipping boy for our woes on many of the TW threads. I will be very interested to see if Leighton offers more defensively than Cuco if selected today.
Make no mistake losing this game and we are in big trouble.
Neil Cremin
124
Posted 10/03/2018 at 07:48:51
Should have said "far less riskier than the candidates we considered, Silva, Dysch, Howe Allardyce.
Eddie Dunn
125
Posted 10/03/2018 at 09:00:34
In terms of our attacking threat surely Walcott is our most potent weapon. However he needs to cut inside more and get nearer to our centre forward and also give Seamus a chance to get in on the overlap, as we have missed his contribution.
As for the left, it has been our problem all season. Leighton returning will help, but we all know he has been reluctant to push forward for some time now and the likes of DCL, Vlasic, Siggi and Bolasie has all flattered to deceive in that position.
I expect Sam will beef-up the middle of the park and onlt play one up top. If it is Tosun it will be improtant for Walcott and Siggurdson to get near to him as he isn't a hold-up targetman.
Look out for Schneiderlin in from the start. I'm not a fan, but if he is on the teamsheet, I hope the crowd don't boo him as we need them all to be in as positive a mood as possible.

Laurie Hartley
127
Posted 10/03/2018 at 09:10:14
Having read through this thread in its entirety I have to say I am in dire need of some of George's cosmic grooves.
I hope you are well enough to get give us a post then get to the game George.
As a fan base we can blame Sam Allardyce for all our current woes - but the players can't.
They will have 35,000 fans turning up for the badge tomorrow - the players need to also. They know our plight, they need to stand up and be counted.
Goodison needs to put all the other stuff to one side for this game and get behind them.
I hope Coleman, Jagielka, Funes Mori, Baines, Davies, and Rooney start. If they do we should win.
Pickford,
Coleman, Jagielka, Funes Mori, Baines
Gueye, Sigurdsson, Davies,
Walcott, Rooney,
Tosun.
subs: Niasse, Vlasic, Holgate, Baningame, Martina.
Up the Blues!
George McKane
128
Posted 10/03/2018 at 09:11:03
BVD's ready - - hair washed and face in curlers all night - - just taken them out and ironed me face for the game. Up and ready.
First things first - - thank you good friends for you best wishes while I was ill - - much appreciated and I am well on the mend now. First game for a while and I have been up early but can barely see The City or The River or the roof of Goodison through the early morning mist - - sitting at my writing desk - - raring to go - - just heard a fog horn in the distance:
We were born before the wind
Also younger than the sun
Ere the bonnie boat was won
As we sailed into the mystic
Hark, now hear the sailors cry
Smell the sea and feel the sky
Let your soul and spirit fly
Into the mystic
And when that fog horn blows
I will be coming home, mmm mmm
And when the fog horn blows
I want to hear it
I don't have to fear it
Mmmm - - feeling good -- it is a pleasure and deep joy for me to be able to go the match - -to The Dark House - - to be with friends - - to be around those you love - - nothing can ever take that away from me - - ever - - I am sitting here - - surrounded by my dream things - -cards, notebooks, pens, photos, books - - my wall is full of postcards from my favourite artists, writers poets and of course framed images of Goodison - - I have a little "snow shaker" with Goodison inside on my desk - - Van Gogh is looking down at me right now:
Fair play to you
Killarney's lakes are so blue
And the architecture I'm taking in with my mind
So fine
Tell me of Poe
Oscar Wilde and Thoreau
Let your midnight and your daytime turn into love of life
It's a very fine line
But you've got the mind child
To carry on
When it's just about to be
Carried on
And you say "Geronimo"
On my other writing desk - - I am at my Apple Desk - - my camera is charged- - harmonica cleaned and ready to blow- - pretty soon I will have to get ready - - I am going to The Wirral heritage Show at Birkenhead Town Hall for an hour before going to The Dark House - - my wife Gosia will take me and drop me off - - it's a big day ahead - - I haven't had a pint for about 2 months - - I will drive along in my chariot towards TDH - - passing St. Anthony's where my sister Joan was buried - - she was married on the day Everton beat Cardiff 8 -2 and I moaned at her for making me miss the game - - memories - - memories that touch your heart, that lift your spirit and let your "soul and spirit fly into the mystic" - - along Scotty - - Great Mersey Street, St.Alphonus (Holy Communions - - Weddings) Smith Street, The Landings - - Whittle Street - - the Holy 33 Bus - - Lenny Mc Cluskey, Peter Walsh, Pat Calrke, Bancy, Pob Mc, Micky Curren, Jimmy Kennedy - - swopping stories and messing around on the bus - - up stairs to Solzhenitsyn's Cancer Ward - - where you could barely see each other through the smoke - - along Westminster Road with a glance up Lambeth Road towards Harcourt Street - - Mary Walsh - -beautiful - - a cool dancer - - with her Mary Quant dress and me with me shot silk Otis Redding suit and ox blood commos and black silk hankie in my top pocket - - loved dancing then - - especially The Impressions It's Alright - - it felt so good - - it felt so good and the music on the radio - - had so much soul and you listened in the night time on Radio Luxembourg - - it felt so good - - I'm gonna blow my harmonica now - - there you go - - just like Sonny Boy - - passing Wessie Road baths - - Saturday morning with your woollie cossie on under your kekes trying to be "first in" - - just onto the turn in the road and there it is - - TDH - - like a North Liverpool Notre Dame - - only with the gargoyles on the inside - - Sammy with his lovely one and only central tooth - - John Potter sitting upright on his stool - - arms folded like Papa Tungay - - and the Moustache Guys in the corner taking a break from The Battle of Britain - - The Kirkby Gang and Mick The Bookie ( 4 - 0 for me today as always) - - Gaffer at 1.00 on the dot - - Fathers and Mothers and Sons and Daughters and Grandkids - - everything feel right and so good and so right and so good - - this is Our Place - - this is Our Club - -We are The true Owners
Beyond the place where time is still
Beyond the place where time is
Beyond the place where time is still
Night is day
Close your eyes in fields of wonder
Close your eyes and dream
Close your eyes in fields of wonder
Close your eyes and dream
Along the path where heaven lies
Along the path where heaven
Along the path where heaven lies
All is clear
Ahead where home awaits the heart
Ahead where home is waiting
Ahead where home awaits the heart
Peace is near
Close your eyes in fields of wonder
Close your eyes and dream
Close your eyes in fields of wonder
Close your eyes and dream.
I've got to put a bit of Mr.Lennon in here - - can't resist:
"There are places I remember all my life
Though some have changed
Some forever, not for better
Some have gone and some remain
All these places have their moments
Of lovers and friends I still can recall
Some are dead and some are living
In my life I loved them all
And with all these friends and lovers
There is no one compares with you
And these mem'ries lose their meaning
When I think of love as something new
And I know I'll never lose affection
For people and things that went before
I know I'll often stop and think about them
In my life I loved you more"
Into TDH - - into the corner by the dart board - - tingles down the spine just thinking of it:
Take me back, take me back, take me back
Take me way, way, way, way, way, way, way
Back when I, when I understood, when I understood, yeah
Oh, ah, take me way back, when, when, when, when, when, when
When, when, when, when, when, when, when
I was walking down the
Walking down the street and
It didn't matter
Cause everything felt, everything felt, everything felt
Everything felt, everything felt, everything felt, everything felt
Everything felt, everything felt, everything felt so right, ha
And so good
Everything felt, so right, and so good
Everything felt, so right, and so good
Everything felt, so right, and so good, ah
Everything felt, so right, and so good
Everything felt, so right, and so good, so good
In the eternal now, in the eternal moment
In the eternal now, in the eternal moment
In the eternal now
Everything felt so good, so good, so good, so good, so good
And so right, so right, so right, just
So good, so right, so right, in the eternal
In the eternal moment, in the eternal moment
In the eternal moment, in the eternal moment
When you lived, when you lived
When you lived, in the light
When you lived in the grace
In the grace, in grace
When you lived in the light
In the light, in the grace
And the blessing.
Lots of Van on here today - - in the mood for it - -seriously missed the game - - laying in bed for weeks on end - - thinking about what's important in life and then realising it - - "Can you feel the silence".
I have to tell you all that when I was laid up and I read the comments from you all on TW my spirit was lifted and I am not ashamed to say your thoughts that came to me over the astral brought tears to my eyes and touched my very soul - - filled my Blue Heart - - we are an incredible bunch - - linked by nothing except a group of men we do not know kicking a round ball of leather on a patch of green grass - - in many cases 1000's of miles away - - but being Blue's allows us to partake of the "holy wine" - - behind our worldy façade of toughness and distance - - we are poets, artists, lovers - - we care for each other (in spite of The Live Forum) - - there is a beauty - - a spark of humankind - - a strength between us - -a bond - - we are tied together with a Blue Ribbon - - Kevin Tully asked me to go with him to Goodison today for a meal and a drink in The Main Stand 500 thingymagig - - I had to refuse - - The Dark House Blows its Feudal Horn - - and Kevin understood - of course - - he is a Blue Angel - - I sincerely thank you all for your good wishes and I can assure you all the cosmic grooves were caught and held and helped with my slow recovery.
I wanna know did you get the feelin'
Did you get it down in your soul
I wanna know did you get the feelin'
Oh, did you get healed?
I begin to realise
the magic in my life
See it manifest in oh so many ways.
Every day it's getting better and better.
I wanna be daily walking, daily walking close.
It gets stronger when you get the feelin'
When you get it down in your soul
It makes you feel good
And it makes you feel whole.
Rave on John Donne, rave on thy Holy fool
Down through the weeks of ages
In the moss borne dark dank pools
Rave on, down through the industrial revolution
Empiricism, the atomic and nuclear age
Rave on down through the corridors
Rave on words on printed page
Rave on, Walt Whitman, nose down in wet grass
Rave on fill the senses
On nature's bright green shady path
Rave on Omar Khayyam, Rave on Kahlil Gibran
Oh, what swine, sweet wine we drinketh
The celebration will be held
We will partake the wine and break the Holy bread
Rave on let a man come out of Ireland
Rave on on Mr. Yeats,
Rave on down through thy Holy Rosey Cross
Rave on down through theosophy, and the Golden Dawn
Rave on through the writing of "A Vision"
Rave on, Rave on, Rave on, Rave on, Rave on, Rave on, Rave on
So off to the game today - - but of course sending all my Cosmic Blue Grooves All The Way from New Brighton to our Blue Brothers Around the World.
As Yoko said - - and God Bless John - - just look into the clouds and you can see me - -everywhere - - that's us - - Blues - - even The Skys Blue.
Call out the instigators
Because there's something in the air
We've got to get together sooner or later
Because the revolution's here, and you know it's right
And you know that it's right
Keep it cool - - keep it cosmic and keep it custy - - Evertonski - - With a Firm handshake - - Your friend - - George

Jamie Evans
129
Posted 10/03/2018 at 09:20:07
Welcome back George. Good health to you and yours.
And Eddie, don't worry, Schneiderlin isn't starting.
Up the toffees.
Matt Williams
130
Posted 10/03/2018 at 09:20:42
Last time I checked we were 50/1 for relegation on Betfair. Get your tenners on lads because if we lose today those odds will be smashed massively. It might ease the pain come May.
Darren Hind
131
Posted 10/03/2018 at 09:24:04
Wonderful stuff George
Even a bit of Thunderclap Newman thrown in
And you know its right
Dave Abrahams
132
Posted 10/03/2018 at 09:42:52
Brilliant George, as usual, nice to see you back to yourself, you've had a good chance, while you were ill, to look back and see yourself and your friends, in the mirror of your mind and no doubt those memories have helped your recovery.
George you have come back accentuating the positive and eliminating the negative, so we are already to roar the Nlues to victory today.
Matt(130) try that last paragraph it might help you to believe in an Everton win.
Paul Tran
133
Posted 10/03/2018 at 09:51:37
Lovely stuff, George.
We've just got to get it together, now.
Let's hope we do, starting today.
Paul Birmingham
134
Posted 10/03/2018 at 10:00:31
Must win today and Brighton will be on the bounce, so we need fight and guts in CD, hopefully Jags and Mori, return to stabilise the defence and by hook or crook today we win and get 3 points in the bag.
If we lose and lose bad as has sadly been the case the last 3 years, then where's the points coming from in the next few games?
We are on the very edge of free fall. Today is massive for EFC and SAs stock value will be further scrutinised.
Let's get behind the team and be positive for 3 points. It's almost become a forgotten feeling to win a game..
Laurie Hartley
135
Posted 10/03/2018 at 10:00:48
George - I see you responded to my request at 127 with an immediate post at 128!!!
That was mystical that George - thanks - I feel better now.

George McKane
137
Posted 10/03/2018 at 10:02:54
I caught all the cosmic waves from you Laurie and Dave and Darren and others and they helped with my recovery - - I am up and ready to go out - - fighting fit and ready to bite a lions bum.
Thanks all.

Jack Convery
138
Posted 10/03/2018 at 10:05:27
Football is not played on paper its played on grass. I feel the crowd need to smoke some before this game starts as its not going to be pretty. Very depressed Evertonian. Lose and he should be escourted from the premises immediatley never to return. His pay off should be negotiated vis email and a court injunction sort so that he's not allowed within a 1000 miles of the ground and Finch Farm.
John G Davies
139
Posted 10/03/2018 at 10:17:16
Great to see you back in your feet, George. Makes my day reading your posts in Saturday morning.
Did you catch the documentary in the making of Tubular Bells last night?
Barry Pearce
140
Posted 10/03/2018 at 10:21:25
Made my day reading that from George.
Absolutely wonderful.
Phil Walling
141
Posted 10/03/2018 at 11:22:46
Just taken some 9/4 on a draw today. Everton on offer at 11/8 and Brighton at 13/5.
Looks like a 0-0 to me with both sides afraid to concede.I'm tending towards the belief that we shall avoid the drop with five draws. Then bonuses all round for Sam and his crew.
Paul Tran
142
Posted 10/03/2018 at 11:36:32
Kevin T & Darren, I'd say you're part-right about the league table. The difference this season is that 7th-20th is as compressed as the handicaps we're going to solve at Cheltenham this week. The margins are really tight. Plus, there's plenty of reverse confirmation bias kicking in. Palace looked good against Utd, better than anything we've done in a while, but they ended up losing. Swansea are on a great run, yet they got stuffed at Watford. Bournemouth apparently play marvellous football, but they're still below us. What people say about Bournemouth on here is very similar to what fans of other clubs used to tell me about Martinez. Can anyone say the likes of WBA, Stoke, Newcastle, Soton and Huddersfield will put together a run and we can't?
So I think were where we should be, based on results, albeit with little margin for error. We've played poor football for three seasons, what dragged us down this season is the absence of Lukaku. I think there's enough relative quality in this squad to eke out the points we need, though it should never have come to this.
Where I would agree is that we've had more luck thus season than any I can remember- and that goes for all three managers. The team and club needs a ruthlessness and identity transplant, that can only be achieved with new management on and off the pitch.
I can confirm that no search engines were used in the construction of this post!
Rob Hooton
143
Posted 10/03/2018 at 11:38:13
Lovely stuff George, glad you are getting to the game and hope your faith is repaid.
This is the least interested I have been about a game for, well, ever! As kick off approaches I'm drawn back in as we desperately need a win today - to do it in style would be better but there is no bacon in the sky.
COYB, pull yer fingers out!
David Midgley
144
Posted 10/03/2018 at 12:00:06
Paul #81.
He'd land on his wallet.
Christopher Timmins
145
Posted 10/03/2018 at 12:24:20
Hopefully, we can continue our good home form with another 3 points today and push us closer to the 40 point mark.
Tony Waring
146
Posted 10/03/2018 at 12:32:03
George - what was the surname of Mick the bookie ? We may have a friend (now sadly passed on) in common ? He lived in Bootle.
Jay Wood
[BRZ]
147
Posted 10/03/2018 at 12:32:19
Paul Tran @ 142.
Good observations Paul. And a really neat analogy comparing the compressed 7th-20th placed clubs to the Cheltenham card.
Are we are poor team to watch? Absolutely!
Can anyone discern what is our 'identity' this season? Our style of play? What we are trying to achieve, by whoever is on the pitch? Because I can't. And that charge can be made of all 3 managers who occupied the hot seat this season.
As you point out to those continuing to insist we are the worst team in the league, destined to be relegated, there's plenty of evidence that suggests otherwise.
If you are talking mere aesthetics, yes - we are awful to watch and a case could be made that we are 'the worst team in the league'.
If, however, you are claiming we are the worst team in the league based on data, well patently that is incorrect.
As I continue to argue, many people are looking at Everton in isolation - their performances, their results, their remaining fixtures - and ignoring that of the teams lumped together in that 7-20th pack.
If Everton get relegated this season, from the current position they are in and with the remaining fixtures they have (when compared to all other teams) then quite frankly, they deserve to be relegated.
For that to happen we will have to have a virtually ZERO point return in our remaining 9 games. So those fretting about relegation effectively believe Everton will end the season with its worst ever form in the club's 140 years history.
Similar, Paul, your observation about 'luck' is one I have also made in reply to those trying to project the idea that 'luck' has only played a part in Everton's season on Sam Allardyce's watch. It hasn't.
THE stand-out luckiest result of the season for me happened on David Unsworth watch versus Watford, something some on here refuse to acknowledge.
I totally agree with your closing remark Paul, that the team and club needs a 'ruthlessness and identity transplant, that can only be achieved with new management on and off the pitch'.
Because if not, carrying current form and personel into next season WILL see us under serious relegation threat.
And like you, no search engines were necessary to make my observations. But being a betting man, Paul, when it comes to laying your hard-earned I'll wager you don't go with your 'gut-feeling', but carefully study available data and form to guide your judgement.
How 'impure' of you!
Ray Said
148
Posted 10/03/2018 at 12:43:59
George (128) you had me at 'ox blood comos'. I loved those shoes with a passion!
Brent Stephens
149
Posted 10/03/2018 at 12:58:48
George, my Saturday fix. Better than the Grauniad today.
And rs 2 down.
Drew O'Neall
150
Posted 10/03/2018 at 13:06:21
If fit Jagielka has to play. Choosing RFM in front of him alongside Keane would be suicide in the context of a must win match.
I don't care who plays alongside him but when fit our only dependable defender should be first on the team sheet until others learn how to organise themselves and their colleagues.
The whole defence needs overhaul in the summer.
Craig Walker
151
Posted 10/03/2018 at 13:26:56
Good health George. Enjoy today and let's hope for a good performance and result.
Why could Rom never dominate Loveren like this when in a blue shirt?
COYB
Darren Hind
152
Posted 10/03/2018 at 13:28:07
Paul T
Sorry Mate you are wrong, we are the worst team in the league and we are the worst by some considerable distance.
Where we differ from those below us is the quality of our individuals. The signings may have been a huge disappointment in the main, but non of those below us have individuals like Rooney, Sigurdsson to produce moments completely out of the blue to win games when their team have been second best.
Those below us cant afford a Pickford to win points at the other end, none of them were able to spend 200m in the summer window and I didn't see any of them able to splash out 50m for more fire power in January.
We have superior individuals to those at the wrong end of the table and moments from Sigurdsson, Pickford, Walcott and Rooney in particular will be the difference between us and those who do go down, that and the incredible luck we have enjoyed since Sam got here . . but make no mistake, as a team, as a unit, as a collective, we have been the poorest team in this league a complete rabble and that's why so many are so fucking despairing at the moment.
The search engine merchants will talk about those fans who fear we may get drawn into a dogfight as if they have stated categorically that we will go down. It's utter bollocks designed to make them look all knowledgeable when they state what the bookies see as the blindingly fucking obvious.
They talk about those who recognise that we are no sort of a unit/ team and those who fear a relegation scrap as if they are the same people. . . I guess they are unable to find a search engine which will explain the difference to them.
Darren Hind
153
Posted 10/03/2018 at 13:45:59
I`m off soon. I hope we are as "lucky " today as we were against Watford. I'd be happy to see us miss two howlers like we did that day and still fight like tigers and score three.
In fact I would love every game to be like that, we would wind up being the highest scoring champions ever despite missing all those sitters and every game would be a must watch
Jay Wood
[BRZ]
154
Posted 10/03/2018 at 13:52:02
Funny how some like to label people on here they falsely accuse of labelling others, with tags they haven't made, and associating statements to them that they haven't penned, whilst ignoring comments which most certainly have been made.
Delicious irony. And contradiction. And hypocrisy. And selective recall.
Carry on...
Dermot Byrne
155
Posted 10/03/2018 at 14:07:45
Aah the nature of TW Jay. Wouldn't have it any other way!
Dermot Byrne
156
Posted 10/03/2018 at 14:09:01
Pickford, Coleman, Jagielka, Keane, Baines, Sigurdsson, Davies, Walcott, Rooney, Bolasie, Tosun.
Dermot Byrne
157
Posted 10/03/2018 at 14:10:42
That is a team I think can win as long as we score 4 first!
Paul Tran
158
Posted 10/03/2018 at 14:16:09
Darren, we were unbelievably lucky against Watford. Two down, innocuous penalty, their keeper went off, Niasse fell the ball into the net and they missed a penalty.
I also wished we played like that every game because we had a go and fought like tigers. A rare occasion where we made our luck.
I think we've been the worst managed team this season, but there's plenty worse actual teams
Enjoy the game and let's hope we're smiling at 5pm.
Mike Keating
159
Posted 13/03/2018 at 22:07:28
George @ 128 lyrical stuff indeed but the bit that really got me was the reference to the Otis Redding (my favourite proper soul singer ever) suit and a pair of Oxblood Comos (my favourite shoes of all time).
They were leather-soled and cost about £4 from Saxone (Timpsons did a cheap copy that was crap).
I have campaigned long and hard to get them back on the market & the guy in Cavern Walks almost resurrected them but it never happened. They were timeless in style and I would love to wear a pair one more time.

Glad you are well.
Alan McGuffog
160
Posted 13/03/2018 at 22:40:49
Cracking shoes, all leather. Got mine on Walton Vale. Ideal for shufflin and slidin on school gym floors at sixth form dances and the like
Add Your Comments
In order to post a comment, you need to be logged in as a registered user of the site.
Or Sign up as a ToffeeWeb Member — it's free, takes just a few minutes and will allow you to post your comments on articles and Talking Points submissions across the site.