Swansea City vs Everton

74 Comments [Jump to last]
Friday 13 April 2018
Match Preview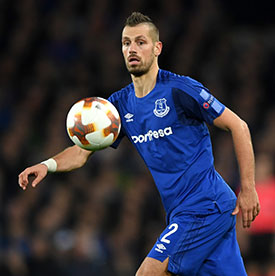 Might Morgan Schneiderlin have played his way to another starting berth with his performance in the derby last week?
Everton travel to South Wales to face Swansea City in the first of their three remaining away matches of the season.
Successive home games without a win, coupled with Burnley's uptick in form means that the prospect of finishing seventh — and, possibly, securing European football for another season — has become a remote one. It has also, therefore, reduced the Blues' last five games to being essentially meaningless beyond the need to secure as much prize money as possible.
Not that they won't lack meaning and importance for their opponents, four of whom are still not clear of relegation (West Ham will almost certainly be safe by the time they entertain Everton on the final day), and that includes Swansea who are on course to complete a remarkable act of self-salvation under new manager Carlos Carvalhal.
The Swans looked to be on their way back to the Championship after their 3-1 defeat in the reverse of this fixture in December. Four points adrift at the bottom of the table heading into Christmas, by statistical tradition a death knell, their plight was a desperate one when their board of directors took the somewhat surprising decision to appoint Carvalhal.
Without a Premier League pedigree and having just been fired by Sheffield Wednesday, the Portuguese wouldn't ordinarily have been high on many chairmen's shortlists. Just one defeat in his first seven League games, however, lifted Swansea out of the bottom three and they come into the weekend sitting four points above the drop zone with a game in hand over four of the sides below them.
Importantly, in the context of this Saturday's game, Carvalhal has overseen home wins over three sides from the top seven at the Liberty Stadium since he took over from Paul Clement having seen off Liverpool, Arsenal and Burnley. With Everton notoriously poor travellers this season and Swansea having established a rhythm at home (their recent 3-0 defeat to Tottenham notwithstanding), it has the makings of a difficult afternoon for the Toffees.
With little to play for, these final games present an opportunity for Allardyce to hand some opportunities to some of the fringe players in the squad but you rather sense that the manager's desire for self-preservation, one enunciated himself during a radio interview with talkSPORT this past week, could trump any impulse on his part to throw the likes of Davy Klaassen, Nikola Vlasic, Ramiro Funes Mori and Oumar Niasse a proverbial bone.
By the same token, however, the idea has been thrown up enough times by supporters online and the local press over the past few days that it wouldn't be beyond Allardyce to field a couple of those forgotten names and present it as his own idea.
It's hard to see beyond a familiar line-up, though, with, perhaps, the odd change here and there to accommodate the return to the starting XI of Idrissa Gueye and a reversion to the team that started against Stoke, Everton's last win.
With Mason Holgate out injured and Ashley Williams having possibly blotted his copybook significantly with his red card at Burnley, the back five is likely to remain unchanged. In midfield, Morgan Schneiderlin could partner Gueye at the expense of Tom Davies as reward for a markedly improved performance in last week's Merseyside derby, with Wayne Rooney sitting in front of them while Yannick Bolasie and Theo Walcott would provide width down the flanks.
Victory would keep those faint hopes of finishing seventh alive while also keeping the pressure on Leicester in eighth place above but, on the flip side, a defeat for Everton here and a win for Newcastle over Arsenal on Sunday would put the formerly relegation-threatened Barcodes level on points with the Blues. Some indignity that would be but par for the course in a dreadful campaign.
Kick-off: 3pm, Saturday 14 April, 2018
Referee: Lee Mason
Last Time: Swansea City 1 - 0 Everton
Predicted Line-up: Pickford, Coleman, Jagielka, Keane, Baines, Schneiderlin, Gueye, Rooney, Bolasie, Walcott, Tosun
---
Reader Comments (74)
Note: the following content is not moderated or vetted by the site owners at the time of submission. Comments are the responsibility of the poster. Disclaimer
Jim Bennings
1
Posted 13/04/2018 at 08:16:55
No doubt a carbon copy of last years meek effort at the Liberty stadium when Swansea needed the win to stay up, much like tomorrow.
I just hope we see something different tomorrow, a bold approach rather than the same old "oh we can stifle these and nick a 0-0 draw" mentality.
Go for the bloody win! And that means committing men forward and changing the personnel.
What are we going to find out from the same old midfield trio of Davies, Rooney, and Gueye or Schneiderlin? Nothing is the answer, so we ought to try mixing it up by giving Klaassen the start next to say Gueye and I'd like to see Vlasic involved at some point too, either coming on in the middle or starting in Bolasie's place?
Also, how about a little bit of help for Cenk Tosun this week? We could be really daring and even play a partner with him?
Just bloody let the shackles off and try a bit of entertainment for a change, eh?
Tony Everan
2
Posted 13/04/2018 at 08:52:30
Swansea will be better organised, sharper and more motivated for this game. They will force us to make mistakes under pressure.
I don't think we have the mental fortitude in midfield to cope when the chips are down. In games like this which are predominantly a battle, all our failings come to the fore.
We get out-battled. We give simple passes away in midfield. We make schoolboy errors in defence.
If we come out with a draw, I will be surprised.
Sorry for the negativity, I just feel the club needs change desperately to inspire a modicum of optimism.
Roll on June.
Jim Bennings
3
Posted 13/04/2018 at 09:01:06
Since May 2016, we are the 7th biggest spenders across Europe yet we are expecting to lose at Swansea, a disgrace really and clear example of how far the club has gone backwards.
Tottenham sold Bale in August 2013 and within 3 years they were challenging for the Premier League title and regularly finishing in the top 4.
Liverpool sell Suarez, Coutinho and lose their iconic figure of Steven Gerrard but still somehow manage to produce a good team that's capable of working hard for the full 90 minutes, entertaining fans and challenging for honours.
Until someone stands up and starts asking serious questions and getting some serious answers on where this club has gone wrong, it's just going to flounder around achieving nothing, simply thinking mediocrity and stability is success and continue struggling to challenge for the top 7, never looking like winning a trophy and simply not looking like an upwardly mobile club.
Andy Meighan
4
Posted 13/04/2018 at 09:24:07
Flip-flops are packed and the lads will slip comfortably into them. Comfortable home win and anyone with any sense would have Swansea nailed-on on their coupon. I've got no sense – that's why I support Everton What a team! What a manager!!!
Still, we've got The Dixies to look forward to in May.
Geoffrey Williams
5
Posted 13/04/2018 at 09:47:23
I struggle to see how Bolaisie, Rooney or Schneiderlin warrant selection based on recent performances.
Brian Harrison
6
Posted 13/04/2018 at 09:54:07
I think most pundits think we are a top 10 club, on a good season they think we may get into the top 6 but never good enough to challenge for a top 4 place. And sadly I think most of our fans think exactly the same way, and under Allardyce if he is still here next season our expectations will be even lower.
I can't remember the atmosphere at Goodison being as bad as it is now in the 60 odd years I have been going to the game. We longed for a wealthy owner believing it was just the lack of money holding us back. But we now have a wealthy owner, and we don't seem to be moving forward as many of us would have expected.
Now we have achieved enough points to guarantee Premier League football for next season, I cant see a turnaround in form over the remaining games. Things have got that bad that the possibility of a new stadium is all we have got to look forward too, and even that is beginning to run into choppy waters.
Tony Everan
7
Posted 13/04/2018 at 10:13:36
Brian, under no circumstances will Sam Allardyce be here next season. There would be open revolt come October and a meltdown that would make this season look like a walk in the park.
He will be gone in May with a handshake, a thank you, and a "Fat Sum".
His departure will be one of the highlights of our season and will give me a microbe of irrational optimism.
Kunal Desai
8
Posted 13/04/2018 at 10:39:21
It makes me laugh how odd this club really is, holding an awards ceremony after a below than mediocre season, bringing back ex players to the club and finding them roles, the over focus on Everton in the Community.
It's sad how this club isn't run like a refined corporate business at all. There is so much focus on non-successful on-the-field matters at this club, when it should be focusing on putting steps and plans in place to obtain measurable goals and achievements.
What we have on and off the pitch resembles a jumble sale. All very mishmash.

Alan J Thompson
9
Posted 13/04/2018 at 10:43:21
Schneiderlin, an improved performance? Next it'll be said the team should be built around him. No, give some others who might try a chance unless it is to attract a buyer for him.
Lawrence Green
10
Posted 13/04/2018 at 11:06:02
Tony (#7),
I do hope you're right, mate, but like that TV advert I have a 'nagging doubt' about Sam's continued presence at the club. He has the support of the legend that is Duncan who praised Allardyce for the "respect and presence" he commands
"He's brought his vast experience and he's got tremendous knowledge," said Ferguson. "He brought that wee bit of defensive solidity that we needed, and that's been his main qualities. And he's a leader.

"He has respect, he has the presence and has been there and done it. He has been the England manager and has managed a lot of clubs so has a lot of respect in the game. That is one thing I took when he first came in the building, he has a presence.
"The manager gave me a lot of leeway with my coaching, he has a lot of experience so I have learnt a lot from him."
Sam himself pointed towards his wonderful derby record but forgot to mention our last hopes of silverware disappeared on their pitch. Sam also seems to think that, with season ticket sales approaching record levels, he has the full support of most Evertonians.
It could be that both Sam and Ferguson realise that the end is nigh and they are putting on a united front; or, god forbid, they are both certain that Moshiri isn't going to pull the trigger.

Tony Everan
11
Posted 13/04/2018 at 11:08:34
Alan, I think that will be a factor.
These last 6 games will be used a shop window for the players that we want sold. Williams, Schneiderlin and Bolasie will feature in all and be offloaded in the summer.
Gareth Clark
12
Posted 13/04/2018 at 11:13:53
Pickford
Coleman Jagielka Keane Baines
Gueye
Walcott Rooney Bolasie
Tosun Calvert-Lewin
Subs: Robles, Funes Mori, Kenny, Davies, Klaassen, Vlasic, Niasse.
Paul Kennedy
13
Posted 13/04/2018 at 11:25:59
So fed up with how this season has gone, I went to the park and nailed my season ticket to a tree.
A few hours later, I had second thoughts... went back to find the season ticket on the ground – someone had nicked the nail!
Brian Harrison
14
Posted 13/04/2018 at 11:53:25
Lawrence,
I, like you, have a nagging doubt that we may not get rid of Allardyce come the end of the season. I did say on another post a week or so ago, I hope me and the rest of the loyal Everton fanbase who have renewed our season tickets are not perceived as backing Allardyce as that couldn't be further from the truth.
I would also ask why Everton seem to be getting earlier and earlier with renewing season tickets? I have friends who have season tickets at other Premier League clubs and their renewal dates are in May, as ours used to be.
Ernie Baywood
15
Posted 13/04/2018 at 12:01:25
Alan McGuffog
16
Posted 13/04/2018 at 12:03:40
Why should the doubt be nagging? He has a contract until the end of next season, no? He was appointed to keep us in the Premier League, no? He has achieved this.
I am no fan of Sam but will not be at all surprised to see him squeezing into the dug out next season.
George Cumiskey
17
Posted 13/04/2018 at 12:13:17
There's the old chestnut again. I'm no fan of Sam but I think he'll still be here next season. No mention of "I would like to see someone else" here...
Andrew Clare
18
Posted 13/04/2018 at 12:34:28
Another defeat, another ugly game of football coming up. If Allardyce stays, it will set us back another unknown amount of years.
When is this club going to get an ambitious leader?
John Keating
19
Posted 13/04/2018 at 12:38:23
We'll be lucky to come away with a point.
When Allardyce arrived, I said I hoped we would finish 8th to 10th. I think we'll be lucky to get 10th.
Tom Bowers
20
Posted 13/04/2018 at 12:38:29
Before every game, doesn't matter who it is, we all hope for a good performance and 3 points.
Supreme optimists we are but this horrible season has deflated most of us to a point that we cannot wait until it's over.
I cannot see how things will change tomorrow unless they start off boringly like the RS game and hope to snatch it late which they could have done last week with a class striker up front.
Nothing really to play for so I can only see another yawnfest.
Derek Knox
21
Posted 13/04/2018 at 12:48:14
It shows how far we have come as a club when playing Swansea away is looking like another three points gone.
Admittedly they have improved under the tutelage of Carvalho, but come on, these are the sort of games where we should be disappointed, and shocked, if we were only to get a draw.
Please do not include Schneiderlin; although he has been slightly improved in the last two games, that is a recipe for certain defeat.
As we have nothing to play for anymore, and we are 'safe', why don't we just sack Sam now, which would give most fans a lift, not having to endure his dour, drab style of play?
Tony J Williams
22
Posted 13/04/2018 at 12:59:02
It will be just more of the same old tired boring one speed mis-placed passes shite footy...
4-0 Everton...
Lawrence Green
23
Posted 13/04/2018 at 13:25:03
Brian (#14),
I suspect that the reason that the Season Ticket renewal date is so early is because it helps the cash-flow for the current campaign.
I used to work for a company which got paid before the goods were sent to the customer, by virtue of an agreement with the bank. I think it was called 'factoring' – the company got a huge chunk of the total invoice amount and the bank charged a percentage for providing the facility.

Christy Ring
24
Posted 13/04/2018 at 13:37:45
Sam has to leave Rooney and Bolasie on the bench after they were hauled off against Liverpool. We looked a different team in the last 20 minutes, because of the changes. I'd also play Baningime ahead of Schneiderlin, but it won't happen.
Johan Elmgren
25
Posted 13/04/2018 at 13:38:01
Pickford
Coleman, Jagielka, Keane, Baines
Gueye, Schneiderlin
Walcott, Klaassen, Vlasic
Tosun
Along with a mental approach to attack and a will to win and take the three points. The mentality is the foundation to succeed!
Allardyce out now!!
Brian Wilkinson
26
Posted 13/04/2018 at 14:45:49
For me the backline picks itself so no change there for me.
Two people who need dropping is Rooney and Bolasie, I would have added Schneiderlin as well, but to be fair he played well in the derby so would stick to see if he can do it again. Yes, he's been poor in previous games but, at the same time, if he earned his place last week, we should not drop the guy but build his confidence and see if he can repeat it.
Others have been unlucky: I am not sure what Niasse has done to warrant being dropped and not used from the bench? For me, he has been the most important impact player for Everton this season; without his contributions, we would be fighting off relegation now.
The likes of Vlasic, Klaassen, Niasse, and Baningime need to be used in the remaining games coming up, but not all at the same time; bring them in, in stages.
For now, though, Rooney and Bolasie benched is a start.
Ken Kneale
27
Posted 13/04/2018 at 15:19:22
Just been reading the ridiculous self-serving nonsense attributed to Duncan Ferguson – another so-called great called into the Club by our glorious leaders – no wonder we are in such a state when this drivel, full of platitudes and sycophancy is trotted out - if you can tolerate reading it link below:
Big Dunc Calls On Blues To 'Make Big Statement'
David Currie
28
Posted 13/04/2018 at 15:21:33
Elmgren (#25) – out now!!! What are you doing picking Gueye and Schneiderlin together as they are fucking shit as a pair? Like Sam, you are clueless!
Colin Malone
29
Posted 13/04/2018 at 15:31:13
Gueye and Schneiderlin get in each others way. The only time they have a bad game is when they play in the same team.
I see Kevin Sheedy is back in the country. Get him back at the club.
Jay Harris
30
Posted 13/04/2018 at 15:31:49
I am surprised at posters wanting to play Schneiderlin and Gueye with Rooney in midfield. Based on posts throughout the season, I thought we had already established that
they can't play in the same team!!!
With Swansea desperate for points, I think we will need Davies's energy and drive, and I think Vlasic is long overdue some game time.
The back 4 picks itself but I would have a midfield of Davies, Gueye and Vlasic and a front three of Walcott Tosun and Calvert-Lewin.
Bring Niasse on second half to get the equaliser and Sam will be happy.
Ajay Gopal
31
Posted 13/04/2018 at 15:39:10
Lyndon, your previews are usually well balanced, but: "By the same token, however, the idea has been thrown up enough times by supporters online and the local press over the past few days that it wouldn't be beyond Allardyce to field a couple of those forgotten names and present it as his own idea" smacks of 'damned if he does, damned if he doesn't'!
I want Allardyce to go all out to win the last 5 games, to give us some hope for the next season. If Holgate is not injured, I would like to see him play - he was doing well until he had an injury. A Back 3 of Holgate, Keane and Funes Mori, could possibly be a foundation for a strong, mobile, athletic, ball playing, defense next year. At the middle, Coleman and Bolasie as wing backs, with Baningime and Davies and an attacking 3 of Walcott, Rooney and Tosun would be my starting XI:
Pickford
Holgate, Keane, Funes Mori
Coleman, Baningime, Davies, Bolasie
Rooney
Walcott, Tosun
With Klaassen replacing Rooney after the usual 1-hour mark, Schneiderlin replacing Davies or Baningime, and perhaps Niasse or Calvert-Lewin on for Walcott or Tosun.
Subs: Robles, Jagielka, Baines, Schneiderlin, Klaassen, Niasse, Calvert-Lewin.
Dave Abrahams
32
Posted 13/04/2018 at 15:46:39
Ajay (#31), Bolasie as a wing back. I take it you never saw the derby game last week? I'd rather see Martina there... and you'll know what I mean by that statement.
Ian Bennett
33
Posted 13/04/2018 at 16:28:19
Pickford
Coleman
Baines
Jagielka
Keane
Gueye
Schneiderlein
Davies
Vlasic
Tosun
Walcott
Dick Fearon
34
Posted 13/04/2018 at 18:07:24
I am amazed that so many would drop Davies. Had we two or three more of that lads non-stop work-rate and fighting spirit we would be a shoo-in for a top 7 or even 6 place.
Jamie Crowley
35
Posted 13/04/2018 at 18:28:29
These games mean nothing now. I'd like to see the kids given run outs.
Vlasic, Calvert-Lewin, Kenny (is he healthy? – with Seamus back he's not been seen), Baningime, Davies with them, and any others I've overlooked / forgotten.
Thing is, I know Big Sam won't do this.
And my hatred and disdain for him will grow.
Tony Williams
36
Posted 13/04/2018 at 18:35:18
If this clown stays on next season, I think someone has been planted to send our club into oblivion. Surely he can't stay with the strength of feeling against him. Moshiri was at Arsenal and saw how they play and it concerns me that he seems to be satisfied with our performances under this clown.
Geoffrey Williams
37
Posted 13/04/2018 at 18:36:08
I attended the derby match and then watched the game in full when I got home so I am surprised that there seems to a consensus that Schneiderlin had a good game. I would say he was more prominent than in previous games but he is still a substandard midfielder.
Jay Harris
38
Posted 13/04/2018 at 18:48:08
I totally concur, Geoffrey, always sideways or backwards. Totally suits the Allardyce philosophy that we should be overly cautious in case the mighty Liverpool overrun us.
Johan Elmgren
39
Posted 13/04/2018 at 18:59:37
David (#28) – haha, I'm no way like Sam, quite the opposite.. I would want us to win every single game we played, and would try to play an attacking type of football... Just because I'm picking Gueye & Schneiderlin, I'm like him?? Strange assumption... There's more to football than picking the players on the pitch...
Regarding the Gueye/Schneiderlin issue, if I remember correctly, they were in the team together last season, and they didn't do too bad. In fact they were much applauded on here, and people lauded their partnership, which last season was really good. I can acknowledge that Schneiderlin hasn't been that good this season, but we know what he actually can do. We need a deep-lying play-maker along with Gueye because his play-making abilities are limited. He has other qualities, but needs a good passer of the ball beside him.
I've been aware that Schneiderlin hasn't put the effort we crave in, but I have watched him "objectively" since the criticism of him started and he does actually also do "good" stuff... He's breaking up play several times per game, stopping opposition to attack, and he also passes the ball really well, switching play from one side to the other, also several occasions per game.
His confidence has dropped, and his effort with it, and he's playing for a manager that doesn't suit his game, that's were I think the problem lies... However, right now, I think he's the best option alongside Gueye that we have. Rooney is too slow and looses possession a lot, and we don't have another player with good passing ability to play there... maybe Klaassen, but I've seen to little of him to judge... as you know, he's rarely played...
Allardyce out now!!
Jeff Armstrong
40
Posted 13/04/2018 at 19:16:41
That's the problem with Schneiderlin, he goes from 2 out of 10, to a 5 out of 10 in one game. Big improvement, yes, but still 5 out of 10. Still utterly useless, but it's the improvement that will convince our "manager" to continue to select him, ahead of promising players like Vlasic, Baningime, Davies etc.
[I was struggling a bit there, to be honest; for all the midfielders we've signed and brought through... we are utterly dogshit in midfield!]
George Cumiskey
41
Posted 13/04/2018 at 20:43:02
I can't believe so many people are selecting a team with Schneiderlin in it. Have they been on the moon for most of the season?
Paul Birmingham
42
Posted 13/04/2018 at 21:31:05
I'd trade Bolasie for Vlasic, as I think Bolasie is trying too hard but also he's a 1-in-10 good game player, so not good enough.
Hopefully we'll be better than last season, but I fear Swansea will steam into us, and we'll be defending the 6-yard box.
I hope the tactics change and we go for it, but I'll be surprised. Let's hope Sam watched Roma and Juve games and have the team set up to have a good go.

Phil Walling
43
Posted 13/04/2018 at 23:11:32
How easily ToffeeWebbers are persuaded to change their views. Schneiderlin is back in so many people's team after a whole season of denigration.
I just wonder if it will be as easy to swing opinion on Allardyce staying in his job into next season. I reckon a couple more wins should do it!
Joe O'Brien
44
Posted 13/04/2018 at 00:05:33
I wouldn't have Schneiderlin near the team tomorrow. I for one haven't forgotten that he's been bloody awful for the last year.
I never want us to lose and don't either tomorrow, but I've got an uneasy feeling that, if we win a few between now and the end of this forgettable season, Sam will be given a chance by Moshiri! I hope I'm wrong but, when I hear him going on about planning for next season, it fills me with dread.
Phil Smith
46
Posted 13/04/2018 at 00:26:53
Unfortunately this millennial generation are pure glory hunters and the top, top players would never really come to a team like Everton. The only hope we have are signing younger top players in the making – think Coutinho to Liverpool or Erikson to Spurs (we missed a trick there).

James Marshall
47
Posted 14/04/2018 at 01:37:47
I think it's fair to say whoever our manager was post-Koeman would be roundly despised by all by now due to the players we have.
I want Lardiola out when the season ends, but I do get the feeling it's as much about our players as it is our manager(s).
Bobby Mallon
48
Posted 14/04/2018 at 07:09:58
I have to agree with James Marshall, our players are just as guilty as our managers
Sam Hoare
49
Posted 14/04/2018 at 07:53:34
If we had a manager who was confident of his future, I think he'd be giving opportunities to players who may or may not be viable options next season. As it is, we have a manager who's trying to hang onto a job he should never have been given.
We will certainly not see this team:
Pickford
Coleman Keane Jagielka Baines
Baningime Gueye
Walcott Klaassen Vlasic
Tosun
You could even give Funes Mori a try but back 4 has been working relatively well recently.
David Johnson
50
Posted 14/04/2018 at 08:39:30
With 15 points up for grabs between now and the end of the season, I see no reason to do anything other than go for maximum points, as all games are winnable. Baningime, Davies and Gueye in the middle of the park for me.
Mark Murphy
51
Posted 14/04/2018 at 09:18:57
I couldn't give a monkey's about the rest of the season. We're not going down now so, if losing games like today's means Allardyce is history, then "Come on you Swans, look you"!
Colin Glassar
52
Posted 14/04/2018 at 09:23:49
If there was a 'Like' button on here, you'd get one, Mark. I can't wait for this season to finish and to see the back of Lardarse.
Phil Walling
53
Posted 14/04/2018 at 10:12:08
I suppose that, if Moshiri was willing to blow £10M+ on getting Silva, he won't baulk at a measly £6M to get rid of Allardyce!
But his whole business plan is flawed, particularly if it continues to include the 'old brigade' of Kenwright and crew. If ever there was a let-down, it's Usmanov's bagman – although if he was daft enough to enrich Boys Pen Bill to the extent he did without taking total control, we should have known he was an idiot!
Andrew Clare
54
Posted 14/04/2018 at 10:31:02
There is a very real danger that Allardyce will be here next season. So I hope we lose every game if it means he'll be gone.
I have never felt that way before but it would be disastrous if he is still here next season.
Trevor Peers
55
Posted 14/04/2018 at 10:42:39
Getting rid of Lardarse is fair enough if you have a better replacement; the candidates put forward so far are probably no better or worse.
Fonseca has the best chance of getting the job, he looks the part at least and that seems to be a crucial asset with most on TW and one of the reasons Roberto was so popular, however he has no Premier League experience and is almost certain to be an expensive failure.
I'll be surprised if Allardyce can get a tune out of the team today, this team is notoriously hard to motivate, even for the bigger games. For most of this lot, the Swansea game will be the chance for another day off.
Phil Walling
56
Posted 14/04/2018 at 11:10:02
The trouble is, Andrew, that so muddled is Moshiri's thinking that any replacement for Allardyce could well be even more objectionable!
But whoever it were to be, his inheritance is a coterie of really crap players capable of getting any manager into big trouble. Probably the only aspect of Big Sam's work that appeals to me is his proven ability 'to move players on'. Perhaps on that record alone he will be spared the early chop!
Burned? Scalded? You takes yer pick!
David Hallwood
57
Posted 14/04/2018 at 11:23:34
We turn to Swansea, who are hosting Everton in the semi-final of the can't-be-arsed memorial trophy. Everton will be introducing their new kit sponsor, Speedo.
I caught up with Ashley Williams who's captain for the day on his return to the Liberty, and of course returning to the side after his stunning display against Burnley. Speaking from his deckchair, piña colada in hand, he said "This will give the fans something to shout about after an admittedly poor season. Me and the rest of the lads should look in the mirror and say,'yeah right', well 'yeah right'".
Kevin Prytherch
58
Posted 14/04/2018 at 11:28:20
Am I in the minority in thinking that Schneiderlin didn't have a good game in the derby?
When our defence had the ball, he never made himself available for a pass, simply stood in a space that was a little too close to a Liverpool player.
He didn't tackle – he jockeyed players and gave up in a number of occasions.
He played a number of suicidal balls to players about 2 yards from him when under pressure so at least he didn't lose the ball.
He made a few clearances, but that was generally when he was so deep he was like a 3rd centre back.
Everton play better when Davies is in the team, regardless of how well Davies actually plays.
Brian Harrison
59
Posted 14/04/2018 at 11:29:19
Phil
Absolutely nobody can be a worse choice than Allardyce, there are no redeeming factors for having Allardyce, unless we have given up completely on entertaining the fans now and again. Even more worrying is listening to TalkSport this morning Tony Cascarino believes the Everton fans are split over whether to keep Allardyce or not. Well I can tell him quite categorically 96% of fans don't want him here next season.
So maybe we will have to make it perfectly clear to Moshiri and the rest of the board that we don't want this man here next season. Because otherwise we might be sleepwalking into another season with Allardyce.
Phil Walling
60
Posted 14/04/2018 at 11:45:04
'Absolutely nobody can be worse than Allardyce', Brian?
Don't you believe it. There are dozens – home and abroad – all waiting to prove you wrong. We've even had a couple of them recently!
Paul Tran
61
Posted 14/04/2018 at 11:46:02
Last week, Schneiderlin wasn't as bad as he has been. That was about it. Given that we are now 'safe', what's stopping the likes of Baningime, Klaassen and Vlasic getting games?
The behind-the-scenes shenanigans is top priority. We need one strong individual to come in and bang heads together and ship out the unwilling. The way good players have been performing this season tells me that the people coaching/managing them need to be either shipped out or sorted out.
Kim Vivian
62
Posted 14/04/2018 at 11:46:07
Brian – you're doing him a disservice. It's actually 93%... Staggering to think that there are perhaps 2,000 to 2,500 match-going fans that want him to stay.
Kim Vivian
63
Posted 14/04/2018 at 11:47:41
Off topic question for the editors – has the "edit" function been disabled?
Raymond Fox
64
Posted 14/04/2018 at 12:06:25
Today's game has a draw written all over it, but I fancy us to win this one.
As far as the next manager is concerned, there is an obsession on here of "change the manager and every thing will be better".
Allardyce's brief was to avoid relegation, he's done that with a bit to spare. There's been four managers in the last five seasons who have had a go at making us a quality side. Roberto's first season was great and Koeman's first season was decent; they both failed to carry on the good work. David Unsworth had a dabble with moderate success and now it's Sams turn.
The common denominator is the playing staff, in my opinion, there's no-one out there that will make us a top 6 side.
I'm not saying keep Sam, I'm not too bothered one way or another, but the next manager will be faced with the same lack of top 6 quality players to seriously challenge the now six strongest clubs.
What we really need is someone far richer than Moshiri to go out and buy players that are on par with the present big six. That's a pipe dream I know, so we will probably muddle on in the same old way we have for the last 20+ years!
Frank Crewe
65
Posted 14/04/2018 at 12:14:18
Brian (#59).
"So maybe we will have to make it perfectly clear to Moshiri and the rest of the board that we don't want this man here next season."
Maybe we shouldn't be biting the hand that is feeding us. I don't know if Moshiri wants Sam as manager next season or not. What I do know is that Moshiri signs all the cheques so whoever he wants as manager is okay with me be it Sam or some other guy.
I'm not big on this "the next manager is definitely the one to turn us into Citeh Mark II". We have had Martinez and Koeman and now Allardyce. Things haven't improved much with any of them and there is no reason to believe the next guy will be any more successful given the bunch of bog standard one pace players at his disposal.
Brian Harrison
66
Posted 14/04/2018 at 12:23:35
Frank
I don't know if you go the game regularly or not, but I can tell you that most match going fans I speak to in the Upper Bullens don't want him at any price. And the reason is simple: we play with no ambition. Even lowly West Brom came here and played us off the park for most of the game.
Football is very much about opinions and if you are happy with Allardyce fair enough. I will be very interested to read your posts 3 months into next season if he is still here.
Frank Crewe
67
Posted 14/04/2018 at 12:44:22
I never said whether I was happy with Allardyce or not. Actually I'm pretty indifferent. But what I'm not happy with is trying to lay down the law to someone who has already forked out 100's of millions on players and who has already sacked two managers and can pull the rug out from under us any time he chooses.
This is the downside of having a billionaire running your club. Moshiri holds all the cards. If he wants Jeremy Corbyn as manager there is not a lot we can do about it short of not buying tickets.
Mick Conalty
68
Posted 14/04/2018 at 12:58:06
Brian you refer to TalkSport (TalkShite) – were you listening the other day when one of the pundits quoted Alan Shearer as being the leading goal scorer for a season at 38 goals?
Poor old Dixie Dean has been written out of history.
As George Orwell said "He who controls the present controls the past and he who controls the past controls the future."
Derek McMonagle
69
Posted 14/04/2018 at 13:00:07
Various posters have identified positions for which we need new blood – that isn't difficult the way the team has performed this season. However, at the moment, we're like the old lady who lived in the shoe. We have a squad large enough such that some players don't ever seem to get a sniff. I
forget we have some players until their names come up in posts. We've got players out on loan and, according to your point of view, we have a batch of young players coming through the ranks who deserve a run out at the top level.
What are we going to do with all these surplus-to-requirements players who are no doubt costing a fortune in wages? – fire sale two for one?
Alan J Thompson
70
Posted 14/04/2018 at 13:19:46
Frank (#67);
I have no insight into the financial workings of the club but I would imagine that, rather than put the money up Moshiri probably just guarantees the loans which may mean that walking away from the club doesn't mean he walks away from being the guarantor; otherwise there is little point in it in the first place.
As for doing what he sees fit or wants – that is the prerogative of the major shareholder in the same way as it has been Mr Kenwright's.
Eddie Dunn
72
Posted 14/04/2018 at 13:42:27
We flattered to deceive in the last 15 minutes against a Liverpool team saving their energy for their Man City game. Today we will get beat by a Swansea side that can play a bit. Make no mistake, Swansea are still fighting for their lives and will be motivated for this one.
We are sleepwalking our way through to the summer holidays. No amount of meaningless platitudes from Big Dunc can hide the fact that the selections and performances have been ordinary. We haven't played well for a whole game all season.
We had a win at Stoke but today I think Sam will stick with Schneiderlin and even Rooney. Personally, I would keep the same defence but bring in Baningime, Davies and Evans with Gueye. Play 4-4-2 with Tosun and Walcott up top, no wingers. Baines and Coleman can provide the width, with the midfield tucking-in.It's about time we had a go but I doubt that Sam will think this way. He will go defensive and hope to nick it late on as usual. 2-1 Swansea.
Jimmy Salt
73
Posted 14/04/2018 at 13:48:36
I'd like to see Sam's team @49
Derek McMonagle
74
Posted 14/04/2018 at 14:09:33
Schneiderlin and Rooney again!
Mike Hayes
75
Posted 14/04/2018 at 14:52:46
I never want Everton to get beat but if that's what it takes to get rid of this fat useless shit then so be it. He is frustrating fans with his team selections; if Moshiri keeps him, then he is no better then Kenwright.
Pete Clarke
76
Posted 14/04/2018 at 15:01:01
Our owner has lead us through possibly the worst season in the last 40 years or more which includes bringing in Koeman and blindingly allowing the Dutchman to spend a fortune on rubbish. He then panics and brings in total anti-football itself to dig us out of a hole that wasn't that deep anyway.
The fact that Allardyce is still here picking the same shit formation game after game when it would make sense to most of us if he actually played the Under-23s tells me that the manager is not the biggest problem anymore.
If he was going to go, it would have happened 3 weeks ago or last week at the latest so now I can see my nightmare coming true as I have this feeling that Big Sam and Moshiri are getting on well. Being in the Premier League is back to being our priority as it makes enough money to suit our owner.
Add Your Comments
In order to post a comment, you need to be logged in as a registered user of the site.
Or Sign up as a ToffeeWeb Member — it's free, takes just a few minutes and will allow you to post your comments on articles and Talking Points submissions across the site.