Koeman eyeing more signings

317 Comments [Jump to last]
Sunday 6 August 2017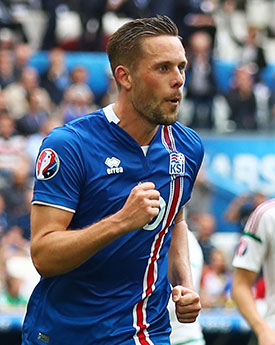 A deal for Gylfi Sugurdsson remains 'close' but isn't done yet according to Ronald Koeman
Ronald Koeman says that Everton will use the rest of the transfer window to make further additions and that while the club is 'close' to securing the transfer of Gylfi Sigurdsson, it is not done yet.
Sigurdsson remains in limbo at Swansea City as the protracted wrangling over his future between the two clubs continues. The Icelandic international sat out another friendly this weekend as the Swans took on Sampdoria and manager Paul Clement confirmed to Welsh news afterwards that no deal had been agreed with any club.
Koeman was asked about Sigurdsson and his transfer plans after Everton's 2-2 friendly draw with Sevilla today and he admits that he and Steve Walsh are still on the look out for reinforcements in defence, up front and out wide, presumably in addition to Sigurdsson.
"Everybody knows we are looking for three more players," Koeman said on Sky Sports News, "a left centre-back, a left full-back — a player who can play out of both positions — a winger and a striker and that's the picture... what the best is for our team and we will see what we can do,"
"We are close [on Sigurdsson but] we have to wait. [T]he deal is not done."
Sigurdsson has been linked with a move to Goodison Park all summer but Swansea have reportedly been holding out for £50m for their star man.
The 28-year-old, a provider of goals and a set-piece specialist, is apparently seen by Koeman and Walsh as a key addition to the forward line.
---
Reader Comments (317)
Note: the following content is not moderated or vetted by the site owners at the time of submission. Comments are the responsibility of the poster. Disclaimer
Eugene Kearney
1
Posted 06/08/2017 at 19:46:10
We were spoilt a few weeks ago, with all the signings.
Now, with the protracted Sigurdsson saga and all this talk of another three, it's frustrating not knowing who is (might) be coming in.
There are so many rumours on the news links...
Daniel Lawrence
2
Posted 06/08/2017 at 19:51:42
So which one is Sigurdsson as he's no left sided defender, winger or a striker...??!
Mark Riding
3
Posted 06/08/2017 at 19:51:43
Koeman: "That's three positions we're looking for and one is not more important than the other to give some fuel for all these high expectations.
"I heard every time that 'Everton is spending £100m, £100m, £100m' but I saw the list and I think we're 16th in the League for spending and we got £95m for Lukaku.
"We've only spent £7m. It's a different picture then the media is talking.
"Three positions we need."
So that's the rest of the quotes. We've spent £7m NET.

Jack Convery
4
Posted 06/08/2017 at 19:56:09
I keep posting on here we need 3 players. I've wanted Sigurdsson since he left Spurs. The other 2 are Van Dijk and Vardy. All 3 our class acts and at the height of their powers. Whatever it takes get them.
If we want to get into the top 4/6 we will have to stump up real cash and not just the money we get from selling Lukaku, Cleverley, Barkley and Niasse.
As for a left back, why let Galloway go out on loan again. If he's not good enough sell him. There must be an experienced left back somewhere in the UK /Europe who wants a last pay cheque, is cheap and can cover Baines.
It's all very simple: Invest or Die, something Mr Moshiri understands as a businessman.
Eugene Kearney
5
Posted 06/08/2017 at 19:56:21
How much did we get for finishing seventh last season?
James Morgan
6
Posted 06/08/2017 at 20:03:35
Sigurdsson plus a striker, a winger and a left-sided centre-half would see our squad strengthened massively, providing they are quality, like.
People bemoan a lack of pace but Mirallas, Bolasie, Sandro, Lookman and another pacy winger would see us with plenty of pace to choose from.
The obvious position we are crying out to be filled is up top. We need to make our move asap, we can't go in to that tough run after Stoke with only Sandro and Calvert Lewin as our strike force.

John Charles
7
Posted 06/08/2017 at 20:04:35
Cannot for the life of me understand why we would spend £50 mil on Sigurdsson. We need width, speed and a proven predatory striker – he offers none of this.
Paul Holmes
8
Posted 06/08/2017 at 20:05:29
Well said, Koeman. We have only really spent £7 million so far (players in versus players out). Let's see if the board sanction the next three signings – otherwise, the owner is calling our bluff (hopefully Moshiri is genuine and takes us to the next level).
Andrew McLean
9
Posted 06/08/2017 at 20:05:42
Eugene, £27.1M apparently
http://www.bbc.co.uk/sport/football/40125394

Gareth Clark
10
Posted 06/08/2017 at 20:14:20
We have pace in the team, it just depends who starts.
Calvert-Lewin, Lookman, Mirallas, Sandro.
Kenny & Davies too plus Onyekuru & Bolasie when they're back.
I think we could do with 5 more signings actually.
CB - Tah / Romagnoli / Hoedt
LB - Chilwell
CAM - Sigurdsson
Winger - Keita Balde
ST - Giroud / Dembele / Slimani
If we want a LCB that plays LB too, then I'd go for Blind.. good age, leader & very good defender, a little slow, but silimar to Baines speed anyway.
Tony Twist
11
Posted 06/08/2017 at 20:20:43
Wakey, wakey, Koeman, a centre-forward is a must. That is the priority.
James Stewart
12
Posted 06/08/2017 at 20:21:04
Sigurdsson will improve us but he won't add pace and that still needs to be addressed unless Lookman plays a major role this season.
Paul Holmes
13
Posted 06/08/2017 at 20:25:45
Gareth, football is a game of opinions but imo Childwell would be a terrible signing at left back. Please leave that position up to Koeman.
As for Blind, Jags and Williams in the same team... no thanks! We need full backs who can get up and down the pitch (like Coleman). Why do you think Man City paid £50 million for a racehorse at right back from Spurs?
Sam Hoare
14
Posted 06/08/2017 at 20:38:42
Our current first XI must be among the slowest, weakest and smallest in the league. Not sure exactly what he is prioritizing? Intelligence perhaps? Though there's no use having intelligence if the system is not balanced and effective.
I'd like a pacy winger. A reliable goalscorer at striker. A ball playing monster centre-back. If I was picking potentially available Premier League players it would be something like Mahrez, Giroud and Van Dijk. Those 3 would add real balance to our team. I'm not sure that Sigurdsson will. His primary asset? Intelligence. And set-pieces (with a small team!).
Chris Gould
16
Posted 06/08/2017 at 20:52:19
Strange comments regarding the 3 positions Koeman says we require. It would seem he means 3 more as well as Sigurdsson. As Daniel #2 said, Sigurdsson is no striker, winger, or left sided centre-back.
Sam, the 3 players you mention plus Sigurdsson could transform us into potential title contenders. Sadly, Van Dijk and Mahrez will be going elsewhere. Giroud also looks unlikely.
I think we'll certainly get players in before the deadline but that unfortunately means they miss 2 or 3 of our difficult opening games.
Sigurdsson will probably not be ready for Stoke as his pre-season has been ruined. One half of football in Swansea's first friendly is surely not going to be enough even for the fittest of players.
Jeff Armstrong
17
Posted 06/08/2017 at 20:54:50
Again, by the time these signings are made and have been integrated into the team, we will have played 5 or 6 tough games and could be in the bottom 6. We will end up playing catch up for the rest of the campaign if we're not careful.
Peter Laing
19
Posted 06/08/2017 at 21:07:43
We need to get a move on, given the tough start to the season the last thing that we need is to be going in under cooked and scrabbling around again on deadline day.
Mark Riding
20
Posted 06/08/2017 at 21:29:42
Dembele, Tierney from Celtic. Virgil from Southampton.
There you go, Walsh, I've spent £120m and got you a proper serious team. Thank me Later.
Don Alexander
22
Posted 06/08/2017 at 21:50:04
It occurs to me that, unless Mr Moshiri is totally as one with his manager, then Koeman is throwing down the gauntlet to him. A three-year Champions League qualification project when he took over, announced as it was, would have been laughable if any but two or three of the very best he inherited would be part of that squad by the end of this coming season.
Robles, Seamus, Jags, Leighton, Gazza, Mo, McCarthy, Aaron, Ross and Mirallas are all still here indicating to me that there's still a lot of change to come before next season, never mind this one, kicks off with whoever the manager will be.
Peter Laing
23
Posted 06/08/2017 at 22:09:34
Ever Banega ran the game today until his substitution, I know we have been tenuously been-linked on previous occasions – but on the evidence today, he would be a player on my shopping list.
John Audsley
24
Posted 06/08/2017 at 22:15:32
I doubt Giroud is coming, we lack pace and height in a number of areas.
We signed a number of players within days then... nothing.
Whatever happens we need a big striker urgently; no point spending weeks trying to sign Sigurdsson if he has no one to create for!
Jay Harris
25
Posted 06/08/2017 at 22:29:13
Giroud wont be coming. (Did you see him kissing the Arsenal badge after scoring his pen?) We need to be looking at Dembele, Vardy, Dzecko or even Gabiardini or Slimani. I would even love a cheeky bid for Aguerro.
Money talks and we have it apparently so let's get a move on.
Peter Roberts
26
Posted 06/08/2017 at 22:44:01
Red tops had us in for Welbeck today. I wouldn't be averse to this at the right price, he has pace and isn't a bad player if you give him a decent enough run.
Centre half was also muted with Vermaelen. Slightly more concerned with that on as he's a bit of a crock, albeit at a prime age of 31 for a defender.
Chris Watts
27
Posted 06/08/2017 at 22:49:04
Aside from players Koeman says he needs, what is concerning is his use of the players we have already. Seeing Kenny bomb up the wing gives us immediate width, opens the game up and gives space to players like Klaassen. He got criticism today but no width equals no space.
Likewise Lookman added bags of pace and trickery. Surely adding these two players to our starting line up would change the dynamic of the team straight off.
Chris Watts
28
Posted 06/08/2017 at 22:50:07
ps: Keane and particularly Pickford look signings of the highest order. Our defence looks like it will be very good this season.
Iain Johnston
29
Posted 06/08/2017 at 23:20:50
I'd offer Swansea £30m plus Niasse & McCarthy for Sigurdsson & Mawson.
Match Newcastle's £13.5m for Perez.
I'd then go for Aaron Cresswell & Demarai Gray.
Shaun Wilson
31
Posted 06/08/2017 at 23:31:22
I don't see any sense in getting Welbeck. A good enough player but injury prone and not very prolific, he didn't score a lot for either Arsenal or Man Utd. Would be a good back up though.
I, like everyone else, I'm sure, would love Aguero but I don't see it happening. If it did, however, it would be an unbelievable piece of business and would let the rest of the league know what our intentions are.
Gabbiadini would be a more realistic target, and although he hasn't been in the Premier League that long, he has proven he can score and he has a knack to be in the right place at the right time, a real poacher.
Slimani could be worth a throw of the dice, he didn't exactly set the Premier League on fire, but he was part of a disappointing Leicester side and a fresh start might be what he needs. I think I'd take a chance on him before Welbeck.
Just please get someone in soon, we have too hard a start and judging by today's performance, we already look like we are a few weeks behind. COYB
Colin Glassar
32
Posted 07/08/2017 at 00:18:45
Vermaelen, Wellbeck, Wilshere and a couple of crutches and we are sorted.
Joseph Terrence
33
Posted 07/08/2017 at 00:24:56
Lol – good one, Colin.
John Audsley
34
Posted 07/08/2017 at 00:38:55
Wood from Leeds wouldn't be a bad idea as a squad player.
Tall but a clever player who reads the game well and brings others into play.
Drew O'Neall
35
Posted 07/08/2017 at 00:42:27
If we are lining up Sigurdsson why not attempt to extract Llorente too? Seems like the type of player we need if the others mentioned won't join.
Rob Tedford
36
Posted 07/08/2017 at 00:46:20
Tierney, Brandt, Luan
I liked that we spent early on and got some good players in; Pickford and Keane look like they'll be good players for us for a long time but I'm not sure if our team this season is any better than the team we started with last season.
I'm just really worried about where the goals will come from.
Keith Slinger
37
Posted 07/08/2017 at 01:18:39
Drew @35,
Llorente would be a shout IMO but I doubt Swansea would do any business with us?
David Currie
38
Posted 07/08/2017 at 01:52:18
Would love to see Lookman and Kenny play for longer, watched the game today and thought we lacked balance and speed. Lookman gave us pace and trickery and was the only player that can beat a man. Has to get more minute's next week against Stoke. Please do not send him out on loan.
Gavin Johnson
39
Posted 07/08/2017 at 02:03:02
Not enthralled about the idea of Welbeck or Vermaelen being targets. They are both crocks. Dembele and Daley Blind who's equally comfortable at CB/LB would be very good signings along with Sigurdsson.
Fran Mitchell
40
Posted 07/08/2017 at 02:03:35
That Ghezzel, who was linked with us last year, seems to still be available on a free. His stats from 2015-16 were excellent, last season after rejecting the new contract he was marginalised. Maybe an option on the wing.
Another I'd like to see us bid for is Roberts from Man City, 20 and top-drawer at Celtic, unlikely to feature much, bid £25 million and see what they say.
As striker, someone not mentioned is Bas Dost. The lad has consistently scored goals in the 'secondary' European leagues. His goal-to-game ratio is immense. Maybe he'd not make it, but at 28, if he was ever ready for the Premier League now is the time.
Two alternatives, that would probably take almost Lukaku level fee, but would make a real statement would be going for either Belotti (23) from Torino or Icardi (24) from Inter. Both hugely talented, already proven, young goalscoring strikers. But if we're gonna bid £50 mil for Sigurdsson, why not offer for one of these two?
Vijay Nair
41
Posted 07/08/2017 at 02:14:51
Fran (40), we were 6/1 odds to sign Bas Dost, but I think he has a £53m release clause. That's a bit steep for a 28-year-old unproven in a top league.
Anthony Dwyer
42
Posted 07/08/2017 at 02:57:48
Fuck me, we want a left back as back up, and a left sided centre half too. Surely Galloway should have been kept until we had them issues resolved as he's able to play both of them positions.
As for a forward who can also play wide, that must mean Dzeko and Giroud are not even in the mix as they couldn't operate as wide men if there lives depended on it.
Gavin Johnson
43
Posted 07/08/2017 at 03:35:34
Lucas Perez is available for £13.5m and can play left wing and striker. He would be much better business than Danny Welbeck.
Vijay Nair
44
Posted 07/08/2017 at 04:16:03
Agree with Gavin on Perez. I think he'll have something to prove if he comes across.
That aside, did anyone else think Martina did a pretty good job at left-back when he came on for Bainesy?
James Watts
45
Posted 07/08/2017 at 05:07:11
Vijay. I thought Martina did well going forward and linking up but he got absolutely skinned a couple of times defensively and was a bit shakey on their first goal. His defensive positional sense is all over the place.
Best game he's played for us though, but should only be used as cover against low quality teams to give Baines or Kenny (if only) a rest.
Alan J Thompson
46
Posted 07/08/2017 at 05:23:59
A left-sided central defender who can also play left back? Sounds like Galloway but he's out on loan to get the experience he got with us two seasons ago.
Mark Rankin
47
Posted 07/08/2017 at 05:44:46
Interesting Koeman's comments and I was thinking do we have a stronger squad than this time last year? Defensively Keane and Pickford look great but Coleman has been a massive loss and Jags/Baines and Williams another year older.
Midfield Schneiderlin, Klaassen, Davies coming through and Gibson, Cleverley shipped out: must surely be an improvement but we've not clicked yet.
In attack we've lost Lukaku, Deulofeu and losing Barkley for Sandro, Lookman, Calvert-Lewin and Rooney, a very different type of attacking unit to say the least.
The squad as a whole is stronger but I'm glad the message from the manager is that we can improve. Hope Barkley, McCarthy and Niasse can be moved on as they are not contributing and we sign some players that will improve the first team.
Mark Wynne
48
Posted 07/08/2017 at 06:07:40
That's a bit harsh about Bas Dost, Vijay. He spent four years at Wolfsburg. Is the Bundesliga not "top league" enough for you?
Mike Gaynes
49
Posted 07/08/2017 at 06:25:22
Enough about Galloway. If Koeman thought Galloway was ready to be the CB/LB, he wouldn't have loaned him out. If Koeman thought Galloway didn't have a chance to make it eventually, he'd have sold him. In the meantime, we need a replacement for Funes Mori.
Peter Laing (#23), we've been in for Banega a half-dozen times. Back in '09 we even tried to get him a work permit. He has never stepped up to come here.
Fran (#40). Ghezzal's going to Monaco.
Gavin (#43), Fenerbahçe has reportedly bagged Lucas Perez. Agree he would have been good business.
Mike Gaynes
50
Posted 07/08/2017 at 06:30:43
Mark (#48), I remember him being pretty good at Wolfsburg, didn't know what had happened to him. Wasn't aware he was scoring a goal a game in Portugal. But that release clause is ridiculous.
Vijay Nair
51
Posted 07/08/2017 at 06:51:48
Haha, Mark (#48). I wasn't aware he played 4 years in the Bundesliga... definitely "top league" then. But his release clause is still ridiculous.
Karl Masters
52
Posted 07/08/2017 at 07:43:15
Some of these comments remind me of a West Ham fan I work with. Been raging all Summer, been in meltdown over why Everton can buy players and they can't, etc. Gold and Sullivan are trouserung the cash etc, etc.
This one in particular caught my eye: "We are like Augustus Gloop in Charlie and the Chocolate Factory ."
I'd like a pacy winger. A reliable goalscorer at striker. A ball playing monster CB. If I was picking potentially available PL players it would be something like Mahrez, Giroud and Van Dijk. Those 3 would add real balance to our team.
We'll end up falling into a vat of hot, bubbling chocolate if we aren't careful!! Haha, Sam Hoare, nice one mate.
Adam Scott
53
Posted 07/08/2017 at 07:45:53
1) Net spend is not a relevant method of comparison between teams. Listen to 'Everton Business Matters', Ronald.
2) Also concerned that Sigurdsson is an expensive square peg. You don't spend that sort of money for a player who doesn't fit your main tactic, surely? Bonkers.
3) I think that game shows us Ronnie sees Martina as back up to Baines. Interesting...
4) Gabbiadini – goals dried up a bit. Would avoid for now. Wasn't good enough before, after all.
5) Aguero, Icardi, Belloti... Not going to happen. Belloti is a possibility if he went nowhere by 31st Aug maybe.
Peter Roberts
54
Posted 07/08/2017 at 08:08:06
Bit harsh on Gabbiadini, Adam. He came in and hit the ground running but was out injured for a while and didn't quite recover his form when he came back.
Mike Berry
55
Posted 07/08/2017 at 08:28:55
Speculation in over drive as to who Ron will target.
No idea who this left sided centre-back will be and the wide player, well maybe the Portuguese and Algerian/French player mentioned last summer may be looked at again.
As for the strikers mentioned some of you just don't get it, Ron wants a big target man so the mention of Perez in some quarters or a player of that physical stature is just not going to happen.
The two from Arsenal, Wellbeck sadly a crock and the badge-kisser yesterday, Giroud – I can't see that happening. Benteke? Maybe but cant see Palace letting him go.
Dzeko is a possibility but he is getting on a bit at 31, for me I would take a punt on Chris Wood from Leeds he is the nearest centre-forward I have ever seen that resembles big Bobby Latchford. He bullies defenders, great with his head and his penalties shows this lad is definitely no stiff. This lad can finish.
No doubt the usual "he has found his level in the Championship" will be rolled out by some posters, yeh like Tim Cahill from Millwall? Someone will get an absolute bargain here and I hope it is us.
Fran Mitchell
56
Posted 07/08/2017 at 09:41:43
Ajay,
Just cause a player has a release clause, it doesn't mean we can't bid less. It is not obligatory to pay a release clause. If the club accepts a lower bid, the release clause means nothing.
Simon Jones
57
Posted 07/08/2017 at 09:58:09
Regards to Sigurdsson – we don't have a right to tie up every signing within 4 seconds. If Swansea don't want to sell (and don't need to) then it's usually up to the player and his agent to push a move through. God knows we'd all be bleating if a club came in for one of our coveted players.
Anyway, does that mean three more players as well as Sigurdsson?
Tony Everan
58
Posted 07/08/2017 at 10:12:32
Spend it all on a striker!
It will be all about replacing Lukaku's goals, I am shocked and disappointed that we have not prepared better to replace him. We cannot do it on the cheap, we have to reinvest the Lukaku money in a Lukaku replacement.
Failure to do so will see us struggle to hurt well organised defensive minded teams , who may well punish us on the break and from set pieces.
We have made some great signings and Sigurdsson will be another. They add important strength and depth to the squad. However, the No 1 priority has to be the striker. Replace what we have lost with equal or better.
It's not straightforward I know, and it's a very expensive problem! To me it is a black and white issue. Do or die.

Sam Hoare
59
Posted 07/08/2017 at 10:46:01
I mentioned this on the other thread but I really liked the look of Joaquin Correa for Sevilla. The lad's 22 and scored 8 goals in 33 for them last year after they bought him for £12m. He beat our full backs over and over again yesterday and got the assist for their first as well as skinning Rooney and Holgate to set up the shot that Baines cleared off the line.
He's obviously very quick and skillful but looked hard working too. He's 6ft-2in so not easy to shove off the ball.
No idea if he'd have any interest in leaving Sevilla to double his wages with us but that's exactly the sort of player we are lacking! I guess Bolasie fulfills a similar role but who knows if he will come back the same and he has never scored many goals unlike Correa.
Worth a £20m bid? Or find someone else who is strong, quick, can play on either side and bring goals and assists from open play. Or maybe give Lookman a run...
James Stewart
60
Posted 07/08/2017 at 10:53:35
Correa is class good shout. Disappointed to see Fosu-Mensah off to Palace, beast of a player to develop in him.
Tony Marsh
61
Posted 07/08/2017 at 10:56:34
It really is a joke this pathetic attempt at signing Sigurdsson. Haggling over £5 Million. I wish we would've haggled a little bit harder and longer with Man Utd over Lukaku. Why did we sell Romelu so quickly and what now appeasr too cheaply?
Now the Lukaku money has gone, or should I say was wasted, we are back to being the penny-pinching club we are all used to. Do we have a Billionaire owner or not? This is Bullshit Everton FC all over again.
As for the new stadium ,if that happens in my life time, I would be very surprised. Why has no work begun while the loose ends of the planning and stadium size and shape are being discussed? Surely if we own the Bramley-Moore Dock site, we can drain it and fill it and lay the footprint – yet not a shovel has hit the ground. Why not? It all stinks to me and I think it is more wrapped up with the Commonwealth Games than we are being told.
The buzz around the Blue half of the city has evaporated in the past few weeks. The lack of real spending, the cheap off-load of Lukaku, the awful football being played, and the non-event which is the new stadium has killed the feelgood factor. If the deal for Sigurdsson is stalling over 5 large then we really are falling behind the big boys.
Colin Glassar
62
Posted 07/08/2017 at 11:00:58
This transfer window has become a big bore now.
Dermot Byrne
63
Posted 07/08/2017 at 11:15:20
I want new £50m players every week, 7-0 friendlies and all coverage on Sky and BBC. Dummy out otherwise and may sack manager before noon. Grr.
John G Davies
64
Posted 07/08/2017 at 11:16:30
That's reasonable Dermot.
Koeman out
Koeman. Out out out
Dermot Byrne
65
Posted 07/08/2017 at 11:16:46
Agree re Correa
Chris Williams
66
Posted 07/08/2017 at 11:29:01
You can cross Giroud off your list. He's said he's staying at Arsenal.
Dermot Byrne
67
Posted 07/08/2017 at 11:44:49
Pleased by that, Chris. Bet we get a fast striker this month. Bet ya. Bet ya. (Convinces self).
Matthew Williams
68
Posted 07/08/2017 at 12:00:11
I mentioned Chris Wood of Leeds a while back, useful target man if we still go down that route.
I would still like a pacy, skillful striker that we can develop further like King from Bournemouth or Dembele of Celtic.
Gotta find a striker soon as we still look toothless & shot-shy up front.
Chris Williams
69
Posted 07/08/2017 at 12:11:12
Me too Dermot. He's a decent player for sure but our need is a striker with pace and power with Sandro to play off him.
Michael Penley
70
Posted 07/08/2017 at 12:13:33
You can be sure that, if we don't get at least three more signings, Koeman will be using it as an excuse all season. Hell even if we do, I think he will be complaining. He's a bit like Moyes in that respect.
Andrew Ellams
71
Posted 07/08/2017 at 12:13:53
Tony Everan, sounds like a plan but who?
Chris Williams
72
Posted 07/08/2017 at 12:16:32
Why don't you just relax and enjoy what is a rare experience for Evertonians. There's fuck all you can do about it it in any case.
Jonathan Tasker
73
Posted 07/08/2017 at 12:23:07
Chris Wood.
Leeds United.
A very good, cut price Lukaku replacement.
Jon Withey
74
Posted 07/08/2017 at 12:29:19
Disappointed we didn't get Iheanacho.
Batshuayi might be a good foil if we can get him.
Giroud won't come and Wellbeck is too much like Sandro for me – he's not really a target man – same with Perez.
Perhaps we can make do with somebody a bit less glamorous like Troy Deeney – just somebody to pester defenses.
James Newcombe
76
Posted 07/08/2017 at 12:45:41
Iheanacho would have fitted the bill nicely. We've missed a trick there. Wonder if Rondon from West Brom would work in this team...
John Wilson
77
Posted 07/08/2017 at 13:28:21
Koeman has his minor negatives, 'Master tactition (tweet embarrassments; his reluctance to make changes until later in the game even where the problem is obvious, to name but a few.
However, I would have Koeman every day of the week and twice on Sunday compared to previous managers, Martinez being no exception. Koeman attracts players, Sandro was likely attracted by Koeman 's superb player status notwithstanding other players in the door: Schneiderlin et al. Koeman has a proven managerial record too – the man takes no prisoners.
Barkley would be in England still if Martinez were the manager and still treated with kid gloves if Martinez were still Everton's manager. There are so many positives concerning Koeman, too many to do him justice. In short, there are far more positives than his relative negatives. Koeman means what he says and says what he means. You know where you stand with him, as ruthless as he is; he is what Everton needs to progress!
Sam Hoare
78
Posted 07/08/2017 at 14:38:40
Martins Indi going back to Stoke for just £7.2m. He was pretty decent there last season and given our shortage at CB and LB i'm surprised we didn't have a go. Maybe we did but surely we could have outbid them or offered more wages.
Robert Leigh
79
Posted 07/08/2017 at 14:44:37
Sam Hoare (#78) you beat me to it! Just read it on Sky Sports, I agree he would be a decent signing.
Looking at what happened to Spurs at RB at the weekend (Trippier getting hurt) you can bet your bottom dollar Baines goes down in one of the first games; or worse yet the first game after 1st September
Jay Harris
80
Posted 07/08/2017 at 14:45:40
Totally agree John (#77) but is Billy boy keeping up his end of the bargain or spitting his dummy out over Ross Barkley.
The "Sigurdsson affair" is turning into a joke – and why haven't we got a Rom replacement yet? Another joke.
Ray Roche
81
Posted 07/08/2017 at 14:55:40
Jay, who would you sign as a Lukaku replacement? I mean, someone who is available and affordable.
Iheanacho has gone and we don't know if he told his agent that he wanted to go to Leicester so discount him. So, only available players.
John Wilson
82
Posted 07/08/2017 at 15:28:03
Lukaku was played every Everton game – where possible; in some ways, I am glad he's gone –as he never pressed he just bullied opponents' defences to get his goals.
Lukaku is not Aguero or no Suarez; Lukaku is just a bully-boy who forces his competition out of the way that all that stands between him and his goal threat is goalie who knows of his reputation to score. It did work for us clearly but now he's gone, we need someone who scores goals, at least 16 and Everton can make up the other 8/ 9 between them, ie Sandro; Rooney; Sigurdsson.
Look at all the goals we concede too – it's about keeping clean sheets as it is about winning games.

D J Fanning
83
Posted 07/08/2017 at 15:34:53
What we need is a powerful, pacy striker with good reading of the game and a strong, accurate right-foot shot, who can run around for the full 90 minutes, wearing the Wayne Rooney mask.
John Wilson
84
Posted 07/08/2017 at 15:38:25
Moneyball is a Brad Pitt movie about running statistics in American Football. It is, to an extent, a true story, where instead of buying the more expensive players they were selected on their stats alone, even though they had weaknesses.
It just makes you think that Everton need to think outside the box and looking for unconventional options. Instead, look for one or two cheaper strikers than one really expensive one.
This is why there will never be a Lukaku problem, ie, player wants to leave when he thinks he's too good for the club. At Man Utd, Lukaku will not get the playing time he had at Everton.

John Wilson
85
Posted 07/08/2017 at 15:52:59
Jermaine Defoe could have been bought for a song. Instead Bournemouth have him. He has netted 158 goals in his career since 1999.
However, he has had peaks of 18 and more recently, 15, where in the latter role was in Sunderland so the service was not great and he still netted 15. A humble guy, I heard him on TalkSport radio. He would have worked so hard for Everton.

John Audsley
86
Posted 07/08/2017 at 15:54:45
JT @73
As I said previously, Wood is a perfect fit for Everton.
I live in the city and Leeds fans Iove him.
Daniel Lim
87
Posted 07/08/2017 at 15:56:49
Moneyball is actually a book written by I can't remember his name but he wrote that interesting Liar's Poker.
The statistical method was successful to a certain extent, didn't win them the title but made them competitive while spending little money. I would say made them, in Premier League analogy, a team challenging for a Champions League place without spending a penny. But I think baseball is a very different sport compare to football.
I thought the guy we hired from the US Olympic council was supposed to develop something statistical but apparently failed miserably?

John Wilson
88
Posted 07/08/2017 at 16:04:37
"Defoe, 34, has agreed a three-year deal and departs the Stadium of Light having scored 15 goals in 2016-17 and becomes the Cherries' second summer signing, after goalkeeper Asmir Begovic from Chelsea.
"It's great to be back and I'm really looking forward to this challenge," Defoe told afcb.co.uk. "It was an easy decision, joining a top team with a top manager. It's a great place to be.
"The Bournemouth fans know that every time I pull the shirt on I will give 100 per cent, and the one thing I can guarantee is goals."
The Premier League's seventh-highest all-time top scorer with 158 goals, Defoe rejoins the club for whom he played for on loan in 2000-01, scoring in 10 successive matches in the second division."

Terry White
89
Posted 07/08/2017 at 16:05:03
John (#85), how old is Defoe? Isn't Sandro a younger version of him, sorry, a MUCH younger version of him? Defoe still is a good player but...
Terry White
90
Posted 07/08/2017 at 16:07:26
The book, "Moneyball" was written by Michael Lewis. It is a good film.
Brent Stephens
91
Posted 07/08/2017 at 16:07:56
Daniel (#87)
"I thought the guy we hired from the US Olympic council was supposed to develop something statistical but apparently failed miserably?"
That figures.
John Pierce
92
Posted 07/08/2017 at 16:32:10
Laughable to even relate Moneyball to football. In baseball the interaction is largely between two opposing players in a singular encounter. Baseball is rarely played in anything but benign conditions. What the players actual skills or weaknesses are, are more easily exposed.
In football the interaction is much more complex. Multiple players at once, variable pitch and weather conditions. Fluid situations, speed of game and much more.
Whilst there is a parallel, it just is fundamentally a different animal.
David Barks
93
Posted 07/08/2017 at 16:38:19
Moneyball? It was baseball not American football first of all. Secondly it's a complete failure. They won nothing and have been an irrelevant feeder club to those who actually do win for decades.
They happened to have a youth system at the time with some amazing pitching talent. That's why they had a few decent seasons. They then refused to pay those star players in favor of accumulating a ton of young prospect and "moneyball" talent. Any time one of those prospects turned good they traded him for more prospects. And the cycle continued.
They then might have a few decent seasons but would again opt to not spend the money required to keep their best players or more importantly add top talent to their core, and would drop down to being irrelevant again.
Moneyball was a nice little movie that doesn't actually hold true to the reality of the situation. The teams that win are the ones with the talent and who are willing to pay to accumulate and keep that talent. LA Dodgers, highest payroll, best record.
John Wilson
94
Posted 07/08/2017 at 16:44:44
Yep true. But the movie wasn't really a grass game..but it was baseball.
Okay, stop being so literal; my point, we need a solution, is that thinking outside of the box? Or should we make use of Sandro and Lookman. If we get this pacey striker.. the works, how much playing time will Sandro or Lookman get?

Dennis Ng
95
Posted 07/08/2017 at 17:03:27
I'm always waiting for a Moneyball reference and see which examples get thrown around.
Technically, it works, just not for the ones who touted it. For NFL, can you say that Patriots are not a Moneyball-like system? Building through youth centered around their QB? They have the lowest cap and actual lowest salary.
Sure, Oakland failed but Red Sox won and many clubhouses are trying it. The problem for its original authors is that many brilliant minds are coming in and crowding them out.
Lastly, how does this work for us? I would argue they already did. Had we not have the awesome academy that we have now, we probably have to overhaul the entire team. Now, our youth team members might not all make it to senior team but we have Calvert-Lewin and Tom Davies coming through. That's 2 positions we are in no hurry to buy for. Add Sandro, Lookman, two names I'm very excited about, why is there so much worry?
As for Koeman's comments on left sided players, I'm of the opinion it would be more for experienced cover. Sure, if we can buy players that walk right into our first team, it will help us, but I fail to see how a good cover will be bad as long as they provide experience and competition for the position.
We're not blowing teams out of the water and we won't. We aren't spending a billion dollars on the team without repercussions. I temper my forever optimism with realism. It would be great if we get into the Champions League this year but with all the teams above us spending as much or more than us, I would be very happy if we better our position from last year. And then better this year's position next year.
Then again, I'm a forever optimist. Even as NK wants to nuke my area. LOL
Tom Bowers
96
Posted 07/08/2017 at 17:11:18
We may have to accept that Calvert-Lewin is the likely starter partner to Sandro unless Koeman has someone else in mind in the next 20 days or so or even sooner.
The Stoke game will be tough as they have brought in some extra beef at the back with Zouma so one would hope that Rooney and Co. will be ready.
Actually Calvert-Lewin is quite decent and maturing quickly so an extended run may be just the thing.
Andy Whittingham
97
Posted 07/08/2017 at 17:22:20
I see Virgil Van Dijk has put in a formal transfer request, citing a want to play European football (not Champions League) – that's the green light right there, Everton!
James Hughes
98
Posted 07/08/2017 at 17:26:46
Andy. he has repeatedly said he wants to move to Mordor. Southampton even threatened to report the RS. I just can't see him moving to us, but then again I am normally wrong.
Denis Richardson
99
Posted 07/08/2017 at 17:33:00
5 days to go till the big KO and I have to be honest, I haven't got a scooby doo what our best starting 11 is with the current players available.
Given the choice I'd probably plump for a 4312 formation.
Pickford
RB, Keane, CB, Baines
Davies, Gueye, MF
Rooney
Mirallas, Sandro
Not a lot of width in the above as we don't have two FBs who can bomb up and down. Could maybe go old school 4-44-2 with Mirallas at RM and Lookman on the left and Rooney and Sandro up top.
Don't have much confidence with any of the above and would presume Koeman will get Schneiderlin and Klaassen in... for who no idea.
At least Stoke don't have too much pace. Really hard to call. Calvert-Lewin will get battered by Stoke if he starts.
John Pierce
100
Posted 07/08/2017 at 17:33:28
Dennis, it hasn't worked for us we've – won nowt for 20 years. If you define 'working for us' as saving us money, that's accepting mediocrity and lacking in ambition. Almost a 'bye-phrase' for Everton in the Premier league era.
John Wilson, even conceptually and not literally Moneyball or models divined close to it are not applicable. The are simply too many moving parts to pigeon hole players in that kind of way.
Modern footballers are often asked to perform more than one role in a team, in most American sports were the model has any element of credibility and acceptance the players are mostly, not always, one-dimensional. Hitter, pitcher, QB, Kicker etc.
Everton's recruiting over the same period has been defined by price and pushing through academy players who would never get a kick in the first team at clubs above us. Because we didn't have a club run well enough to give us better options.
That's a 'needs must' – not a targeted approach. Everton at the moment simply are not shopping in that league. Moneyball is for the skint and desperate.
Dermot Byrne
101
Posted 07/08/2017 at 17:51:18
"I haven't got a scooby doo." Great phrase.
Not convinced by Mirallas in starting line-up but unless we get someone who can do a 100 metres in less than half an hour, you may have a point.
Mike Gaynes
102
Posted 07/08/2017 at 18:18:25
Andy (#97),
No disrespect to either your comment or the Europa League...
...but when a £60m-rated player says he's "incredibly ambitious" and wants to play European football, he's not talking about trips to Ružomberok and Split. He's talking about the Champions League.
And he's not coming to us. Was never coming to us. Was never even going to consider us. No chance.
Paul Tran
103
Posted 07/08/2017 at 18:28:24
Martinez should have bought Van Dijk (and Robertson) while he was playing up here at Celtic.
I'd like to think we're chipping away at this one, but I think that, unfortunately, Mike is right here. I'd love to be wrong.
John Otway
104
Posted 07/08/2017 at 18:30:54
Mike Gaynes. #102. Just hope Farhad takes up your challenge!! Wouldn't that just be the marquee signing!!
Colin Glassar
105
Posted 07/08/2017 at 18:37:22
Don't forget the BFF status Ronald has with VVD, Mike.
Dennis Ng
106
Posted 07/08/2017 at 18:39:12
Colin, do BFFs charge each other £60m? LOL We need a good discount to annoy Sauron.
Rob Halligan
107
Posted 07/08/2017 at 18:47:15
Mike (#102). And what's wrong with trips to Ruzomberok and Split!
Joking apart though, you are right. i can't see Van Dijk coming to us. I think Chelsea will be his destination.
Mike Gaynes
108
Posted 07/08/2017 at 19:22:41
Rob, for a Continental traveler like yourself, who quests for the perfect pint... those are trips that cannot be missed!
Phil Bellis
109
Posted 07/08/2017 at 19:23:10
Lookman (with or without school cap)... Protect him as we did Sheedy and build the team around him.. dead easy this management lark
John Mckay
110
Posted 07/08/2017 at 00:32:48
We should go and offer £70m for Van Dijk make him the most expensive defender of all time; if Chelsea and the shite wanted him then they'd have to go and bid higher...
Dembele up at Celtic looks like he is on fire I know he SPL is a poor standard but he looks big and strong and relatively quick, to hit over a goal per game as well means he knows where the onion bag is for sure. £15m and McCarthy could get him.
I'd go for the ox at arsenal was a beast for England a few years ago or even try Townsend for a bit of pace down the wings.
Probably need to spend another £120m then you got the £50m for Sigurdsson £170m.
We've made some good signings and it's been exciting but I just think we are serious lacking up front, we ain't lost anyone with pace so I don't know why people talking about the tram being slow no slower than it was last season.
We are just messing Coleman and Bolasie to injury – the sooner they are back the better.
Can t help feeling tho that we got a massive whole upfront and Sandro Rooney and Calvert-Lewin just don't look up to the challenge for me no focal point up there.
Not convinced by Giroud either to be fair not for the price being mentioned. Happy with Pickford and Keane tho. If we spent that money on players I mentioned above, we could have a real push for the title.
With the current players, I can't see us finishing any higher than last season. All the top 6 would destroy us with the current group.
Vijay Nair
111
Posted 08/08/2017 at 11:18:00
Looks like Stoke have agreed a deal with Bruno Martins Indi at just £7m. Would have been ideal for us considering he's a left footed defender.
Sam Hoare
112
Posted 08/08/2017 at 11:25:58
John (#110). We have lost Lukaku who was quick and could often beat a man or two or run behind. We have lost Deulofeu who was quick-ish and more than capable of beating a defender once or twice. We've also lost Valencia who was no slouch.
Add to that losing Coleman (who was a huge outlet for us before his injury) and Bolasie, with no idea if either will return with their pace intact. And also question marks over Lennon's availability.
We have added Sandro (who looks quick-ish but certainly not rapid) and fairly slow players in the likes of Rooney and Klaassen. Sigurdsson will not help in this regard.
The team is slower than last year and a hell of a lot slower than most of our rivals.
Vic McDonald
113
Posted 08/08/2017 at 12:03:49
If Van Dijk has asked to move and Southampton don't want to sell him to Liverpool, and with the protracted move for Sigurdsson showing all the signs of previous 'not crossing the line' transfers in the past, why not go for Van Dijk? It would be good just to see the red faces.

Tommy Coleman
114
Posted 08/08/2017 at 12:48:26
Sugurdsson done. £50m.
Swansea waiting for replacement before announcing.
Brent Stephens
115
Posted 08/08/2017 at 12:50:40
Tommy, you have a source?
Barry McNally
116
Posted 08/08/2017 at 12:55:10
Tommy, hope they get replacement in before the window slams shut!
Bobby Mallon
117
Posted 08/08/2017 at 13:07:33
If we want a top class left sided defender who, in my opinion, is better than Van Dijk look no further than Sahko. He's top class and £30 mil would seal it.
Tommy Coleman
118
Posted 08/08/2017 at 13:13:00
No official source. The usual mate's dog told me. A good friend of mine has business relationship with an important representative of Sugurdsson.
I guess Swans want to wait to make it easier on their fans but it really needs to be announced before Saturday KO.
Bobby Mallon
119
Posted 08/08/2017 at 13:13:10
Also if we want a striker who scores then Bas Dost of Sporting CP, is the bloke we should be going for... good record, tall, strong, quick, with an eye for goal.
Bobby Mallon
120
Posted 08/08/2017 at 13:22:27
Can someone also explain why at (the beginning of the transfer season ) we sent a big delegation to Italy to talk to several clubs but have not bought a single player from any club in Italy?
James Watts
121
Posted 08/08/2017 at 13:28:07
Tommy 118. Wouldn't worry mate. The usual mates dog told me. Still more reliable than all of the other sources. Combined.
Gordon Crawford
122
Posted 08/08/2017 at 13:31:41
I've asked this before Bobby. Maybe we have been rejected by all the players we looked at.
Trevor Powell
123
Posted 08/08/2017 at 17:13:54
The silence is deafening!!!!!!
John G Davies
124
Posted 08/08/2017 at 17:28:52
Pardon.
Jay Fearon
125
Posted 08/08/2017 at 17:37:16
Maybe I'm missing something but as far as I can tell, our net spend is negative:
In -
Martina: Free
Rooney: Free
Onyekuru: £7m
Klaassen: £23.6m
Sandro: £5.2m
Pickford: £25m plus add ons
Keane: £30m inc. add ons
Can't find the initial fee for Keane so high end total is £90.8m
Out -
Deulofeu: £10.6m
Cleverley: £8m
Lukaku: £75m plus add ons
(Various chaps released)
Total: £93.6m
Go ahead and correct if these prices seem off but I reckon we've spent nothing in real terms, so we should still have a fair wedge for striker, LCB and winger that we need.

Gordon Crawford
126
Posted 08/08/2017 at 18:15:05
It wouldn't surprise me if the dark side got Sigurdsson and Van Dijk
Mark Tanton
127
Posted 08/08/2017 at 18:26:45
Telegraph reckons the deal is in danger of collapsing because of Everton's negotiation tactics so far.
So what might have happened?
Moshiri – "I'll take care of Rooney, Klaassen, Keane, Pickford and Sandro before July. Bill can you take care of Sigurdsson?"
Kenwright – "Yep. Gotcha."

Brian Williams
128
Posted 08/08/2017 at 18:31:10
http://www.telegraph.co.uk/football/2017/08/08/evertons-attempts-sign-swansea-citys-gylfi-sigurdsson-could/
Mark Tanton
129
Posted 08/08/2017 at 18:32:03
Big Ron will be fuming if he doesn't get his man.
Trevor Peers
130
Posted 08/08/2017 at 18:41:52
I sincerely hope this season doesn't turn into a 'what happened to the Sigurdsson money Bill ? 'Saga, Ron wouldn't like that at all.
Chris Watts
131
Posted 08/08/2017 at 18:43:08
So bored. Amateurs
Imagine PSG saying £192m for Neymar and then spending the next 6 weeks negotiating.
Peter Laing
132
Posted 08/08/2017 at 18:56:37
Ron has stated his desire for 3 more players – over to Walsh, Kenwright and Moshiri. If we are to make a statement of intent and this really is the bold new and brave world of Everton, we should be sealing Sigurdsson and competing for Van Dijk and Dembele.
Failure to spend then personally I'm with the notion that we are still a sell-to-buy Club given the outgoings to date.
Martin Mason
133
Posted 08/08/2017 at 18:57:17
I think Everton may be in the position of having signed too many players rather than too few due to the difficulty of integrating several new players at once and finding the best team and formation.
Just read a very interesting stat that in the last 9 years only once has the club spending the most money in the summer window won the title.
Chris Watts
134
Posted 08/08/2017 at 19:07:29
Now Sky are reporting it has broken down. What a humiliation.
Mark Tanton
135
Posted 08/08/2017 at 19:10:08
In reality of course no one knows what has happened but our beloved club has too much form to disregard. We've seen it all so so often. Is it actually made worse by how promising the early summer was?
Daniel Lawrence
136
Posted 08/08/2017 at 19:10:47
Of course it's broken down; we've not managed to sell Barkley yet.
John G Davies
137
Posted 08/08/2017 at 19:24:36
I won't be able to show my face on Walton Road if this breaks down.
Humiliation? Come on, lads.
Chris Williams
138
Posted 08/08/2017 at 19:25:36
Apparently fee and terms agreed then we went back to renegotiate. Swansea took exception. £45m reportedly.
Sounds like a Bill special.
Wales Online saying it took forever to get there and we agreed then reneged. Still not dead they say and they've been pretty accurate so far, with apparently some inside contacts.
I'd thought (hoped) this shit was in the past.
Colin Glassar
139
Posted 08/08/2017 at 19:42:20
This has Cool Hand Luke written all over it. Our beady-eyed chief negotiator is so good at his job that Donald Trump is thinking of sending him to sort out the North Koreans.
Alan McGuffog
140
Posted 08/08/2017 at 19:45:54
Looks like we will be saving our big move for 11pm on deadline day. Dean Windass – come on down!
Dermot Byrne
141
Posted 08/08/2017 at 19:54:33
Wales Online and Echo, same company, must be loving this. Same articles with slightly different angle to keep us reading.
Bored with it now. Sure he will come and we will have very mixed views about him after 45 mins!
Chris Watts
142
Posted 08/08/2017 at 19:54:39
John it's humiliating because we thought we'd moved away from being also-rans, picking up scraps, in for players only to lose them for unknown reasons after seemingly 'negotiating ' for weeks
And now it appears we are that again. In the eyes of the world we are still little Everton not quite serious enough to get what we want. If we don't want Sigurdsson then fine but there is more dignified ways to go about this than this apparent shambles.
Gordon Crawford
143
Posted 08/08/2017 at 19:57:12
This is very damaging to the positive reputation that we were starting to build. That other shower will be laughing at us.
Dermot Byrne
144
Posted 08/08/2017 at 19:57:14
Chris. It isn't over unless the club's have told you for sure. Have they?
David Booth
145
Posted 08/08/2017 at 19:58:41
Daniel (136): precisely.
I can't decide which is the biggest deception so far this close season:
Spending an already agreed Lukaku fee before he was sold and Evertonians falling for the fact we were big-hitters all of a sudden, or
the powers-that-be knowing that ridiculous sentimentality would override the equally ridiculous illogicality of re-signing Rooney (already close to being found out after his stumbling showings so far), or
trying to maintain the deception that we didn't need to sell Barkley (and McCarthy) to fund the acquisition of Sigurdsson?
So many Everton fans still believe we have £50m to lash on him and more on a striker and the other signing(s) Koeman has stated we wish to make. It's time they realised that, encouraging as our new signings have been, we are funding them by selling others.
The fact the Sigurdsson deal has stalled, is because any deals for Barkley or McCarthy have stalled.
Nothing wrong with that – it's good, sensible business – but why else would we still be haggling over a few million pounds after three or four weeks of being on the brink of signing him?
We're a pretty intelligent bunch, but there are still some who need to take a reality check and accept the fact that there'll probably be no more incoming deals until we raise sufficient cash to pay for them.
And who the hell is going to replace Lukaku?

Dermot Byrne
146
Posted 08/08/2017 at 20:01:06
"accept the fact that there'll probably..."
In a contradictory nutshell!
Tony Everan
147
Posted 08/08/2017 at 20:01:41
Maybe they have been incubating an alternative, and are cooling on Siggy as a result. They think the alternative is better business?
Who knows what is going on, but it is possible?
Chris Watts
148
Posted 08/08/2017 at 20:03:46
Dermot. No I won't comment on any news I see unless mosh tells me personally
Dermot Byrne
149
Posted 08/08/2017 at 20:05:00
Wise man.

Chris Watts
150
Posted 08/08/2017 at 20:06:07
If it was sell-to-buy, wouldn't the club have been quicker to sell McCarthy, Barkley, Niasse, Lennon etc? We've not exactly been quick doing that either so can't see any evidence it's sell-to-buy.
The last 3 weeks have been a little odd, that's for sure...
Brent Stephens
151
Posted 08/08/2017 at 20:08:15
David #145 "I can't decide which is the biggest deception so far this close season: Spending an already agreed Lukaku fee before he was sold and Evertonians falling for the fact we were big-hitters all of a sudden..."
I can't recall Everton telling us that, as we'd spent before we sold Lukaku, then we were now big-hitters. If anybody believed that we were now big-hitters, then it was down not to deception on Everton's part but to assumption on a fan's part.
Joe McMahon
152
Posted 08/08/2017 at 20:08:33
To be honest, I just don't see us doing anything as a club until we leave finally the dilapidated dump that is Goodison Park. How on earth can we compete with this squad as it is. It's not gonna happen anytime soon. Spurs are light years away (and soon to be in new stadium) nevermind the rest of the Top 6.
Guy Hastings
153
Posted 08/08/2017 at 20:13:14
Sigurdsson to be signed by end of January transfer window in direct swap with Ross Barkley.
David Booth
154
Posted 08/08/2017 at 20:17:28
Brent (145), I quite agree.
This is all about fan perception and those who think we have suddenly joined the ranks of the moneyed elite.
They are racing ahead of themselves – helped by the club's lop-sided dealings so far, with just three days to go until our first game!
Colin Glassar
155
Posted 08/08/2017 at 20:22:44
Lukaku having a cracker against Madrid.
Brian Williams
156
Posted 08/08/2017 at 20:30:58
Lukakwho?
Rob Halligan
157
Posted 08/08/2017 at 20:35:01
If I wasn't watching this game, Colin, I'd think you were being serious!! Half-time and Lukaku has hardly had a touch of the ball.
Anthony Hughes
158
Posted 08/08/2017 at 20:36:59
Surely we've got the huge TV money payment by now, we can't be waiting to sell players can we?
Anthony Hughes
159
Posted 08/08/2017 at 20:40:13
None of the Man Utd players have a had a touch of the ball, Madrid are on another level to anything in the Premier League
Colin Glassar
160
Posted 08/08/2017 at 20:41:16
Rob, I saw Lukaku munching on a cracker in the first half. Jacobs I think it was.
Chris Watts
161
Posted 08/08/2017 at 20:42:27
Haha, yeh Lukaku isn't looking great for Man Utd. In fairness he's not had much service and we all know if that's the case he can sit on the outside of the game. Oh well...
Colin Metcalfe
162
Posted 08/08/2017 at 20:43:25
Real Madrid currently making Man Utd look like WBA, you can fill your team with athletes and speed merchants but a team of good technical players who move the ball quickly will almost always come out on top.
So for those ToffeeWebbers banging on about pace a fluid front three of Rooney/ Sandro and Sigurdsson (if we ever get him), and with Klaassen & Davies pulling the strings behind, is on paper a very good attack but they need time to ge; it's not going to happen overnight.
Mark Boulle
163
Posted 08/08/2017 at 20:44:13
David Booth (#145),
Whilst I'm becoming concerned at the lack of attacking reinforcements, I struggle with the theory that we have only spent "agreed Lukaku sale money".
We signed Pickford, Keane, Sandro and Klaassen approx. £81m if quoted fees are accurate. Plus Onyekuru for £5m and Rooney for goodness alone knows how much in signing on fees and wages. So, in total, a fair bit more that the Lukaku money.
All this happened before Lukaku had left and for most of the time these transfers were being completed we didn't even know where Rom was going, or even that he necessarily would. Man Utd might never have been interested had they persuaded Morata to come to them. Chelsea seemed to be determined to sell Costa before any Lukaku purchase.
I reckon that we are, not surprisingly, finding it harder to persuade the sort of big attacking names we all want to see replacing Lukaku to come to us.
That doesn't excuse the faffing about over Sigurdsson, though I'm with Sam Hoare that this team desperately needs pace from somewhere and he doesn't bring that. Nor does it excuse the inability so far to sign a backup LB or LCB – there's plenty of them throughout Europe!
I'm still waiting to see what Steve Walsh does. Yes we bought Sandro as that looks a steal, but Walsh should be able to bring his supposed scouting abilities to bear to fill the LB/LCB, AMC and striking roles pronto. Otherwise what's the point of him...?
Colin Glassar
164
Posted 08/08/2017 at 20:49:23
The Real Madrid MF (combined) cost £104m. The King of Bling cost how much? Almost that.
Tony Hill
165
Posted 08/08/2017 at 20:52:28
Didn't Man City recently beat Real 4-1? I wouldn't have thought either that the lesson to be drawn from tonight's game is that a slow-paced trio/quartet performing fluently will be just the job for us.
Colin Glassar
166
Posted 08/08/2017 at 20:56:57
Oops, I think Rom chose the wrong "big team".
Rob Halligan
167
Posted 08/08/2017 at 20:59:10
Bad miss by Lukaku. Balloons it over the bar from six yards.
Paul Strudwick
168
Posted 08/08/2017 at 20:59:57
What a miss, not that I took any enjoyment from that.
Martin Mason
169
Posted 08/08/2017 at 21:01:01
The concept that we have to sell Barkley to fund the purchase of Sigurdsson is baseless speculation. We have a Director who could fund it out of his pocket money and finance available to borrow what is in effect now a small sum.
I think it is simply a matter of Everton having fixed what they are prepared to pay and they are waiting for Swansea to accept it or not sell.
Sigurdsson isn't going to solve the structural problems we have in the side and is unlikely to change how the coach wants the team to play. This may be a far deeper problem than the players we have in the squad.
Colin Glassar
170
Posted 08/08/2017 at 21:01:37
Money well spent eh, Rob? Almost £200m spent on him and Poghba and they can't score from 6 yards.
Rob Halligan
171
Posted 08/08/2017 at 21:06:35
Lukaku slots.
Anthony Hughes
172
Posted 08/08/2017 at 21:06:35
Shit that Lukaku fella.
Colin Glassar
173
Posted 08/08/2017 at 21:08:15
Get Lukaku back!!
Colin Metcalfe
174
Posted 08/08/2017 at 21:48:40
Well I guess that puts the argument about pace to bed!
Real Madrid should of been well out of sight, boys v men in the end!
Just think some people on here want players like Gray or Josh King! Please give me a break, nothing more than sprinters that can play a bit of footy!!
Ian Smitham
175
Posted 08/08/2017 at 22:15:44
I have heard a joke before which says "How do you make a small fortune out of Football? – Start off with a large one!!"
Moshiri, for me, has stabilised the finances by sorting the issue of the renewable Loan facilities, good. At the end of last season we sold Mr Stones and invested the balancing proceeds. The Summer is dominated by the sale of Lukaku, and the balancing proceeds (or anticipated proceeds bankrolled by Mr Moshiri) look to have been invested. The issue of the "Investment" in the younger players (The ones going to Mr Unsworth) is a separate issue.
But let us not forget that the turnover of the Club/Business has been hugely inflated by the new TV deal, and it has crossed my mind as to where these proceeds are going to?
Back to David Booth's valid question, what investment is being made over and beyond sale proceeds? (I appreciate that Moshiri maybe facilitating purchases before sales, thank you.)
Last for me for now, why on earth are people banging on about Bill? Fact is, now Moshiri is the Fat controller, if he does not sanction a sale or a purchase it does not happen. If, a big if, Kenwright is negotiating the transfer deals, then it is only because Moshiri has sanctioned it.
David Booth, I drove past your old house the other day, seeing my folks, reckon it is 45 years since I last saw you and Si. Best.
Ian
James Watts
177
Posted 09/08/2017 at 00:16:28
Don't worry people. Was just reading we've signed an Italian lad called Davanti-Tryes. So tired of all these rumours myself.
Ron Marr
178
Posted 09/08/2017 at 00:20:23
There is plenty of tread left on that one...
David Booth
179
Posted 08/08/2017 at 00:28:30
Mark (#163), let's not forget the £20m-plus for Deulofeu, McGeady and Cleverley. Our expenditure matches almost perfectly against sales (Koeman admits to a net spend of just £7m).
Petty cash then in a game awash with TV and sponsorship money – and nothing at all to a billionaire?
So if you are convinced Moshiri is going to bankroll us, or indeed already has, why are we haggling about a few million for Sigurdsson with the new season days away and our next Europa League tie days later?
Because we have to sell to buy. That's why!
And that's before we even consider what is our biggest, most urgent and increasingly concerning priority right now: a quality centre-forward.
One step forward, one step back for me so far I'm afraid. Smoke and mirrors.
*****
Ian (#175): passed the old place myself a month or so ago. We must catch up over a pint at Goodison... or Hajduk?
Si Cooper
180
Posted 08/08/2017 at 00:32:08
Colin (#174) – do you think Man Utd are a team with a lot of pace and Real Madrid are not?
I thought Madrid counter attacked very quickly with the ball when there was space and won many 50-50s by being that half a yard quicker. I think United are relatively ponderous compared to most of the better teams in the Premier League and in Europe, only having straight-line speed merchants.
Not only does our first choice team look to be light in terms of outright speed, most of our midfield are not particularly nippy for the repetitive, short bursts you need to keep pressure on the opposition when they have the ball.
Jay Harris
181
Posted 09/08/2017 at 00:38:03
Just reading the deal for Sigurdsson has hit an impasse because Everton are trying to back-peddle on an earlier offer they made for £45m up front. Now they want to pay it in installments and Swansea are pissed.
Now who does that sound like?
Gordon Crawford
182
Posted 09/08/2017 at 00:59:44
You would think Moshiri would just say buy him at £50m. I really am starting to think we are saving all our coppers for the new stadium. Truly embarrassing from Everton FC.
Dennis Ng
183
Posted 09/08/2017 at 01:40:49
Submitting to the seller's demand would mean other sellers (and buyers) have more will to dictate prices in future. Not saying I'm not frustrated, but deals are never easy. Would love to see us get a few more players but also cautious of how it would affect our youths.
Bill Gienapp
184
Posted 09/08/2017 at 01:56:05
If we're sell-to-buy, where did we come up with the £35 million we splashed on Schneiderlin and Lookman in January?
Sorry, but I don't buy this notion that we're awkwardly stalling at the negotiating table because some deal for Barkley that's never been remotely imminent hasn't gone through yet. If that was really the state of affairs, we would have just said Swansea's asking price was too high and walked away.
Or, at the very least, shown some urgency in trying to move McCarthy, which we haven't.
David Barks
185
Posted 09/08/2017 at 02:34:23
Bill,
Last season we had a net spend of £22 million. So far this season we have a net income of almost £8 million, only counting Lukaku's fee as £75M and not the price of rising to £95M.
So in the bank from last summer to now we have a net spend of a whopping £14 million. But banking on Lukaku's price rising to what is agreed to and very possible, we would have a projected net gain of £6 million. Add the expected Barkley sale to that, which the club had valued at £50 million but apparently nobody wants. Hence, sell to buy.
James Watts
186
Posted 09/08/2017 at 03:12:22
David.
As stated before, you're only looking at pure transfer fees. Which is a very blinkered view. There is a whole load more to it than that. Plus your figures seem a bit out to me (likely £90m not 95m for example). And we were never in a million years going to get £50m for Barkley so no clue how we could have factored that in.
Having now thought about the £7m comment from Koeman a bit more I think it served a two-thronged purpose. First to get the board to get a hurry up with Sig plus other's and second to reassure us that we haven't spent much so there is more to come.
That's my positive view on it anyway. Fingers crossed I'm right and you're wrong as if it's the other way round the club are going to make every fan look like mugs. Again.
David Barks
187
Posted 09/08/2017 at 03:54:49
James,
And as stated before our team salary has not been rising in any significant manner. We're in the bracket with West Ham and Stoke, nowhere near any of the six clubs above us. Our wage bill just like every other club has increased slightly year over year along with the massive TV revenue. Last season we were much closer to Sunderland in wages than Spurs, the next closest team above us in wages.
James Watts
188
Posted 09/08/2017 at 04:11:15
David (#187).
Does that include this coming season as we stand? If so you certainly have a valid point and can see a lot of merit in what you're saying. If not, then you don't in my view because of the increase in wages so far.
Mark Boulle
189
Posted 09/08/2017 at 05:50:41
But how can it still be sell-to-buy? If it is, where has the money from the training ground naming rights deal, the new shirt sponsorship and that funny Chinese bank loan thing gone? All of that was legitimate and additional commercial income seemingly available to be spent in transfers, as distinct from any money made from player sales...
I know our commercial revenues previously have been feeble but it's not like there was nothing. What we made before, plus hefty prize and tv money, plus all these new sources of income, ought to equate to a sizeable net transfer fund.
Unless every last penny of it is being put towards Bramley-Moore of course.
I am now resigned to nobody being in by Saturday. Hopefully another week will be enough to fill the key positions before the really tough games plus the Europa League playoff...
Bobby Mallon
190
Posted 09/08/2017 at 05:54:47
Just heard that the Sigurdsson deal is off cause we are haggling over £5M. Where is your money, Moshiri? Where is the spade in the ground for the new stadium?
John Otway
191
Posted 09/08/2017 at 06:22:16
Bobby Mallon. Possibly the saddest, most whinging posting I've seen on here. Get a fecking grip man and appreciate what Farhad Moshiri has done for our club in under 18 months of ownership.
Trevor Lynes
192
Posted 09/08/2017 at 06:28:23
We have spent quite a lot on so called future stars. One beginning with O was bought for £7 million and is on loan. We have also paid around £10 million on others who are in the under 23's.
Surely the starting eleven for saturday is more important.So far we have no play maker or striker.Please do not say Sandro who cost £5 million and Rooney who we took as man Utd surplus stock.We are well weaker up front than we were last season.We are not only down Lukaku, we have no Valencia or Kone.
It seems we have strengthened our defence at the expence of the attack unless we do some business quickly.It is becoming farcical (again).
Will Mabon
193
Posted 09/08/2017 at 06:52:06
Impossible to know the absolute truth here. Since we are not party to facts regarding the club finances and business plan, we can only speculate on how it appears.
It's too easy to suggest throwing money endlessly at a transfer. We are at a different level now to pre-Moshiri but there's still extent/degree at play. Perhaps there are other deals in the pipeline as yet unknown to us fans, the total budget being say, £100 million, irrespective of sales. £5 million could then be significant.
There will be a limit imposed at some level. Has the club got a total cost limit per player budgeted over the term, comprising transfer fee and wages, perhaps £70 mil. Maybe this means max. available for Sigurdsson (or anyone else) of £45 mil. fee, or cancel another signing?
Whatever the answer, there's been some faffing around for sure in comparison to our slick earlier dealings, which might suggest we are getting near a financial limitation. Or, maybe there is disagreement within our club at the fee/valuation of the player.
The rumours of us reneging on an earlier provisional deal and wanting to restructure to stage payments or similar, are strange, possibly false.
Something may be amiss though, and we could be hearing more...
Sam Hoare
194
Posted 09/08/2017 at 07:45:10
A transfer window of two halves?
I'm beginning to look at West Ham's purchase of Arnautovic and Hernandez with more jealousy. At the time I hoped we would go one better but all looking quiet now...
I'd be happy to let Sigrdsson go and switch to Mahrez whose ability to beat his man is much more useful from open play. Think he will go for £35-40m. Then I'd grab Tierney from Celtic to give us some forward energy on left flank and Dembele too or Giroud (though that's looking unlikely)
James Watts
195
Posted 09/08/2017 at 07:53:10
Sam #194.
I'm beginning to look at West Ham's purchase of Arnautovic and Hernandez with more jealousy.
Ah, come on, Sam. I know things have gone quiet and we need a few more players but I wouldn't want either of those two. Hernandez might score a few goals but offers very little else and Arnautovic? Pretty average player who thinks he's better than he is. Things aren't that desperate in my eyes. Not yet at least.
I honestly don't think we can attract Mahrez as he wants champions league (or arsenal), hence the reason we haven't gone for him. Either that or Walsh doesn't think he's worth it. Maybe a cheeky bid on August 31st if he hasn't moved?
John Audsley
196
Posted 09/08/2017 at 08:08:43
We've moved on well since Moshiri got involved but we've stalled badly on the transfers in the last few weeks.
The team is badly missing the Lukaku replacement, only when he has signed will we get a true picture of the team.
I find it amazing that we are playing Stoke on Saturday without a proper striker at the club.
The Sigurdsson transfer needs completing or forgetting about, it's taken way too long and diverted away much needed time from getting other players in.
Time to start cracking the wip Mr M.
Adam Scott
197
Posted 09/08/2017 at 08:16:38
Talk about net spend is irrelevant. Advise people to listen to 'Everton business matters' podcast from the (excellent) 'the blue room efc' transfers don't work like that.
On Sigurdsson, I am not too bothered.
1) I don't buy into this idea that he is a massive upgrade on Barkley
2) I don't see how he actually fits Koeman's 4-3-3 system
3) even at £40m in today's market, he is overpriced.
The club are totally right to put a limit on how much they are prepared to pay. It's business. The guy has no resale value and we aren't Man City, Man Utd or Chelsea.
All this sell-to-buy stuff is pure speculation. Had Lukaku turned round 4 weeks ago and said he wanted to stay, does anyone think we wouldn't have kept him? Even after buying Pickford, Keane and Sandro?
Adam Scott
198
Posted 09/08/2017 at 08:19:20
James (#195). I would be tempted to keep the powder dry for Mahrez. Even if it means waiting a while. Roma stalling, and I wonder where he fits at Arsenal if Sanchez, Ozil and Oxlade-Chamberlain all stay.
James Watts
199
Posted 09/08/2017 at 08:26:09
But Adam (#197) most posters won't because it's much easier to whinge without understanding the full dynamics that there is more to transfers than net spend.
And (#198), don't forget he may not want to come anyway so could be a very risky strategy.
Jon Withey
200
Posted 09/08/2017 at 08:42:25
Can we only manage one transfer at a time? Are we saving on Sigurdsson's wages? Is it all about deadline day now? Stay tuned.
Steve Woods
201
Posted 09/08/2017 at 08:51:55
Jon @ 200 "Can we only manage one transfer at a time?"
This is something that's puzzling me too, can't our acquisitions dept. (Bill?) multi-task?
Bobby Mallon
202
Posted 09/08/2017 at 08:56:14
John 191😂😂.
Okay, I'm a bit over the top but mark my words – we have only spent what we have made and still have the TV money, the Finch Farm sponsor money, the SportPesa money, and we still have the £60 mil loan facility from the Chinese bank and we are now quibbling over £5 million for a player who scored 15 odd goals and had loads of assists, when a full back went for £50 million.
Bobby Mallon
203
Posted 09/08/2017 at 09:00:56
John (#191), but if we are thinking of another player that we don't know about and that's why we are stalling, then fine... but if not well this is Ron's player and he may walk if it's not done, only saying – you know football.
Sam Hoare
204
Posted 09/08/2017 at 09:05:15
James @195, I'm not huge fans of either but currently I think they are both better options than what we have. Stoke were poor last season but the season before that Arnautovic got 11 goals and 6 assists in 33 games. More than I expect Rooney to get.
We are still short of a consistent goalscoring striker and reliable,direct winger who brings goals and end product. They would not have been my top picks and I still hope we'll do better but Hernandez and Arnautovic are of the right ilk.
Bobby Mallon
205
Posted 09/08/2017 at 09:11:20
James (#199) & Adam (#197). It is about net spend. The Lukaku deal was done and dusted – that's why we spent. Bringing Barkley into it is meaningless because, whether or not Sigurdsson is an upgrade, Barkley wants out – he is not staying, he wants to go. He fits just behind the striker in a front 3 as a Number 10.
Dave Abrahams
206
Posted 09/08/2017 at 09:16:45
David (#185), you are right to keep the Lukaku fee at £75M.
According to one article at the time he was sold, the extra money in add-ons is made up of two payments of £7.5M, one if United. the Premier League and another if they win the Champions League, both payments if this happens over the next five years, the length of the contract Lukaku signed.
I can see United winning the league during that period not so much the other one.
Adam Scott
207
Posted 09/08/2017 at 09:24:45
Bobby, it really isn't. In accountancy and finance terms net spend is a fallacy. I have attached a twitter feed and an article for you to peruse. In simple terms, the amortisation of players with big contracts over a long period of time (Sandro, Pickford and Keane) means that we are spending more regardless of letting Lukaku go. Transfer fees are just one element of dealings.
https://www.theguardian.com/football/the-set-pieces-blog/2016/aug/24/transfer-window-market-myths
https://twitter.com/rodgerarmstrong/status/894171533735841796
Chris Williams
208
Posted 09/08/2017 at 09:30:36
Bobby,
Since you seem to focus on net spend in fees, how do you factor in the fact that Sandro, Rooney and Martina came for a total fee of £5m. Is that clever buying and are they perhaps worth a bit more collectively, say £25m?
I'm just trying to demonstrate that to focus on such a narrow definition can give a skewed perspective.
Adam Scott
209
Posted 09/08/2017 at 09:32:59
Excerpt from The Guardian about net spend if you desire. Jake Cohen, 24th August 2016.
Despite what you may have heard, "net spend" is completely irrelevant to how big clubs do business and is not something they consider when calculating player costs. Consider the following: Manchester United signed Henrikh Mkhitaryan from Borussia Dortmund for £35m. Mkhitaryan will likely be earning the equivalent of at least £180,000 per week over the length of his four-year deal.
In practice, clubs such as United, for whom cash flow is never an issue, often pay the entire transfer fee up front or in a few instalments over a short period of time (less than 12 months). This helps reduce the overall cost of the transfer, and most selling clubs will much prefer to see the entire fee paid quickly, as opposed to several instalments over two or three years.
However, on the books – and this is how clubs actually calculate player costs – United, like every single other football club in Europe's top eight leagues, will record the transfer fee as £8.75m in each of the next four years, not £35m now.
This is a universal accounting practice called player amortisation, and it is fundamental to how clubs calculate player costs. Rather than recording the entire purchase when it was made, the club will spread the transfer fee over the length of the player's contract.
Naturally, wages must also be included in the calculation of player costs. Ideally, agent fees and image rights payments will be included as well, but to keep things simple, we'll focus on the two big expenditures: amortisation and wages.
With Mkhitaryan costing Manchester United £8.75m per year in amortisation and £9.36m in wages (£180,000 per week multiplied by 52 weeks), his overall cost to the club is just over £18.1m per year. That £18.1m per year is what clubs look at with regards to player costs, not just the transfer fees coming in and out.
Let's compare the Mkhitaryan deal to that of another recent Premier League signing from the Bundesliga: Arsenal's £30m purchase of Granit Xhaka from Borussia Mönchengladbach. Xhaka signed a five-year deal and will reportedly earn around £125,000 per week at Arsenal. The transfer fee will be spread out over Xhaka's contract at £6m per year (£30m divided evenly over five years). So including Xhaka's wages, the overall cost to Arsenal is £12m per year.
While the transfer fees for Mkhitaryan and Xhaka are similar, Mkhitaryan is costing Manchester United 50% more than Xhaka is costing Arsenal on an annual basis.
To further illustrate why net spend doesn't tell you anything about how clubs do business, consider United's signing of Zlatan Ibrahimovic on a free transfer. While the "net spend" on that deal is zero, he adds well over £10m to Manchester United's player costs this year.
If those were the only transactions United and Arsenal made this summer, their "net spend" figures would be similar (£35m and £30m, respectively). However, after applying the business and accounting principles that the clubs themselves use, we see that Arsenal added £12m to its total player costs for the coming season, while United added over £28m. Rather than a difference of less than 20% in actual spending (which is what net spend would show), the actual difference is over 200%.

James Watts
210
Posted 09/08/2017 at 09:33:06
Bobby (#205),
As I said in #199, the ignorant like to whinge and you've just proven the point. Go and listen to the cast yourself (or just read Adam's post above if you can't be bothered) then come back with an educated rationale. If your view doesn't change then fair enough but just saying "It's only about net spend because I say it is" won't win over anyone, except those equally as ignorant.
Sam (#204).
Agreed they are better than what we have, only because we don't really have anyone of note ourselves, like you say. If come Sept 1st we are in the same boat, then i'd certainly agree something is better than nothing! Although I could never bring myself to look at West Ham in a jealous way – no matter the situation!
Adam Scott
211
Posted 09/08/2017 at 09:40:24
Whilst we have clearly bought in a lot of money, net spend is problematic. Rooney and Martina on a massive 2-year deal and moderate 3-year deal respectively can't be seen as cost neutral signings, like a net spend calculation suggests, for example.
Adam Scott
212
Posted 09/08/2017 at 09:50:06
(On Sigurdsson)
He fits just behind the striker in a front 3 as a Number 10. Bobby Mallon
A system we can't really play for my money, with or without Sigurdsson, as we don't have wingers or wide strikers to occupy the role either side of him in this 'attacking 3'
Listened to a Spanish Journalist who likened Sandro to Vardy. Said he has to be played through the centre. I would agree, it is where he played for Malaga.
Calvert Lewin – Looks lost out wide
Rooney – Hasn't the pace to do it any more.
Bolasie – Yes. But chalk him off for most of this season I would imagine.
Koeman seems to prefer a 4-3-3 or a version of 3-5-2. In both cases, Sigurdsson can fit, but not in his best position. Seems a strange rationale for spending on a £50m player for me....
Martin Mason
213
Posted 09/08/2017 at 09:56:07
Good post, Adam @209.
Brian Hughes
214
Posted 09/08/2017 at 10:13:08
The sigurdsson saga needs to be resolved quickly.
What on earth is happening?
The Daily Telegraph has reported that a fee of £45m was agreed and acceptable to both clubs then allegedly Everton asked to renegotiate followed by Swansea returning to their demand for a £50m deal.
Given that our net spend is not considerable, why haggle over minor insignificant numbers?
Bobby Mallon
215
Posted 09/08/2017 at 10:26:52
James (#210),
I'm not ignorant I have a different point of view that's all. So it's not about net spend I have read the link and accept it.
Well that makes the transfer even more sad on Everton's part. Swansea want and won't budge on £50 m that was their starting point over 3 weeks ago, why are we still trying to get him for less? A bloody waste of time on our part.
Bobby Mallon
216
Posted 09/08/2017 at 10:30:16
Adam Scott,
We do have players who can play wide of him – Lookman, Mirallas, Bolasie when he's fit.
Thomas Lennon
217
Posted 09/08/2017 at 10:31:33
Adam. Amortisation has always puzzled me. We pay out £50 million on a player but it only costs £10 million this year 'on the books'. I presume that means both transactions are recorded on the accounts but only amortisation is factored into turnover?
When we sell and if we receive a lump sum I presume that goes straight into turnover?
A question – FFP refers to the debt over 3 years and wages. I assume annual debt (or it might be rolling debt over 3 years for FFP) is calculated using amortisation and refers to absolute losses rather than actual debt?
James Watts
218
Posted 09/08/2017 at 10:34:57
Bobby (#215).
I'm glad you have read and understand there is more to it than simply taking figure x comparing against figure y and coming up with the incorrect conclusion.
I would have no worries debating with you now no matter your point of view. Certainly shows we've spent heaps, no matter what Koeman and many posters on here claim. Perhaps we should educate him too, link on his twitter account? What do you think? ;)
There is more to spend, I have no doubt. How much that is, I have no clue. Whether that stretches to Sigurdsson and two others, we have 3 or so weeks to find out!
Bobby Mallon
219
Posted 09/08/2017 at 10:39:18
By the way, if Lukaku had signed his new contract to stay at Everton, we would be waiting on the final day of the window hoping to get a few in – that's a fact.
Adam Scott
220
Posted 09/08/2017 at 10:42:35
Thomas – I have to confess, my knowledge doesn't extend to that sort of levels. I know player sales was covered by the podcast I mentioned. I also know that Everton have no realistic restrictions by FFP.
Bobby – Lookman does fit that role, he is raw though. Bolasie, as has been discussed on here before, I would write off for most of the season. Then there are questions as to how a player with a game based on raw pace will come back. Mirallas is another that performs his best when playing the shadow striker role rather than on the wing. Whilst I take your point, I think we are missing way more than just a number ten to make a 4-2-3-1 a viable lineup for us.
#219 – It isn't a fact, Bobby. That is an opinion mate. No way of proving it.
Ray Robinson
221
Posted 09/08/2017 at 10:42:42
Adam (#209) and James (#215), good posts but you'll never convince some on here that it isn't all just about net spend and why waste an opportunity to berate the Board with any argument, however spurious?
Ibrahimovich is an excellent example of a player that apparently "costs nothing" because there was no transfer fee involved.
James Watts
222
Posted 09/08/2017 at 10:49:05
Bobby (#219),
Just as you start to seem better, you post that. Oh dear. What Adam said.
Ray (#221).
I agree, Ray. Some people like to be ignorant to the facts and would rather whinge based on said ignorance. You can lead a horse to water, and all that!
Andrew Ellams
223
Posted 09/08/2017 at 10:58:53
Net spend or no net spend, if we don't bring in a centre-forward by the end of the window the whole summer and upcoming season are going to be a failure.
James Watts
224
Posted 09/08/2017 at 10:59:57
Andrew (#223), I one million percent agree!!!
Bobby Mallon
225
Posted 09/08/2017 at 11:08:11
Adam Scott – I'm being mischievous.
Iain Johnston
226
Posted 09/08/2017 at 11:15:22
A bit of clarity...
A clubs transfer budget is wholly separate from the wage budget, they are not mutually exclusive. If they were, a club with zero funds wouldn't be able to sign loan players or free transfers... The lower league clubs wouldn't be able to sign players such as Henen or Garbutt for the season.
Transfer fee's are about a player's registration documents, that's what costs the money not the man himself as that would be an act of slavery.
The document transfer fee is illustrated in that years accounts as a whole sum, not over the years of the contract...
Amortisation... This is the good bit...
Let's take Lukaku... He signed a 5-year deal in 2014; his paperwork cost £28m. This figure is drawn down over the contract term at £5.6m a year... In July, on the anniversary of his signature (and the reason he didn't sign for Man Utd until then) the value to Everton was £11.2m rather than £16.8m the day before or the £28m put on the accounts in 2014.
Selling his registration for £90m which is what will be recorded mean Everton will post a profit on the transfer of £78.8m.
Barry McNally
227
Posted 09/08/2017 at 11:18:16
If we don't sign him, Bill's next production could be Muppets Fail To Deliver The Iceman.
Chris Williams
228
Posted 09/08/2017 at 11:20:10
We're supporters not accountants. I don't know why we should even bother about bullshit like net spend or accountancy stuff like amortisation or whether FFP is an issue.
Have we bought well so far? Yes as far as it goes.
Do we still need more players in? Yes, and the manager has said another three, or was it four, and it should include a striker, attacking midfielder and left-sided defender.
Is there time yet to get them? Yes,22 days.
Where do we stand? Stronger in defence. Solid in midfield. Lacking in attack, short of pace, width and cohesion.
There is too much effort and emotion being expended on unnecessary detail, baseless rumours and stuff we can do nothing about.
We have embarked on something unique for Evertonians with an unprecedented reshaping of the squad over the last 12 months, both in and out, far greater than even under John Moores in such a short time span. And there is more to come.
And all some can do is whinge about net spend or FFP instead of relishing something that should be enjoyable and exciting.
Paul Mackie
229
Posted 09/08/2017 at 11:43:26
Apart from Pickford, are we really any stronger? Based on the showings so far, we're going to struggle for goals. Rooney has looked exactly like the player Man Utd fans have been saying he is. Klaassen hasn't really impressed. Barkley, inconsistent as he is, wants out...
I don't want to be negative here, but how often have you heard an Everton manager talk about needing '3 or 4 more signings' at this point in the window? How often have we actually signed that many players?
Brent Stephens
230
Posted 09/08/2017 at 11:46:31
Paul, don't you think Keane is an improvement in the defence?
Sam Hoare
231
Posted 09/08/2017 at 11:47:27
Adam Scott @212, I agree and have been saying this for months!
Sigurdsson is a good player and if we hadn't bought Rooney and Klaassen then I'd be very keen but he's just not what we need now which is some genuine wide quality and pace.
Having at least one or two players who can beat their man or out-pace a defender into space behind if they push up gives you a vital weapon and sows an important seed of doubt in the defence's mind.
Lookman could become this. Mirallas can be this on 1 match in 3 or 4. Bolasie was bought to be this. Mahrez (or similar) could be this.
Our attack urgently needs another dimension or two.
Amit Vithlani
232
Posted 09/08/2017 at 11:56:32
As I said on the "Sell-to-buy" thread, my overall impression is that this is a club that is being better managed and will try and get the best deal in buying and selling players, and we are not a sell-to-buy club: just one that is being very savvy in acquisitions and sales.
We have swooped on Gueye and Sandro for £12m, having exploited their release clauses – that would distort the "net spend" calculation. We have sold Lukaku and Stones for almost £130m – very good business by the club considering both wanted to leave and we could have been cornered into a lower price by the threat of having unhappy players on our books (which may be the case with Barkley).
We have made excellent acquisitions so far, and Koeman's comments to me are of a man who knows he is under pressure in the coming season. Yes, if we fail to sign a proper replacement for Lukaku (i.e. someone in the Giroud mould) he may have a justifiable excuse, although everything I am seeing on Sandro suggests he could play down the middle himself.
Koeman has been sounding off as he knows another 7th place finish will not be acceptable. Just as Pocchettino knows that a –£76m net spend at Spurs will not let him off the hook with Levy, who will demand a title tilt, and will not throw money away for the sake of it.
We have demanding and Savvy owners. Perhaps their pockets are not as deep as we would like, but for the resources at their disposal they will expect Koeman to extract the maximum results.
Makes a big change from the Kenwright -Moyes and Kenwright - Martinez love-ins which may have held the club back.
Also, as many have pointed out, let us see what the situation with the squad is at the end of the transfer window before calling out Moshiri and his team.
Finally, there is no tangible evidence we are a sell to buy club – only circumstantial. I think the truth lies closer to the fact that Moshiri & Co are hard nosed individuals who will run Everton like Levy is running Spurs. I do not see any lack of ambition at Spurs despite the cunning modus operandi of their Chairman.

Paul Mackie
233
Posted 09/08/2017 at 12:06:37
Brent (#230) – Keane has slotted in so well and looked so solid that I actually forgot that we'd signed him! It's in attack that my concerns are really.
Santosh Benjamin
234
Posted 09/08/2017 at 12:25:17
At the beginning of the silly season, I was excited about getting Sigurdsson. After our other signings and our lethargic displays in pre-season and Europa League qualifying I've realised that he would be a waste. We need an established striker, a winger and a backup for Baines. I have some questions for Koeman and his staff.
1. Why the bloody hell can't we give Lennon a game...a pacy winger with a great attitude.
2. Why can't you see that Jonjoe Kenny is the only person who should be considered to start at right back till Coleman is fit?
3. We don't need Gana and Schneiderlin to start. It's too defensive with both of them. If he is playing a 4-4-2 or a 4-5-1, use Lookman or Mirallas to get you some pace our wide. Davies can partner Gana or Schneiderlin. Klaassen, Sandro, Rooney must all start for me.
All the experts are predicting we will finish in the same place as last season. Let's prove them wrong. Let's win a cup and try and get into the top 4 this season. COYB
Also I hate how they think Rooney is a waste of space and go on about that fact. Let's prove them wrong a second time.
Andy Meighan
235
Posted 09/08/2017 at 13:30:44
Amit (#232),
"We have made excellent acquisitions so far." Who? Keane will turn out to be a great buy, of that I'm sure. As for the rest of his signings, I'm afraid in my view the jury is well and truly out and is likely to be deliberating for a while.
As great a player as Koeman was, he wouldn't know a footballer if he turned round and smacked him in the face. And of that I'm sure.
Andrew Keatley
236
Posted 09/08/2017 at 13:35:31
Santosh (#234) – Rooney must start? Klaassen must start? On pre-season form, I'd be wanting both of them benched.
Brent Stephens
237
Posted 09/08/2017 at 13:39:56
Paul #233. Seamless, as you say, for Keane. My anxiety is also around attack - replacing those Lukaku goals.
Andrew Ellams
238
Posted 09/08/2017 at 13:43:25
Looking at the bigger picture of the past 12 months, Koeman has strengthened everywhere except on the goalscoring front. Here we have gone a long way back.
Si Cooper
239
Posted 09/08/2017 at 14:02:49
Bobby (#215). I'm glad you have read and understand there is more to it than simply taking figure x comparing against figure y and coming up with the incorrect conclusion.

Certainly shows we've spent heaps, no matter what Koeman and many posters on here claim

There is more to spend, I have no doubt. How much that is, I have no clue
Whether that stretches to Sigurdsson and two others, we have 3 or so weeks to find out!
James (#218), sorry but no-one (including your good self) will be able to draw any accurate conclusions until the transfer window closes and the wage bill is published. Shouldn't that be Sig (what's wrong with Gylfi?) and three others?
James Watts
240
Posted 09/08/2017 at 14:27:08
Si (#218). Yes, agree. What we can say right now is the money we have saved on players wages who have left versus the money we are paying for new players wages has risen by over double. That information is readily available with a couple of searches and that equates to around £15m to £16m a year. That is not chicken feed and needs to be factored in. The rest, as you say, will become clearer after September 1st. Which is a point I've made several times in other posts as well.
These recent posts around that one by Adam and I have been an education piece for Bobby and others who still think net spend is as simple as in vs out as there are many ignorant posts along those lines.
I thought it was three new players including Gylfi. Be delighted if it's 3 new players plus Gylfi! Sig is quicker to type... 😂
Tom Bowers
241
Posted 09/08/2017 at 14:30:13
We have all he diversity regarding the current squad and how it should be paraded in the form of a starting eleven. No matter what, it has to be said that we haven't seen anything different that gives rise to optimism for the coming season.
Having said that, our opinions are based on the pre-season games and the Euro games but maybe we just haven't seen what Koeman still has up his sleeve, if anything.
On the plus side I think they will be more assured defensively given the new centre back and goalkeeper which most people cried out for.
Sandro has replaced Rom. it would seem, being a different type of player that the system of approach play has to change which Koeman does seem to be trying to introduce albeit a little boring and lacking in incisiveness so far.
Still, Rome wasn't built in a day and it is evident that at this stage another class striker is needed as Rooney will not fit the bill, nor Mirallas and Calvert-Lewin is yet to fully convince me.
James Stewart
242
Posted 09/08/2017 at 14:59:09
@212
I agree with that. Anyone who has seen Sandro's finishing ability will know he should be playing down the middle not out wide. He is similar to Vardy in many ways but Vardy thrived as part of a 2 when they played 4-4-2 and not so much as a lone striker. This was of course facilitated by two direct wingers with pace. Mahrez, Gray and Albrighton.
We don't have that option, the only winger we have is Bolasie and he's out for most of the season. So 4-4-2 won't work and neither does 4-2-3-1. So I think we can expect to see 4-3-3 and 3-4-3 a lot, at least until Coleman and Bolasie are back.
Brian Williams
243
Posted 09/08/2017 at 15:10:16
If we have more money to spend and we haven't simply spent the Lukaku, Deulofeu and Cleverley money I wonder why our transfer business has come to a shuddering halt when the earlier one's were done and dusted so quickly that we were all shocked and stunned, let's be honest.
It certainly "appears" that we're back to our old ways of doing business and we ARE unarguably without a number of very important positions that need to be filled.
Whether Koeman was right or wrong in his assessment of how much we've spent the point he was trying to make (IMO) is certainly correct and that is that we are somewhat unprepared for the start of the season on Saturday.
Hat's off to those who've "worked out" the figures and poo pooed those who've said we've only spent £7m but it still doesn't change the fact that we can't get a deal over the line that we've wanted to for a number of weeks, and we haven't got a very good main striker signed.
Taking those two facts, and they are facts, into consideration then it's fair to say that something isn't quite right, otherwise we wouldn't find ourselves three or four players short of what the manager wants.
Jay Harris
244
Posted 09/08/2017 at 15:15:48
As I've said before, at this stage we have a top 4 defence, a midtable mifield, and a bottom-half attack.
If we got Sigurdson and Giroud (or similar calibre) we would have a team capable of challenging the establishment. I have no doubt that we are severely lacking height and bulk up front and with ever tightening defences headers and set pieces will be a major source of goals.
For all I have criticized Lukaku (rightly so IMO), Sandro will not replace his goalscoring and Rooney is close to the knackers yard,
Also, as I understand it the impasse with Swansea is not over an extra £5m it is because we offered £45m upfront at one point and are now going back on that and saying it should be in installments.
For those arguing about the semantics of accounting principles you are ignoring cash flow. With the record amounts being paid out now for players, agents' fees etc this is a significant factor in the overall budget for players. You cannot spend what you haven't got or cant borrow no matter how you account for it.
David Booth
245
Posted 09/08/2017 at 16:02:55
I have a horrible feeling we'll buy a budget centre-forward such as Troy Deeney or Shane Long and there'll be no conclusion of the Sigurdsson deal until one for Barkley has been finalised and McCarthy sold too (with a swap deal for a budget/utility centre-half involved somewhere).
Seventh place beckons again at this rate...
Trevor Peers
246
Posted 09/08/2017 at 16:05:39
Koeman may want more signings but it remains to be seen if the board do. They have baulked at paying what is now considered to be a standard fee this season, £40 to £50 million, for a quality player.
What hopes then of signing a top striker for any less? Zero. Also, Koeman's reaction to being lied to will be interesting.
I wonder if the whole saga was a tactic to waste time and edge closer to the deadline? Of course we've made some signings but not enough to finish 7th again, more like 10th or 12th or worse.
Without the extra class, creativity and fire power, it will be soul destroying stuff, starting with an easy opener against Stoke.
Winston Williamson
247
Posted 09/08/2017 at 16:14:00
Tried to make a concerted effort to refrain from letting my disquiet turn into panic...
We really have looked poor in pre-season though, including the Europa League games.
I honestly thought that with the sale of Lukaku we would create an attack which was varied, well we have: slow, slower and snail-slow.
Sigurdsson may not be quick, but he makes the ball move and he works really hard. However, he's the type of player to have with quick players.
It certainly feels like a return to counting the pennies at Goodison, it feels like we have spent our pocket money on Mars and Snickers bars and forgot the Wagon-Wheels...
James Hughes
248
Posted 09/08/2017 at 16:29:23
Winston, I will echo your opening sentence. We have gone from getting deals done, back to the 'Old Everton'. Selling to buy and leaving it to the last minute to buy.
The bits of football I have seen so far this season have been awful. I actually fell asleep during last Thursday's game. I am ashamed to admit it, but it was a family celebration pregame and booze was involved. Even so, the team performance was disjointed and slow and we looked second-best.
We have had players in but now, with Rom gone, we need signings. So, if Moshri et al sort this out, I would be grateful
I have high hopes as ever for the coming season and right now I am beginning to think, "Same old, same old."
John Wilson
249
Posted 09/08/2017 at 16:33:05
Sandro et al were purchased before Lukaku went. If Lukaku would have stayed, Everton still would have had Sandro etc .and probably Sigurdsson. Stop all this negativity... it's just circumstantial anyway.
Phil Walling
250
Posted 09/08/2017 at 16:33:13
It could well be that the failure to attract a buyer for Barkley has impacted on the cashflow and, as in the past, there is a need to wait for the TV money to come in before further deals can be finalised.
Access to tens of millions in loans and overdraft facilities from Chinese banks does not mean that the money will come without fee and interest payments and good housekeeping may mean that the Club chooses not to take that route.
Also, money must be being put aside to fund the Dockland ground planning application. I think we must be patient.
Tony Everan
251
Posted 09/08/2017 at 16:34:49
It is far, far too early to be pressing any panic buttons.
On the whole, the transfers so far have been good . I am still optimistic that the powers that be are going to invest in Sigurdsson and Giroud [or quality variations thereof].
Swansea are playing hardball, but let them win this fight and pay up, move on. It will be a Pyrrhic victory for them and we need to mark their card.
However, if we don't sign the necessary reinforcements, get beat 1-0 by Stoke and lose to Split over two legs, the panic button can be wheeled out and jumped upon. The board and manager will be at odds, the players will be downbeat and the natives will be baying for blood.
In fact I'm ordering 40,000 panic buttons from China right now, sticking them on eBay in September.
Mike Green
252
Posted 09/08/2017 at 16:35:41
Sell to buy, my arse.
Tony Twist
253
Posted 09/08/2017 at 16:35:45
I think Koeman can want for new signings but he really is not helping his cause with some very poor displays with very little sign of progress within the team. I don't mind the idea of waiting until Barkley goes before getting Sigurdsson as it's a like-for-like replacement, if the skids are on getting a centre forward then Everton are in serious trouble.
This manager doesn't have a clue on tactics and seems to think buying experienced players means he has less to do as a coach. I would imagine the board might be just a little bit concerned with the performances so far after the influx of players with Lukaku really the only one of note leaving.
Dermot Byrne
254
Posted 09/08/2017 at 16:35:47
Exactly, Phil. A dose of the likely reality.
Stephen Davies
255
Posted 09/08/2017 at 16:53:23
I see N'Zonzi has just handed in a transfer request... but is there any room for him at EFC?
Chris Watts
256
Posted 09/08/2017 at 16:57:21
Definition of insanity – keep checking ToffeeWeb on the hope someone has been signed.
Brent Stephens
257
Posted 09/08/2017 at 16:58:38
Mike (#252) "Sell to buy, my arse."
Mike, I'm sure you're a great guy but I'm selling nothing to buy that.
Dan Davies
258
Posted 09/08/2017 at 16:59:25
Hang on, I've got it.
The club are hanging it out for these next three signings at the behest of Sky for transfer deadline day!
Jim White has to have something to raise his voice doesn't he?
How's that for a conspiracy! Haha..
Barry McNally
259
Posted 09/08/2017 at 17:02:51
Tony (#251), don't pay upfront.
Mike Green
260
Posted 09/08/2017 at 17:10:50
Brent (#257) – don't be so hasty, the offer's still on the table if you change your mind...!
Brian Williams
261
Posted 09/08/2017 at 17:11:13
Bottom line. Are we fully prepared for Saturday, with all the players in place that we've had more than enough time to get in place?

James Stewart
262
Posted 09/08/2017 at 17:14:07
No. Still a lot of work to do. Great start to the summer but it has tailed off drastically. If Sigurdsson was Koeman's No 1 target, why was he left until last?
Brian Williams
263
Posted 09/08/2017 at 17:15:19
My thoughts exactly, James.
Sam Hoare
264
Posted 09/08/2017 at 17:32:51
Brian, how many teams in the league do you think would answer Yes categorically to that question? Maybe a quarter. Certainly not Chelsea, Spurs or Arsenal.
A lot of change was needed this Summer and not everything runs smooth in the crazy transfer market. It's frustrating but sometimes if you want the best players you have to be patient. Half the top teams in Europe are still hoping to snaffle Mbappe...
If we still need players when the window shuts then I'll be more concerned.
Mike Berry
265
Posted 09/08/2017 at 17:36:43
Buck Rogers is thawed out after being lost in space for 500 years, what was the first thing he said ?
"Has that lad Sigurdsson signed for Everton yet?"
Tony Everan
266
Posted 09/08/2017 at 17:38:45
Buck Rogers would cost £45m + add-ons, lad's got a bit of pace too.
Anthony Hughes
267
Posted 09/08/2017 at 17:39:14
The question is: Who takes the flak for us going into another season badly prepared with a squad short on players and looking a yard off the pace?
Brian Williams
268
Posted 09/08/2017 at 17:45:08
Sam. I think all three of the teams you mention have quality in abundance, far above what we have, so their plight is nothing compared to ours.
We have no out and out first pick striker. That's a huge problem in my book. Buying players towards the end of the window is fine, but not players who are, or will be, the mainstay of the team.
Brent Stephens
269
Posted 09/08/2017 at 18:05:29
Mike (#260) – a bit worried now about the opening to post #261.
Phil Walling
270
Posted 09/08/2017 at 18:40:37
Have I misheard or are Swansea really asking us for £60 Million for Sigurdsson? Only yesterday, the talk was of £10 Mil less?
John G Davies
271
Posted 09/08/2017 at 18:46:52
It's confirmed. We are back to the bad old days. Sell to buy, we have waited until the last minute to pick a bargain up.
Err, what do you mean, there are more than three weeks left in the transfer window?
Mark Tanton
272
Posted 09/08/2017 at 18:48:34
If that's true, Phil, then they're moving the goalposts and making it hard. I think we should walk away and find someone else.
Colin Glassar
273
Posted 09/08/2017 at 18:48:37
Phil, add a few million more and we could get Coutinho.
Will Mabon
274
Posted 09/08/2017 at 18:52:21
The thread development here will be interesting if we hammer Stoke 4-0.
Tony (#266) – you'd find a bit of pace if you had Erin Gray to chase.
Dennis Ng
275
Posted 09/08/2017 at 18:58:16
If they moved the goal posts, £50m to £60m, then we should also move out goal post, wait till the last minute before trying to force the transfer through and screw them over in finding replacements.
Since Koeman wants more buys, we should move on to other targets and fill other shortfalls we have. I would agree with Colin that we might as well try to buy Coutinho if we really want to show our financial might. Better price based on overall benefits.
Will, call me optimistic but I truly think we can win 4-0 with our current squad. Perhaps we need to tweak the formation a bit. It may not be possible to keep a clean sheet to get the 4 goals.
Brent Stephens
276
Posted 09/08/2017 at 19:03:59
Where did you hear £60m, Phil??
Brian Williams
277
Posted 09/08/2017 at 19:08:20
Will (#274).
If we hammer Stoke 4-0, I'll take you on a tour of Liverpool pubs and bars and buy your drinks all night!
Colin Glassar
278
Posted 09/08/2017 at 19:09:06
Dennis, if in fact this is true (Phil's rumour), I hope we lead them on while secretly negotiating with an alternative target. Then, with days to go, tell them to sod off!!
Will Mabon
279
Posted 09/08/2017 at 19:13:46
Dennis, I almost can't wait for the game now. This last couple of weeks has gradually gone pantomime, so anything could happen Saturday...
Brent, just had a quick shufty and can't find anything about that £60 mil figure. It's not even in NewsNow!
Brian Williams
280
Posted 09/08/2017 at 19:14:32
Colin. As much as I hate to say this, I find the rumour of Everton trying to renegotiate after reaching an agreement more believable than Swansea upping the price to £60m.
Will Mabon
281
Posted 09/08/2017 at 19:16:13
Brian, you're on!
If it's five or six, do I get food as well?
Brian Williams
282
Posted 09/08/2017 at 19:18:03
Will if it's five or six you can pick a hotel mate!!!! :-0
Will Mabon
283
Posted 09/08/2017 at 19:24:24
Great stuff! How about coke and birds for the Rooney hat-trick?
You'll be wearing a Stoke scarf at this rate.
Tony Everan
284
Posted 09/08/2017 at 19:33:43
9-0; Rooney, Sandro, Klaassen hat-tricks... you may just get the Duchess of Cambridge too.
Christy Ring
285
Posted 09/08/2017 at 19:40:30
I hope the Sigurdsson saga is over. Mahrez, for me, is a far better option, younger with loads of pace, and a wide player that we badly need, and for £40m. Didn't Steve Walsh bring him to Leicester?
If we could get a striker as well, we'd have a team, with power, pace and shape.
Tony Everan
286
Posted 09/08/2017 at 19:41:07
On a (slightly) more serious note, I am wondering if Steve Walsh has had a phone call from Mahrez saying he is interested in coming here. Maybe a £35m fee and 18 months younger than Sigurdsson.
Something is going on behind the scenes, take your guess...
Dennis Ng
287
Posted 09/08/2017 at 19:44:35
Colin, my thoughts exactly – or do a last minute Sigurdsson buy and screw their season over. That is how financially strong clubs play the market and we should do that too.
Will, yea, I am excited too, perhaps too excited and foreboding disappointment, LOL. I think the concerns of pace and guile is legit but also mildly exaggerated. We have youth coming through and that's always good. I don't think we need first team buys but definitely need to buy players with proper experience to blend with the youth.
Brian Williams
288
Posted 09/08/2017 at 19:48:43
Will, if Rooney scores a hat-trick, you can snort the coke off my bare arse... I mean one of the girl's bare arses.
Trevor Peers
289
Posted 09/08/2017 at 19:58:30
Roma have had two bids turned down for Mahrez, Leicester are now demanding £40 million, that is until we get involved then it'll be £50 million.
What makes people think Blue Bill will pay that haha ? Even if we are actually interested, it's all bullshit if you believe we will cough up.
Dermot Byrne
290
Posted 09/08/2017 at 20:03:34
"Ross Barkley will end up at Chelsea during the current transfer window, according to Steve Nicol"
Oh for god's sake!
Bill Gall
291
Posted 09/08/2017 at 20:27:34
Well, I was hoping we would have signed Sigurdsson by now,but due to the gossip, and I don't believe any one really knows what is going on, I think it is time to back off and try for someone else. Koeman has stated where he needs new players so lets go to try to get them.
Let's see what Swansea's attitude is if with 8 hours to go before the window closes. With all the talk and time this saga is taking surely both parties must be aware of what they both want and if neither side is willing to alter their offers, it is better to walk away instead of wasting time.
With the league starting in a couple of days time, and leaving only 22 days left in the transfer window, it must be a priority to bring in extra players who the club has targeted, and they have a realistic chance of signing them.
Brent Stephens
292
Posted 09/08/2017 at 20:27:54
Will (#279) – gotta be a Phil Wailing wind-up.
Guy Hastings
293
Posted 09/08/2017 at 20:47:07
No-one's going to buy a player (Ross Barkley) who's still recovering from an op. Wouldn't pass the medical for a start, so maybe Ross's fitness is the stumbling block at present. Could be part of a deal involving Sigurdsson or Giroud. As good a piece of conjecture-as-fact as Jim White will offer between now and the end of the window.
Eddie Dunn
294
Posted 09/08/2017 at 20:59:32
Stoke will come to Goodison full of early season hope, lots of energy and I will be glad for a 1-0 win! Most likely though, is a draw.
Our manager has to give Lookman some serious game time as he, at least, seems to have something out of the ordinary to contribute.

Brian Williams
295
Posted 09/08/2017 at 21:04:48
If we're actually prepared to spend £45m, which is what is rumoured to have been offered for Sigurdsson, I'd rather pull out and spend that on a striker.
There's another three or four players in the midfield who can take up the slack of not having Sigurdsson if you like, but an out and out goal scorer is an absolute necessity.
David Booth
296
Posted 09/08/2017 at 21:10:04
Brian (#295), me too: an urgent priority versus a luxury.

Jay Harris
297
Posted 09/08/2017 at 21:31:07
Brian, I totally agree and can't understand why we only seem to be able to handle one transfer at a time – particularly now we have a full department in the DoF's office.
I am hoping there's a rabbit in the hat for us to announce a top class goalscorer but the realist in me says we will be lucky to get Sigurdsson over the line – especially if Boys Pen Bill is involved...
Kim Vivian
298
Posted 09/08/2017 at 21:37:20
Where is our centre-forward?
Not that we would want him but just seeing that Watford have bought A Gray and now have him and Troy Deeney. Not saying we'd want either of them actually, but it is Deeney and Gray more than we've got up front besides Dom?
Dennis Ng
299
Posted 09/08/2017 at 21:41:54
Dermot, Nicols is prob saying that cos I was giving him a hard time on twitter for saying we'll finish below 6th, LOL.
Brian, I am secretly hoping that (striker) is our announcement tomorrow.
David, totally believable as a Phil wind-up, LOL.
Brian Williams
300
Posted 09/08/2017 at 21:42:20
Jay (#297).
It's the hope that kills you, Jay!
Andy Meighan
301
Posted 09/08/2017 at 21:43:04
I'd like to ask this just one question: Is there another club even remotely interested in Sigurdsson?
Speaks volumes for this manager and his eye for a player. I rest my case.
Lee Jackson
302
Posted 09/08/2017 at 21:48:04
Really Kim? I'd take Sandro, Rooney and Calvert-Lewin over both of those any day of the week. Yes we still need a decent forward to compliment Sandro but some folk here are acting like we sold 5 strikers and bought none when in fact we sold 1 (Rom), let one go (Kone) and bought 2 (Rooney and Sandro). Plus Calvert-Lewin has another year of experience under his belt and is coming off a decent World Cup outing and to my eyes looked pretty good when actually played up top.

No I don't want to pin all my hopes on him and yes we do still need to buy another to help distribute Rom's goals better but jeez, we have 3 weeks to go to get someone in. If I recall, we didn't get Rom until the last day of the transfer window!
Mike Green
304
Posted 09/08/2017 at 22:29:34
It gets worse, Brent! I blame you. :)
Phil Walling
305
Posted 09/08/2017 at 22:35:32
Sky Sports News were deffo reporting fee as £60M this afternoon!
Colin Glassar
306
Posted 09/08/2017 at 22:57:25
No problem, Phil, we'll sell Aaron Lennon and replace him with Dion Dublin. Sorted!
Laurie Hartley
307
Posted 09/08/2017 at 23:33:16
Brian's shout at #295 is spot on. It is sticking out like a sore thumb that we need a big target man.
We have plenty of options in midfield but without the target man, the effectiveness of Lookman, Sandro, Mirallas, and Rooney will be severely reduced.
No Giroud by the looks of things. I think Rondon is exactly the type of centre-forward this group needs. Put him leading the line and the whole team develops shape – and he will always put a shift in.
Paul Kossoff
308
Posted 09/08/2017 at 23:54:40
Koeman in for Thomas Vermaelen?
Apparently there were strange lights seen in the sky over Goodison and Barcelona at the same time. A portly being in wizard garb was seen with what appeared to be some sort of magic wand, waving it madly and chanting Vermaelen to Everton, over and over again!
People wearing rose-tinted glasses nodded knowingly saying, "It's wizard Walsh casting his spells and waving his magic wand to once again bring in hidden treasures and forgotten gems to Everton."
He will add this new find to Walsh's other discoveries: Pickford, £30M; Keane, £25M; Klaassen £25M;. Rooney, £150k a week. "Mr Walsh, Micky Mouse in wizards cloak, that's you that is!"
And no, Walsh didn't discover Idrissa Gueye; Koeman tried to sign him for Southampton.
Fran Mitchell
309
Posted 10/08/2017 at 04:11:10
Just watched the Libertadores, game between Palmeiras (Brazil) and Barcelona (Equador). Palmeiras Lost on penalties, but the stand out player was a Guy called Moisés.
Exactly what we need in our team. Creative, combative, skillful. A proper No 10. A Brazilian Cahill If you will.
He's been out injured for a while, and went off injured at end of this game (but still took, and scored, a penalty despite hobbling).
He was a inspirational player in the league last season, helping Palmeiras win the league.
Worth a punt, I'd say.
Mark Boulle
310
Posted 10/08/2017 at 05:50:48
Is the ToffeeWeb rumour mill page broken or has there really not been one, single worth-reporting transfer link involving Everton since 2 August...?!
Let's hope Walsh and co have got some attacking irons in the fire that are being kept completely secret...
James Watts
311
Posted 10/08/2017 at 05:55:58
Paul (#308). Not that I pay attention to your posts as they in general are just deluded drivel. This one a case in point.
But as I'm bored at work, I'll comment. How come there is no mention of the young lads he's brought in for the U23s? And Lookman, Sandro? Course not. And so what we paid decent money for other players, most improve the team. So whats the issue? Or is it easier to attempt some humour (?!) In trying to bash Walsh?
Some fans are just embarrassing.
James Watts
312
Posted 10/08/2017 at 05:58:15
Mark (#310). Even NewsNow is quiet, so we are either going under the radar or there is nothing indeed happening. Hopefully it's the former!
Colin Glassar
313
Posted 10/08/2017 at 08:09:37
This is a Bear market right now. The Bulls will be out soon.
Ray Smith
314
Posted 10/08/2017 at 17:16:30
I would love to see Sigurdsson at Goodison. However, I don't believe he's worth £50m – let alone £60m.
If Swansea are hoping he will stay and we will go away, they are sadly mistaken.
However, why did Leicester back out? Perhaps they know something we don't.
Make a final offer or walk away. Who else will pay silly money for him?
John Wilson
315
Posted 10/08/2017 at 17:56:21
Barkley is apparently staying now so where does that leave the Sigurdsson situation?

Geoff Evans
316
Posted 10/08/2017 at 18:02:24
I still think the Sigurdsson deal was only on if we could have shifted Barkley. Looks now like were lumbered with the over-rated prima donna who nobody wants.

Rob Halligan
317
Posted 10/08/2017 at 18:33:04
Barkley staying or going has no affect on the this deal. Suppose Swansea accepted £45M for him, and whatever payment they want, full payment or instalments, do you think Everton would then say to Swansea, "Is it okay if we pay you when we sell Barkley?"
David Ellis
318
Posted 11/08/2017 at 08:05:30
Any thoughts on the Sun rumour we are going for Kilnic of Florientina (and a few years back Blackburn Rovers)?
Classic tall centre forward – good in the air, can hold up the ball, and not slow.
David Booth
319
Posted 11/08/2017 at 09:41:28
Rob (#317), then why (after weeks of this impasse), have we not:
a) Given them the extra few million and done the deal?
b) Withdrawn our offer and walked away?
Answer: because we're holding on to see what happens with Barkley.
The fee we get from him, and possibly McCarthy, will dictate how much we have – or more pertinently, have not – got to spend.
Nigel Munford
320
Posted 11/08/2017 at 22:47:15
I wonder if Giroud scoring tonight will put an end to him possibly leaving Arsenal.
James Stewart
321
Posted 11/08/2017 at 22:57:08
No way Arsenal are letting Giroud go now.
Charlie Lloyd
322
Posted 12/08/2017 at 09:41:23
It'll be tough to convince Giroud. Even though Wenger doesn't have him as an automatic starter he appears settled.
For centre-back, what about Davinson Silva of Ajax. Apparently Tottenham interested at about £30m. We could do far worse and we must be able to stump up that fee.
Steve Cotton
323
Posted 12/08/2017 at 09:56:20
Anyone saw Giroud being interviewed afterwards. It sounded like he said he wants to play regularly and I think he was still putting himself out there..
Iain Johnston
324
Posted 12/08/2017 at 10:21:39
Charlie (#322),
Davinson Sanchez in right footed, Koeman wants a left footed defender.
I can't help thinking that it was Martinez's digging his heels in over Stones & Pulis doing the same over Berahino which now sees teams flatly refusing to sell even when the player hands in a transfer request. Yes, I know it's the clubs prerogative but what advantage did it give us Premier League wise and WBA ended up with 50% of what Spurs offered.
Neither Soton, Swansea, The RS or Arsenal are using their unsettled players due to "injury" or general malaise plus the fans begin to turn on them too, so really what is the point, It's not as if they're being sold on the cheap either is it, these four add up to around £300m?
Add Your Comments
In order to post a comment, you need to be logged in as a registered user of the site.
Or Sign up as a ToffeeWeb Member — it's free, takes just a few minutes and will allow you to post your comments on articles and Talking Points submissions across the site.