Schneiderlin rejects talk of 'downing tools' at Finch Farm

120 Comments [Jump to last]
Monday 6 November 2017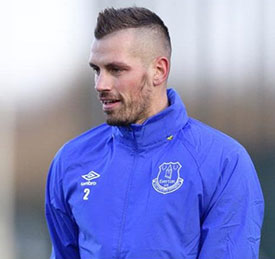 Morgan Schneiderlin has denied reports that he was "sent away" from training on Saturday and affirmed his commitment to Everton.
The French international midfielder was omitted from David Unsworth's squad for yesterday's Premier League fixture against Watford, three days after he was sent off in Lyon for two bookable offences in the Blues' 3-0 defeat.
Speculation has been been rife that both Schneiderlin and Kevin Mirallas, also left out of yesterday's team, either walked out of training on Saturday for failing to take it seriously or were told to leave by coach Duncan Ferguson if they couldn't knuckle down but Schneiderlin rejects the reports.
He took to social media this afternoon to post a statement that read:
I have seen press stories today about me "being sent away from training". The stories are not true. I am fully committed to Everton and will continue to work hard for the Club and the fans in training and on the pitch.
For his part, Mirallas has also addressed the situation, albeit on rather more vague terms. The Belgian posted a message to Instagram thanking fans for all their messages to him.
"It's a difficult situation for me," his post read. "But in life there are things much more serious than my personal situation."
Mirallas, who signed a new three-year contract earlier this year but then angled for a move back to Olympiacos during the transfer window, has not featured for the Blues since being substituted at half-time at Leicester nine days ago.
---
Reader Comments (120)
Note: the following content is not moderated or vetted by the site owners at the time of submission. Comments are the responsibility of the poster. Disclaimer
James Stewart
1
Posted 06/11/2017 at 17:10:24
Considering what this guy cost, he has been woeful. Klaassen and Schneiderlin at over 50m combined makes the eyes water. The entire Lyon team cost less than that.
Steve Ferns
2
Posted 06/11/2017 at 17:19:30
Schneiderlin was good last season. He has not been woeful. He has been poor this year. Let's not over exaggerate.
Klaassen is not having a good time of it but he should come good. Be patient with him. If Johan Cruyff rates him as highly as he did, then who are we mere mortals to argue?
Derek Knox
3
Posted 06/11/2017 at 17:19:50
I can always tell when he's lying; " I am fully committed to Everton " because his lips moved.
The only thing he's committed to, is the trappings of being of a professional footballer. I have only ever seen him have a decent game once, when we beat Man. City 4-0.
When you look at young Beni, in the games he has played the effort and commitment is in abundance.
It wouldn't bother me if neither him, or Mirallas ever turned out again, let the likes of Beni show what is expected, and is genuinely committed to the Everton cause.
Dave Evans
4
Posted 06/11/2017 at 17:20:50
Judging by the joined up play and thinking on the pitch, coaching at Finch farm is also woeful.
Jay Harris
6
Posted 06/11/2017 at 17:26:26
There was a rumour that he and Mirallas were sent home for fighting but I cant see Dunc sending them home for lack of effort. He would just nut the pair of them and leave them on the floor.
Sam Hoare
7
Posted 06/11/2017 at 17:28:16
Steve@2 I respect alot of what you write but I really don't think its much of an exageration to say he has been woeful.
He has made alot of mistakes, shirked challenges, passed poorly and had poor discipline. I think hes been comfortably our worst player this season and that is saying something!
Steve Ferns
8
Posted 06/11/2017 at 17:28:38
in the man city 4-0 win, he was a 65th minute sub in the second half (on for his mate Mirallas). So he was hardly at the forefront of the performance there.
I think he was very good in the next few games after that, particularly when it was him and Davies in the middle and Gueye was away (ANC) or on the bench.
Steve Ferns
9
Posted 06/11/2017 at 17:30:58
This season I can accept Sam, that's a bit worse than my assessment of him, but James and others are re-writing history and trying to say he's been woeful for the entire 11 months.
Brian Williams
10
Posted 06/11/2017 at 17:31:46
Quibbling over terms here. He's been shite, and that's not exaggerating, or even over exaggerating! That's this season, last season doesn't matter it's history.
Jon Withey
11
Posted 06/11/2017 at 17:31:55
Clearly our form hasn't been his fault alone - but he hasn't been a shining light either.
Charlie Lloyd
12
Posted 06/11/2017 at 17:37:17
Sam & Steve
Schneiderlin began the preseason matches a few gears below where he should have been playing.
I expected a marked improvement as the season began. It's just not happened for him.
He's looked very disinterested to be fair. Seems to have lost any edge he had which has reflected in his poor tackling, slow pressing and non existent tracking of runners.
In that time he's taken £100,000s with little return to the club and fans. He needs to just get a grip and give something back.
John Hammond
13
Posted 06/11/2017 at 17:45:20
Before we write-off Klaassen let's just remember what most people thoughts on Niasse were...
Tony Marsh
14
Posted 06/11/2017 at 17:46:34
What we EFC need to do as a club is make a statement of intent which is. If Man Utd are selling we aint buying !!! .Just think about the crap Utd have stiffed us with over the years while taking our best.Whiteside, Howard, Neville, Cleverly, Schniederlin,Rooney
Its a joke and it is embarrassing as well as a waste of money. This also should apply to Spurs and Arsenal etc. We should only purchase players who are found by our scouts our or decent in form talented players. No more Premier League cast offs that can't get a game elsewhere. The other big club's don't buy rejects from competitor's so why should we.. Let's start acting like the big club we aspire to be.

Steve Ferns
15
Posted 06/11/2017 at 17:47:35
I would not argue against your assessment Charlie, and have never said he's been anything better than poor.
What has disappointed me the most is that he is a real key player for the side, especially with Barry gone. Gueye and Davies lack Schneiderlin's discipline not to get sucked into the ball. He sits and can provide a defensive focal point for others to buzz off. Maybe someone will argue it's because he's too lazy to run.
Their first goal, when Keane misses the header, we have 3 central midfielders and all have gone forwards, and so we are left with a 3v2. Kenney does what he has to and goes across leaving his man unmarked. If Schneiderlin had been playing, and playing as well as last season, he would have been sat just ahead of Keane, he should not have gone forward, and he then drops and makes that 3v2 a 3v3, and that goal could have been prevented.
His passing has been very, very poor this season. But yesterday there was passes getting smashed to little lookman at 7 feet in the air and he was stood on the touchline. Schneiderlin of last season was our best passer, after Barry, and should (but hasn't been) dictating play from the back and launching attacks. Due to how crap he has been, and how limited gueye is at getting the ball forwards, we've been the slowest back to front team in the league.
Replacing Schneiderlin will become a key thing for me in the window. Davies could mature into the role, but it's not a role for an 18 year old, and Davies needs to learn to develop his range and quality of passing, because it's a long way short at the moment. Of course he played a cracking ball through for Lookman yesterday. which is why I say he could mature into it. He's got a good eye, he's always played just in front of the back four, and he's got all the other attributes, it's just the consistency of his passing letting him down.
Steve Ferns
16
Posted 06/11/2017 at 17:48:16
What about Luke Shaw, Tony, we need a left back?
Tony Marsh
17
Posted 06/11/2017 at 17:52:17
Ssteve No to Luke Shaw the lad will never recover from that terrible leg injury. Ive heard from Msn Utd supporters Shaw is dupposed to be finished? We don't want another damaged player here.
Dave O'Connell
18
Posted 06/11/2017 at 18:01:10
I'm hoping we can sell Morgan in January. Need more creativity. He doesn't provide anything to the team.
Mike Gaynes
19
Posted 06/11/2017 at 18:02:28
Derek, Sam and Steve... Schneiderlin was better than good for us last year. In the games I saw at Goodison, he was simply outstanding. He won the ball, passed superbly, and the goal against WBA was an absolute sweetheart.
I have no idea what happened to that player... he never turned up for preseason this year. I guess it's because he got married in June.
The guy wearing his shirt has been timid on the ball and especially in the challenge, bottling tackles that have cost us two goals. And the red was idiocy.
"Woeful" is not too strong a word for what he's been this season, but I haven't yet forgotten what he's capable of.
Steve Ferns
20
Posted 06/11/2017 at 18:07:54
He seemed to be getting back to something resembling his best last season, despite criticism from Mourinho. He is still young. But if he is crocked, then we should swerve him.
James Stewart
21
Posted 06/11/2017 at 18:13:14
Not "re-writing any history" in the slightest Steve. I say it as I see it.
Schneiderlin was called a "disgrace" live on air by Jenas after the Lyon game, quite rightly. His lack of discipline has been a real problem. Barry knew when to foul tactically, MS is just reckless and brainless. He could quite easily have walked more than twice this season. Is this acceptable for our second highest earner? His marking and pathetic attempts at tracking his man have cost us goals not just this season but last season as well. He has not looked anything like a 25m player since he signed, you can count on one hand his decent games for us.
Mark Dunford
22
Posted 06/11/2017 at 18:42:19
Schneiderlin was impressive last year, but his form has nosedived this year and his disciplinary record is woeful. He may yet come good because on the evidence we've seen he can be a very good player - there is a long way to go. Mirallas is in an identical position in this respect. Neither look like fighters to me yet I'd think they'd perform well in a high flying side. Having said this, neither is responsible for the imbalances within Everton's squad so their frustration is at least comprehensible - not justifiable, before I'm accused of excusing them.
Danny O'Neill
24
Posted 06/11/2017 at 18:52:06
I too think Klaasen could come good. He has the talent and ability but unfortunately the normal challenge of making a step up in terms of league competitiveness and the usual finding of your feet at a new club has been compounded by walking into the proverbial shit sandwich of a situation.
Eddie Dunn
25
Posted 06/11/2017 at 18:57:18
History is improtant in this matter because last season he played well , so it is relevent that he is capable of better. I remember when he was out for a few games and many of us on here were worrying how we would do without him.
This season he has made so many mistakes.
Koeman put up with it but something ain't right with him.
Scott Ewers
26
Posted 06/11/2017 at 19:04:47
James #21 - all I have to say is "boy do I miss Gareth Barry!" Lots of folks on this board were ready for him to hang up the cleats, but I bet they'd take him back right now.
I personally think both Schneids and Klassen are quality footballers who are struggling along with the rest of the club right now. I wouldn't write either of them off yet.
As for Mirallas - I really thought that he and Barkley would pair for many, many Everton goals together. Shows what I know.
Kelvin Thomas
27
Posted 06/11/2017 at 19:13:04
He seems determined to clear his name. Even phoned the Echo to question the credentials of the story.
He can regain his form, hope this is untrue!
Soren Moyer
28
Posted 06/11/2017 at 19:25:00
How do Lyon and Monaco find those talented players with alot less money!? We sould seriously consider hiring a French head scout!
Kim Vivian
29
Posted 06/11/2017 at 19:33:02
John Hammond - 13. Good point.
And Klaassen arrived I would say with better credentials. We just haven't seen the evidence yet.
Paul Holmes
30
Posted 06/11/2017 at 19:35:06
The facts are that Schneiderlin and Mirallas were not even on the bench for our cup final,as Unsworth put it,so something has gone on despite the fact that he's saying otherwise.Hopefully Koeman will buy them when he gets a managers job in Qatar !.
Mike Allen
31
Posted 06/11/2017 at 19:47:12
Most have criticized Unsworths team selections but it would appear on this evidence that he has been hampered with problems behind the scene Schneiderlin and Mirallas may only be half the story. EFC need to make a statement before the red tops and sky start hyping thing up if these two players have taken to social media

Just a thought on Klaassen, how can anyone based on what we have seen of him and Sandro for that matter make a statement that he/they will come good? Absolutely no evidence to validate that comment (in my opinion)
John Catto
32
Posted 06/11/2017 at 19:50:23
I think it is just a case of both players not wanting to be at the club. I say sell and move on.
Neil Copeland
33
Posted 06/11/2017 at 20:01:26
Mike 31, I think the comments are based upon both players performances at their previous clubs and the feeling that neither are up to speed in the prem yet. They need game time, I have said it before, play them in the u23s to help each get game time and a better understanding of football over here.
Neil Copeland
34
Posted 06/11/2017 at 20:02:23
John 32, agreed.
Fran Mitchell
35
Posted 06/11/2017 at 20:06:23
Sell Lukaku and use to money on 4 players to improve the team, they said.
1 Lukaku and 75 Million later we have Keane, Klassen, Sigurdssson and Sandro and Rooney.
Sell Stones and use the money to improve the team. 50 Million later we have Williams and Schneiderlin.
Anyone really still want to sell Barkley?
Peter Warren
36
Posted 06/11/2017 at 20:09:16
Schneiderlin was okay last season not great. He was very good at Southampton. This season he's been appalling (like many).
Steve Cotton
37
Posted 06/11/2017 at 20:14:01
Fran spot on...
Oliver Brunel
38
Posted 06/11/2017 at 20:14:05
This is none other than The Emperor putting on a sideshow for journalists to cast Moshiri's Everton in a bad light; cue Palpatine's greedy acquisition of Moshiri's shares post-BBCgate for peanuts and 'The Theatre of The Absurd' goes on and on... with Billy Sith sitting pretty on a pile of pretty green.
Scott Ewers
39
Posted 06/11/2017 at 20:18:03
Neil 33, agreed, I'm not sure whether Klassen, Sandro, or even Vlasic will turn out the way we all hope, but I really want to find out, and the only way to do that is to get them some game time whether in U23 or the senior club.
Fran 35, I never wanted Barkley sold. But it's been a long time since we've seen him, and I hope he has the desire and skill to come back and meet the very high expectations of him that we held for a very long time.
BTW - has anyone heard from Barkley lately? Do we think he's still hurt? Or is he just holding out to see who the next manager will be before he decides whether to re-sign or move along? That aborted signing at the end of the last transfer window was WEIRD.
Mark Morrissey
40
Posted 06/11/2017 at 20:19:20
I was watching one of our televised games recently and this pair of fuckwits were sat alongside each other on the bench both wearing their winter snoods and had them pulled up around their mouths and as the camera was focusing on David Unsworth in the foreground you could see them lowering their snoods and giggling about something to each other.
I said to my lad who was sat alongside me, "Did you see them giggling to each other?" My boy, seeing the same childish behaviour, said "You'd think they'd be disappointed not to be on the pitch."
There stands a tale. I know I sound like a dinosaur but back in the day players would indeed be kicking themselves if they weren't selected and had to warm the bench.
I've always thought that Mirallas flatters to deceive and I don't rate the other one much either. Sell em both as far as I am concerned and good riddance to bad rubbish.
Christy Ring
41
Posted 06/11/2017 at 20:21:31
Schneiderlin this season, has been less than mediocre, and his ridiculous tackle against Lyon, showed his heart is not in it either. Mirallas has been very disillusioned for awhile now, and even over the last few seasons, he had some good moments, but always faded in games, and ended up being substituted.
If the story is true, and I hope not, to leave or be sent from training, for lack of effort, a day before a massive game, is inexcusable and a disgrace. I applaud Dunc and David for their professionalism. They shouldn't wear the jersey again.
I feel sorry for Klaassen, he is a skilful player, and needs time, but I watched him in the Europa final against Utd, and he hardly touched the ball.
Ian Riley
43
Posted 06/11/2017 at 20:56:27
Play, win, lose or bad behaviour. The payment a week that most don't earn in a year will be in the bank. Mirallas was given a new contract. For what? koeman should of got rid. Reality was there were no offers better on the table.
IF schneiderlin had anything about his game he would still be at Manchester United. There midfield is not the greatest but they knew. These players are not going to take pay cuts so there here to stay!
David Johnson
44
Posted 06/11/2017 at 21:00:24
Hope none of the players read this site. Fucking depressing.
Jack Convery
46
Posted 06/11/2017 at 21:10:37
MU mate told me when we bought Schneids the Mancs couldn't beleive their lluck. Fellani gets in the team before Schneids. Maybe its getting married in the summer. Trying for a baby can be exhausting you know. As for Mirallas he had lots of time at Goodison and you can count on one hand the No of times he's played and merited a 10. He can go - Koeman was right on that one.
Neil Wood
47
Posted 06/11/2017 at 21:15:05
Mark @ 40 I mentioned a while ago on here watching when we were I think 3-0 up against palace . It was cold and raining and Martinez looked over at Pienaar and Eto on the bench. Told them both to get warmed up to come on (I was only sat a few metres away)
The look on their faces was unbelievable they both clearly didn't want to get changed and they ignored him!
He had to ask them three times and then Pienaar took about 5 minutes to take his training top off.
I was disgusted. I would give my left bollock to play and would probably have given three times more effort than those two.
People would kill for that opportunity and let's not forget the thousands of people paying money to watch YOU.
If I was managing I'd of docked them both a week wages and paid for away fans travel to the next game by coach. Or ploughed it into kids hospital
Bobby Mallon
48
Posted 06/11/2017 at 21:20:48
Tony Marsh @17 on that basis let's sell Coleman now his leg break was really bad
Christine Foster
49
Posted 06/11/2017 at 21:33:21
Obviously according to at least one of them, the details in the media are untrue, so whats the truth? Schneiderlin obviously is annoyed by the media comments so where did the comment come from? I can understand Mirallas getting dropped ( width didn't work with him and Lennon) and I dare say he is trying to get some sort of results rather than a team for the future.
To be honest this sounds like the media trying to cause trouble with a slanted report. think Mirallas is unhappy with no game time and cannot get his form, can see him going in Jan unless a new manager comes in and gets the best out of him.
Schneiderlin? just really poor, doesn't deserve his place at the moment. Its a worry with Davies not at the races, Gana like a loose cannon, McCarthy continually injured, the midfield is a mess.. along with the defence and a light weight forward line..
Who ever comes in needs to get results, win ugly then build.
The legacy of Koeman is poor form, unhappy players and holes you could drive a bus through. We have not got a team, just a bunch of players doing what they think is best.. and some can't hack it or aren't interested. How did we get here??
Bobby Mallon
50
Posted 06/11/2017 at 21:40:10
Mike allen@31rosenberik klassen was class, him Sandro and Vlasic should start the next 5 games. He should play central midfield with sniederlin with Vlasic right and Sandro up top with DCL/Oumar. I think gueye May just be the weak link he just runs everywhere he has no position.
Bobby Mallon
51
Posted 06/11/2017 at 21:49:33
@41 Christy, I'm not having this witch hunt on Sniederlin, correct me if I'm wrong but in the 1st game against Lyon didn't Holgate make a Sunday league tackle and give a pen away I mean it was f ing disgraceful tackle, but I you think his hearts in it eh
Soren Moyer
52
Posted 06/11/2017 at 22:30:12
They should be both shipped out during January transfer window if this is true.
James Marshall
53
Posted 06/11/2017 at 23:16:33
I always find it interesting when players struggle for form, and supporters leap on them and call them every name under the sun for not performing flawlessly - as a fellow human being I can attest to having had dips in 'form' during my working life due to my personal situation, home life/relationships etc.
None of this ever seems to be taken into account where footballers are concerned, due to the nature of 'support' we offer them as supporters of Everton (or any other club).
Am I alone in this line of thinking? Aaron Lennon is a prime example of us not knowing what goes on behind the scenes and making judgments.
Andy Crooks
54
Posted 06/11/2017 at 23:36:34
Tony Marsh # 14,I agree. We have for too long bought players who are not good enough for clubs we aspire to equal.
I appreciate that at times we have had little choice. This last while, we have. The Lukaku money ,and I agree with your assertion, that we sold him cheap, should have been spent on buying a replacement, not on assembling a mediocre squad of over priced, middle of the road players we just did not need.
Duncan McDine
56
Posted 07/11/2017 at 06:26:27
James (53), very true. Remember Nyarko too?... we're an uncaring bunch!
Bobby Mallon - I can only assume you were high on crack cocaine when you suggested Schneiderlin alongside Klassen for our midfield have you not been watching us this season?
James Power
57
Posted 07/11/2017 at 07:16:54
This story could be dismissed by Unsworth or Duncan easily. It will be interesting to see what happens next.
Paul A Smith
58
Posted 07/11/2017 at 07:29:03
My word. Stop giving average players credit. All you see is 'Schneiderlin was great last year' this year blah blah blah.
What has he done at Everton?
Apart from being out too often, strolling around like Don Juan, missing tackles and about a handful of 7/10 performances (all at goodison) what gives him this great title?
What game has he hit a standard like Arteta?
Far too often there are bang average players getting called class, great etc.
Its a joke and now the big stud is spitting his dummy out in front of the youth players. Lets these players earn your these hyped up titles.
As I have said since day one, as if Man United are that stupid.

Danny O'Neill
59
Posted 07/11/2017 at 07:54:44
Well said James Marshall.
Danny O'Neill
60
Posted 07/11/2017 at 07:54:45
Well said James Marshall.
Mike Corcoran
62
Posted 07/11/2017 at 08:11:40
Never mind Arteta, to think of the stick Leon Osman used to get, sad to think we haven't even got a midfielder anywhere near Leon's quality in his prime.
Paul A Smith
63
Posted 07/11/2017 at 08:24:52
Mike 62 good shout mate and he wasn't great either.
Sorry i rushed the end of my post and got words mixed up.
Rob Newling
64
Posted 07/11/2017 at 08:29:24
Are you serious Tony #14 ? Tom Cleverly was like the proverbial "new signing" for us on Sunday ;-)
The ownership 'enquiry' aside, (another possible penalty ?), we're much better placed financially now. Personally, don't care who we sign the 'right' players from. That said, I'm happy to see our Youth players coming through. "Instant success" ? - not something we Blues are comfortable with ! Hard graft & patience, & shoot for the stars - if ya knows ya St Domingo !
Well said James #53
Richard Lyons
66
Posted 07/11/2017 at 08:52:56
Derek Knox is right #3... Beni is already better than Schneiderlin, and I also think Lookman is already better than Mirallas.
The kids are the future... They show way more passion and commitment than their supposedly wiser and more experienced team mates. Clearly neither Schneiderlin nor Mirallas are in what could be called "a good place", and I can't see them being nurtured back into happiness and form, unless it's through a change of club.
So, sell both of them in January. We have enough defensive midfielders and wingers...
James Marshall
67
Posted 07/11/2017 at 09:48:20
Baningime has all the attributes to be a decent player, but to say he's 'already better' than Schneiderlin is simply not true. The kid has only played 3 games, and you're talking about him as being better than an established pro?
I don't mean to be rude, but that's very short term thinking, and based on very little foundation.
When players are scouted, they're scouted for a long time, and watched numerous times over many games before an assessment is concluded - to say one player that's played what, 2 Premier League games is somehow 'better' than a player with almost 300 Premier league appearances is just not reality.
Paul A Smith
68
Posted 07/11/2017 at 10:15:09
James 67 your definately right about Beningime. To say hes better than the average Schneiderlin is silly but hes got the potential.
Sunday he looked a yard behind the game and like Lookman Davies and Kenny he will need bedding in slowly.
One extreme to the next these days.
After Ashley Williams first game, one of the most ludicrous statements of the decade appeared from all angles of typing.
"Hes better than John Stones"
With so many people entitled to express opinions, analysis is out of control.
I was told on here the other day Walsh found Drogba.
A 24 million pound player 10 years ago was a find?
Your a bit more realistic than most James it shows quite often.

Bobby Mallons take on Tom Davies is great. Finally good to see another person not afraid to break trend.
Great point on midfielders too. Do managers see players who don't slide or run like headless chickens as midfielders these days?
Bobby Mallon
69
Posted 07/11/2017 at 10:15:13
Duncan mcDine @56 ive watch every game this season, and let me tell you this. You are of the knee jerk reaction fan base, Tom Davis has been worse than Sneiderlin this season but because hes one of our own cant do no wrong with fans like you. Let me tell you this Davis, baningine dowel guey would not get a sniff at Ajax yet Klassen was Captain who has played champs league and europa finals and is in the Dutch national side. Hes a top player who Cruyf thinks is a genious, he needs to be played in midfield alongside sniederlin and the rest will be history.
Lewis Barclay
70
Posted 07/11/2017 at 10:25:29
Mirallas is a nuisance - we should have sold him years ago
David Graves
71
Posted 07/11/2017 at 10:37:56
Bobby Mallon if you have watched every game then you will have witnessed Klaassen's last "performance" against Lyon. I thought it was as bad a 45 minutes as I have seen this season and am not surprised that he has had very little playing time. He may well have had a wonderful season at Ajax but we have seen nothing, or at the most extremely little, of his reported ability.
Joseph Edwards
72
Posted 07/11/2017 at 10:54:14
Mirralles and Shneiderlin are both highly paid waste of spaces with overblown opinions of both their quality and how important they are to Everton. Neither player have shown any kind of consistency, professionalism or skill to warrant their wages, Mirralles in particular is a sulky bad egg who is only happy when moaning about how hard done to he is.
Get rid and quickly.
Andy Williams
73
Posted 07/11/2017 at 10:59:41
Totally spot on James #53. Some of the slagging off of players is ridiculous and wrong. we have good players - an unbalanced squad yes - but good players. They need to be coached well and supported. Every week at the game I seem to be having an argument with somebody who is trying to destroy their 'pet hate'. I don't understand how that helps us in anyway and it certainly doesn't help the player. I have seen many players over the years that I thought were not good enough but I have never publically abused them - some weren't good enough but others proved me totally wrong - eg Alan 'Becken' Harper. Even Big Nev when he started was no great shakes - he improved - slightly!
Bobby Mallon
74
Posted 07/11/2017 at 11:08:04
David @71 thats because he never gets a game oh and please explain why Lennon and miralis get game time and Vlasic who is by far our best winger who was MOTM v Brighton is not even in the squad. Klassen played very well against Rozomberok but only the negitives, if the fans get their way and Unsy panders to them we will be playing the under 23's soon.
Simon Smith
75
Posted 07/11/2017 at 11:08:42
Joseph # 72
Your comment about Mirallas makes him sound like he'd fit in well on TW "only happy when moaning about how hard done by he is"
Colin Glassar
76
Posted 07/11/2017 at 11:08:49
It's not the first time Mirallas has had a hissy fit. He's a primadonna who should've been sold years ago. He can't last 90 mins and he drifts in and out of games and has never shown any consistency.
Schneiderlin is a very good player who's in a deep trough right now. Will he come out of it, who knows? Maybe under a different manager we will see him at his (Southampton) best again.
Charlie Lloyd
78
Posted 07/11/2017 at 12:09:03
Colin at 76
He was a decent player at Southampton by all accounts. A friend, a season ticket holder echoed this.
However he was signed by Man U in July 2015 and his career hasn't progressed since.
Is it a drop in form or is this it for him now?
Nigel Munford
79
Posted 07/11/2017 at 12:23:24
Am I missing something or do football pitches have two wings Bobby, can't Vlasic and Lennon be accommodated, like one on each wing maybe???
Paul A Smith
80
Posted 07/11/2017 at 12:26:20
Charlie 78. This is the thing 'by all accounts' its sad how people see a very good player without him doing anything great really.
A regular 7/10 performance would be fair to say hes good but we haven't even seen that.
Think back to how many times our horrible rivals bought 20 million plus players then realised the level they were good at is much different.
Performing for Southampton with little expectation in a dinky stadium is a walk in the park compared to playing for Everton.
George Cumiskey
81
Posted 07/11/2017 at 12:41:25
Bobby@74 spot on about Vlasic why he's left out is a complete mystery. What you said about the others I'm not so sure, let's hope they do pick up and prove everyone wrong.
Alex Mullan
82
Posted 07/11/2017 at 13:25:53
Replace him with the Arteta money
James Marshall
83
Posted 07/11/2017 at 13:30:55
So Vlasic being left out is a mystery - remember when Lennon kept being left out and none of us could understand why? There are always deeper issues going on with humans than them merely being devices to fill our footballing lives with joy.
Schneiderlin, Vlasic, even Mirallas, it's never as simple as they don't try hard enough, or don't show the right attitude, and we only get 'so much' information, and rightly so.
What right do we have to pry into the lives of another person simply because they play football for the team we follow? We all do it at times, just some to lesser or greater degrees, but we'll never really know the full story as to why any given player is playing badly, or not playing at all - nor should we decide we have the right to know entirely.
Here's a thought - do professional footballers deliberately play badly, or make mistakes, mistime tackles or get sent off on purpose? I would suggest that never happens.
Neil Copeland
84
Posted 07/11/2017 at 13:39:02
Seems odd that Schneiderlin has gone downhill more so this season, I thought he put in a few decent performances last season.
Perhaps it is something to do with getting married, I know I went downhill when I got married although having said that I am divorced now but don't seem have gone back up again!
May be as simple as he needs an arm around his shoulders and done decent man management.
Paul A Smith
85
Posted 07/11/2017 at 13:46:08
James 83. Who is prying?
Doctors and Nurses have far tougher times at work and still have to be professional.
Lennon we know had a serious situation. That is few and far between.
We can't just assume either that players are having a bad time because they don't perform well.
Prying I haven't witnessed but like the rest of us we have a job to do.
My bird makes me want to go crazy but I have things to do at work.
Kevin Turner
86
Posted 07/11/2017 at 13:46:34
Show them both the door. Mirallas has form in respect of throwing his dummy out of the pram and Schneiderlin's drop off in form indicates he's just picking up his money and actually wants to be somewhere else. Grant him his wish.

James Marshall
87
Posted 07/11/2017 at 13:56:15
Paul - maybe I overstated the fact back then. I meant that supporters want to know every detail of every story about everything that goes on at their clubs, and that includes individuals and the reasons for their poor form etc.
Prying might be the wrong word, but hopefully you see what I'm getting at.
Steve Ferns
88
Posted 07/11/2017 at 14:55:18
Mirallas speaks:
"I have to restore the truth after some articles in the medias. I was not excluded of the squad due to a lack of commitment during training this was a manager Decision And I was frustrated as I am fully committed in Everton since arriving in 2012 and I can't accept our actual ranking I apologize to the president and owner, my team mates and the manager for not being able to cope at that moment with my frustration."
Steve Bird
89
Posted 07/11/2017 at 14:58:36
Anyone out there got any time for slowly introducing Klaassen and Sandro back into the fold? We were all, I think, incredibly happy that they had been signed originally; both of them were having good seasons last season in their respective leagues.
The have been poor so far but it's been a baptism of fire and hardly the best platform to slowly integrate into new surroundings. The fans have played their part in destroying any confidence they may initially have had.
Have we given up on them? I still hope they may come good, am I being over optimistic?
Paul A Smith
90
Posted 07/11/2017 at 15:47:09
James 87 I do get what you mean mate this is why I stick with what I can prove and don't waste my energy on rumours or Kenwrights contacts.
Schneiderlin is playing grim and I haven't a clue when he last took his Mrs out.
Paul Holmes
91
Posted 07/11/2017 at 16:10:09
There is a 'click' with some of the players,schneiderlin,miralles,gueye and niasse all socialise together.For gueye's birthday these were the only players that attended his bash with their wives (a photo was posted somewhere).So its no coincedence that apart from niasse,the other 3 have been terrible this season.Obviously something is going on,so unless its sorted out,they need to be moved on (all of them).Good team spirit is needed for Everton to get back on track not disharmony within the ranks.
Paul A Smith
92
Posted 07/11/2017 at 17:06:13
Not defending Mirallas because he is what everybody says on here. However, I do believe he is that way inclined because he wants to play. He was hauled off at Leicester and I thought it was harsh from Unsworth to say he couldn't get in the game.
That performance wasn't great but he was the only player that day to actually beat a man an get 2 shots in.
Paul Holmes spot on about the click. Koeman seen that straight away and tried to change it.
You can see on social media everytime they do a group photo.
Andy Meighan
93
Posted 07/11/2017 at 17:56:31
James Marshall (#83),
What utter tripe you talk! Who's prying? We are just expressing an opinion.
And as for your line "Make mistakes, Mistime tackles, play badly or get sent off on purpose." Well I'd question that last one because it certainly looked to me like Schneiderlin couldn't wait to get off the pitch against Lyon Hence the silly second yellow card.
I know for a fact Ferguson got sent off deliberately while playing for Everton, so believe me – it happens.
Nitesh Kanchan
94
Posted 07/11/2017 at 18:06:21
A party get-together doesn't mean anything. I have seen photos of Baines, Jags and Keane partying together somewhere.That does not mean they don't get on well with other lads.

Niasse gets on with everyone, be it with this group, the U23s or be it standing together with the Everton crowd.

It is just normal frustration from Mirallas for not getting to play, he has apologised so end of story. No idea about Schneiderlin. What he is up to this season? He certainly doesn't look interested this season.
Clive Mitchell
95
Posted 07/11/2017 at 18:31:38
Schneiderlin shouldn't get a minute in the first team unless and until we need him because we haven't got three other midfielders available from Davies, Gueye, Baningime, McCarthy, Besic. I can't recall seeing a 'big' player perform as badly as this guy has all season. It's now clear that's at least in part because his attitude stinks.
There's no room for that at the club. The youngsters need to see Mirallas and this lad hung out to dry for weeks and weeks. Get rid of both in January or the summer.
Nigel Munford
96
Posted 07/11/2017 at 18:38:16
I wouldn't want to be buying a round if I had to socialise with the entire squad every time I wanted a night out.
Clive Mitchell
97
Posted 07/11/2017 at 18:41:59
Actually, Schneiderlin's public statement shows you what you need to know. He denies being sent away from training. But the stories weren't that he'd been sent away from training. The stories were that, when told to choose between behaving like a professional in training and leaving, he chose to leave. What a self-regarding clown.
David Currie
98
Posted 07/11/2017 at 20:58:23
Both are wankers, Mirallas has an attitude problem and not good enough, the other one passes back and sideways too much and has no heart. Get rid ASAP, great posts by Mark 40, Paul 58 and Richard 66.
Oliver Molloy
99
Posted 07/11/2017 at 23:19:13
James @ 83,
Vlasic has been at the club 5 minutes and because her brother isn't being selected his sister has been spouting off on social media a little too much.
Vlasic was told to tell her to shut the fuck up I've heard and he took exception to this, so I guess he's being shown who pays his wages!
His sister hungry for fame Is just using her brother in trying to raise her profile and if he doesn't see that he's fucking stupid.
It's his career – right!
Paul A Smith
100
Posted 08/11/2017 at 10:34:49
Oliver 99. Who told you Vlasic was told to keep his sister quiet? Someone pretending they have contacts at the club?
Are we run by the Krays now? ... because that rumour is absolute pathetic.
How come Lukaku was never told to keep his dad quiet? And the rest of the footballing world told to keep agents quiet.
If I believed this nonsense I would still be leaving a mince pie and milk out Christmas Eve.
Steve Ferns
101
Posted 08/11/2017 at 12:16:22
Anyone seen if Everton trained yesterday or today?
West Ham were training yesterday, dunno if it was just for Moyes to have a photo op or what. I understand we needed some rest after the game on Sunday but we really need to ensure we get fitness levels up.
Who's left at Finch Farm? There should still be a load like Baines, Jagielka, Robles, Schneiderlin, Mirallas and a few others. The latter two have training to make up. I hope we're still doing some proper training sessions with the guys and moving a few of the non-international U23s up to make a full session.
Ronald would be on the golf course in Portugal now, if he was still in charge. I hope Unsworth has the players not good enough for their countries with their noses down and training hard. We have a lot of work to do, and there's no excuse for these players not to be doing it.
Steve Ferns
102
Posted 08/11/2017 at 12:21:10
Paul Smith (#100), it's Twitter rumours and on a few forums.
I can understand that Vlasic was behind Lookman in the pecking order for wingers, as Unsworth was always going to go with Lookman. For Leicester, Unsworth went with experience in Mirallas and Lennon and Lookman was on the bench to replace Mirallas (he never does 90 mins does he) if the formation had not been ditched. He then went without wingers and kept Lennon and Lookman on the bench ready.
If given another game, I think Unsworth will start Lookman and Lennon against Palace and then it's a choice between Mirallas and Vlasic. If we see Mirallas after his latest antics, then Vlasic is more of an issue, if we see Vlasic, then I would simply put it down to Unsworth's faith in Lookman ahead of him.
I would hope Mirallas is left out of the team, unless he has suddenly bucked his ideas up and is training harder than he has ever done before. Even then, I would be loathe to play him.
Danny O'Neill
103
Posted 08/11/2017 at 14:36:56
I'm with you Steve (@89). As I said previously, a total shit sandwich of a situation and atmosphere to try and adapt in.
Paul A Smith
104
Posted 08/11/2017 at 15:01:30
Steve (#102). People need to seriously get out the house or get a grip on reality. Entertaining a story about Vlasic's sister is absurd. Our fanbase is a laughing stock at times.
The situation we are in, the inexperienced manager needs all the support he can get and social media is rife with non-stop gossip. These people need vetting and kept away from Everton games. Nothing but a virus.
All I want to do is learn more about the game, so sorry if this sounds arrogant but, as an Evertonian that really wants the best for all of us, I feel it's my duty to shut this nonsense up.

Oliver Molloy
105
Posted 08/11/2017 at 15:30:45
Paul,
If you are referring to me getting out of the house – thankfully I can do that.
I'm not a virus, by the way, I'm an Everton supporter. I'm not insisting you believe anything, but if I was in control of Everton, I would be telling Vlasic's sister to mind her own business on team selection and club matters regarding her brother.
As I said, he's been here 5 minutes. I believe it because it makes total sense to me; I don't think it's absurd at all.
Your comparison to Lukaku's Dad is not at all the same – that's absurd!
Good luck to you in shutting all this nonsense up... start with Moshiri and Co and all the bollocks they come out with.
Henrik Lyngsie
106
Posted 08/11/2017 at 15:33:57
James (#83). I lived in Rome in the 90s and was part of a Scandinavian community. Roma had nothing at stake in the last matches. One of their Swedish players ensured to be sent off deliberately so he missed the last match and could go on early vacation.
So it certainly happens. I do not imply that the Schneiderlin sending off was deliberate, but I am sure many of the players don't mind to miss the last two euro league matches now where we are out.
Steve Ferns
107
Posted 08/11/2017 at 15:35:09
It's not just Evertonians you describe, it's all football fans. We are passionate about our teams, but sometimes we get a bit too passionate.
As for vetting fans, bit extreme mate!
As for making stuff up on twitter - I find that twitter has a lot of bullshit written on it. Alarmingly, one of the biggest bullshitters calls himself the President of the United States of America!
Steve Ferns
108
Posted 08/11/2017 at 15:38:59
Henrik, wouldn't it be far easier to suddenly pull up with a "twinge". Few lad I played with, when outpaced would suddenly develop a limp. Rather than get sent-off they come off because "injury" was making them perform badly.
It's impossible to confirm a muscle injury. These guys will be on the verge of cramp, or may even have knocks, if they want to come off, they'll have an excuse, without the need to get sent off and pay a fine.
Paul A Smith
109
Posted 08/11/2017 at 15:39:37
Oliver, I make reference to anyone who spends their time dwelling on nonsense. 'Trend' is the entertainment these days.
How is Lukaku's dad any different than Blanka Vlasic? Different theme and different gender but still talking out of turn.
Have a look at some of the posts on Schneiderlin and Mirallas. You'll never see a fanbase so committed to things that don't matter or can't be proved. All that energy could go to creating an atmosphere at Goodison.
Steve, I fully admit my composure is thin when I read such nonsense concerning Everton and I seriously never want to fall out with a fellow blue.
I am no Mr Everton and your support is important but to see empty rumours about our club is a piss-take to me and needs stamping out.
David Graves
110
Posted 08/11/2017 at 15:52:19
It's not impossible to confirm a muscle injury. Ultrasound, CT or MRI scans will all show the extent of any soft tissue damage.
Nowhere to hide for the modern footballer.
Henrik Lyngsie
111
Posted 08/11/2017 at 16:14:50
Steve, yes probably. But the club doctor could still force you to play. A red card guarantees you a day off.
I just gave it as an example that showed that it happens. I thought it was really weird and unprofessional.
Henrik Lyngsie
112
Posted 08/11/2017 at 16:28:36
Paul (#91). I guess these 4 players are all French-speaking and the same probably goes for their families. If that is the case, I think it is a bit harsh to suggest to move them on for socializing with other French-speaking players and their families.
I am sure in all clubs you will have Spanish players socializing in Spanish and Brazilian in Portuguese etc.
Poor Gylfi... no-one else speaks Icelandic!
Brent Stephens
113
Posted 08/11/2017 at 17:10:57
Henrik (#112) – good observation. Brings into question some of the guesswork about what's going on.
Nicholas Ryan
115
Posted 08/11/2017 at 17:57:45
Schneiderlin has gone from such a high, to such a low, that there is clearly more than just a loss of form at play. There may be some off-field issues, so I'm (just about) prepared to give him the benefit of the doubt for a few weeks longer.
Oliver Molloy
116
Posted 08/11/2017 at 18:04:21
Paul A Smith,
The difference between Lukaku and Vlasic is night and day... our former striker scored goals so perhaps him and his dad were entitled to a moan now and again. Lukaku always made it clear he wanted Champions League football and was never afraid to say so from the moment he signed with Everton.
As I said, Vlasic has been with us 5 minutes and his sister was spouting off about him not being in the team when he was fit, as if he has been treated badly. He needs to do his talking on the pitch first and foremost.
You say these are empty rumours, but in reality you haven't a clue, have you? Rumours are rumours – some will not be true but some will be... you just have judge yourself what you believe and what you don't.
For instance: do I believe the rumour that Moshiri is at Everton on behalf of his Russian Arsenal buddy? Yes, I do. You might say that's shite but it's what I believe.
John McFarlane
117
Posted 08/11/2017 at 18:38:07
James Marshall (various posts), forgive me if I'm wrong, but I think that you (like me) believe that some people view footballers as machines, and all you need to do is pump a drop of oil in every now and then, and they will perform to their maximum ability. The difference between them and the rest of us is that they can play football to a higher standard, and to sit at Goodison and listen to the abuse that's directed at some players is unacceptable.
In the early years of this century, a lad who sat behind me in the Park End systematically criticised every player from Paul Gerard (in goal), to whoever was wearing the number 11 shirt, which could have been any of the following: Mark Pembridge, Scott Gemill, Nick Barmby etc. I put up with it for a while but finally I lost patience, and turning around I said, "You must be some effin player."
The point I'm trying to make is that some of us don't make allowances for the fact that there could be a hundred reasons why players are not up to scratch, as plainly illustrated in the Aaron Lennon situation.
Even allowing for the fact that the team at that time wasn't the best to wear the "Royal Blue of Everton", I find it a bit rich that people (who at best are decent Sunday League players) can call international footballers 'shite'. I understand their frustration but I don't understand the way they express it. I get just as frustrated but I know that they are (as I stated earlier) not machines.
As a 79-year-old who has been actively supporting Everton since I was 10 years old, I have seen some (not so good) players, but I have always managed to keep my disappointment to an acceptable level. I'm not a Saint by any means but age and experience has mellowed me somewhat.
Paul A Smith
118
Posted 08/11/2017 at 20:40:38
Oliver (#116), thanks for using 'reality' and 'not having a clue' in the same sentence. It's exactly what I was talking about.
Oliver Molloy
119
Posted 08/11/2017 at 21:49:10
No problem, Paul, it's great you get it how it works now.
Jason Wilkinson
120
Posted 08/11/2017 at 22:02:58
David (#110),
"Nowhere to hide for the modern footballer"? Our lot have done a decent job of it this season. I just hope whoever is counting to 100 is on 99 and they get out from behind the sofa pdq.
Paul A Smith
121
Posted 09/11/2017 at 10:38:59
Oliver I did anyway. Remember, Reality and not having a clue. The reality of a rumour is we don't really know and never will so why bother?
Waste of energy. Unless you're a modern-day ITK guru that is. I think if you still have the energy to start a few songs at Goodison or create an atmosphere, interest in rumours is fine.
Oliver Molloy
122
Posted 09/11/2017 at 14:34:34
Paul,
So, in your mind, all rumours never become reality? That is a little bit silly, isn't it?
Too many examples of rumours that have been true in all walks of life to even bother!
I would like you to explain by what you say below:
"I think if you still have the energy to start a few songs at Goodison or create an atmosphere, interest in rumours is fine."

Paul A Smith
123
Posted 09/11/2017 at 22:04:14
Oilver (#122), before I go on, difference of opinion or theory is not something that offends me so I don't mind your opinion. My original post was about rumours that we can never prove, eg, Kenwright's mortgage, Anichebe sent home for having red boots...
I am not foolish enough to believe every rumour doesn't become a reality. It's the ones with no proof I find a waste of energy. The Goodison atmosphere is grim so what I am saying is maybe that energy could be spent at the game.
At the end, I was trying to say if you're someone that loves a rumour but still has the energy to back the team vocally, I suppose that's fine.
Andy Meighan
124
Posted 11/11/2017 at 22:32:53
John (#117),
I'm nearly 60 and I for one minute don't think footballers are machines but you've missed a point here. Them so-called footballers we've had to suffer down the years have been awful. Now I know that applies to most teams but I'm only bothered about Everton.
So basically what I'm saying is... We pay big money for season tickets, travel, ale money, etc... I think that entitles anyone to blow off a little steam. If you want to sit there like a kitten, feel free.
Me? I like to get a little bit of frustration out – not much... just a little. So please don't criticise others because they only feel the same They just release it differently
Michael Kenrick
126
Posted 12/11/2017 at 17:53:49
I'm fascinated and intrigued by your new mission, Paul:
"To see empty rumours about our club is a piss-take to me and needs stamping out."
"Sorry if this sounds arrogant but, as an Evertonian that really wants the best for all of us, I feel it's my duty to shut this nonsense up."
I hope you keep us updated on progress, Paul. How do you actually go about stamping out 'empty rumours' on the internet and shutting up social media?

John McFarlane
127
Posted 12/11/2017 at 18:43:55
Hi Andy [#124], I've only revisited this thread in the last few minutes, but I would like to assure you that I do not "sit in my seat like a kitten," as some the people who sit around me would testify.
I feel that I am not the only one who has missed the point. Although I no longer attend away fixtures, I too have over the years, spent hard earned money on season tickets, travel, ale [in my case, a bottle of Guinness] etc, and as you describe it, I have, and still do, "let off steam."
Like yourself, I also relieve myself of the frustrations that life throws at me, my world on a match day is 120 yards long and 70 yards wide. I do not criticise fans for showing their displeasure, it's the foul language and venom directed at the players that I find distasteful.
I'll try to explain my stance on this issue as clearly as I can, for example if, [as happened on Sunday with Leighton Baines], a player misses a relatively simple chance, my initial reaction is one of vociferous frustration, but then I think of when, in my younger days I did exactly the same thing, and knowing that he didn't do it on purpose, I regain my composure.
So Andy it's not the displeasure that's shown, that is the issue with me, it's the manner in which it's displayed, I hope you see and respect my point of view, and by all means you must continue to "Let off steam" and remember we're all in this together. All the best.
Phil Walling
129
Posted 12/11/2017 at 19:01:41
I suspect the only 'piss take' in this scenario is the way the Board is extracting it out of Unsy. The longer it goes on, the shorter the odds will get against him 'getting the pedler' together with Joe Royle when Kenwright and Moshiri find their man.
Our 'old boys' might just about survive under Dyche but Big Sam will have them out of here in a trice if he gets the gig. Life's not always fair, is it?
Tony Abrahams
130
Posted 12/11/2017 at 19:33:25
I have the opposite view Phil, and think the longer it goes without us getting a new manager, then the more chance Unsworth has of getting the job, even if it is on a short-term basis.
This thread started about Schneiderlin, and I'm sure it was you who said a while ago that the only reason that Mouriniho let him leave Man Utd, is because he thought his legs had gone, Phil?
Paul A Smith
131
Posted 12/11/2017 at 22:30:46
Michael, you will be privy to the updates everytime I react to an off-field rumour. The best way for me to stamp out would be to ignore anything I have no power to prove.
There will be plenty with the same theory and plenty I feel that could follow suit. People can do whatever they want and I am not the first to react to something I find unusual.
Add Your Comments
In order to post a comment, you need to be logged in as a registered user of the site.
Or Sign up as a ToffeeWeb Member — it's free, takes just a few minutes and will allow you to post your comments on articles and Talking Points submissions across the site.