Bolasie hoping for a fresh start at Everton

21 Comments [Jump to last]
Thursday 28 December 2017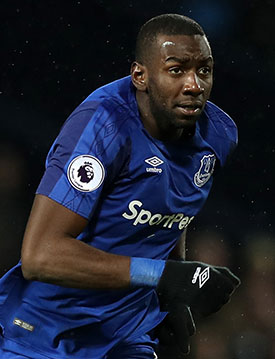 Lynne Cameron / Getty Images
Yannick Bolasie has revealed how there were times he wasn't sure he would complete the long recovery from his career-threatening injury and he says he counts his return to action this month as a blessing.
The winger made his first start for Everton in over a year when he turned out against West Bromwich Albion on Boxing Day, more than 12 months after he ruptured the anterior cruciate ligament and tore meniscus in his knee.
He went through two surgeries and months of patient rehabilitation before returning for the Under-23s to get game time earlier this month and is now back in the first-team fold.
His injury came just four months into his Everton career and at a time when the team was struggling to find its best form after a decent start to the season under Ronald Koeman.
The 29-year-old hopes to now not only get back to his best and show Blues fans what he can do but he feels he could return a better player.
"Personally, I've played down the injury massively because it was career-threatening. But to be back where I am today is incredible and I want to thank the staff at Everton, the medical staff, my personal physio and my family for sticking by me, because it's been a long old journey.
"Hopefully I can carry on and get stronger now.
"There are times when you don't know where the end of the road is, or you don't know when you're going to be back playing or training. It's hard to see.
"When I started seeing a little bit of light for myself, that was great. But playing again has just been a blessing.
"I didn't want to come back and just have my name on my shirt and not be the same kind of player. But on Tuesday I felt that with a bit more match sharpness I'll probably be even better."
---
Reader Comments (21)
Note: the following content is not moderated or vetted by the site owners at the time of submission. Comments are the responsibility of the poster. Disclaimer
Joe Clitherow
1
Posted 28/12/2017 at 19:29:10
Good attitude from this lad. I hope he comes back as he wishes.
Dermot Byrne
2
Posted 28/12/2017 at 19:29:45
Aside from how he plays, that is heart-warming to read.
Now enough of that, he'd better be brill!
Mike Gaynes
3
Posted 28/12/2017 at 21:36:15
Good luck to ya, Yannick!
Don't make Dermot angry...
Clive Rogers
4
Posted 28/12/2017 at 21:37:23
In 55 years of watching football, I've never known anyone come back from a long injury as a better player. It is far more common that a player loses something. Even Gaza was never the same after his knee injury.
Kim Vivian
5
Posted 28/12/2017 at 22:38:24
I fear the same Clive, and he wasn't exactly Gazza to start with.
He's a good lad and I wish him all the very best of luck though as he gets back up to speed.
Mike Gaynes
6
Posted 28/12/2017 at 23:56:40
Clive (#4), there have been some. Shearer blew out a knee and ruptured his ankle ligaments. Van Nistelrooy was out for over a year after knee surgery. Roberto Baggio blew out the same knee three times. All came back to their best.
Tim Greeley
7
Posted 29/12/2017 at 00:29:15
I really like Yannick and sincerely wish him the best. We fans can tend to take it for granted that these guys are just professional football machines, but truth is that an injury like this shakes anyone to their core. Same as Seamus Coleman's, his even worse actually.
To come back with the right positive attitude is great to see and a credit. Plus, any flair from Yala to add to the paint-drying drek of these past few matches is welcomed with open arms!
John Boon
8
Posted 29/12/2017 at 05:09:24
I agree with Mike. Attitude is a very important aspect in regards to coming back after an injury. Far too much doom and gloom....
Thank god some of you guys aren't in the medical field. Nobody would ever get better from anything.
Fans need to be optimistic and that will also give Bolasie a continued positive outlook, particularly if he reads these posts. I think you will be even greater than you ever were before.
Ajay Gopal
9
Posted 29/12/2017 at 06:35:46
If we get 3 more seasons from Yannick playing at a top level and injury free, that would be a massive boost. We spent £30 million on him; 1 year later Liverpool signed another winger for slightly more and he is the 2nd highest scorer in the league already.
Everton fans are long, long overdue a truly talismanic player – a guy who plays for the club and is world class. Could Bolasie be that player? Maybe Rooney for a couple of years? Kenny? Calvert-Lewin? Barkley (if he stays)? Any one!
Tony Everan
10
Posted 29/12/2017 at 09:01:00
The idea was that Yannick could have his best days and prime with us. Surpassing his previous bests.
If he gets close to doing that, it will be a great achievement. I am hoping for it to happen and willing him to give his all in getting there. Overcoming his injuries showed us how tough this guy is.
I'm betting on him getting back to his best.
Tony Everan
11
Posted 29/12/2017 at 09:03:56
He's shown he's a tough cookie to overcome his injuries. I'm backing him to get back to his best. Just don't expect it to happen overnight; he will need a few more games or maybe a full preseason to show it.
Gerry Quinn
12
Posted 29/12/2017 at 09:11:31
Clive, at #4, a bit more than 55 years ago, but let's not forget our greatest Evertonian of all.
Lost a testicle, then suffered fractured skull and jaw... Doctor's unsure whether he would be able to play again... of course, the rest is history and a record that still stands today.
Dave Abrahams
13
Posted 29/12/2017 at 09:35:59
Mike (6), add Bryan Robson to that list, broke his leg twice or was it three times while playing for West Brom.
Terry Underwood
14
Posted 29/12/2017 at 10:06:33
Yannick at his best is an exciting sight to behold. Okay, he sometimes leaves the ball behind but everyone does from time to time I look forward to him turning full backs inside out in the coming months and years.
Mark Andersson
15
Posted 29/12/2017 at 10:12:02
Didn't our own Peter Ried come back a better player after a injury?
Yannick plays with a smile on his face and that's always a good thing.
Rudi Coote
16
Posted 29/12/2017 at 10:12:19
Jimmy husband was never the same after that dirty bastard Mackay blatantly kicked his knee... no yellow or red card shown. Jimmy was in the best form of his career.
Colin Malone
19
Posted 29/12/2017 at 10:58:39
Was he that good? I must have been at different games. IMO, he's got to improve, offensively and defensively.
Eric Myles
20
Posted 29/12/2017 at 10:59:21
Bert Trautman broke his neck in the first half of the 1956 FA Cup Final and not only finished the game but continued playing in the First Division for another 8 years.
James Marshall
21
Posted 29/12/2017 at 11:30:44
Attitude is everything – I watched a documentary about Arsene Wenger and the Arsenal 'Invincibles' yesterday, and Wenger was talking about what makes players good, and he said that personality and attitude is everything in football and sport.
Anyone with talent can and does walk out onto a pitch, but it's the ones with the right application that make it – something a lot of supporters would do well to remember when they talk about our own players or the players they want us to sign.
It isn't always about talent or skill, it's the mentality they have that makes the best players. Bolasie has the right approach in my view, despite what some think about him and his final ball etc, he will keep going, and will keep trying to do the things he believes in. I like that in a player.
Andrew Presly
28
Posted 30/12/2017 at 00:24:00
Happy he's fit as he's a nice guy but end product is a huge problem.
Improvements in his shooting & getting head up before final pass or cross needed urgently. Urgently.
Don Alexander
29
Posted 30/12/2017 at 01:08:59
I admit I'm probably on one tonight but Bolasie to me has never ripped anyone but us, and sadly more than once, a new one. I wish it wasn't so but I also really hope he's fully recovered and has more than renewed energy to match other forwards costing what he cost us, starting by improving on a goals per game record of only 13 in 147 games as a five year Premier League, err, midfield-striker.
Add Your Comments
In order to post a comment, you need to be logged in as a registered user of the site.
Or Sign up as a ToffeeWeb Member — it's free, takes just a few minutes and will allow you to post your comments on articles and Talking Points submissions across the site.