Burnley vs Everton
Friday, 2 March, 2018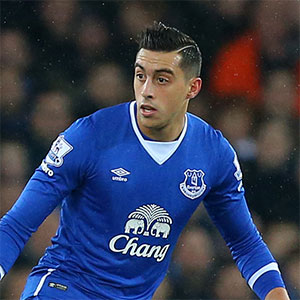 Could Ramiro Funes Mori make his comeback from injury this weekend?
Updated Everton get another chance to improve on their horrendous away record when they travel to Burnley this weekend.
The Blues are away from Goodison Park for the second successive game following last week's pitiful performance and defeat at Watford but will make the short trip to Turf Moor with their sights set on moving level with the Clarets on points in seventh place.
The prospect of finishing in the same place as last season, albeit with many points less, still seems improbable given how terrible Everton have been in 2017-18 but it remains achievable if Sam Allardyce can coax some form out of his charges.
Just two wins in 10 Premier League games since the 3-1 home win over Swansea City — not to mention one just win away from home all season — has heightened the frustration with the manager, his methods and his players and despite Burnley's own struggles since starting the campaign so positively, this weekend will not be an easy ride for Allardyce.
Sean Dyche's men haven't registered a home win since back-to-back victories over Watford and Stoke in December and they succumbed to Tottenham, Manchester United and Liverpool at Turf Moor in the interim but they remain tough to beat, particularly for clubs outside the top six. They also managed to frustrate Manchester City a month ago, holding the Champions-elect to a 1-1 draw.
Everton, meanwhile, haven't beaten Burnley on their patch since Samuel Eto'o was intermittently plying his trade in a No.5 jersey for the Toffees. The Cameroon legend came close to notching a hat-trick in this fixture three-and-a-half years ago but, somehow, you can't see the Blues' latest striking representative from the African continent being as deadly.
Fresh from the latest declaration by his manager that he was the most likely source of goals for Everton, Oumar Niasse had a particularly off day at Vicarage Road last Saturday and was replaced before an hour had elapsed by Cenk Tosun.
Though he wasn't able to make much of an impact himself, the new signing from Turkey was deemed by Allardyce to have played "reasonably" but whether that will be enough to earn him a start this weekend remains to be seen. More likely, if he is to make any changes, the manager will opt for the more physical and robust Dominic Calvert-Lewin in what he might expect to be a more "agricultural" contest than most.
Elsewhere in the side, if he stays true to his word regarding playing a settled line-up, the only changes could be determined by the injury situation at the back — specifically the availability of Seamus Coleman, Leighton Baines and Ramiro Funes Mori. All three would have been in with a shout of starting if they were passed fit, although they would pose risks being thrown straight in versus coming on as substitutes to build their fitness.
It appears as though Coleman and Baines are fit to play but Funes Mori still needs another U23s outing (one he didn't get earlier this week). Coleman would, obviously, replace Jonjoe Kenny, Baines would come in for Cuco Martina. Michael Keane, meanwhile, looks set to get the opportunity to play on his old stomping ground for the first time since he signed for Everton last summer.
Dyche, meanwhile, looks likely to have James Tarkowski and Chris Wood available while this weekend could come too soon for goalkeeper Tom Heaton.
Burnley, too, will have an opposition old boy in their ranks, with Aaron Lennon a possibility to either start or come off the bench. The winger hasn't scored in his four appearances so far… so expect him to bang one in at some stage!
Allardyce was very open last week in his keep-it-tight-and-nick-one approach, one that was undone by Troy Deeney's winner for Watford 11 minutes from time. It would be surprising if the criticism levelled at him since forces a change in his team's posture; more likely, he will send his troops out there with similar instructions, hoping to secure the points that would effectively guarantee survival in the next home game against Brighton.
Another defeat, however, would only ratchet up the discord among Blues supporters ahead of the return to Goodison next Saturday.
Kick-off: 12:30pm, Saturday 3 March, 2018
Referee: Chris Kavanagh
Last Time: Burnley 2 -1 Everton
Originally predicted line-up: Pickford, Kenny, Keane, Funes Mori, Martina, Gueye, Rooney, Davies, Schneiderlin, Walcott, Niasse
Revised predicted line-up: Pickford, Coleman, Keane, Williams Mori, Baines, Gueye, Rooney, Davies, Schneiderlin, Walcott, Niasse
---
Reader Comments (83)
Note: the following content is not moderated or vetted by the site owners at the time of submission. Comments are the responsibility of the poster. Disclaimer
Jamie Evans
1
Posted 02/03/2018 at 07:10:14
Full support. Come on you blues.
I forgot about Lennon. What price a Burnley victory and our Aaron to score at anytime?
James Stewart
2
Posted 02/03/2018 at 07:32:41
That predicted line up is truly scary! How has the side got that bad?
I can't see anything other than a Burnley win. Allardyce will be playing for his habitatual 0-0, disgusting.
Steavey Buckley
3
Posted 02/03/2018 at 07:38:56
The above predicted line up would only assist Burnley.
Everton need to play 4-4-2 with Pickford in goal:
Coleman (if fit) Keane, Funes Mori, Martina (because there is no one else)
Walcott, Gueye, Sigurdsson (he is more likely to pass to an Everton player than Rooney), Davies.
Calvert-Lewin to support Niasse upfront, because he can't take on the whole of the Burnley defence by himself and then expected to score a goal.
Subs: Robles, Williams, Kenny, Tosun, Rooney and Schneiderlin.
Kunal Desai
4
Posted 02/03/2018 at 07:48:11
This will be same as Watford. You just know it. Set up for a draw and get beat 1-0. Aaron Lennon will no doubt have the game of his life.
Only positive is, after this game, we're down to single figures for games remaining under this fool.
Jim Bennings
6
Posted 02/03/2018 at 08:06:42
As much as we all gear up for another weekend of hope only to be let down by Everton again, it's hard to really see anything different than the last 20-odd away games going back over a year.
We are not all of a sudden going to be ambitious and attempt to win or even set up a formation that wants to attack.
Allardyce will try to eek out the 0-0 draw that he wanted last Saturday; virtually nothing in the way of excitement or shots on goal only to concede a sloppy second-half goal and probably lose it 1-0 again .
We have scored just six goals in open play away from home all season, that's a disgrace.
I applaud fans who travel to away games practically knowing the substandard dross that's coming their way.

Peter Mills
7
Posted 02/03/2018 at 08:06:52
Surely even our less enthusiastic players will want to run around a bit tomorrow?
Andy Williams
8
Posted 02/03/2018 at 08:15:11
Lyndon. I really hope that is some kind of nightmarish slip re the team. The thought of that No 2 playing on the wing!
Paul Welsby
9
Posted 02/03/2018 at 08:22:38
Playing Schneiderlin is just asking for trouble but, as Sam doesn't seem to give a toss, it wouldn't surprise me.
Gareth Clark
10
Posted 02/03/2018 at 08:26:30
Pickford
Kenny Holgate Keane Garbutt
Davies Idrissa
Walcott Rooney Sigurdsson
Calvert-Lewin
Subs: Robles, Williams, Jagielka, Klaassen, Bolasie, Niasse, Tosun
I think Calvert-Lewin is most suited to this game. Garbutt deserves a start! Klaassen really deserves a chance off the bench.
Rather leave Coleman and Baines out of this cold one & give them an extra week to recover.
Mike Allison
11
Posted 02/03/2018 at 08:28:19
The left-back has to be left-footed, whether that's a returning Baines or Garbutt finally getting a chance. I had given up, but then Allardyce named him on the bench last week.
Martina won't bring the ball forward from left-back. It throws the whole team out of balance and makes it very, very easy for the opposition to stop us from threatening them. All they have to do is close down the other passing lanes, force the ball out to Cuco and he is guaranteed to turn back on his right-foot and pass inside, usually to the centre-back.
Dick Fearon
12
Posted 02/03/2018 at 08:47:06
I hate it when commentators put the mockers on us by saying our opponents this week haven't won for x months and their main striker has failed to score for yonks.
It almost guarantees they will win with such and such scoring the winning goal.

Tony Everan
13
Posted 02/03/2018 at 09:10:30
Pickford
Kenny Keane Jagielka Baines
Bolasie Davies Gana Sigurdsson
Walcott
Calvert-Lewin
Burnley can't score, they are weak in attack. We need to go for the throat here and field an attacking line-up. Take an educated risk and field an attack-minded team. Let the defence and Gana deal with what Burnley can muster.
I think Calvert-Lewin deserves a start in this, he may be most effective.
Playing Burnley at their own game of 0-0 football will spell disaster, just like at Watford. Fortune favours the bold.
Ray Robinson
14
Posted 02/03/2018 at 09:19:12
My mate who lives up that way texted me yesterday to say that whilst the pitch will be playable and the stands safe to occupy, lots of roads around the ground were touch and go.
I wonder when this game is going to be given the all clear given the bad weather that they are having up there. I'd suggest everyone travelling checks regularly for updates. Weather-wise, we've got away lightly down here by comparison.
Eddie Dunn
15
Posted 02/03/2018 at 09:24:30
I fully expect the hardworking Burnley team to be too tough a nut to crack, especially as we will, no doubt, play with one up top.
As it is away from home, I suspect that Allardyce will start with Schneiderlin and Gueye, with Davies on the bench.
Why should we expect anything more than another pointless awayday?
Laurie Hartley
16
Posted 02/03/2018 at 09:24:34
I was just starting to recover from last week Lyndon and then you mentioned Samuel Eto'o:
Woe is me.
Lenny Kingman
17
Posted 02/03/2018 at 09:39:31
Looks like a stone cold, literally, 1-0 reverse.
Before leaving the land of the six-fingered devil can we offer Keane back to the Clarets for a realistic fee? A fiver should do it.

Clive Rogers
18
Posted 02/03/2018 at 09:40:14
Lennon hasn't scored a goal in the league for over two years. That side of his game has gone, hasn't it?
Tony Abrahams
19
Posted 02/03/2018 at 09:57:35
Turn on the Telly, and look at Telly-head, mouth full of chewy, and his tactics are shite, pass the ball back, then smash it long, turn off the telly, before you fuckin' smash it up.
That's entertainment, who-hoo!
We stopped existing to win trophies years ago, but playing for a draw against the "also-rans" is definitely not the Everton way, change before it's too late please .
Chris Gould
20
Posted 02/03/2018 at 10:11:11
I can't believe Sky are broadcasting this!! It will undoubtedly be the worst game of the weekend, devoid of action and excitement. I predict it will be 0-0 with no shots on goal.
Or maybe they'll nick it 1-0 after our gallant attempt at holding the mighty Burnley to a draw ultimately fails. Big Sam then blames the players failure to deal with the cold conditions, blah blah blah.
I applaud any fan who actually goes to the game and freezes his nuts off to watch what will undoubtedly be a bloody dreadful game of football. I'm not even sure I can be bothered to watch it on TV.
Colin Glassar
21
Posted 02/03/2018 at 10:14:53
It's on the telly? No way I'm ruining another weekend watching us play the worst football in Europe. I agree with what Chris (see above) says.
Lawrence Green
22
Posted 02/03/2018 at 10:15:28
Get your excuses in early is Sam's mantra:
Allardyce on preparations: "Terrible. We're unlikely to get on the pitches today because of the wind. We have a small indoor area but it has been a bit of a problem. But we've all suffered the weather this week."
I thought Finch Farm was supposed to be one of the most advanced training facilities in the country but obviously like our various recent signings it's unfit for purpose when the weather turns a bit cold!
Allardyce also said:
"At this moment in time that would be writing this season off by getting safe and making sure you're in a better position to achieve something next season, like European football again or a cup final. That's the sort of ambition we have to go for."
Sam! We can get European football this seaons if we were to triumph at Turf Moor and have a half-decent last 10 games of the season, but you know your players best, I suppose, and we must ensure we get the measly six points required for safety, mustn't we?
Good luck to those who travel to Turf Moor, if the game isn't postponed, I'll find something better to do at Lunchtime, like watch paint dry. If, by some miracle, I miss an Everton goal fest, I'll be pleasantly surprised.
I thought David Moyes was dour but he's a ray of sunshine compared to Big Sam.
David Graves
23
Posted 02/03/2018 at 10:17:35
From Sam Allardyce's press conference:
"Style of play is only brought up by previous people making out from many years ago we were playing this type of football, which is 10 years ago past."
I've put it through Google translator and am still no closer to understanding him. Perhaps the BBC website have misquoted him? Or perhaps he is a cretin.
Colin Glassar
24
Posted 02/03/2018 at 10:38:16
Lawrence, we have two full-size pitches (supposedly) at Finch Farm. Maybe if Sam spent more time at our world class facilities, he'd know that.
Get the fat fucker out. Surprised by the speculation regarding his future cos we're in a fantastic position? Fuck off, you fat nobhead.
Len Hawkins
25
Posted 02/03/2018 at 10:41:40
Tony (#13),
Your side is well balanced, you dropped the insignificant Schneiderlin and replaced him with the even more insignificant Bolasie. Two players who are nothing less than worthless.
Christ, having gone through the Bernie Wright, Belfitt, Nulty standards, we plumb the depths for two wages thieves worse than their 70s counterparts.
Paul Welsby
26
Posted 02/03/2018 at 10:43:58
Sam turns up 30 minutes late and this is not the first time, let out a couple of yawns, put it on the players again, said he was surprised at the speculation over his job because we are in a good position?? Then says safety is paramount? So are we in a good position or are we in a relegation scrap??
That press conference was like his others – just devoid of offering any hope or confidence in there being any change either on the pitch or off it.
Why is the board allowing this to happen? Surely they see this or at least hear of it. This club is a complete car crash – I for one don't see it sorting it's self out.
I wish I had other supporters' confidence that it will get better as I wouldn't be so depressed, angry and totally fed-up about it all.
John Kavanagh
27
Posted 02/03/2018 at 10:49:41
No chance of winning this, or drawing for that matter. Best result would be a postponement. Getting stuck in a snow drift would be more entertaining. Can you place a bet on whether we get a shot on goal? Tempted to bet on Lennon scoring.
Allardyce is getting more ridiculous with every bovine utterance. Maybe he's tired through logging into ToffeeWeb under different aliases all night and voting to keep himself in the job – he's managed to get it up to 4% I see.
Utmost respect for all those going tomorrow knowing full well the horrors they are about to endure.
Chris Gould
28
Posted 02/03/2018 at 10:58:35
Allardyce sets the bar so bloody low so that he can convince us he's over-achieving. We may be crap and he may simply be 'pragmatic', but I hate listening to such defeatest negativity.
FFS! we are rubbish, but thankfully so are 13 other teams in this league. Now get some fire in your belly and fight for 7th. It may only be 'best of the rest', but it will mean European football and is certainly there for the taking.
Alan McGuffog
29
Posted 02/03/2018 at 11:05:47
Given up hoping for a win or indeed a performance anymore. I occupy the time by timing how long it takes us to find Pickford from one of our own (rare) corners how many passes etc.
Good fun. Not.
"Easy is getting harder every day" as the sublime Iris Dement sings...
Ajay Gopal
30
Posted 02/03/2018 at 11:07:56
Gareth (10), that is exactly the team I would like to have, except maybe if Coleman or Baines are declared fit. Funes Mori on the bench, in place of Williams.
4-3-3 for me:
Pickford
Kenny Holgate Keane Garbutt
Gueye Rooney Davies
Walcott Calvert-Lewin Sigurdsson
Subs: Robles, Funes Mori, Jagielka, Klaassen, Baines, Niasse, Tosun
COYB, surprise us all with a 2-0 win!

Colin Malone
31
Posted 02/03/2018 at 11:25:26
If Schneiderlin and Gueye play in the same team, we will be unbalanced. Gueye won't be at his best and Schneiderlin will need ear muffs... and it won't be for the weather. Don't do it, Allardyce.

Eddie Dunn
32
Posted 02/03/2018 at 11:44:20
I watched the presser. He either really hates doing them or he is the most uninspiring manager in the world. So lacking in any verve or enthusiasm. Basically wrote aspirations for 7th off, and only seems concerned with survival.Compared our level to that of West ham and Newcastle.
I was one of those that was prepared to put up with him to ensure survival; however, it can't all be down to the players. He seems unimpressed with life, yet he is in a great job, paid handsomely and has some good players and facilities to work with.
In Harry Potter, he would be a Dementor.(to the uninitiated – these things could suck the life out of you, leaving you an empty shell). Could explain Schneiderlin.
Paul Welsby
33
Posted 02/03/2018 at 11:48:27
Funes Mori was saying the other day "I hope Sam gives me the same chance to play like he did with Coleman and Bolasie after there long term injuries".
He has been selected for the Argentina squad for two upcoming friendlies and Sam also said in his press conference he will be playing another U23 game. Coleman played after a single U23 game, I think Bolasie the same. Has our club got a phobia of left-footed players?
This is so frustrating and ridiculous. Funes Mori has said he is ready, just as the others did. So, Sam, what is the problem? Get the right balance and it might help the team as Martina isn't the answer.
Sam said Baines is available for selection so it should be interesting if he plays him or Martina?
Tony Everan
34
Posted 02/03/2018 at 11:53:40
Len (#25),
I fully agree with the 'even more insignificant' Bolasie comment. I am hoping this last 3 weeks off have made him stronger and closer to full fitness. I don't think it is fair to completely write him off yet .
Matches of this this nature are a massive opportunity for him to show us all he has retained his passion and ability. I want to see him back to his best as he has been courageous in coming back from a terrible injury. It's not a very pragmatic outlook but I am hoping for the best whilst fearing the worst.
Kim Vivian
35
Posted 02/03/2018 at 11:56:13
God - here we go. I cannot really expect, only hope for the win tomorrow. With Watford and Bournemouth quite realistically picking up 3 points each at West Brom and Leicester respectively, we would drop to 11th and, Sod's Law if Brighton turn over a demoralized Arsenal, they too would leapfrog us on Goal Difference.
Conversely, if things go our way, we could reach the dizzy heights of 8th. Jeez this season is just soporific. I shall watch on Sky tomorrow as always when we are on and seriously expect to be shite company for the remainder of the weekend but miracles do happen and surely we're due some respite.
The fact that Burnley haven't won in 11 I think, and Aaron has been barren for a couple of years, tells me those runs will end tomorrow. It can only be Everton,eh? I have to predict 1-1 because I'm blue through and through but everything crossed for 2-1 to us.
Derek Knox
36
Posted 02/03/2018 at 12:05:27
Eddie @32, he has certainly turned us all into Dementors, there is a complete lack of wizardry, either at Grinch Farm – the Hogwarts Express is anything but, no driver and very little fuel.
I share the trepidation of many fans on the projected line-up, surely with the squad we have, albeit not what is should have been, after such a massive outlay, could produce a more effective eleven.
It's trial by Television again, as if we needed to inform the football audiences of how poor we have become; being a loyal blue, I will watch it on TV, but feel sorry for those who will make the trip to witness another Allardyce led excuse for a team.
Spiritless, leaderless and devoid of ideas, is what he unashamedly is delivering week after week. It can't be allowed to continue.
Eddie Dunn
37
Posted 02/03/2018 at 12:12:15
The other problem for us during these TV games, is we are exposed to criticism which will put-off potential managers and players from joining the club. I hope we can put on a show for a change, and especially for our fans who brave the cold and make the trip.
Dave Brierley
38
Posted 02/03/2018 at 12:28:03
Hate to be optimistic here but I've got a feeling that we're gonna win this 3-1 with Bainesy to score a penalty after coming on after half time.
Second half much improved as Fat Sam forced to pop down to the local Burnley shops during the break to get more Wrigley's and gets mowed down by a snow plough on the way back.
Ian Edwards
39
Posted 02/03/2018 at 12:34:42
We need to go at Burnley; 2 up front in a 4-4-2 formation:
Pickford
Coleman Jagielka Holgate Baines
Walcott Davies Sigurdsson Bolasie
Niasse Calvert-Lewin
Gueye should be dropped until he realises he is supposed to protect the defence and stop chasing after the ball like a 6-year-old in a playground.
I still believe our best two centre-backs are Jagielka and Holgate. Keane is accident-prone and the less said about Williams the better.
David Baxter
41
Posted 02/03/2018 at 12:39:55
Eddie (#32),
Hippo head paid handsomely???
That's the understatement of the millennium!!
Raymond Fox
42
Posted 02/03/2018 at 13:01:30
Well, we are certainly good enough to win the game. That is if the players can actually show some skill for a change, you know what I mean string a few attacking passes together and shoot for goal for gods sake.
They're allegedly Premier League players and it's about time most of them showed it. Our trouble is that we and 13 other clubs in the league are much of a muchness and, when we play one another, it's anybody's guess what the score will be.
We badly need a couple of players that can produce some magic, á la Man City. I'm guessing at 1-1 or 2-1 to us
Ray Smith
43
Posted 02/03/2018 at 13:22:11
I've just seen Allardyce on Sky Sports News, he's totally deluded as to how well we are doing. He actually believes he is doing a good job. If that's not delusion, I don't know what is!
He won't jump, so he will have to be pushed, but that won't happen either. God forbid he and Walsh have any further dealings with our transfer policy for next season.
If (big if at the moment) we manage 7th and Europa League qualification, he will be hailed as a saviour (not by me) and still be with us next season!
Ian Burns
44
Posted 02/03/2018 at 13:30:24
I couldn't watch Allardyce's presser – I dislike this arrogant dinosaur so much; never before have I wanted a season to end as I do this one.
There is an interesting article on the BBC website this morning with regards to the relegation battle, quite well put together for a change. It reckons that 38 points will be the team in 18th place and it further mentions Everton as one of the teams in the relegation fight.
Given this article has credence, 40 points is sailing close to the wind this season!
Jim Bennings
45
Posted 02/03/2018 at 13:46:37
Big Sam is full of poppycock as per usual in the press conference.
First of all can someone please have a word with him about saying a player's name correctly?
Apparently we have a Michael Kenny in our central defence. A few weeks back, I heard we have Coco Martina – I thought it was Cuco? Then last season when we beat Palace away, Allardyce (then Eagles gaffer) suggest a certain Simon Coleman scored the winner!??
I mean WTF???
Then he's going on about from where we were when he took over to where we are now, 5 points ahead of third from bottom, we are now just 7 points ahead of third from bottom! Get a grip man!!
Then on to the style of play. Well Sam let me tell you it wasn't "many more years than 10 years ago" that both Martinez and Moyes had teams capable of playing some pretty decent football if you actually cared to take a little look.
Honest to God, he barely looks arsed, does he?
Chris Smallman
46
Posted 02/03/2018 at 13:46:38
I reckon 1-0 to Burnley, Mee header set up by Lennon.
Sean Patton
47
Posted 02/03/2018 at 13:50:23
At least it's an early kick-off so we can get the misery over with and have the rest of the weekend to do something more worthwhile than watching this hopeless bunch attempt to have a shot on target.
How many do we reckon?
I am going with two and one of them being a Pickford goal kick.
Matthew Williams
48
Posted 02/03/2018 at 14:41:25
I can only see a 0-0 draw at best with the negative set-up we have in place at present.
Our away fans deserve medals for the dross they have to watch in the freezing cold.
William Gall
49
Posted 02/03/2018 at 14:41:38
What is with "we have a small indoor area"? I thought there was a full-size indoor synthetic pitch at Finch Farm!!!
This is supposed to be a state-of-the-art training ground... maybe he is talking about no pies in the canteen?
Peter Cummings
50
Posted 02/03/2018 at 15:26:45
With the game on here at 7:30 am I'm wondering if it's worth while getting out of my pit to watch. This is an unprecedented 4th live Everton game on the box this season usually dominated by the 'big six' clubs, and not one of them have been worth the candle, especially the Watford shambles last week.
Could be the game might be called off, but, if not, most of us expect the usual, zero shots on goal, rubbish passing, loss of possession, and overall lack of ambition... possibly mitigated if Seamus, Funes Mori, and Jags can play – along with a good performance from Theo Walcott – for once giving those poor sods who travel the globe wearing the shirt, something to shout about.
Derek Knox
51
Posted 02/03/2018 at 15:52:30
There's something amiss going on here. I have been reading that, after playing in a couple of U23 games, Funes Mori is chomping at the bit to get into first team action.
The OS stating that Allardyce is saying he is not ready, to be included in the squad and needs some more game time with the U23s.
Before he got injured, he was a decent player, and certainly better than most we have at the moment, plus he always had a goal in him. Has he suddenly become a bad player?
The lad wants to be involved in Argentina's World Cup Team, so is he going to put in crap performances so he will be looked over?
Baines is also available, not the same Baines as we remember, but again better than Martina; there has been little mention of his availability, and the same can be said of Seamus.
Maybe it's a smoke screen, and all three will play, or am I being an optimist again?
Pat Kelly
52
Posted 02/03/2018 at 15:54:45
Qualifying for the Europa League would be a disaster for Everton next season. They will struggle to cobble together a half-decent squad. And if Allardyce is still in charge he'll have no interest in any Cup games, European or domestic. But I can't believe he won't be sacked.
Moshiri may as well burn his money if he doesn't replace Allardyce. Saddling a new manager with the Europa League would also be a mistake until we build a new squad capable of taking on domestic and European campaigns. Survival this season is all that's needed. And nothing more.
Dave Abrahams
53
Posted 02/03/2018 at 16:02:34
I think it would be foolish to hope for or expect a win or even a draw tomorrow, so I'm praying we get at least a point, to enable us to crawl towards the 40 points.
What a season this has been... roll on the end of it.
Colin Malone
55
Posted 02/03/2018 at 16:39:35
Ian Edwards (#39).
If you look at the stats. Idrissa Gueye is up there for making most tackles in the Premier League. He's a diamond. Wasn't it Joey Barton who said the same thing? Another media pundit who talks the talk and cannot walk the walk.
Jay Harris
56
Posted 02/03/2018 at 16:54:20
The weather will be a big factor as the pitch will likely be like concrete. Ball control is therefore pretty important as will be players who are up for a physical battle.
I guess we should just play the U23 lads then... Joking aside I think it will be a backward step to include Schneiderlin but just watch it happen. Big Sam seems intent on blowing a raspberry at everyone including the supporters.
Rooney for me has to be only a sub these days as he is such a liability, giving the ball away constantly. I hate the expression but Burnley seem to score a lot of their goals from turnovers so ball retention (which is not our forte) will be important.
The score is anybody's guess and this squad do not fill anyone with confidence (including the manager, apparently) but I just hope we get some points on the board.
Richard Mason
57
Posted 02/03/2018 at 18:12:30
4-1-3-2... not that it matters:
Pickford
Coleman Holgate Funes Mori Baines
Gana
Walcott Sigurdsson Vlasic
Tosun Niasse
Bill Gienapp
58
Posted 02/03/2018 at 18:22:42
Burnley haven't won since December. We've only won once on the road all season. Logic would dictate the 0-0 draw. Big Sam is no doubt salivating at the prospect of... so why do I think the pendulum will inevitably swing in favor of the Clarets?
Clive Mitchell
59
Posted 02/03/2018 at 18:34:10
Bill (#58), never mind the pendulum swinging in favour of the clarets, Burnley never give anybody anything, whereas we can't put up a fight, let alone win, away to Southampton or Bournemouth. Burnley would have won last week if not for Bobby Madley's latest variation on his theme of 'how not to referee'.
Logic dictates the clarets are firm favourites for this one. Our only hope is that the shorter journey might not have worn the poor things out.
Lev Vellene
60
Posted 02/03/2018 at 19:34:57
"The prospect of finishing in the same place as last season – but it remains achievable if Sam Allardyce can coax some form out of his charges."
If the players can ignore Sam Allardyce and play to win, then that might be achievable, you mean??? Never mind empty politeness here, we know what we think of the situation! ;)
Bill Gienapp
61
Posted 02/03/2018 at 20:18:07
Quite right, Clive. If we couldn't break down Watford's suspect defense, I'm not exactly holding my breath against Burnley's stingy back line – particularly at Turf Moor.
Jamie Crowley
62
Posted 02/03/2018 at 22:40:11
My wife's been following Burnley since 2009. She loves them. Follows them on Twitter, reads their website, never misses a game.
I never, ever thought there would come a day where I didn't give us a chance to win against Burnley. It was just a "cute" thing when the Mrs started following them. Now, I expect them to beat us. What... the... fuck...
Thinking of the shite to come and the absolute crap football I'm going to be subjected to tomorrow, the only thought other than my wife kicking me while I'm down, was
I wonder, with the football being so poor, will Mike Gaynes actually wake up at 4:30 am on the left coast to watch it live, or will he record it and sleep in?
I'd not blame him a bit if he watched delayed.
Tom Bowers
63
Posted 02/03/2018 at 22:53:16
It's all doom and gloom and why not. We fans have been subjected to abysmal performances for most of the season so why expect anything less tomorrow.
However, it is football and anything can happen but, if they do win, it will be ugly as Everton don't have the personnel to play attractive football at the moment under this manager.
If Everton do have a good win left in them, I would rather it be against the RS.
Kristian Boyce
64
Posted 03/03/2018 at 00:46:38
Peter #50, I feel your pain and I'm debating on getting up for it also. A 7:30 am kickoff really ruins the whole day, but at least it's on TV, not on NBC Sports Gold.
Phil Lewis
65
Posted 03/03/2018 at 02:38:52
I am yet to be convinced by Pickford. Why should he be an automatic choice? He is far from the finished article. Robles has waited patiently and deserves another run. He was playing well and kept several clean sheets, immediately prior to Pickford's arrival. Arguably having his best spell for us then. Besides, it would provide healthy competition and serve to keep Pickford on his toes.
My side to face Burnley, assuming all are available, in a 4-2-3-1 formation:
Robles;
Coleman, Jagielka, Funes Mori, Baines;
Rooney, Gueye;
Walcott, Sigurdsson, Davies;
Calvert-Lewin.
Eric Myles
66
Posted 03/03/2018 at 03:11:33
Phil (#65), I feel the same about Pickford, he needs to learn to keep hold of the ball and come for crosses.
Jerome Shields
67
Posted 03/03/2018 at 08:14:13
He will blame the weather this time,
John Keating
68
Posted 03/03/2018 at 08:16:23
Phil
On paper that defence looks ok but you have 3 coming back from long term injuries and another who's hardly played.
Do you think all 4 would last the full 90 minutes against a physical Burnley team?
We'd probably have to use our subs just on the defence
Reg Gates
69
Posted 03/03/2018 at 08:20:04
End this farce now and I say that with the hope that Moshari is not reading anymore scam managers bios. God help us, we need it.
John Malone
70
Posted 03/03/2018 at 08:54:42
Phil 65, you must be forgetting some of poor goal's Robles let in from swerving ball's and to his bad decisoon making and positioning. Granted his catching from crosses was good and reliable but Pickford is twice the keeper Robles is and I can't see the benefit of dropping him.
James Marshall
71
Posted 03/03/2018 at 09:08:22
The game is definitely on by the way, for anyone wondering - it's on the Burnley Twitter page, no problems at Turf Moor apart from our inability to score goals, or stop conceding them.
Mike Kehoe
72
Posted 03/03/2018 at 09:14:04
This is absolutely horrible, post after post complaining about shit football and an awful gobshite money grabbing corrupt embarrassment of a manager and the tone has been the same for months. We need a protest to send a clear message to Moshiri that the fans, considerably more than 15 wanky internet warriors, are devastated by this situation and will not take it anymore. Fucks sake, we are so used to the dreadful spiritless anti-football of this c**t with his statistics and logarithms that we fear the mighty Burnley. There is chance Moshiri may feel all is well, that the threat (we were never getting relegated) of relegation is now a distant memory and he has acted to protect his investment.
I am usually patient and try to think big picture, look after the current manager so as not to deter future managers, but fuck it I'm hungover and full of trepidation and anger that another weekend wi be ruined by more of the same @nd this twat will distance himself from any responsibility while positioning himself for another payday in June.
You absolutely know the RedShite would not allow this to happen. An organised protest is in desperate need: someone posted about turning our backs on the eighteenth and seventy eighth minute. Failing this we should fucking birch him on the centre circle.
John G Davies
73
Posted 03/03/2018 at 09:20:02
Pickford
Coleman
Williams
Keane
Baines
Walcott
Davies
Rooney
Gueye
Sigurdsson
Niasse
That's the team I was told this morning. No idea if it's right.
Neil Wood
74
Posted 03/03/2018 at 09:37:23
My Team:
Pickford
Coleman Jags Mori Baines
Gueye Sigurdsson Klaasen
Walcott Tosun DCL
Raymond Fox
75
Posted 03/03/2018 at 09:39:00
I don't know how this game is on the ground is like concrete inland, its still freezing.
Its on TV so maybe thats why, I suppose they have had covers on and hot air blowers going.
It aint going to be a classic thats for sure.
Raymond Fox
76
Posted 03/03/2018 at 09:58:37
Forget my previous post, they have undersoil heating.
Suppose I should have checked first!
James Marshall
77
Posted 03/03/2018 at 10:08:40
See my post above, Raymond :)
Rob Hooton
78
Posted 03/03/2018 at 10:20:44
Not sure I can bring myself to watch this but probably will just because it's too cold to go out!
Would rather our gam a we're played 10 o clock on a Sunday night these days so I could enjoy my weekends!
Battle of attrition today, can't see us winning it
Chris Gould
79
Posted 03/03/2018 at 10:25:26
Has the team been leaked this week?
Rick Tarleton
80
Posted 03/03/2018 at 11:10:08
Turf Moor is a cold place on a balmy day. I can't see our team of hardy scrappers relishing this trip and this venue in these conditions. Glad to see Fuentes Mori, Coleman and Baines back.
Derek Knox
81
Posted 03/03/2018 at 11:17:29
Just watching SSN and the interview with Burnley's Captain, it was all Mee, Mee, Mee, a bit like an interview with Magnus Detritus Allardus!
Also watched the Middlesbrough v Leeds match, Besic has become a bit of a hero, with the locals, his tackling and passing almost unrecognisable, from his displays with us.
Before people start jumping to say, it's the Championship and all that, the standard is not far removed from the Prem.
The point I am making, is that quite often it is the tactics, and game play, that can often make a player appear poor, some others, have the ability and don't use it. Easier to stroll round and pick up a big fat wedge every week.
Eddie Dunn
82
Posted 03/03/2018 at 11:17:33
If he goes to a back 5 (or 3!) it will surely be a disaster -it simply never works for us.
Dave Williams
83
Posted 03/03/2018 at 11:23:31
It really is horrible to wake up on match day and not feel that tingle of excitement, instead the feeling is dread of losing, expectation of being bored and risk of embarrassment. I now live in Devon but have red supporters both sides of my house plus my wife's best mate across the road who is also a red so putting my head outside to walk the dog is high risk most weekends.
The crazy thing is that it doesn't have to be this way. We showed against Palace, West Ham and Watford ( all home games of course) that we can play some reasonable football and we do have fight in the team depending on who is selected, so why do we continually get served dross?
The away form is easy to sort out. We all know from when we played sport that there are some guys who do not like playing away from home,they get intimidated easily and don't have that attitude of " I'll show this lot what a good player I am". These players must be dropped from the squad of 18 and only the guys with stubborn resilience, pride and fight should be selected. Having typed that I realise that we possibly don't have enough players but DCL would provide it, Oumar from the bench provides it and Baines and Coleman would too. Tom is a must as is Walcott and I would play Jags if fit. As someone else posted earlier the problem is that the back four who would provide fight and grit is made up of four players returning from injury and would be an awful risk.
I would be tempted to play Coleman and Kenny on the right together for their fighting qualities but again this would be a risk as I haven't a clue if that would work!
No Rooney for me- he hates losing but he isn't up to it either physically or with his passing which has been atrocious, especially away from home.
Two up front for me as if these full backs play we will have more possession and better balance
Pickford
Coleman Jags Keane Baines
Walcott Gana Tom Siggy
DCL Tosun
Score- god knows but as an eternal optimist I will say 2-0 to us.
Subs: Joel JJK Rooney Oumar Klaassen Garbutt Holgate
Clive Rogers
84
Posted 03/03/2018 at 11:31:37
The revised team should do well, there's 12 in it.
Saegaran Kana
85
Posted 03/03/2018 at 11:50:10
Simple 4-4-2:
Pickford
Coleman Holgate Keane Baines
Walcott Gueye Davies Calvert-Lewin
Niase Tosun
sockem'
#coyb
Nicholas Ryan
86
Posted 03/03/2018 at 12:38:44
Jamie [1] 'What price an Aaron Lennon goal?'. Worse still, What price an Aaron Lennon goal, flowing from a Michael Keane mistake?!
Add Your Comments
In order to post a comment, you need to be logged in as a registered user of the site.
Or Sign up as a ToffeeWeb Member — it's free, takes just a few minutes and will allow you to post your comments on articles and Talking Points submissions across the site.