Fan Comment
Dad
Sadly, Dad (Joe Walsh) passed away earlier this week aged 72. He finally succumbed to his long battle with cancer and couldn't shake off the pneumonia which had also gripped him. A life-time Everton fan, regular match goer and avid ToffeeWeb reader he was surrounded by his immediate family who are all fellow blues.
I thought you might like to hear about a little piece of Everton history which dad was part of. On 14th May 1966 almost 53 years ago to the day and 2 months before England won the World Cup, Dad travelled with his friends Eddie and Andy McCardle, John Grimes and a few others to watch their beloved Everton play Sheffield Wednesday in the FA Cup final.
Everton were the first team since Bury FC in 1903 to reach an FA Cup Final without conceding a goal in the preceding rounds so the expectations from fans was huge on the day.
Dad and his friends visited Hyde Park before kick off and bumped into none other than Cassius Marcellus Clay Junior - The Greatest training that morning. Two years previously Clay had changed his name to Muhammad Ali. He was in London to fight Henry Cooper on 21st May at Highbury for the second of their infamous fights. The fight was famous because Ali had previously been knocked down in the 5th round by Cooper - something that had only ever happened four times in Clay/Ali's career.
Being typical Scousers they joked around with the legend and engaged in some good natured banter. A few of the friends shadow boxed with Ali and one who fancied his chances mock challenged him to a dual - Ali stood on his foot so he couldn't escape and pretended to hit him, which invited more ribbing from his friends.
This iconic mage was captured by the Associated Press and Liverpool Echo who were all in Hyde Park at the time. It is on a number of T Shirts and is sold online and in various Everton e-commerce stores around the world. Dad is on the left of that photograph and is holding an "Everton for the Cup" banner he had designed the night before.
Ali signed Dad's banner which would had been priceless today had Dad managed to retain it. It was unique because Ali had signed it Cassius Clay even though he converted to Islam in 1964 and changed his name to Ali shortly after the Sonny Liston fight in 1964.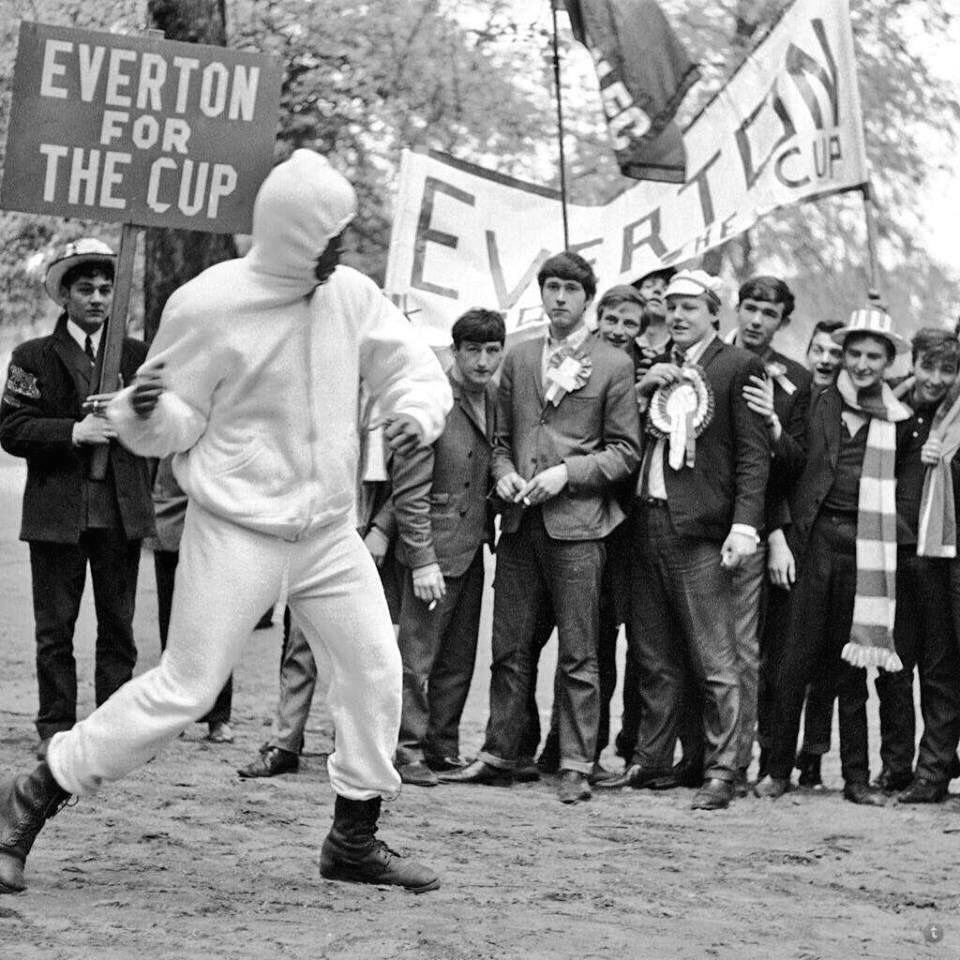 From Hyde Park Dad and his friends travelled to Wembley for the Cup
Final. Prior to kick off Dad asked one of his pals to hold the banner whilst he went the toilet. When Dad came back he asked for his banner back only to be told someone had walked off with it !!! Dad always had a temper so I can only imagine the abuse his friend took that day!
The loss of this banner was quickly forgotten as Everton secured a famous victory over the Owls coming back from 2–0 down to win 3–2, with goals by Mike Trebilcock (2) and Derek Temple. Over 100,000 people squeezed into Wembley that day - most of them Everton fans including John Lennon and Paul McCartney. The game is also remembered for Everton fan Eddie Cavanagh invading the pitch being pursued by a comedy policeman.
Ali went on to beat Cooper in the 6th round after Cooper failed to recover from a cut above his eye. Dad's love for Everton never diminished as he got older. He would later marry and move into 88 Goodison Road, where I was born and raised as a baby. My brother and I were lucky to go to some great games over the years with Dad and this is how we will remember him. His funeral is Thursday 16th May at St Peter and Paul's Church, Crosby — almost 53 years to the day he met Ali and we won the cup! A fitting tribute to my hero — a great man. Dad.
---
---
Reader Comments (46)
Note: the following content is not moderated or vetted by the site owners at the time of submission. Comments are the responsibility of the poster. Disclaimer
Lyndon Lloyd
1
Posted 11/05/2019 at 00:06:50
My condolences once again, Joseph, but thanks so much for sharing his story and also for both his and your readership of the site. Makes my heart glad that people get so much out of TW. RIP, Joe.
Paul Birmingham
2
Posted 12/05/2019 at 00:12:46
RIP, Joseph, and sincerest condolences and sympathies to your family, at this terrible time.
Your Dad, will be in the best of company in the Main Stand in Heaven.
Your a legend! Strength and courage and let's hope we can win at Spurs today.
Tremendous pictures and legendary in the song and history, that moment created for Everton.

Mike Gaynes
3
Posted 12/05/2019 at 00:45:44
A lovely tribute, Joseph. Your dad was a handsome young fellow indeed, and he must have savored that photo all his life.
Deepest condolences to you and your family. May you draw strength from the courage of your dad's battle, and comfort from the wonderful memories you shared.
Bob Parrington
4
Posted 12/05/2019 at 02:24:00
Too young to pass away Joseph. My condolences.
I remember that Cup Final so well. Thanks for recalling it. I was with 4 Leeds United fans, who were having a good laugh at my expense at half time. Boy oh Boy, what a second half that was!
RIP, Joe! You witnessed at first hand one of the greatest Everton victories.
Darren Hind
5
Posted 12/05/2019 at 05:41:34
Thanks for sharing this with us Joseph. A cracking story.
Condolences to you and all your family.
RIP, Joe
Alan J Thompson
6
Posted 12/05/2019 at 06:21:17
Condolences on your father's passing, Joseph, may he rest in peace.
The Ali story reminded me of a Welsh friend who with his wife had flown from Perth, WA to Las Vegas on flights he said seemed to take forever. After checking in at the Hotel he couldn't sleep which he put down to jet lag and at 3 AM went down to the hotel coffee shop and got a coffee and a pastry. Half way through he noticed two enormous black blokes standing at the door looking at him. He finished and went to pay on his room key when one of these blokes stepped forward and said, "Don't worry Mr Ali will pay for that and thank you for not bothering him". He'd sat in a coffee shop for half an hour at 3 in the morning and hadn't noticed the only other bloke in there was Muhammed Ali.
Jose Walsh
7
Posted 12/05/2019 at 07:19:40
Thank you again Lyndon for allowing me to post this article - I am proud that Dad was a little part of Everton history.
Thank you too for all your kind words on this thread. ToffeeWeb gave Dad a big release from his battle with cancer. There wasn't a day go by when he wasn't glued to his phone reading the various articles, reports and comments. It would often form the main talking point when I would go and visit him or chat on the phone. Although we didn't post too often you do get a sense that you know the regular commenters too - not only is this site unique but our fans are very special - the best, bound together by the ups and down of our beloved club. A victory over Spurs today would be a fitting tribute.
Thank you
Ajay Gopal
8
Posted 12/05/2019 at 07:30:07
Wonderful tribute to your dad, Joseph, may his soul rest in peace. What a truly iconic photograph, wonder if the banner with Ali's signature still exists somewhere?
Brent Stephens
9
Posted 12/05/2019 at 08:10:05
Condolences, Joseph. That's a nicely-penned piece. Brings back many memories of that 66 final. The story about Clay/Ali is wonderful.
Peter Mills
10
Posted 12/05/2019 at 08:34:54
Joseph, I'm very sorry to hear this news. I haven't seen your Dad for some time, it was always a pleasure to do so, it would always involve laughter. My love and sincere condolences to you, your Mum and all the family.
St. Peter and Paul's, Crosby, has seen the funerals of many great Evertonians, my own Dad included. Thursday will be another big day. I'm afraid I will not be able to attend, but will participate in spirit.
I will also be thinking of your Dad on Tuesday afternoon between 4.00 - 4.30pm, the time 53 years ago that Mike Trebilcock and Derek Temple were scoring those 3 goals to win us the FA Cup, and gave this 10 year old boy the day out of a lifetime at Wembley.
Rest in peace Joe.
Dennis Stevens
11
Posted 12/05/2019 at 08:57:06
My condolences to you & your family, Joseph. Thank you so much for sharing this marvellous tale & photo.
Andy Meighan
12
Posted 12/05/2019 at 09:05:41
Sincere condolences, Joseph. Having only lost my own dad in late January I know how you must be feeling.

What a marvellous story and a fitting tribute to a top blue. Let's hope he's up there smiling down on us tonight after a win at Spurs and you-know-what. Hope the funeral goes well pal once again condolences
Dave Abrahams
13
Posted 12/05/2019 at 09:10:26
Joseph, a lovely story, so sorry for your loss, didn't know you or your dad, that's my loss, sincere sympathy from a fellow Blue to you and your family.
Joe McMahon
14
Posted 12/05/2019 at 09:16:24
Thanks for sharing this story and photo Joseph. What an amazing memory meeting Ali and the cup final would have been for your dad!
Stephen Brown
15
Posted 12/05/2019 at 09:48:40
A lovely tribute to your Dad, Joseph! Condolences!
Tony Abrahams
16
Posted 12/05/2019 at 10:00:01
Definitely one of the most iconic photo's I've ever seen that Joseph, and as sad as Thursday is going to be, I hope that your father, gets a great send off mate.
Tony Hill
17
Posted 12/05/2019 at 10:02:12
Beautiful, Joseph, it's that sort of personal history that makes our club. The photograph has always made me smile.
RIP.
Sue Brown
18
Posted 12/05/2019 at 10:16:15
What a lovely tribute to your Dad Joseph, it's having these great memories that will give you the strength to help you through Thursday. My Condolences.
David Pearl
19
Posted 12/05/2019 at 13:09:31
Thanks for sharing that story and picture Joe.
He must of had the time of his life that day meeting Ali and then seeing the blues lift the cup.
Condolences to you and your family at this sad time.
Jon Bentley
20
Posted 12/05/2019 at 13:54:52
So sorry to hear.
A sad day when any Blue passes, but hopefully he'll be in company with many Blues legends passed (Young, Ball, Labone, Kendall at al)
Lots of love and thoughts to the Walsh family from the Blue family. Xx
Terry White
21
Posted 12/05/2019 at 17:33:06
Sorry to read this, Joseph. But a great story and photo from a wonderful day. You will have many lovely memories of your Dad to support you and your family at this difficult time. May he rest in peace.
As Peter Mills noted (#10) S.S. Peter & Paul's church has seen funerals of many a great Blue fan, his own Dad and mine, Dick White, included, with their final resting place in the cemetery behind the church. I hope Mgr. Furnival, a lovely man apart from being a Red, is presiding for you. Otherwise you can not go wrong with Fr. Simon Cadwallader, whose father, Bill, was another Blue and a great friend of Peter Mills and my Dad.
John Audsley
22
Posted 12/05/2019 at 17:52:34
A beautiful tribute Joseph and thank you for letting us all know.
All my love to you and your family from my family of blues.
John Hughes
23
Posted 12/05/2019 at 17:57:22
RIP Joe and condolences to you and your family at this difficult time, Joseph.
Steve Ferns
24
Posted 12/05/2019 at 18:21:02
Joe, that was a great story. I know what it's like to lose your dad. Best wishes mate. Try to be strong, but not too strong you can't let it out.
Paul Ferry
25
Posted 12/05/2019 at 19:41:35
Deepest condolences Joe and to all your dad's family and friends. I feel for you all very much.
I just love that photo! 'Everton for the cup!' Love it. All the lads in suits and your dad is the sharpest and best looking of them all. What an afternoon they all had in store! That photo is such a period piece to treasure. Are they all Crosby lads? When I went to Wembley in '84 with my Crosby lads we were not wearing suits!
Pete Mills is so right; many great Evertonians have said goodbye at St Peter's and Paul's in Crosby and St. Helens.
I'll raise a glass Thursday to your dad, you, and yours, on this side of the ocean.
Jerome Shields
26
Posted 13/05/2019 at 08:00:50
Thank you for sharing your Dad's story. Deepest sympathies.
Eddie Dunn
27
Posted 13/05/2019 at 08:23:34
Joseph, what a super tale with great pictures which sum up the innocence of that era. Imagine such a global superstar mingling with footy fans today! It is so interesting seeing this – another personal insight into a passion we all share. I'm sorry for your loss and wish you all the best for life without your Dad, but thanks for sharing this in the midst of your grief.
Alan McGuffog
28
Posted 13/05/2019 at 08:41:56
Absolutely wonderful memories for you and your family Joseph. My sincere condolences...but what a day out you father had. Now if he had managed to get back in time to catch Dylan at the Empire as well...
Mark Burton
29
Posted 13/05/2019 at 09:29:04
My sincere condolences and may all the good memories live on forever.
Martin Nicholls
30
Posted 13/05/2019 at 09:30:24
As a 15-year-old, who had travelled alone, I too was at that match and have great memories of the day but none to match those that Joe had and has passed onto his family. RIP Joe.
Gerard McKean
31
Posted 13/05/2019 at 10:40:44
Joseph, a most eloquent tribute to your Dad and one that Evertonians of all ages will be able to relate to, but especially those of us who were lucky enough to be there on that great day. May your Dad rest in peace and may you and the rest of Joe's family be comforted at how your eulogy here has touched so many TW hearts.
Dave Williams
32
Posted 13/05/2019 at 11:54:34
Very poignant piece. RIP and very best wishes to you and your family – it's a crap time!
Chris Burns
33
Posted 13/05/2019 at 12:47:42
All the best Joe, lovely piece that. I lost my dad on April 2nd and buried him in his Everton blazer bless him. We gave him a great send off and I'm sure you will too. Take care.
James MacGlashan
34
Posted 13/05/2019 at 13:16:12
Joseph, condolences to you and your family. Heartbreaking times but the love of all those around you will comfort you. Wonderful story as well. Thank you.
RIP Joe.
Terry Underwood
35
Posted 13/05/2019 at 13:52:37
Joe, love coming to you and your family, from the South Coast. Thanks for sharing that wonderful story. The history of our club unites us all, young and old.
Kevin O'Regan
36
Posted 13/05/2019 at 14:56:55
Good on you Joeseph for posting this at a difficult time. Many condolences to you and your family. I enjoyed the story also because my own Dad had a couple of anecdotes about M.Ali / C.Clay going back to the Rome Olympics and also speaking to him in New York a couple of years later in the hotel where he worked. I'm sure your dad is now enjoying his peaceful blue heaven and sharing many more such stories now, and maybe he will even get to find out whatever happened that banner. Rest in Peace Joe.
Tony Heron
37
Posted 13/05/2019 at 18:40:24
What better tribute could there be from a son to a father. My condolences to you and your family Joe. As a 16 year old I was 2 yards away from obtaining a ticket by virtue of having all the cup final vouchers from the match programmes. Sadly for me the turnstile door banged shut just when I thought I had my ticket. I went home in tears. However my tears dried up and I was smiling again when the Blues pulled off the greatest comeback in F A cup history to lift the trophy. I remember Eddie Kavanaghs run onto the pitch well. He lived not far away and I recall him as a regular in the Eagle & Child in Huyton. I also remember that famous picture of your dad and Ali. He must have dined out on that story for years. What a lucky man he was to have that memory but mainly to have a son like you. God bless.
John McFarlane Snr
38
Posted 13/05/2019 at 18:51:59
Hi Joseph, belated condolences on your loss, I feel sure that that you and your family, can take comfort from the fact that people who never met your Dad have taken the time to pay tribute to him.
Paul Tran
39
Posted 13/05/2019 at 18:58:40
Lovely story, Joe. To live in the hearts of those you loved is not to die. He'll have his own seat in the Top Top Balcony, where all the Blues end up.
Mike Gaynes
40
Posted 13/05/2019 at 19:22:07
Chris #33, deepest condolences to you and yours as well.
Kevin #36, everybody who ever met Ali has an anecdote about it -- he was that kind of presence. In my only conversation with him, he asked me if I was crazy. But he did it in such a charming way that all you could do was laugh.
Jose Walsh
41
Posted 13/05/2019 at 19:44:46
I have read every one of your comments guys and have to say how overwhelmed both my family and I are by your very kind words. We are all strangers bound together by our love of this great club and one big family. Many thanks - very touching tributes. It was also great to read all of your stories from a similar era. It would be great to hear more nostalgic pieces too. We all look forward to the season ahead but it is our history which defines us. I may not comment regularly but read all the articles, reports and comments and feel I know all of you who contribute regularly. Thank you.
Sean Kelly
42
Posted 13/05/2019 at 21:38:35
Condolences Joe to you and your family. Brilliant memory for and yours to carry you through these difficult days.
Good to see real Evertonians supporting you. Well done folks.
Andy Crooks
43
Posted 13/05/2019 at 22:14:58
Joseph, a fine post. You really moved me and made me think of my late dad. I will think of you on Thursday.
Derek Knox
44
Posted 14/05/2019 at 02:42:12
I would also like add my belated condolences Joseph on your recent loss, but a great story of which your Dad was a part of, is a lasting memory.
Jay Harris
45
Posted 16/05/2019 at 23:01:50
Belated condolences Joe but be grateful in the knowledge your Dad saw some of the greatest achievements in Everton history over the 60s,70s and 80s.
I hope you have many happy memories of him and be proud of the fact he was one of us.
Dick Fearon
46
Posted 21/05/2019 at 22:53:24
Joe, My best wishes to all your family on the loss of your dad.
My own memories of that glorious 66 cup final began with 8 of us plus two cases of beer and a huge box of home made pies crammed into a Vauxhall estate car setting off from a Breck Road pub and heading south.
The rest of that weekend is a happy blur of many drinking spots and of course the sheer excitement of Temples winning goal.
I was 21 and by several years the youngest of that group of mad Evertonians.
Should Joe or George Kelly or any of the other lads still be with us I send greetings.
Add Your Comments
In order to post a comment, you need to be logged in as a registered user of the site.
Or Sign up as a ToffeeWeb Member — it's free, takes just a few minutes and will allow you to post your comments on articles and Talking Points submissions across the site.
Notice
: Undefined index: country in
/var/www/vhosts/toffeeweb.com/httpdocs/includes/reader-comments.php
on line
210
© ToffeeWeb