Everton History
Looking For James Roy, Part 1 – A Very Promising Lad
Pete Jones

13/11/2017

7 Comments
[Jump to last]
Share:
In December 1913 a young man made a journey from Edinburgh to Liverpool; he would probably have been excited as he was about to embark on a new career. Just over two and a half years later another man made the reverse journey, but in very different circumstances. His state of mind was anything but happy, so much so that he was meant to be escorted by a friend, but he missed the train and had to follow by a later one. In Edinburgh he would meet another unhappy young man who had spent his adolescence in Birkenhead. Their meeting would influence how we perceive the period through which they were living.
The first man was called James Roy; his journey brought him to Goodison Park to sign for Everton. The second man was the poet Siegfried Sassoon, then an officer in the British Army. His journey took him to Craiglockhart Hospital in Edinburgh, which treated officers with shell shock. His friend who missed the train was another poet and fellow officer, Robert Graves who had been instrumental in getting his friend admitted to Craiglockhart. The third man was Wilfred Owen, who had spent much of his youth in Birkenhead where his father had been the stationmaster at Woodside. Owen would eclipse both Graves and Sassoon as a war poet, and come to symbolise the horrors of the First World War.
The wartime experiences of Sassoon, Graves and Owen were distilled into poetry and prose which have had thousands of pages devoted to them; but James Roy has until now been a footnote in history, barely remembered. His story is full of words like possibly, maybe and could be, for he slips through events almost unnoticed and undocumented, at least until now.
Apart from Merseyside, Edinburgh and the railway journeys the paths of James Roy and Siegfried Sassoon would cross on a stretch of gently rolling French farmland south of the town of Arras.
And James Roy may still be there.
A Very Promising Lad
James Roy was born in 1889 in South Leith, Edinburgh to George and Jane Roy. James was the eldest of four sons and he had one elder and two younger sisters. When the 1891 census was taken two year old James and his family were living at 10 Elgin Street, between Calton Hill at the end of Princes Street and what is now Hibernian's Easter Road Ground. Ten years on the family had moved across the road to number 11, and by 1911 they were living above the shops of Easter Road at number 24. James, by this time 22, was working as a railwayman and his father as a postman.
Aside from the day job James was making a name for himself as a left-half in local non-league football, and in the 1910-11 season he captained Penicuik Athletic to the East of Scotland Junior Cup. Penicuick was a small town south of Edinburgh on the Lothian coalfield; it would become the home of Everton's legendary hero Alex Young after he finished playing. James' performances resulted in a move to nearby Broxburn the following year and within months he had come to the attention of Everton. At a board meeting on 3rd December 1913 two directors were deputed to travel north to arrange a transfer the following Saturday. In the days before widespread telephone use it was difficult to communicate back to Liverpool and the directors were allowed to decide on the terms on the spot; "with powers" is the phrase used in the board minutes. The fee agreed was £60 rising to £85 if he was retained for the following season and James would be paid a £10 bonus and £3 a week. The same board minutes record his selection for a junior team to play Prescot Wire Works, and two weeks later he made his debut for the reserves on Christmas Day at Goodison against Manchester United.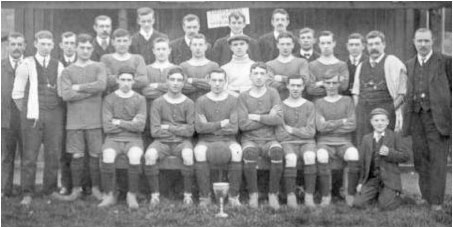 Penicuik Athletic 1910-11 with James Roy in the centre behind the cup (courtesy of Penicuik Athletic)
The Liverpool Courier for December 10th 1913 broke the news of the new signing; although they appear to have misheard his name:
EVERTON SIGN ROY.
Everton have signed a Scottish half-back who is said to be a very promising lad. His name is Robert Roy, of Broxburn United, he belongs to Edinburgh, and was captain of the Penicuik Juniors when that team won the cup. Barnsley were also anxious to secure his services.
The minutes of each subsequent board meeting show James Roy's name at left half for the reserves. The minutes of the January 21st meeting also note the arrival of letters from Bilbao and "Young Fellows of Berne" in Switzerland offering friendlies to the club for the close season.
James would be a fixture for the reserves for rest of the Central League season as they were crowned champions. At a board meeting held on 3rd June 1914 James Roy was listed as a recipient of a championship medal for 22 appearances. Newspaper reviews of the season had already noted him as what might then be called "a coming man". On May 1st, 1914 the Evening Express columnist "Critic" spoke favourably of the reserve players:
There is some promising talent in the ranks, notably Wright, Roy, Roberts, and Kirsopp, young players who are rapidly coming to the front.
The success of the reserves was in direct contrast to the performance of the first team. They had finished a poor 15th despite 17 goals in 24 appearances from Scots centre forward Bobby Parker who had arrived from Glasgow Rangers. Further embarrassment was created by the first round FA Cup debacle at lowly Glossop FC. The annual general meeting of 1914 saw many arguments and complaints, some of which were carried over from the previous year when the small shareholders complained of a stitch up by the directors. Outrage was also voiced about the exorbitant fees being considered for players. Everton had a reputation as the wealthiest club in the country, but fees of £2,000 or even £3,000 for players were too much for some.
The minutes that listed James Roy for a medal also noted the day that the players would be required to return for pre-season training. The date was 4th August 1914.
Life During Wartime
James Roy returned to training at Goodison Park on 4th August against the backdrop of war having been declared between Germany and France the previous day, and with the Foreign Office waiting for an undertaking from Germany that it would not violate Belgian neutrality. It is hard to imagine what the atmosphere would have been like. That evening, at 11pm London time Britain declared war on Germany.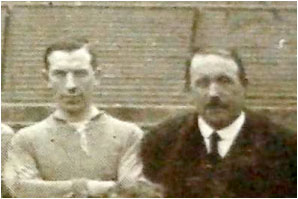 James Roy and trainer Jack Elliot from the 1914-15 team photo (courtesy of Everton FC)
For James Roy the 1914-15 season would be like the previous one, he was almost ever present for the reserves but could not get a game for the first team as they won possibly the most exciting of Everton's nine championships. It was certainly the most extraordinary as it was played against the backdrop of the first eight months of the First World War. James' opportunities at left half were curtailed by the enduring excellence of Harry Makepeace. In August 1914 Makepeace turned 33, old for a footballer at the time. He had made his debut as far back as the 1902-03 season and had played in Everton's first FA Cup triumph in 1906. He spent his summers playing cricket for Lancashire, and was playing in a Roses match on the day war was declared. After the war he went on England's disastrous cricket tour to Australia, playing four test matches and was a rare success, scoring 117 in the Melbourne Test and two other 50's.
The 1914-15 season was also played against a rising tide of criticism of the Football League for not cancelling football altogether. Footballers were seen as role models and over Christmas 1914 Lord Derby, who had raised the Liverpool Pals battalions and whose family seat was at Croxteth Hall organised a census at games at Anfield and Goodison. 10,000 cards were distributed to men of fighting age who were not in uniform asking them to state why. The background was falling numbers of volunteers coming forward after the initial surge in 1914, the appalling casualties suffered in the first months of the war and the realisation that the war would not be over quickly. James Roy was among the Everton players who put their names forward, stating that they were ready to join up. Although the response from fans was lukewarm Lord Derby was pleased with the players' example as the Echo reported in its edition on Thursday 21st January:
THE FOOTBALLERS READY TO JOIN.
Lord Derby thinks it will be of interest to the public to know the names of the players from the Everton and Liverpool Football Clubs who set such a good example promising to join the Army when called upon to do so. The names are follows: Everton. —H. Makepeace, Lancelot Johnston, Robert Parker, James Roy, Samuel Chedgzoy, Frank Mitchell. Thomas Fern, T. A. Nuttall, Tom Houston, James H. Galt, Lewis P. Weller. Liverpool.—F F. Grayer , J Dawson, W. Wadswarth,. McDougall, A. Metcalf, G. Patterson, W. Lacey, and Elisha Scott.
It was not long after this on 15th February that James Roy scored his only recorded goal for Everton, netting the 4th in a 5-2 victory over Stalybridge Celtic at Goodison Park.
On 29th April 1915 the directors of Everton FC met in the warm afterglow of the championship triumph which had been clinched with a 2-2 draw against Chelsea three days previously. However amongst the discussion of medals and mementos it was decided not to offer contracts to most of the reserve team, including James Roy. The club retained his registration, and as it turned out the first team squad were re-signed as amateurs to play wartime games.
Despite the regular references to James Roy's time at Everton we still know little about his life on Merseyside. For example we can assume that like many players of the period he would have lodged near the ground, but there is no record of this. But if looking for James Roy during his time at Goodison is hard, what happened to him next is even harder.
Donning the Fashionable Garb
On 20th January 1918 a newspaper reported on Everton's players who had "donned the fashionable garb", a typically florid way of saying they were wearing Army khaki. The article also contains a rare mention of James Roy, and newspapers are a good source of information on Everton's players in WW1. James would have had an army service record from which we could trace his movements; however most of these were destroyed by fire during the London blitz.
We are left with documents which would have referred to his records, particularly two which show the medals he was eligible for. All men who served overseas were eligible for two medals, but those who went out before the end of 1915 received a third. When the medals were distributed after the war all service records were searched and a medal roll created for each regiment with the number, name and battalion of each man. An index card referring to which of the medal roll ledgers contained a man's name was also created. This had a section for the date a man went overseas, and if filled in gives a starting point for his service. Together with the battalion he served with this allows his service to be documented using the battalion war diaries, which have daily entries of actions and locations. Without the service records it is not possible to see when a man was on leave, or if he was wounded and treated, but the story can be told.
For soldiers who went overseas after the end of 1915 there was no need to record the date, and so working out the service becomes much harder. By looking at other documentation which would have been based on his service records we can calculate that he joined up in December 1915. This was just before conscription was introduced, and James may have been part of the Derby Scheme, named after the man who had instigated the survey the previous Christmas. It was designed to give men who had not yet volunteered a chance to do so as a half-way house to full conscription. Men were invited to sign up and be ready to be mobilised when the army needed them. The timetable was based on age and marital status so James would have been placed in Group 9 based on his year of birth, 1889 and his single status, at least as far as we know. Group 9 was mobilised 8th February 1916, but as with so much about James we can't be sure.
One concrete piece of evidence is a family photograph of James in the kilted uniform of the Royal Scots; however his medal information states that he served with the Cameronians, also known as the Scottish Rifles. We don't know which regiment he trained with but a possible six month training period starting in early February 1916 might take him up to August 1916; and at that time the 5th Scottish Rifles were in need of reinforcement.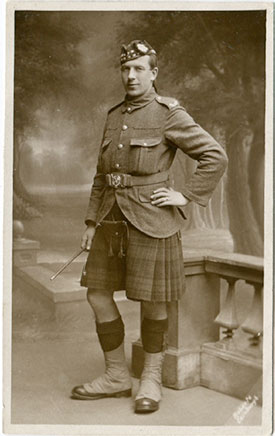 James Roy in the uniform of the Royal Scots (courtesy of Jane and John Drouot)
The 5th had originally been the first Glasgow territorial battalion, formed from middle class men, and appears to have had some social cachet. It has been rather uncharitably described as "the Glasgow middle classes playing at soldiers". In this it has parallels with the 5th King's Liverpool, known as 'the Rifles', and the 10th Kings, the Liverpool Scottish, which also attracted recruits from the Merseyside middle classes. Many of the 5th Scottish Rifles' original recruits would become officers in other battalions so it would be in need of replacements even before its debut on the Somme. Like the two Liverpool territorial battalions the 5th would gain a good reputation fighting alongside the regulars in the 19th Brigade.
They were one of the four battalions of the 19th Brigade which in turn was one of the three brigades making up the 33rd Division. One of the other battalions in 19th Brigade was the old regular army 2nd Royal Welsh Fusiliers, in which Robert Graves and later Siegfried Sassoon would serve. The experiences Graves wrote about were close to what the 5th Scottish Rifles experienced; in particular the attack on High Wood on the Somme on the morning of 20th July 1916. High Wood dominated the southern part of the Somme battlefield and its capture was vital; the 19th Brigade attack got into the wood and established a foothold but at great cost. By the time it was relieved that night it lost 18 officers and 389 men killed, wounded or captured. Company Sgt. Major Docherty, a winner of the Distinguished Conduct Medal and the Military Medal summed up the losses:
"We staggered back, those of us who were left, to behind Mametz Wood…I remember Captain Munro saying "Fall in by companies." When I looked at the four companies in line, reduced to the strength of four weak platoons, and thought of all the bright lads who had gone "west", I cried like a child."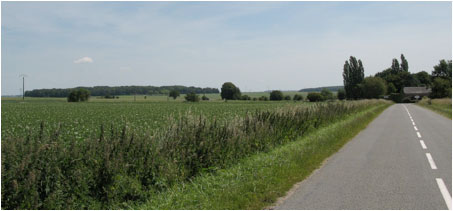 High Wood on the left horizon with the village of Bazentin-le-Petit on the right. Bazentin windmill stood roughly where the large tree is in the middle distance. (Author's collection)
"My subject is War, and the pity of War. The Poetry is in the pity."
It was the raw emotion expressed by Docherty that others would channel into poetry. Robert Graves was one of them, but by mid-morning on the 20th July poetry was far from his mind. He and his men were in support of the 5th Scottish Rifles at Bazentin-le-Petit and came under sustained and heavy German artillery fire designed to prevent reinforcement of the rest of the brigade who were fighting in the wood. He and his men were sheltering in the village cemetery when a large calibre shell hit a tomb close to him. He suffered multiple wounds from shell splinters and was carried back to a dressing station on the edge of Mametz wood. The assessment by the overstretched doctors was that he would not survive and he was placed in a corner while they worked on the less badly wounded. Next morning he was found to be alive and was evacuated to England via Rouen, a period that included his 21st birthday on the 24th July. When he reached London he found to his amusement that he had been posted as dead.
By the time of his reported 'death' Graves was an experienced soldier, having joined up a week after war was declared and had been at the front on and off since May 1915. He had seen plenty of action and had gone through the battle of Loos the previous September. He seems never to have been completely trusted by his superiors, possibly because of his flippant attitude but also because of his German mother. Graves' middle name, Von Ranke was his mother's family surname, and he had cousins serving in the German army. He had this in common with the British Royal family, whose name was Saxe-Coburg-Gotha; after German Gotha aircraft started raiding London in 1917 they would change their name to the very English Windsor. Graves' family were well off, living in leafy Wimbledon, and were well connected; his father knew Lloyd-George to quote the song of the time. Graves had been educated at Charterhouse where he had taken up boxing when bullied because of his German roots; a broken nose suffered during this time would cause him problems wearing gas masks.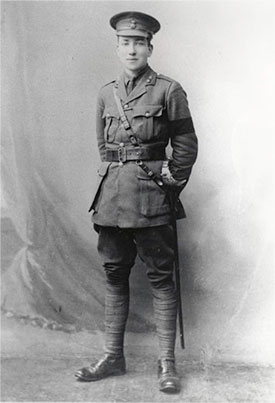 Robert Graves (University of Otago, NZ)
In November 1915 while with the 1st battalion of the Royal Welsh Fusiliers Graves met a newly arrived officer who was also something of an outsider. Siegfried Sassoon was descended from Jewish merchants who had settled in Baghdad in what is now Iraq. His family had come to England via Bombay in India, but Sassoon's father had left his mother when he was a small boy and his upbringing was entirely influenced by his mother, whose maiden name was Thornycroft. The Thornycrofts were originally farmers from Cheshire but more recently had included sculptors and artists, and Sassoon was also related to the Thornycroft shipbuilding and engineering family.
Born in 1886 and nine years older than Graves, Sassoon had grown up as an upper middle class gentleman in Sussex where his main interests were fox hunting and cricket. As a skilled horseman he joined his local Yeomanry mounted regiment when war was declared, but broke his arm in a fall almost immediately. As he recovered he realised that the need for cavalry would be limited and sought a commission in the infantry. He became an officer in the Royal Welsh Fusiliers in May 1915 and trained at their newly built depot camp in Litherland. He went to France just after hearing of the death of his younger brother Hamo, buried at sea on 1st November after being wounded at Gallipoli.
Despite differences in temperament Graves and Sassoon found common ground in poetry and would become close friends.
After a short period behind the lines in November around Festubert and a period over Christmas in reserve the 1st RWF moved to the front line at Fricourt on the Somme in January. Sassoon's skill with horses got him the post of Transport Officer, with responsibility for the fleet of waggons the battalion needed to move its equipment. It also meant moving the food and supplies up to the front line. However a change of commanding officer brought a transfer to the front lines in mid-March 1916. This coincided with the death of one of his close friends and Sassoon took to going out into no man's land at night to disrupt German working parties and attack their trenches. This almost suicidal bravery won the admiration of his men, although the nickname 'Mad Jack' that they are supposed to have given him may be one of Robert Graves' many later inventions. Sassoon won the Military Cross after a failed trench raid, retrieving the wounded and rescuing his badly wounded corporal from a mine crater only feet from the Germans, although his efforts were in vain.
Sassoon was in reserve when the Somme offensive began on 1st July 1916. He remained out of the direct firing line until the 4th July when in the first light of dawn he disobeyed orders and single handedly chased 40 Germans out of a trench and into Mametz Wood. Had he taken some men with him or communicated his success the trench might have been captured, but Sassoon had eventually to retreat. His commanding officer was frustrated with his actions and would have recommended Sassoon for the VC had it not been for his isolation. Sassoon would remain frustrated in reserve until 23rd July when he went down with trench fever, at the time a mystery illness but later found to be caused by the bites from the ever present lice in the trenches. He was suspected of having something worse due to the state of his lungs and was evacuated back to England.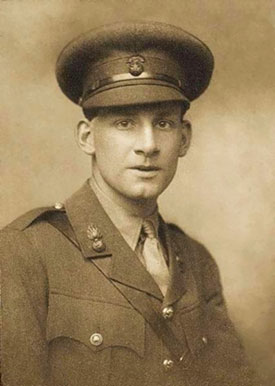 Siegfried Sassoon in the uniform of the Royal Welsh Fusiliers photographed by George Charles Beresford in 1915
Somme Mud
But when did James Roy arrive to join the 5th Scottish Rifles and did his path cross those of the poets? For late 1916 the answer appears to be no. James Roy's name, number and battalion appear on a medal roll along with the men who had numbers close to him. It is possible to search for their service records to see if they can shed any light on James' service. As is typical of so much when trying to find James Roy this also draws a blank, possibly because all of the records were together during the fire in 1940 and went up in smoke. However the man whose number precedes James Roy's does appear in an official record. Private John Wilson is one of the 72,245 names of British and South African men who have no known grave from the fighting in the Somme area between 1915 and early 1918. He was killed on the 29th October 1916 in a small scale attack on Hazy Trench between the villages of Lesboeufs and Le Transloy.
The British army persisted in attacking on the Somme into the autumn as the weather turned against them. Intelligence reports suggested the Germans were on their last legs and continuing the pressure would force them to crack. Although the Germans were severely stretched the reports were over-optimistic, a failing that bedevilled the British army in WW1. The rains of autumn had reduced the battlefield to a quagmire and the all-important artillery could find neither stable gun sites or bring up sufficient ammunition over the wrecked battlefield. Former Everton and Wales keeper Leigh Roose had been killed in one of these muddy attacks just north of Lesboeufs on 7th October, and what happened on the 29th to James Roy's battalion was typical of this phase of the battle. They were ordered to mount a surprise attack on a German position called Hazy Trench just before dawn without a preliminary bombardment. An officer of Robert Graves' 2nd RWF left a diary entry which describes what happened to the 5th Scottish Rifles:
October 29th: Rain and bitter cold. Some men who can stand no more have been sent to hospital. The others are wonderfully cheery. A few short-time working-parties are being found. Our losses for the week are about 60 from all causes, two dozen are gunshot wounds; and we have "done nothing"………
…….The Cams and 5th S.R. had been given the part for which B and C Companies were cast, the capture of Hazy. We had reckoned that a surprise rush by one Company might succeed. The battle-piece, a pretentious night scheme handed out by Brigade or Division to a company from each of two battalions, was foredoomed to failure. Men wandering behind the German position were captured in daylight. It was said that each battalion lost nearly the strength of its company -- for nothing. Their enemies helped them to clear some of their wounded -- and saved themselves the heavy carry.
Did James Roy take part in this small scale disaster? As so often we don't know. But we do know were Graves and Sassoon were; Graves was in camp at Litherland, and Sassoon was about to join him.
Litherland and its Unlikely Role in World War One Literature
The huge expansion of the army in the wake of Kitchener's famous "Your Country Needs You" recruitment drives caught the British Army completely unprepared. A particular problem was accommodation, with many volunteers having to live at home initially. A huge construction drive followed with army camps springing up all over the country. One such camp was built at Litherland, then right on the edge of the built up area. It was given to the Royal Welsh Fusiliers to supplement their peacetime depot in Wrexham and many men would pass through its gates, including Sassoon, Graves and a North Welshman from Transfyndd called Ellis Evans. Sassoon in particular would spend much longer in Litherland than he did in the front line.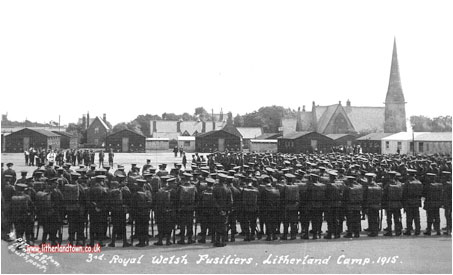 Litherland Camp in 1915 — Sassoon and Graves may be in this picture (litherlandtown.co.uk)
The Royal Welsh Fusiliers as they were known in 1916, (they would revert to the older spelling Welch after the war) were the most literary regiment in the British army. Aside from Graves and Sassoon's poetry and post war memoirs it produced 'The War the Infantry Knew', a collection of diary excerpts, letters and recollections compiled by the 2nd battalion's medical officer John Dunn, and 'Old Soldiers Never Die' by Frank Richards. Richards was a pre-war regular who went through the whole war with the 2nd RWF. He almost miraculously avoided serious injury, for example spending most of the day that Graves was badly wounded on the Somme signalling with flags on top of the windmill at Bazentin-le-Petit while the Germans shelled his position. Another Royal Welsh soldier, the artist David Jones would produce one of the greatest pieces of WW1 literature; his epic poem "In Parenthesis" which drew on many literary inspirations, including Welsh epic poetry.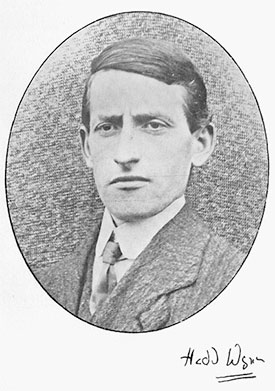 Ellis Evans (Wikipedia)
Ellis Evans was part of the great Welsh poetry tradition, writing in his native language under the name 'Hedd Wyn'. He trained at Litherland camp after being conscripted, despite his deeply religious pacifism. He wrote several poems about war and his poem 'Fleur de Lis' was submitted to the National Eisteddfod which took place in Birkenhead Park in September 1917, attended by the Welsh speaking prime minister David Lloyd-George. The poem won the Bardic chair but Ellis Evans could not accept the honour. He died serving in the same battalion as David Jones, at Pilkem near Ypres on 31st July 1917, the opening day of the third battle of Ypres,better known as Passchendaele. His poetry stands comparison with any produced in the First World War, even in translation.
Mae'r hen delynau genid gynt,
Ynghrog ar gangau'r helyg draw,
A gwaedd y bechgyn lond y gwynt,
A'u gwaed yn gymysg efo'r glaw
The harps to which we sang are hung,
On willow boughs, and their refrain
Drowned by the anguish of the young
Whose blood is mingled with the rain.
Ellis Evans is buried in Artillery Wood cemetery near Boesinghe, just north of Ypres. The Irish war poet Francis Ledwidge, killed on the same day is also buried there.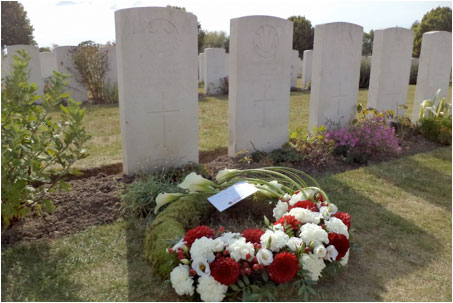 A wreath laid by Prince Charles at Ellis Evans grave 100 years after his death (Aurel Sercu)
A Hurricane of Poetry
We regret to announce that an insidious disease is affecting the Division, and the result is a hurricane of poetry. Subalterns have been seen with a notebook in one hand, and bombs in the other absently walking near the wire in deep communication with their muse. Even Quartermasters with "books, note, one" and "pencil, copying" break into song while arguing the point re "boots. gum, thigh". The Editor would be obliged if a few of the poets would break into prose as the paper cannot live by poems alone.
— The Wipers Times, March 1916
The First World War produced more poetry than any war before or since, a veritable hurricane according to the satirists of the Wipers Times trench newspaper. The poetry has come to define how many see the war and that the poetry is the way to understand the conflict. But the poetry now seen as representative of the experience of the First World War is the result of how attitudes have changed in the century since it was written. We choose the poetry that fits our current view, and in doing so ignore the majority of what was written at the time. But as the Wipers Times shows there was a grim but brilliant humour outside of the poetry
The most popular poetry during the war, at least at home was fiercely patriotic, typified by a poem called 'The Day' by a railway stationmaster from Bath called Henry Chappell. This was a denunciation of the warmongering Kaiser Bill which includes the line "Thou art steeped in blood as a hog in slime". The young, aspiring poets who volunteered in the early days of the war put their hopes and fears into what would become known as 'happy warrior' poems. It would be a theme which continued throughout the war, although it would be tempered by the real experience of the trenches. It is typified by Rupert Brooke, whose lines from 'The Soldier' written before he went to war are some of the most recognisable in English literature:
If I should die, think only this of me:
That there's some corner of a foreign field
That is for ever England.
Brooke died on route to Gallipoli on April 23rd 1915 of sepsis caused by an insect bite on his lip, not the heroic death his poetry appeared to demand, and the corner of a foreign field that is forever England is in an olive grove on the Greek island of Skyros in the Aegean.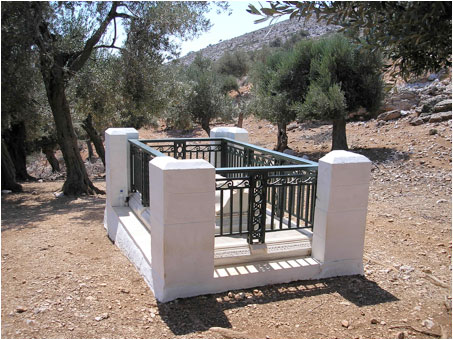 Brooke's grave on Skyros (Wikipedia)
By 1915 the realities of war were beginning to affect the poetry, and the death of friends in the fighting inspired many lines, most famously by a Canadian doctor, John McCrae.
In Flanders fields the poppies blow
Between the crosses, row on row,
That mark our place; and in the sky
The larks, still bravely singing, fly
Scarce heard amid the guns below.
We are the Dead. Short days ago
We lived, felt dawn, saw sunset glow,
Loved and were loved, and now we lie
In Flanders fields.
Take up our quarrel with the foe:|
To you from failing hands we throw
The torch; be yours to hold it high.
If ye break faith with us who die
We shall not sleep, though poppies grow
In Flanders fields.
The last verse is a patriotic call to arms which some critics, looking through the lens of later anti-war poetry have seen as ironic, but I think this is wrong. Although the grim realities of the war were intruding it was rare for direct challenges to be made in verse, although those that did tend now to be highlighted in a way that did not happen at the time. McCrae would rise to the rank of Lt. Colonel and command a base hospital, but died of pneumonia in 1918, possibly as part of the Spanish flu pandemic.
Many of the young soldier poets prepared to face death in verse. Some poems, like one penned by a vicar's son, Noel Hodgson were given heightened significance when the poet was killed, in Hodgson's case a few days after he had written the lines. He was buried with his men of the Devonshire regiment in part of the old front line where it ran through Mansel Copse near Mametz. The cemetery was given even greater poignancy by the sign that the burial party put up to mark the spot, on it were written ten words that give the Devonshire cemetery a poetry of its own:
The Devonshires held this trench. The Devonshires hold it still.
Another example of the happy warrior theme was penned by a young Scottish officer called Hamish Mann, who served in the 8th Battalion of the Black Watch. Donald Sloan, who kept goal for both Everton and Liverpool before the war was serving with the 8th when he was killed at Arras on New Year's Day 1917.
Let memories of me be brave and true:
I would not like to think the Life I gave
Had brought you woe. Be proud, not bent
With gloom, as though some frightful shame had spentIts fury on your house.
I die .... What then?
I am but one 'mongst countless finer men."
The war also took established poets to the front, men like David Thomas, who volunteered despite being a family man in his late thirties; he would rise from the ranks to be a 2nd Lieutenant in the heavy artillery. Thomas had been a literary critic before the war, writing about poetry, but only began writing it himself in 1914. Most of the pre-war poets continued to write, although few match Thomas' late flowering poignancy.
But the poets were not all officers; Issac Rosenberg and Ivor Gurney wrote from the ranks. Gurney was a promising musician from Gloucester, Rosenberg was an aspiring artist and the son of Jewish refugees from Lithuania. The themes of home and flowers occur often in the poetry of WW1 as in Ivor Gurney's poem about a dead friend:
He's gone, and all our plans
Are useless indeed.
We'll walk no more on Cotswolds
Where the sheep feed
Quietly and take no heed.
His body that was so quick
Is not as you
Knew it, on Severn River
Under the blue
Driving our small boat through.
You would not know him now…
But still he died
Nobly, so cover him over
With violets of pride
Purple from Severn side.
Cover him, cover him soon!
And with thick-set
Masses of memoried flowers-
Hide that red wet
Thing I must somehow forget.
But there was another group of WW1 poets who are mostly unknown, and their work has been largely overlooked. Delve into the pages of trench newspapers like the 'Wipers Times' and other voices emerge, perhaps much closer to the real experience of the trenches. Here is the flippant humour in the face of adversity:
Little Tom Buffet,
Thought he would snuff it
When hit on the chest with a shell,
The shell was a dud-un
So all of a sudden
He rose and is now doing well.
And when all was going wrong around them the grim tone re-emerges:
When there ain't no gal to kiss you,
And the postman seems to miss you,
And the fags have skipped an issue,
Carry on.
When ye've got an empty belly,
And the bulley's rotten smelly,
And you're shivering like a jelly,
Carry on.
When the Boche has done your chum in,
And the sergeant's done the rum in,
And there ain't no rations comin',
Carry on.
When the world is red and reeking,
And the shrapnel shells are shrieking,
And your blood is slowly leaking,
Carry on.
The Wipers Times also includes what I think is one of the greatest poems to come out of WW1:
TO MY CHUM
No more we'll share the same old barn
The same old dug-out, same old yarn,
No more a tin of bully share
Nor split our rum by a star-shell's glare
So long old lad.
What times we've had, both good and bad,
We've shared what shelter could be had,
The same crump-hole when the whizz-bangs shrieked,
The same old billet that always leaked,
And now - you've "stopped one".
We'd weathered the storms two winters long
We'd managed to grin when all went wrong,
Because together we fought and fed,
Our hearts were light; but now - you're dead
And I am mateless.
Well, old lad, here's peace to you,
And for me, well, there's my job to do,
For you and the others who are at rest
Assured may be that we'll do our best
In vengeance.
Just one more cross by a strafed roadside,
With it's G.R.C., and a name for guide,
But it's only myself who has lost a friend,
And though I may fight through to the end,
No dug-out or billet will be the same,
All pals can only be pals in name,
But we'll all carry on till the end of the game
Because you lie there.
The abbreviation G.R.C. is Graves Registration Commission, precursor to the Commonwealth War Graves Commission and strafed means shelled. Nothing I know of in the better known poetry expresses the bonds of comradeship and the dogged determination that got the British Army through the worst experiences in its history. The style is clunky, it includes unfamiliar words and abbreviations and won't appeal to poetry purists, but it's from the heart and its lack of sophistication is its strength. And it isn't anti-war, far from it in fact so it doesn't fit the mould for much modern WW1 poetry appreciation. But it's the voice of the men in the trenches and that gives it its power.
The Deep Midwinter
But what of the four men who we opened with? At New Year 1917 Wilfred Owen was travelling to France to join the fighting. Robert Graves and Siegfried Sassoon were back at Litherland, sharing a hut, and in their spare time playing golf at Formby and swimming at the Adelphi Hotel, presumably taking the train from Seaforth and Litherland up the coast or into town. Sassoon would spend Christmas Day as a guest at a private house in Crosby.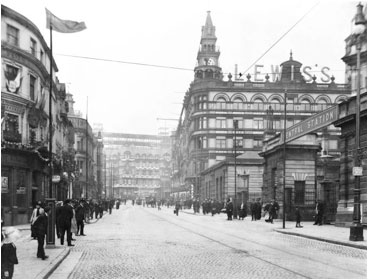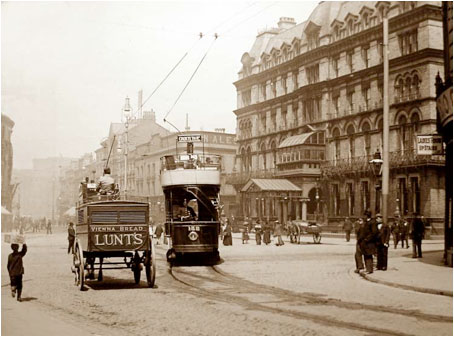 Two views of the Adelphi before WW1 (StreetsofLiverpool.co.uk)
As so often we don't know exactly where James Roy was. His battalion was still on the Somme holding the front lines where the fighting had reduced in intensity the month before. The new enemy for both sides was the worst winter in living memory, so James Roy would spend most of his time trying to keep warm. Perhaps he looked forward to the spring; it would play a huge part in all four men's stories, but particularly for James Roy.

Follow @EvertonHeritage
---
Reader Comments (7)
Note: the following content is not moderated or vetted by the site owners at the time of submission. Comments are the responsibility of the poster. Disclaimer
Don Alexander
1
Posted 14/11/2017 at 01:07:21
Another very interesting read as far as I'm concerned, and thanks to the author indeed. The poetry of those at the front is timeless and those politicians now in power will, I hope, read it deeply.
Dennis Stevens
2
Posted 14/11/2017 at 08:37:59
Thankyou Pete. Another stirring, enthralling piece - I await Part 2 with great interest.
Paul Birmingham
3
Posted 14/11/2017 at 21:36:42
Thanks for the epic read, Pete. Inspiring and poignant at this time of year.

Bill Watson
4
Posted 17/11/2017 at 01:32:33
Great read, Pete. There must have been a huge amount of research that's gone into that!
Just one small point; the Derby family seat is Knowsley Hall and not Croxteth Hall.
Pete Jones
5
Posted 17/11/2017 at 10:36:38
Don, Dennis and Paul, thank you for your comments. This piece got a bit out of hand hence it being in two parts; unfortunately James's story is very short without including another aspect of WW1; which is why I included the poets.
Bill, thanks for the correction; it's not the first time I've mixed up the Stanleys and the Molyneuxs. The proper authors that I know tell me that no matter how hard you try one always gets through, which makes me feel slightly better. I've corrected the original at least.
A huge thank you also goes to Lyndon for all his support and effort to put this up. I'm stuck on the last paragraph of part 2: watch this space as they say.
Peter Gorman
6
Posted 18/11/2017 at 11:34:53
An excellent read, thanks.
Vin McFarlane
7
Posted 21/11/2017 at 23:48:46
Profoundly moving and hugely informative, Peter. World War 1, like the history of EFC, is an endless source of fascination.
Add Your Comments
In order to post a comment, you need to be logged in as a registered user of the site.
Or Sign up as a ToffeeWeb Member — it's free, takes just a few minutes and will allow you to post your comments on articles and Talking Points submissions across the site.
© ToffeeWeb